Sharing my top picks from the 2020 Nordstrom Anniversary Sale for women's fashion, beauty and home decor! I've also included what I'm returning and real life photos of the items I bought.
This post contains affiliate links for your shopping convenience. Click here to read my full disclosure policy.
The Nordstrom Anniverary Sale finally launches today for all cardholders! Today I'm going to share everything I ordered and details on what was a hit and what was a miss. I'm also including sizing tips along the way! And if you're not a cardholder, the sale will open to the public next Wednesday so you can add items to your Wish List so they're ready for checkout once you can shop.
If you've read my blog for some time, you know that I've basically been shopping the Nordstrom Anniversary Sale since I was in junior high when I was looking to spend my school clothes allowance. So basically 25+ years or longer which is rather terrifying when I put it in text form 😉 But I've always loved that the sale includes products for the upcoming season, rather than the season that has just ended. And today I'm sharing all my favorite finds.
Today's post is a long one, but I wanted to give you as much information as possibly on the items I own and love and what I know about some of the others! I'll also be publishing a try-on session on my Instagram Stories that I recorded yesterday so you can see live footage of how all of the outfits look (you can try this link to go right to the full set of videos)! Although some of these may show 'Sold Out' until the sale opens at 8:30 CST, I'm really hoping they have fresh inventory for you guys like they did Monday! So don't assume items are out of stock until the sale is actually live and reflecting that. Also, make sure you are logged in ahead of time so they know your cardholder status or you for sure won't be able to shop any of these items until next Wednesday. I'm publishing this post a tiny bit early so you have time to read through it and pick your favorites before the sale actually goes live.
2020 Nordstrom Anniversary Sale Women's Fashion
For sizing reference, I am 5'8″ and right now a size Large in tops, 36C and 12/Large in bottoms. But I've definitely gotten a little "fluffy" these past few months at home. I'm working on that 😉 Everything below is true to size unless otherwise stated.  In all the photos I'm wearing this lip gloss (in All Things Magical), this lip liner in Pillowtalk (get the sale set here), and my favorite eyeshadow stick in Khaki (they have a variety set here).
Okay, let's get to it! This pintuck lace detail top was one I was the most excited about and these high waisted bootcut jeans have been a perennial favorite. They are the only two items I ordered two sizes of because I wanted to make sure they worked for me! I did it a bit backwards, but in the images below, I'm wearing a Large in the top on the left and a medium on the right. In the jeans, I'm wearing a 12 on the left and a 14 on the right. Although I initially like the fit of the 14 jeans better, I know this brand stretches over time (and I'm obsessed with their hidden stretchy waist bands) and since I'm working out more now, I'll likely only keep the 12.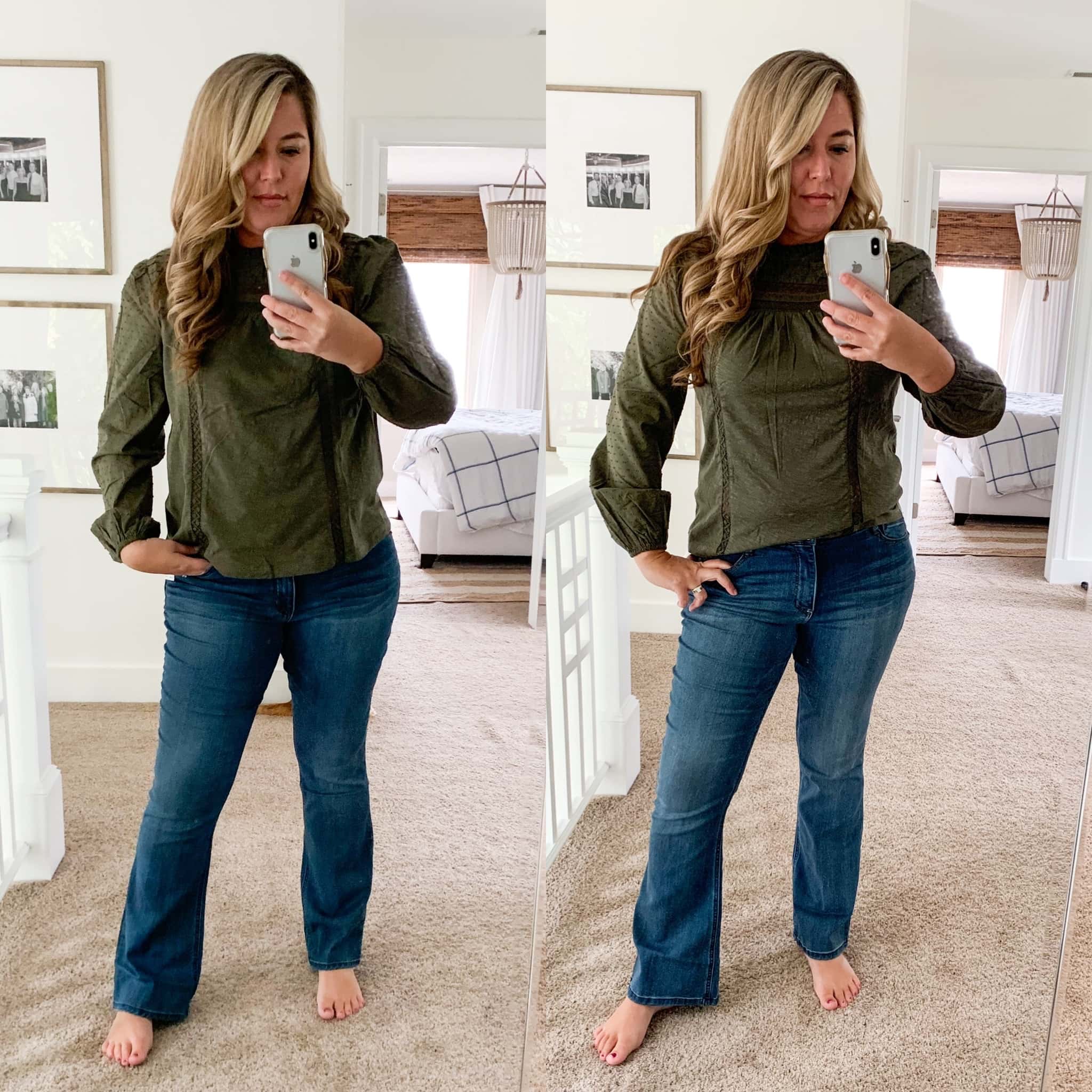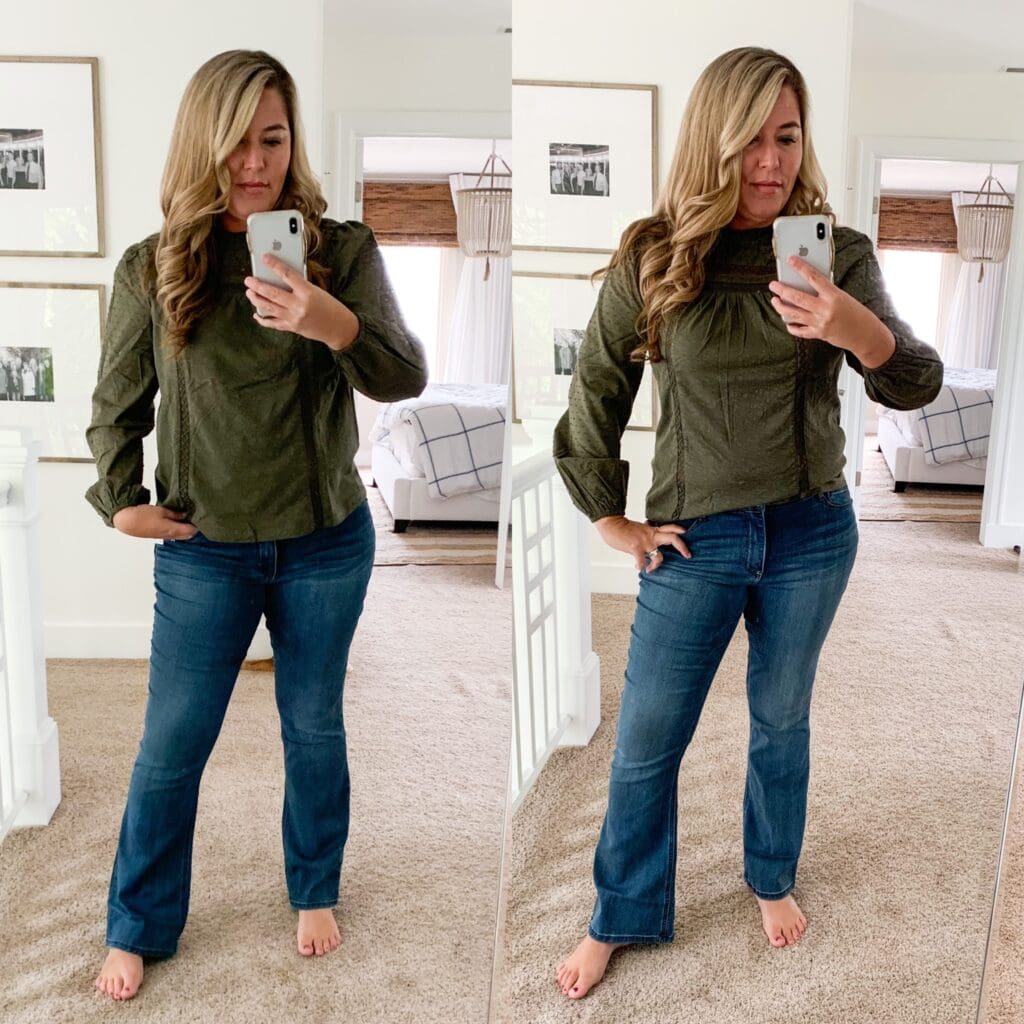 Here's a closer look at the detail in the top. Such a cute find for the fall months! I may actually buy an additional color if they end up adding stock!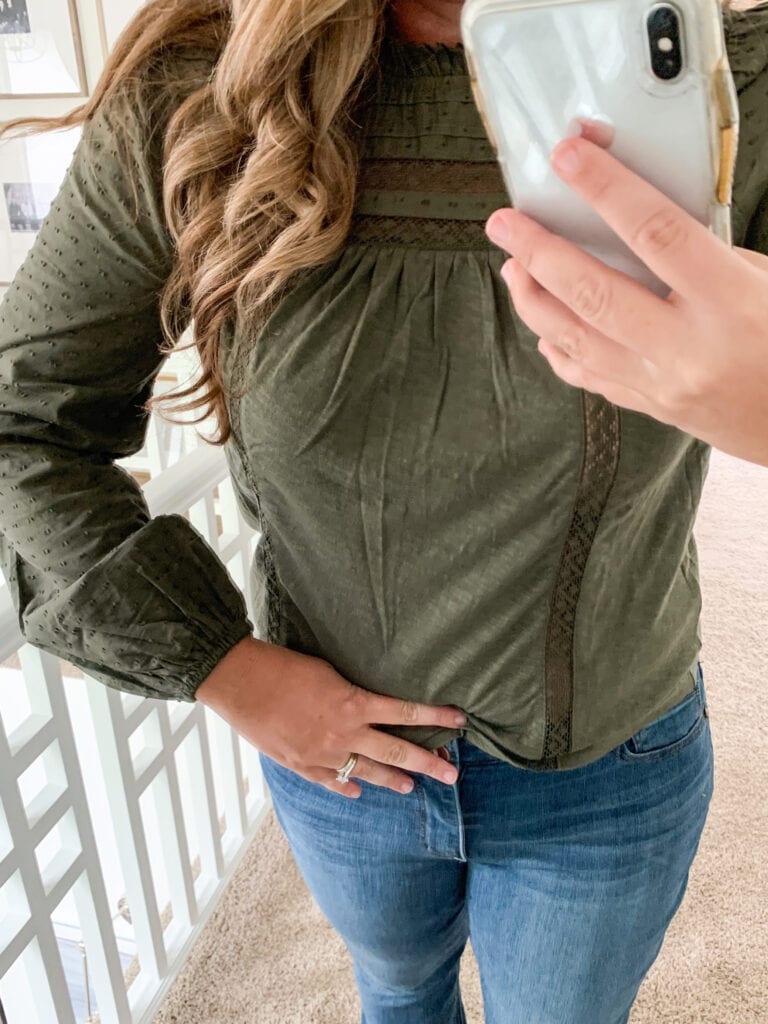 This cardigan was another favorite. It's a super soft sweater material, and I love the length. It looks cute buttoned or unbuttoned and looks great with these cropped high waist skinny jeans. I got the Large in the sweater and the 12 in the jeans. I probably could have sized down in the cardigan if I didn't intend on ever buttoning it around my lower half 😉 The jeans also have a hidden stretchy waist and I love wearing this style with tall boots, mules and booties. They're perfect under longer tops and sweaters and feel so good on!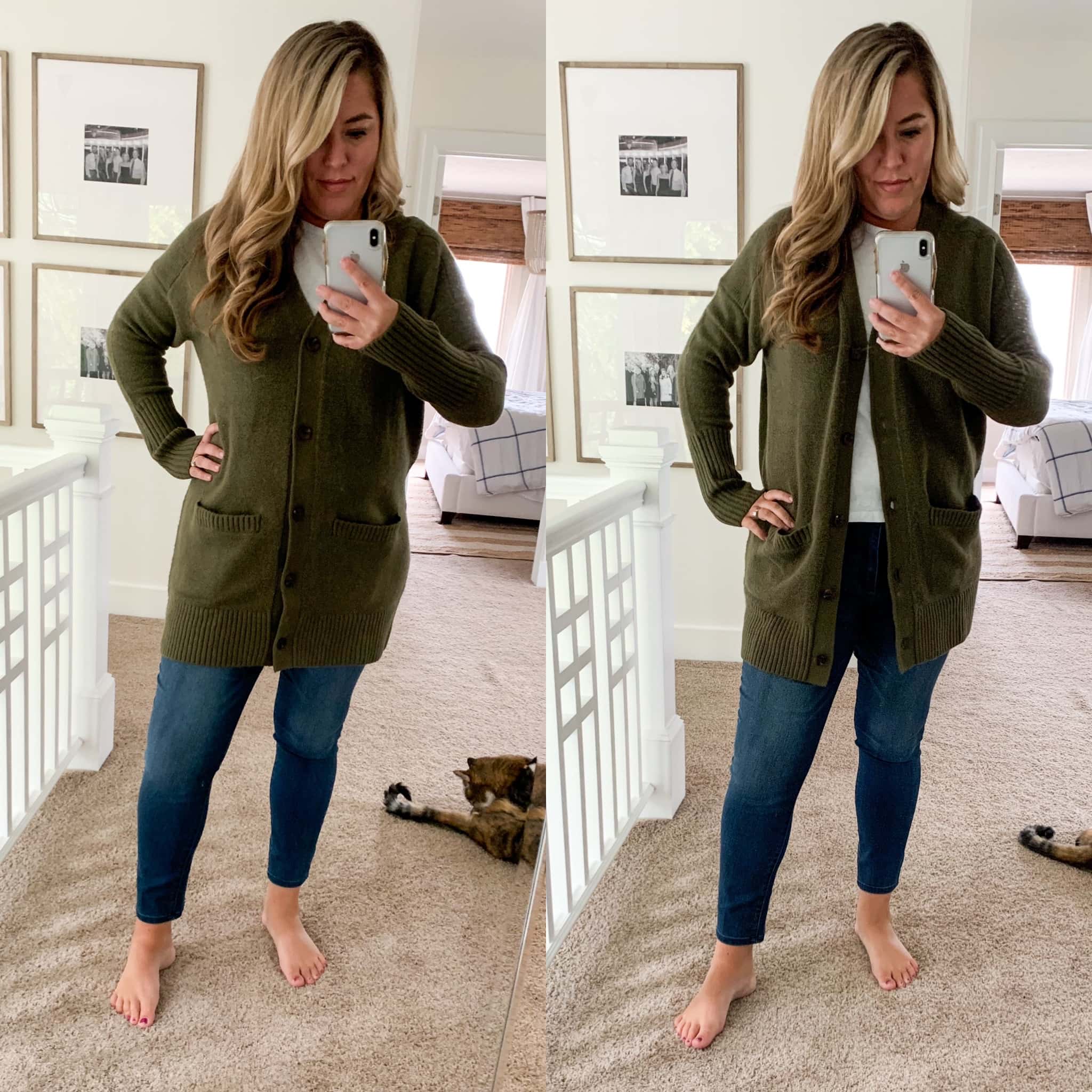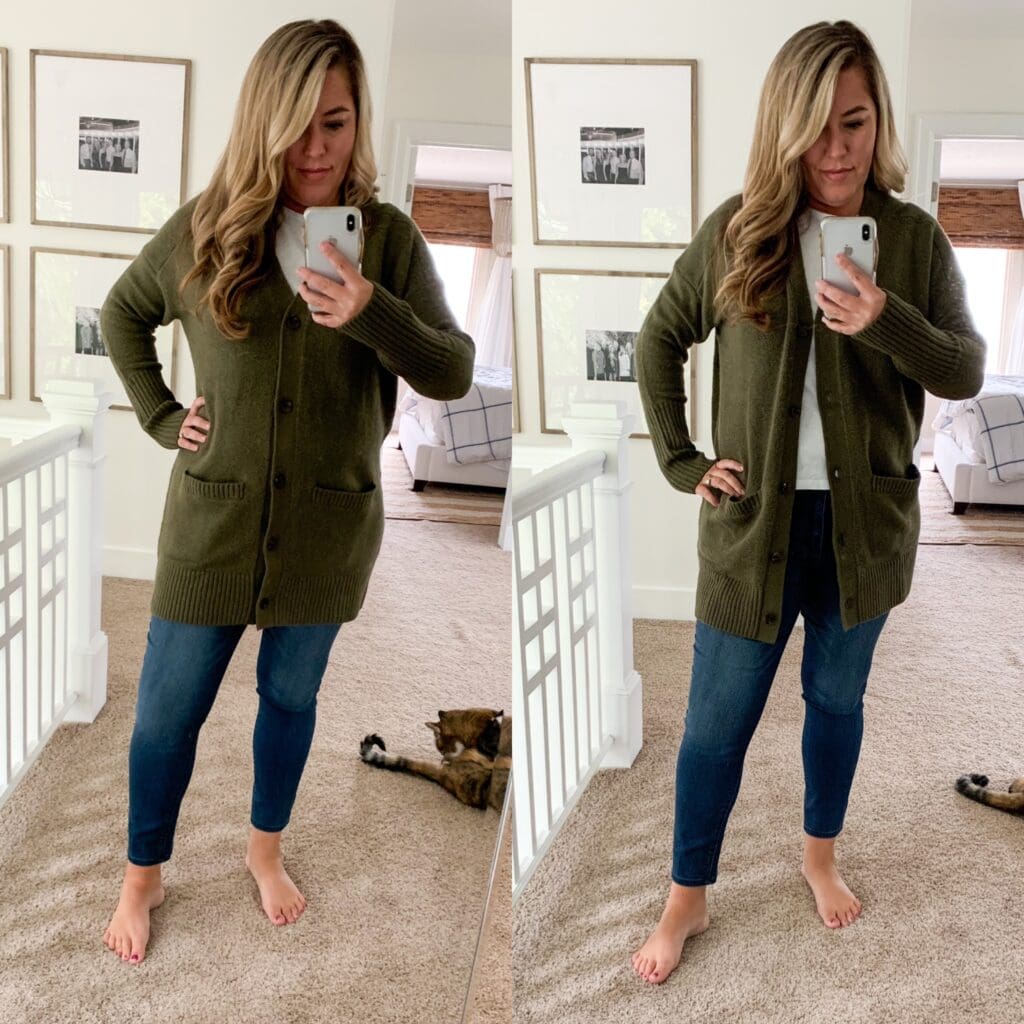 I liked this next cardigan okay enough, but personally preferred the one above. I like the unique stitching detail, but wished it were a little longer and had pockets. It's still cute but the one above trumps this one for me! I maybe would have kept it if I had ordered different colors entirely.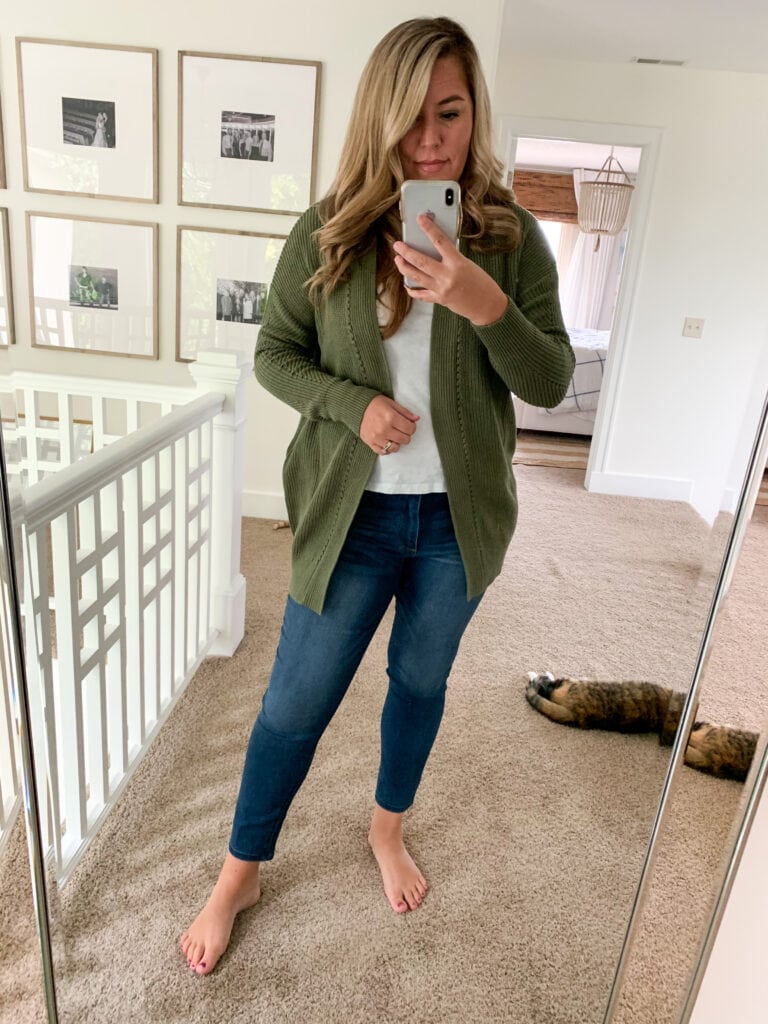 So, I had to try this Free People chunky knit sweater after seeing so many people rave about it. I didn't have high hopes because I could tell it's a style that doesn't usually work for me. Guys, I couldn't stop laughing when I was trying to record stories to share it. It actually looks even worse in the video than the photo below. But, I have seen others it looks darling on! It's just way too cropped for me (and likely will be for you if you have a long torso). I typically love turtlenecks, but the wall they double up the material on this one made it very confining and bulky. The dolman sleeves looked ridiculous on me. This is a size large, but a medium would have been even shorter. It's a no go for me. The proportions were super off for my body type.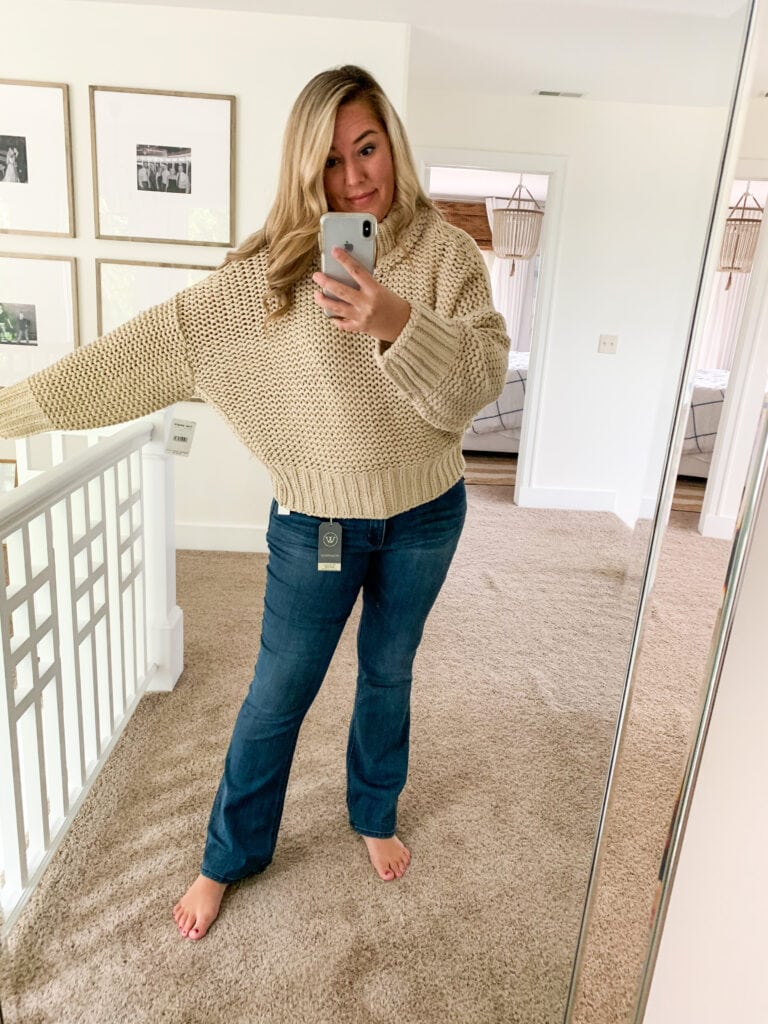 This drape collar knit blazer was a last-minute addition to my cart and I'm so glad I got it! It's one of those pieces that's so easy to throw on over a tee and you instantly look much more polished. It would also be great if you have a lot of video conferences or video calls. I love that it's cut in at the waist, looks like a casual blazer, has pockets, and the price is pretty hard to beat for a good fall staple like this! And it comes in eight colors/patterns. It could also work well as a lightweight jacket in the fall months.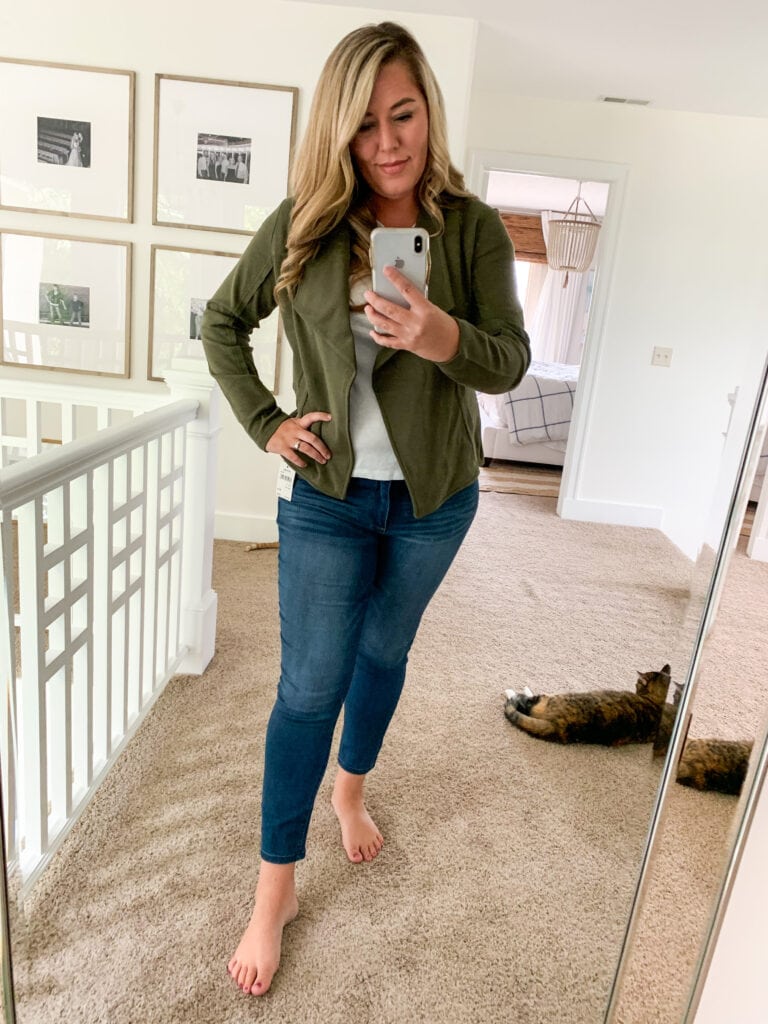 Moving on to outerwear! I have been needing a new dress coat for some time now. I was still using one I had bought in college (literally 20+ years ago) from J. Crew and the lining has been shredded for years. I saw this camel color double face wool coat and knew I had to have it! It's so beautiful on and I love the length. It isn't quite as fitted at the waist as I'd prefer but I love that the sleeves are actually long enough for me and the color couldn't be more beautiful. So happy with this one! And I think it will look even better when I'm actually wearing boots or booties and not with bare feet 😉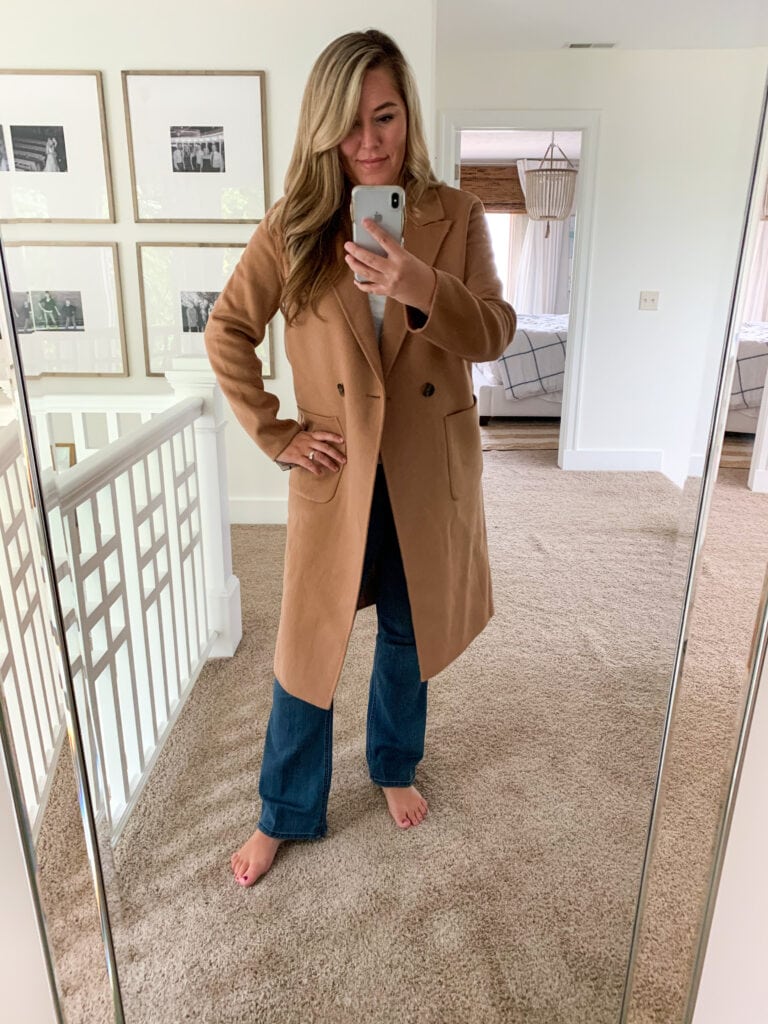 I also had a North Face jacket that's at least a decade old and has seen better days. So, I thought I'd try this Patagonia sweater jacket. I'm in a large, and unless I'm only wearing a t-shirt under it, I found it to be much too clingy (I really didn't even love it with just a t-shirt). I'm not sure I love it enough to reorder in the XL. This one will be going back but if you're a fan of the brand, the price is good on it and the quality is still good. Just not what I was looking for right now!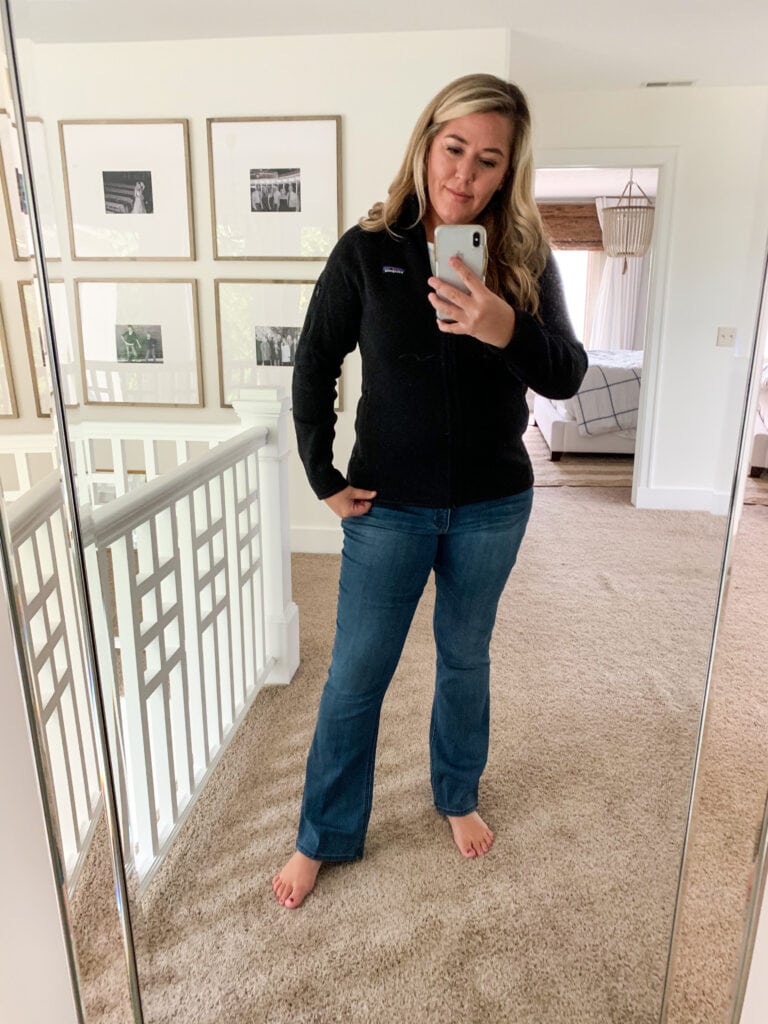 This quilted jacket was one that I was super excited about when I first saw it. I obviously love the olive color, but it also reverses to black so it's like two jackets in one! The length is also perfect for us taller girls. But, I couldn't zip it past my hips/butt. I was so disappointed! And the upper part of the jacket is already loose enough that I know a size up (XL) wouldn't work. I share a lot more detail in my videos. If you don't have hips/booty like me, I would definitely recommend this one. The price is hard to beat and it's such a cute fall jacket! Although it's quilted it's not heavy, so likely won't work in winter climates unless you're in a warmer location.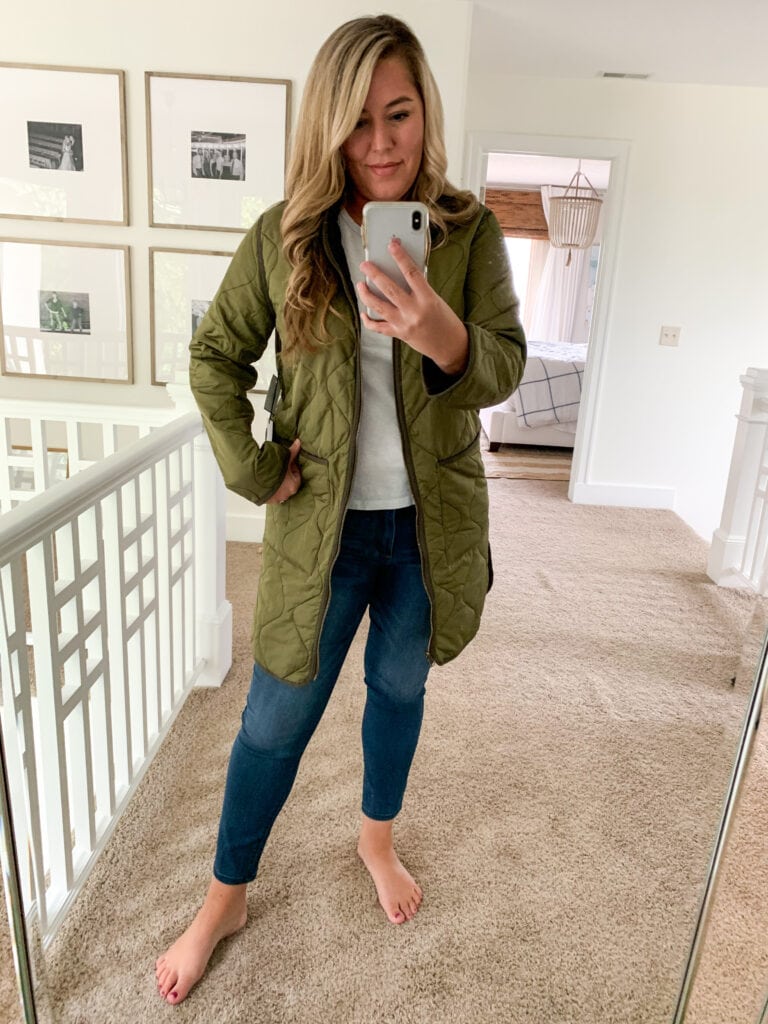 Okay, let's move on to lounge wear! Because honestly, that may be what I'm living in exclusively this fall! Okay, first up, two of my favorites! This colorblock cozy pullover is so good! It couldn't be softer and I love that the colorblock makes such a statement! The ivory is a bit sheer on the lower half so if that's a concern, it actually comes in several other color and pattern options. I shared these joggers in this post and I'm telling you, you do not want to miss out on these. I can't say they are super flattering on me, but the fabric is out of this world – so soft and cozy! I also have this pair and love them too!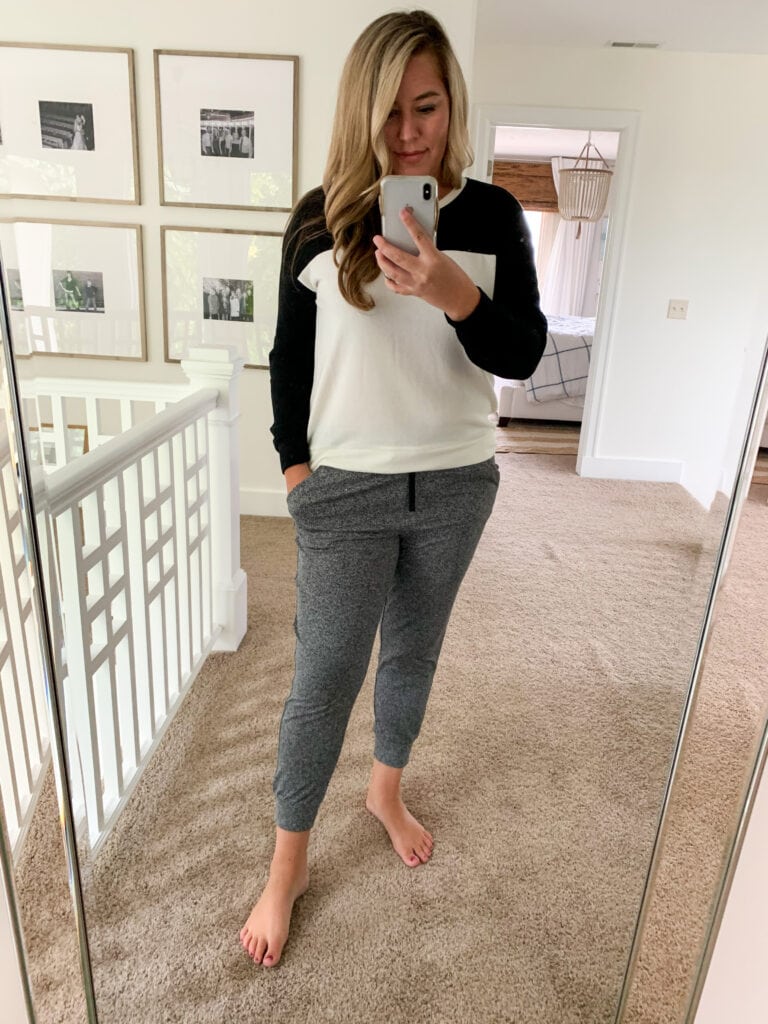 Same joggers here and same cozy top, but this time in the diagonal colorblock pullover. I love it just as much and there are so many cute color/pattern options for it!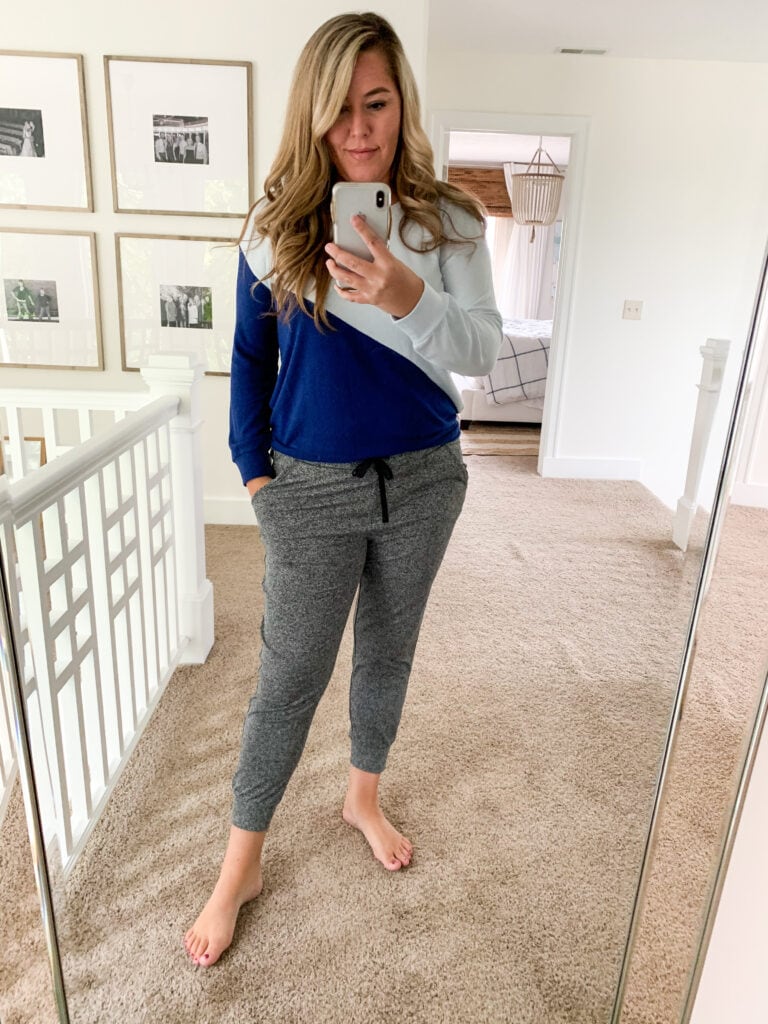 Now in the same top but in these cozy joggers. Again, not super flattering on me but they really are so cozy and comfy! And when I'm sitting at home not seeing other people, I really don't care if they make my butt look bigger than it already is 😉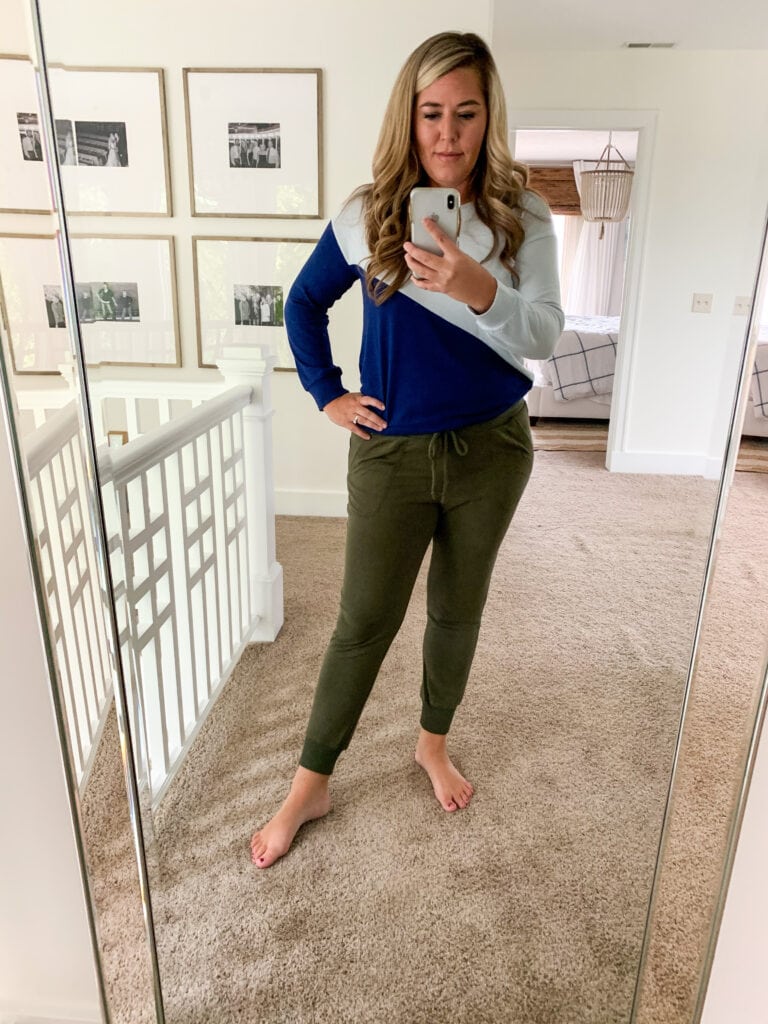 I'm also a huge fan of this cozy twist front pullover. It gives you the look of a half tuck and is one that could just as easily be worn with joggers as it could with jeans. And it's the super soft fabric that Gibson is known for! Now, let's just pretend we don't see the dust on my mirror reflected in the top. And really, my roots that drastically need a highlight 😉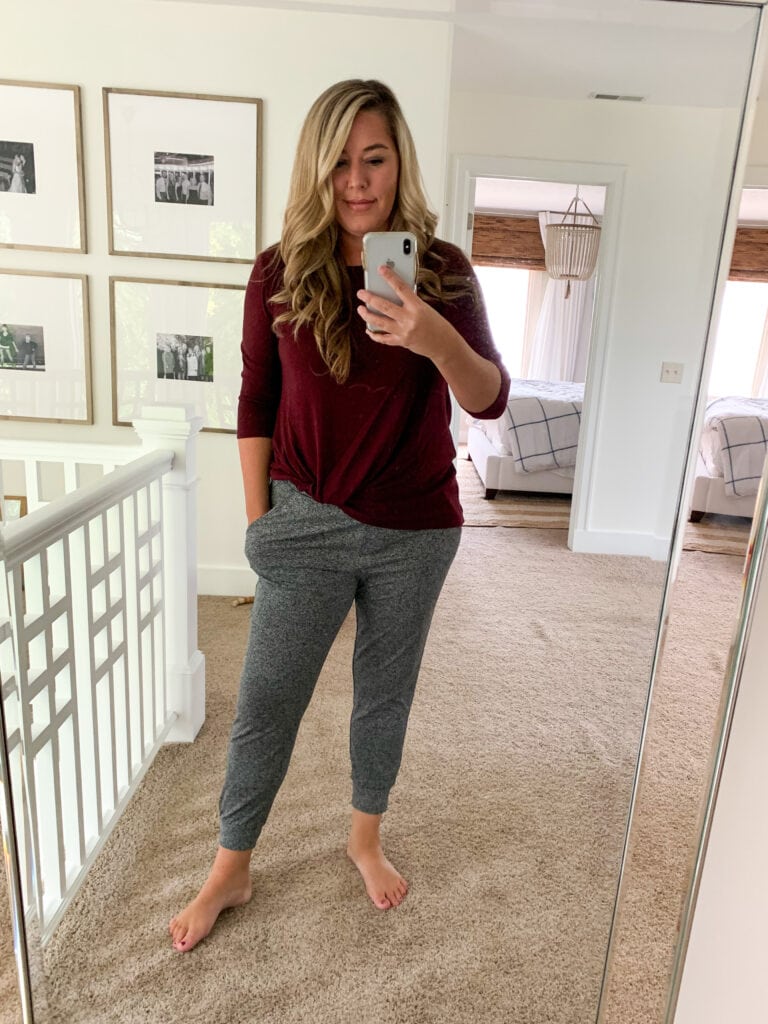 Love, love, love this combo too!  I love the drape on this cozy v-neck tunic – fitted on top but longer and looser on the bottom but not necessarily in a boxy way thanks to the weight of the fabric. It's so perfect to wear with leggings thanks to the longer length and I love all six color options. It has a bit looser fit, so if you're between sizes, I'd order down. But, I went with a large and love the fit for lounge wear. And I've always liked Zella leggings but these soft pocket leggings bring them to a whole new level! The fabric is much like my favorite joggers, but I love the wide, high-waist band, the cuffs at the bottom and the pockets on both sides! My typical complaint with leggings is I don't have anywhere to put my phone but these are so perfect. And surprisingly flattering! I bought them in both colors and will be keeping them both because I know I'll get a lot of use out of them!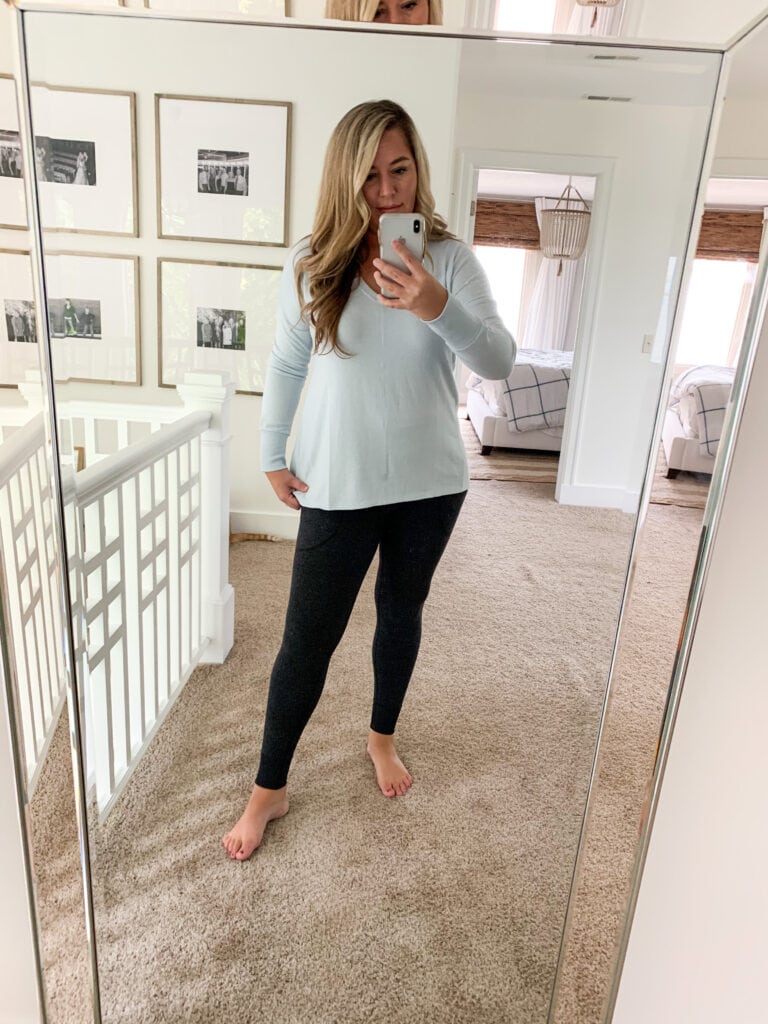 And I definitely want to mention these bras again that I shared in this post. They're basically the bra to wear when you don't want to wear a bra. For sizing, I'd follow the chart they offer. I'm a 36C and feel like the large fit perfectly. I bought one more in this style because it seems to be the one I reach for time and time again. They're seriously so comfortable I've gone to bed before and forgot I had it on.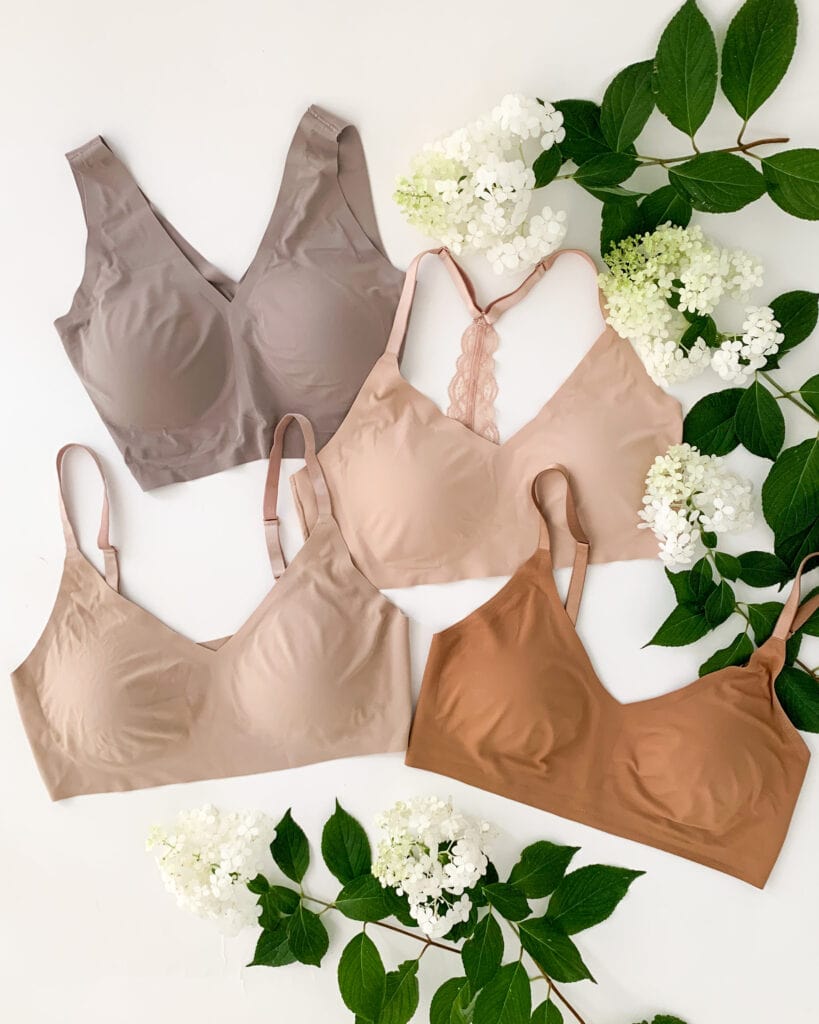 I didn't buy any boots this year because I bought last year's version of these gorgeous boots in the rust color! They're by far the comfiest boots I've ever owned. But I did buy this pair and this pair of mules (in the nude color) to see which I like the best. They were delayed on shipping so I'll let you know my thoughts once I get them!
Anniversary Sale Beauty Picks
Here are my top picks for beauty from this year's sale.
2020 Nordstrom Anniversary Sale Home Decor
Moving on to a few home finds. Please don't forget about Kurtis' new favorite candle. It really is so good. Admittedly I didn't love it when I opened the jar, but once it starts burning it's heavenly. The perfect clean tropical scent!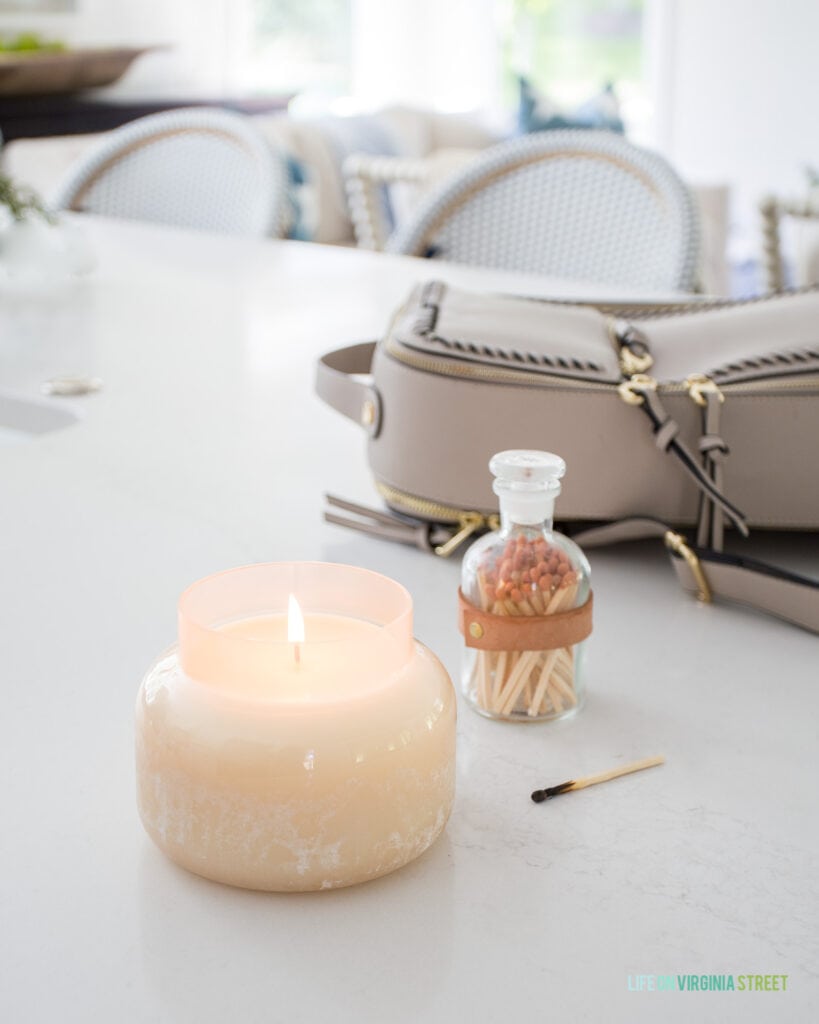 I'm still a major fan of the original Volcano scent (it may actually rank number one of all time for me), but I'm really loving this salt and sand collection for the gorgeous jars! Side note: my favorite cologne of all time is also in the sale in this duo or you can also get it as part of this variety pack! And if you've ever wanted to try a Slip silk pillowcase, now is the time. I can't say enough good things about mine!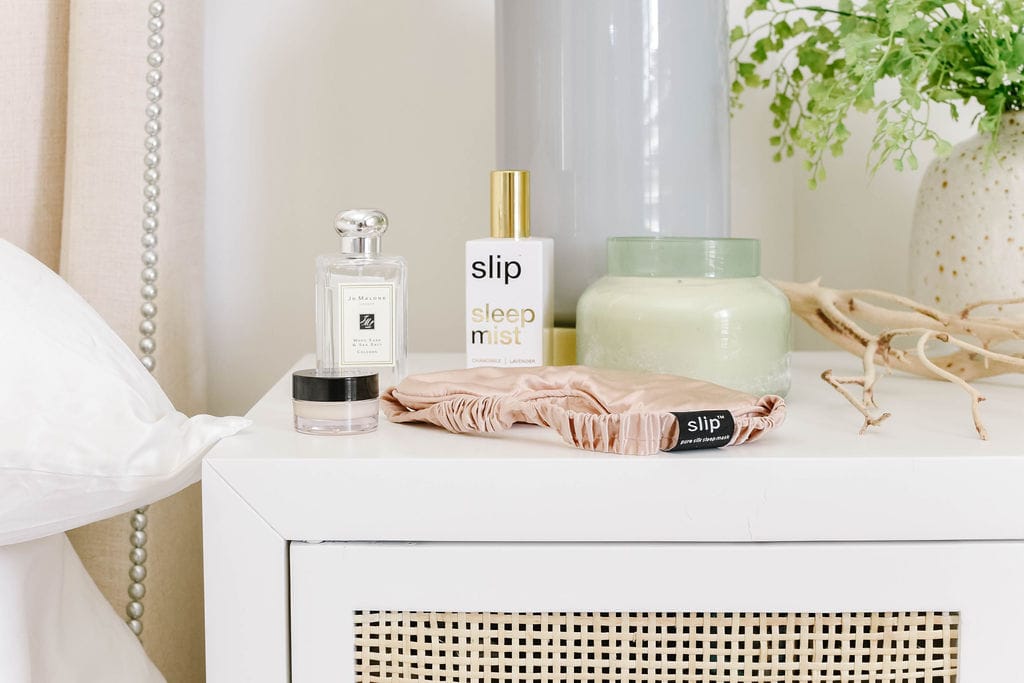 And I shared this round marble & wood serving board yesterday and it's a good one! It's rather large in person and would make a great gift or to use for charcuterie and other appetizers in your own home!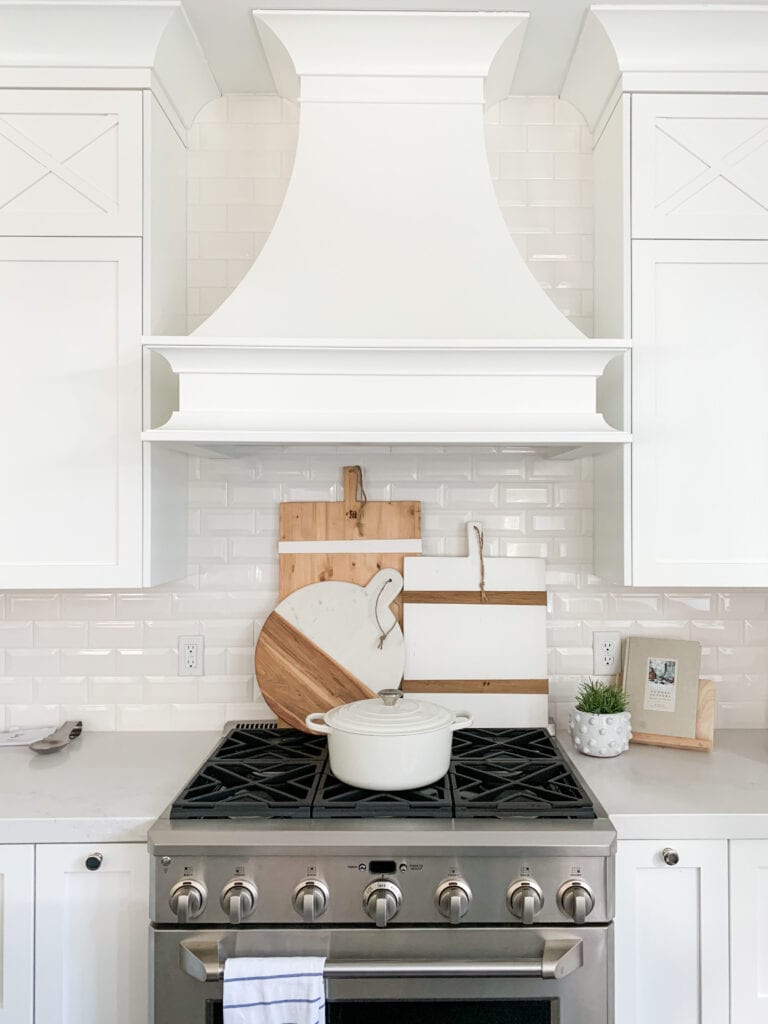 KITCHEN SOURCES: Natural Wood Board | White Wood Board | Round Marble & Wood Board | White Dutch Oven | Ceramic Vase | Similar Faux Asparagus Fern | Similar Cookbook Holder | Cookbook | Cabinet Hardware
And if you're on the hunt for new throws for fall, there are so many good options! This chunky knit throw comes in a few colors, but I'm using this green version as the jumping off point for my fall decor. And if you've never tried a Barefoot Dreams product, they are so dreamy (but I'd only recommend buying them during the sale and not paying full price). I'm loving this plaid throw of theirs for the fall and winter months. We usually fight over the original throw we have, so I opted to add another to the collection this year. And this plush tassel throw has been a favorite for years and I'm so happy they keep bringing it back. It comes in a huge variety of color and is so soft and cozy. Such a great hostess or housewarming gift idea!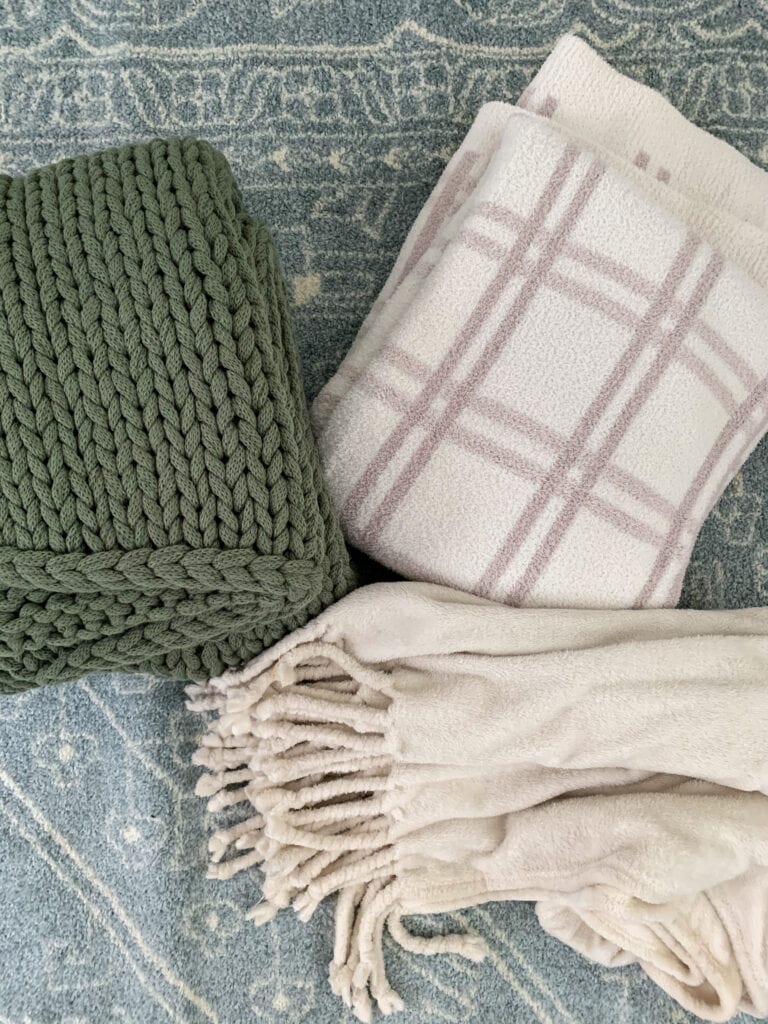 And remember this marble & acacia lazy susan I shared in this post? It's part of the sale too! I got it during last year's sale and it's still one of my favorite home purchases from Nordstrom! It's pretty substantial and can make meal time a lot easier if you are hosting a group or have a lot of people at your table. I also love it to corral items like salt & pepper grinders, olive oil, etc. next to the stove for easy access and to help keep the counters looking too cluttered.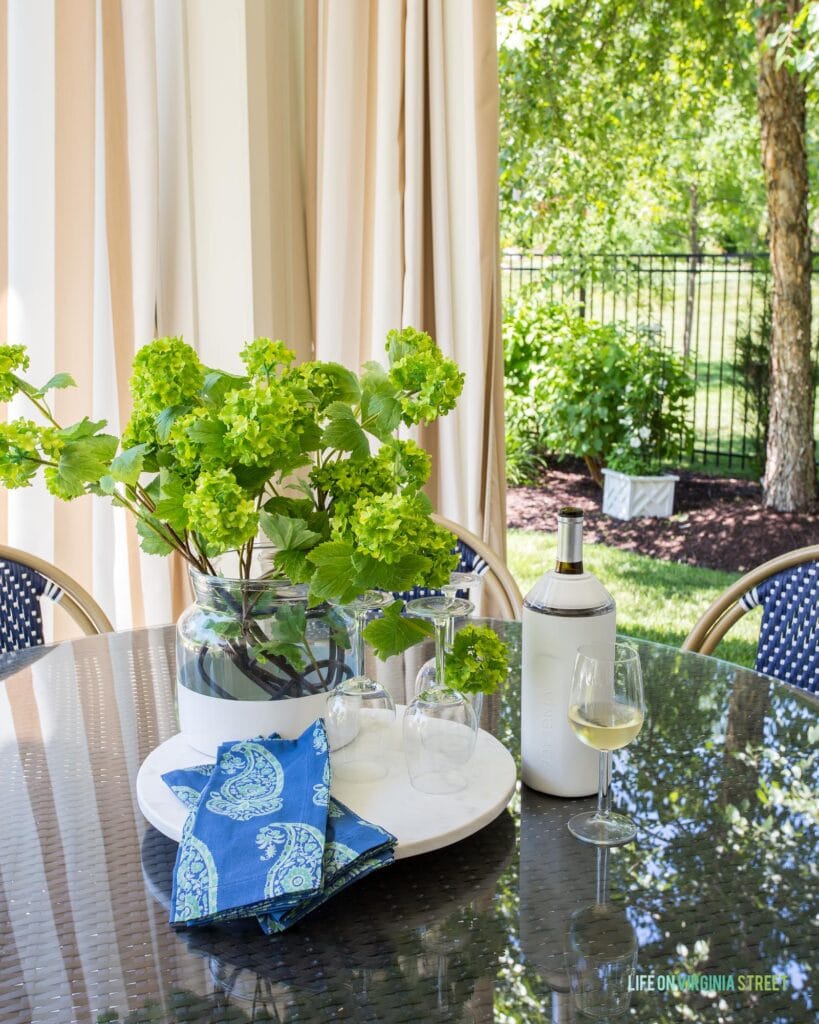 PATIO SOURCES: Round Patio Table | Similar Chairs | Striped Curtains | Vase | Faux Viburnum | Block Print Napkins | Marble & Acacia Lazy Susan | Vinglacé Wine Chiller | Outdoor Rug
Additional Outfit Inspiration
I also made a few outfit collages yesterday with some fun finds from both the Nordstrom sale and the current J. Crew sale! I think only two or three of these pieces aren't on sale – but they were so cute I had to include them!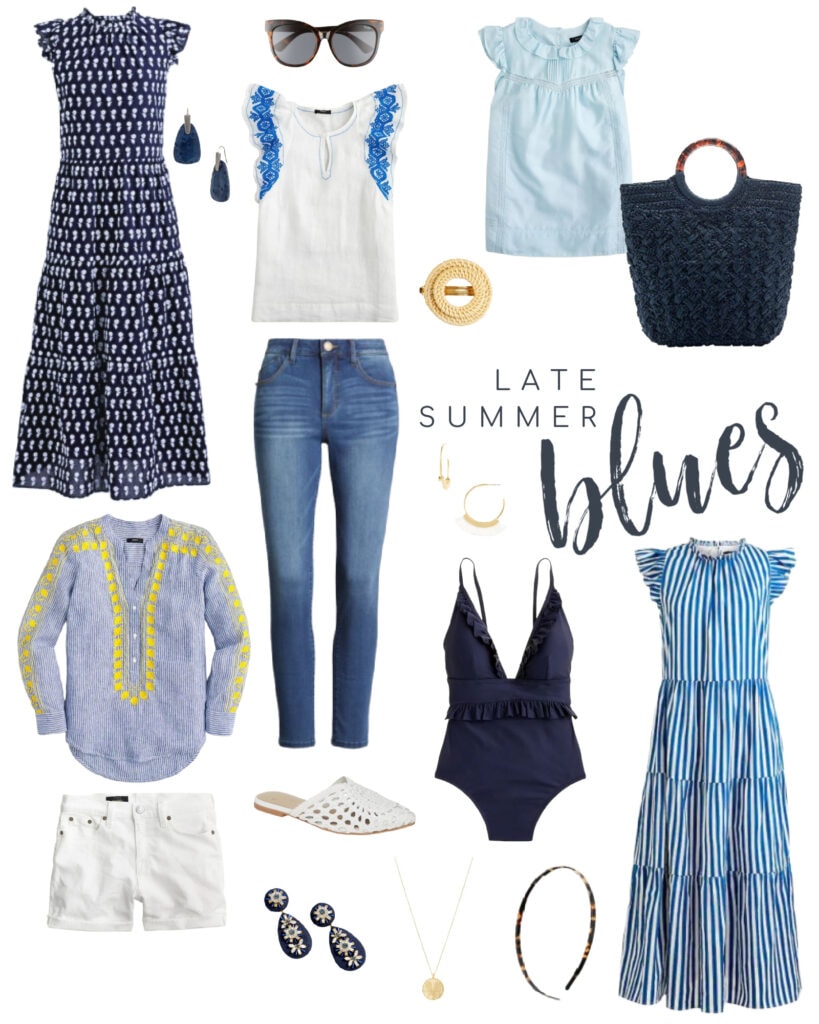 COLLAGE SOURCES: Block Print Ruffle Dress | Sunglasses | Kendra Scott Earrings | Embroidered Linen Top | High Waist Cropped Jeans | Flutter Sleeve Ruffle Collar Top | Rattan Circle Barrette | Woven Bag | Striped Embroidered Tunic | White Denim Jean Shorts | Woven Mules | Floral Statement Earrings | Palm Coin Necklace | Fringe Hoop Earrings | Ruffle Swimsuit | Tortoise Skinny Headband | Striped Dress
I absolutely love the tones in this next collage. Give me all the mustard, cognac and burgundy come late summer/fall time! And I think these Kate Spade Initial Pendant Necklaces would make such a great gift for women of all ages!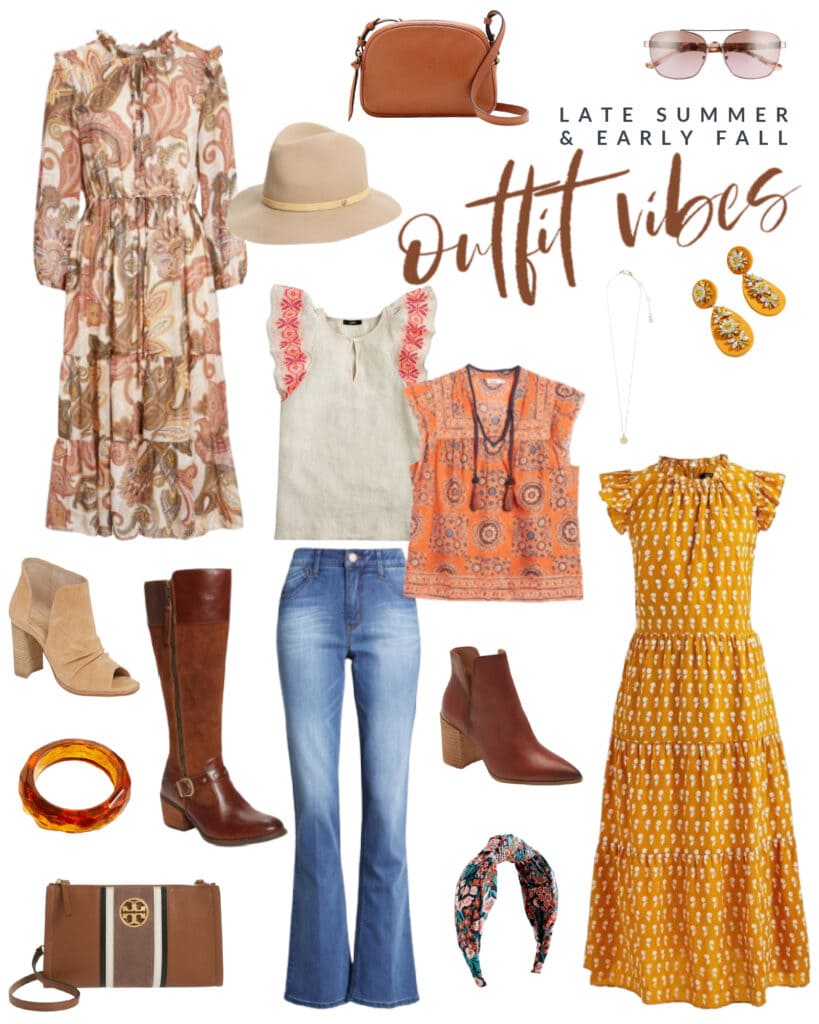 COLLAGE SOURCES: Paisley Chiffon Dress | Floppy Brim Wool Fedora Hat | Leather Purse | Tory Burch Sunglasses | Linen Embroidered Top | Wide Leg Jeans | Patterned Tassel Top | Slouchy Open Toe Booties | Double Zip Boots | Resin Bangle | Tory Burch Crossbody Striped Purse | Pointy Toe Booties | Knotted Headband | Initial Pendant Necklace | Floral Statement Earrings | Block Print Ruffle Dress
I also have some additional initial favorites in this post if you're looking for more front contenders from the sale!
Okay, that wraps it up! I'll be back next week with some actual styled outfits from the sale on Wednesday when it officially opens up to the public!
If you would like to follow along on more of my home decor, DIY, lifestyle, travel and other posts, I'd love to have you follow me on any of the following:
Pinterest | Instagram | Facebook | Twitter 
disclosure: some affiliate links used