Happy Monday! I hope you all had a great weekend! Today I'm sharing what we've been up to this past week.
This post contains affiliate links for your shopping convenience. Click here to read my full disclosure policy.
Home Projects & Updates
Sunday we finally put down the rug pad and tried to put down the new rug (ours is the Slate/Ivory color) in our office. We needed the 10'x14′, and the way they shipped it, it was basically folded a million times. So, it was beyond wrinkled. They included directions on how to make the fold marks come out but said it could take a few days (or even weeks).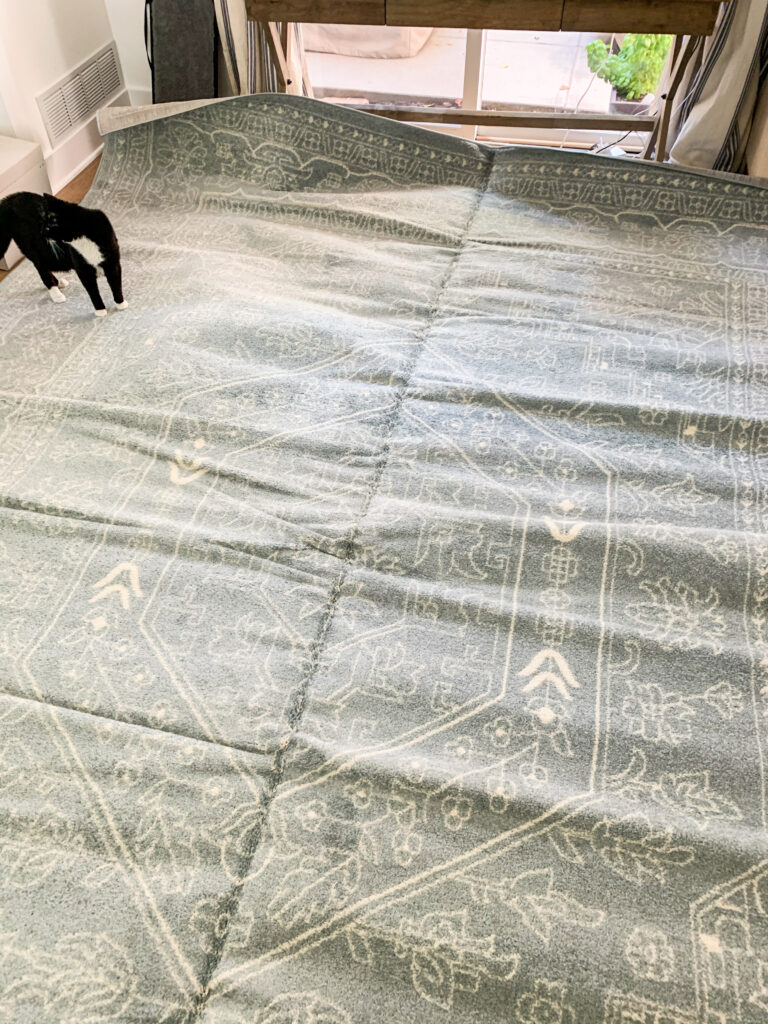 We had to take nearly everything out of the office which was super fun and is probably the ultimate test for a marriage 😉 We left the desks and bookcases though, so it made it quite a bit more challenging when it came to rug placement time. But we didn't want to have to completely unhook everything and possibly not use it for several days.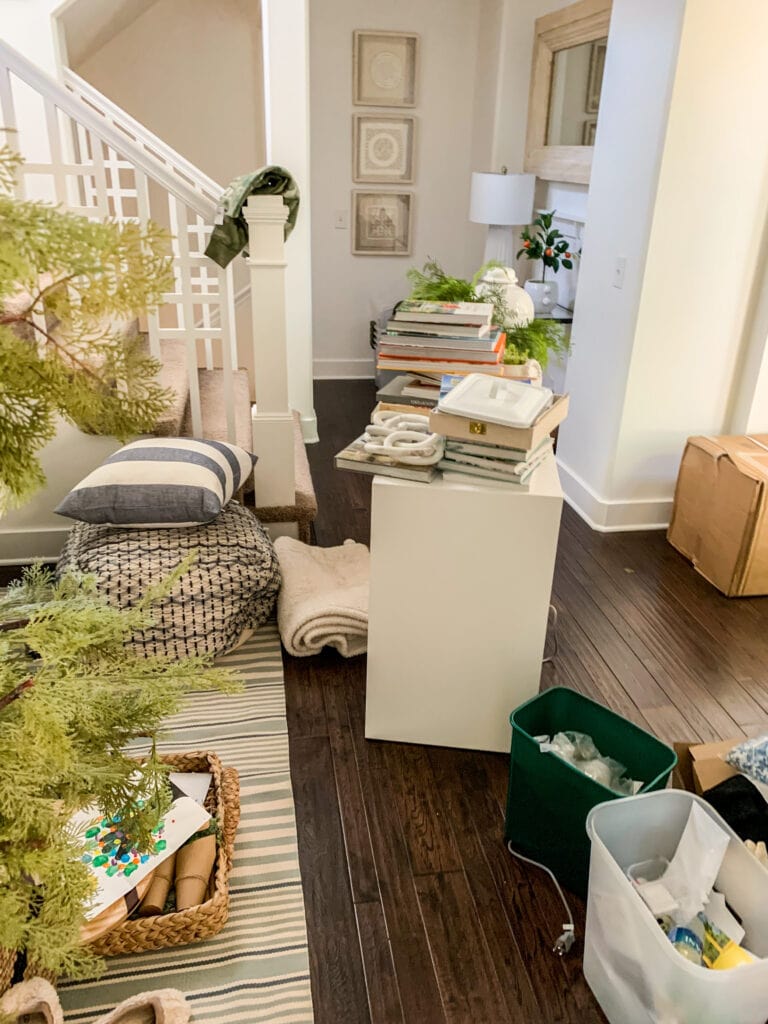 Within a few hours, I could tell a lot of the marks were starting to loosen up. Overall I'm really happy with the rug for the price! Like many of these polypropylene rugs, the weave looks darker one direction and lighter the other. Looking in to our office, you see it with the darker, more true slate blue coloring. Looking from against the wall out of the office it definitely appears lighter blue with a lot less gray tones in it. Since the more slate coloring is what I'm going for, we made sure to place it that way looking at it from the hallway. I really love the pattern on it too!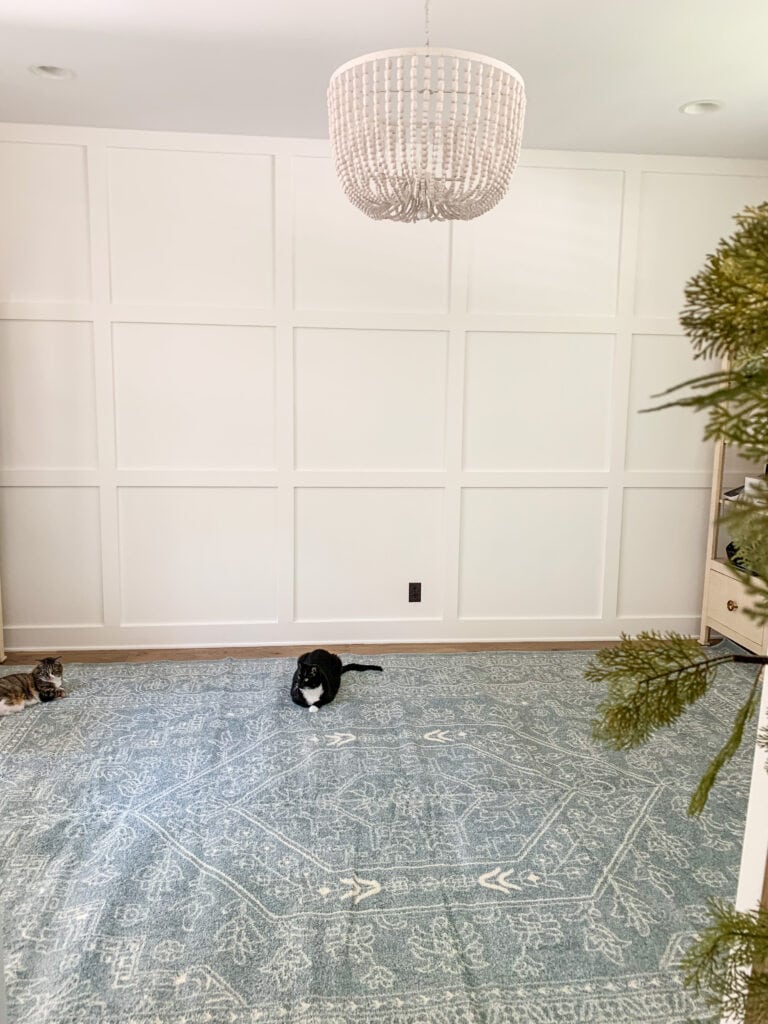 In case you missed the latest details on the space, you can read more about it on my post on our office progress & affordable neutral rugs!
Top Sellers Of The Week
Following are the top sellers of the week across all of my channels. Links to each item are below the graphic.
Around Town & For Fun
Bailey has been using this random box as a bed lately. Zero clue why she clearly thinks this is the coziest spot in the house now! And zero clue why that box is still there after two weeks 😉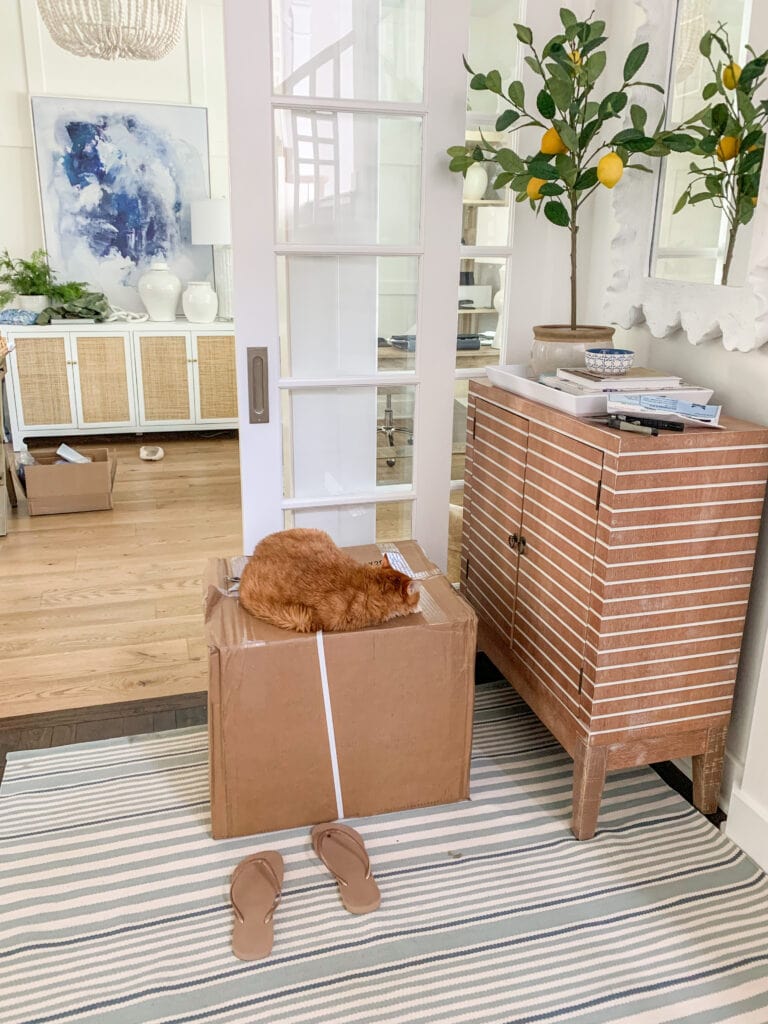 I can't remember if I've shared our courtyard at night but I absolutely love it lit up with our string lights!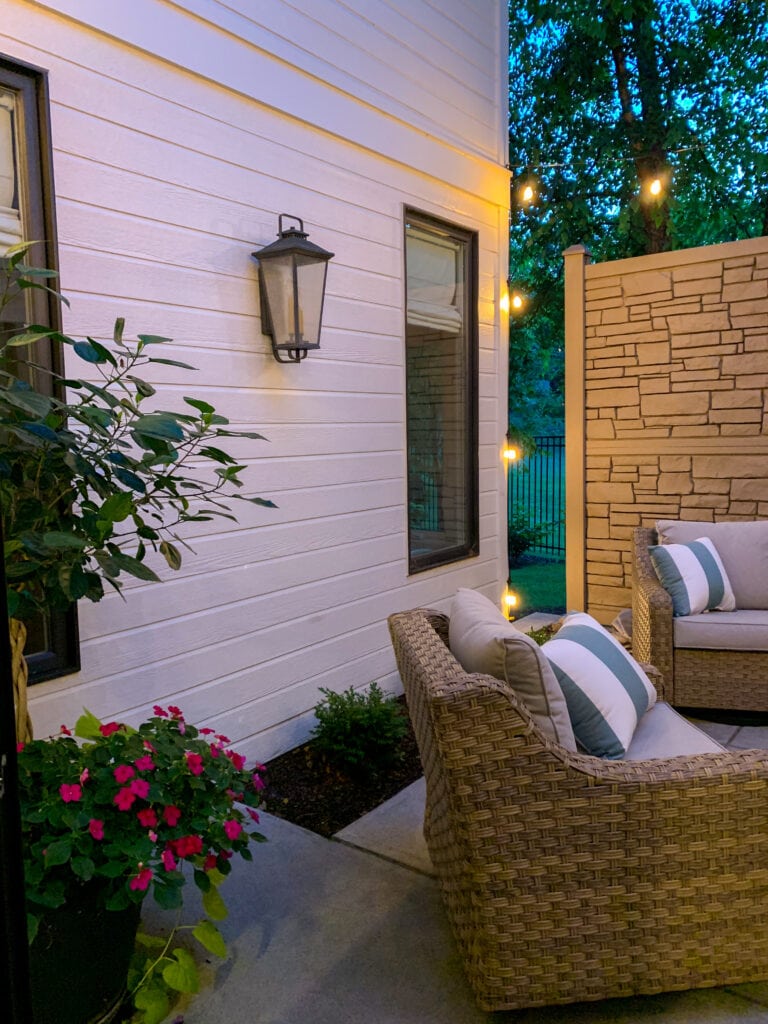 COURTYARD SOURCES: Outdoor Chairs | Outdoor Side Tables | Striped Sunbrella Pillows | Outdoor Wall Lanterns | Faux Stone Wall Panels
This angle is kind of cool too, since you can see through our dining room out to the backyard!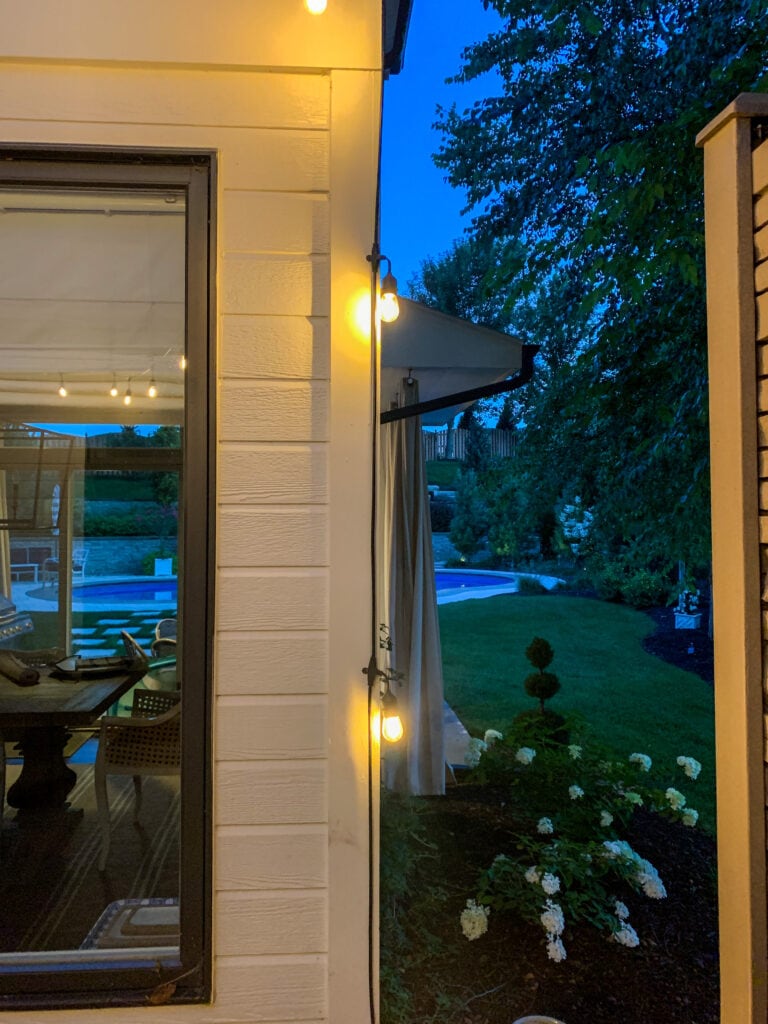 Saturday night our BFFs went out for their anniversary, so we babysat their daughter (our goddaughter). She didn't have any fun at all with us 😉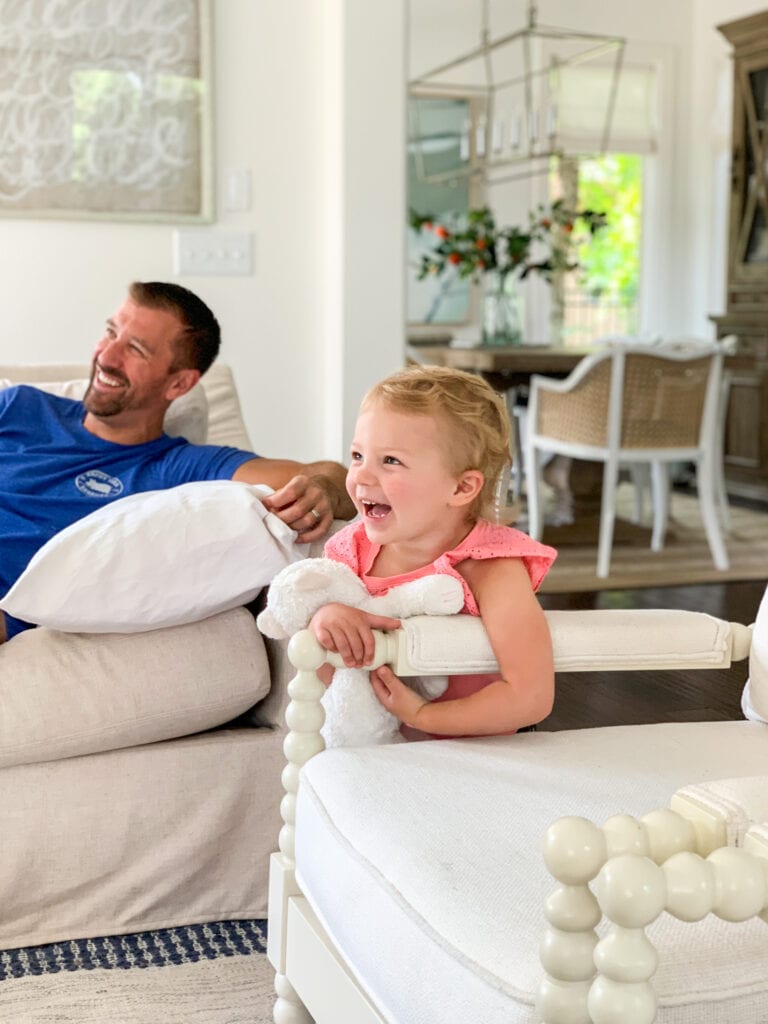 I think her eyes almost exploded when she realized we ordered her her very own pizza for dinner. I think the night was a success! Especially considering she didn't cry once or even ask about her parents!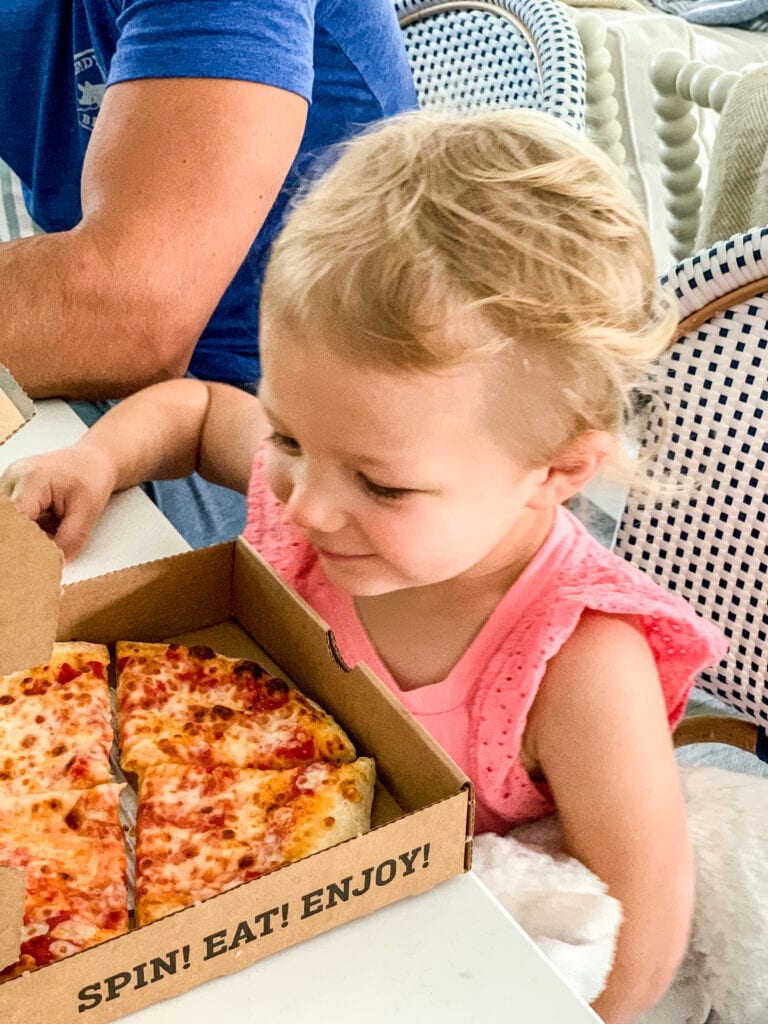 Sunday the weather finally cooperated for an afternoon pool day. We were thinking about it and realized it may have been three weeks since we were last able to go in it. Not okay!! I needed a little R&R after dealing with our office rug drama!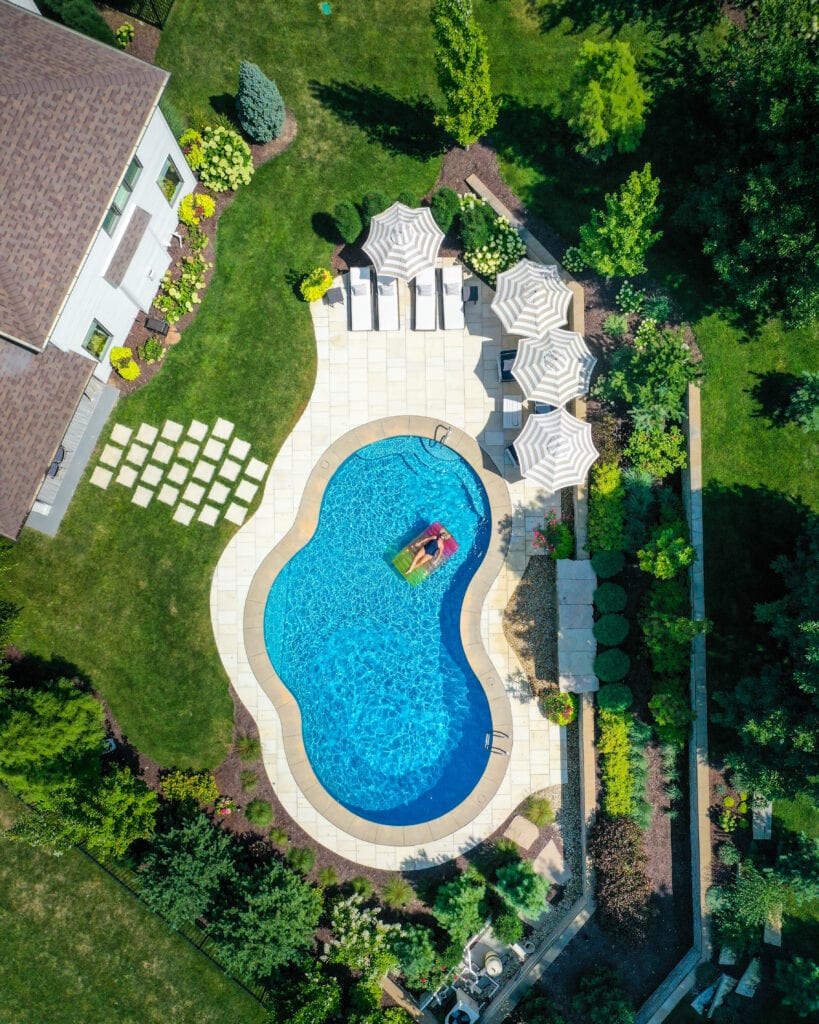 My limelight and little lime hydrangeas are going wild this year.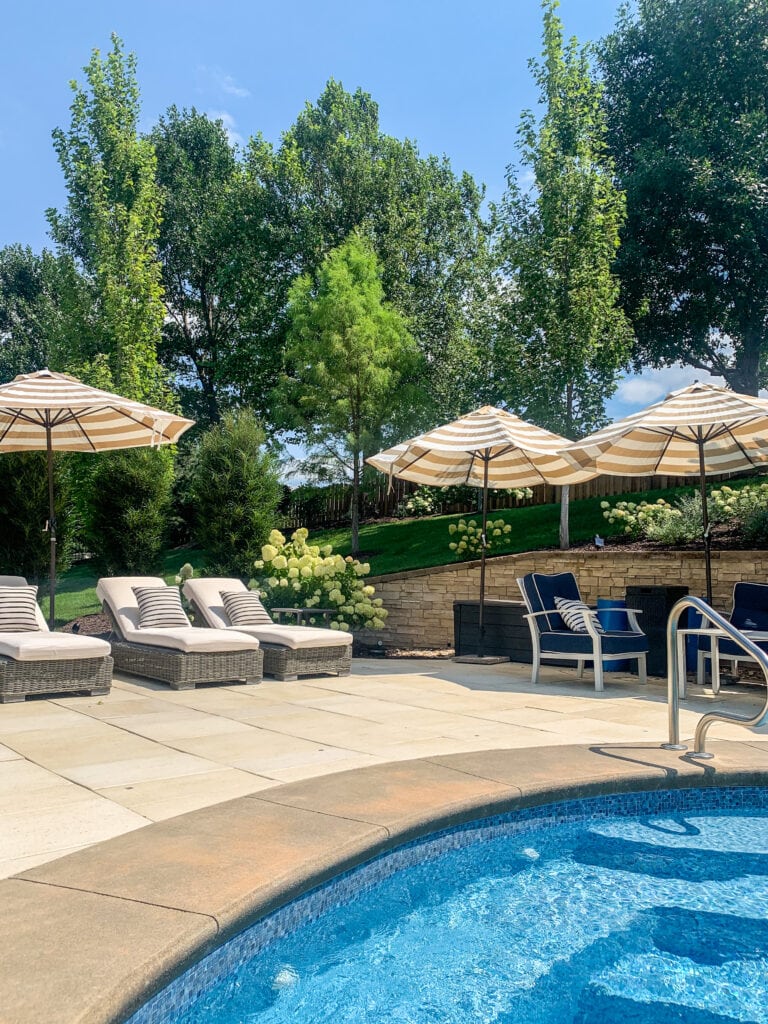 I love them so much! I'd basically be okay if they covered our entire backyard.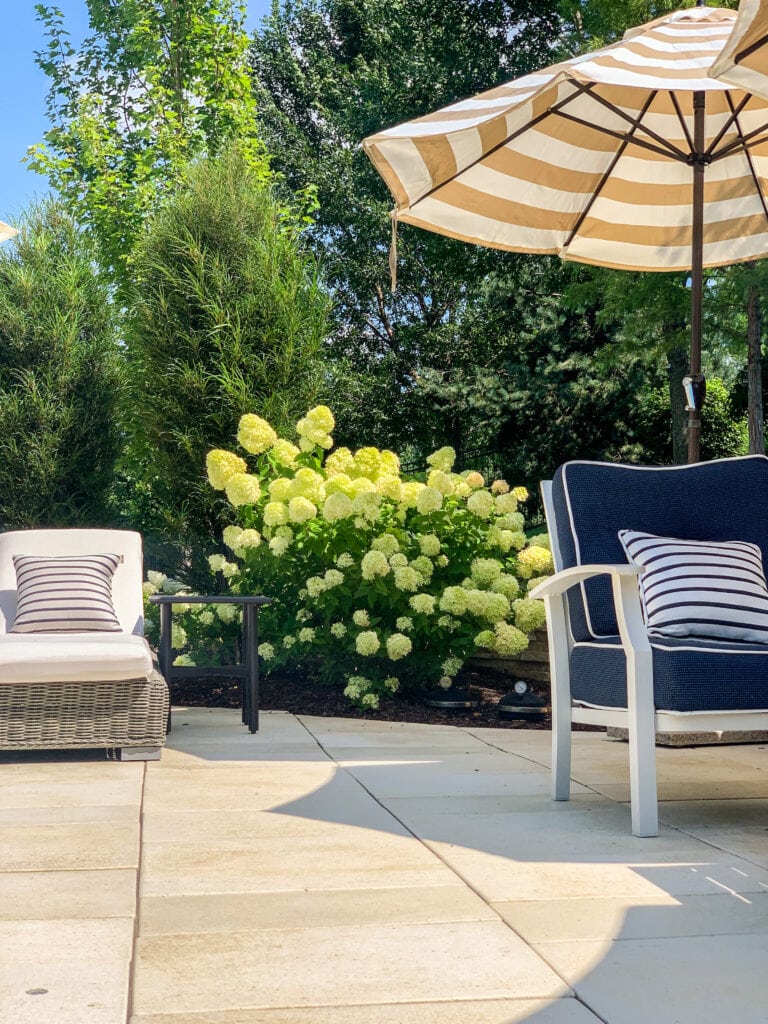 POOL DECK SOURCES: Chaise Lounge Chairs | Conversation Set | Striped Pillows | Striped Umbrellas
Sunday night we scrapped our original meal plans and decided to use up a few things that were getting old. So we made up our own bruschetta recipe and it was heavenly! A+ idea on Kurtis' part! We basically used mini sangria medley tomatoes, basil, garlic, basil, mozzarella, balsamic, and olive oil. It was so good. Except for the fact we used two cloves of garlic and probably only needed one. I'm not sure the garlic taste will ever leave our mouths at this point 😉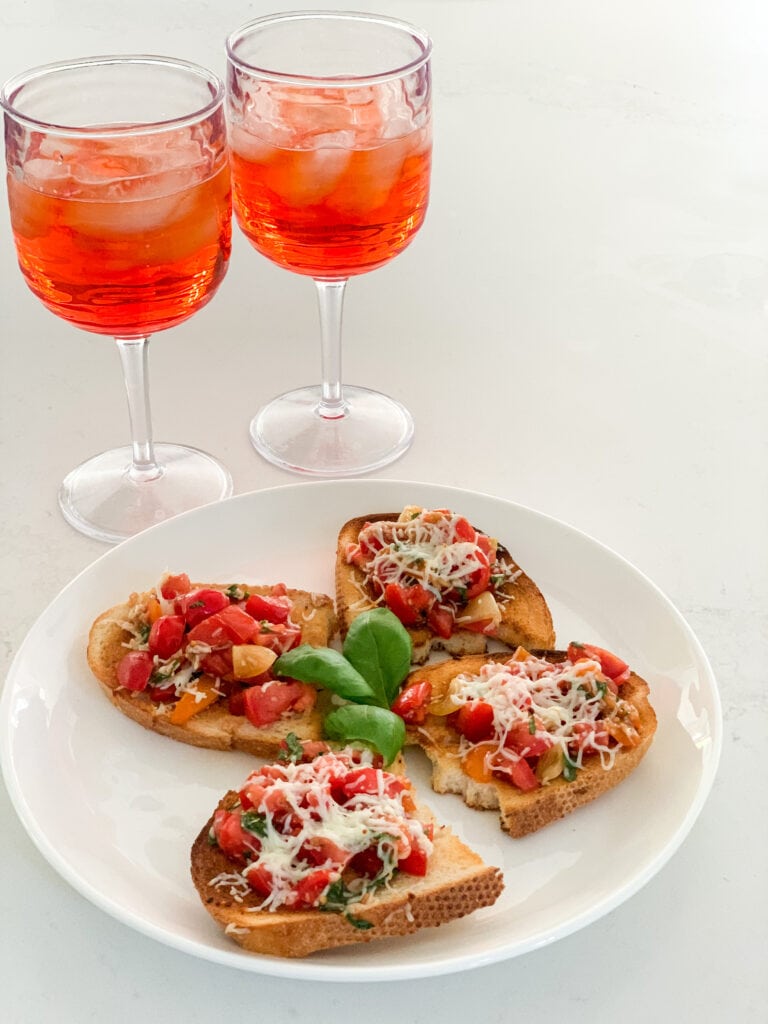 We've still been doing 30 Day Shred, so it may be the longest stretch I've worked out in a long time! We haven't been super conscious of what we're eating (but we're still doing intermittent fasting). So, the working out side of things definitely helps me feel less guilty about enjoying food. Only a few weeks left until the big 4-0 so I'm determined to stick with it!
The Nordstrom Anniversary Sale opens up to Influencer level cardholders today! This isn't for actual influencers, it's simply based on how much you spend on your card each year. You can get more info and see all my top picks here. Once my order arrives, I'll plan to do a try-on with all of my favorites!
Recent Buys & Sales
Following are some sales that have carried over from the weekend, as well a a few new additions. You can see some of my top picks here.
I hope you all have a great week!
If you would like to follow along on more of my home decor, DIY, lifestyle, travel and other posts, I'd love to have you follow me on any of the following:
Pinterest | Instagram | Facebook | Twitter
disclosure: some affiliate links used