Welcome to this week's Wednesday Watch List, where I share the random things that captured my attention and stole my heart over the past week!
This post contains affiliate links for your shopping convenience. Click here to read my full disclosure policy.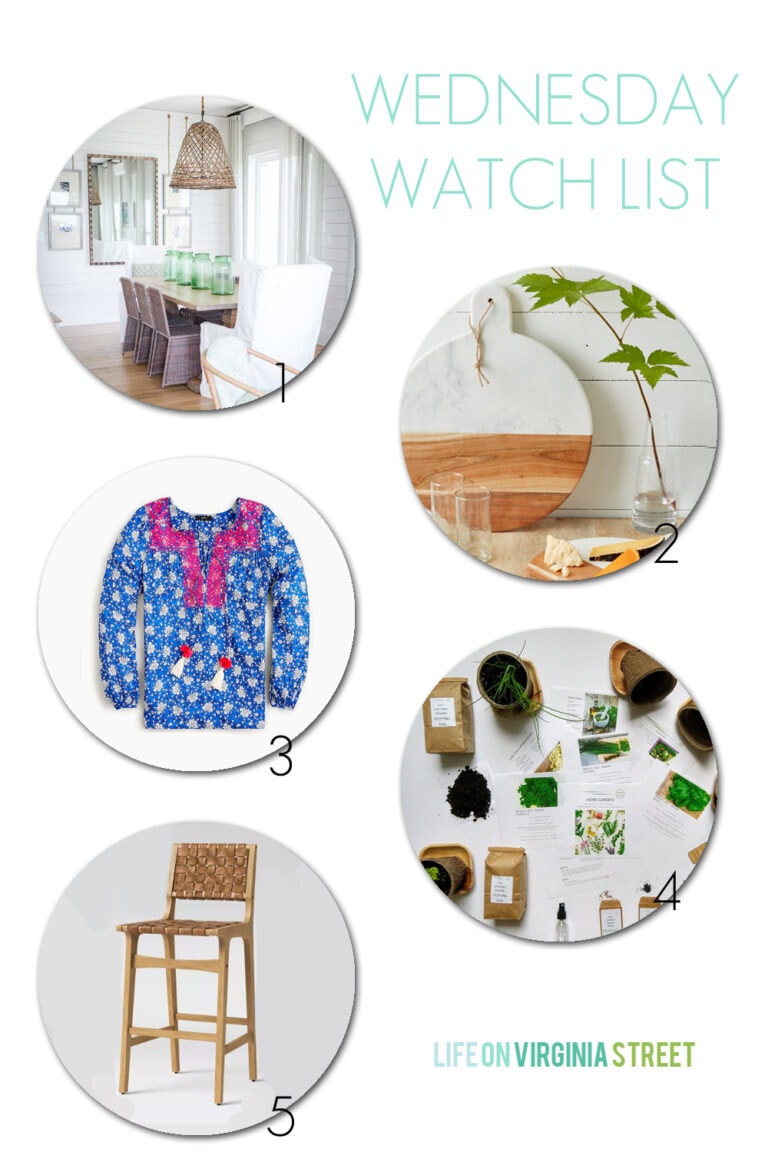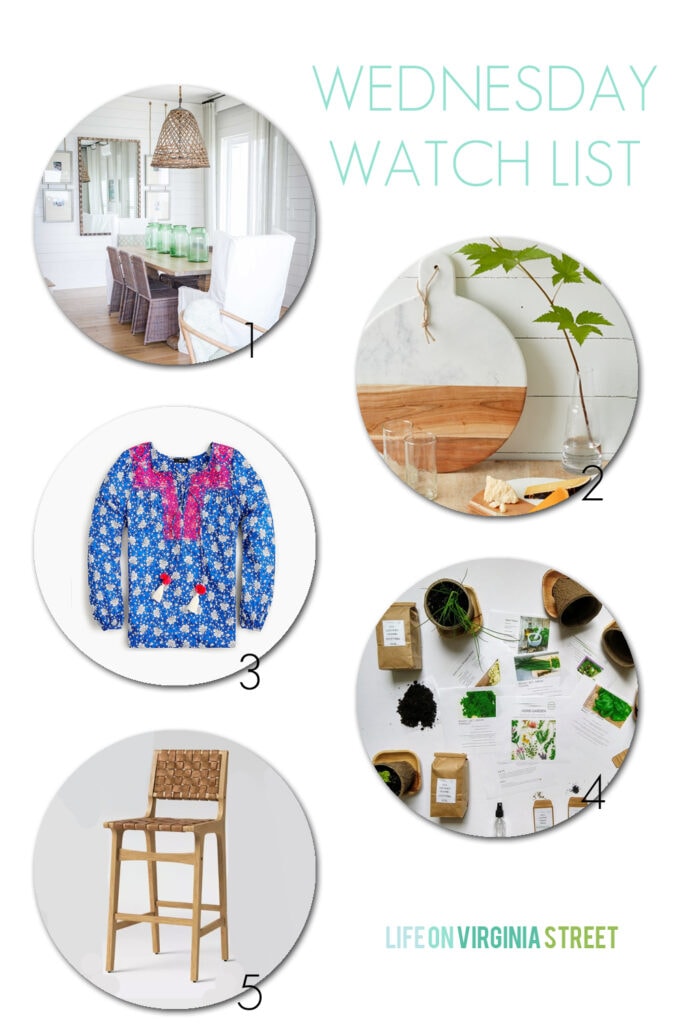 1 – This gorgeous beach home from Ashley Gilbreath Design is like a mini-vacation without even leaving your home! So many beautiful features to focus on in each and every room.
2 – I was able to place my Nordstrom Anniversary Sale order and have it all overnighted so I can get a post ready for you tomorrow when the sale opens to all cardholders. One of my surprise favorites was this serving board. I had heard great things about it in years past but I wasn't convinced it was worth the price. But, when it arrived, I was surprised how big and substantial it is! I took a picture of it in our kitchen next to my Serena & Lily boards that are MASSIVE (it won't be staying here but I wanted to show scale). Although this board doesn't look that big, keep in mind our range is 36″ wide and my white dutch oven is 7.25 quarts. Just look at the recipe book off to the right for scale. The board is pretty big and I love the marble and wood combo. It looks like it sold out Monday when the sale opened to the last round of cardholders, however, rumor has it that inventory has been held for each of the day's launches. And today' launch is at 8:30 CST. So my hope is that this board will be available again later today and then some more next Wednesday for public access. I haven't had a chance to try all the clothes on yet, so I'm hoping to do that today and to have a post for you tomorrow with some fit/sizing tips and my top picks! You can see my initial picks from the sale here.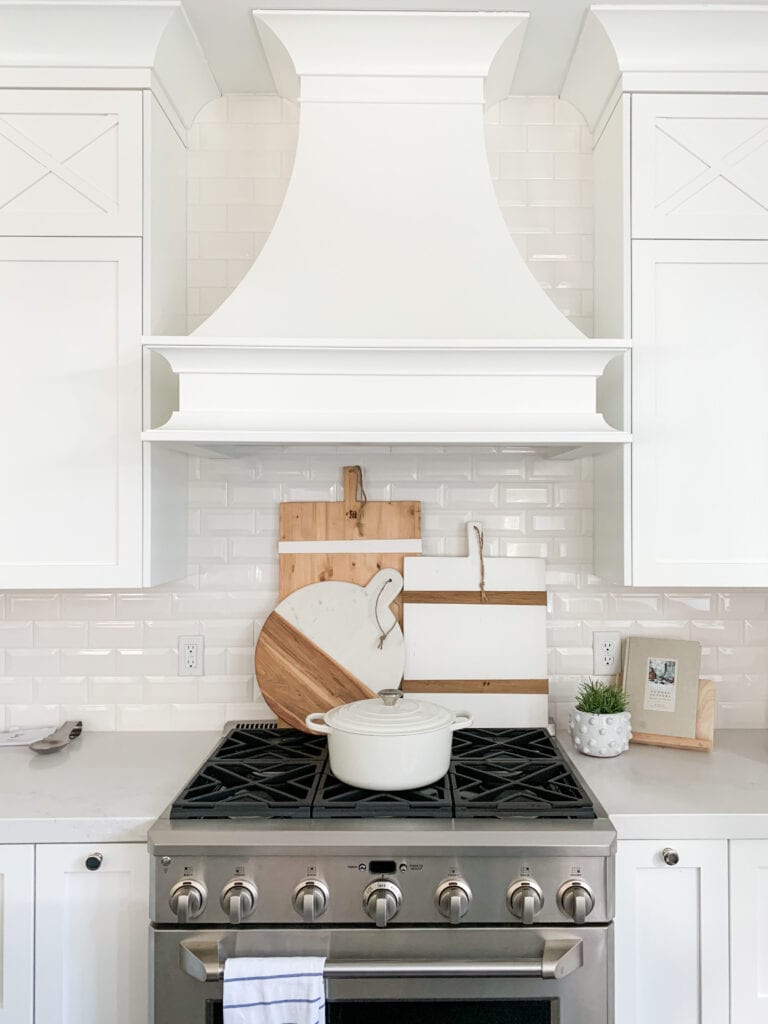 KITCHEN SOURCES: Natural Wood Board | White Wood Board | Round Marble & Wood Board | White Dutch Oven | Ceramic Vase | Similar Faux Asparagus Fern | Similar Cookbook Holder | Cookbook | Cabinet Hardware
3 – I bought both colors of this top about a month ago, and I'm kind of shocked at how much I've worn them so far! I was thinking I'd mostly only use them in the fall (and really only planned on keeping one color) but with the cooler temps we had the end of July and early August, I actually wore them quite a bit more than I expected. The cotton is lightweight and breathable, and the pattern and poms couldn't be cuter. Plus, the embroidery is beautiful! Highly recommended, especially now that they are an additional 50% off with code EPIC. I ordered a Large in both sizes and it's definitely roomy (it's wider on bottom than it appears), but I usually just do a half-tuck in front and love the fit. The fabric doesn't have any give but I probably could have also made a medium work since it has a slight v-neck cut. I also got this top and love it, but I went with a large and definitely needed to size down one. I can wear the large, but the straps keep wanting to slide off. The colors and print are so pretty in person though! They're also offering 40% off select full-priced styles with the same code – so there's a lot of great options for late summer/early fall!
4 – We have used our herb garden so many times this summer that I'm seriously considering trying one of these eco-friendly container gardening kits for the winter months. There is nothing better than fresh herbs and produce while cooking at home, and we've really come to appreciate that this past year. I love this organic kitchen herb kit that allows you to pick your herb options, includes organic soil, and basically costs what two months worth of old packaged herbs would cost from the grocery store. I just need to figure out a way to keep the cats out of them. Although they even have a pet-friendly version! They also have kid kits if you have children you want to include in your growing/cooking experiments!
5 – After being out of stock for ages, these designer look for less woven bar stools are finally back in stock in the most popular color! The reviews are excellent and they have a high-end look for a fraction of the cost!
If you would like to follow along on more of my home decor, DIY, lifestyle, travel and other posts, I'd love to have you follow me on any of the following:
Pinterest | Instagram | Facebook | Twitter 
disclosure: some affiliate links used