Happy Monday! Is anyone else looking forward to a fresh start with the new month (and new quarter) that arrive later this week? I know I am! Our weekend started off to a really rocky start, but thankfully ended much better. More on that below.
This post contains affiliate links for your shopping convenience. Click here to read my full disclosure policy.
Home Projects & Updates
Last week I finally got around to painting some white square on our office walls last week. If you recall, I was going to do this (and will probably do more) to help me better pick a color. I feel like the Hale Navy was skewing my thoughts. Funny enough, a few weeks ago Kurtis had said he didn't care what color I picked, as long as it wasn't white! After he saw these three squares, he said maybe I should just paint it white. He thought it looked so much brighter and cleaner in the room. Ha!
While ultimately I don't think I'll go white, I may just paint it all that way temporarily so it doesn't look quite so chaotic. Remember last week in my tips for working from home post I emphasized having a clean work space? Mine is basically the polar opposite of that right now (and the image below doesn't even show all the furniture and accessories I had been collecting around our house that are piled up that I was going to use for the other house). You can read about our office plans here.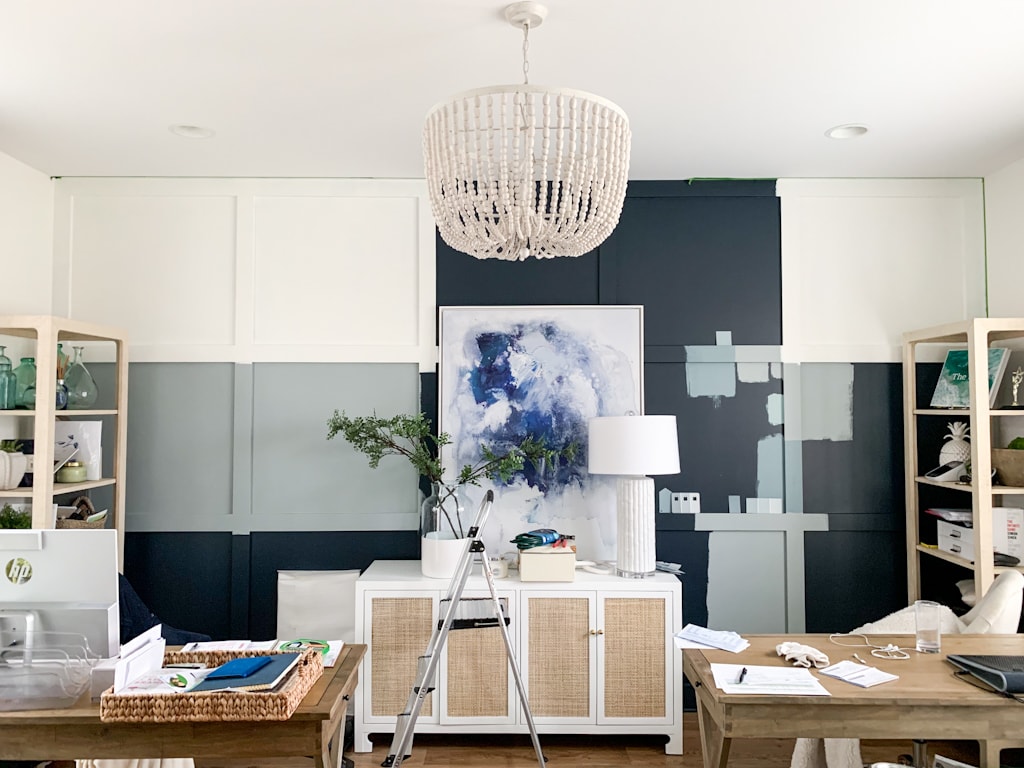 OFFICE SOURCES: Wood Desks | Linen Chairs | Cane Cabinet | Bookcases | White Wood Bead Chandelier | Abstract Art | Paint Dipped Vase | Faux Greenery
Speaking of the other house. We were able to close on it last week all online. Our realtor did the final walk-through with us on Facetime. You may recall I had mentioned some main sewer line issues. Well, they were resolved prior to our closing, however, we now have no front yard. It's always something! Thankfully our realtor is handling the situation, and we hope to get some sod or seed on it soon. And if you missed my mention of it last week, we're going to have to turn the house into a traditional rental for a year or so. I'm sad about it, but given the state of things in the world right now, it makes the most sense and is really not a true problem at all so we're rolling with it. So, all the Airbnb plans will hopefully go into full force next spring!
I also did a little refresh in our pantry last week. I'll be sharing more photos later this week or some time next week, but I always love just how much a few simple pieces can totally change the look of a space. Even in a space as simple as a pantry! It's always fun when you can shop your house and move things around for a whole new look!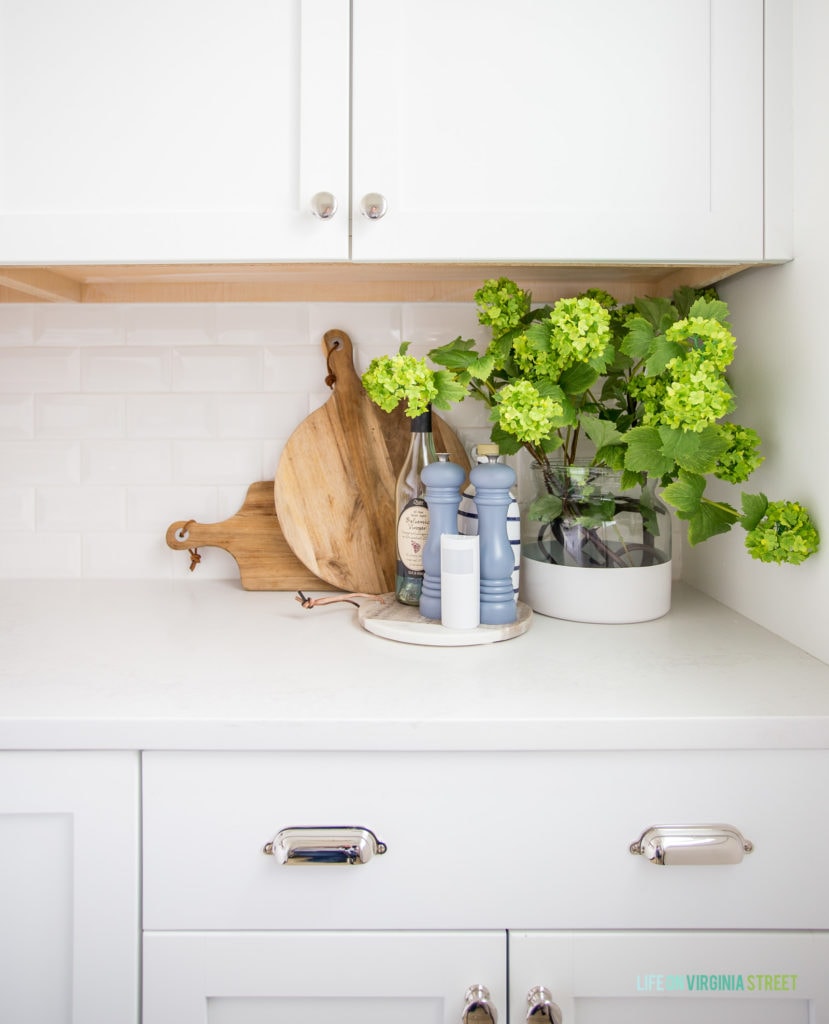 PANTRY SOURCES: Wood Boards (Homegoods – old) | Marble Tray | Paint Dipped Vase | Faux Viburnum Stems (similar here)
Top Sellers Of The Week
Following are the top sellers of the week across all of my channels. Links to each item are below the graphic.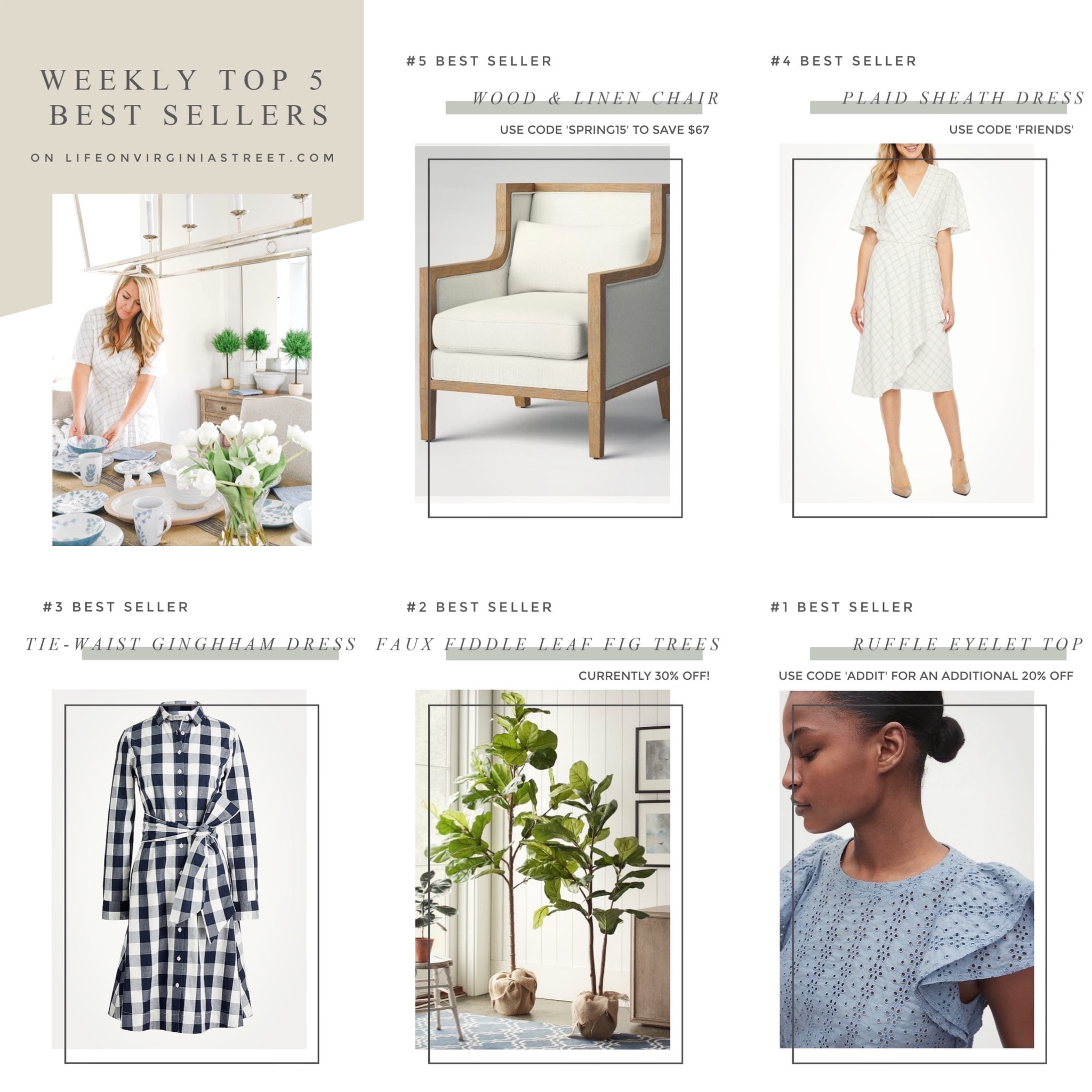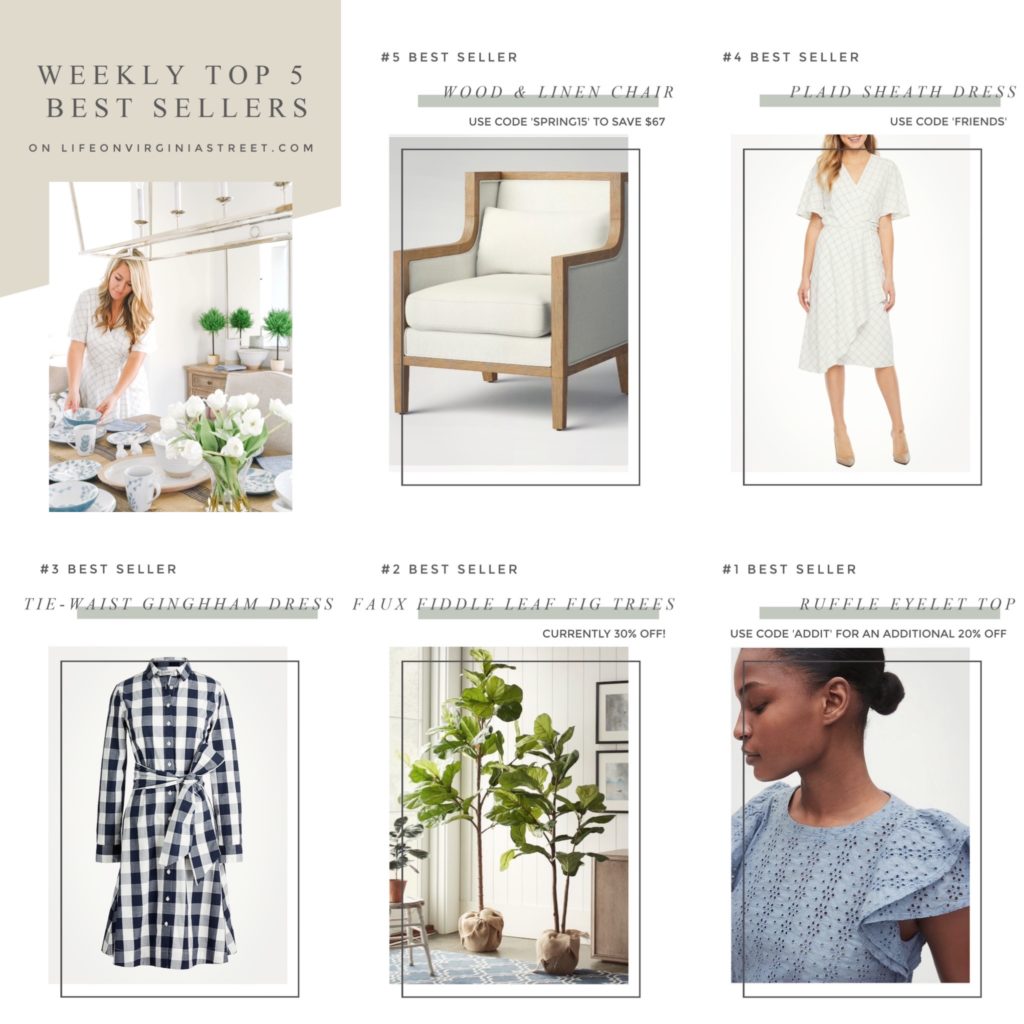 BEST SELLERS (each number is clickable): #5 | #4 | #3 | #2 | #1
Around Town & For Fun
My fun the past two weeks has been working on puzzles. It's embarrassing how many I've completed. I saw a funny quote going around yesterday about the fact that clearly I should have more hobbies than just eating out. It's amazing how much more free time I feel like we have now that we can't go out to eat multiple nights a week. Kind of an eye opener! Here is the view from our puzzle table – nearly every single thing is currently on sale!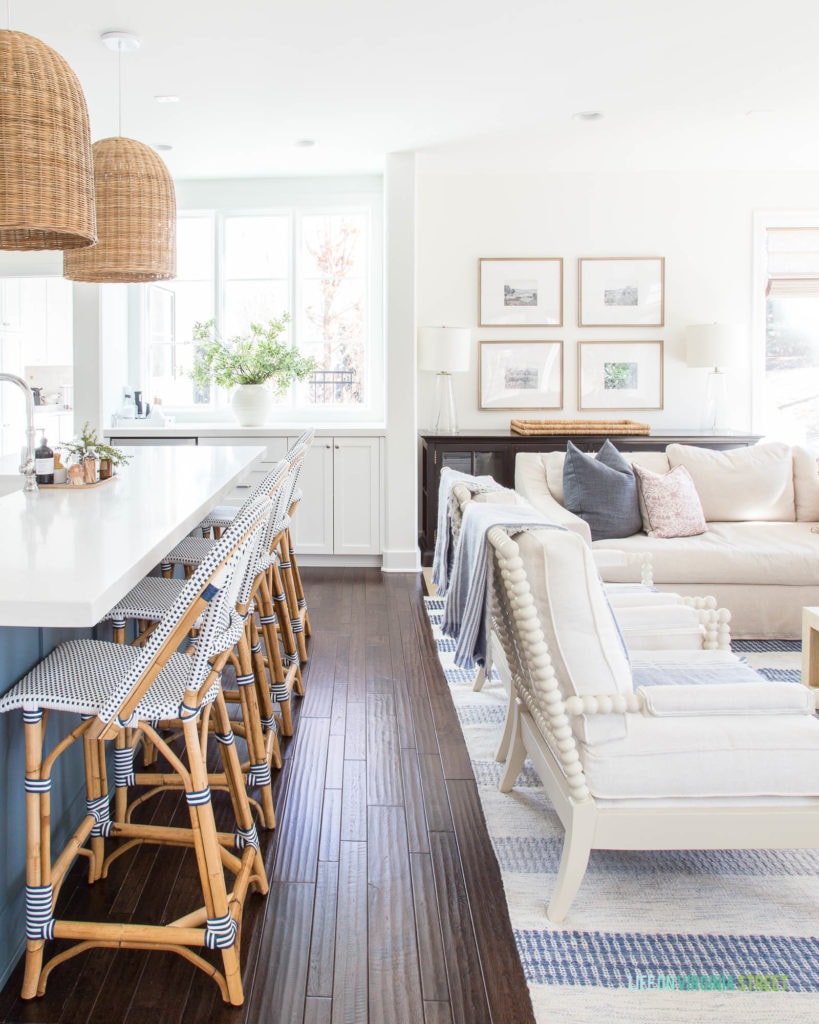 KITCHEN & LIVING ROOM SOURCES: Counter Stools | Basket Pendant Lights | Faux Greenery Stems | Spindle Chairs | Striped Rug | Striped Blue Blankets | Linen Sofa | Linen Pillow | Patterned Pillow | Gallery Wall Frames | Lamps | Coffee Table
Bailey decided to "help" me when I was working early last week. Her nose was almost touching the screen. I have no idea what was going on 😉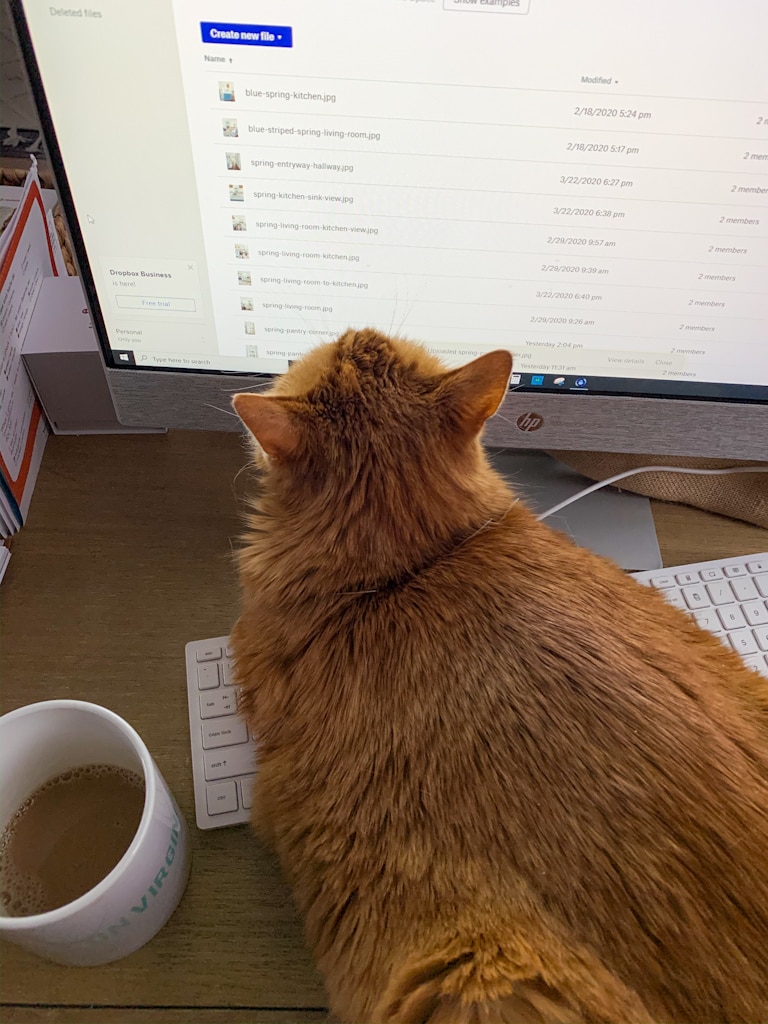 And this little goofball has been following the sun around our house, where ever she can find it!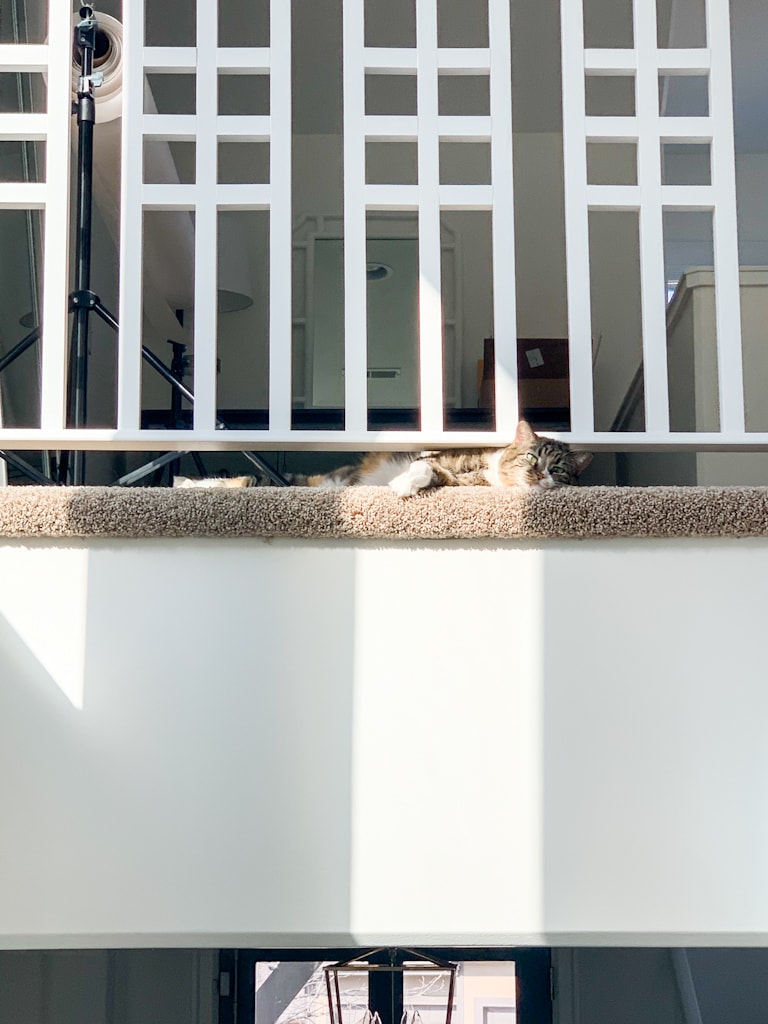 We've really tried to do our part and continue to support local restaurants that we love so much since they've had to close their doors to the public! Thankfully, many of them are offering pick-up or delivery. We had Lazlo's dinner delivered one night (along with their beer)!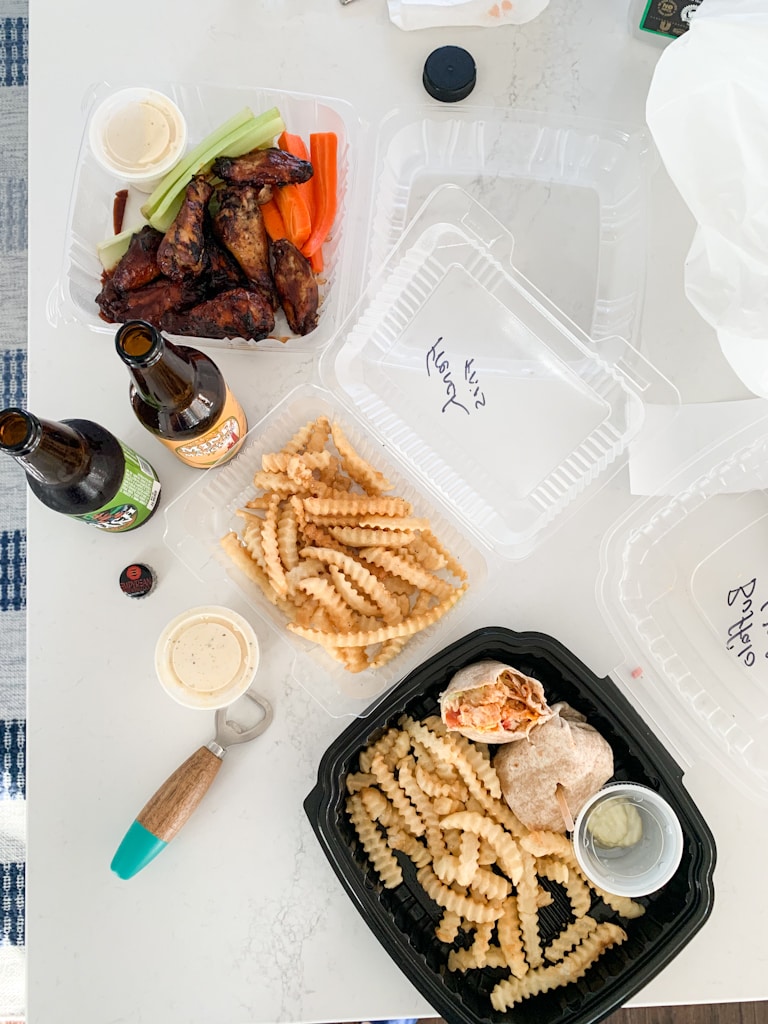 Another night we ordered the family meal from Dante via Grubhub – just for the two of us. It was all so good! And thankfully it lasted for three meals and we didn't eat it all in one sitting 😉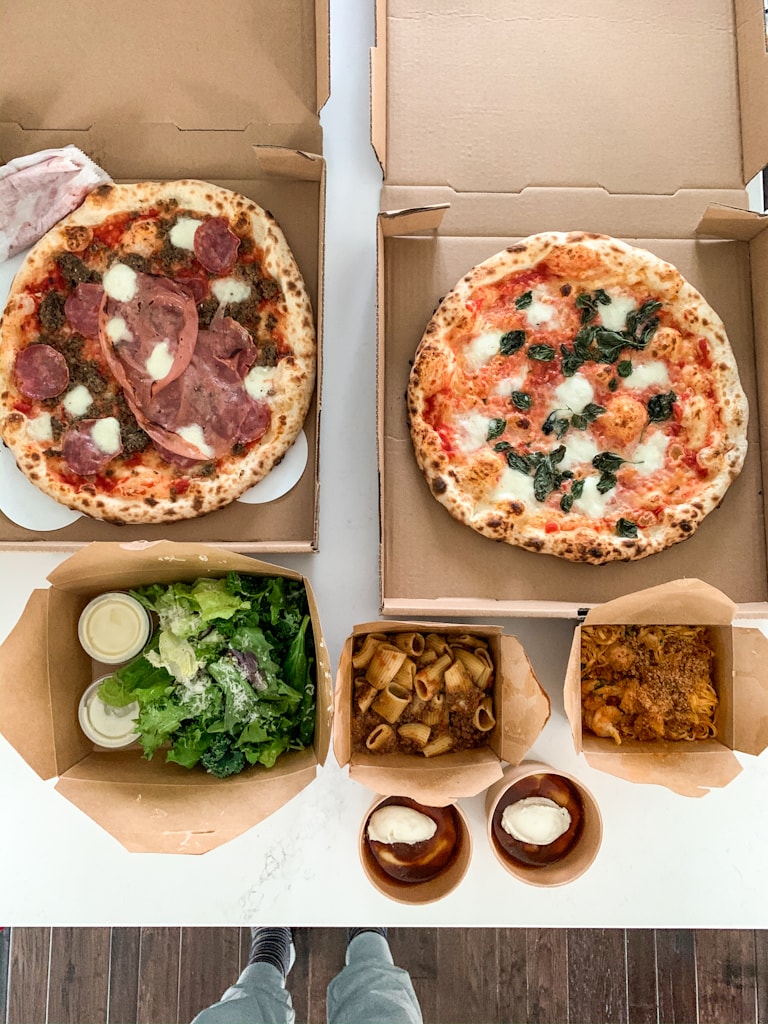 Mid last week, Kurtis and I decided to hop in the car and go for a drive over his lunch break. It had been the first time we'd left the house in two weeks. And although we didn't actually get out of the car, it felt so good to change up the monotony of the prior two weeks! It was fun to do a little house stalking in "the country" as well.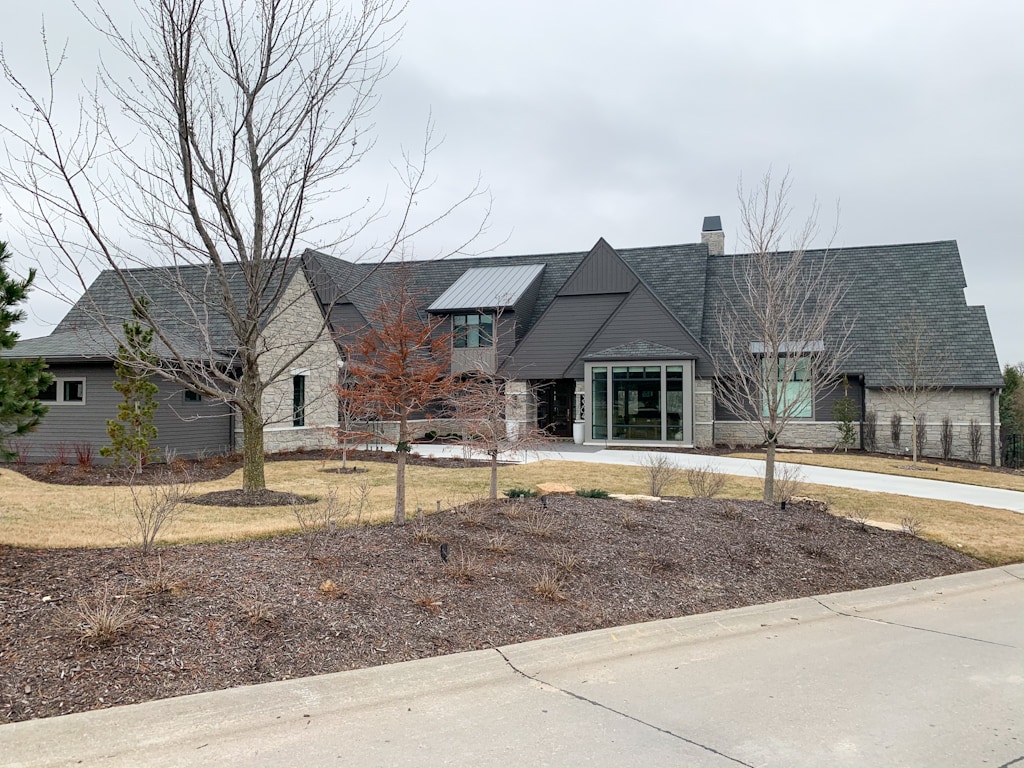 So, let's get to the scary part of our weekend. On Thursday, we felt like Hawkeye was "off" most of the day. He kept to himself and wasn't being as active as normal, but nothing that seemed to need immediate attention. On Friday morning, we awoke to a few major warning signs, and I rushed him to our vet to be there when they opened. They aren't allowing humans in their office at this time, so I dropped him off and waited until they were able to run some labs, etc. We were essentially told that they thought he was in kidney failure and we needed to rush him to the pet hospital. The doctor there was pretty blunt too, and told us (over the phone since we also couldn't go inside there) that the prognosis was not good. They wanted to admit him and keep him on fluids to see if they get his levels down. When we dropped him off, his creatinine was over 11 (normal is .6-1.6). Needless to say, we were wrecks most of the weekend.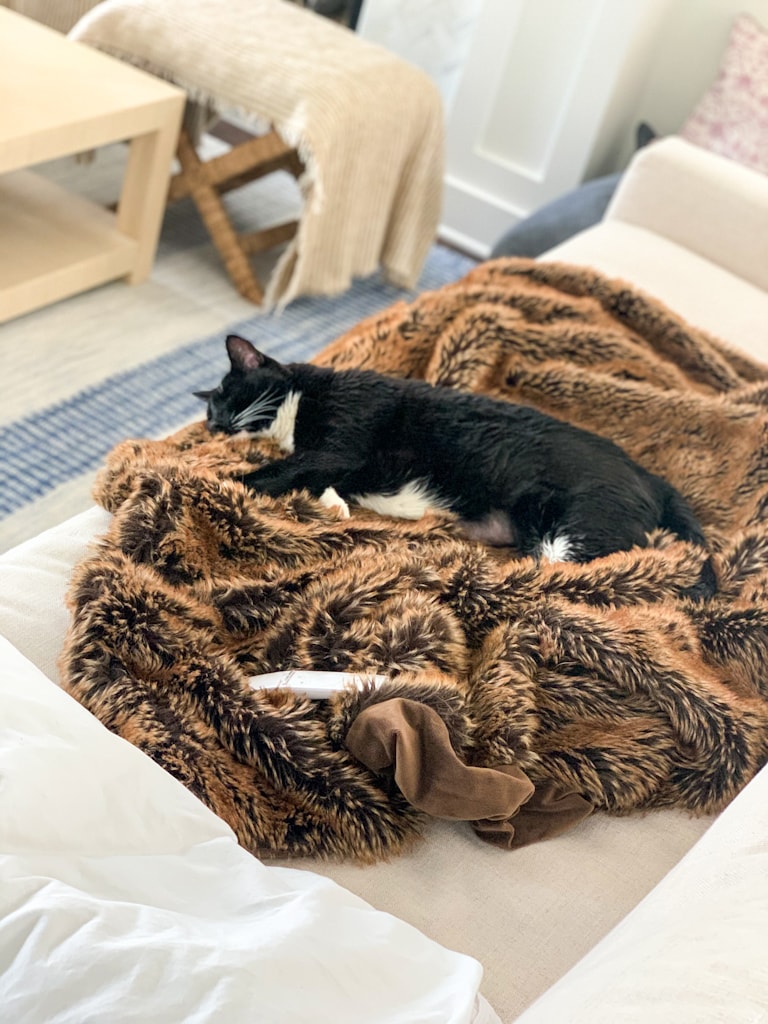 However, Saturday afternoon, we got a call that his values had improved dramatically. Even his creatinine had dropped to 2.5. Still about double the normal range, but it had made a dramatic improvement. He still wasn't eating at that point. By Sunday, his levels had dropped even further, and he finally started to eat late morning. It was such a huge relief! So, we were able to pick him up Sunday night at 7 pm to take him home! He needed a good bath (and lots of snuggles) but he seems like he's starting to feel better. He's still a bit out of it, and his sisters aren't so sure about him yet, but we couldn't be happier he's back home and seems to be improving!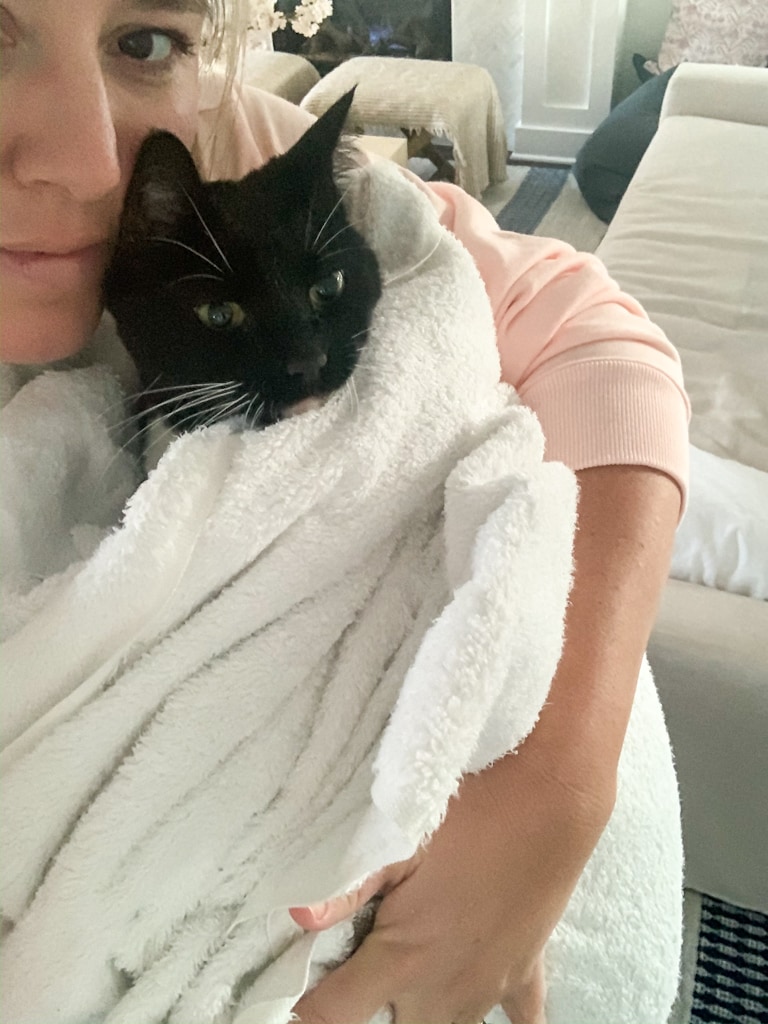 If you followed his updates on my Instagram page, thank you again for all of your prayers and kind words for Hawkeye! We're so happy he's home and doing better. Hopefully in the next day or so we'll have the results of his urine culture. We'll also have to take him in again tomorrow or Wednesday to ensure that his numbers have stabilized now that he is off the IV fluids.
I hope you are all staying safe (and sane!) during these crazy times. Much like many of you, we are so ready for a new month and quarter to start this week! Let's hope April turns out to be much better for all of us than March was!
Recent Buys & Sales
Following are the sales that have carried over from the weekend! You can see all of my top picks from last weekend here (I didn't share a post this weekend because of Hawkeye), as many of those items are on sale again this week.
I hope you all have a great week! Please stay safe out there and stay home for all non-essential tasks!
If you would like to follow along on more of my home decor, DIY, lifestyle, travel and other posts, I'd love to have you follow me on any of the following:
Pinterest | Instagram | Facebook | Twitter
disclosure: some affiliate links used