Happy Monday! Who's ready for this new week? I am definitely ready to give this whole quarantine-efficiency thing a try again, since last week I feel like I failed pretty miserably at it 😉 If it's here for a bit more time, I need to get some ground rules established for myself. No more treating it like a staycation, and no more assuming all the food we're eating doesn't have calories! Ugh! But it's a new week and I'm ready to make this thing work for me, for as long as it has to stick around!
This post contains affiliate links for your shopping convenience. Click here to read my full disclosure policy.
Home Projects & Updates
In order to preserve both of our sanity, Kurtis moved his office up into our little guest bedroom. The space already had a desk and my old computer. He usually works with a dual monitor but we didn't have a cord to tie my old computer and his even older laptop together. So, he improvised and found a TV that would work. It looks super classy in there right now 😉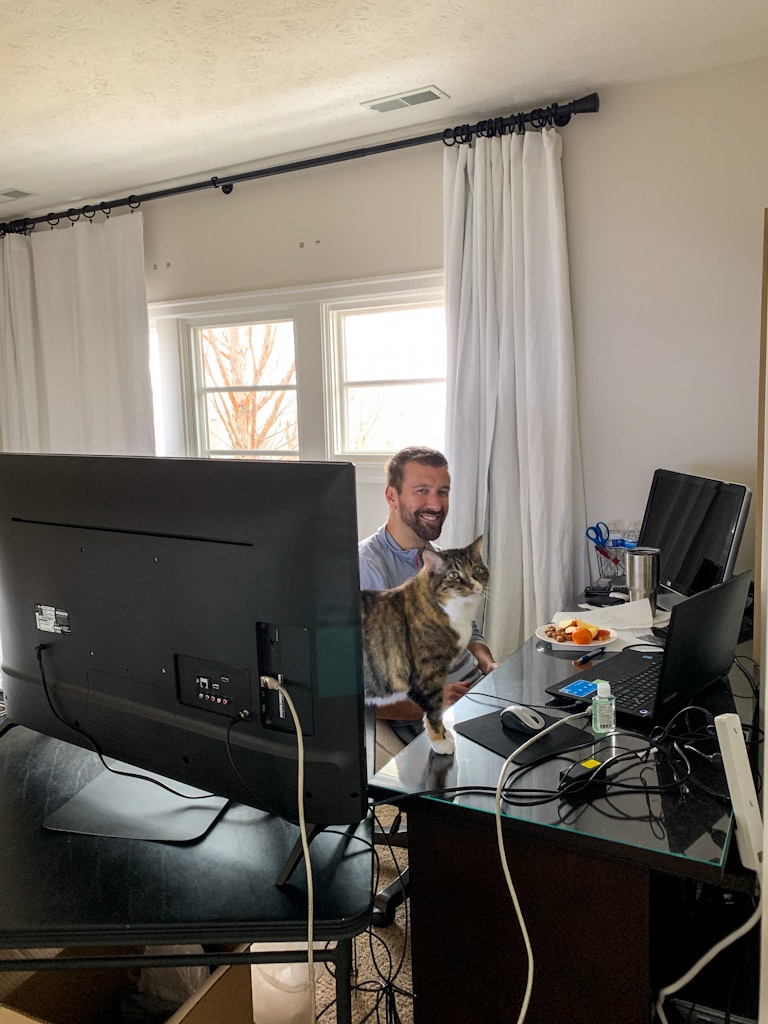 A few of my friends and I were texting last week about the disaster that had ensued at all of our homes with our spouses working from home. This photo below was literally from less than an eight hour window. My friend Kris found a meme about having an imaginary co-worker, Cheryl, to blame things on so you wouldn't fight as much with your spouse. When we both chatted with our husbands about what a pain in the a** Cheryl was being, they both took the hint. Thankfully things got a bit better around both of our houses after that 😉 I'm not sure how one person can use so many dishes in one day!! I can't even imagine what it's like for those of you that also have kids home, too!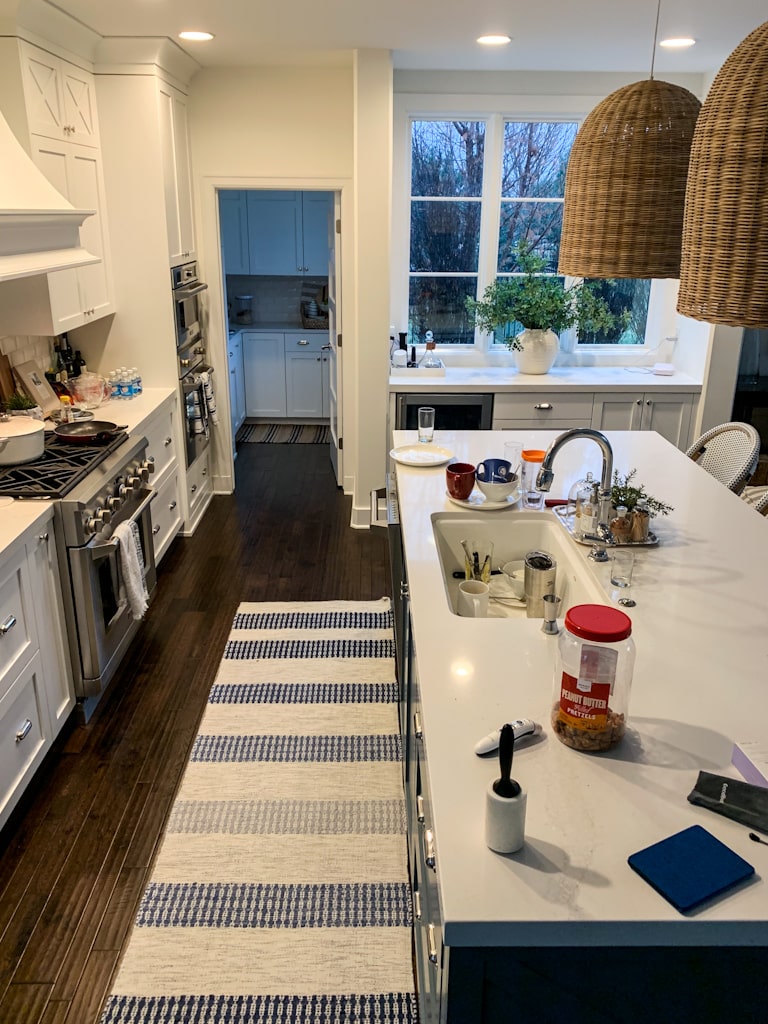 I spent some time reading this book and have really enjoyed it so far! I'm about 60% of the way through it and can see why it is so highly recommended!
Over the weekend, I convinced Kurtis to help me with a few random projects. We finally installed a dimmer and sensor in our pantry. It had been on our to-do list since the kitchen was finished a year and a half ago! So it feels good to have that done!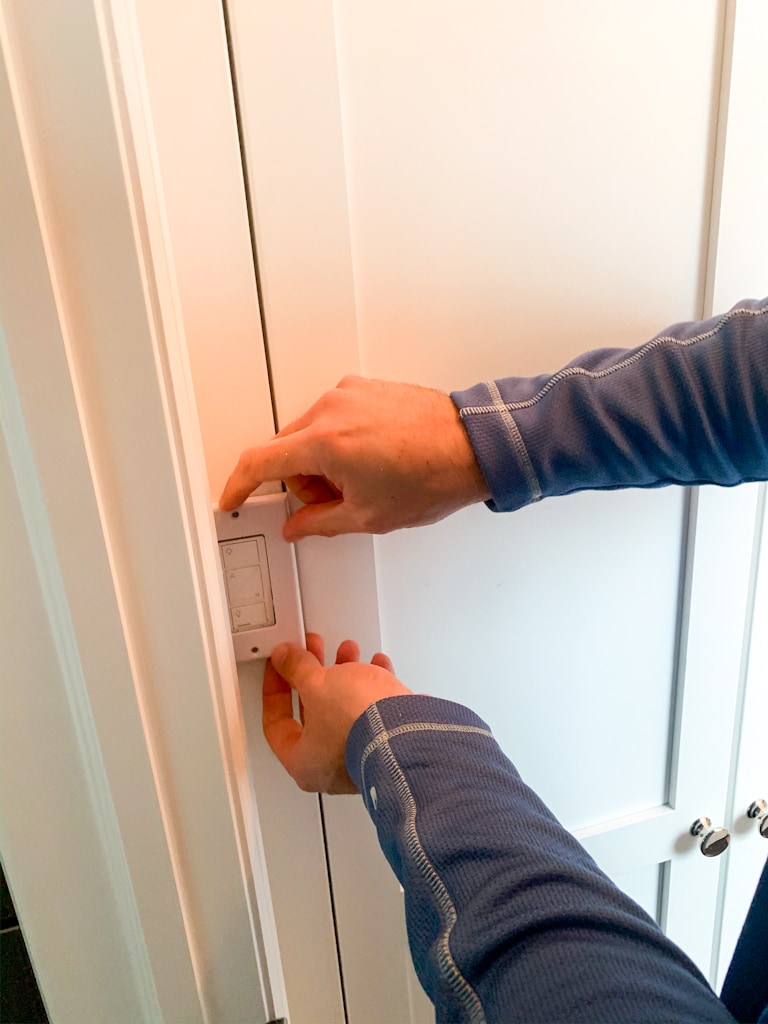 I was able to get two more throw pillows sewn last week. I still have two more to go, but as lazy as I was all week, I felt good about the progress.
Our last two cane dining chairs were delivered late last week. It was three weeks later than they had originally told me, but now that they've arrived, I plan to play around with some ideas in the dining room. I'll share more soon – but it may have to wait until I figure out what to do with the old dining chairs! I'll likely sell them, but that may not happen for another month or two now with the self quarantine!
This week, I'm planning to paint a few of the grid blocks in our office white. I think the dark navy is really throwing off my judgment of the other colors. And since I can't go to the paint store (but have a lot of Simply White on hand), I'm going to see if that helps with my decision! Below are some of the samples I had already tested (and will likely veto). You can read about our office plans here.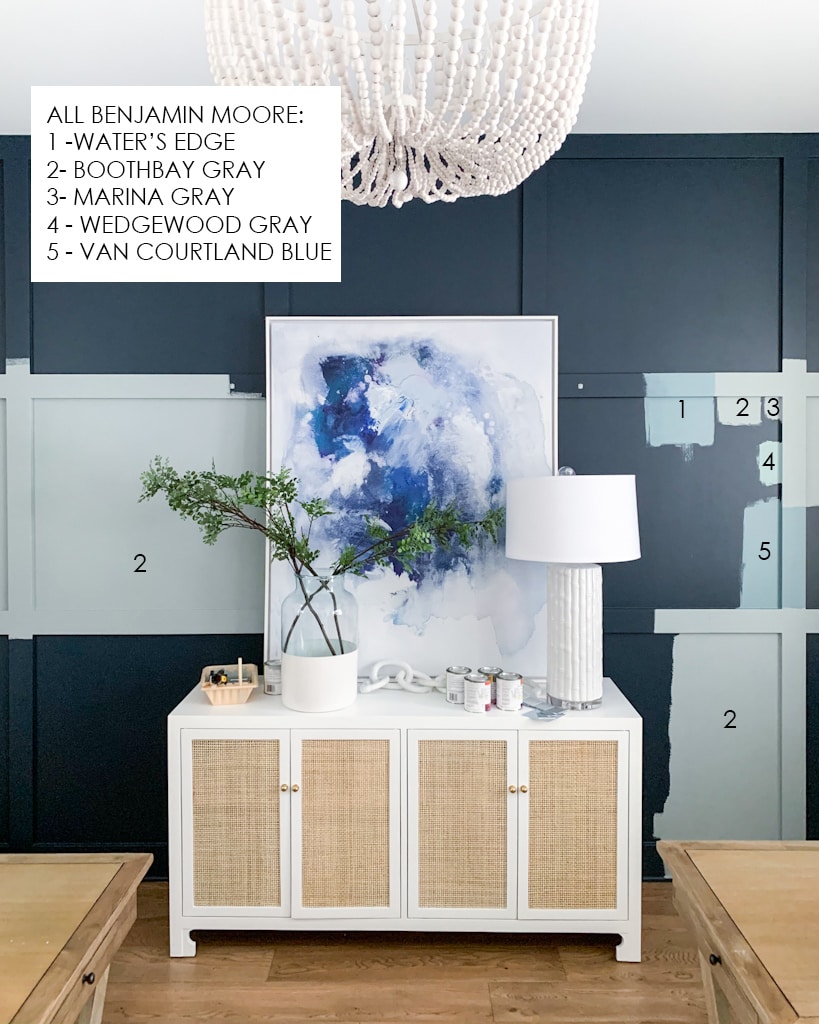 After all the craziness of the past two weeks, I haven't talked much about the house I made an offer on. They were able to do the inspection on it a week ago. There were some major issues with the main sewer line to the street so we needed to get that all resolved. But as of right now, we're moving forward with the purchase. The sad news though, is that with all of the craziness going on, and all public events being cancelled in Omaha for the foreseeable future, we'll likely have to make the house a traditional rental house for a year before making it a short-term rental. I'm bummed about it, but I also have to make a decision that makes financial sense. We're supposed to close on it Thursday (doing it all digitally and remotely) and then we'll go from there. We may even offer it as a 6 or 9-month rental, and then I can furnish it after that point as a short-term vacation rental. Stay tuned!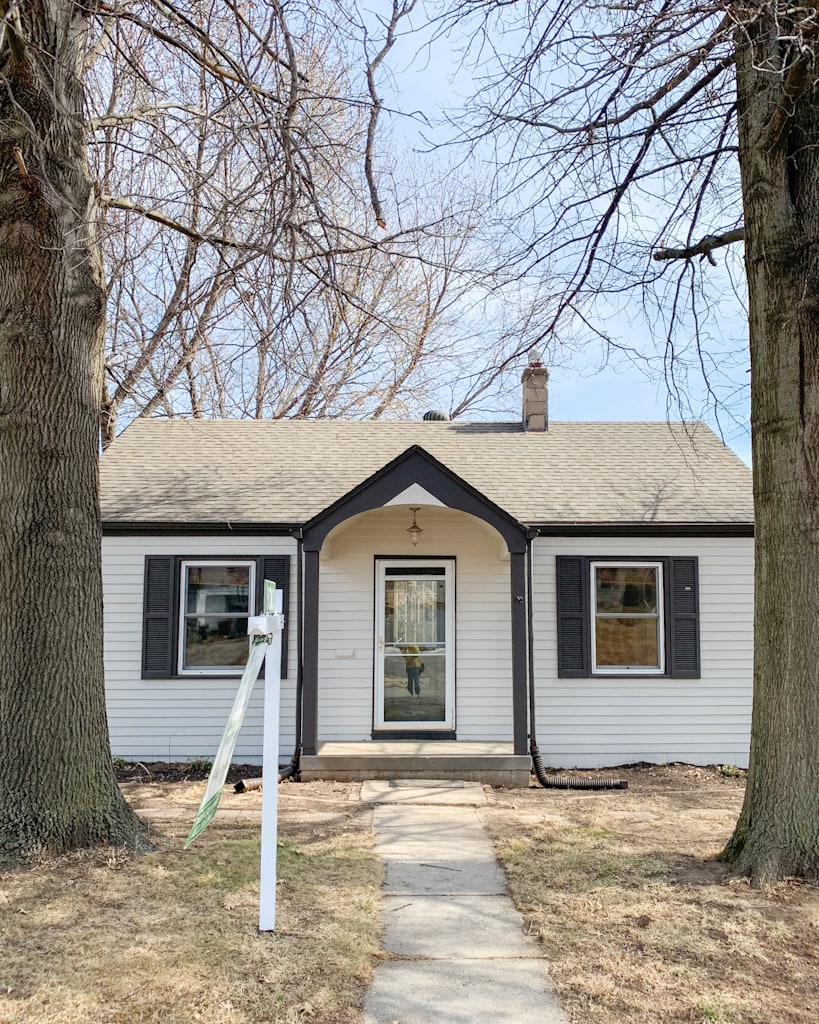 I have an Easter post coming up this week that I actually photographed and wrote about three weeks ago, so be on the look out for that. I had to make some modifications to it last week, given the uncertainty about what Easter may look like this year. But hopefully you all still find some ideas you love!
Top Sellers Of The Week
Following are the top sellers of the week across all of my channels. Links to each item are below the graphic. Unfortunately the huge sitewide Nordstrom sale ended last night, so several of these are no longer on sale since I shared them yesterday on Instagram. Interestingly enough, some of the flip flops that sold out are back again and in stock and on sale!
Around The House & For Fun
I had to change the usual title of this one from "Around Town & For Fun" to "Around the House & For Fun" this week 😉
I felt like Kurtis was actually working longer hours last week, since he didn't also have a commute thrown in the mix. So, I decided to buy the unlimited language lifetime pass to Rosetta Stone. They're offering $100 off the pass, making it only $199. I had used it years ago to learn Spanish and it was an amazing tool. I've really been wanting to learn Italian, as well, so I decided to try it. I had used it nearly a decade ago when it was a set of discs you run in your computer. I love that now it's all online or an app on your phone, so it's much more convenient to use! My first week is already done, and I'm excited about my progress!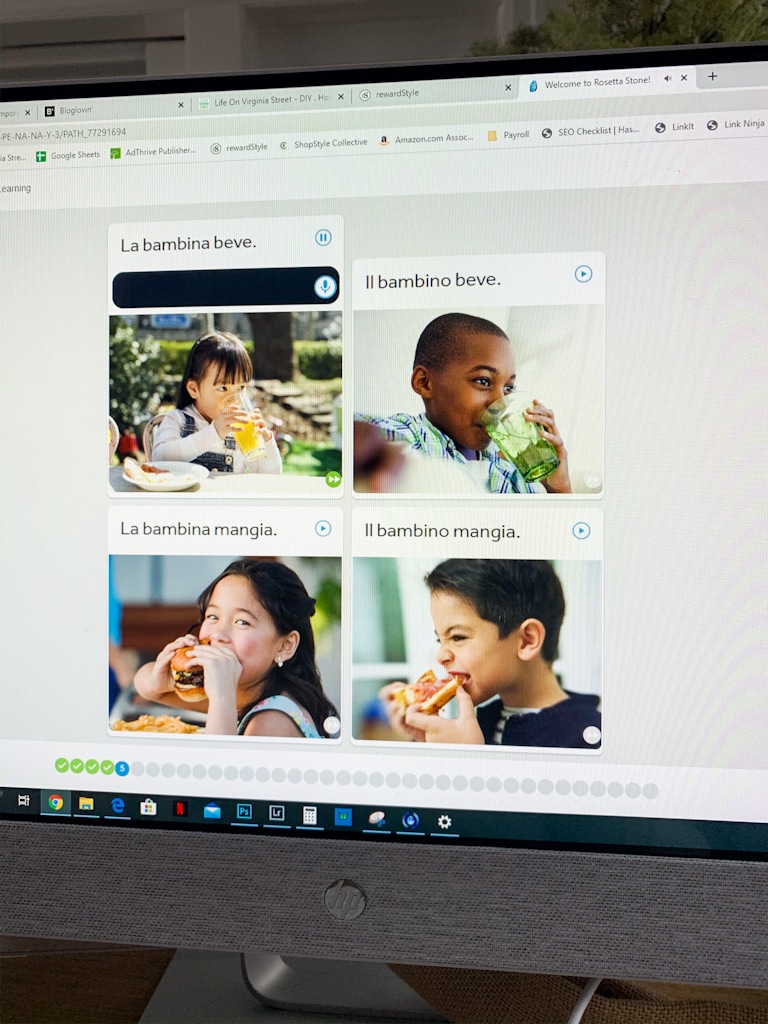 In my laziness last week, I got three 1000-piece puzzles completed. So I guess technically that means I got a lot done, right?! Henley was my little "helper", but most of the time it looked a lot like this.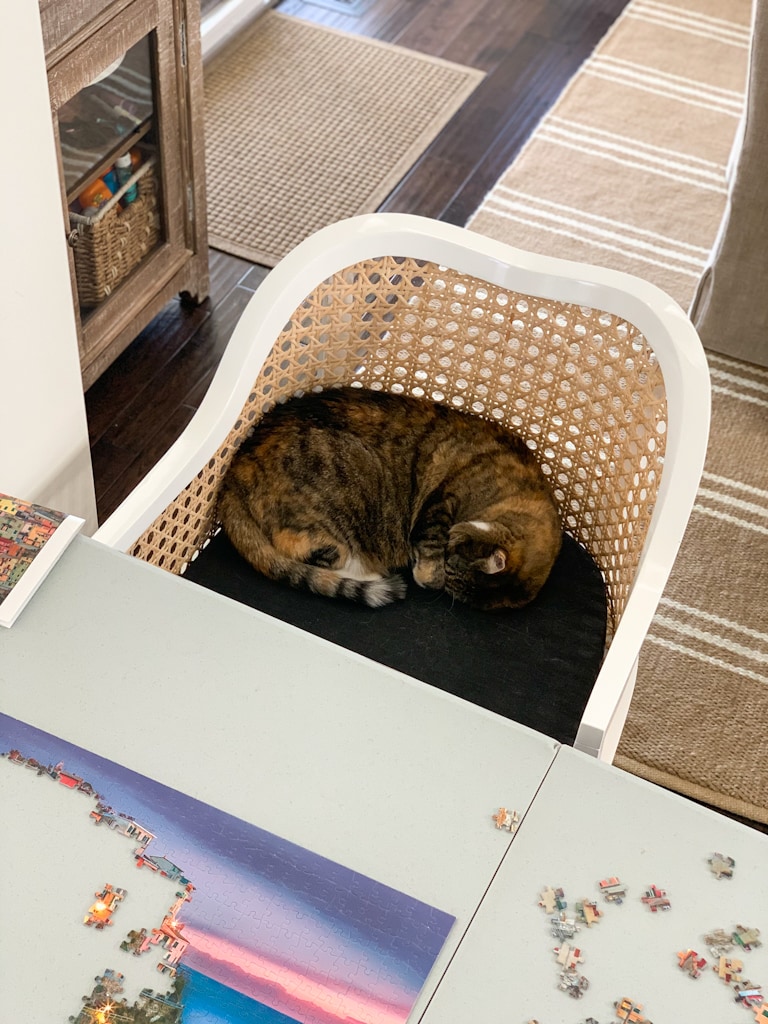 Kurtis laughed because he came down late one afternoon, and Henley heard him and popped up from sleep. It kind of looked like she really had been doing the puzzle with me 😉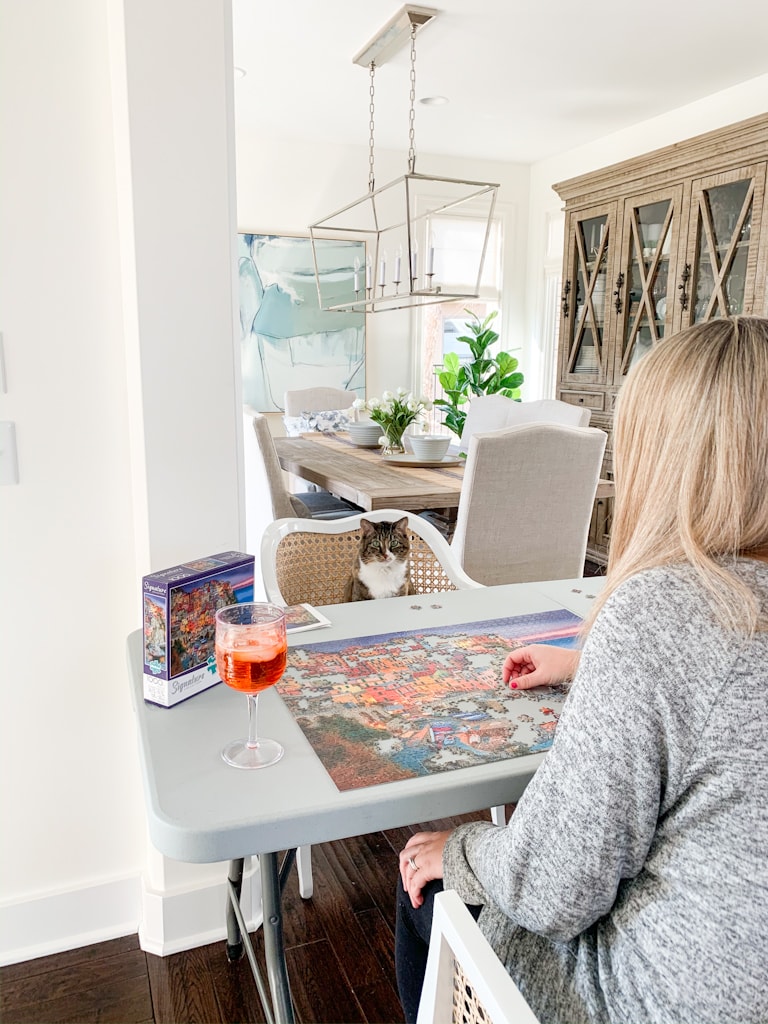 DINING ROOM SOURCES: Cane Chairs (look for less here) | Linen Chairs | Dining Table | Chandelier (look for less here) | Abstract Art | Fig Tree
How are you guys all doing with the quarantine and social distancing? Hopefully you're all hanging in there! Friday Kurtis hosted a virtual happy hour for some of the managers that work for him. I thought it was such a great idea and worth sharing! On Friday afternoon, they all grabbed a drink at each of their own homes, and then hopped on Zoom to chat about how the week went. It would be fun to do with your girlfriends too, as I know these are unusual times for everyone! And in case you missed it, I also shared a post on 50 Thing to do When Bored At Home. I actually did nearly a dozen of the activities last week, and hope to do even more this week to help shake things up a bit!
You know who loves the quarantine more than anyone else on the planet? The cats. They love having both of us home all day long. This may be the first time I've seen all three of them sleep so close together in a long time!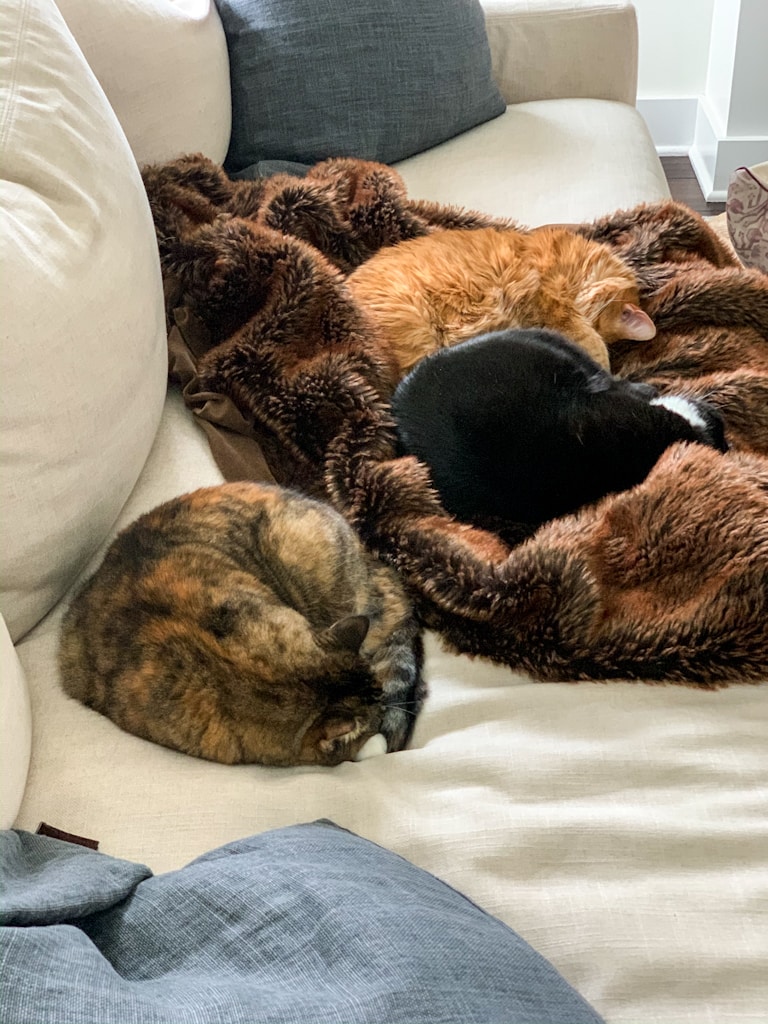 Our cats usually hate being under blankets, but Kurtis covered Bailey with one on his office chair last week and she was loving her little fort!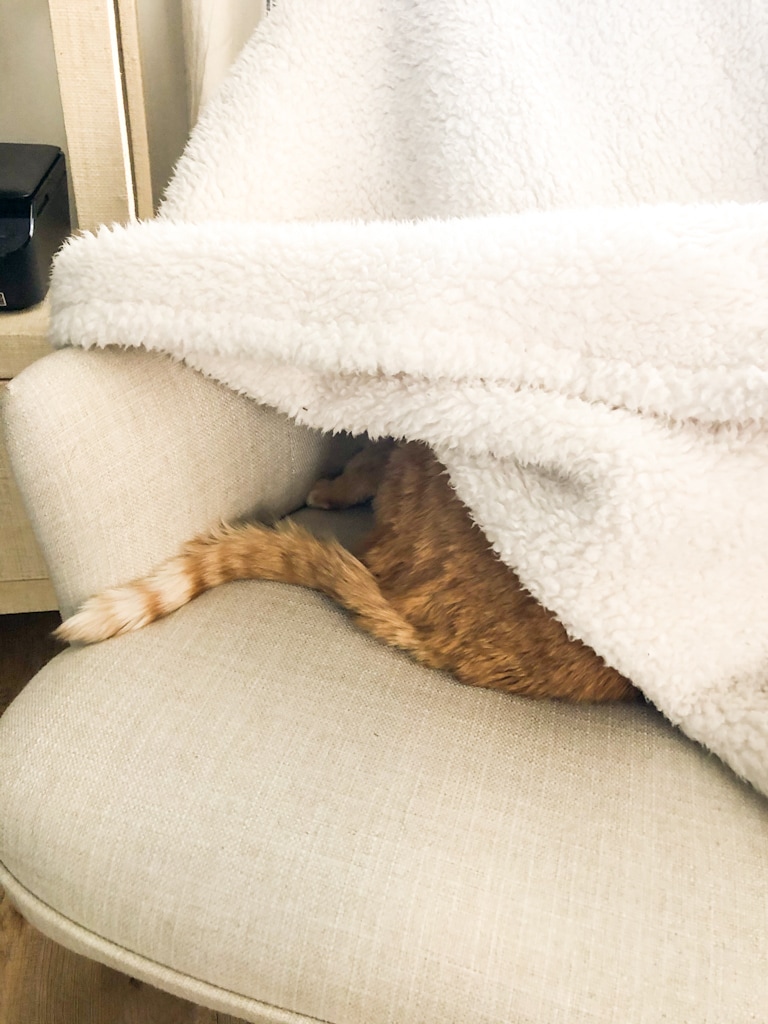 After eating mostly junk food all last week, yesterday I made a huge batch of soup with all the veggies we hadn't eaten throughout the week. I always just make my recipe up as I go along but it turned out really good. I few items I always include:
Chicken stock (we buy this in bulk at Costco because we use it so much throughout the year)
Canned diced tomatoes
Italian seasoning, salt and pepper to taste (I usually add garlic salt, but we were out, so I added some onion salt and garlic powder this time around)
Tons of fresh veggies! This time around I added carrots, yellow squash, zucchini, yellow onions, green beans (a new one for us to try in soup!), and celery.
It was an easy way to get a few meals made ahead of time for this week! Now we can't make excuses that we have nothing to eat around here 😉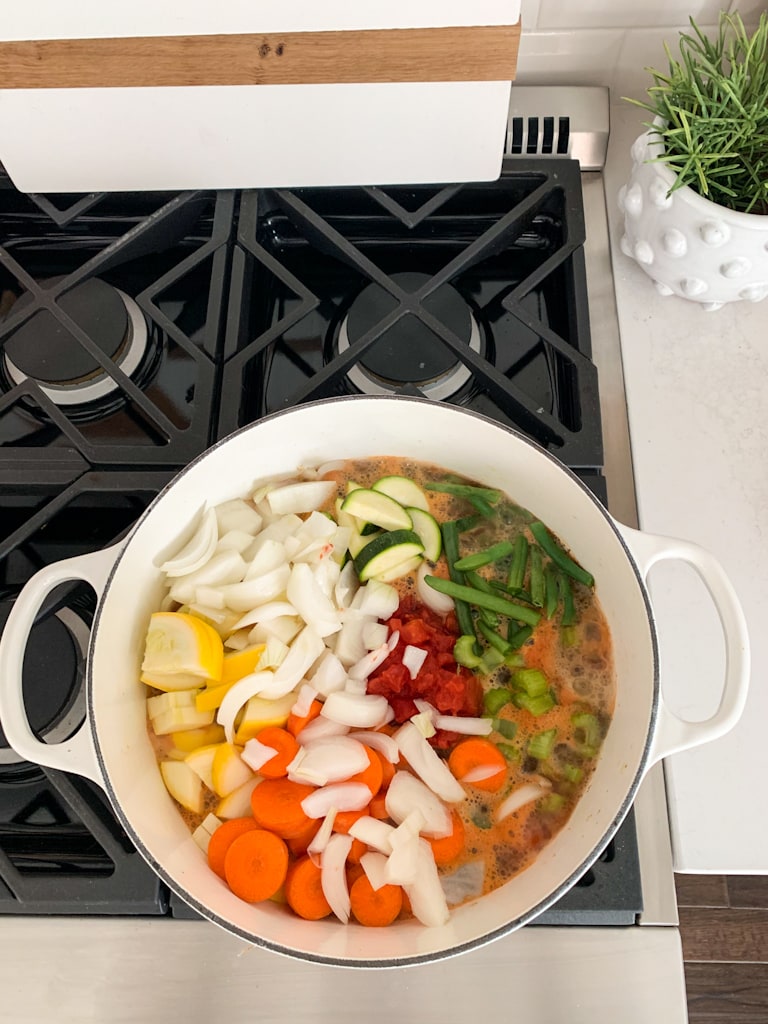 KITCHEN SOURCES: White Serving Board | White Dutch Oven | White Ceramic Dot Pot | Similar Asparagus Fern
So, like I mentioned, I'm hoping we can get back into a new routine around here. It felt like an all-too-familiar scene last week with me assuming it was a week long weekend since Kurtis was home. Basically exactly how I felt during his six weeks he was home for surgery. But, I'm hoping this week I can get back at it and be a whole lot more productive!
Recent Buys & Sales
Following are the sales that have carried over from the weekend! You can see all of my top picks from last week here, as many of those items are on sale again this week.
I hope you all have a great week! Please stay safe out there and stay home for all non-essential tasks!
If you would like to follow along on more of my home decor, DIY, lifestyle, travel and other posts, I'd love to have you follow me on any of the following:
Pinterest | Instagram | Facebook | Twitter
disclosure: some affiliate links used