Happy Monday! I first want to send you all a big THANK YOU for your excitement over the big news I shared yesterday! It's all a bit scary, but I'm really excited to get started! After the inspection late this week, I'll plan to share more photos and details on the property. I didn't want to go into too many of the specifics until things were a bit more finalized but will share as soon as possible! I just didn't feel it was right to share today's Weekend Recap without sharing one of the biggest details of our past week 😉 So thank you again!
This post contains affiliate links for your shopping convenience. Click here to read my full disclosure policy.
Home Projects & Updates
I mentioned last week I was anxious to tackle all the projects that needed tackling. And, considering everything else that went down last week, I think I made a pretty good dent!
One of the thing I tackled was addressing these giant serving boards. We absolutely love having them, but they are huge! Which also means they don't fit in any of our cabinets. I was basically storing them on the floor next to our hutch in our dining room. But, on Monday I decided to hang them on a bare wall in our dining room so they could double as wall decor too! I just used a simply (extra long) nail so they're sturdy but also easy to take down for use. Although they may not look that big here, the small one is 30″ long and the large one is three feet long! And hint: I'm guessing they'll go on sale very soon as S&L usually has a sale around this time each year!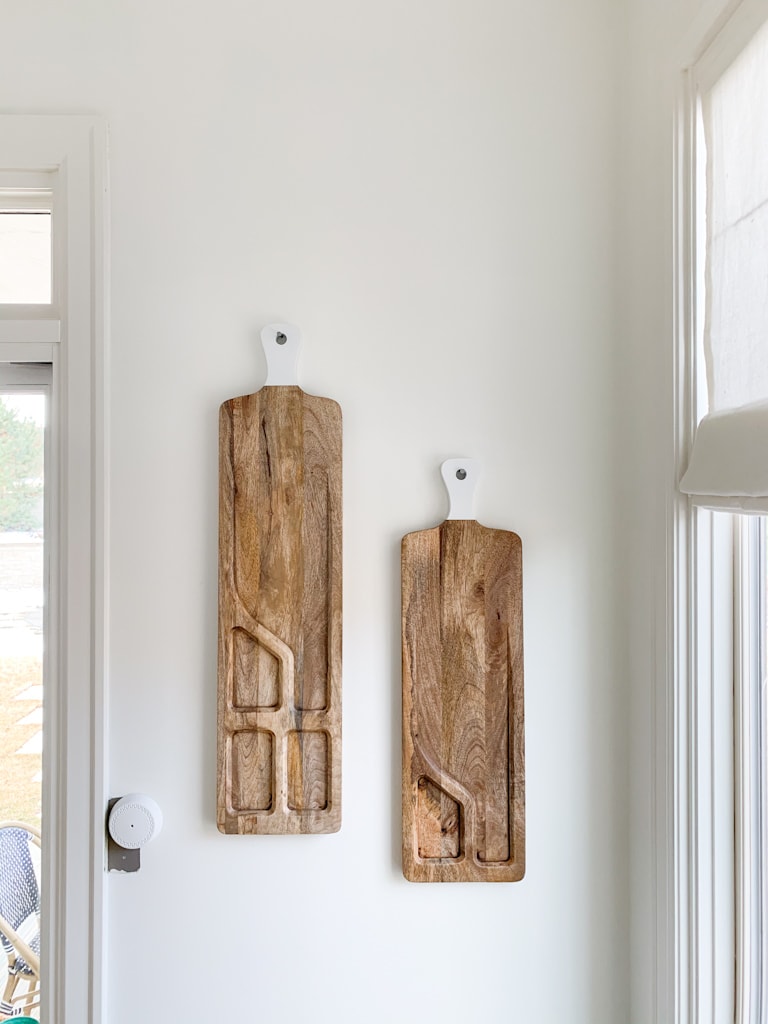 In the photo above, you can also see one of the areas I need to paint. Over the summer, our security system was updated and they went from rectangular until to round ones. Lovely. So, five different places on our main level had areas with really old paint showing. I also tackled the first coat of paint on those, and I'm mostly just mad I didn't do it sooner!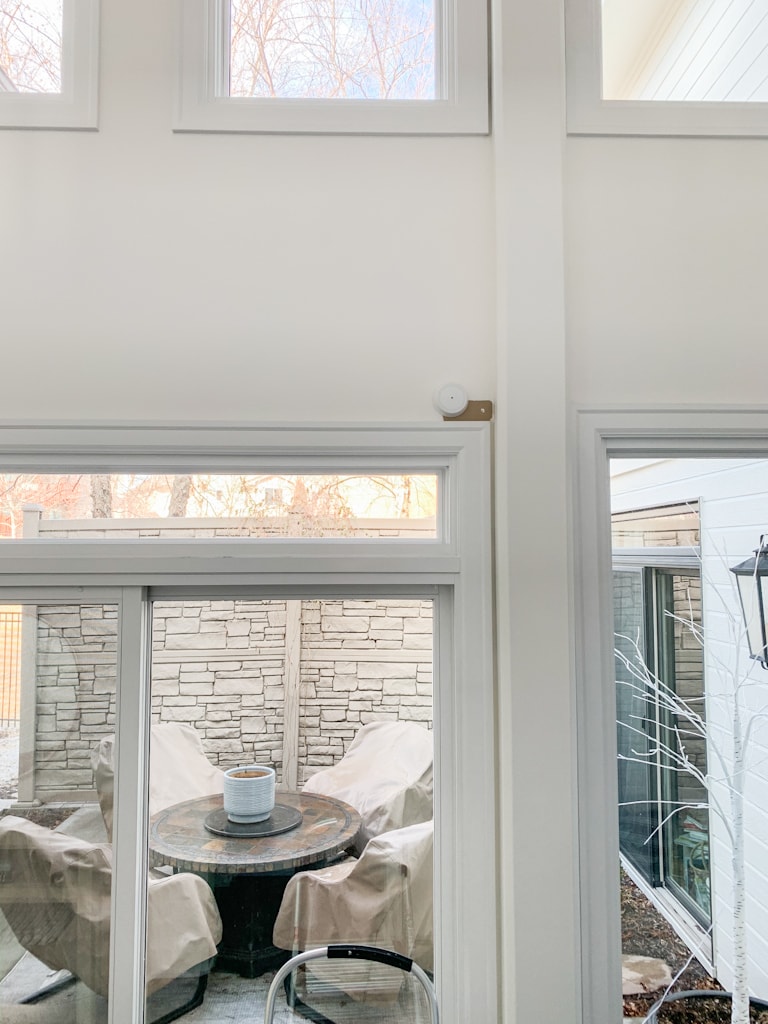 My friend Mandy came over on Tuesday to help me shoot a campaign where I needed to be in a few of the photos. We always have so much fun together, and it was so fun to watch her process now that she shoots tethered to her computer! I'm seriously considering having her shoot my spring home tour (I've always done it myself in the past) because it's such a long process. Between the styling, shooting and editing, it's something I never love doing. I just love the end result of the actual photos. So, I may be having her help me with more of that soon! Hopefully it result in less procrastination on my part 😉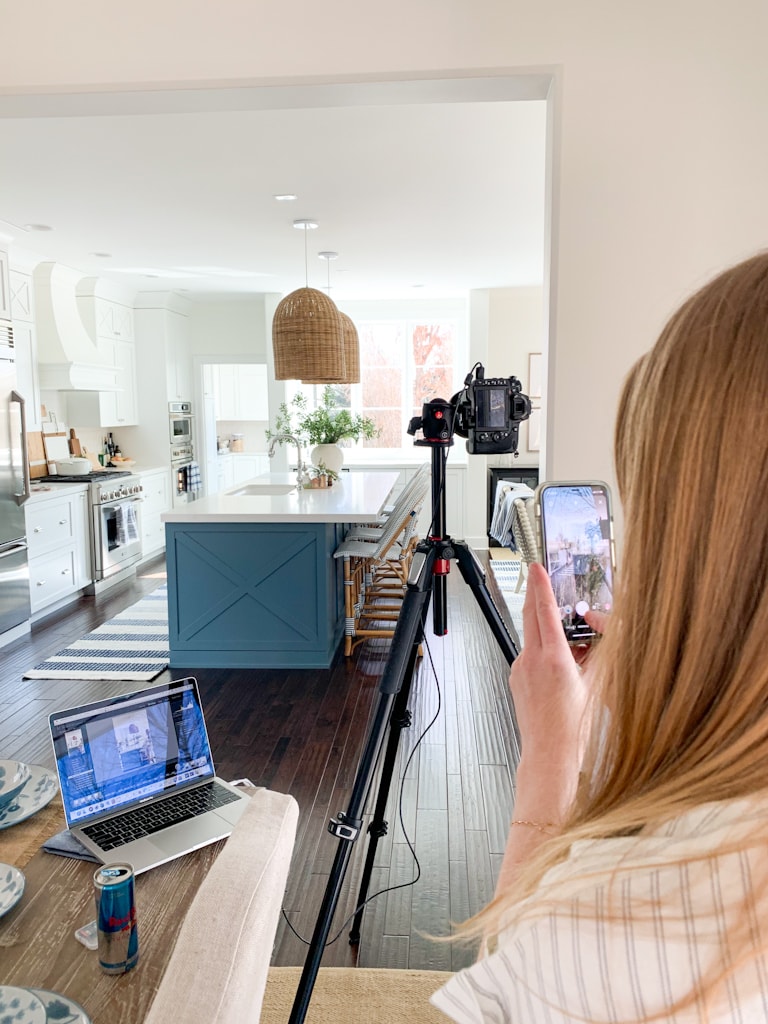 I also got a bunch of appointments scheduled that I needed to get done. One of which – I'm meeting with a contractor tomorrow to discuss our ideas for the back patio/outdoor kitchen we want to tackle next year. This first meeting is simply to see if we're a good fit and if what we have in mind is anywhere close to the budget we have planned. So, although it might be sad if they tell me we're way off-base and need to cancel our plans, at least we'll know! And if not, well then it sounds like I have another project I might have to be planning soon. Even though we wouldn't start until next year, the wheels need to get set in motion soon because of all that's involved. I'll keep you posted how that goes!
The one project that I didn't get to that I was sure I would? More paint samples for the office. Ugh! Still on my to-do list, as it has been for several months now!
Top Sellers Of The Week
Following are the top sellers of the week across all of my channels. Links to each item are below the graphic.
Around Town & For Fun
It was pretty clear the cats missed us while we were out of town the week prior. All last week looked very similar to this scene. But trust me, I was here for it and loved having them be my little shadows all week!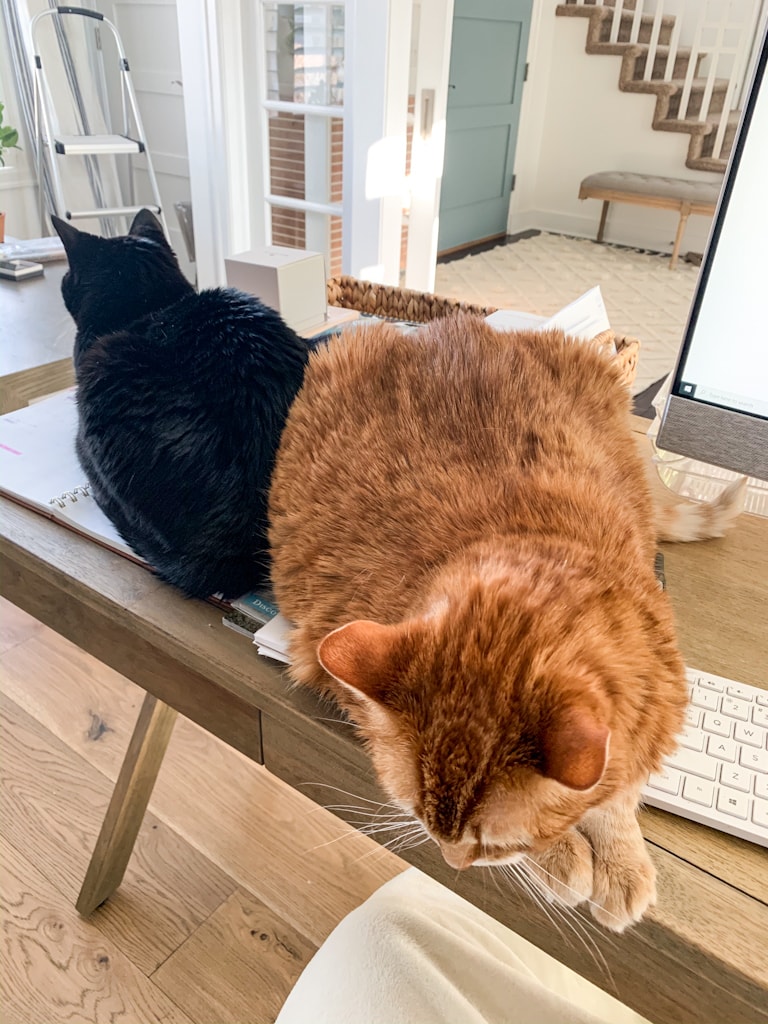 On Friday night I started watching 'Love Is Blind' to see what all the hype is about. I'm already about halfway through it and am hooked!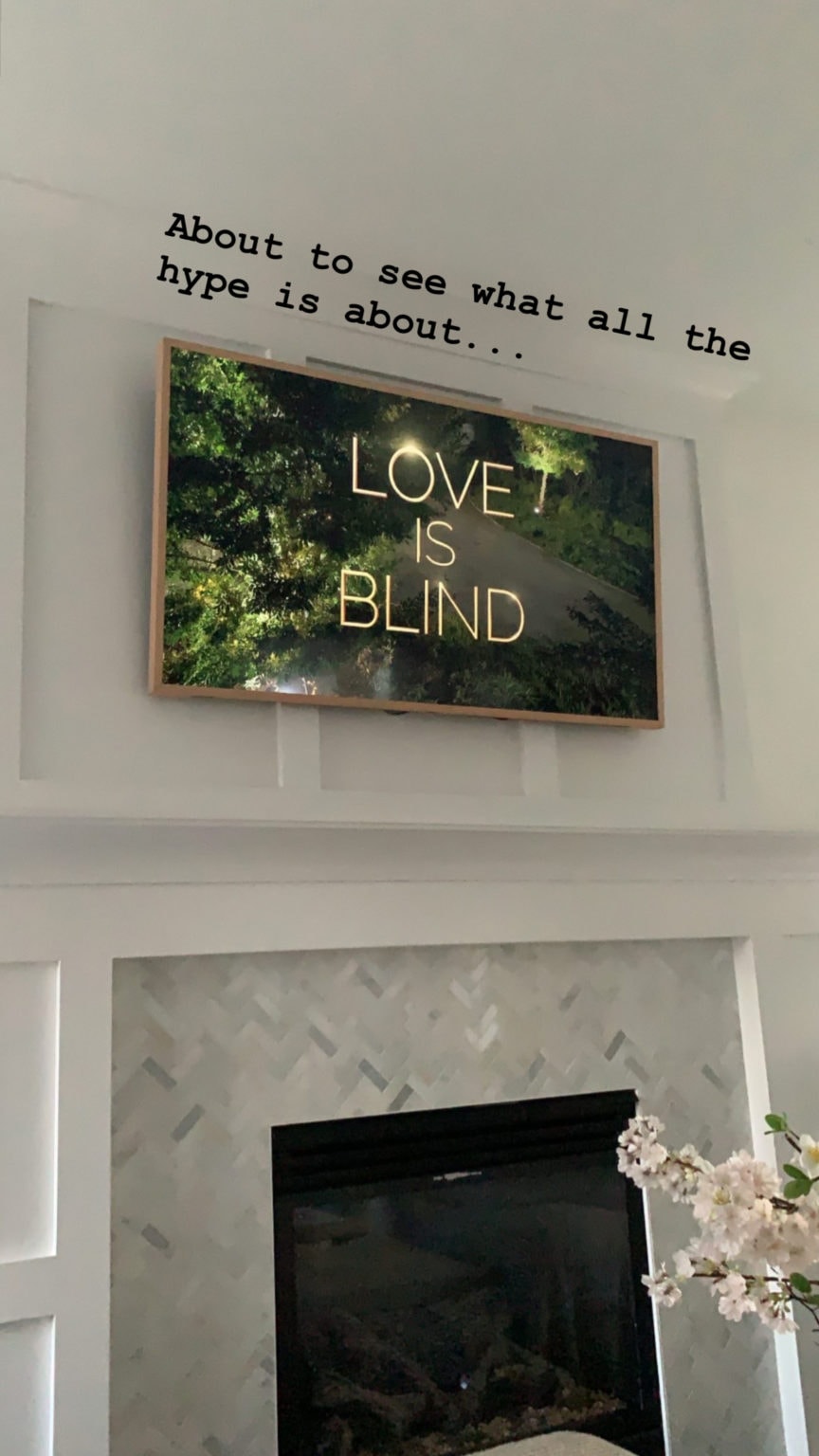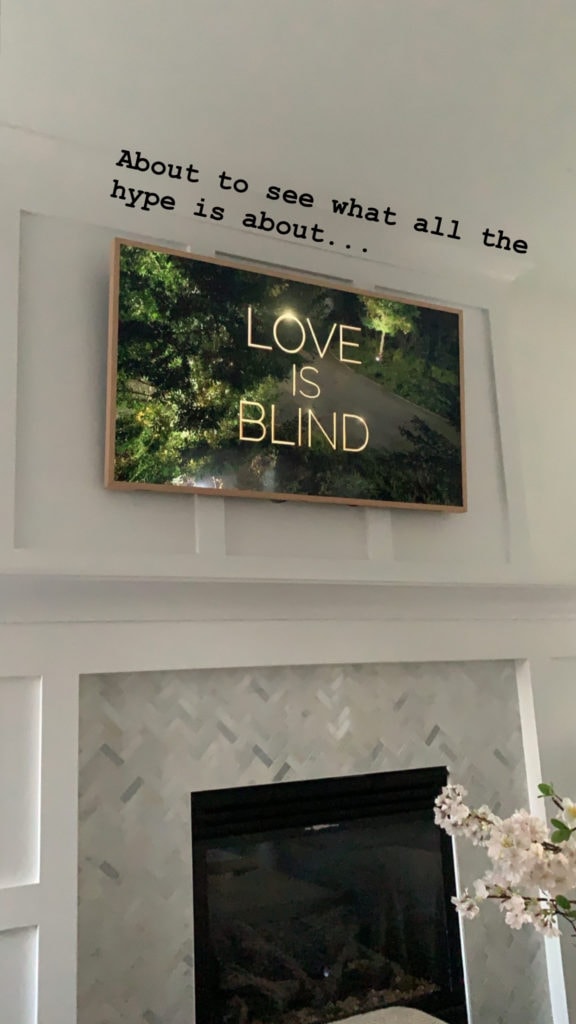 Saturday around lunch time, we met our realtor at the new house so Kurtis could see it for the first time (and so I could see it in daylight)! Afterwards, we ran to one of our favorite spots in town, Scriptown. Since it's in Midtown, we don't get there as often as we like. But we love their beer, and always have Noli's pizza delivered while we're there. Two of our favorites! I love the industrial vibe of their old building. Such a cool location!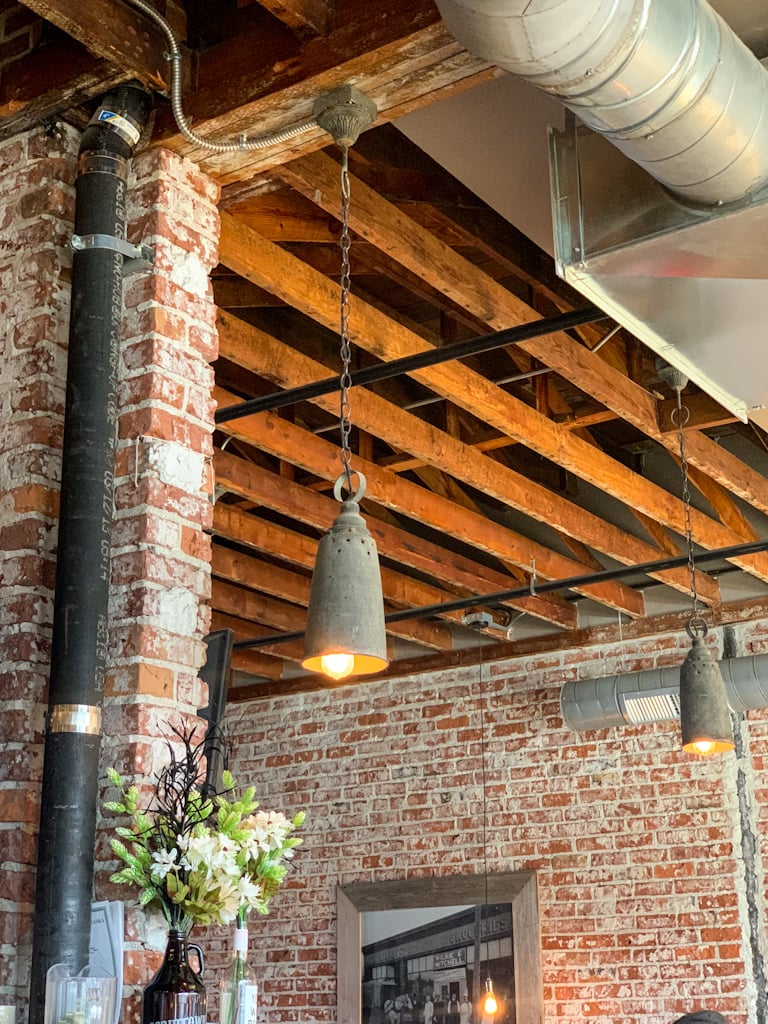 Sunday morning I met my friend Mandy for coffee to catch up (even though we had just seen each other Tuesday). 😉 After that, it was a pretty slow day, and we actually ordered DoorDash for both lunch and dinner. It was a great way to end the weekend! Well that, and a little more binge-watching Love Is Blind!
Our little buddy Hawkeye has to go in for surgery today. You may remember a few months back he had a bad limp that we took him in for. While he was at the vet, they noticed some stones on his x-ray in his bladder. They had us switch him to a new food for urinary health that would hopefully break the stones up. Unfortunately, it didn't work, so he's going in today to have them removed. Hopefully it goes smoothly and he'll get to come back home tomorrow!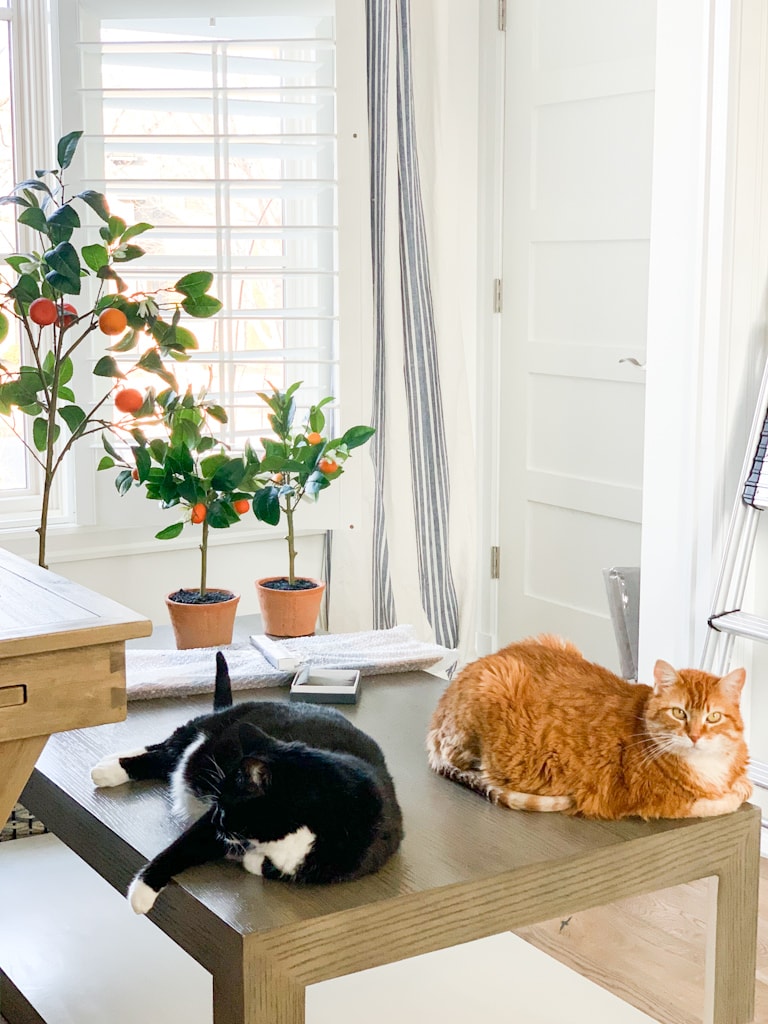 Also, don't mind the random coffee table and citrus trees in our office. A lot of our house feels like this as I'm starting to inventory what can go over to the new rental once we have the keys! I'm kind of kicking myself at this point for selling so many of our things last fall!
Recent Buys & Sales
Following are the sales that have carried over from the weekend! You can see all of my top picks here.
I hope you all have a great week!
If you would like to follow along on more of my home decor, DIY, lifestyle, travel and other posts, I'd love to have you follow me on any of the following:
Pinterest | Instagram | Facebook | Twitter
disclosure: some affiliate links used