After I shared my 2020 Resort Wear Favorites last month, you may have gotten an idea as to what I'd be packing for our trip to Nevis in the British West Indies. But, I have a few surprises in store! So, get ready to prep for your next warm weather trip or the spring/summer seasons ahead! Today I'm sharing what's in my suitcase for our trip to Nevis!
This post contains affiliate links for your shopping convenience. Click here to read my full disclosure policy.
After a few hours of delays yesterday, we finally made it from the -5 degree wind chill in Omaha to 80 degree temps in Nevis. And I couldn't be more excited about that!
Nevis Outfits In My Suitcase
So, let's jump into what I packed and my Nevis outfits.  When I shared what was in my suitcase for Atlantis last year for this same trip, you all loved it. So, I thought I'd share what's in my suitcase this time around too! I love that this trip usually preps me for summer since I can use all of these items back at home come summertime!
I picked up this new laptop backpack and couldn't love it more! I had heard a lot of great things about it, but when I finally saw my friends' in person, I knew it's exactly what I needed! It's faux leather so I don't have to worry about it getting damaged when I shove it under the airplane seat. It also holds my rather large laptop with no problem, and I found that after a long day of travel, the double straps are so much better than the bag I carried previously!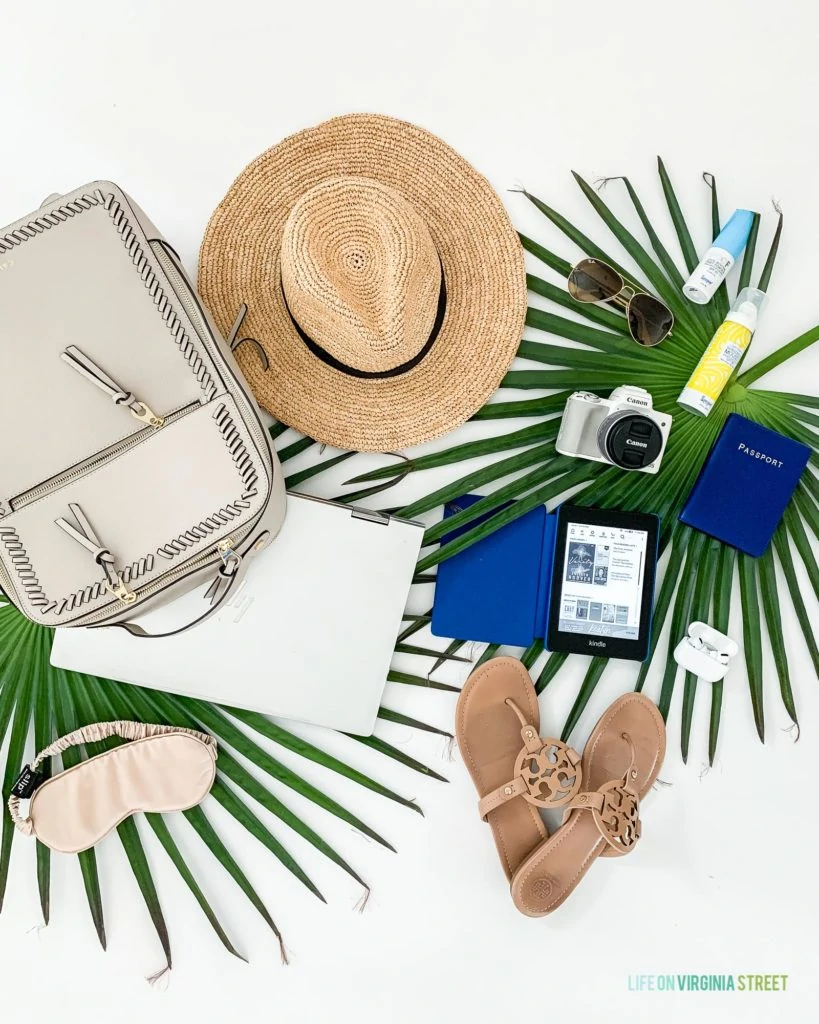 SOURCES: Laptop Backpack | Silk Sleep Mask | Packable Straw Hat | Aviator Sunglasses | SPF Part Powder | Mousse Sunscreen | Mirrorless Travel Camera | Passport Cover (old from J. Crew Factory) | Kindle Paperwhite | Kindle Cover | AirPods Pro | Tory Burch Leather Flip Flops (color: Makeup)
One of my favorite purchases of the year is this long button-up coverup. It's slightly sheer, very breathable, and looks so chic over a bathing suit! And this ric rac bathing suit could not be cuter! I ordered my regular size 12, but probably could have sized down to a 10. I have a long torso, but I find the one-shoulder suits work fine for me! The weight of the material along with the weave make it super forgiving!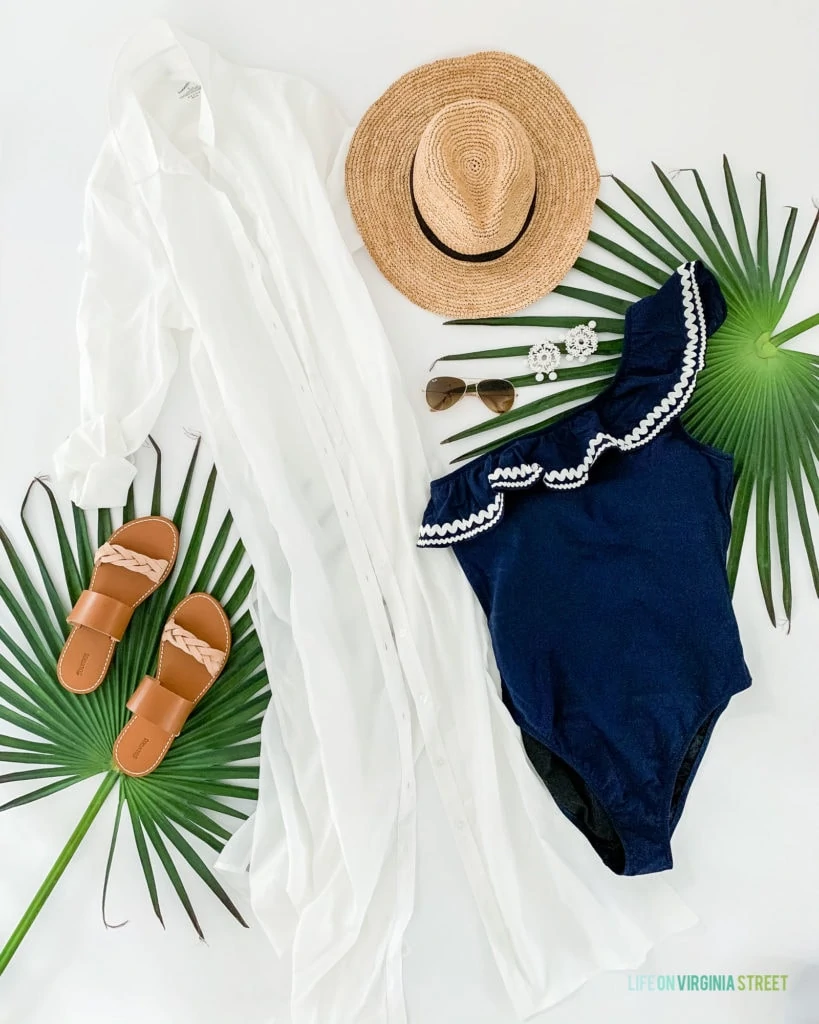 Sources: Long Button-Up Cover Up | Packable Straw Hat | Aviator Sunglasses | Ric Rac Bathing Suit | Crocheted Bead Earrings | Braided Flats
And if you're on the hunt for world's most universally flattering suit (multiple magazines have backed up this claim), try this one-shoulder suit! I ordered one last year and loved it so much I got the navy version this year! It has slimming panels and cinches in all the right spots but it's still comfortable! I ordered my regular size 12. And although, they also make a long torso version, I just stuck with the regular length and it works! Hint: I found if you order a suit and a coverup (like the one above) you get $10 off your order automatically at checkout!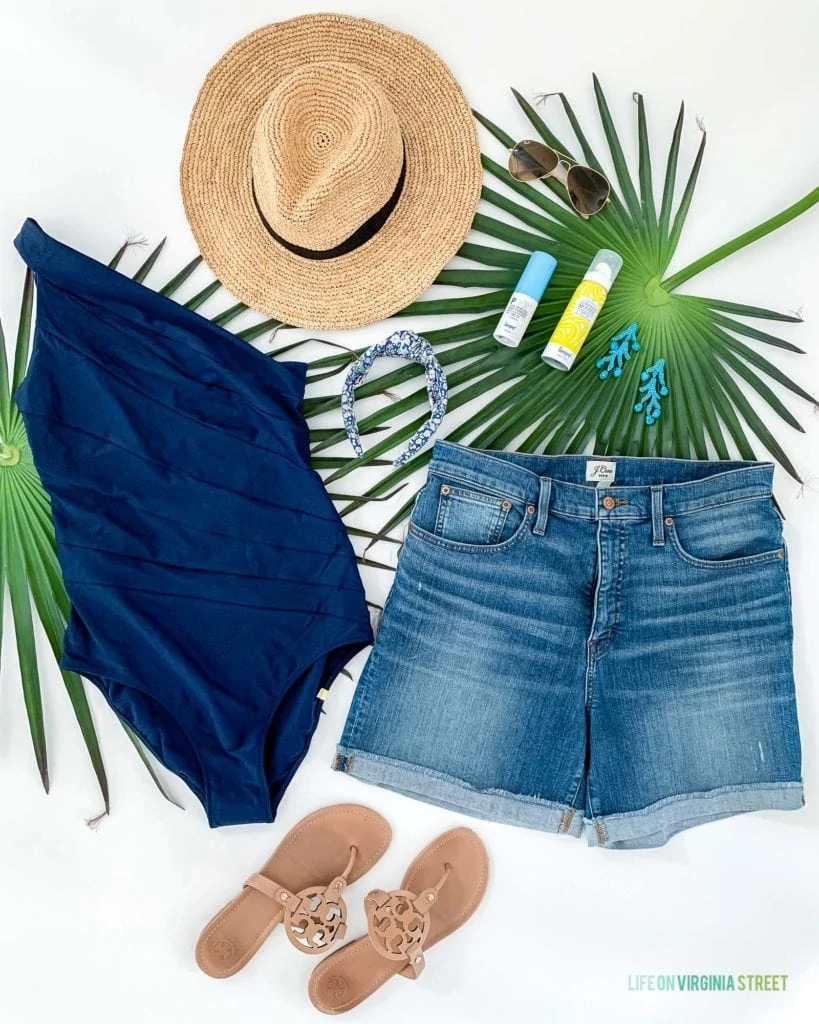 Sources: One-Shoulder Bathing Suit | Packable Straw Hat | Aviator Sunglasses | SPF Part Powder | Mousse Sunscreen | Floral Knotted Headband | Turquoise Earrings | High-Waist Denim Shorts | Tory Burch Leather Flip Flops (color: Makeup)
I added this packable straw hat to almost all of my outfit photos because I love it so much! For the record, women's hats rarely fit my gigantic head. And when I do find one I love, it's usually a nightmare to pack. But, I ordered the L/XL in this one and it fits so well (love they offer multiple sizes)! Not only that, it rolls up super small and the black trim becomes an elastic to keep it wrapped. Can't say enough good things about it!
This seersucker suit is another favorite! It's a tiny bit short with my long torso (even with the adjustable straps fully extended), but it's so cute I think I'm going to make it work! The material is super flattering and hides a lot and the ruffled straps could not be cuter!
I packed this long layering tank in three colors because I love how easy it is to throw on with just about anything. It's a pretty flowy and loose style, so if you want something more fitted, I'd size down. These shorts also came along in the chambray version and solid version. Love the stretchy waist and overall fit (they are true to size)!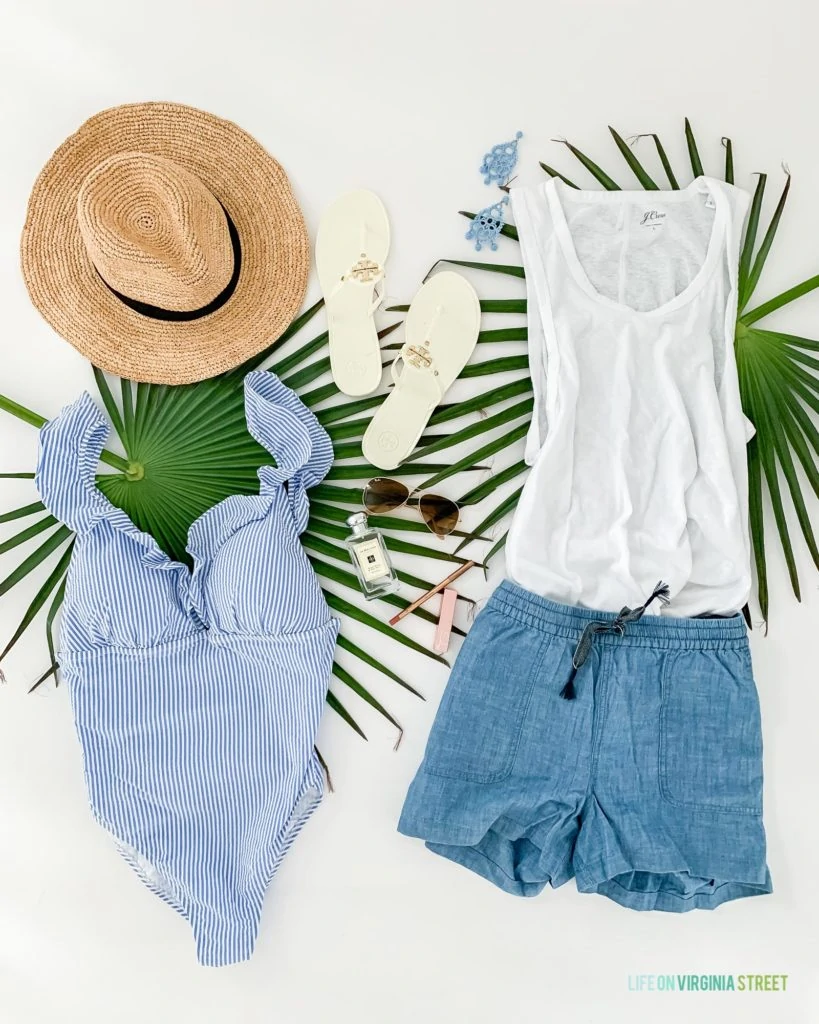 SOURCES: Faux Fan Palm | Packable Straw Hat | Seersucker Bathing Suit | Tory Burch Mini Miller Flip Flops | Bead & Embroidery Earrings | Aviator Sunglasses | Jo Malone Cologne | Lip Liner (color: Pillowtalk) | Lip Balm (color: Orgasm) | Long Layering Tank Top | Chambray Seaside Short
One of the days while we're here, we have to attend a business meeting. I ended up splurging on this colorful top, but there's a backstory because I rarely ever spend that much on a shirt. I saw this dress and obsessed over it and finally decided to splurge on it once I found a discount code. And then the size Large sold out and I was so bummed. So, I decided to get the top (with an email discount code I received) because I couldn't get that dress out of my head. So, I figured it would work for the business meeting and it's something I can still wear back at home!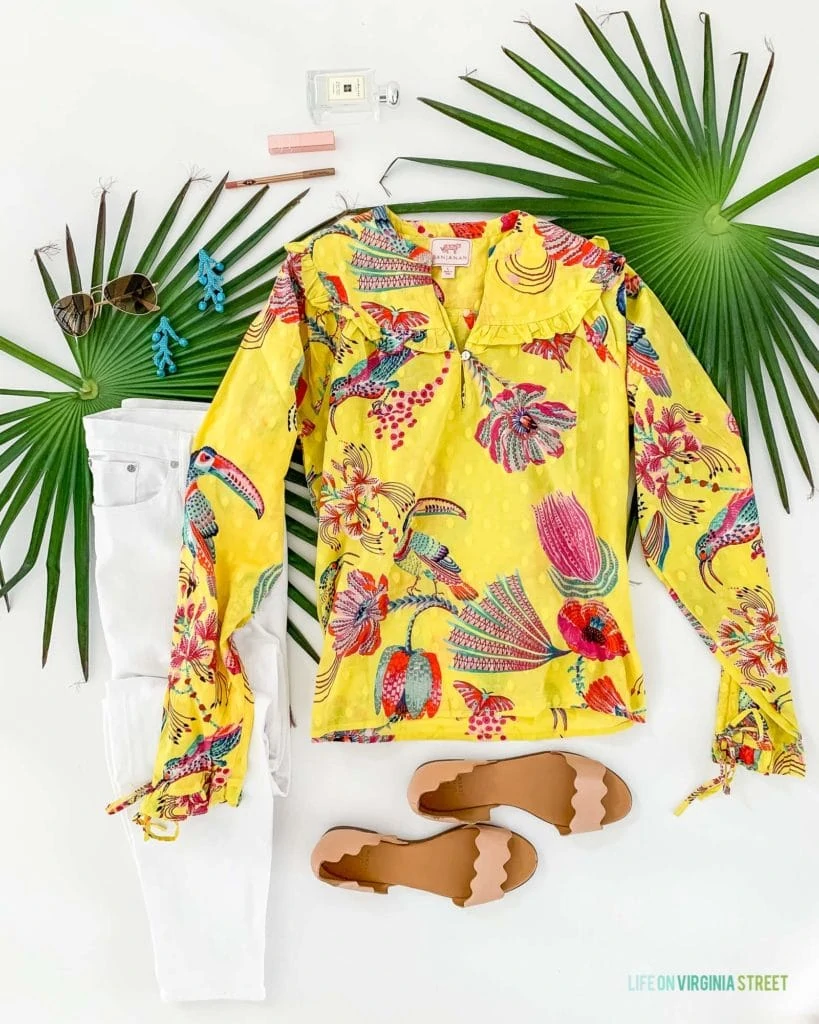 Sources: Aviator Sunglasses | Turquoise Earrings | Jo Malone Cologne | Lip Liner (color: Pillowtalk) | Lip Balm (color: Orgasm) | Yellow Floral Top | Favorite White Denim | Scalloped Flats
I shared this image in my 2020 Resort Wear Favorites post and can't wait to wear this dress again! I'll likely be using it as a cover-up this time around, but it's also perfect for shopping in town or lunches!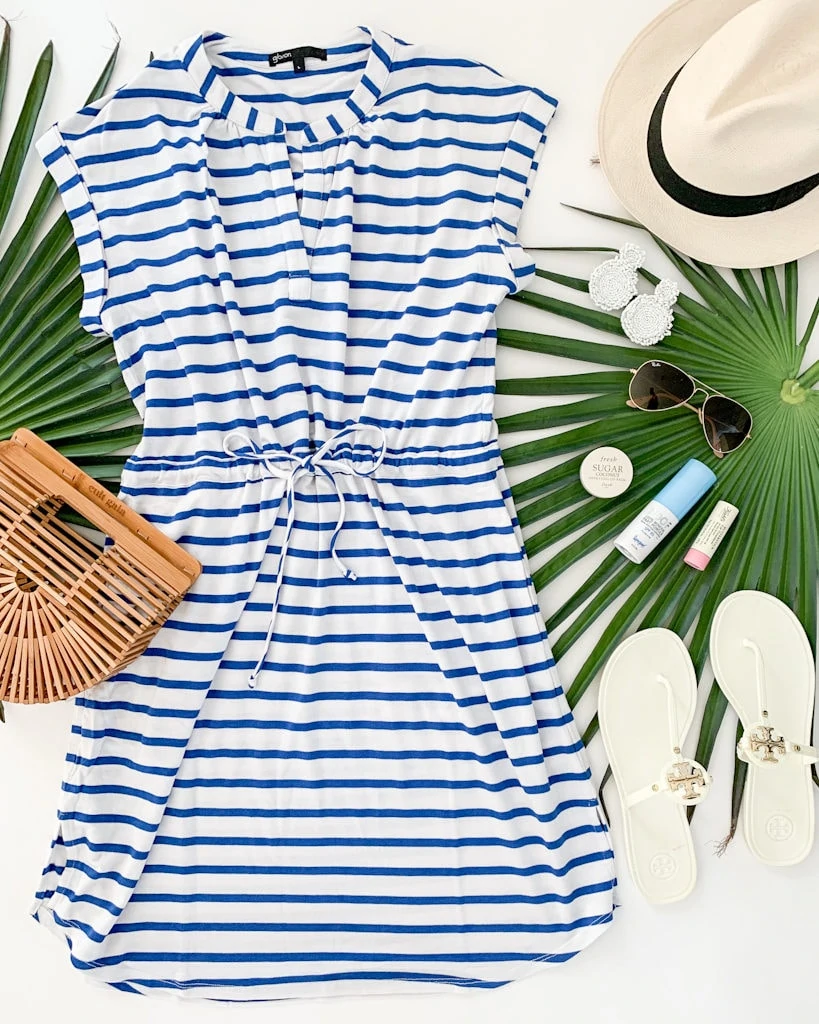 OUTFIT SOURCES: Striped Dress | Mini Ark Bag | Beaded Earrings | Panama Hat | Aviator Sunglasses | Coconut Lip Balm | SPF Part Powder | SPF Lip Balm | Sandals
Here's a look at me wearing it. It is made of the softest material, and I love the pockets! I'm in a size Large for reference.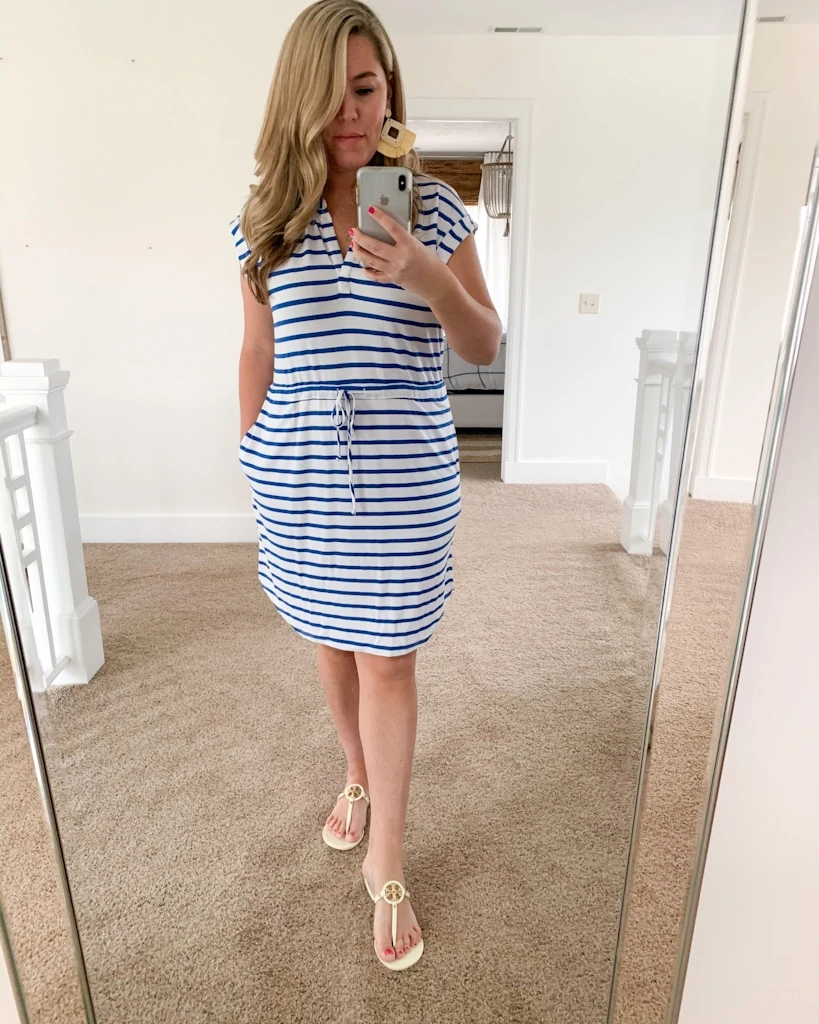 Because this is a work even for Kurtis, we have assigned dinners many of the nights we are here. I've realized it's easier to pack several sundresses rather than to have to figure out a bunch of full outfits! Following are some of the dresses I considered for this trip.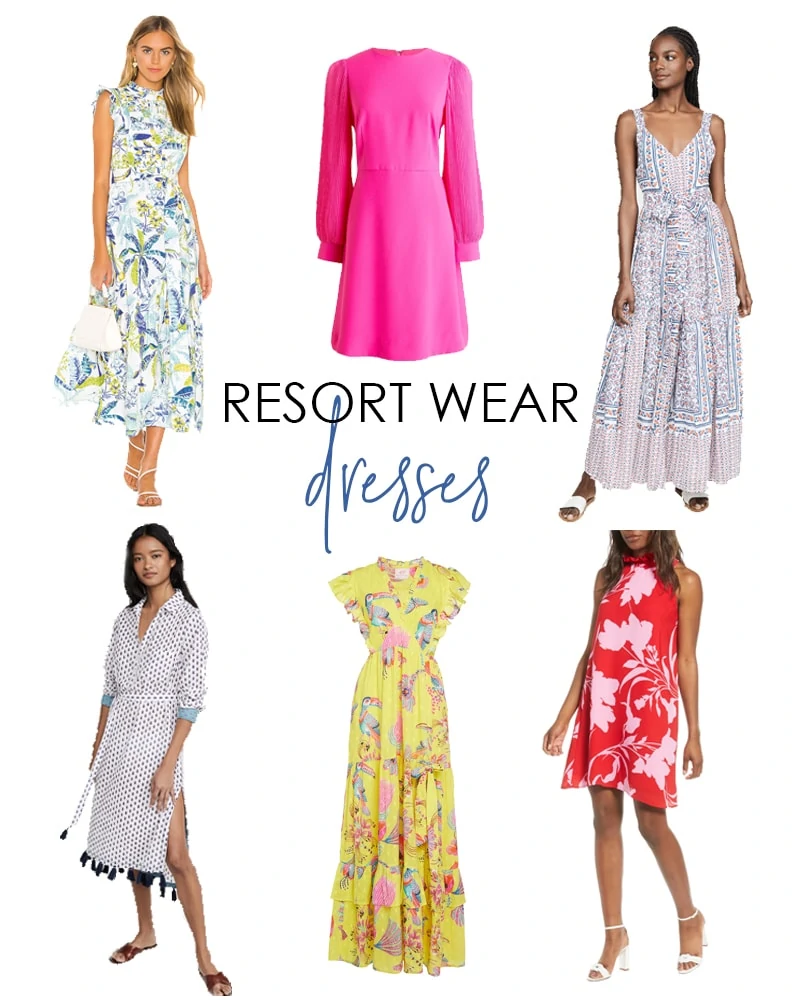 Dresses: Ruffle Collar Dress | Hot Pink Pleated A-Line Dress | Maxi Dress | Tassel Cover-Up | My Dream Dress | Red & Pink Ruffle Neck Halter Dress
I also packed this entire look! You can review my fit tips and review on all of the items shown in this post.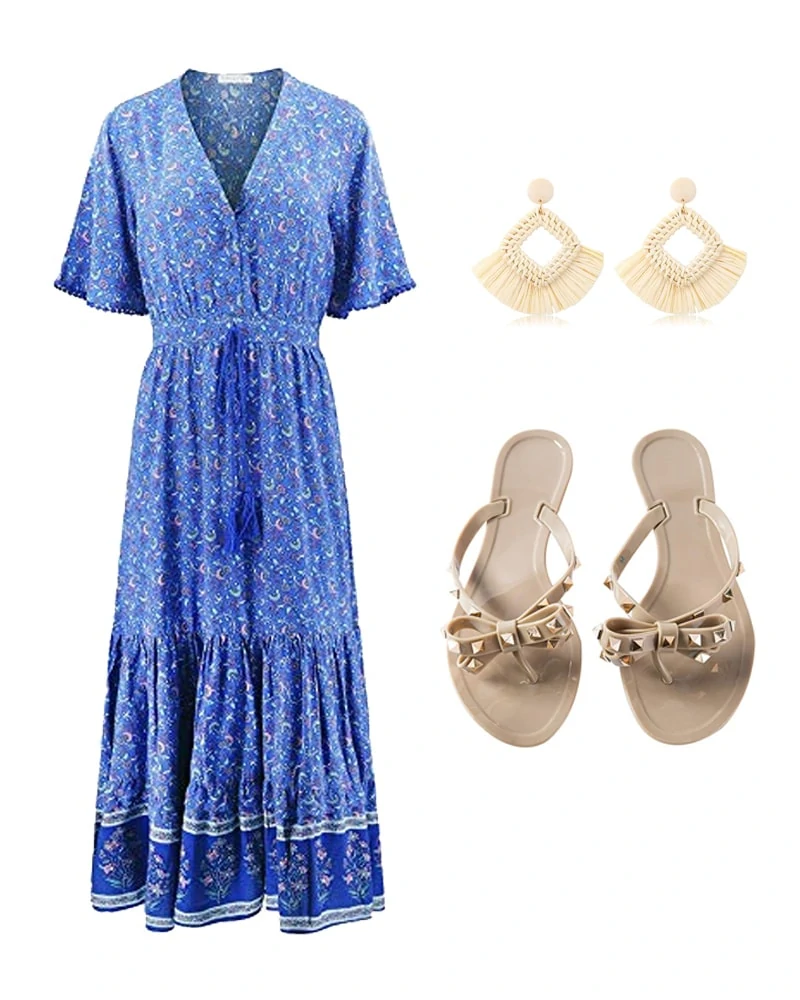 RESORT WEAR SOURCES: Dress | Raffia Earrings | Sandals
For the awards ceremony, I'm planning to wear this palm print dress (also found it here)! Might be one of my favorite Amazon finds ever! As a reminder I ordered a 14 in this (they recommend sizing up one size).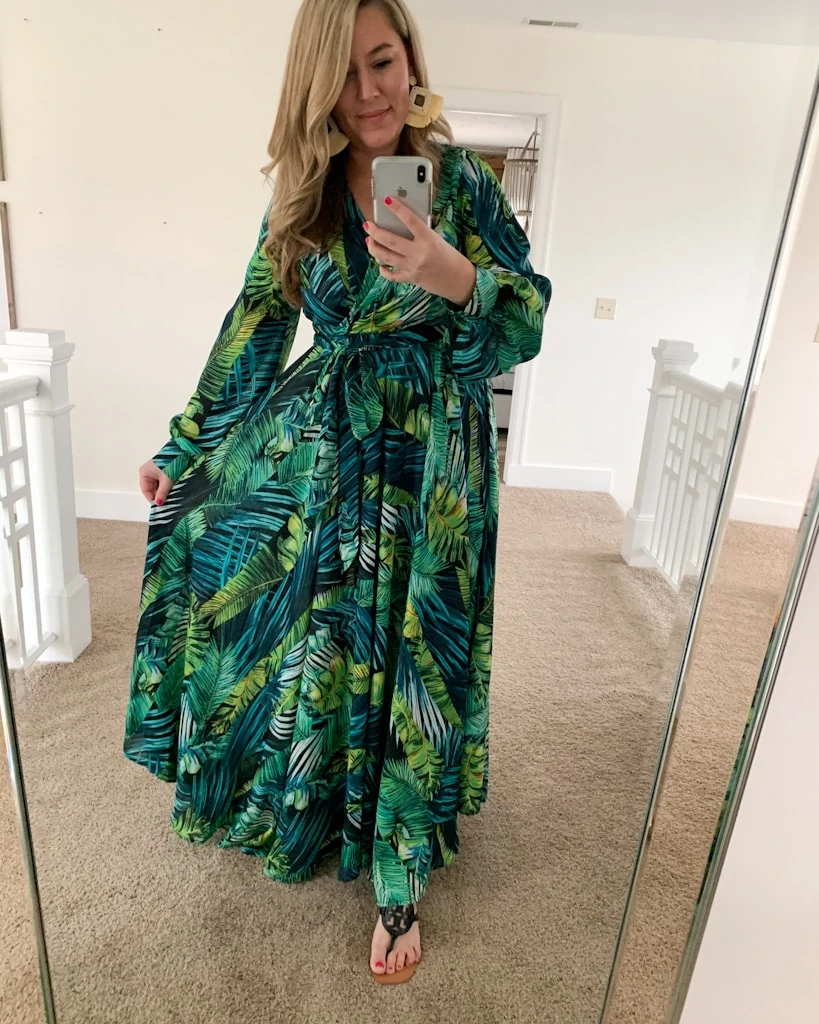 And because I'm a big believer that cute, oversized earrings can make even the most basic outfit feel special, I packed quite the collection 😉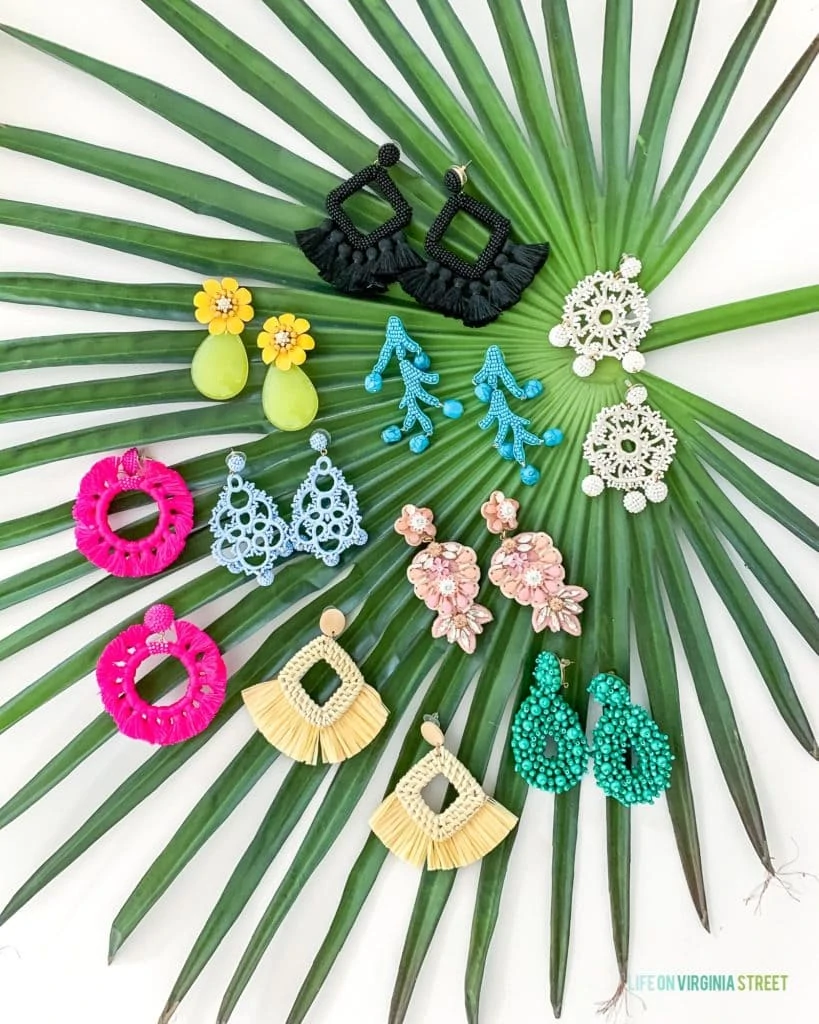 Sources: Black Bead Earrings | Yellow Flower Earrings | Turquoise Earrings | White Crocheted Earrings | Hot Pink Tassel Earrings | Light Blue Bead Earrings | Leather-Backed Pink Earrings | Raffia Earrings | Green Bead Earrings
I also packed several pairs of pull on shorts and t-shirts! But, for us, this trip will mostly be about relaxing pool time and then dressier dinners at night!
More Resort Wear Inspiration
Looking for even more resort wear inspiration? Be sure to check out these other posts I've written in the past. Click on any of the titles below to read the post.
And here's a little peek at how I get those flat lay photos with my outfits. I get a lot of questions about it, so I thought I'd share the setup! I actually take all of them on my iPhone and then just edit them in Lightroom Mobile. I use this stand to hold the backdrop paper and then this disc to filter the light (or reflect if need be). It's a little low budget but it gets the job done!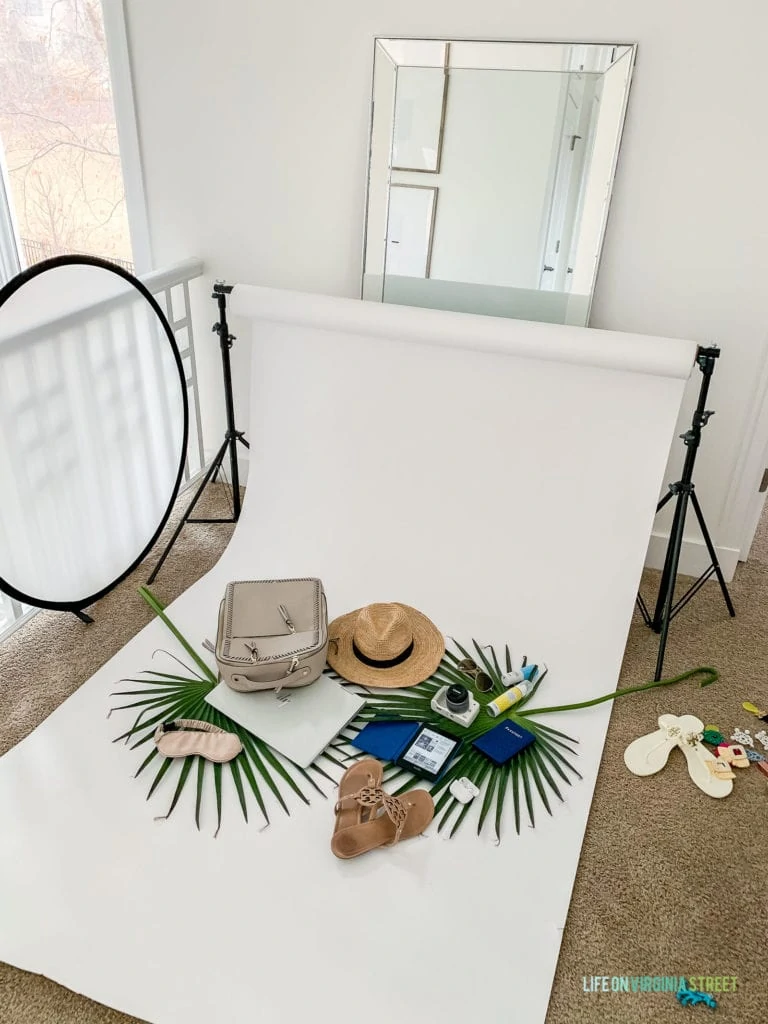 I hope you enjoyed seeing my Nevis outfits! Now, bring on the sunshine and warm weather!
I'll plan to share a full Four Season Nevis review when we get back along with snapshots of our time here. In the meantime, you can follow along on my Instagram where I'll be sharing some live images and footage. Particularly in my Instagram Stories! Enjoy your weekend!
If you would like to follow along on more of my home decor, DIY, lifestyle, travel and other posts, I'd love to have you follow me on any of the following:
Pinterest | Instagram | Facebook | Twitter
disclosure: some affiliate links used