Happy first week of March! It's a bit ridiculous just how happy I am that the worst few months of winter are theoretically behind us. Although I say that after waking up to a fresh dusting of unexpected snow 😉 But, warm weather is definitely on the horizon and I am here for it!
This post contains affiliate links for your shopping convenience. Click here to read my full disclosure policy.
Home Projects & Updates
I haven't ordered a lot of home decor lately, so it was a bit embarrassing to come home from our trip last week to find this waiting for me in the office. I'm sure my brother-in-law really believed me when I said this was a rarity. In all fairness it's for my Easter tablescape – which means lots of breakables, packed very well in large boxes. I'm hoping to photograph it this week to share with you in another week or two when the holiday gets a little closer!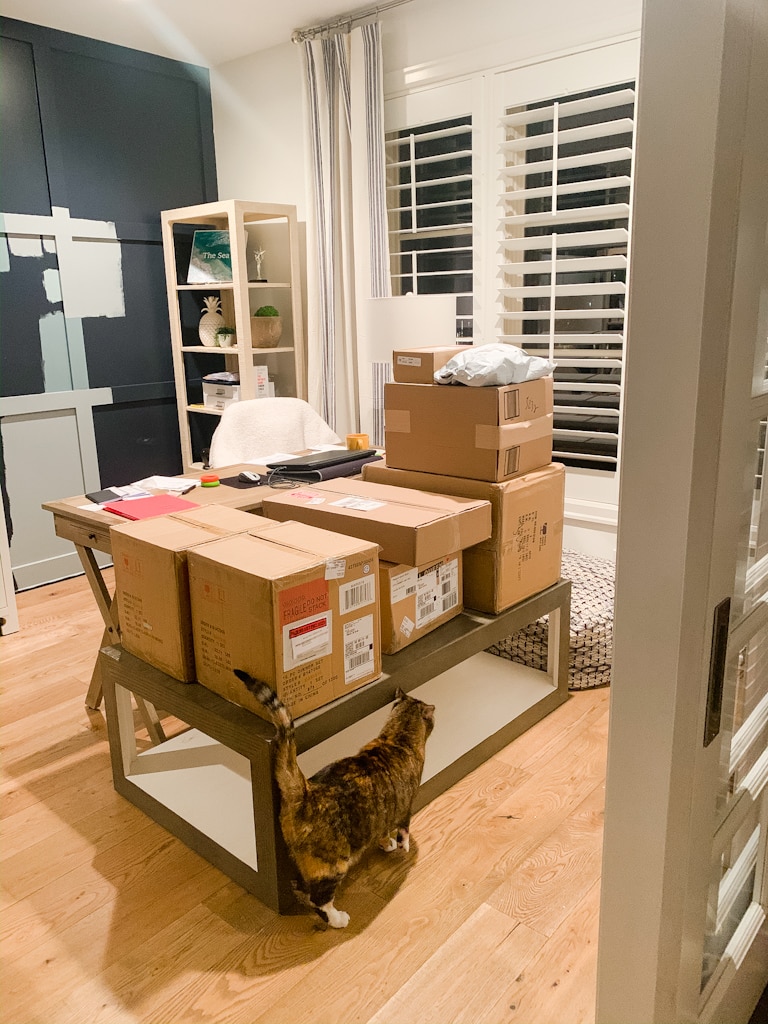 Speaking of our office. If I accomplish one thing this week, it needs to be getting more paint samples for the wall. I've only tried Benjamin Moore colors at this point, so I plan to head to Lowe's this week to get some Sherwin-Williams and Valspar options! This will be such a quick project once I finally decide on a color. You can read more about our plans here.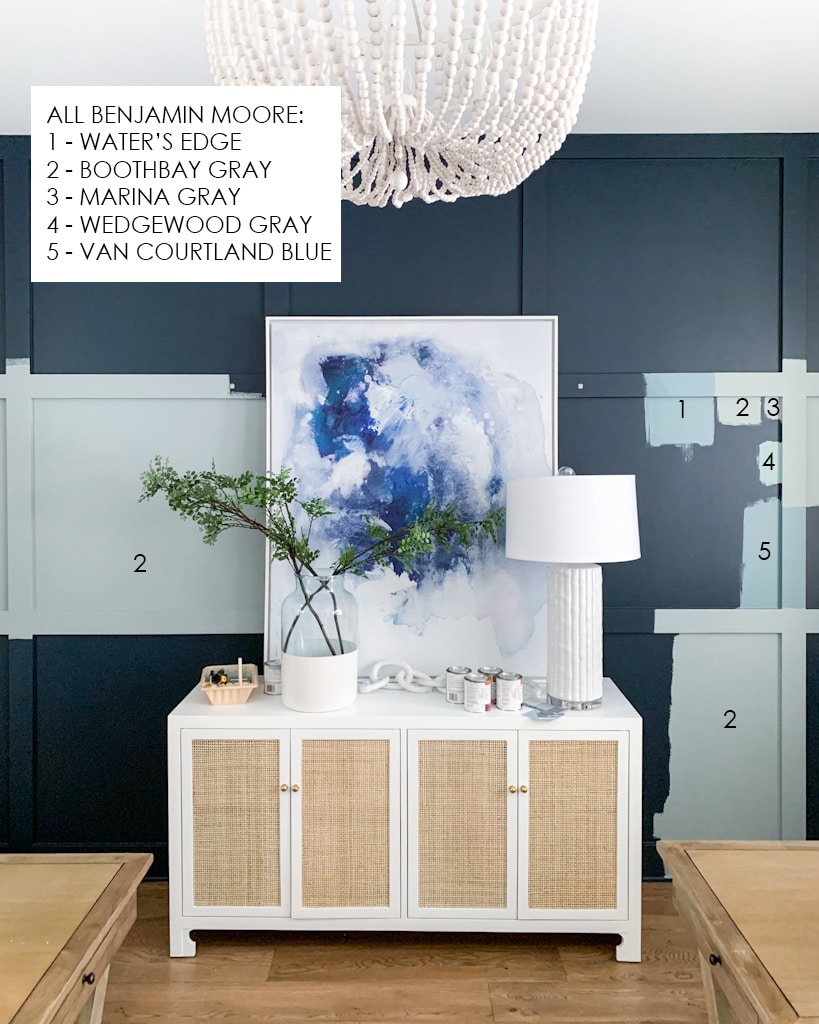 OFFICE SOURCES: Campaign Desks | White Wood Bead Chandelier | White & Cane Cabinet | Vase | Faux Greenery | Marble Chain | Lamp (old from HomeGoods) | Abstract Art
And big news! My last two cane chairs for our dining room will be delivered later this week! I know it's been awhile since I last showed this sneak peek with the preview. But, I ultimately decided to go with six (after ordering the initial four) since they're so short, and two of the linen chairs at the head of the table didn't look quite right. If you're local, that means I'll probably be listing our linen dining chairs for sale this weekend in the local buy/sale/trade Facebook group!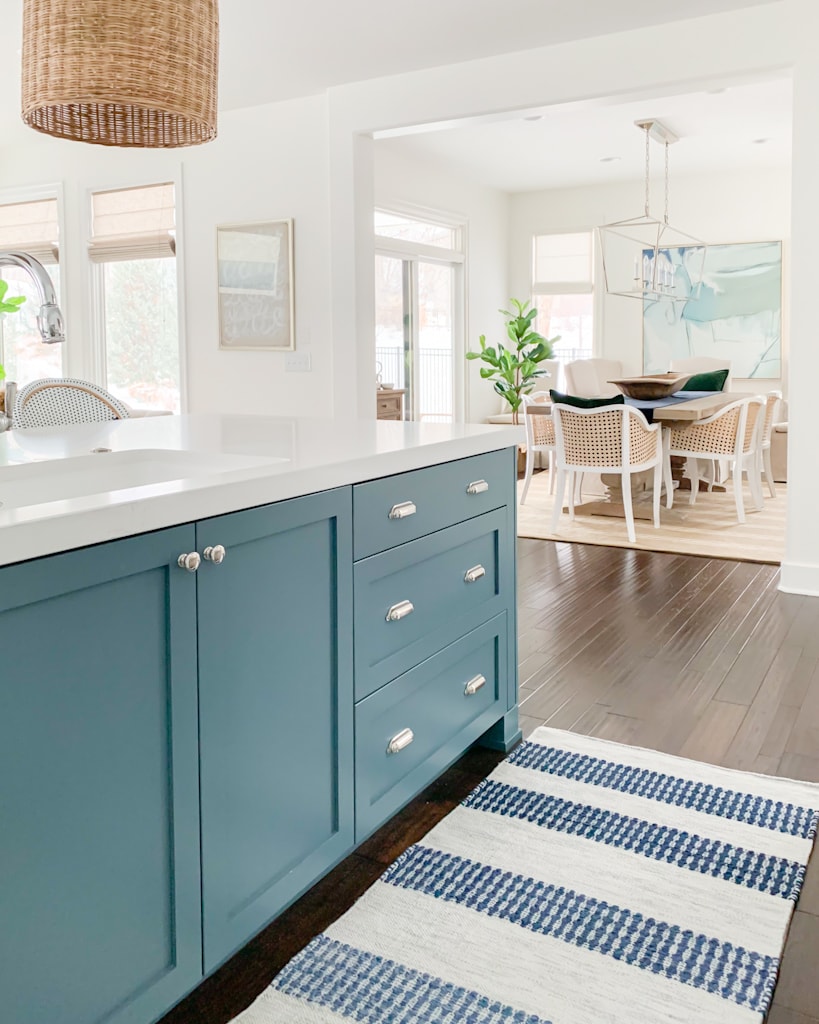 KITCHEN & DINING ROOM SOURCES: Runner Rug | Pendant Light | Cabinet Hardware | Dining Room Chandelier (look for less here) | Cane Dining Chairs (look for less here) | Linen Dining Chairs | Wood Table | Abstract Art | Striped Rug | Faux Fiddle Leaf Fig Tree | Dough Bowl
Once the final two chairs arrive, I feel like I can finally get back to working on the space. It should only need a few minor tweaks, and then I'll be calling it done!
We got the bid back from the plumber for our guest bathroom renovation, and I feel like it was right in line with what I was expecting. Just waiting to finalize the tile numbers and if all looks good, I think we'll be moving forward soon!
Top Sellers Of The Week (And a Good Designer Sale)
Following are the top sellers of the week across all of my channels. Nearly every single item was from my Nevis packing post! Hopefully this means a lot of you are headed somewhere fun and warm soon 🙂 Many of the items are on sale now too!
Off topic, but some of the items I packed for Nevis actually are part of the Shopbop sale that started yesterday. The sale is 15-25% off depending upon how much you spend with code SPRING (and you can get free shipping with Prime)! It's currently only open to VIPs (which I think just means if you have a free online account because it gave me access) but opens to everyone at midnight tonight. Their pieces are definitely more designer, but this is one of the few sales each year where you can get them on sale! Here are a few items I'm loving. I think these sandals are top on my list! And the darling Roller Rabbit dress I bought to Nevis is also included!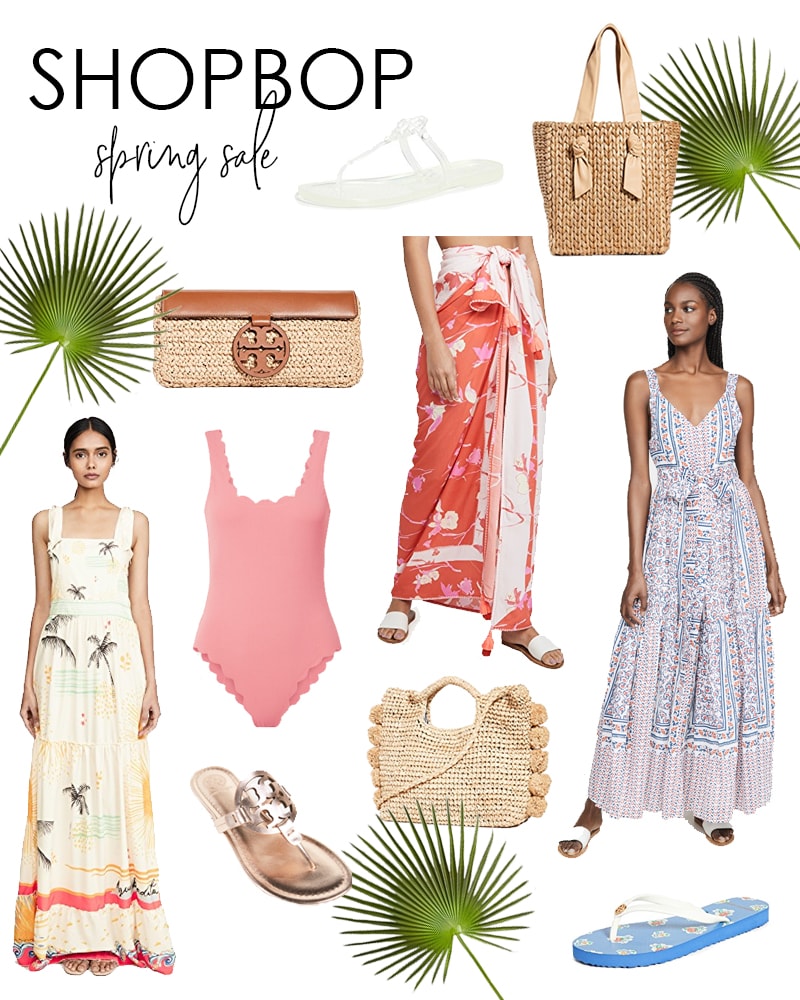 Woven Bag with Leather Straps | Wrap Cover Up | Clear Tory Burch Millers | Tiered Floral Maxi Dress | Pom Raffia Bag | Marysia Scalloped Bathing Suit | Tory Burch Miller Straw Clutch | Tropical Dress | Rose Gold Tory Burch Miller Flip Flops | Tory Burch Floral Flip Flop | Faux Fan Palms
I'm also loving this style of Tory Burch Miller flip flops. I've never seen this pattern combo before and it's also included in the sale!
Around Town (and Nevis) & For Fun
We left on the 19th for Nevis and didn't get home until late Thursday night. It easily makes the list now as one of our favorite places! We stayed at the Four Seasons Nevis and it couldn't have been dreamier! I'll plan to do a full hotel review and trip guide soon. Their pool areas had me seriously contemplating a yellow color scheme next time we switch out our pool furniture!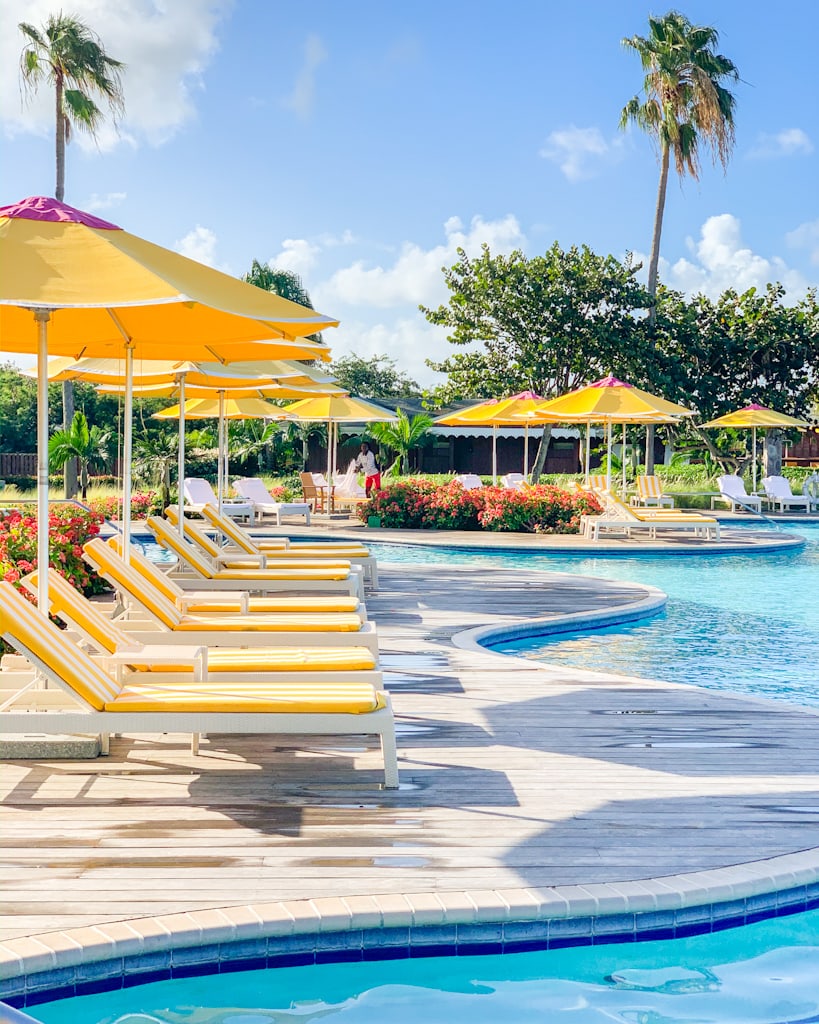 The cats definitely feel it when we're gone this long. They were super clingy and followed us around (even closer than they normally do). It didn't give us a whole of motivation to leave the house much over the weekend.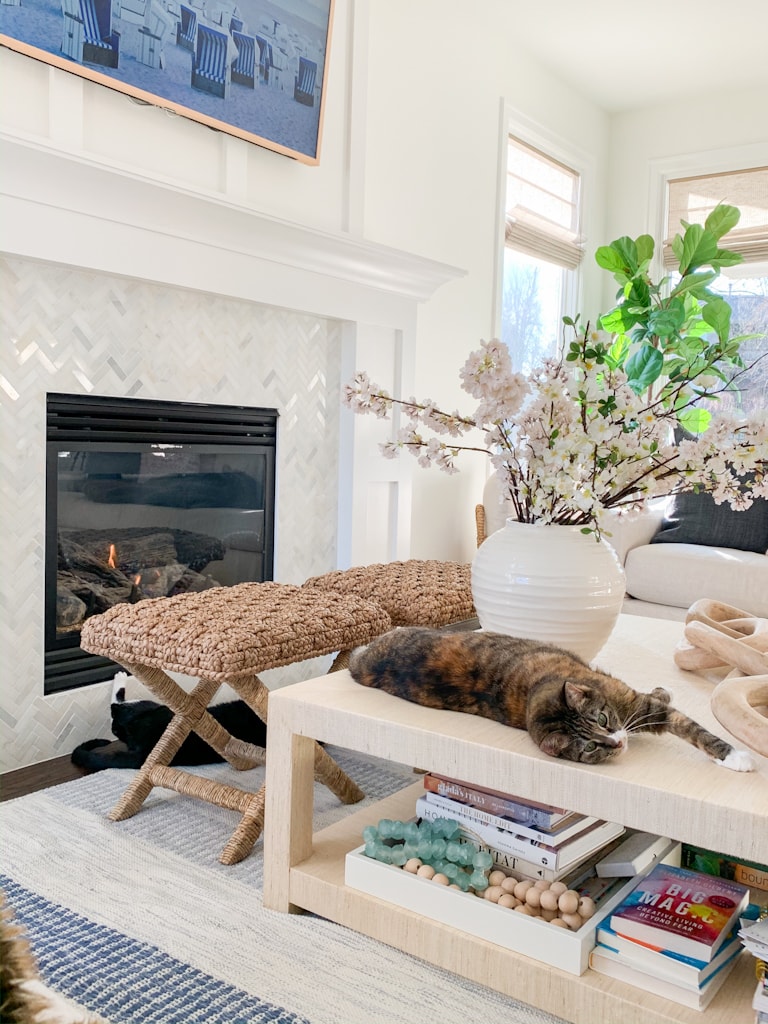 LIVING ROOM SOURCES: Woven Stools | Coffee Table | Striped Rug | Similar Wood Chain | Cherry Blossom Stems | Dogwood Stems | Vase | Faux Fiddle Leaf Fig Tree
Friday evening, we swung over to Jill and Nick's house to drop off a gift we got for Z on our trip. Despite her being sick, she was moving a million miles a minute and this was the best pic I got of her. The joys of an almost two year old 😉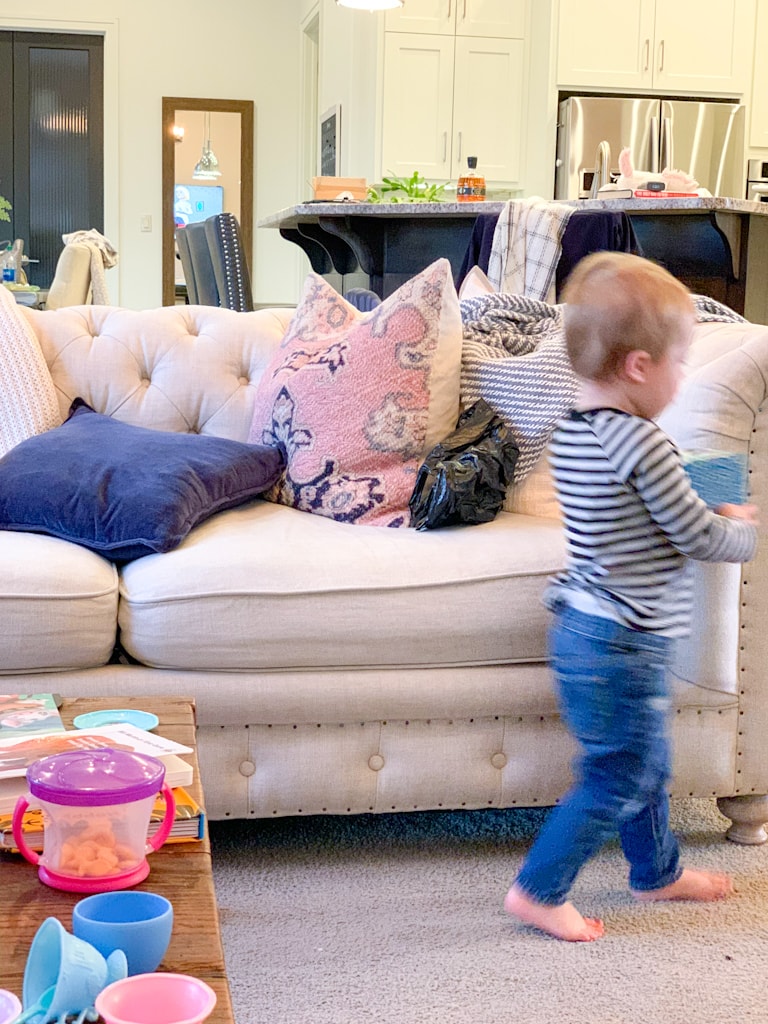 Last fall I mentioned they were building out a pantry for their kitchen with some unused garage space. It's getting so close to being ready! The wall color and cabinets are both Sherwin Williams Alabaster.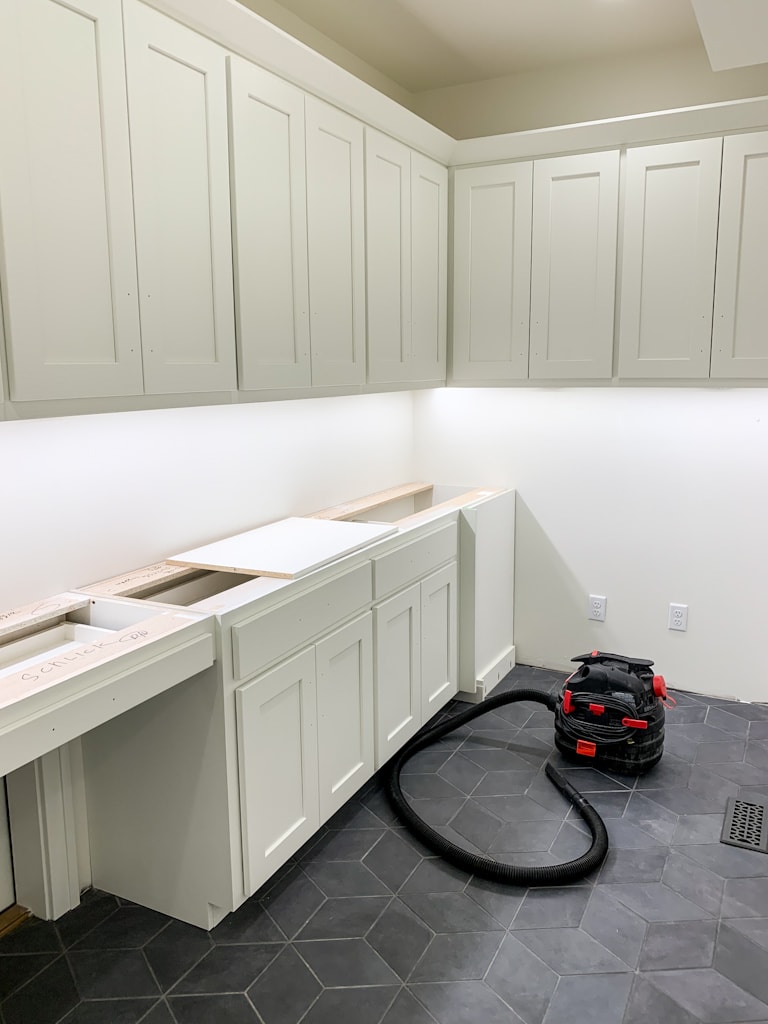 I love all the finishes Jill picked. I'll be sure to take some photos when they're all done. It's going to be an amazing little space and makes such good use of space that was being wasted previously!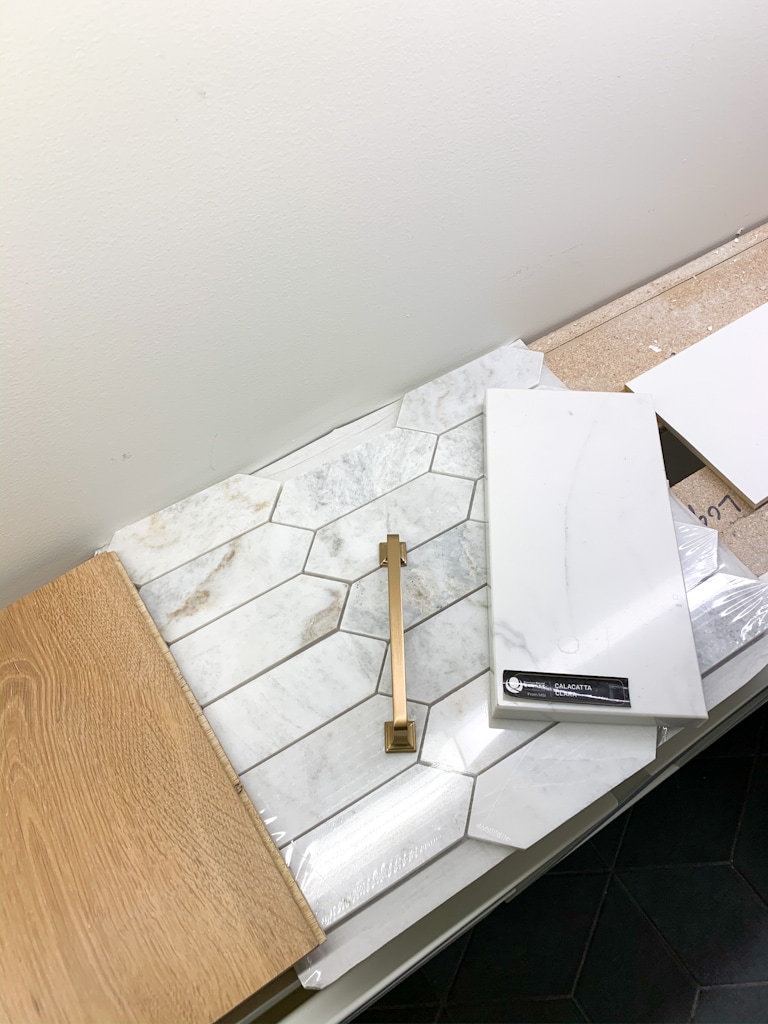 We headed out Saturday for some errands and grabbed a late lunch and even got to sit out side afterwards for a drink. I love these little previews of spring that have been showing up around Omaha!
I don't know if it's the change in weather, March's arrival, or our little warm-weather escape, but I am feel motivated to get a lot done. I told Kurtis over the weekend I'm in the mood to tear down walls and re-do spaces and tackle something major. Let's just say I got a little side-eye from that comment 😉 But, maybe that means I'll actually be motivated to get that office paint picked, finalize the guest bathroom plans, and tackle some of the items on my 2020 home goals list!
Recent Buys & Sales
Following are some of the sales that have carried over from the weekend.
I hope you all have a great week!
If you would like to follow along on more of my home decor, DIY, lifestyle, travel and other posts, I'd love to have you follow me on any of the following:
Pinterest | Instagram | Facebook | Twitter 
disclosure: some affiliate links used