Sharing a collection of 2023 resort wear favorites including swimsuits, coverups, sundresses, accessories and more!
This post contains affiliate links for your shopping convenience. You can read my full disclosure policy here.
Each February or March, Kurtis typically has his annual trip for work and we get to head somewhere warm. The trip has been canceled the last two years, but next week we're headed to Grand Cayman (the location for the 2021 trip that didn't happen). The event typically gives me a good excuse to start buying warm-weather clothes, not only for the trip, but in preparation for summer! Now that we live in a location where the summer season is much more extended, we were actually in need of some good warm-weather basics this year, as well. With spring and spring break just around the corner, I love the bright colors typically found in resort wear, after the lack of color in the winter months.
Today I'm sharing my 2023 resort wear favorites! I'll then share a few favorites I'm packing for Grand Cayman, a few men's picks, and some additional finds that didn't make the graphics below. Bring on the warmer weather!
2023 Resort Wear Favorites for Women
When packing for a warm weather vacation, I like to bring along pieces that are versatile and can pair with other items I packed. So, I try to stick to a few color schemes and pieces I could wear as a coverup or as an outfit to lunch or around town!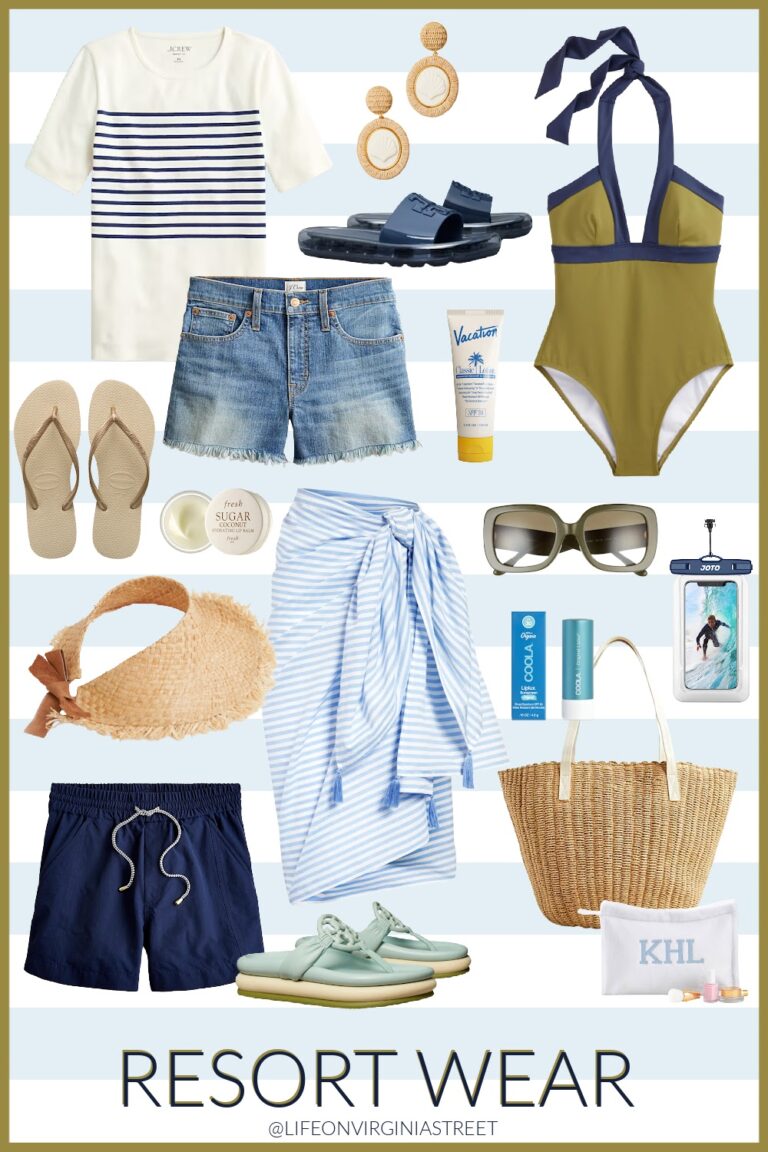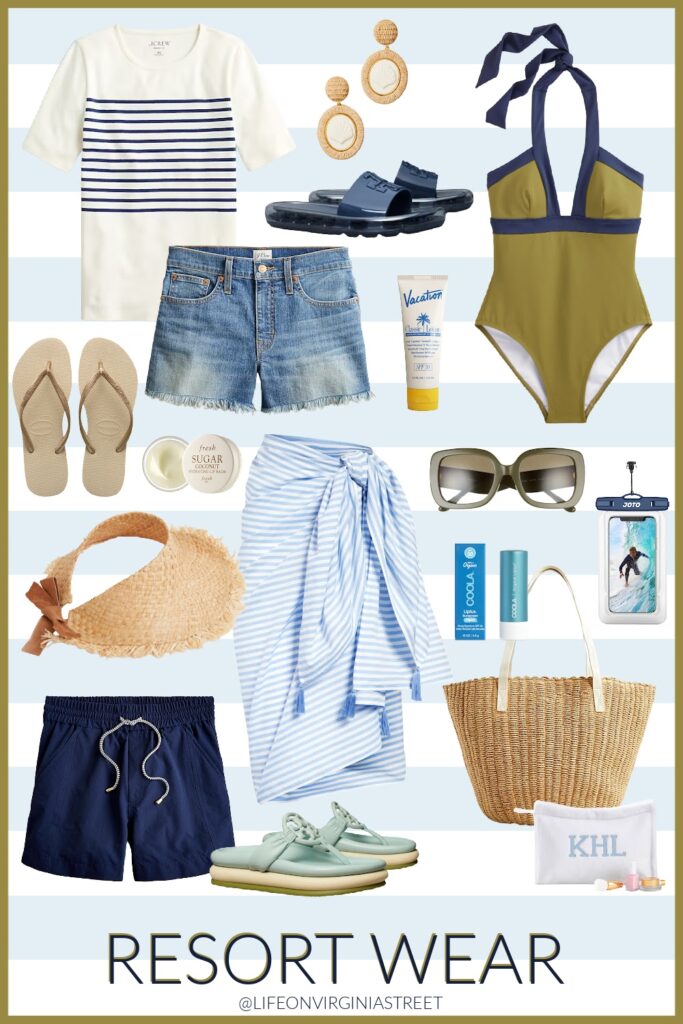 SOURCES: Striped Tee | Denim Shorts | Earrings | Bubble Jelly Slides | Halter Swimsuit | Flip Flops | Straw Sun Visor | Coconut Lip Gloss | Sunscreen | Striped Cotton Cover Up Sarong | Sunglasses | SPF Lip Balm | Floating Phone Protector | Paddle Shorts | Puff Flip Flops | Woven Straw Market Tote | Soft Cotton Cosmetics Pouch
If I'm not gravitating towards blues and greens, I really love warm corals and pinks while on vacation!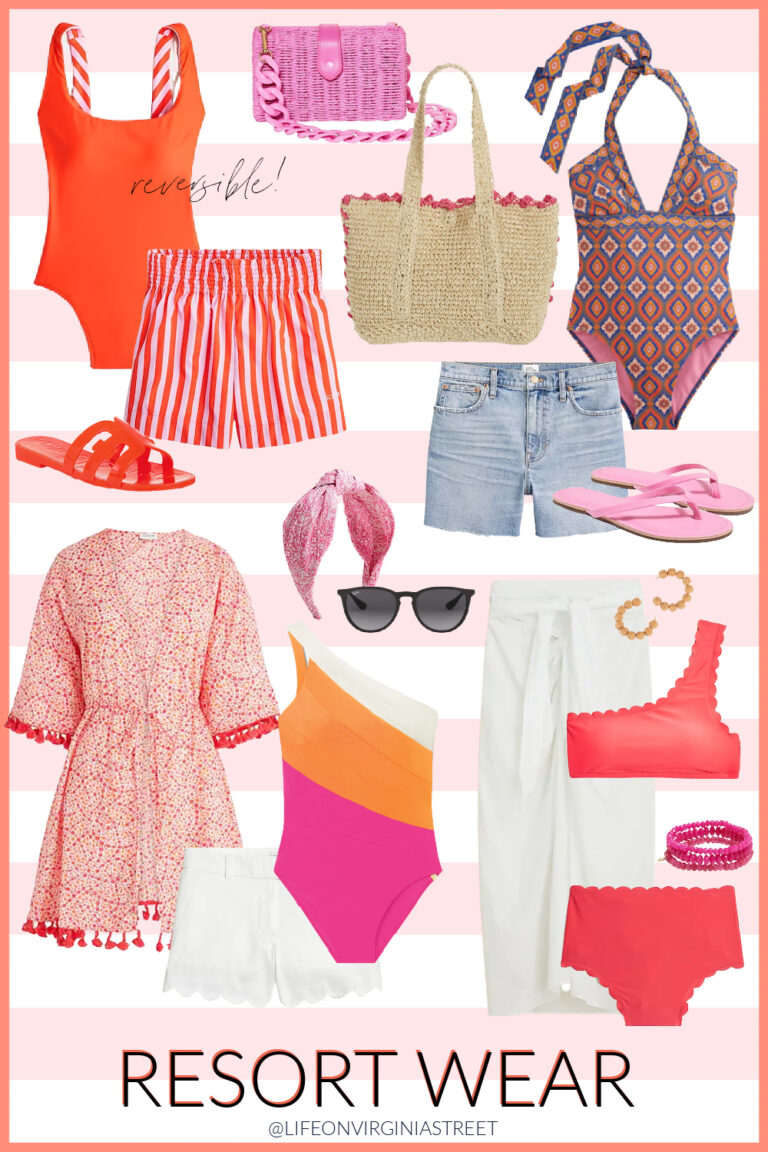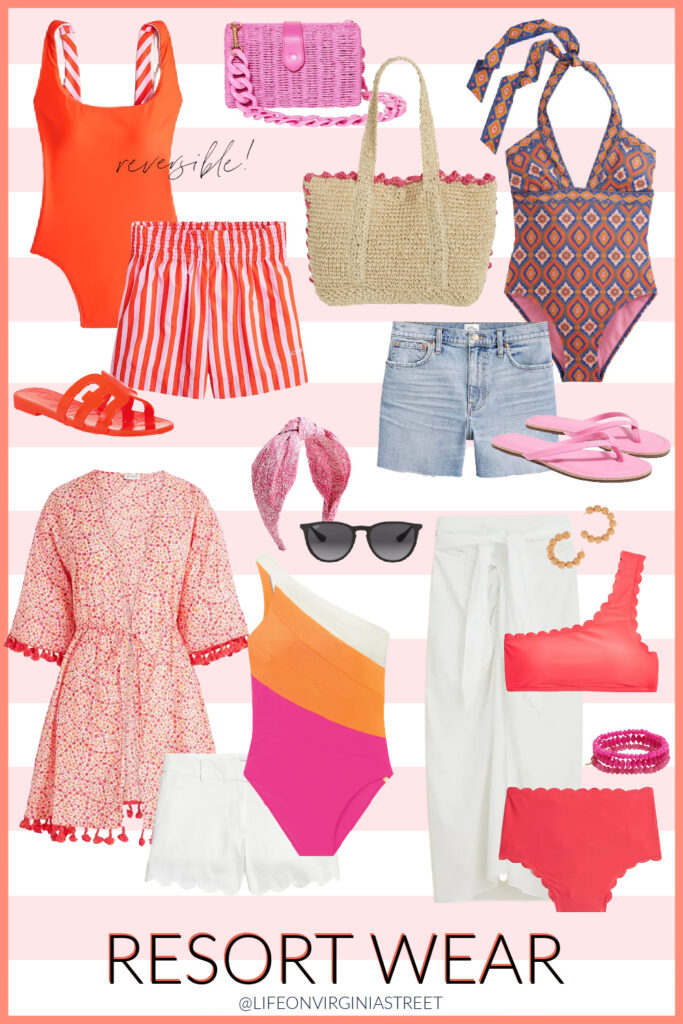 SOURCES: Reversible Swimsuit | Smocked Beach Shorts | Jelly Slide Sandals | Straw Shoulder Bag | Tote | Halter Swimsuit | High-Rise Jean Shorts | Flip Flops | Tassel Tie-Front Swim Coverup | Scalloped Shorts | One-Shoulder Swimsuit | Knotted Headband | Sunglasses | Convertible Beach Sarong | Rattan Earrings | Scalloped Swim Top | Beaded Bracelets | Scalloped Swim Bottoms
I ordered the striped linen coverup below and absolutely love it! It probably could be worn as a dress, as well, but the slits are a bit high on the sides. I ordered up on size to ensure it wasn't super clingy, and probably could have gone with my regular size (but love the flowy-ness of the larger size)! They offer a few solid colors as well.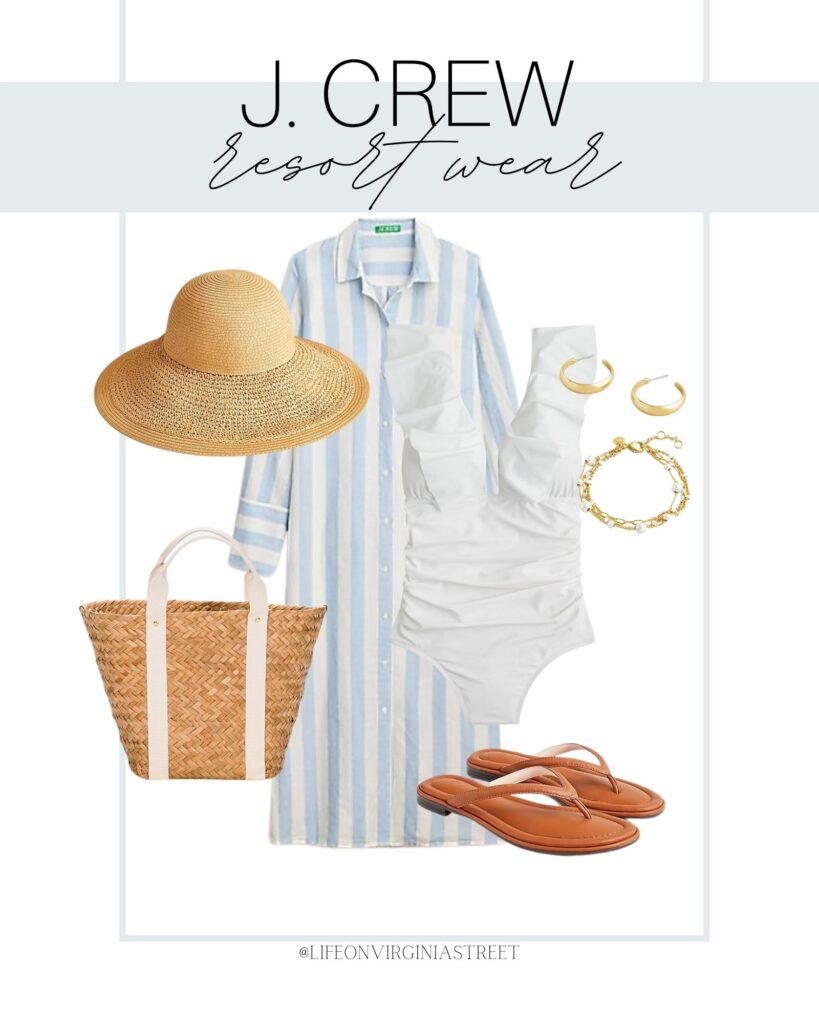 SOURCES: Straw Hat | Striped Cotton-Linen Coverup | Ruffled V-Neck Swimsuit | Gold Plated  Hoop Earrings | Layered Bracelet | Straw Tote | Leather Flip Flops
Here's another swim/coverup combo I'm loving!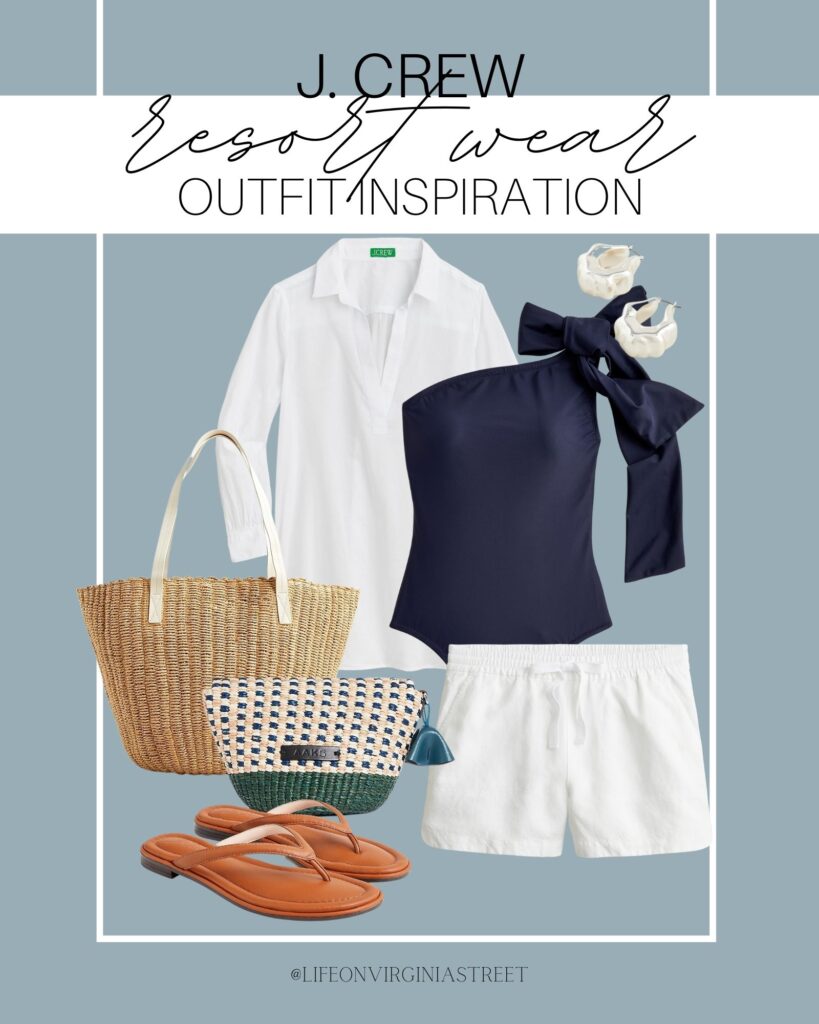 SOURCES: Cotton Tunic | Bow One-Shoulder Swimsuit | Hoop Earrings | Straw Market Tote | Raffia Pouch | Leather Flip Flops | Linen Blend Shorts
I love a more lightweight and warm-weather appropriate clutch or purse while on vacation. Just enough to hold my phone, lip gloss, and credit cards!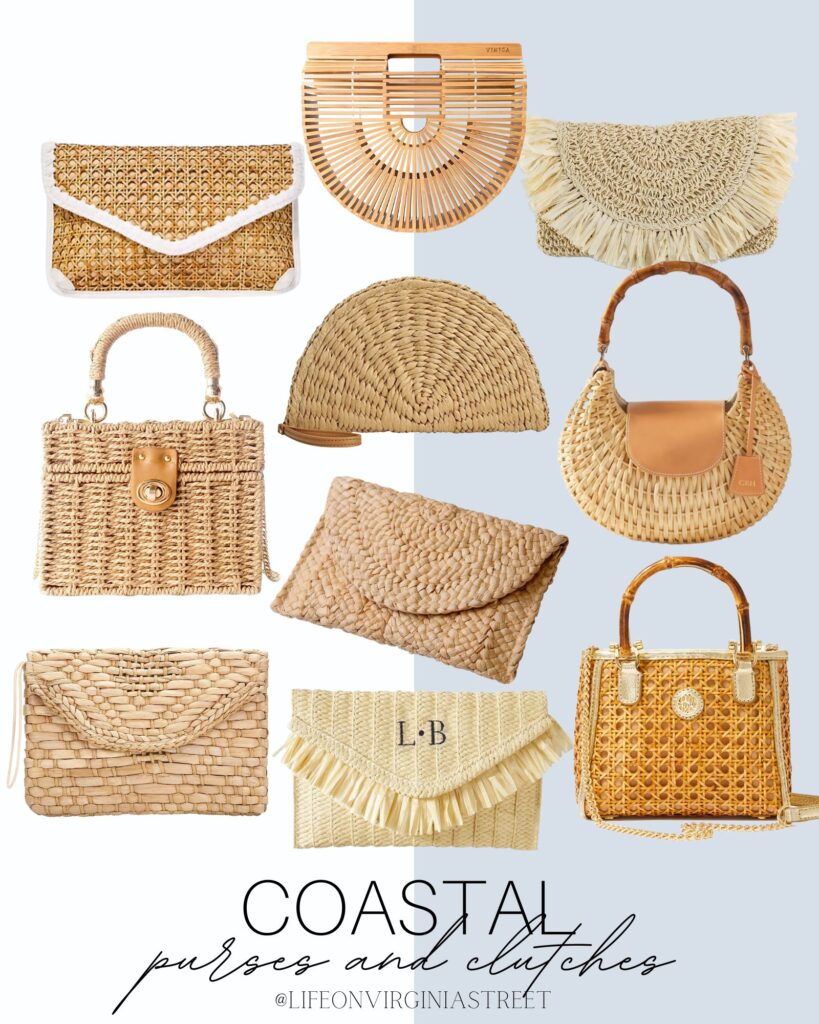 SOURCES: Cane Clutch | Bamboo Basket Handbag | Straw Clutch | Rattan Basket Purse | Straw Half Circle Clutch | Bamboo & Wicker Handbag | Envelope Clutch | Straw Clutch | Fringed Clutch | Cane Mini Bag
A Few Favorites I'm Packing for Grand Cayman
I'll try to remember to take some outfit photos next week when we're in Grand Cayman, but I thought I'd share a few favorites I actually purchased and will bring along on the trip!
I also have been building my packing essentials over the past year after getting by mostly with stuff leftover from my college years. I made this flatlay to show you how cute they all look together!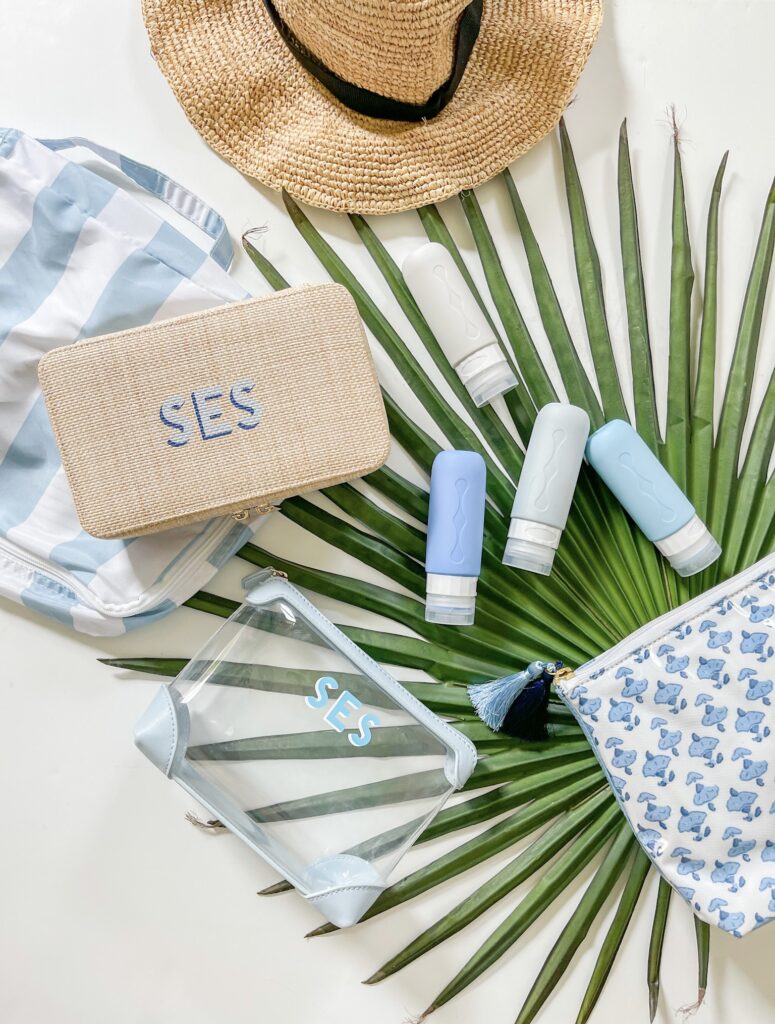 SOURCES: Packable Straw Hat | Striped Packing Cubes Set | Raffia Jewelry Case | Silicone Travel Bottles | Clear Pouch | Block Print Makeup Bag
Additional 2023 Resort Wear Finds
Following are even more cute resort wear finds for this year! Tap any of the images below to learn more about each of the items shown.






2023 Men's Resort Wear Finds
I had Kurtis earmark a few of his favorite finds to share today as well. He can't get enough of his floafers (essentially a Croc that looks like a loafer) since they're easy to dress up but are still comfy and not a true dress shoe.
A relatively new brand he discovered (and is now obsessed with) is Johnnie-O. He discovered it after this graphic was made, but it sounds like it was founded by one of the Peter Millar designers and is more of a California prep than country club prep type style. Definitely more coastal casual, but with some nice pieces thrown in that fit really well!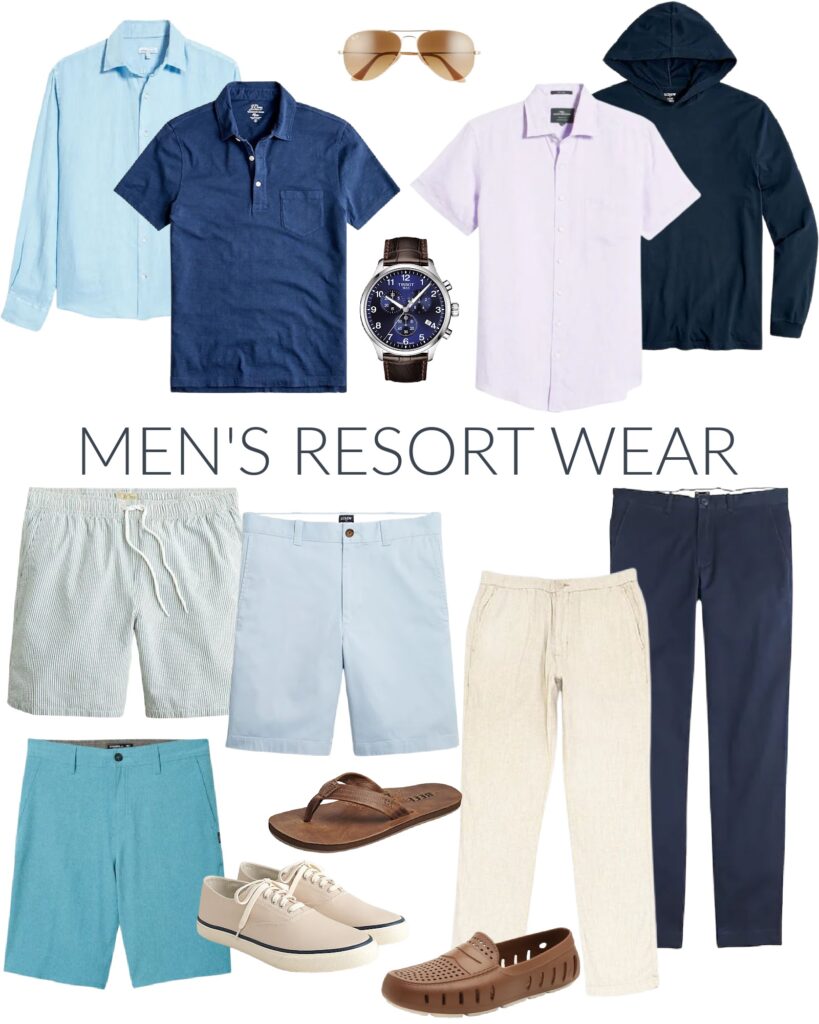 SOURCES: Light Blue Long Sleeve Shirt | Navy Hoodie | Lilac Short Sleeve Shirt | Navy Polo Shirt | Aviator Sunglasses | Watch | Seersucker Swim Trunks | Blue Hybrid Shorts | Light Blue Khaki Shorts | Sperry Sneakers | Linen Pants | Navy Chino Pants | Floafers | Leather Sandals
Additional Resort Wear Posts
Although some of these posts are older, they may give you some outfit inspiration and packing ideas if you're headed on a warm weather vacation soon!
If you would like to follow along on more of my home decor, DIY, lifestyle, travel and other posts, I'd love to have you follow me on any of the below channels: