Guys! We finally made it to March! I can't even tell you happy that makes me. I'd love to say that we'll be welcomed next week back from Atlantis with warmer weather, but it doesn't look like that's going to be the case. So, we're soaking up every ounce of sunshine and humidity while we can!
I always love reading other posts with outfit ideas and what others pack on vacation so today I thought I'd share what I packed for Atlantis. Especially with spring break coming up for so many and (hopefully) warmer weather for all of us on the horizon! Many of these looks will work for spring and summer as well.
We're actually staying at The Cove (the adults-only portion of the resort). The weather is expected to be around 80 degrees all week, with overnight lows in the high 60's or low 70's which is basically perfect!
Following are a few of the looks I packed for the trip (and the ones I had time to actually photograph before we left)! Since this trip is a business incentive trip for Kurtis, we have multiple dinners and activities assigned with others in the group. There is also a business meeting and an awards ceremony night so the range of items I had to pack is extensive!
This post contains affiliate links for your shopping convenience. Click here to read my full disclosure policy.
Beach & Catamaran Gear
Kurtis and I could honestly go on vacation and do nothing but sit on a beach for a week. Warm weather, sun and water are our thing but on these trips we also try to mix in a bit of adventure while we have the chance! We planned a pool day, two catamaran days, and a spa day so an overall good mix of activities!
I tried a lot of bathing suits on for this trip – and returned almost all of them. So, these are the ones that made the final cut!
I think I found the cutest bathing suit ever made in the history of ever. It's also comes in solids, other colors and bikini and laser cut options! The top is padded a bit (which I prefer) and it even works well for us long torso girls!

Bathing Suit | Sandals | Hat | Earrings | Sunglasses | Banana Lip Gloss | Mineral Matte Face Sunscreen | Beach Hair Mist
One of our catamaran trips (which also includes snorkeling) has a relatively early start time of 9:00 am. Since the temps won't be super high yet and we'll be out on open water, I packed this sweatshirt. It has a nice slim fit and is perfect for adding warmth but still looking beachy! And this bathing suit was just launched in a striped version. I also bought the black and army green solid versions because the reviews are true. It is one of the most universally flattering bathing suits ever. And so comfy! This one also works well if you have a long torso.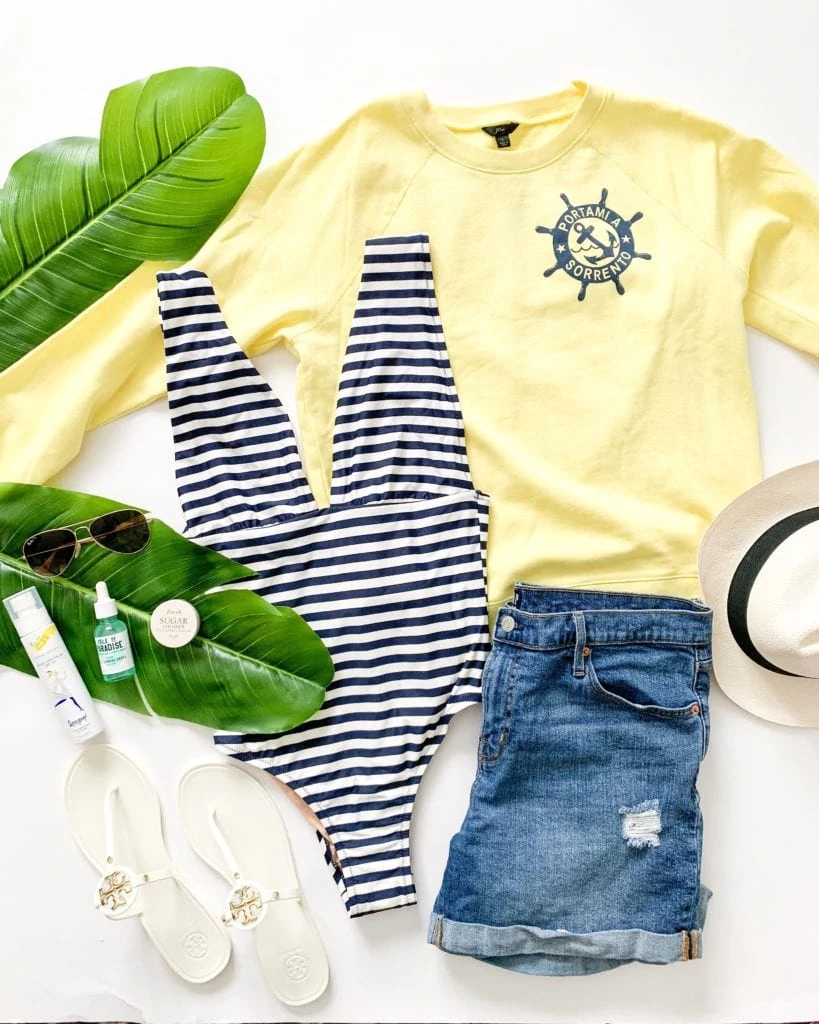 Bathing Suit | Sweatshirt | Shorts | Sandals | Make-Up Setting Mist | Self-Tanning Drops | Lip Moisturizer | Sunglasses | Hat
I also packed this one-shoulder bathing suit and a few of these tankinis.
I went a bit wild in the cover-up department this year, but on these types of trips, I find myself wearing cover-ups much more frequently since I'm up and about talking to various people on the trip with us. I found a lot of cute options at a variety of price points this year. I originally ordered this one in the coral color and then immediately ordered the blue option as well once I tried it on. So cute!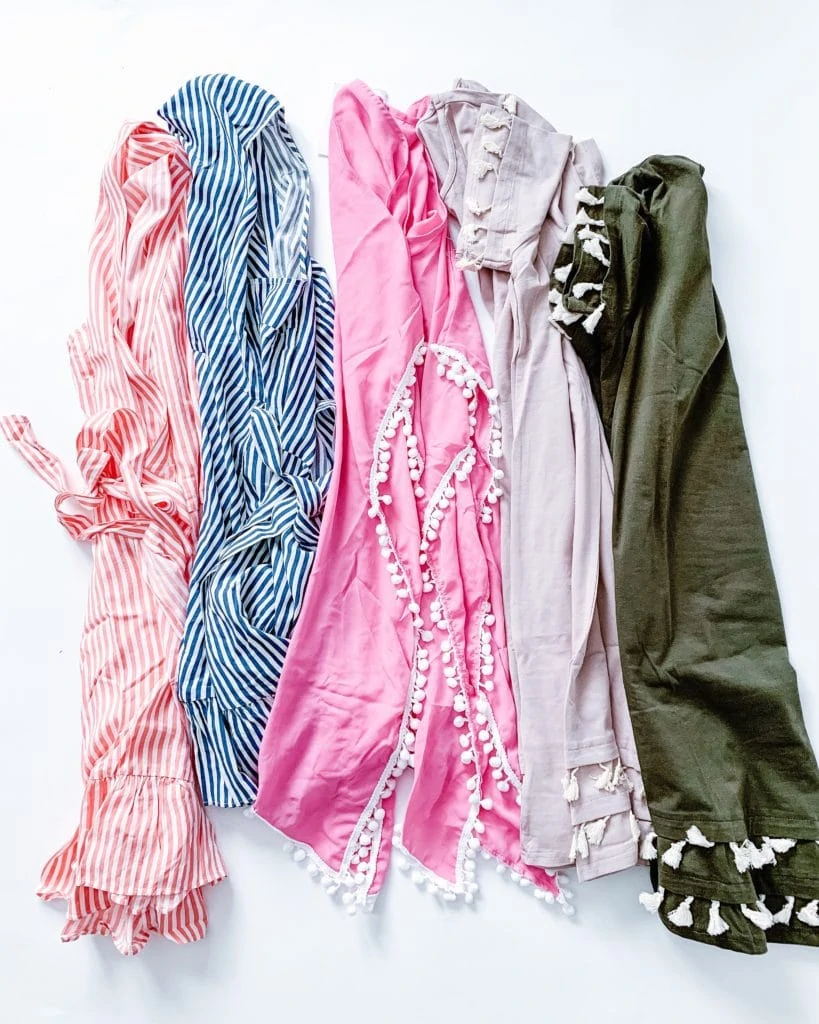 Striped Ruffle Dress Cover-Ups | Pink Pom Cover-Up | Tassel T-Shirt Dresses (I used as a cover-up because they're a bit too short for me to wear as a dress)
Accessories
Following are some of the accessories I packed. I always love to have a few cute smaller bags on trips like this to swap out each night at dinner (rather than bringing my "real" purse).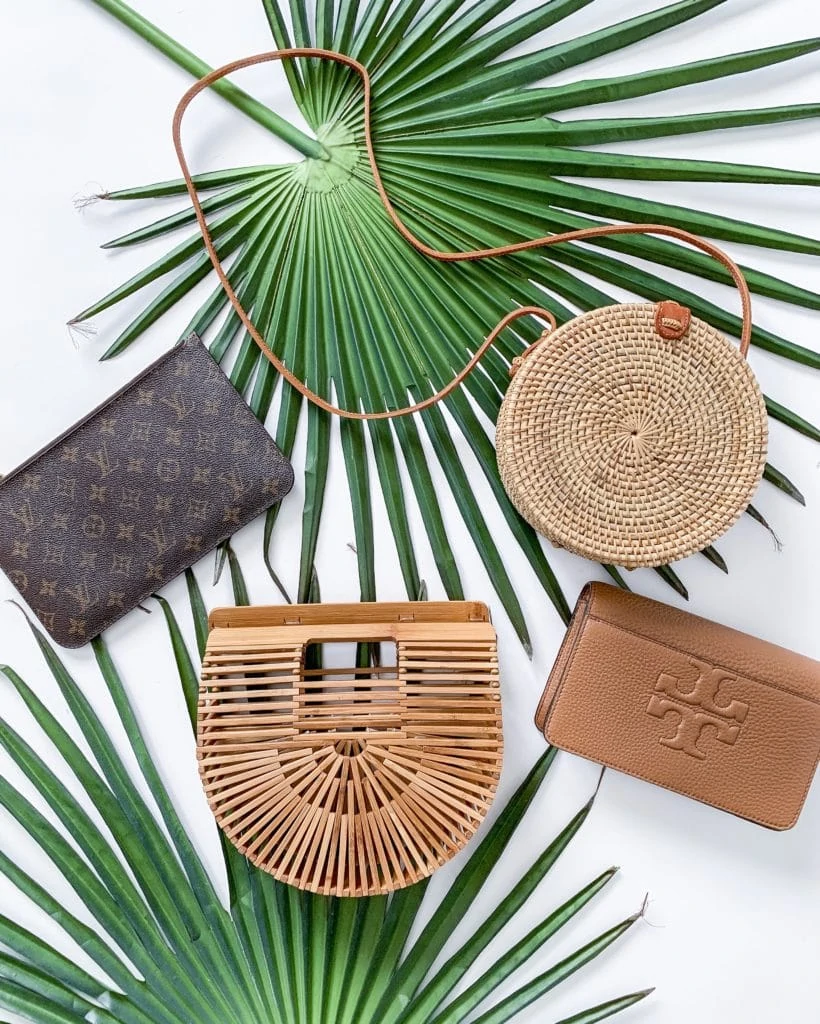 LV Clutch | Straw Circle Bag | Tory Burch Clutch (similar) | Mini Ark Bag
I fee like my earring game is much stronger this trip than my clothing game 😉
Pairs (L-R): 1 | 2 | 3 | 4 | 5 | 6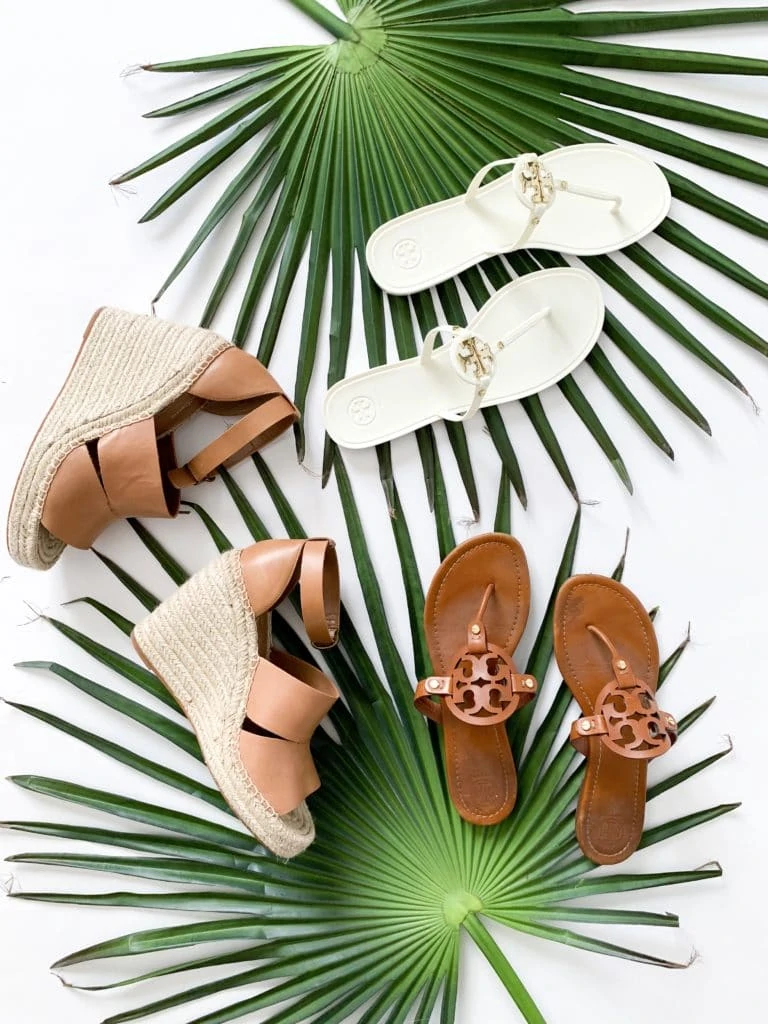 Wedge Sandals | Leather Flip Flops | Glossy Sandals
Outfits for Dinner & Events
These first two looks are ones I've shared recently, and I basically just modified the jeans and the shoes with more warm weather appropriate options! I still can't get enough of these tops!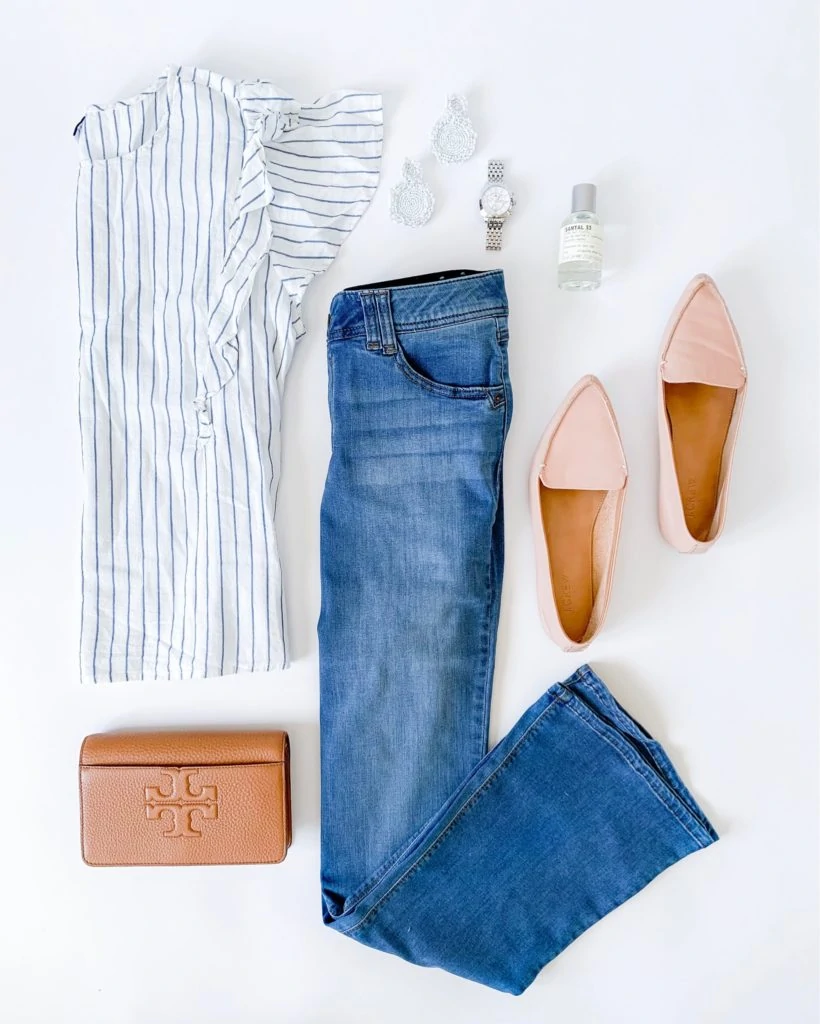 Striped Ruffle Top | Jeans | Loafers | Earrings | Watch (similar) | Cologne | Clutch (similar)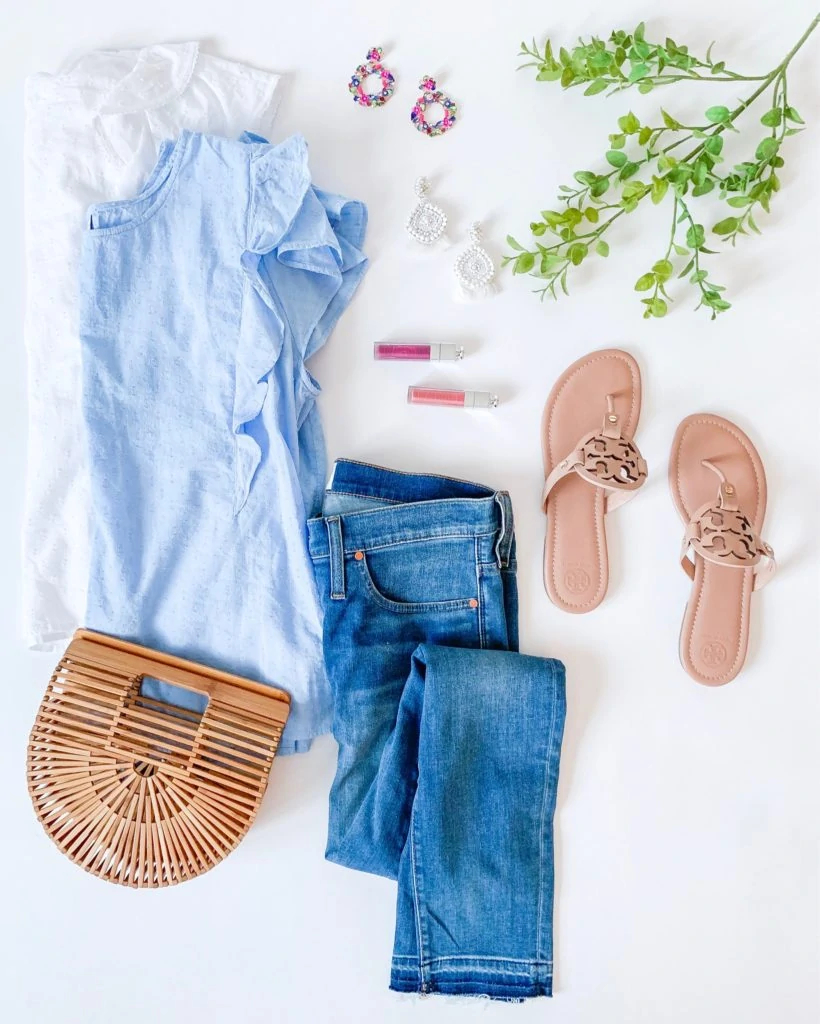 White Swiss Dot Top | Blue Swiss Dot Top | Jeans (similar) | Mini Ark Bag | Colorful Earrings | White Earrings | Plumping Lip Gloss (in Berry and Rosewood) | Sandals
These embroidered back tops could not be cuter! The front is just a basic tank look and then the back has all this gorgeous detail! They're perfect to throw on to head to the beach or to dress up for dinner!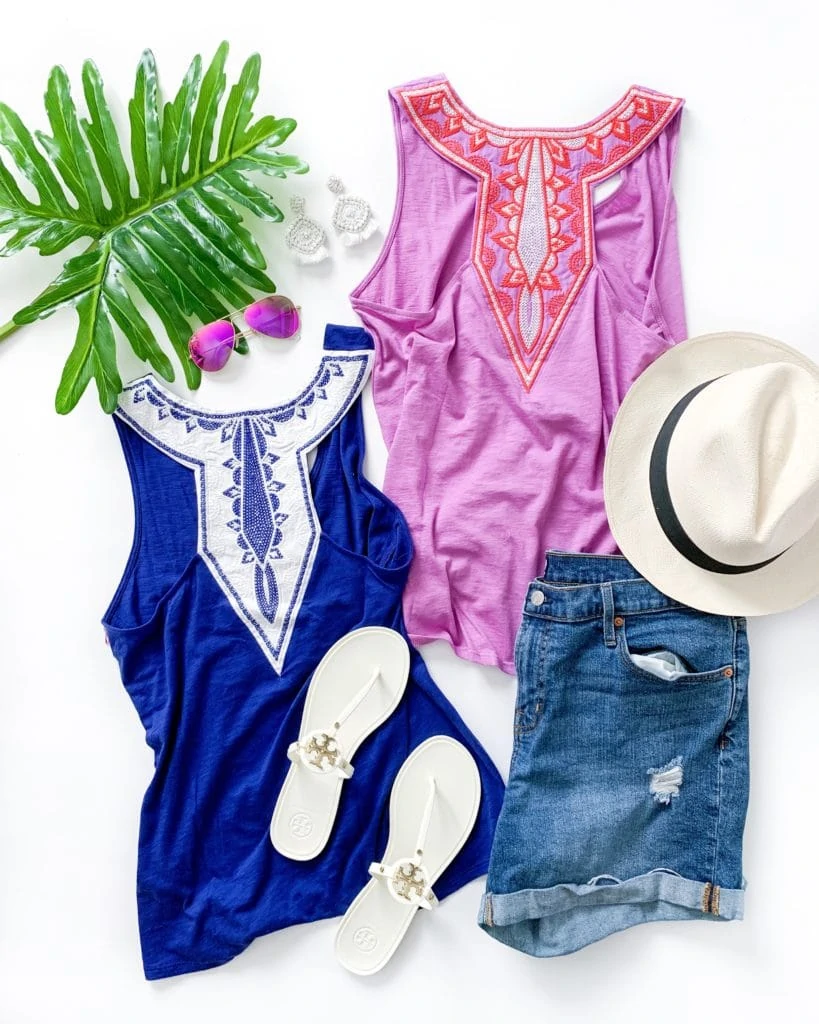 Embroidered Back Tops | Denim Shorts | Sandals | Hat | Sunglasses | Earrings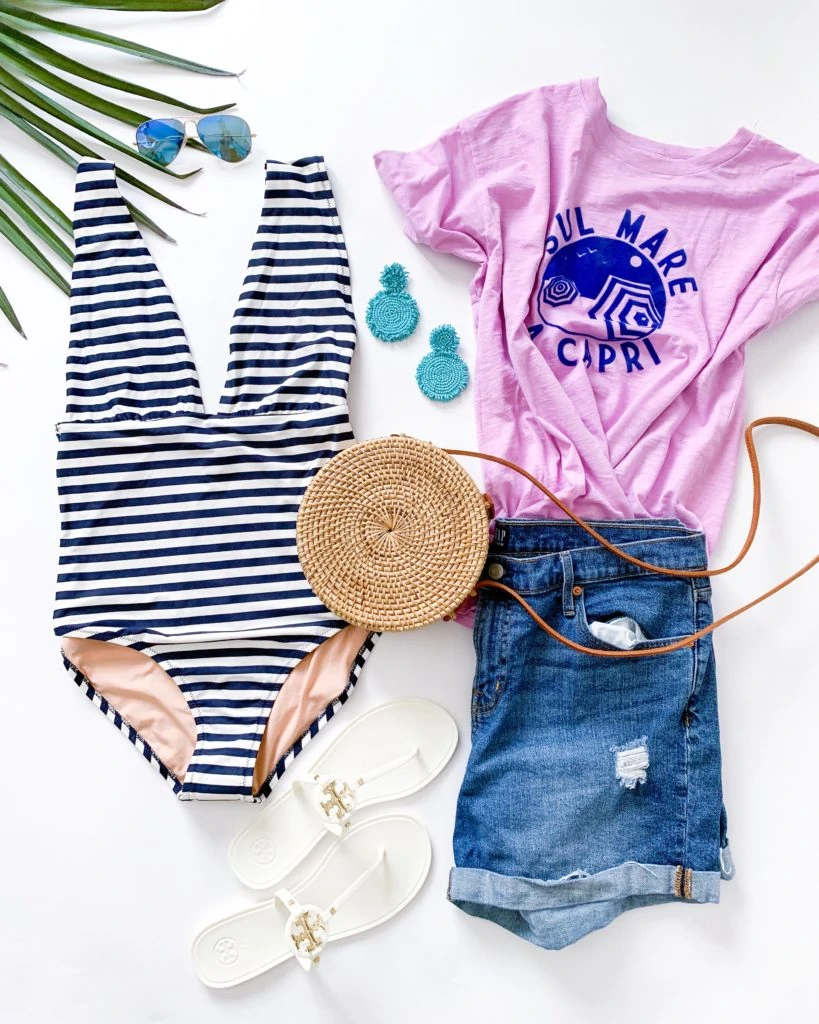 Bathing Suit | T Shirt | Shorts | Straw Bag | Sandals | Earrings | Sunglasses
Other clothing items I packed:
If you're looking for even more outfit ideas, be sure to check out my post on Resort Wear Favorites!
Rumor has it, we may get to swim with the pigs on Saturday so my fingers are very strongly crossed! Enjoy your weekend!
If you would like to follow along on more of my home decor, DIY, lifestyle, travel and other posts, I'd love to have you follow me on any of the following:
Pinterest | Instagram | Facebook | Twitter 
disclosure: some affiliate links used