Despite the fact we don't have any warm weather trips planned, outside of some maintenance days down in Florida, I still love to peruse the resort wear collections that launch each year! I typically love the bright colors from the collections since they always seem to launch in the dead of winter. It definitely gets you thinking about warmer days ahead! Today I'm sharing my 2022 resort wear favorites, along with a few picks for men, as well!
This post contains affiliate links for your shopping convenience. You can read my full disclosure policy here.
Each February or March, Kurtis typically has his annual trip for work and we get to head somewhere warm. This year, we were supposed to head to Monaco(!!) in April, but the trip has since been cancelled, as it was last year. The trip typically gives me a good excuse to start buying warm-weather clothes, not only for the trip, but in preparation for summer! Although we aren't headed anywhere exotic this year, I still created some inspiration for items I would pack if I were headed somewhere warm this year!
2022 Resort Wear Favorites for Women
If you haven't tried the Sidestroke Swimsuit, it still remains my top recommendation for most flattering suite for all body types. Although I have a long torso, I still order the regular length, and it works with just the one strap! Summersalt has a great selection of long torso swimsuits if you're on the hunt for one. They're an investment, but the suits I reach for most frequently!
I'm planning to buy another pair of these Seaside Chambray Shorts now that I see they're on major sale! I have worn these (and the solid color linen versions) for years and basically wear them all summer. I'm usually anti-3-inch-inseams, but with the drawstring waist, I find it works on these without feeling too short! They fit true to size and are perfect for a day at the beach or out shopping! They fit true to size with a relaxed fit.
I had to laugh at the volume of people that messaged me to buy this Hola Beaches tote bag! Since it's the namesake of our Florida rental house, I almost did! But, I've actually been working with a talented graphic designer to come up with our own logo, and possibly some gear like shirts and totes! This Tan Lines tote is the same brand and is currently on major sale!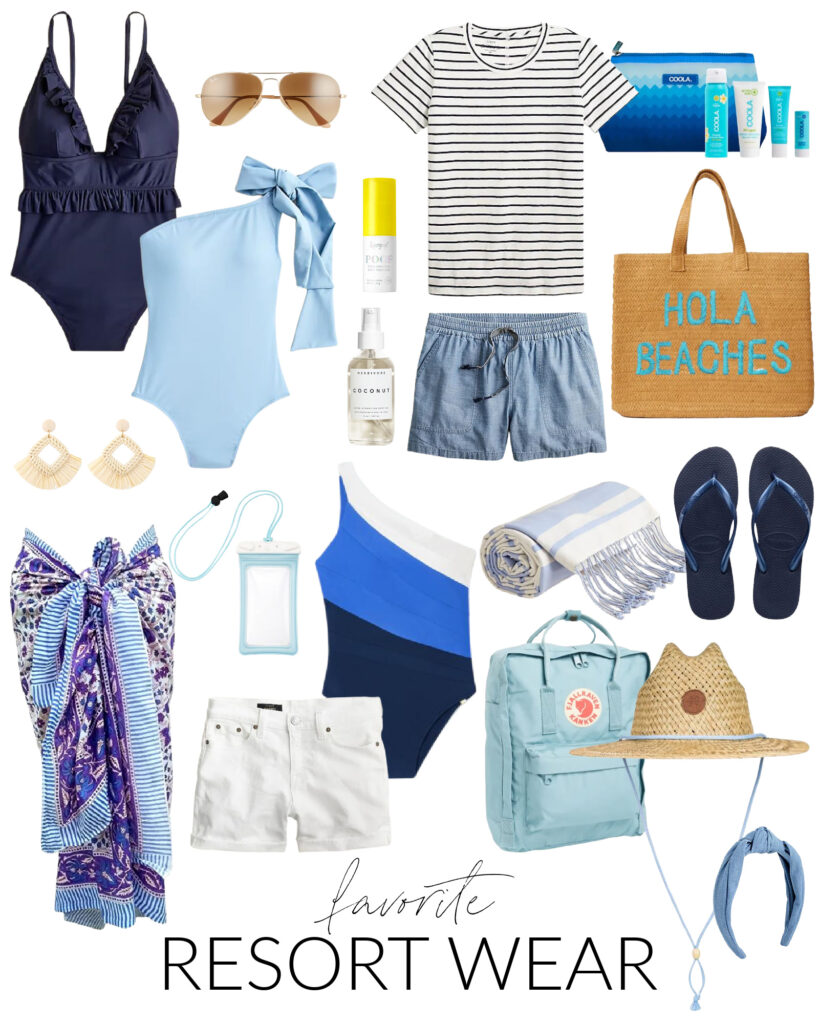 SOURCES: Ruffle Plunge V-Neck Swimsuit | Bow Shoulder One-Piece Swimming Suit | Phone Pouch | Striped Crewneck Tee | Seaside Chambray Shorts | Suncare Travel Set | Coconut Hydration Body Oil | SPF Mineral Powder for Hair | Rattan Earrings | Water Resistant Backpack | Hola Beaches Tote Bag | Block Print Sarong | Striped Lightweight Beach Towel | White Denim Shorts | The Sidestroke Swimsuit | Knotted Headband | Flip Flops | Straw Hat | Aviator Sunglasses
In the summer months and while on vacation, I tend to gravitate towards citrus hues and pops of bright colors. They always feel so cheerful! I have this V-Neck Jersey Maxi Dress in two colors, because it packs well and can easily be dressed up or down! It's definitely a long one for the taller girls, so if you're below 5'7″ish or so, I'd probably go with petite sizing if you don't want to have the length altered!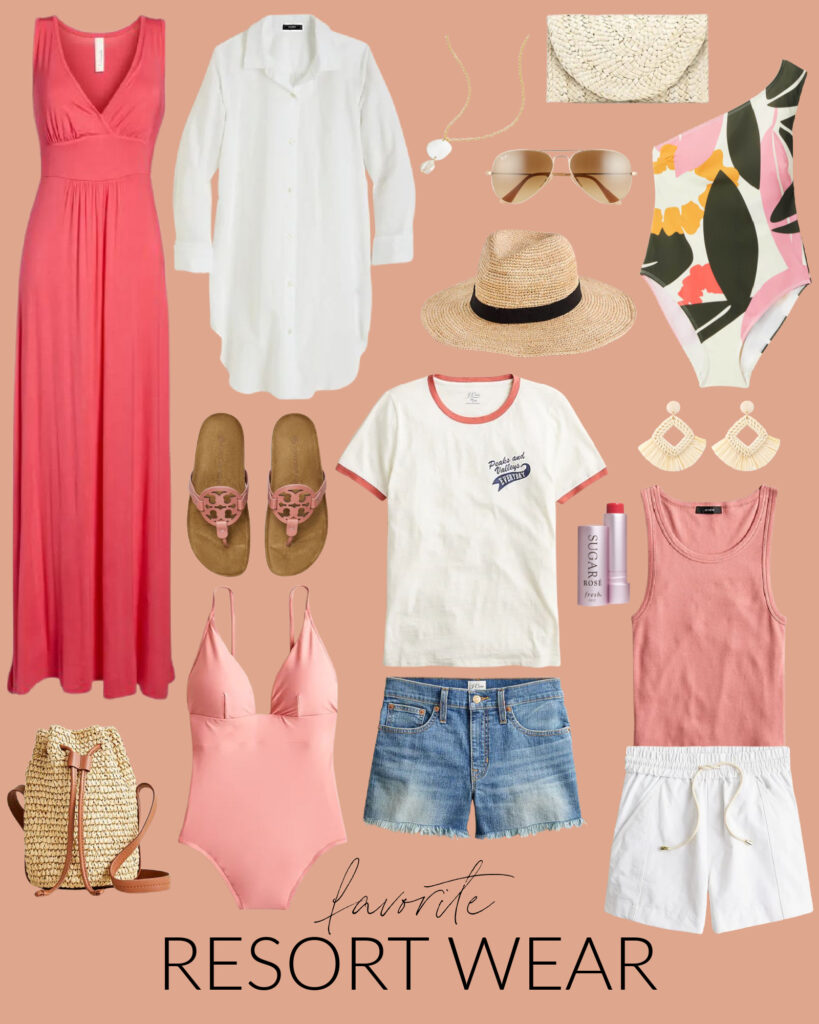 SOURCES: V-Neck Jersey Maxi Dress | Button-Up Beach Cover-Up | Freshwater Pearl Disc Pendant Necklace | Woven Clutch | Aviator Sunglasses | Packable Straw Hat | One Shoulder Bathing Suit | Tory Burch Miller Cloud Sandals | Small Woven Bucket Bag | Deep V One-Piece Swimsuit | Vintage Cotton T-Shirt | Mid-Rise Denim Shorts | Rattan Earrings | Lip Balm Sunscreen | Ribbed Cutaway Tank | Paddle Shorts
I also ordered this skirt last week for our next Florida trip. In full disclosure, I typically don't have high hopes for most Amazon clothing. I usually find them to run very small and more for petite builds. But, the skirt was a winner! I ordered the Lightpurple color in XL (based on prior fit issues) and it's a smidge large. But, it will definitely work and is so cute! I'm 5'8″ and my favorite part is that it grazes my ankles – they're usually so short on me! It's a cute one to throw on with a tee or tank and jean jacket or even to use as a swimsuit coverup! It comes in several colors and patterns that are equally as cute.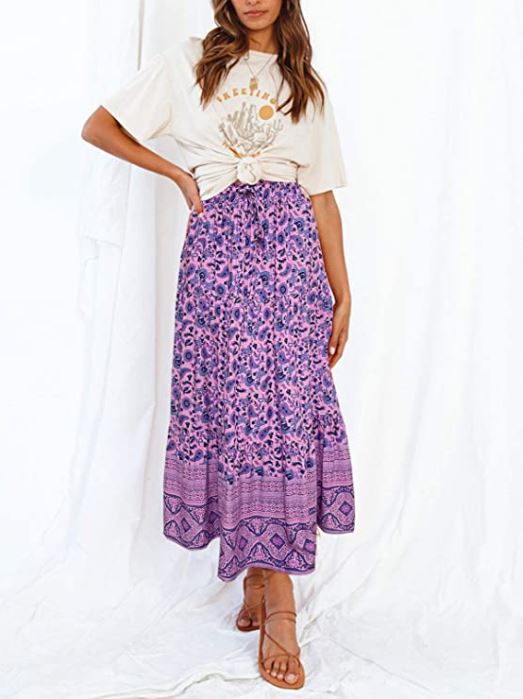 A few other favorite finds are below. Click any of the images to learn more about each of the items shown.





Resort Wear Bags and Purses
Last year, I dedicated a full post to beach totes and vacation bags. Since a few of those items sold out, I made a new graphic with some more recent finds! There are so many cute options out there right now, for a variety of budgets!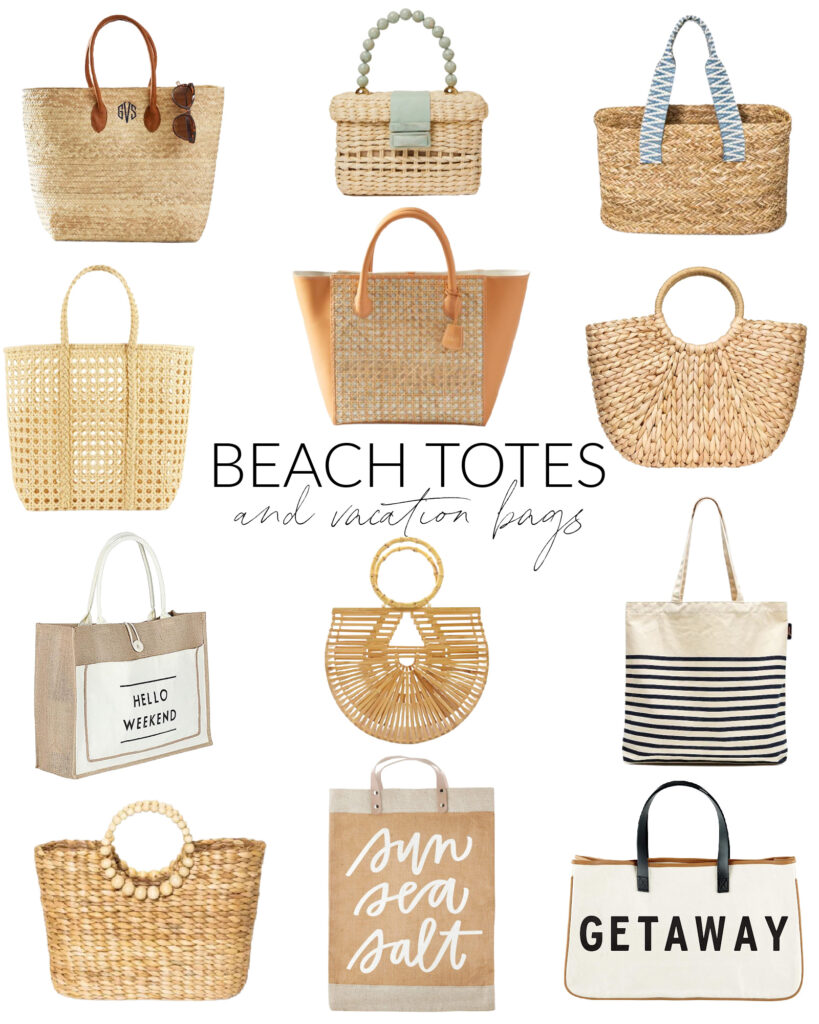 SOURCES: Leather Handle Palm Leaf Tote | Bead Handle Bag | Straw Webbing Strap Tote | Recycled Plastic Cane Tote | Leather and Cane Tote | Sea Straw Top Handle Bag | Hello Weekend Jute Tote | Bamboo Purse | Striped Reusable Everyday Tote | Circle Handle Straw Tote | Sun Sea Salt Jute Tote | Getaway Hold Everything Tote
Here are a few of the items I love to keep in my carryon or with me when I travel to a warm destination! And honestly, most times I travel in general, regardless of where I'm headed. That packable straw hat continues to be one of my all-time favorite finds. I probably need a new one this year because I wear it nearly every single time I go in our pool too!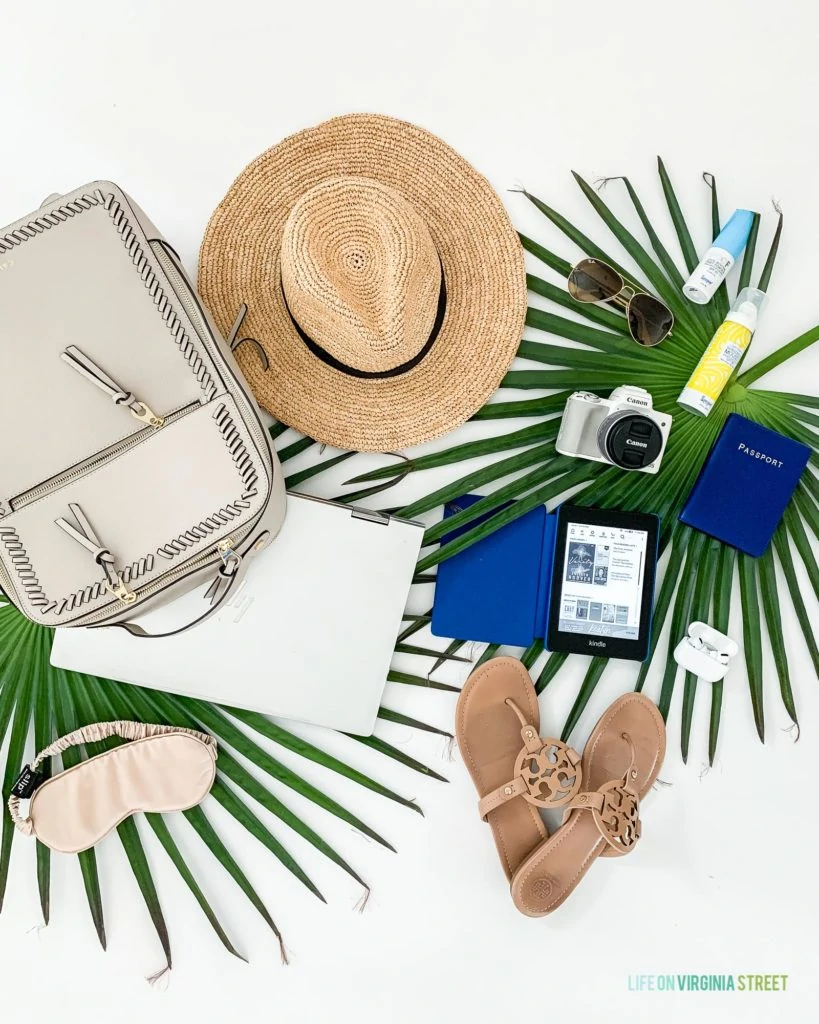 SOURCES: Laptop Backpack | Silk Sleep Mask | Packable Straw Hat | Aviator Sunglasses | SPF Part Powder | Mousse Sunscreen | Mirrorless Travel Camera | Passport Cover (old from J. Crew Factory) | Kindle Paperwhite | Kindle Cover | AirPods Pro | Tory Burch Leather Flip Flops (color: Makeup)
Men's Resort Wear
I also asked Kurtis to compile a list of a few of his favorites for men! If it's not already clear, he likes blue just as much, or more, than I do! But most of these items come in a variety of colors.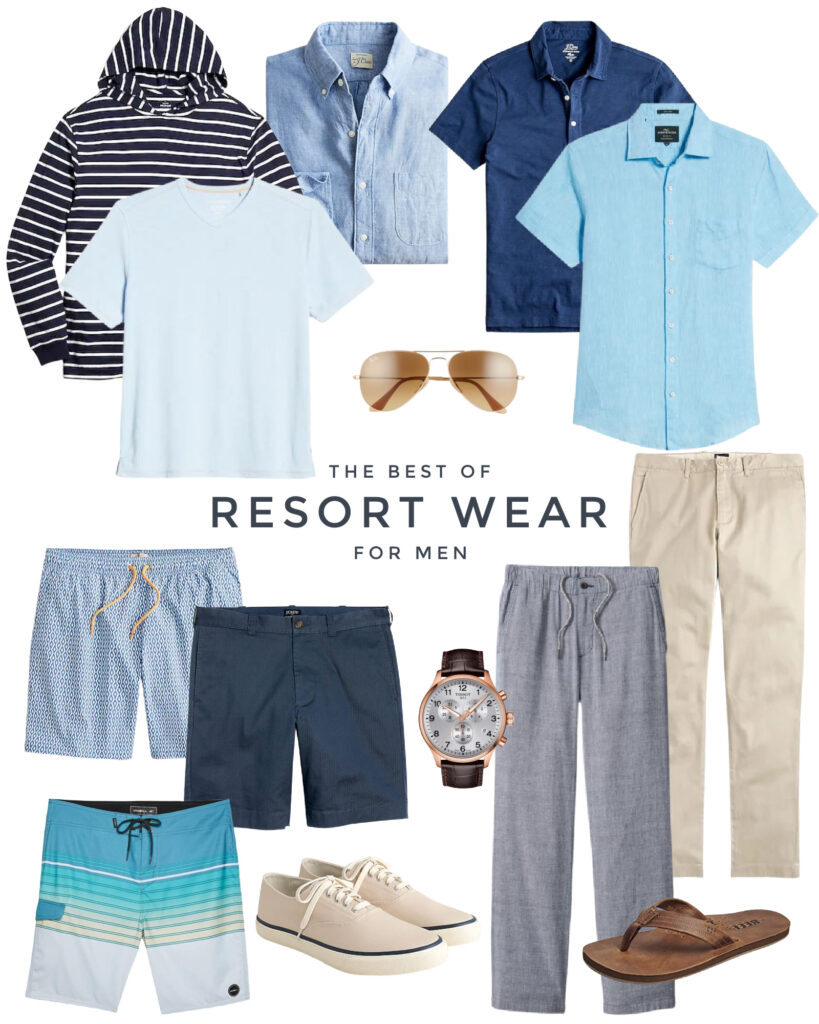 SOURCES: Striped Hoodie | V-Neck T-Shirt | Linen Shirt | Blue Golf Shirt | Light Blue Shortsleeve | Swim Trunks | Blue Shorts | Watch | Sunglasses | Gray Linen Pants | Khaki Pants | Boardshorts | Sneakers | Flip-flops
Additional Resort Wear Posts
Although some of these posts are older, they may give you some outfit inspiration and packing ideas if you're headed on a warm weather vacation soon!
If you would like to follow along on more of my home decor, DIY, lifestyle, travel and other posts, I'd love to have you follow me on any of the below channels: