Anyone else ready for a warm weather vacation right about now? Now that January is halfway over, it feels like the end of winter is almost in sight! It's also the time of year I start getting resort wear catalogs in the mail as many prepare for spring break. We are headed south for Kurtis' company trip at the end of February, so I'm starting my planning early. Especially since several of the cute finds I discovered last week have since sold out! So, today I'm sharing my resort wear favorites for 2019!
This post contains affiliate links for your shopping convenience. Click here to read my full disclosure policy.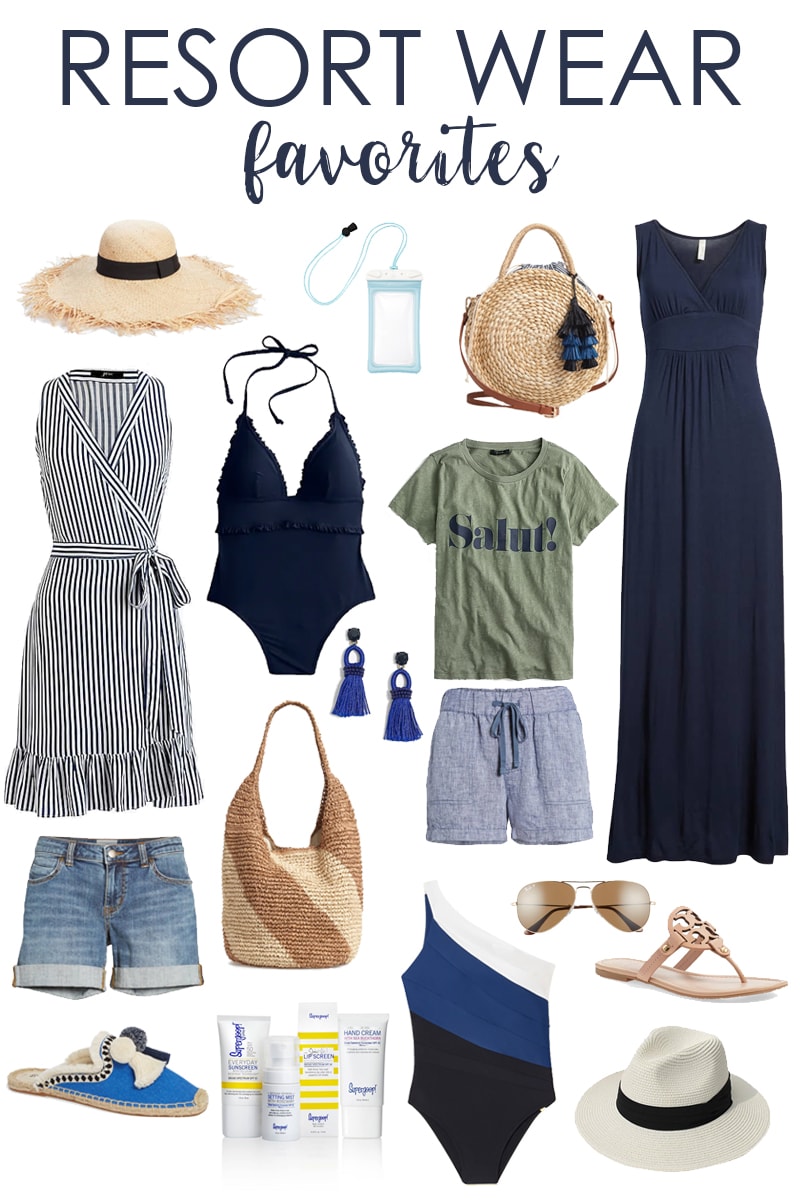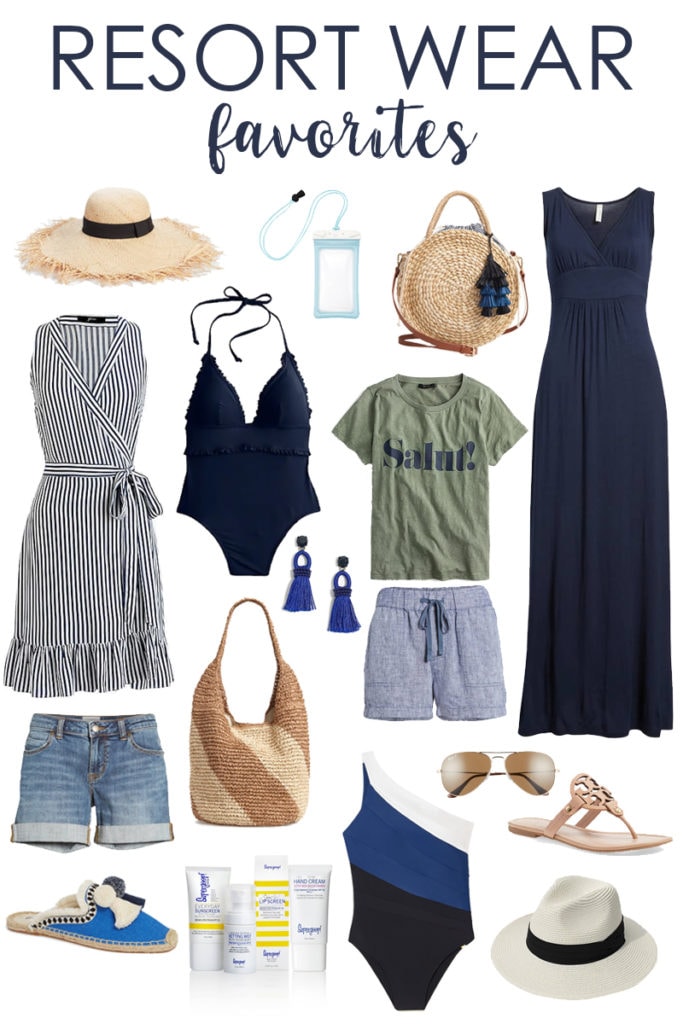 SOURCES: Floppy Straw Hat | Waterproof Floating Phone Pouch | Circle Raffia Tote | Denim Cut-Off Shorts | Woven Raffia Hobo Bag |  Aviator Sunglasses | Salut! Tee | Linen Shorts | Striped Beach Wrap Dress | Ruffle Halter Bathing Suit | Jersey Maxi Dress | Supergoop Kit | Tory Burch Leather Flip Flops | Panama Hat | Pompom Espadrille Mules | One Shoulder Bathing Suit | Tassel Earrings
Following are a few more resort wear favorites for 2019. And side note: I'm trying out a new widget that allows you to sign up for sale alerts on items. Let me know if you like the format or not! As always, they're scroll-able with more items if you click the arrows in each widget.
Getting Bathing Suit Ready
For the record, I am far from bathing suit ready this year. I'm starting the FASTer Way To Fat Loss program on Monday (I'm in prep week right now). I know it's the super popular thing to try right now, so I'd love to hear if any of you have experience with it! I'll be sure to report back if I have success. But, the fact that we have a trip in about seven weeks and the program is six weeks, it seems like it may be a great fit to get me eating right and working out again! I've seen some pretty incredible before and after photos from friends after the six weeks, so it has me pretty motivated at this point! I've also heard from many that it's the only way they've been able to shave off excess fat in trouble spots. If you're not familiar with the program, it's a mix of intermittent fasting, working out, carb cycling and more but in a simple and easy to follow format. You can read more about it here if you're interested (my coach is Jill Reikofski and she's been amazing so far).
Bathing Suit Favorites
I actually bought this bathing suit last week after reading so many great things about it (and how universally flattering it was), and it did not disappoint! Following are a few more of my top bathing suit picks. Most of these come in multiple color and pattern options.

Sundresses & Cover-Ups
Sundresses and cover-ups are an essential piece to any resort wear list! I have this jersey maxi dress from last year and love how easy it is to pack and how flattering it is to wear! It's a bit lower cut than I typically like, but it's definitely a favorite! Following are a few other sundress and cover-up picks.

Beachy Clutches & Totes
I tend to only switch up my purses and bags when on vacation. But I find it's such a fun time to try something a bit more playful or festive! Following are a few of my favorites this year!

Sandal Picks
These leather flip flops will likely be my favorites for all time. But, I've found a few other fun contenders below!

Beach Vacation Favorites
If you haven't tried Supergoop yet, this kit is the perfect way to start! I'm obsessed with the setting mist spray and their sunscreens. We also put these waterproof floating phone pouches to the test in the pool last year and they definitely work! They're also great for taking underwater photos and videos with your iPhone. My brother had a little too much fun videoing his puggle swimming in the pool 😉
I hope you enjoyed these resort wear favorites!
If you would like to follow along on more of my home decor, DIY, lifestyle, travel and other posts, I'd love to have you follow me on any of the following:
Pinterest | Instagram | Facebook | Twitter
disclosure: some affiliate links used