Anyone else ready for some sunshine? One of my favorite posts of each year is officially here! I'm sharing all of my favorite 2020 resort wear favorites for any upcoming warm vacations you may have and to get prepped for spring and summer! Whenever my favorite stores launch their vacation shops, I immediately build my virtual shopping list. It's one of the few thing that helps make winter go by more quickly for me!
This post contains affiliate links for your shopping convenience. Click here to read my full disclosure policy.
2020 Resort Wear Favorites
Following is a mood board I made for some of my 2020 resort wear favorites. Then, further down in the post, I'm sharing even more great finds!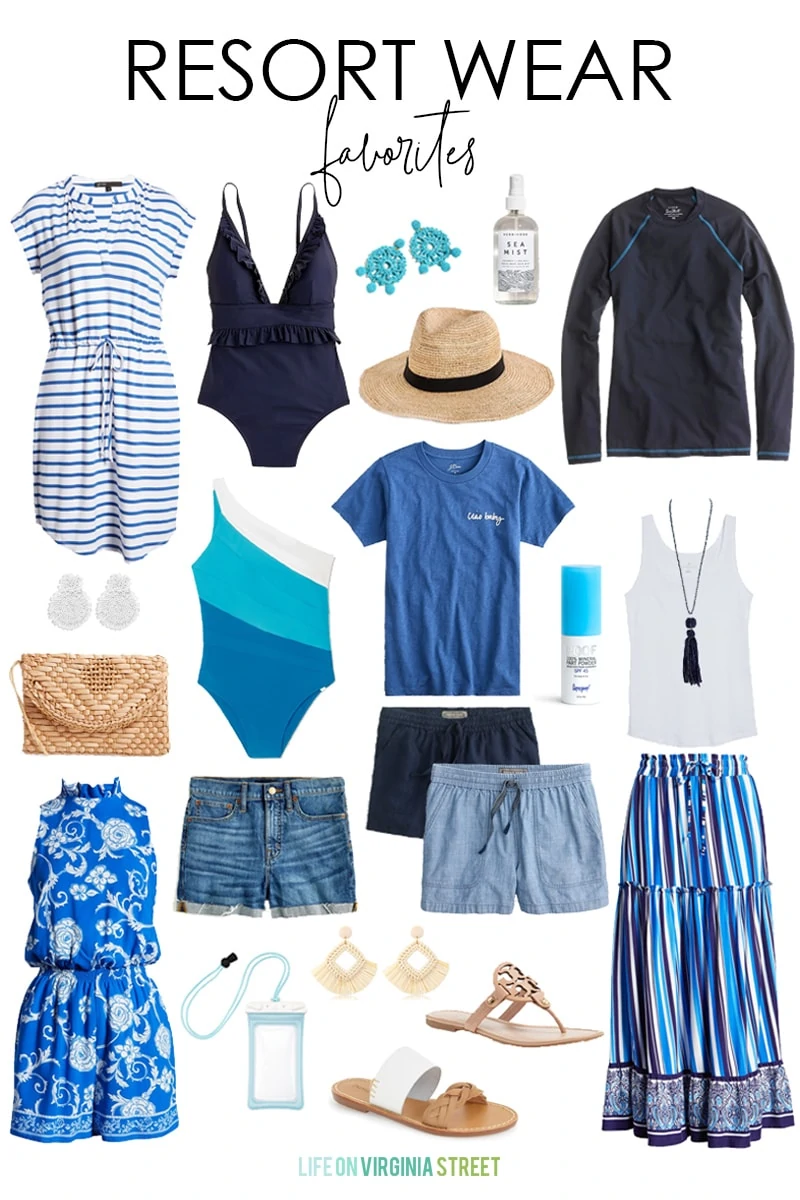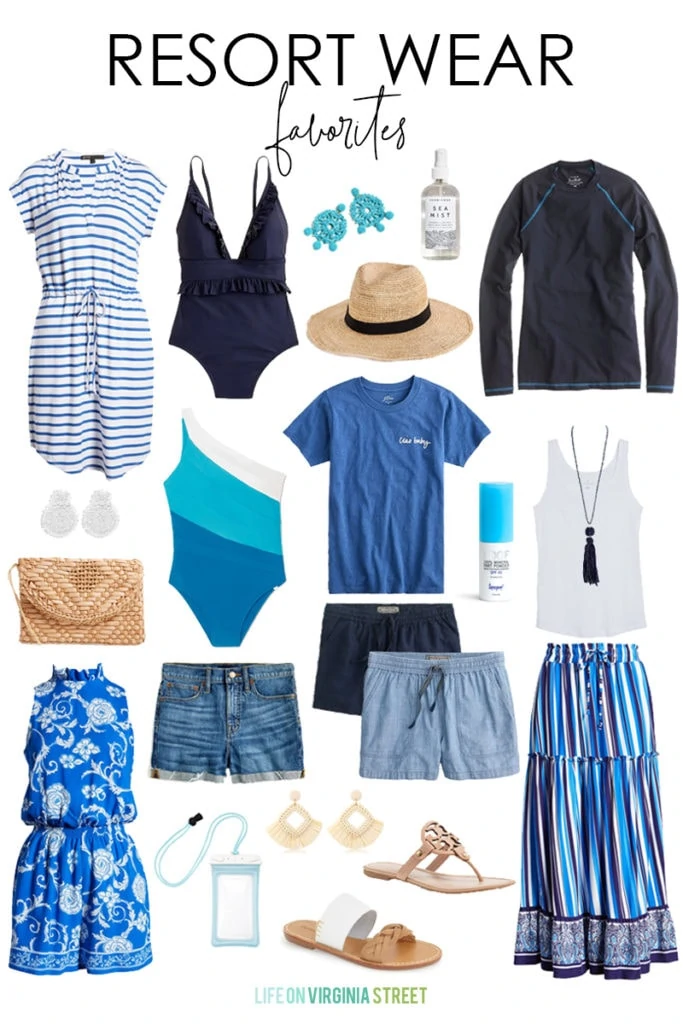 SOURCES: Drawstring Jersey Striped Dress | Ruffle One-Piece Swimsuit | Sea Mist Texturizing Hair Spray | Beaded Crochet Statement Earrings | Long Sleeve Sun Shirt | "Ciao Baby" Tee | Linen Pull-On Shorts | Chambray Shorts | High-Waist Denim Cut-Off Shorts | Floating Dry Case for Phone | Raffia Earrings | Packable Straw Hat | Beaded Earrings | Tory Burch Miller Leather Flip Flops | Slide Sandals | Supergoop SPF Part Powder | Romper | One-Shoulder Bathing Suit | Woven Straw Clutch | Tank Top | Long Tassel Necklace | Maxi Skirt
Hi Sugarplum x Gibson Resort Collection
One of the best parts about my post going live today? It's also launch day for the next Hi Sugarplum x Gibson resort wear collection at Nordstrom! My friend Cassie is always so sweet to let me pick out some items ahead of time so I can share my fit tips, etc. with you. The bad news is this time around, I don't have images of me in the clothes. They arrived while I was in Vegas and then the flu struck, and I figured it was better to get you my tips before items sell out than to wait until I can have pictures taken! I ordered my regular size large in everything with only one exception as noted below. For reference, I'm 5'8 and typically wear a large in tops and size 12 in bottoms. I have a long torso and wide hips.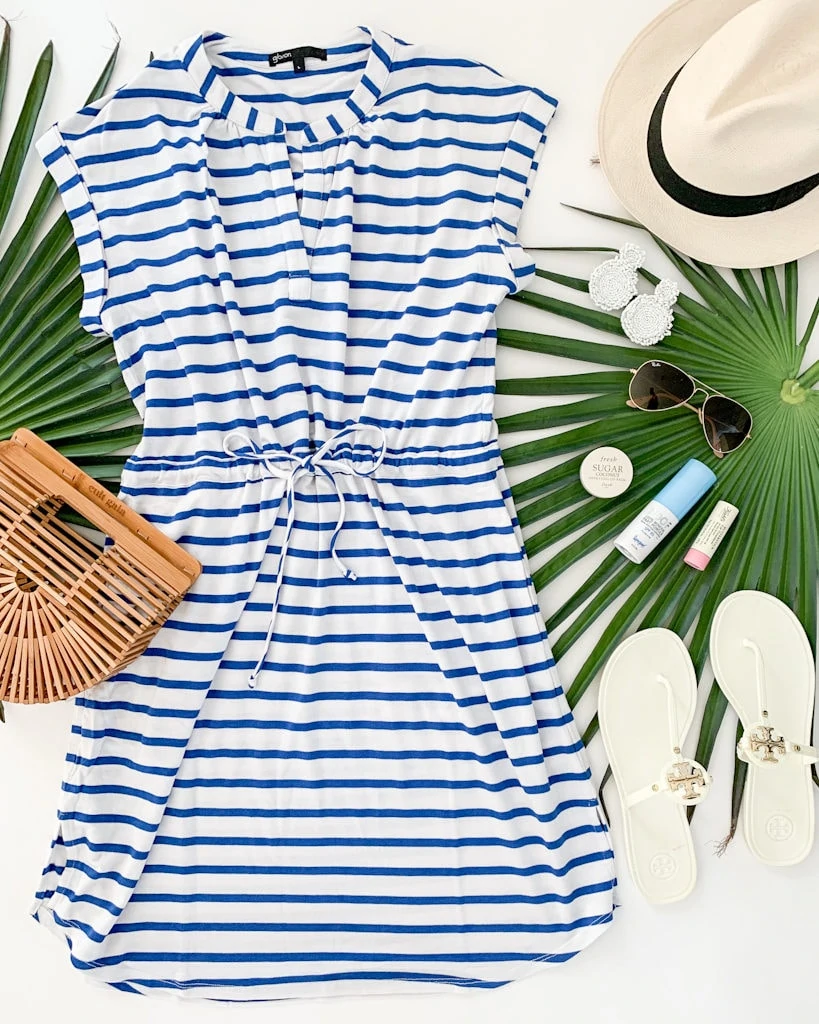 OUTFIT SOURCES: Striped Dress | Mini Ark Bag | Beaded Earrings | Panama Hat | Aviator Sunglasses | Coconut Lip Balm | SPF Part Powder | SPF Lip Balm | Sandals
Following are even more pieces for the collection! Click on any of the items you wish to learn more about!
Bathing Suit Favorites
Since I have a long torso, I struggle with finding great options in one-pieces. So I usually go to tankinis. I've also found that no matter how much somebody else raves about a swimsuit on Amazon, they are always a bad idea for me (fabric quality, torso length, general sizing). So it's somewhere I'm willing to invest a bit more money for quality and something I know will fit right!
And remember this striped bathing suit favorite from last year? There are a few sizes and colors available right now on clearance. But it also came back this year in solids and a cute new print! Side note: the back side isn't cut as high as it looks in the picture below. I just tucked it all under so the lining wouldn't show 😉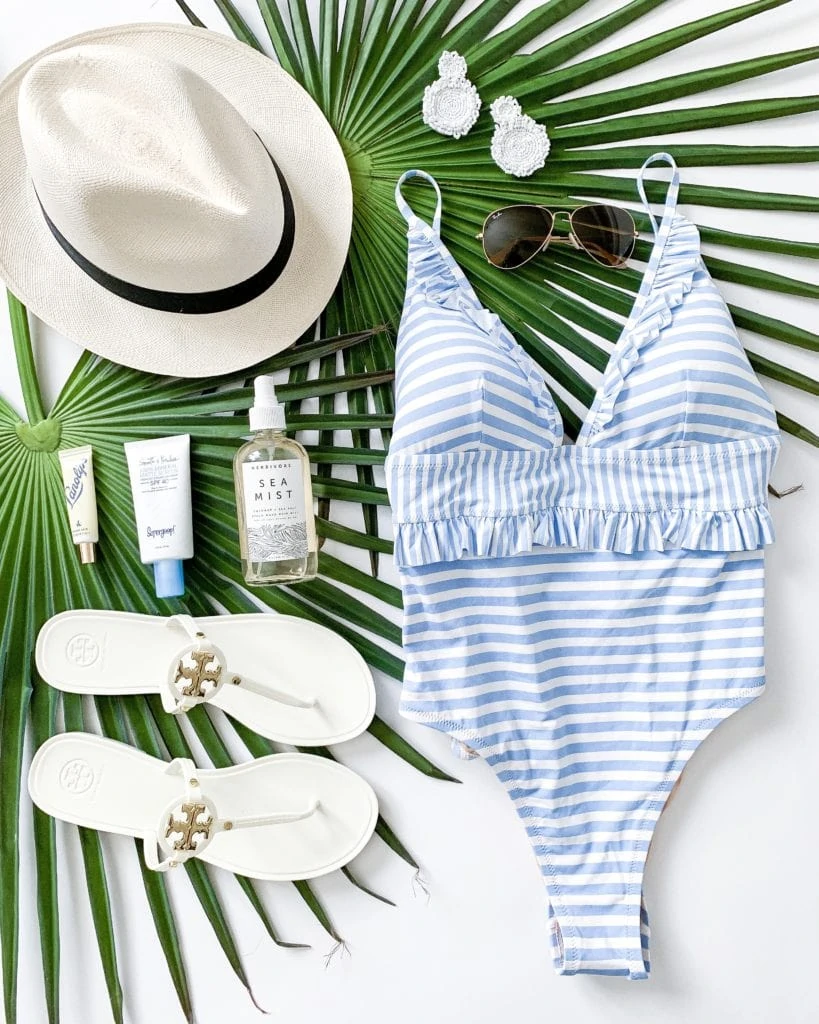 OUTFIT SOURCES: Striped Bathing Suit | Beaded Earrings | Panama Hat | Aviator Sunglasses | Lip Treatment | Mineral Matte Sunscreen | Coconut Texturing Hair Mist | Sandals
Sundresses & Cover-Ups
I'm loving these linen pull-on shorts so much, I also ordered them in chambray! They're great as a cover-up or dressed up with other vacation basics! They fit true to size, are comfy, and a great length. And you've all heard me sing the praises of this jersey maxi dress! It packs so well and I love it so much that I have it in two colors! And besides the "cute" cover-ups, I cannot say enough good things about these swim shirts. I have two of them, and they are lifesavers on vacations (or at home) when you've had too much sun. Unlike rash guards, this has a looser (but still flattering) fit so it doesn't show off every single fat roll 😉 . It dries quickly, doesn't feel hot in the sun, and is UPF50. Following are some of my additional top picks for sundresses and swimsuit cover-ups. You can see me wearing it further down below in the Bahamas last year when we swam with the pigs. Lastly, my mom got me hooked on these swim skirts when we were in Hawaii. She bought several option but I just went with basic black. They velcro on, making it super easy to throw on over a bathing suit! More ideas below. Click any of the images below to learn more about each of the items.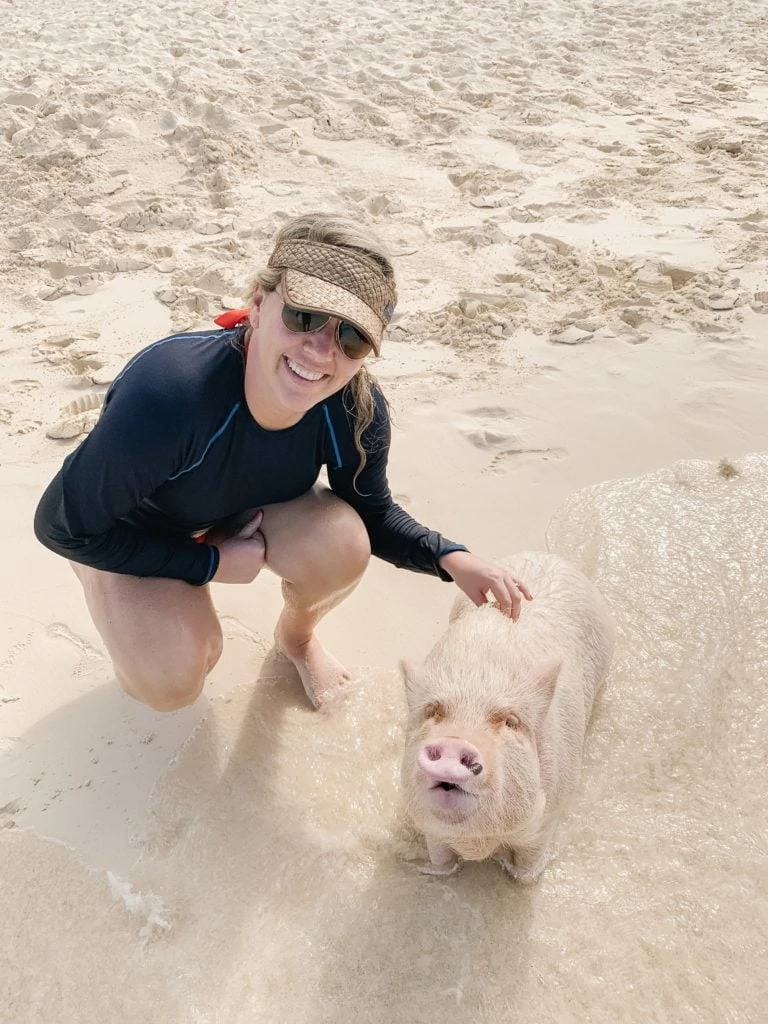 OUTFIT SOURCES: Swim Shirt | Aviator Sunglasses | Tankini | Visor: Kurtis' from some random street vendor 😉
Sandal Favorites
These sandals continue to be my go-to for all vacations. Yes, they're an investment. But I've literally never heard of anyone that has regretted them once they buy them. They are so easy to dress up or down, are easy to pack, and are super comfy! And, on the budget side of things, I still swear by these flip flops – especially for sandy conditions when you don't want to ruin your other shoes! The bronze metallic color make feet look good! Following are some of my top picks for sandals. Click any of the images below to learn more about each of the items.
Beach Accessory Favorites
Following are some of my top picks for beach accessories. Click any of the images below to learn more about each of the items. This part powder was my favorite find last year! A little goes a long ways, but it's essentially SPF for your hair in powder format (like dry shampoo)! I love that it's non-greasy and really does protect your scalp and part line from getting burned! We've also had these dry phone pouches for years now and they work great! Occasionally we'll even use them to take underwater photos on our phones!
More Resort Wear Inspiration
Looking for even more resort wear inspiration? Be sure to check out these other posts I've written in the past. Click on any of the titles below to read the post.
Bring on the sunshine!
If you would like to follow along on more of my home decor, DIY, lifestyle, travel and other posts, I'd love to have you follow me on any of the following:
Pinterest | Instagram | Facebook | Twitter
disclosure: some affiliate links used