Good morning! I hope you all had a wonderful Easter! Coming at you a day late this week since I spent most of yesterday traveling home from our Omaha/Iowa visit. Here's what we've been up to this past week.
This post contains affiliate links for your shopping convenience. You can read my full disclosure policy here.
Home Projects & Updates
It was a big week over at the new build once we left town! I drove by Wednesday morning before our flight to Omaha and they were in more of the paint prep stage. By that evening, I had a text from our builder saying they had the first coat of paint done on most of the house!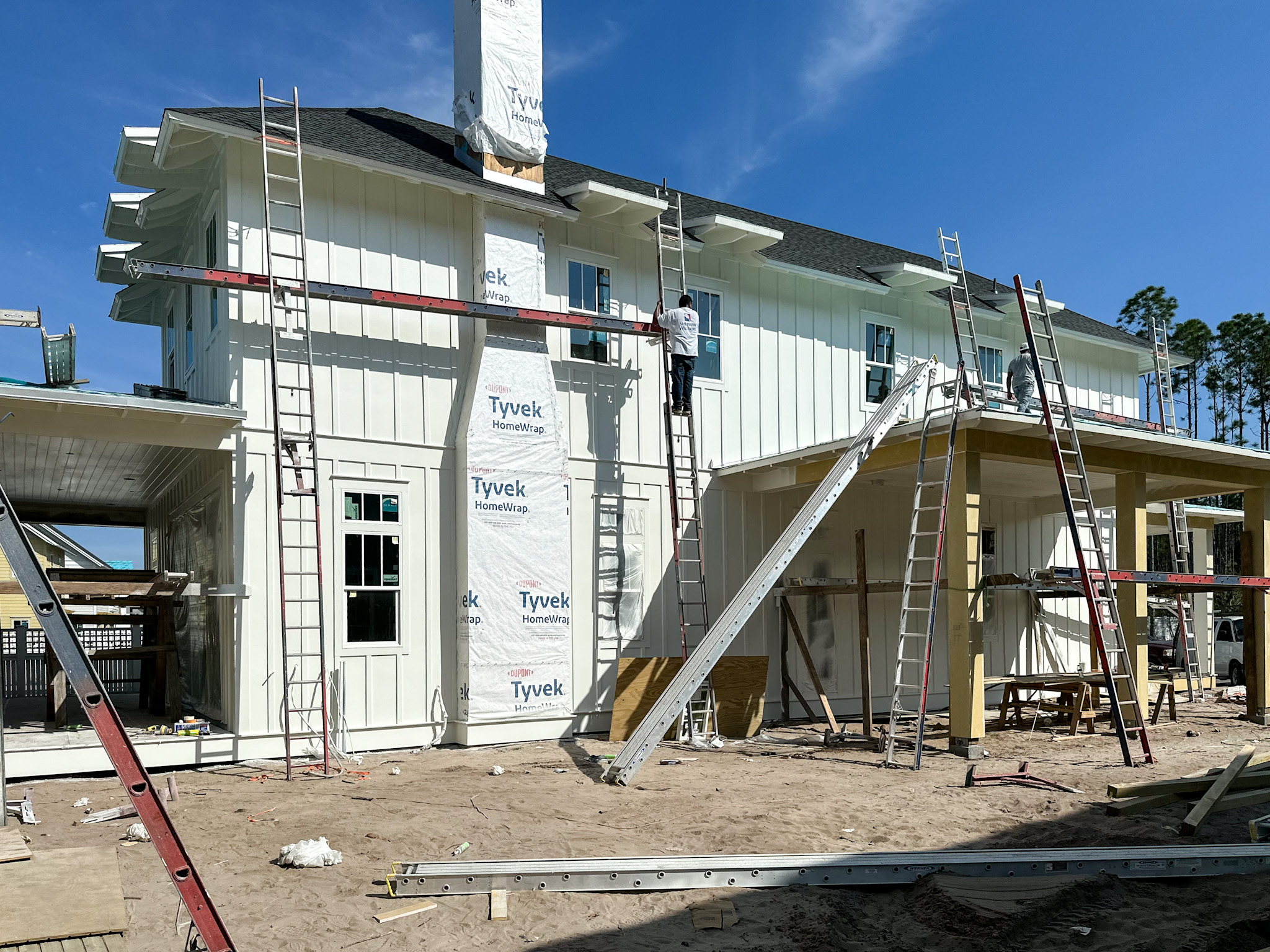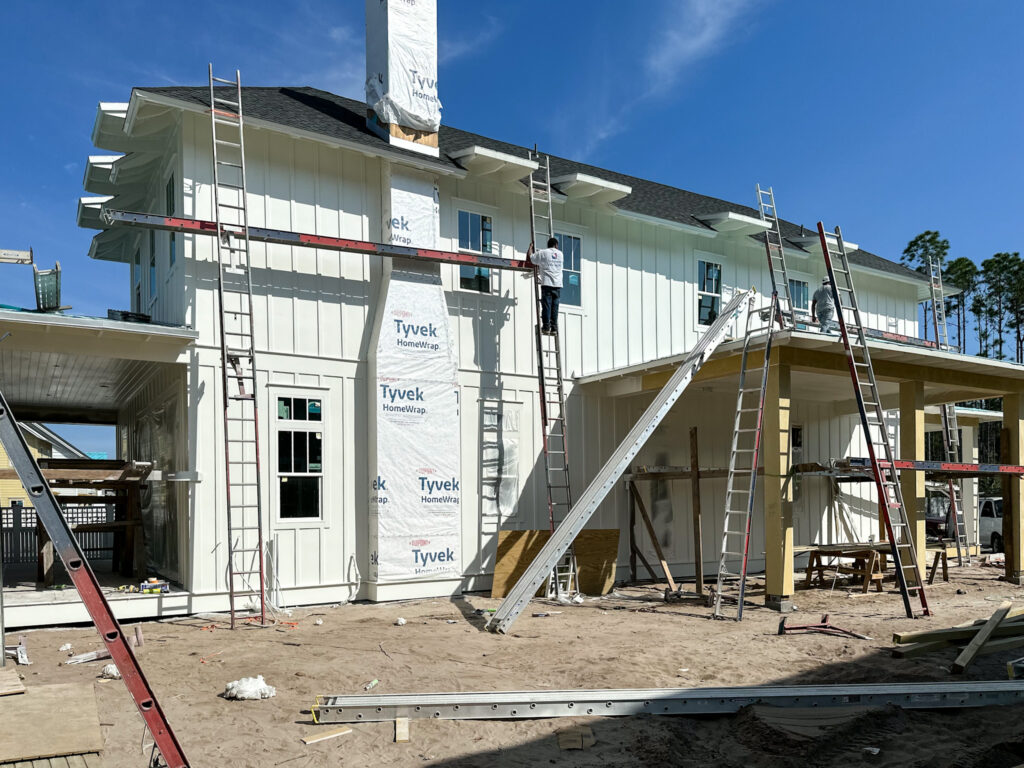 I swung by last night on my way home from the airport to see it in person. It was a much cloudier day than the pictures above, and I still love the color so much! I've found the whites are the most tricky when it's cloudy out, because that tends to really bring out their undertones. I wanted a warm white that didn't scream "yellow" on cloudy days, and I think this Sherwin Williams Greek Villa is a winner! Here you can see some shaded areas as well as those areas with more direct light. I'm really loving it!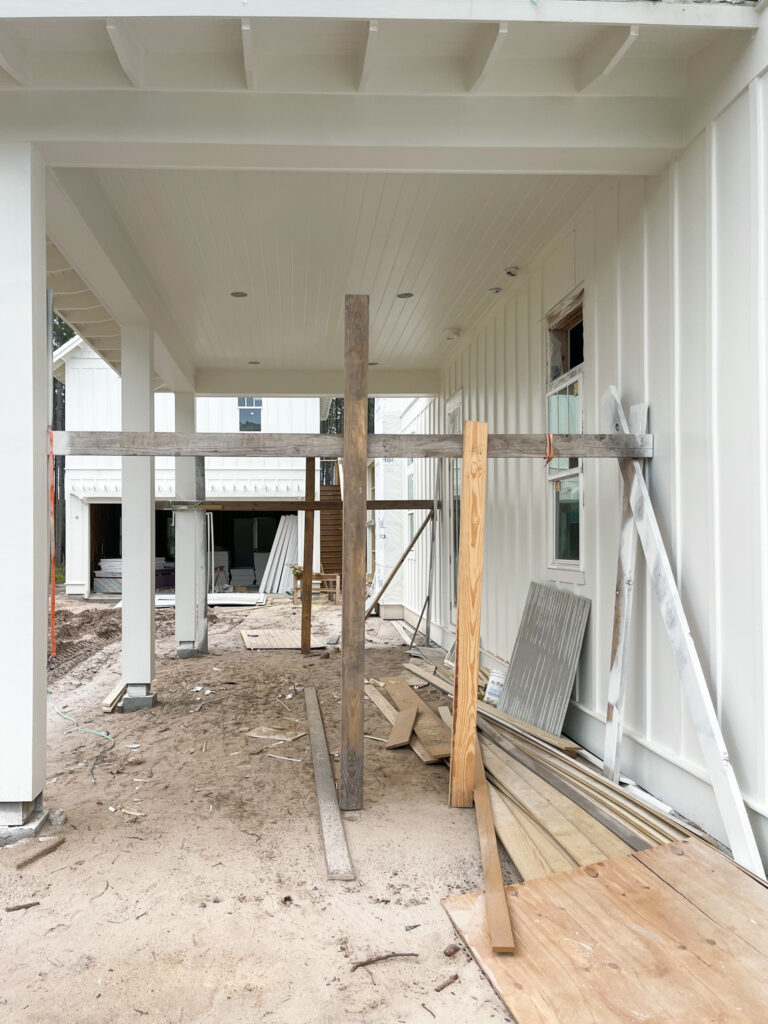 The little carriage house and garage is so cute! I'll definitely be finding a way to have some planters with something (maybe jasmine? bougainvillea?) that can climb and cover that pergola! You can see they haven't fixed the mismatched windows yet, but they said it's an easy update.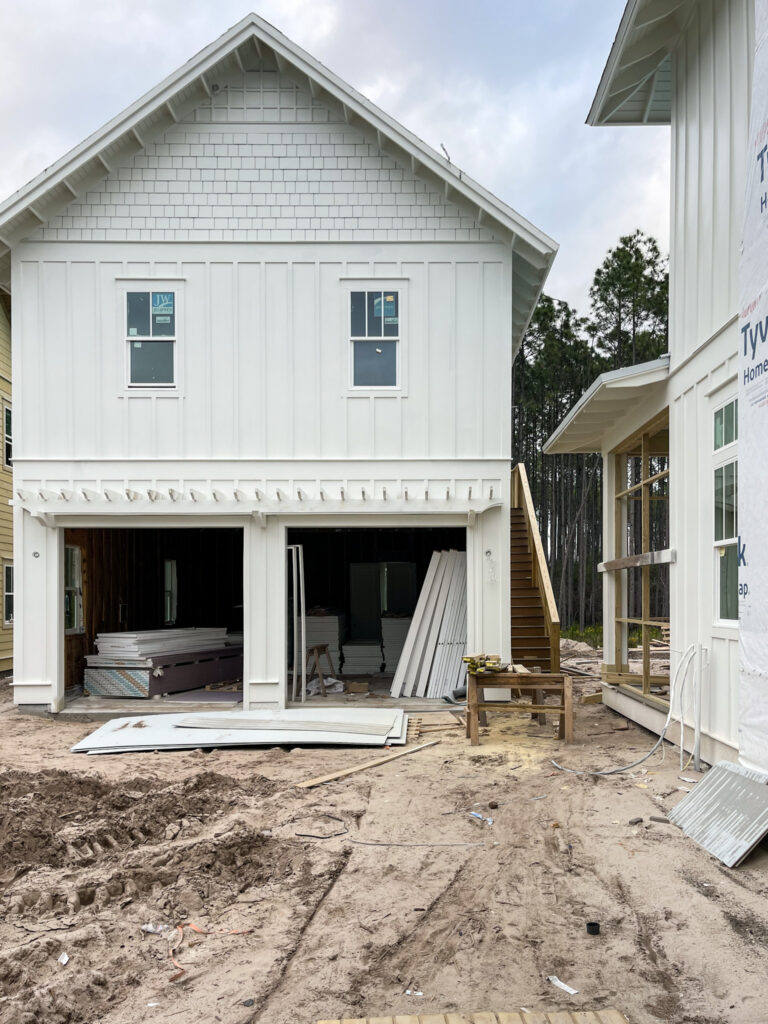 Now that a bunch of the screened-in porch got painted, it's starting to feel like a legitimate room! It's amazing how much larger it feels now that the ceiling is white! You can see they have since started to add the framing for the screens (which will also be white). I don't love all the horizontal lines, but I believe this area has 13′ ceilings so the support is necessary for the integrity of the screens. You can also see they started to build out the railing for the carriage house stairs. There will be an outdoor shower under the stairs, so it all gets enclosed in horizontal boards, painted to match the house.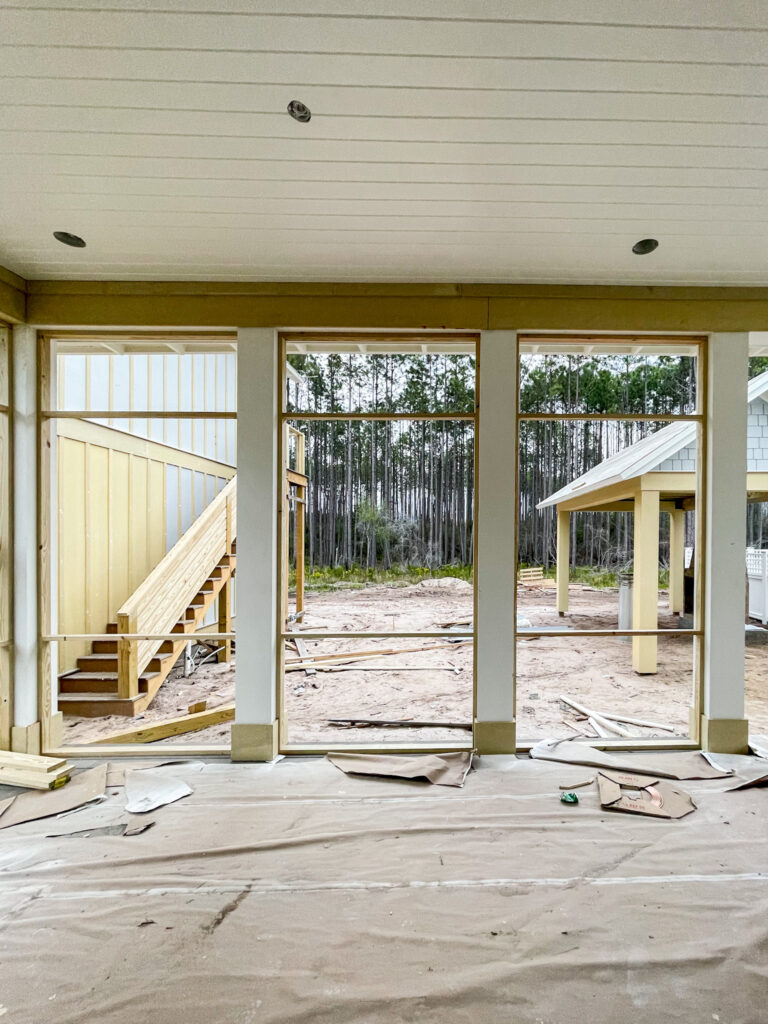 On the inside of the house, they wrapped up the sheetrock and appear to have most of it mudded (I didn't run upstairs to verify). They also had pretty elaborate scaffolding set up in the entryway, so I'm guessing they'll be starting the shiplap in there today! This is the dining room (on wide-angle setting so I could capture it all). The room is actually a smidge more wide than deep and fairly small by dining room standards. So I'm still going back and forth between using a round dining table or a shorter rectangular table. Planning to play around with this software I mentioned this week to finalize the plans a bit more!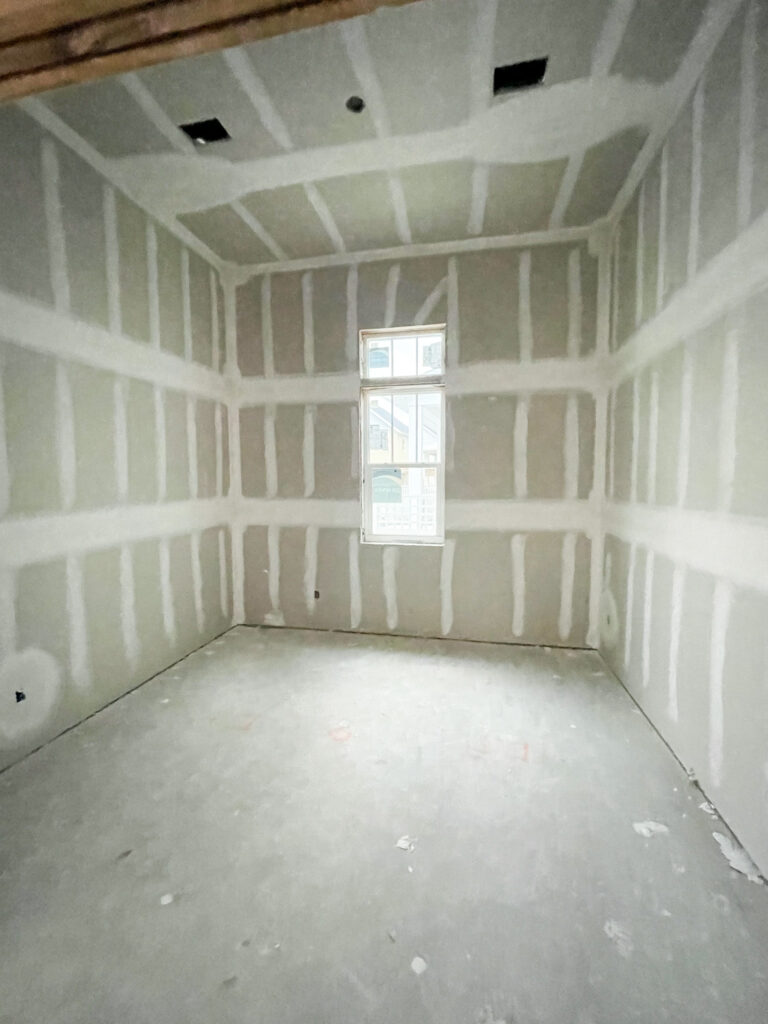 After a conversation with the crew, it sounds like they still think we're on pace to be done in July! We can't wait!
Top Sellers Of The Week
Following are the top sellers from last week across all of my channels. Links to each item are below the graphic.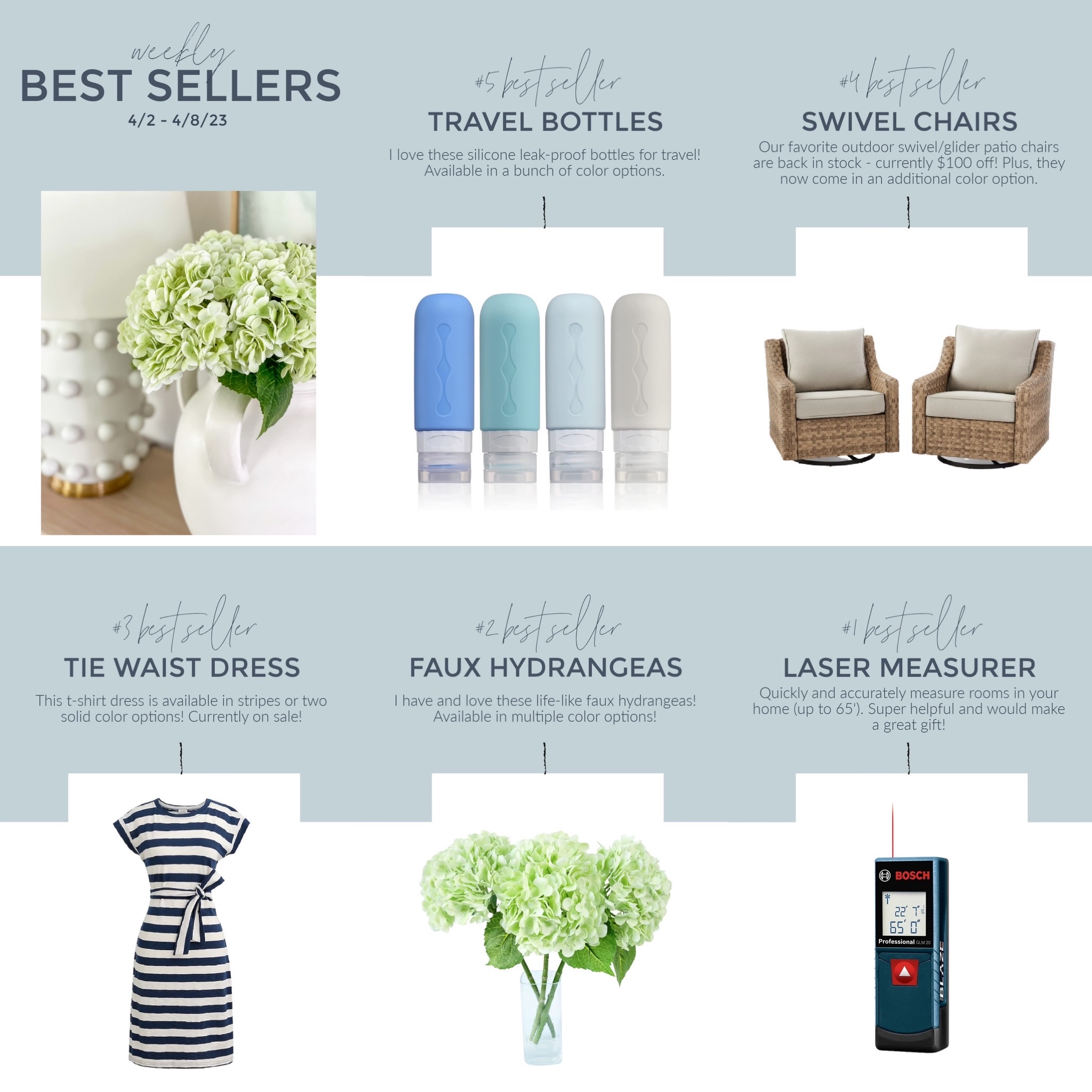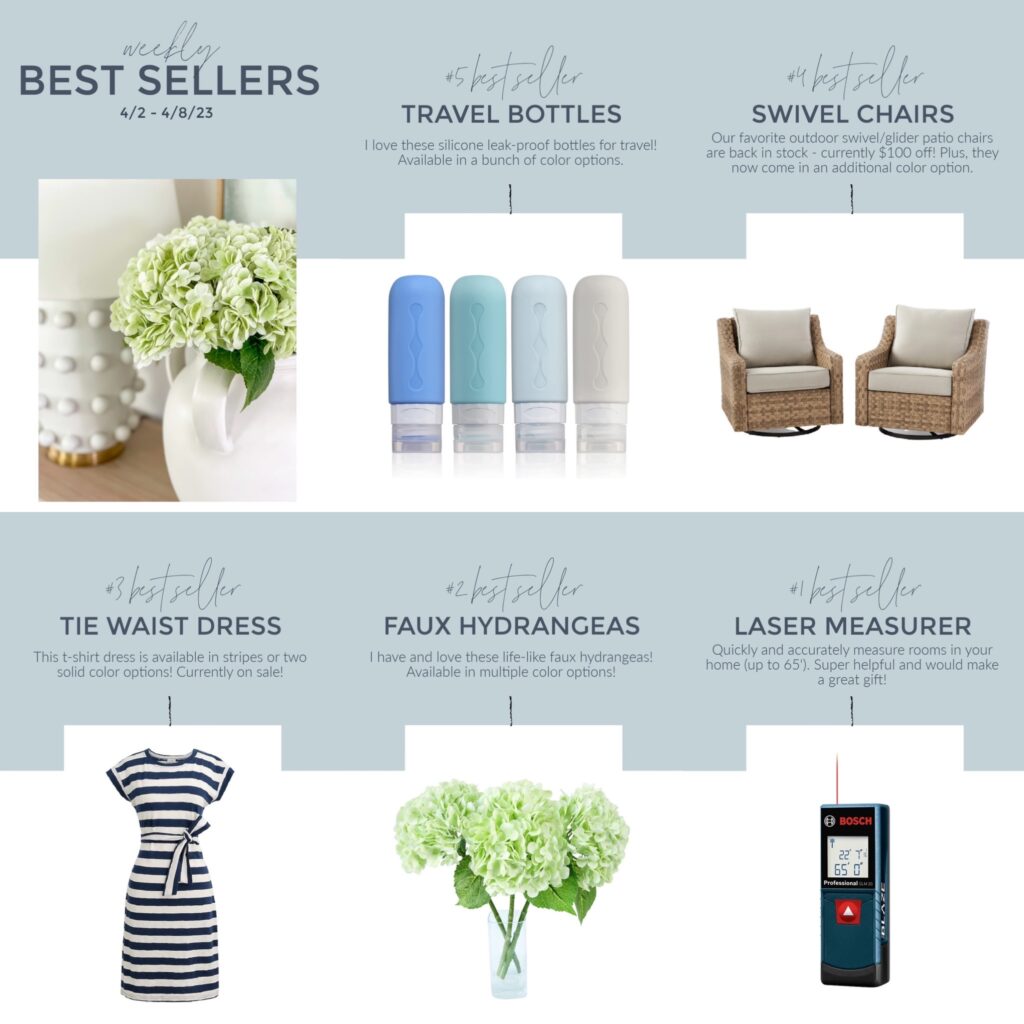 BEST SELLERS (each number is clickable): #5 | #4 | #3 | #2 | #1
In Case You Missed It
Following are the posts I shared over the past two weeks, in case you missed some days!
Following are the most read blog posts of last week (excluding any of the new posts already mentioned above). Many times this includes old posts that are popular on Google or Pinterest.
Around Town & For Fun
Our friends from Omaha flew down Sunday night, and late Monday afternoon we were able to spend a few hours with them! We hit the beach and had dinner and got caught up on each other's lives since we hadn't seen them since October. They were staying at Hola Beaches for the week while their teenage kids were on spring break. They had a full house with six teenagers (each teen brought a friend) and then one of their adult friends came along. We were so happy they loved the area as much as we do and we had so much fun catching up! Funny enough, we flew back to Omaha while they were still here and were essentially staying in their backyard at our other friends' house!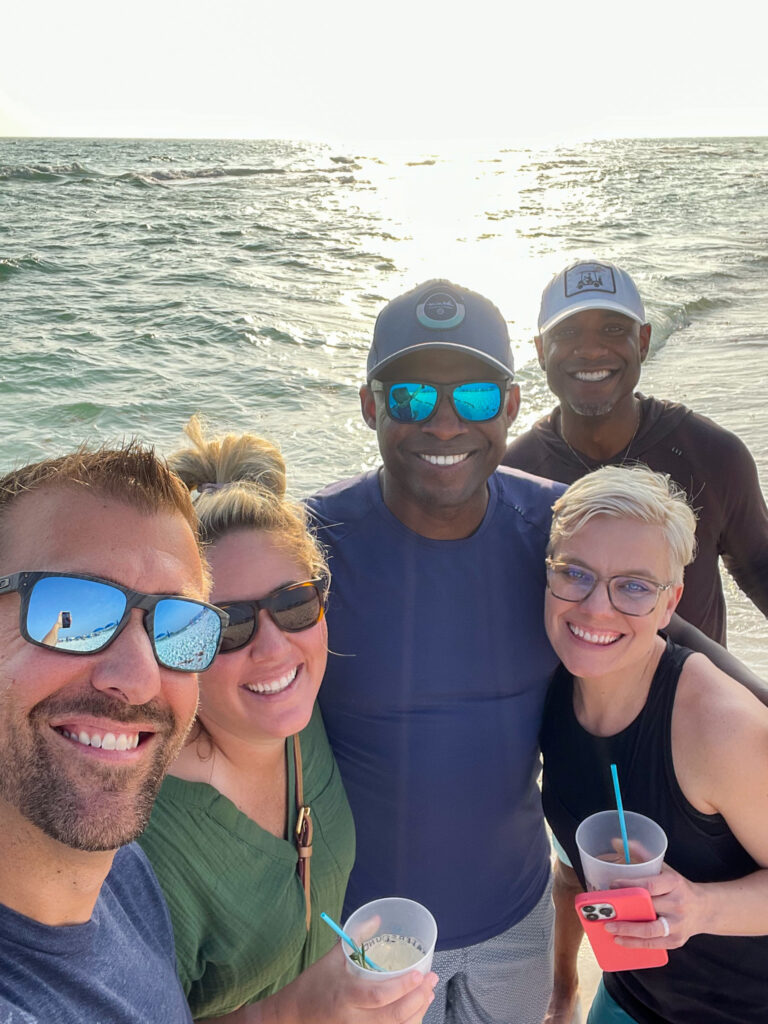 The lupines are blooming in the sand along the dunes, and it's so beautiful!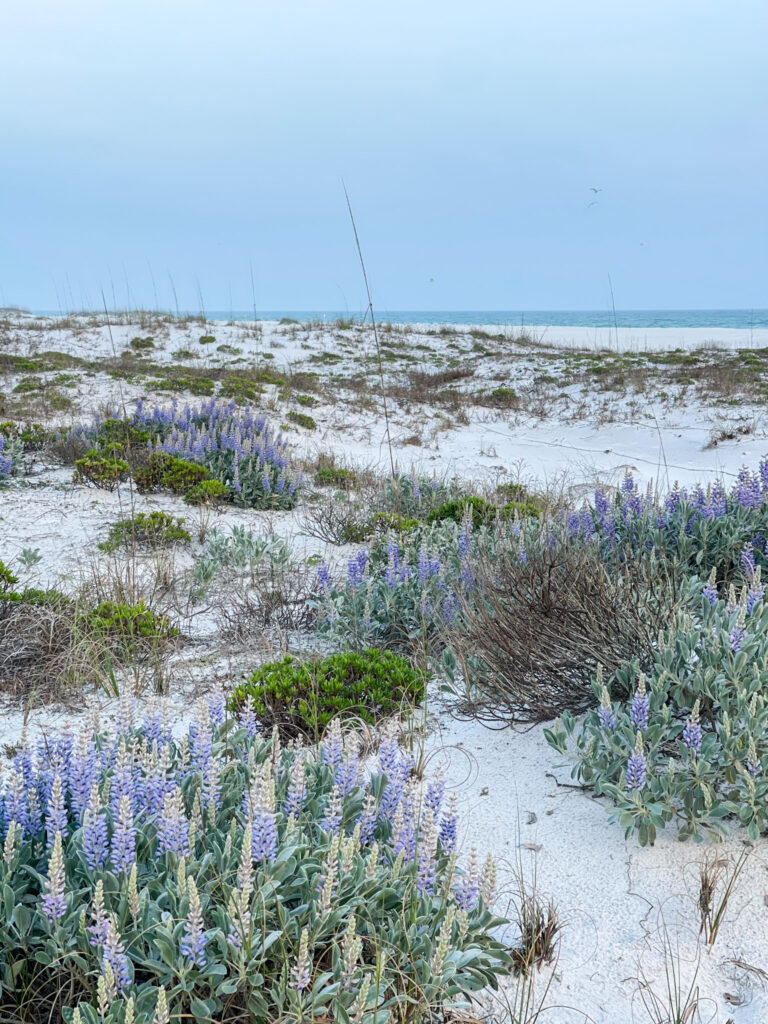 I was bad about taking many photos on our trip to Omaha and Iowa. We were just so excited to see everyone and get some quality time together! We did drive by our old house (it's on the same street as our friends) and it was so weird how it no longer felt like ours (obviously it's not ours but we thought it would feel like it was). Other than driving by, we really didn't think about it the whole trip.
When we arrived in Omaha Wednesday night, our goddaughter Zoe presented us with a "Florida love heart" she drew for us. She was so excited and I think this little masterpiece is definitely a framer for the new house!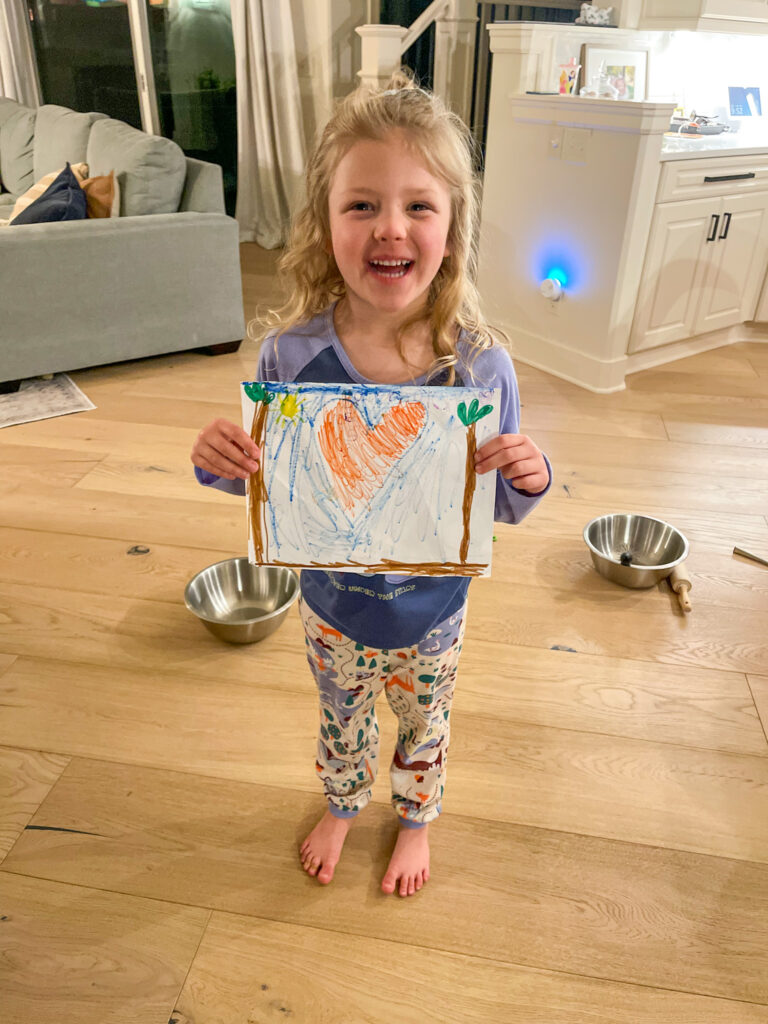 Zoe turns five this week, so we had a mini party for her, despite her arguing she still wasn't five yet 😉 We let little sister Elle in on the fun and got them Barbie mermaids for their bath. They were obsessed!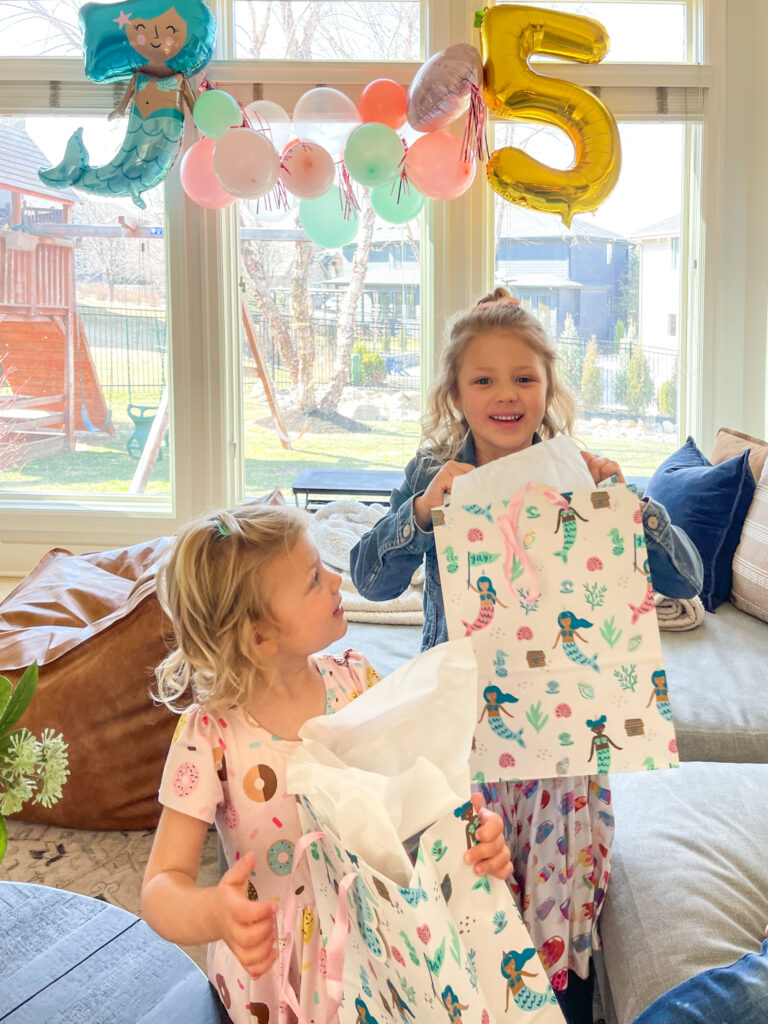 We also got Zoe this darling Elsa dress. We were all blown away by the quality (and everything that came with it) for the price!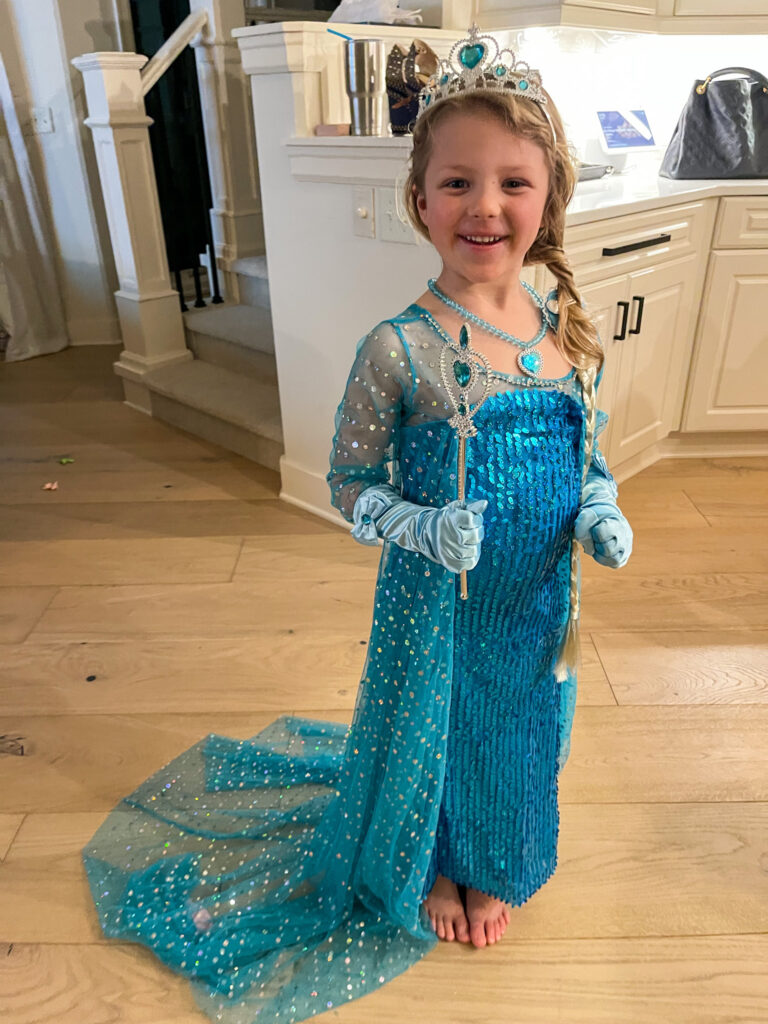 The non-birthday girl requested Meatball for her dinner birthday. Kurtis and I had been meaning to try it before the move but never did. We went to the west Omaha location (the original is in Blackstone District) and it was really good! You essentially pick your type of meatball, the sauce and then the base. I went with a French Onion special they had on noodles and it was delicious!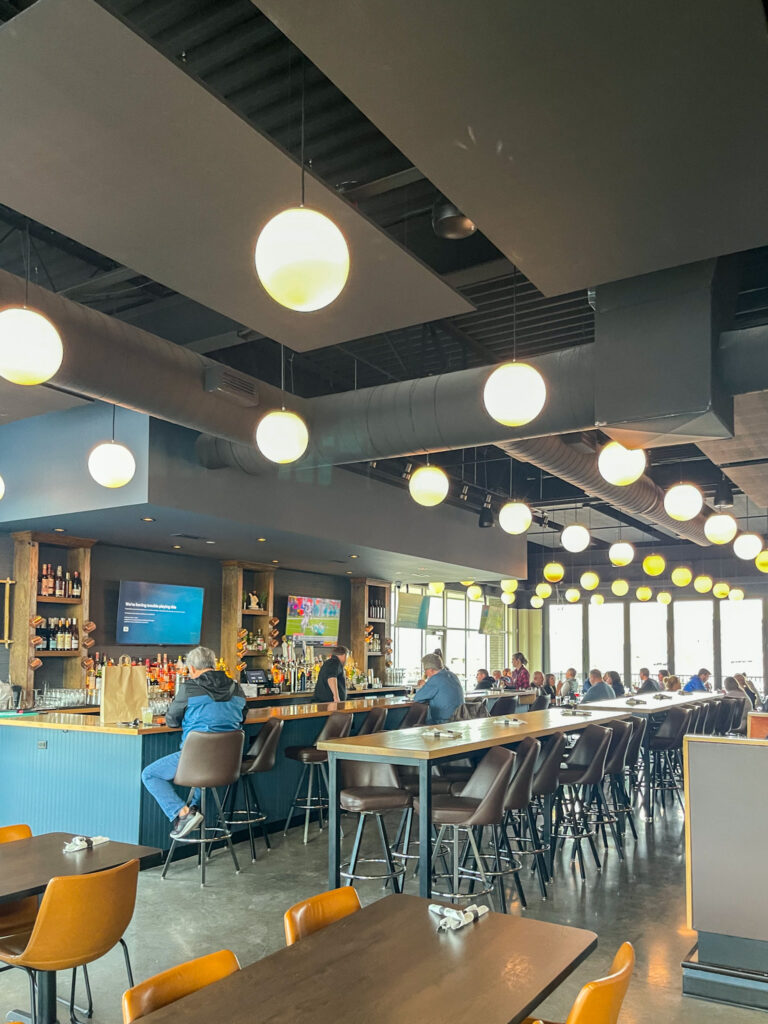 We also hit a few other local favorites like Dante (loved their updates they've made), Roja and Alice.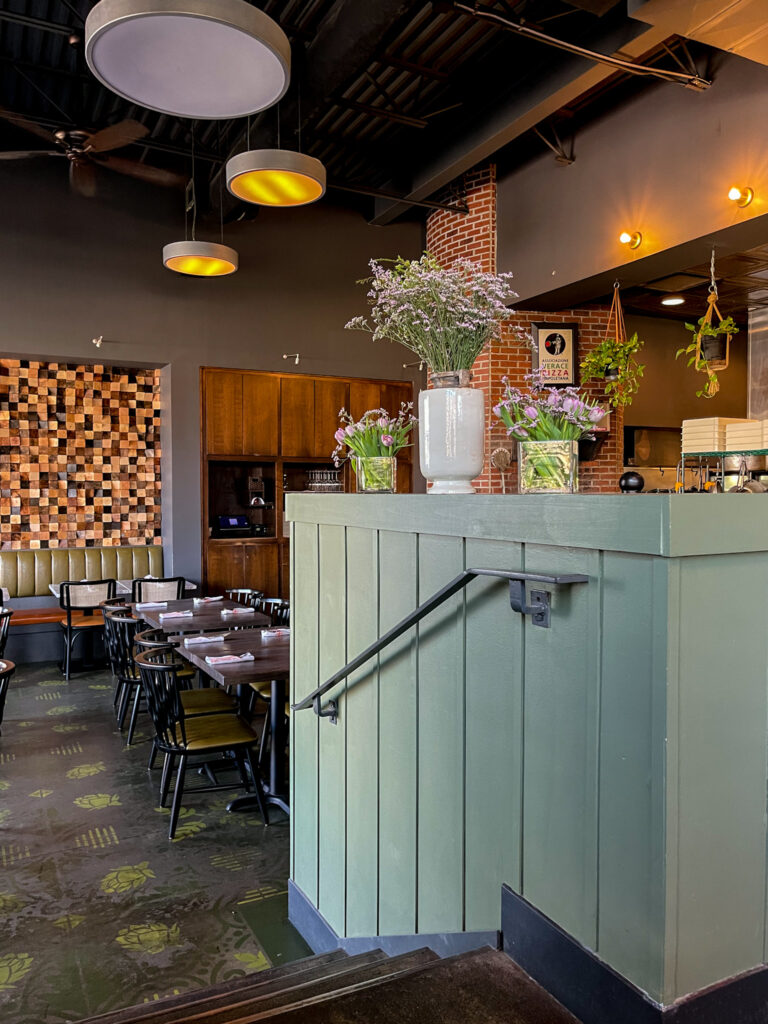 Our friends have been doing remodeling since they moved in and I loved how this bathroom vanity turned out! Their builder had it made and then added the cane inset (so good). It's painted Benjamin Moore Water's Edge (the same color as the interior of our front door in Omaha)!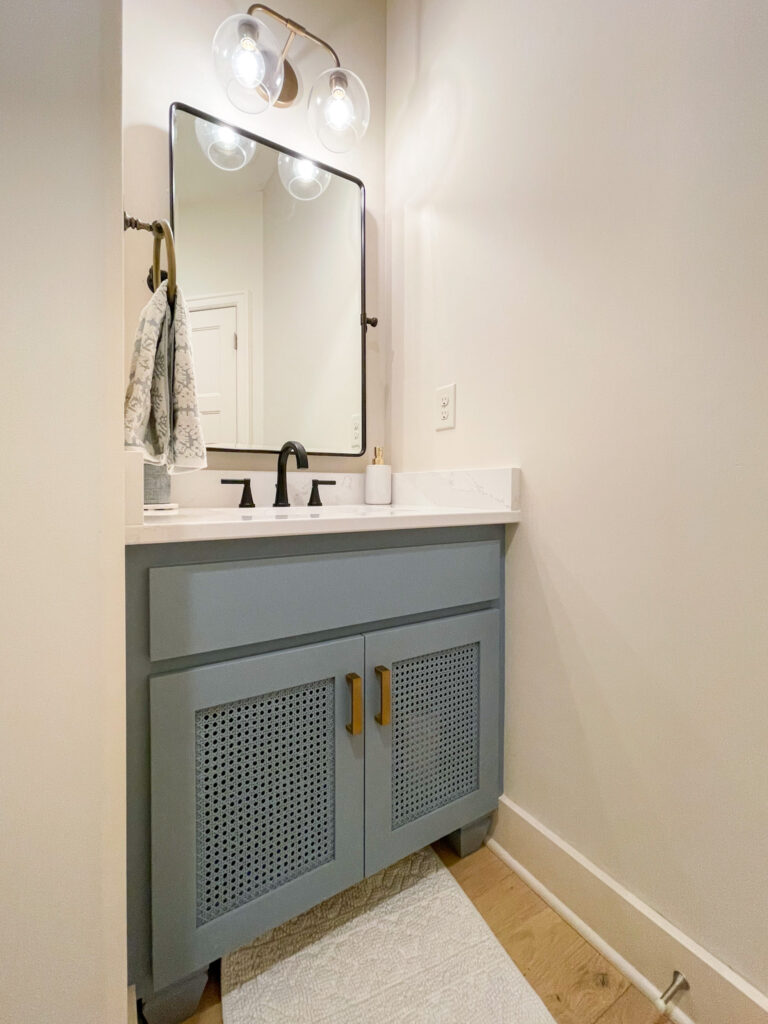 Saturday morning, we packed up the car, met Kurtis' sister and brother in law for a quick lunch, and then headed to Iowa for Easter weekend! Kurtis grew up in a very small town in Iowa (population 300-ish) and his parents still live there so it's always fun to go back! We had dinner in town that night with his parents and then we all went for a little drive.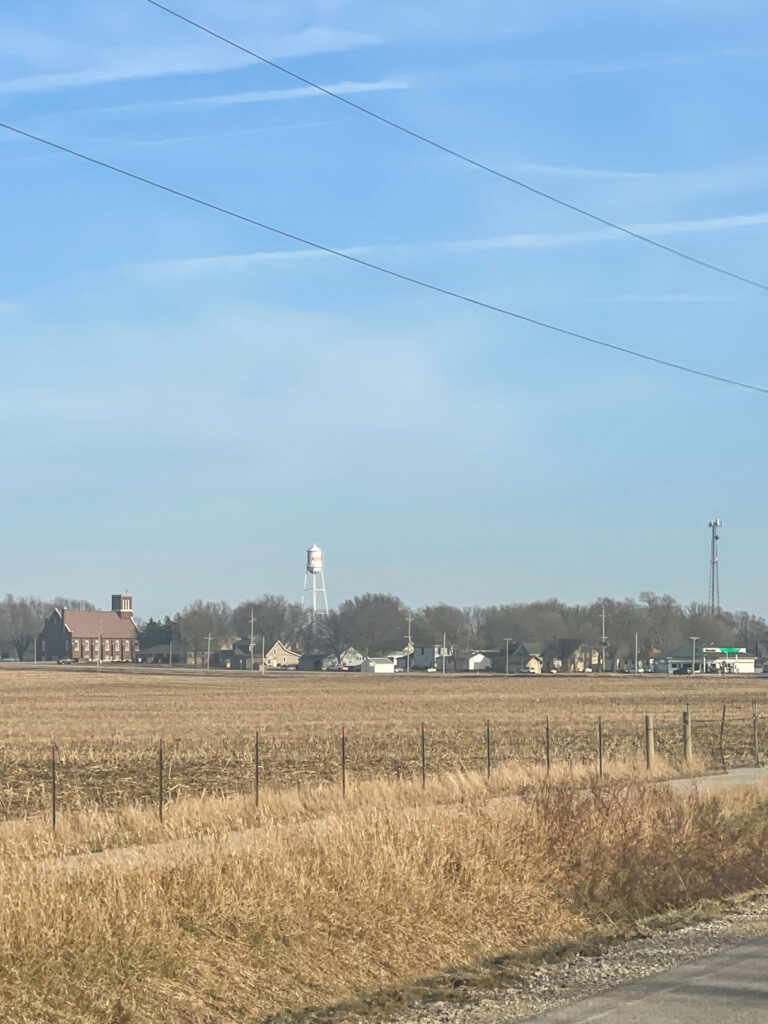 Sunday morning we went to church and then most of the family came over for lunch. We were only missing our oldest niece, but we were able to FaceTime her! I was dying of laughter when I saw the below scene. The table was all set, my mother-in-law was slicing the ham in the kitchen, and their cat Sasha just sat in this dining chair for like a minute completely frozen like this. Maybe she was praying before all the ham she thought she'd be given?! So funny!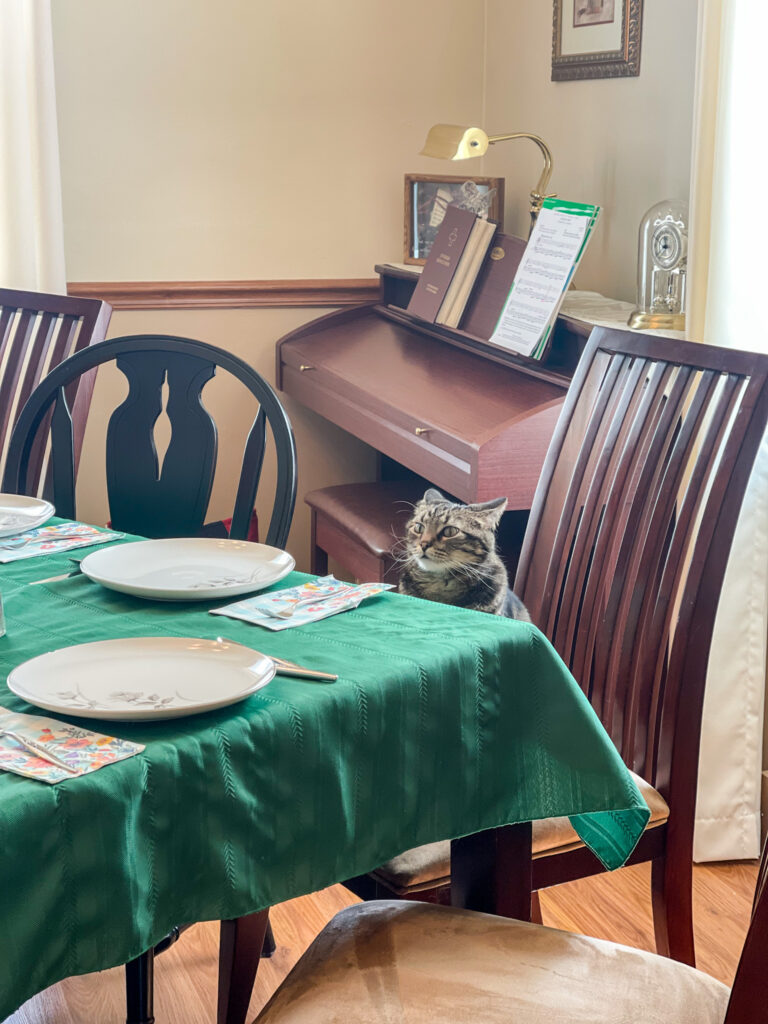 After lunch (and the Omaha half of the family took off), we headed to Kurtis' other sister's house to check out some updates they made. It was great to get to spend some one-on-one time with everyone in the family!
I had a full day of travel yesterday, with a two hour drive from Iowa to the Omaha airport, then two flights and a three hour layover. I was just grateful for no delays – I even got in about 10 minutes early! The cats had a full-time house sitter with them. She is the absolute sweetest and they love her. So I was sent many photos and videos of their week back in Florida! It turns out it was colder in Florida most of the time than it was in Omaha, so there was lots of cuddling going on 😉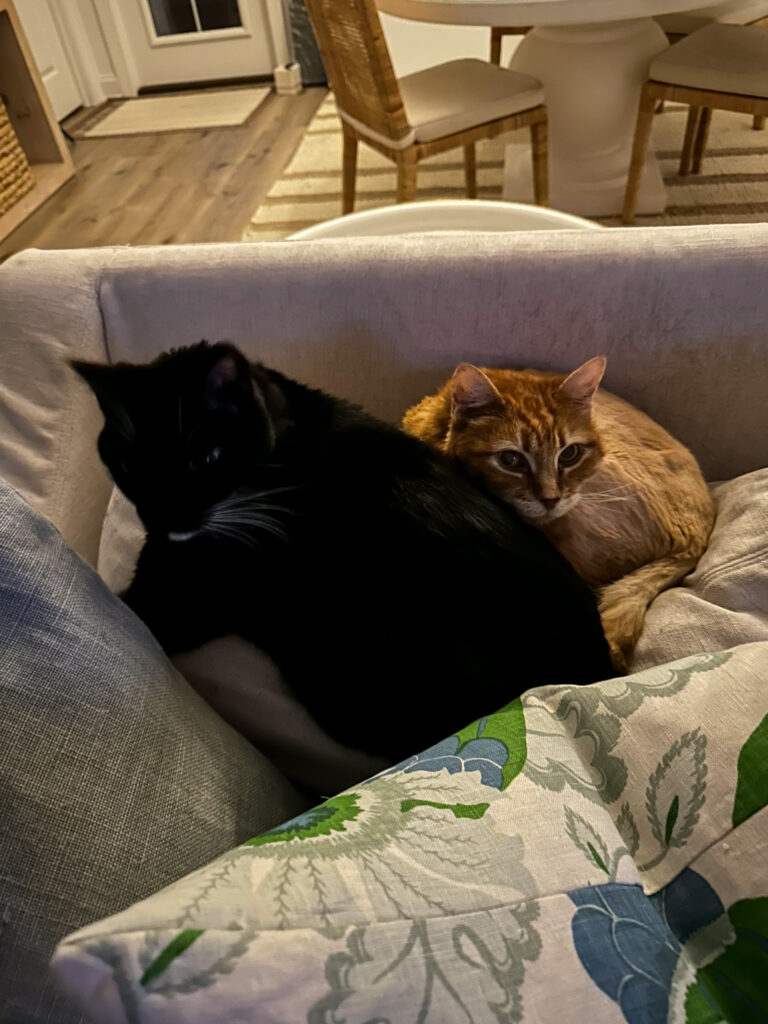 The sitter quickly learned how much Henley loves deli meat. In fact, it's probably the single fastest way to this girl's heart!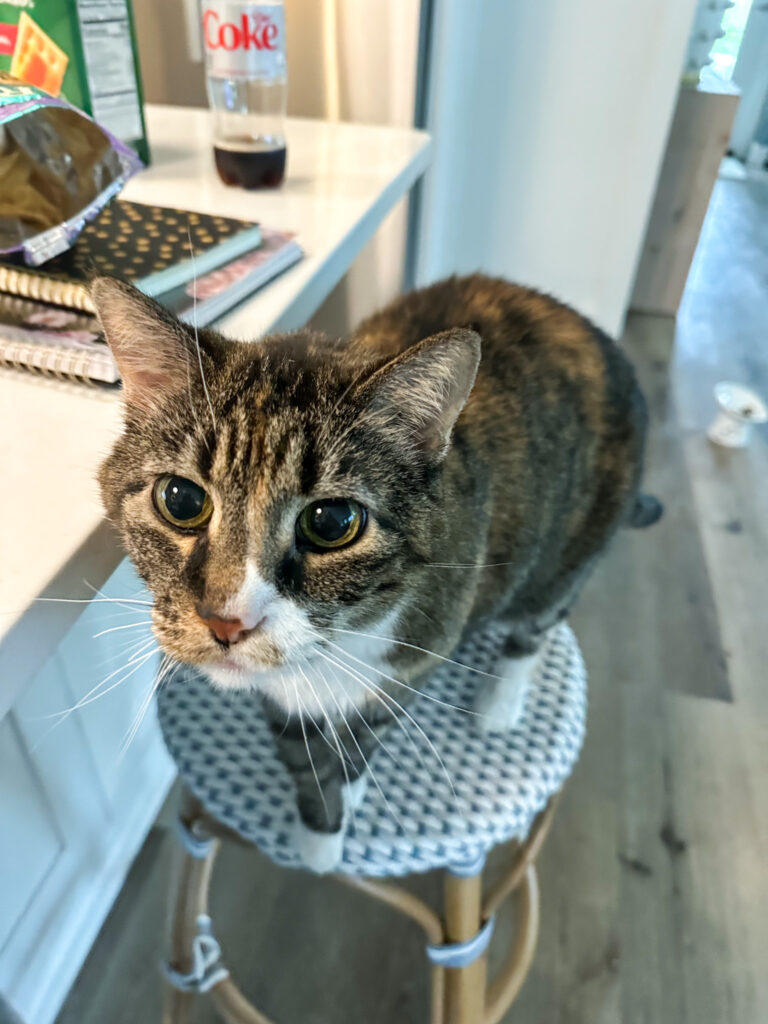 Kurtis stayed in Omaha a few days extra for work so I'm holding down the fort. My family flies in mid next week, to stay for almost a week, so we're really looking forward to them seeing the area. I have a feeling May will be here before we know it!
Recent Buys & Sales
Following are some sales from the weekend that have carried over and are still going strong!
I hope you all have a great week!
If you would like to follow along on more of my home decor, DIY, lifestyle, travel and other posts, I'd love to have you follow me on any of the below channels:
Pinterest | Instagram | Facebook | LTK