Good morning! I hope you all had a wonderful holiday weekend! Here's a bit of what we've been up to this past week.
This post contains affiliate links for your shopping convenience. You can read my full disclosure policy here.
Home Projects & Updates
The new build is almost all the way buttoned up now! We took our weekly Sunday walk with Rachel and Chris over to see the progress on our street. We got street lights this week! Ours seems to be a little crooked but hopefully the power company is still working on them. It's fun to see details like this starting to pop up!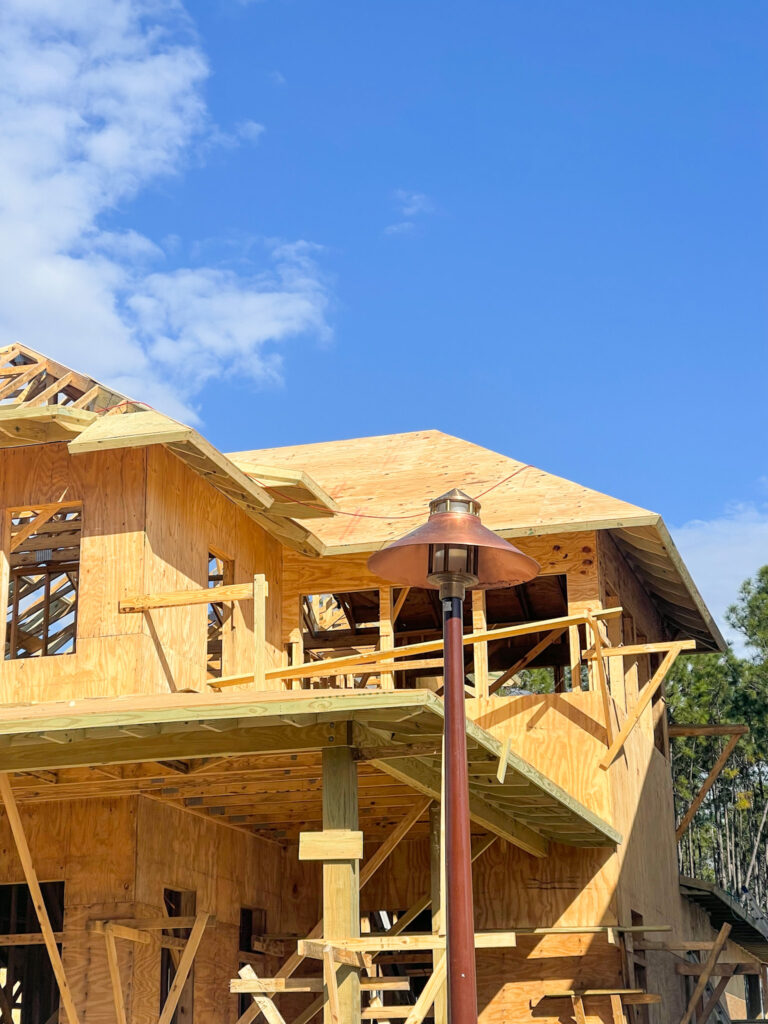 Here's a side view of our house so you can see the "lighthouse" style entryway. Again, it's much like our old staircase in Omaha that wrapped halfway and had windows on three sides at the top. This one will just be about six feet taller!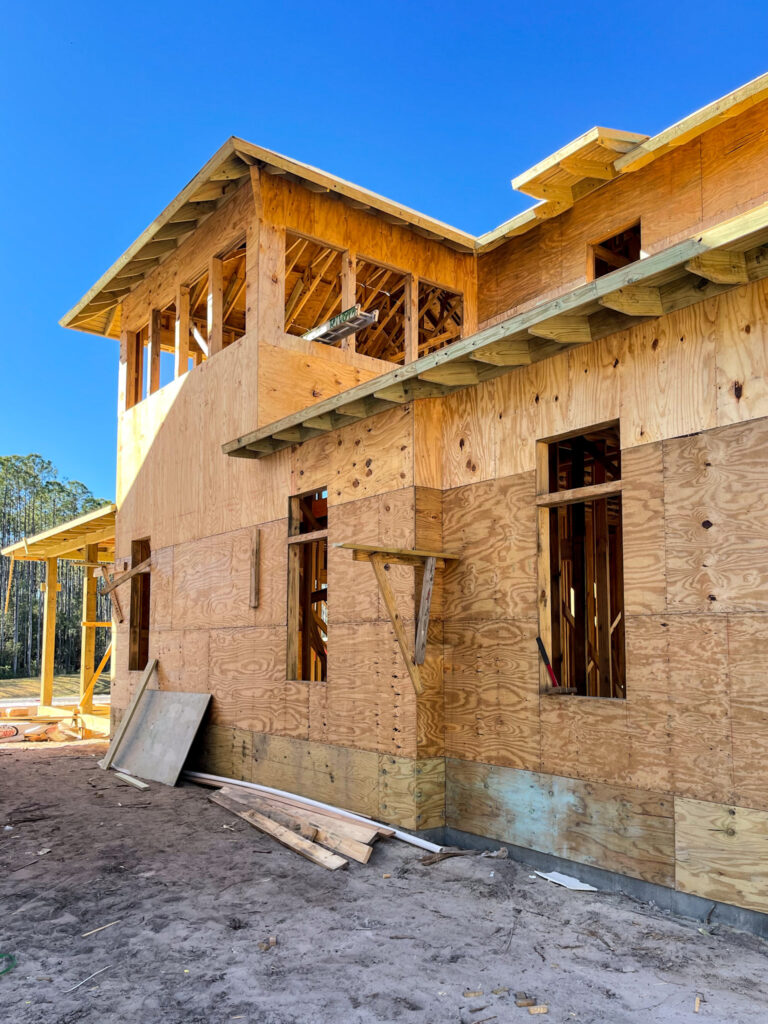 Chris and Kurtis staring off into the distance on one of the carriage houses Juliet balconies. Rachel and I were probably talking about all things tile, wall colors, etc. and they were probably discussing working out or watching football. Ha!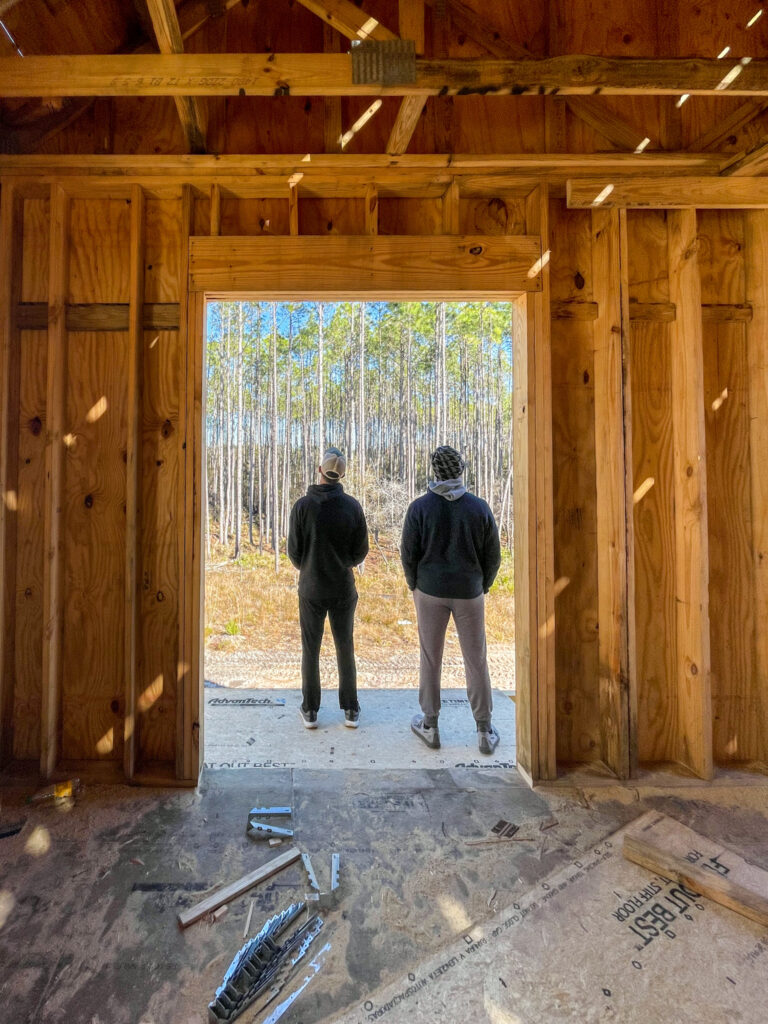 We have our lighting meeting for the new build later this afternoon! I'm excited to meet with an expert to help guide me on the ridiculous number of fixtures I've marked as "possibilities". With our particular builder, we have a lighting budget that we can essentially choose to spend however we wish. If I want to try and eek out every single fixture I can. If I want to blow it all on one fabulous chandelier, I can do that as well (thankfully most of the rooms also have can lights in addition to the central light fixture so we could always cap the central one initially and still pass code). The budget sounds generous until you realize just how many lights, ceiling fans, exterior fixtures, etc. that you need.
We're thinking we'll get what we want for kitchen pendant lights, our entryway (which will be 24 feet high so we'll never want to change it again), our dining light, and then the exterior copper gas lanterns (again, not something we'll want to change), and go from there. Thankfully through our builder, they pass on the trade pricing to us, so some of the lights are quite a bit more affordable than retail. I'll keep you posted!
We popped into Hola Beaches yesterday, finally bringing a dresser over from Omaha that we've had in our garage for a few months. It was fun to see the progress on the painting! Honestly, we were doubting how much we were spending on the interior and exterior paint (which were both badly needed), until we saw the amount of prep work they've done over the past week. They haven't even started painting inside yet because they spent all week prepping the rooms. We'd for sure be divorced at this point if we had tried to do this ourselves! For those asking on Instagram yesterday, we're using the same colors on the wall and trim/shiplap that were already here to save on cost. Walls are SW Agreeable Gray (one of our favorites and what we always use in our Omaha long-term rentals), and the trim and shiplap are all SW Pure White. It's a really pretty combo!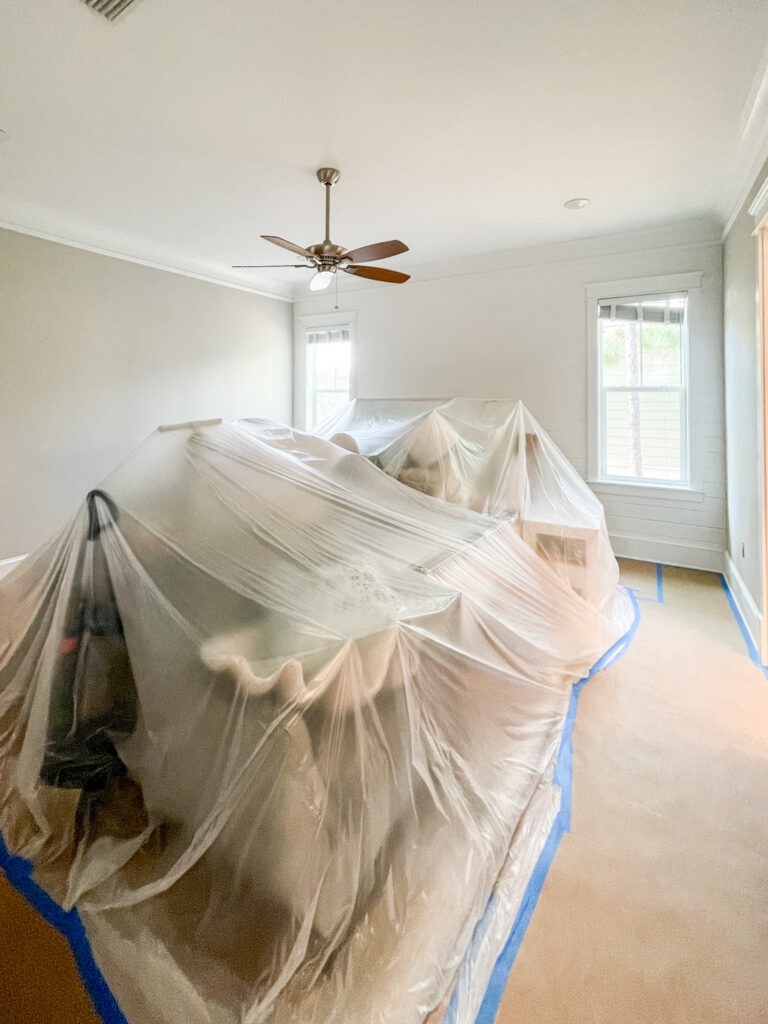 While a team has been inside prepping, they have started the trim paint on the exterior (SW Pure White). Just seeing this entryway railing made me so excited. Most people won't notice, but we were blown away at how different it looks with fresh paint. I don't think we realized just how badly it was needed (especially since the house is only four years old)! But man, that salt air does a number on things down here! They'll also be repainting all the blue, as well (SW Dockside Blue).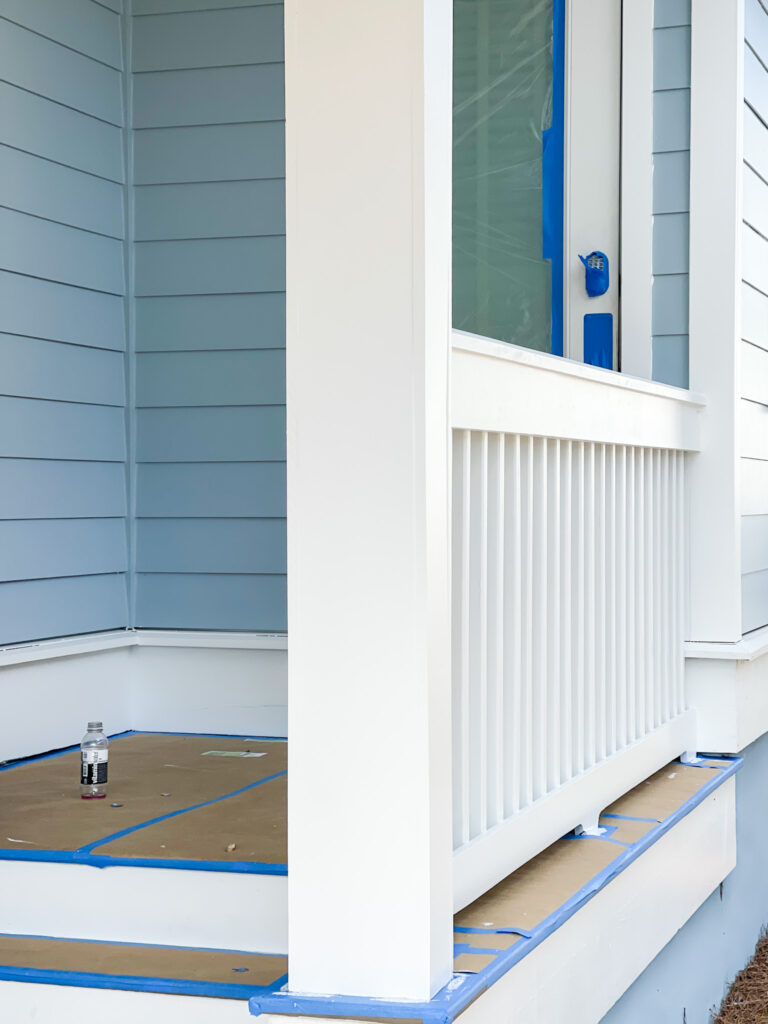 Once all the painting is done (they have confirmed it will be by Saturday this week), we plan to get in and make a few more decor updates! We have a tight window each year to make these updates and not impact our reservation schedule too badly! I then plan to have all the photos and 3D tour updated on the listing, since the current photos are over a year old and don't show any of the updates we've already made! I'll be sure to share a new tour once it's all ready. We have a lot of wheels in motion over there (and lots more to do in the future, but I have to remind myself we can't do it all at once). Stay tuned!
Top Sellers Of The Week
Following are the top sellers from last week across all of my channels. Links to each item are below the graphic.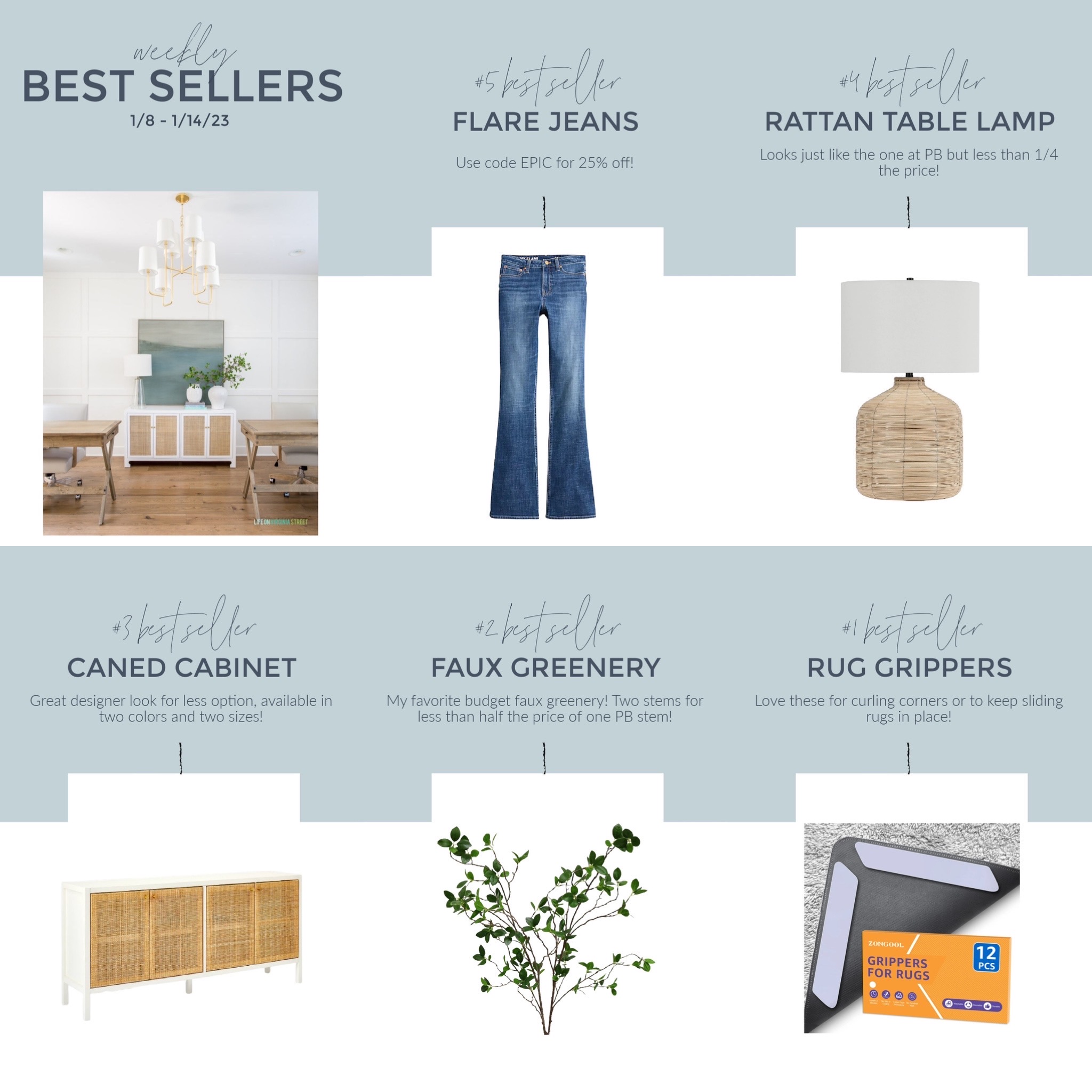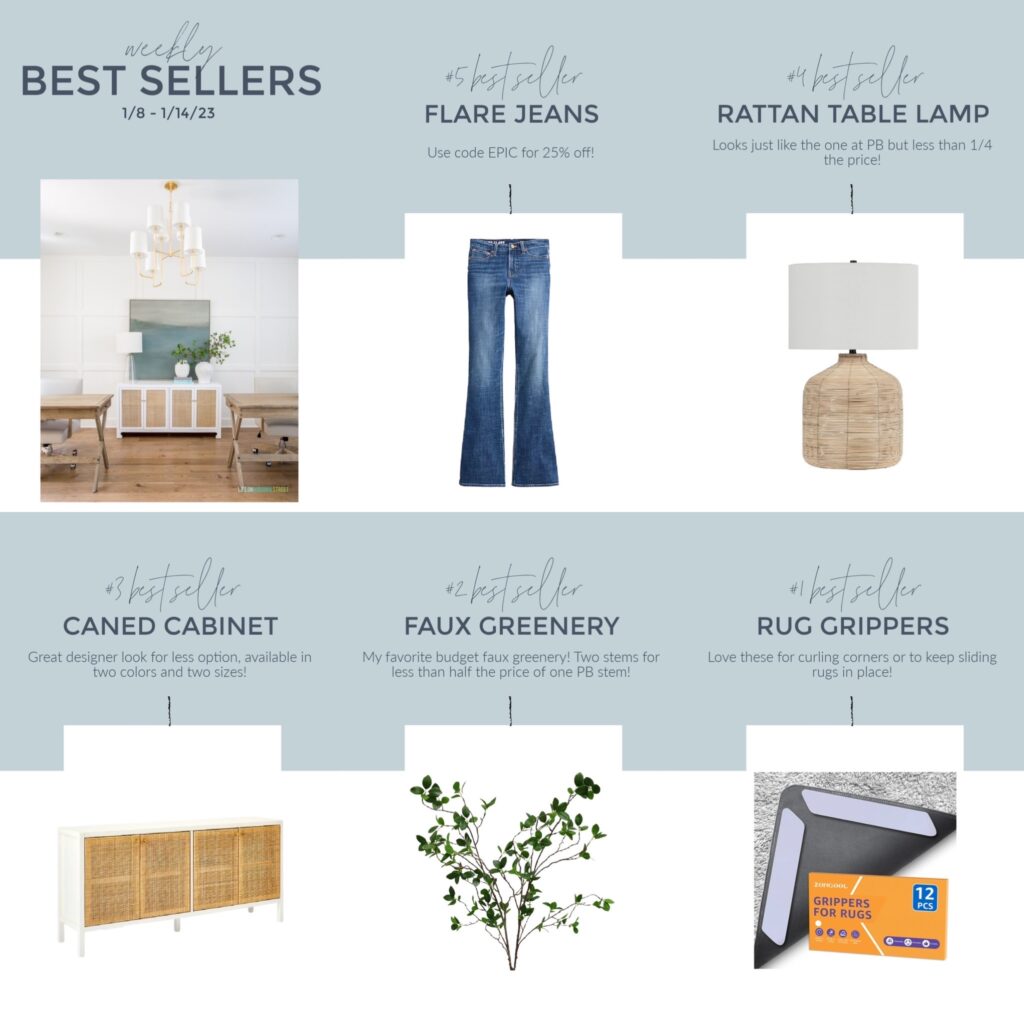 BEST SELLERS (each number is clickable): #5 | #4 | #3 | #2 | #1
In Case You Missed It
Following are the posts I shared over the past week, in case you missed some days!
Following are the most read blog posts of last week (excluding any of the new posts already mentioned above). Many times this includes old posts that are popular on Google or Pinterest.
Around Town & For Fun
Kurtis was out of town for four days for work last week, so I carved out an afternoon to do some local shopping. There were a number of stores I've been meaning to stop into and it was a lot of fun to see how many great local shops there are. One of my favorite spots was The Studio Gallery located in Grayton Beach. It features art from a number of local artists, and was such a happy little spot to visit.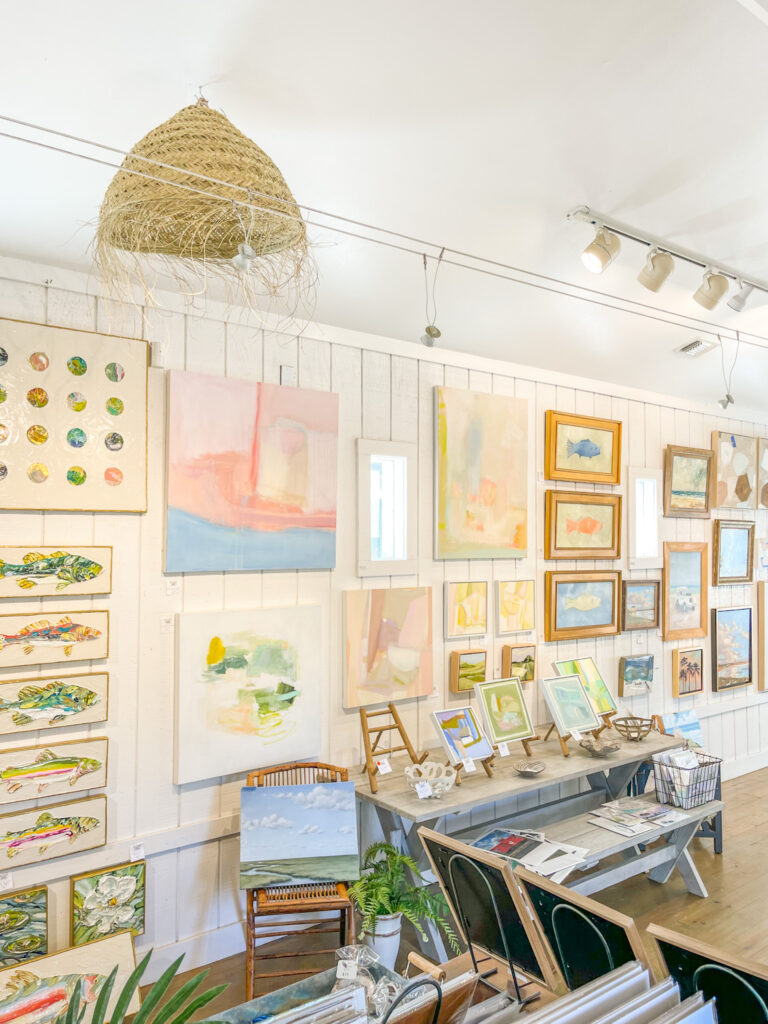 If you missed my post on 2023 design trends, I shared this little beauty that I bought while at the gallery. It's an original by Susie Bettenhausen, who also happens to be the gallery owner! She was in the shop that day and it was fun to meet since we both followed each other on Instagram. She was the sweetest, and I can't wait to go back some day to get an even larger piece for our new house!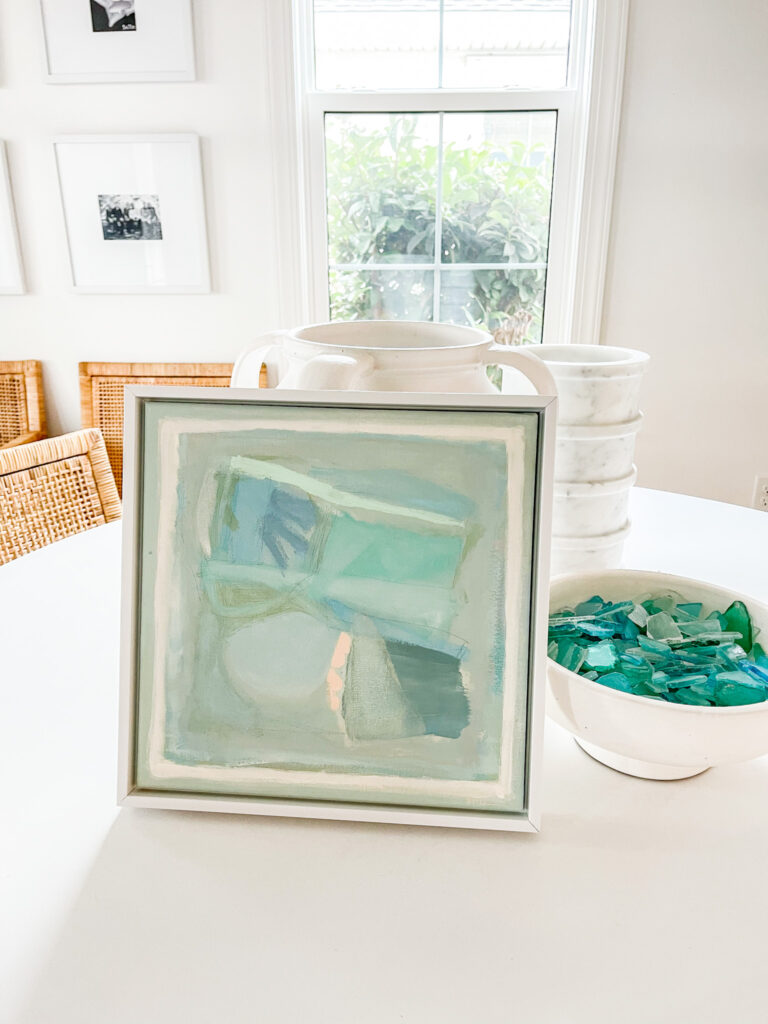 Friday, my friend Marissa and I made plans to attend the sidewalk sale at Becasa. We then popped into a few other shops in the area that I had never been to before. Bohlert Massey is a beautiful home decor and design store that was fun to wander. Most items were well out of my budget but there was so much beauty and inspiration!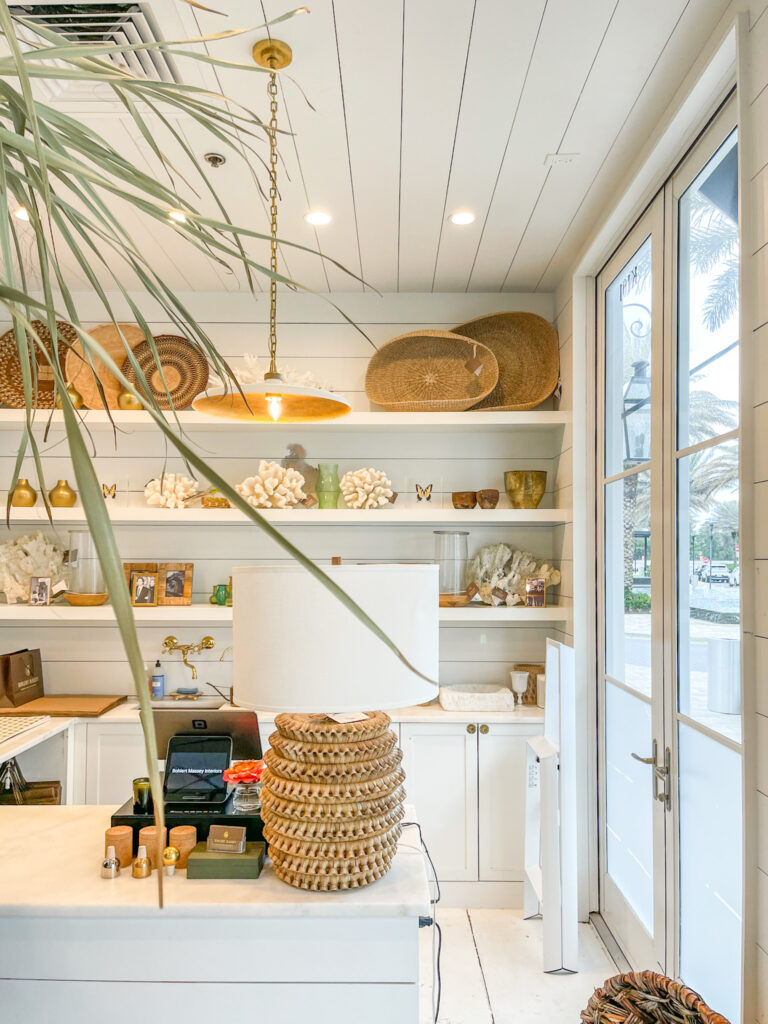 New goal in life: grow a palm tree from a coconut. They had a number in progress all around the store!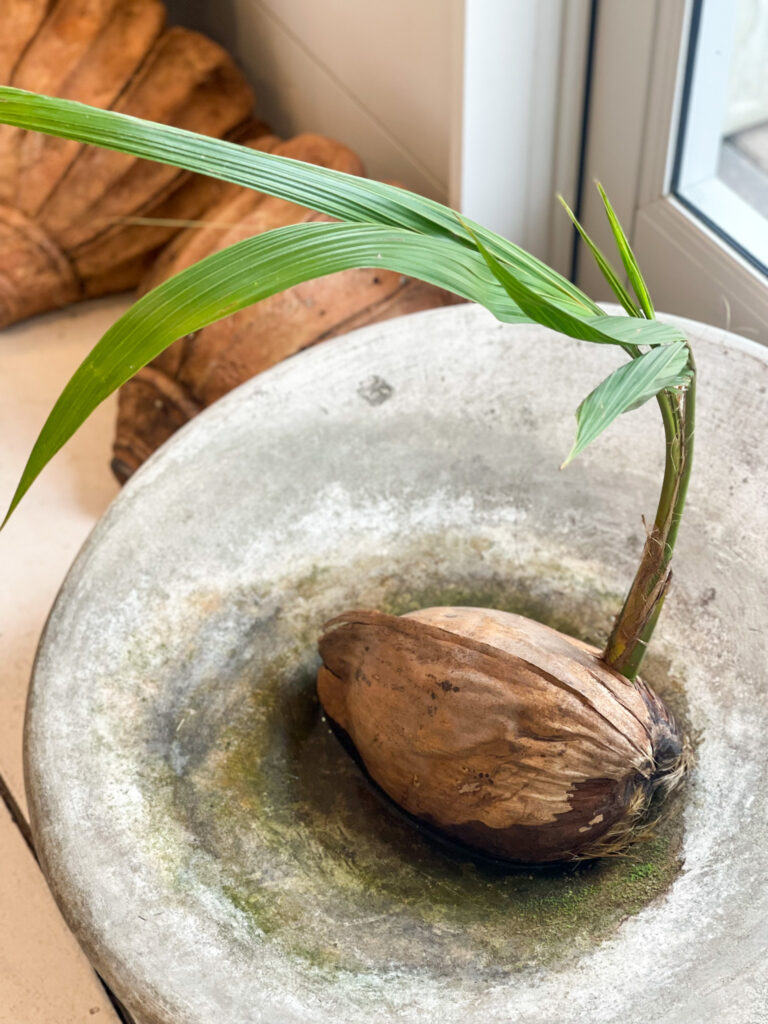 After a little shopping, we headed to Havana Bar & Grill, in the iconic Pearl Hotel in Rosemary Beach, for lunch. Kurtis and I have tried to go a number of times for dinner but never want to wait (and forget to make reservations), so it was my first time there. We really enjoyed it and it was fun catching up with her!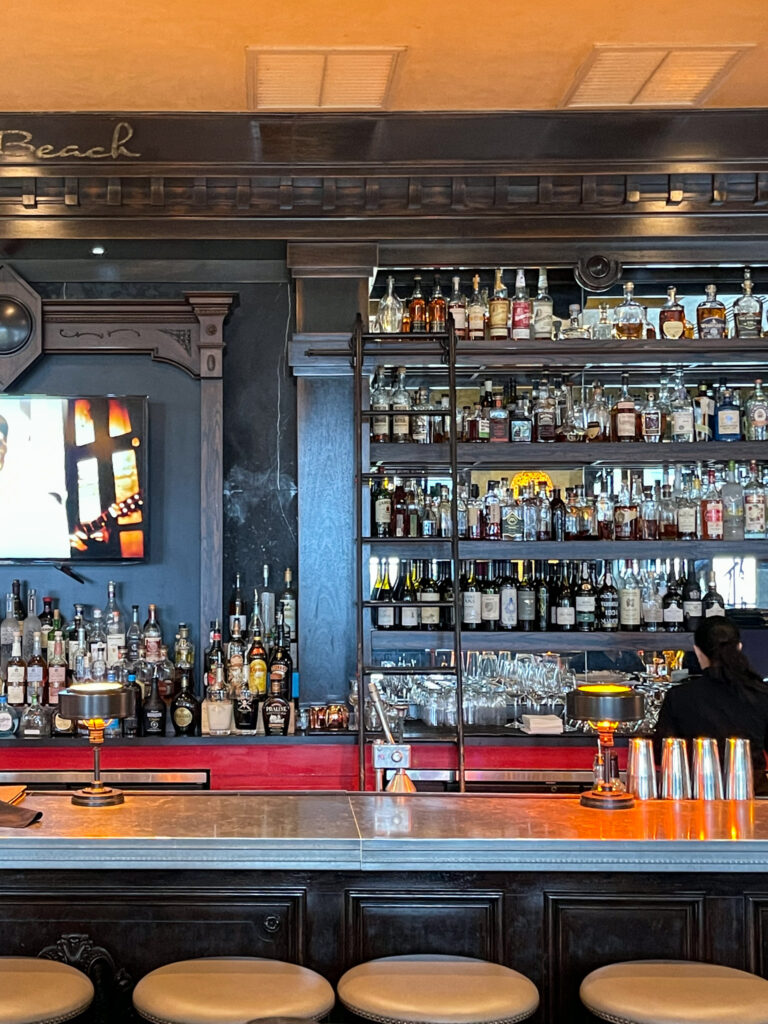 I know many of you love kitty updates! The weather has been beautiful and they've been spending a lot of time outside. Bailey had to go back to the vet this week for her glucose curve check-up. The vet recently switched her insulin, but she's still not regulated. But she got to spend a day being pampered at the vet (other than the occasional ear pricks) and loves all of her friends there! They now let her have her own private room, rather than a kennel, while she's there because she's so sweet and they're okay with her roaming. She's developed quite the fan club over there 🙂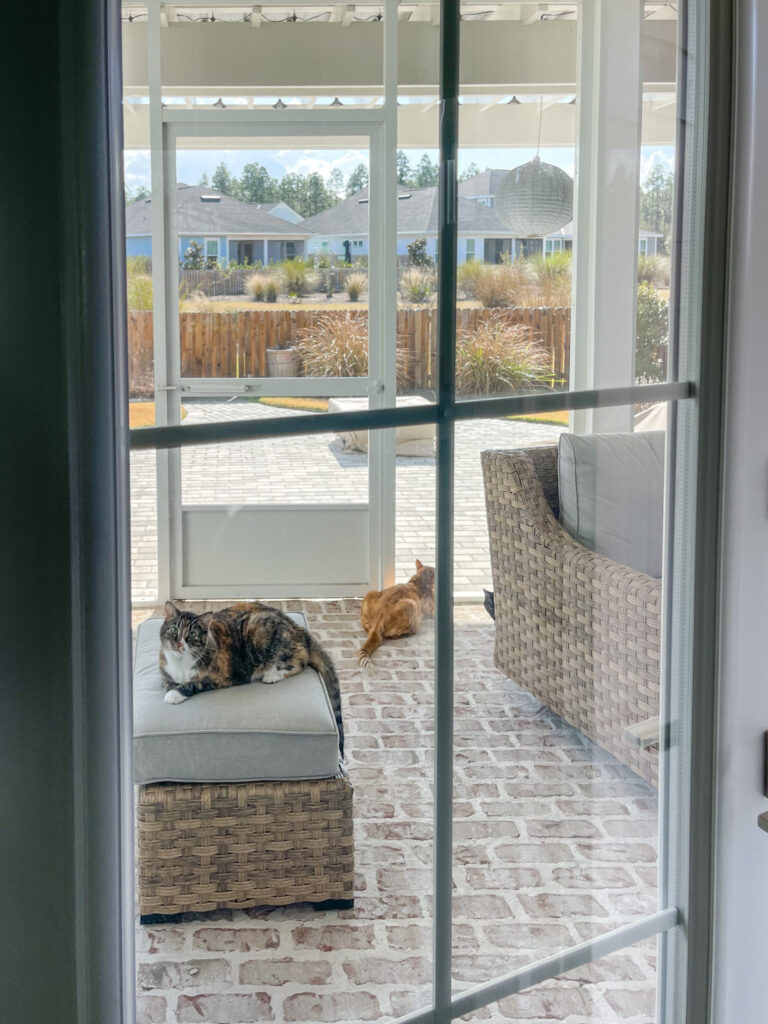 Hawkeye has been extra mischievous lately, and has decided he doesn't like closed doors again. Throughout the day (and night), he'll randomly open our bedroom door. I think it's mostly for attention and when he thinks he's starving. He literally just jumps up, grabs the handle with both bars, and has it open in seconds. It's something he hasn't done for 5-10 years but he's decided he likes it again. Needless to say, we've now been locking our bedroom door at night!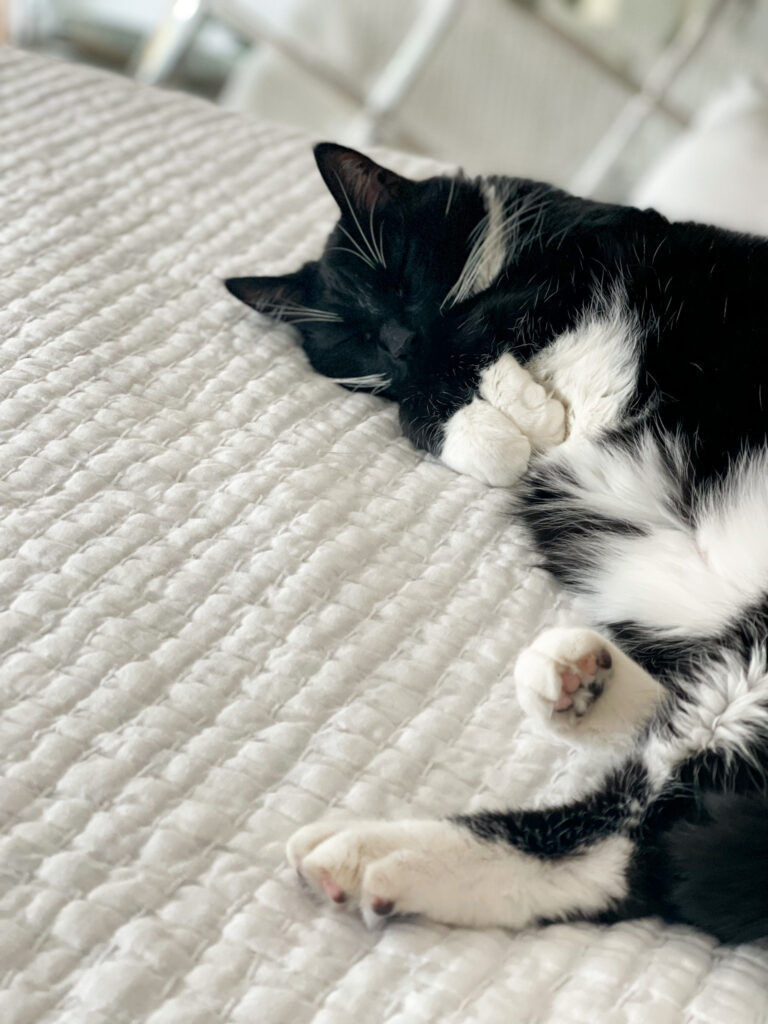 Henley hunted down a rogue giant mosquito this weekend. If we see her up on a counter or running around the house, it's usually because she found a bug – regardless of how small. Funny enough, I think this was the first one she's found since we moved to Florida!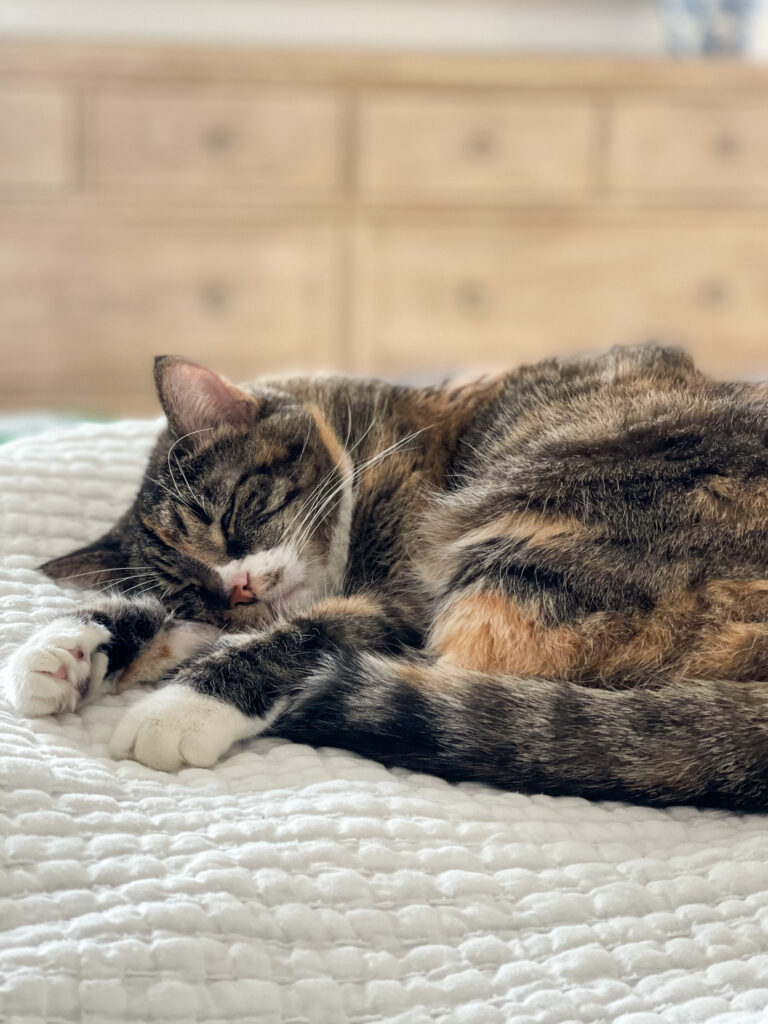 Saturday night we went out to dinner with our friends Chris and Rachel. They like to eat early like we do, so afterwards we headed to our house for a bit. As most of you know, Henley is the sweetest little thing, but is also terrified of most people in our house. She has her select few that she loves and apparently one of those people is Rachel! Funny enough, Rachel and I sat in the living room for a bit while the guys were outside chatting, and Bailey jumped right up and snuggled into her too. She's definitely more of a dog person but they don't care 😉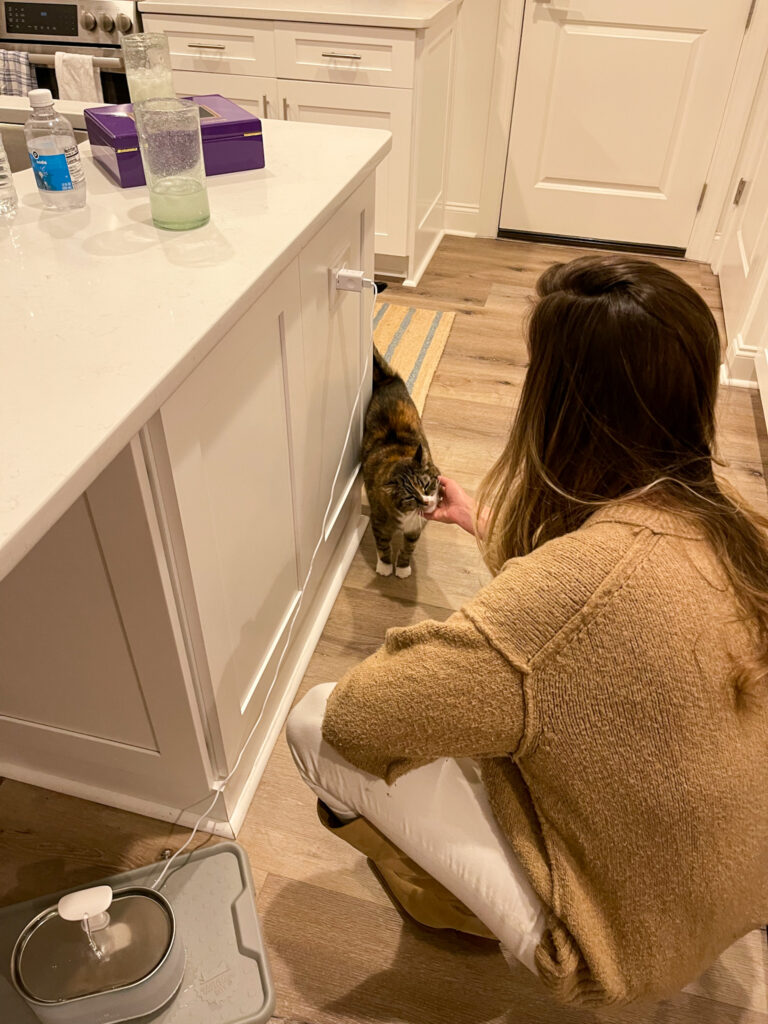 While the guys were outside Saturday night, they were able to get our built-in fireplace and grill working! Shortly after we moved in, Kurtis had tried to work the grill but the gas had been shut off (or something I don't understand). But he and Chris got them both working and now it feels like we have a whole new backyard! Now we just need our plants to come back from the hard freeze!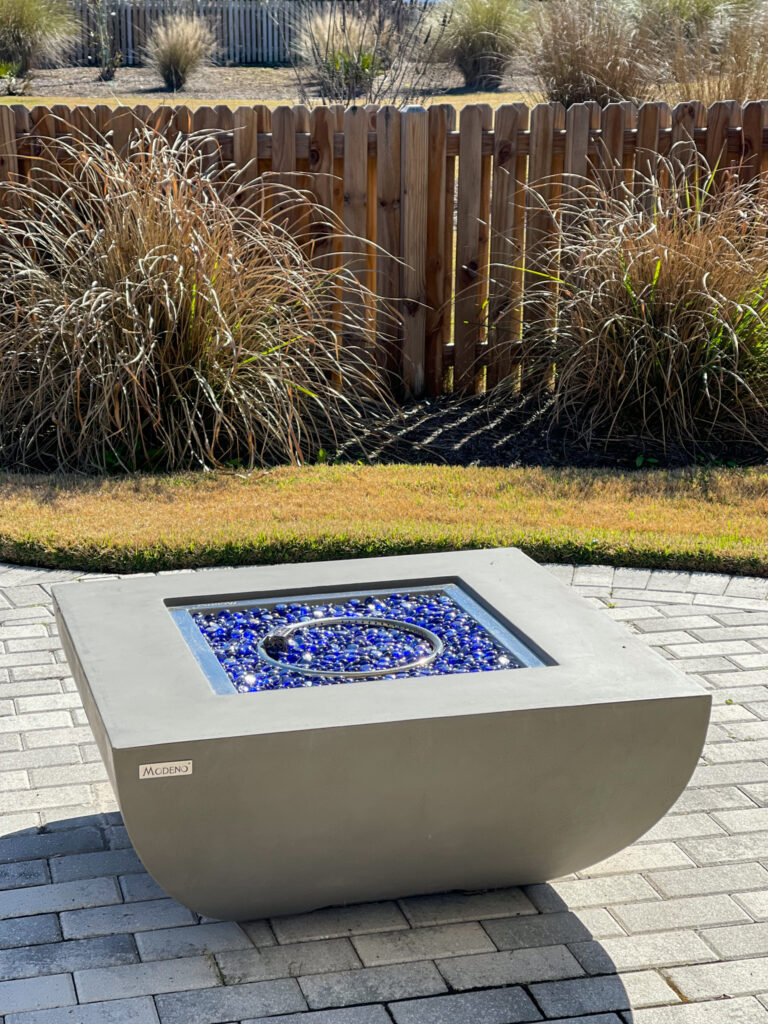 Sunday night, Kurtis used our "new" grill to make our first outdoor steaks in this house. It was a pretty incredible sunset that night too!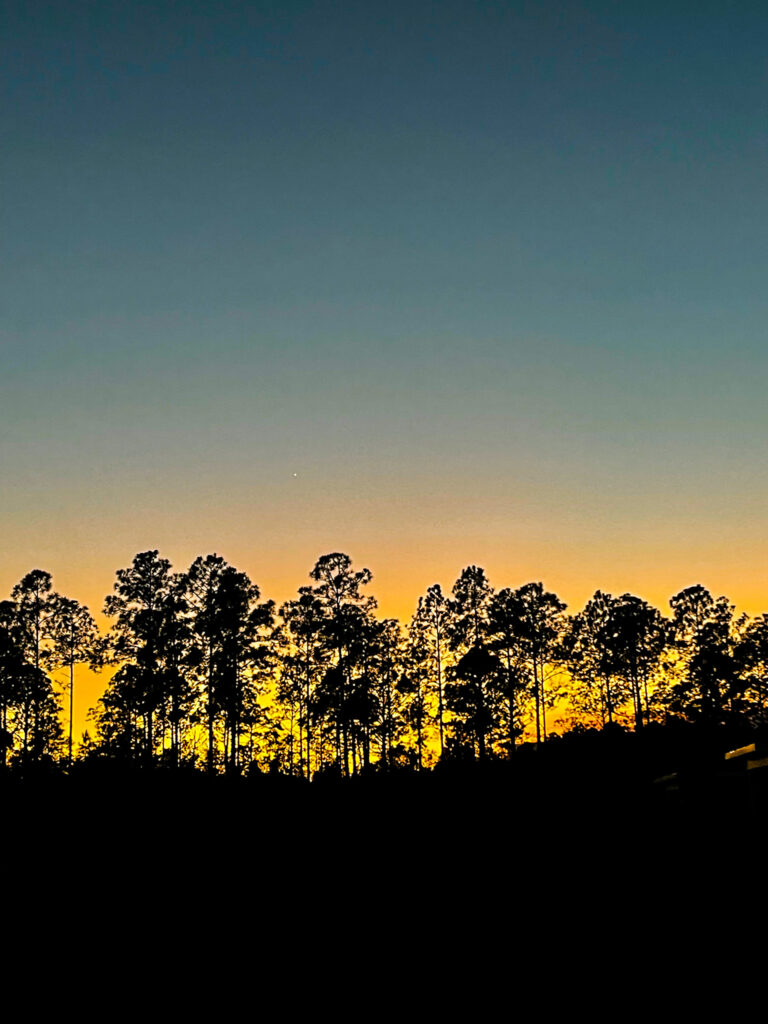 We tried a new spot for dinner last night, when I was craving sushi. We headed to Shaka and really enjoyed it! We took a quick detour on our way home to drive by the house. The sky from the sunset was so beautiful on our street! Ours is the one with just the plywood on the right-hand side about halfway down the street.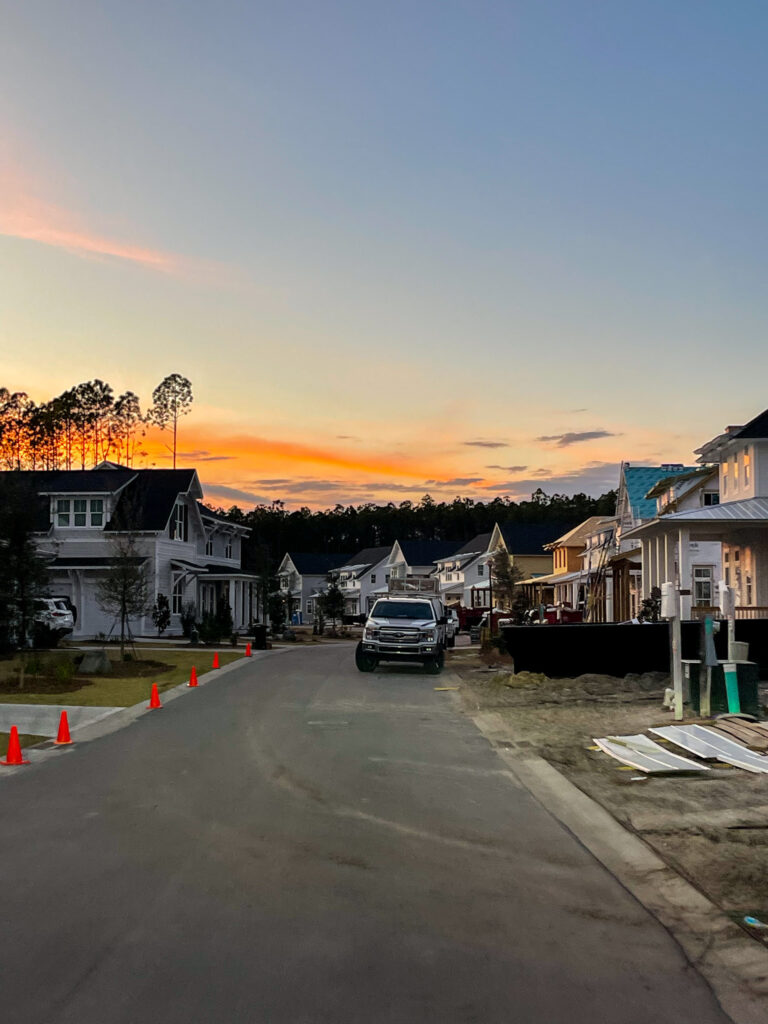 We have a busy week ahead with selections for the house all seeming to come due rather quickly! It sounds like I may have to pick out our countertop slabs, in addition to the lighting I mentioned above, yet this week. I've spent some time thinking about lighting (I'll share more on that soon) but honestly haven't done much in the way of countertops. Hopefully something will speak to me when we show up! We're excited for Hola Beaches to get wrapped up too!
Recent Buys & Sales
Following are some sales from the weekend that have carried over and are still going strong! You can see my top picks here.
I hope you all have a great week!
If you would like to follow along on more of my home decor, DIY, lifestyle, travel and other posts, I'd love to have you follow me on any of the below channels: