Sharing my favorite colorful coastal Amazon decor finds, with some neutrals thrown in for balance! Includes art, pillows, furniture, accessories and more!
I'll talk more about this in Thursday's 2023 design trends post I have planned, but I'm going to be infusing quite a bit of color into our new build! Don't get me wrong, I'm still a neutrals and blues girl at heart, but I want to add some more color to our home now that we're in Florida. I envision a neutral foundation with more colorful pillows, and lots of patterns. With that in mind, I recently found some fun colorful coastal Amazon decor that I thought I would share with you today!
This post contains affiliate links for your shopping convenience. You can read my full disclosure policy here.
Colorful Coastal Amazon Decor
If you actually search for colorful coastal decor on Amazon and you also follow me and like my style, chances are, you won't like the search results. I know I can say that's how I felt when I tried the search. Needless to say, it takes a lot of time searching for items that fit this category that I love and aren't rainbow colored fish or giant anchors or turtle art. Some of it's just a bit too coastal for the look I love. Today I'm sharing some colorful coastal Amazon decor that also works with more traditional or even grandmillenial decorating styles!
In our new build, I'm envisioning several of the rooms to have their own unique colorful palette. One I'm considering trying is a bit of pink! I especially love pink when it's mixed with a bit of green. In fact, those were our wedding colors nearly eighteen years ago! But when used minimally and with some neutrals, I think pink can be done in a sophisticated way that doesn't scream "little girl's room".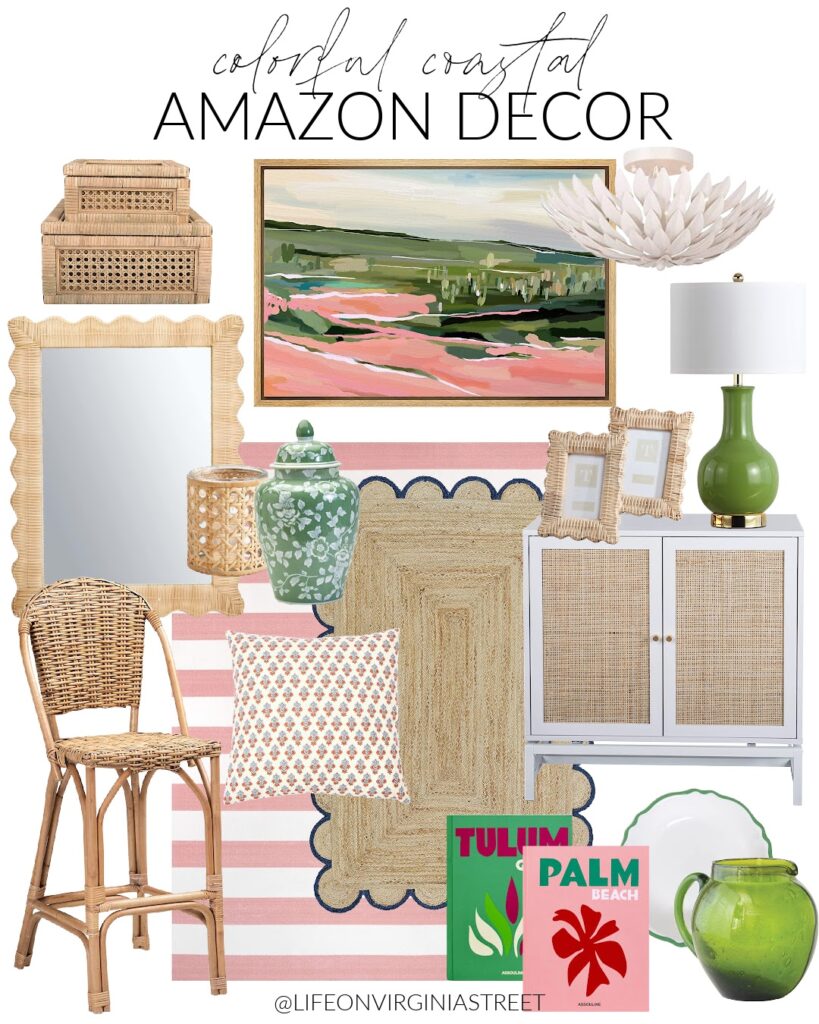 SOURCES: Cane Box Set | Abstract Landscape Art | Matte White Petal Flushmount Light | Scalloped Mirror | Cane Hurricane Vase | Green Ginger Jar | Striped Rug | Scalloped Rug | Scalloped Picture Frames | Table Lamp | Rattan Cabinet | Woven Bar Stool | Block Print Throw Pillow | "Tulum" Book | "Palm Beach" Book | Scalloped Plate | Green Hand Blown Glass Pitcher
Although this post is technically about colorful coastal decor, I couldn't resist including these next two sets of finds. Plus there's some blue thrown in, so that counts as colorful even if there are a few neutrals 😉 I think you'll spot a lot of really great designer looks for less in these next two groupings! We currently own the Rattan Bench and Woven Display Boxes and love them both!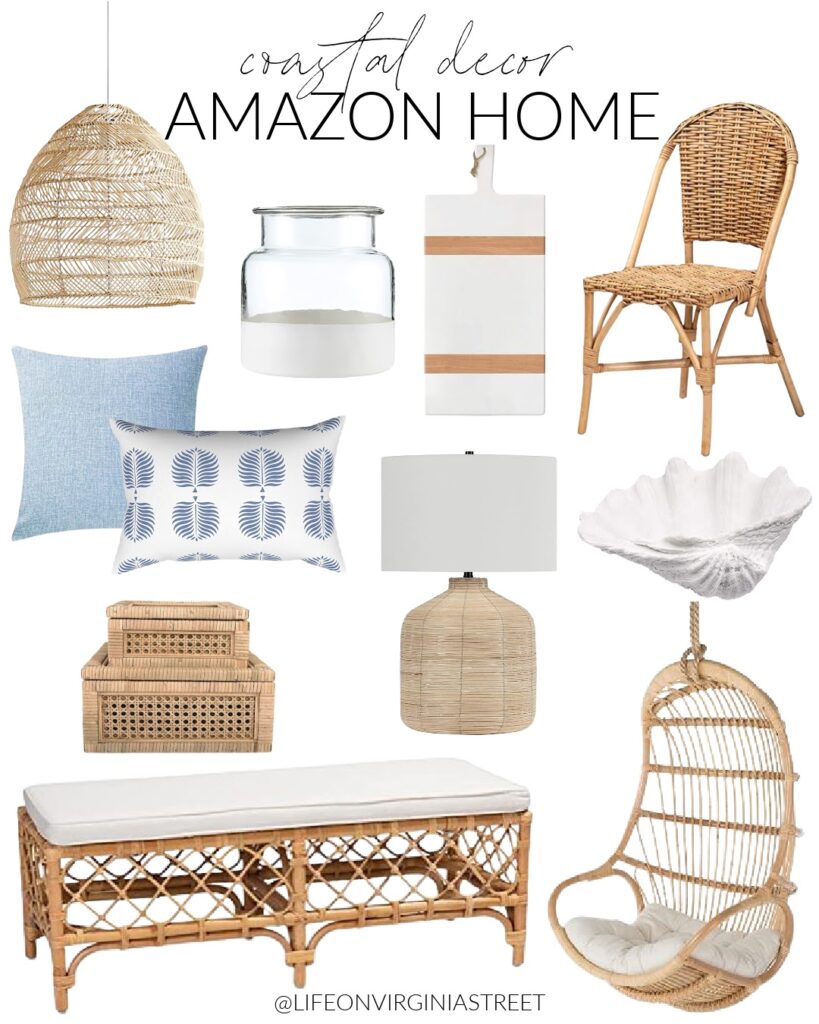 SOURCES: Rattan Woven Pendant Light | Paint Dipped Glass Vase | White Serving Board | Woven Dining Chair | Blue Linen Pillow Case | Palm Pillow Case | Woven Display Boxes | Oversized Rattan Table Lamp | Large Clam Shell | Rattan Bench | Hanging Chair
A few more coastal neutrals with some blues thrown in! Those Scalloped Rattan Picture Frames have been on my wishlist for some time now!
SOURCES: Round Wall Mirror | 3 Drawer Cabinet | Round Rattan Basket | Decorative Ladder | Wood Beaded Chandelier | Glass Beads | Paint Dipped Glass Vase | Spindle Chair | Blue Striped Pillow Cover | Striped Lumbar Pillow Cover | Soap Dispenser | Scalloped Rattan Picture Frames | Camp Stool
If you love navy blue as much as I do, you may find an item on this next mood board that you love too! I'm really interested in trying some peel and stick wallpaper and I think this palm print would be so cute in a powder bathroom!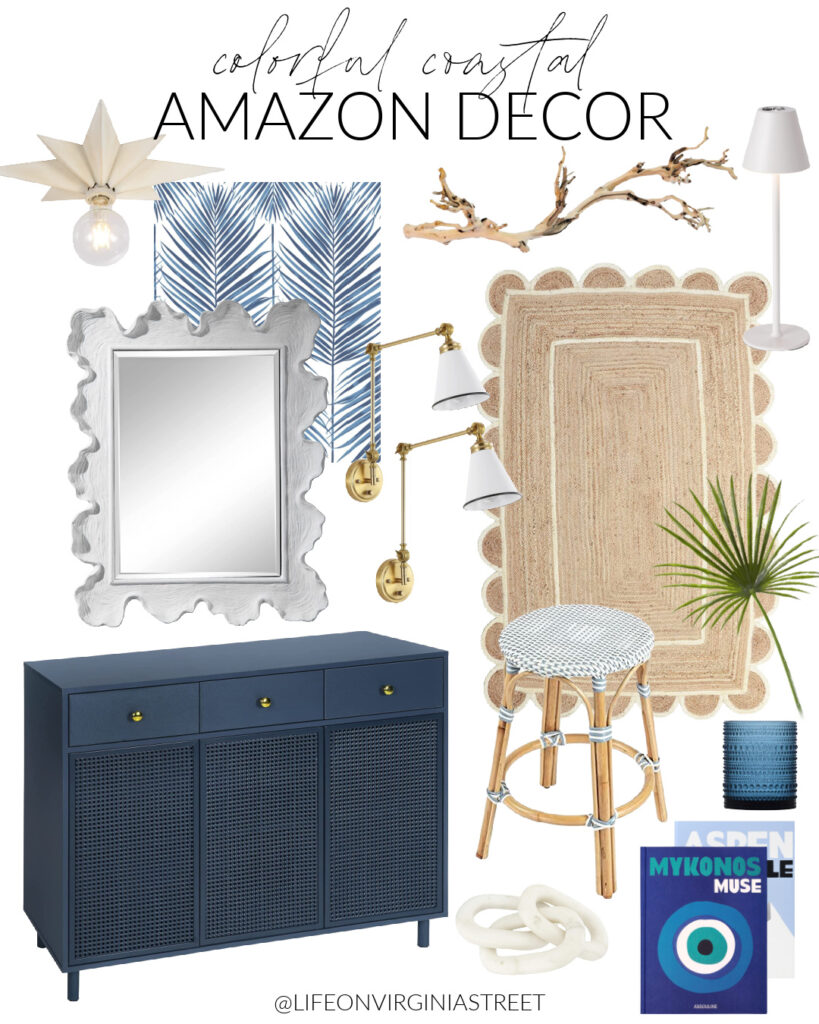 SOURCES: Star Light Fixture | Peel & Stick Palm Wallpaper | Coral Style Mirror | Navy Blue Metal Cane Cabinet | Pair of Wall Sconces | Decorative Wood | Cordless Small Table Lamp | Scalloped Rug | Pair of Faux Fan Palms | Woven Counter Stool | Marble Chain Link Decor | Set of Cocktail Glasses | "Aspen Style" Book | "Mykonos Muse" Book
These colored wine glasses are a favorite, if you're looking to add a pop of color to your table! I would say my colors in the photo are more accurate than the stock photo. We'll likely buy the stemless version (found on the same link in addition to martini glasses), as well, once we move into our new home and have a little more cabinet space!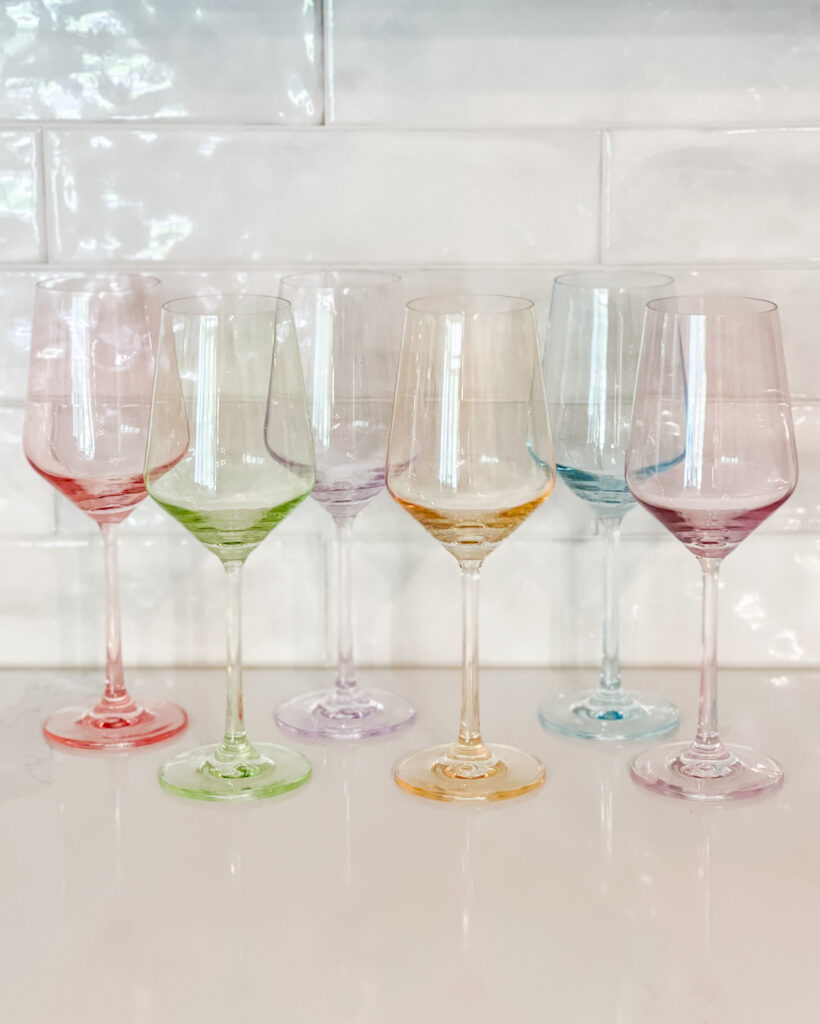 If you're shopping for wall art, the pieces in this budget-friendly colorful abstract art collection come in a few sizes and frame options!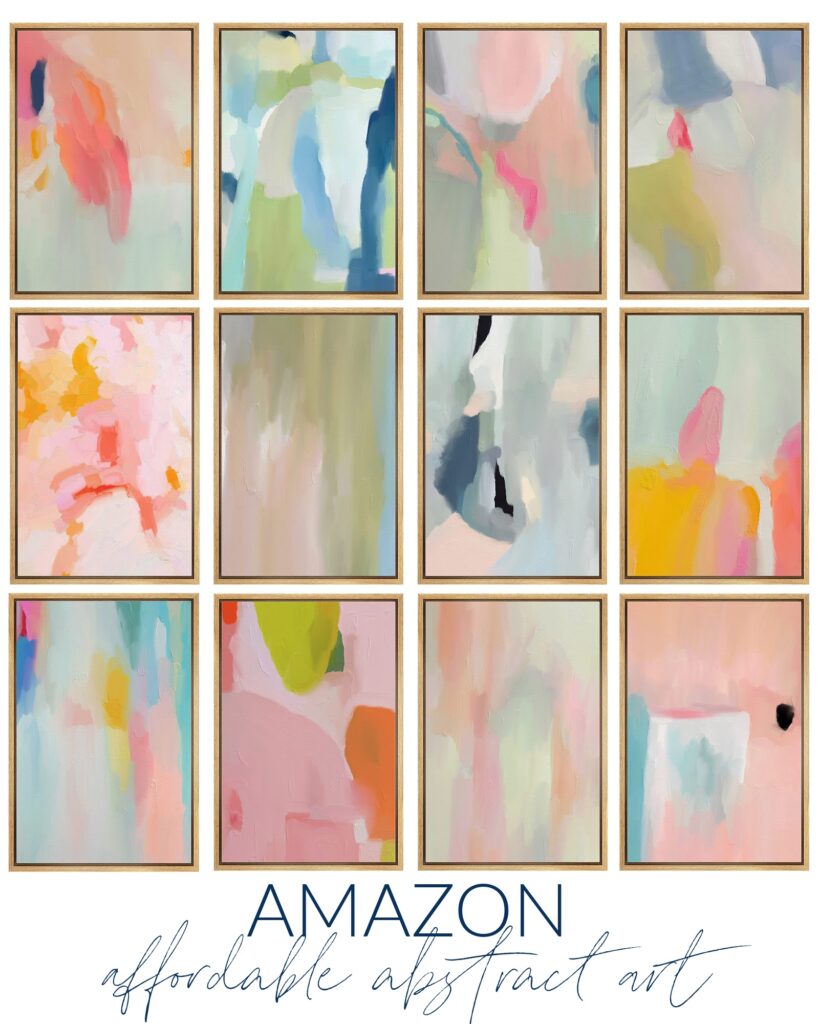 Additional Amazon Decor Posts You May Enjoy
Following are even more Amazon decor posts you may find helpful! Simply tap the title of the post to see the full details.
If you would like to follow along on more of my home decor, DIY, lifestyle, travel and other posts, I'd love to have you follow me on any of the below channels: