I hope you all had a wonderful weekend! Here's a bit of what we've been up to this past week.
This post contains affiliate links for your shopping convenience. You can read my full disclosure policy here.
Home Projects & Updates
After sharing our mini home tour last week, I finally started decorating for Christmas. Well, really all I did was set up our Christmas tree. But with the time change last week, we're loving the glow from the tree in the evenings now!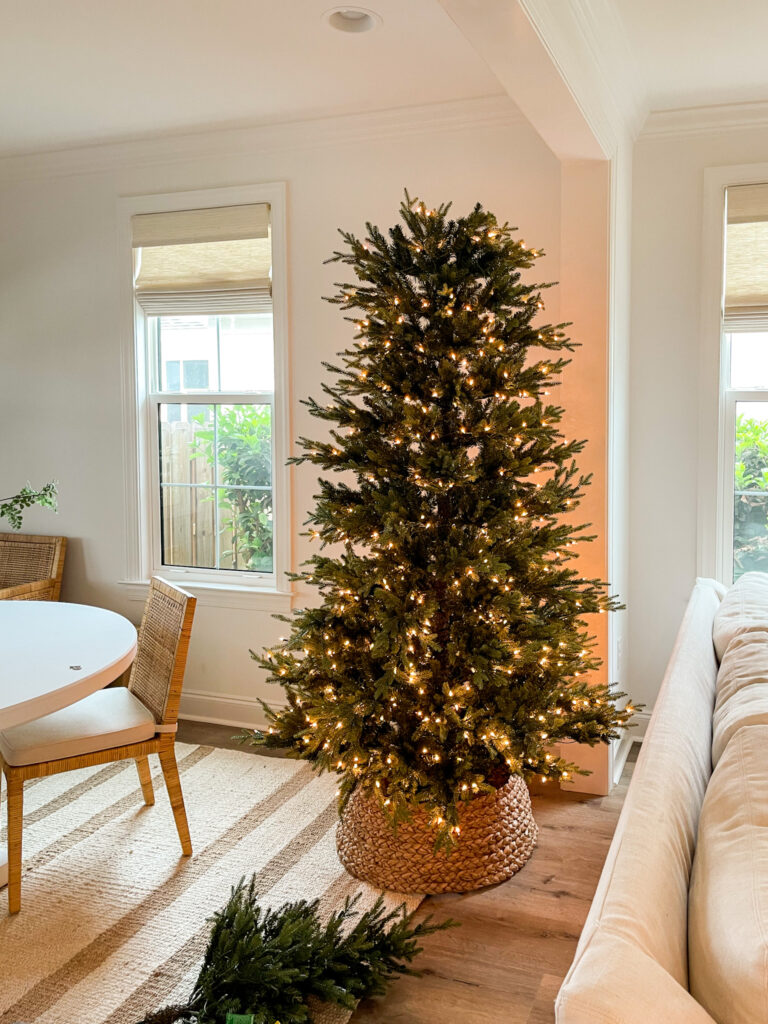 SOURCES: Christmas Tree (also here) | Tree Collar | Striped Rug | Rattan Dining Chairs | Dining Table | Sofa
I'm loving this star sweater so much  – so soft and well-made! It's a dark navy color and perfect for the winter months. I'm in my usual size large. You can find links to all of my ornaments in this post.
I ordered this under $20 wreath last week and it's a great look for less to the much more expensive Afloral version that is already sold out. It comes with a bow attached. I didn't love the bow or colors so I cut it out. You can see it left a bit of a bald spot but that's where I'll add a new bow or where I'll hang it from! The needles are the same great soft needles you find on the popular Afloral garland and wreath. It runs about 18″ vs the 22″ Afloral wreath, but I'm really excited about them!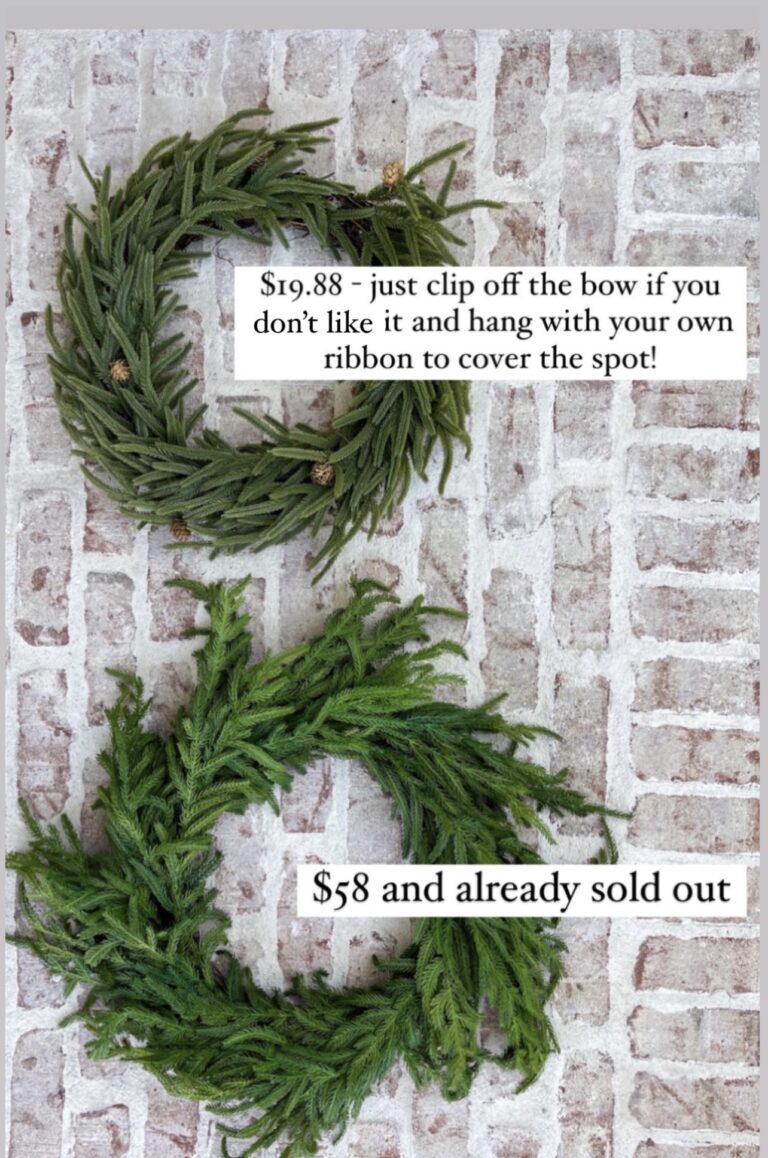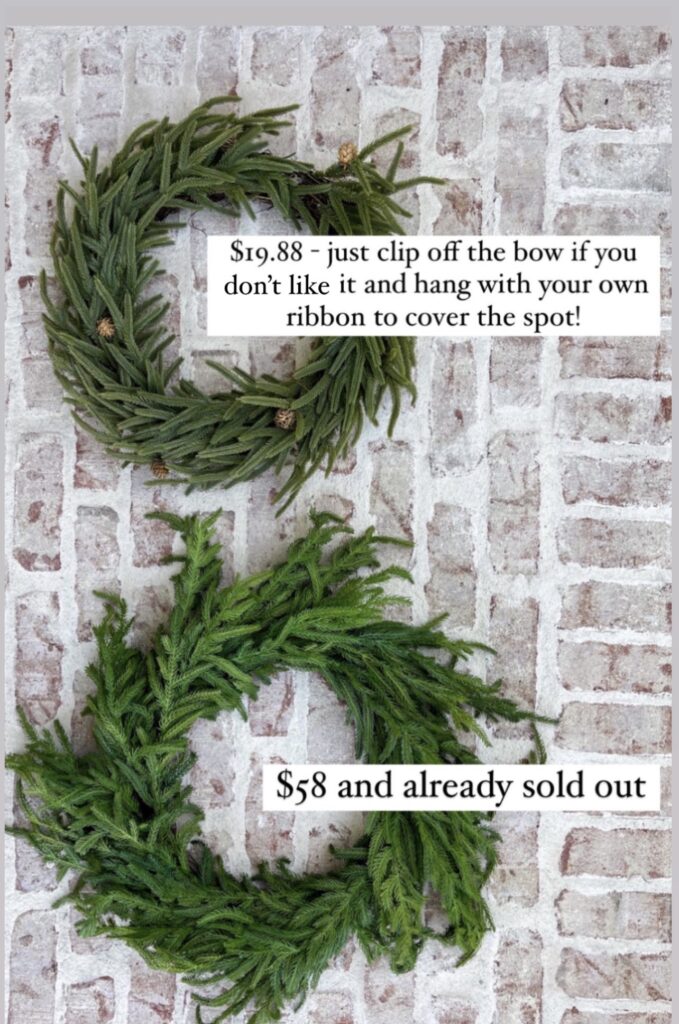 You can see me holding the wreath below, in the plaid dress I shared in this post. I ordered the XL since the top is on the clingy side and it fits great! I love that it has pockets, too! I'm wearing these heels (fit true to size).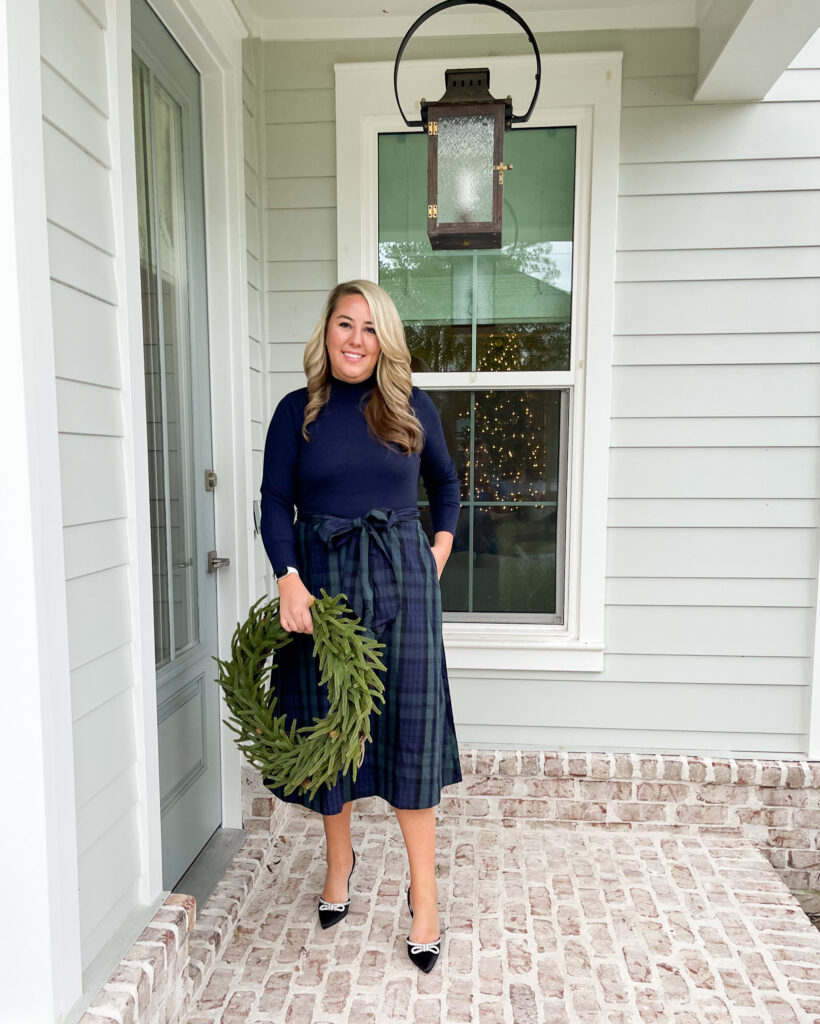 So, I finally caved and agreed to a storage unit. Kurtis has been wanting one so we can fully empty out our garage (it's only one stall) since he's missing his old basement gym. We rented a small one about ten minutes from our house. I still don't love the idea (for some reason they creep me out a bit. Too many murder mystery books maybe)! So, if you have any storage unit tips, send them my way. We've never had one before! We're on the first floor and got a relatively small unit, but I figured I can store seasonal decor items that are already in totes there.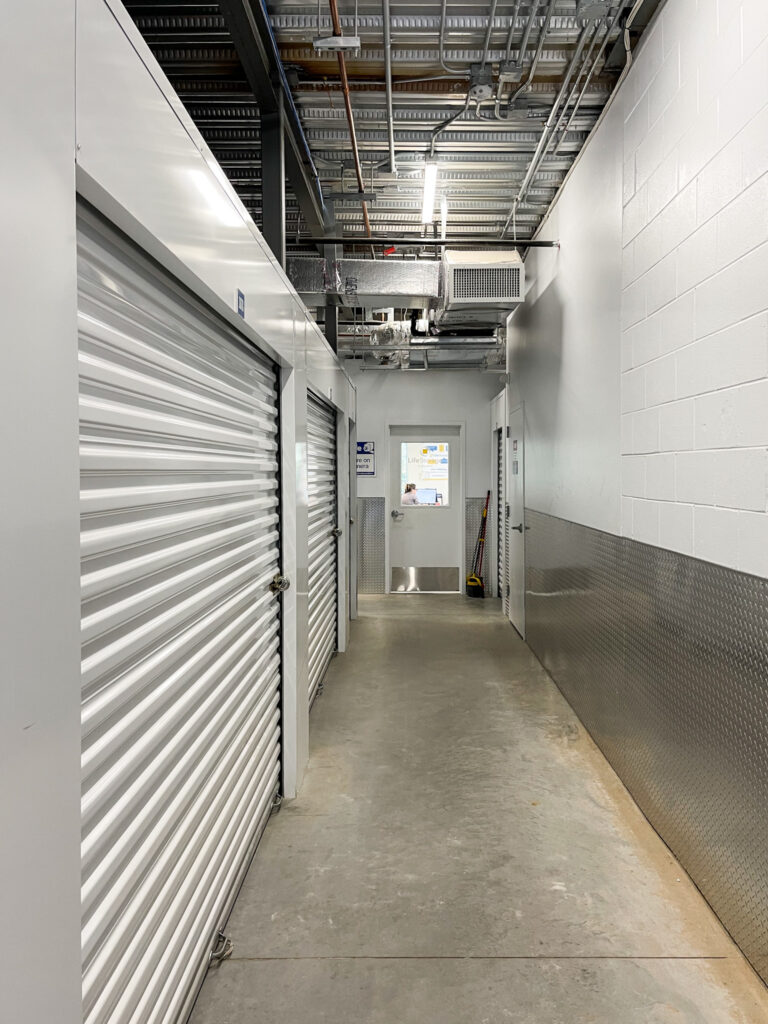 We visited the new build on Sunday afternoon, and although it doesn't look like much progress, they got all the wire mesh down. We had some storms late in the week, so we're guessing they'll be pouring the foundation early this week! I'm sure we'll stalk it daily until they do 😉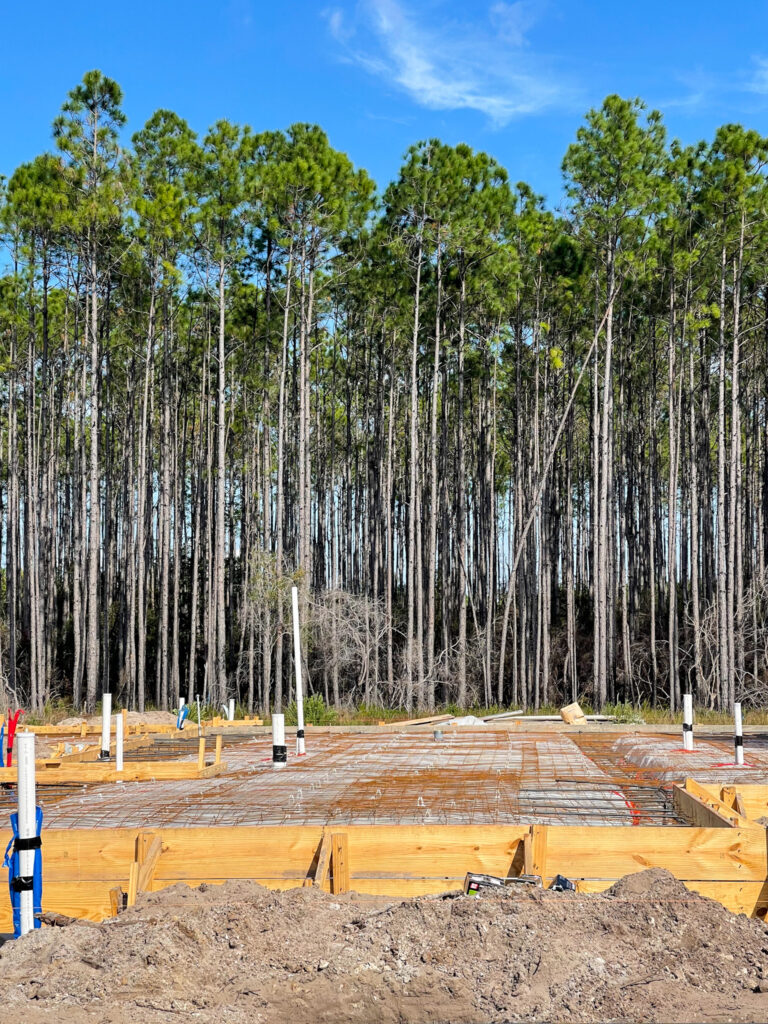 Sunday night we finally got around to hanging our Frame TV. I bought it on sale a few weeks back that included a frame, but the actual frame has been backordered and now they're asking if I want to cancel due to the delays. I haven't had that happen with Amazon before, so I'm hoping we still get the frame itself! It was a great price and I don't want to reorder it! But it already feels so much better in our living room with this much slimmer TV (also hung much lower than the one that was left here). I'm also excited to get art mode back!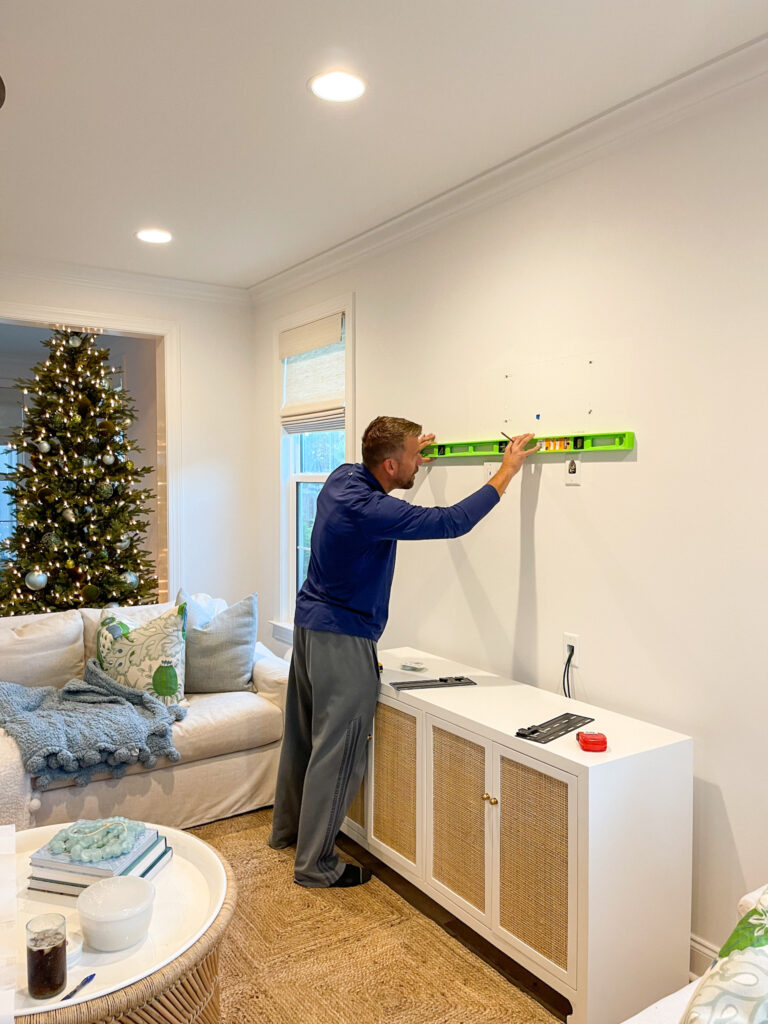 LIVING ROOM SOURCES: Sofas | Rug | Coffee Table | Rattan Cabinet | Linen Pillows | Patterned Pillows (I sewed my own with this fabric) | Cozy Pom Blankets
Top Sellers Of The Week
Following are the top sellers of the past week across all of my channels. Links to each item are below the graphic.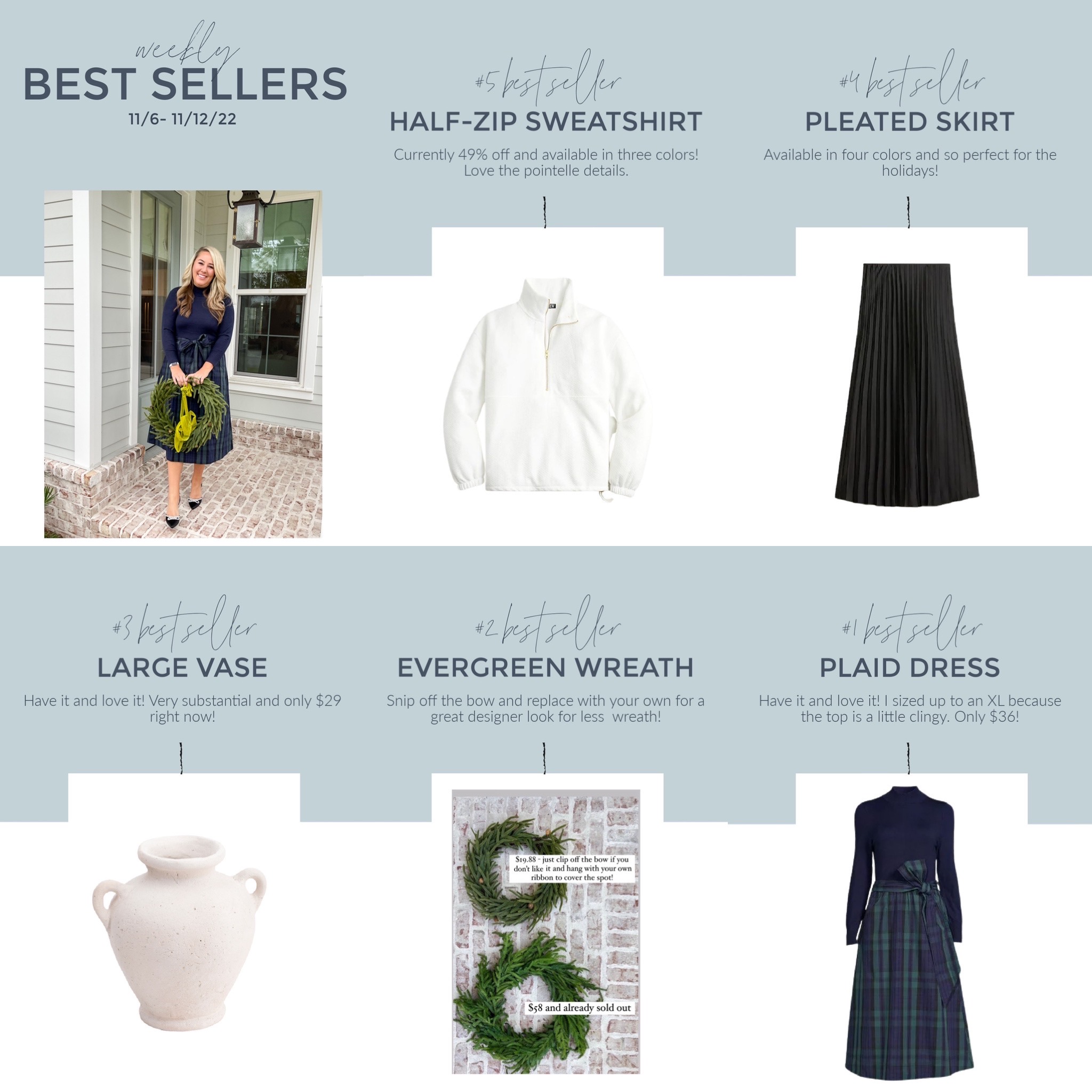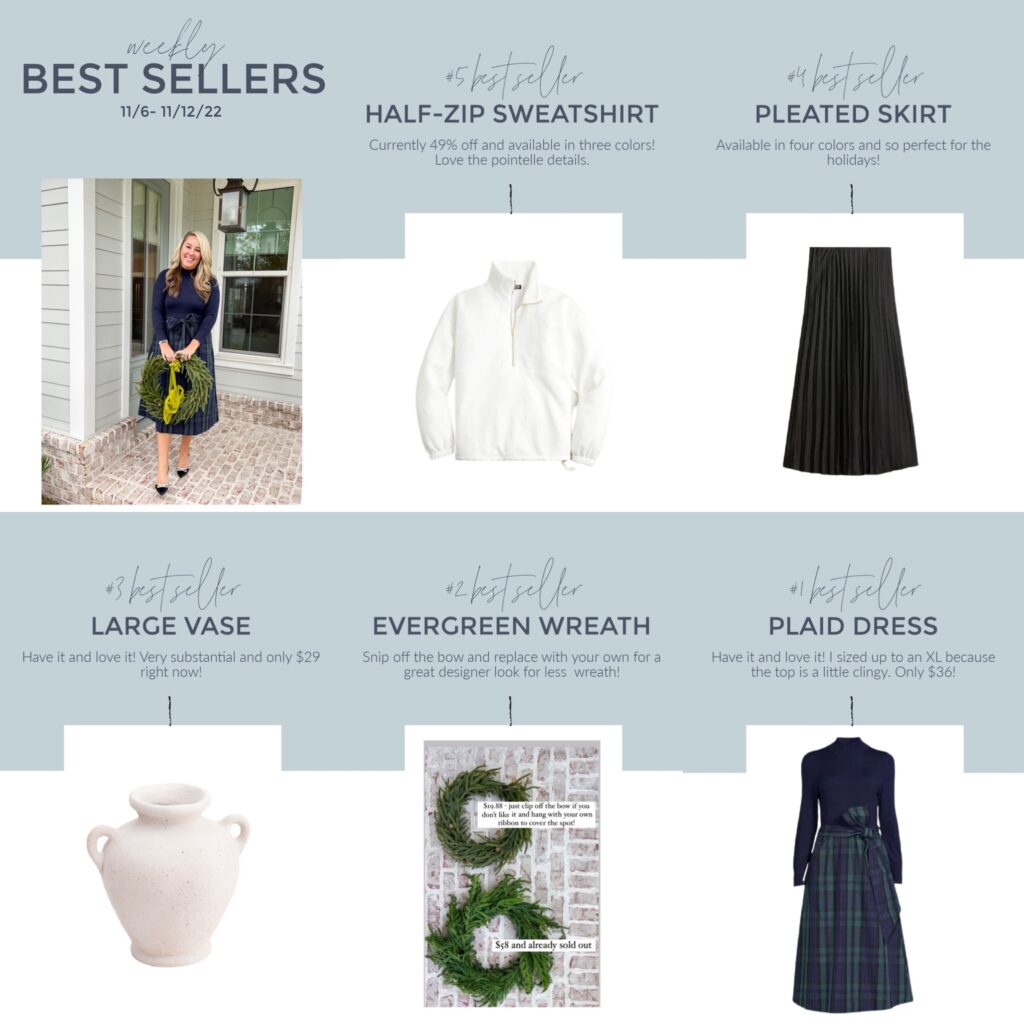 BEST SELLERS (each number is clickable): #5 | #4 | #3 | #2 | #1
In Case You Missed It
Following are the posts I shared over the past week, in case you missed some days!
Following are the most read blog posts of last week (excluding any of the new posts already mentioned above). Many times this includes old posts that are popular on Google or Pinterest.
Around Town & For Fun
In a shock to everyone (mostly me), we rode our new bikes nearly 50 miles in the first week of owning them! We're really enjoying it and I'm trying to do 20 minutes minimum each day to just get outside and enjoy the weather and get a little exercise. There are so many fun trails to explore around here!
Friday afternoon, we headed to Santa Rosa Beach to visit Lola's, a home decor shop I really like. I always enjoy seeing holiday decor in smaller shops!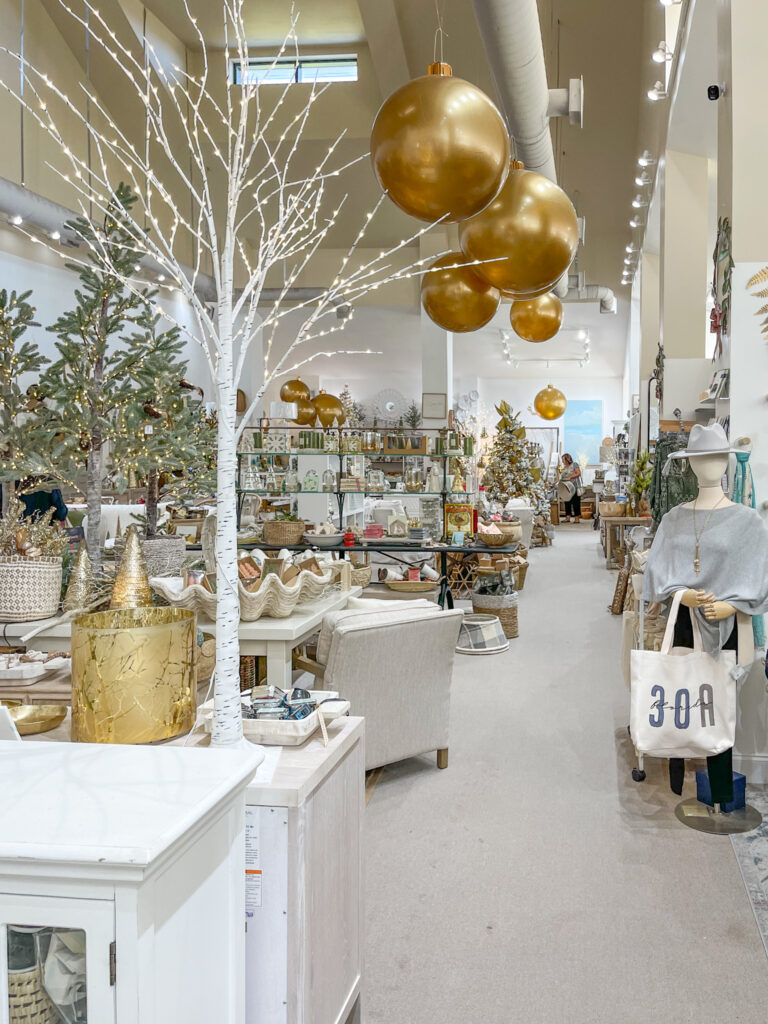 We then grabbed a drink at Red Bar in Grayton Beach to check it out. It's a super popular bar and restaurant that frequently has live music.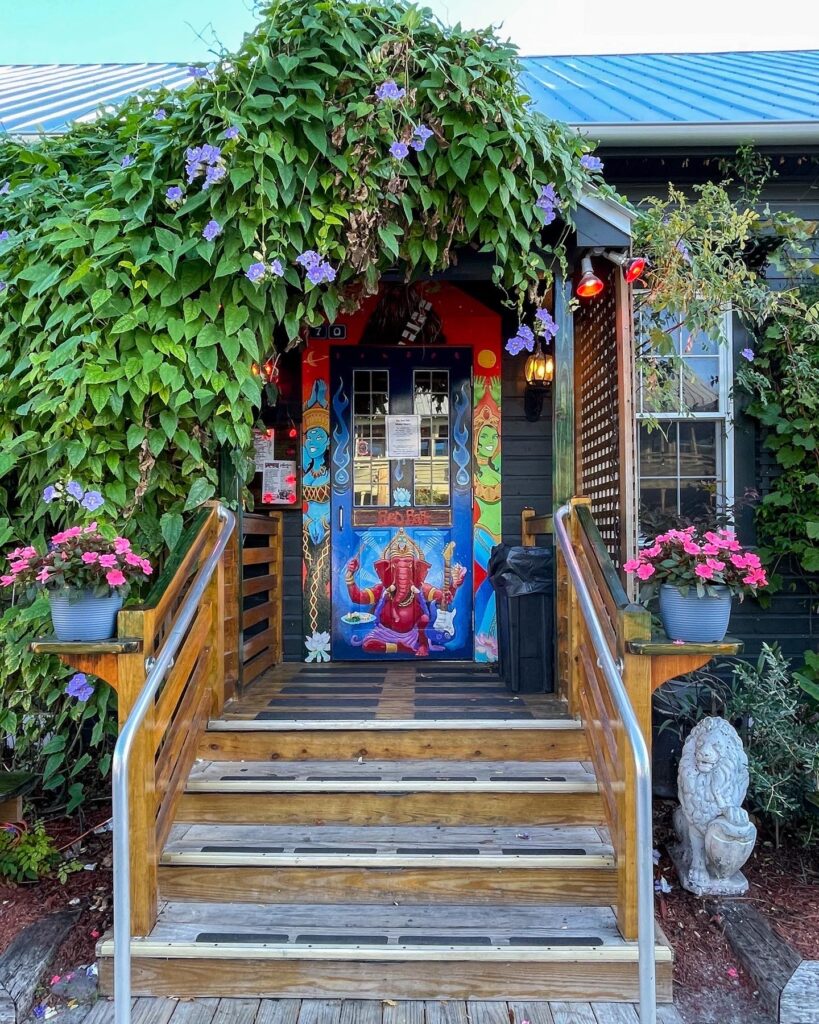 It's such a cool vibe and a lot of fun to visit!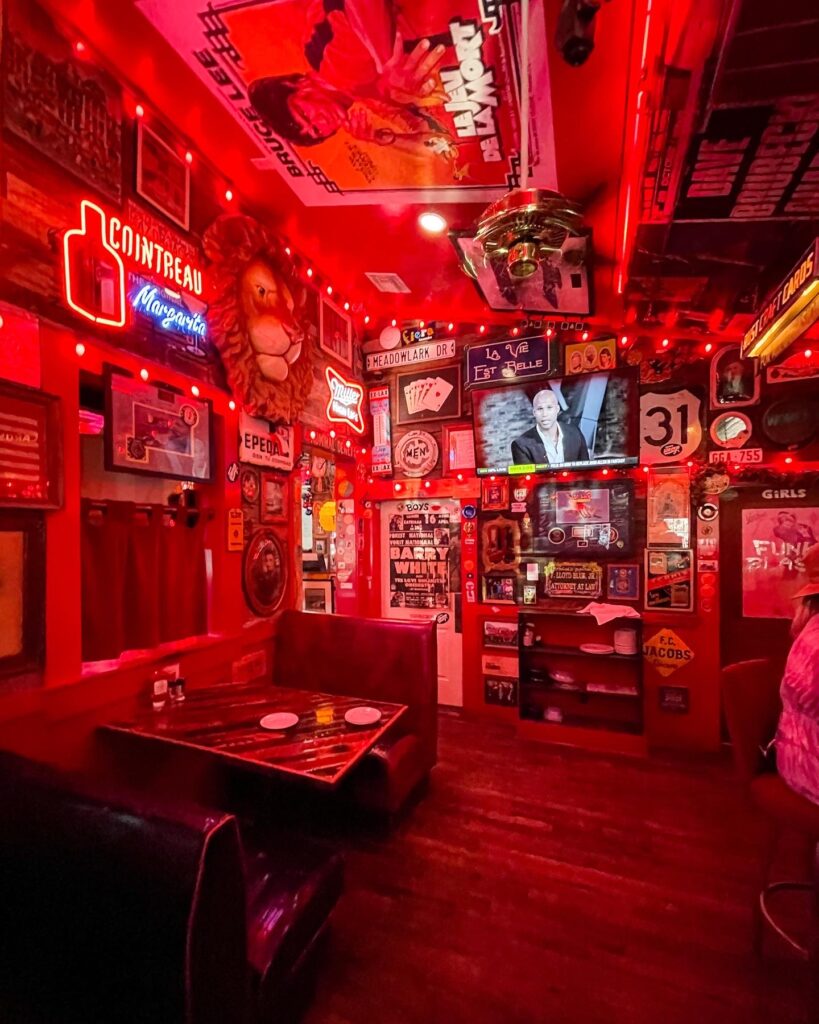 We rode to Alys Beach for breakfast at Raw & Juicy again on Saturday. It might be our new favorite tradition around here!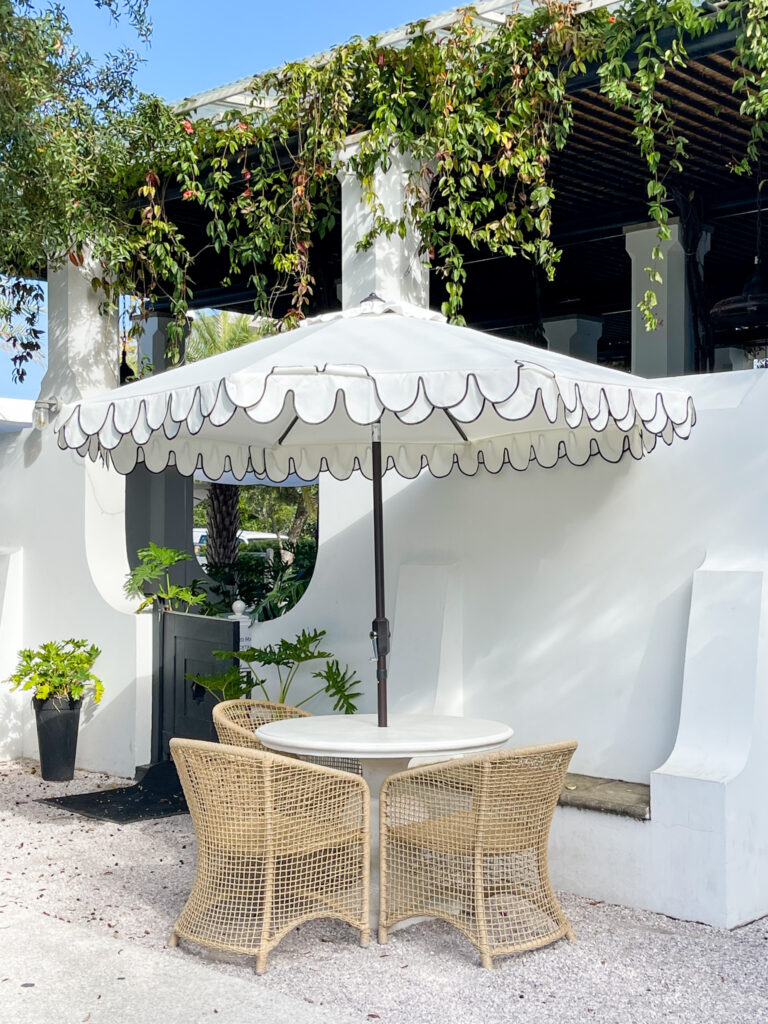 The small towns in the community are all starting to decorate for Christmas, and most of their trees have been brought in. This is the one in Alys Beach.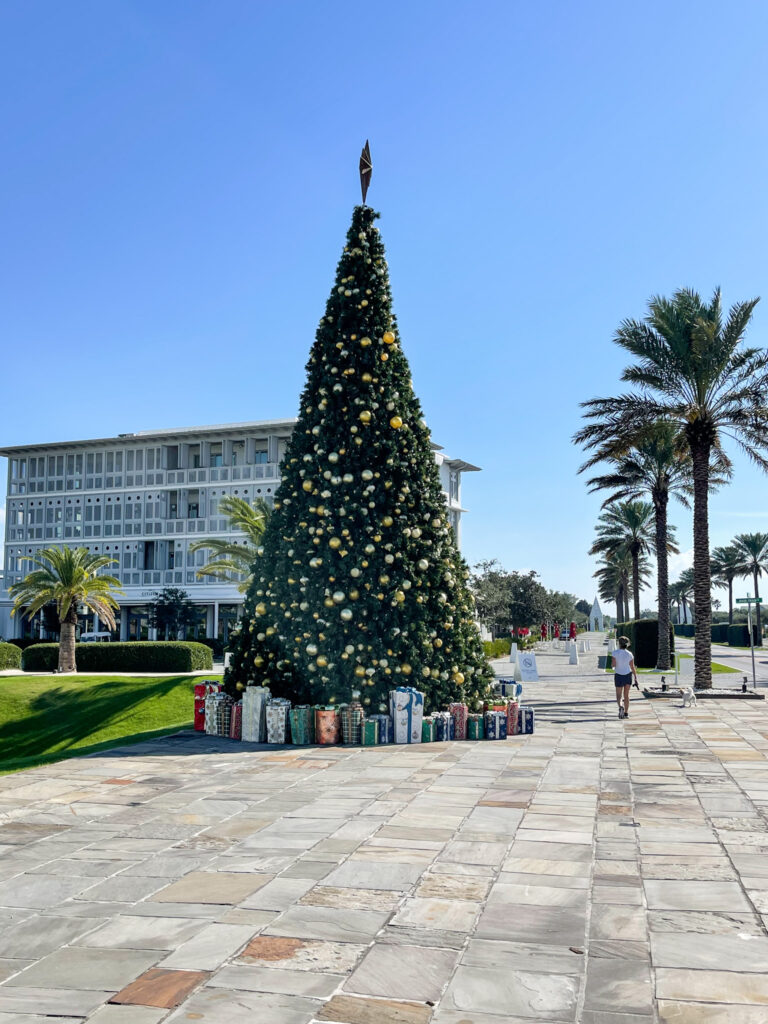 We also saw Rosemary Beach setting theirs up, as well, one night when Kurtis needed some ice cream. We just love these small towns so much!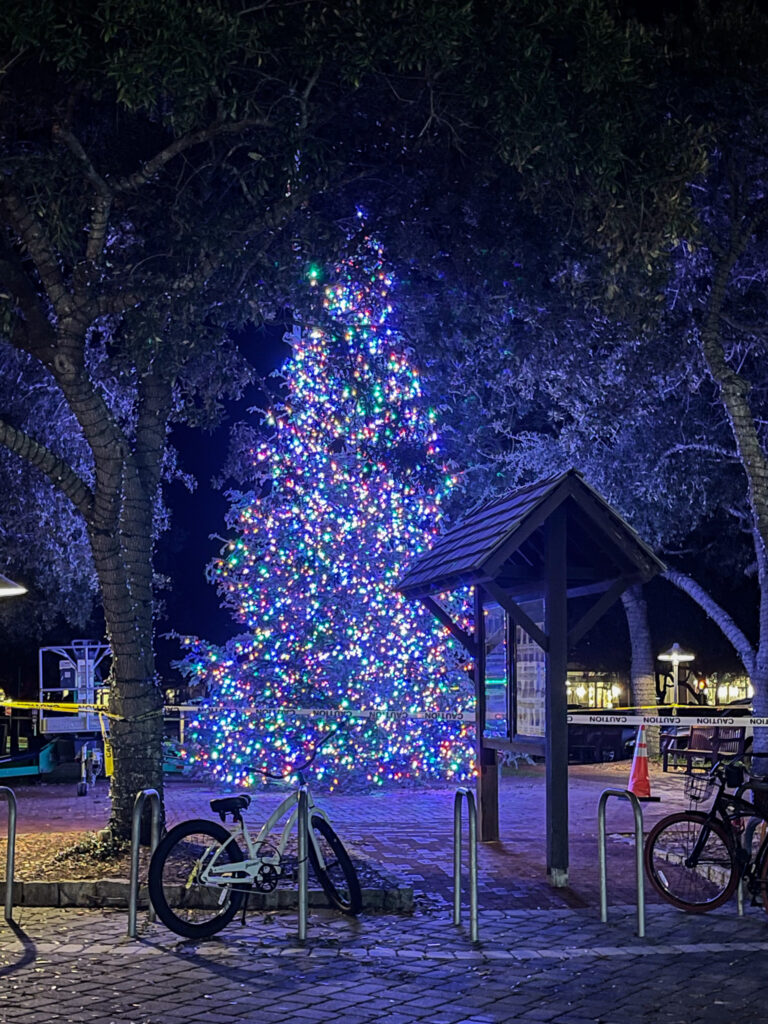 The temps dropped pretty drastically Sunday, which means the cats are in major cuddle mode! We woke up to 39 degree temps this morning, and Kurtis wondering if we moved far enough south 😉 He'll be in Omaha a few days this week though, so I think he'll remember then what cold really feels like. Ha!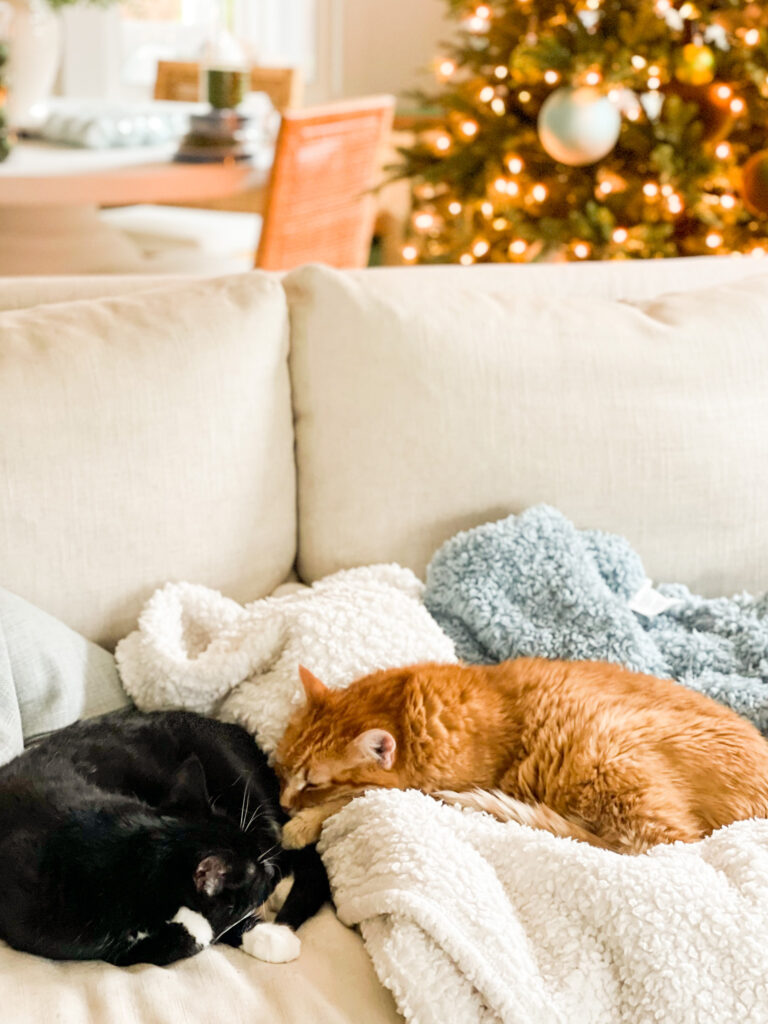 How is Thanksgiving next week?! We're excited to see my side of the family, followed by a visit from our BFFs, followed by a visit from half of Kurtis' side of the family! It's going to be a busy few weeks and we're really looking forward to it!
I think with the cold temps arriving today, I'm going to make some vegetable soup (one of those "recipes" where I basically clean out the fridge and it's different every time)! My friend Rachel and I are hoping to meet with our builders later this week to finalize some selections, as well. It helps that we're both in the same building phase and can bounce ideas off each other. I'll share more once we get some things finalized!
Recent Buys & Sales
Following are some sales from the weekend that have carried over and are still going strong! You can see my top picks here.
I hope you all have a great week!
If you would like to follow along on more of my home decor, DIY, lifestyle, travel and other posts, I'd love to have you follow me on any of the below channels:
Pinterest | Instagram | Facebook | LTK