Good morning! I can't believe it's the last Monday of October. Not sure where all that time went! I hope you all had a nice, fall weekend. Today I'm sharing a bit of what we've been up to around here over the past week or so.
This post contains affiliate links for your shopping convenience. You can read my full disclosure policy here.
Home Projects & Updates
Before we talk about anything else, OUR BACKORDERED WINDOW IS IN OMAHA!!!!!! Can you tell I'm just a little bit excited? 😉 In fact, it's actually being delivered into our garage this morning! Since the builders found out pretty late on Friday that it was here, they're scrambling to get the other (NINE) sub-contractors here that are needed to all be perfectly lined up for completion. The counter and the window have to go in the exact same day. And hopefully siding/trim/caulking work shortly after. Then the final plumbing and electrical can resume! Hopefully by early next week, it will be about 99% complete (assuming the weather cooperates and the forecasted rain holds off)! I'm sure excited to see how the exterior changes once that window is in place on the left side shown below!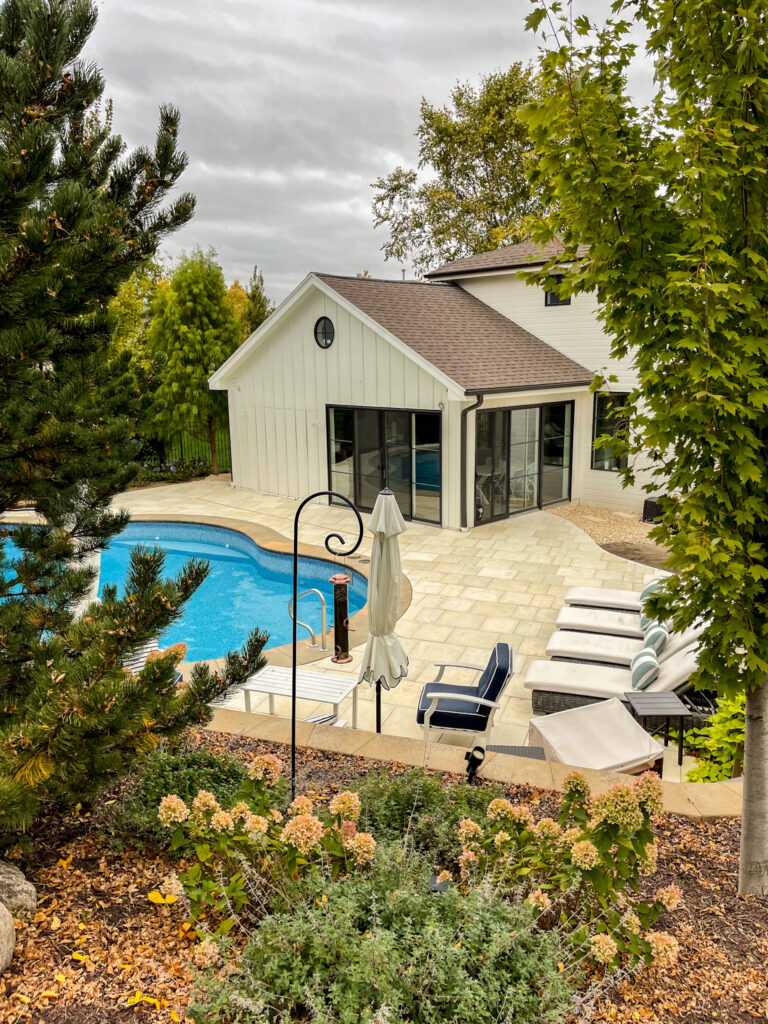 And while it may very much be fall outside now, I faked summer mid-last week before we had to drain the pool. It was overcast and cold and windy, but by lightening up the original photo a bit, I think it could pass as a summer day! Despite all the golden leaves on the ground outside 😉 But, I wanted to get a few pics in with the pool open, since the reveal will include our lovely brown cover as the view!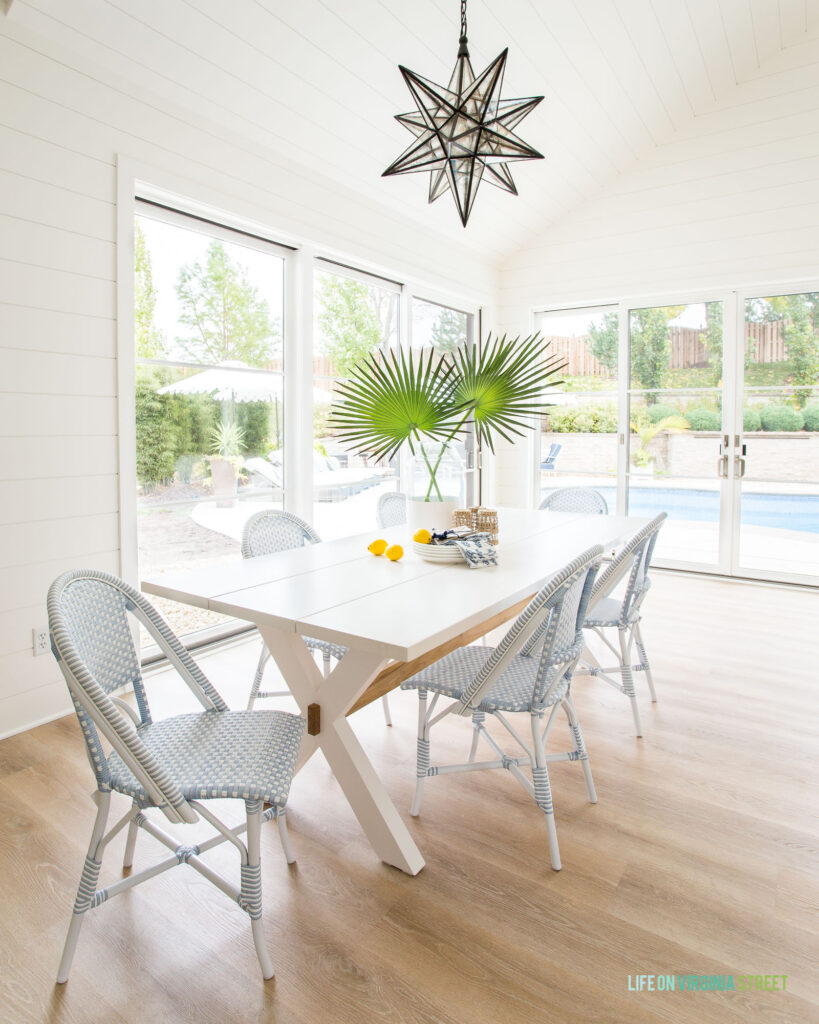 SOURCES: Blue & White Outdoor Bistro Chairs | Dining Table | Star Chandelier | Vase | Cane Wrapped Glasses | Block Print Paisley Napkins | LVP Floors (color Dusk Cherry) | Outdoor Umbrellas
Here is how that same view looked later that evening so you can better see the relation to everything outside.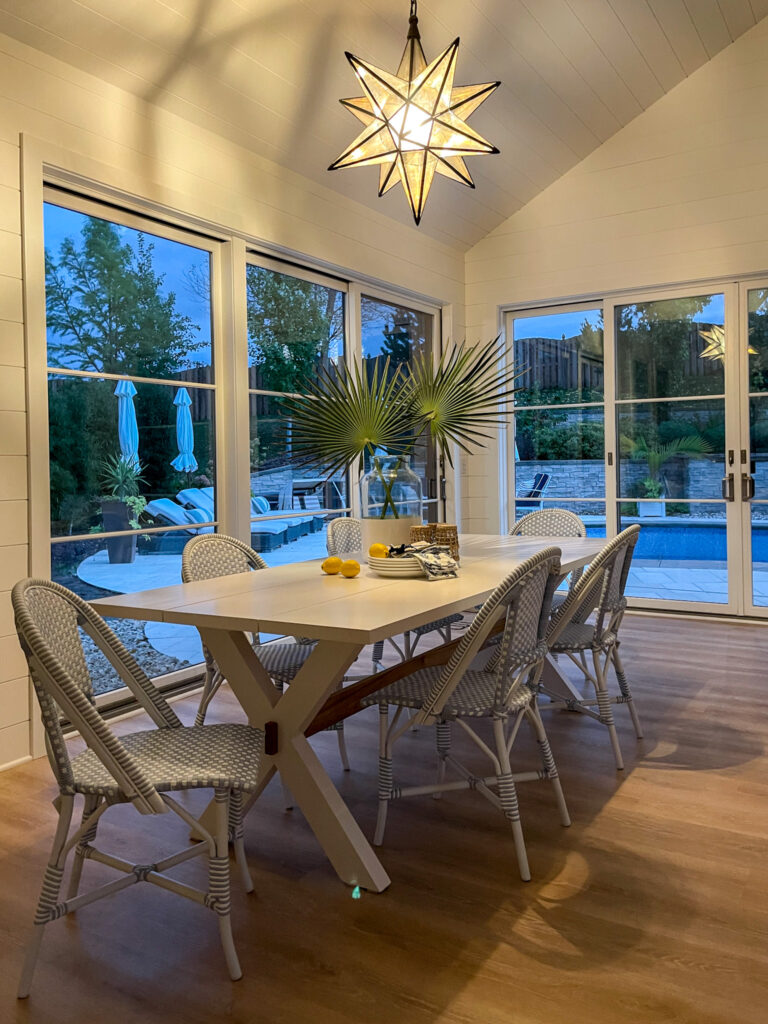 The landscapers, Innovative Outdoors, also wrapped up about 95% off their work last week and we are so happy with how it turned out! They had needed to order more of our pavers to complete the project, so once those came in they wrapped up the pool deck, patio and landscaping. The large size of fineline buckthorns (which we use along the fence for privacy) won't arrive until this week, but that's about it! All the mulch has since been added in the image below.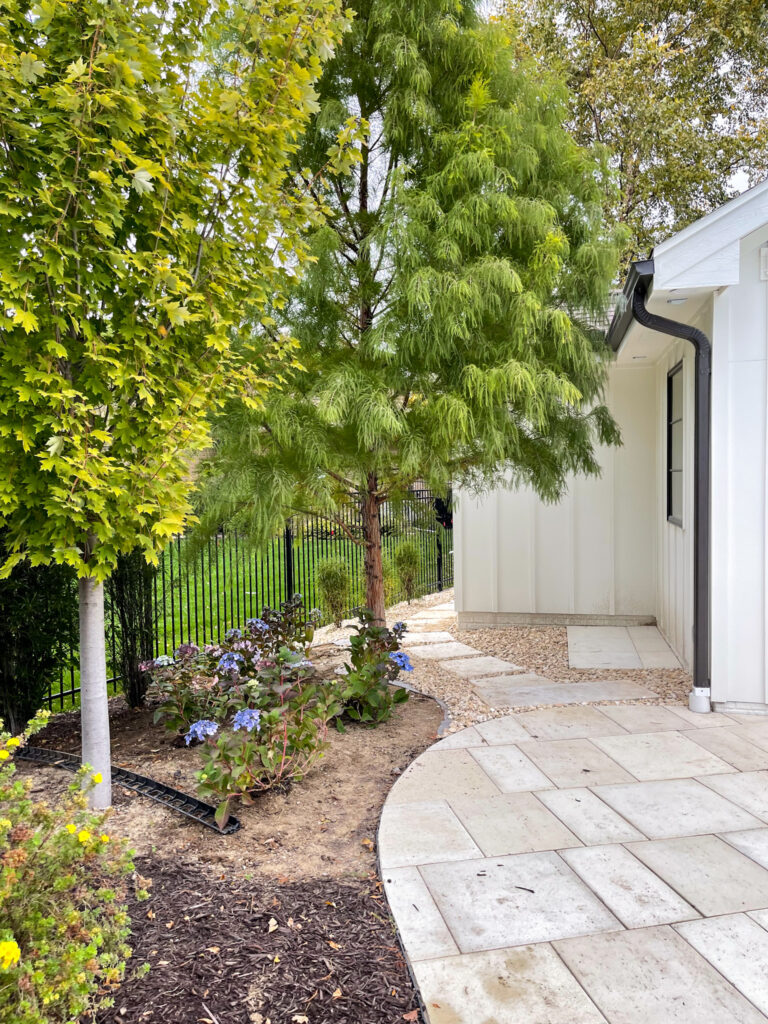 Here's the same area looking from the opposite direction/end.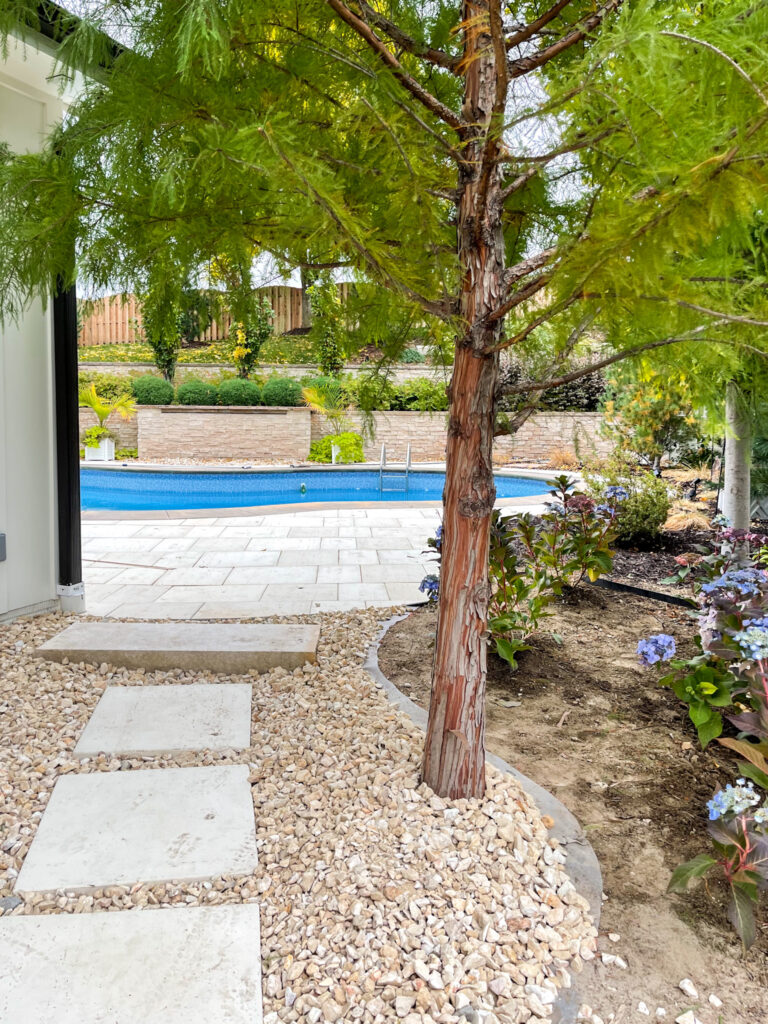 I'm loving these Twist-n-Shout hydrangeas they planted in this area. The color ranges from a pretty blue to a bright fuchsia, depending on the acidity of the soil. I'm excited to see them bloom next summer, especially since they're my view out the window above the sink!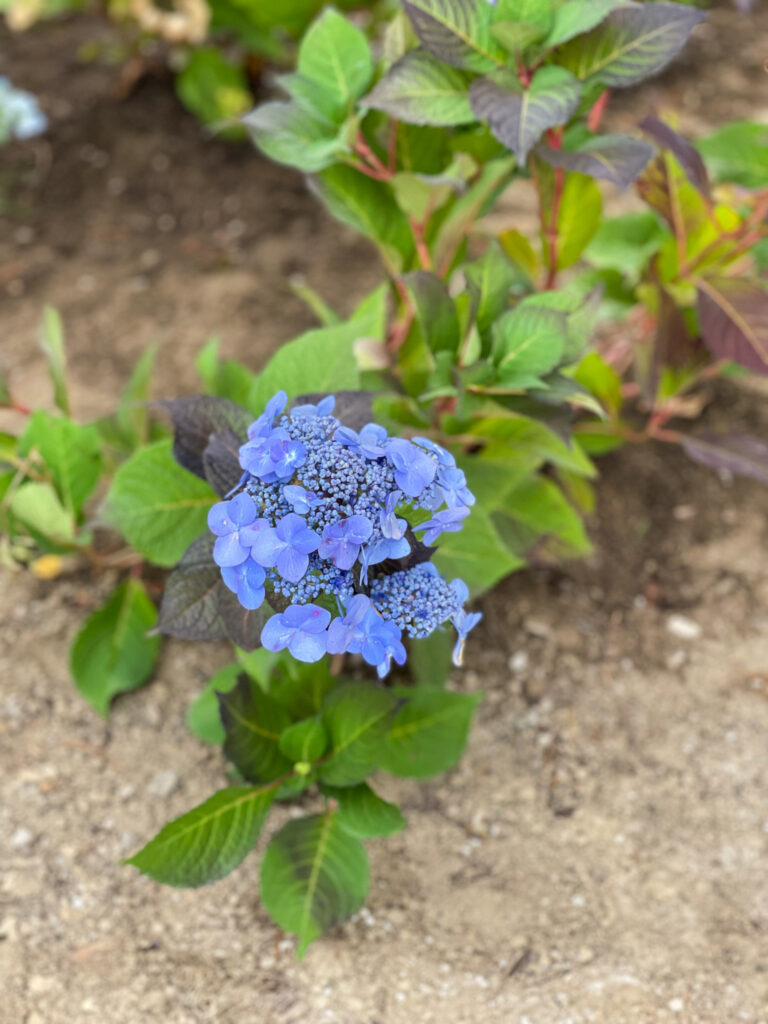 They also laid the sod last week in the areas the tractors and foot traffic had torn up grass. It's so nice not to look out and see a dirty/muddy mess any longer!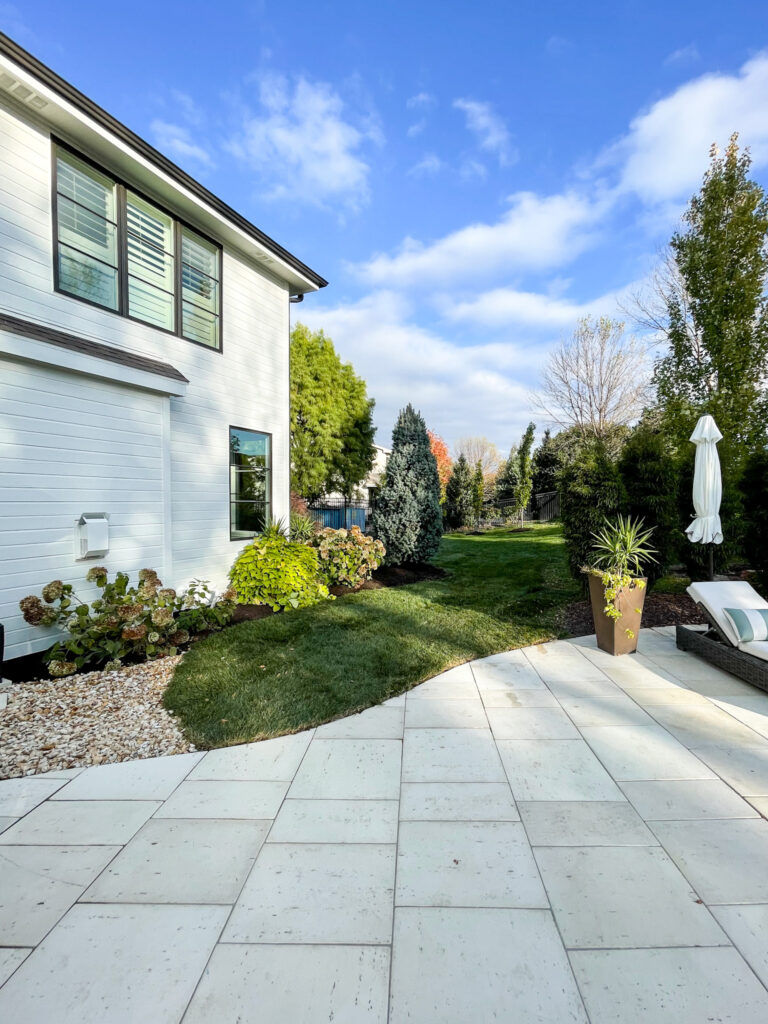 The local wildlife has been checking out all the changes as well 😉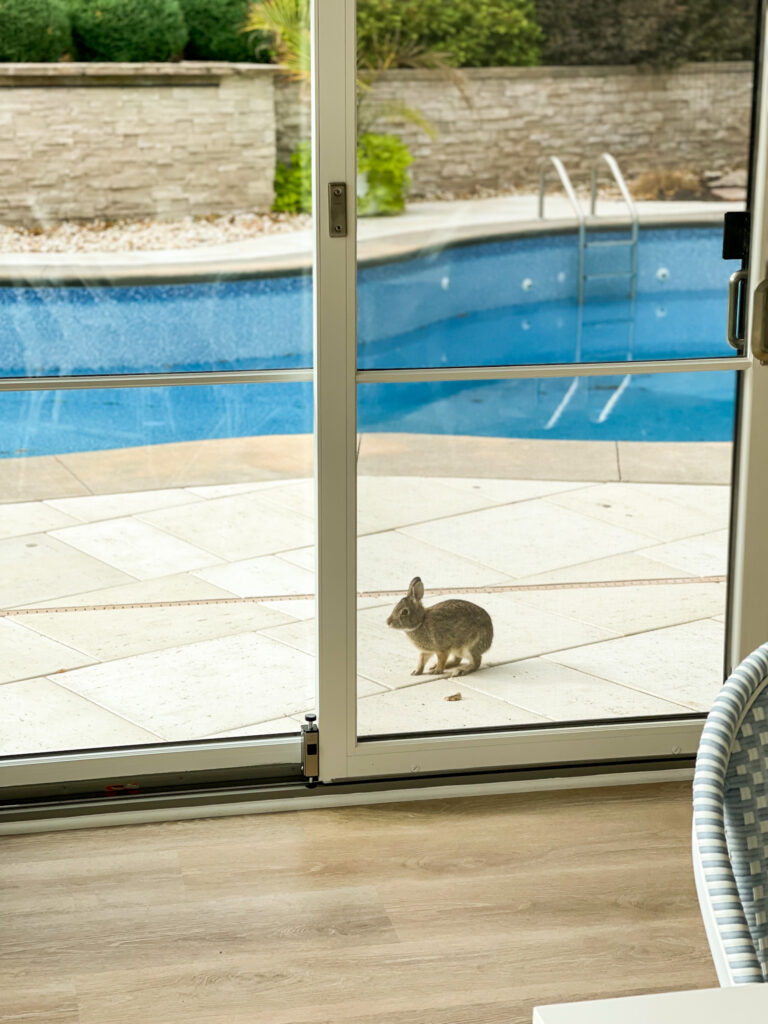 The cold weather abruptly arrived mid last week in Omaha, and it's definitely fall now! Despite the trees not being that colorful this year, my limelight hydrangeas are the most vibrant shade of pink I've ever seen!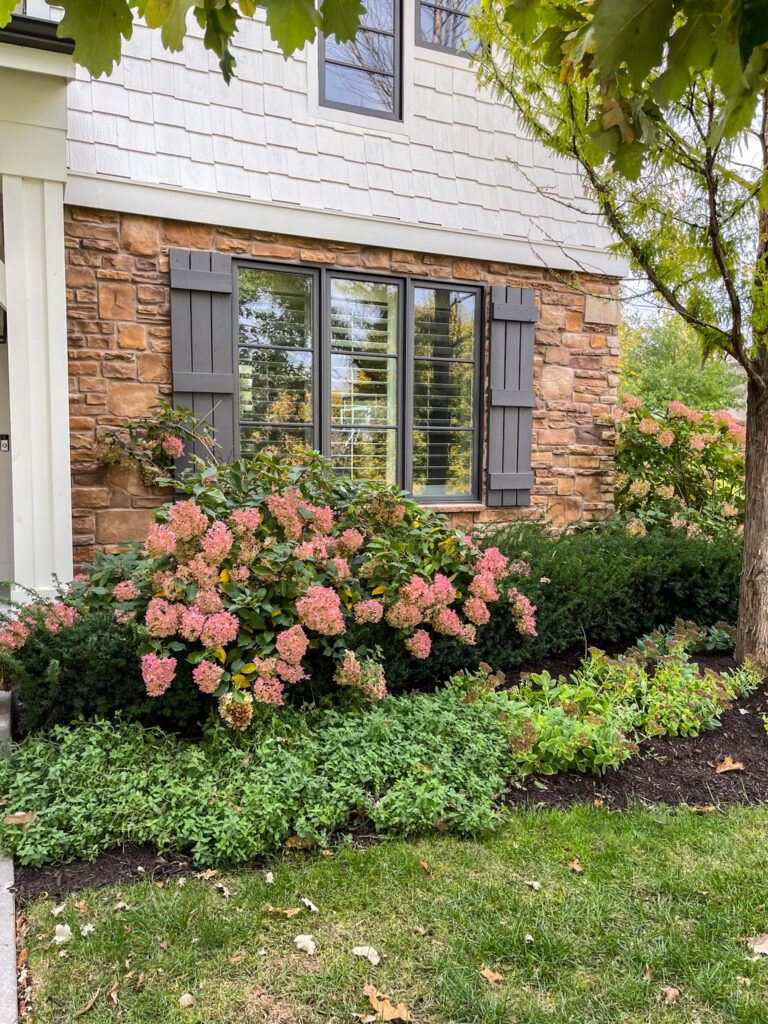 Top Sellers Of The Week
Following are the top sellers of the past week across all of my channels. Links to each item are below the graphic. I didn't really just how many people were already in Christmas buying mode! But I am here for it!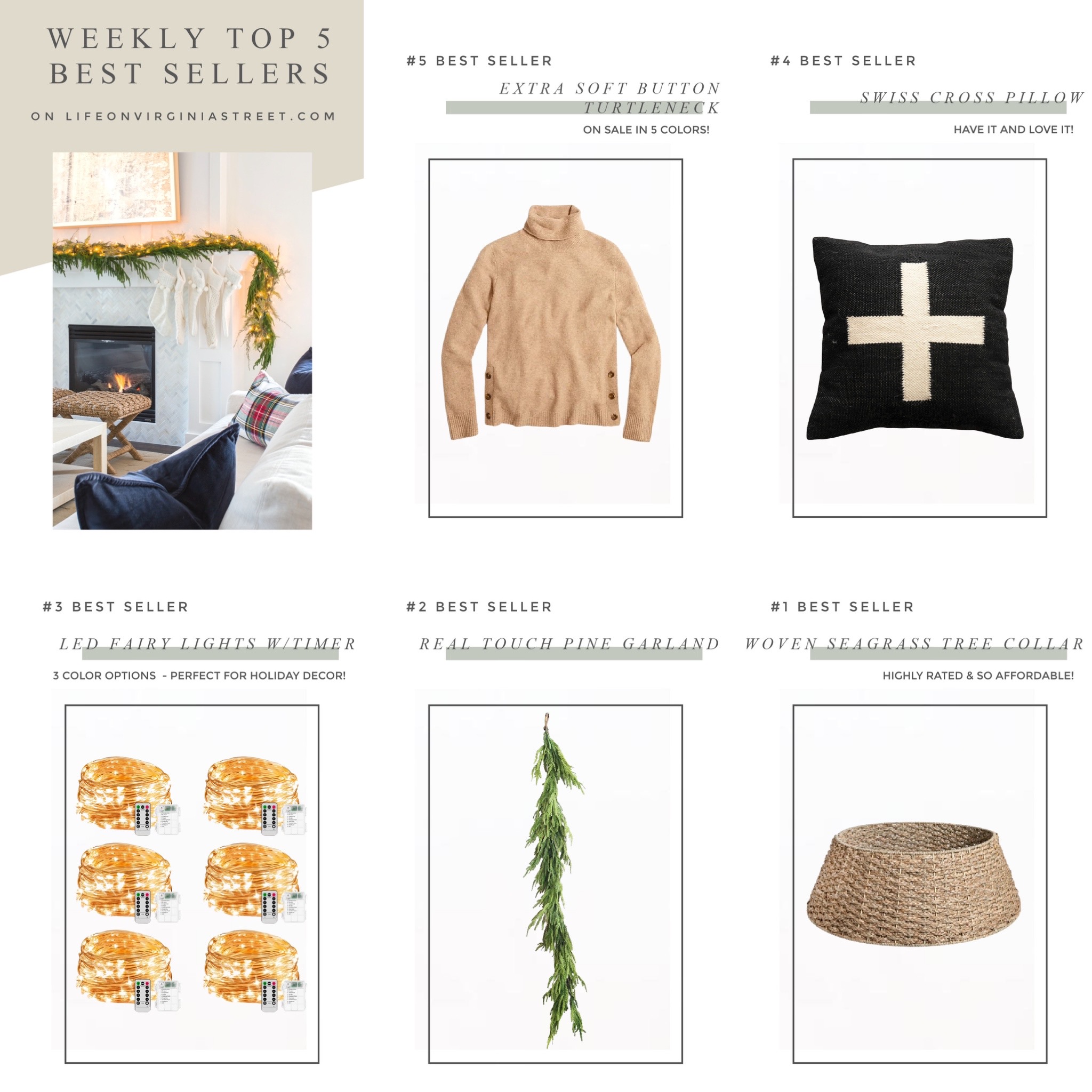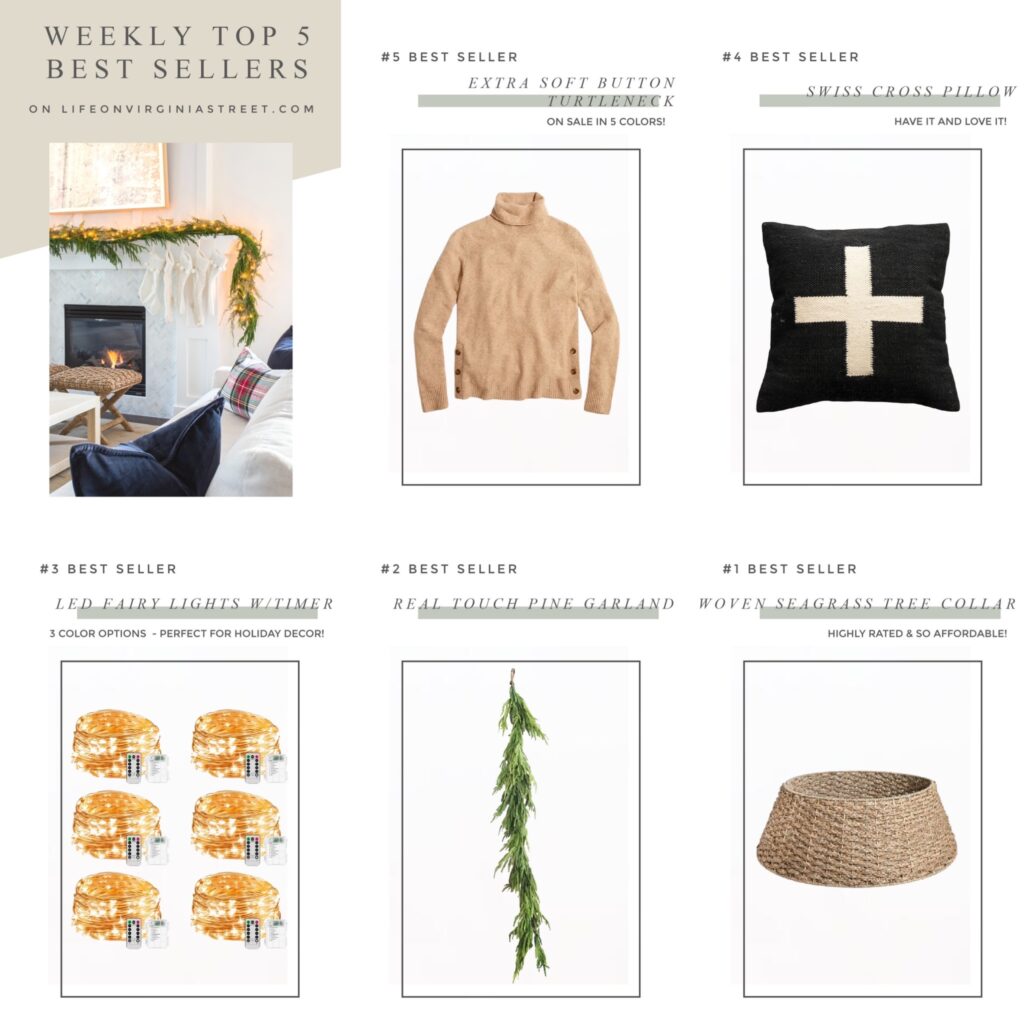 BEST SELLERS (each number is clickable): #5 | #4 | #3 | #2 (also here) | #1
In Case You Missed It
Here are the blog posts I shared last week, in case you missed any of them! Click any of the titles below to be taken to the full post:
Following are the most read blog posts of last week (excluding any of the new posts already mentioned above). Many times this includes old posts that are popular on Google or Pinterest! It's fun to see what is trending each week!
Around Town & For Fun
Kurtis' uncle passed away a few weeks ago and his funeral was this past weekend. Because of Bailey's insulin injection schedule, I was only able to drive up early Saturday morning for the funeral and then came home that night. But I was glad Kurtis was able to spend some extra time with his family. His uncle had been in a wheelchair since he was a teenager after an accident. He far outlived his life expectancy and I'll always remember him for his sense of humor and sassy attitude! He'll be missed, but we know he's in a much happier, better place running free now!
I was home alone Friday and was able to shoot quite a few photos for my fall home tour. It's definitely still going to be an abbreviated one, but I'm thinking I should be able to post it on Thursday! I figured if I didn't get it in before Halloween, it might become pretty irrelevant 😉 The cats are so obsessed with the pool house that it was one of the first times ever that I didn't have to chase them out of 90% of my photos!
Henley is recovering well from her surgery two weeks ago. I mentioned last week she had another lump appear and she was on her way to the vet. Our vet asked if she could clean up the stitches and then give a steroid shot, in lieu of surgery again. I quickly agreed, and brought Henley home later that morning. It seemed to do the trick because the lump is gone and her incision looks amazing! We're so happy to have her healing so quickly now! She has also quickly claimed the sofa in the pool house as her own – and very much gave Kurtis a look when he came home Saturday night and tried to lay on it 😉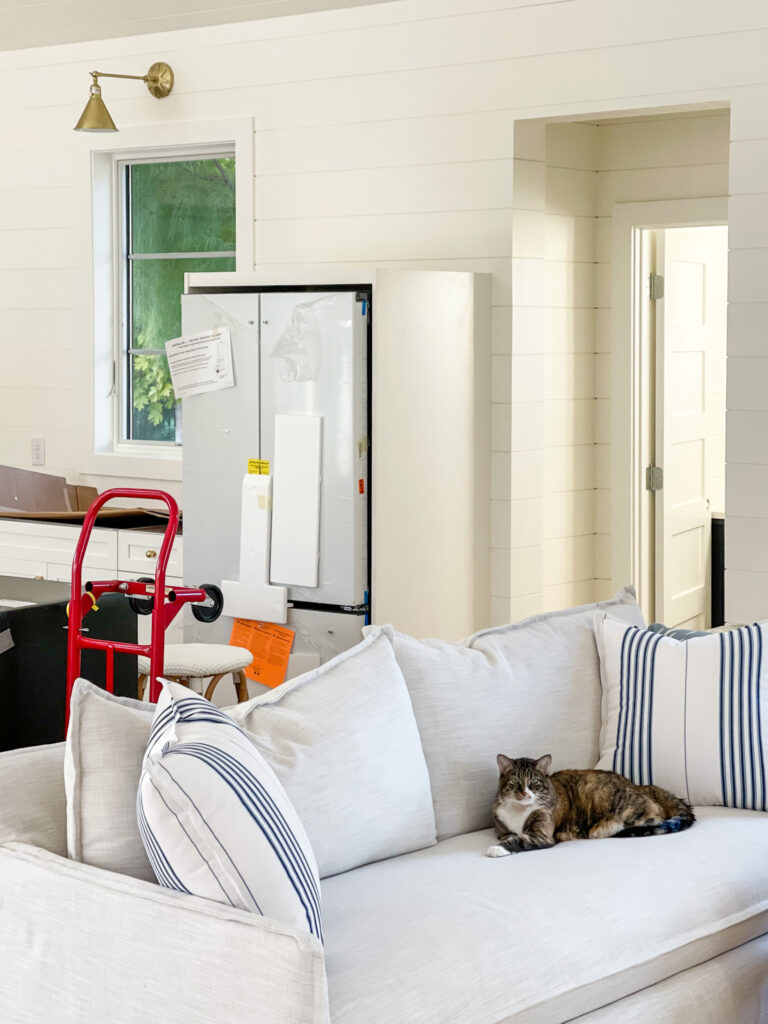 POOL HOUSE SOURCES: Sconce Light | Refrigerator | Sofa | Pillows
I mentioned I had to buy another floor cushion because these two both want to always sit on them. Hawkeye prefers when they do it together. But while Henley was on the couch Friday, these two parked on the cushion for a few hours and watched the birds outside. It was pretty dang cute!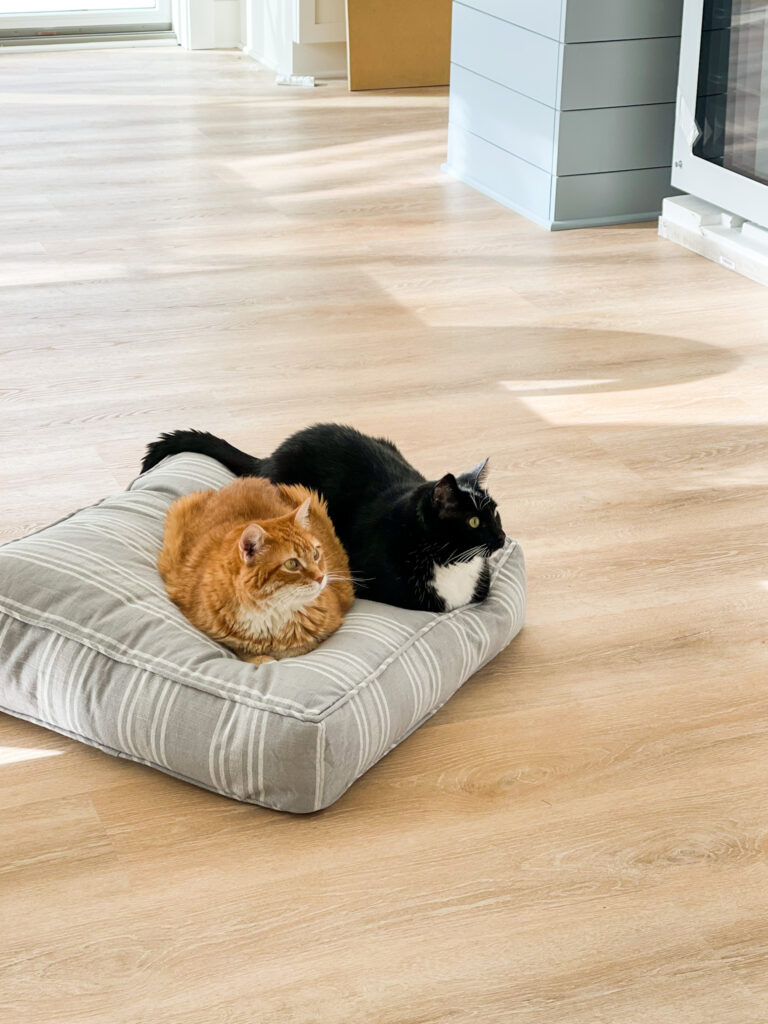 Hawkeye also now thinks he owns the pool deck. He used to be terrified if we ever brought him out past the old patio. Now he's a little too brave for his own good. And he'll sit at the doors in the evenings praying we'll at least open the door with the screens so he can smell outside. He's not going to be too happy as winter approaches!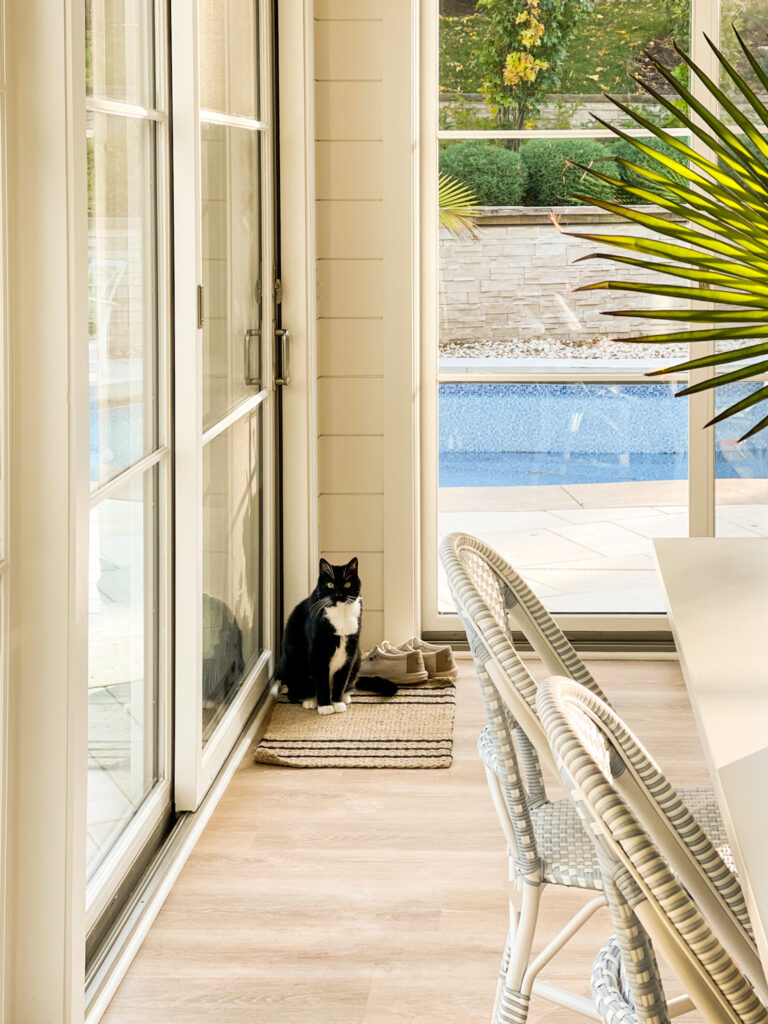 Our brother-in-law drove home from Iowa with us on Saturday afternoon, and offered to help move some of our pool furniture into the garage. The weather was turning quickly and it was a huge help to have him move furniture with Kurtis. I offered to pay him a million dollars for his services, but he preferred dinner at Lazlo's instead. Deal! He and Kurtis moved everything overhead in the garage yesterday. Now we just need to wait for a nice day to power wash all the cushions and get them dried out and stored for the season!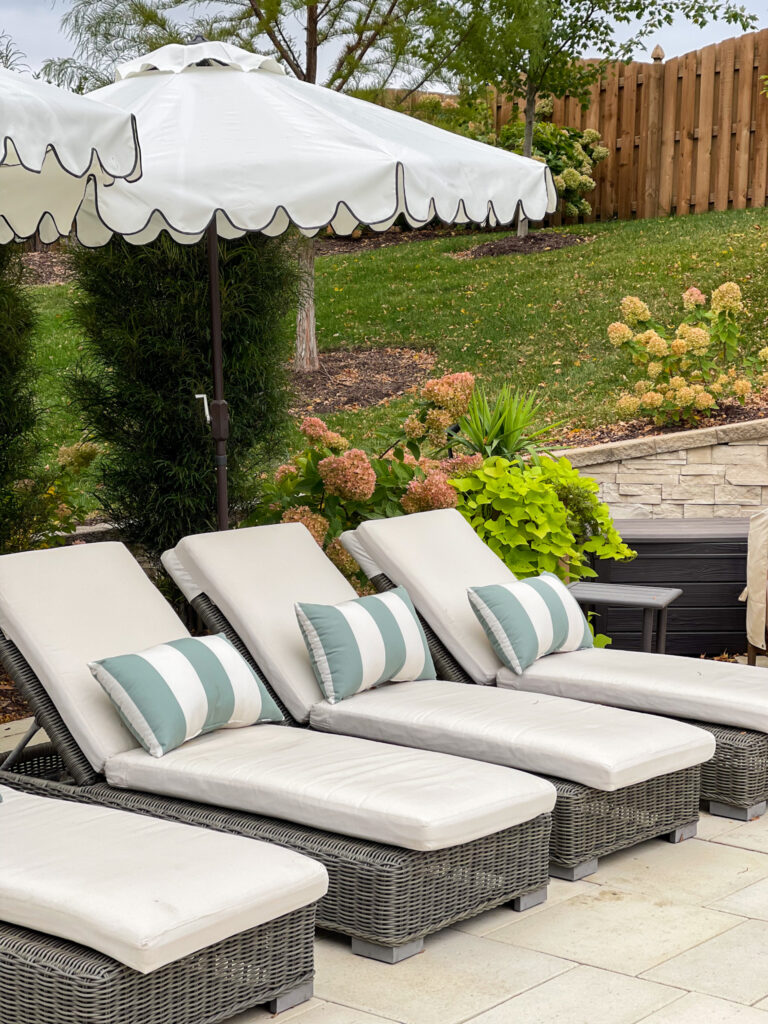 SOURCES: Chaise Lounge Chairs | Striped Pillows | Scalloped Umbrellas
Sunday was cold and rainy all day. The pool guys were a few days delayed so the pool didn't officially close until Saturday, despite Kurtis draining it Wednesday. It's nice not to have to worry about all the falling leaves, but I sure do miss looking out seeing blue water instead of a brown cover!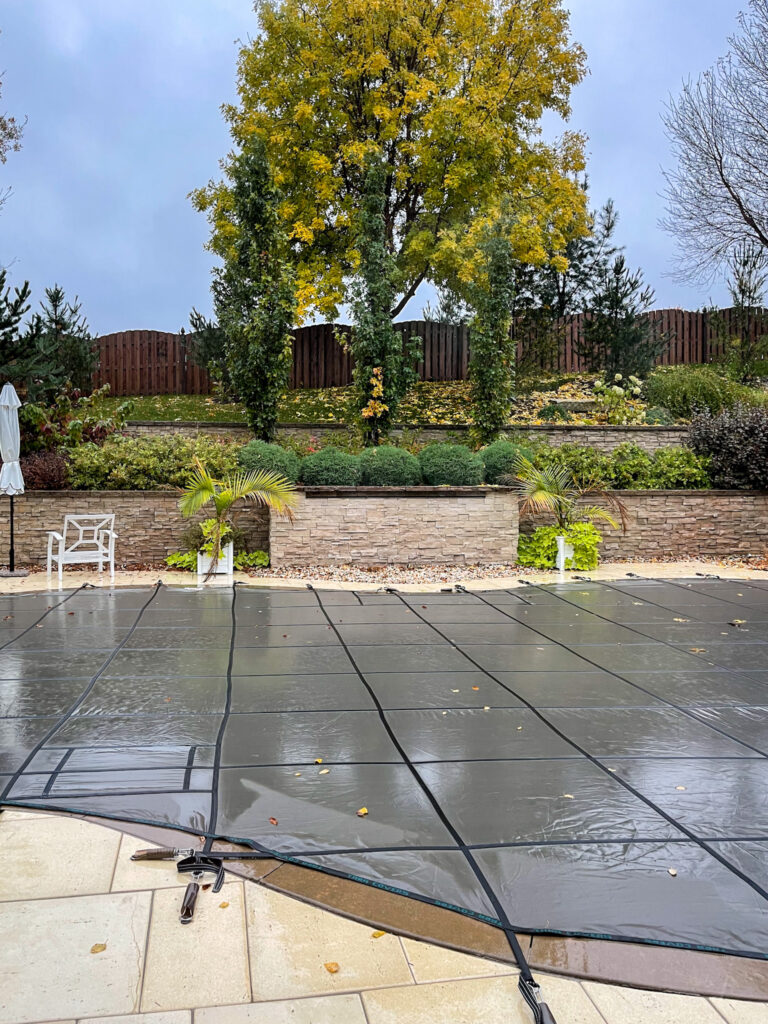 We have a very exciting week ahead of us for many reasons! And if all goes according to plan, I hope to share the pool house reveal by mid-November!
Recent Buys & Sales
Following are the sales from the weekend that are still going strong. You see my top picks here.
I hope you all have a great week!
If you would like to follow along on more of my home decor, DIY, lifestyle, travel and other posts, I'd love to have you follow me on any of the following:
Pinterest | Instagram | Facebook | LTK
disclosure: some affiliate links used