Sharing a collection of affordable washable runners and rugs that work well in high-traffic areas in your home!
This post is sponsored by Walmart and contains affiliate links for your shopping convenience. Read my full disclosure policy here.
Did you know Walmart Home has a huge collection of washable rugs? I don't think I realize just how important that feature was until all of our recent construction. Man, did some of my rugs get trashed! So when I heard about Walmart's new washable rug collection (many of which are exclusive), I was excited to give them a try! They're an excellent option when you don't want to spend a lot but want something pretty that can handle a lot of traffic and dirt! They are ideal for high-traffic areas and are incredibly pet and kid friendly. And, although I'm focusing on runners today, nearly all of these rugs come in a variety of colors and sizes. Most of them also ship for free!
I ordered this rug as a runner (in the gray/ivory/blue color) for our mud room. I'm showing it in our kitchen, mostly because our mud room isn't as pretty to photograph 😉 But the dimensions are perfect for our narrow mud room (most runners are too long and it covers our floor vent). Since the room is the main entrance for us personally, our rugs tend to take a beating in there. I love that we'll be able to wash this one – and also help stop any outdoor allergens from hanging around too long!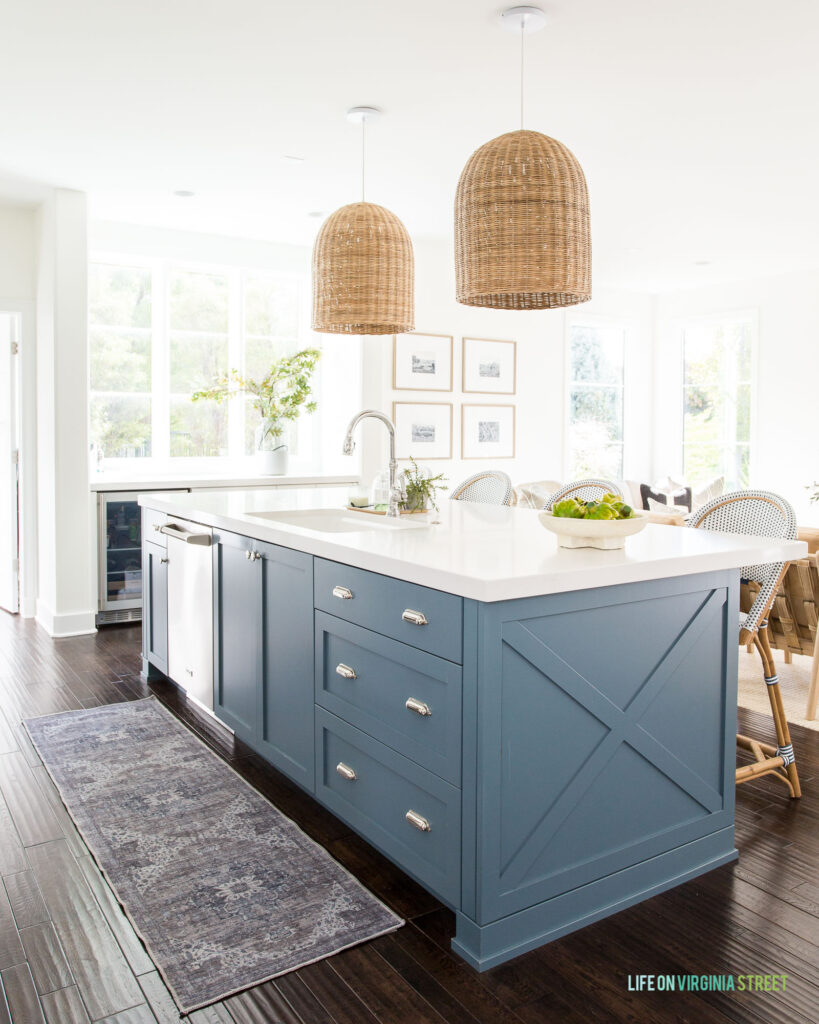 I think these washable rugs would also be a great option for our pool house in the summer months! Washing them is an absolute breeze. You can throw them in your washing machine (the soft/thin/flexible material makes it easy) and you can then air dry or throw them in your dryer! Here's a closer look at the texture and details. The vintage style patterns that many of the rugs were designed with help hide crumbs and other spots until you can throw them in the wash the next time!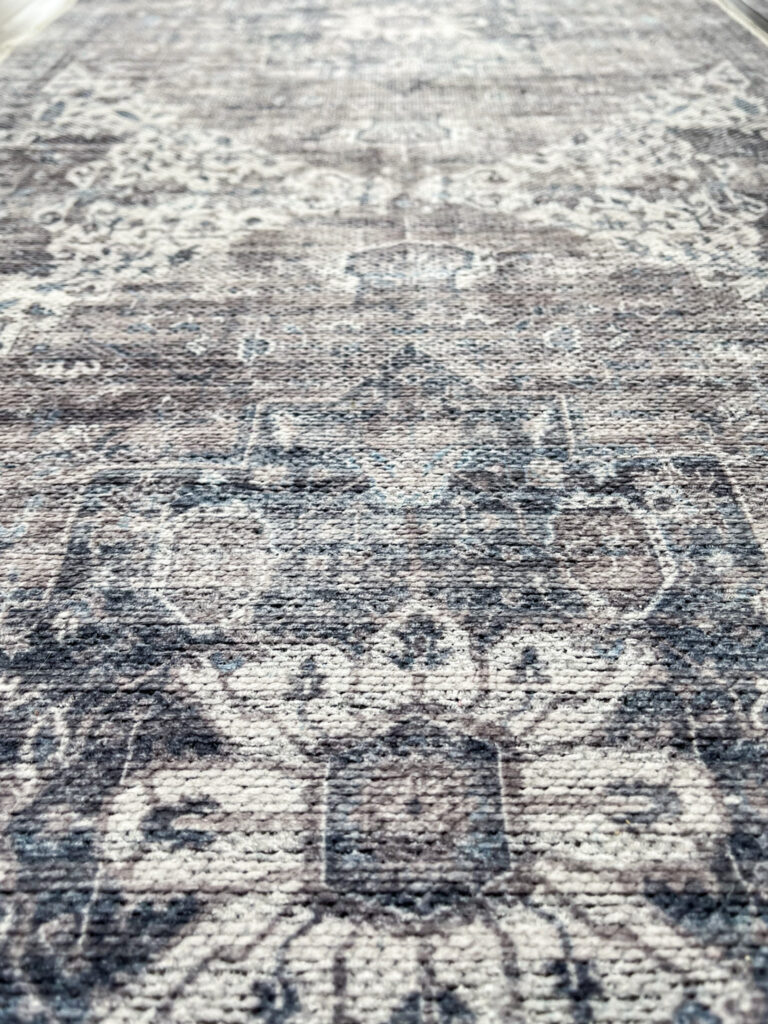 Ours is super soft underfoot, but if you prefer a bit of a cushion under your rugs, I'd recommend a rug pad with this one. Ours is for our mud room, so is purely functional and doesn't require a pad since we're typically just passing through. But if I had it in our kitchen, I would prefer a pad for comfort since these rugs are on the thin side to accommodate washing. I love using rug tape when a pad isn't required to help prevent the rug from sliding on slick surfaces like hardwood and tile!
Following are even more washable rugs from Walmart that I think would be both functional and beautiful! Almost all of them come in a variety of sizes, shapes and colors! You can see their full collection here. All sources for the rugs shown below are under the graphic.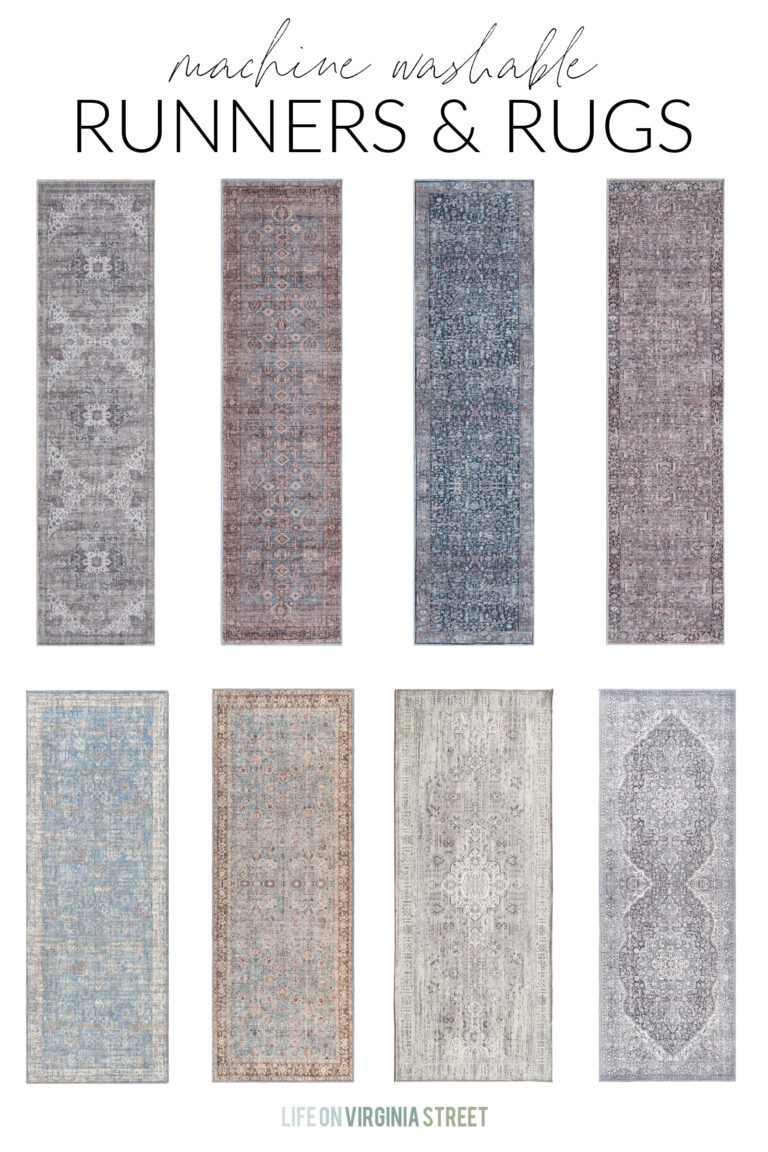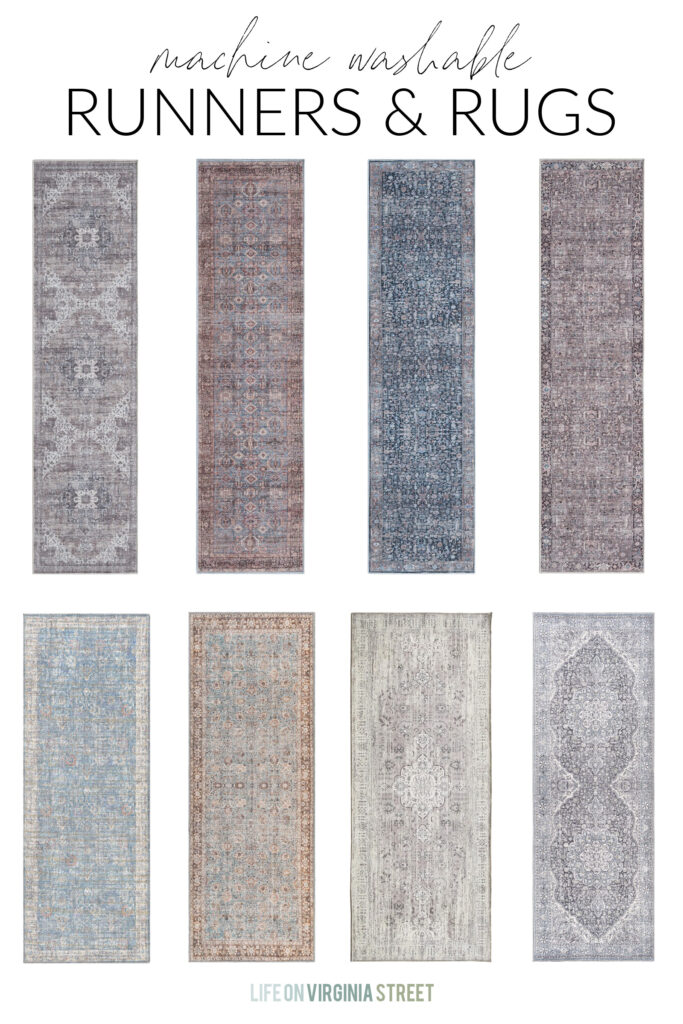 WASHABLE RUNNER SOURCES ROW 1: Rug 1 | Rug 2 | Rug 3 | Rug 4
WASHABLE RUNNER SOURCES ROW 2: Rug 5 | Rug 6 | Rug 7 | Rug 8
Following are even more washable runners and rugs. Click on any of the images below to learn more about each of the rugs shown.

If you would like to follow along on more of my home decor, DIY, lifestyle, travel and other posts, I'd love to have you follow me on any of the following:
Pinterest | Instagram | Facebook | LTK
disclosure: some affiliate links used