Good morning! I hope you all had a nice, relaxing weekend! Here's a bit of what we've been up to around here over the past week.
This post contains affiliate links for your shopping convenience. Click here to read my full disclosure policy.
Home Projects & Updates
Monday morning I decided to hit up Lowe's for some plant shopping. I typically head straight to the back where they have their "damaged" flowers. I was able to score a bunch that were marked down 60-75% off. Most had very little wrong with them and really just needed some water or dead-heading. I'm actually going to pot the hanging baskets too. It's worth checking at your own store because there are usually some good deals in the back!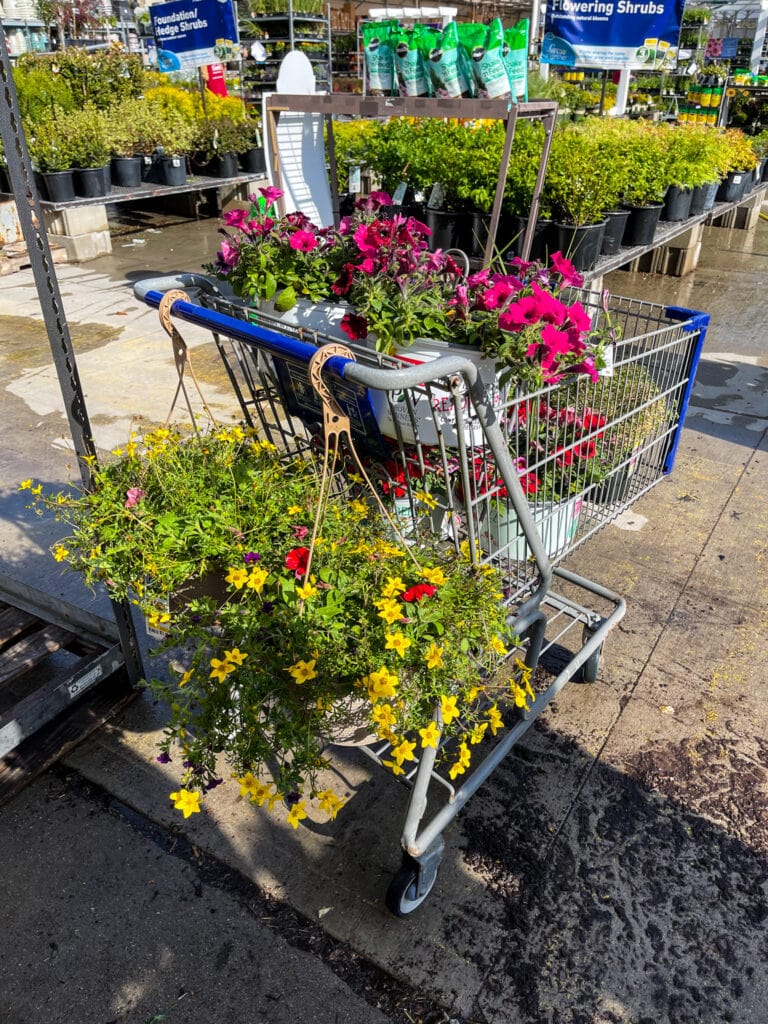 I love seeing the pops of color showing up around our yard now that I'm starting to get a bunch planted! I'm still on the hunt for a few topiaries or center pieces so I can finish the remainder of my planters. But these little chippendale planters looked so cute with one of those ReadyRefill planters from Lowe's!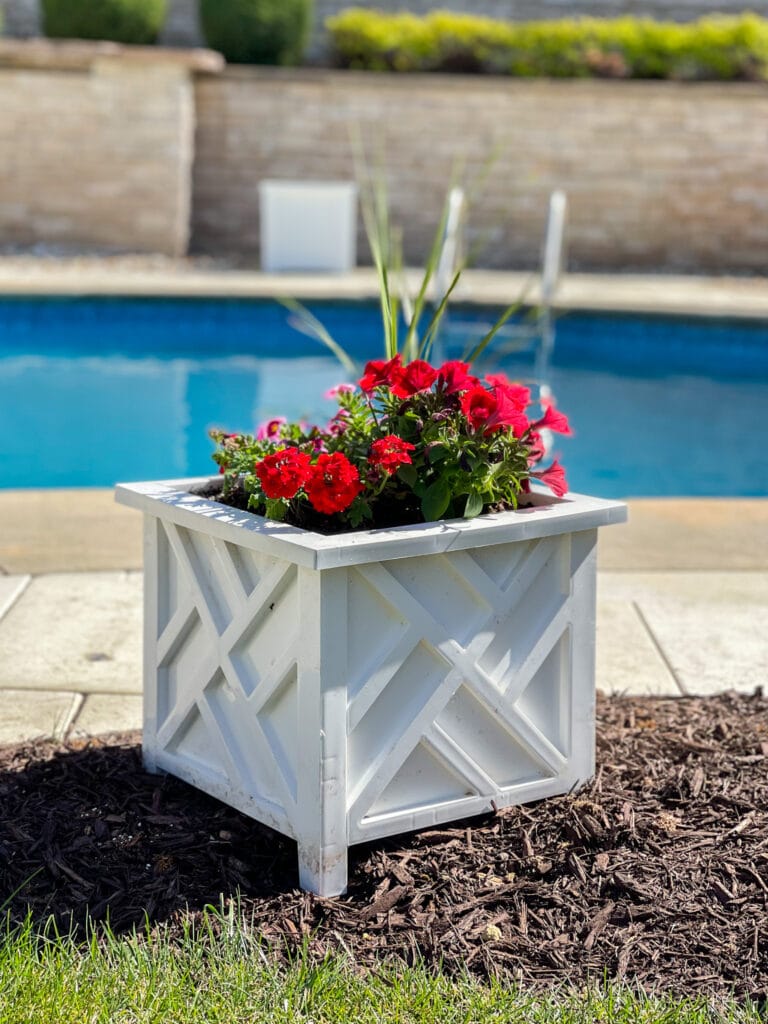 I set up our new scallop umbrellas this past week too! I love them so much. Kurtis says he doesn't like all the "fringe". He ended up liking them after some use though because they're much sturdier than our previous ones, and they're actually a larger in diameter, too. They come in four color options if you like the look but are nervous about the white. I'm hoping it holds up okay!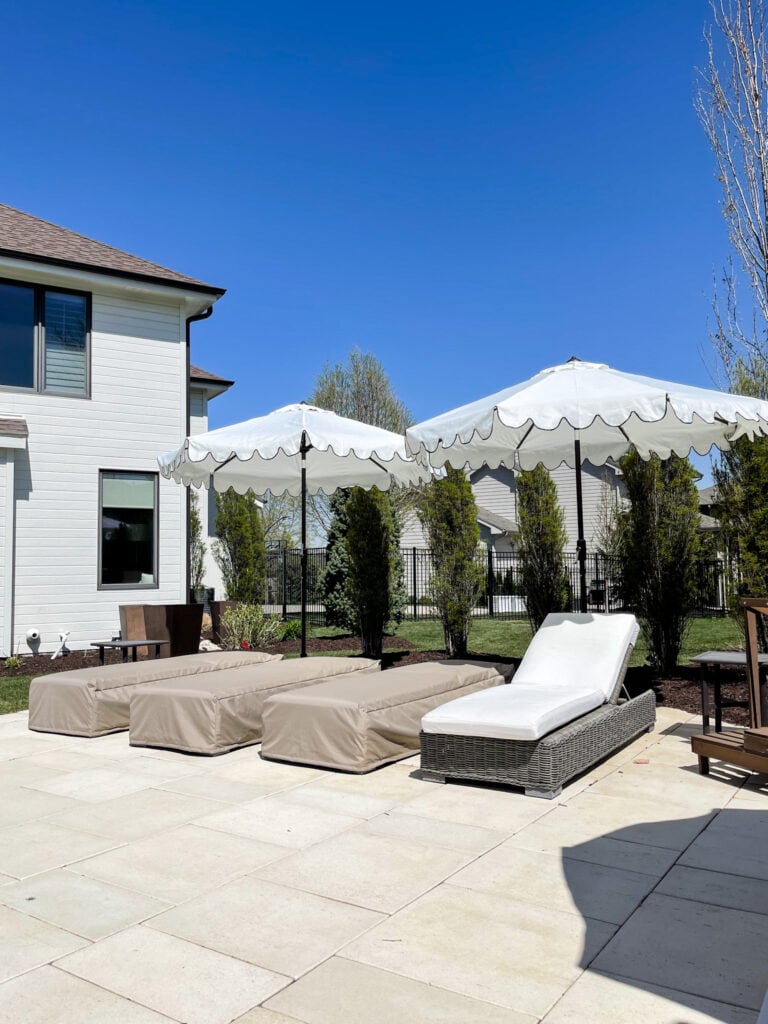 Later in the week, I got some planting done up on the hill. I wanted to wait on this area because our sprinklers don't get turned on until today and I didn't have water up here otherwise. So, I had kept most of these items I bought last weekend down in the lower yard to so I could keep them watered!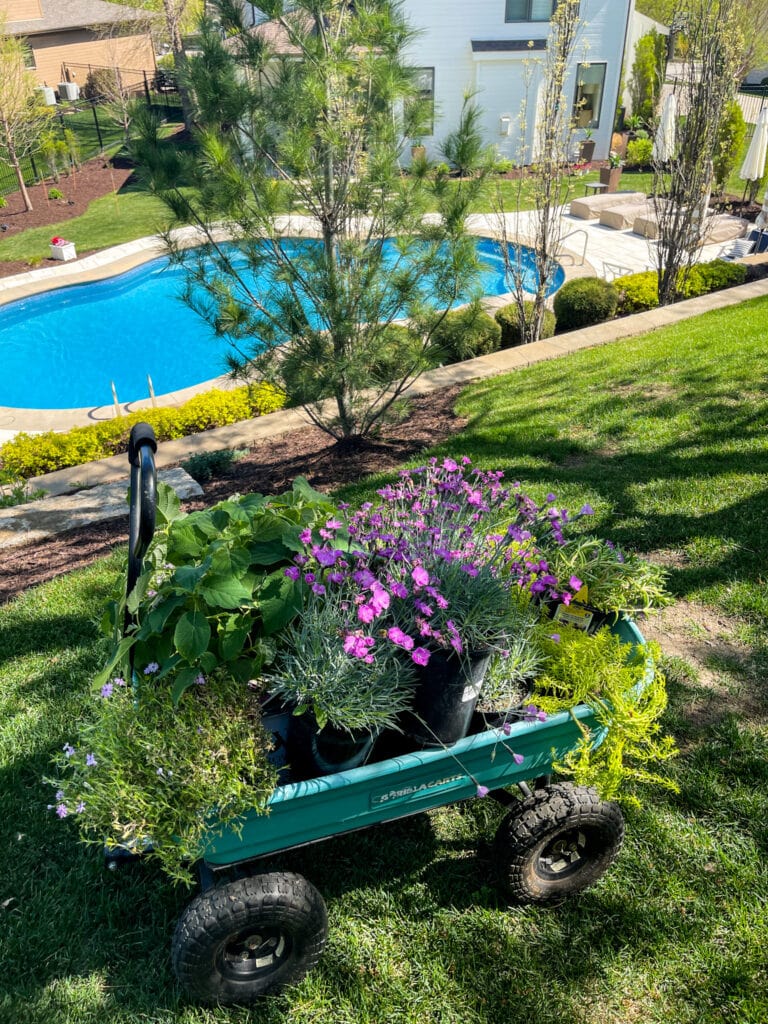 So much grass and grown into most of my other plantings up here, so the plants were pulled when our mulch was refreshed this spring. We had them extend the bed this year so that was less likely to happen again in the future. It took me a few hours to get everything planted, but I love how it looks now! Now we just have to hope the bunnies don't see it as a buffet 😉
I added that second set of solar lights to our backyard (mostly to illuminate the wall) and love how it looks!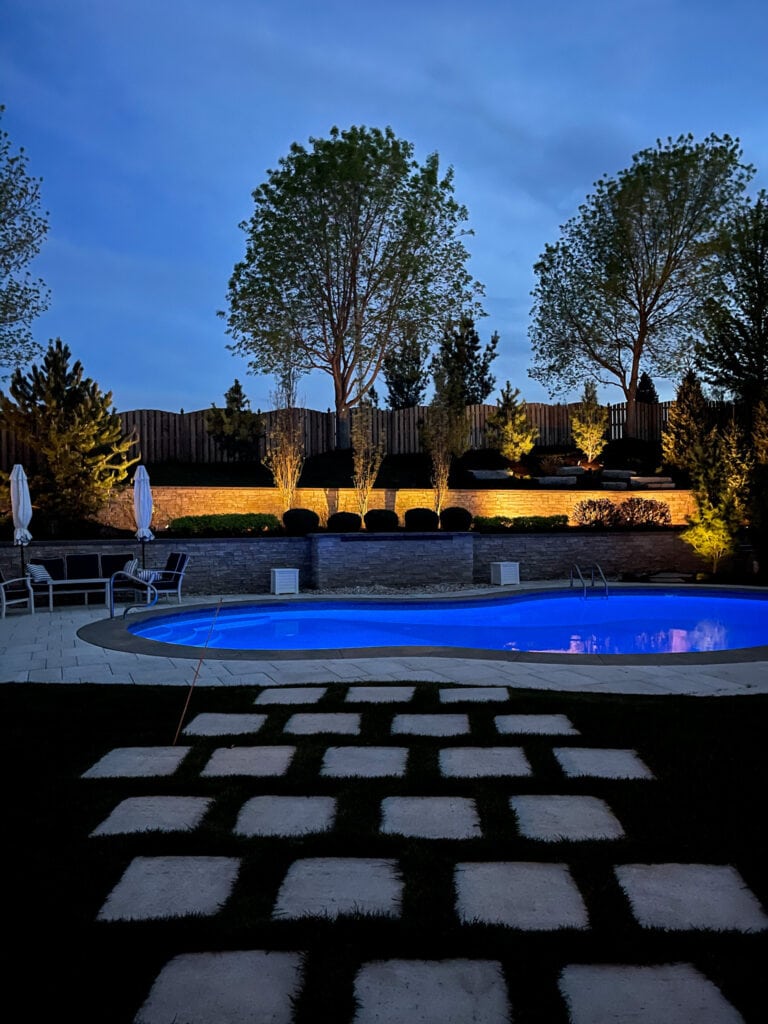 Hoping to find the final pieces for my planters this week so I can get them all wrapped up for the season!
Top Sellers Of The Week
Following are the top sellers of the past week across all of my channels. Links to each item are below the graphic.
Around Town & For Fun
I mentioned last week that Kurtis took Monday off work so we could try and have a pool day. The weather was beautiful, but our pool still wasn't swimmable so we just sat outside and enjoyed the heat! I made our first pool charcuterie plate with some random items we had leftover. But it's definitely starting to feel like summer again!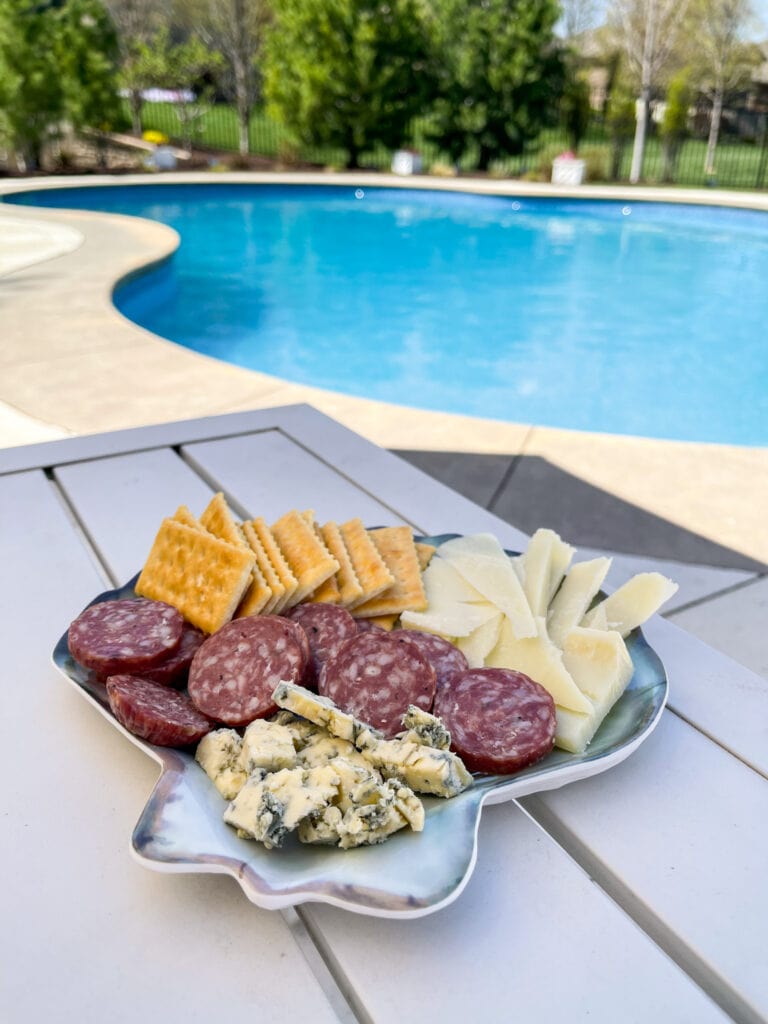 In healthier news, Kurtis and I realized over Easter weekend that if we have fresh veggies in our fridge already prepared, we'll eat them. So since then, we've been trying to buy a bunch early in the week, get them all cut/chopped, and keep them on this chip and dip tray. It's actually worked out pretty well! For the dip, we're just using Greek yogurt with some powdered Hidden Valley Ranch to fake like we're getting ranch dressing 😉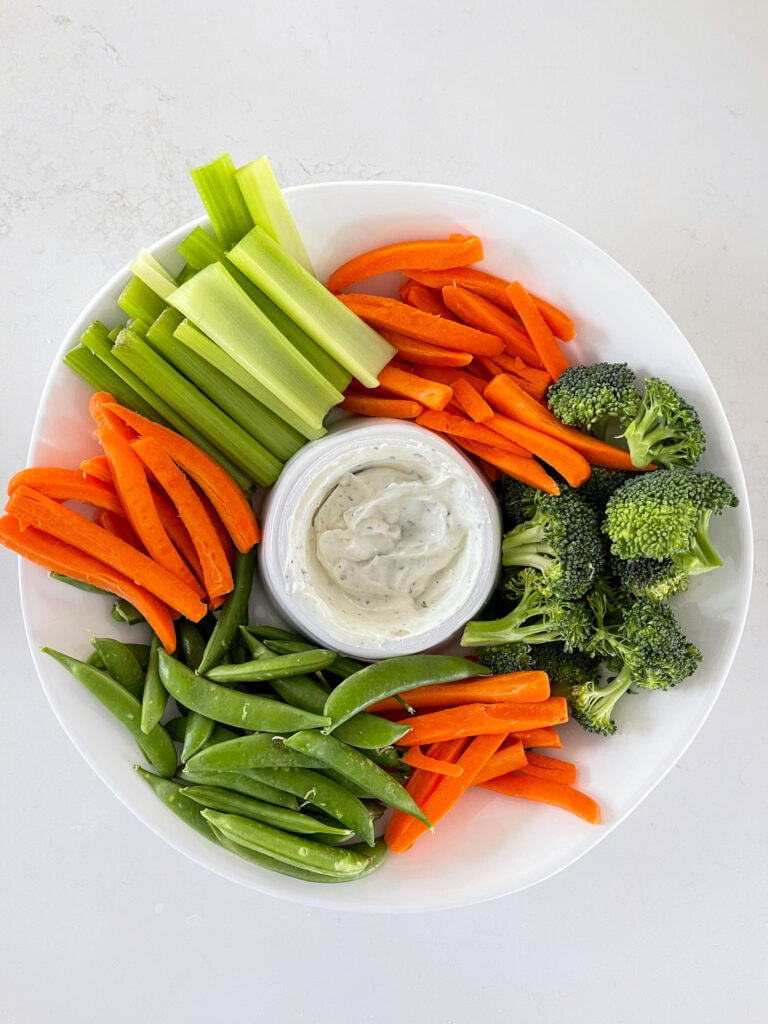 Not sure if I mentioned this already, but we officially ordered some new windows. We'll have to do them in stages due to the cost. But now that the weather is warming up, the really bad ones are starting to look like the one below. You literally can't see out of them in some areas and the exterior weather-stripping has fallen off almost all of them. They will only continue to get worse as the temps increase. So bad! We're glad we finally decided to move forward after seeing this show up again.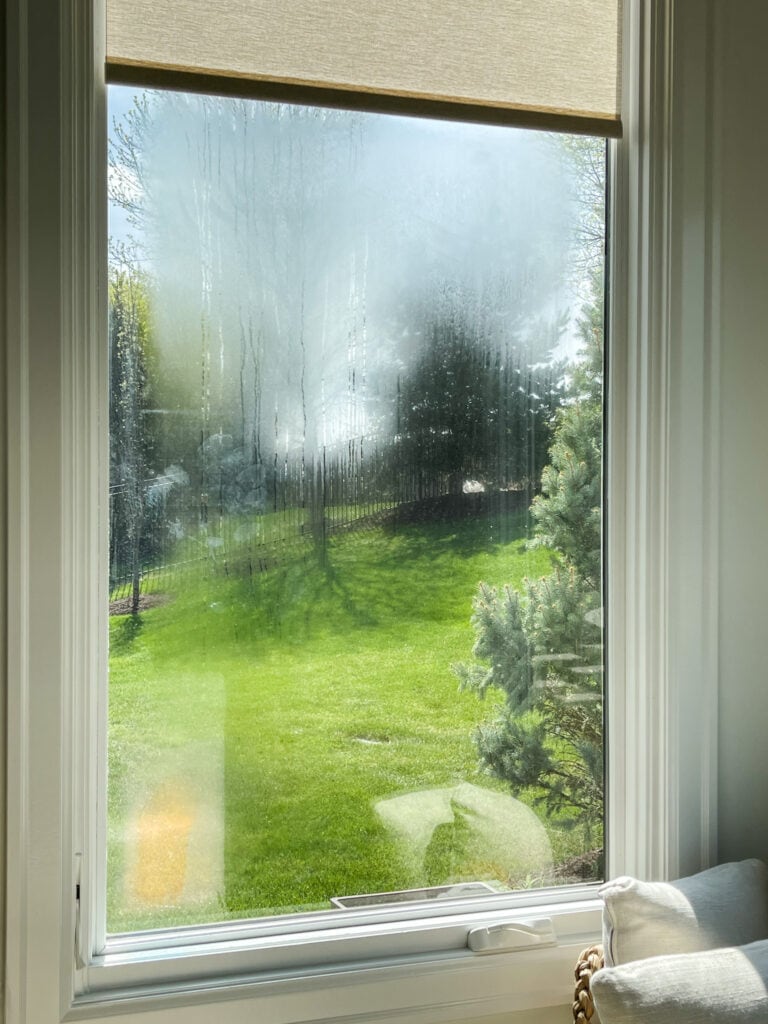 I've had a cute little cardinal couple visiting me this past week. You can see the top of the female's head popping out behind the chair the male is on. They dance around the courtyard, sit on the string lights, and basically drive the cats insane!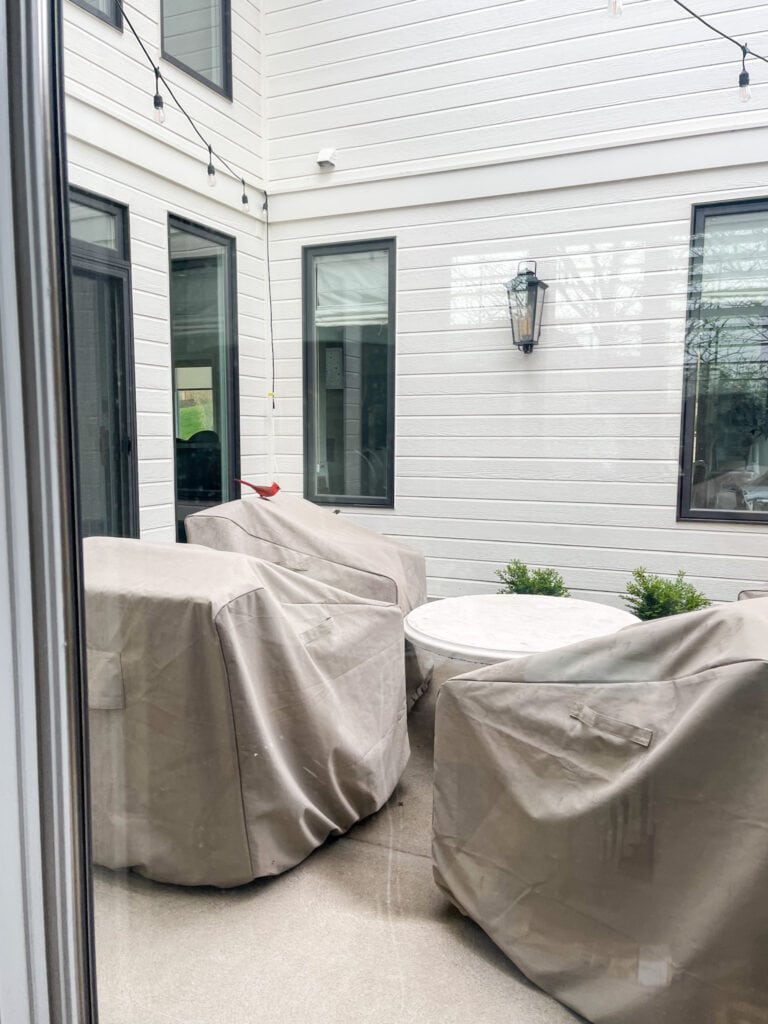 We popped down to see our goddaughters one night after dinner. Z takes her playdoh very seriously and had to give me instructions along the way for what colors I could use and which animals I could create 😉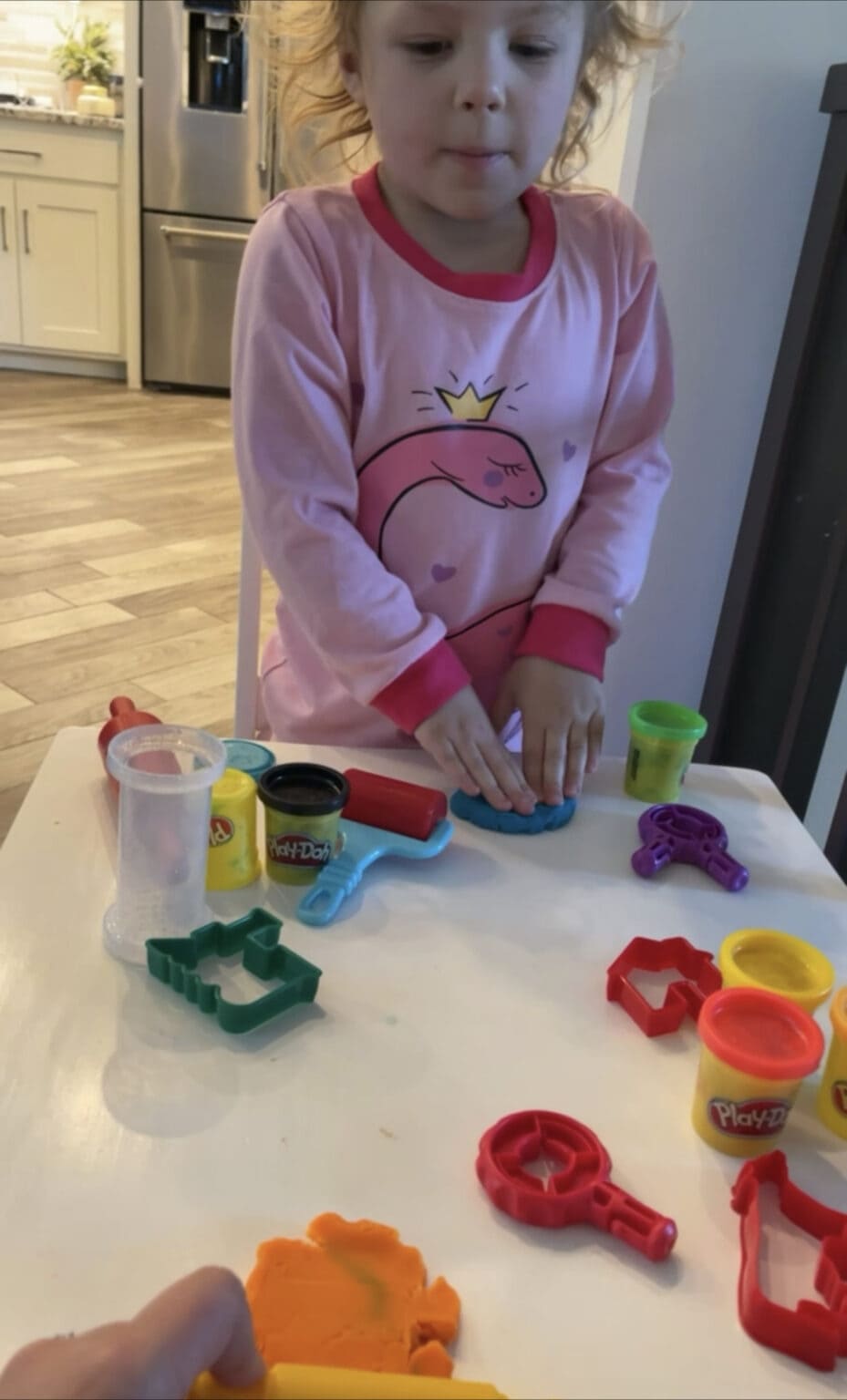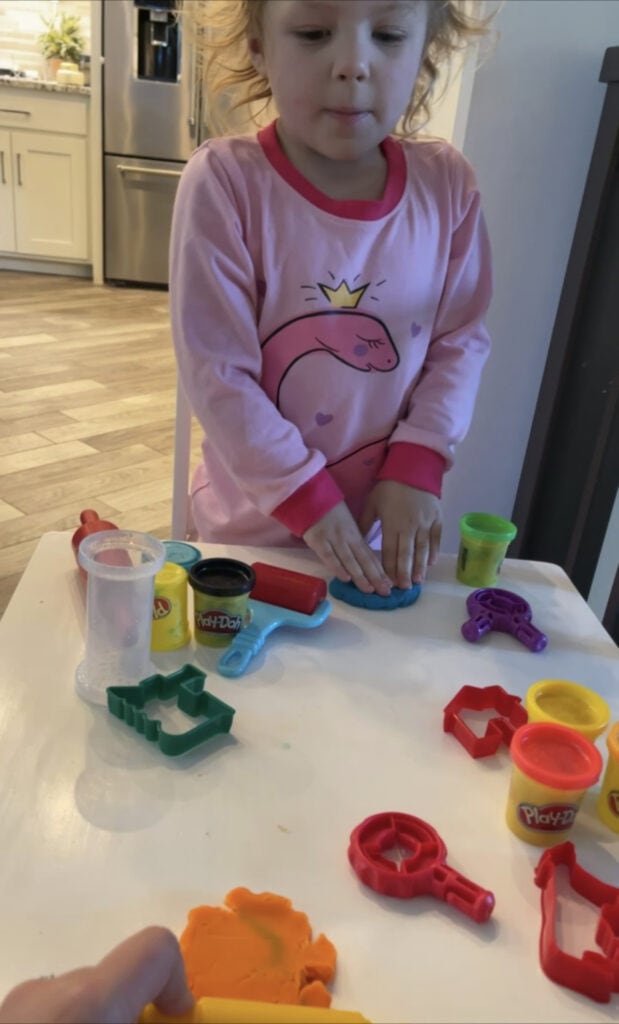 Friday night, Kurtis said he wanted to send the end of his "birth month" out in style. After work he hopped in the pool for about an hour and then we headed to Shucks for some oysters.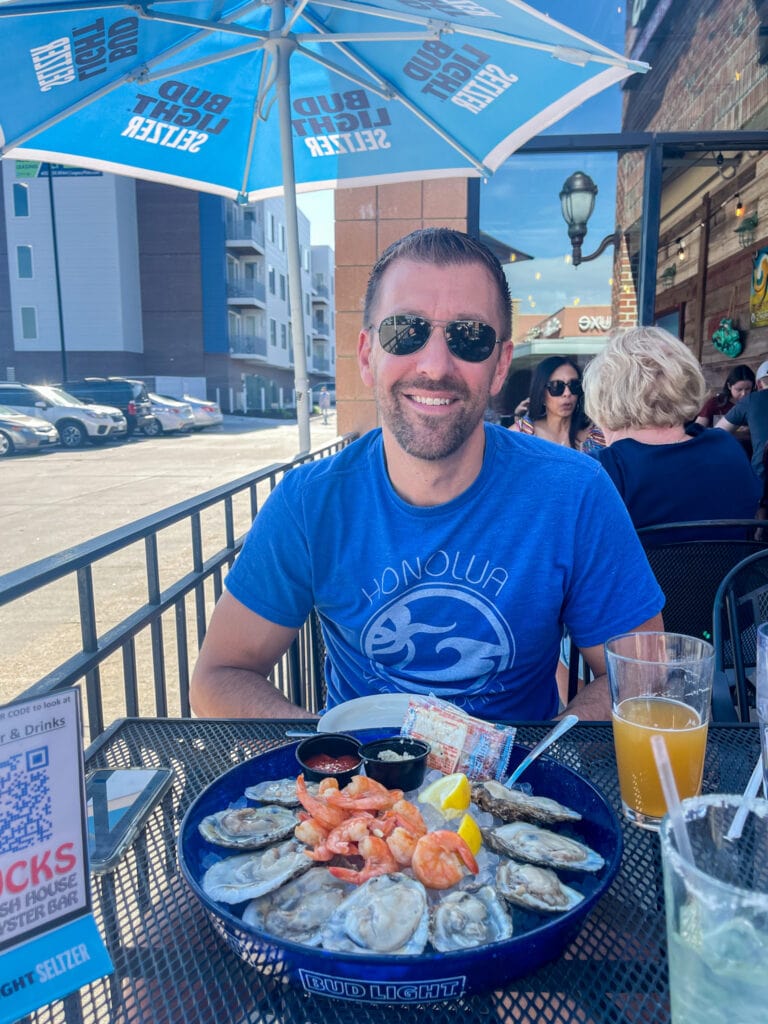 We sat on the patio and listed to music for a few hours afterwards and the cats were in absolute heaven!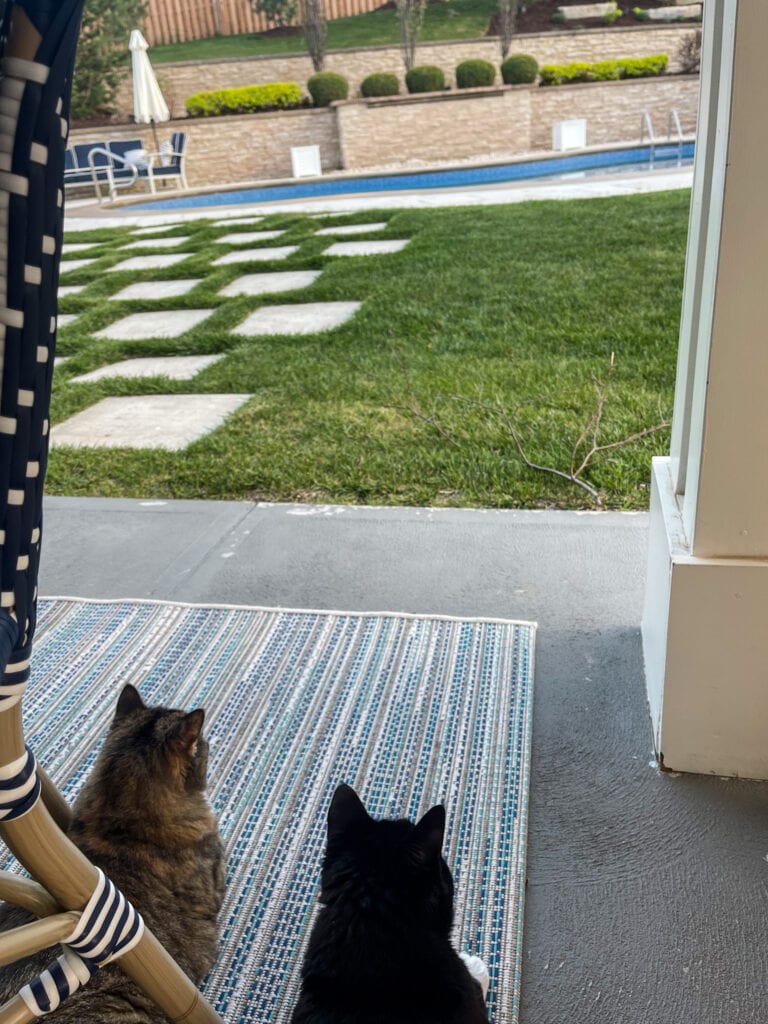 These two are getting a little too brave for their own good though!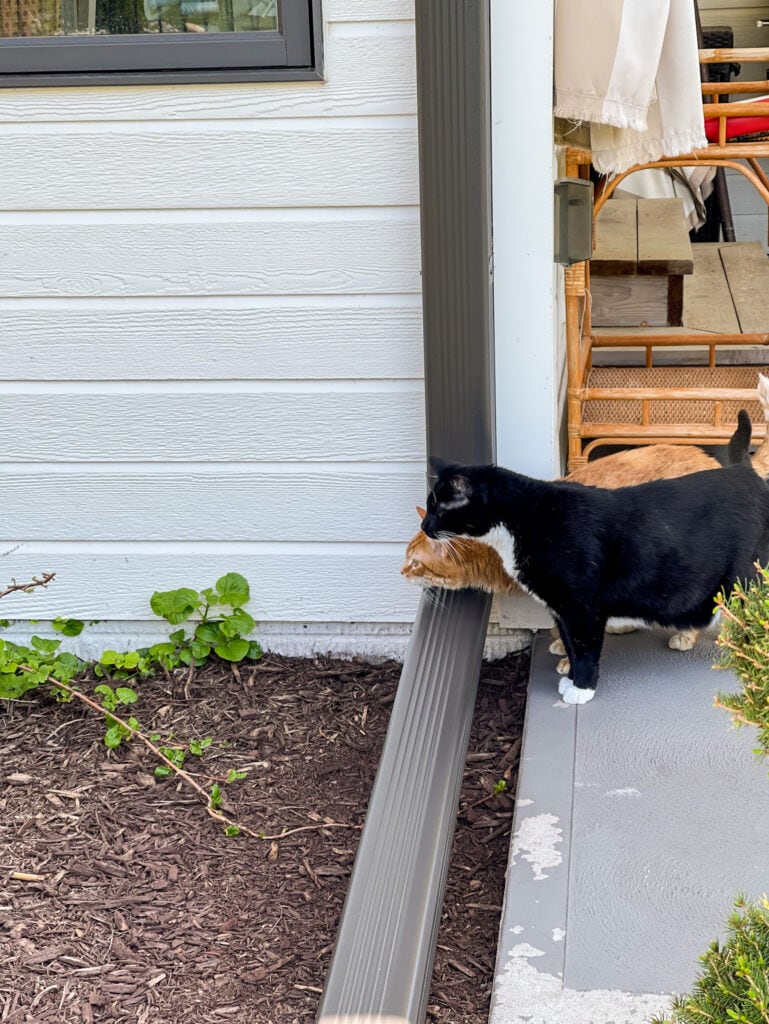 We also had a meeting to look at some ideas for our next big project! I'm really not trying to be cryptic or anything by not sharing. I just wanted to get the bathroom and garage reveals posted before digging into the next project. We've also encountered some major delays so I've been holding off on sharing until we get some answers and some final green lights. But here's a little preview of some ideas we were playing around with. I'm hoping to share all the details next week! Stay tuned – it's going to be a fun one!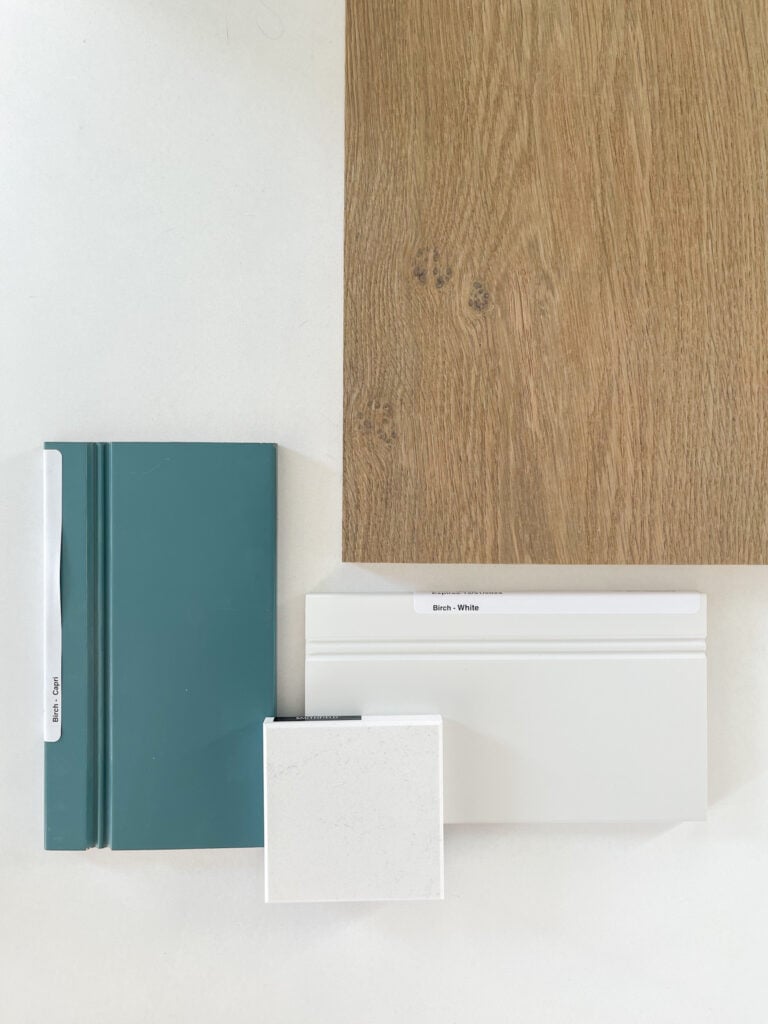 My sister-in-law are hosting a bridal shower in Iowa next weekend for our niece. So we got together for dinner Saturday night to work out some of the final details. She and I are looking forward to the event on Saturday! The guys are going to stay home and get together to golf one day. With Bailey needing her insulin twice daily and them being our backups, it make it tough for us to all leave at the same time. But it should end up being a fun weekend for all of us!
Recent Buys & Sales
Following are the sales from the weekend that are still going strong.
I hope you all have a great week!
If you would like to follow along on more of my home decor, DIY, lifestyle, travel and other posts, I'd love to have you follow me on any of the following:
Pinterest | Instagram | Facebook | Twitter
disclosure: some affiliate links used