I hope you all had a great weekend! It rained most of the day here yesterday, but neither of us really cared. It gave us a chance to read and help make up for 7.5″ rain deficit this year! We both said multiple times that it felt like a winter weekend because it was so dark and dreary (even though it was definitely not winter temps outside).
This post contains affiliate links for your shopping convenience. Click here to read my full disclosure policy.
Home Projects & Updates
I've been working on my next interior design looks for less post and I decided to order a few things to see what they were like in person. I've always thought these paint-dipped teak ladders were cute from Serena & Lily. They're great for displaying and storing throws, extra bedding for guests, bath towels, etc. So, I was really excited to find this look for less option! The price of the white has spiked since I bought it (and shared on Instagram), but it's still so much more affordable. It's a bit smaller than the S&L versions and a little more rustic, but it's actually perfect for what I was looking for! It also comes in a mint green and black dipped option!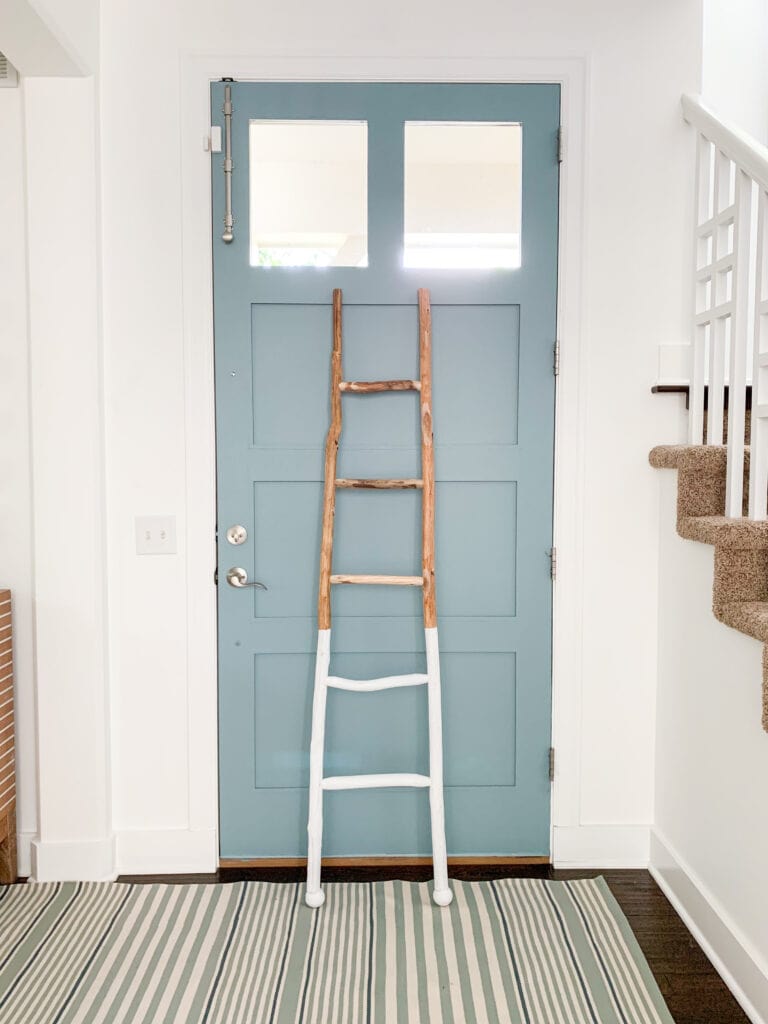 I also ordered several other items I need to open and go through. Lots of fun post ideas coming up, but I'm wanting to inspect the quality on everything first before sharing!
In garden news, my Limelight hydrangeas are starting to explode around the yard! Queue my giant smile every time I go outside.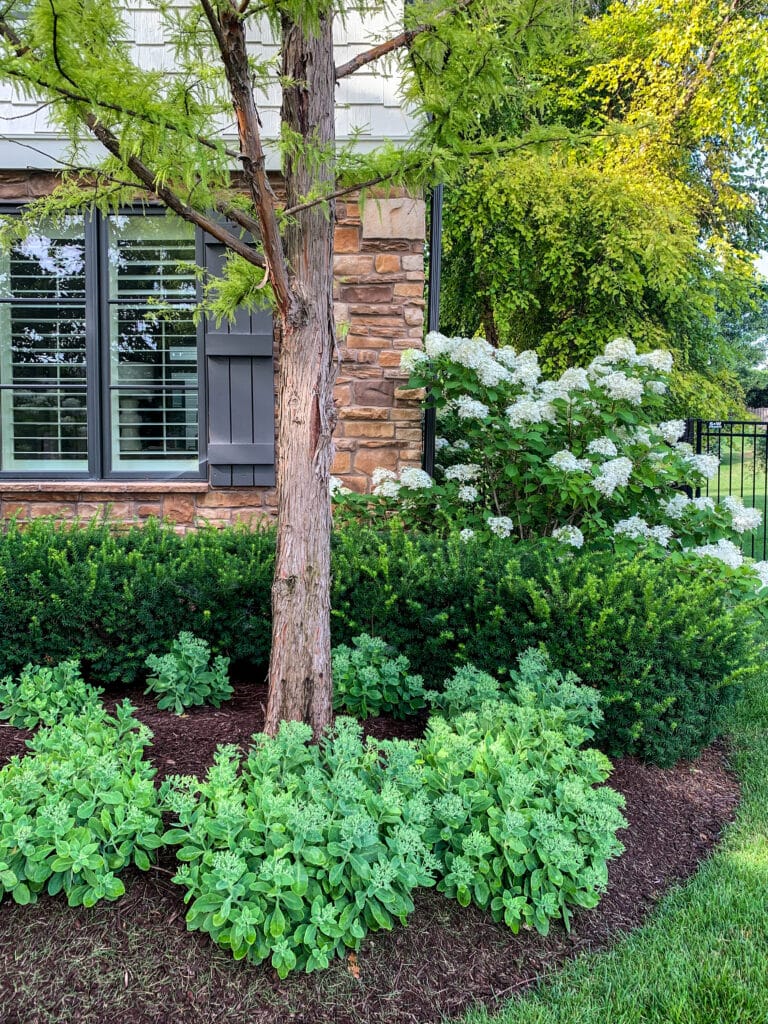 I keep saying "this week" with be the week that I get caught up on projects around the house. And it keeps not being true. So I'm not even going to jinx it this week!
Top Sellers Of The Week
Following are the top sellers of the week across all of my channels. Links to each item are below the graphic.
Around Town & For Fun
The biggest news of the week? Kurtis and I celebrated our 15th wedding anniversary! And although we didn't spend it how we initially had planned, we had a really fun night together. Prior to dinner I said we needed to get a quick photo. We're basically the world's worst selfie takers, but I made us pose in front of our wedding photo in our upstairs gallery wall. Here's the link to my top I wore. I'm also wearing this gloss (in All Things Magical) from my Summer Beauty Favorites post.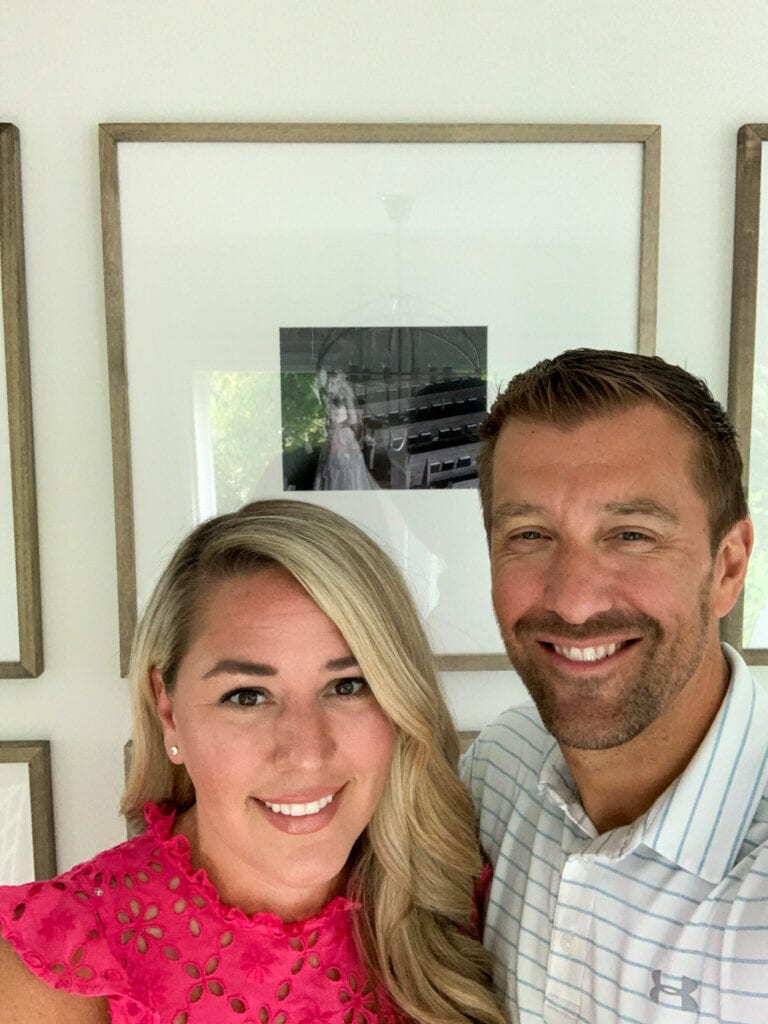 We went to Dante for dinner and had the patio to ourselves for most of the night. We pretended we were in Italy with their yummy drinks and food. The waiter surprised us at the end of our meal and said my parents had called ahead and already paid our bill. Such a fun surprise – and now we've decided we just need to go back there again soon!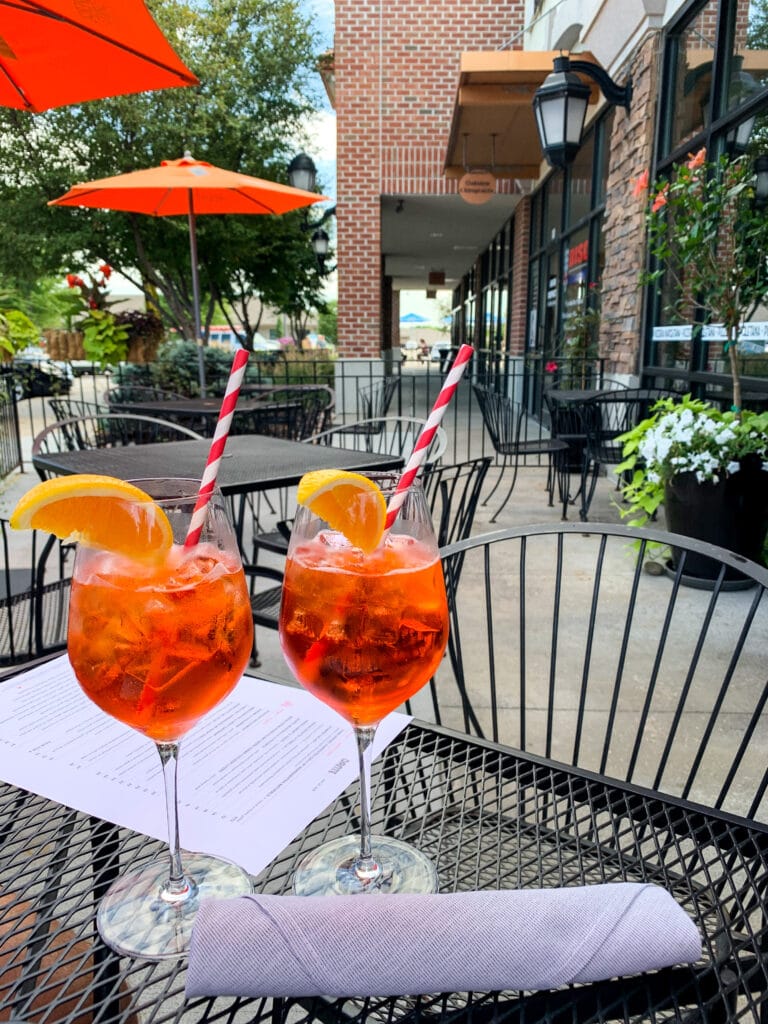 Kurtis and I bought this port wine on a trip to Sonoma/Napa for his 30th birthday. The bottle has lived in all three of our homes and we were saving it for a special occasion. Unfortunately, over the past 12 years since we got it, we'd always forget about it. This year, we firmly decided we were drinking it – especially since it was from the year we were married! The cork had completely dried out and essentially exploded, but we strained it, and still drank it. Surprisingly it was still really good!
The past 15 years have flown by but I'm so happy Kurtis is the one I have been able to spend them with!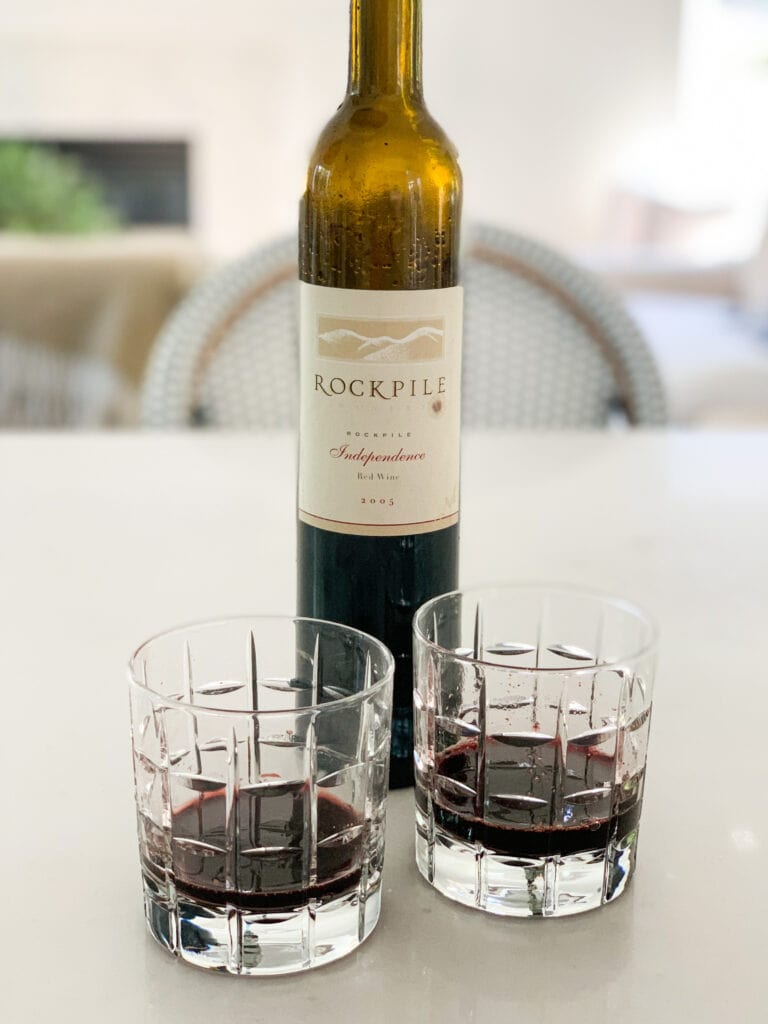 If you missed it, I shared all the details on our outdoor courtyard refresh on Friday. It truly has become one of our favorite new spots! We sat out here for a few hours on Monday night and the cats couldn't have been happier!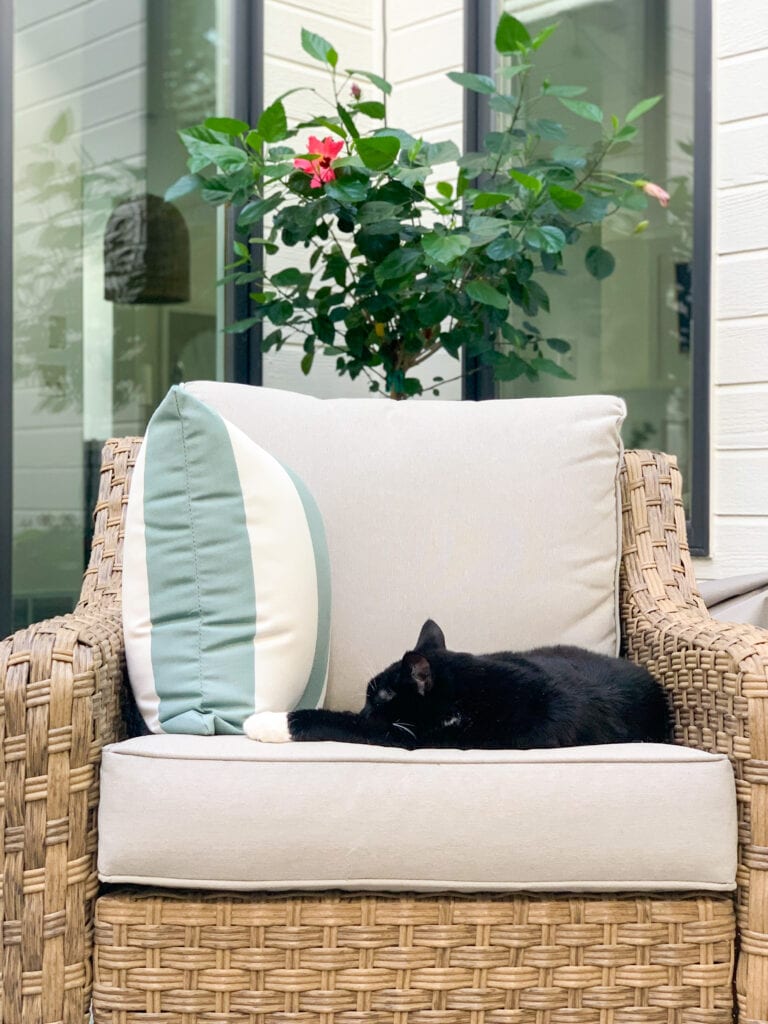 Kurtis made this little blanket bed for the cats last week in our office and Hawkeye thinks it's the best spot in the house. Probably mostly because he's my little shadow and is in the same room with me almost at all times 😉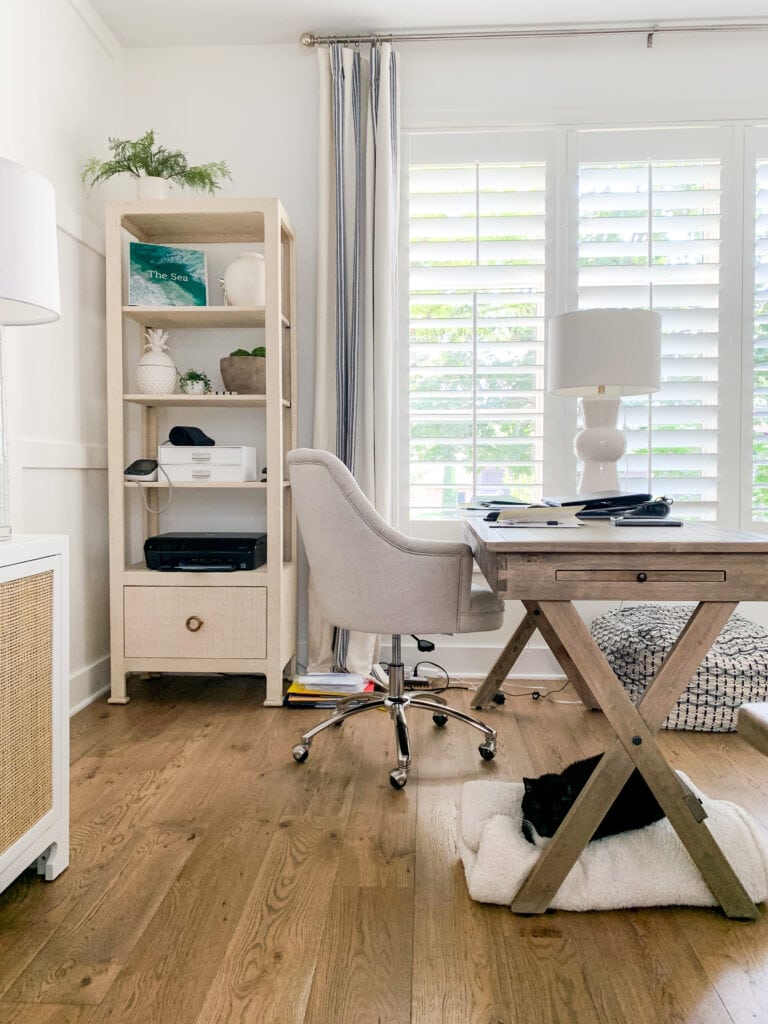 OFFICE SOURCES: Cane Cabinet | Raffia Bookcase | Potted Faux Fern | Desk Chair | Wood Desk | Similar Lamps | Striped Drapes | Similar Pouf | Blanket
We finally got out to the pool Saturday afternoon. The heat index was in triple digits again, but now that my Little Lime hydrangeas are blooming, the view from my lounge chair was pretty great!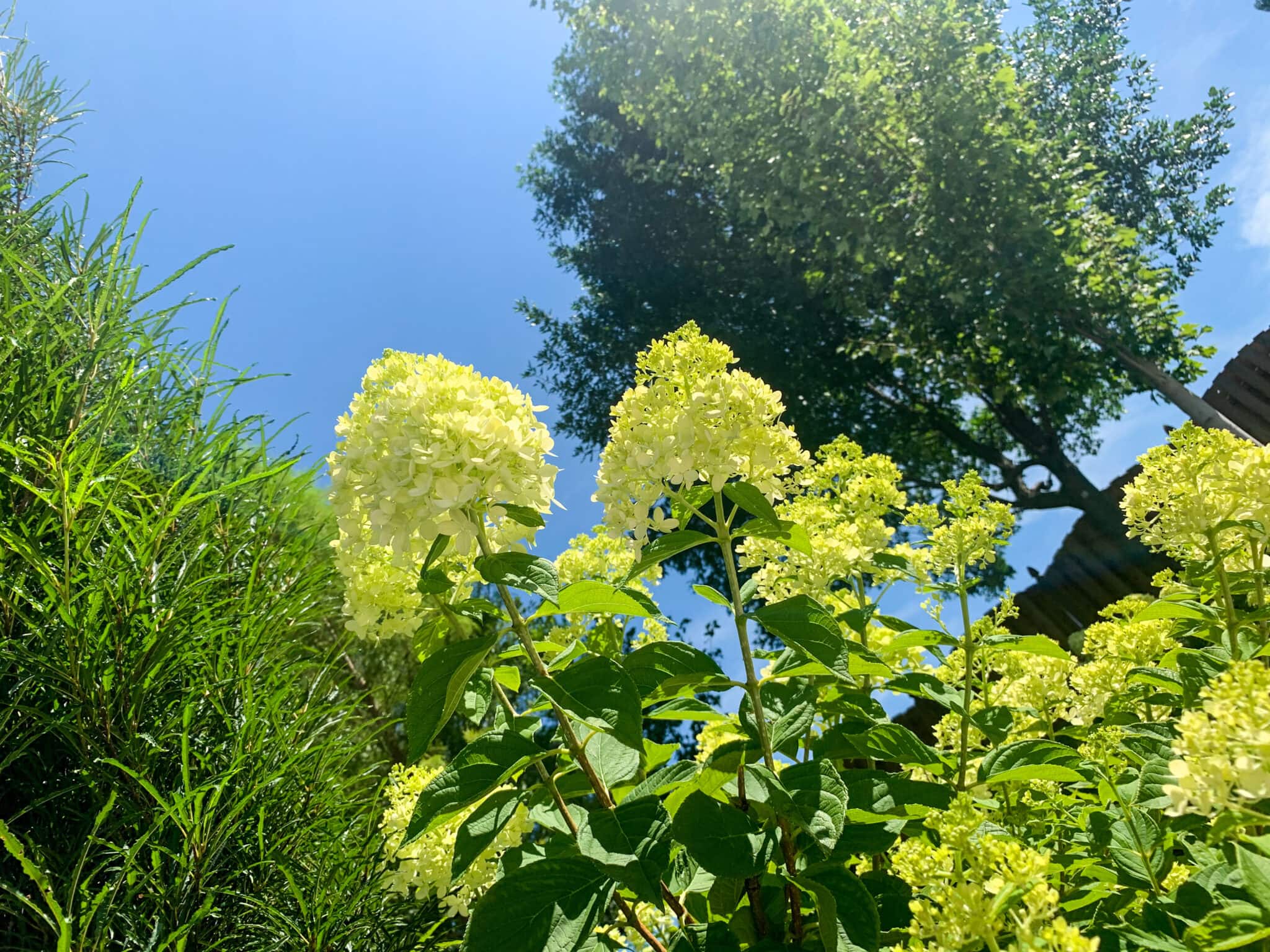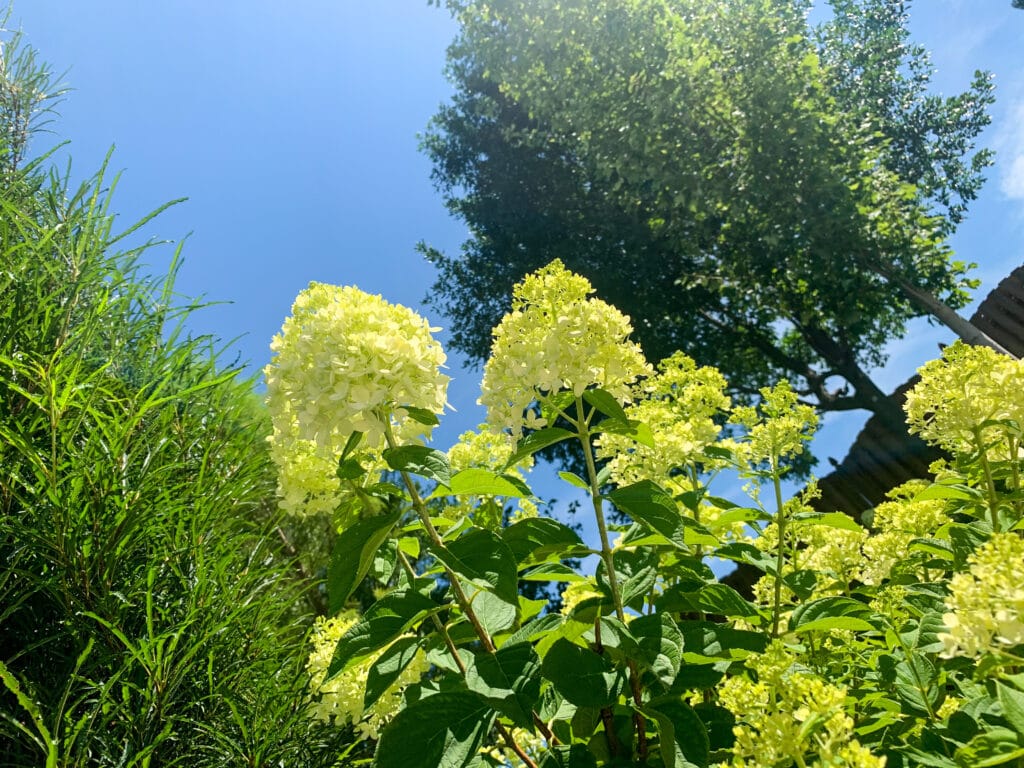 I mentioned last weekend wanting to try this spicy cucumber salsa. I made it last week and it was so good! When I read the recipe to Kurtis he was pretty sure he wouldn't like it. But he loved it too. In fact, we both loved it so much we already bought more ingredients again to make it this week! The only alterations I made to the recipe was to use only one jalapeño and then I added some garlic salt.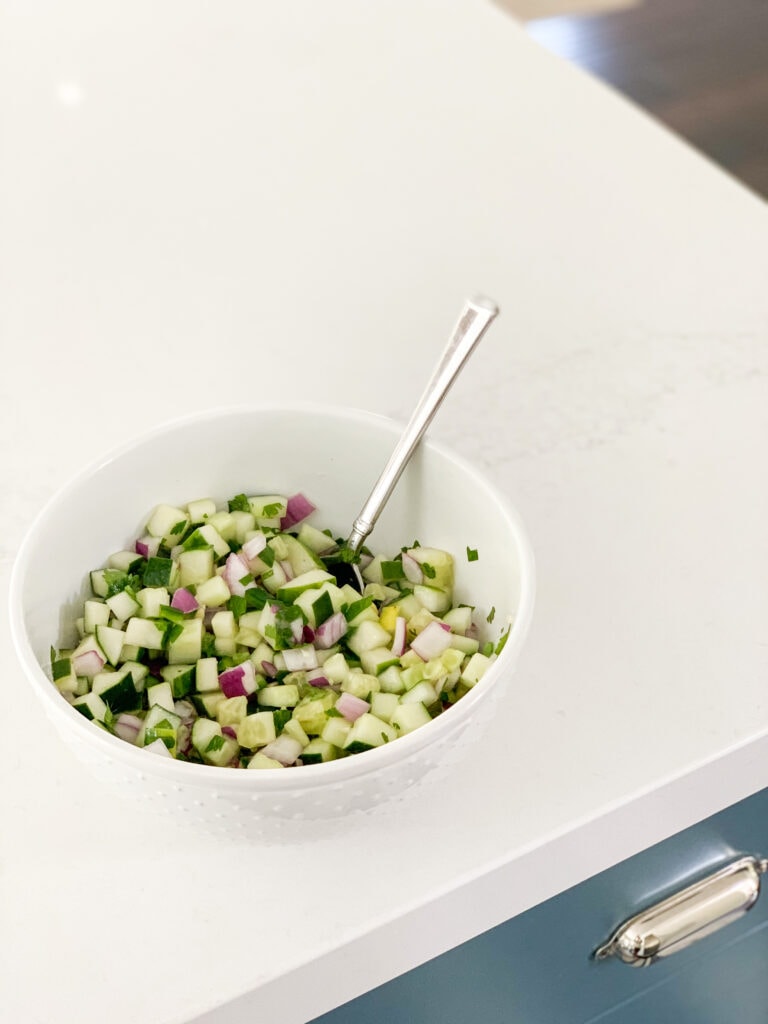 Speaking of food, we had a quintessential summer dinner on Saturday night at the BFF's house. Garden fresh sweet corn and BLTs. It was all so good!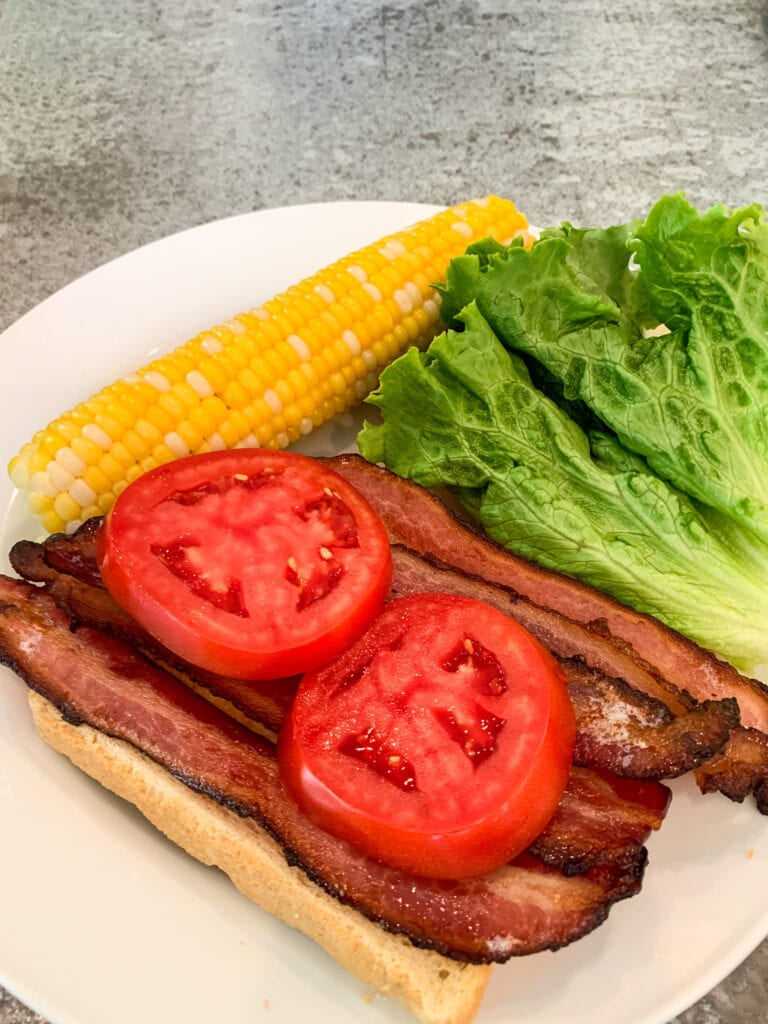 Little Z got her first ear of corn, and it's safe to say she loved it. Every time she took a bit, she'd look around the table at all of us and smile and do a little half giggle. It was pretty adorable!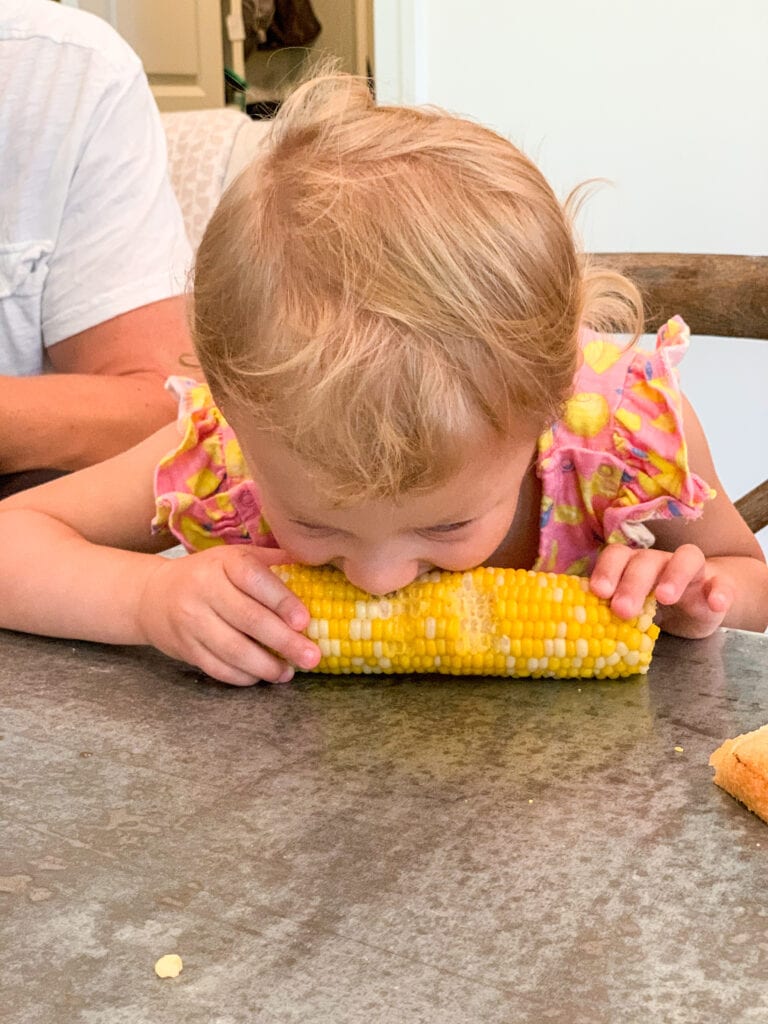 I had about an hour's worth of drive time last week to visit a project and downloaded the surprise new Taylor Swift album for the drive. It's very song-writer-y folksy filled with slower music and I really love it! I've been streaming it on my AirPods since and a lot of it memorized already. Oops! But, if Taylor can write an entire album in quarantine, I can probably find a way to work out or eat healthy for a month and find a way to study Italian an hour or two a week 😉
I realized I'm only about six weeks out from my 40th birthday! And I'm totally blaming bored eating during quarantine (not my lack of willpower) on my weight gain 😉 I asked Kurtis this week if he'd do this workout with me again for the next month or so. We've had great luck with it in the past and I figured the timing was perfect to at least see a little progress before my birthday! We'll see how it goes -we're starting this morning. I just really love food and not working out way too much!
Recent Buys & Sales
Following are some sales that have carried over from the weekend, as well a a few new additions. You can see some of my top picks here.
I hope you all have a great week!
If you would like to follow along on more of my home decor, DIY, lifestyle, travel and other posts, I'd love to have you follow me on any of the following:
Pinterest | Instagram | Facebook | Twitter
disclosure: some affiliate links used