Sharing a collection of summer beauty favorites for face, eyes, hair, lips, and more! Also includes a few simple at-home luxuries I've been loving lately.
This post is sponsored by Nordstrom and ShopStyle and contains affiliate links for your shopping convenience. As always, all thoughts and opinions are my own. Click here to read my full disclosure policy.
Last fall, I shared my fall/winter beauty favorites and today, I wanted to circle back to that topic. I'll be sharing some of my summer beauty favorites, as well as a few at-home luxury picks now that we're all spending so much more time at home. I'll also be quickly sharing details on this year's Nordstrom Anniversary Sale at the end of this post!
So, let's jump into all my summer beauty favorites! I'm going to break them down into categories and explain why I love each product so much. I think you'll quickly see I don't have loyalty to just one brand. When I find a product I love, I don't really care what brand it is! Which is why the Nordstrom beauty department is where I always turn for refills and new products. Their selection is so expansive and it all ships free!
SUMMER LIP COLORS
Regardless of what I'm sharing on Instagram Stories, I get multiple messages asking for lip colors on a regular basis. So, I thought I'd do a comparison of all my favorites here! From light glosses to lipstick, these are my favorite picks (and many have been for years).
First though, I want to give another shout out to my all-time favorite lip liner. I used the color "Pillowtalk" and it works pretty universally with most of the lip colors I use!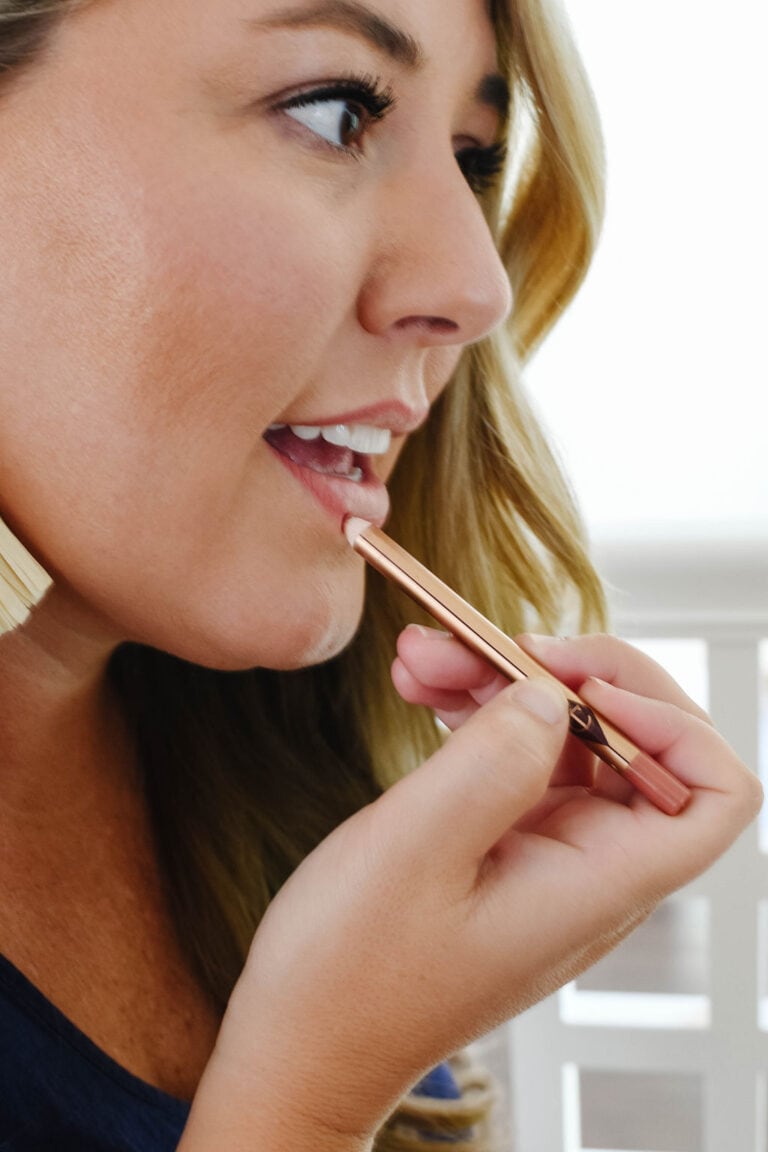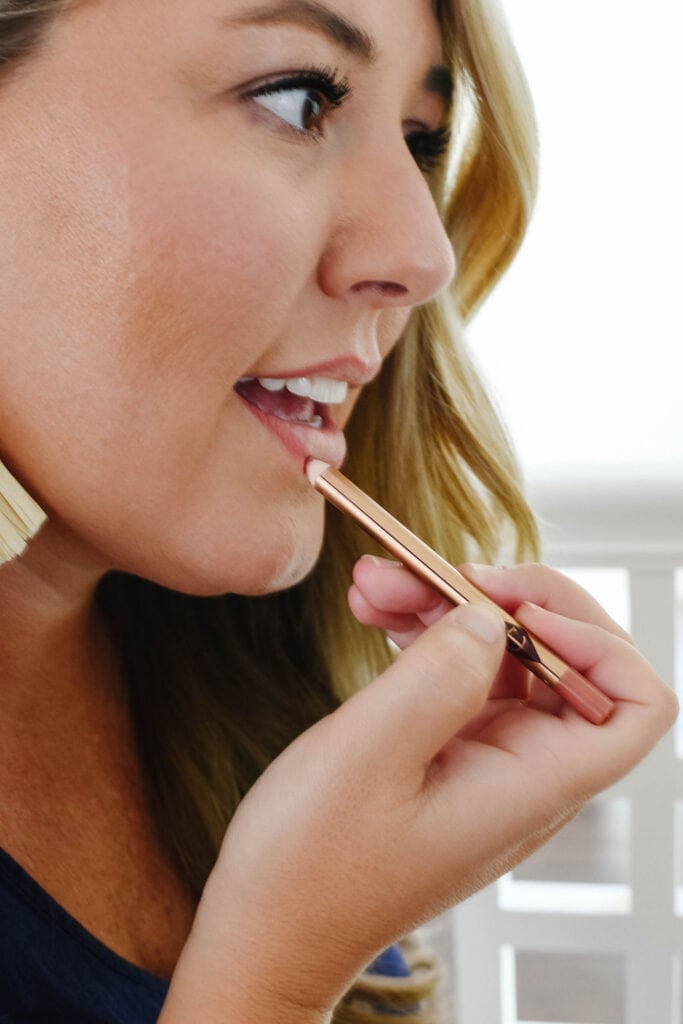 And to make it easy to see the differences in colors side-by-side, here they are all in a grid. Awkward lip-closed-smile and double chin in full effect! 😉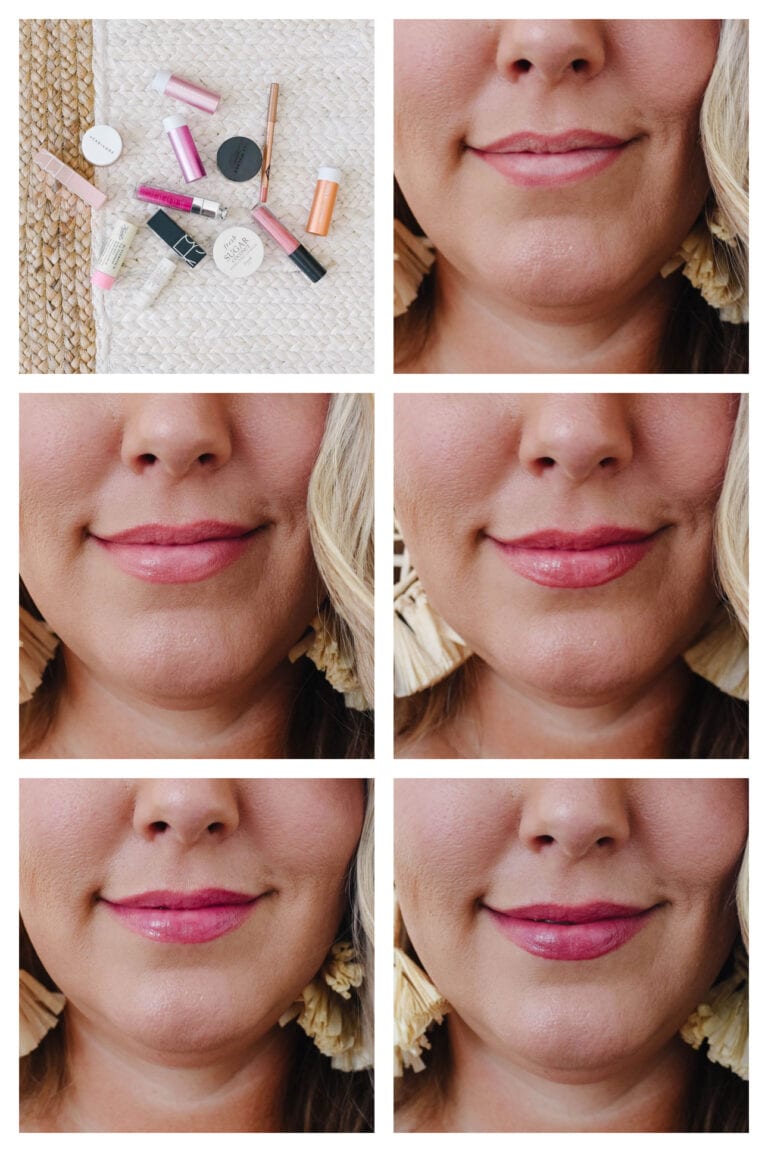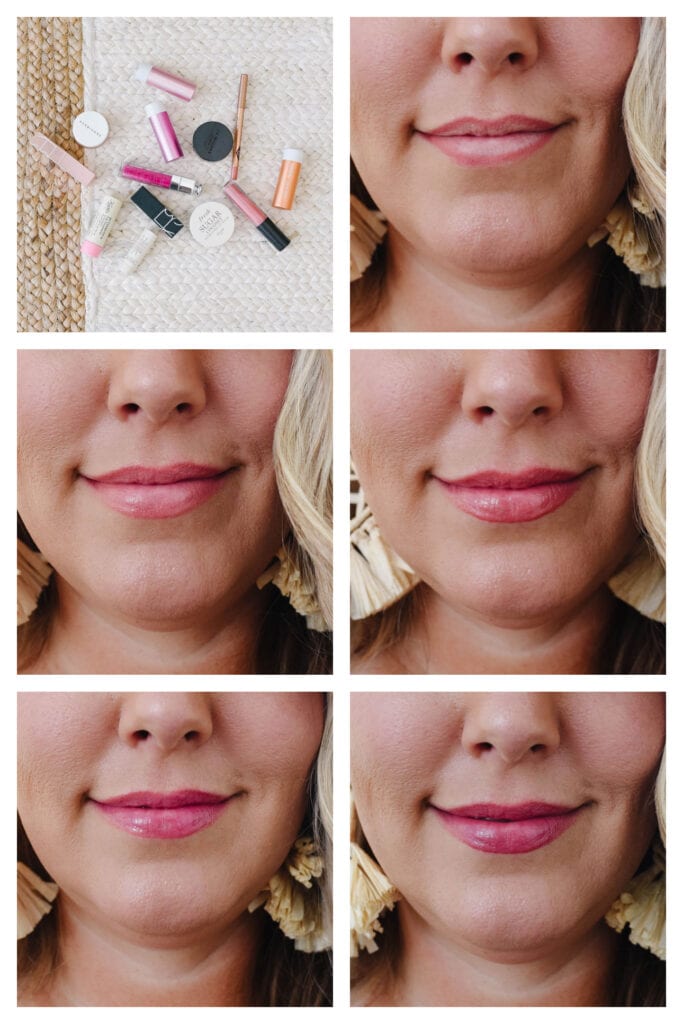 LIP COLORS (left to right, top to bottom) : "Pillowtalk" Lip Liner | "Orgasm" Lip Balm (I also have and love the oil version) | "All Things Magical" Lipglass ("Love Child" is another favorite color | "Berry Glow" Lip Maximizer | "Shrinagar" Sheer Lipstick
The one I seem to turn to most frequently is the MAC Lipglass in "All Things Magical". Paired with the lip liner, it's the combo I'm wearing most frequently when I get questions. I feel like both are such universally flattering colors! I'll hop on my Instagram Stories later today to show you the pair in action!
If you're looking for some good moisturizing products for summer, I love this lip treatment and wear it to bed. And for tinted SPF for lips, I've been loving this trio (a more opaque, matte finish) and the petal color of this butterstick (a glossier sheer option). I can get bad cold sores in the sun, so I am religious about always applying SPF on my lips multiple times a day when we're outside. But I love that there are now so many tinted options for a little boost of color!
SUMMER EYE FAVORITES
Let's move on to my summer eye favorites. I shared this eyeshadow primer in a Wednesday Watch List probably 5+ years ago and I still swear by it! I have very oily skin and eyelids, so that usually doesn't bode well for eye makeup. But, with this primer, my eye color literally lasts all day. Zero creases, zero fading. It's crazy! It also doesn't dry your skin like others I've heard of. I use it year-round, but it's even more important in the hot and humid summer months!
In my beauty post last fall, I shared my new-found love of the Laura Mercier Caviar Sticks and that love has grown tenfold! You literally just draw it onto your eyelids (almost like a crayon) and then blend with your fingers or a blender. The color options are all so beautiful, but my favorites are Rose Gold, Amethyst, Khaki, Au Naturel, and Plum. In the summer, I frequently do a combo of Amethyst and Rose Gold or Khaki and Rose Gold. I also tried this mascara last summer, and I've been a convert ever since!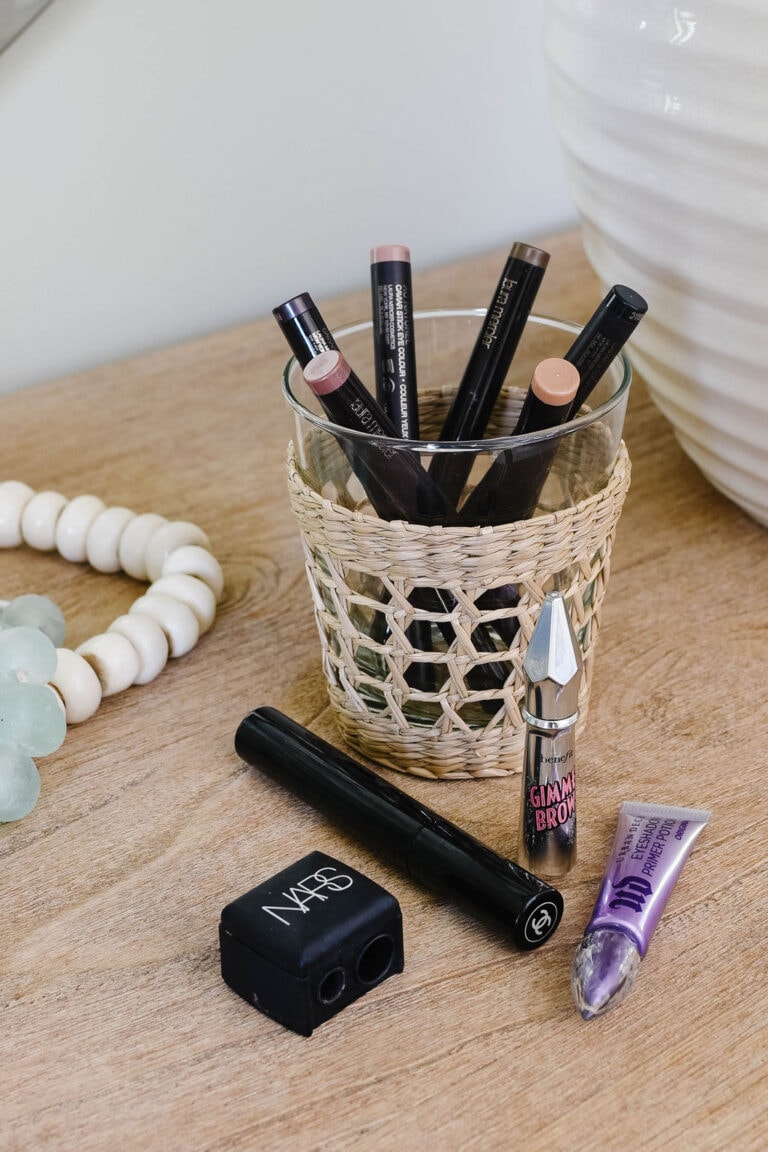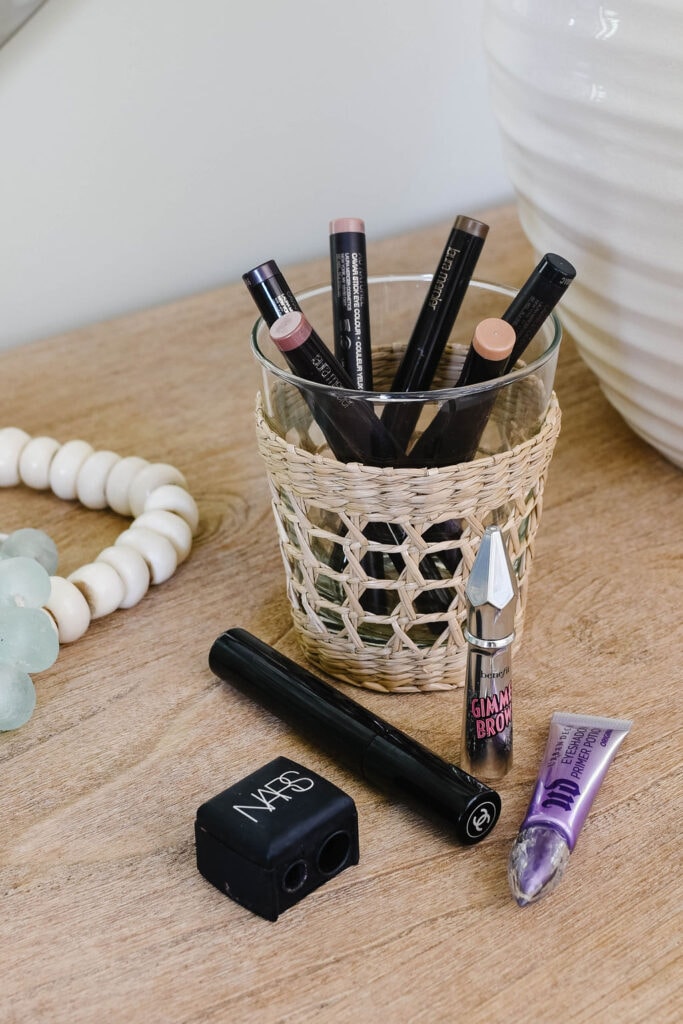 SOURCES: Laura Mercier Caviar Sticks | Pencil Sharpener | Mascara | Eyebrow Gel | Eyeshadow Primer
Over the past few years, I've also realized the importance of eyebrow tints. Now that I'm rapidly approaching 40 (less than two months away!!), I've noticed my brows have faded over the years. And if I don't darken them a little, my face falls really flat. I've used this easy-to-apply eyebrow gel for years now and love it! Eyebrow pencils seem intimidating to me, and this is so easy to apply (and doesn't look creepy or unnatural).
SUMMER FACE FAVORITES
In the summer, I tend to switch to a lighter-weight foundation. I bought this Luminous Silk Foundation (I use shade 5.5 in the summer) last year and still love it so much! It's one you can layer for fuller coverage, but I love that it blends seamlessly and doesn't look too heavy. I top it with this blush in Dolce Vita. And if you're terrified of trying highlighting/contouring, I highly recommend this highlighter and this contour wand. I basically draw them on my face like the sample pictures show and then blend it with my BeautyBlender!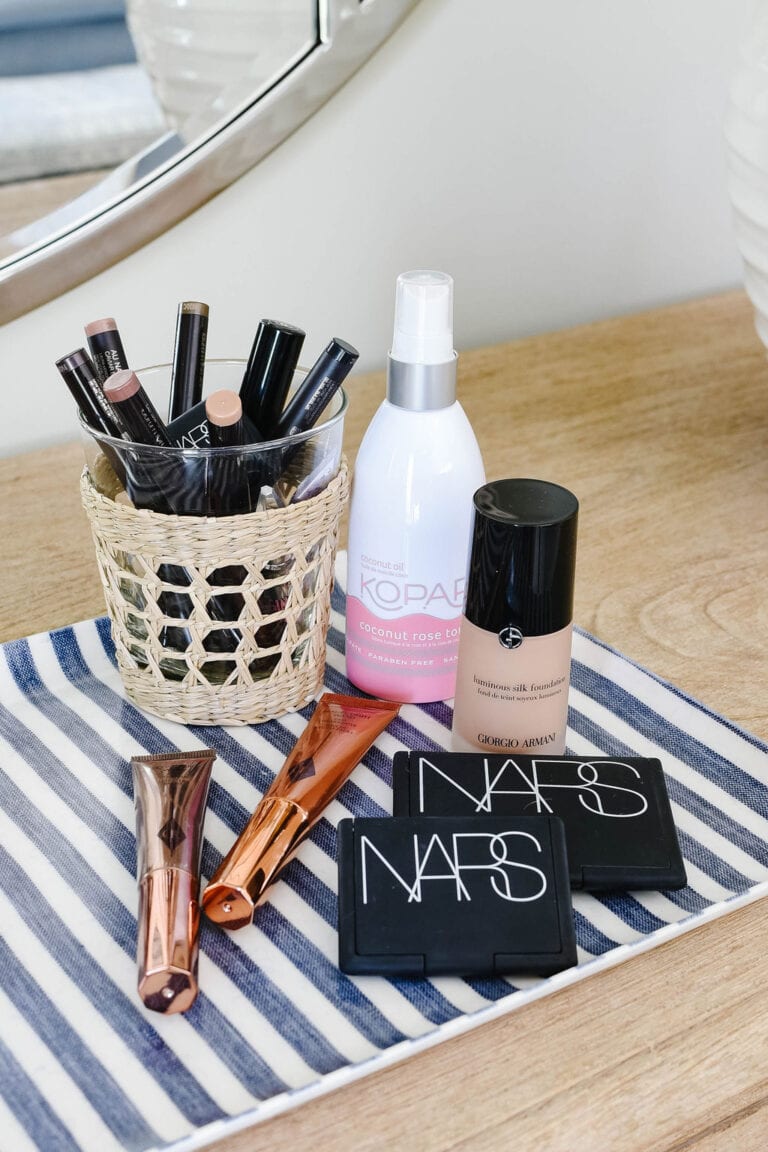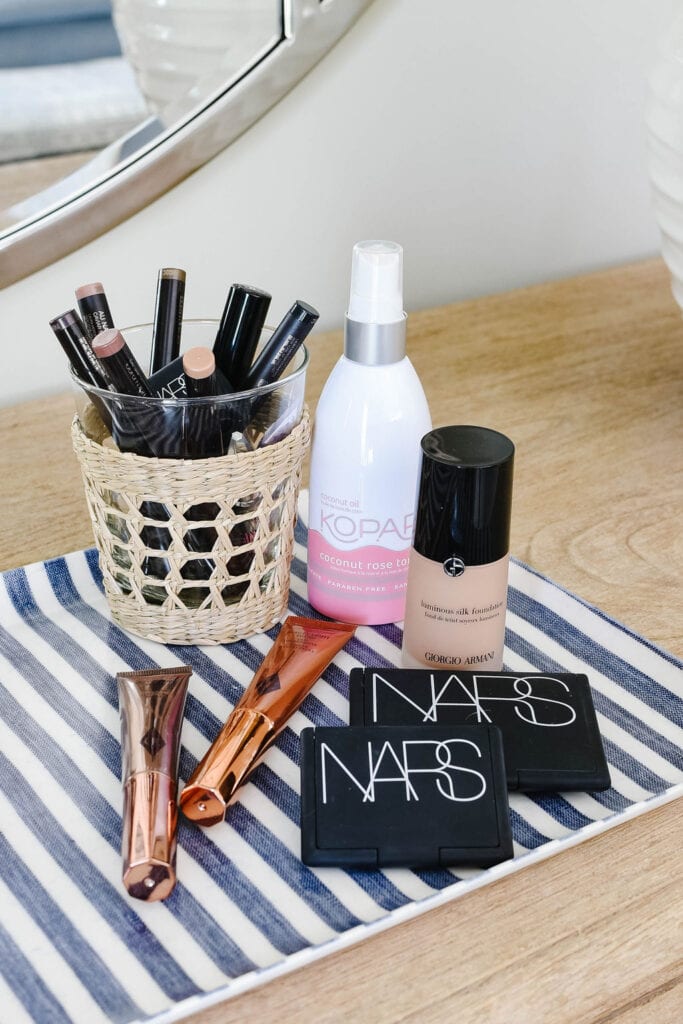 And lastly, my obsession with the Kopari Coconut Rose Toner runs deep. I got a free sample at a conference several years back, and I'm pretty sure I've gone through no less than six bottles. I use it after I wash my face on days I don't want to have the weight of a thicker moisturizer. Or sometimes I just spritz it on because I love the smell. I can't get enough of it. It isn't drying, but helps tone your skin and tighten pores while still providing moisture. And the scent is heavenly!
SUMMER HAIR FAVORITES
Jumping to hair products, I don't usually change much with my hair routine, but I've found a few products I love in the summer.
I've shared this prime & prep detangler before, but I especially love it in the summer months. No more rat's nests after a day at the pool or in the lake or ocean. Plus it helps protect your hair from heat damage! I also find that it smooths hair fairly well and keeps the humidity frizz at bay.
I've also shared this Poof SPF Part Powder quite a bit in the past. I love that it's in powder form, and also acts as a quasi-dry shampoo! You pump it into your part (I usually do half a pump), rub it in with your fingers, and your scalp is covered in SPF 45! No more sunburns in your part line when you're not wearing a hat!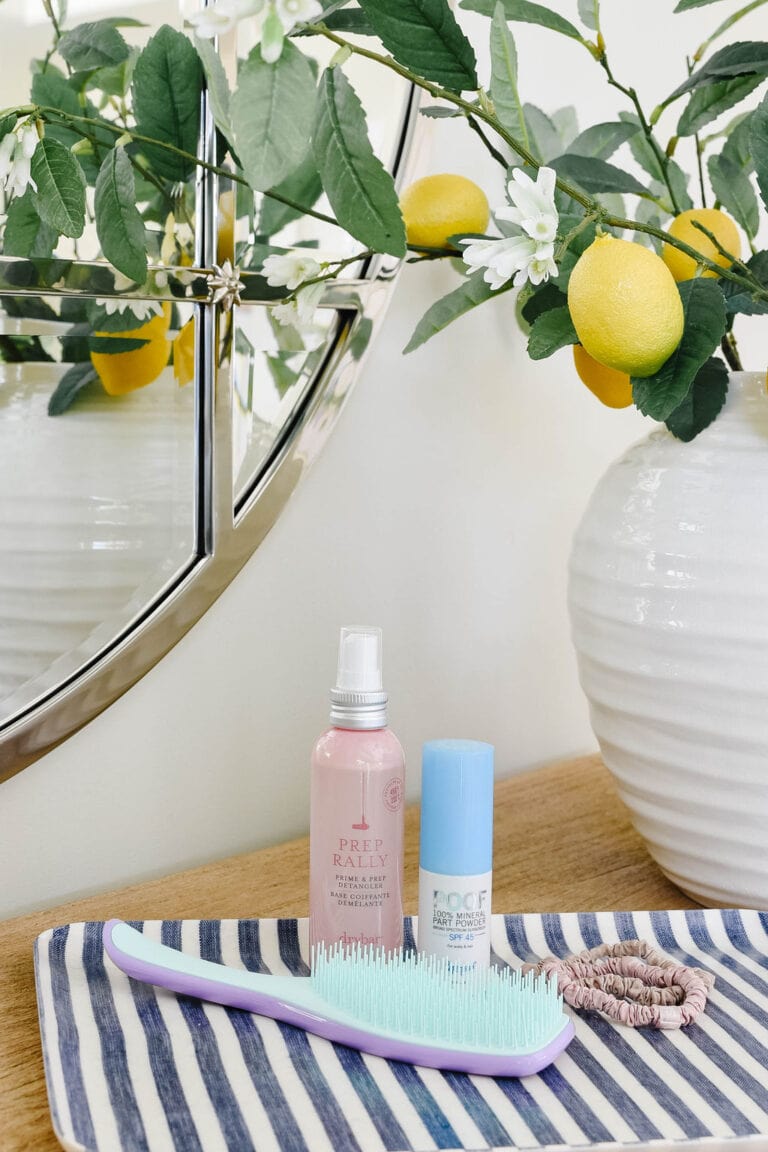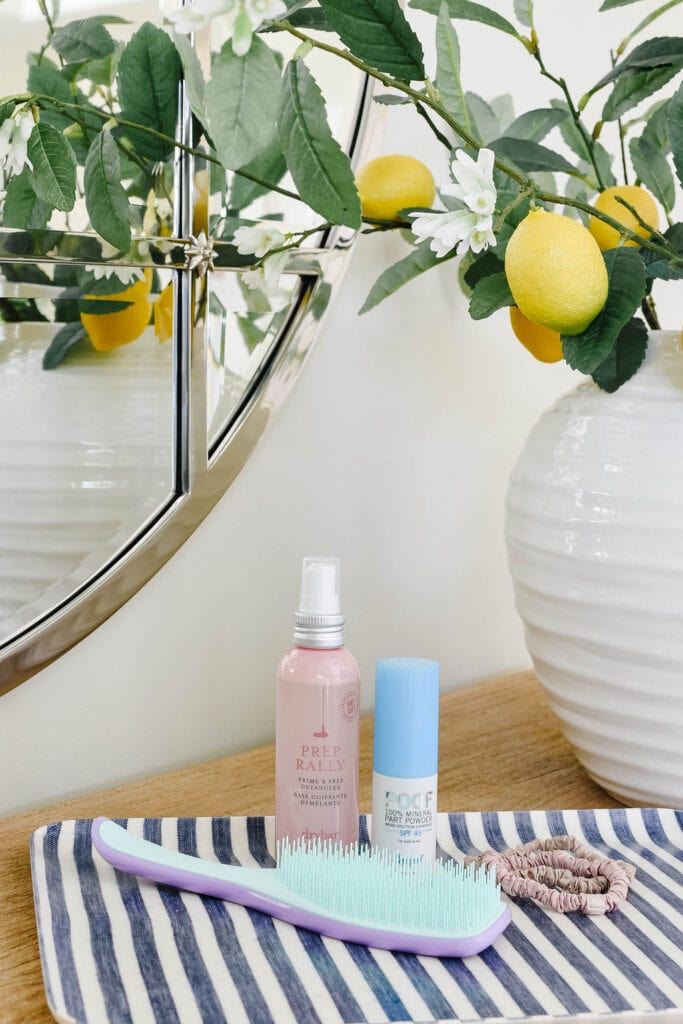 SOURCES: Prime & Prep Detangler | Poof SPF Part Powder | Detangling Brush (similar here) | Silk Hair Ties
AT-HOME LUXURY FAVORITES
Now that most of us are spending a lot more time at home, things can all start to feel very monotonous and mundane. Over the past seven months, I've tried to add a few splurge items to encourage better rest and down-time.
I find that I have a harder time sleeping in the summer months. It's lighter out, it's hotter in our room, and honestly, in today's environment, there are a lot of external stresses. Early this year, I invested in this silk pillowcase after so many of you raved about it and said it was worth the money. I've found that I've been appreciating it in the summer months even more because it's always cool! Bonus: it's also an anti-aging, anti-sleep crease, anti-bedhead pillowcase that's like an eight-hour beauty treatment every night. I can't say enough good things about it!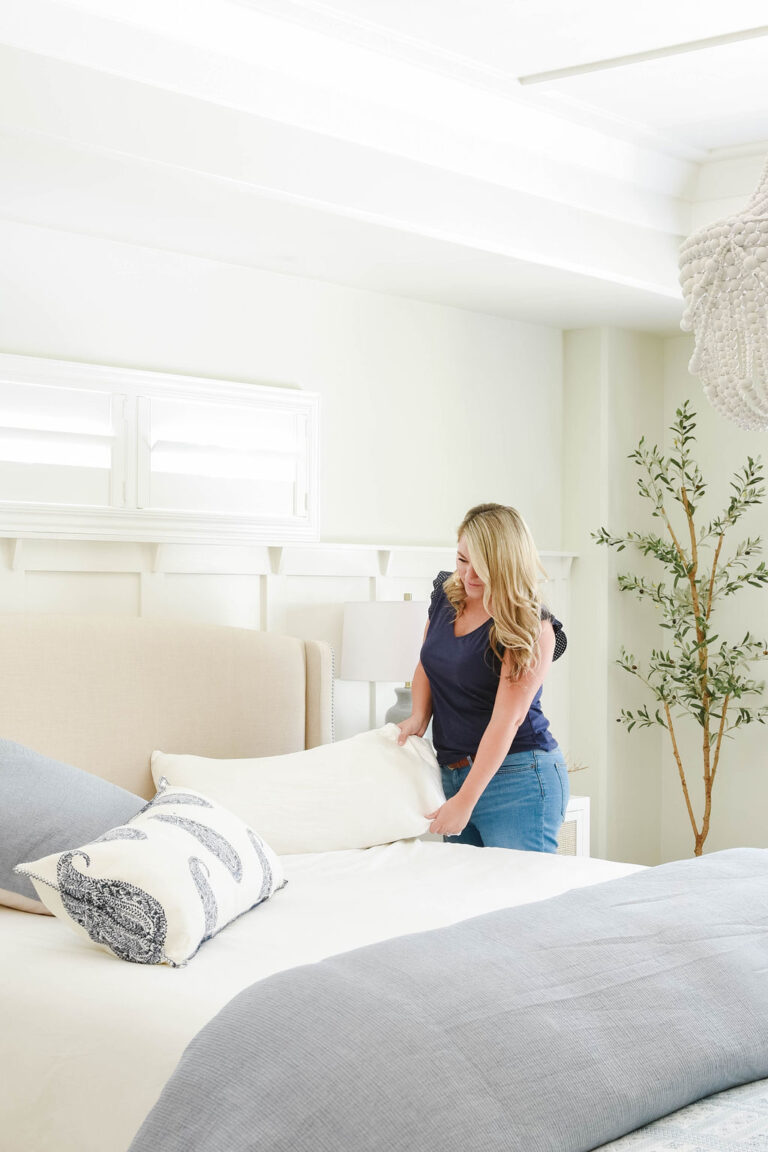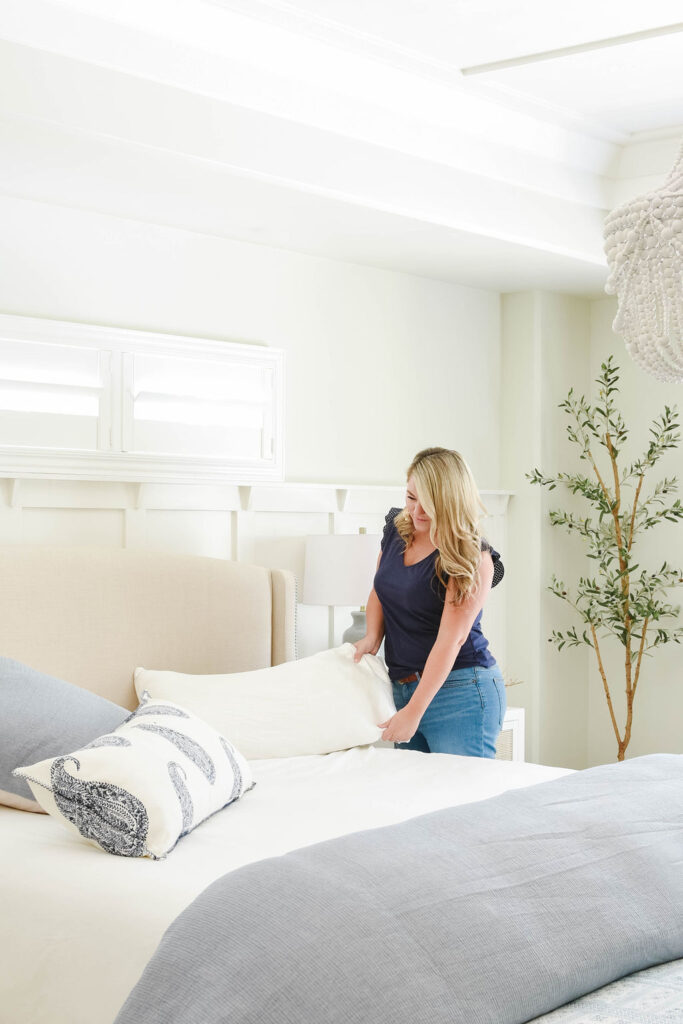 Another simple luxury is this chamomile and lavender sleep spray. I've been using it for a few months now and have loved adding it as part of my bedtime routine! The smell is so calming and very spa-like. And I actually bought the sleep mask for travel but have been loving it just as much at home now too. Especially with the nights taking a lot longer to get dark. And I need my full eight hours of sleep!
And if you've read my blog for any amount of time, you know Capri Blue Volcano candles are some of my favorite ever. Nordstrom now carries this pretty salt & sand collection and you can get the Volcano scent in the prettiest sea glass inspired vessel! I'm in love! You basically can't find a better scent for summer!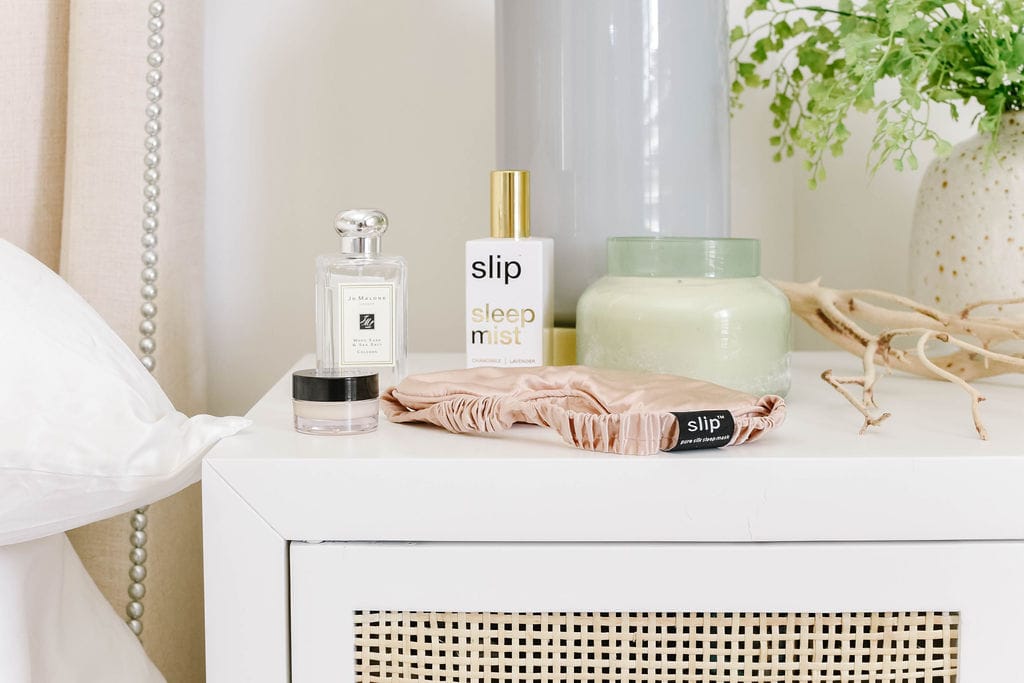 SOURCES: Jo Malone Cologne | Jo Malone Lip Balm | Sleep Mist | Silk Sleep Mask | Capri Blue Volcano Candle
I bought this cute ruffle-sleeve top last year in navy and was so excited to see it's back this year in four new colors. I also ordered the light blue, and although it didn't arrive in time for my photos, I'll plan to wear it in my Instagram Stories later today! The trim on the sleeves couldn't be cuter and it's such a soft and comfy top that looks polished! My earrings are almost identical to this pair but I'm also loving this raffia pair, too!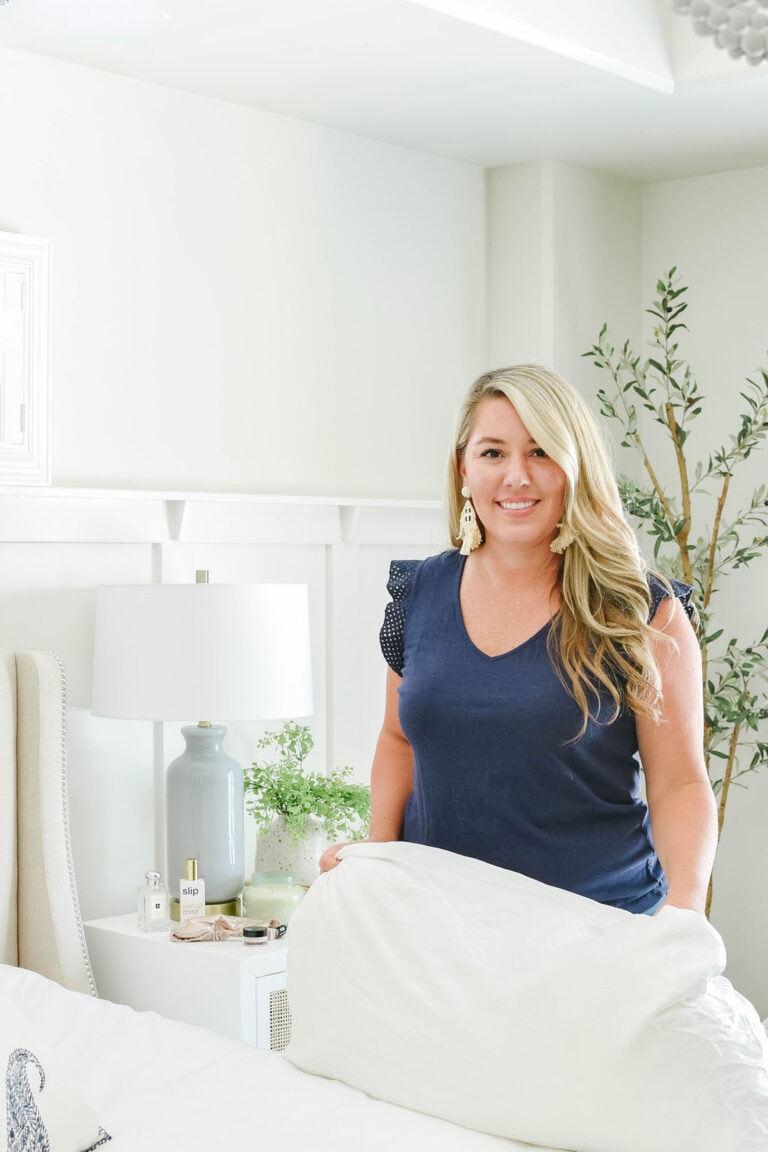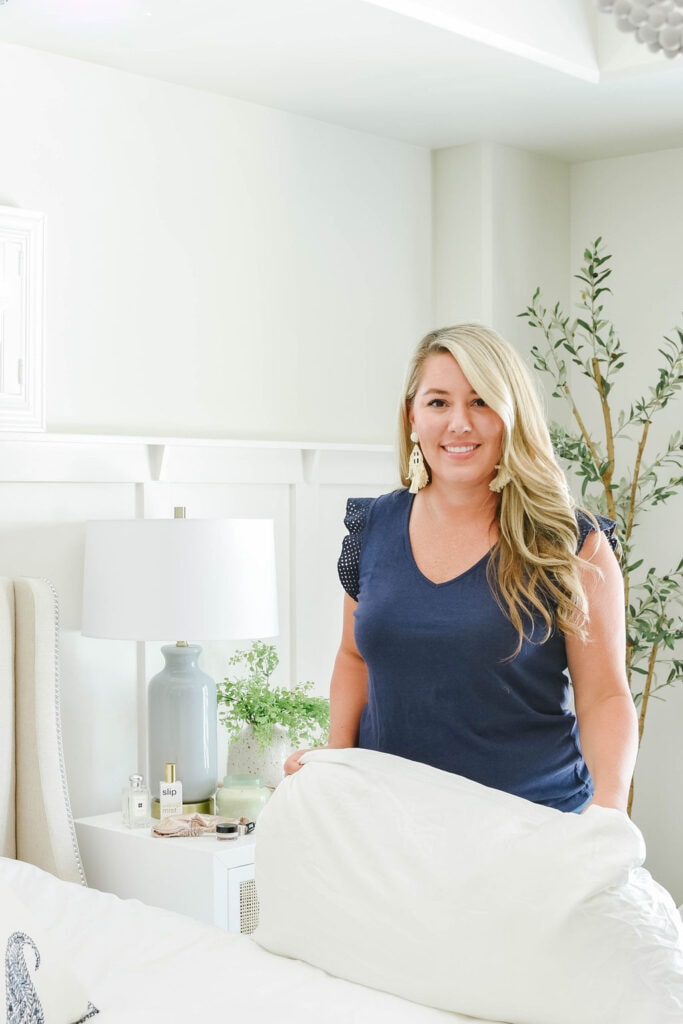 My photographer friend, Mandy, and I were interrupted no less than a dozen times while taking these photos. Henley really wants to be famous and makes appearances in my Instagram Stories on the daily. She does make a pretty cute model in her first "official" photoshoot though 😉 I think she's trying to impress the powers at be at Nordstrom in case they start a cat line in the future.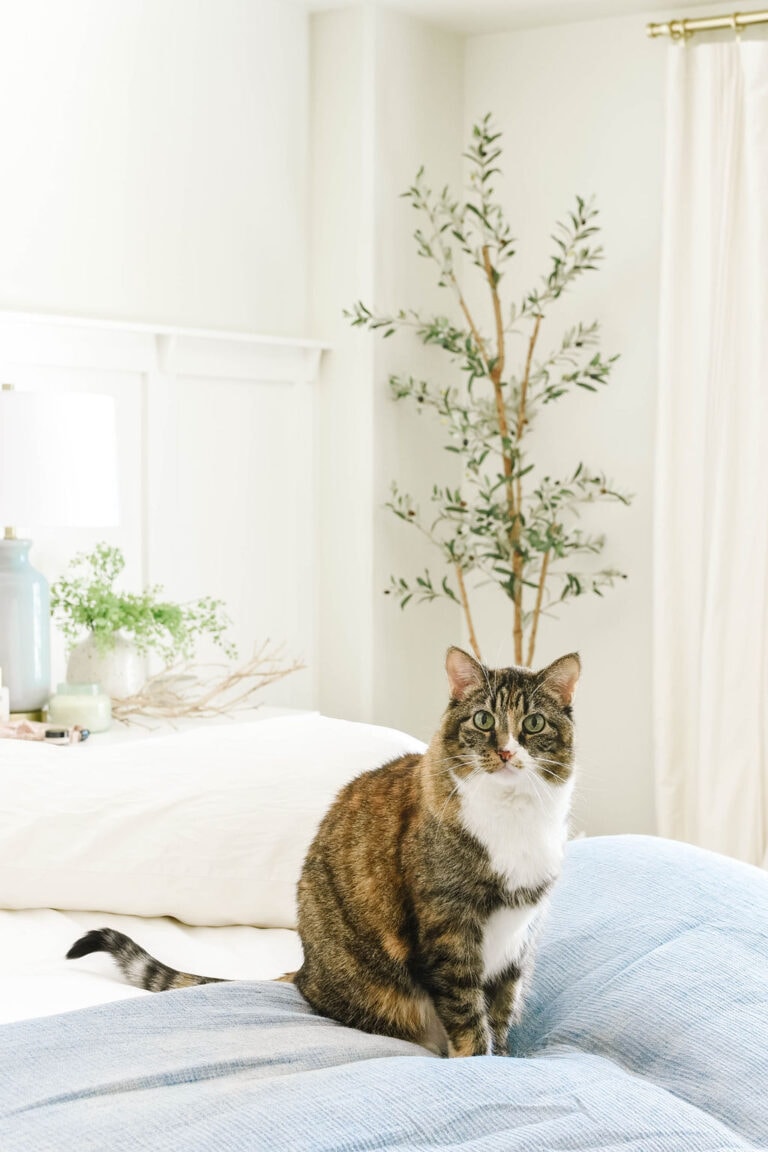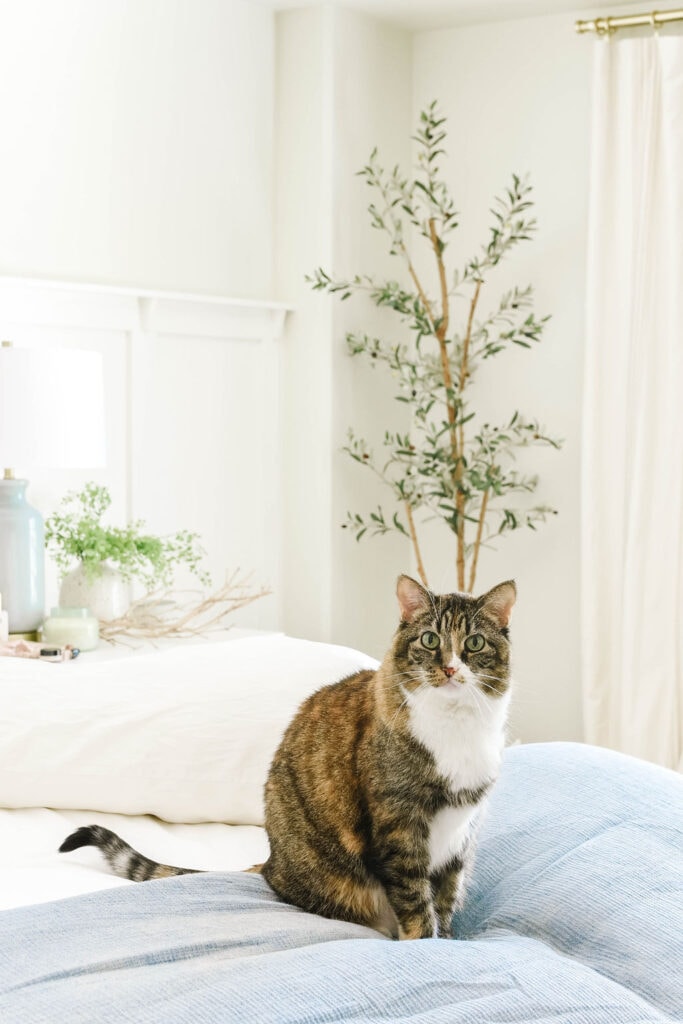 NORDSTROM ANNIVERSARY SALE DETAILS
Lastly, I wanted to share some details on the upcoming Nordstrom Anniversary Sale. The sale usually occurs in July each year, but this year it will run from August 13-30. As is the case in years past, early access (for cardholders) will begin starting 8/13 and the sale then opens to the public on 8/19. It's consistently one of my favorite sales of the year because you get the opportunity to buy fall items on sale, before the season even starts! The best part about this year's sale? Everyone can preview the items starting this Friday! This way, you have plenty of time to save your favorites to your Wish List so you can check out faster when it's time to shop. This preview experience will replace their print catalog this year. Be sure to also join their (free) Nordy Club if you haven't already! It's a great way to earn back cash to spend at Nordstrom! You can read more about this year's sale here.
You can easily shop all of the items in this post by clicking any of the images below. I hope you found some new products to try and love!
If you're looking for even more beauty inspiration, be sure to check out my post on my five minute makeup routine & tried and true favorites (which includes the fall/winter products I mentioned above)!
Thank you to Mandy McGregor Photo for all the photos in today's post!
If you would like to follow along on more of my home decor, DIY, lifestyle, travel and other posts, I'd love to have you follow me on any of the following:
Pinterest | Instagram | Facebook | Twitter 
disclosure: some affiliate links used