Happy Tuesday! I hope you all had a happy and safe holiday weekend! There's always something great about starting the work week on a Tuesday!
This post contains affiliate links for your shopping convenience. Click here to read my full disclosure policy.
Home Projects & Updates
I spent a lot of time last week wrapping up my planters. I mentioned in my post on fire pit tables & courtyard update that I finished the ones in our courtyard. I haven't been able to find my favorite yucca plants anywhere this year, so I took advantage of a major sale at Lowe's on hibiscus topiaries!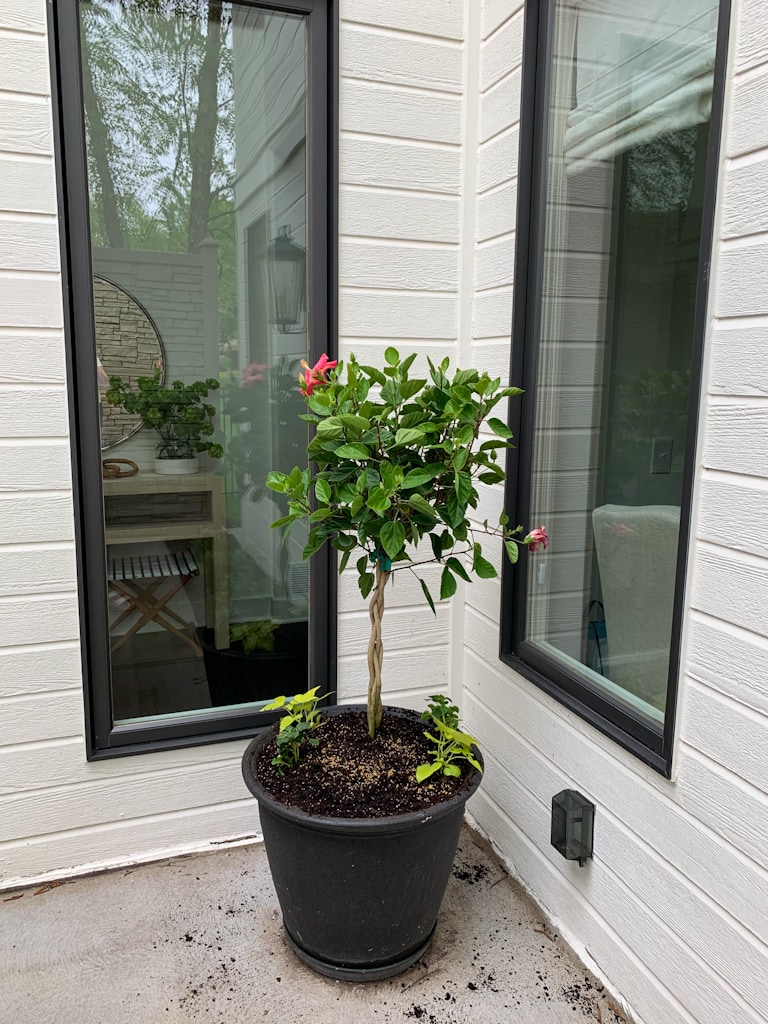 I made another trip to Lowe's late last week and grabbed two more hibiscus topiaries. And although I didn't think it would be the case, this peach one may be my favorite yet!
Here's a screenshot from my Instagram Stories of exactly what I used in this planter. This spot gets zero sun (it faces north and our house blocks it).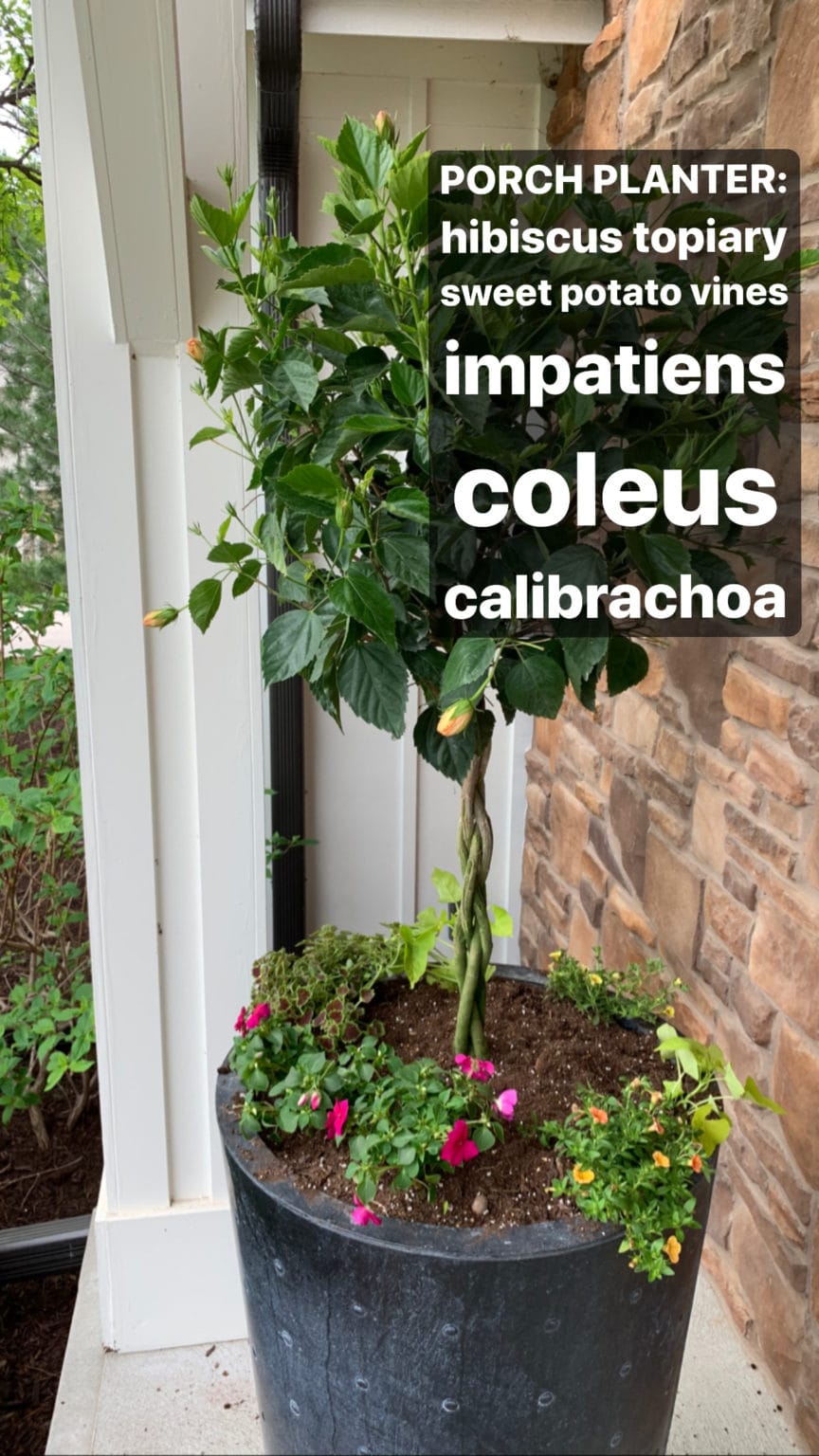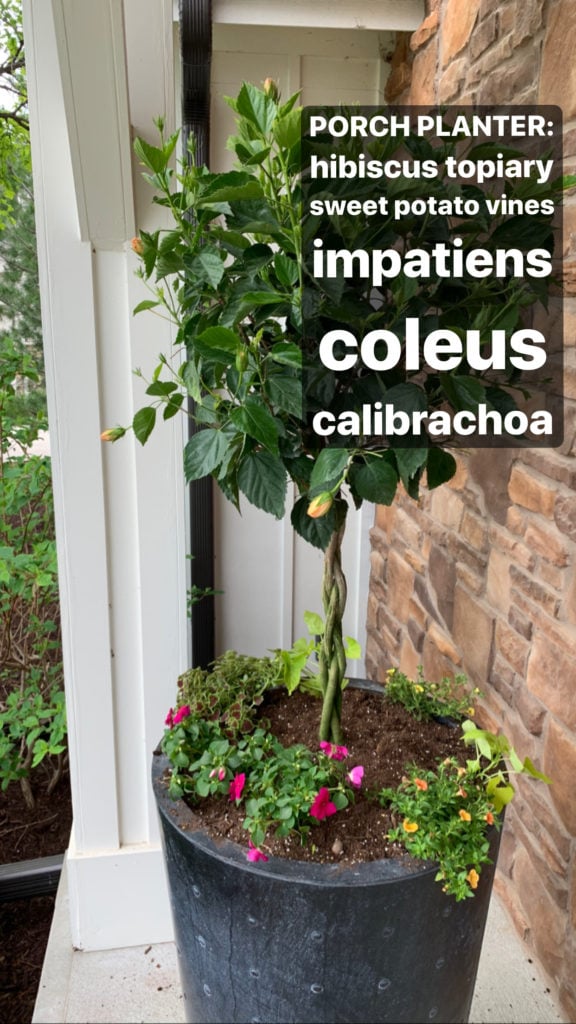 I also wrapped up my planters out front. They're tiny now but after a few weeks with my favorite fertilizer and some water, they'll be massive! I also had to buy a tree last week for that spot behind the last planter. That's where our giant maple died and we're required by the HOA to replace it. The new one is going to look so small in comparison, but maybe that's best so the garbage trucks don't keep hitting it!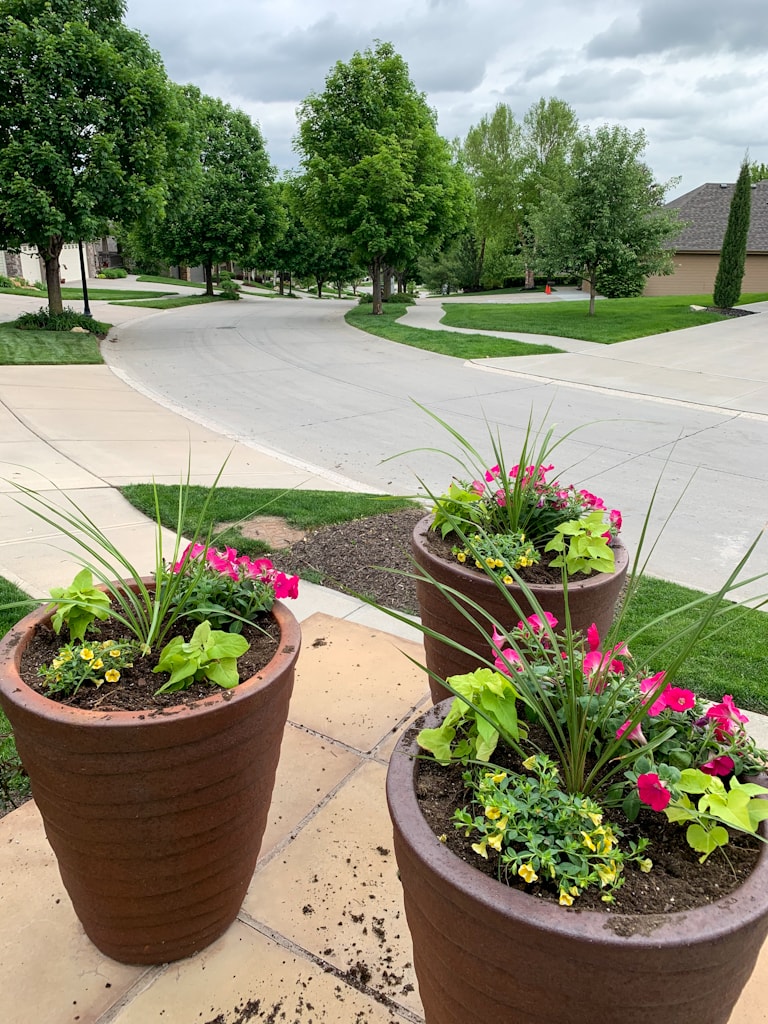 Although I ran out of potting mix, I am so close to finishing the backyard planters too!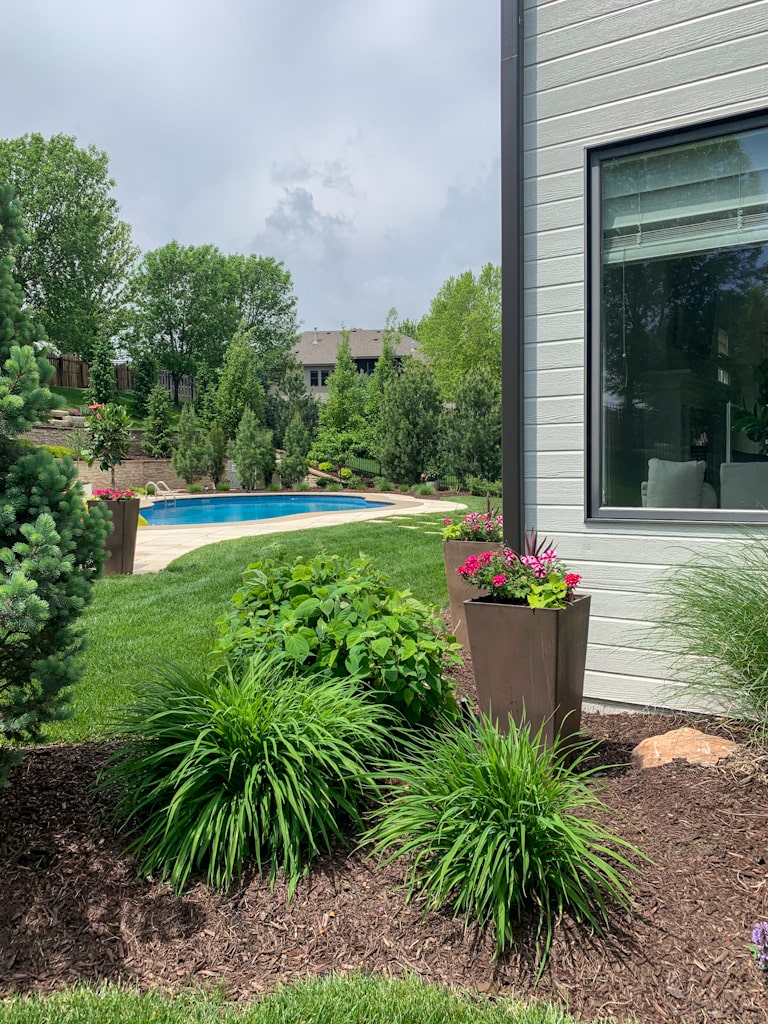 And early in the week, I added some plants to the area where Kurtis had torn out more sod for me last weekend. Slowly but surely, this area is becoming less and less of an eyesore! Actually, since I took this photo, all of the dianthus started blooming and it's so colorful and beautiful now!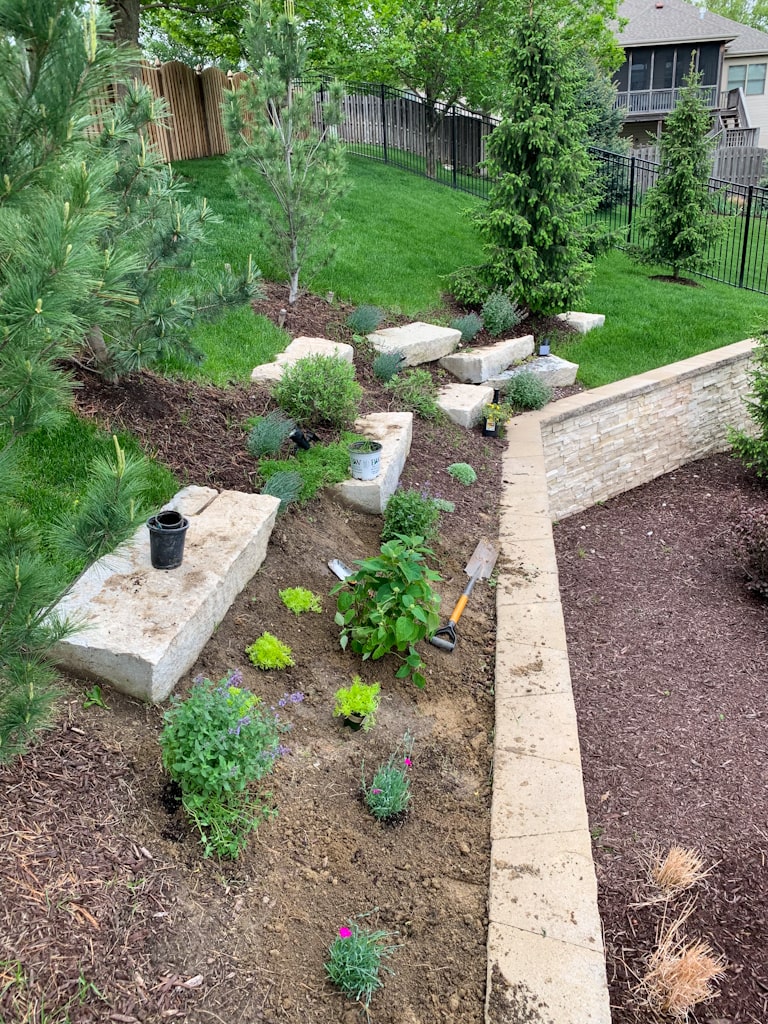 Since the weather was rainy and cooler on Monday, Kurtis and I each tackled projects we had been avoiding for some time. For him it was the garage and for me it was one of our guest room closets. If you follow me on on Instagram, you may have seen on Stories that this project then turned into the guest room closet, linen closet and den cabinet. The before photo below was actually about half way through but I had bedding stacked so high the photo didn't make much sense before.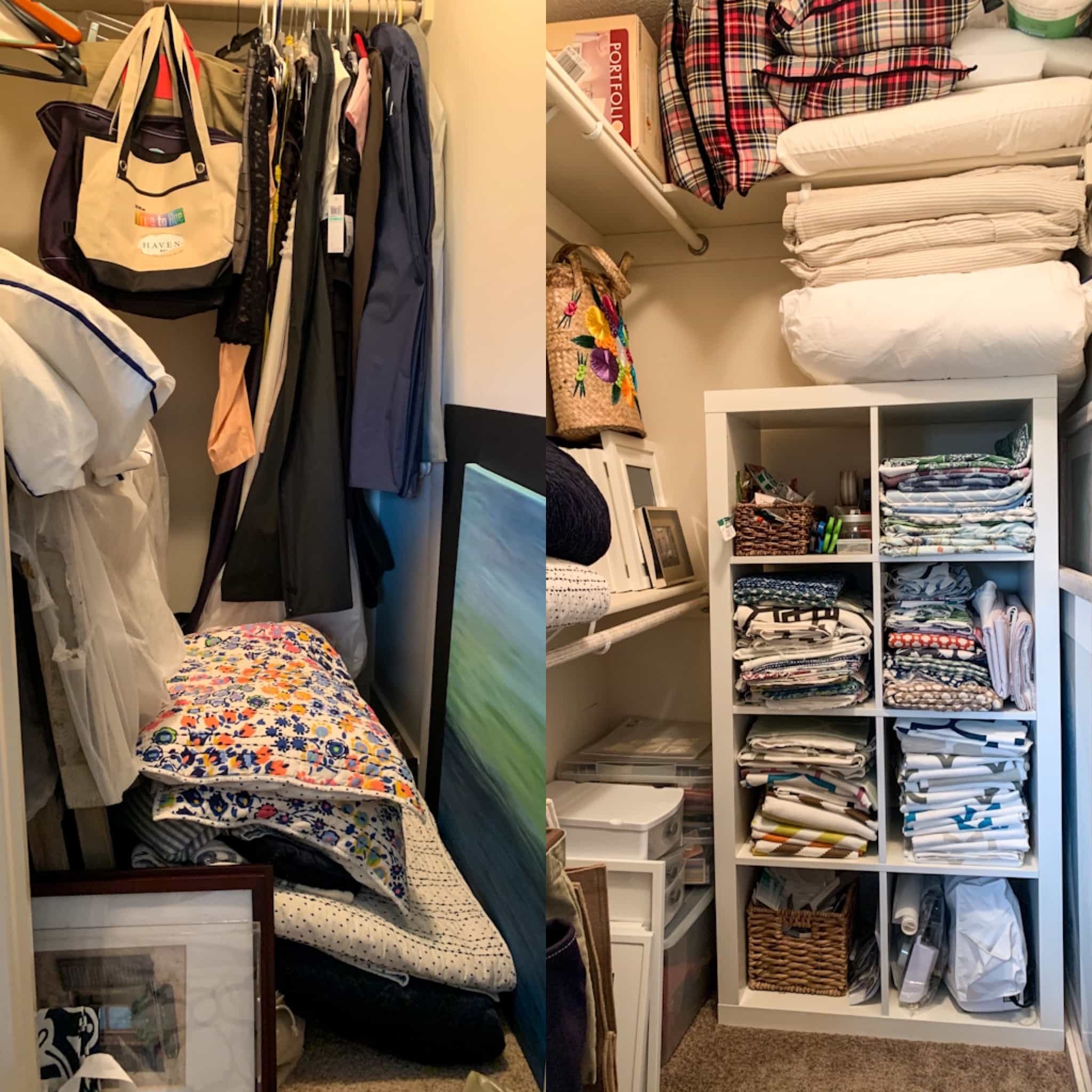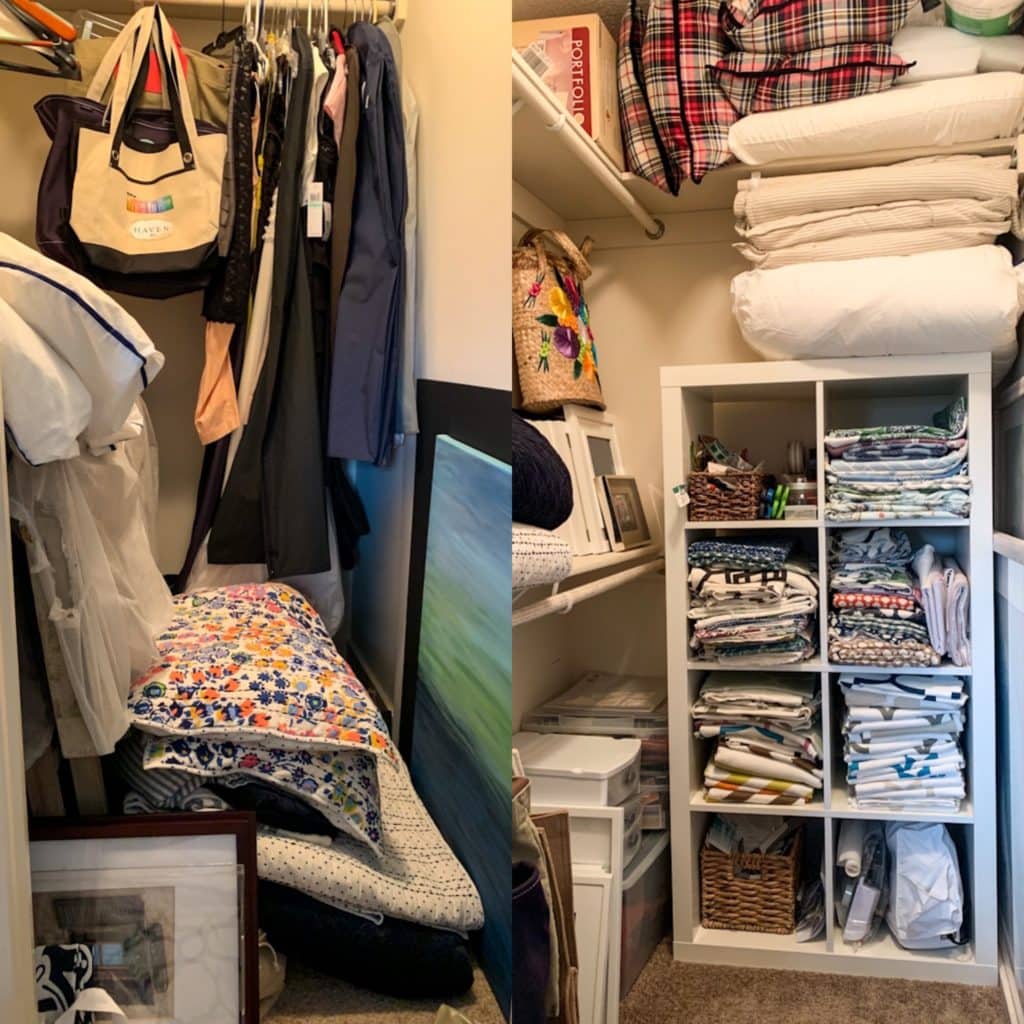 It always has to get worse before it gets better, right?!? I first took everything out of the guest room closet. It was insane how much I had shoved in there! Proof that our house is rarely ever as clean as it looks in styled photos!!
We only have one linen closet in our house and it's the only place to store regular towels, pool towels, extra bedding, toilet paper, etc. And it looked ridiculous. I'm not sure we could have shoved any more in there if we tried. I decided that rather than moving some of those items into the guest room closet (where they aren't as accessible if a guest is here) I'd move some of those to the cabinet in the den and then move all the fabric back into the Expedit but in the guest closet rather than where it used to be in the den. Here's how the linen closet turned out. Not perfect, but so much better!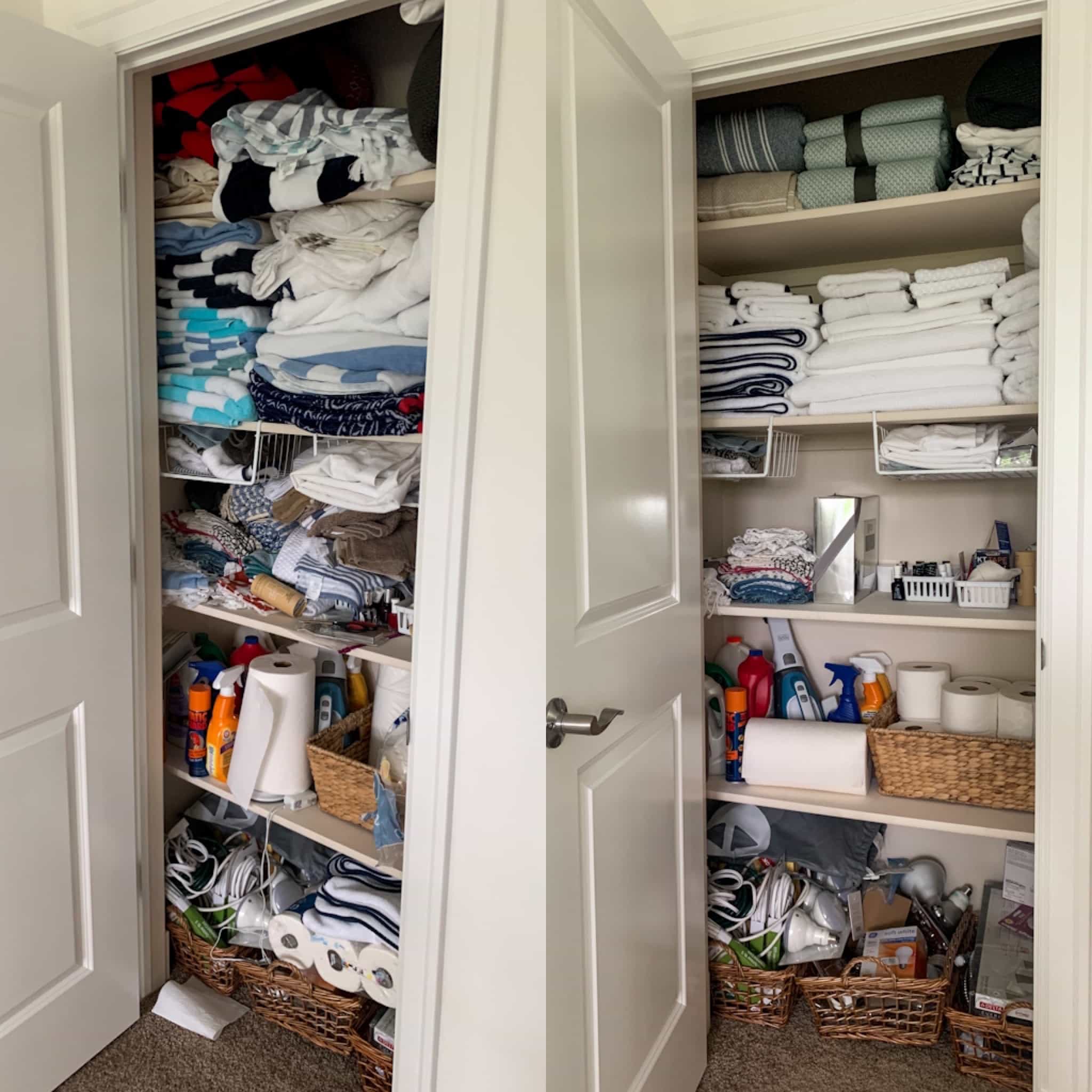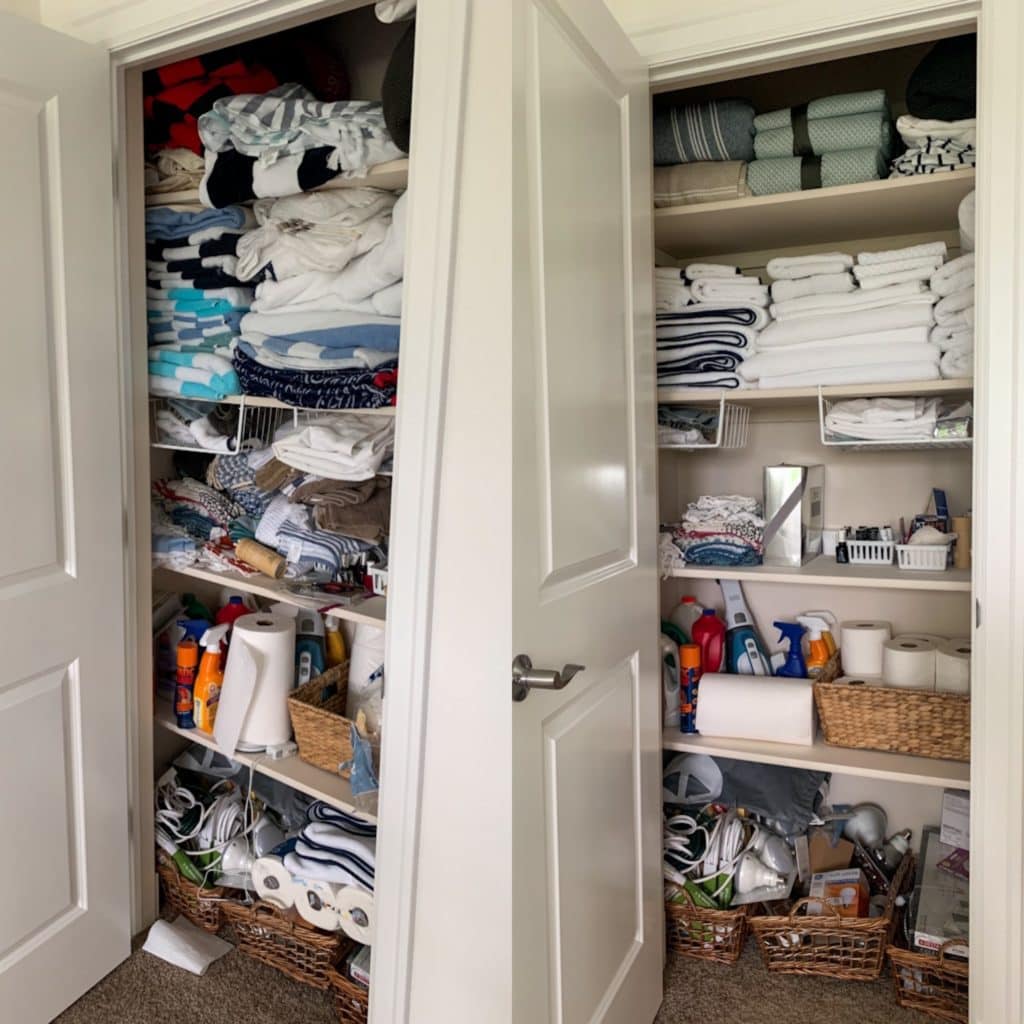 And here's the before & after of the den cabinet. Since I just organized the first photo last week, it was more a matter of changing the contents.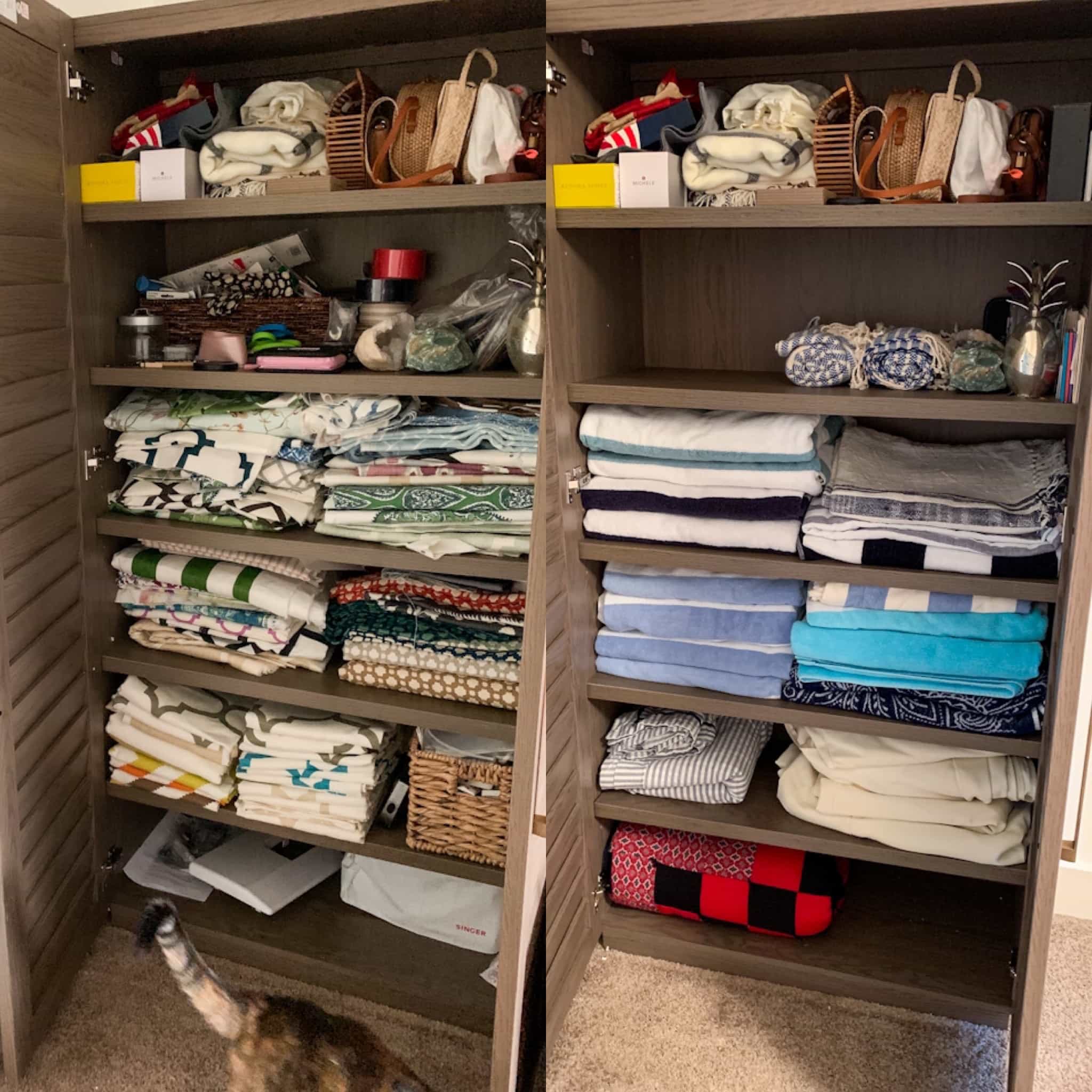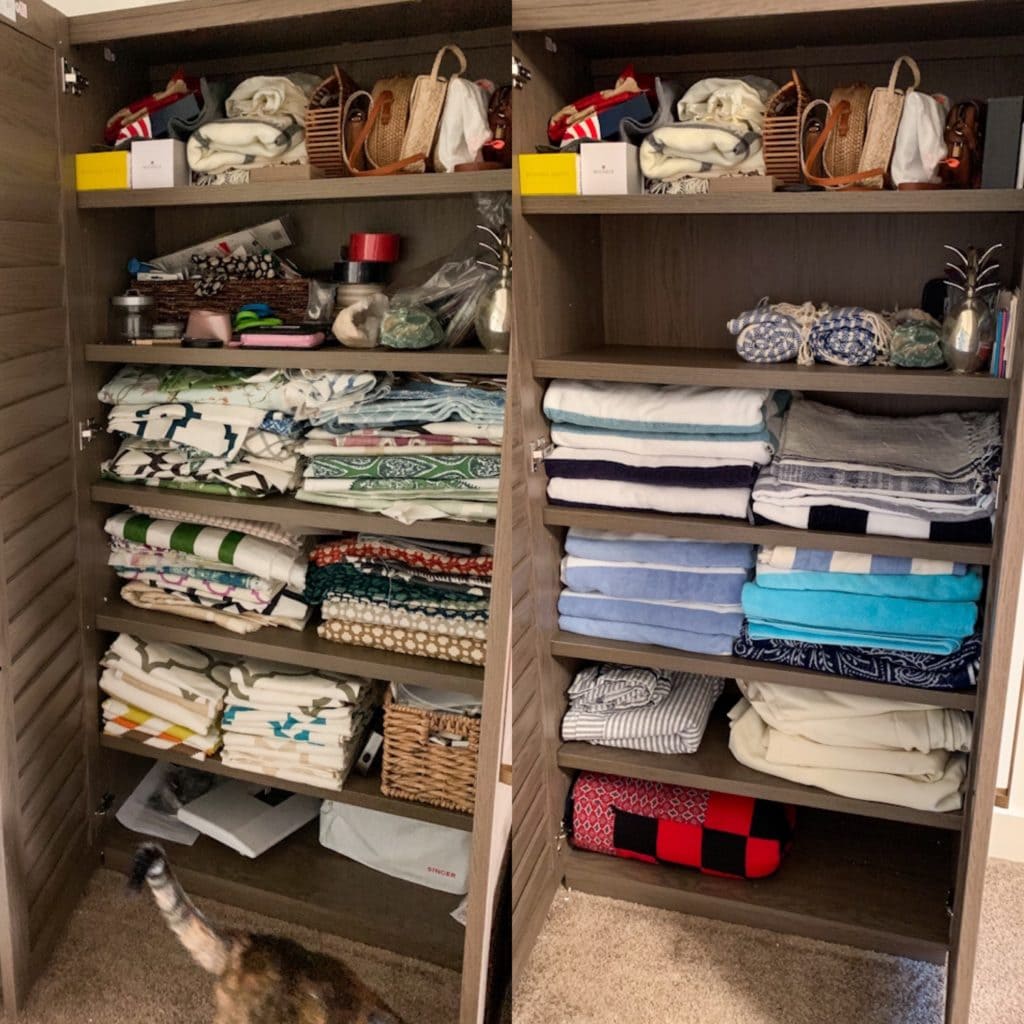 It feels so good to have this done!
Kurtis completely changed the layout of our storage in our garage and the change is huge! Sadly I didn't get a before picture, and the after is more of a "process" pic. Let's just say we have a lot of recycling and garbage waiting to go out tomorrow! So happy he wrapped this up though before summer! We have so much more space now. And while it will never be "pretty", things are much more organized and it's all much less of an eyesore!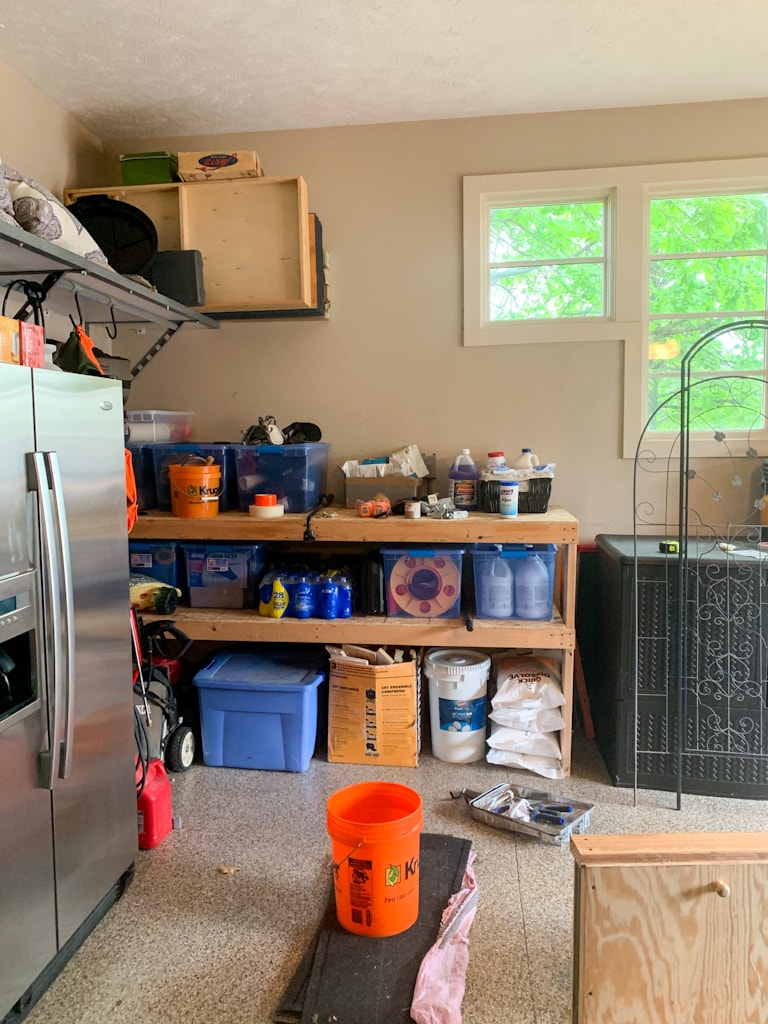 Top Sellers Of The Week
Following are the top sellers of the week across all of my channels. Links to each item are below the graphic.
Around Town & For Fun
If you're worried that all we did all week was work, rest assured, we also got in some down time 😉 The weather on Saturday afternoon was absolutely gorgeous! I ordered this pool lounger from my summer pool floats post and it couldn't be more relaxing! Kurtis was annoyed by how large it was until he tried using it and now loves it too!
Our BFFs came over for awhile too. Little Z ended up loving this splash pad we bought for her. It took her a bit to warm up to it, but she ended up having so much fun with it! And since it doesn't have a pool basin, it's super easy to set up and put away!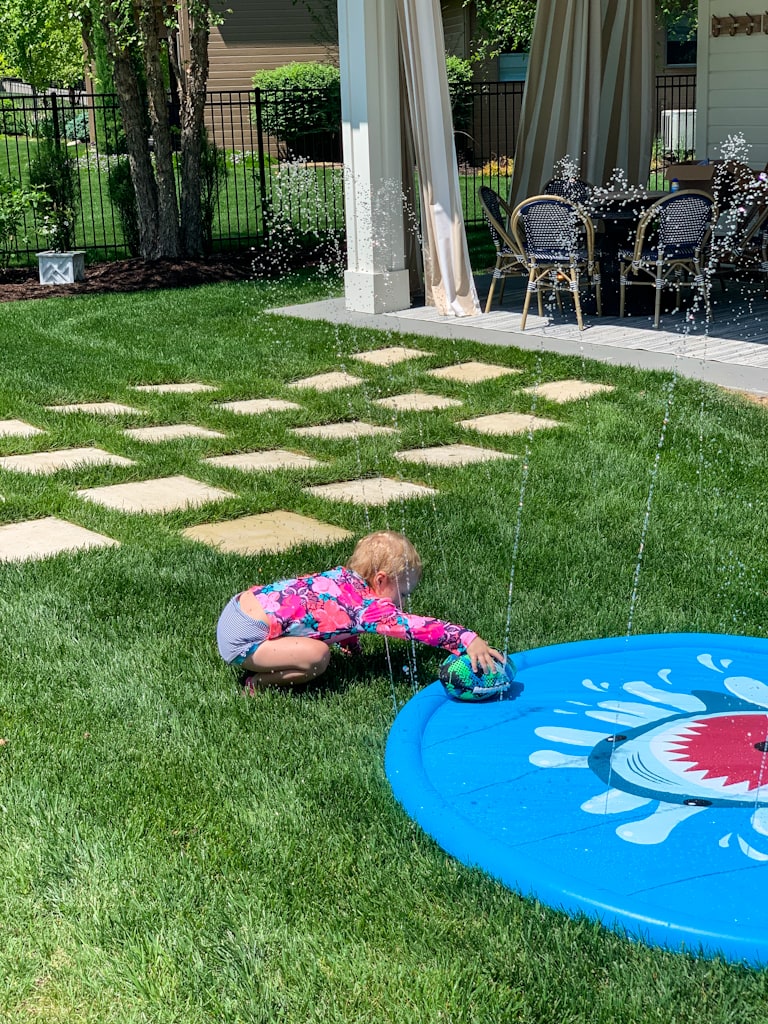 She is definitely becoming a crazy cat lady and we love it. She is obsessed with the cats – and particularly Bailey who is so patient with her.
That also reminds me. We had to replace the rug on our back patio (it was five our six years old). We loved it so much we actually bought the exact same one! It held up incredibly well after being outside 365 days a year for that many years and we love how it hides pretty much everything!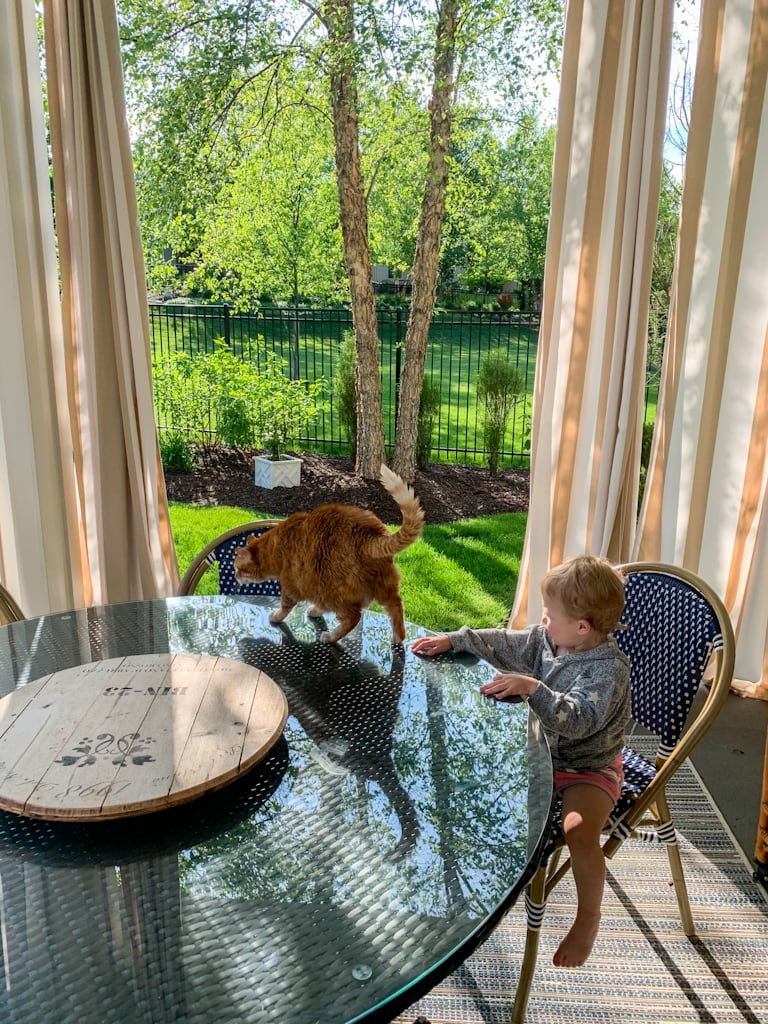 BACK PATIO SOURCES: Rug | Round Table | Striped Drapes | Similar Chairs (ours were from World Market and they no longer carry them)
That evening, we grilled out with brats, salads, and way too many appetizers to count but it was fun to enjoy one beautiful day outside over the weekend!
I shared this old image last night on Instagram in honor of those we've lost and why we celebrate Memorial Day. We got the flag from Kurtis' grandma after she passed away. It's so old that it only has 48 stars, and we love it so much. I can't wait to find a home for it this year. That also reminds me that we need to get a flag pole bracket for our house!
Kurtis and I both weighed ourselves this week and we've decided that the self-isolation diet (or lack thereof) has to end and we have to cut out the snacks. It's been so horrible. Time to lock it down and shed some of the extra pounds we've added these past few months! So, that's what I have to look forward to this week 😉
Recent Buys & Sales
Following are some sales that have carried over from the long holiday weekend. You can see some of my top picks here.
I hope you all have a great week!
If you would like to follow along on more of my home decor, DIY, lifestyle, travel and other posts, I'd love to have you follow me on any of the following:
Pinterest | Instagram | Facebook | Twitter
disclosure: some affiliate links used