Sharing a huge collection of pool floats that are all perfect for summer! Also includes tips on where to buy the best pool floats, how to inflate them quickly, as well as how to store them!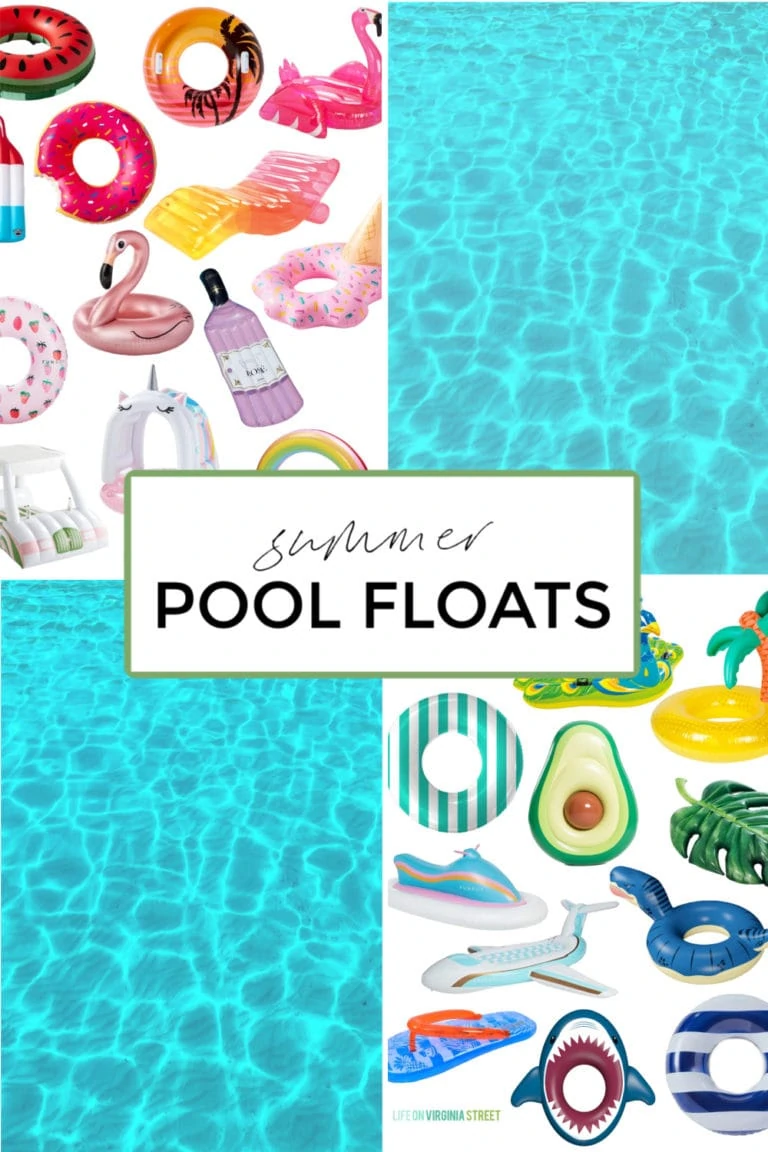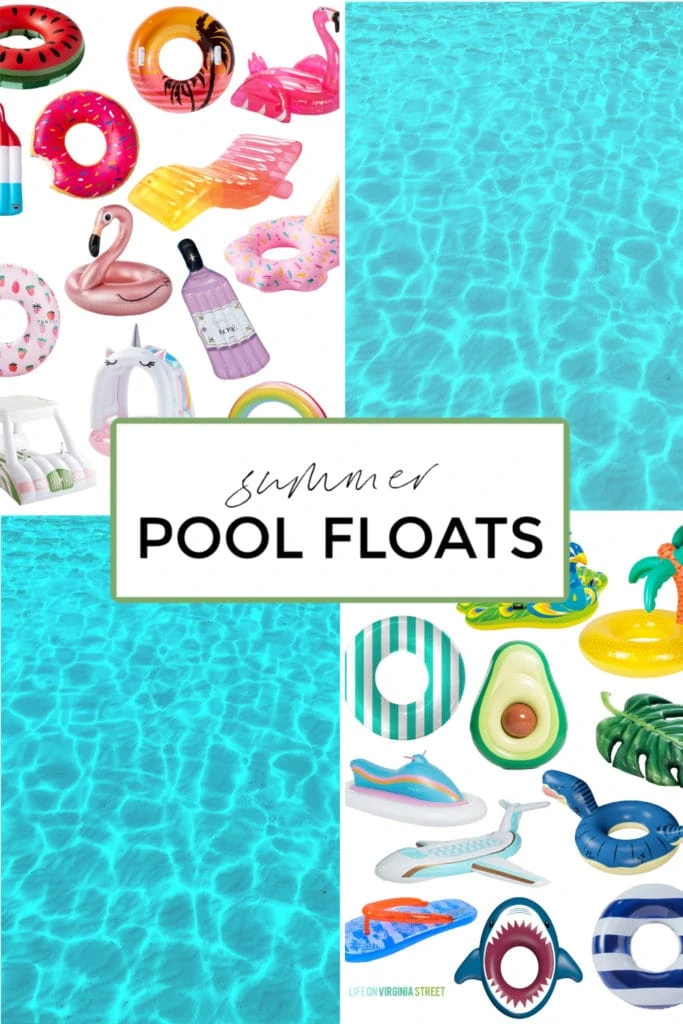 It's hard to believe, but Memorial Day Weekend 2020 already kicks off in about a week! How is that possible? Time feels so warped lately. But, needless to say, I'm am so excited for the arrival of the unofficial kick-off to summer! Today I'm sharing a huge collection of pool floats – both playful and more traditional. They're all perfect for a pool or floating on a lake – or even using to lounge on your back patio or deck! Not only that, I'm sharing my best tips on where to buy pool floats, how to blow them up, how to store them, and more!
This post contains affiliate links for your shopping convenience. Click here to read my full disclosure policy.
Now that we're on year five of owning our pool, we've come to learn the importance of a good pool float. When it's just Kurtis and I in the pool, we tend to gravitate to the more traditional floats (I have some of our favorites towards the end of this post).
But, when we have neighbor families over or are hosting a party, we pull out the fun pool floats! They truly help bring the pool to life! It's amazing how much fun both kids and adults have when creating various games with the floats. For liability reasons, I won't even mention some of the obstacle courses we've created with our pool floats 😉 They're also great if you want to relax on the water – so comfort can also be key!
Where To Buy Pool Floats
Following are a few of my favorite places to buy pool floats. If you click each of their names, it will bring you to their pool float selection.
There is obviously a huge range of prices when it comes to pool floats. We typically buy a good blend, as they each have different purposes.
Most times you'll find that the larger the pool float, the more you're going to have to spend. Quality is also a factor. You'll find that some of the more expensive brands use a much heavier plastic that tends to be more durable. It really just depends on your needs and how long you need the float to last!
The Best Pool Floats This Season
Following are some of my favorite pool floats I've found this season! So many colorful and fun ones! Since there are so many options, I first have them broken down by color in two graphics. Then further down, I have even more options!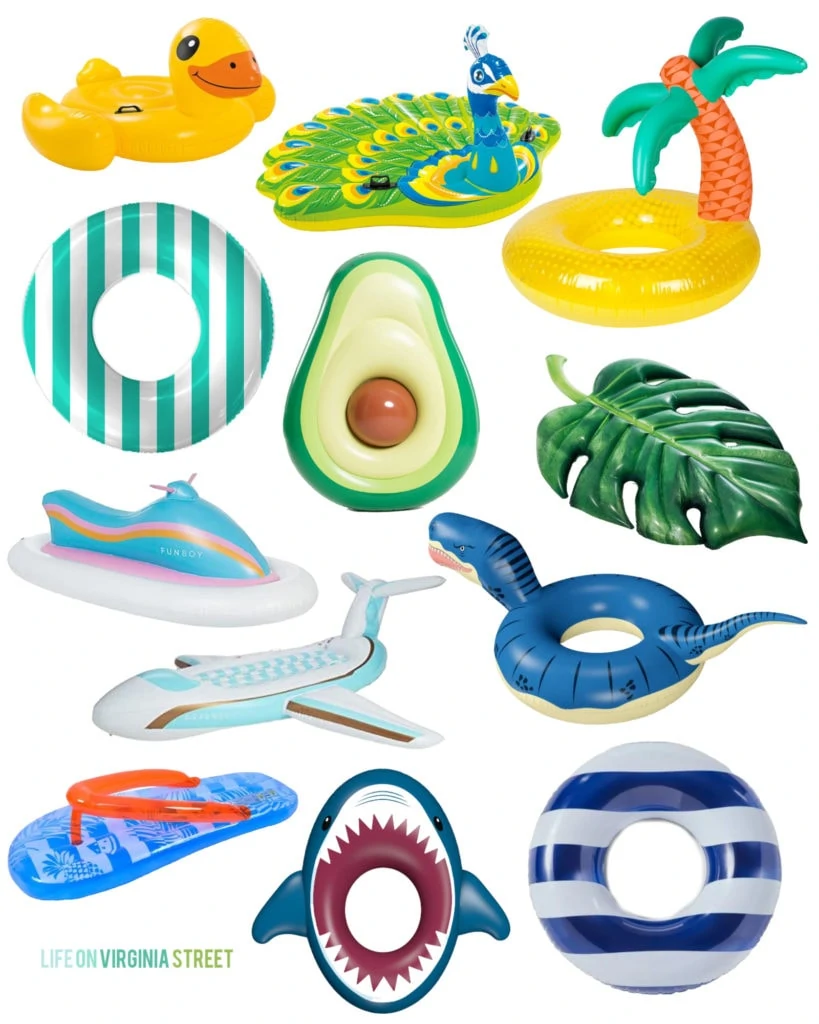 SOURCES: Rubber Duck Pool Float | Peacock Pool Float | Island Pool Float | Cabana Stripe Pool Float | Avocado Pool Float | Palm Leaf Pool Float | Jet Ski Pool Float | Airplane Pool Float | T-Rex Dinosaur Pool Float | Flip Flop Pool Float | Shark Pool Float | Wide Stripe Pool Float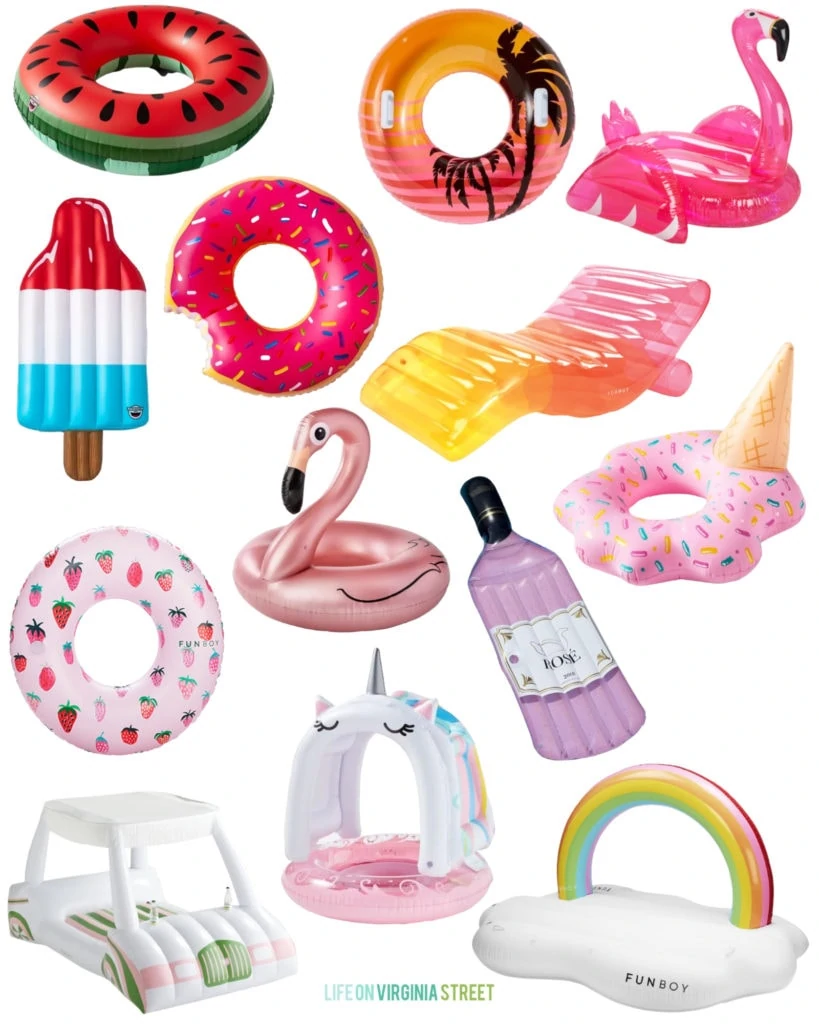 SOURCES: Watermelon Pool Float | Sunset Pool Float | Hot Pink Flamingo Pool Float | Popsicle Pool Float | Donut Pool Float | Ombré Lounge Pool Float | Rose Gold Flamingo Pool Float | Melted Ice Cream Pool Float | Pink Strawberry Pool Float | Rosé Pool Float | Golf Cart Pool Float | Unicorn Pool Float | Cloud & Rainbow Pool Raft
Following are many more pool float options. Simply click any of the options below to learn about each item. Some come in multiple colors, as well!

My brother and sister-in-law gave us this water pong table when we first got the pool and it's another favorite! While it's not intended to actually float on (although you can), it can be a really fun game for kids and adults alike!
Traditional Pool Float Favorites
If you're on the hunt for more traditional pools floats, these are a few of our favorites from over the years!
Our friend Nick bought us these floating saddles the first year we opened the pool and they're by far our favorites! Somehow they got the nickname "pool diaper" the first year and that's what we've lovingly called them ever since 😉 They basically allow you to sit in the water about chest high, but there's basically no work to keep you afloat at that point. They're basically indestructible (functionally speaking) too, so we still have our originals, as well as a handful more because they're so popular when people come over!
My parents bought us these floating pool mattresses the Christmas before we opened our pool. They are Kurtis' all-time favorite and when he wants to relax, this is his go-to. They are pricey, but have held up remarkably well!
These water hammocks were a fun new addition last year! They have a number of ways you can use them and they come in tons of color options. There is also a 2-person version. We love how easy these are to store as well as how quickly we can have them fully inflated!
How To Blow Up A Pool Float
One of the challenges with owning several pool floats is the time involved in blowing them up. But, we've picked up a few secrets over the years and have a few favorite tools depending upon the size of the float we need to blow up. We currently use the following two methods:
For the really large pool floats, we've found that using our large Air Compressor is the best option. This is the tool we also swear by for installing our board and batten walls (like in the den, office and guest bedroom). But, there are attachments you can get that also work wonders for pool floats and other inflatables! It's a game-changer if you have multiple floats to blow up!
For some of the small or medium pool floats, I simply stick with using our portable air pump. It's super compact and comes with multiple attachments to fit all sizes and shapes of floats.
How To Store Pool Floats (& Keep Them Clean)
To ensure longevity with your pool floats, you want to care for them properly. We learned this pretty quickly after the first year or two of owning them! As nice as it may seem to keep them inflated all summer, stored outside, it can wreak havoc on your pool floats. We've tried to be much better about cleaning them in between uses (we just use Dawn dish soap, water and a scrub brush). We then also fully allow them to dry and then either deflate them or store them in our garage. This helps prevent moldy plastic (yes – it can happen).
Another options is to only partially deflate them. For example, on the over-sized ones, we may leave the main float inflated, but deflate ancillary sections like the head, winds, tail, etc. on the large flamingo-type floats.
If you do need to store them outside due to lack of space, I would try to store them upright so that water can run-off of them as easily as possible. You just want to ensure water doesn't pool in any of the crevices for an extended period of time (this is where the mold will come in). If it rains, shake the water off as soon as possible before re-storing.
I hope you found these ideas and tips helpful! Bring on the heat and the summer months ahead!
If you would like to follow along on more of my home decor, DIY, lifestyle, travel and other posts, I'd love to have you follow me on any of the following:
Pinterest | Instagram | Facebook | Twitter
disclosure: some affiliate links used