Happy Monday! I'm feeling a bit re-energized now that we're in May and we can spend a bit more of our time outdoors. A lot of our state is slowly starting to open back up today (with a lot of restrictions and limitations). We're planning to still continue on, staying at home for the most part as much as we can, and utilizing delivery and curbside pick-up services to see how things go. It actually still feels really weird to even leave our house! I think being able to spend a little time outside has definitely helped us feel less stir crazy these past few weeks! We're so grateful for spring finally being out in full force!
This post contains affiliate links for your shopping convenience. Click here to read my full disclosure policy.
Home Projects & Updates
The weather last week in Omaha, for the most part, was absolutely gorgeous! So I chose to spend a lot of my "project time" outdoors.
Nope, this isn't a repeat picture of last week. I simply added a few more plants to this mix over the past week. I'm still storing several in our garage because there are a few nights yet this week where I do worry about the overnight temps. But I knew if I didn't buy the few I wanted, they'd be gone pretty quickly this week with Mother's Day approaching!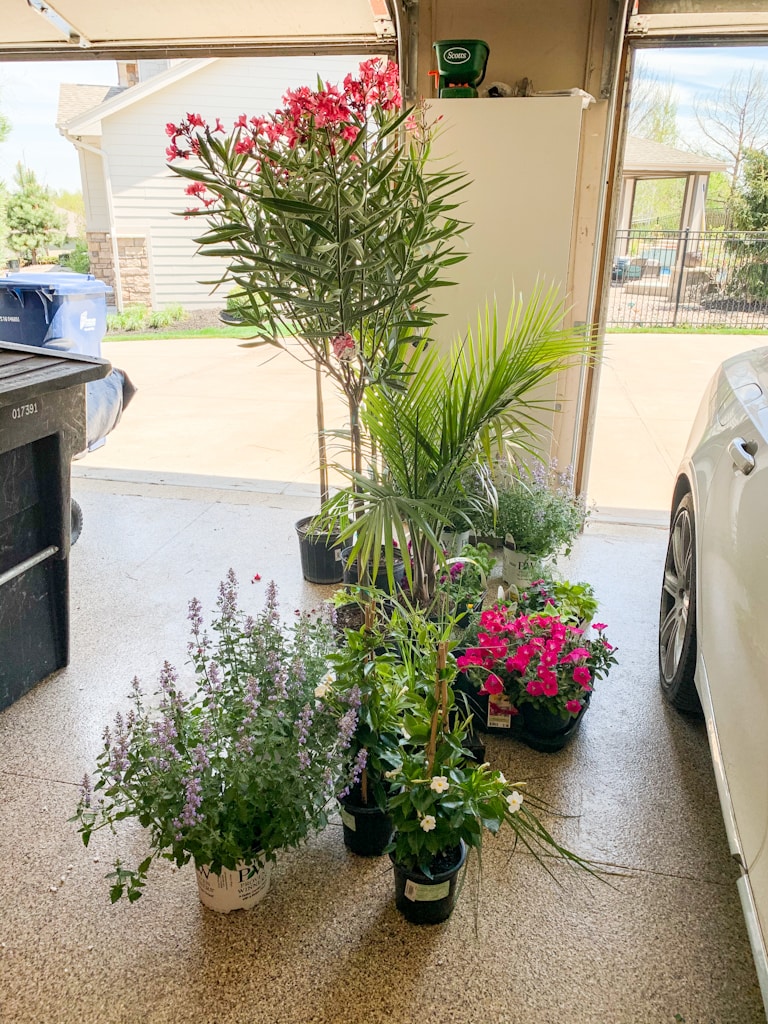 Over the years, we had slowly lost a few perennials on this side of our house. I finally decided to get some color added back in and went with some catmint and knock-out roses. I love the pairing of the two! And this photos is definitely an optical illusion because they're actually each about three feet apart from one another. Hopefully they'll make it over here – this side of our house gets a lot of strong sun most of the day!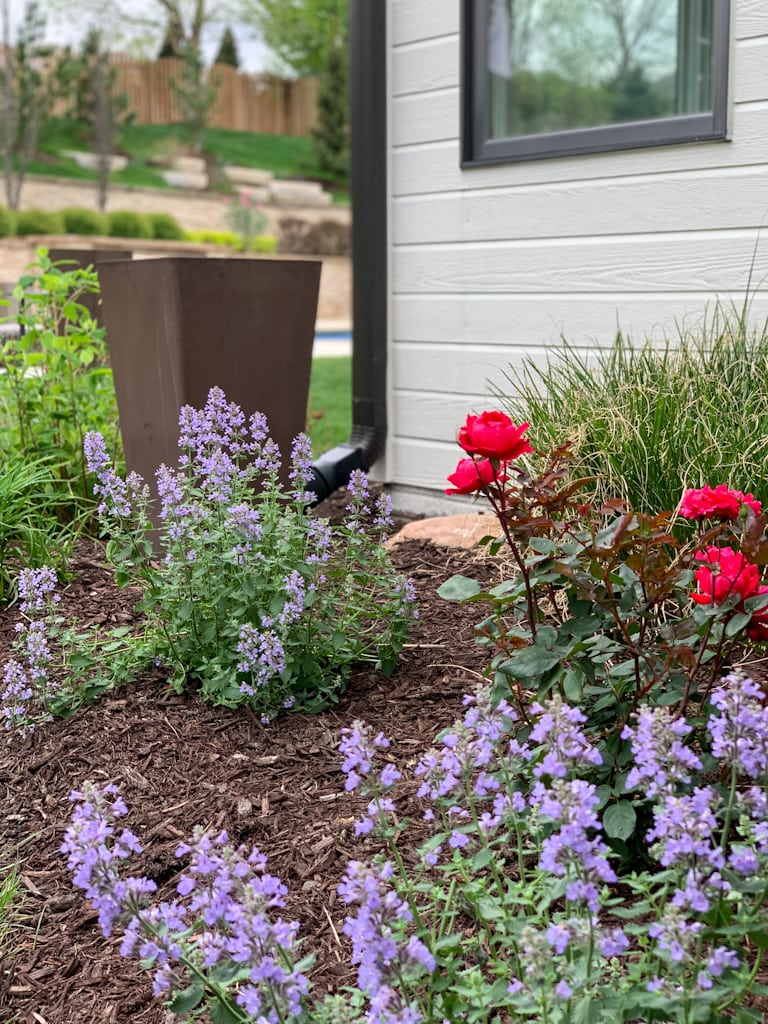 I also added this little spruce topiary to where I had torn out some ornamental grass. This side of our house still needs a lot of work but the little topiary already makes me so happy! For those wanting specifics, it's a Conica Dwarf Alberta Spruce.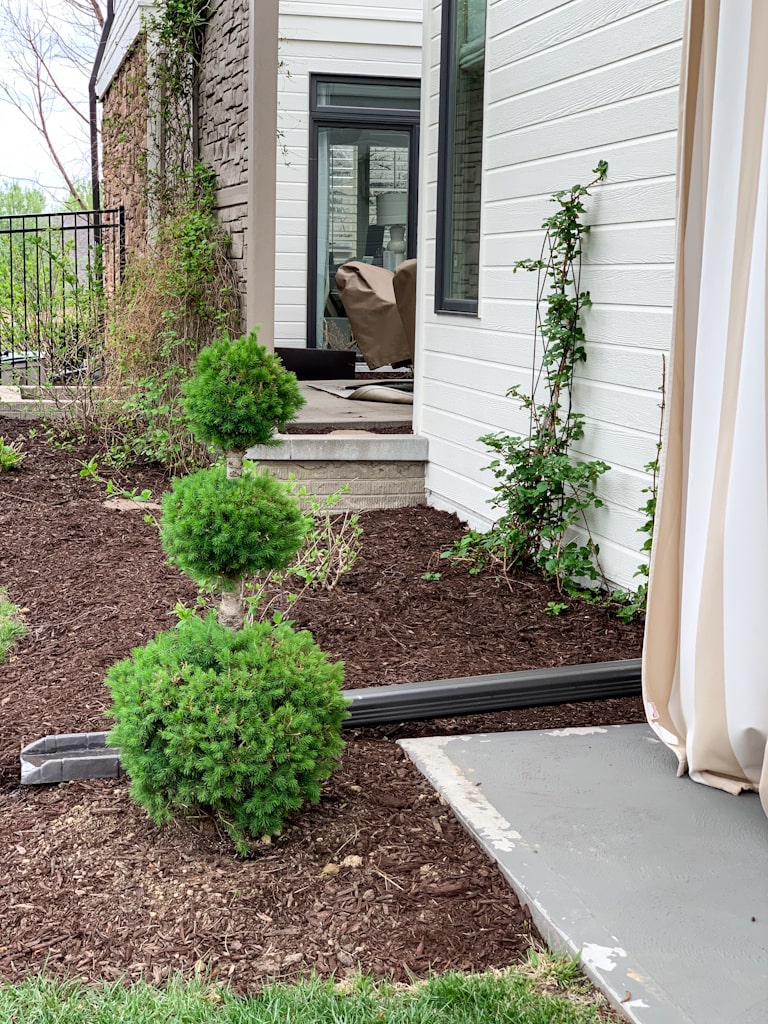 I decided to try some mandevilla in the little chippendale planters I ordered last week. I think they're so cute!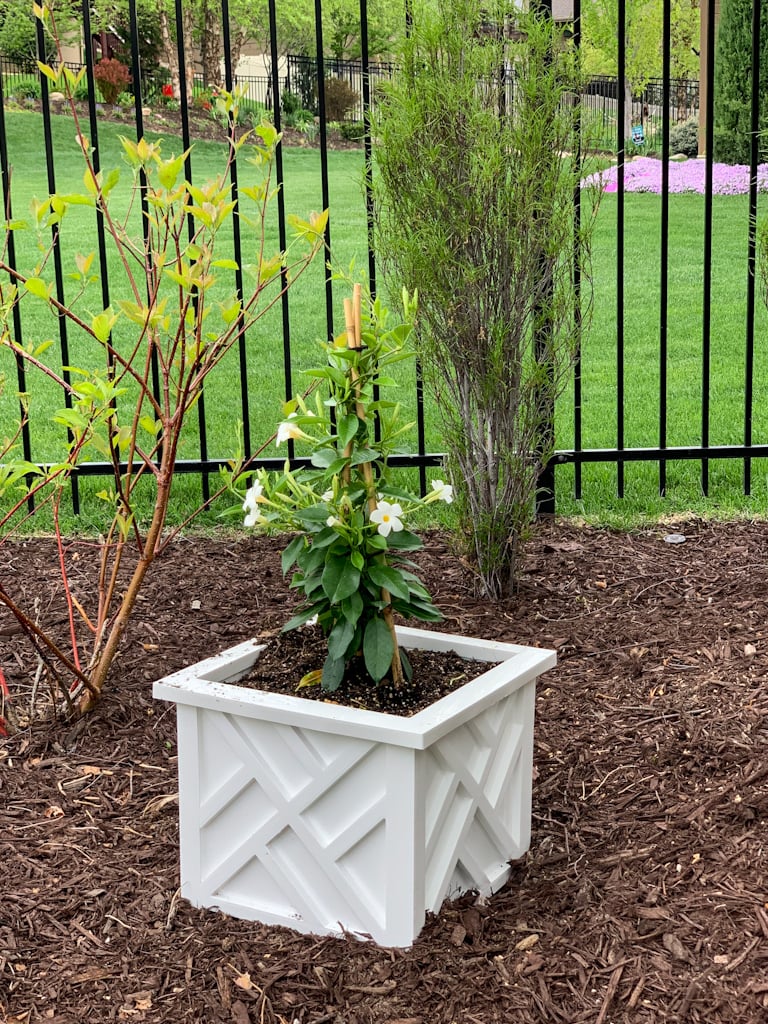 And, over by the garage I added some oleander, petunias and sweet potato vines to my planter. I absolutely love oleander. But, if you're interested in using it, please do your research and make sure it's a good fit. Like several widely used plants, it is toxic if ingested, so just make sure you're okay with it (especially if you have kids or pets that seemingly manage to eat everything). The flowers at the base look a little wimpy right now, but after a few weeks with some water and my favorite fertilizer I think you'll be shocked how quickly they fill in. I'll be sure to give an updated progress report soon!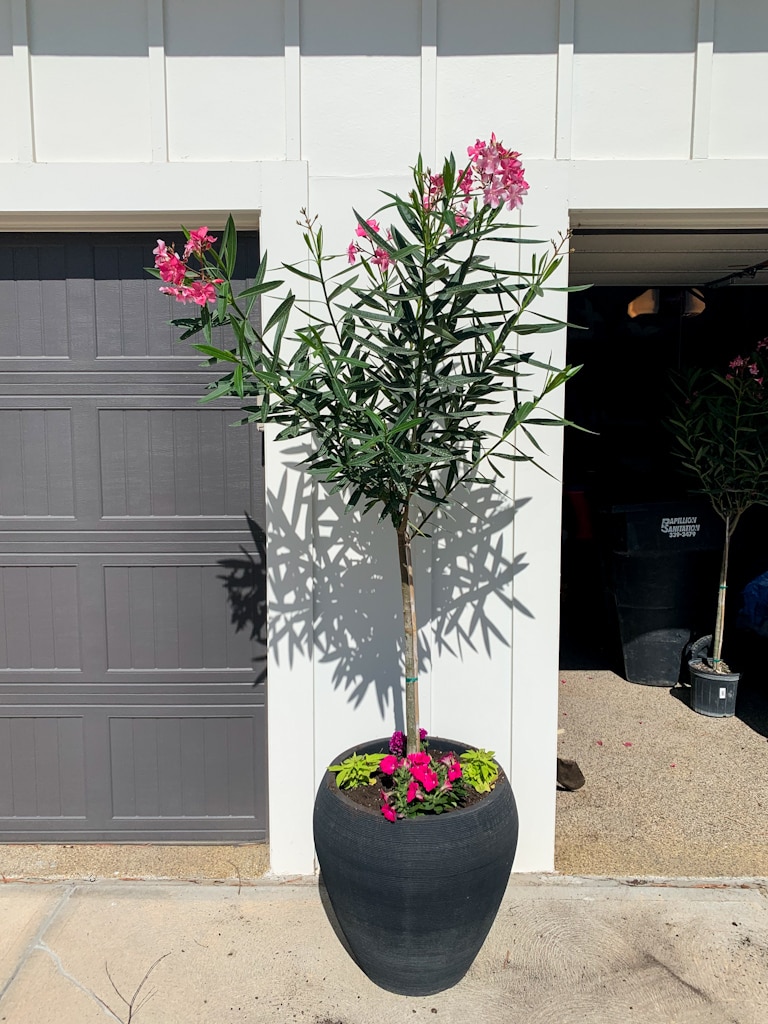 We also did a little tree trimming while the weather was nice and before all the leaves fully fill in. It feels great already having a lot of our seasonal yard work out of the way already! We use this tree trimmer saw for the harder to reach spots. It uses the same battery as our hedge trimmer and cordless leaf blower so we basically always have a battery on the ready! And they're all tools I'm not scared to use so I love them!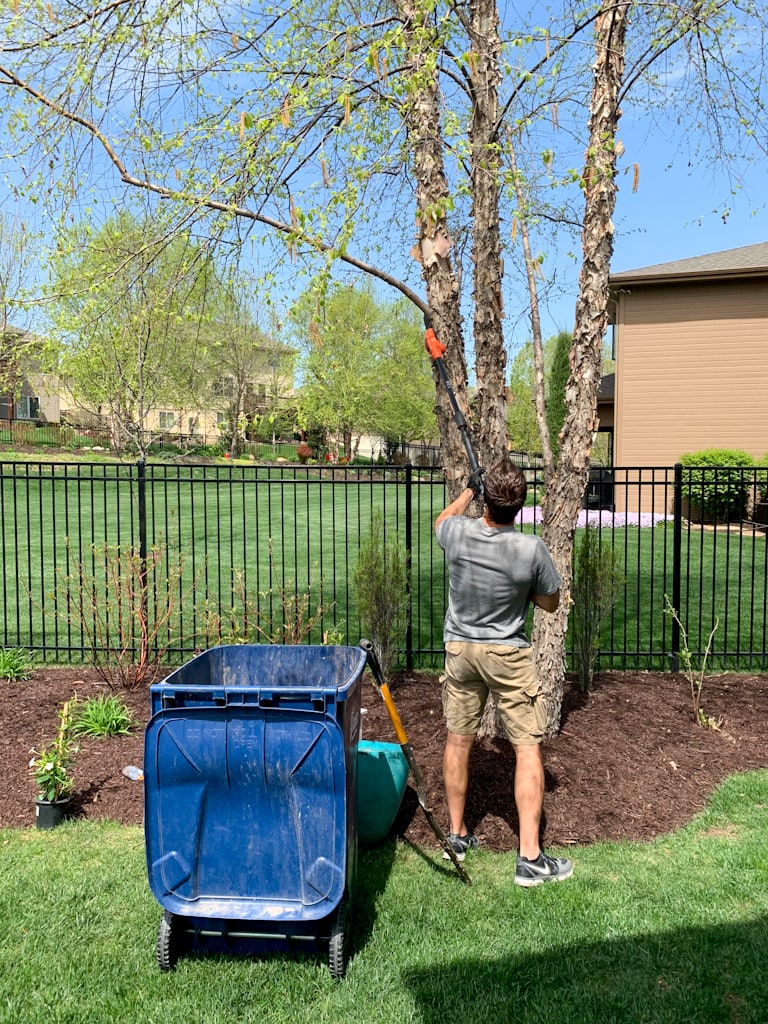 We're supposed to have a few rainy days this week, which is great for my new plants! It will also give me the opportunity to wrap up some of the projects indoors that I need to finish, photograph and share with you!
Top Sellers Of The Week
Following are the top sellers of the week across all of my channels. Links to each item are below the graphic. You can tell a lot of you are just as motivated to get outside as I am!
Around Town & For Fun
I've had some new followers over on Instagram, so last week I shared some random facts about me as sort of an intro to those that don't necessarily read the blog, as well.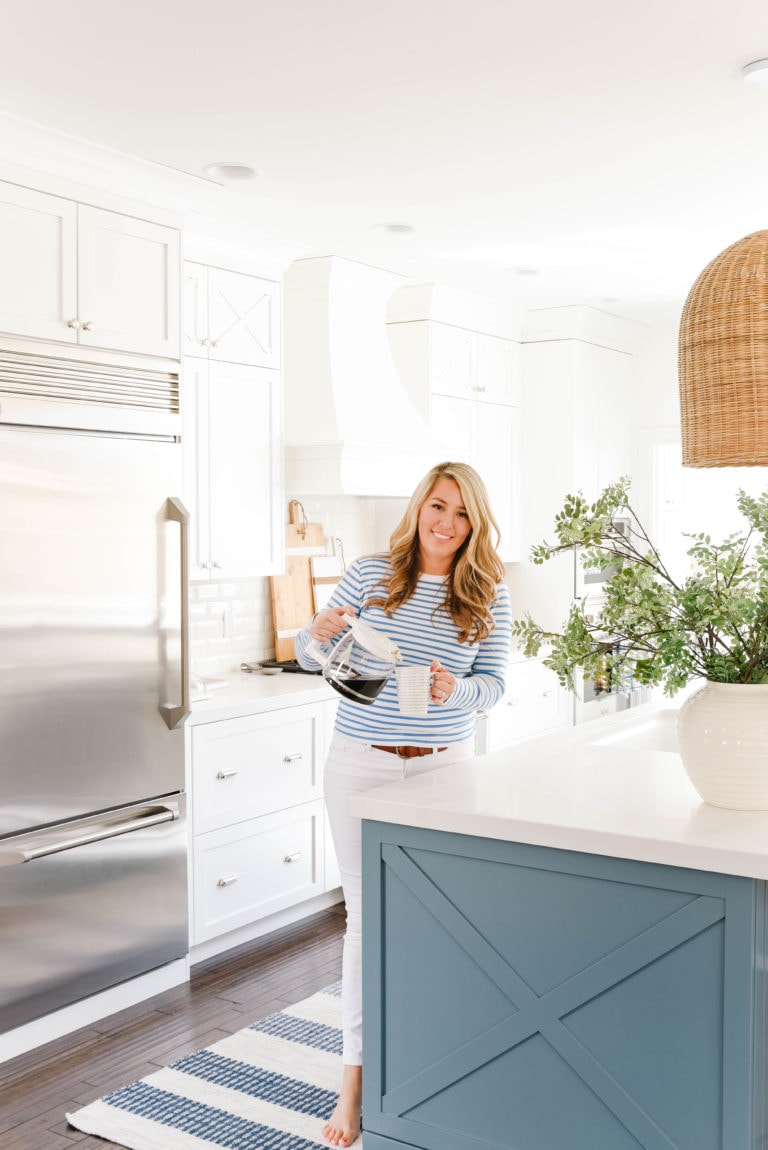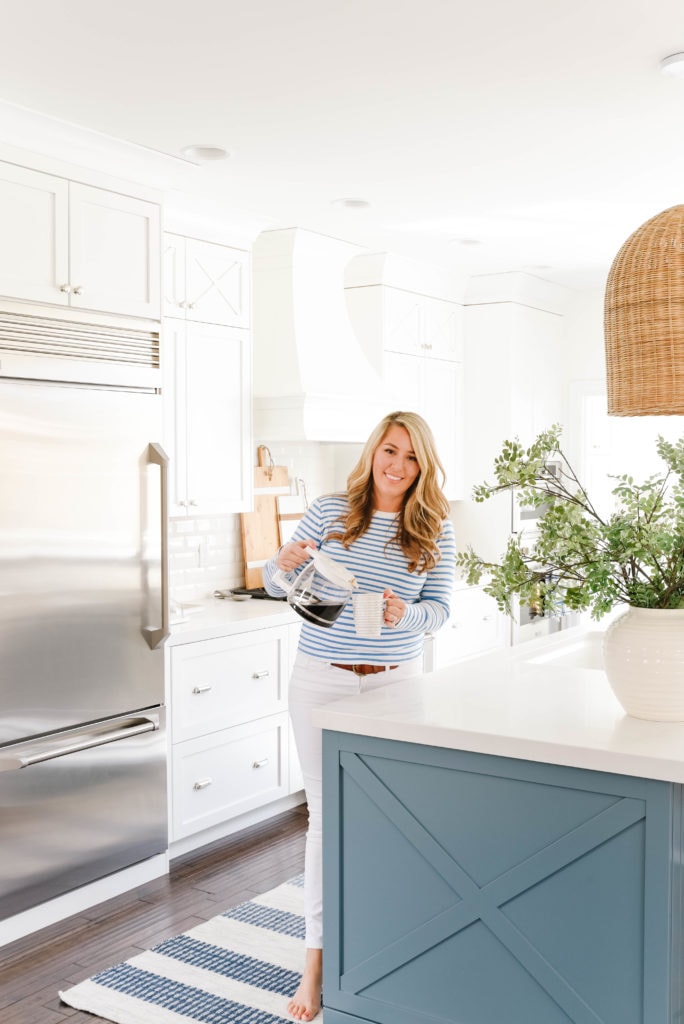 KITCHEN & OUTFIT SOURCES: Striped Runner | Basket Pendant Lights | Similar Vase | Faux Greenery | Natural Wood Board | White Wood Board | Cabinet Hardware | Striped Top | White Jeans
I thought I'd share those random facts here in case any of you were interested!
✨ My morning HAS to start immediately with a cup of coffee. I usually then go right to my computer and start working for the day.
✨ Although we live in the middle of the country, we love being on the water: pools, lakes, oceans, rivers, all of it. It's probably why I decorate with so much blue and white! 🌊
✨I grew up in Utah and lived there until I moved to Nebraska for graduate school. I met Kurtis within two months and we've never left!
✨ I have a Bachelor's degree in math and statistics and a Master's degree in business administration. And before becoming a full-time blogger I worked in the insurance industry for 19 years. Talk about a total 180!
✨ Kurtis and I were set up on a blind date. At a wedding. Needless to say, neither of us were that excited about being set up at first!
✨ Our cat Henley is named after Don Henley because I'm obsessed with The Eagles.
✨ I was a foreign exchange student in Finland one summer (and also got to visit Sweden and Russia while I was there), and since then I've tried to travel internationally as much as possible!
✨ I turn 40 in September, but most days I forget that I'm not 30 (or younger). It's probably a sign of my advancing age 😂
✨ I need at least 8 hours of sleep each night or I'm a total nightmare. Don't make me stay up past 10 PM either!
✨ When I was a kid, I would use graph paper to draw floor plans and house elevations. I also have a photographic memory when it comes to houses and floorplans. Too bad that was never on any tests growing up!
✨ I'm super bossy. It's funny to watch home videos and see that I was ordering kids around twice my age even back then. I like to call it leadership 😜
✨ I get a thrill out of finding designer inspired home decor pieces for less.
✨ I've never been able to do a cartwheel. When I try, I think it looks good, but video has proven otherwise.
So, there you have it! A bunch of random facts you may have never even wanted to know about me!
I wasn't sleeping great this past week for some reason so on Thursday night I headed up to read in bed around 8:00 pm. I opened the windows and it was all so peaceful and beautiful outside! Admittedly, it felt a little weird climbing into bed when it was still light outside 😉
With the beautiful weather last week, we tried to eat nearly every meal outside – including breakfast! Such a simple change in the monotony of our days really seemed to be a mood booster! The cats definitely love it too, when we let them on the patio for a few minutes.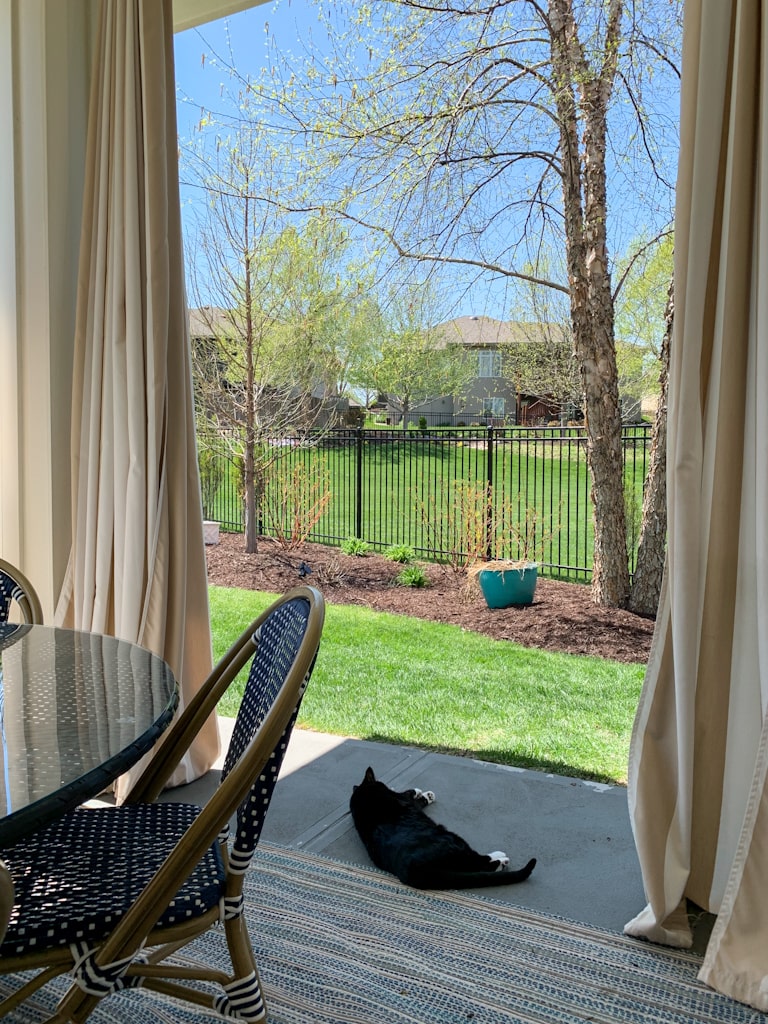 For whatever reason, the cats have "found" this chair and all three of them want to be on it at all times. No idea why!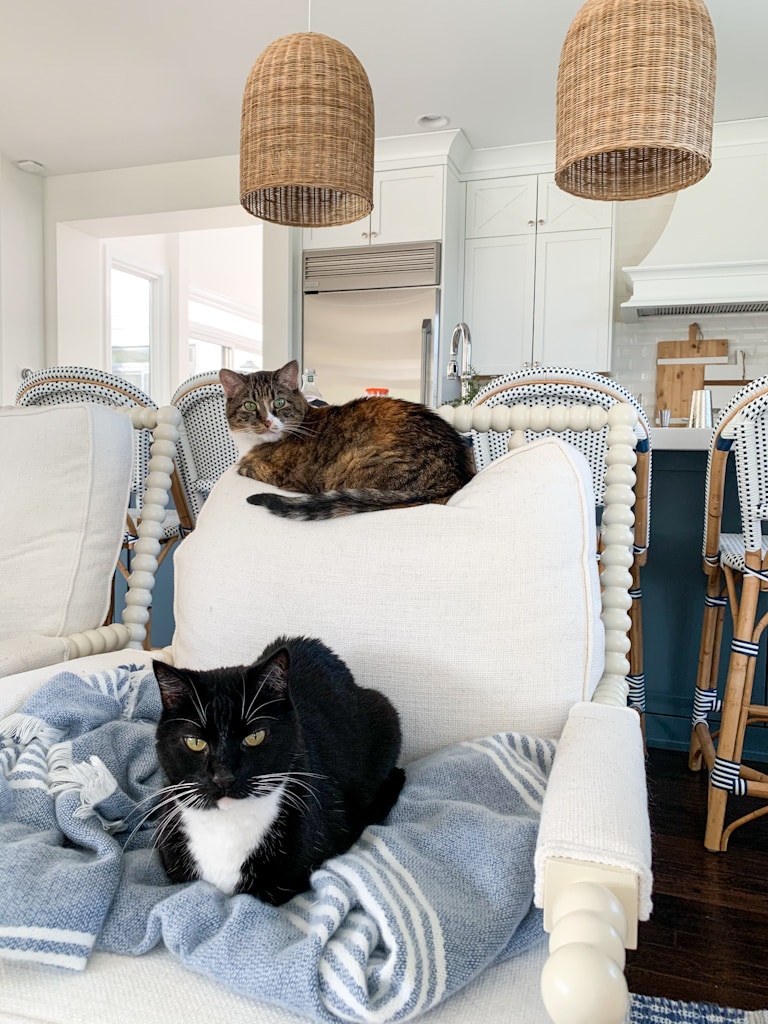 Another variation of the chair "sharing".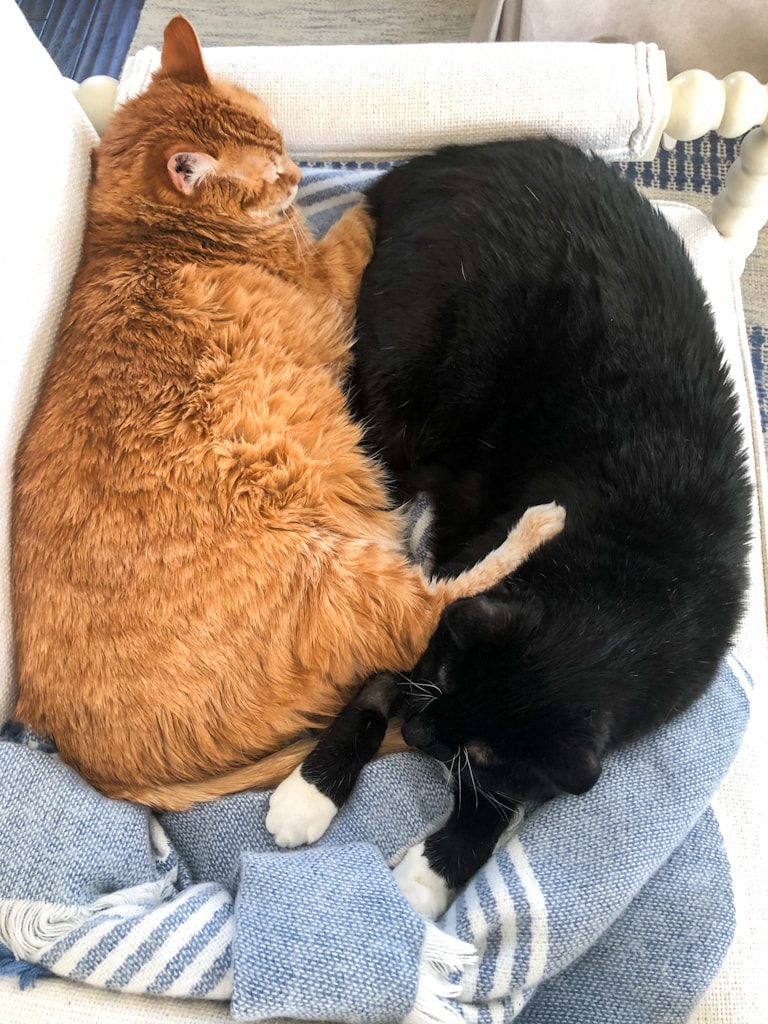 Friday night I actually jumped in the pool! Although Kurtis had the week prior (right before his birthday), this is the earliest in the year I've ever gotten in. But with temps in the high 80's it was perfect! It did feel slightly strange to have summer-like temps but with very few leaves on the trees.
Saturday we spent a lot of time researching a potential project we may partner on with some friends. I should know more this week but it will be really exciting to share if everything pans out!
I was reading on the sofa Saturday night and out of the corner of my eye, I saw Hawkeye spring up to the mantel and instantly collapse and act like he's always been there 😉 Sometimes I'd really love to know what goes through their minds!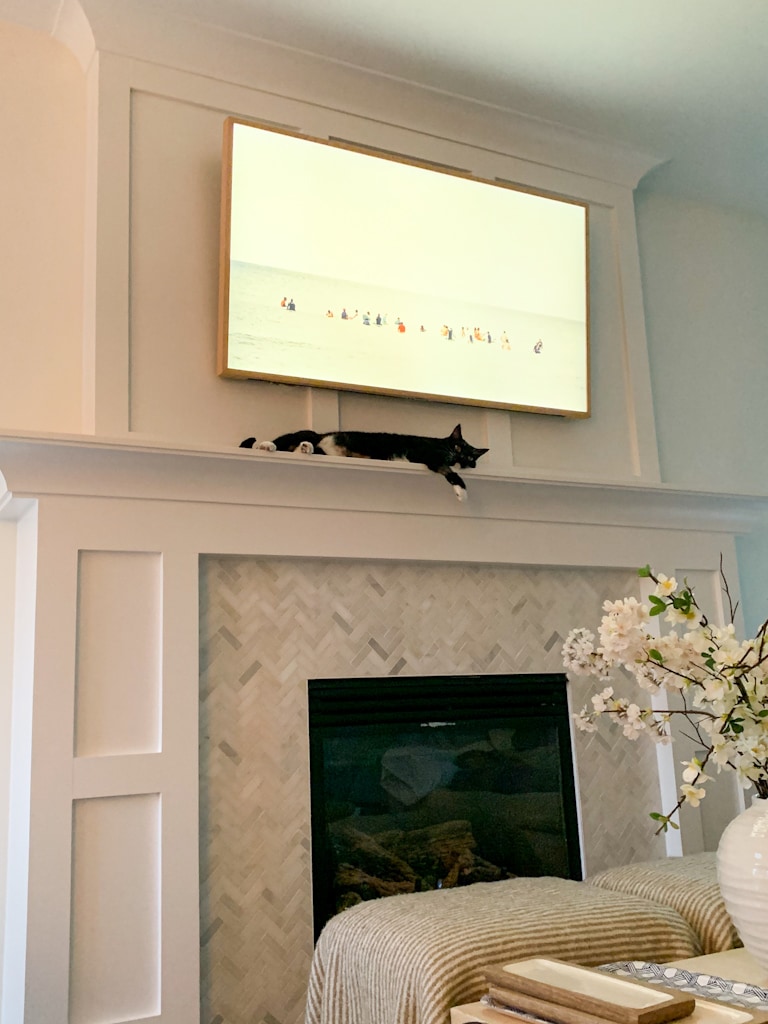 Sunday afternoon was beautiful and we took a drive to the Dundee area of town. For those that aren't local, it's about 30 minutes from our house and near the University of Nebraska – Omaha campus where Kurtis and I both went to graduate school. As much time as we both spent down there, we never really explored much. We'd drive down for school after work and then drive home. It was fun to drive all the beautiful tree-lined streets and look at the older homes! So much beauty!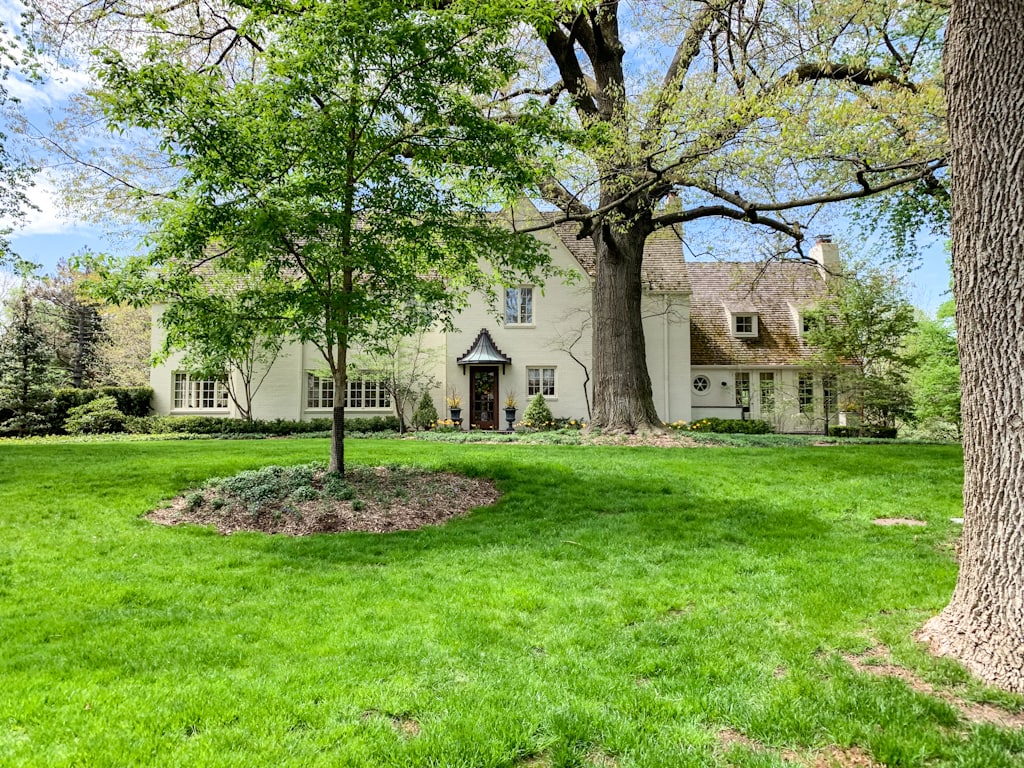 I even got dressed up for our drive. I curled my hair and wore makeup and my new Weekend tee I got from J. Crew. It was nice to feel human again! It definitely warranted an awkward selfie to try and show the tee 😉 I love the colors of it! I'm also wearing this lip balm in the color Orgasm.
With all the sun and warmth these past few days, our trees really made some progress and the leaves are developing! I can't wait until it's all fully green again!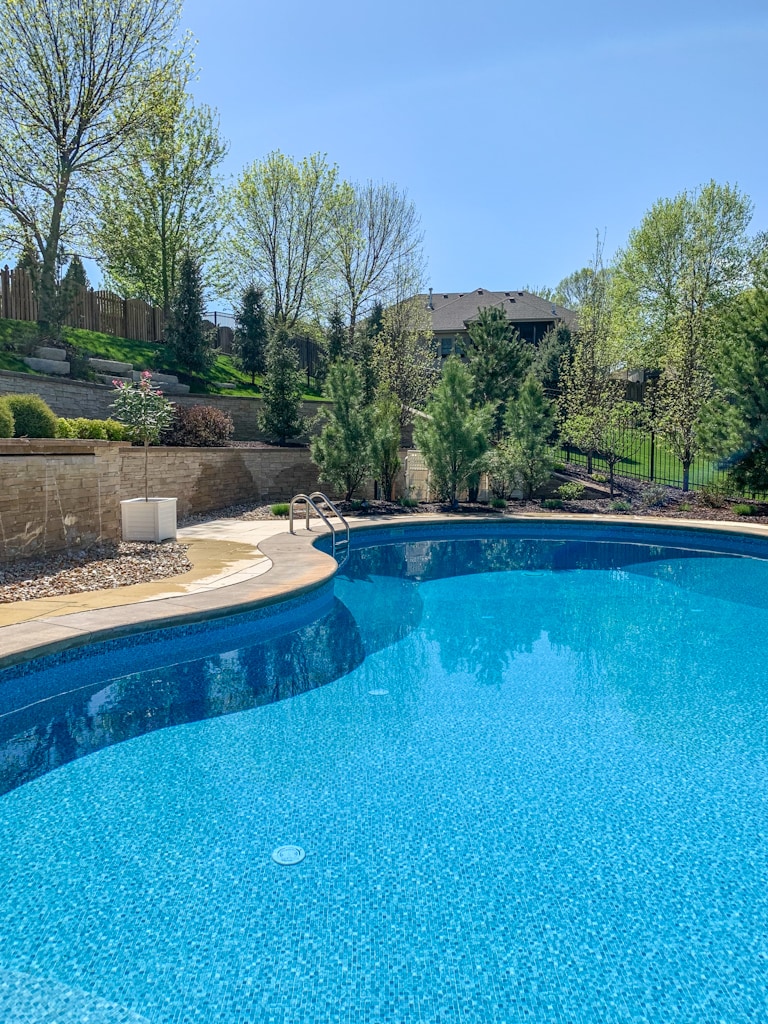 We ended the weekend watching "The Last Dance". It's an ESPN mini-series about Michael Jordan that is a total of ten hours long. I don't know how, but I somehow got sucked into it after Kurtis insisted on watching it. I'm waiting for the part where the Utah Jazz show up in the story! Kurtis and I still talk smack to one another about those glory days of basketball 😉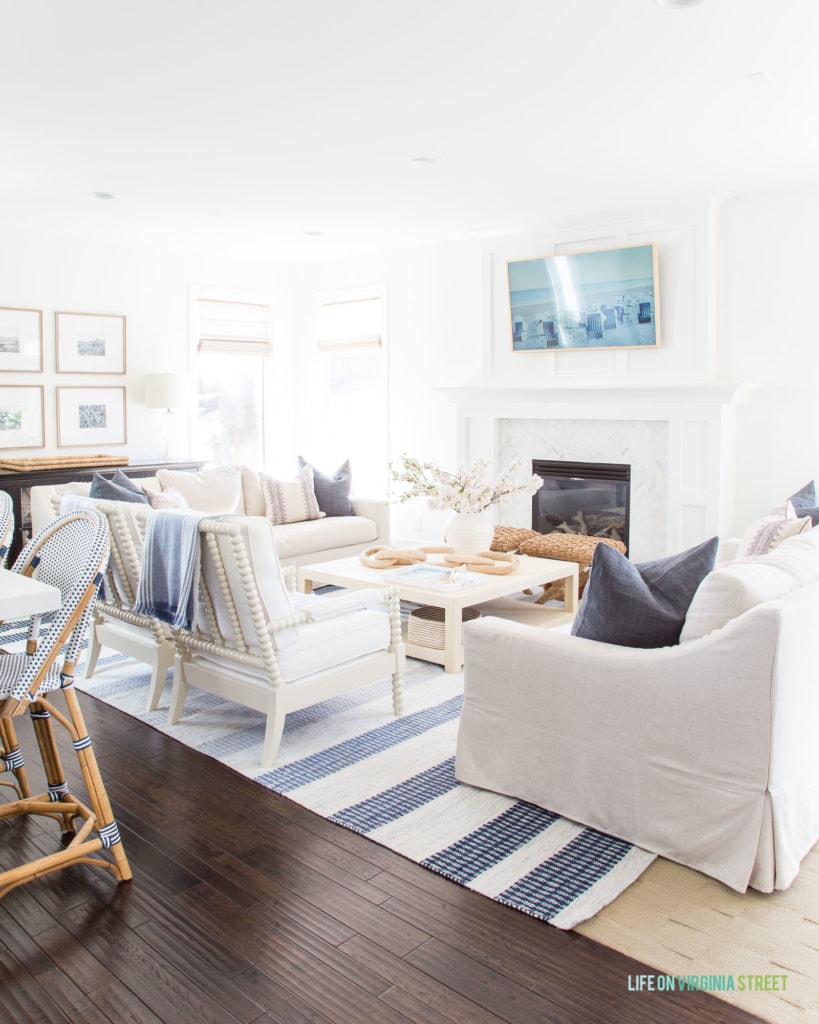 LIVING ROOM SOURCES: Linen Sofas(full review here) | Spindle Chairs | Striped Throws | Linen Pillows | Paisley Stripe Pillows | Patterned Pillows | Striped Rug | Raffia Coffee Table Similar | Similar Wood Chain Link | Faux Cherry Blossom Stems | Similar Vase | X-Bench Stools | Frame TV | Gallery Frames | Lamps
I also made the mistake (or maybe it was a good thing?) of stepping on the scale this morning. The quarantine 15 are no joke! I think we're going to have to change our eating habits from here on out or we're definitely going to be in trouble when summer arrives!
Recent Buys & Sales
Following are some sales that have carried over from the weekend. You can see some of my top picks here.
I hope you all have a great week!
If you would like to follow along on more of my home decor, DIY, lifestyle, travel and other posts, I'd love to have you follow me on any of the following:
Pinterest | Instagram | Facebook | Twitter
disclosure: some affiliate links used