Happy Monday! I hope you all had a nice weekend. How are you all holding up? I definitely have good days and bad days, but have been trying to focus on the positives each day, regardless of how I'm feeling. It has definitely helped improve my overall mindset in these uncertain times.
Here's what we've been up to over this past week.
This post contains affiliate links for your shopping convenience. Click here to read my full disclosure policy.
Home Projects & Updates
I made really good progress painting our office last week! The more coats of the Simply White I wrap up, the more I'm thinking we may just keep it white for awhile. Even Kurtis, the anti-white-paint person said he loves it and thinks our office feels a lot bigger now. I'm hoping to get the third and final coat on all of it this week so we can put the office back together! You can read more about our initial plans here.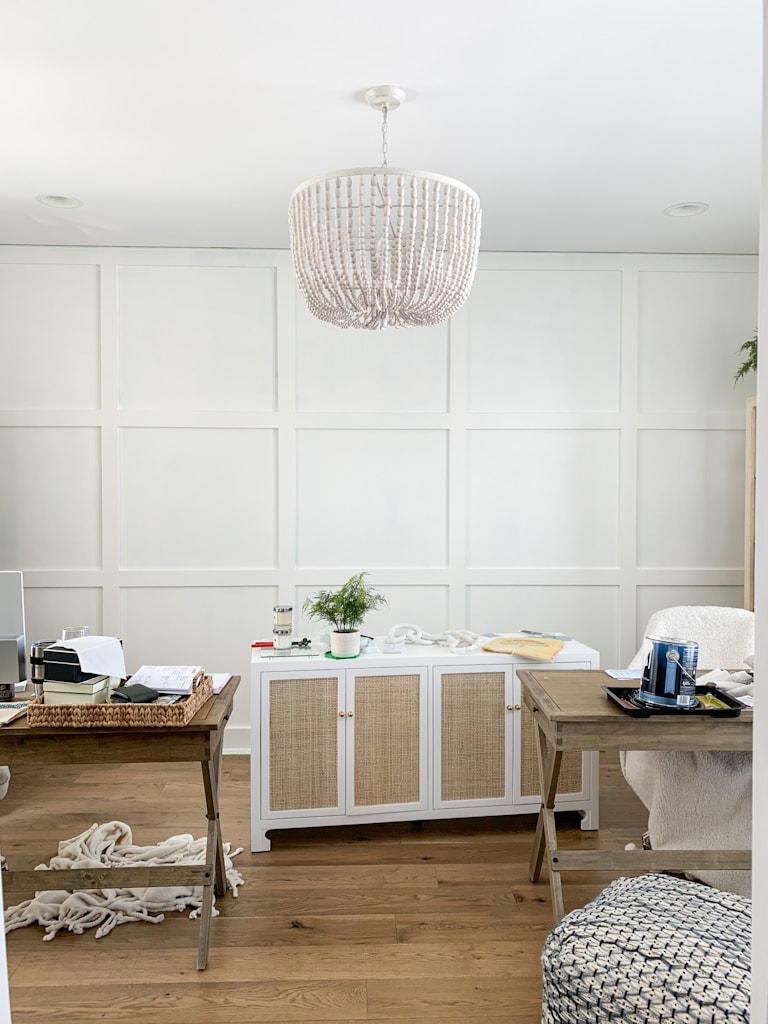 OFFICE SOURCES: Wood Campaign Desks | Wood Bead Chandelier | Cane Cabinet | Faux Fern | Marble Chain | Similar Pouf
I also spent some time organizing the cabinets on the back side of our kitchen island. We love having this storage for seasonal-type items (and all my candles) but they had gotten a bit chaotic. I'm not finished yet, but hoping to wrap that up this week as well. Here is what two of them looked like before I started. I found stuff, where it was pretty apparent we had just shoved them in a random cabinet during our kitchen renovation and never looked back. Yikes!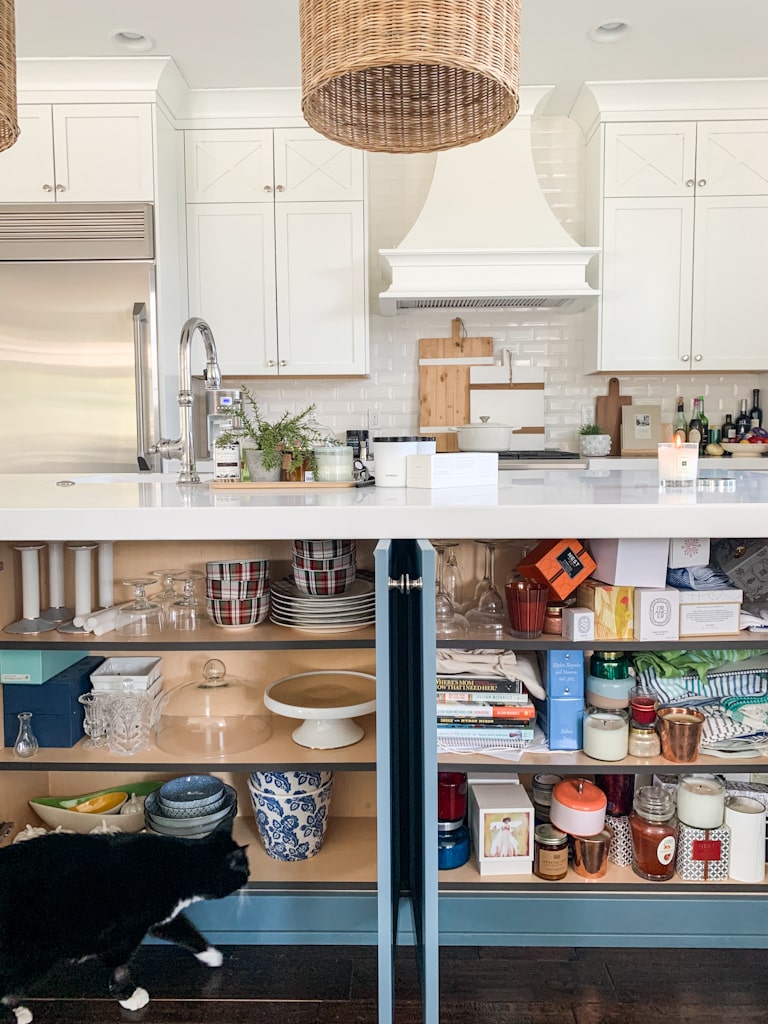 Saturday we worked on cleaning out the garage. It always takes a beating over the winter months and our floors seem to get cover in salt, sand, leaves and grime.  I think this may be one of the first times we've ever power-washed the floors. With how much we're going in and out of the garage lately, it feels so good to have clean floors in there!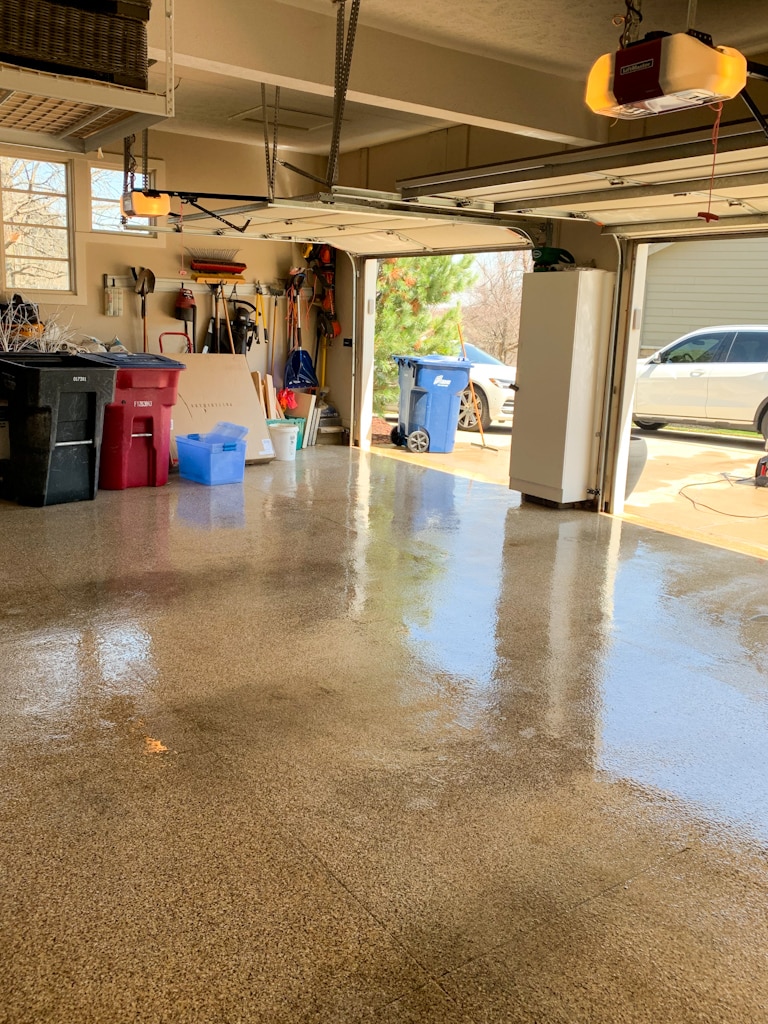 We then started prepping for summer! Yes, it's still super early, but the forecast looks beautiful this week and we wanted to have things ready in case we can work outside at all! Kurtis power-washed the pool deck and I got our outdoor curtains prepped for us to hang.
Sunday, we took all the outdoor furniture down (it hangs on a rack above our cars in the garage). It's never a fun job pulling heavy furniture down while you're standing on ladders. But it's nice to have the job done for the year!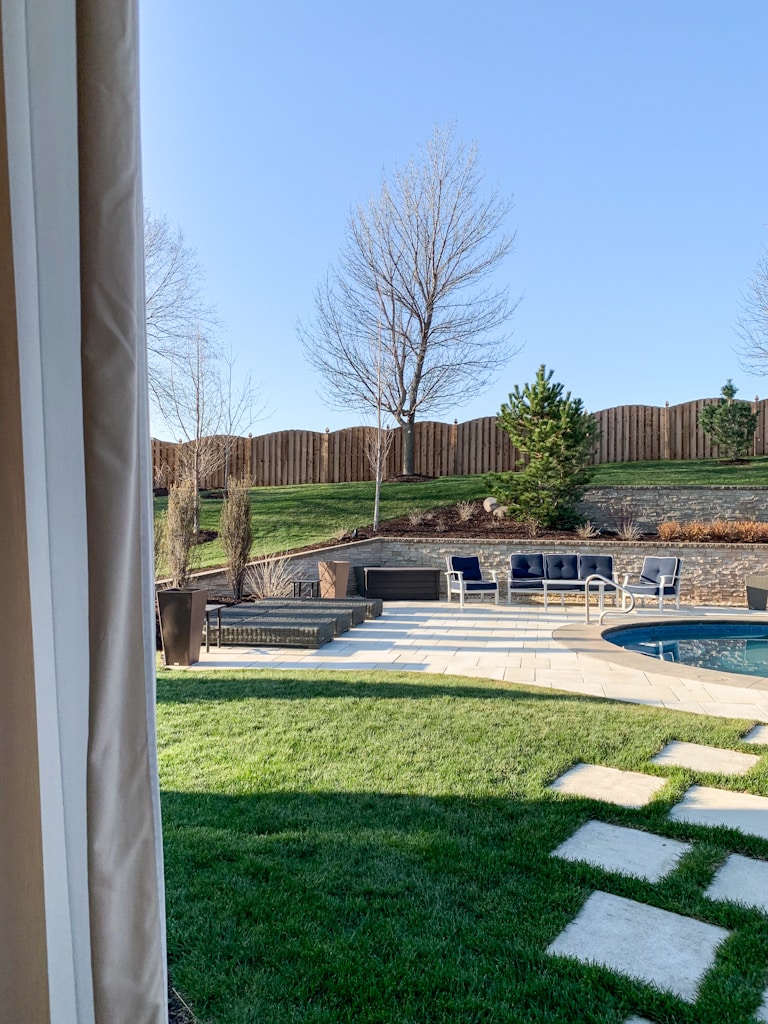 I've had a lot of readers tackling paint projects recently and I love when you tag me on Instagram! Colors from this post seem to be the most popular, but I'm loving each and every project you're sharing! Feel free to tag me if you've also tackled a project inspired by my blog! Most paint stores are offering contact-less curbside paint delivery right now if there's a project you're also wanting to start.
Top Sellers Of The Week
Following are the top sellers of the week across all of my channels. Links to each item are below the graphic.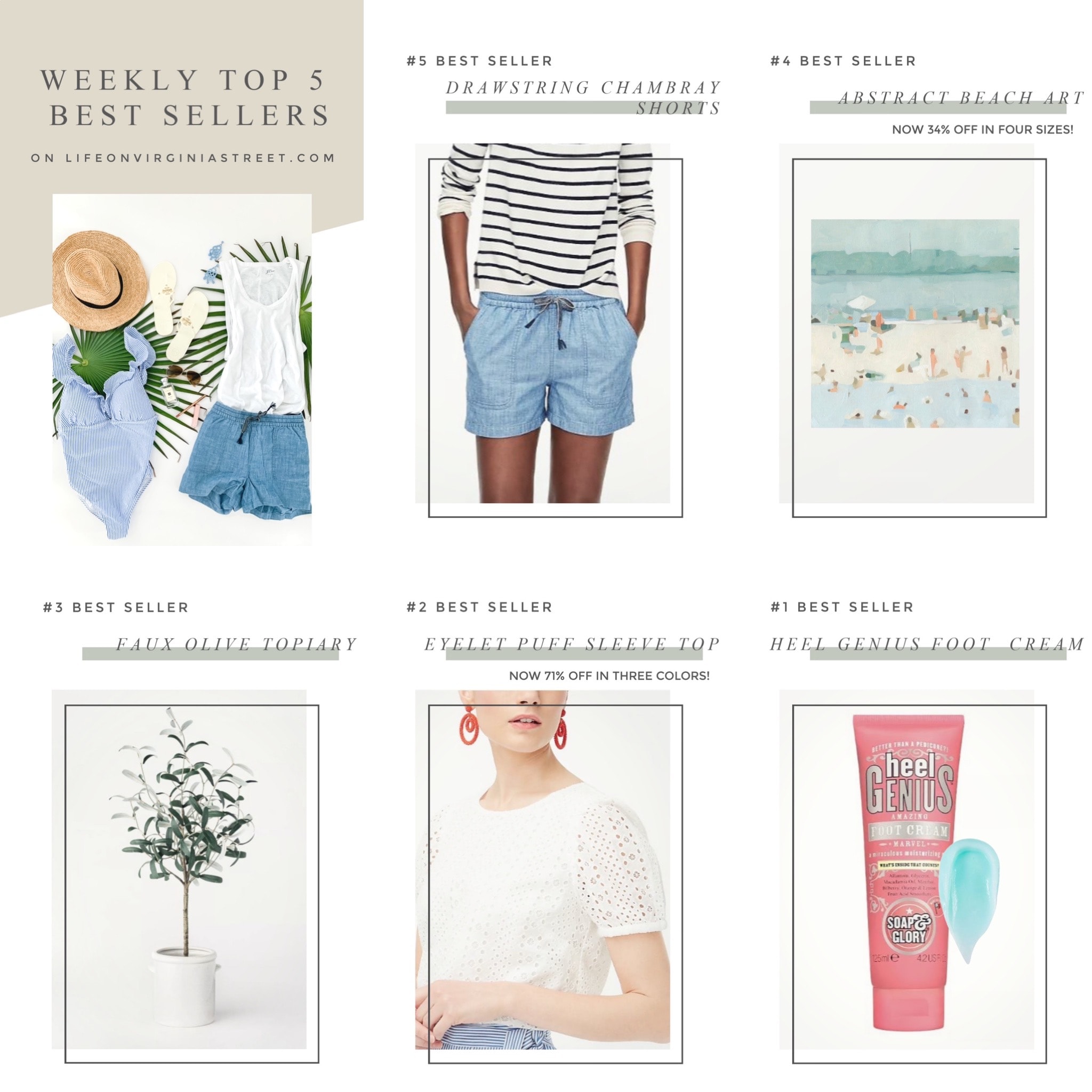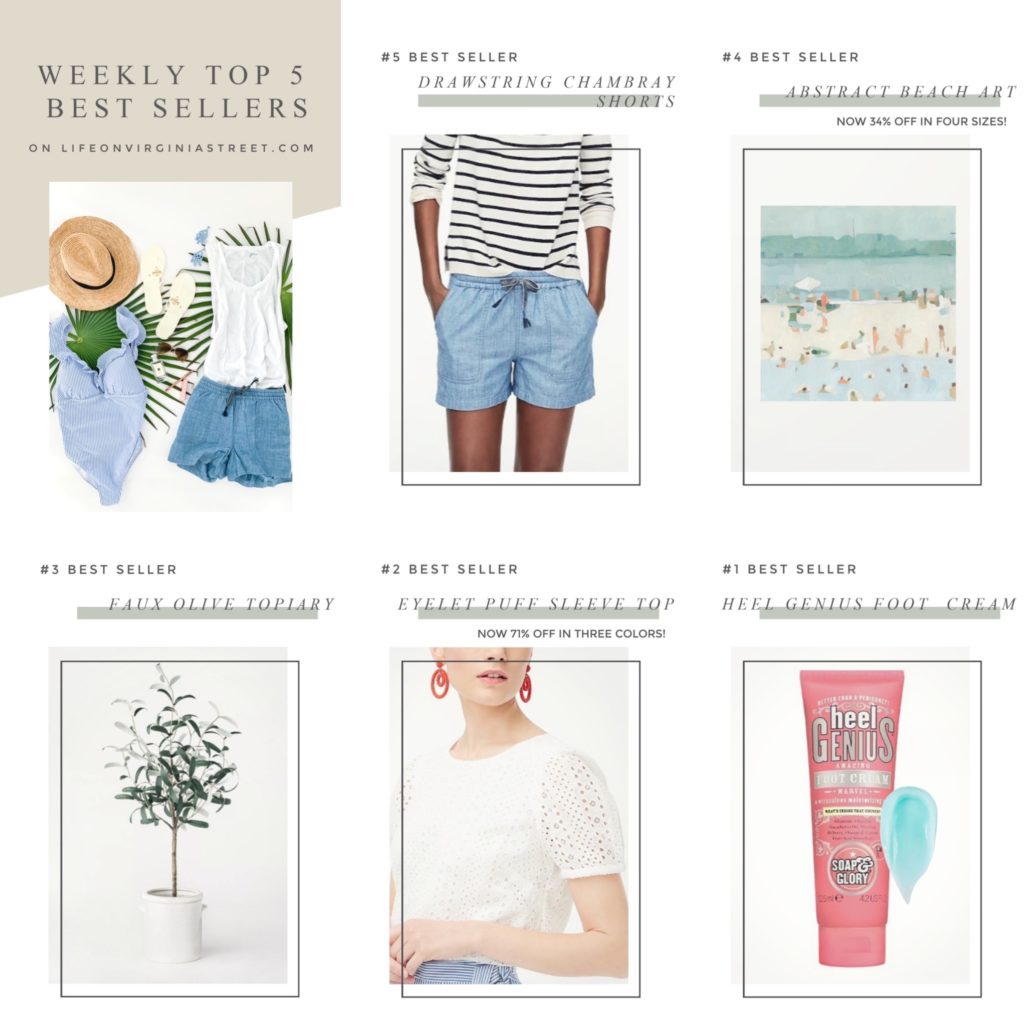 BEST SELLERS (each number is clickable): #5 | #4 | #3 | #2 | #1
Around Town & For Fun
The highlight of our week? Wednesday we had our pool opened. We likely won't be able to use it for another 4-6 weeks, but Kurtis decided to open it early since we're home and we may as well improve our views 😉 It was much cleaner than it has been in years past. They came Wednesday to remove the cover, and then add something that makes all the dirt and leaves drop to the bottom. They were supposed to come back Friday to vacuum it all out.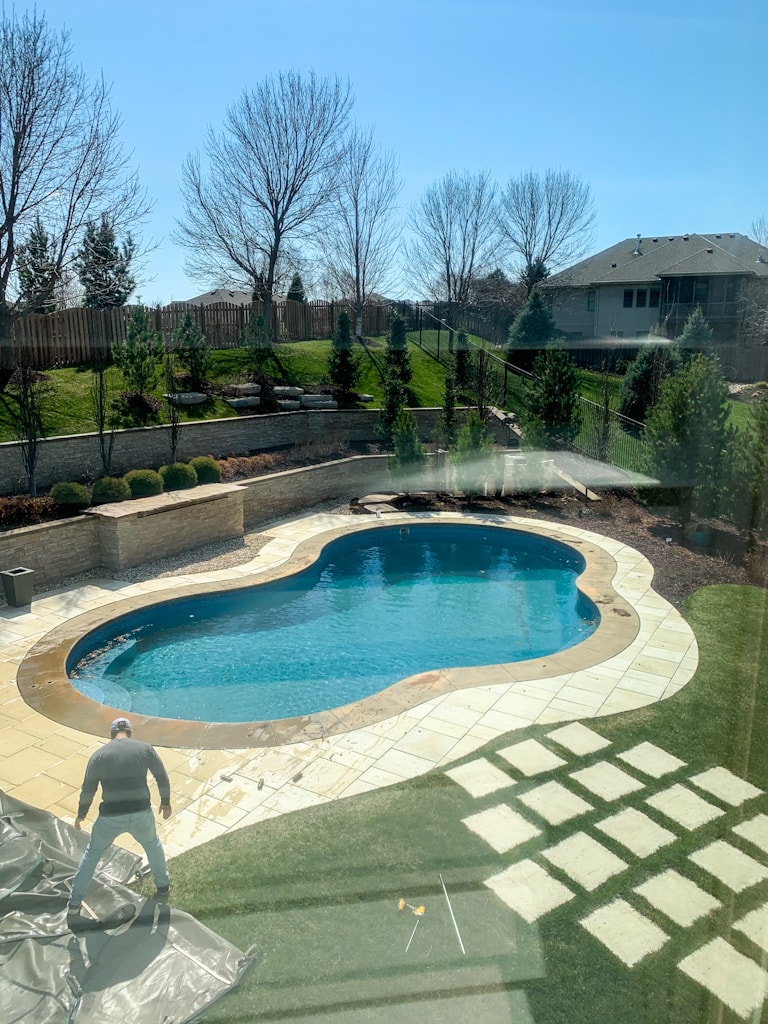 But, then, on Thursday we got hit with EIGHT inches of snow at our house. WHAT?! I would have been sad for a mid-April snow, except for the fact it was SO beautiful! I told Kurtis it may very well be one of the only times we ever see snow (especially this much) with our pool open at the same time!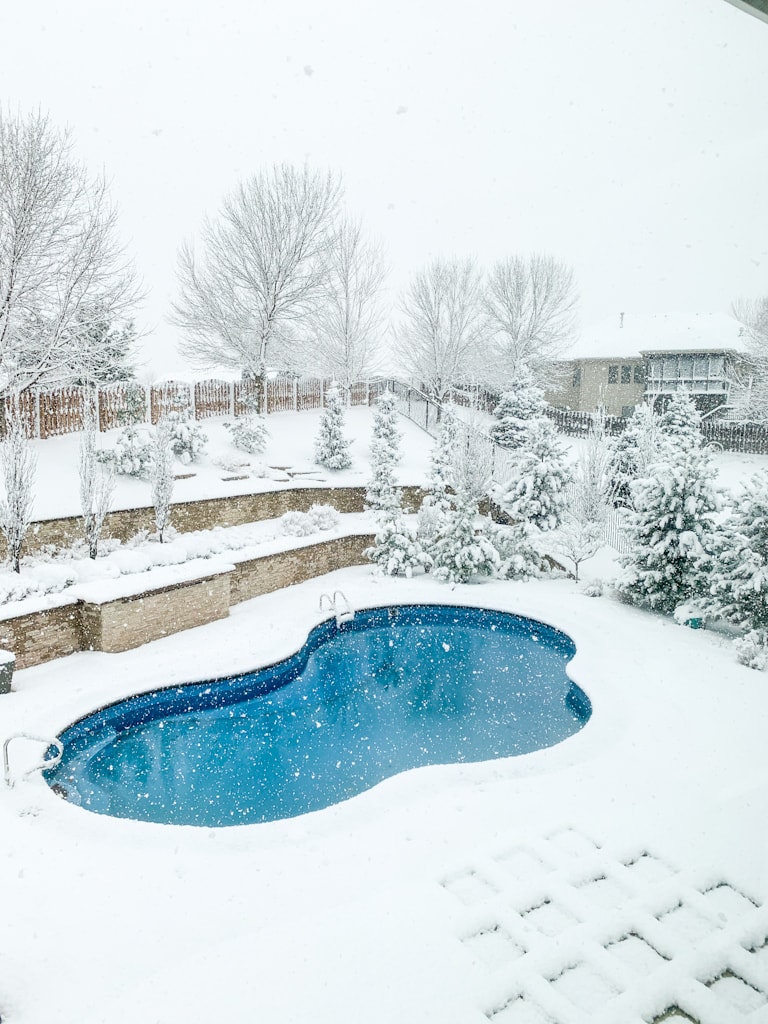 Friday morning, it all looked so beautiful! But, since the pool had frozen over a bit overnight, they obviously couldn't come finish up the cleaning. The bright side was that most of the snow had melted by the end of the day, suddenly feeling like spring again!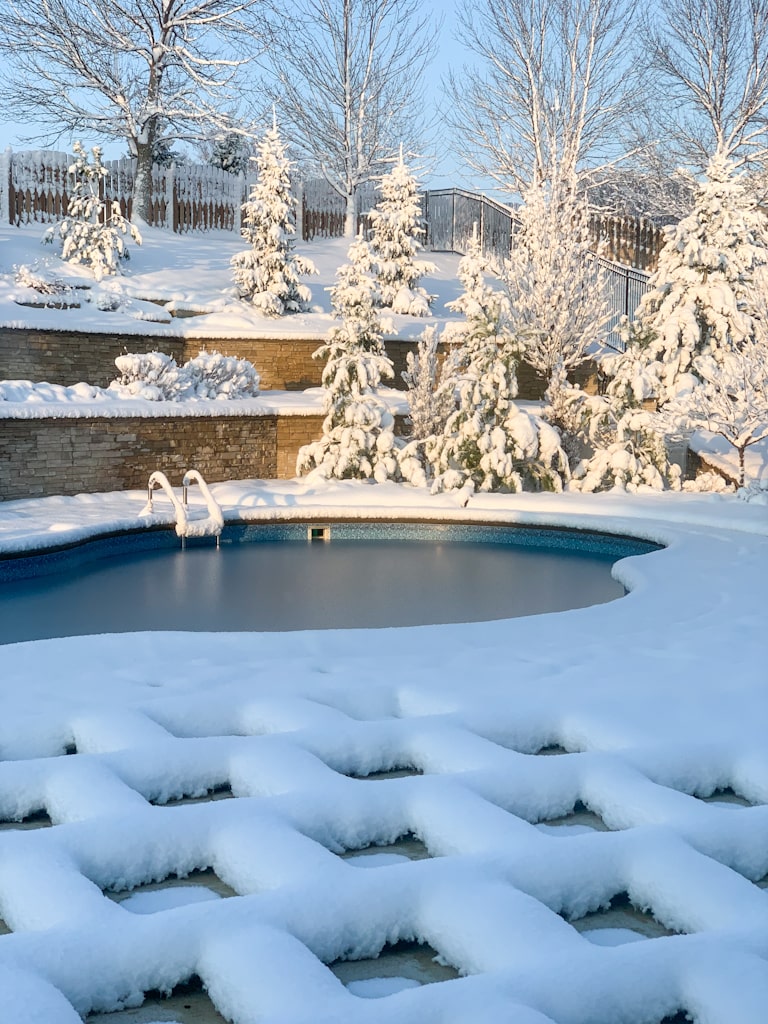 For those curious, here is what the pool looked like Saturday morning after everything had thawed out and the sediments had dropped. With all the sun we got Saturday and Sunday, it ended up turning pretty green by the end of the weekend (since there still aren't chemicals in it yet). But, we think this is the cleanest our pool has even been right after opening! We're guessing the two guys will be back today to finish everything up and then it should turn around pretty quickly!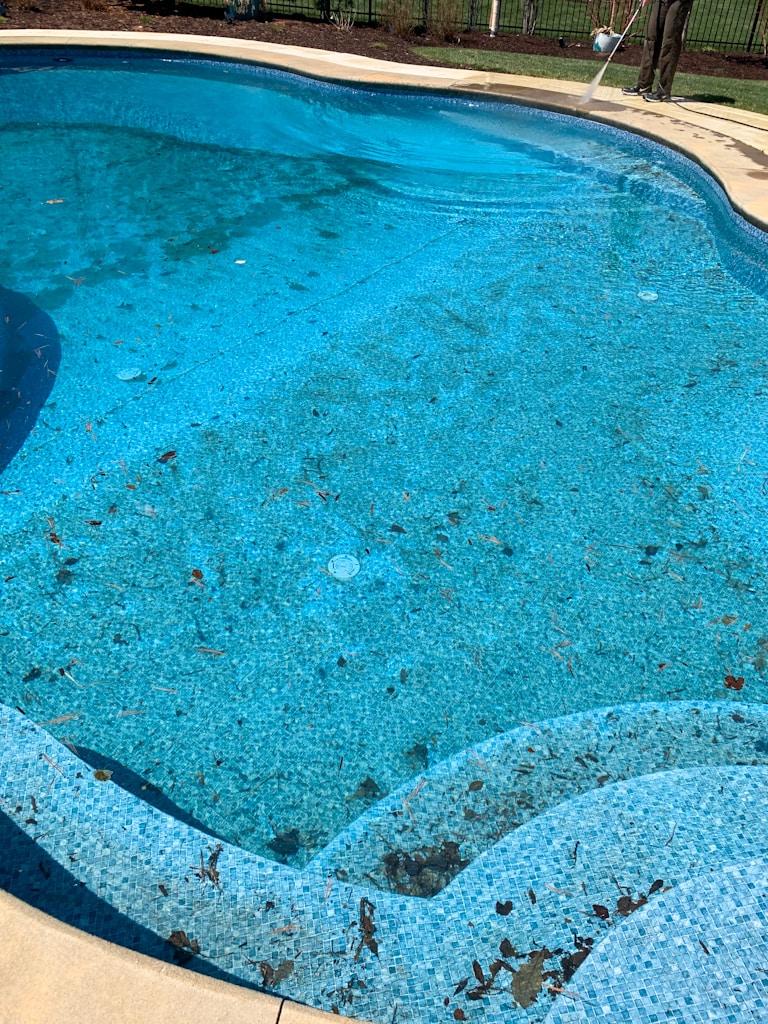 Henley's current number one goal in life is for Kurtis to let her in his office (our guest bedroom) when he's working. She literally stands outside the door and cries non-stop. The only problem is, when you're on a call (or whenever I'm talking on Instastories), she starts barking and demands attention. She broke in to his office a day last week and "hid" in the corner next to his computer 😉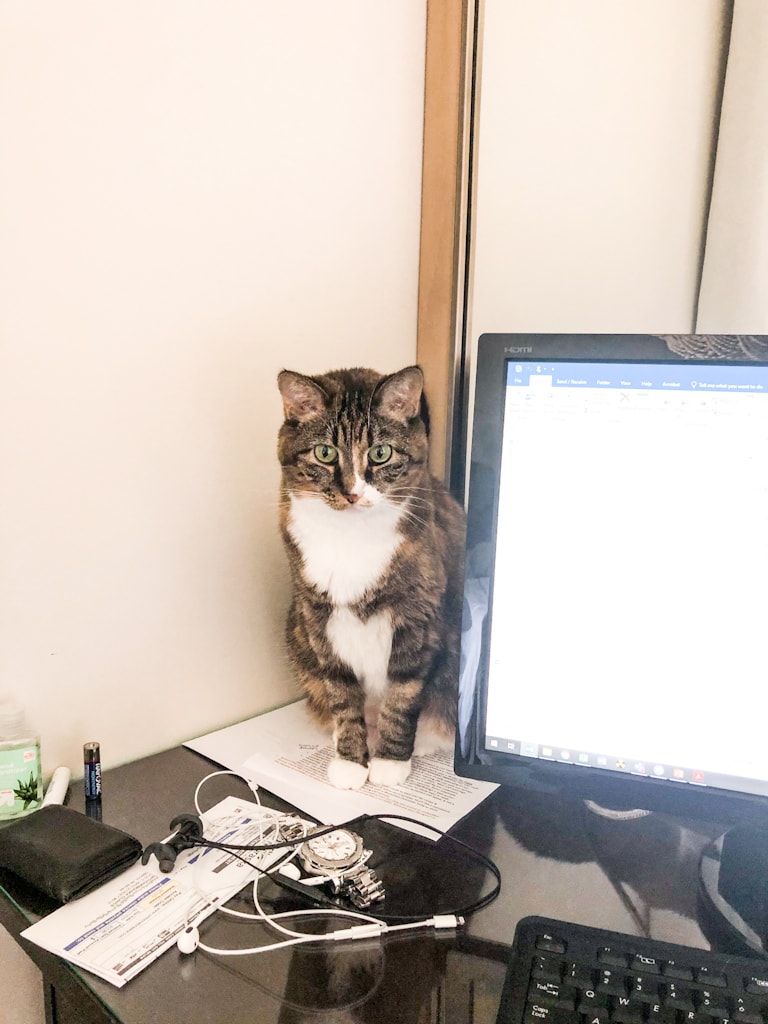 Whenever I decided to work on my puzzle (which hasn't been that frequently recently), she immediately finds the chair where I'm positioned and curls up to take a nap. It's annoying but also so dang cute!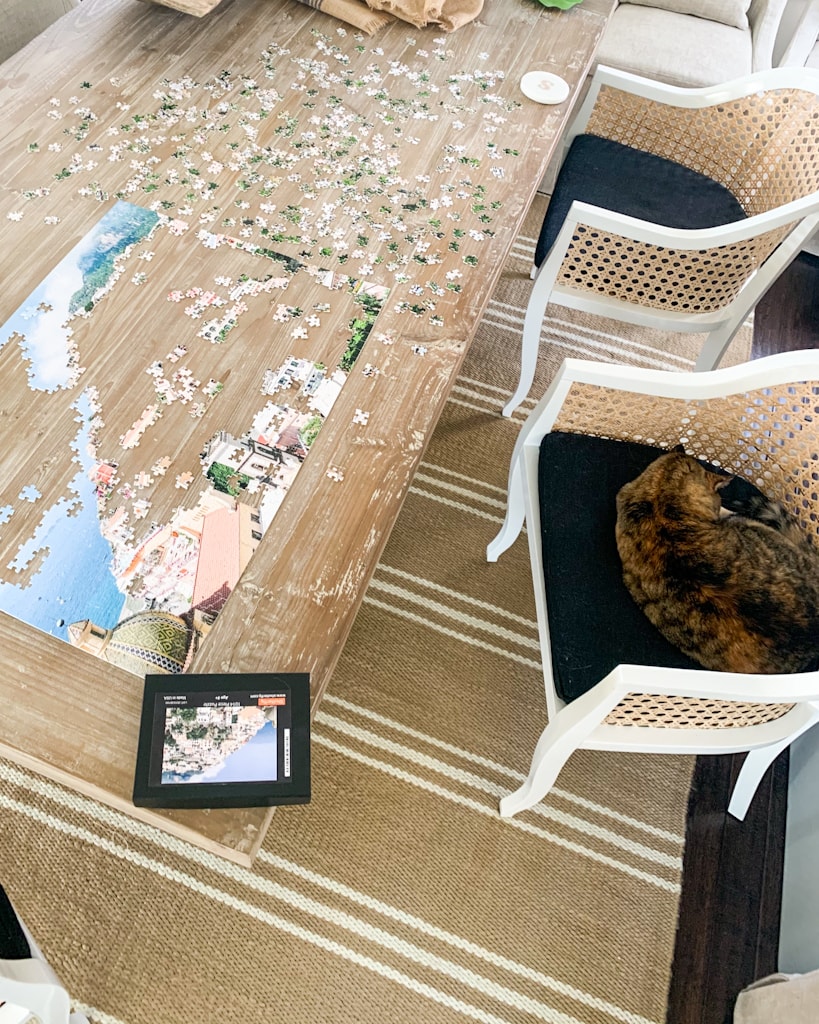 Saturday when we were cleaning the pool deck, we realized Nick had our big ladder that we were needing in order to clean gutters. They ran it over to us, and Z got to see us and run around our yard for a bit. She was in heaven. She still doesn't understand why she can't hug Aunt Sarah & Uncle Kurtis, but you could tell even she was enjoying the change of scenery! She's already grown so much since we last saw her. Can't wait until we can all really hang out and actually give hugs!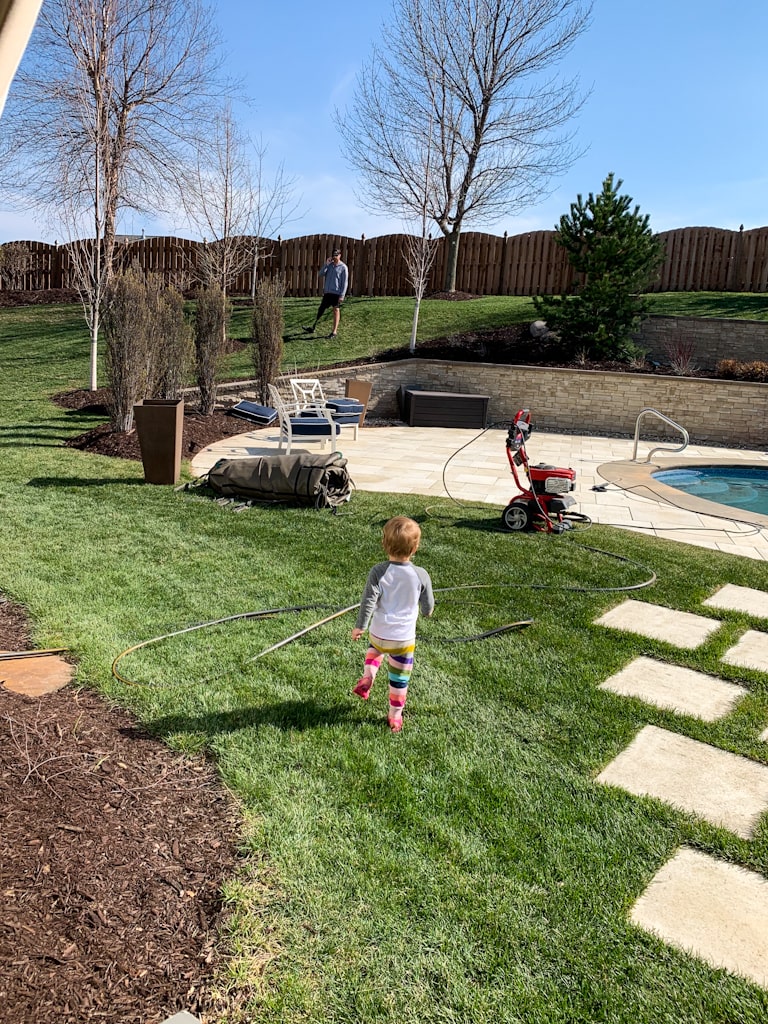 As we were hauling out furniture on Sunday, our duck couple was back. They had found our pool within 12 hours of it opening (how?!) and seem to come back each year, despite the fact that there is a pond not too far away. We have to try and scare them away because they shouldn't be nesting in our yard, but they basically couldn't care less when we try.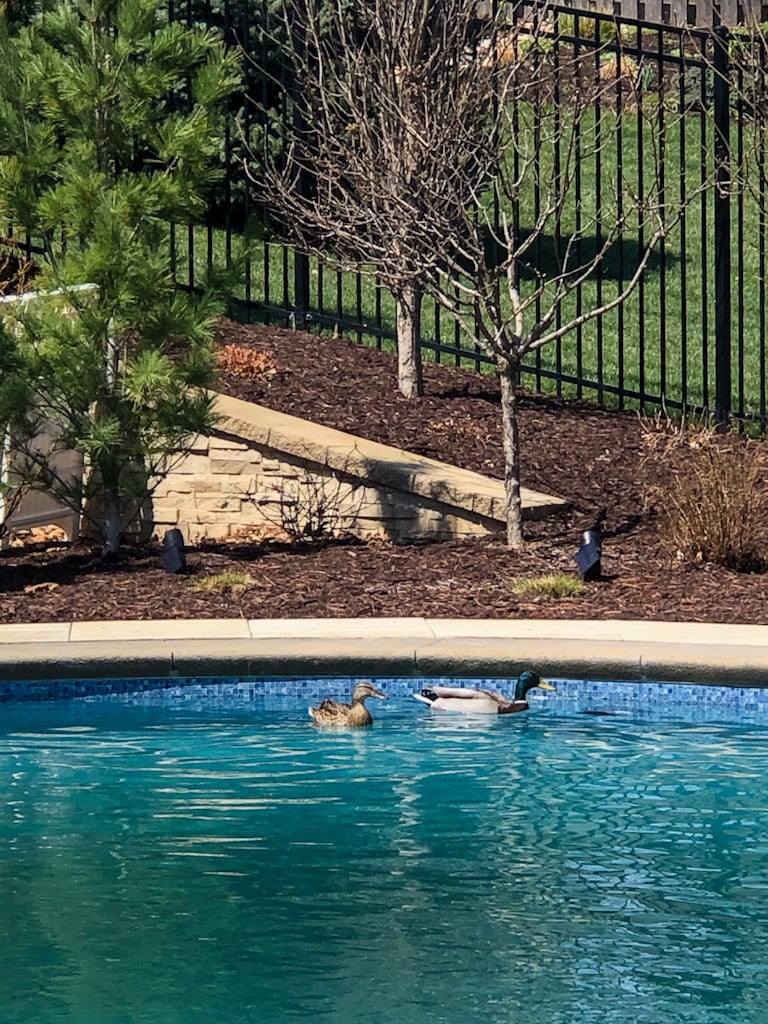 Sunday night we let the cats out in the courtyard. Hawkeye is in the stage of his life where he'll sit at our back door and cry until we let him out. We tried to change up their routine a bit and they loved exploring this "new" space. For about five minutes, that is, until they inevitably end up getting in trouble and have to go back inside 😉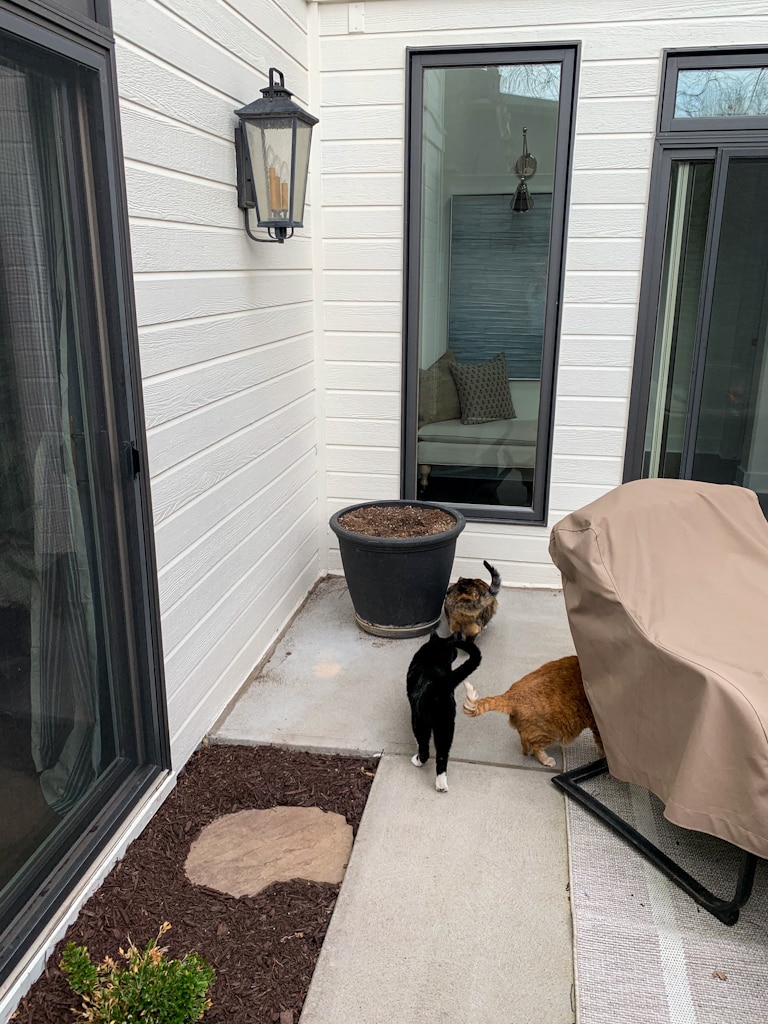 We have been in a major unhealthy food rut around here lately. We're trying to only have groceries delivered once every 7-10 days (we use Shipt and love them. We haven't had any cancellations and usually can get delivery with 24 hours if not the same day). We've been having a hard time planning out meals with perishable items so that we use everything before it goes bad. So our default meal has been frozen pizza. It's embarrassing to admit just how many we've eaten in the past six weeks :/
My goal this past week was to get a bit more creative with our meals (limiting frozen pizza consumption), and really figure out how we can make multiple, simple meals with the perishable items. A few favorites this week:
BLT sandwiches
Ground turkey marinara with spaghetti squash
Tacos (which is why we used shredded lettuce on our BLTs)
Hamburgers on the grill (we aren't even ordering buns – we just dress them with pickles, lettuce, tomatoes, fry sauce)
Definitely nothing revolutionary, but it was fun to change up the frozen pizza routine. And hopefully a tiny bit more healthy! We haven't made tacos at home in ages because that was always one of our favorite meals to eat out. So it feels pretty groundbreaking over here. Ha! On the weekends, we're trying to make a "morning date" of breakfast sandwiches and sometimes a mimosa thrown in for good measure 😉 We're just trying to make the most of simple meals at home as we still try to adjust to this new "normal".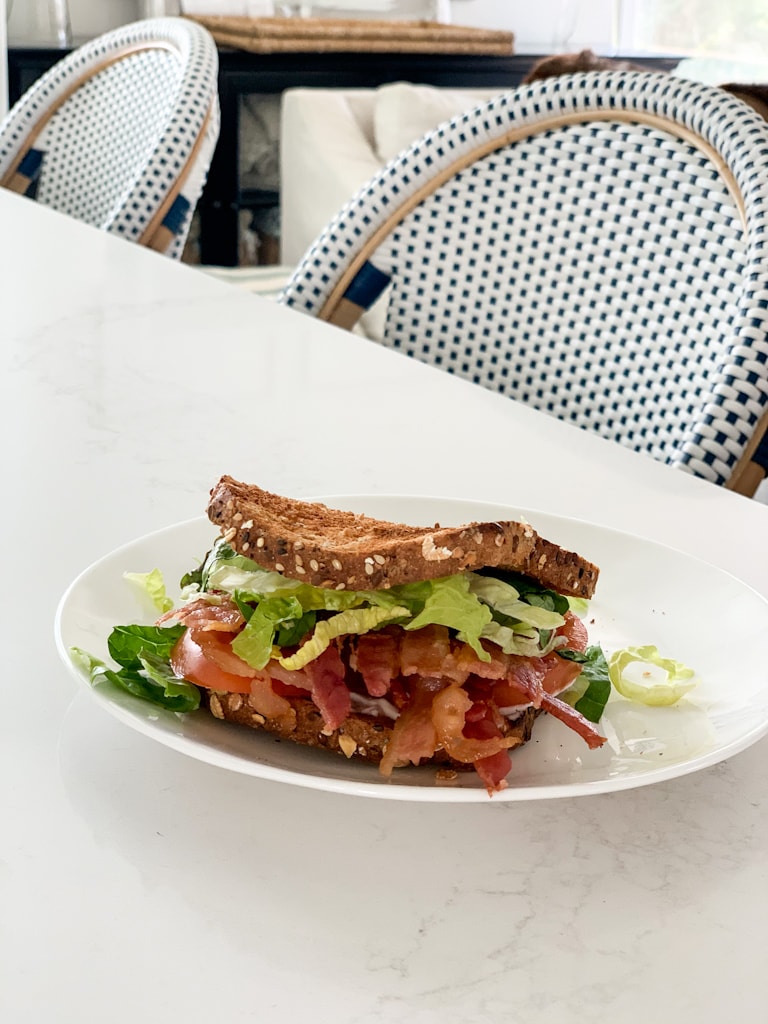 Recent Buys & Sales
My circle dot planters arrived last week and are such a cute find for spring! They are from the same makers of the medium-sized pot I got off Amazon that I've been using in our kitchen. The small is still in stock and comes in at under $9 with the discount (20% off your order is applied at checkout)!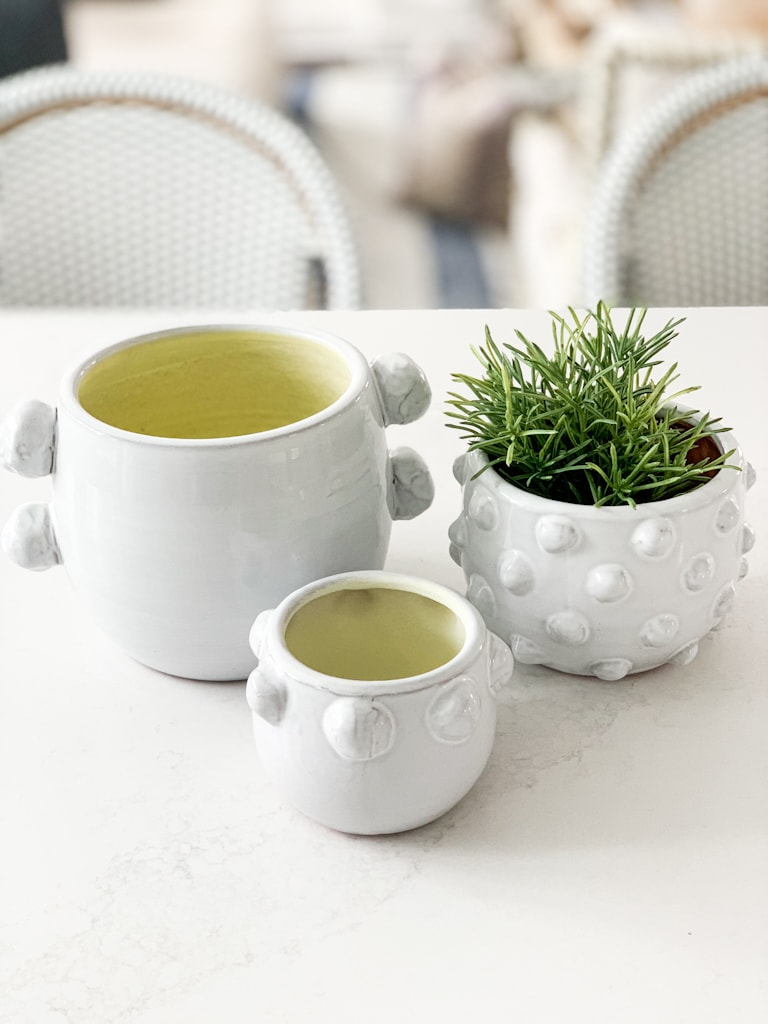 Now that we're cooking so many meals from home, we finally realized we needed to upgrade some of our cooking utensils. We realized our spatulas and such were from our wedding (almost 15 years ago) and were in super rough shape. It's just one of those things you never want to spend money on. So we finally decided to be adults about it and ordered a few things. And yes, having a cocktail shaker is also considered being an adult 😉 Among the pieces we ordered, we got this spatula set as well as these mini silicone spatulas. It's rather mind-boggling how many spatulas Kurtis can go through in a day.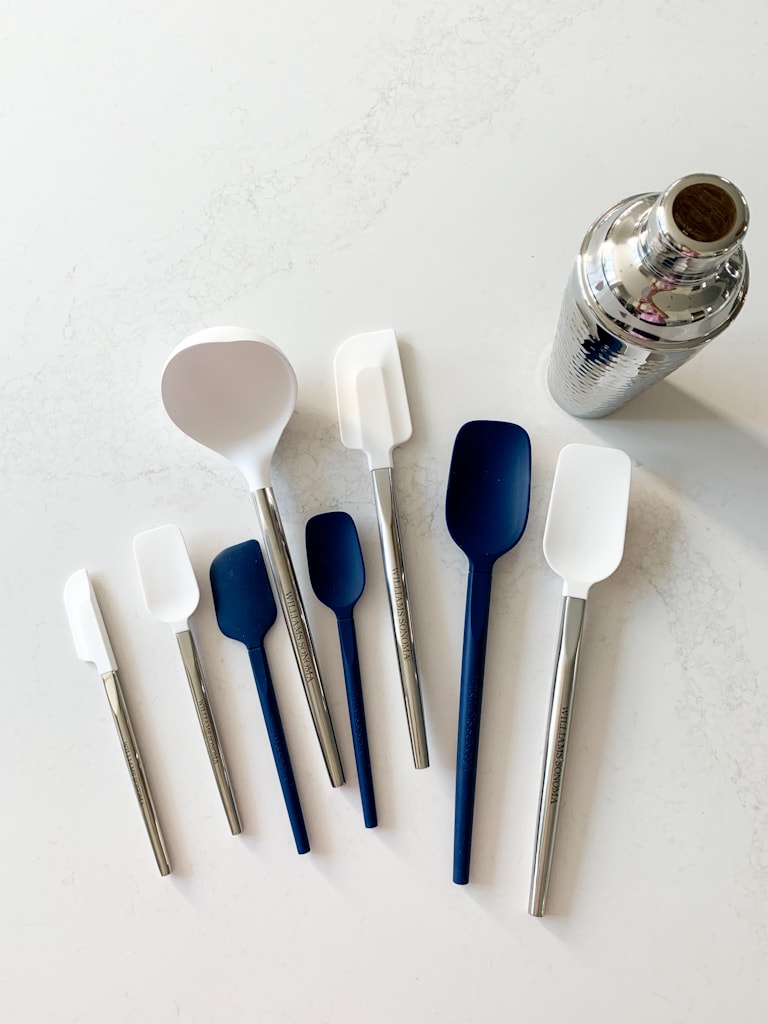 Following are some of the sales that have carried over from the weekend. You can see my top picks here.
I'm working on a collage/design board tutorial for you guys (hopefully to publish this week)! As part of my tutorial I made this cute graphic below with items from J. Crew and J. Crew Factory that are almost all on sale right now! Most of them also come in alternate color options, as well.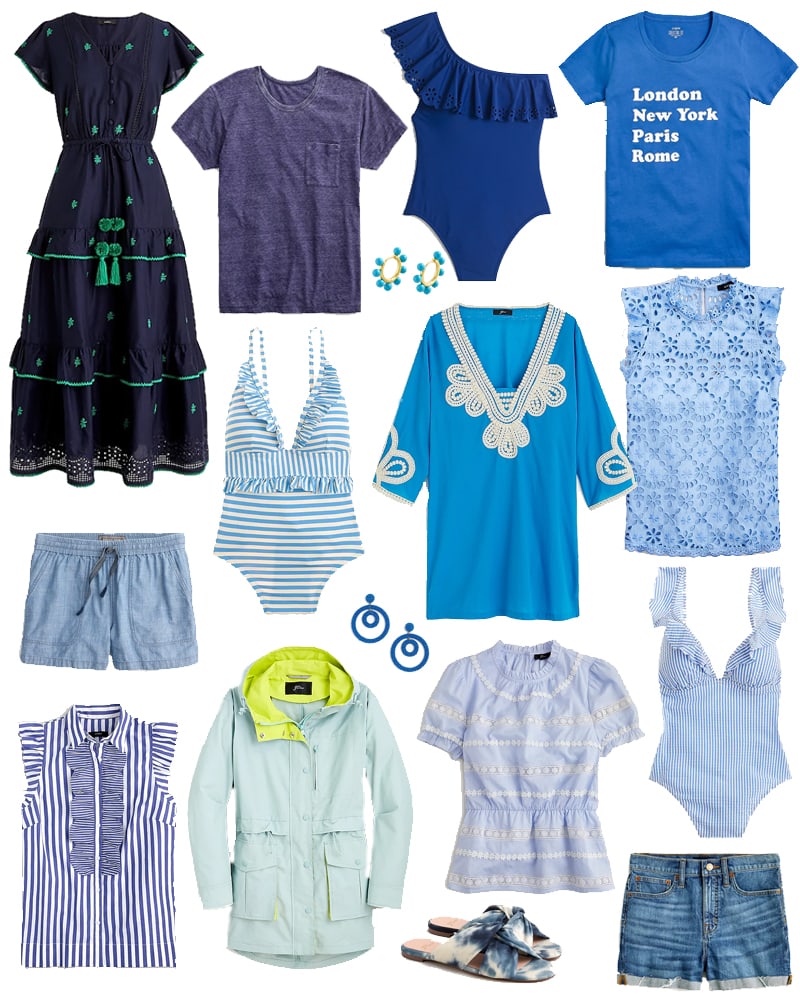 I hope you all have a happy and safe week!
If you would like to follow along on more of my home decor, DIY, lifestyle, travel and other posts, I'd love to have you follow me on any of the following:
Pinterest | Instagram | Facebook | Twitter
disclosure: some affiliate links used