This post contains affiliate links for your shopping convenience. You can read my full disclosure policy here.
It's no secret that I'm a fan of Serena & Lily products and their entire aesthetic! They're currently hosting their "Let Summer In" sale, with 20% off sitewide with code SPLASH. Some exclusions apply, but for the most part, nearly all decor and furniture is included! This post isn't sponsored, but I know many of you love the brand as much as I do, so I thought I'd share some Serena & Lily Reviews of products we've owned over the years, as well as some top Serena & Lily sale picks in general since they only do a handful of these sales a year!
Serena & Lily Reviews Of Items Around Our Home
Let's start with some of our newer items we've owned, because I know you haven't heard as much about them as you have some of our older pieces. In the pool house we had recently built in Omaha, we have been so happy with all the furniture we selected. The indoor/outdoor sofa and chairs made the move with us down to Florida.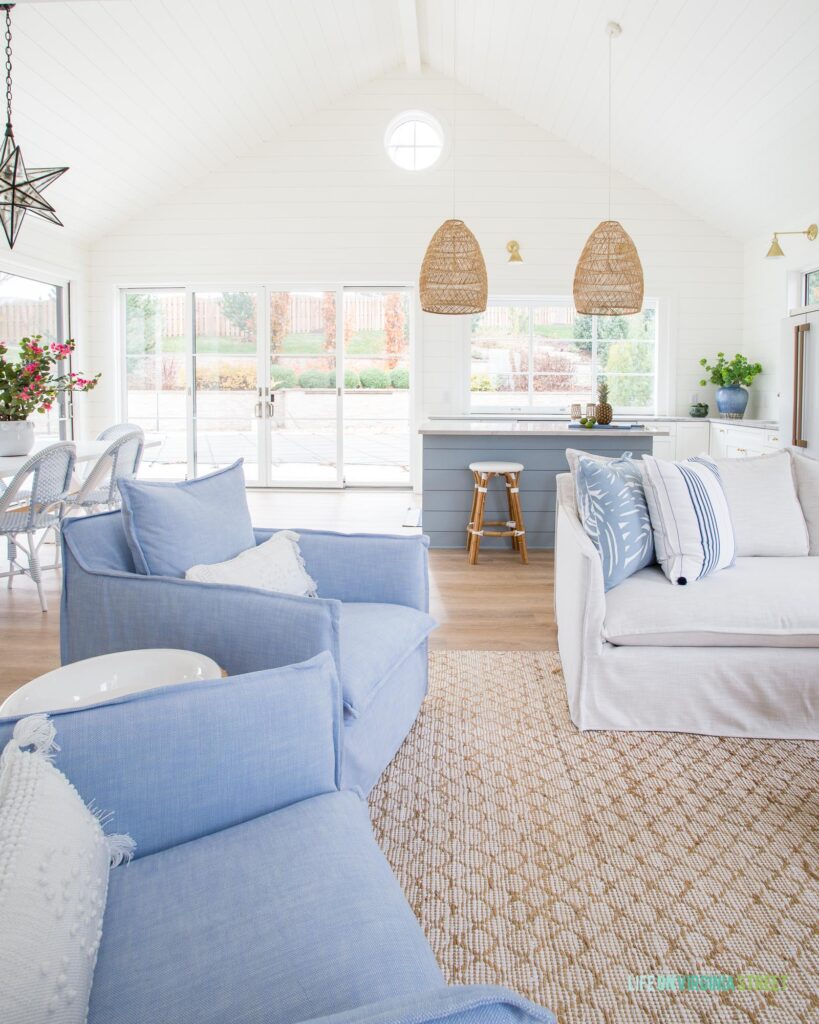 The upholstered furniture is all indoor/outdoor performance furniture, and therefore very expensive, so I'd only ever buy it on sale like this. But the fabrics we chose have been incredibly durable so far, and are easy to clean up. I even threw the sofa slipcover in the wash and followed the care instructions. Super easy to do and was really easy to put back on and make it look how it originally did. Since the room is designed to function as an indoor/outdoor space, it needs to accommodate a lot of traffic as well as wet bathing suits, food, and spills!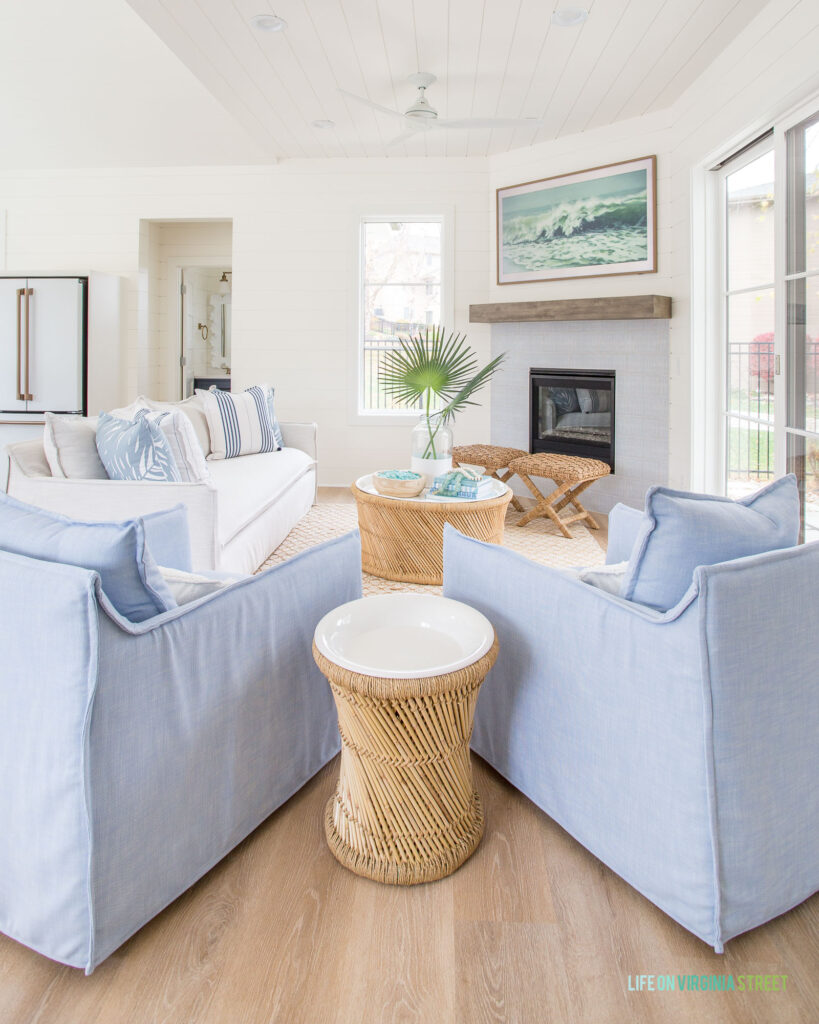 POOL HOUSE LIVING ROOM SOURCES: Outdoor Sofa (Perennials Basketweave – Chalk) | Outdoor Swivel Chairs (Perennials Basketweave – Coastal Blue) | Round Storage Coffee Table | Round Storage Side Table | Rug | Woven Stools | Indoor/Outdoor Palm Pillow Cover | Indoor/Outdoor Striped Pillow Cover | Indoor/Outdoor Fringe Lumbar Pillow Cover | Floating Shelf Mantel | Frame TV (teak frame) | Ceiling Fan | Colorblock Vase | Wood Bowl | Seaglass | Recycled Glass Beads | Bone Beads | "Beautiful" Coffee Table Book | "Dream Decor" Coffee Table Book | "Surf Shack" Coffee Table Book | "Escape" Coffee Table Book | Fireplace Tile
Moving into the pool house kitchen, we have a few more favorites! The Striped Runner Rug has made the rounds over the years, and we still love it so much! The varying shades of blue tend to work well in many spaces and we've found it to clean up fairly easily. I just use our stick vac with the hardwood floor attachment on it to vacuum it, since I worry a brushed attachment may snag it. Our Basket Pendant Lights are another favorite. We have the larger size, and although they're huge, they aren't overwhelming since they're still fairly airy and light. They add some much-needed warmth to the space.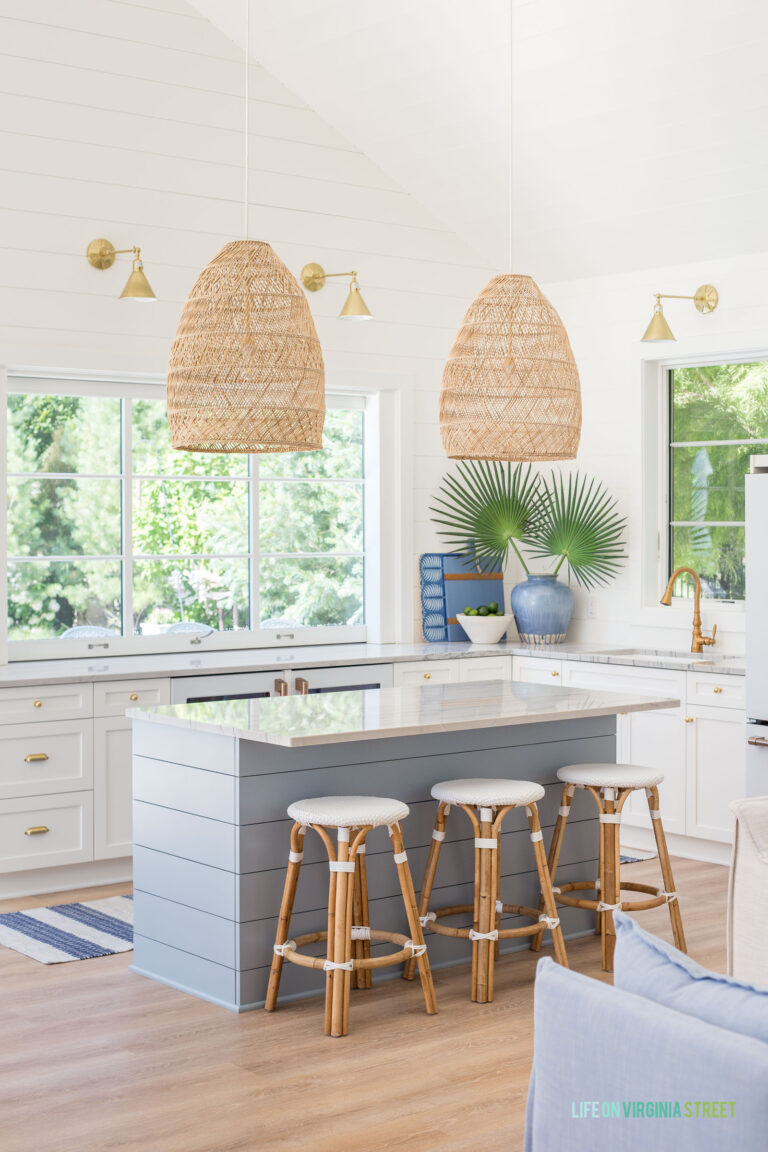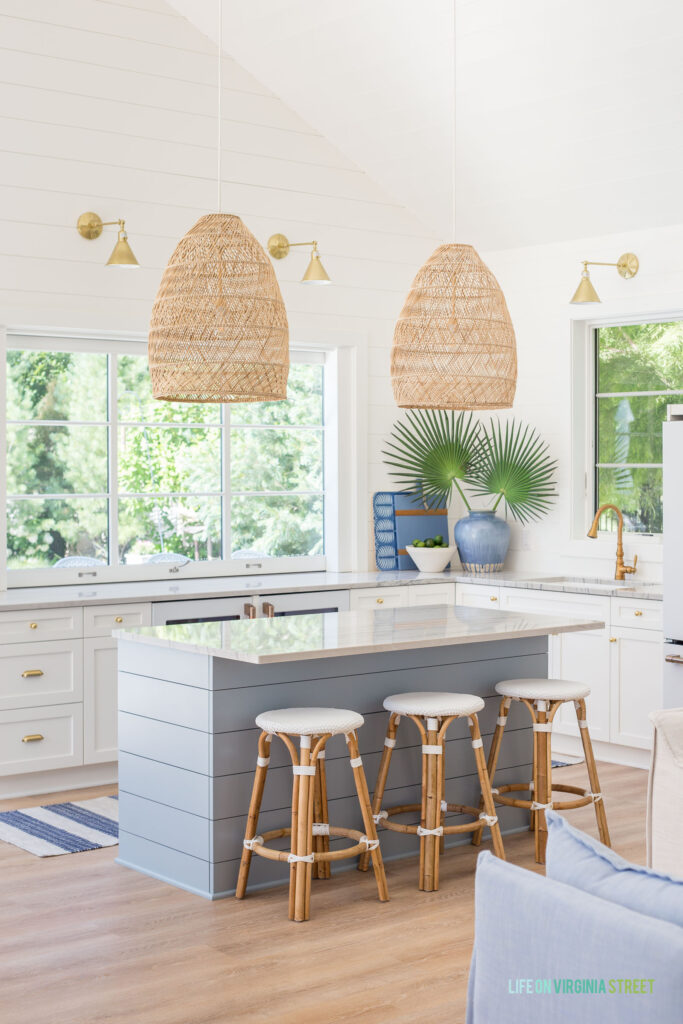 POOL HOUSE KITCHEN & BAR SOURCES: Basket Pendant Lights | Aged Brass Star Sconces | Striped Runner Rug | Backless Counter Stools | Outdoor Swivel Counter Stools | Cabinet Ball Knobs | Drawer Bin Pulls | Trash Drawer Pull | Faucet | Counter Depth Fridge | Beverage Fridges | LVP Floors | Blue Serving Board | Similar Faux Palm Fronds | Blue Vase | Cabinet Colors: BM Simply White (perimeter) & BM Santorini Blue (island) | Countertops: White Macaubas Quartzite
We've used our Riviera Outdoor Swivel Counter Stools both indoors and outdoors. They were outside for a full season in Omaha and still show very little signs of wear. We never brought them inside unless we knew a big storm was coming through.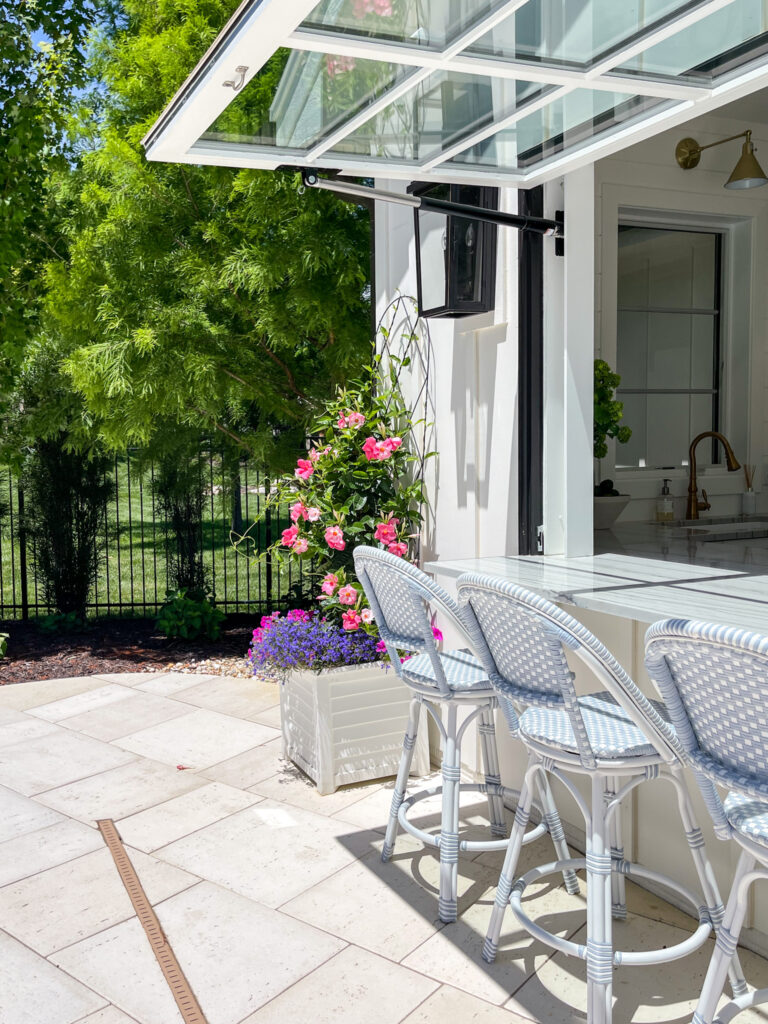 One of my favorite finds for the pool house was the California Dining Table. It was actually one of the items I ordered last and wasn't as sure about. But we used it many times and were so happy with it. It's incredibly sturdy and a great overall size for our needs. I did typically use a tablecloth with it because I didn't want to damage it, but I can tell it's significantly more durable than our indoor dining table (more on that in a minute). I also love the wood and teak combo – so pretty in person! The buyer's of our home purchased this one from us so we no longer have it, but Kurtis has asked many times if we should buy it again. The Outdoor Riviera Dining Chairs Hola Beacheshave held up very well and are now at our vacation rental, . A few did arrive bent initially due to shipping damage, but S&L was quick to send replacements!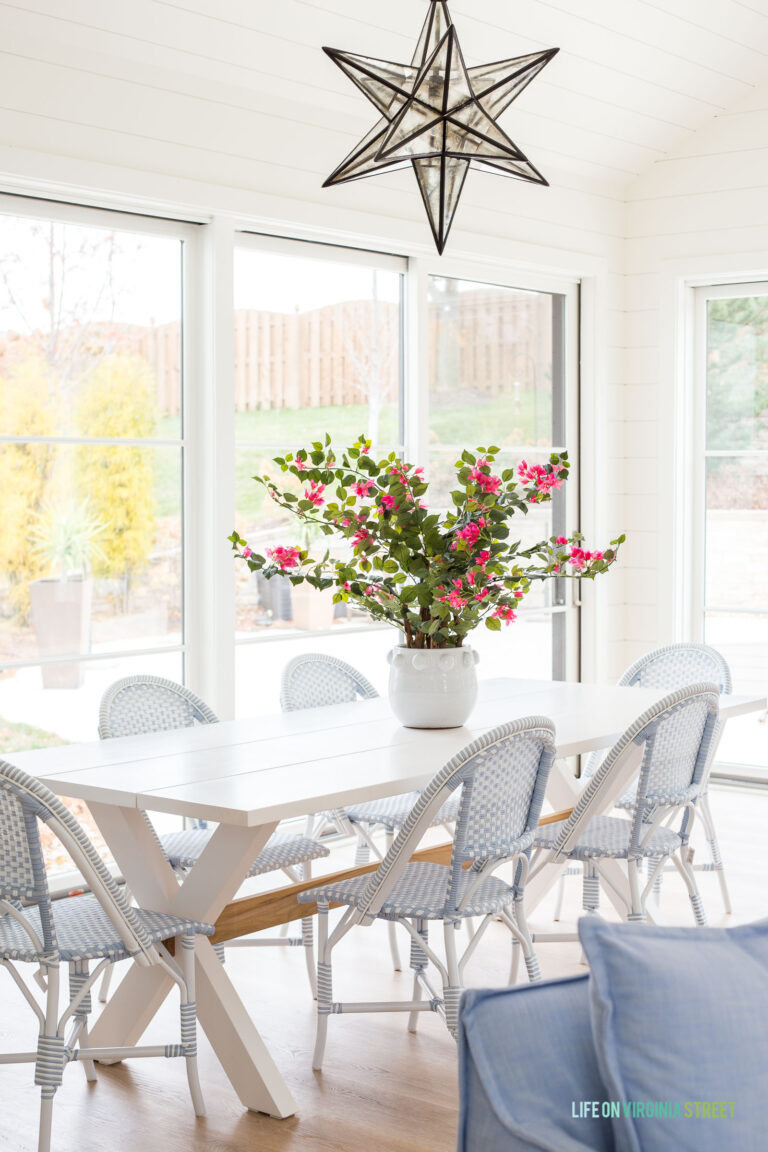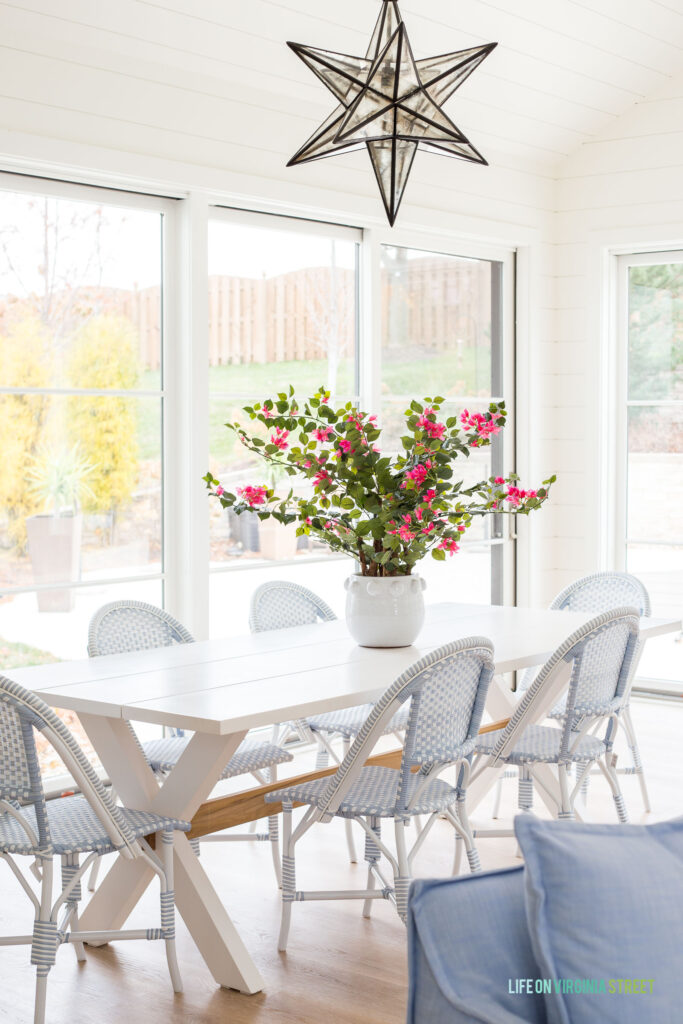 POOL HOUSE DINING ROOM SOURCES: Dining Table | Outdoor Dining Chairs | Star Pendant Light | Faux Bougainvillea | White Circle Dot Pot
Moving inside, in our old kitchen, we had another group of favorites! Everything from our bistro counter stools to our basket pendant lights to our runner are included in the sale! Despite daily use, our counter stools look as good as the day we got them! If you missed my Riviera Counter Stool review you'll definitely want to check it out! These are items we brought to Florida but sold once we arrived when we didn't have space for them. But I'm strongly considering a different color in our new build!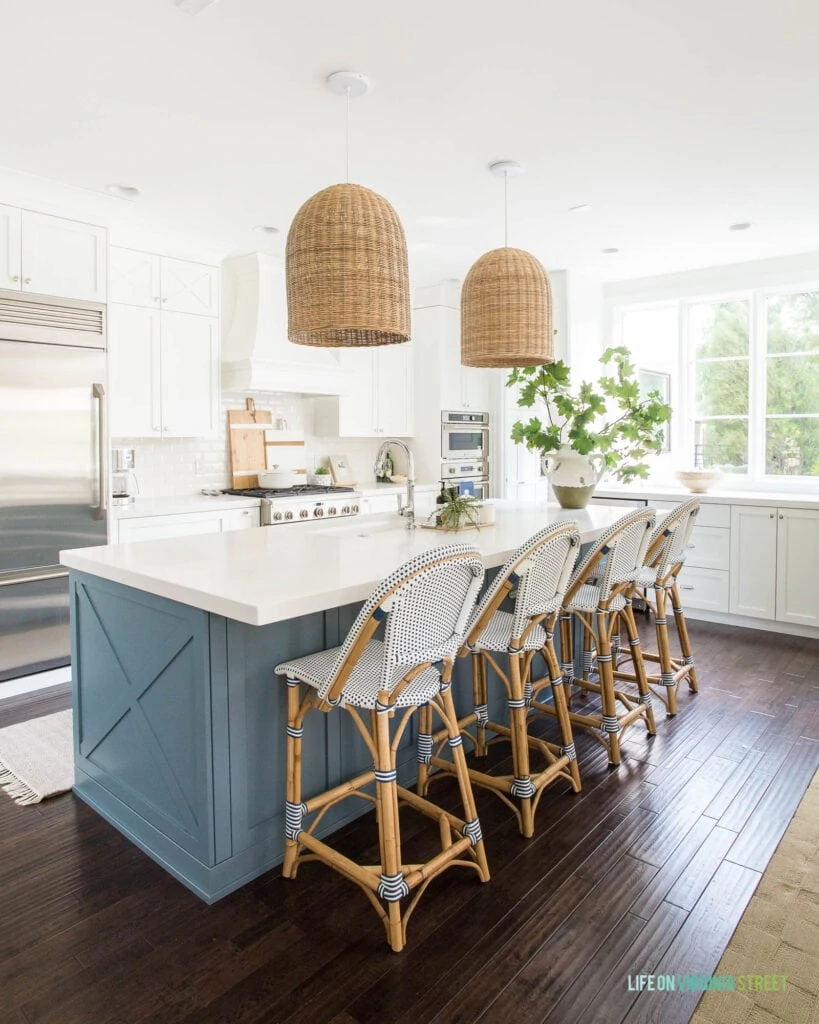 FALL KITCHEN SOURCES: Basket Pendant Light | Bistro Counter Stools | Runner Rug | Tuscan Vase | Cabinet Bin Pull | Cabinet Knob | White Dutch Oven | Similar Cookbook Holder | Faux Mini White Pumpkins | Paint Colors: Benjamin Moore Providence Blue & Simply White
I absolutely love love love the look of our 55″ Terrace Round Dining Table. But, I have been worried about durability. It's intended to be an indoor/outdoor table, but we haven't put it to the test much because it feels so porous. It might be one of those things that would totally surprise us and wipe entirely clean if something spilled, but I'm not really willing to test it at this point! I'm hoping some others that own it could jump in with their thoughts and experiences. Or, if you've ever owned a reconstituted stone table before, I'd love to hear your feedback! It's absolutely a stunner so I'm hoping it cleans up better than I envision it in my mind! We're planning to bring it with us to our new build and put it to the test in the dining room. If it doesn't hold up, we may move it outside where I feel a natural patina may be more acceptable.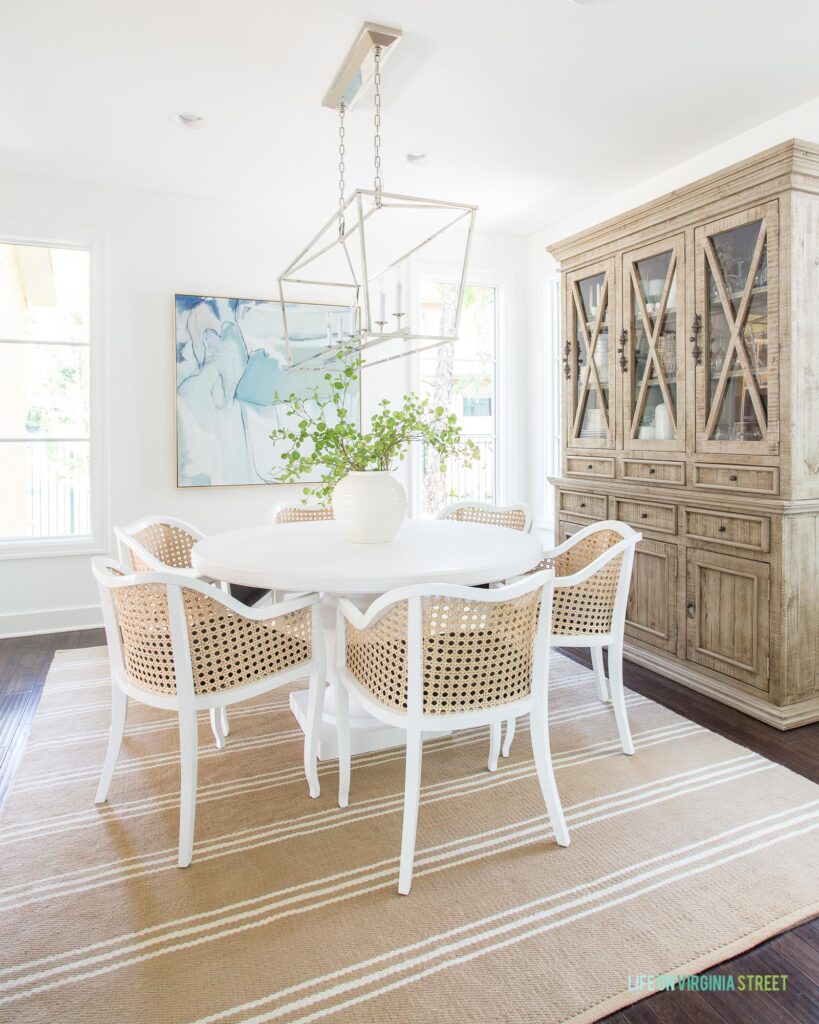 DINING ROOM SOURCES: Cane Dining Chairs (look for less here) | Stone Dining Table | Linear Chandelier (look for less here) | Hutch | Striped Rug (gray version – my color is no longer available) | Abstract Art | Vase | Faux Greenery Stems | Wood Serving Boards
Here is the same table in Florida for comparison purposes. Here we're using these look for less dining chairs that look a lot like the S&L Balboa dining chairs.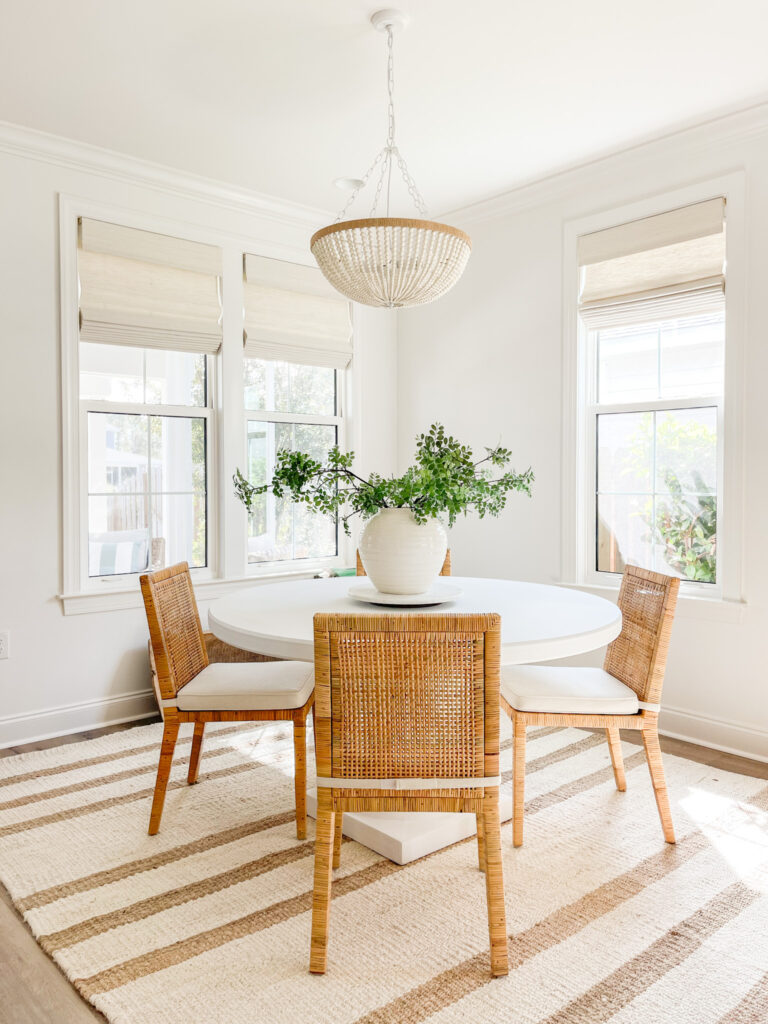 DINING ROOM SOURCES: Dining Table | Rattan Dining Chairs | Beaded Chandelier | Striped Jute Rug | Faux Greenery | Vase
In our old entryway hallway, we have a few Serena & Lily favorites including our Blake Console Table, striped stools, and dipped vase. I have both sizes of the dipped vases, and while they are an investment, I have used them every day since I got them! They work so well regardless of season and work well with so many decorating styles! The raffia console table was also purchased by the new owners, and despite years of use, it still looked great! I don't feel like our coffee table version held up quite as well (since there was more use and friction on it) but overall very happy with both of them!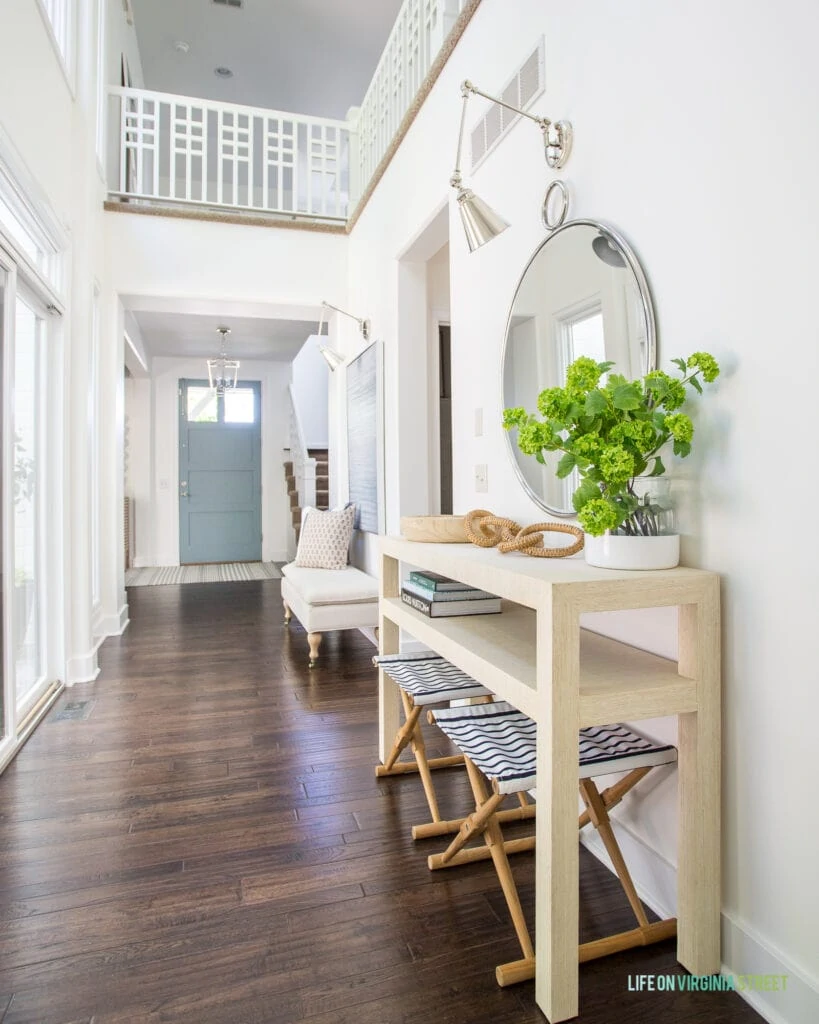 ENTRYWAY HALLWAY SOURCES: Pillowtop Bench | Striped Pillow | Block Print Pillow | Console Table | Striped Stools | Similar Mirror | Wicker Chain | Dipped Vase | Faux Viburnum Stems | Swing Arm Sconces | Abstract Art (HomeGoods – old) | Similar Wood Bowl
This is an older picture from our Omaha den, but it shows the Market Coffee Table and Tulum Rug that we love so much (both were eventually moved to our pool house). We love just how wipeable the enamel top is on the coffee table, and that it lifts off for storage on the inside. I also just love all of their pillows so much! The new owners bought the rug but we brought the coffee table with us and it's still a favorite!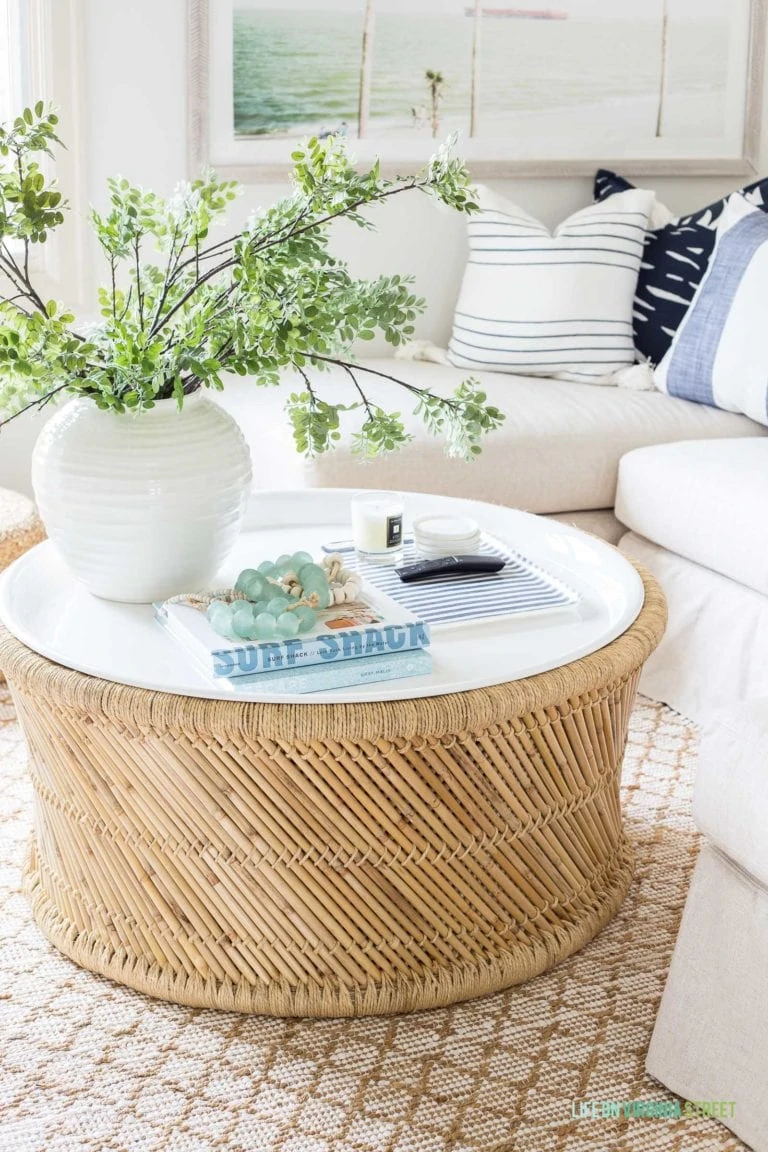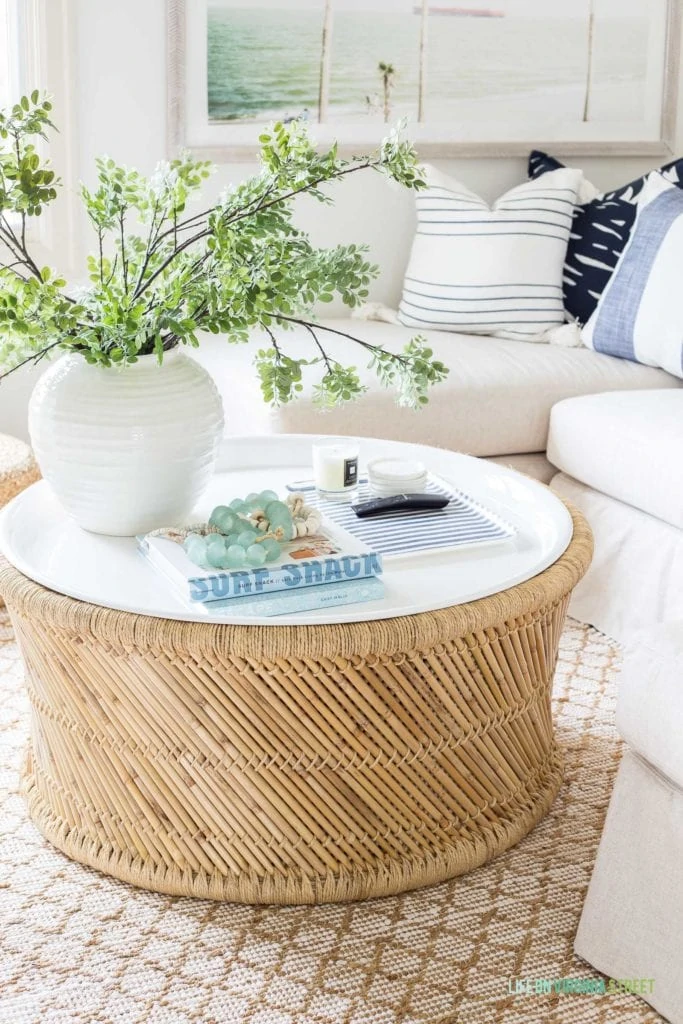 DEN SOURCES: Pottery Barn Sectional | Diamond Jute Rug | Scallop Light Fixture | Coffee Table | Palm Tree Art | Similar Ceramic Vase | Faux Greenery Stems | Small Striped Pillow | Wide Striped Pillow | Palm Print Pillow | Recycled Glass Beads | Bone Beads
In our house in Florida, we're using this striped rug that used to be in our living room, now in our bedroom. It's still one of my favorites through the years!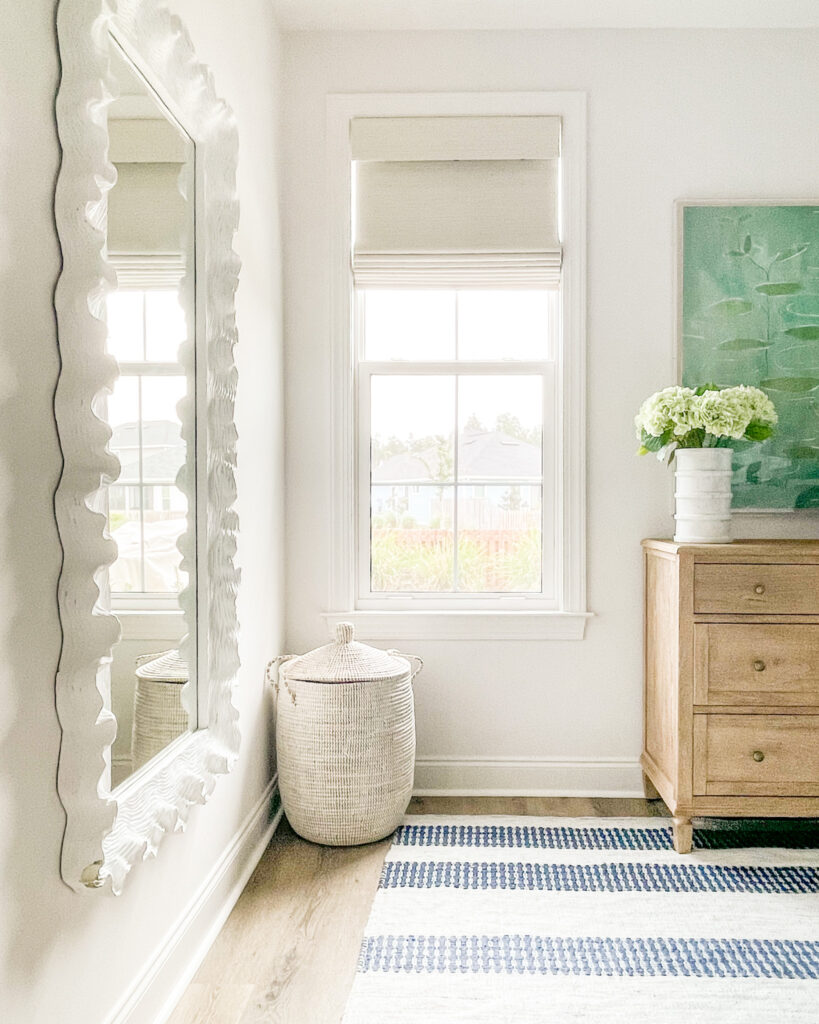 SOURCES: Striped Rug | Mirror | Chandelier | Dresser | Art | Hamper Basket | Marble Vase | Faux Hydrangeas
I'm only showing you this next image if you promise not to judge the styling, lighting, etc. 😉 We bought the Avalon bed when we moved here, and it's one of my favorites! I hadn't shown it because we needed to order a half box spring rather than the full one we have. Kurtis finally assembled it while I was in Utah, so I just popped in this morning to take a picture. Hence the not perfect bedding and dark lighting. But I wanted to share the bed (and nightstand) while it's on sale! Even though it's already on clearance, the additional discount still applies. They also make this version with a less dramatic foot board. Which, looking back, may have been easier for bed making purposes. The bench is actually a look for less item to this one but coordinates perfectly with the bed!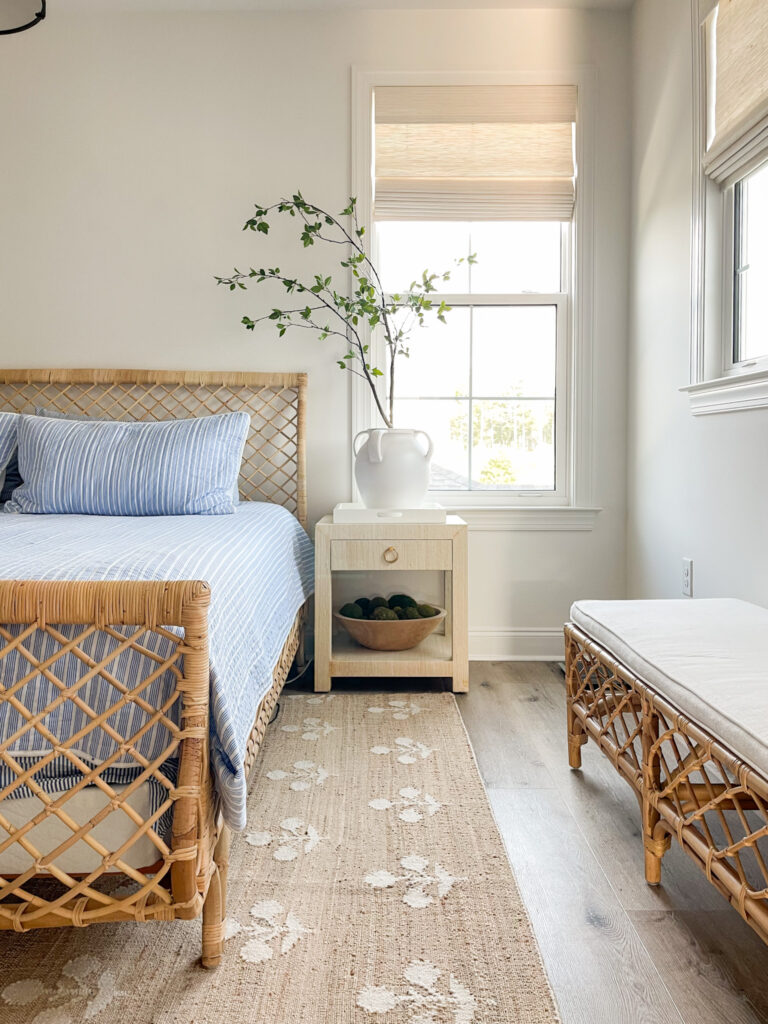 GUEST BEDROOM SOURCES: Avalon Bed With Footboard | Reversible Bedding | Raffia Nightstand | Rug | Small Tree | Vase | Bench
Overall, the quality of the Serena & Lily products we have purchased over the years has been excellent. If you're looking for a piece of furniture that will stand the test of time, they may be worth the investment. On some of the smaller items where you can find a look for less, the quality may not be of as much concern to you, so definitely weigh the pros and cons!
Additional Serena & Lily Sale Picks
Following are a few other items that are on sale and worth noting:
I scooped up this bone inlay mirror for one of our bathrooms at the new build. With the additional discount, it was actually relatively affordable for a mirror of this size!
Serena & Lily is my favorite source for pillow inserts, and they are by far my favorite (particularly when on sale). I've found them to last the longest and stay the fullest. They're an investment initially, but once you have a set on hand, they'll last you for many, many years to come!
I bought this cute light fixture (white with blue shades option) for our powder bath in the new build. It's going to be perfect for what I have planned in there!
I'm strongly considering these dining chairs for the new house since they're on sale and offer an additional discount. I've loved them for years!
We have these linen sheets and this linen sham (in the 14×40″ size) and love them!
I ordered a bunch of rug samples a while back to test out. Here's a closer look at some of them in person if you had your eye on any of them! They're also all included in the sale.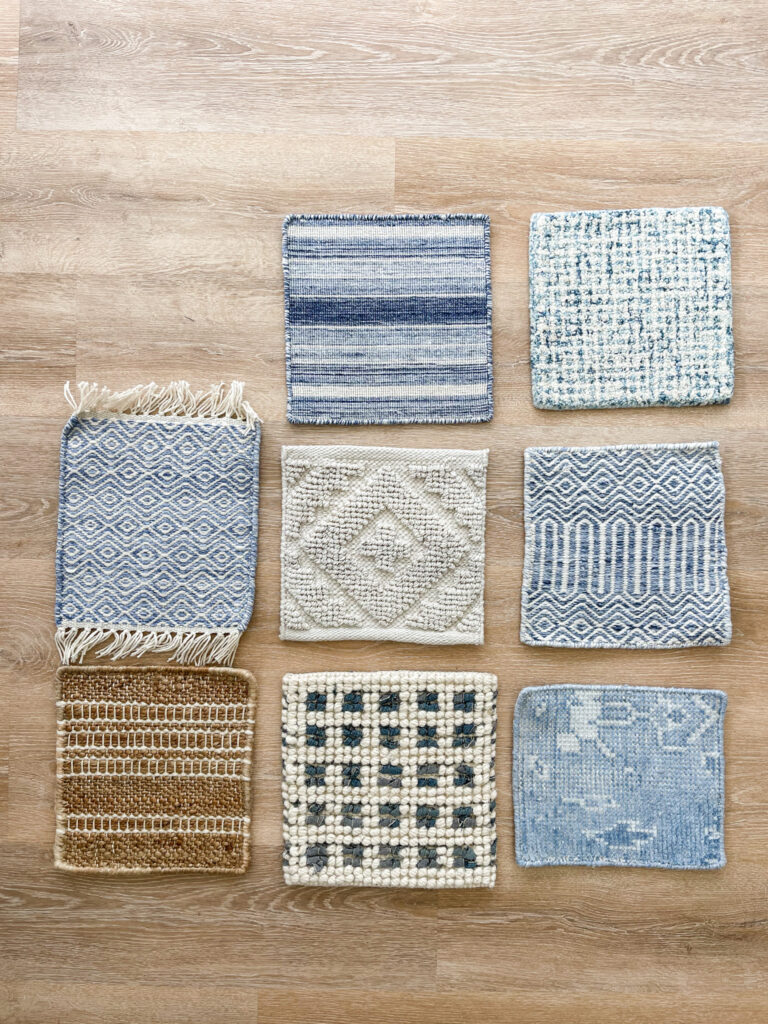 RUG SOURCES: Top Center | Top Right | Middle Left | Middle Center | Middle Right | Bottom Left | Bottom Middle | Bottom Right
Following are even more Serena & Lily "Let Summer In" sale finds, most of which are new releases you may have never seen before. Click any of the images below to learn more about each of the items.

If you would like to follow along on more of my home decor, DIY, lifestyle, travel and other posts, I'd love to have you follow me on any of the following:
Pinterest | Instagram | Facebook | LTK
disclosure: some affiliate links used