Good morning! I hope you're all having a great weekend so far! I'm coming to you with a rare Sunday post today to share our Florida carriage house tour. We've only lived in our house about three weeks now, and with me being sick for more than a week of that, we still have a lot of unpacking, organizing, and decorating to do. But, Kurtis' sister and brother-in-law arrived yesterday from Omaha, so we spent the last two weeks getting the carriage house as put together as possible for their arrival! Since the space is "done" for the time being, I thought it would be fun to share it with you today.
This post contains affiliate links for your shopping convenience. You can read my full disclosure policy here.
Prior to moving to Florida, I didn't even know what a carriage house was. The term comes from the days when families had a detached garage for their horse-drawn carriages, which also had small living quarters on the second story above it. Ours is similar, in that our carriage house is a small apartment directly above our two car garage. The space is accessed outside near the pool, via exterior stairs that lead to a private entrance. It doesn't have a huge footprint (that of a two-car garage, and is about 670 square feet) but the layout really maximizes every little inch of space! Since it's essentially a mini-apartment, we love that friends and family can visit for more extended stays while still having a little autonomy and privacy.
Let's get to the tour! I have also shared a quick video tour on Instagram if you're interested.
Carriage House Living Room
Welcome to our Florida carriage house! The entryway/living space is long and narrow and shares a footprint with the small dining corner. The walls and trim throughout are Sherwin Williams Snowbound, which is also what we used in our main house.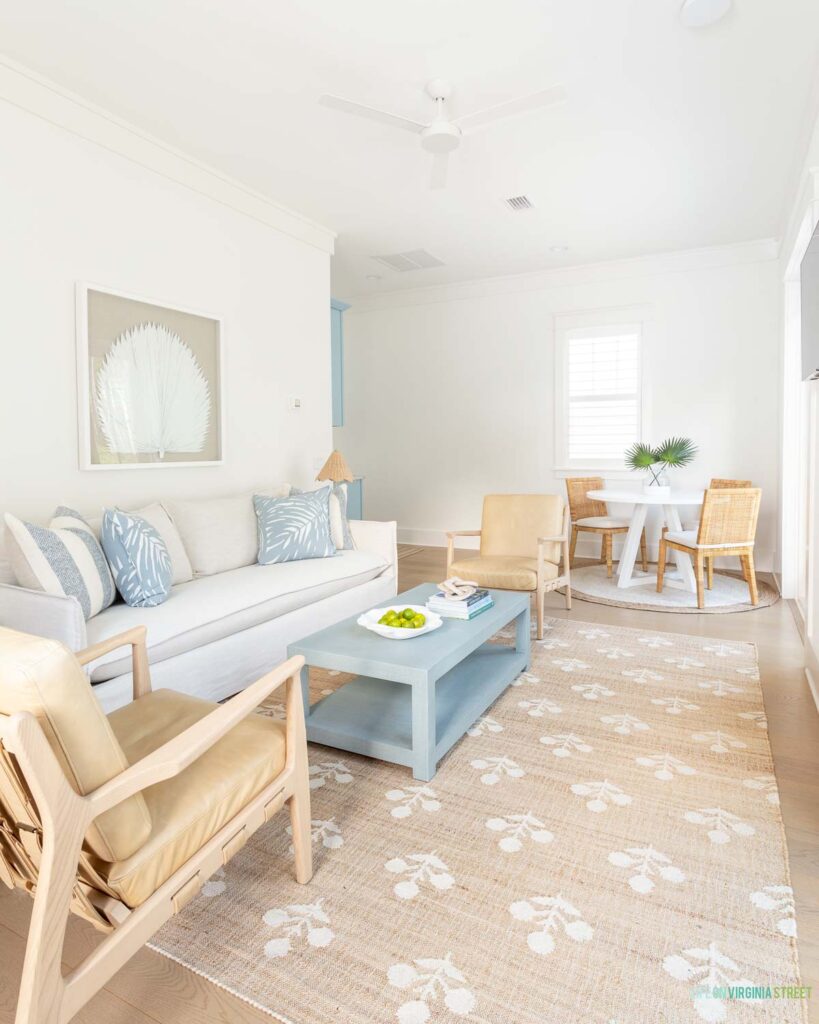 In the space, we used a mix of items we already owned and only had to pick up a few new items specific for the space like the coffee table. It may be one of my favorite pieces of furniture ever!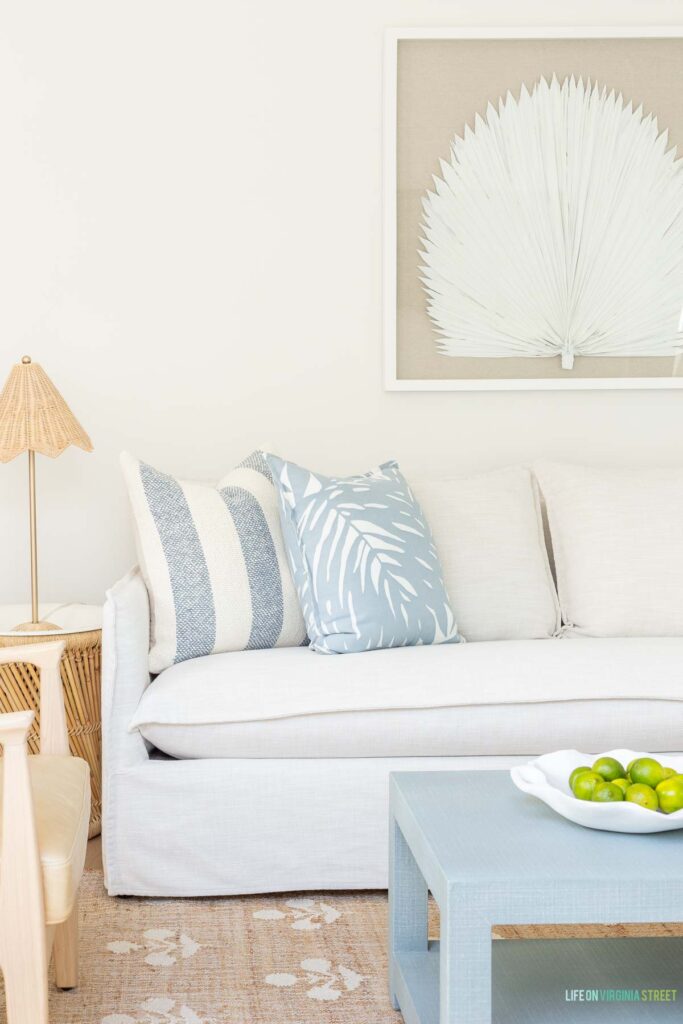 I love that the blue on the coffee table pairs perfectly with the blue kitchen cabinets! Here you can also see one of our favorite features of the space. There are a pair of French doors that fully open onto a little Juliet balcony! The TV hangs between the two sets of doors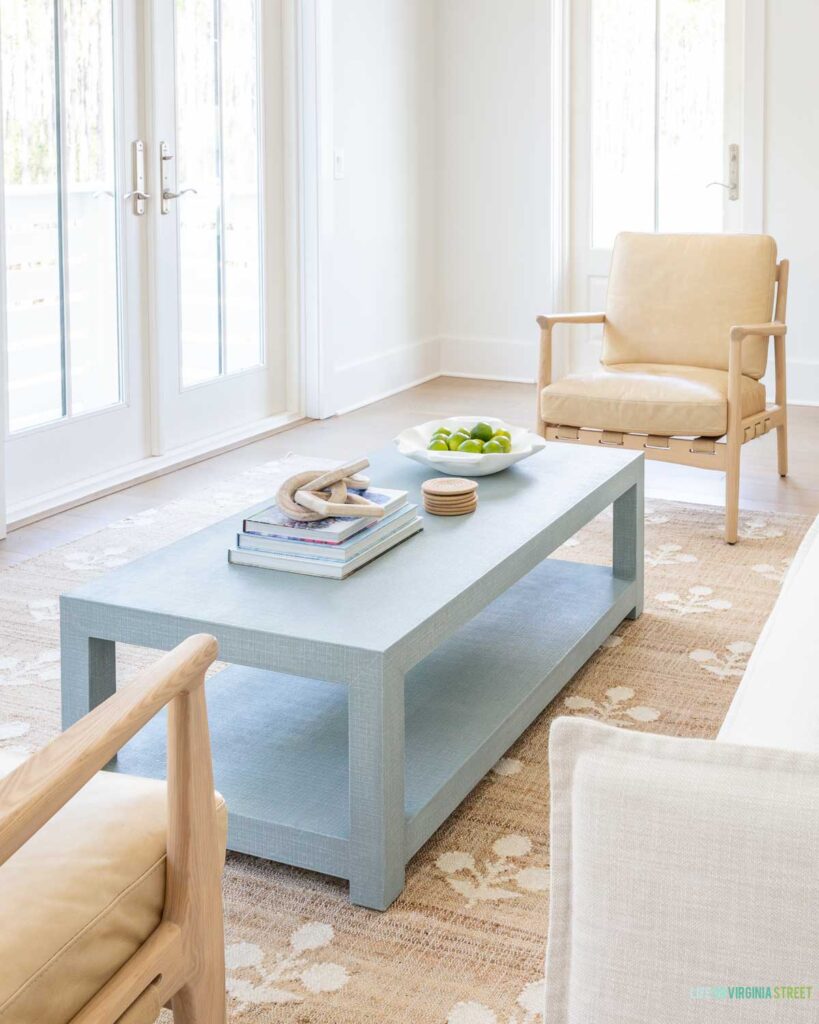 The room is cozy, but has all the essentials, including a desk that doubles as a console table near the entrance.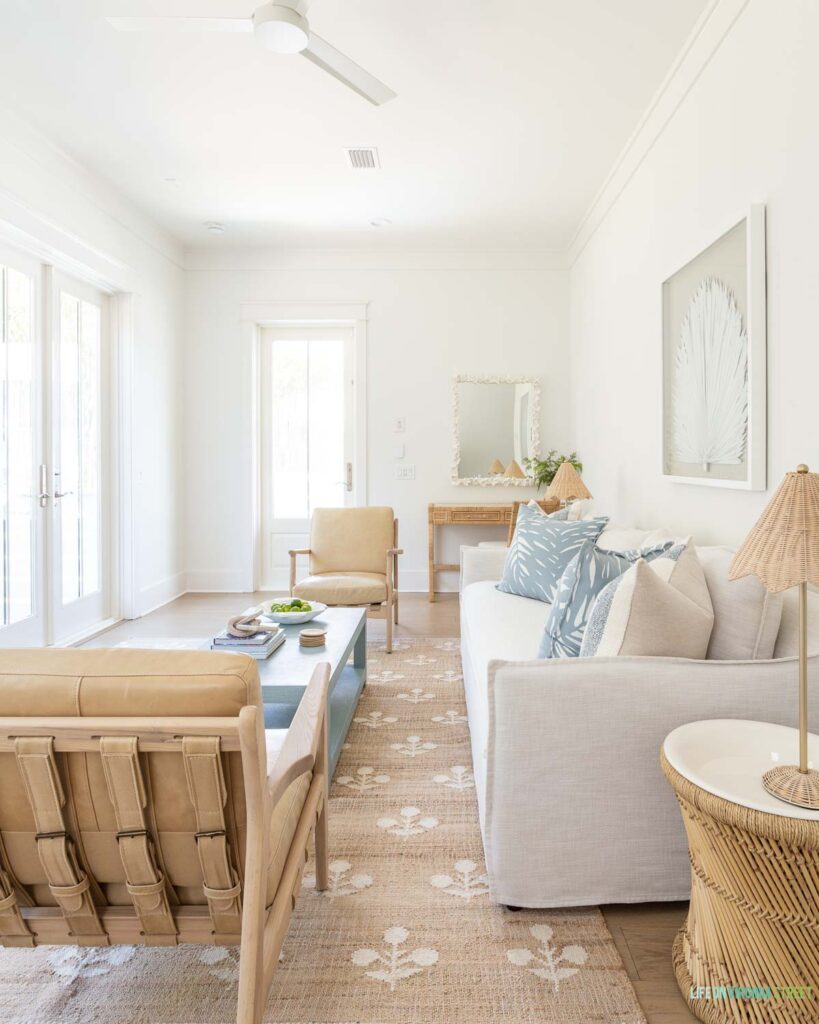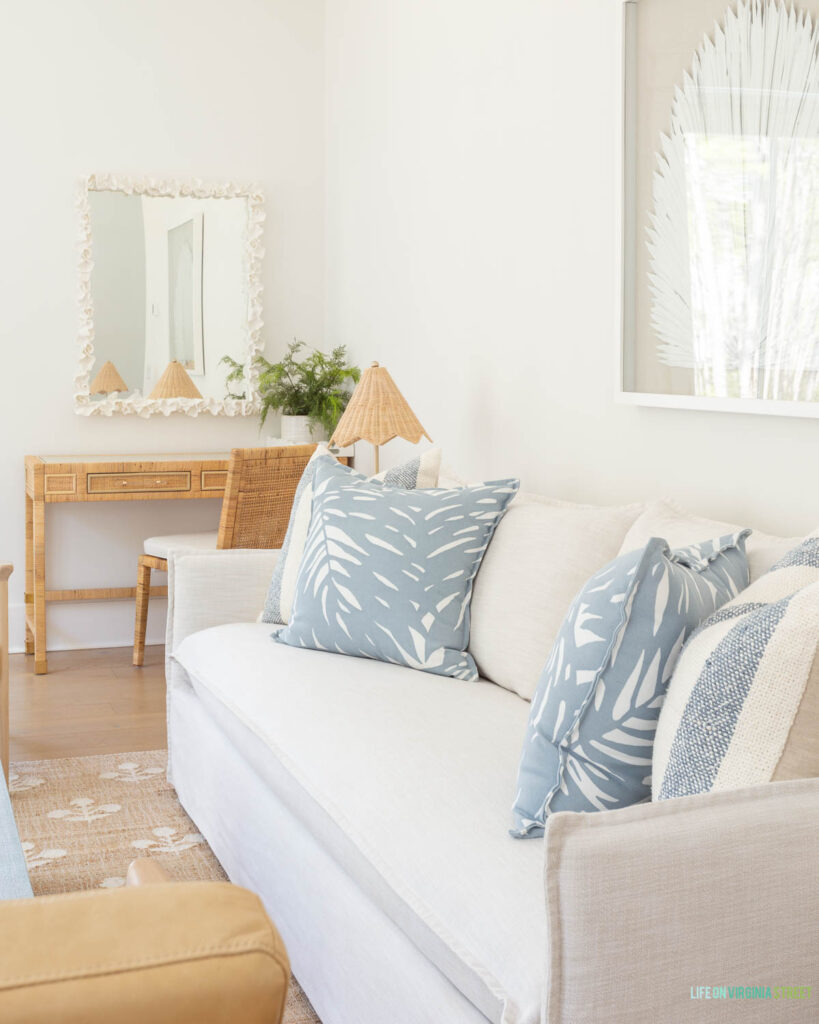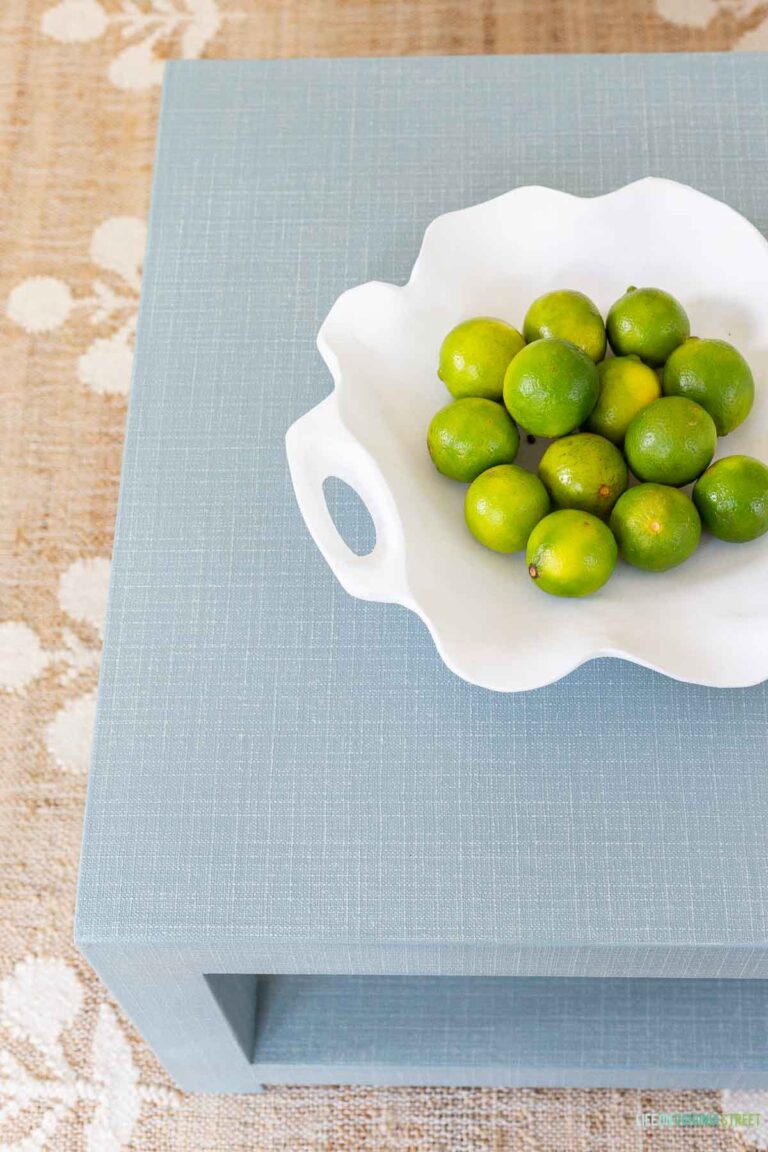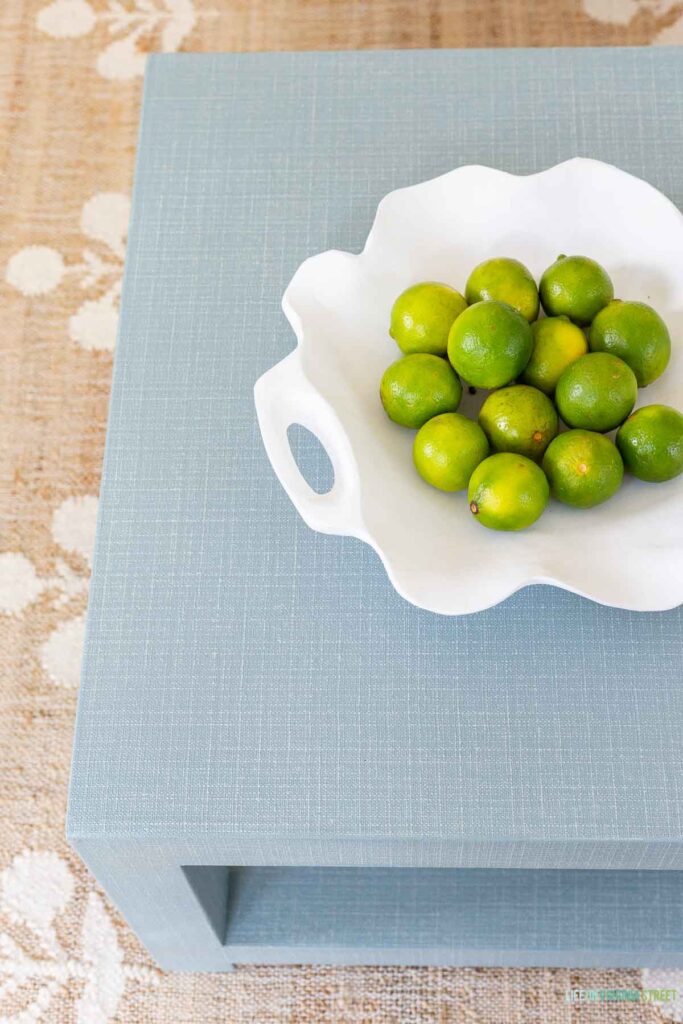 CARRIAGE HOUSE LIVING ROOM SOURCES: Indoor/Outdoor Sofa | Leather Chairs | Coffee Table | Block Print Rug | Bamboo Side Tables | Rattan Lamps | Palm Art | Coral Mirror | Rattan Desk | Rattan Chair | Wood Links | Striped Throw Pillow Cover | Palm Throw Pillow Cover | Rope Coasters | White Teak Bowl: sources locally at Maison 30A
Carriage House Dining Room
There likely will be very few times more than two people will be staying in the carriage house, but we did bring our extra chairs out. Three sit at the table while the other one is at the desk by the entryway. If we ever needed to make the dining table work for four people it's an easy adjustment, but it works better for flow right now to have it tucked in the corner.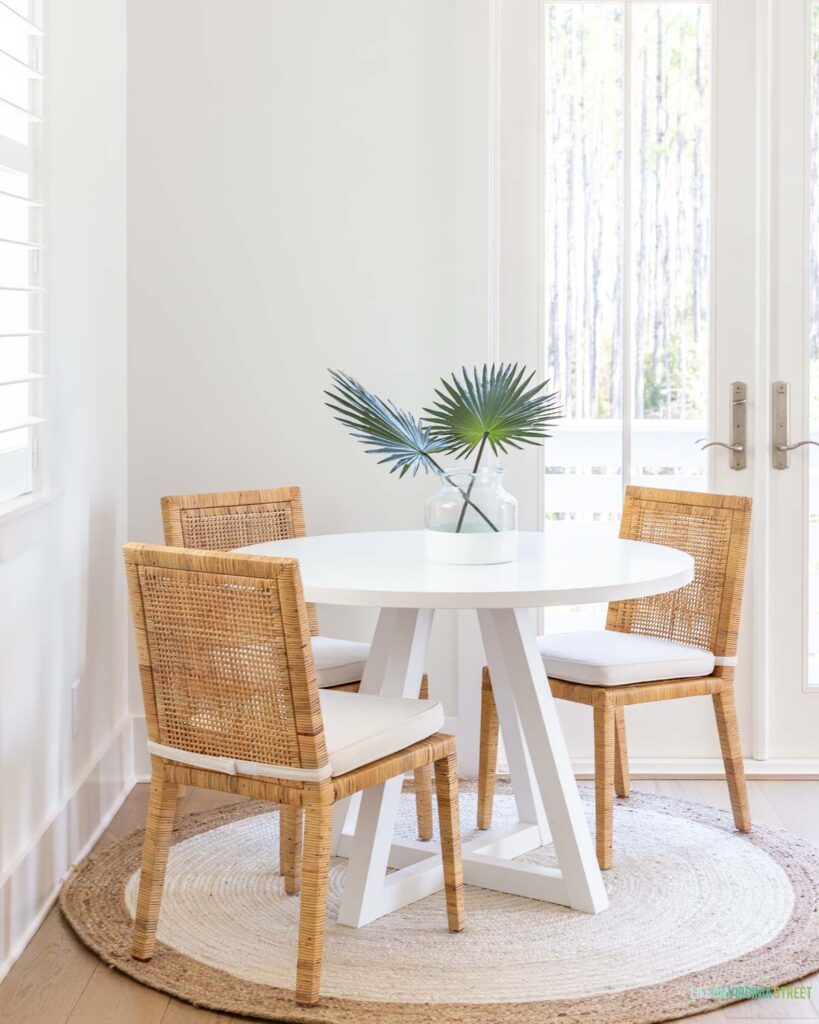 CARRIAGE HOUSE DINING ROOM SOURCES: Dining Table | Dining Chairs | Round Jute Rug | Faux Palm Stems | Vase
Carriage House Kitchen
Around the corner from the living and dining space is the kitchen. It's essentially a fully working kitchen, minus a dishwasher.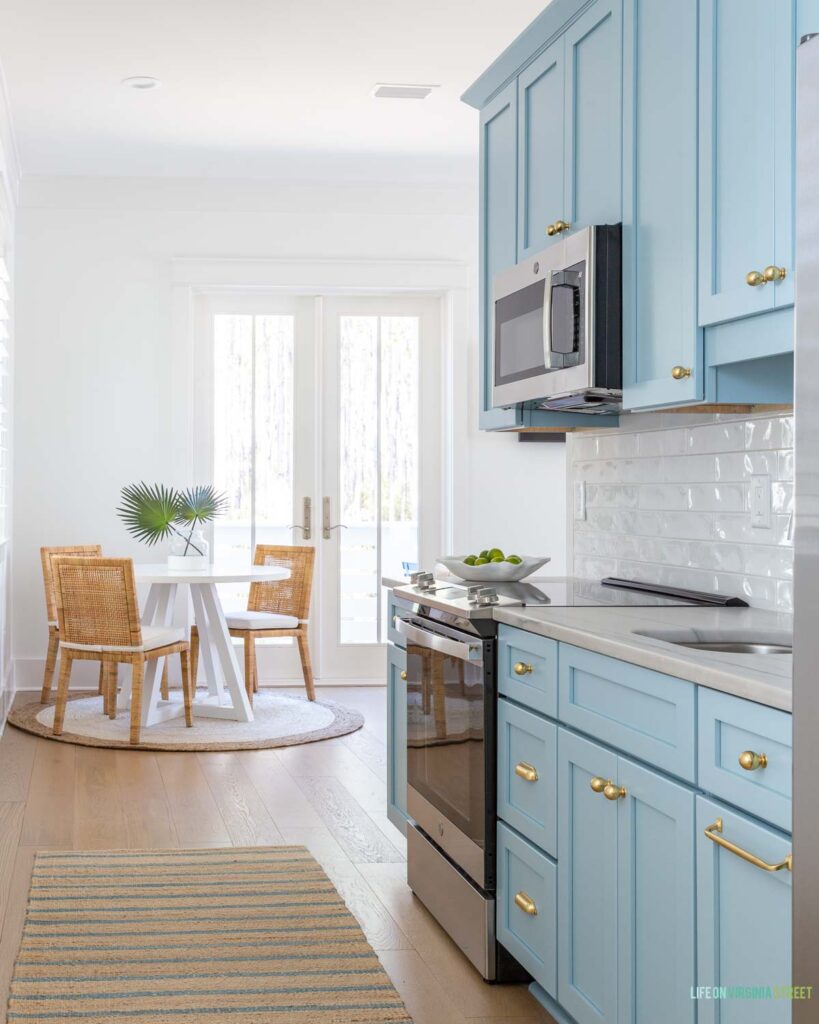 Here is the view from the dining area. It's actually rather spacious for a carriage house kitchen! You then get to the bedroom/bathroom by heading straight ahead and turning left by the window. I thought it might be fun to do some sort of custom art on that blank wall that doubles as a guest book! Basically where our friends and family that stay here can sign their names and the dates or something like that.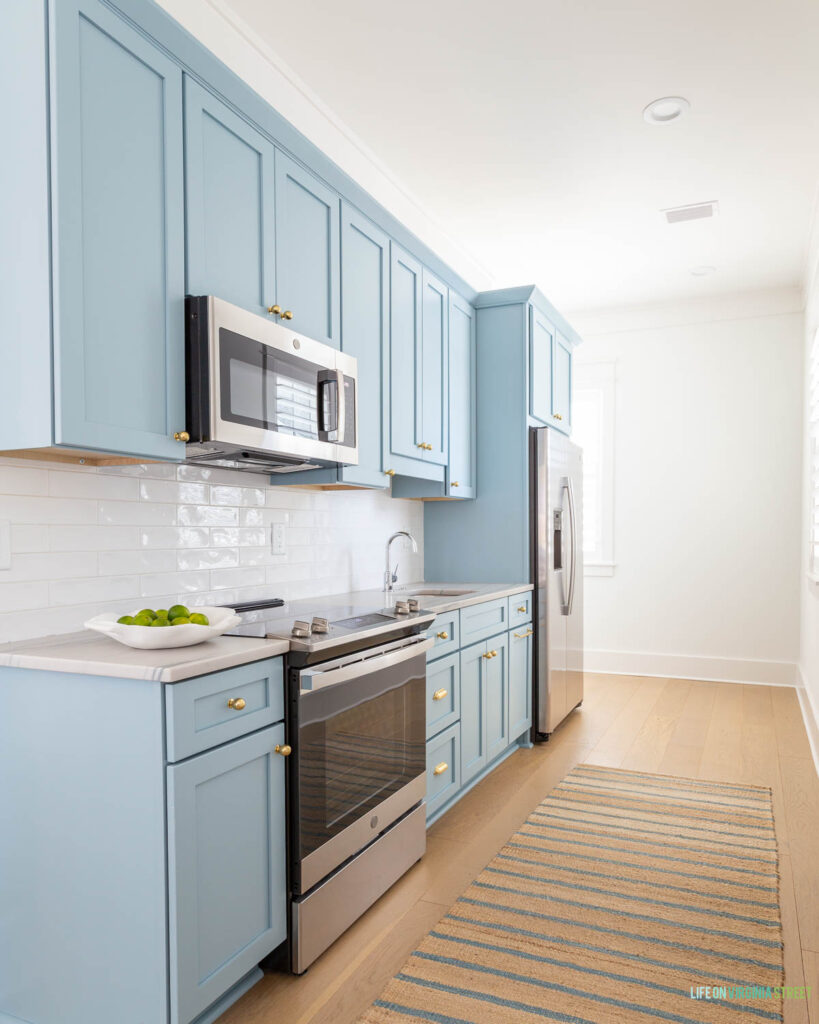 CARRIAGE HOUSE KITCHEN SOURCES: Striped Runner Rug | Cabinet Knobs | Cabinet Bin Pulls | White Teak Bowl: sources locally at Maison 30A | Cabinet Color: Aero Blue (stock color from cabinet company) – will have this color matched this soon
Carriage House Bedroom
The bedroom is also long and narrow like the living area. As much as I would love a chandelier or cute light out here, we went with a ceiling fan because we know most of our friends and family prefer one at night. That took a lot of restraint on my part!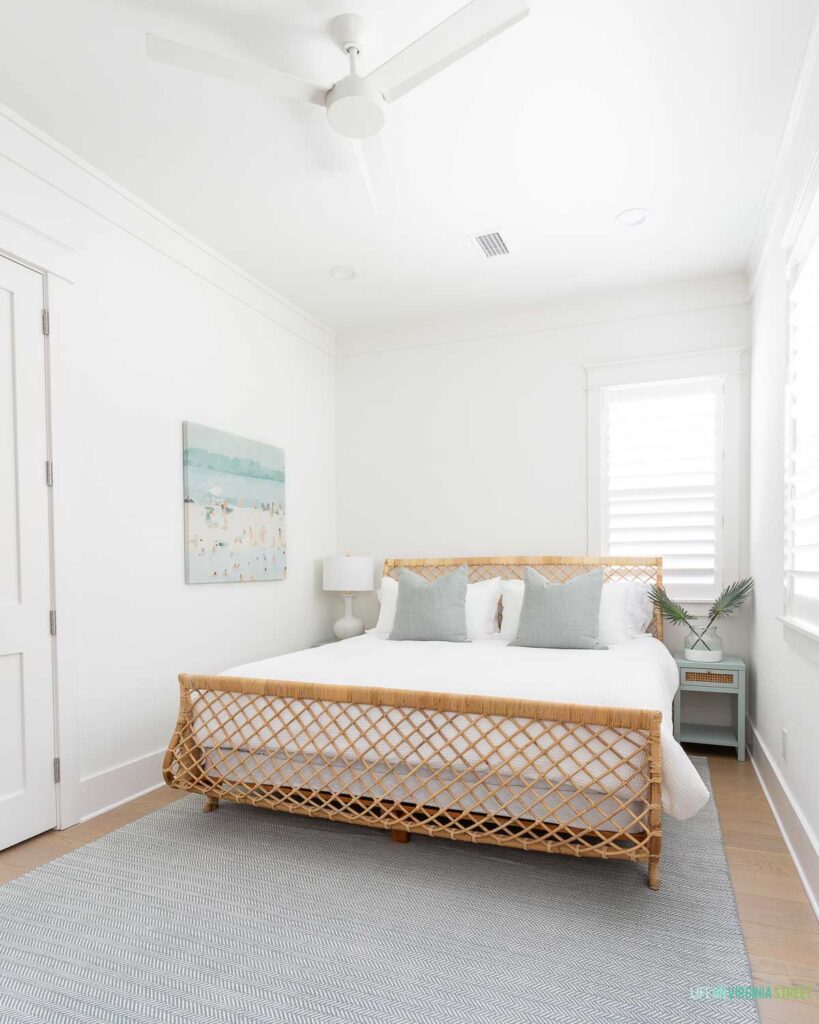 We originally were going to go with a queen bed so there was a little more moving room, but after talking to friends and family, they all preferred a king bed with tiny nightstands. It actually works out quite well. The bathroom door can't fully swing open past the bed, but it's a small price to pay for a much larger bed.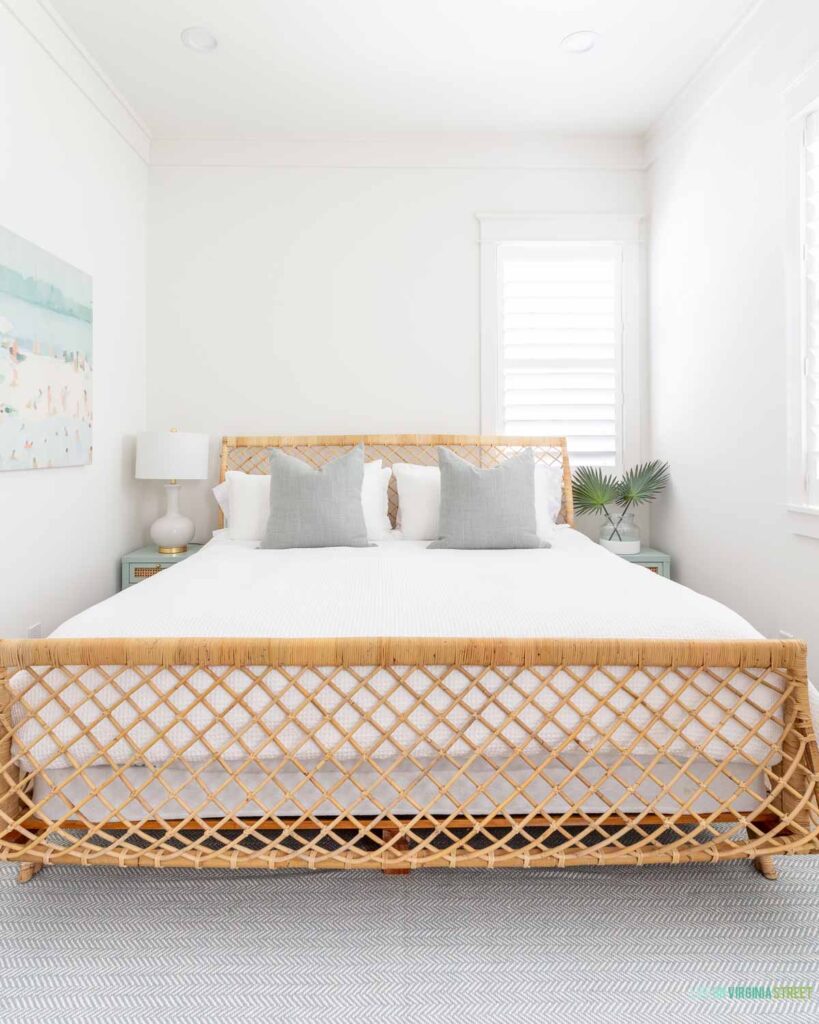 I loved this waffle knit duvet cover set so much, I may be ordering it for our own bed! I also used the viral Amazon sheet set in the space. Full disclosure: I have a second lamp that sits on this nightstand, but I preferred the palms for the photos 😉 I'm actually really impressed with the lamps for the price – especially since it includes the shade and light bulb!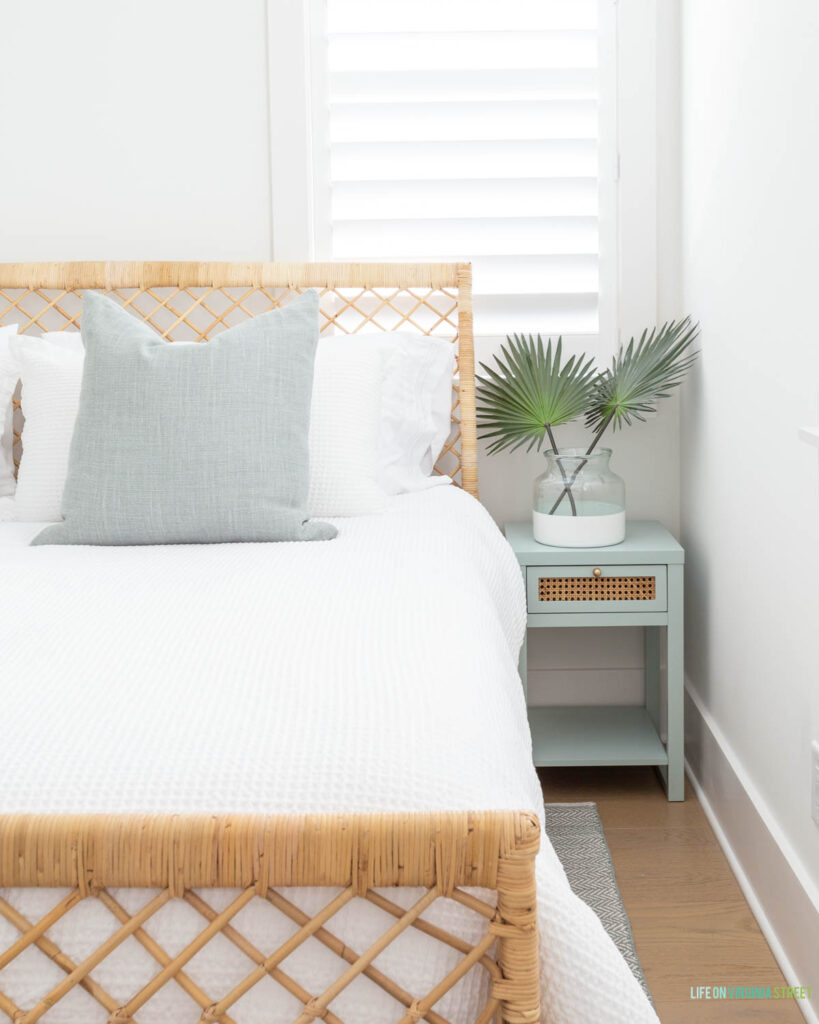 The opposite side of the room is very simple with a dresser, TV and a small walk-in closet. The door to the right is the bathroom.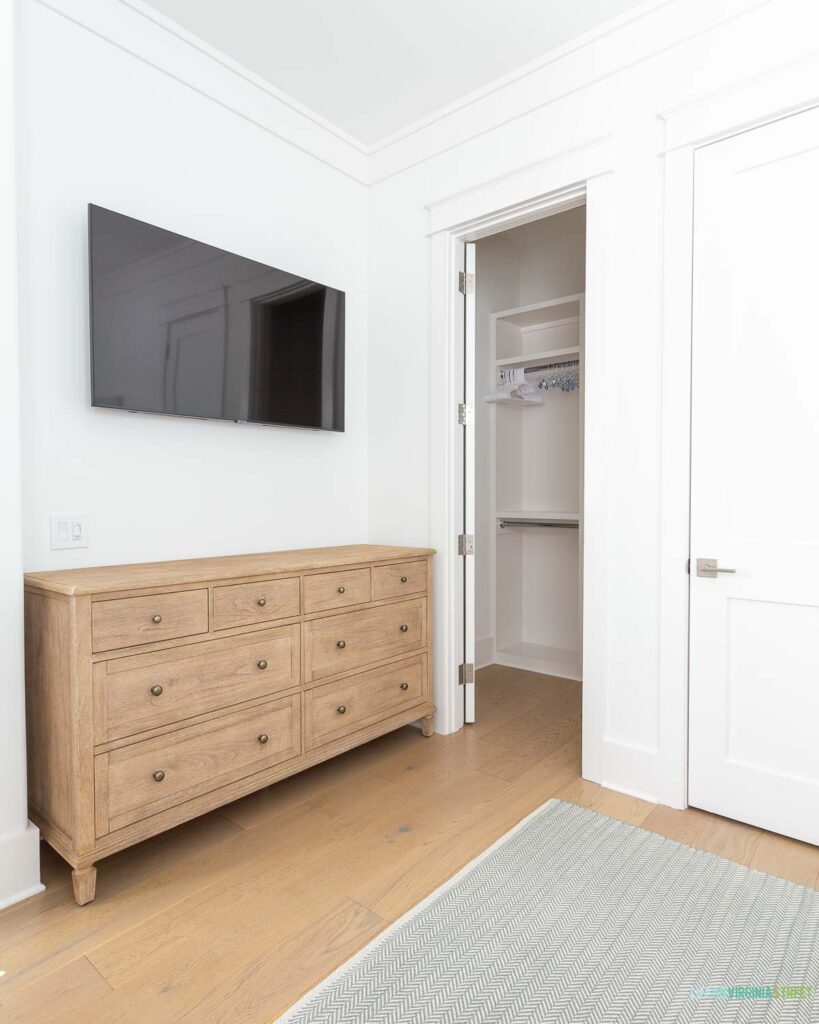 CARRIAGE HOUSE BEDROOM SOURCES: Rattan Bed | Nightstands | Herringbone Rug | Beach Art | Lamps | Linen Pillow Covers (chambray color) | Waffle Knit Duvet Cover | Lightweight Duvet | Sheet Set | Faux Palm Stems | Vase | Dresser
Carriage House Bathroom
The bathroom is actually a great size. It's a bit hard to photograph because there isn't any natural light so ignore the tripod reflection 😉 This was also before I added some bath mats and the hand towel which helped warm it up a bit. We love the walk-in shower and the overall layout. The mirror was a Serena & Lily clearance find (no longer available) and was supposed to go in the main house with the navy blue bathroom. It didn't fit there so it now lives out here. Not what I originally had planned for the space, but it works!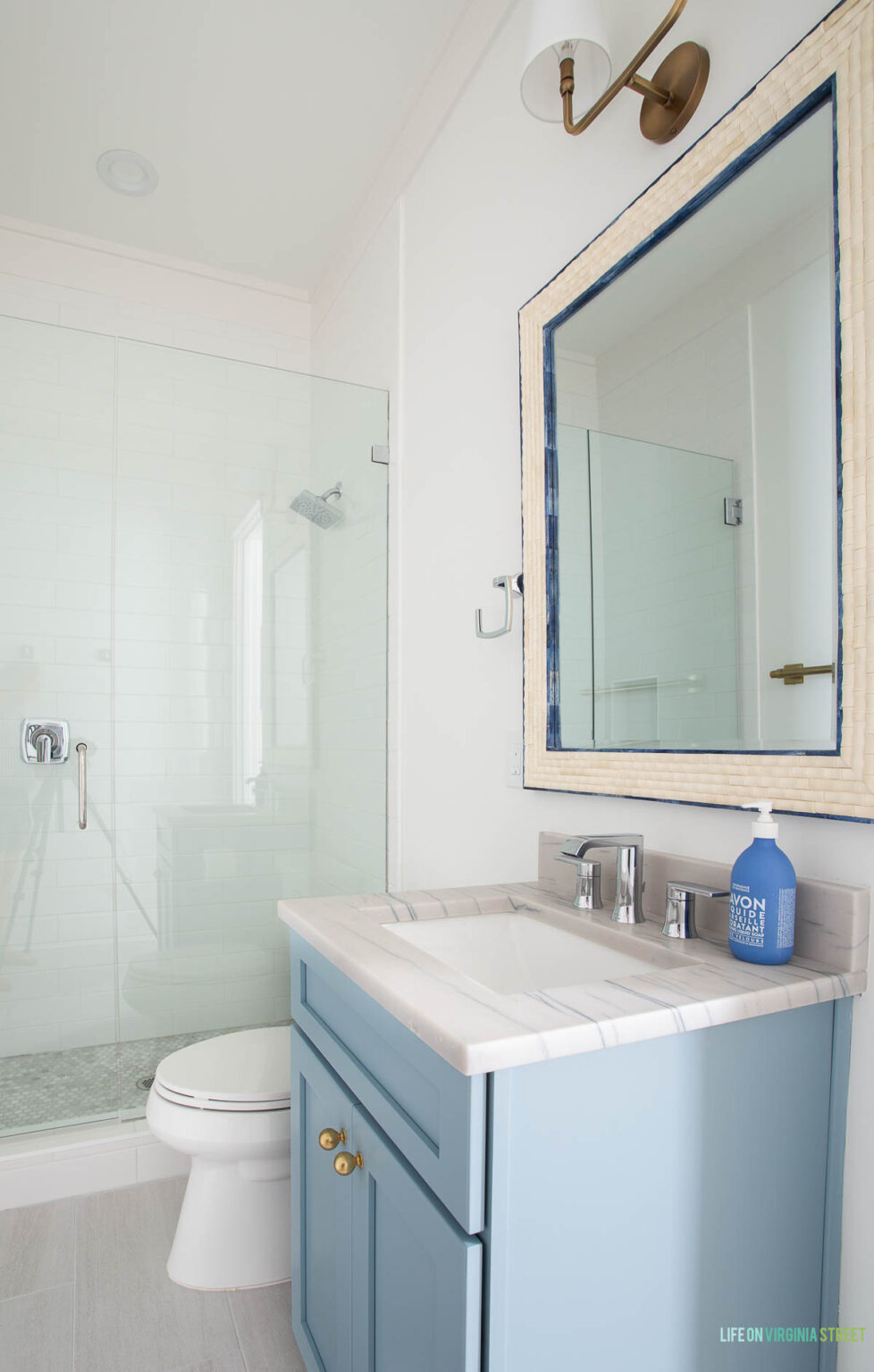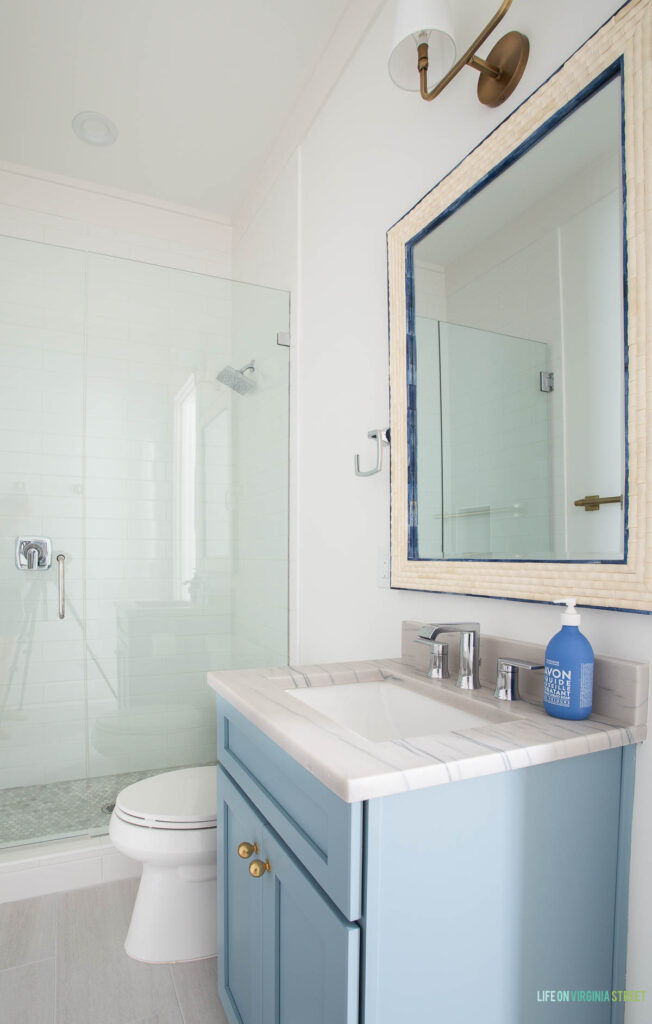 Carriage House Balcony
I forgot to take a "real" photo of the little balcony, but here's a quick iPhone snap of the space. It's tight, but it does fit our little bistro table set. It's so peaceful back here since it faces the woods! This is also the view you see out the living room doors.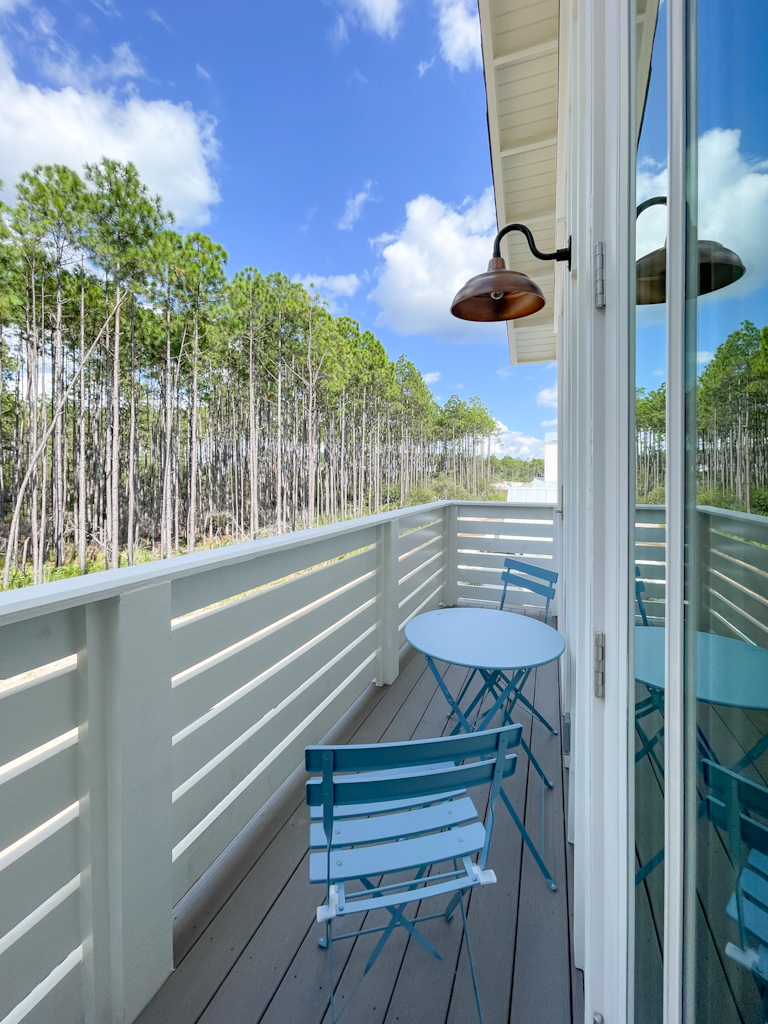 I hope you enjoyed this little tour! We had to put this space together rather quickly so I imagine over time, we'll do a few fun projects to make this little space even more special! Since it will be for shorter stays, likely from friends and family coming from colder climates, I wouldn't mind going full-blown beachy Florida style in here. I'm thinking maybe some fun wallpapers and/or textiles to make it a true vacation haven. We love this little carriage house so much, and are so glad we opted to add it!
If you would like to follow along on more of my home decor, DIY, lifestyle, travel and other posts, I'd love to have you follow me on any of the below channels: