Here are some tips to the perfect pillow pattern combinations.
If you've read my blog for more than a day, you know I have a slight serious throw pillow addiction. One of the most common questions I get on the blog or social media is where I got my pillows (most I made myself), how to mix patterns, where do I find fabric, what are my favorite pillow inserts…the list goes on. Needless to say, this post has been a long time coming!
Today I'm going to share some tips for creating perfect pillow pattern combinations:
Pick a floral or botanical pattern (or similar vibe) with at least three colors in the pattern. This should be your foundation for the rest of your choices.
Choose a large-scale geometric pattern (or stripe!). If my floral has a dark background, I try to go with a light background on this one, and vice versa. Should contain at least one of the colors in the floral/botanical.
Pick a small-scale geometric pattern or solid. If solid, try and get a fabric with some texture (linen, velvet, etc.). Should contain at least one of the colors in the floral/botanical.
I know it can be a bit hard on your eyes because there are so many patterns together, but, I put together a few looks below that demonstrate these tips. You will find that if the fabrics come in multiple colors ways, you can even mix the large-scale geometric from one with the floral in another and vice versa! Following are some random fabrics I perused last night to whip up some combos for you. I tried to include a variety of color schemes to show you how it works. It doesn't take a ton of effort if you follow the tips! Each row demonstrates a grouping of pillow I think would look great together!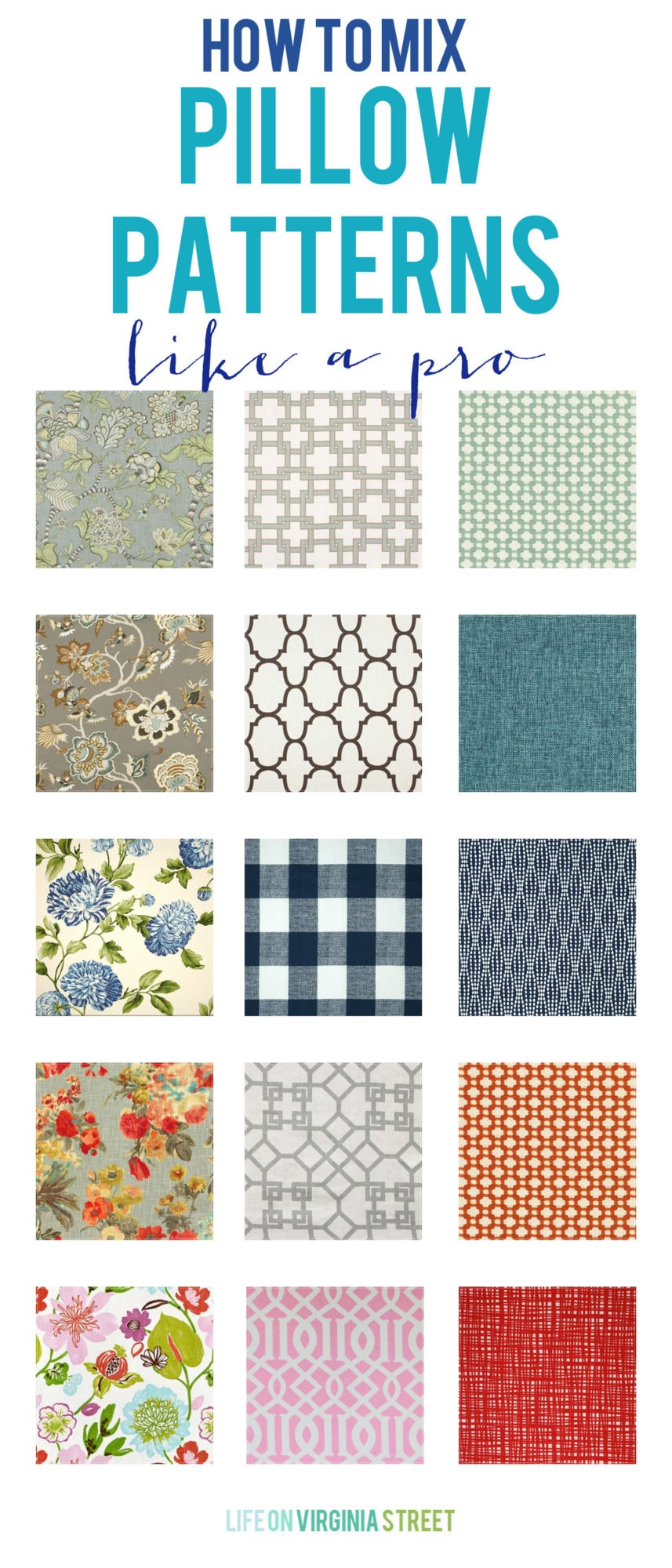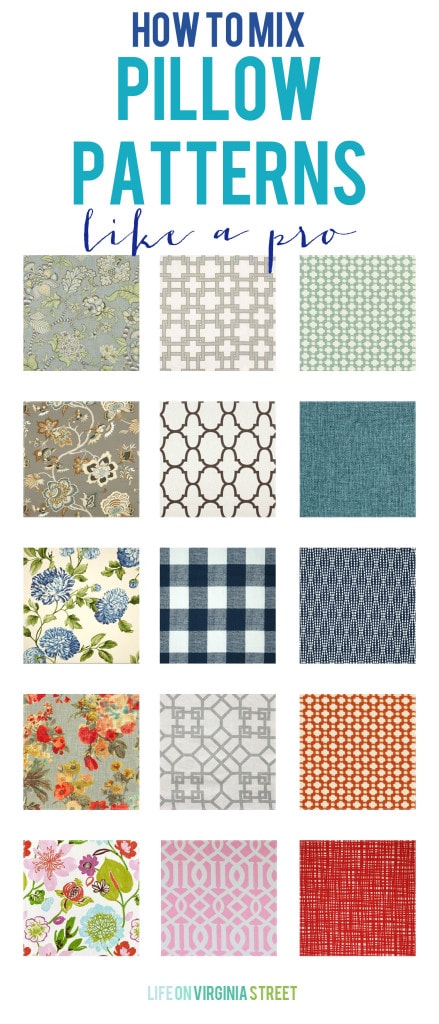 Blue and Green Floral Print | Interlocking Squares | Betwixt Water
Deep Gray Floral | Brown Riad Print | Teal Linen
Blue Floral | Navy and White Buffalo Check | Blue & White Strands Pattern
Cheerful Floral | Graphic Mist Pattern | Betwixt Spark
Colorful Floral | Pink Trellis | Red Hatch
Just a quick random sample, but I think the visual above helps demonstrate exactly what I'm talking about. And now, some of my looks in action in our home so you can see how it works live in an actual space. Note: I make almost all of my own pillows, but I've affiliate linked to Etsy shops and stores that sell pillows in the same fabric as my own, in case you're not a seamstress 🙂

Pretty simple, right?
A couple other rules of thumb I follow:
I never buy square pillows smaller than 18″x18″ and I really try to stay no smaller than 20″x20″.
In the past on our couch, I've always gone with a floral in 24″ squares, and then the other patterns in 18″, 20″ or 22″ sizes. This fall, I had four patterns, so I went with all 20″ squares. It's really a matter of personal preference.
On beds, I love to use Euro shams in back (26″ squares). I usually go with two on smaller beds and three on kings or California kings. Depending upon your headboard, a queen will need two or three. Just play it by ear based upon the bed you have.
I love a full-looking pillow with only a little slouch. I always cut my fabric exactly the size I want the pillow to be, so with the seam allowance, the cover ends up being 1.5″-2″ smaller than the insert. But they still fit, and look great!
It's always fun to add in some colored piping if you know how (I don't) or some ribbon trim to your solid pillows for a little more visual interest.
Mixing textures helps to perfect the look even further!
Interested in making your own throw pillow covers?
For those that are interested in making your own throw pillow covers (it is such a money saver especially if you love designer fabrics like I do), be sure to check out my throw pillow tutorial.
Where to buy the pillow inserts for your covers:
If you do give it a try, or even if you typically only buy covers, I love the pillow inserts from Robey's (I get the 90/10 blend) and Crate and Barrel. Then If you need a down alternative (for those that are allergic or prefer not to use down), this line from Crate and Barrel works well. Also, HomeGoods carries a lot of clearance pillows with down inserts. If they seem full (even if you hate the cover) buy them! You can usually get them on clearance for under $10 which is a great deal! Just make sure they aren't too slouchy.
Any other throw pillow questions you're dying to know?
Do you have any other tried and true tricks for mixing patterns, whether on throw pillows, in fashion or other areas? I'd love to hear your thoughts!
If you would like to follow along on more of my home decor, DIY, lifestyle, travel and other posts, I'd love to have you follow me on any of the following:
Pinterest / Instagram / Facebook / Twitter / Bloglovin' / Google
disclosure: some affiliate links used