Last month I shared my dining room makeover (round 2), the first room I changed when we moved in to our home nearly three years ago. Today, I'm going to share the refresh of our guest bedroom, which was the second room I updated after we moved in.
To give a little background on the space, it was very beige when we moved in. You can see in the first photo below that it was by no means offensive. Just a very blank slate for us to add some character. The second photo below shows the reveal once I got my hands on it!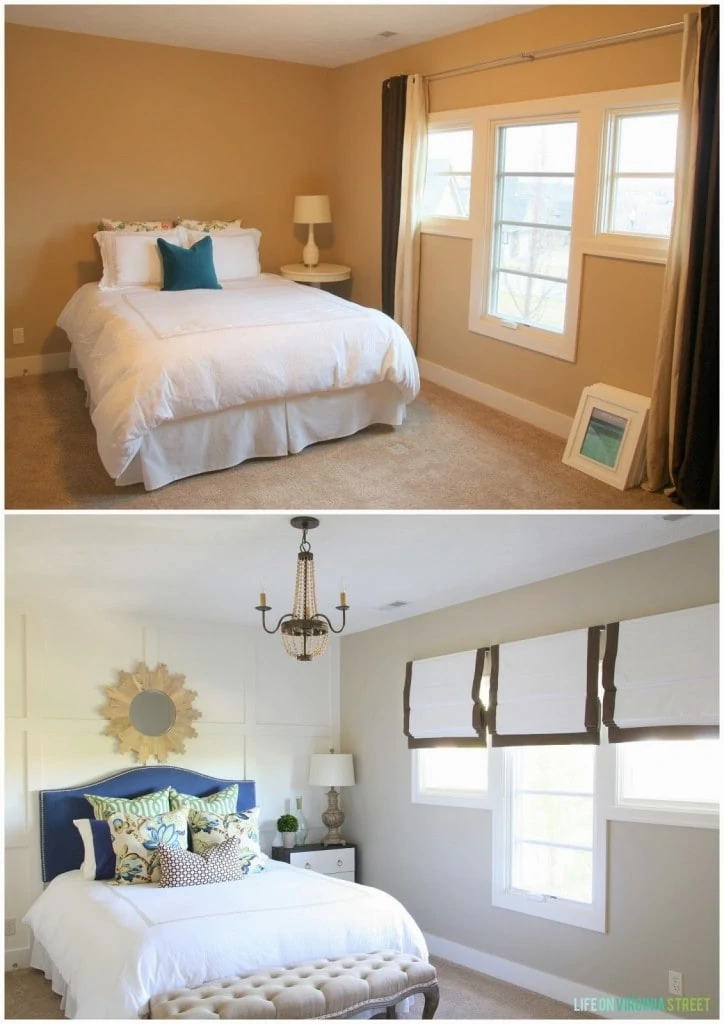 As you can see, the room changed quite a bit within a few months. But, since that time, so has my personal style in the time since I shared that reveal.
The biggest issue I had was decorating around the bold blue headboard. Obviously I love the color (given that my summer throw pillows were a similar hue), but with the color being on such a "permanent" fixture, it was hard to make any other changes, seasonally or just on a whim. I've ultimately decided I need to be more of a neutral-furniture-girl and then use bolder color more sparingly in accessories like throw pillows, throws, art, etc.
I also had fallen out of love with the wood bead chandelier in this space. It was too small for the room and something just felt "off" to me with it in this space.
Other than that, I was still in love with the board and batten grid wall we had installed a few years back and the other elements in the room. The roman shades were still perfectly functional and easy to decorate around and the bench added some additional seating to the space.
Following are the changes I've made:
I ended up finding this tan linen wingback bed and it is everything I had pictured for this space. Overall it just feels so much more substantial in the room (without taking up any more space). The headboard part of the new Kirkland's bed & bath collection that launched in August. They have so many beautiful items and the collection is mostly stone, gold, aqua and navy (all my favorites), and they have lots of new products that incorporate a hint of metallic. I'm loving this fresher feel. I also picked up this gold orb that you saw in my recent fall home tour.
Here is the new headboard with the same bedding and pillows I had previously.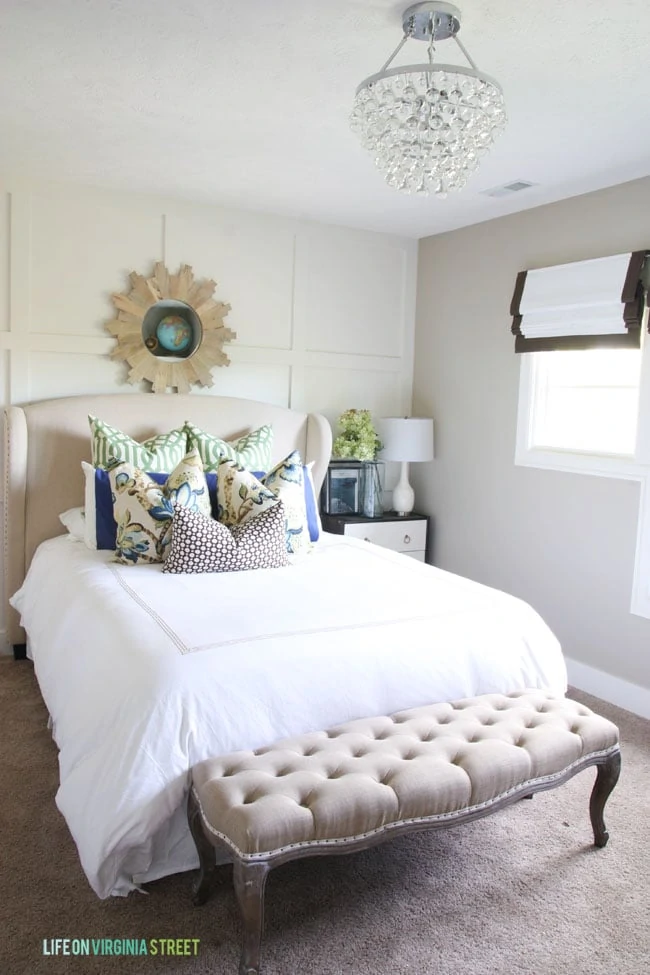 A close-up shot of those beautiful wings and the nailhead trim: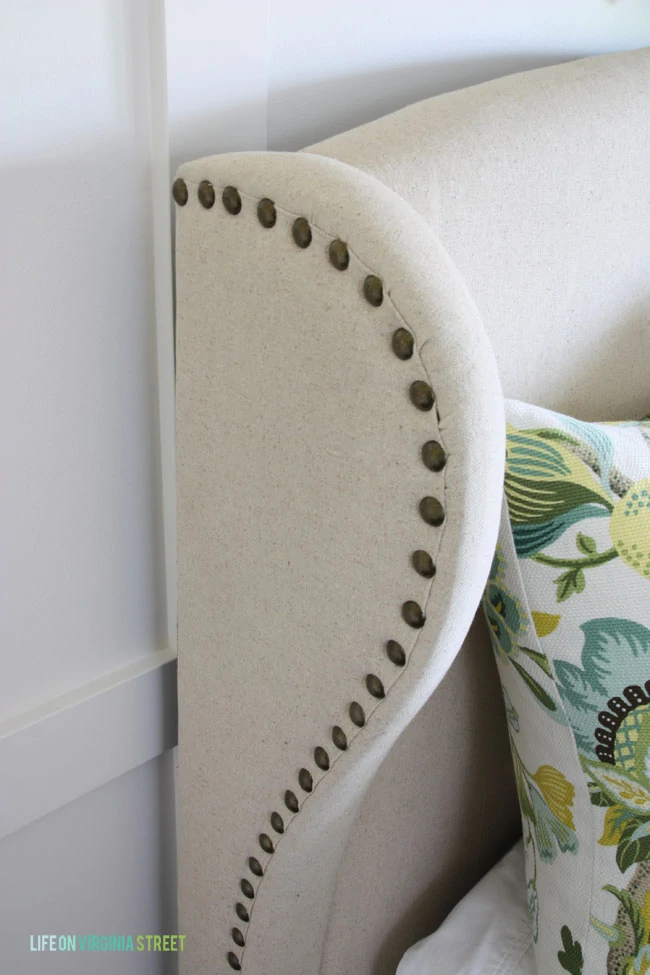 For those with a good eye, you'll also notice I got a gorgeous new light as well! It definitely fits the space a lot better and adds a bit of bling to an otherwise fairly bland space.
Ultimately, I'll probably move the mirror somewhere else in our house  because it blends a bit to much for me right now. I ended up buying this gorgeous mirror (that is also a crazy good price for the size) but when I tested it out, it doesn't quite fit the space between the ceiling and headboard so I'll have to use it elsewhere in our room.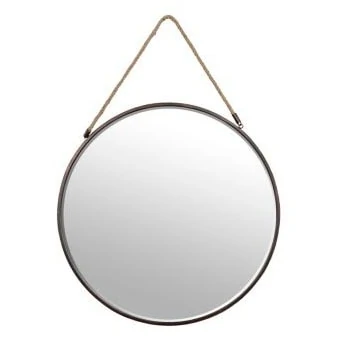 Because the bed is so versatile, I thought it would be fun to style the bed with pillows I had on hand (inserting this metallic linen and gold stud pillow occasionally as well). Here is the headboard with some of my current pillows from other rooms and the ghosts of pillows past 😉 I had actually set aside some fabric from my fabric store to make some new pillows, but at the end of the day, I quickly realized I had plenty already on hand!


See what I mean by needing neutral furniture? I love my throw pillows entirely too much! And this headboard provides the perfect backdrop for any of the looks I want to go with (suddenly, I'm secretly yearning for Christmas so I can play around with holiday bedding, something I've never done in the past). And for those that have asked how I store all my pillows – the secret is that I actually use the same pillows at any given time, I just hang the pillow covers in a closet. So, they actually take up very little storage. Needless to say, this little photoshoot took some time unzipping and re-stuffing over and over!
My favorite was hard to pick, but in person I really loved the look of the pillows from our living room that I used for the last few years. They had gone into storage recently for my summer and fall looks, so I loved seeing them again, used in a new space!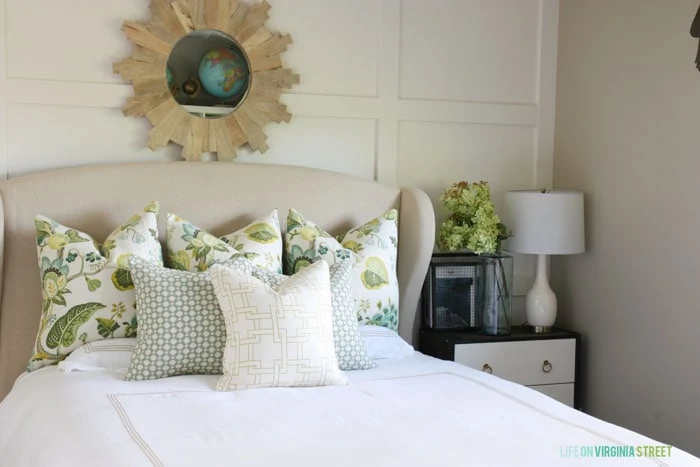 Do you have a favorite look out the six I shared? Are you more of a neutral furniture type as well?
I'll likely be making a few more changes in the space and will keep you updated along the way. But for now, it was the perfect refresh for this little guest room of ours!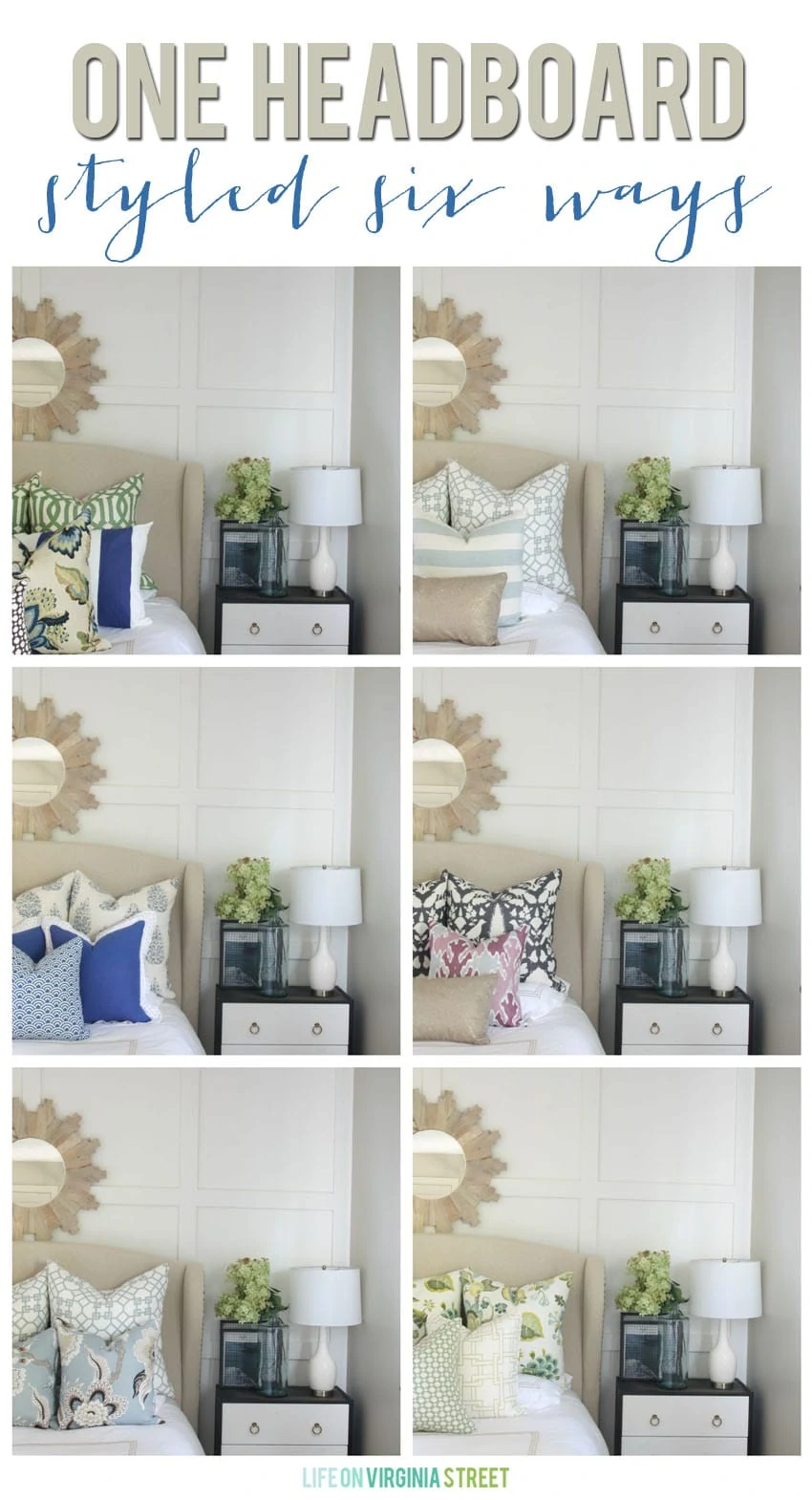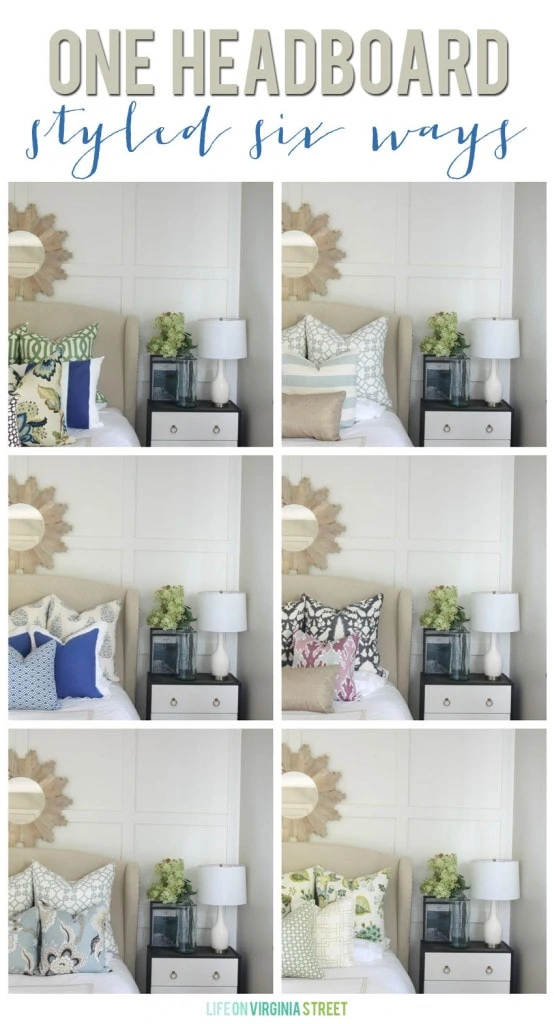 A big thank you goes out to Kirkland's for sponsoring this post. As always, I only share products and brands with my readers that I truly love and think you will love as well! Kirkland's also provided me with a giftcard to purchase some items I loved from their store – the rest I purchased on my own.
If you would like to follow along on more of my home decor, DIY, lifestyle, travel and other posts, I'd love to have you follow me on any of the following:
Pinterest / Instagram / Facebook / Twitter / Bloglovin' / Google
disclosure: affiliate links used