These fall decorating ideas and mood boards are intended to help inspire your decorating for the upcoming season! Includes design ideas for multiple rooms in your home with a few different color schemes!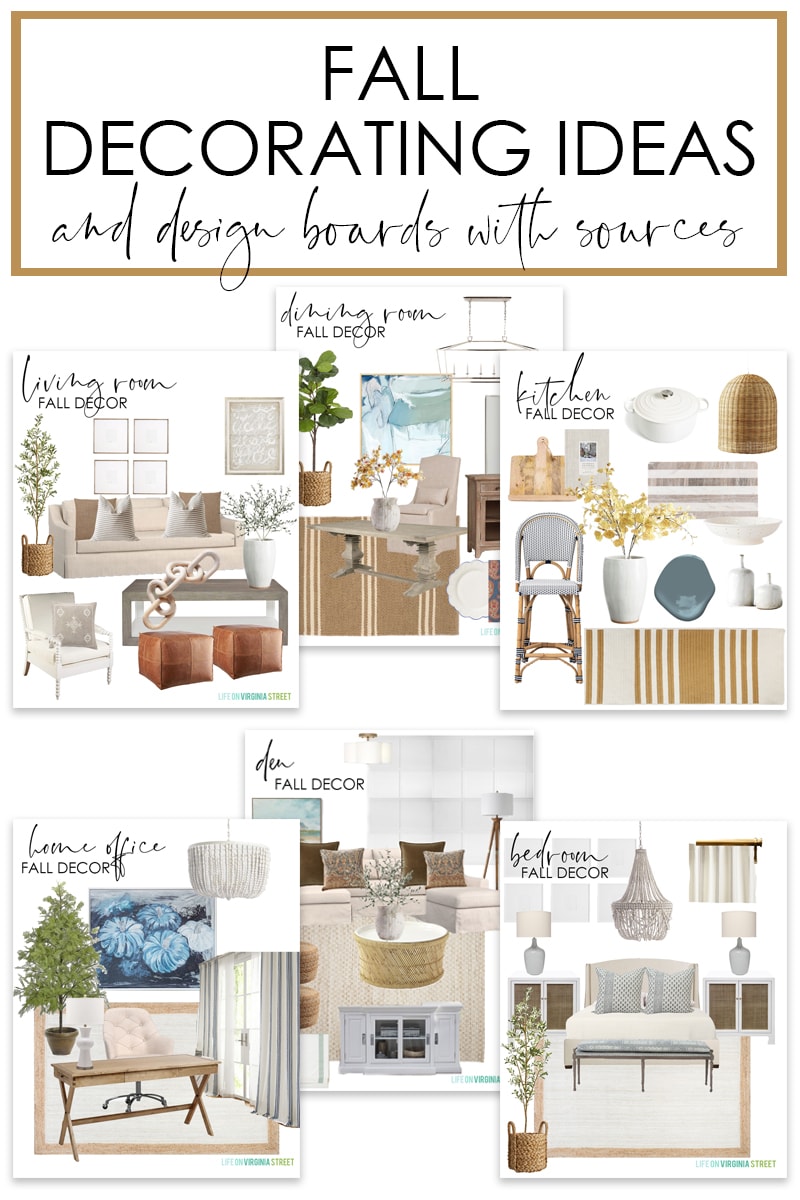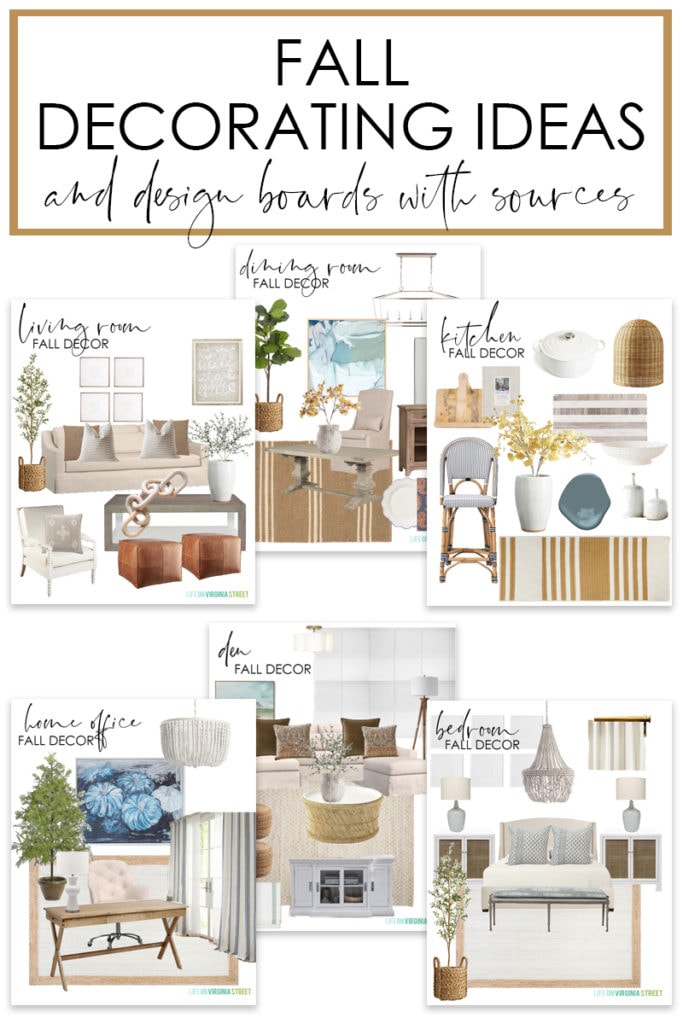 This post contains affiliate links for your shopping convenience. Click here to read my full disclosure policy.
Now that my fall home tour is less than two weeks out, I decided it was finally time to finalize my cozy fall decor plans! Today I'm sharing my fall decor design boards. If you recall, last fall I shared my Christmas decor design boards and it was a big hit, so I thought I'd do similar design boards for fall! A little preview of what's to come in our home, but before it all sells out online!
I actually had mood boards created several weeks ago. But then, as a few of the items I ordered started arriving, I realized I needed to make some updates! Some of the items that looked cute paired together with stock photos and on my boards didn't work well together in real life. So, these updated versions are after I've seen the bulk of the items in real life (I'm still waiting on a few). I'll likely still make a few changes on the fly, but I feel like I have things mostly figured out!
Hopefully these mood boards give you some helpful fall decorating ideas or at least help inspire the direction you may go! And because I get the question almost daily, I make all of my mood boards in Photoshop. However, you can really use any program that lets you paste images (the backgrounds just may not be as clean). But it would still give you a feel for the overall look of your choices! If you're looking for even more fall decorating ideas, be sure to check out my post on Fall 2019 Home Decor Trends!
Overall, I decided to keep things very simple, but add in warm cozy colors for fall. My decor palette tends to be cool with lots of coastal blues and greens, so I added in shaded of cognac and caramel and I love the look for fall! So cozy! Fortunately I had a lot of these items already on hand, but also added in a few new items for the new season!
Fall Living Room Decorating Ideas
Our living room plans may be my favorite of the bunch! I kept things very monotone, but with all the varied elevated textures, I think it still keeps everything interesting!
Fall Kitchen Decorating Ideas
In our kitchen, my design centered all around the striped runner I received from Brooke & Lou! They generously offered to let me pick something out for fall, and my eyes immediately drew to the rug. It just arrived yesterday and I can't wait to get it in place! I love adding in other warm tones that pair well with our pendant light.
Dining Room Fall Decorating Ideas
As you can probably tell by the graphic, I'm doing a little area rug change up in our coastal dining room. After the red wine spill at one of our parties a few weeks ago, I figured our other rug was best suited for the bedroom I originally intended it for! It cleaned up well, but still has me a bit nervous. So, I opted to switch back to my trust Dash & Albert brand, and found this indoor/outdoor striped rug. I asked if they wanted to partner on it and they generously agreed. I need Kurtis' help to get it unrolled and in place but I think it's going to be perfect! I'm keeping the other decor fairly simple, likely with only a switch of napkins. Admittedly it all looks a little busy on "paper" but I think it will be pretty neutral and flow well with the other room!
Den Fall Decorating Ideas
Because we intentionally designed the den with a coastal, relaxed vibe earlier this year, it was probably the most difficult to envision for fall! I had to work with the creamy white and light blue roman shades so when I saw this barn art on sale earlier this week, I picked it up! The palm tree art that was formerly here will return next spring, but I think the barn art works perfect for fall and the winter months. Plus it brings in some of the dusty light blue in the shades and well as other colors from the fixed items in the room!
Fall Bedroom Decorating Ideas
Since we recently updated our master bedroom earlier this year, I'm planning to keep it simple with a few pillow and accessory swaps! I'll also plan to swap out the summer-vibe vacation photos in our gallery wall for something that fill a bit more fall-ish!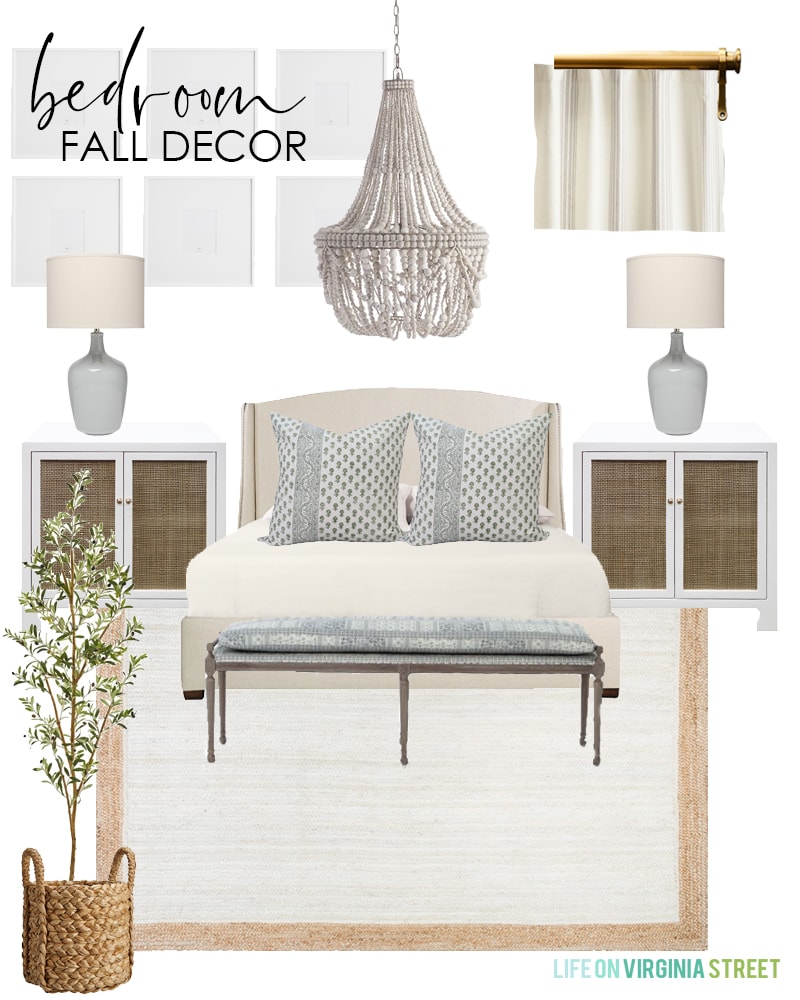 MASTER BEDROOM DESIGN BOARD SOURCES: Similar Bed | Nightstands | Chandelier | Rug | Lamps | Frames | Curtains | Curtain Rod (look for less here) | Duvet Cover | White Euro Shams | Block Print Pillow | Faux Olive Tree | Seagrass Basket | Bench
Fall Office Decorating Ideas
I don't make many changes to our office for our fall, but I do swap out our abstract art for this blue pumpkin art and love how it instantly updates the space for the new season! The addition of the jute rug earlier this year, has already warmed the space up considerably!
I hope you all have a great holiday weekend! I'll be back tomorrow with the Best Labor Day weekend sales! As I'm sure you can tell from many of the sources above, the sales are in full force and there's already a lot of great finds!
If you would like to follow along on more of my home decor, DIY, lifestyle, travel and other posts, I'd love to have you follow me on any of the following:
Pinterest | Instagram | Facebook | Twitter 
disclosure: some affiliate links used