As we rapidly approach April, and the realization that we could be moving within 3-4 months, I'm trying to fine-tune some of my design plans for the new build. Admittedly, it's been a bit challenging for me to design an entire home as well as the carriage house all at once. A fun challenge, but a challenge nonetheless. Like most, I'm used to taking a one-room approach to most of my makeovers so a whole home can feel a bit overwhelming! Granted, not every room has to be complete on day one. But, since we've been in limbo for about six months we're ready to be fully settled. Additionally, since our builder has given us a lighting allowance, I'm trying to have tentative plans in place to make sure the lighting works with other elements in the space.
I've also been trying to be good about including what furniture we did bring down from Omaha (that wasn't sold or donated), and figuring out its best use in the new house. We definitely have some gaps in furniture, and have a list of things we need to order. However, I don't want them to arrive too early (we have nowhere to store anything), but also don't want to have an empty house for months on end!
In starting the planning process, I knew I wanted some colorful rugs in a few rooms. With that, I started my design boards around those selections. Ideally, I'd love for us to move with the rugs first placed on the floors so we don't have to move all the furniture again once I decide on a rug. From there, I've chosen lighting and then filled in the gaps on some of the furniture. I'll plan to share more of my design boards soon. But today, I specifically wanted to share some of the colorful rugs I've found from a variety of retailers (several are new to me)! But if colorful rugs aren't your thing, I also have links at the end of the post to other rug-related content you may enjoy.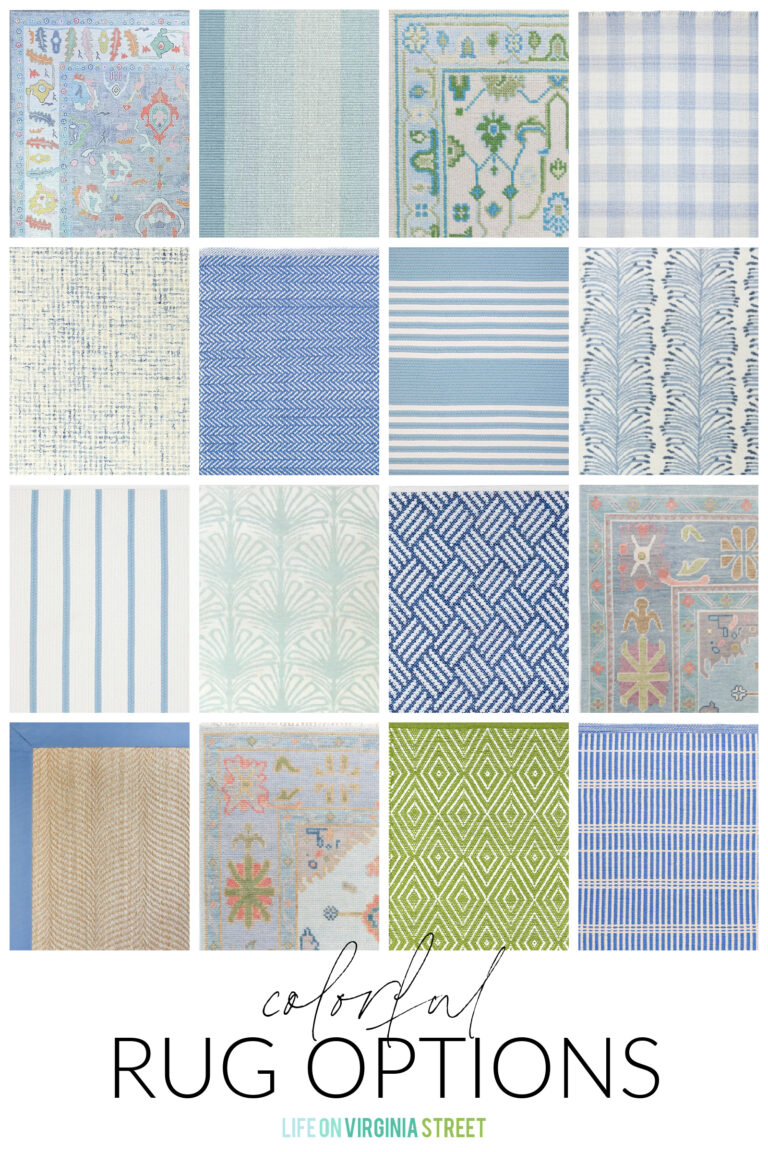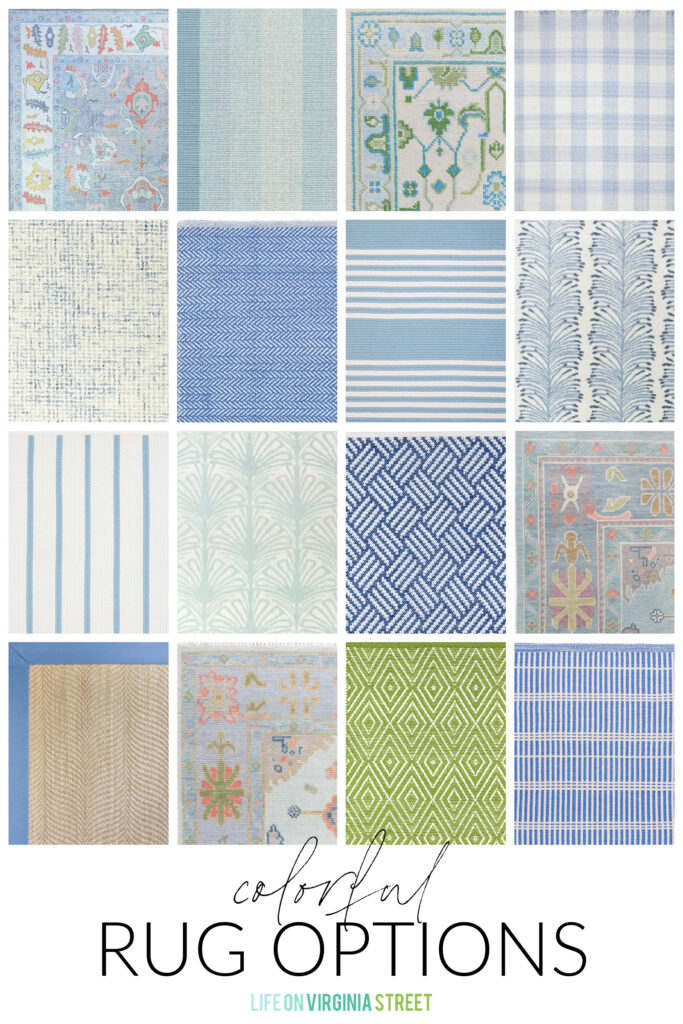 This post contains affiliate links for your shopping convenience. You can read my full disclosure policy here.
Colorful Rug Options & Finds
We'll have white oak engineered hardwood floors throughout the new build, as well as white walls (I've chosen Sherwin Williams Snowbound) on both the drywall and shiplap. I've mentioned before that I want to inject a bit more color into this next home than I've used in the past, and I thought rugs would be a fun place to start! With fairly neutral furniture and a neutral foundation, a colorful rug can add personality without being too overwhelming! Let's jump into a few of my picks.
A few items to note:
Following are some additional colorful rugs I've found and considered.

I'll plan to share more of my design plans soon so you can see how I plan to incorporate some of these colorful rugs into our new home!
Additional Rug Ideas
Following are additional rug related articles you may find helpful! Tap the name of any of the articles to be taken directly to the post.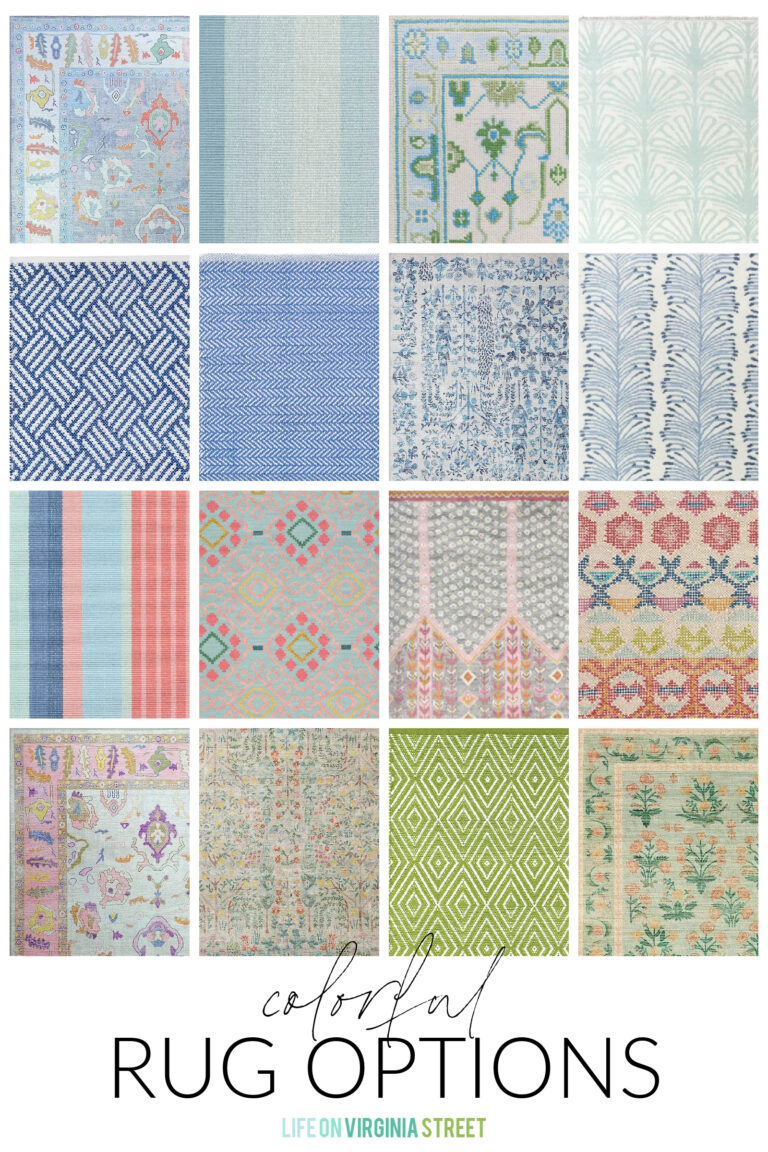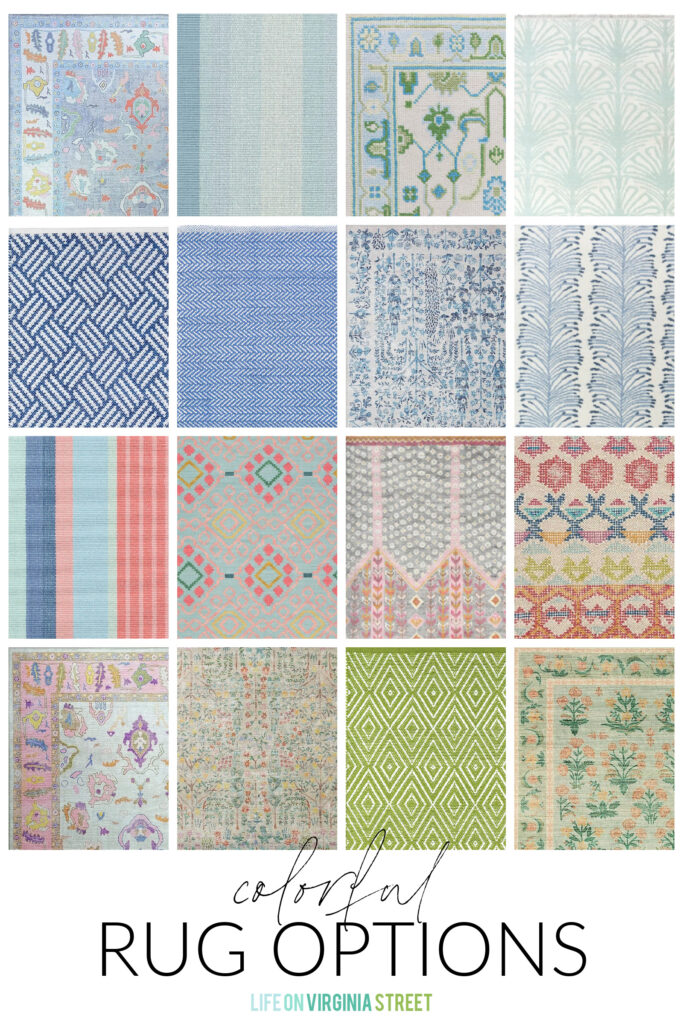 If you would like to follow along on more of my home decor, DIY, lifestyle, travel and other posts, I'd love to have you follow me on any of the below channels: