Happy New Year's Eve! What an exciting and busy year it has been! We spent some time this week doing 2023 goal planning and we're already excited for the fresh start of a new year. As I look back on 2022 I want to thank each and every one of you that takes the time to visit my blog. Today I thought it would be fun to share the top 10 products from my readers for 2022. I'll share a little insight on each, as well, as to why I think they were so popular!
This post contains affiliate links for your shopping convenience. You can read my full disclosure policy here.
Following are the 2022 top 10 reader favorites, counting down backwards in true countdown style!
I bought this lip sleeping mask on Prime Day after hearing so many great things about it. Funny enough, it just ran out and I ordered a new one yesterday. I use it on my lips every night before bed, and it's by far the best moisturizer I've found. I don't love the tube gloss version (I find it to be stickier/tackier) but this pot can't be beat! You all must love it too, because I think it's the first time a beauty product has ever made my top ten list!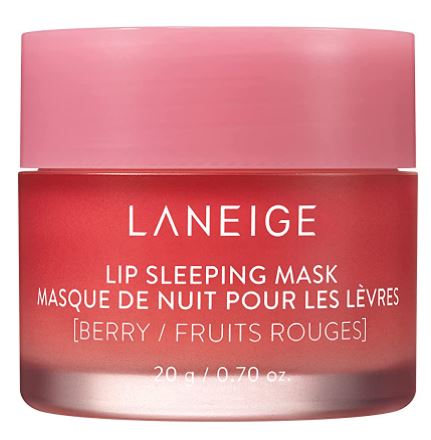 We've had the Tulum rug for nearly four years. Or I should say we did, but the buyers of our Omaha home purchased this rug so it stayed behind. It started out in our den with our initial den makeover and then moved to the pool house once that was complete! It's incredibly durable and held up very well over the years.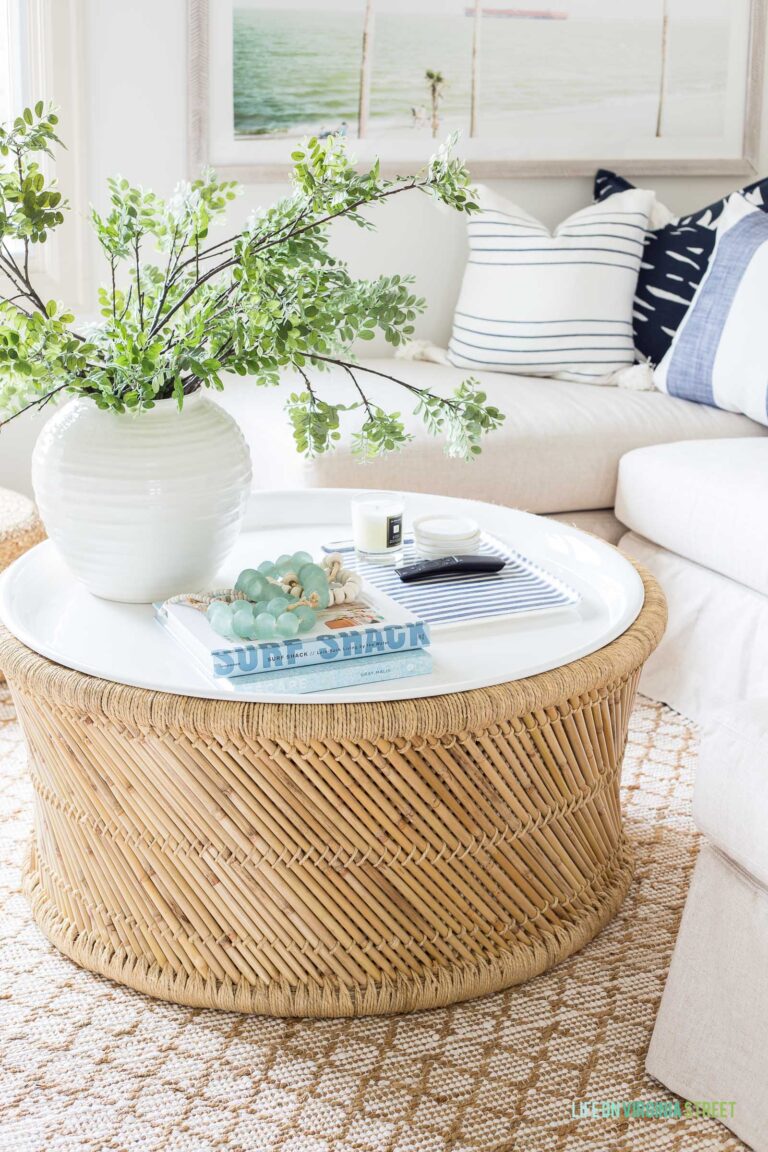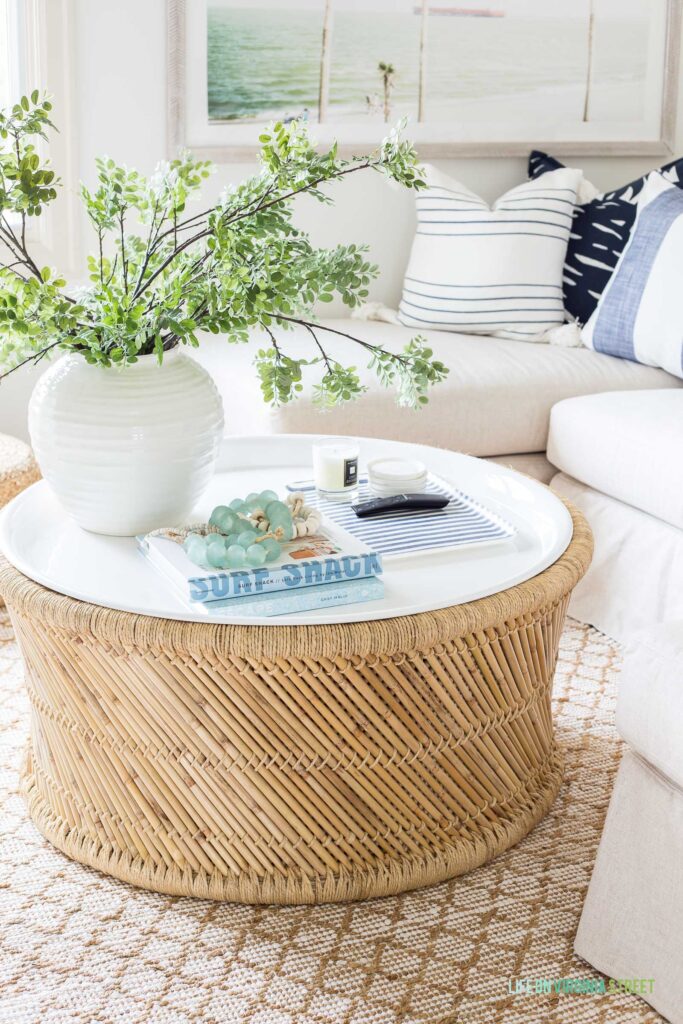 DEN SOURCES: Linen Sectional | Tulum Rug | Coffee Table | Palm Tree Art | Jute Poufs | Vase | Faux Greenery Stems | Small Striped Pillow | Wide Striped Pillow | Palm Print Pillow
If you're on the hunt for an affordable faux greenery stem, look no further. Sold as a set of two, you can get the pair for about 1/3 the price of my favorite single stem!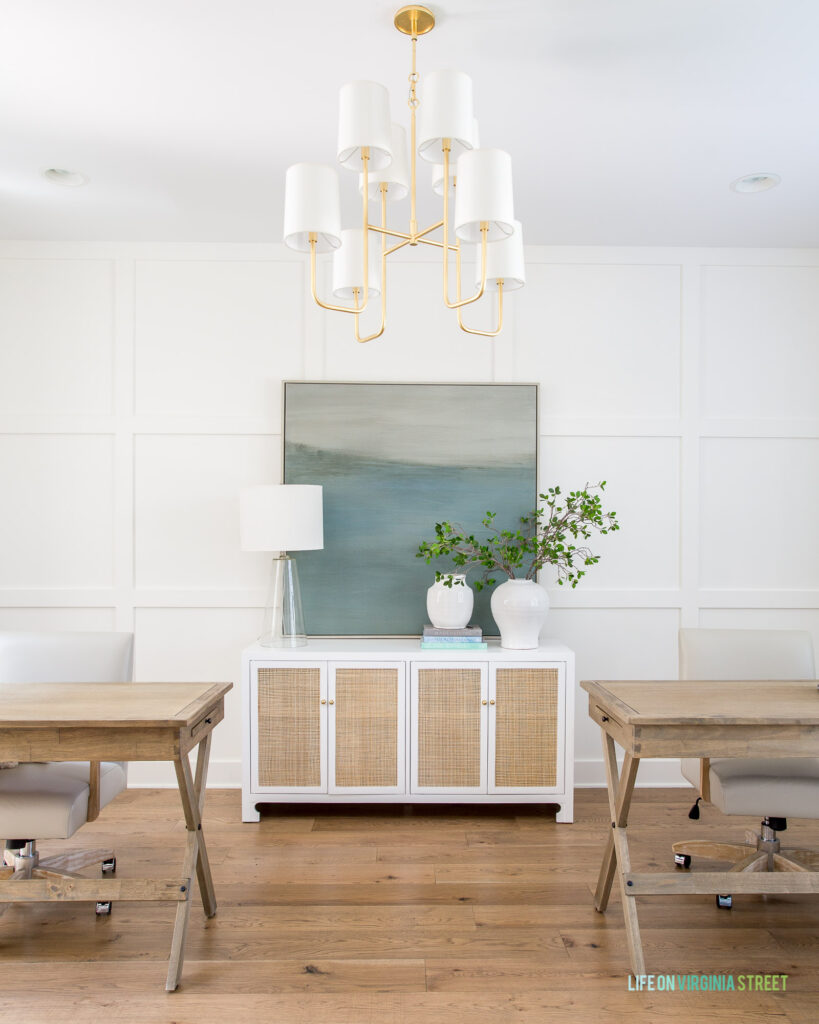 SPRING HOME OFFICE SOURCES: Chandelier | Desks | Leather Rolling Chairs | Rattan Cabinet | Abstract Art | Glass Lamp | Ceramic Cachepot Vases | Faux Greenery
I've had this jersey maxi dress for four or five years now (maybe longer?) and own it in three colors! It's such an effortless style, especially when on vacation! The dress is super comfy, flattering, and easy to pack thanks to the jersey material. It is on the long side (I'm 5'8″ and can barely wear flip flops without it hitting the ground), but they now make a petite version as well!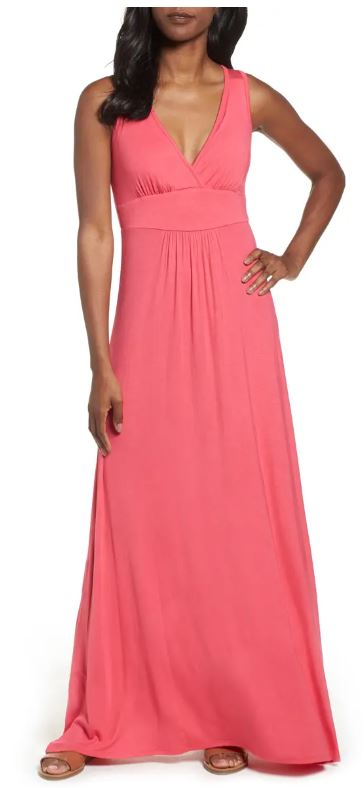 I need to update my review post with current information, but long story short, we still love this sectional! The fabric selection is key, but we've had it for nearly four years and it looks like new. It's one of the few pieces of furniture we were willing to move across the country with us! That's partly due to the fact it has gone up in price so much since we bought it (like most things), but we love it so much and have a perfect spot for it in our new build!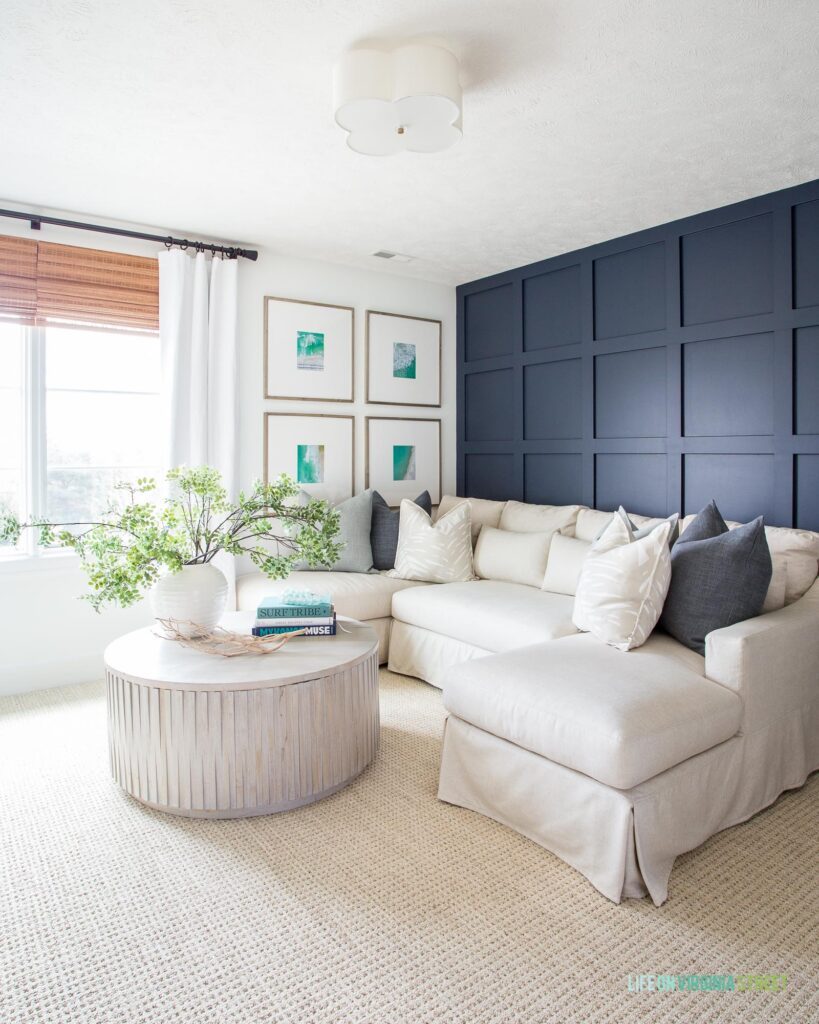 SPRING DEN SOURCES: DEN SOURCES: Sectional (read my review here) | Coffee Table | Scallop Light Fixture | Gallery Wall Frames (look for less here) | Art: Personal Vacation Photos (coming soon for download – I promise!) | Linen Blackout Drapes | Cast Iron Curtain Rod | Woven Cordless Shades (color is Tuscan) | Chambray Linen Pillow Cover | Midnight Linen Pillow Cover | Palm Pillow Cover | Faux Greenery | Vase | 'Surf Tribe' Book | 'Great Escapes Italy' Book | 'Mykonos' Book | Recycled Glass Beads | Carpet (color is Beach) | Paint Colors: Benjamin Moore Hale Navy and Simply White
I've had these faux tulips for several years now and love to bring them out every spring! They come in 20 color options, have over 16,000 reviews now, and feel very lifelike! I have two sets in the vase below (since the mouth is so wide) but most vases would likely be fine with only one set.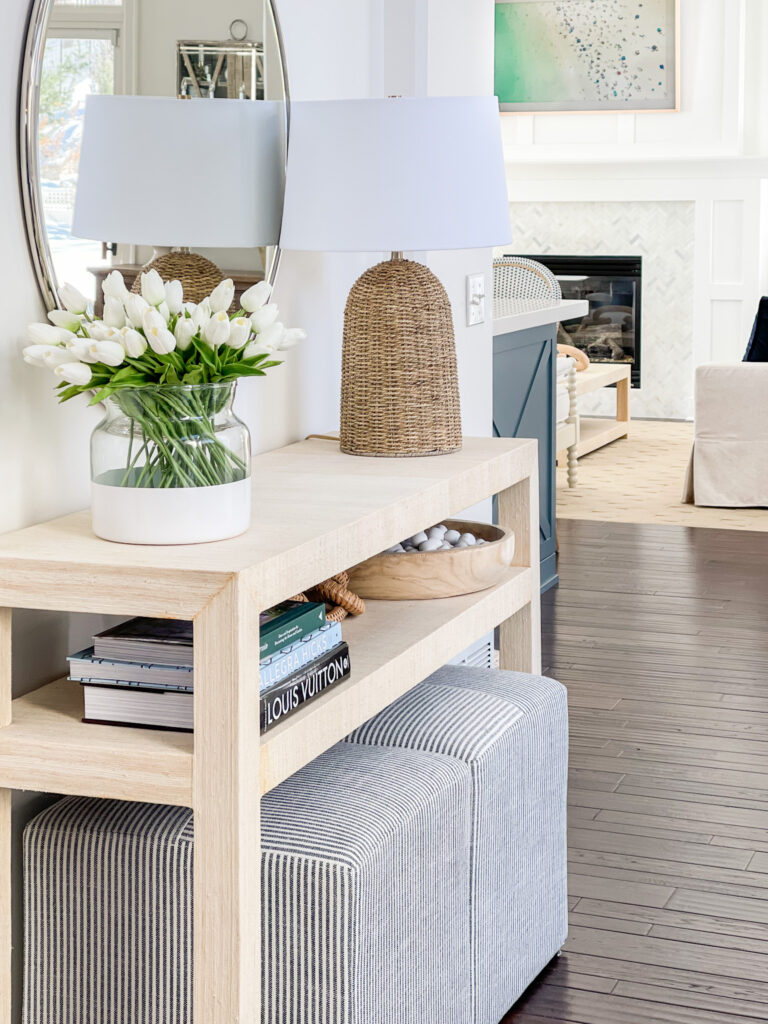 SOURCES: Raffia Console Table | Similar Round Mirror | Seagrass Lamp | Colorblock Vase | Faux Tulips | Striped Ottoman Cubes
We bought these rattan nightstands last February for Hola Beaches, and they've held up great ever since! They look so much more expensive than their $200 pricetag. I will say assembly was not fun (and pretty time-consuming), but we've been very happy with the quality – especially in a high-traffic vacation rental home! They feel slightly petite for me (height-wise), so may be better suited for a kids room or guest room.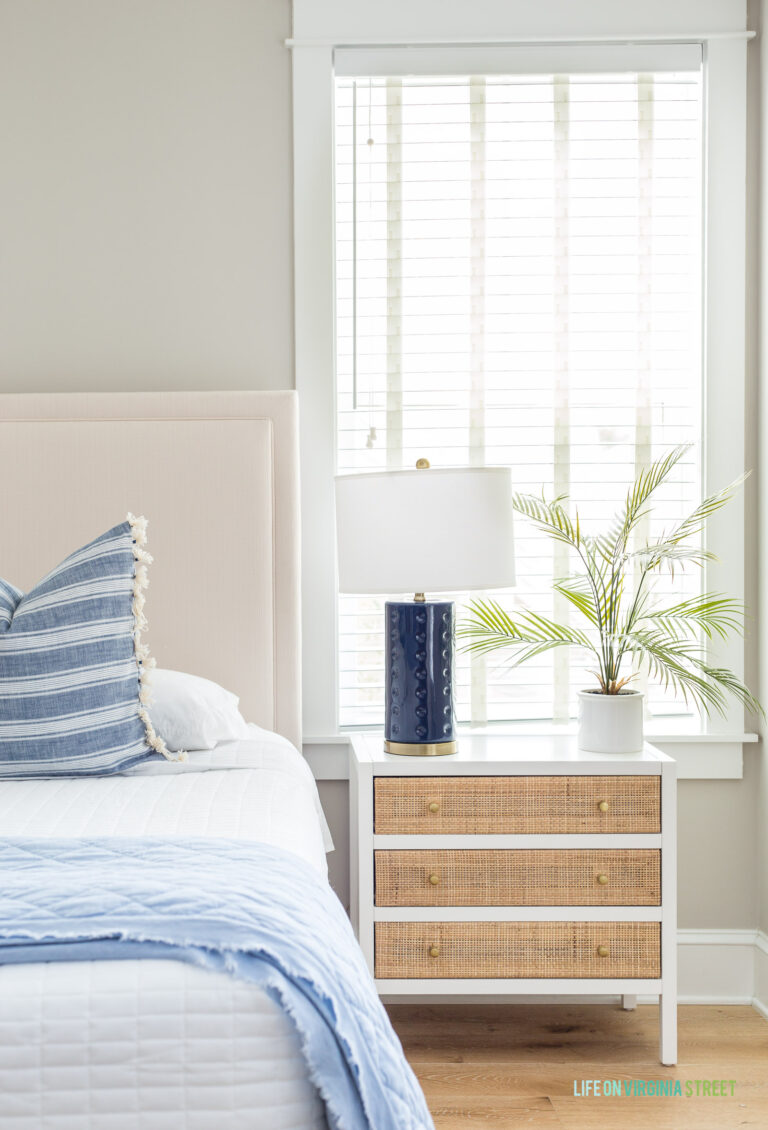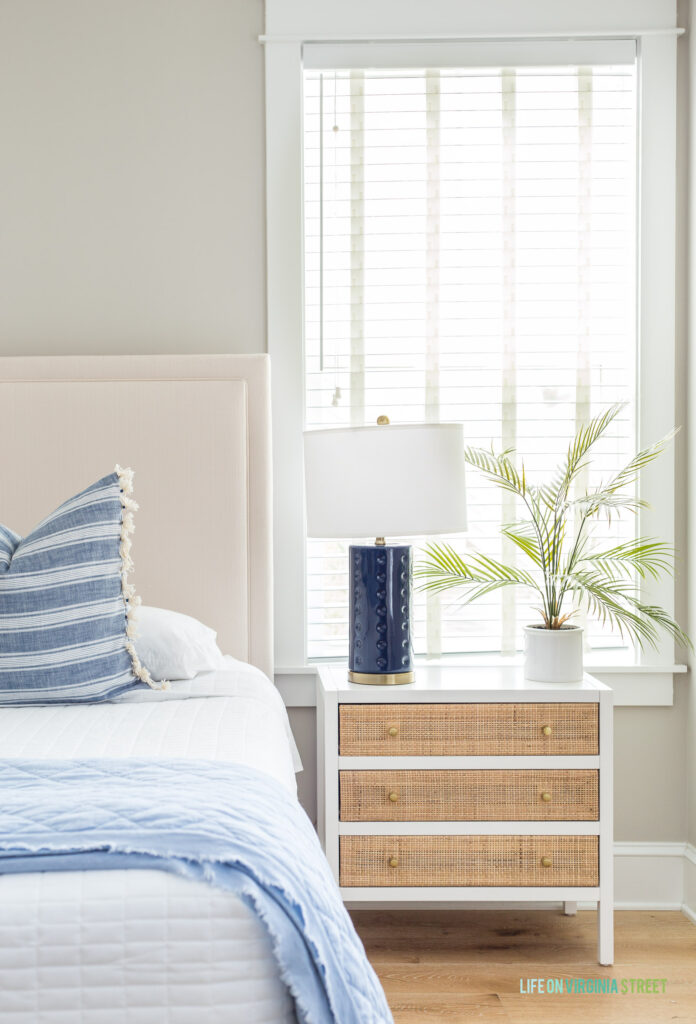 QUEEN SUITE SOURCES: Similar Upholstered Bed Frame | Rattan Nightstands | Blue Frayed Quilt | White Coverlet | Striped Pillows | Navy Blue Pair of Lamps | Faux Palm Plant
This pair of sleeping pillows now has over 213,000 reviews, and we couldn't be happier with ours (we've already purchased them three times as we've needed replacements in various rooms). As of the time of this post, there's a 30% off coupon you can clip for the Queen size!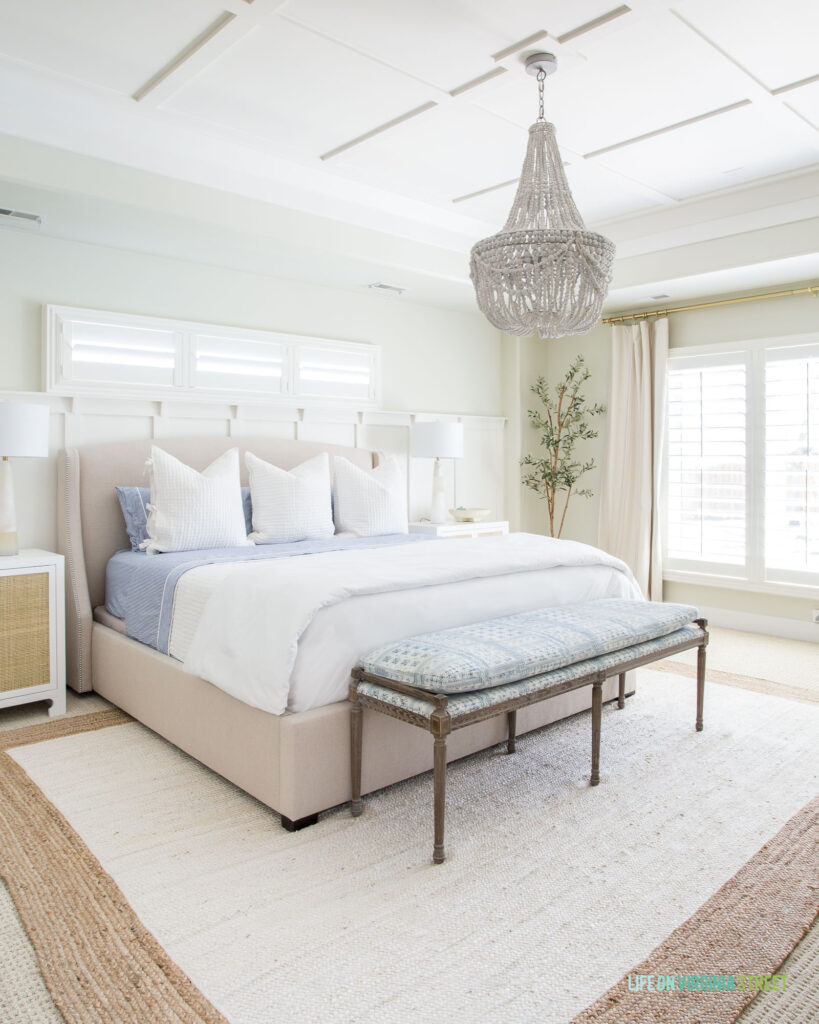 SPRING PRIMARY BEDROOM SOURCES: Bead Chandelier | Bed Frame | Nightstands (look for less here) | Alabaster Lamps | Manzanita Branch | Quilted Euro Shams | Oxford Striped Sheet Set | Batik Bench | Drapes | Faux Olive Tree | Rug
My mom got me hooked on this fertilizer nearly a decade ago, and I've never looked back! I simply sprinkle it on my planters in the spring at planting time, and then try to circle back every 4 weeks or so with more. It's amazing what it will do for your planters if you keep up on watering!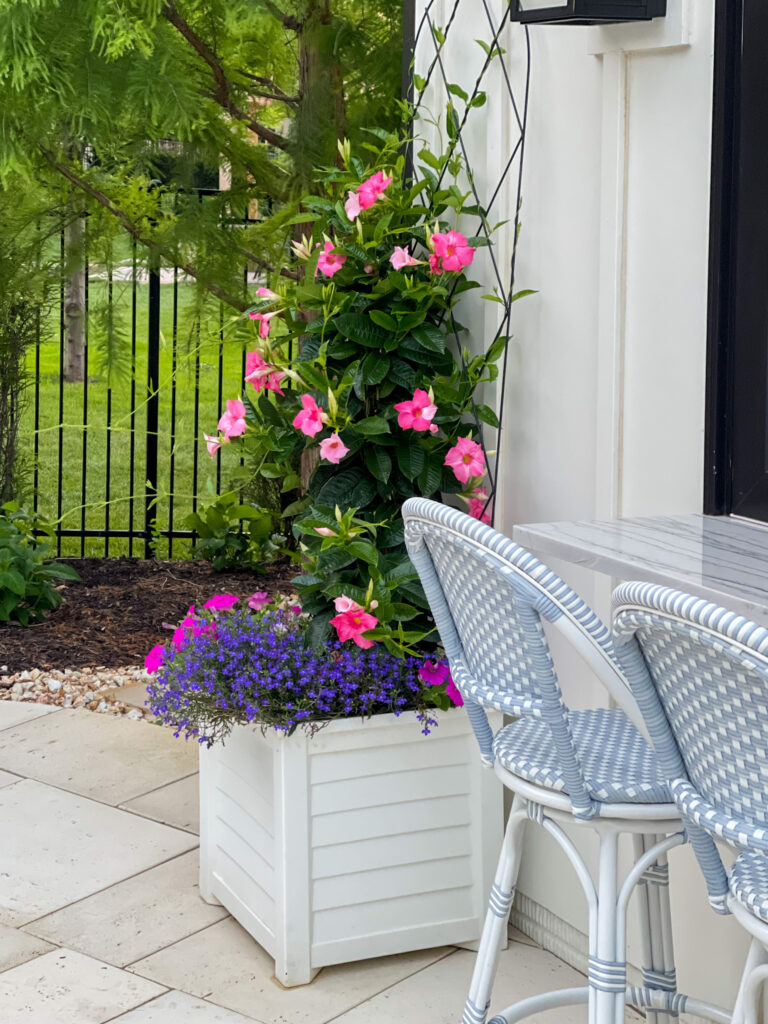 SOURCES: Planter | Outdoor Swivel Counter Chairs
Walmart finally brought back our swivel/glider patio chairs this year, in a set where you didn't have to also buy the sofa and coffee tables! We've owned them for nearly three years and they've held up incredibly well (they come with custom covers that we use when we know rain is coming or throughout the entire winter). These chairs are super comfy and plenty large for our 5'8″ and 6'2″ frames. The set also offers a 5-piece conversation set, sofa & nesting tables, sectional, and pair of ottomans (we bought them this year and love the new addition)!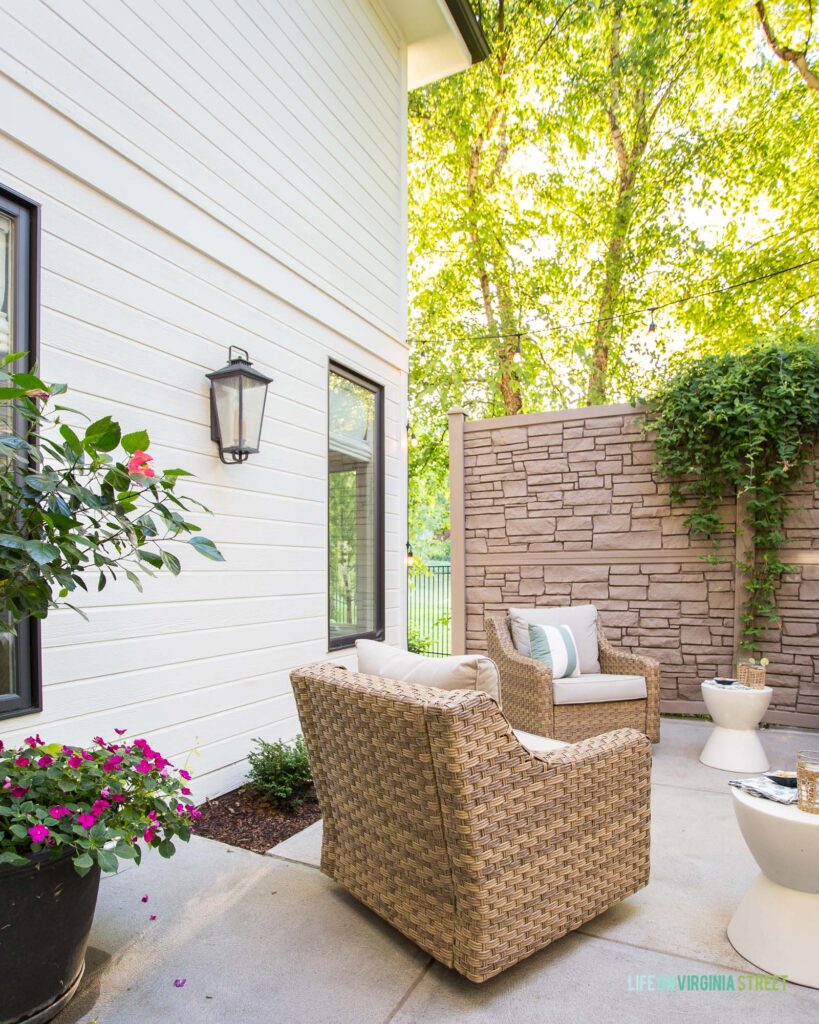 COURTYARD SOURCES: Swivel/Glide Woven Armchairs | Concrete Side Tables | Sunbrella Striped Outdoor Pillows | Lantern Wall Sconces | Shatterproof String Lights | Block Print Napkins | Cane Wrapped Glasses | Oyster Shell Dishes | Faux Stone Wall | Similar Black Planters
I hope you all enjoy your New Year's Eve celebrations!
If you would like to follow along on more of my home decor, DIY, lifestyle, travel and other posts, I'd love to have you follow me on any of the below channels: