This post is a collection of coastal-inspired whole house paint colors, along with photos of each color in our home. I've also included a free set of paint color organization printables so you can keep you own room paint colors organized and easy to reference at all times!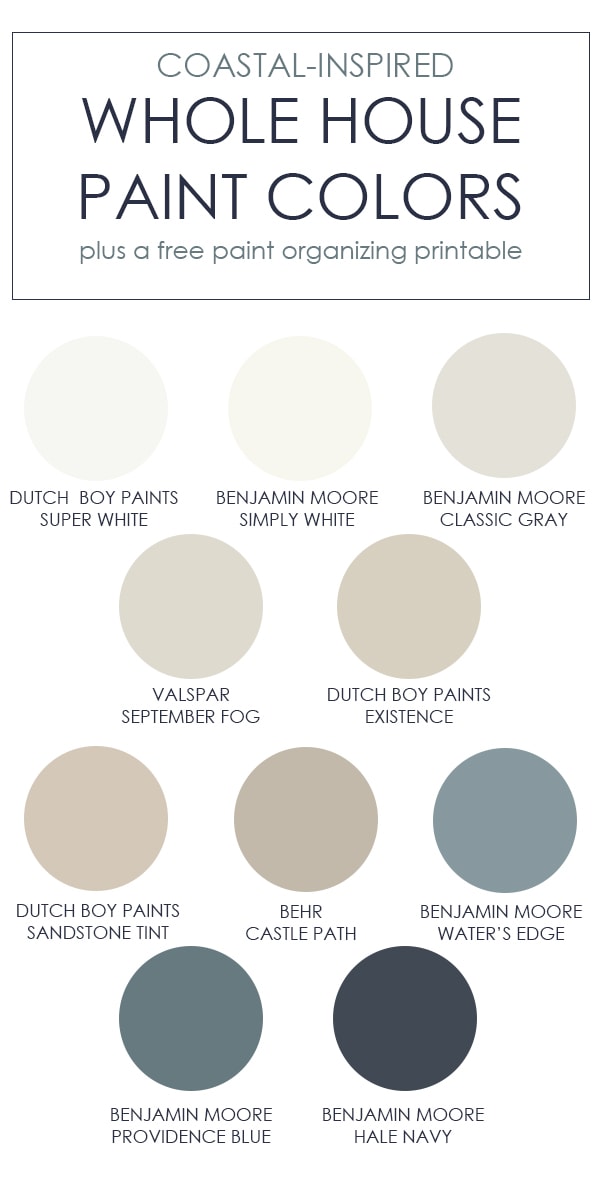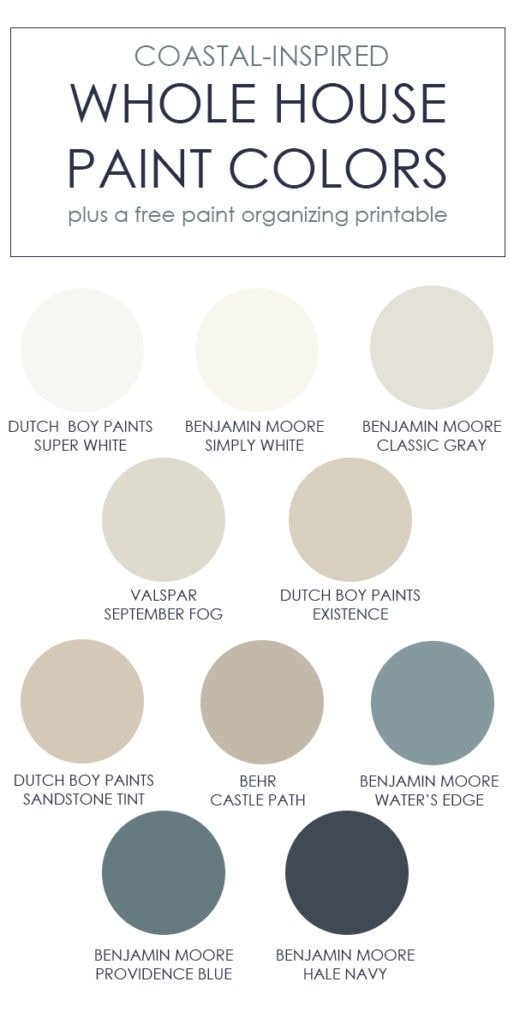 Picking a paint color for rooms in your house can be tough, so I'm not surprised at all that the most frequent questions I get are about paint colors. Although I have every paint color we've ever used on this Paint Colors tab, I figured it was time for a fresh update. The list on that page has grown so extensive that it can be a bit hard to navigate at times! Clearly I love changing paint colors! So today, I decided to create a post with all of our current coastal-inspired whole house paint colors on one easy to reference page. Along with that, I'm really excited to share some free paint color organization printables at the end of the post that I hope you find helpful!
This post contains affiliate links for your shopping convenience. Click here to read my full disclosure policy.
Room Paint Colors
I don't necessarily believe that every paint color in your home has to match, coordinate, or be the same. However, if you're going for a serene vibe, I also don't think it hurts to ensure they don't look jarring next to one another. Over time, I'm also trying to have more consistency in the variation of colors I'm using. This helps keep the flow from room to room, but also helps with paint storage and touch-ups 😉 My printables at the end of this post may help with that, as well.
If you're wanting to try large, pre-painted samples, I'd definitely look into Samplize for picking the perfect paint colors for your home! Their large peel and stick samples are made with real paint (not dyed to mimic the color) so it can definitely help narrow down your top picks.
Coastal-Inspired Whole House Paint Colors
Following are all of the current paint colors in our home. I'm following the order of the graphic shown above, but have lumped a few colors together if they're in the same room. I love that each of the colors we've selected have a slight coastal feel with neutral sand and water tones.
Dutch Boy Paints Super White & Dutch Boy Paints Sandstone Tint – I used both of these colors (along with the Sandstone Tint at 50% saturation) to create this buffalo check wall in our laundry room. It's one of my favorite projects ever!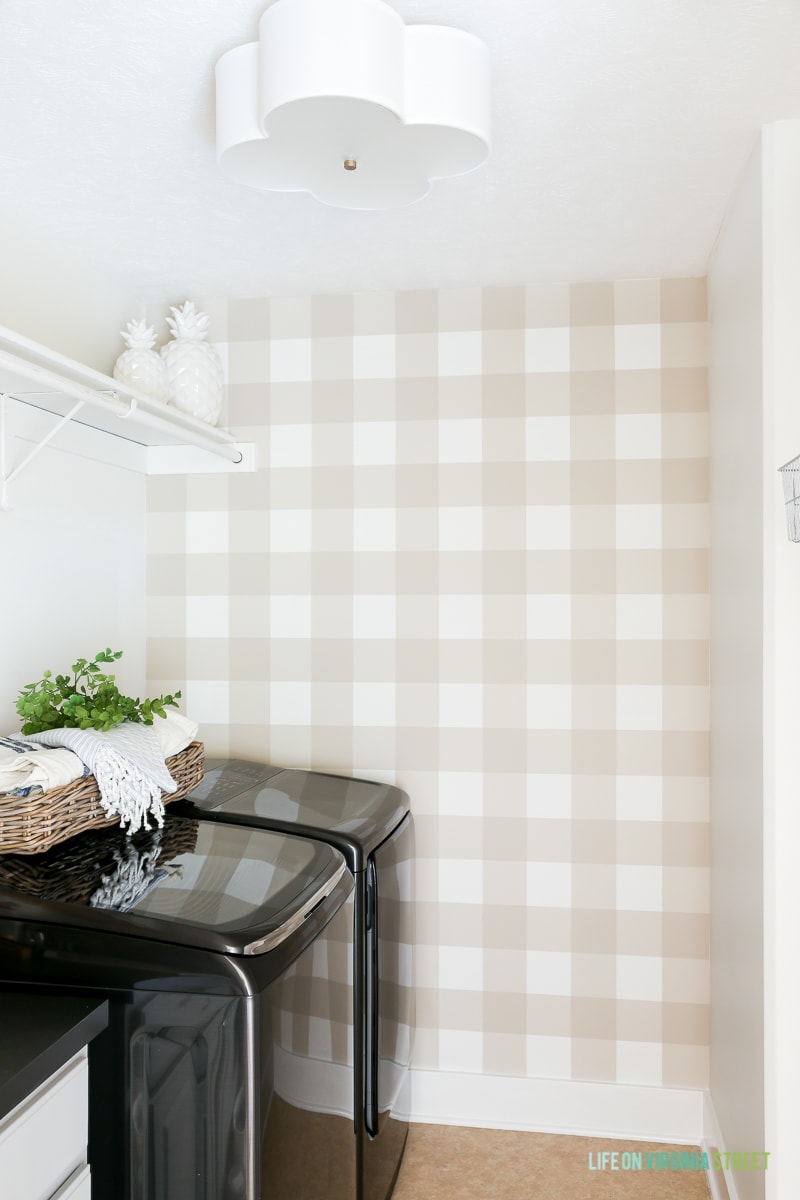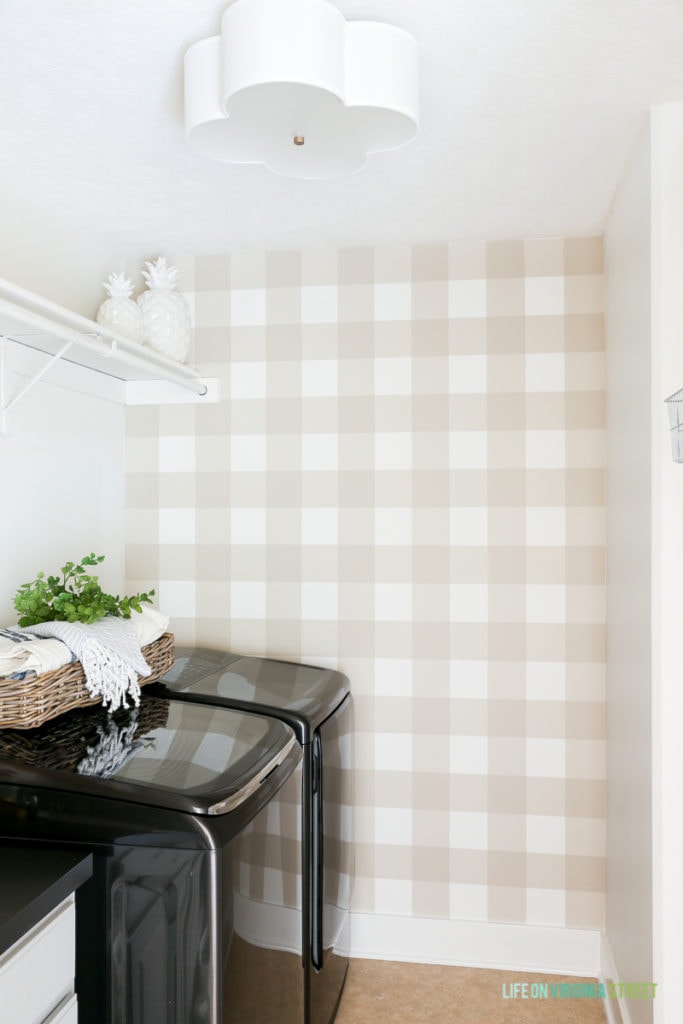 Benjamin Moore Simply White – Simply White has quickly become the most used paint color in our home. I've slowly transitioned all of the trim work to this color, and we now have most of our walls painted this airy warm white color, as well. The only real exceptions are the bedrooms and bathrooms.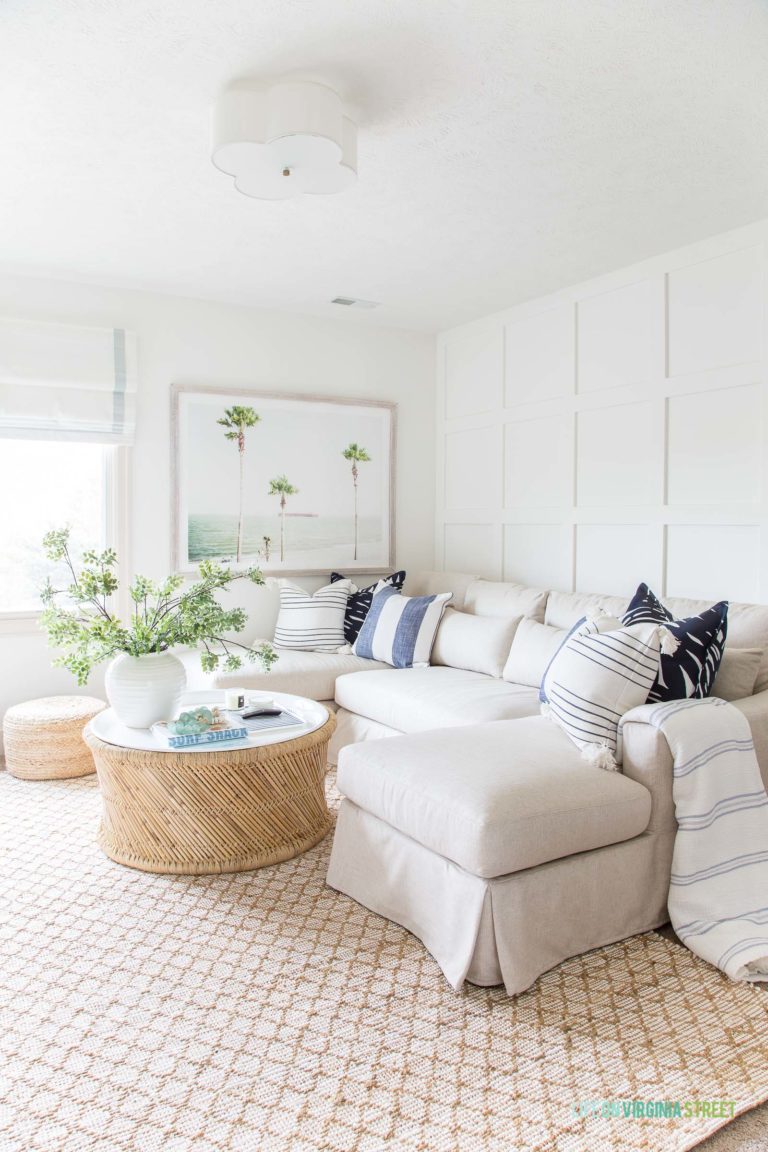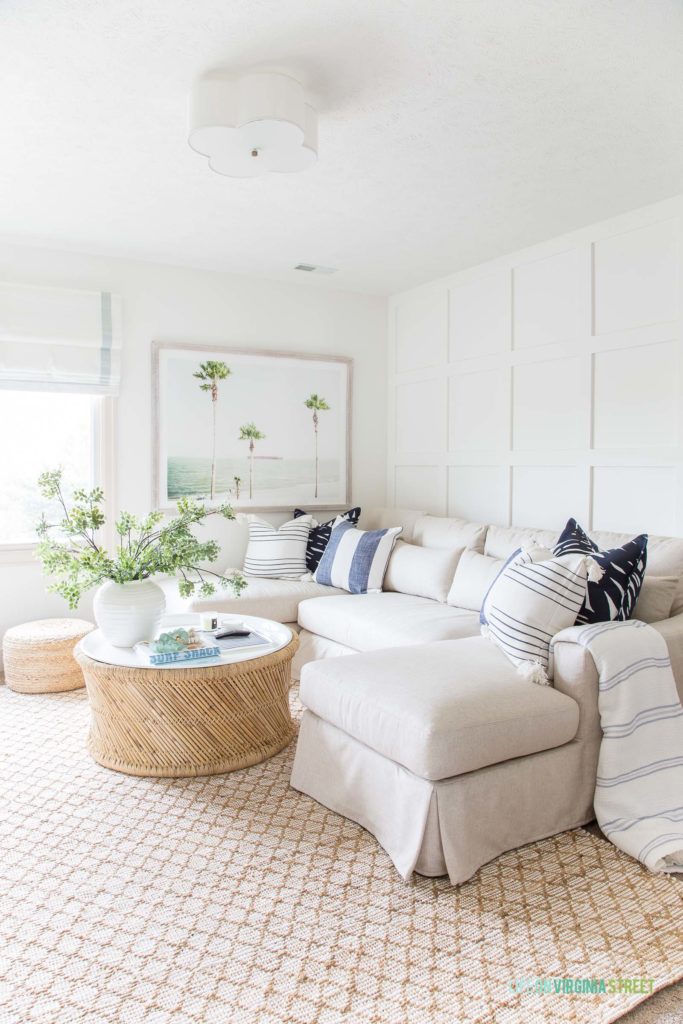 DEN SOURCES: Pottery Barn Sectional | Diamond Jute Rug | Scallop Light Fixture | Coffee Table | Palm Tree Art | Jute Poufs | Similar Ceramic Vase | Faux Greenery Stems | Small Striped Pillow | Wide Striped Pillow | Palm Print Pillow | Striped Throw | Roman Shades
Benjamin Moore Classic Gray – I love this light, serene, warm gray color because it tends to change in different lighting. We currently have it in our smaller guest bedroom along with a color-matched version in our mudroom, guest bathroom, and master bathroom.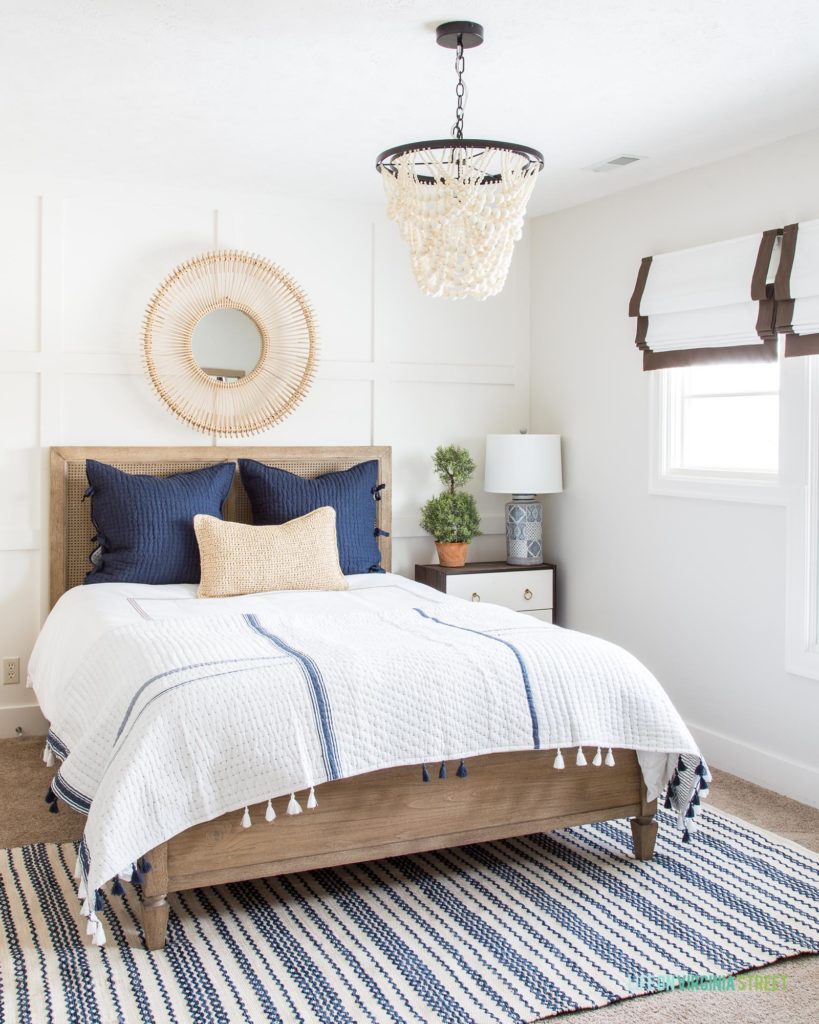 GUEST BEDROOM SOURCES: Cane Bed | Wood Bead Chandelier (this smaller version is no longer available) | Rattan Mirror (similar here) | Tassel Quilt | Pick-Stitch Euro Shams | Topiary | Similar Roman Shades | Rug
Valspar September Fog – This is my latest favorite neutral. It's saturated enough to be seen, but also lets the decor be the star. It's one of those warm, cozy colors that's perfect for a bedroom or living room when you don't want stark white.  This color creates a soothing space.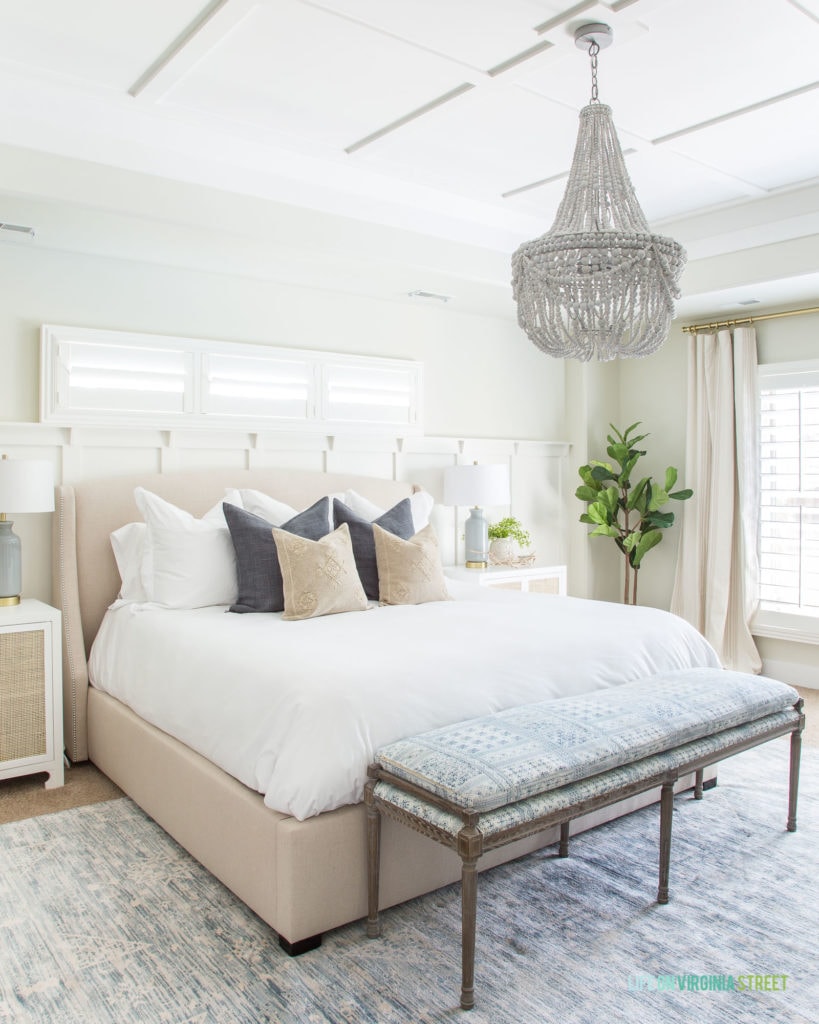 MASTER BEDROOM SOURCES: Similar Bed | Wood Bead Chandelier | Bench | Linen Pillows (color: Gunmetal) | Embroidered Pillows | Striped Curtains | Gold Curtain Rod | Faux Fiddle Leaf Fig Tree | Cane Nightstands | USB Ceramic Lamps | Rug | Decorative Manzanita Branch | Spotted White Vase
Dutch Boy Paints Existence – This is a really pretty greige color that has both gray and beige properties. Over time (and likely as the rest of our home has gone white), I feel like it's a bit dark for this room that gets little light. This is one of the few on the list I may change soon, even though I do still love the color itself! Just not in this room.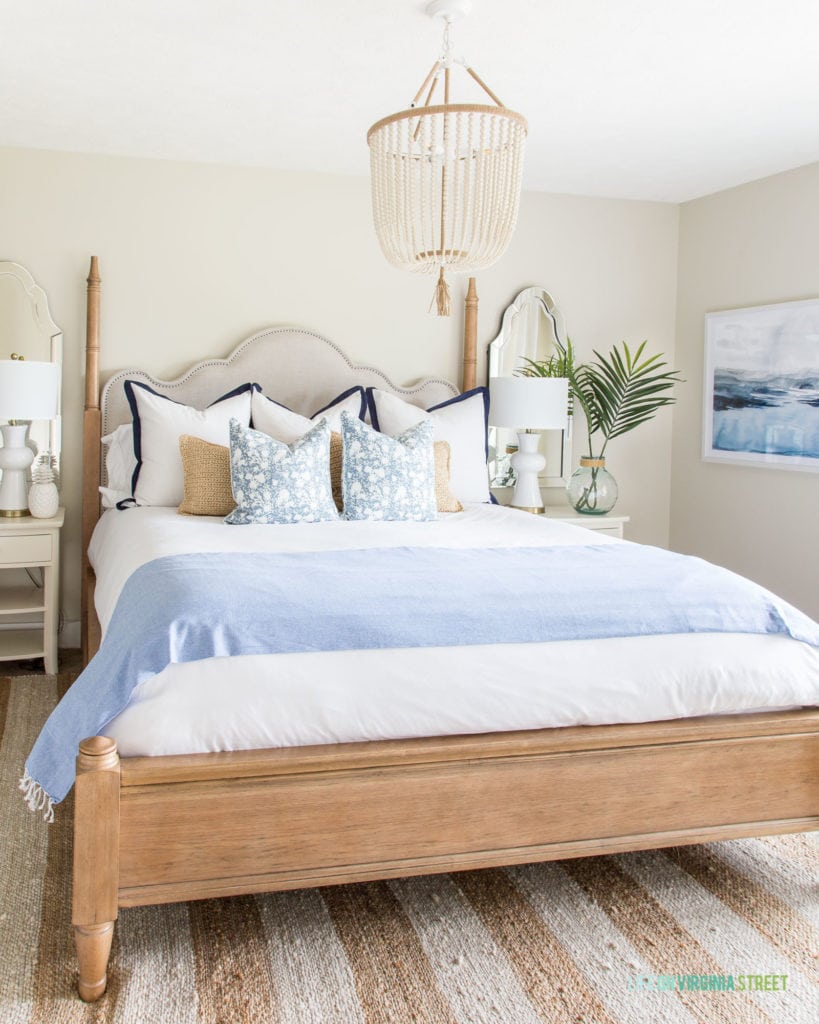 GUEST BEDROOM SOURCES: Bed | Bead Chandelier | Pair of Lamps | Striped Rug | Nightstands | Mirrors | Art | Faux Palms | Floral Pillows | Tassel Blanket
Behr Castle Path & Benjamin Moore Hale Navy – When we first moved into our home, Castle Path was my go-to color for everything! We had used it in our prior home as well. I still love it, but it's a bit darker and bolder than the look I want now. However, we do still have it in a few places like our basement stairwell and our powder bath. The cabinets in the bathroom are Benjamin Moore Hale Navy (as is the accent wall in our office). It is truly the best stroke of navy blue paint color!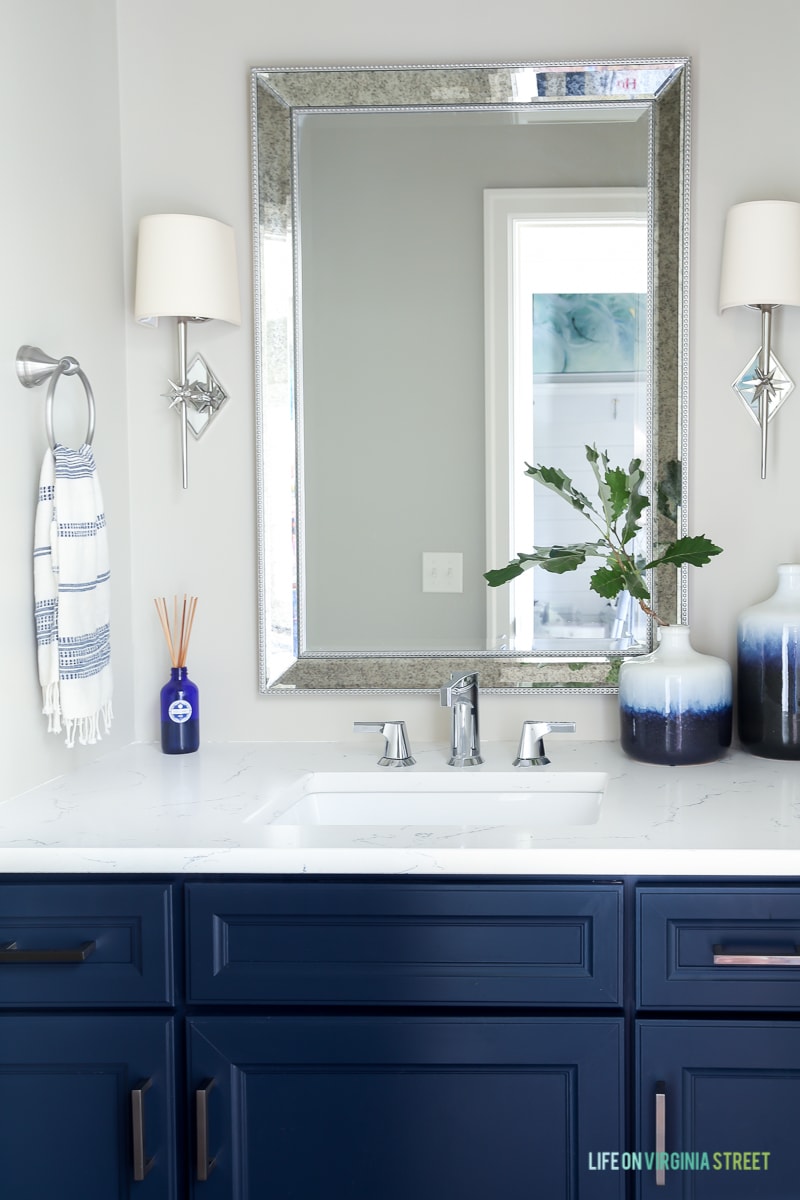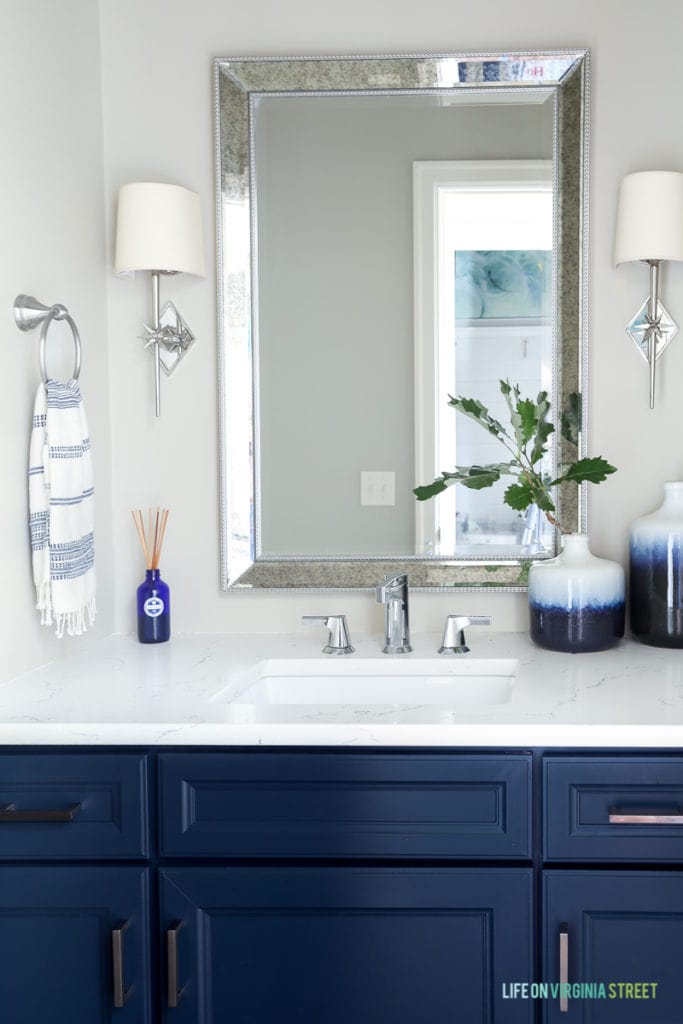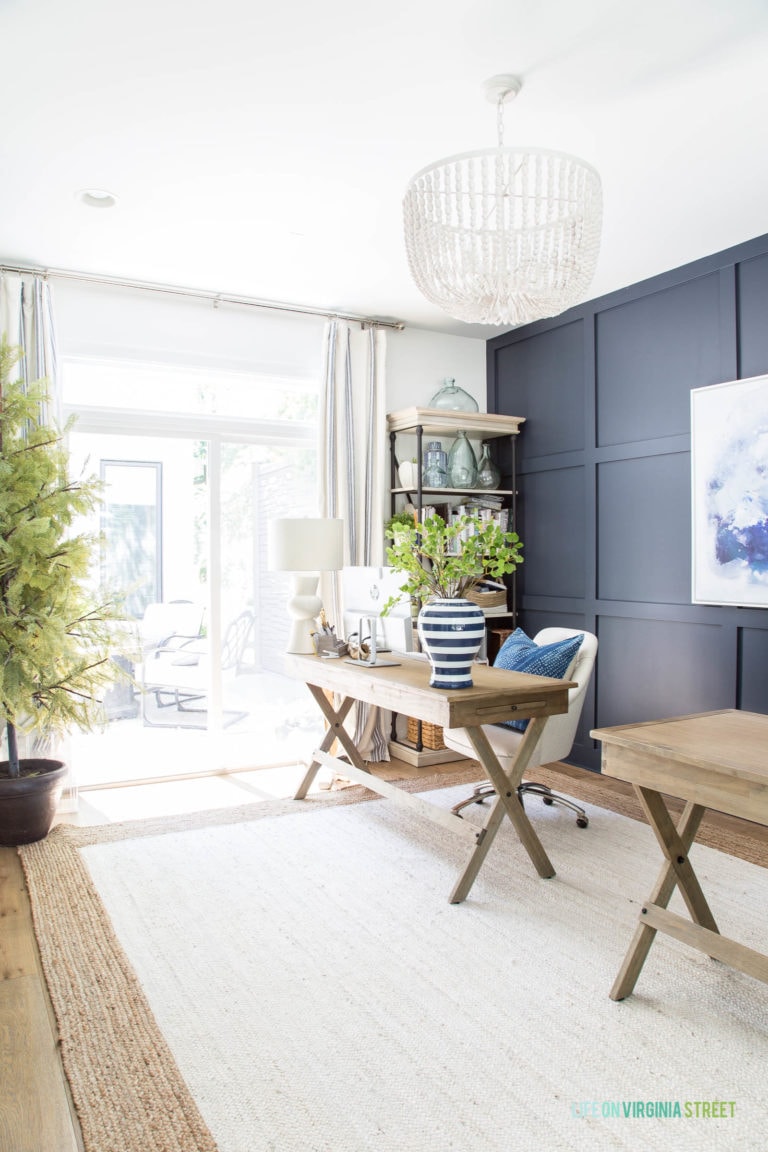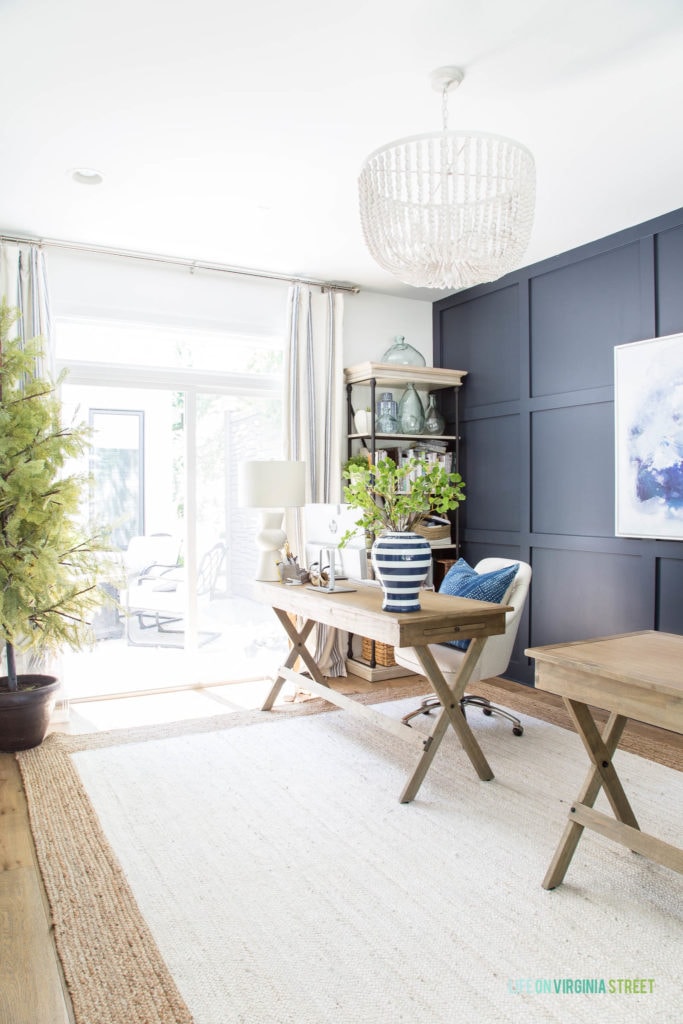 OFFICE SOURCES: Wood Desks | Linen Chairs | Blue Dyed Pillows | Jute Rug | Striped Curtains | Bookcase | White Wood Bead Chandelier | Similar Lamps | Faux Ginkgo Stems | Similar Vase | Abstract Art | Faux Cypress Tree – no longer available
Benjamin Moore Water's Edge – This is my favorite serene blue-gray paint color and I absolutely love how it looks on the interior side of our front door!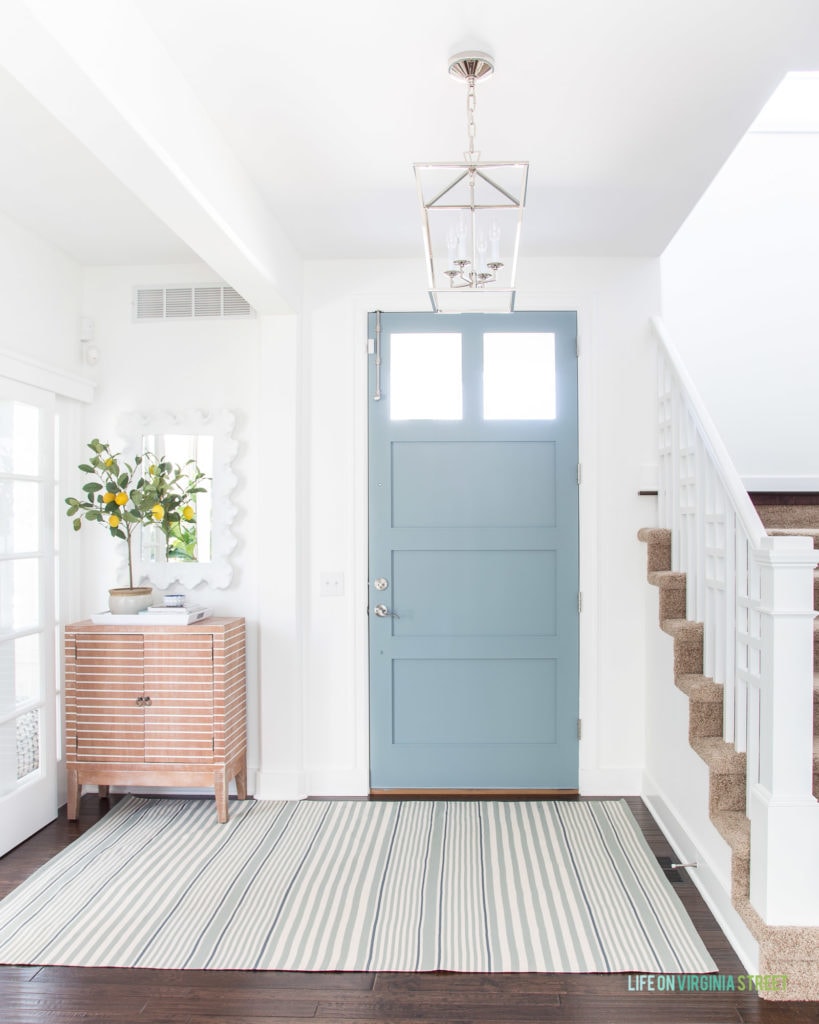 ENTRYWAY SOURCES: Striped Rug | Cabinet | Lantern Pendant Chandelier | Faux Lemon Tree | Mirror | Door Surface Bolt
Benjamin Moore Providence Blue – This is the color on our kitchen island. It definitely looks lighter in our home because of all the surrounding windows, but I absolutely love the color in all lights! The surrounding walls, trim, and cabinets are all Benjamin Moore Simply White.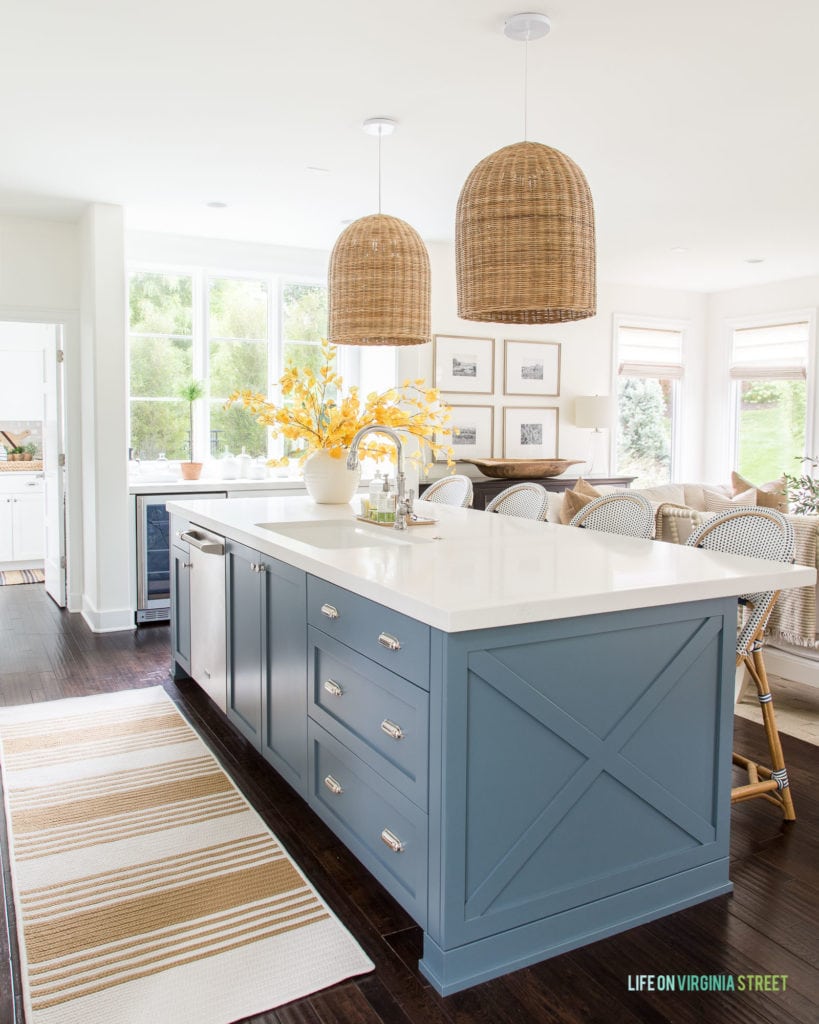 KITCHEN SOURCES: Basket Pendant Lights | Bistro Counter Stools | Striped Runner Rug c/o from Brooke & Lou | Similar Vase | Faux Aspen Stems | Topiaries | Oranger Diptyque Candle | Wick Trimmer | Cabinet Hardware: Knobs and Bin Pulls
Free Paint Color Organization Printables
If you frequently paint your home like I do, it can sometimes difficult to keep all your colors (and paint cans) organized! I recently created a free paint color organization printable set that I think you will all love!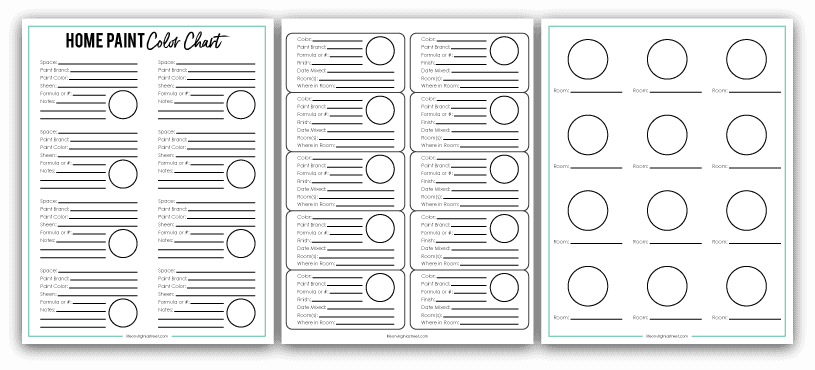 Simply complete the form below and I'll email the PDF files over to you to start using today! It will also subscribe you to my email list, but you can easily unsubscribe at any time if that isn't your thing.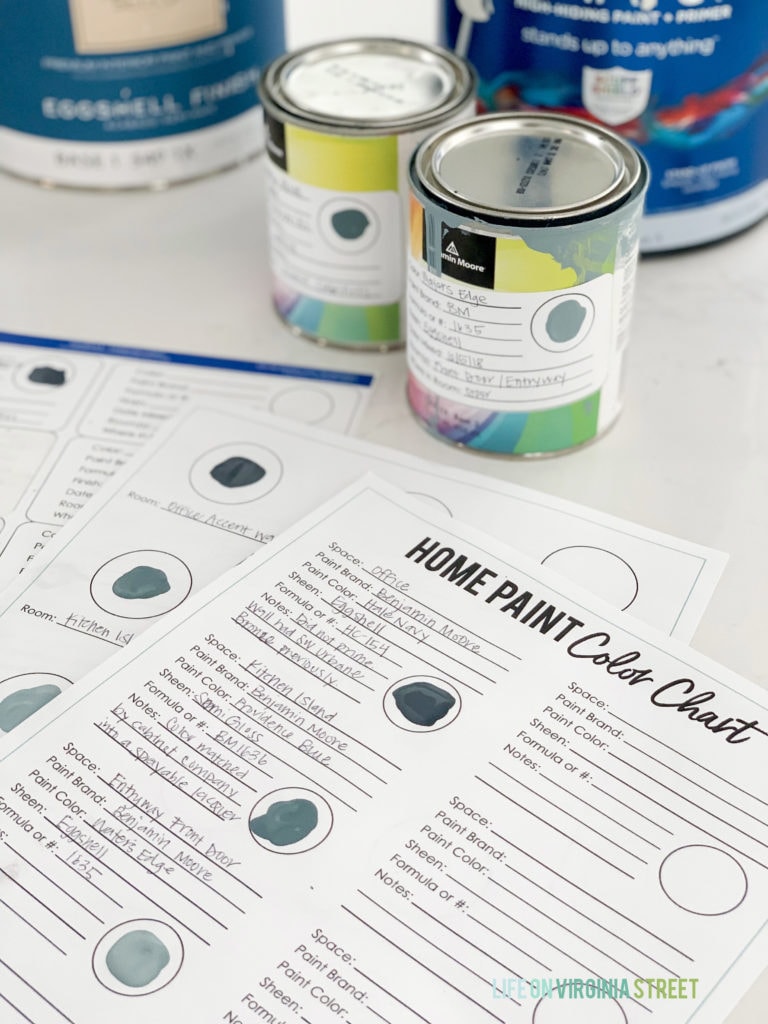 Here's how I use each of the pages:
I recommend filling out all the text first (or allowing a few hours of dry time if you add the paint first). I then use a Q-Tip to add the paint to avoid getting multiple brushes dirty. I then use each of the pages as follows:
Page 1 – I print on cardstock to complete and keep handy around our home or near where we store our paint.
Page 2 – I print on these labels and add them to the paint cans for easy identification.
Page 3 – I shrink to fit on an index card to keep in my purse, or print as is and fold up to carry with me at all times. I simply add a drop of paint and the room name. You can think of it as your version of the graphic I shared at the top of this post! Just an easy visual reminder!
They are also useful if you plan to list your house and want to leave helpful information for the future homeowners!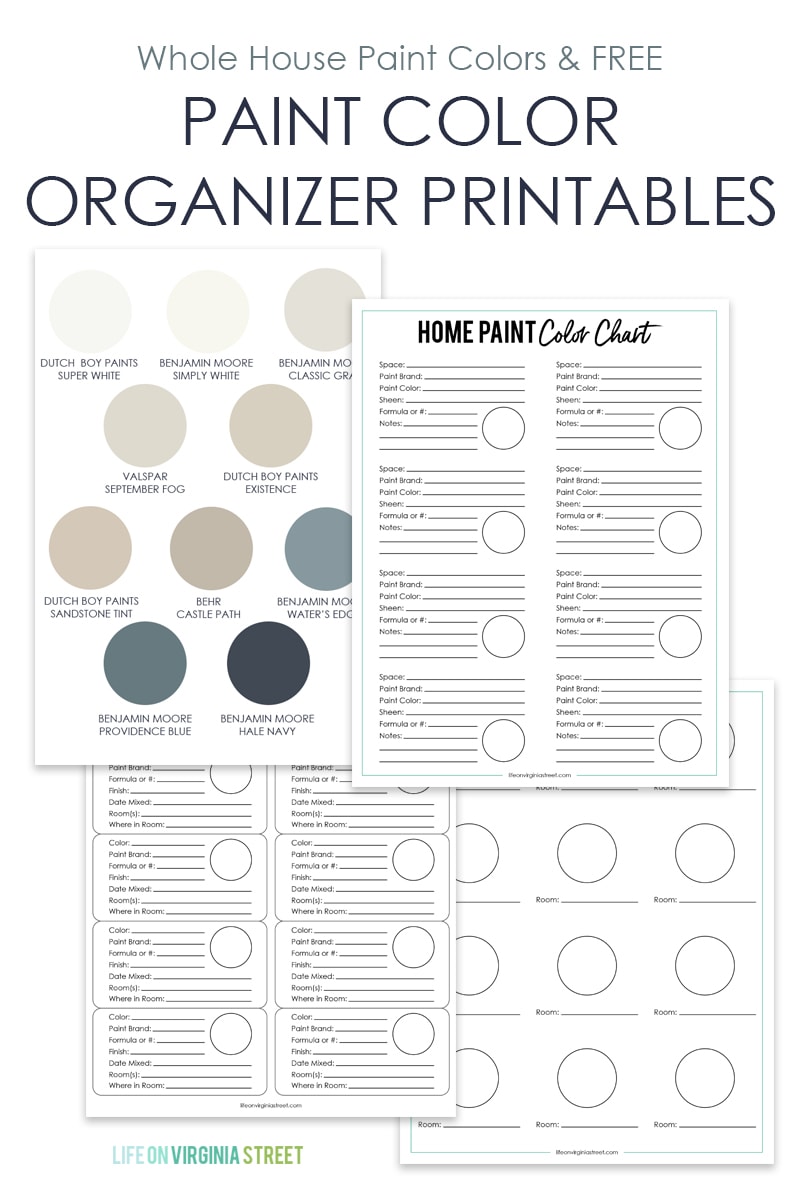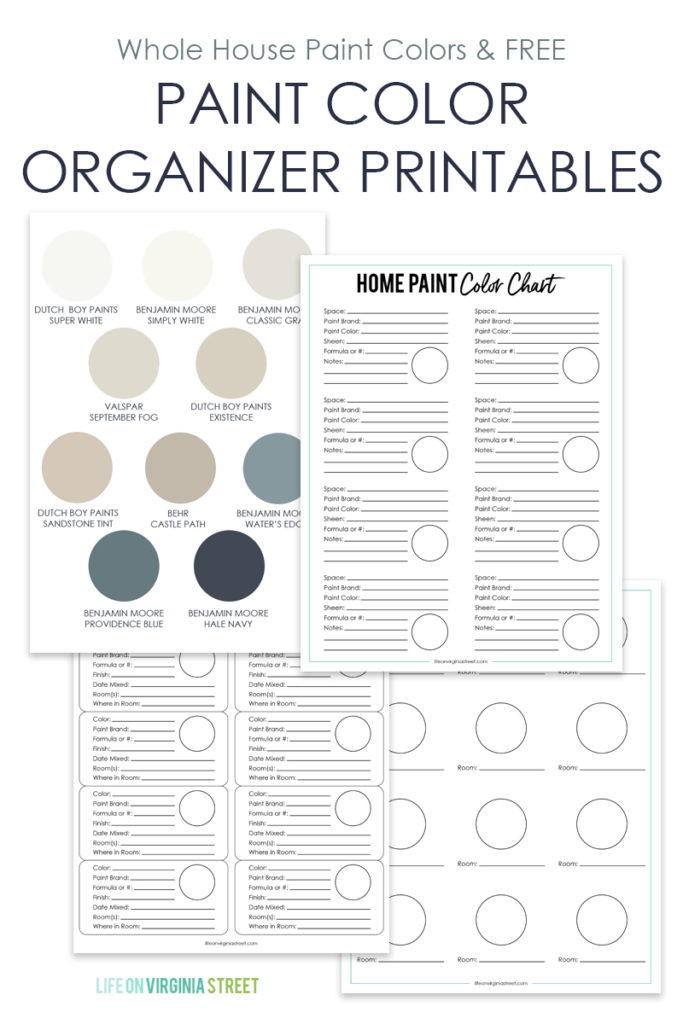 Additional Paint Color Inspiration
If you're looking for even more paint color inspiration, be sure to check out these other posts by clicking on their titles below:
If you would like to follow along on more of my home decor, DIY, lifestyle, travel and other posts, I'd love to have you follow me on any of the following:
Pinterest | Instagram | Facebook | Twitter 
disclosure: some affiliate links used