Good morning! I hope you all had a great weekend! It's finally moving week for us so we've been wrapping up all the loose ends. Here's what else we've been up to this past week!
This post contains affiliate links for your shopping convenience. You can read my full disclosure policy here.
Home Projects & Updates
We're finally moving this week! We have our several-hour walkthrough today, closing tomorrow, and weather-permitting, we're moving Wednesday!
You can see the front door is painted (I chose Sherwin Williams Niebla Azul). I can't decide if it's the right color yet (I'm seeing a smidge of lavender), but figure it's an easy project for me to change later if I decide I don't like it. The benefits of so much glass!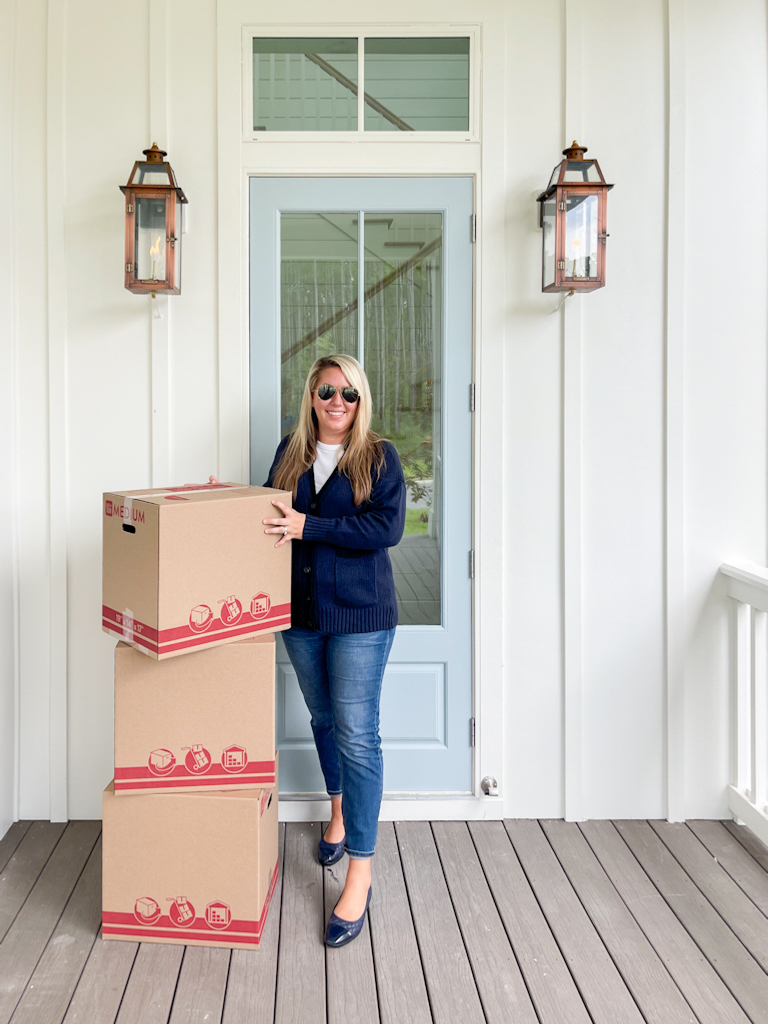 OUTFIT DETAILS: Grandpa Cardigan | Jeans | Quilted Ballet Flats
Last week, the AV crew came in and hooked up our speakers (we only have them in our living room and outside), internet, security, etc. They also installed our TVs. This one in our living room is the TV we've had at our current house the past year, but they were willing to hang it for us. It's weird to finally see stuff like this in the house now!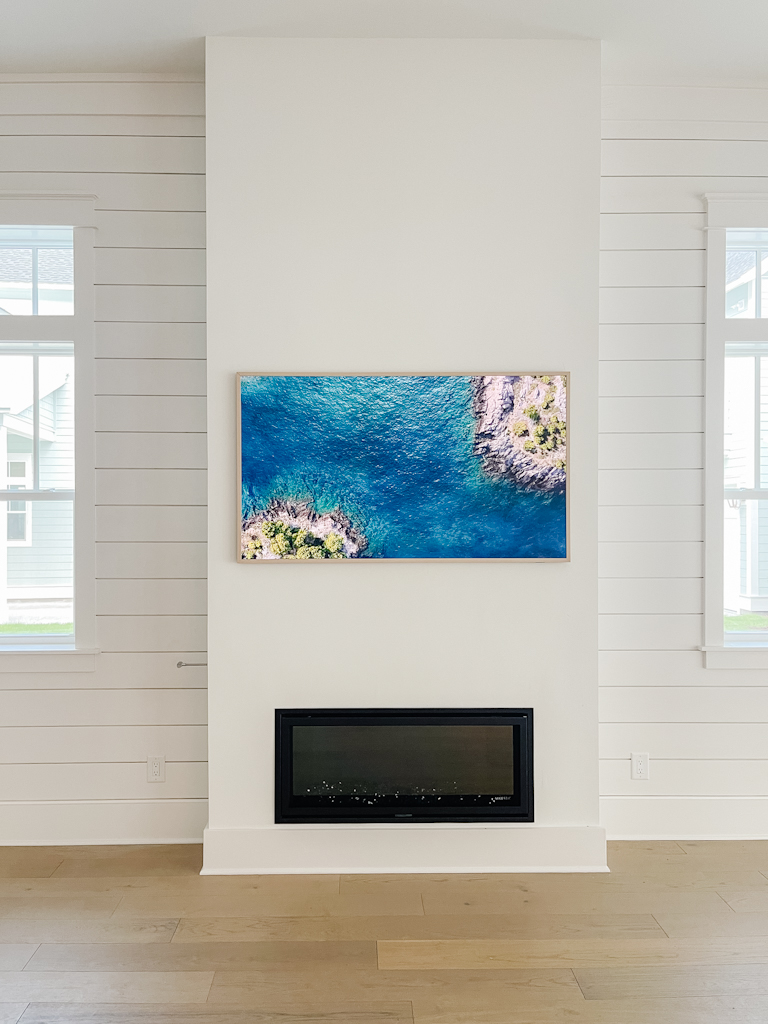 Once we got CO (certificate of occupancy), they also let us go in and hang the mirrors we had on hand. The builder typically does a built-in mirror, but I only wanted that in one bathroom, and said I'd provide the rest. Which means we had to hang them. I love how this little guest bathroom is coming together! The faucet and towel bar are ones the builder dictated (they didn't allow upgrades there for some reason), so although they're not my first pick, I think they'll be fine. I plan to hang this cute scalloped hand towel in here, and eventually, probably wallpaper! As a reminder, the cabinet color is a stock color from the cabinet company called Aero Blue. Once we get in and settled, I plan to find a close paint color match to share with all of you!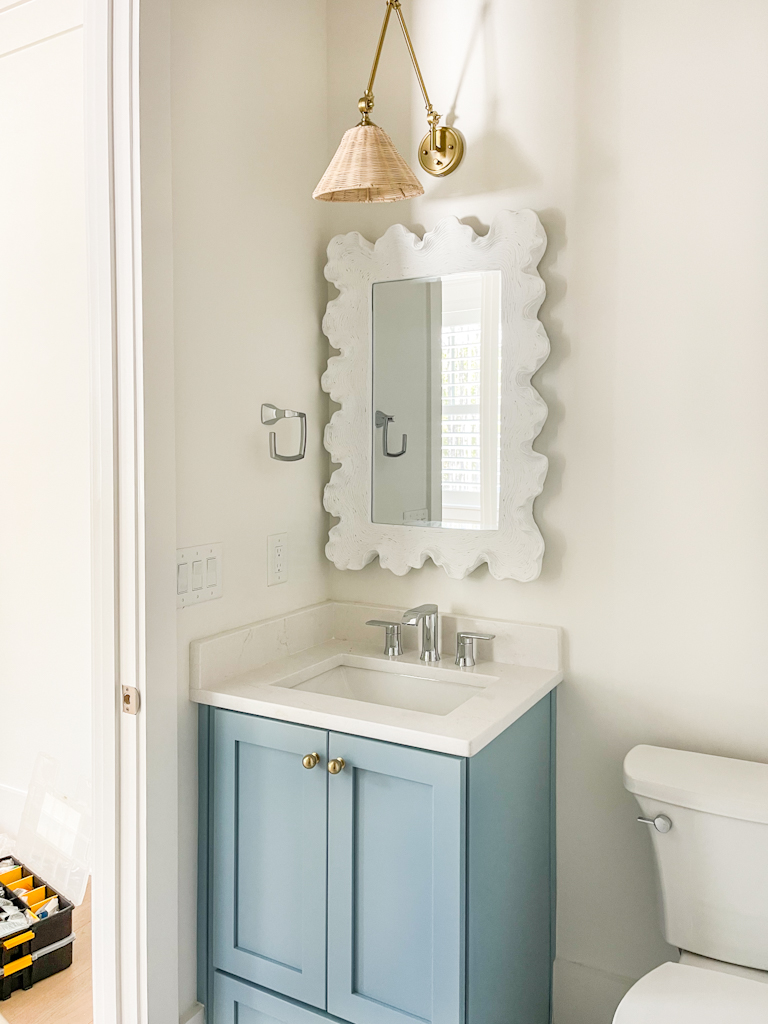 GUEST BATHROOM SOURCES: Rattan Sconce | Coral Style Mirror | Towel Ring | Faucet | Cabinet Hardware
We did some more planning for cabinet storage last week as well. I'm loving this view from the pantry/laundry into the kitchen!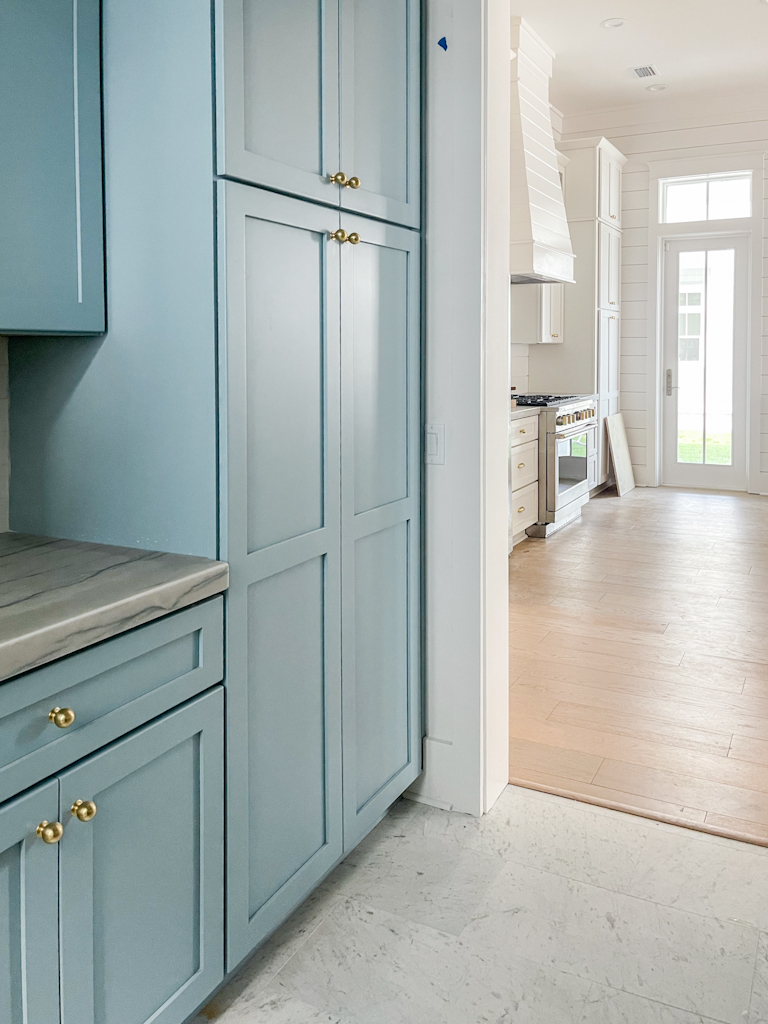 Speaking of the kitchen, I had a meeting with the cabinet guys early last week about hardware placement. While there, our countertop guy showed up. All the spots that had randomly showed up still had not gone away, and some were actually getting worse. They're still confident they'll eventually go away, but he essentially wanted my permission to have them pulled and new slabs brought in for the peninsula (the only place the spots showed up). I said I was good with that since I really didn't want to go through that process down the road once we moved in. So, they'll essentially use our old slabs for research, and if they can get them to dry out in the sun or with a product, they can then re-use them in another project down the road. They think that the sealer may have interacted with the ram board (basically a waterproof kraft paper they put on the hardwood floors to protect them) they had placed on the counter to protect it. They're kind of at a loss though because they had never seen this occur before! As a reminder here's what most of the peninsula had looked like.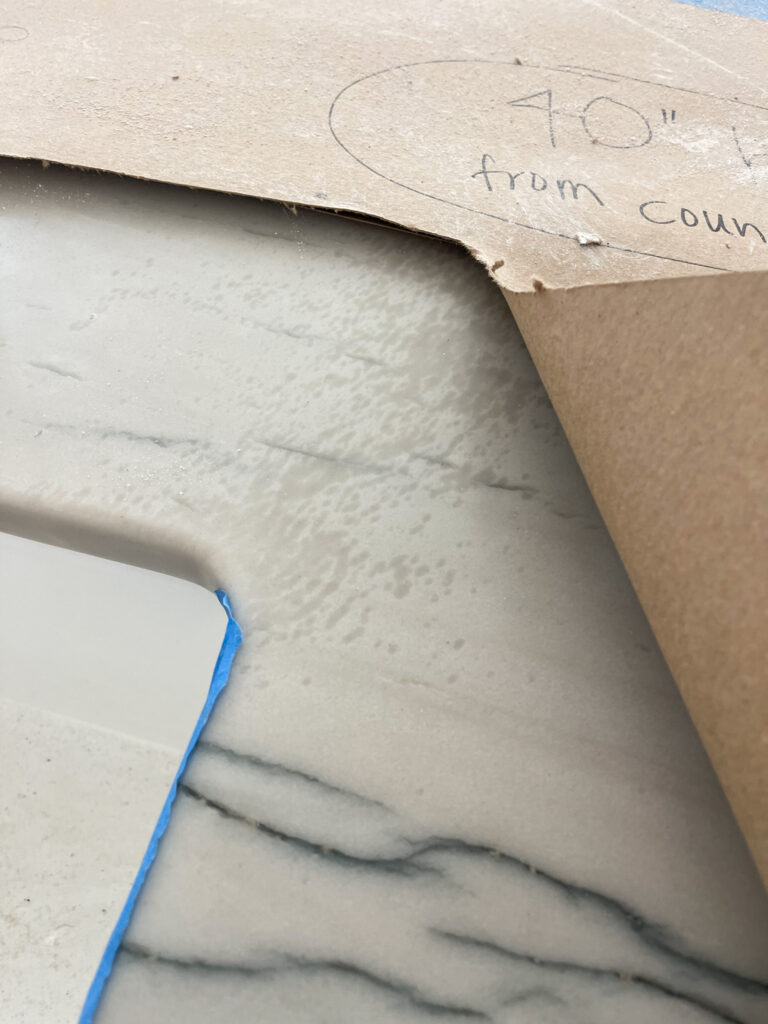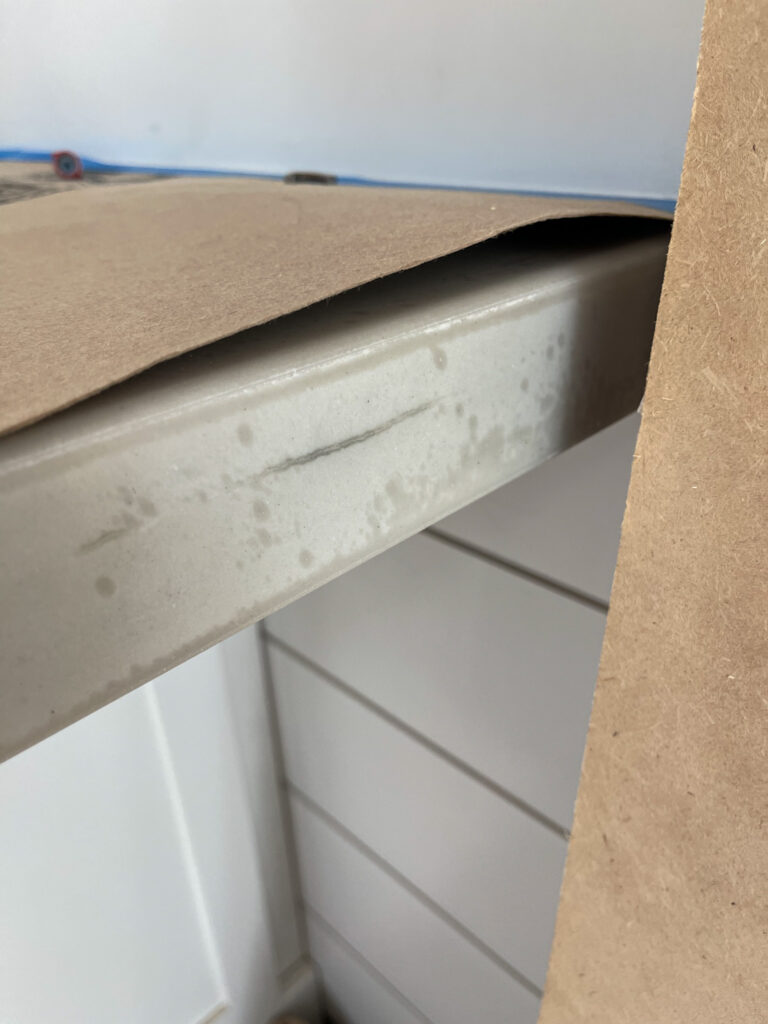 Long story not-so-short, they brought in the new peninsula slabs on Friday. Both pieces still have a lot of water in them from the cutting process. But the water looks normal this time around (like it did last time until the HVAC got turned on a few weeks later). They let them dry in the house over the weekend and will then seam and seal them today. We could still see water spots yesterday when we peeked in, but it looked like the normal kind, not the splatters that had shown up previously!
Our fridge has now been backordered into September, so they provided a temporary one to pass CO, appraisal and for us to use for a few weeks. I'm excited to see how the kitchen changes once we get the panel-ready fridge installed! Side note: as of Friday, the counters surrounding the range are no longer black 😉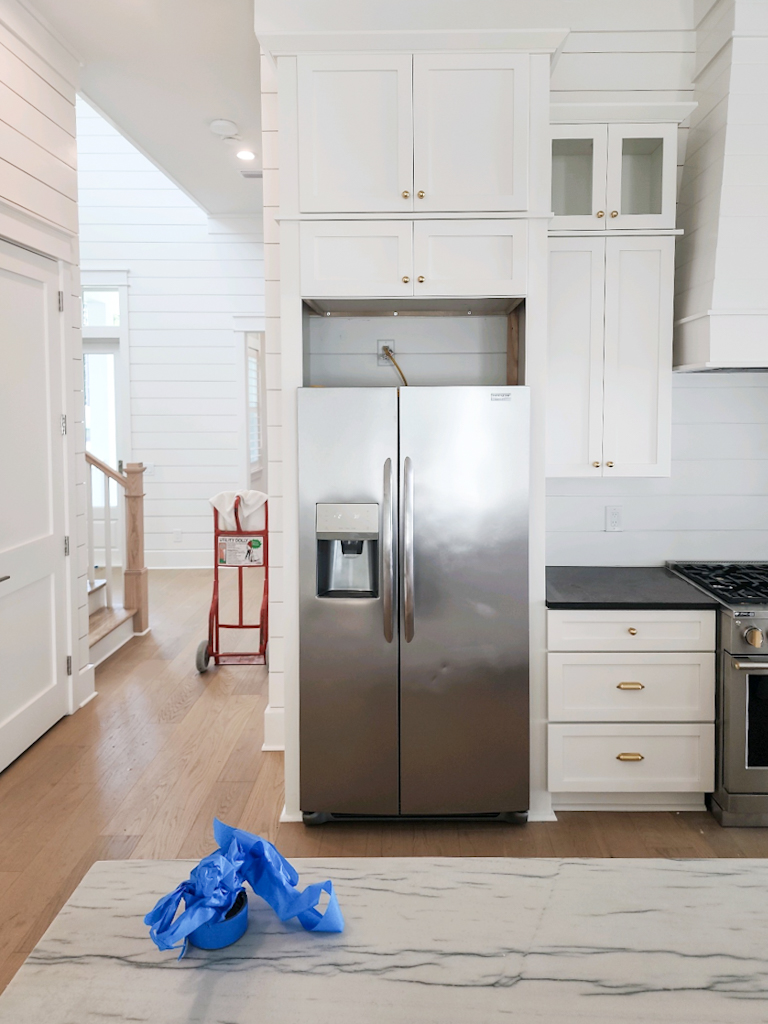 Getting to our CO was a bit of drama last week that included ripping out stairs, handrails, two windows and a few other minor things. But, all that matters is everything is remedied and we are good to go! I can't believe this week is finally here!
Top Sellers Of The Week
Following are the top sellers from last week across all of my channels. Links to each item are below the graphic.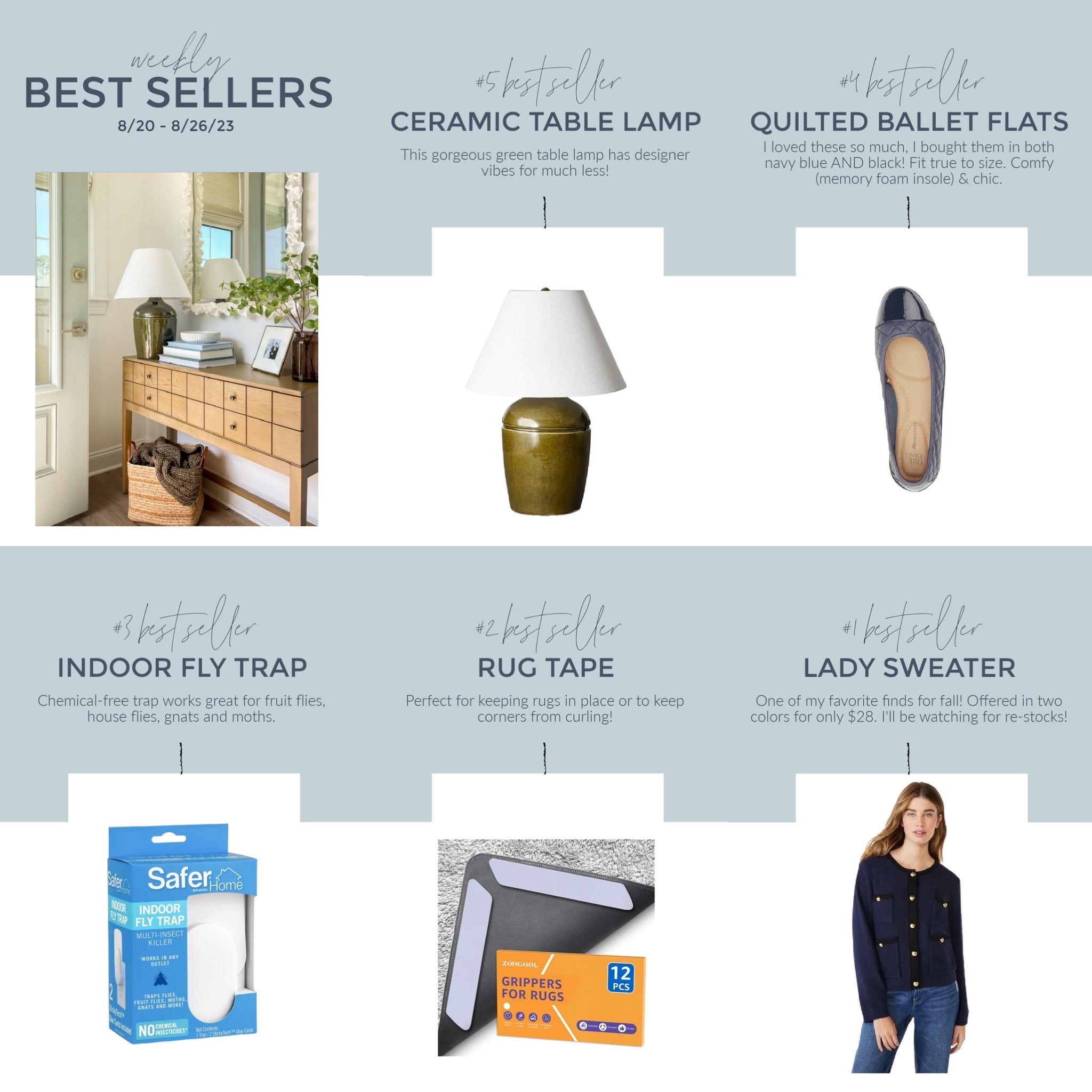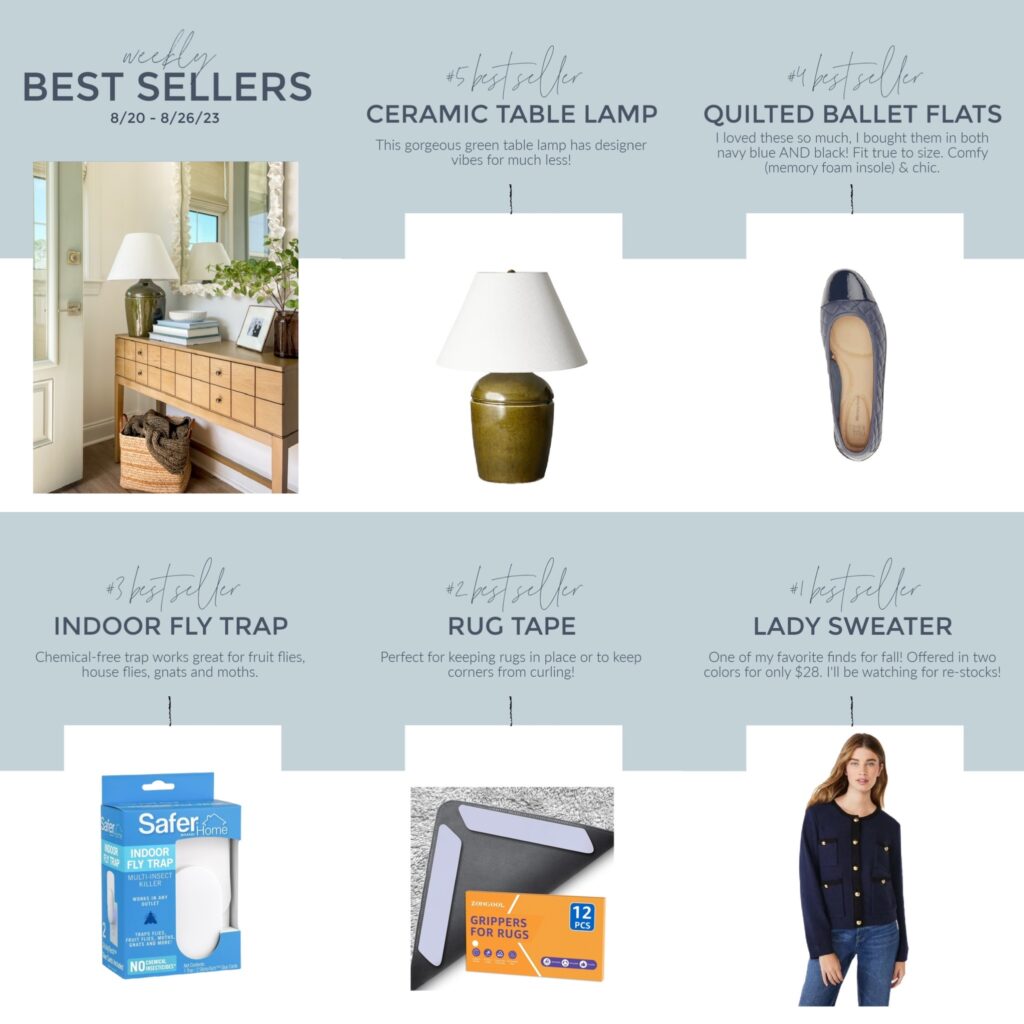 BEST SELLERS (each number is clickable): #5 | #4 | #3 | #2 | #1
In Case You Missed It
Following are the posts I shared over the past week, in case you missed some days!
Around Town & For Fun
Kurtis was in Kansas City several days last week for work, which gave me time to focus on packing and wrapping up things around here. I even went to dinner with our future tenant of our current home. It was great to spend more time chatting with her and getting to know her!
We had a surprise birthday lunch for our friend Ashley to celebrate her 40th! It was a really fun afternoon, and I got to meet some new friends as well as see some I hadn't run into for some time!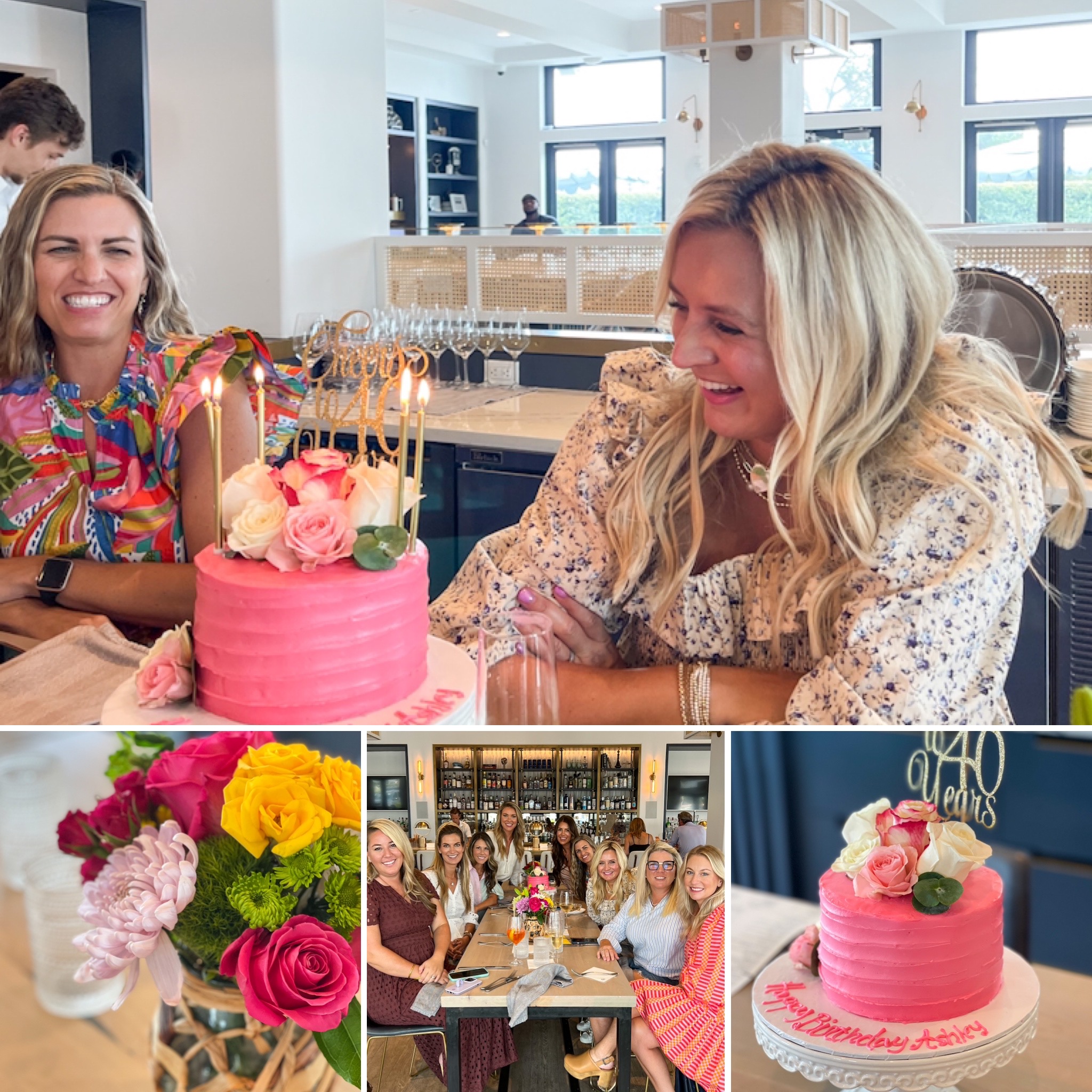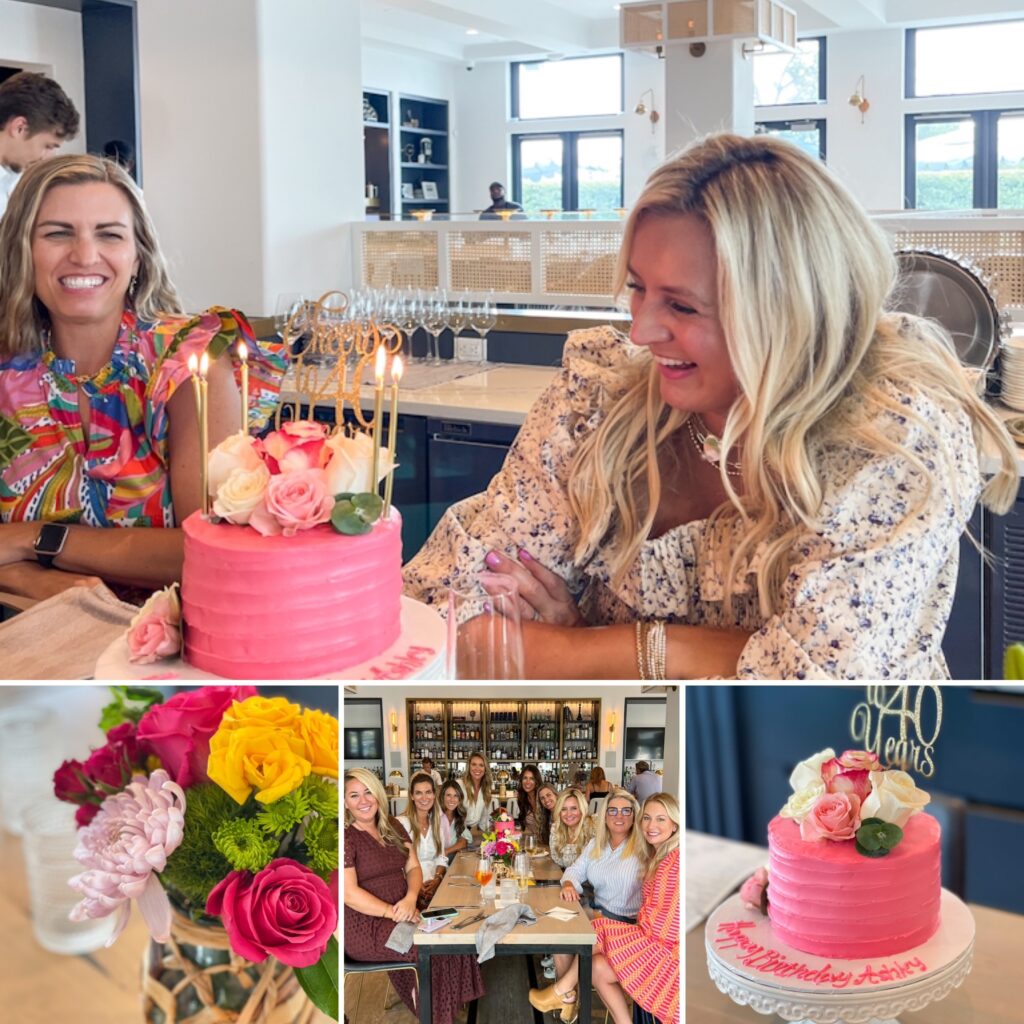 The cats are about to have their world flipped this week. Bailey won't care because her new catio is bigger than the current one 😉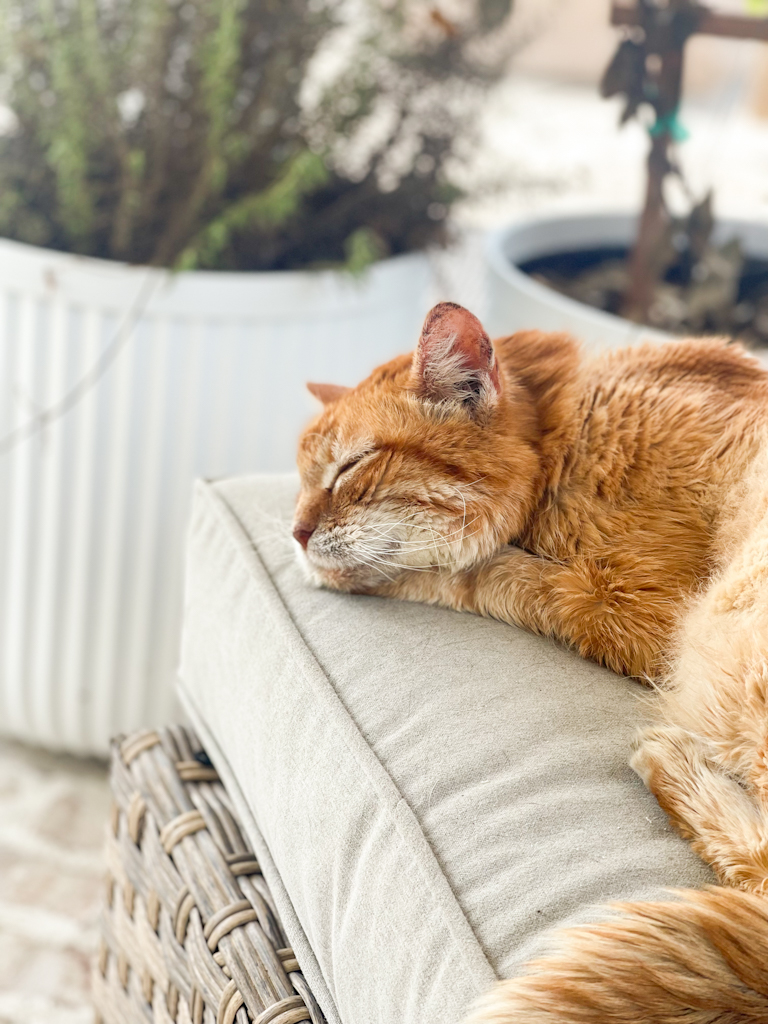 Hawkeye will be excited to have more spaces to sprint! He loves to tear around our current house, but there are a lot of dead ends, so he's going to love having some long hallways back!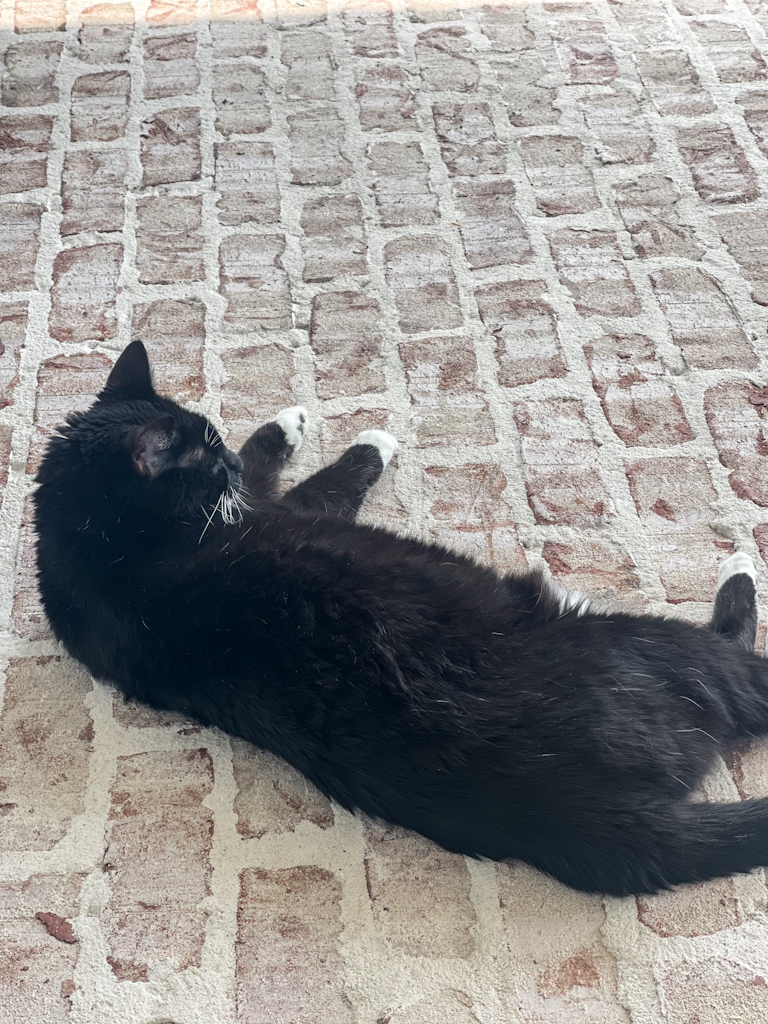 This little girly is the one that tends to get stressed. Last night while packing, I think she was convinced we were leaving on a vacation (which she hates). We just keep trying to reassure her that everything is fine, and give her focused attention so she calms down a bit. She's obsessed with this double stacked pouf. It's her new perch to watch the world outside and watch for lizards.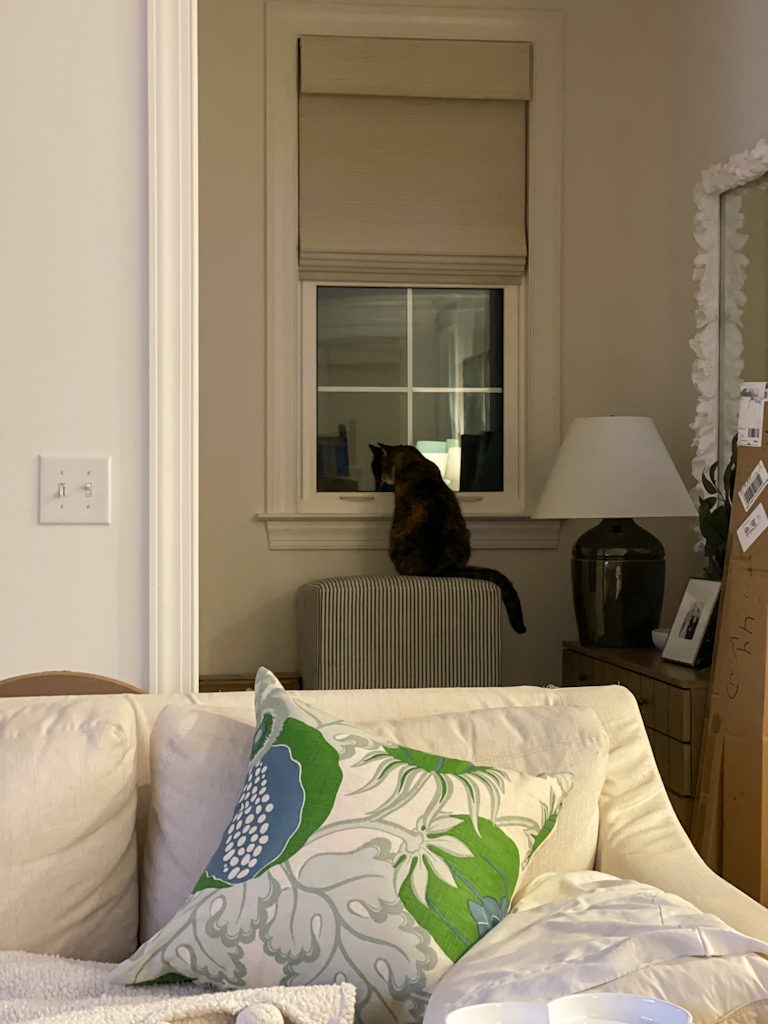 She was sleeping up here the other day, and by the time I got my camera out, I caught her mid stretch. We'll have to make some perches like this for her in the new house!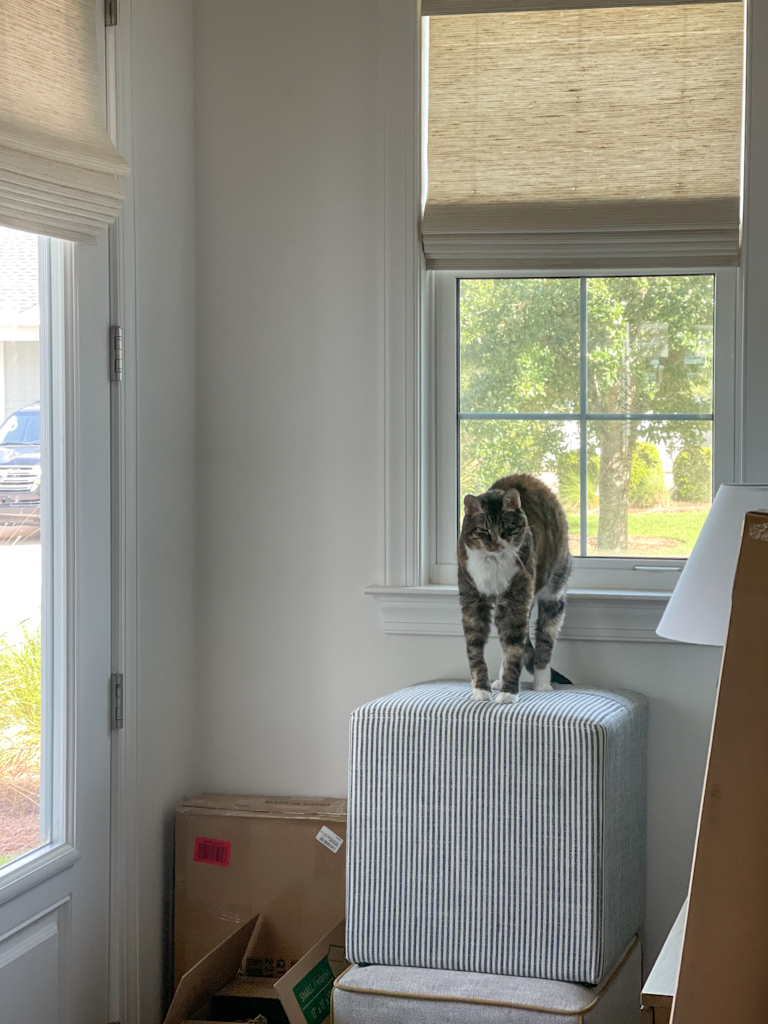 Since we brought our two TVs over to the new house to be hung, we didn't have a TV all week. But we were desperate for a little Jeopardy to break up the packing. Desperate times call for desperate measures 😉 Not ideal but we got our Jeopardy fix! Ignore all the spackle I still need to sand and paint.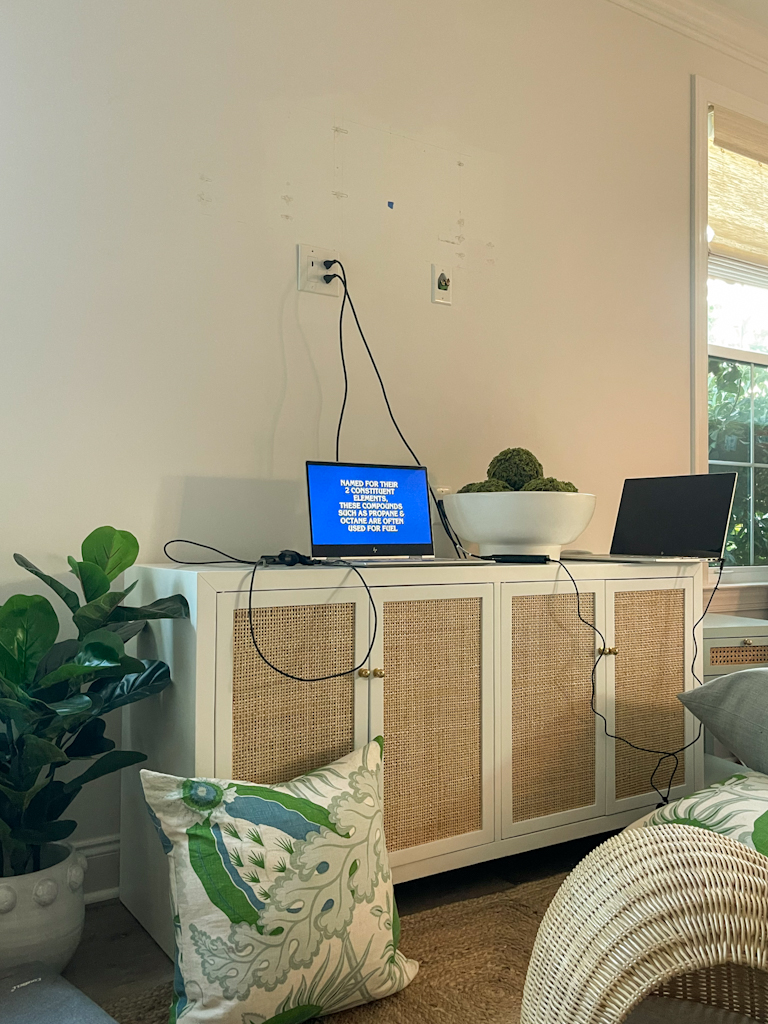 My items I purchased through a personal shopper in Daytona are officially on a truck and headed this way! If you missed my story about this, there are actually personal shoppers out there that will shop the handful of Serena & Lily outlets for you. The one I used charged a 40% fee (meaning an additional 40% on top of the outlet prices) and then I had to cover shipping charges. It took about six weeks or so to finish my list, but I got nearly everything I was looking for. You're obviously going to get the best deals if you're local to a store because you wouldn't have to pay the mark-up or the shipping costs. For reference, we're about 6 hours from Daytona, and my shipping costs are about $600 for everything seen below plus a buffet table. Some bids for shipping were $900-1500 though. So, it has to make geographical sense to use one of the shoppers. I'm happy to pass along her contact info for serious inquiries – she was great! All in, it definitely saved me some money but there were definitely a few items she was watching for me that it was just as cost-effective to wait for a sale on Serena & Lily's website. So, the closer you live to an outlet (I think there are only five or six in the country), the better! I found mine through Facebook (just search personal shoppers and the location you're closest to)! I'm excited to see everything in person!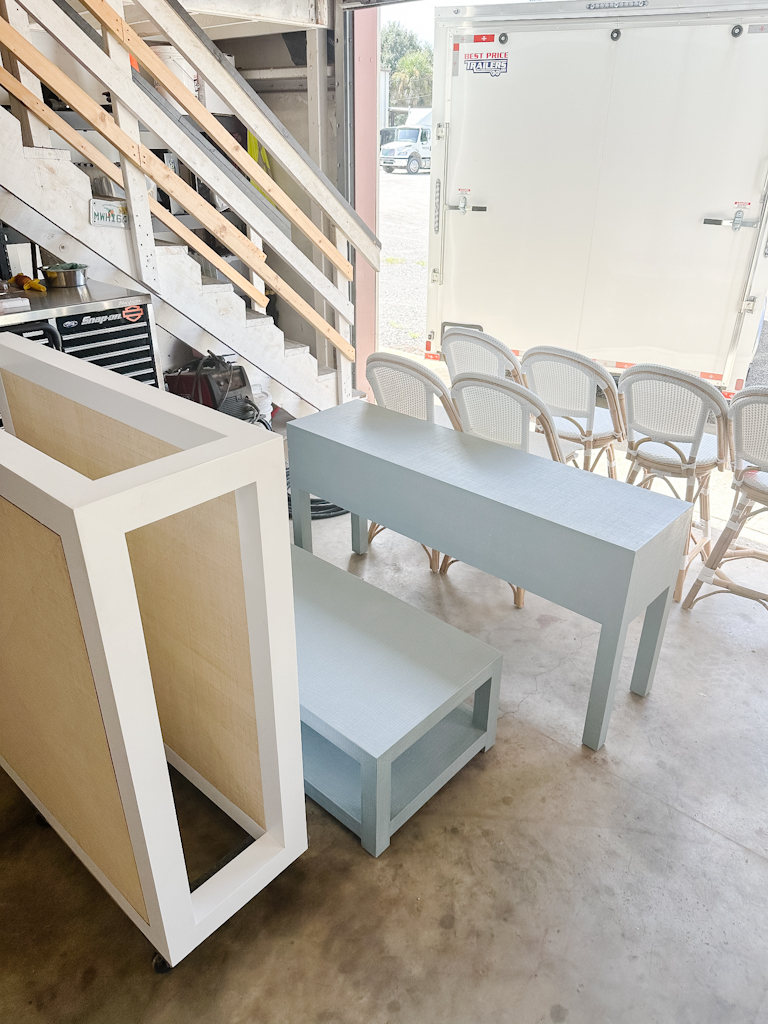 SOURCES: Raffia Coffee Table | Blue Coffee Table | Blue Console Table | Swivel Counter Stools
Kurtis has been doing a version of Hard 75 (his is Hard 60), with no alcohol, one workout outside and one workout inside a day, and several other things including reading goals, etc. for 60 days. He's in the home stretch, but each morning he's been leaving the house by 6 am or so for a three mile walk. The last few weeks, the sunrise has shifted and he's caught some really beautiful sunrises!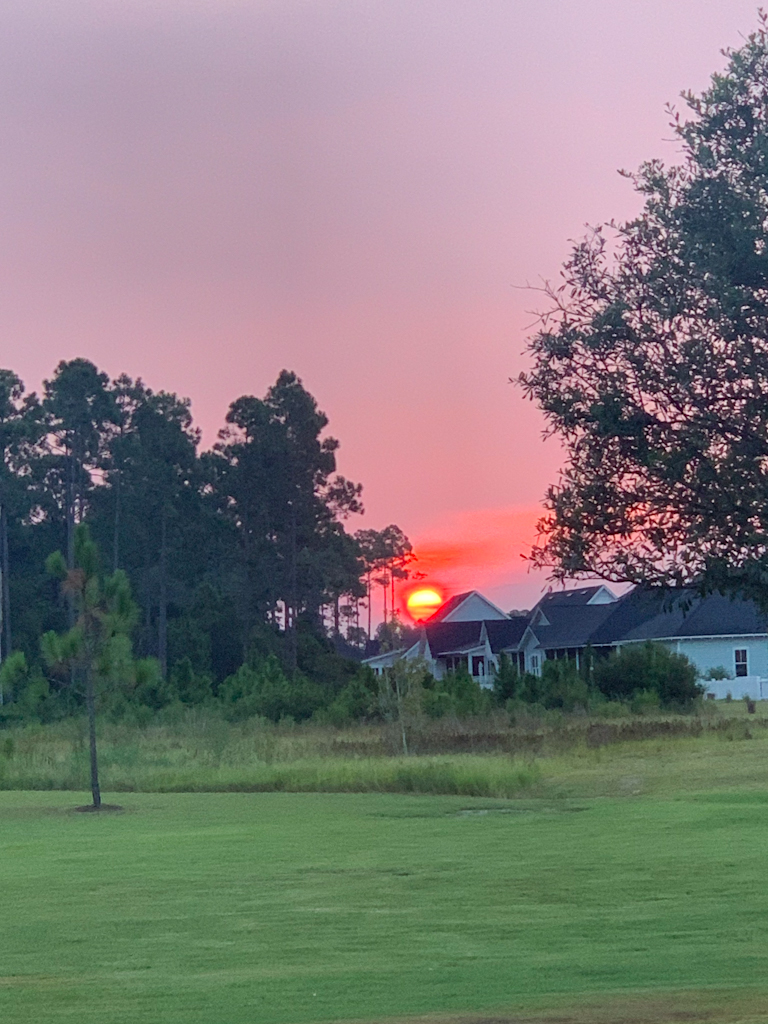 Kurtis was craving donuts Sunday morning, which is a rarity for him, so we ran to Charlie's for the first time in Alys Beach and grabbed coffee at Holiday Cafe to bring home and enjoy while we packed. I'm not really a donut person, but he liked his! I just love this little area of Alys Beach!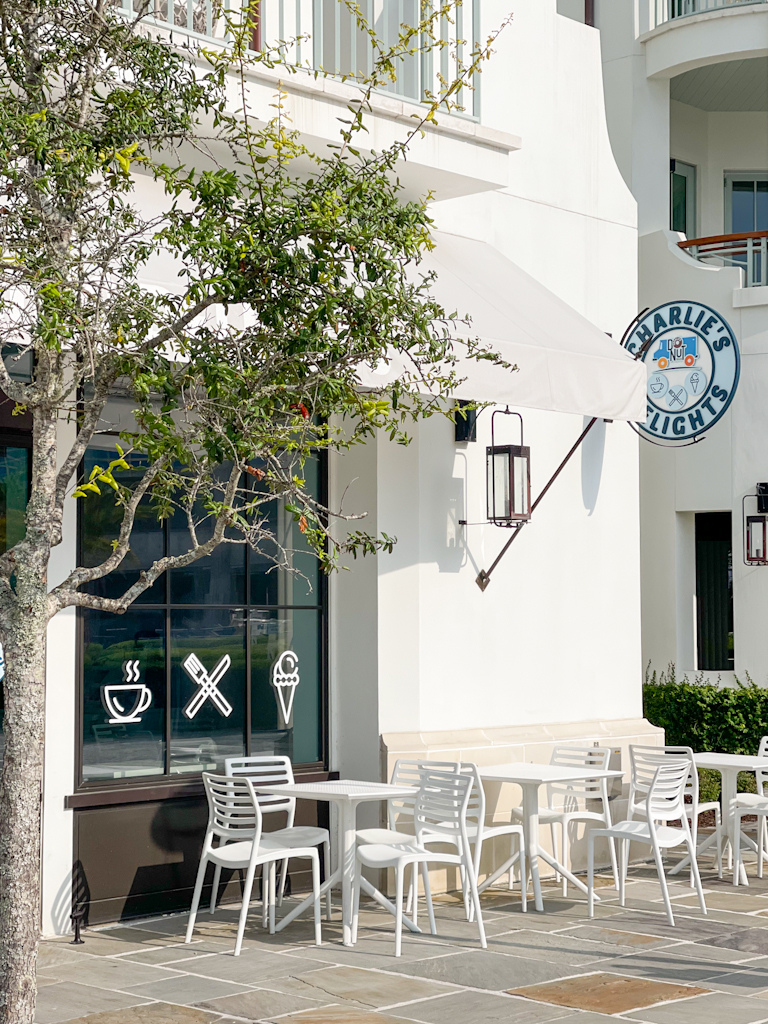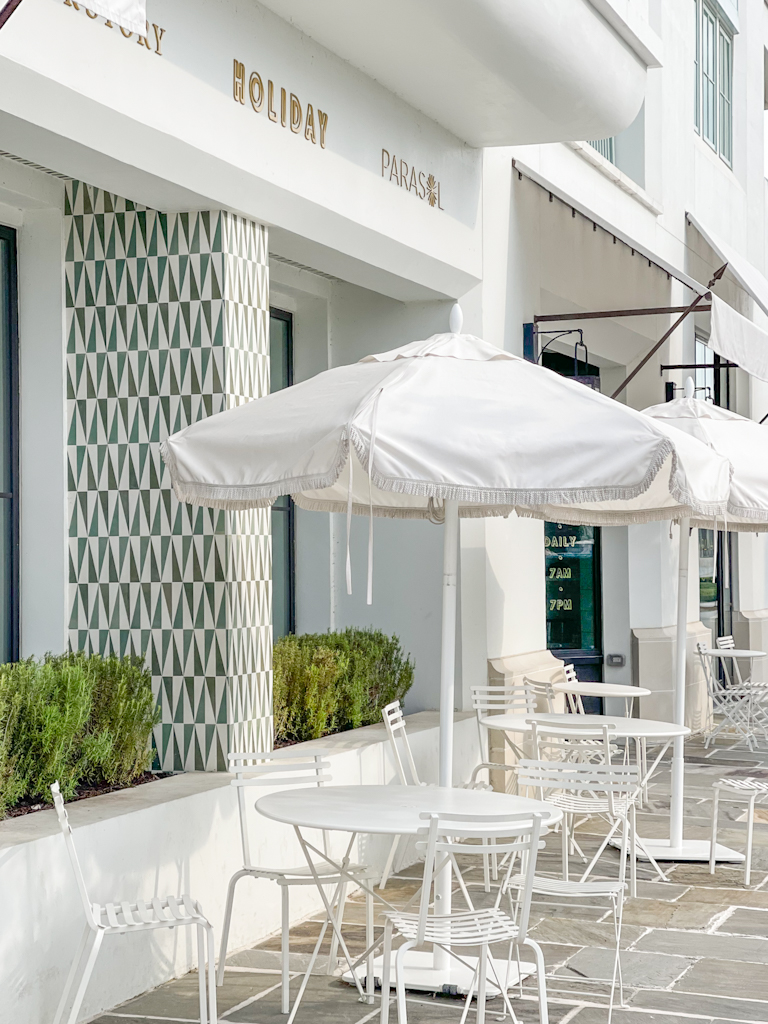 We spent most of the weekend packing, so our current house has towers of boxes everywhere. It was definitely much less ominous of a task this time around though after having down-sized so much after leaving Omaha. I really haven't purchased any new home decor outside of a few items in the last ten months or so, so it really wasn't that bad! We just don't enjoy the moving process so tend to procrastinate. I work best under pressure 😉
I still plan to post a bit this week, but also don't be alarmed if I go radio silent at any given point. We still have a lot to do and a few unknowns at this point, but we're so excited to get into our new home. We're also keeping a close eye on tropical storm Idalia and praying it dies down for everyone in its path's sake! Stay safe Florida and Gulf friends!
Recent Buys & Sales
Following are some sales from the weekend that have carried over and are still going strong!
I hope you all have a great week!
If you would like to follow along on more of my home decor, DIY, lifestyle, travel and other posts, I'd love to have you follow me on any of the below channels: