Good morning! I hope you all had a nice weekend. The time change did a number on me this year for some reason, but man, I love how much lighter it is in the evenings now! I was about ready to pack it up and move out of Nebraska at one point in February, but with warmer weather approaching the move doesn't seem quite as urgent now 😉 Here's a little of what we've been up to these past few weeks!
This post contains affiliate links for your shopping convenience. Click here to read my full disclosure policy.
Home Projects & Updates
Our smaller guest bathroom still doesn't have a shower door. It's supposed to arrive late this week and installed shortly thereafter, so I'm hoping to have it photographed early next week. Hopefully there aren't any further delays!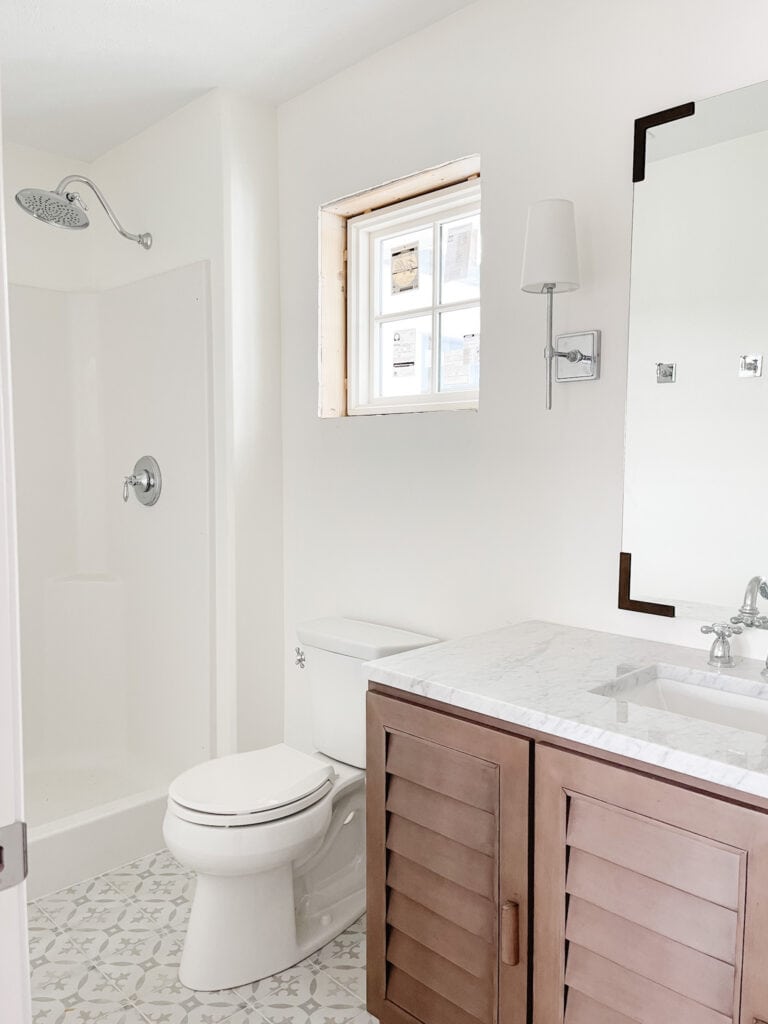 BATHROOM SOURCES: Shower Kit | Tile Floors | Toilet | Sconces | Vanity | Mirror | Faucet | Bathroom Hardware
We got the garage fully emptied! The only thing left are the handful of large items we're just pushing out as needed. If you missed it, we're having our garage insulated today, painted later this week, and then we're partnering with Hello Garage to grind out our peeling/flaking epoxy floors. They'll then be installing their polysaspartic flooring and bringing in some organizational cabinets and tools to whip this whole space into shape!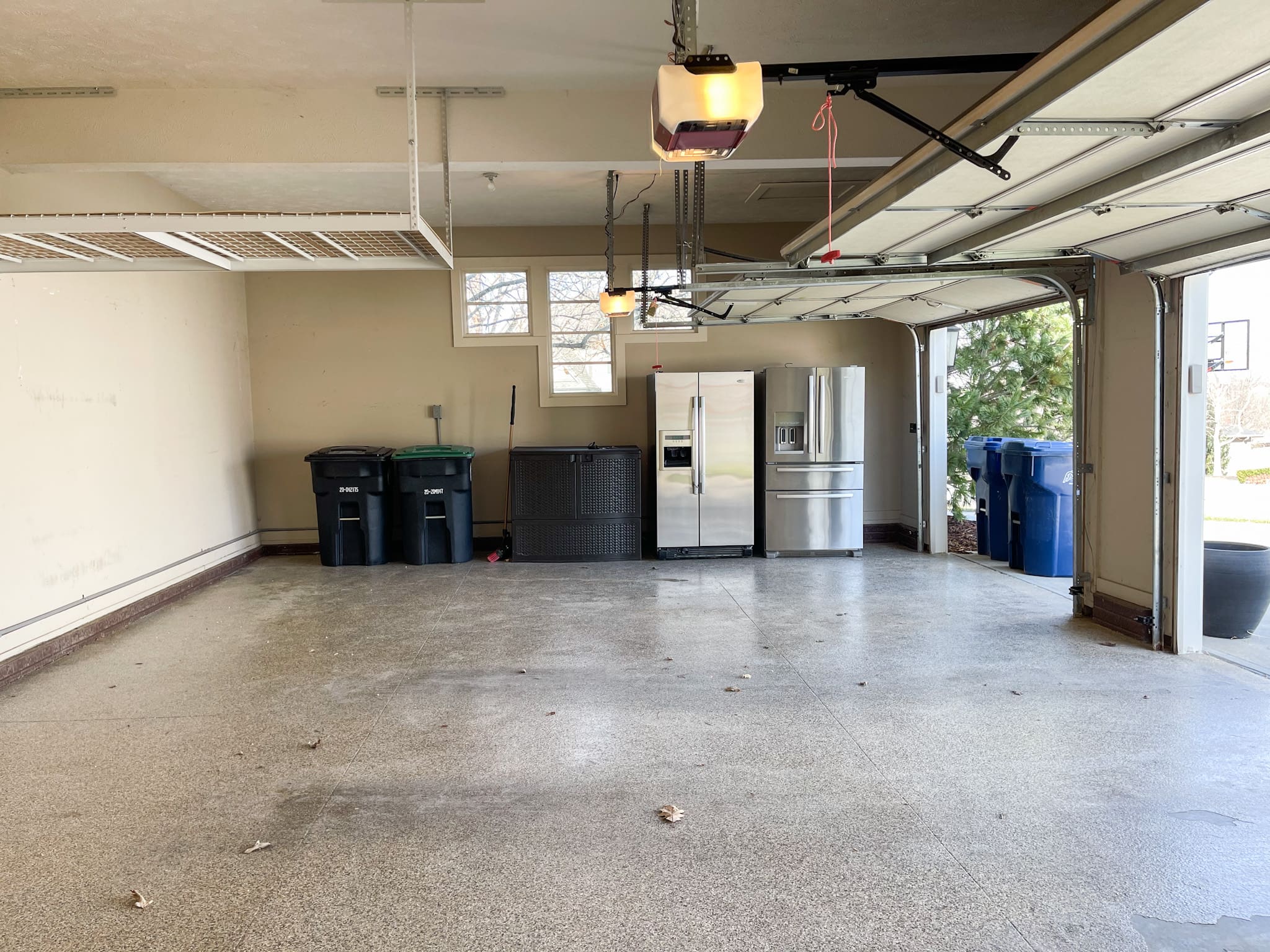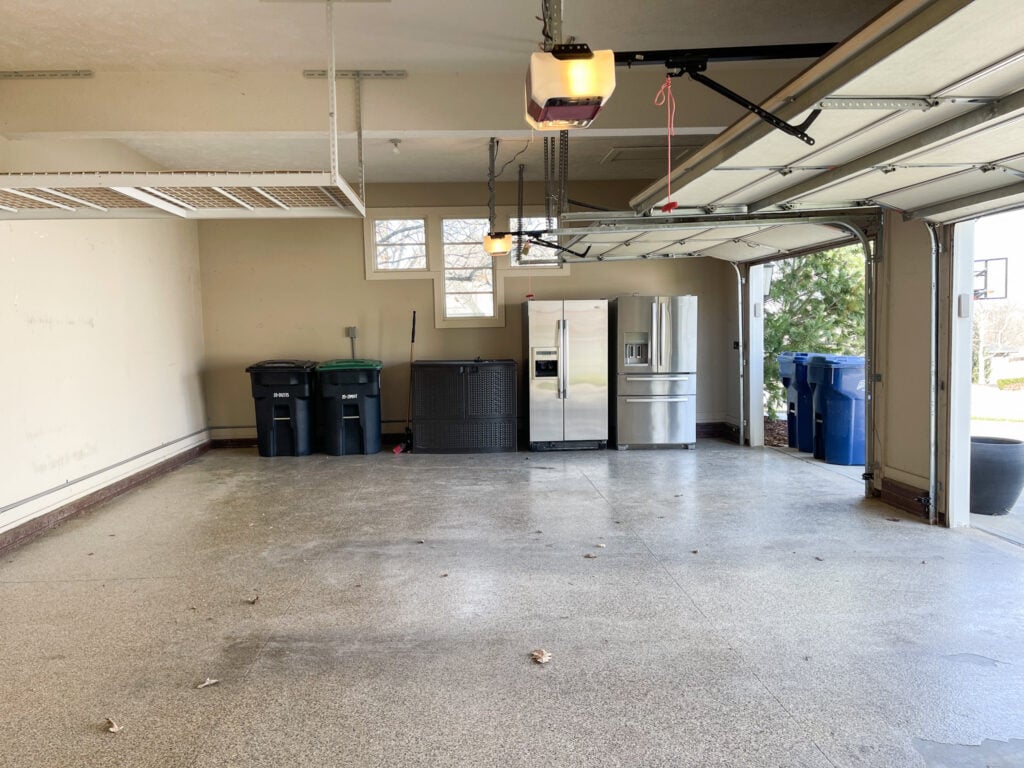 Here's a view from the other direction. If you look towards the garage opening, you can see just how badly our floors are pulling up. Not only that, the combination of how slippery they get when wet, and the fact we realized our garage isn't insulated….it was basically an ice skating rink in the winter. Particularly this winter when we had extreme temps and our cars weren't running as much to help heat it up.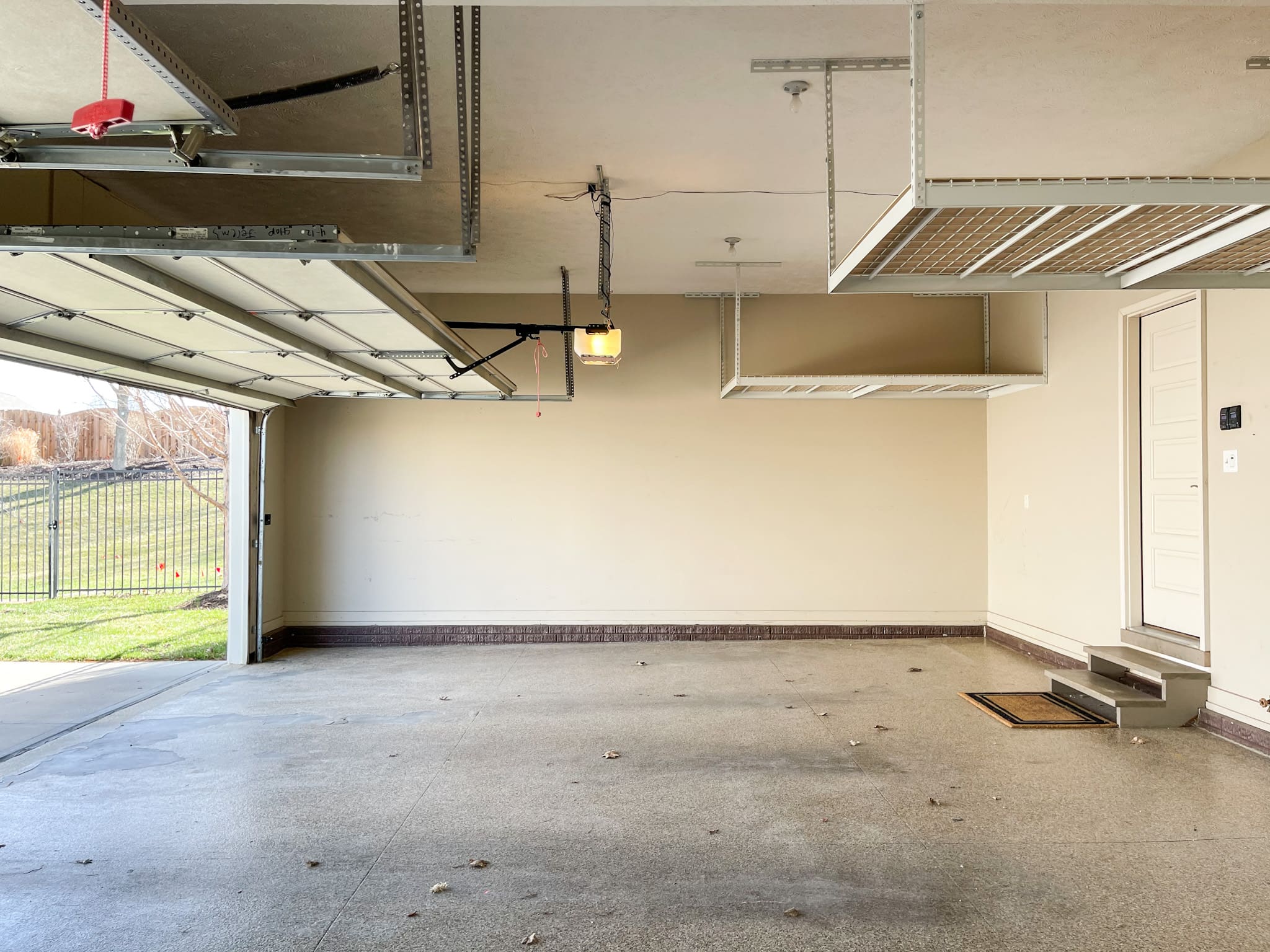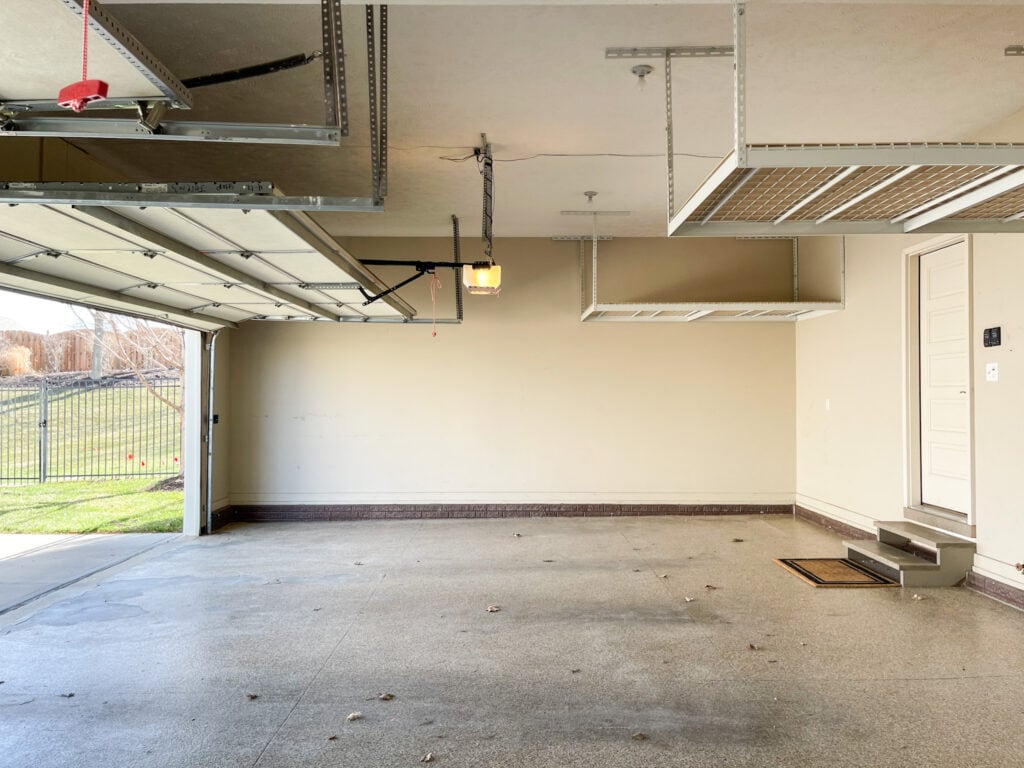 We had to rent a POD to get everything out and thankfully all our crap fit! And, in about two weeks time, everything will be fully done! Now that most of the heavy lifting is done on our part, we're getting really excited for the final transformation! It's hard to believe a few weeks ago it looked like this!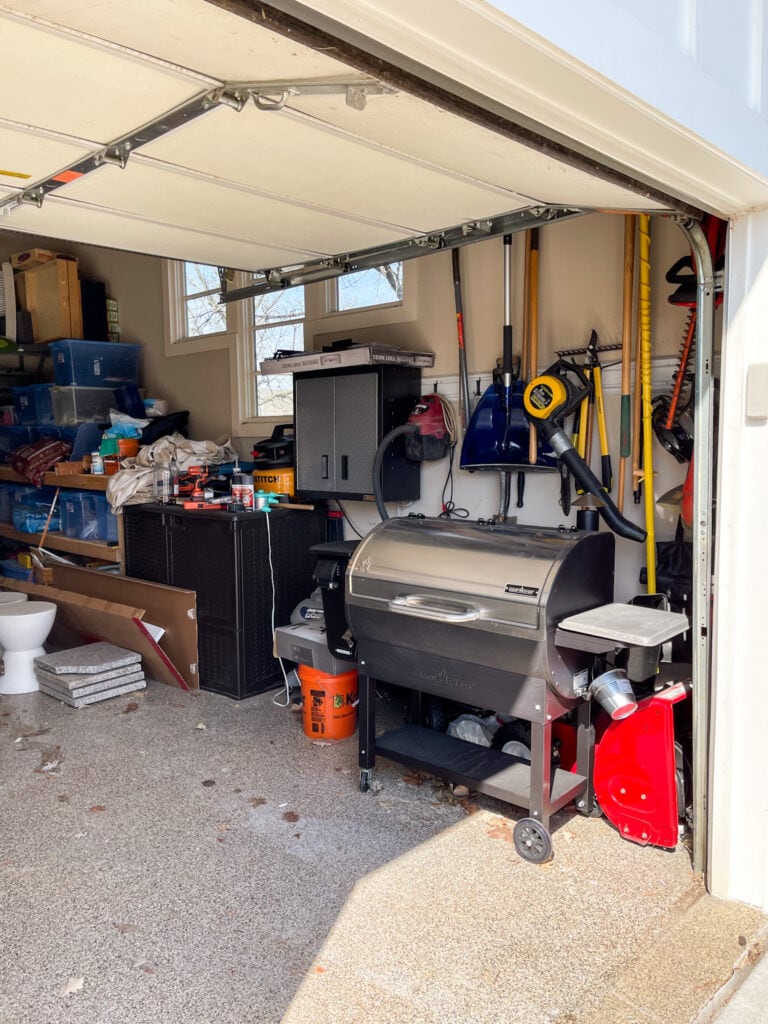 Speaking of garage and things needing fixed. When it rains it pours! It was one of those weeks last week where our house was on the struggle bus!
Early in the week, we had a big storm, and we found water leaking into the ceiling of our garage. Turns out it was caused by the window in the guest room that sits right above the little crawl space in the garage. We've known for some time (years, in fact) that several of our windows (if not all) need replaced. It's one of those projects we kept sidelining, because buying windows isn't exactly fun. I've mentioned before, but the gas seals in several of them (including our living room) are gone, and you can barely see out them. That's fixable, but all the weather-stripping is gone, and on days with drastic temp changes, we'll lay in bed and it sounds like gun shots going off. The windows pop so loudly, we've thought for sure at times they broke. They've even set our security system off several times. All that to say, it may be time to replace a handful of them. We have someone coming out later this week to help us prioritize which ones to tackle first. One of the downsides to having 30+ windows in your home :/
Thankfully the water damage can be dried out easily since that area wasn't insulated yet and hadn't been painted. So we're just glad we caught it while it was all still open and didn't have the fresh insulation blown in yet! Then later in the week, as we were moving more stuff out, we realized we had a rat living in our garage at some point. A freaking rat! So, we then had to call an exterminator. He searched our house and garage top to bottom and thankfully didn't see any signs of life. He's guessing it had moved on long ago. Thankfully!
Later in the week, our washing machine decided to just drain on our floor. It's not that old and we've never really had issues with it. The floor is the original linoleum so thankfully it cleaned up pretty easily. But after all these issues, and others I'm not even going to bring up on the blog, we got to the point where we both said "What is going on?!?" I mean, I guess it's better than spreading it all out with an "event" each week for a month, but it's safe to say we were over it 😉
Kurtis did some caulking in the garage on Saturday so I wrapped up some caulking inside. You may remember a few months back I re-caulked the crown around our kitchen cabinets and range hood. Saturday I tackled the lines around our countertop and backsplash/window trim. With the crazy cold temps we had last month, it seemed to make it all crack more than usual. I used this caulk, and as you can see below, it made a night and day difference! I just run a thin bead down the area I'm working on, then dip my finger in water, and run my finger down the bead, wiping off excess caulk on a paper towel. Super quick, easy and cheap!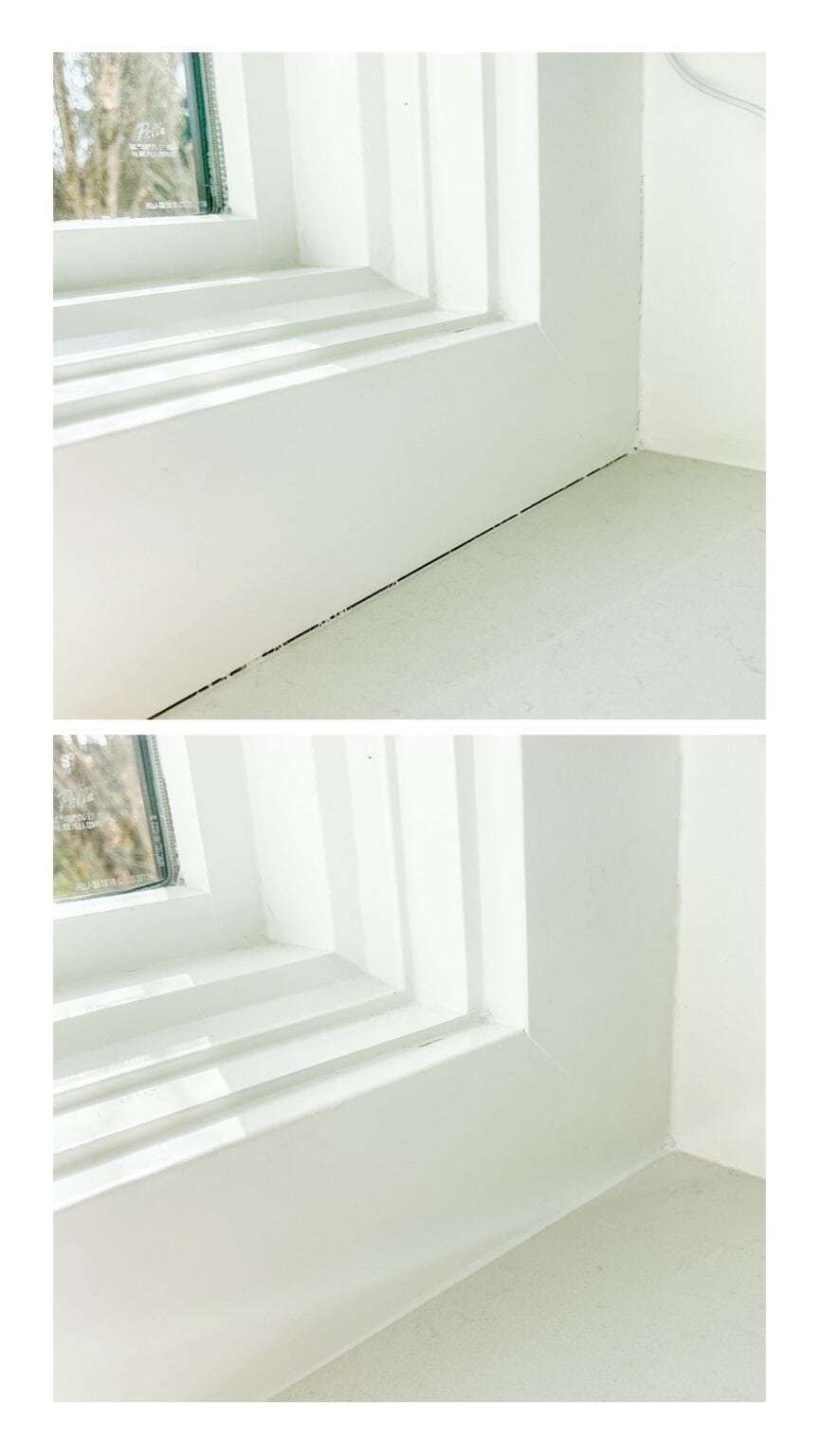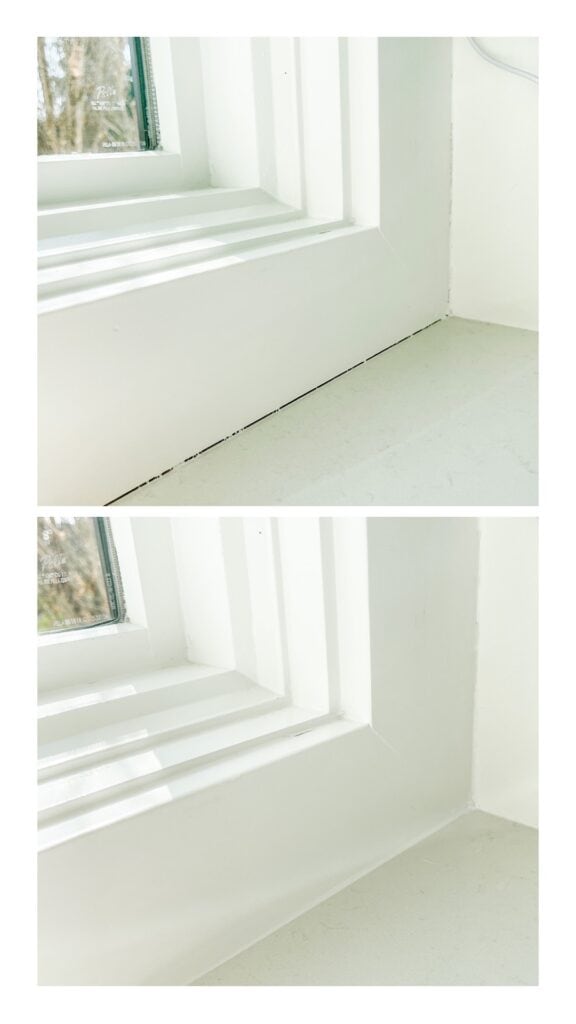 Top Sellers Of The Week
Since I skipped a weekend recap last week, following are the top sellers of the past two weeks across all of my channels. Links to each item are below the graphic.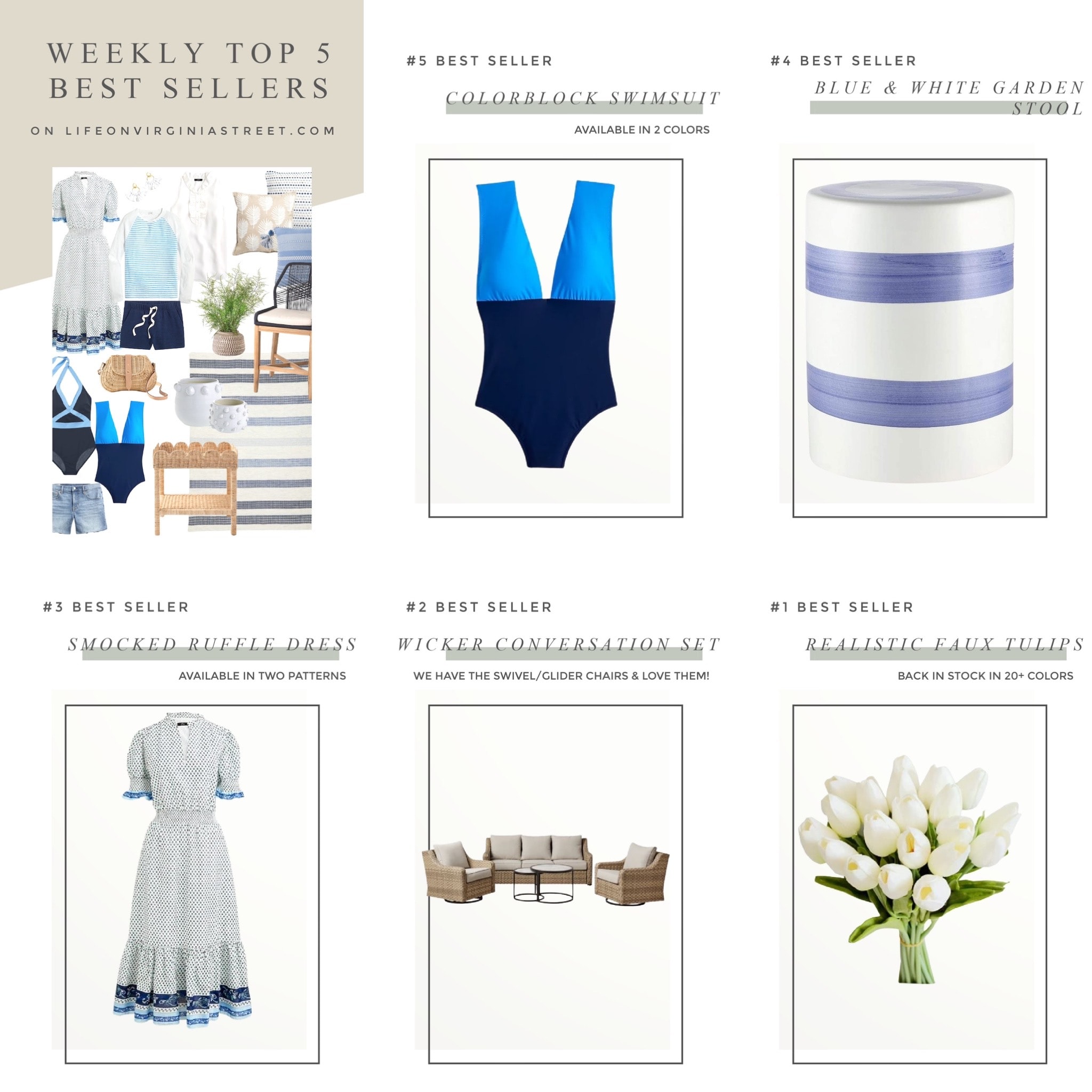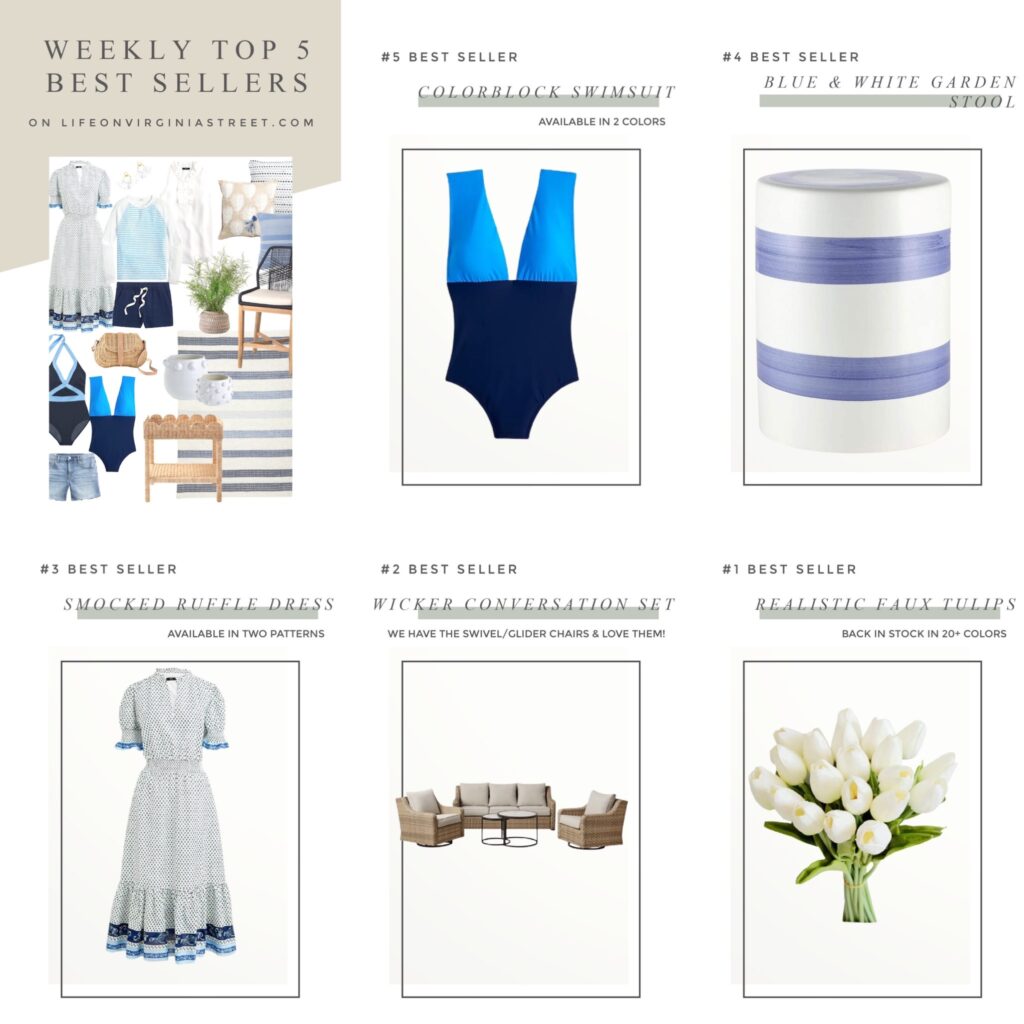 BEST SELLERS (each number is clickable): #5 | #4 | #3 | #2 | #1
Following are the top sellers from this past week.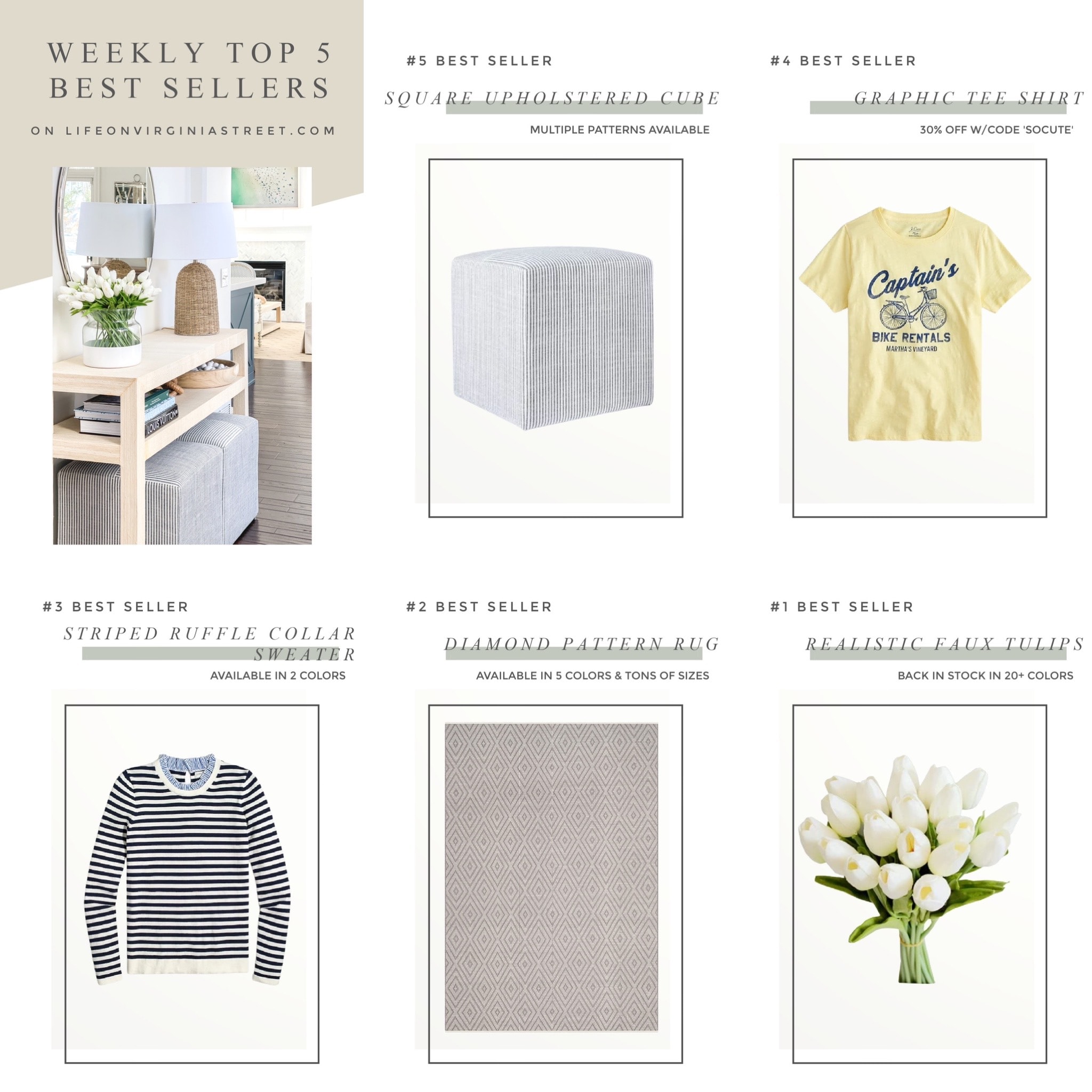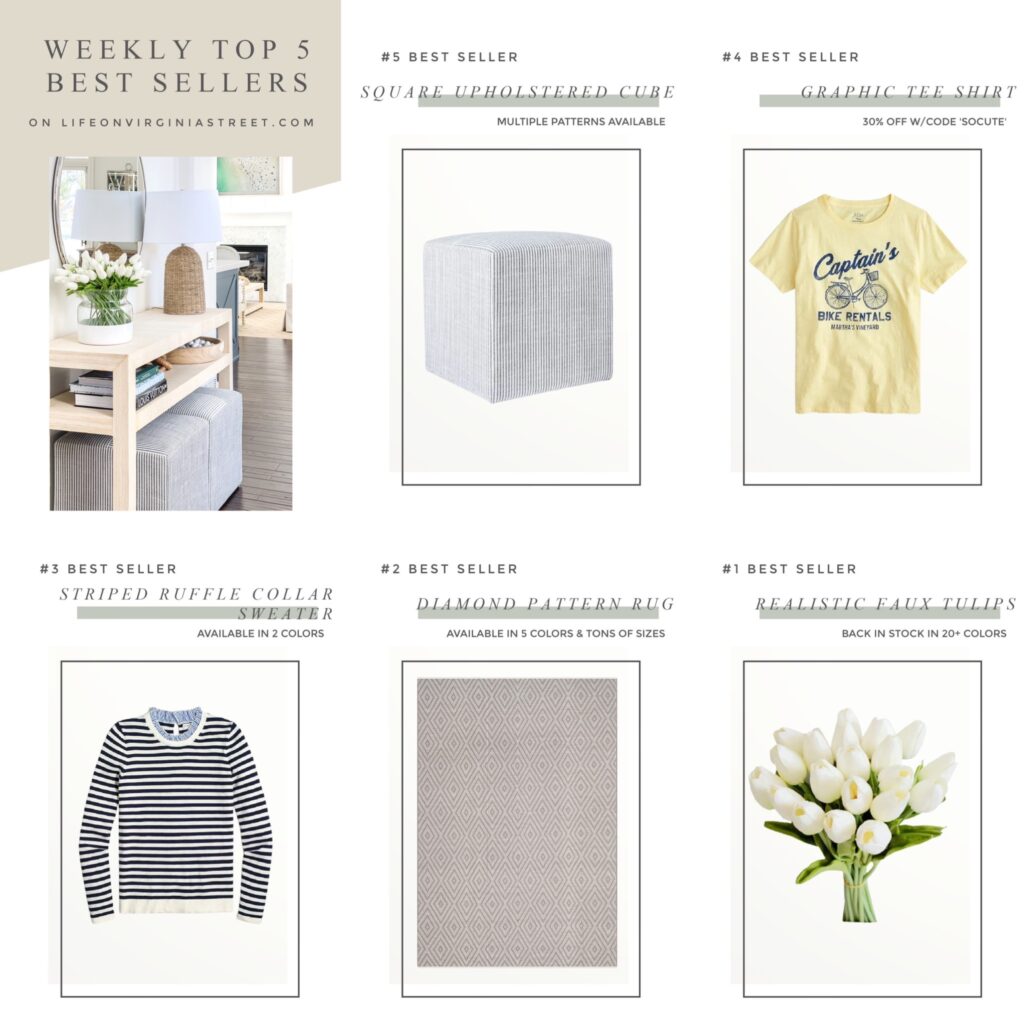 BEST SELLERS (each number is clickable): #5 | #4 | #3 | #2 | #1
You can see a few of them in action in the image below from our entryway!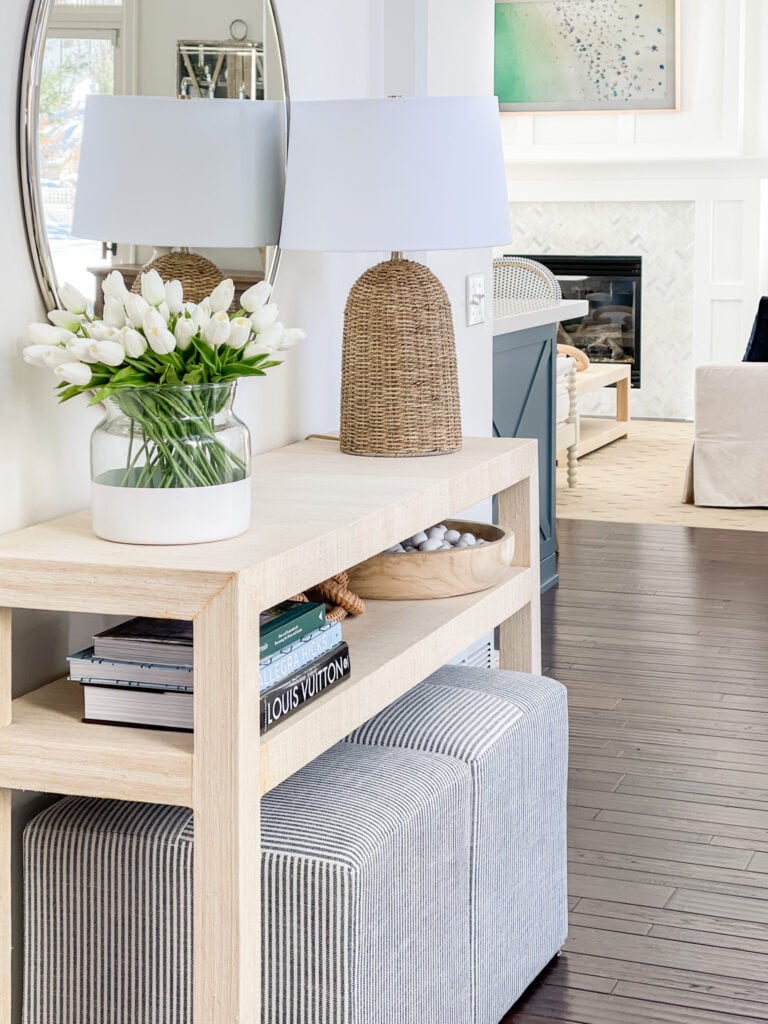 SOURCES: Faux Tulips | Paint Dipped Vase | Raffia Console Table | Similar Mirror |Striped Ottoman Cubes | Seagrass Lamp | Wicker Chain | Similar Wood Bowl | Stone Pebbles
Around Town & For Fun
We had our first patio meal of the year (and really since fall-time) two weeks back at Dante. It was crazy windy but we didn't even care because it was so warm and it felt so great to be outdoors again!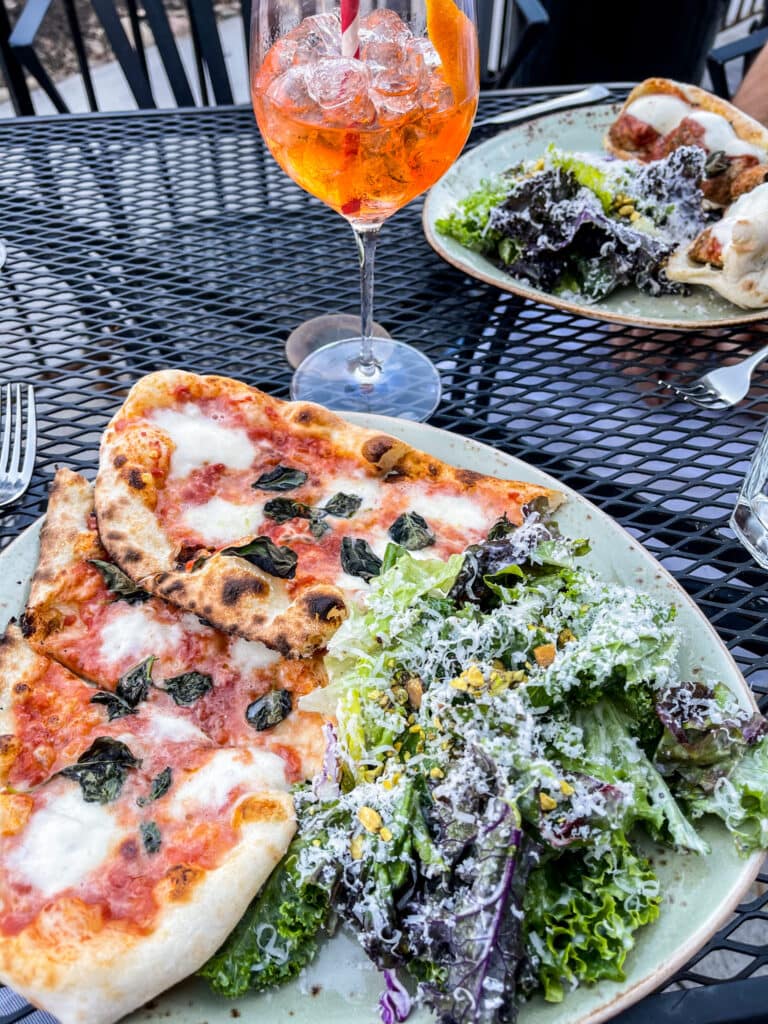 The cats had their annual doctor's appointment last week and Bailey had to have her full-day glucose tests done again. The cats hate the drive more than anything in the world and howl the entire way there and back. Once they're there, they're totally chill (even though we still can't go inside with them). Bailey failed her tests again (which we sort of knew was coming), so we're upping her insulin dosage again and re-testing in another two weeks or so. Otherwise, they all got a clean bill of health, which is always great to hear! Especially since they're all considered seniors now!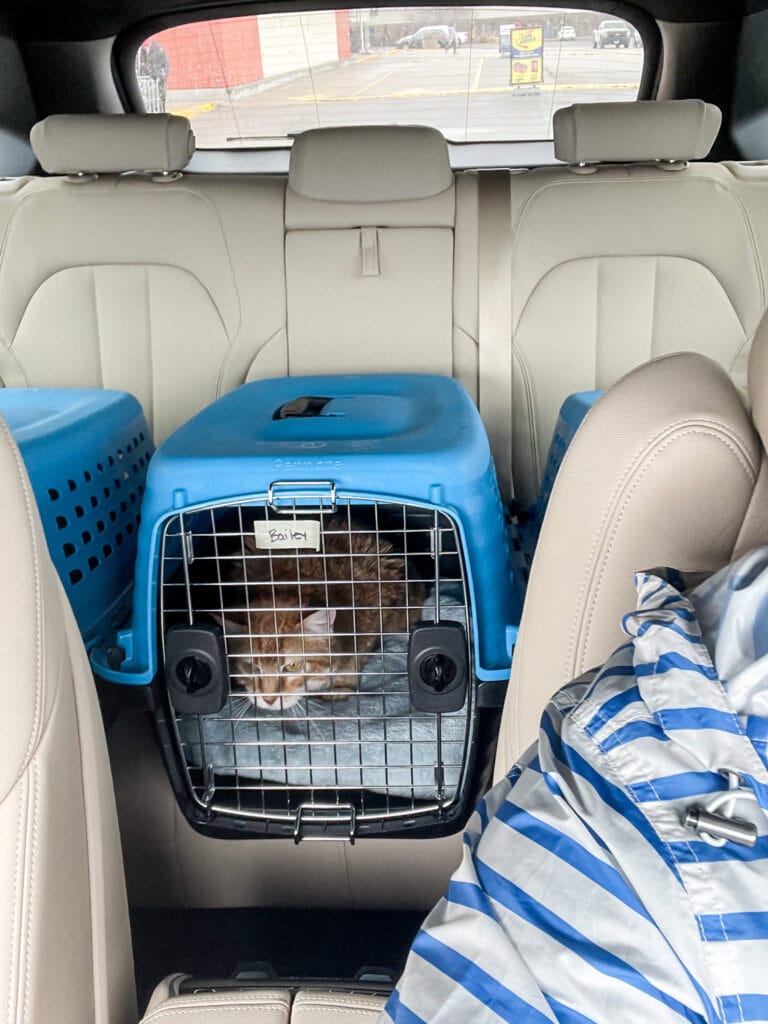 The new office sleeping arrangements most days. Kurtis has learned he has to leave a little blanket on the floor when he goes upstairs to work each morning. It's Bailey's new favorite spot to sleep.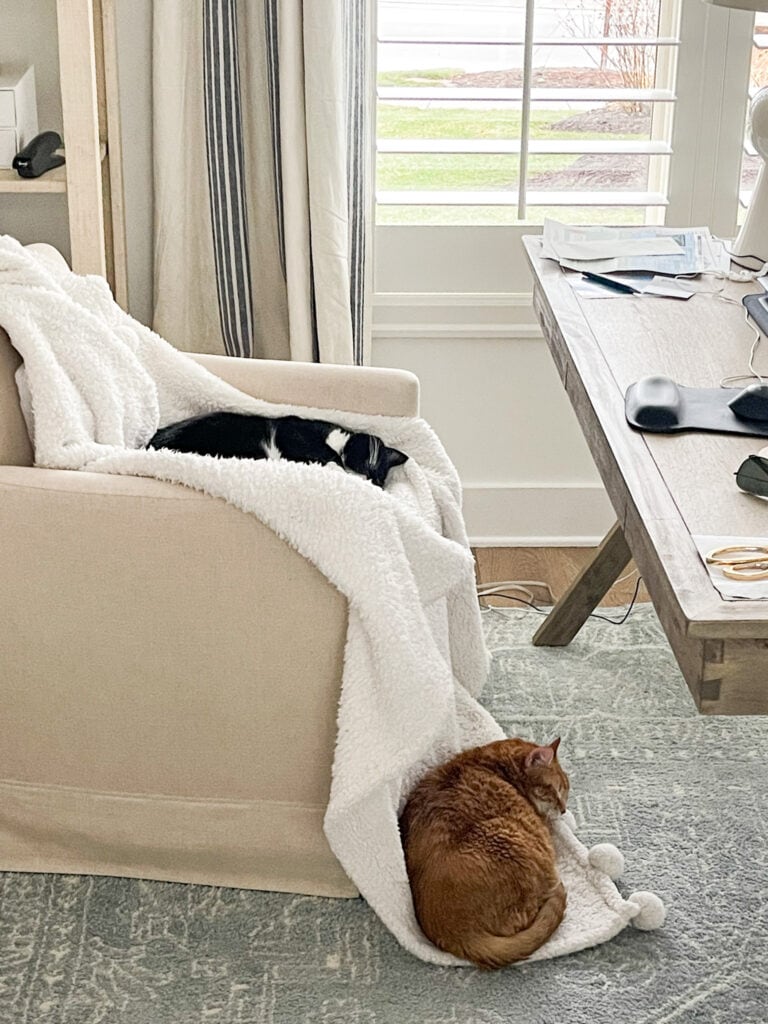 OFFICE SOURCES: Chair | Desk | Drapes | Rug (slate/ivory)
Not sure why I put this in the "fun" category 😉 But Friday afternoon, we went and did a little carpet shopping. I guess the fun part was afterwards when we treated ourselves to street tacos and margaritas. The weather was nice and neither of us had been out for awhile. It was actually pretty quick because Kurtis and I both remembered how much we love the carpet in this Street of Dreams house when I photographed it several years back. The carpet is Shaw's E9634 Natural Boucle 15 (on the board on the left, below). So we saw my friend Nancy's guy, Kevin, at Carpetland and were in and out within about 20 minutes. Much less painful than we were expecting! They're going to come measure today, since we have no idea what this will cost. I know pads and install start adding up, so a lot of this will be dependent on the cost. But we have got to ditch our existing carpet upstairs.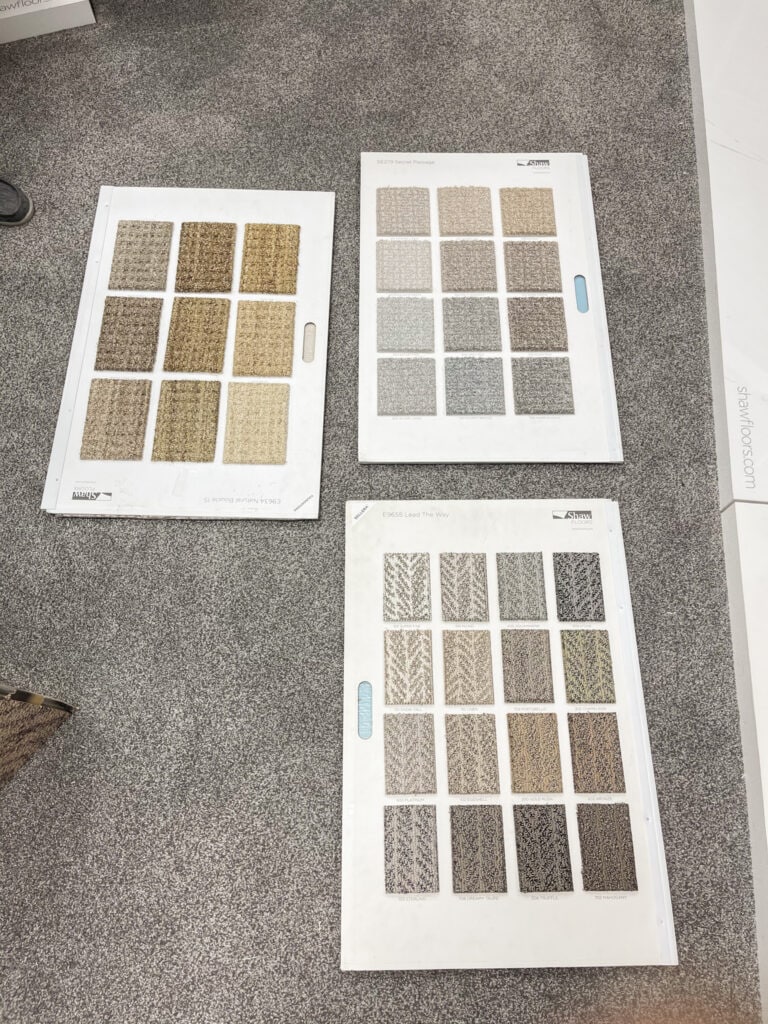 We've talked about doing hardwood in the upstairs hallway in lieu of carpet. I talk more about that in this post. Much like the windows, I've been stalling for years and years and years. We basically knew when we moved in 8 years ago the carpet needed replaced. And here we are eight years later. Here's the random hardwood sample we brought home. I honestly hadn't heard of the brand before (Kentwood Originals) so I still need to do a bunch of research! I'll keep you posted.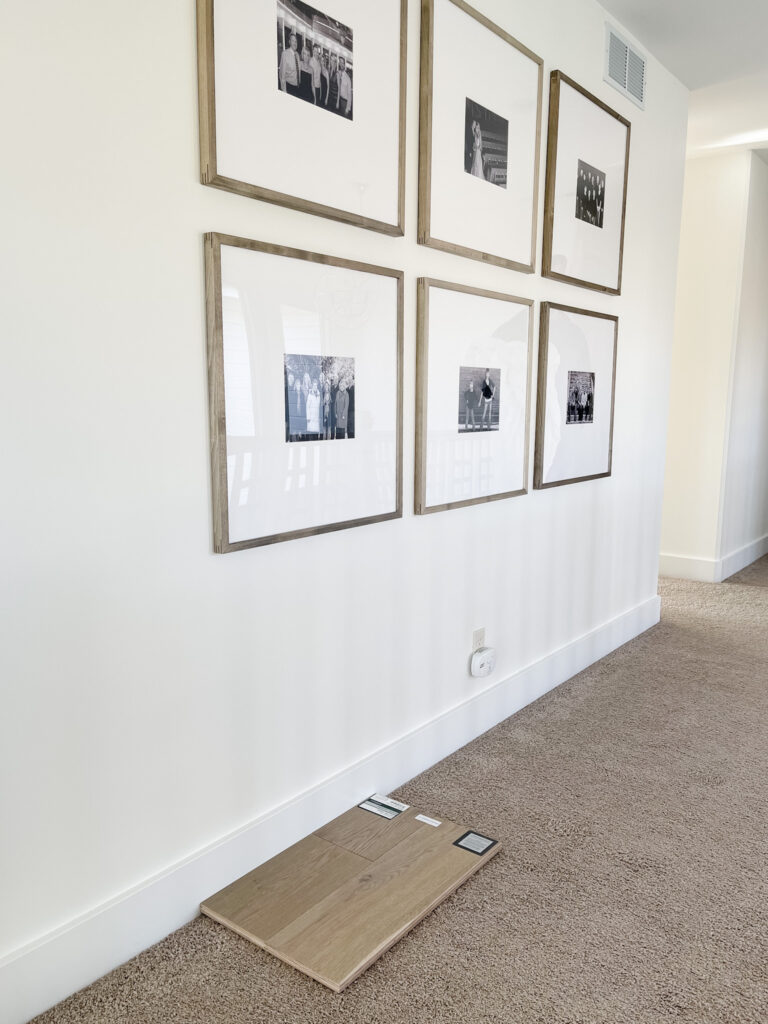 Saturday night, our friend Nick cooked up our St. Patrick's Day meal with corned beef and cabbage and potatoes. With a side of Guinness, of course. It was all so good! And like we say every year, why do we only eat this in March?! It should be a year-round staple!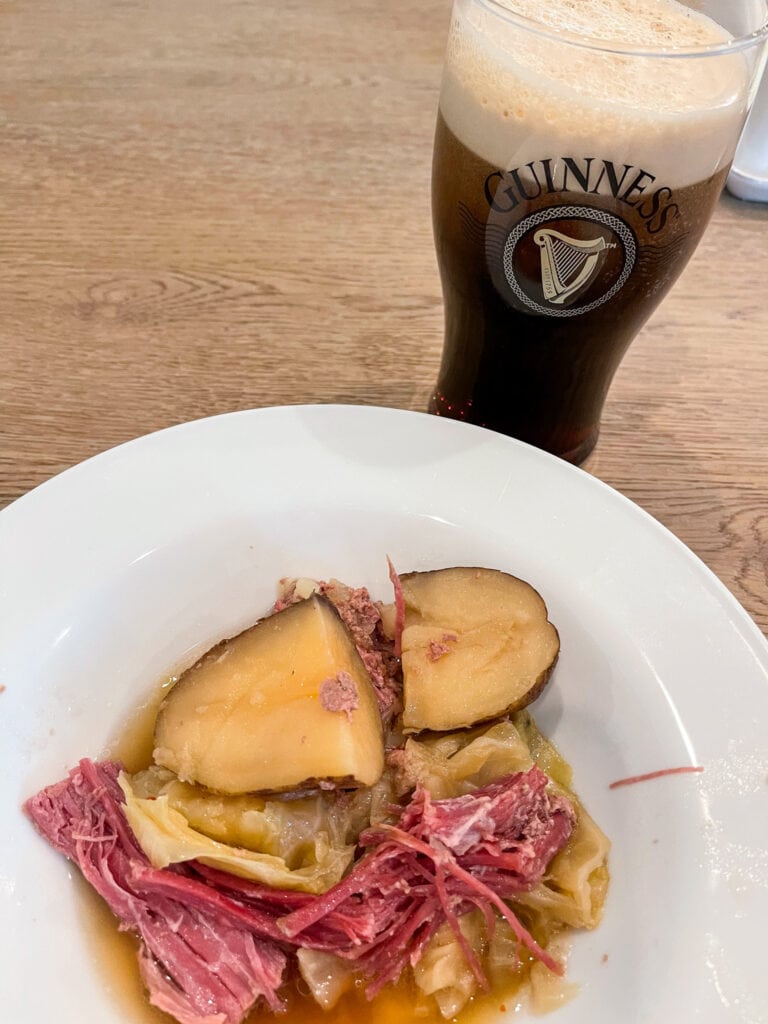 We also got in lots of giggles and play time with our goddaughters!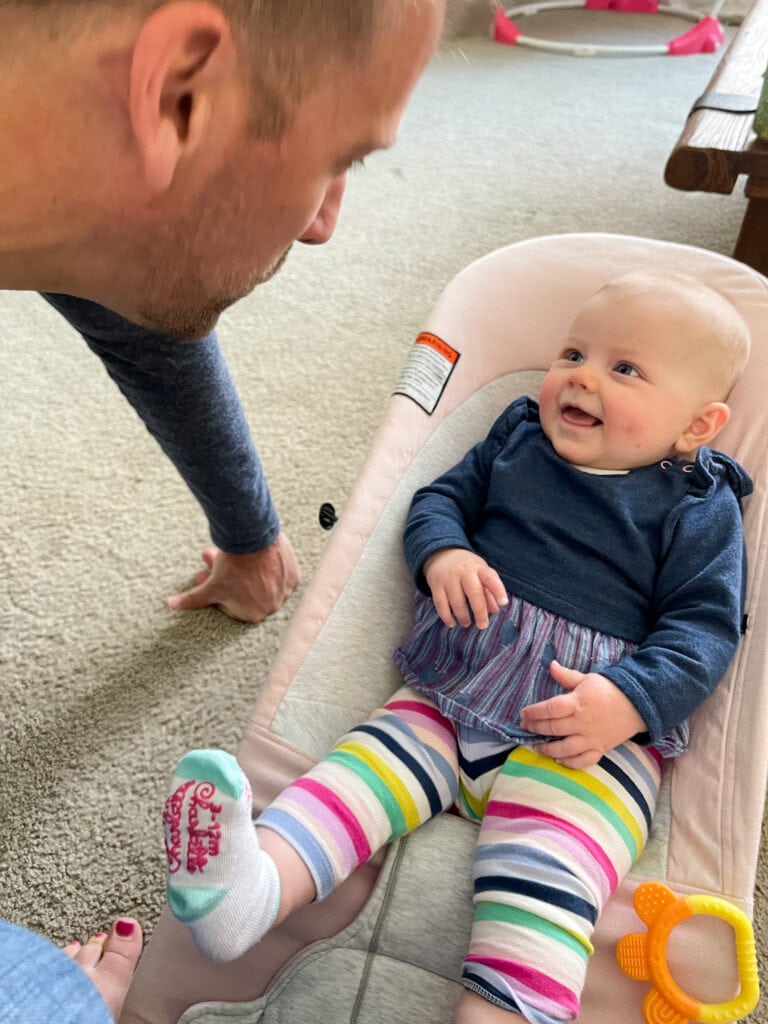 Kurtis wanted to watch some of the March Madness games on Sunday, so I took the opportunity to spend a few hours reading. The cats are never sad when they couch time or cuddle time during reading! Not sure what Henley was pondering here 😉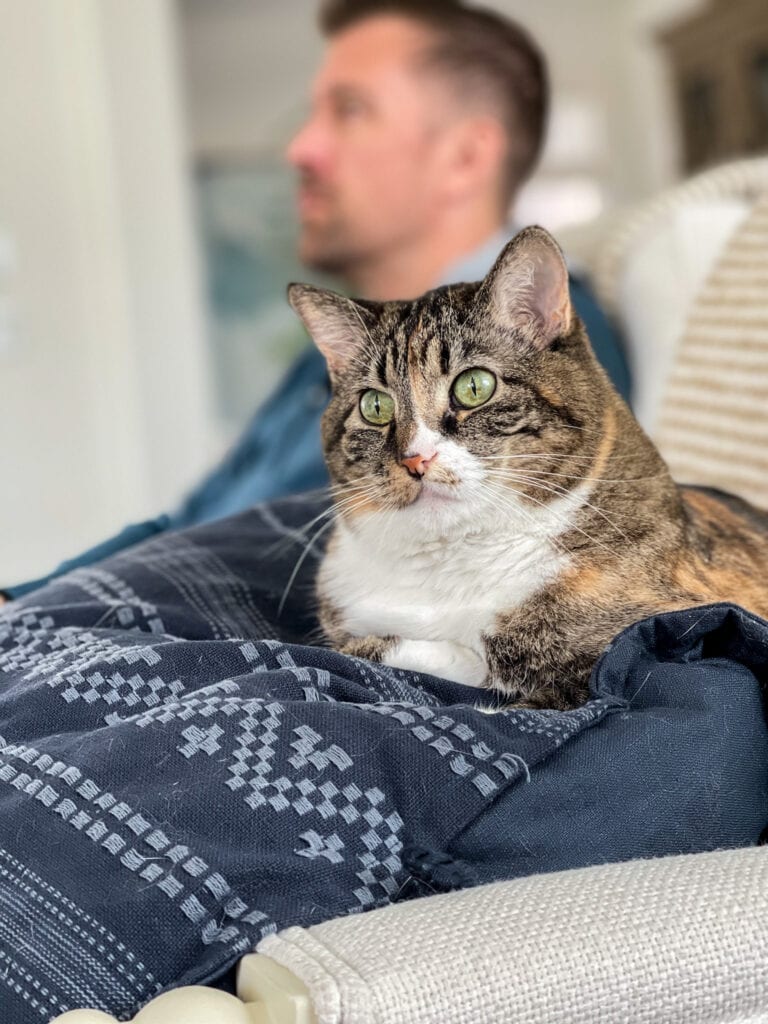 I'm ready to start a fresh week! And I'm honestly a bit shocked it's already April next week and that Easter is almost here! I'm so ready to get outside and do some yardwork and start planting in the next month or two!
Recent Buys & Sales
Following are the sales from the weekend that are still going strong. You can see my top picks here.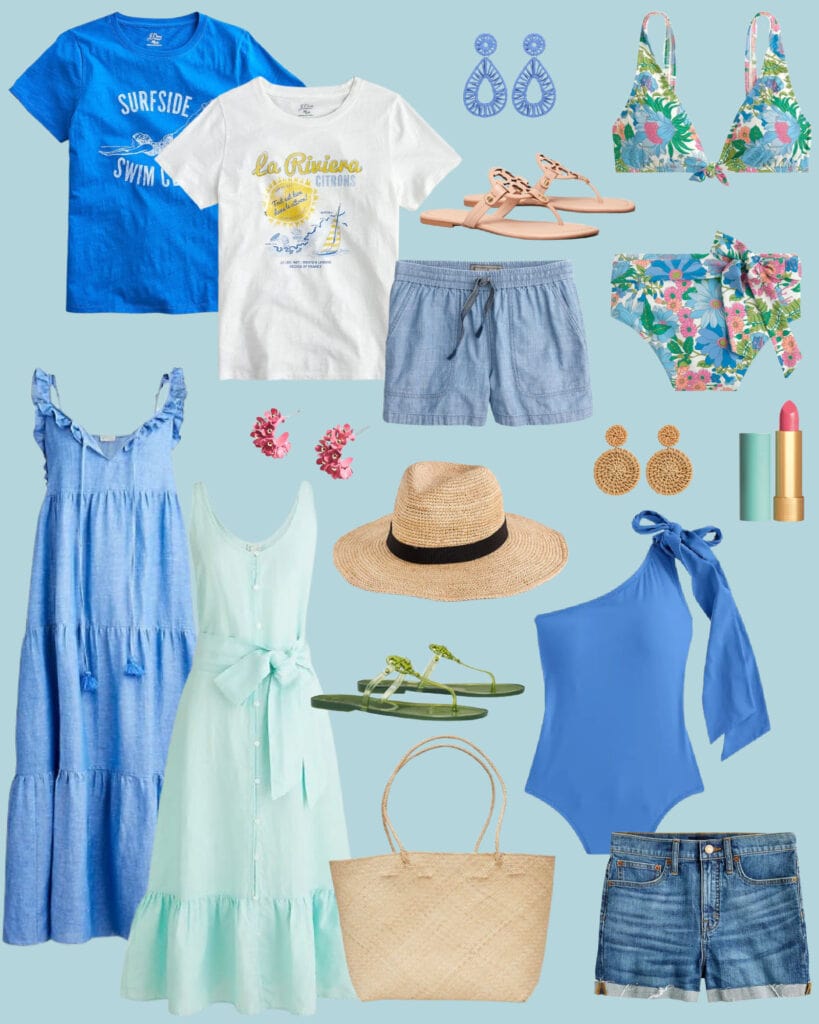 SOURCES: Surfside Swim Tee | La Riviera Citrons Tee | Chambray Shorts | Raffia Drop Earrings | Tory Burch Miller Leather Sandals | Floral Bikini Top | Floral Bikini Bottom | Cotton-Linen Tiered Maxi Dress | Cotton-Linen Button Front Midi Dress | Floral Hoop Earrings | Packable Straw Hat | Raffia Disc Earrings | Gucci Lip Balm | Tory Burch Mini Miller Jelly Sandals | Rattan Tote | Bow-Tie One Shoulder Bathing Suit | Denim Shorts
I hope you all have a great week!
If you would like to follow along on more of my home decor, DIY, lifestyle, travel and other posts, I'd love to have you follow me on any of the following:
Pinterest | Instagram | Facebook | Twitter
disclosure: some affiliate links used