Welcome to this week's Wednesday Watch List, where I share the random things that captured my attention and stole my heart over the past week!
This post contains affiliate links for your shopping convenience. Click here to read my full disclosure policy.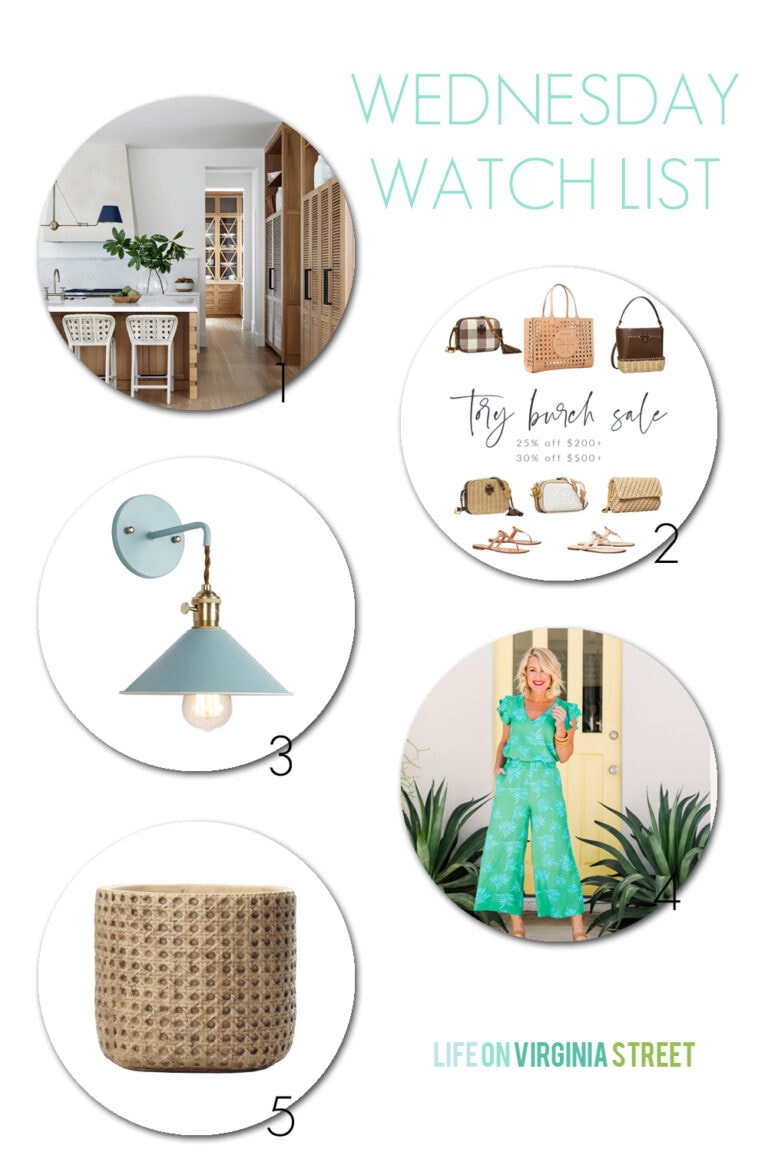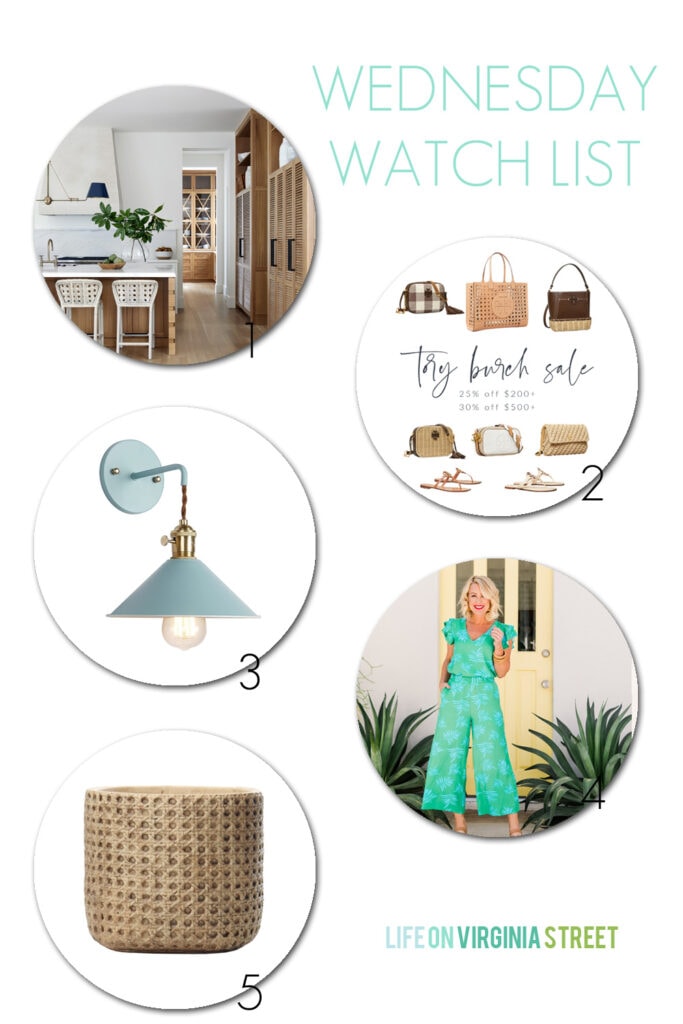 Before we get into today's picks, I have a quick bonus pick for you! I saw J. Crew released a bunch of darling new arrivals yesterday. Plus, they're hosting their Spring Event with 25% off $100, 35% off $200+ and 40% off $250+. And most of the brand new arrivals are included! Here's a few favorites. And if you're a cardholder, you can still get 20% off your purchase with code CARDLOVE thru the end of the month!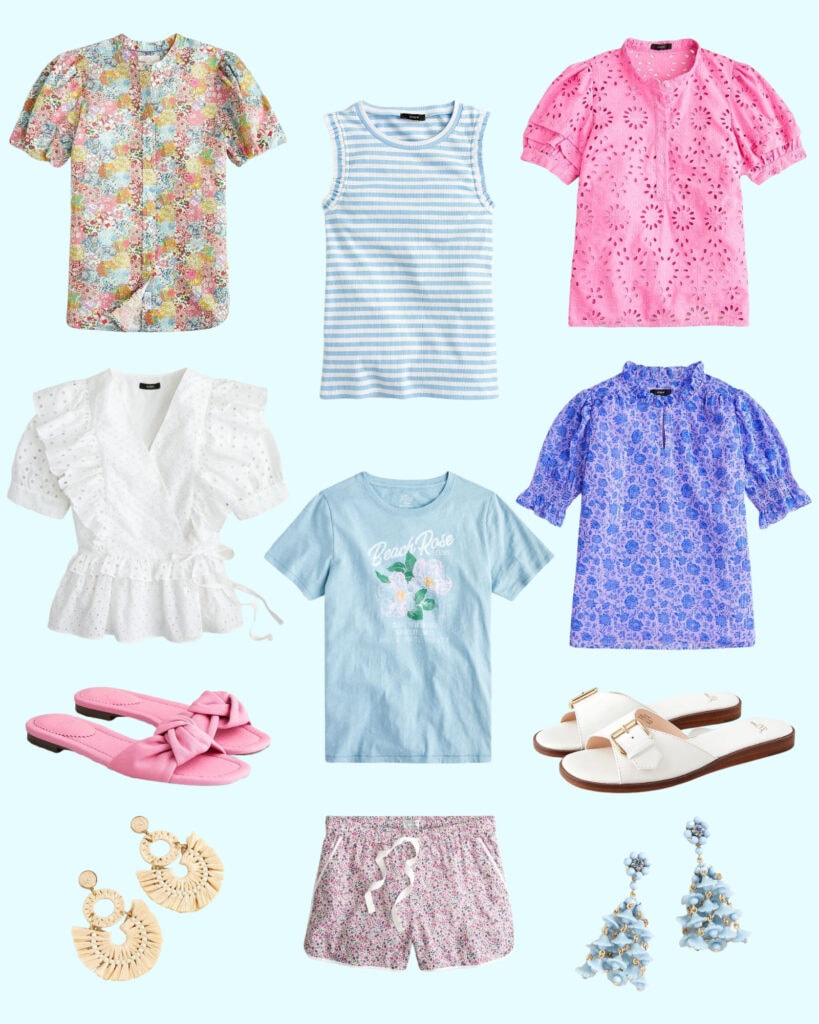 SOURCES: Puff-Sleeve Floral Top | Ruffle Sleeve Tank | Puff-Sleeve Eyelet Top | Eyelet Wrap Top | Floral Graphic Tee | Floral Chiffon Top | Knotted Slides | Buckle Slides | Raffia Earrings | Floral Shorts | Flower Tassel Earrings
1 – I always love finding new designer portfolios, and this one from Erin Sander Design does not disappoint. This kitchen (and entire home) in the "Santa Barbara Afresh" project is a stunner and has some really unique features I love and haven't seen other places. Love the island vibes (the literal island and the fact the kitchen evokes feelings of the islands). And this sounds weird, but I literally sat and studied and stared at every set of every windows in the portfolio!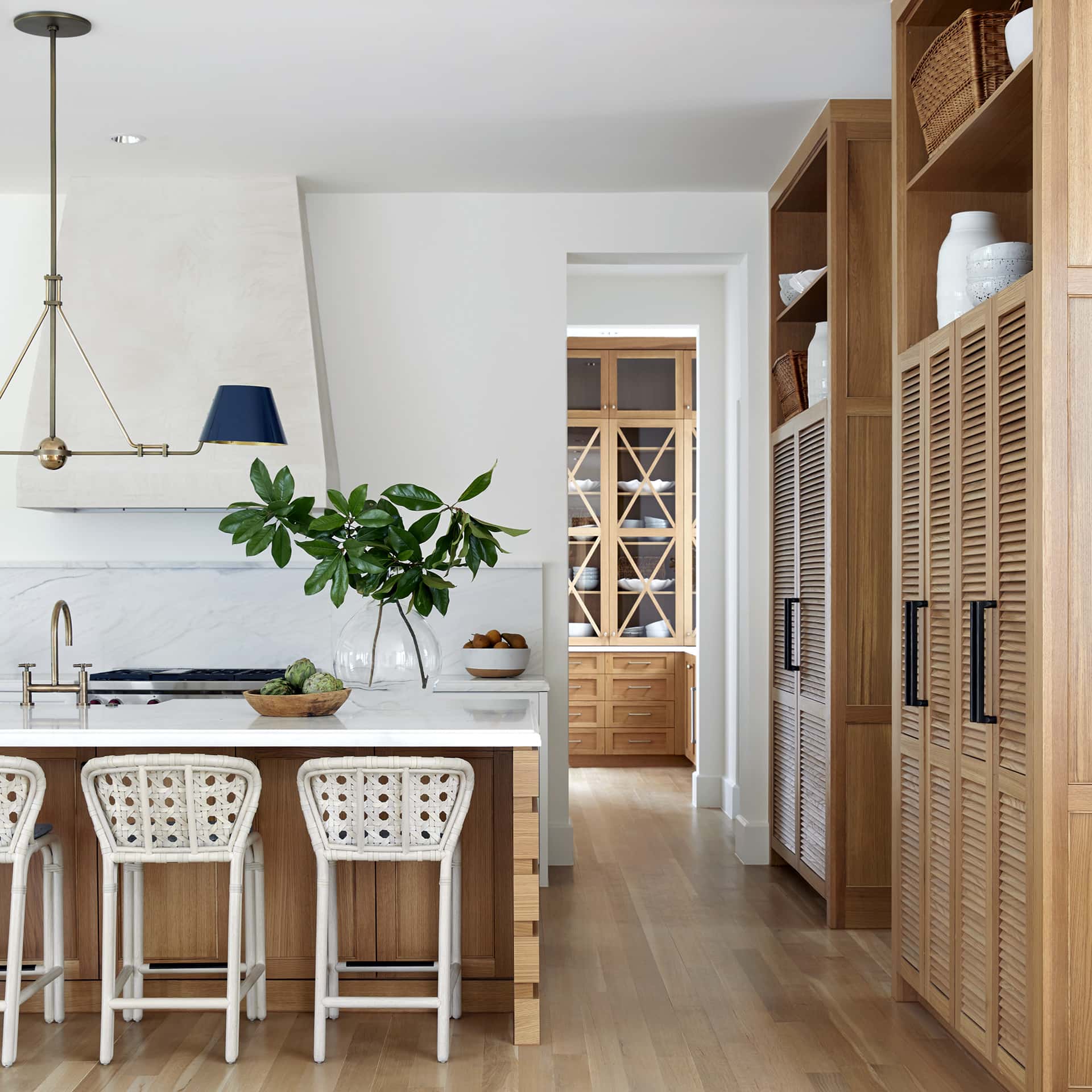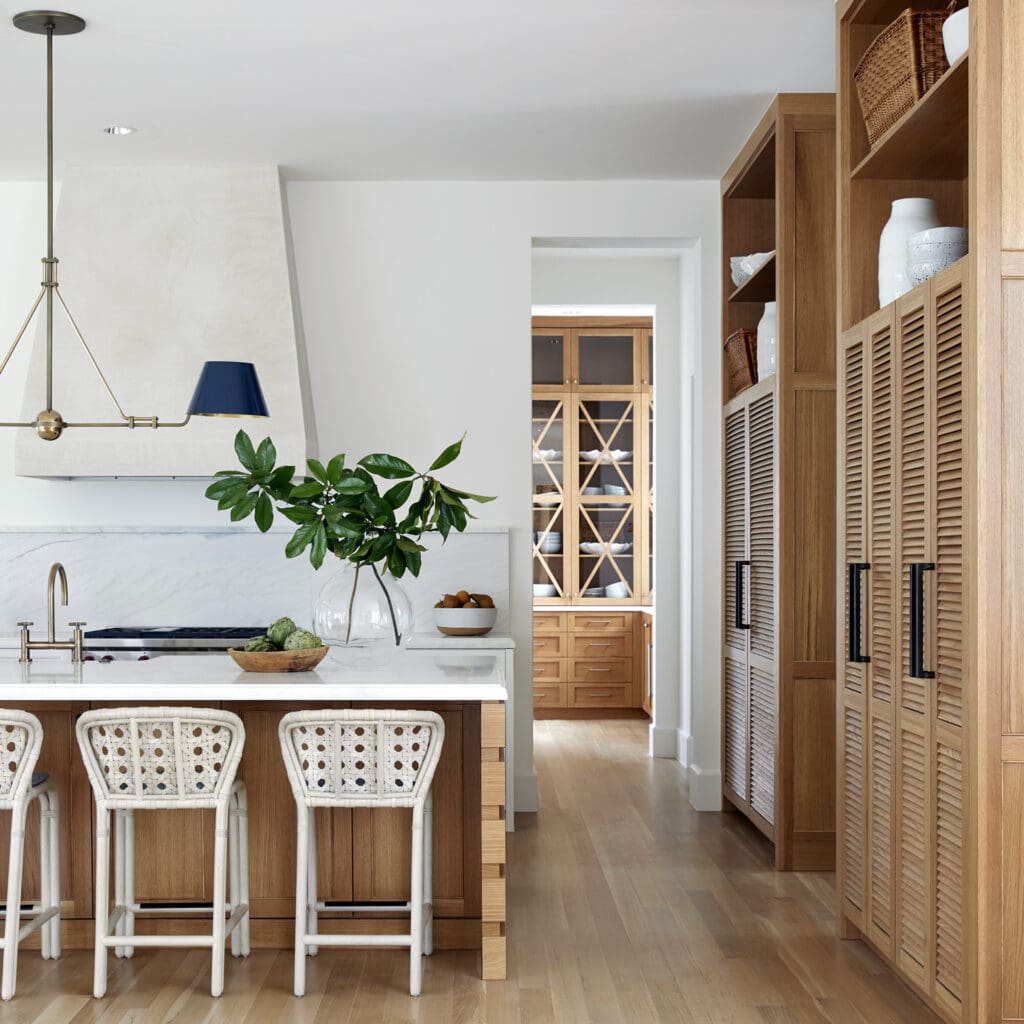 2 – Tory Burch is hosting their Spring Event where you can get 25% off $200+ or 30% off $500+. It includes a lot of their classic styles too (just look for items notated that their included in the event). There are so many gorgeous handbags for spring too. I was starting to think their bag were looking all alike, but this season there are so many good ones! They remind me of how I decorate 😉 Before the sale actually started, I ordered these sandals "in the name of science and experiments" so I could report back if their comfy and not too clunky looking. They aren't included in the sale, but they arrive soon so I'll be sure to report back!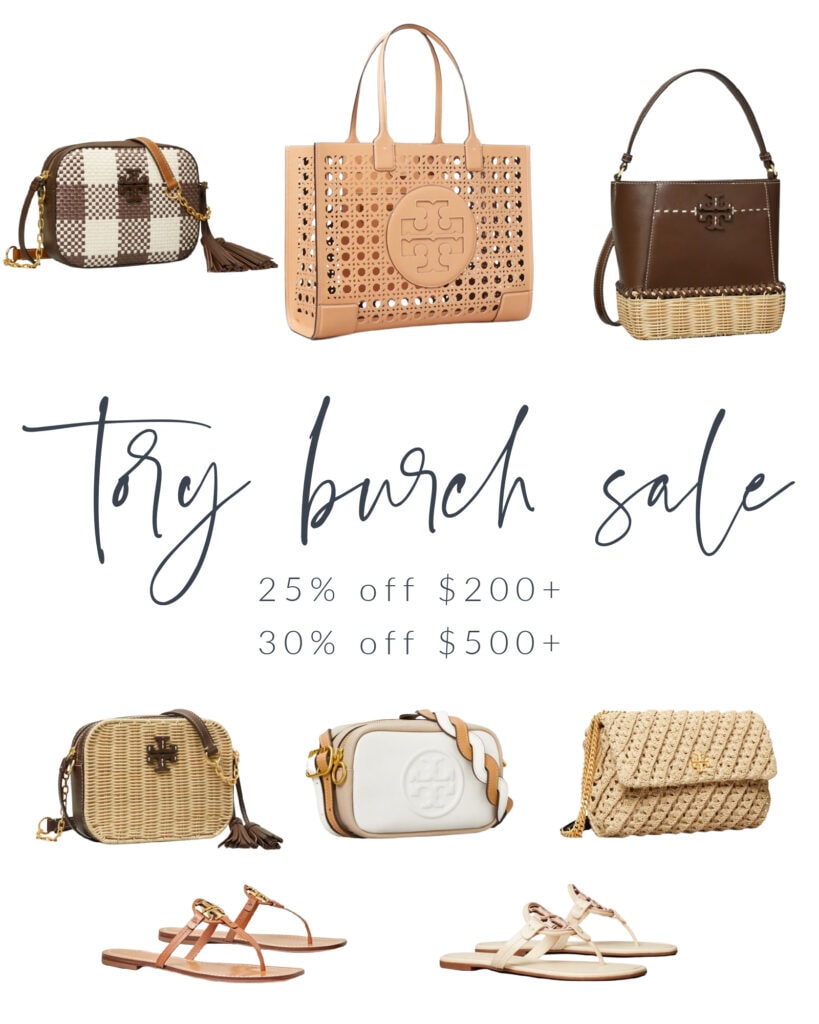 SOURCES: Woven Plaid Camera Bag | Cane Inspired Tote | Wicker Hobo Bag | Wicker Camera Bag | Twisted Strap Mini Bag | Crochet Raffia Bag | Minnie Miller Sandals | Miller Sandals
3 – If you're on the hunt for a cute wall sconce, these colorful sconces could not be cuter or more affordable! I love all seven colors they offer (they also have a 'red' not shown below). So cute for a hallway, over nightstands as bedside lights, in a bathroom, pool house, or really anywhere! I'm actually considering adding some sconces to our den using the "puck light" trick I've seen all over the internet. You essentially mount the fixture to the wall but don't hardwire it (unless you already have wires run) but then just use lights like these on a remote to turn on and off. It would be a perfect solution for when I'm reading in there and need extra lighting over the sectional!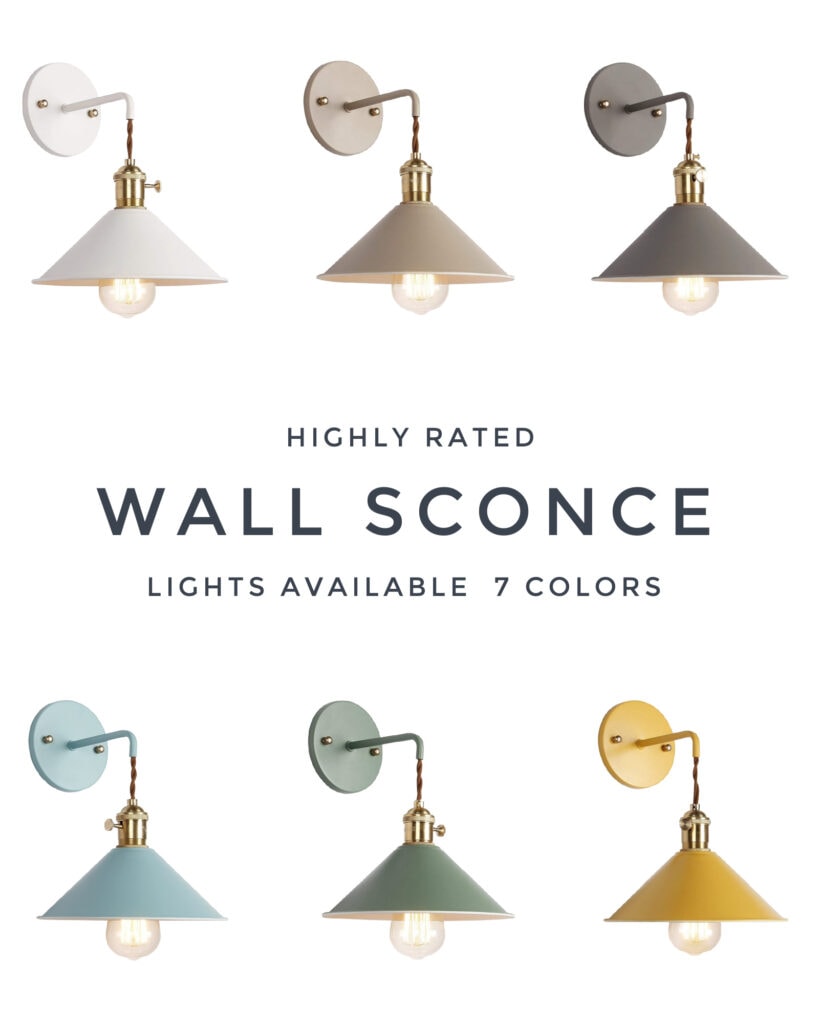 4 – My friend Cassie has launched her latest collection with Gibson, the Happy Place Collection, and there are so many cute and happy pieces! I love the playful colors and prints and can't wait until my pieces arrive! If you use code SARAH15 you can get 15% off everything! The item I'm most excited about is this palm print ruffle sleeve top (it also comes in a few solids and coordinating pants). It may very well be a permanent fixture in my summer wardrobe this year! I'm also trying this ruffle halter top in the blue stripes (I have the older dress version and love it – the bow back is so cute) and the tiered maxi skirt because I love my one from last summer's collection so much! I'm also thinking I need several of those rattan bangles she's wearing in the image below! So cute!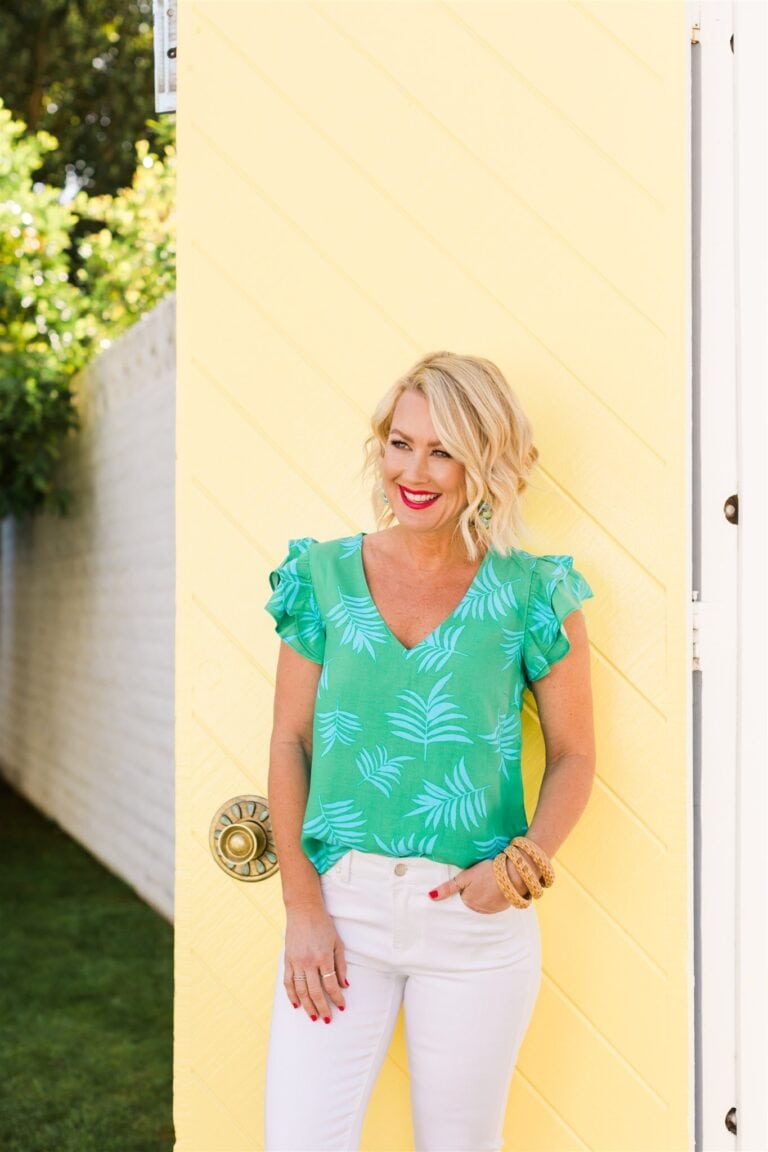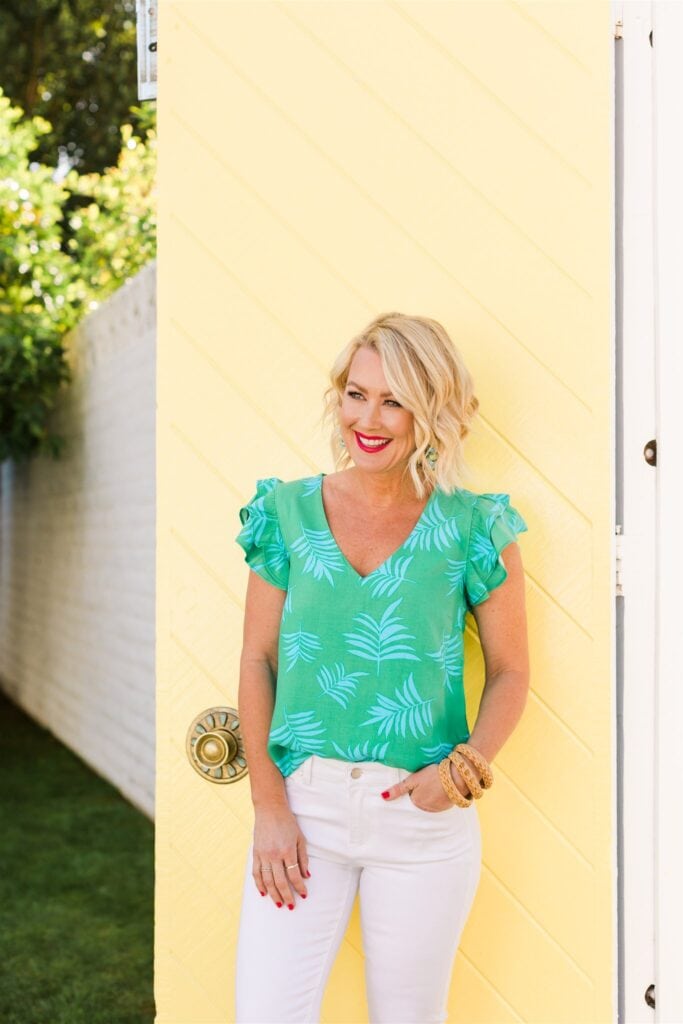 Here are a few other favorite looks from the collection. You can click any of the images for more information.


5 – I ordered this cane-inspired ceramic planter last week and love it so much! It comes in two sizes (I went with the larger one) and love the texture and spring/summer vibe it adds! It's a bit warmer-toned than the stock image below shows.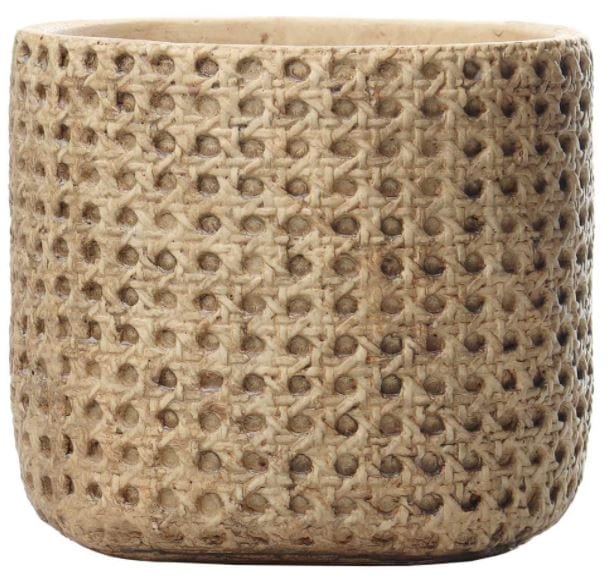 Here it is in my office with this Studio McGee fern inside. Likely not either of their homes, but I wanted to show you the more accurate depiction of the color! Although I'm using it with faux greenery, it would also be cute with a houseplant or herbs!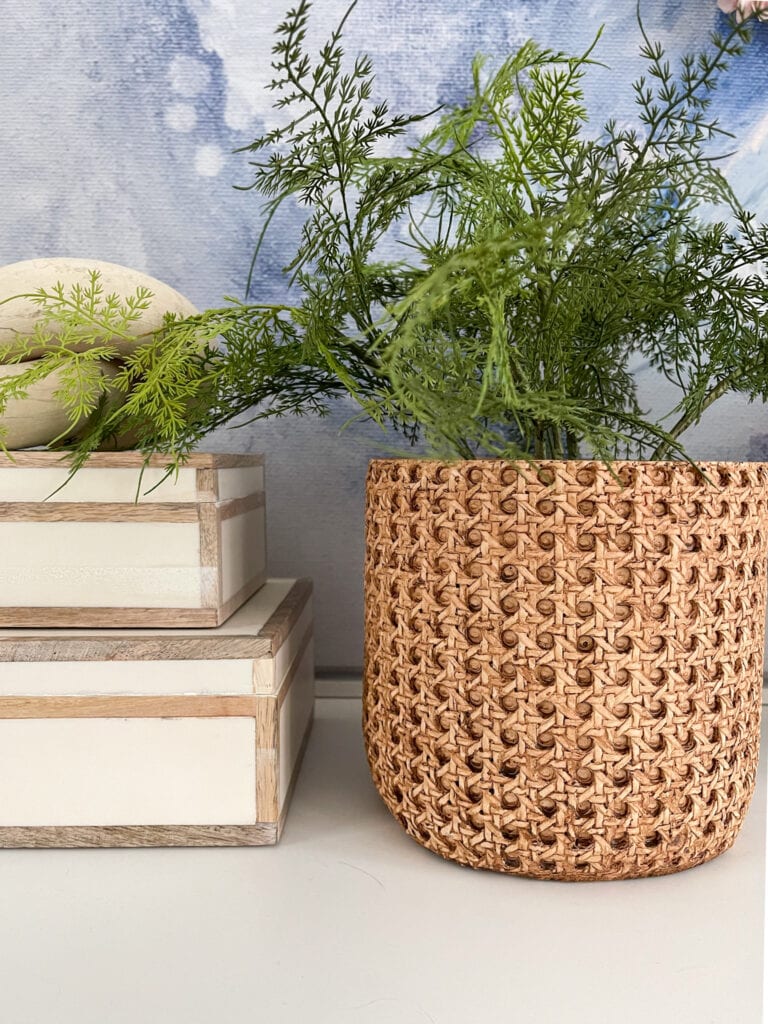 OFFICE SOURCES: Boxes | Limestone Knot | Abstract Art | Cane Cabinet | Cane-Inspired Ceramic Planter | Faux Fern
If you would like to follow along on more of my home decor, DIY, lifestyle, travel and other posts, I'd love to have you follow me on any of the following:
Pinterest | Instagram | Facebook | Twitter
disclosure: some affiliate links used