Good morning! I hope you all had a happy and safe holiday weekend! I had a really fun birthday weekend, and today is the first day I'm officially writing to you as a 40 year old. It honestly doesn't feel any different 😉
This post contains affiliate links for your shopping convenience. Click here to read my full disclosure policy.
Home Projects & Updates
We're in that awkward stage around our yard. Not only have I gotten lax on watering, but some plants continue to thrive in these weird temps and others aren't doing so hot. But, I was happy to see my verbena made a surprise re-appearance last week! The sweet potato vines basically suffocate everything else out of my planters by this time each year but the verbena fought back. It was a fun pop of color over the past week!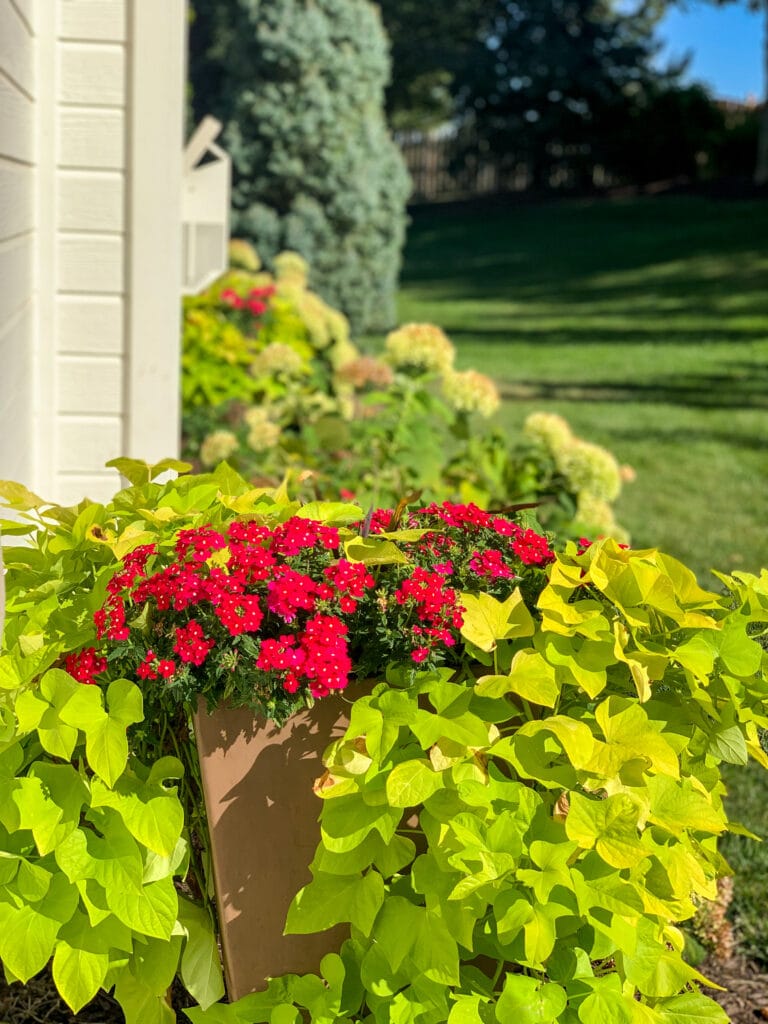 All of our limelight hydrangeas are slowly starting to transition to their fall color. You can see the pink is starting to take over, and soon they'll turn into a faded burgundy color. They're so beautiful regardless of time of year!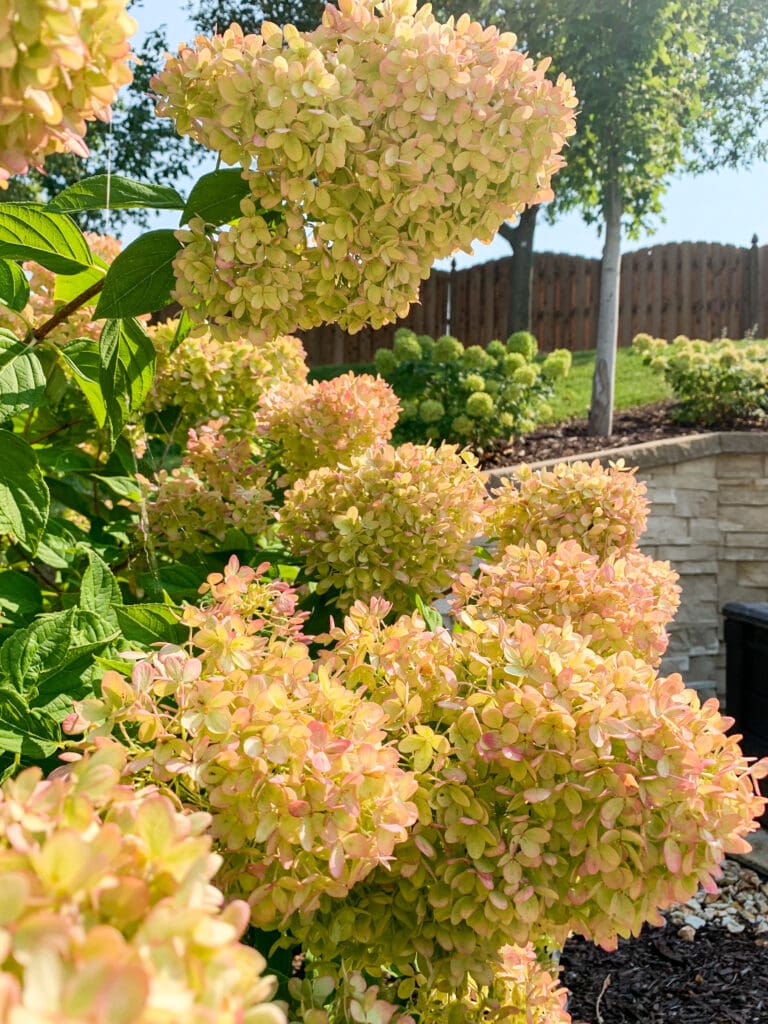 Last week, I finally asked Kurtis to snag a ladder for me to try and wash one of our windows in our stairwell. This one window had been driving me nuts for a few months. It looked like someone had spilled something down the front. After all that work, I got up there only to find the marks are all between the glass. Not on the interior or exterior, but between the two panes. Ugh! I've mentioned this before but many of the seals on our windows are already shot, but I think we're realizing it may impact more than we initially realized!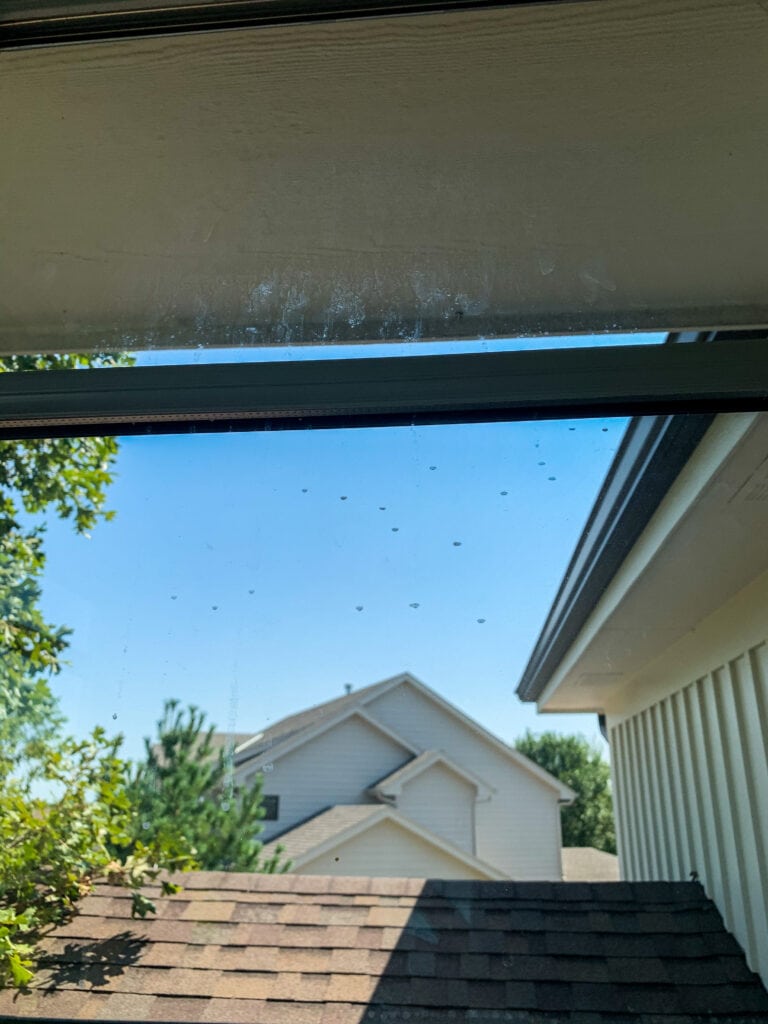 I literally got off the ladder, walked down the half flight of stairs, and turned around to see this. Hawkeye is literally worse than a mischievous toddler at times. But he definitely keeps life interesting and fun 😉 I'm pretty sure if I wouldn't have run back up to snag him, he wouldn't have tried to jump in the shallow window sill.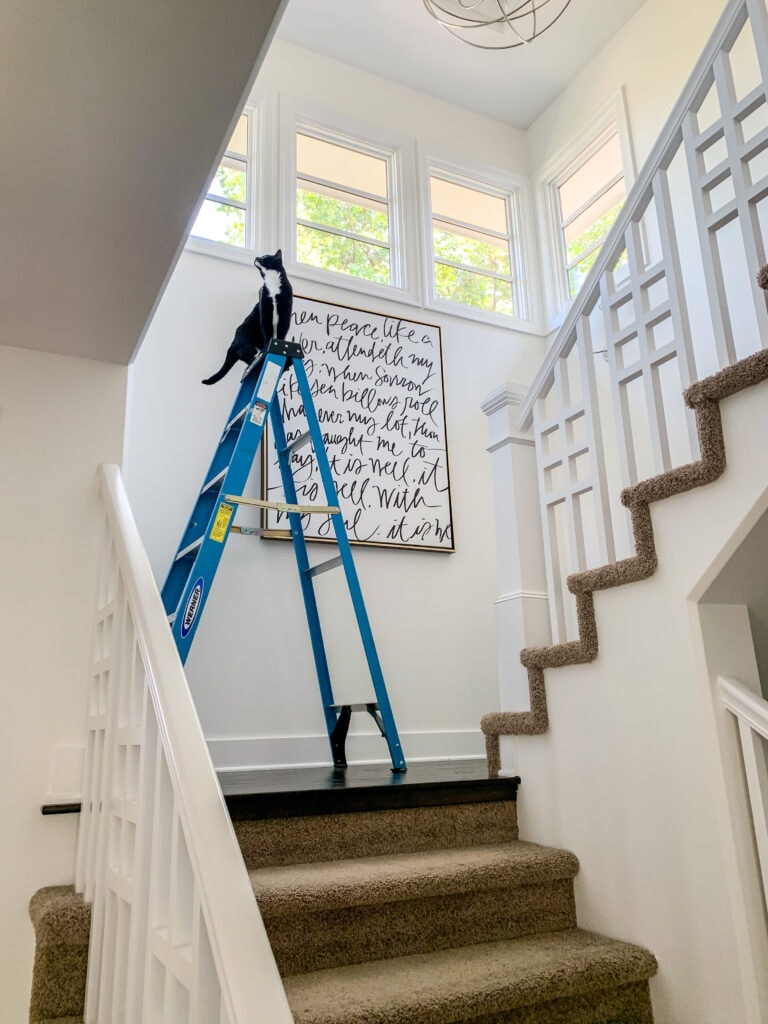 I ordered some free window fabric samples last week and have been testing them out. Kurtis really wants automated shades in our living room and these ones we added during our fireplace renovation a few years back aren't cutting it for us. They look good, but we don't like having a cord (especially with the cats) and they're a bit clunky to operate. So, I'm living with some of the samples taped up to the window to get a feel of the fabric I like best.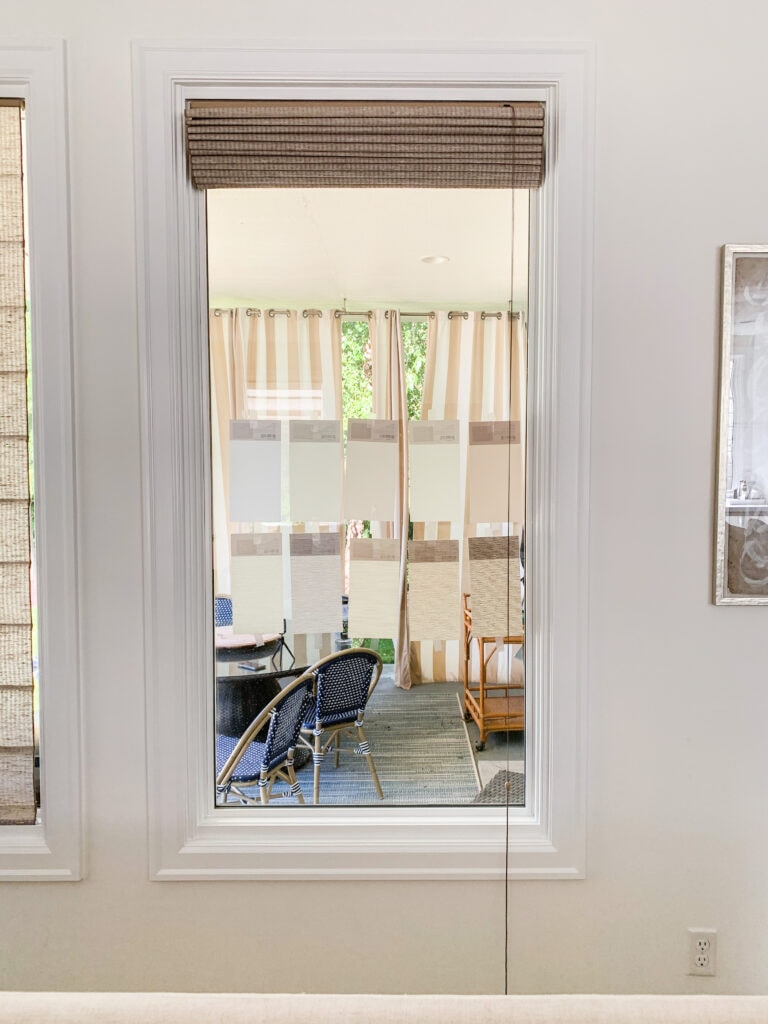 It's also helpful to see them at various times of day. The one above was taken during daylight (but with all the other window coverings closed) and the one below was right before sunset. We're leaning towards the two bottom right – I like the lighter one and Kurtis likes the darker one. I'll keep you posted once we finalize everything!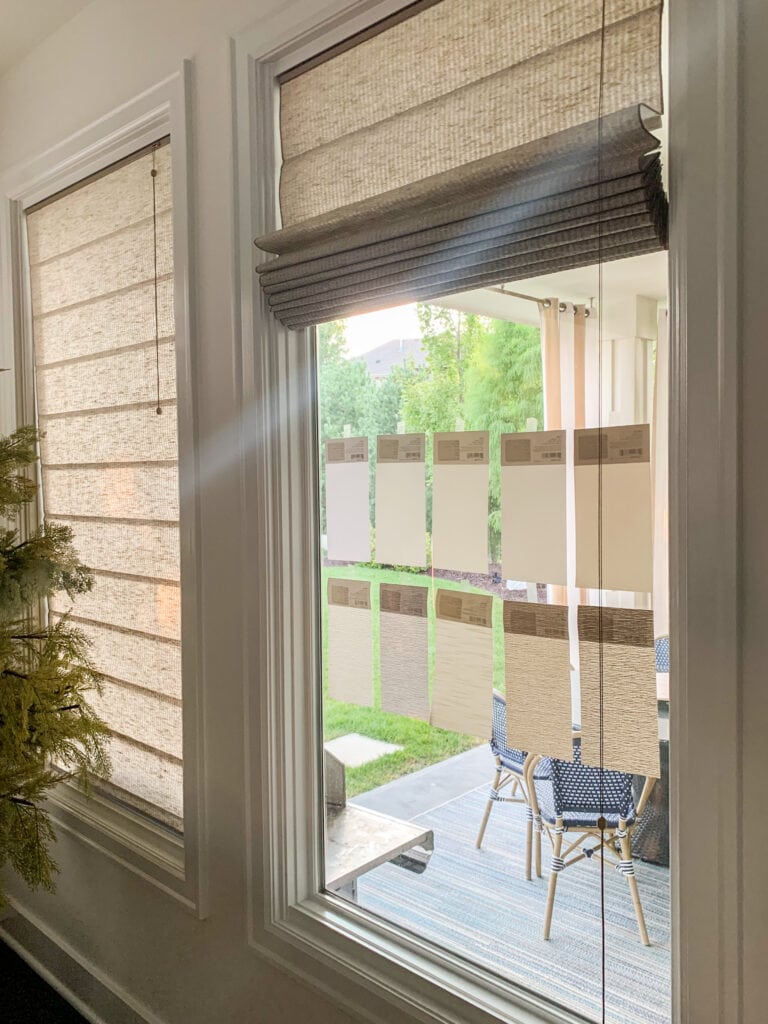 In super surprising news, yesterday I actually did order the vanity for our guest bathroom makeover while it was on sale during buy more/save more. Now that it's ordered, it will force me to get some calls made to tackle the other small projects we want to do in the space. But Kurtis and I *may* actually do the demo ourselves since it's such a small area. Stay tuned!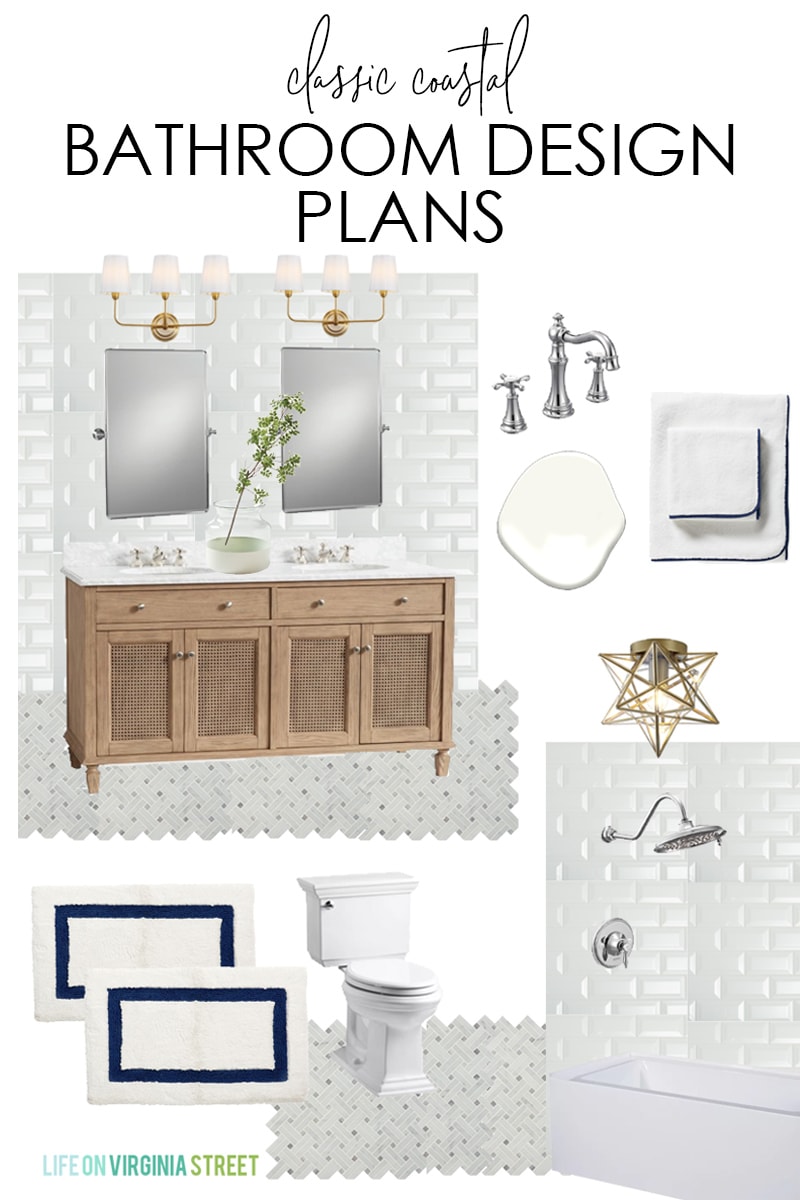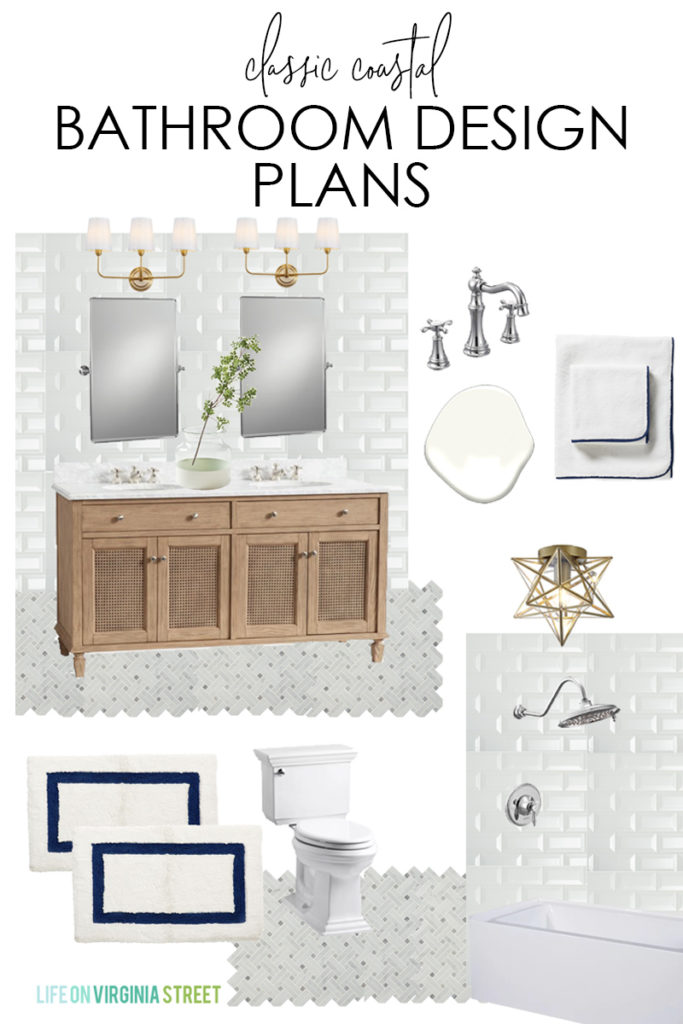 MOOD BOARD SOURCES: Cane Vanity | Pivot Mirrors | Light Fixtures | Vanity Faucet | Faux Greenery | Paint-Dipped Vase | Towels | Beveled Subway Tile | Carrara Mosaic Tile | Memory Foam Bath Mats | Toilet | Moravian Star Light Fixture | Shower Head | Paint Color: Benjamin Moore Simply White
Top Sellers Of The Week
Following are the top sellers of the week across all of my channels. Links to each item are below the graphic.
Around Town & For Fun
Kurtis and I have still been really good about working out 4-5 days a week, almost entirely with this DVD. However, we had a few beautiful mornings last week and we opted to take a walk around our neighborhood pond. It was fun to change things up and get moving before a lot of people were even awake yet!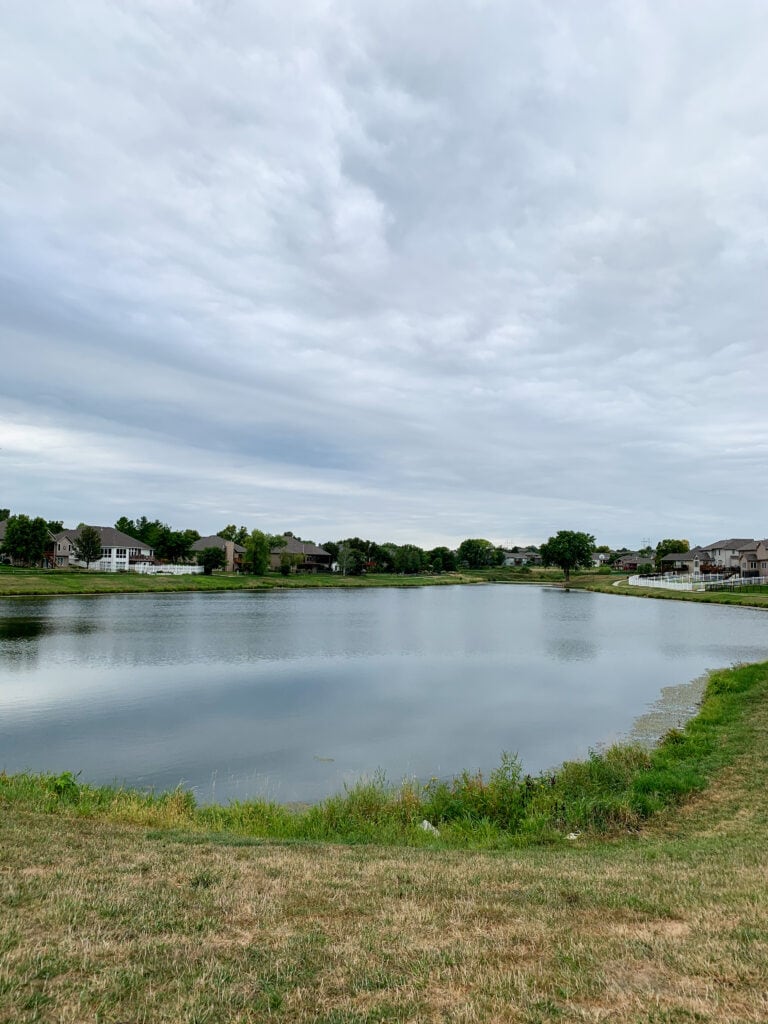 Kurtis took the day off work on Friday and after getting a few things done around the house, we headed out to the pool for a few hours. We followed it up with a sushi dinner date. I forced Kurtis to take a rare selfie with me, since it may be the last one of me still in my 30's 😉 On birthday "weekend" you get whatever you want!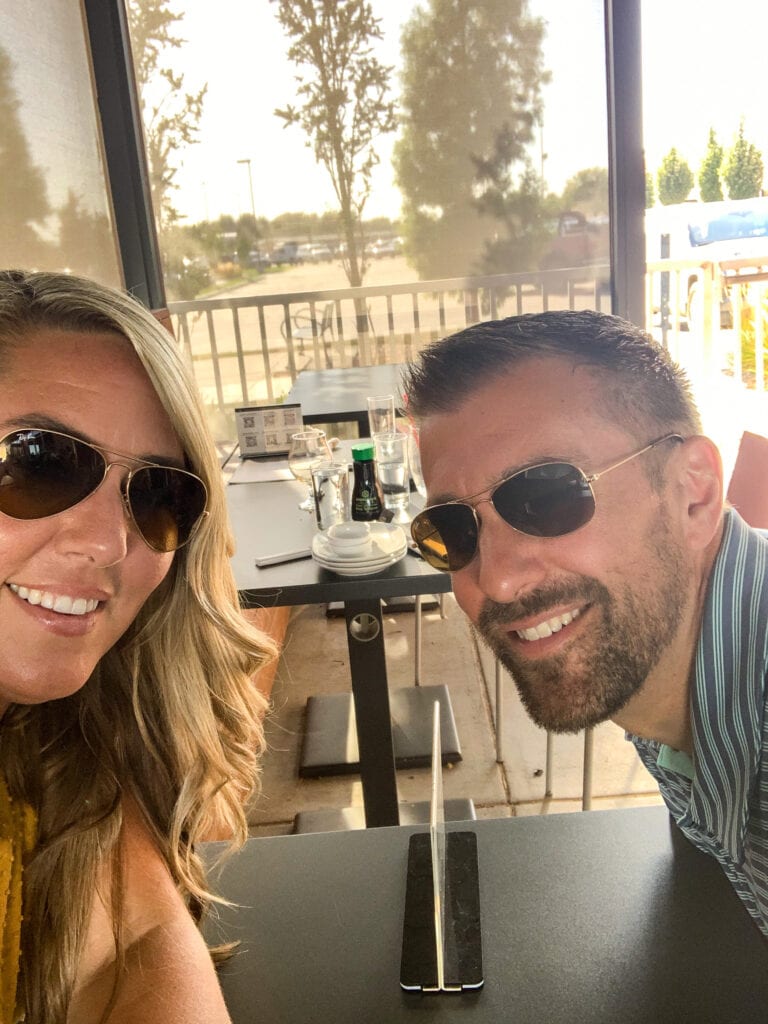 Saturday I received a surprise flower delivery from my sister-in-law and brother-in-law! I always forget just how much I really do love fresh flowers!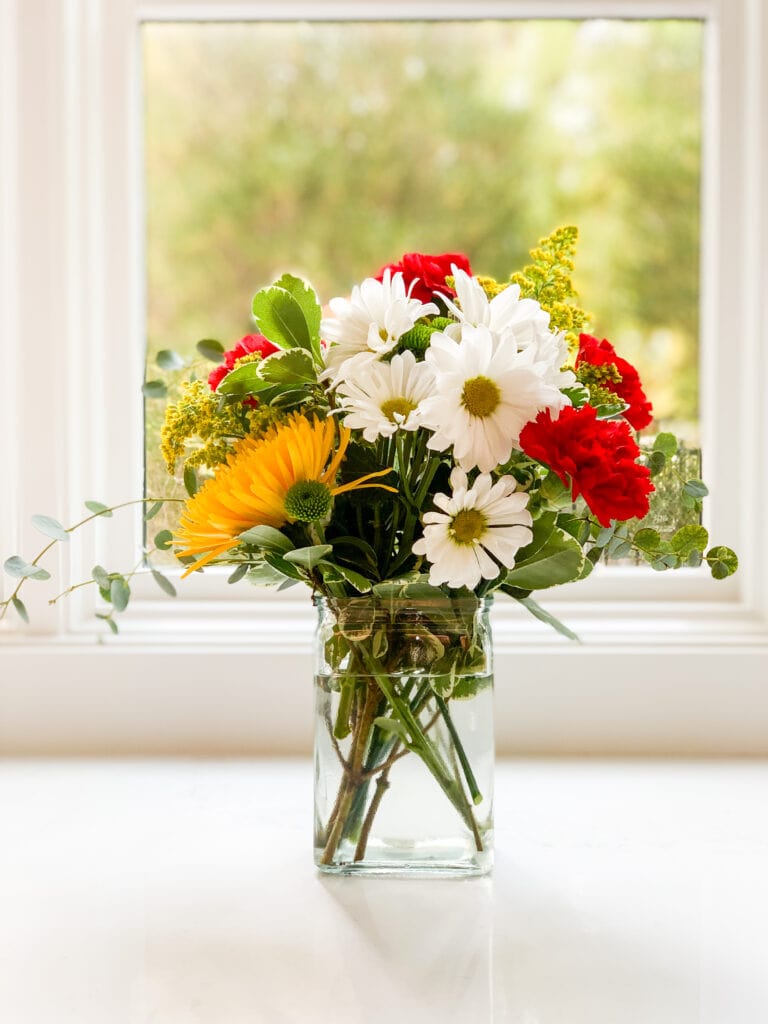 Saturday afternoon, Jill and I had a joint birthday lunch with the guys. We headed to Dante ahead of the crowds for a fun celebration. Their food is always so good, and the butterscotch budino is to die for. Our waiter even surprised with gold candles in ours, and the boys broke out in song. Haha! It was a lot of fun. We hung out at their house for a few hours since they had to relieve the babysitter. So our goddaughter Zoe got in on the birthday celebration too!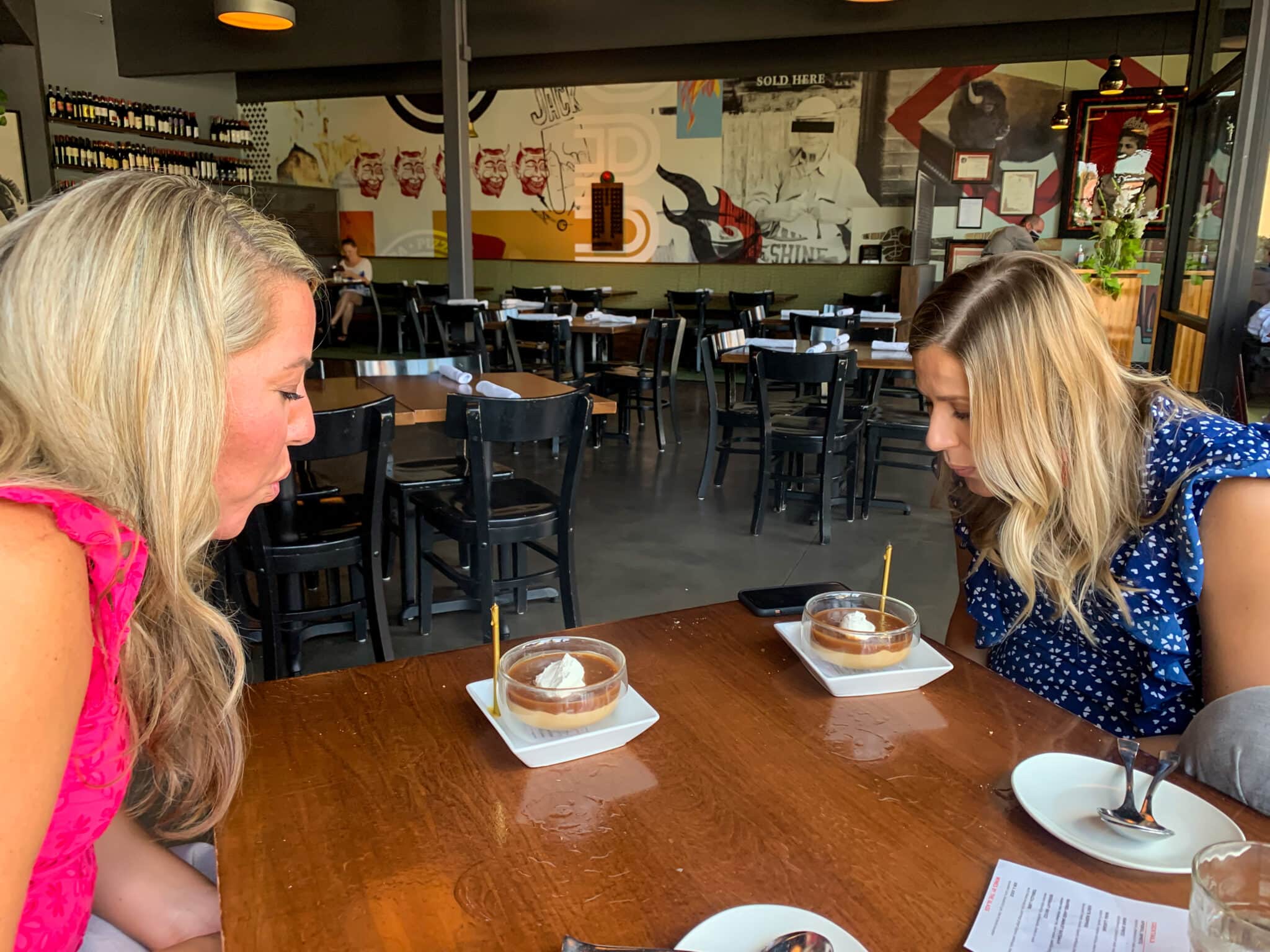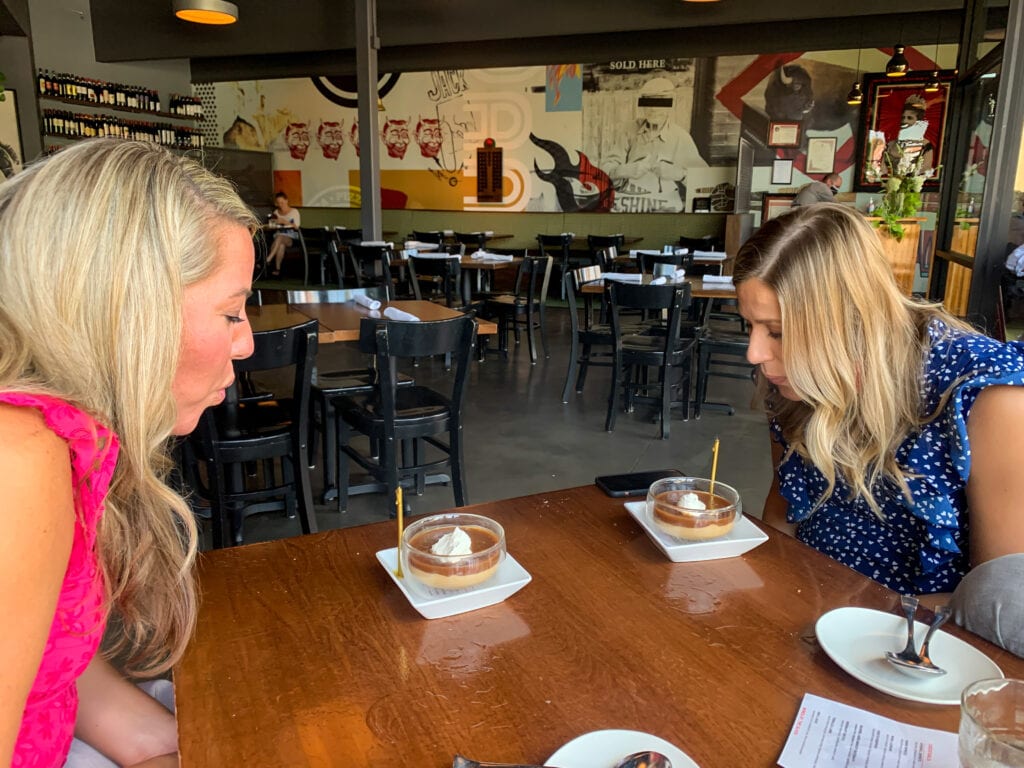 I told Kurtis I wanted my birthday to be super low-key. The weather was looking perfect for a pool day, so I told him I just wanted to brunch, veg at the pool and then go from there. I woke up to Kurtis telling me something had happened in our front yard…. Turns out my mom had shipped some decor to Jill & Nick to decorate the yard with. After we left their house Saturday night, they snuck back to ours. So much for the neighborhood not knowing my age now 😉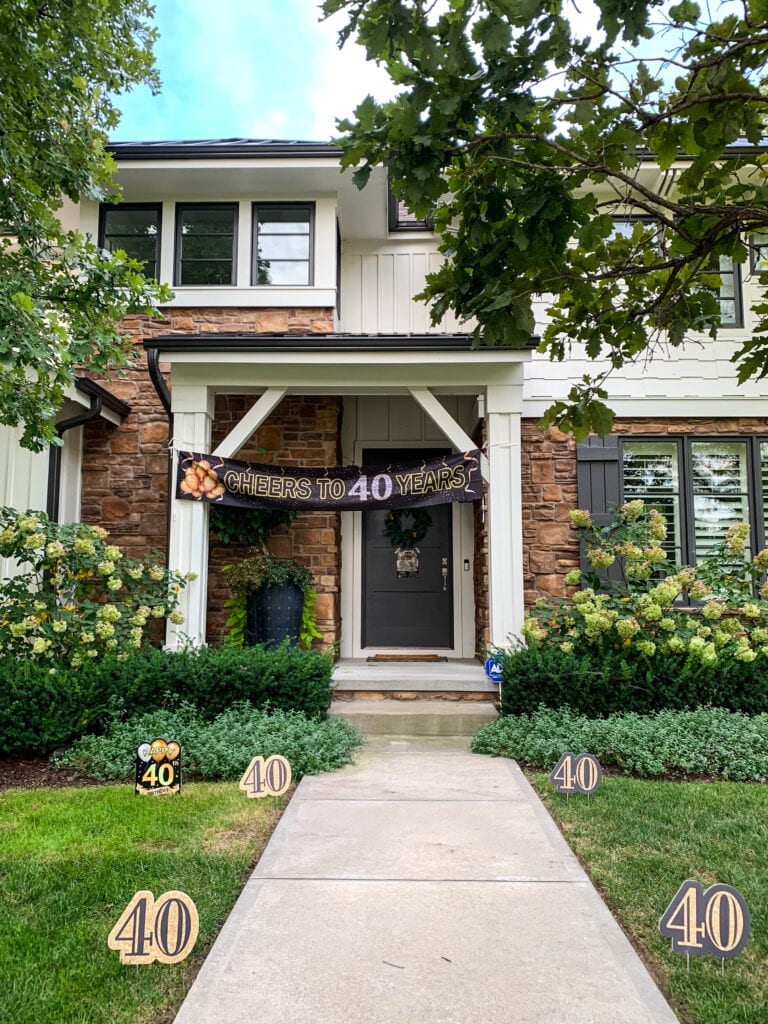 We went to Jams for brunch on the patio and it was so good. My cream cheese stuffed French toast deserved a photo of its own. I am not much of a breakfast food person, but this was killer. I may even have to recreate it at home some time!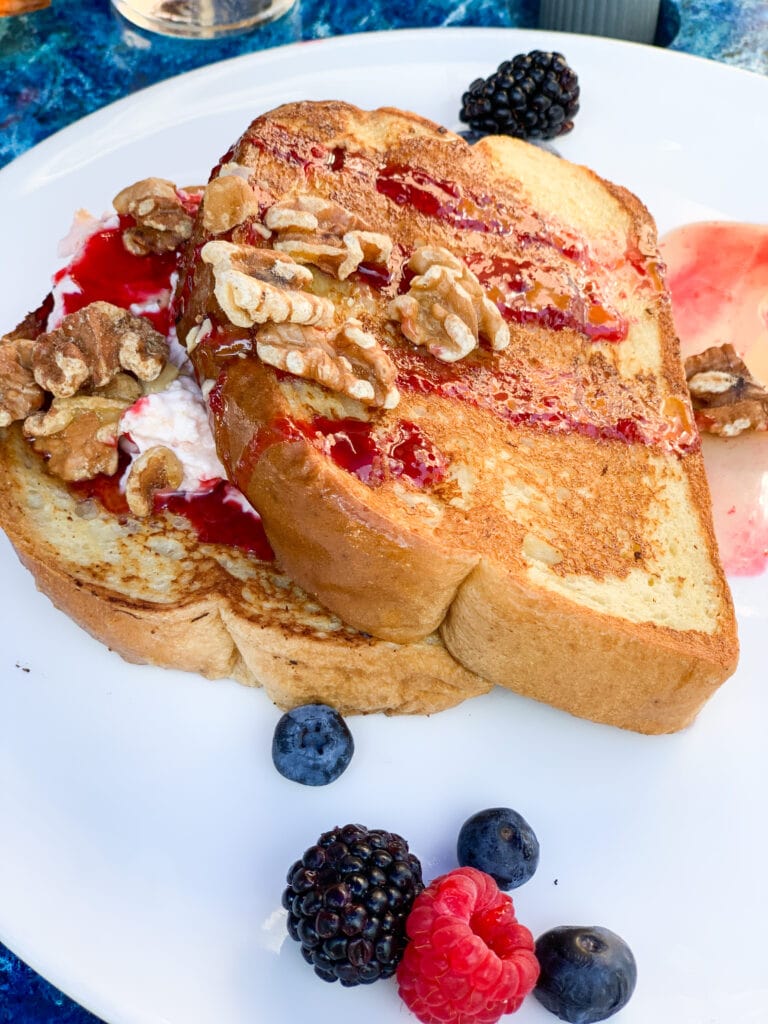 We had to grab some groceries after brunch, so I told Kurtis since it was my birthday, he could grab the food while I wandered over to the home decor section 😉 I found these cute raffia pumpkins, this seagrass lamp, and this cute woven pillow. I'm hoping to have a post up for you later this week with all my favorites from the new Studio McGee line that launches next Sunday at Target! It may be even better than the first launch!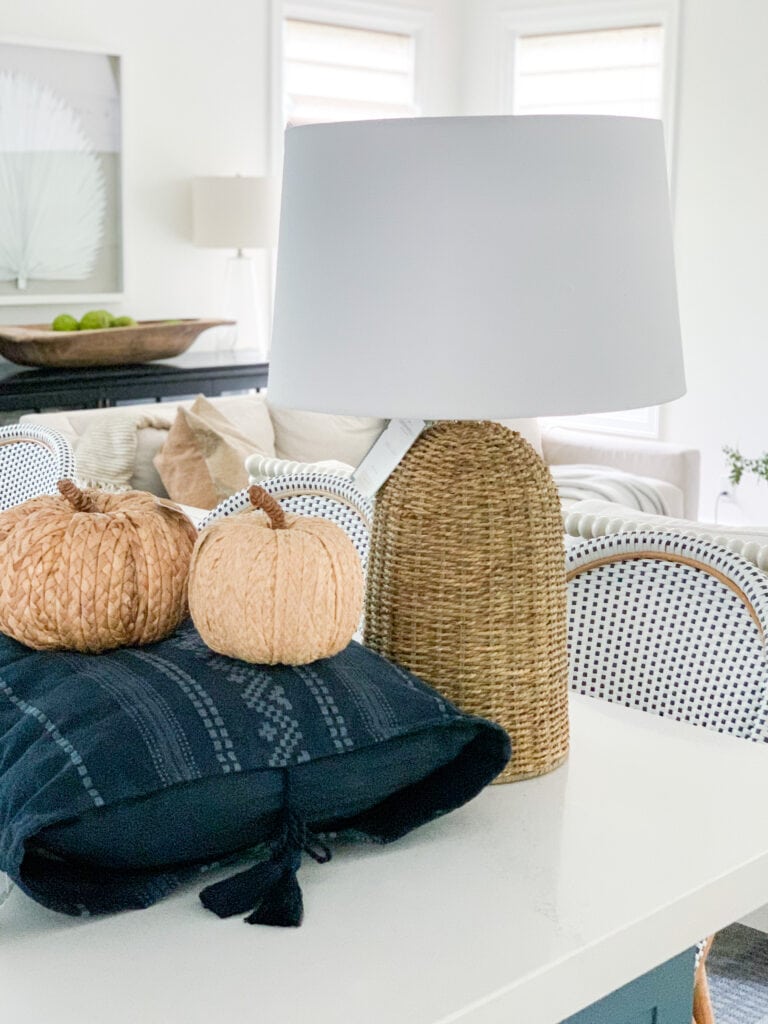 Monday was pretty low-key too. We had to run and check on an issue at one of our rental house but then grabbed some lunch afterwards on the Pitch patio. And now it's hard to believe we're already a full week into September!
Oddly enough, on my birthday Sunday, the temps hit 100. Today, we're sitting at 48 degrees as I type this, and I think it may only go up a degree or two the rest of the day. Thankfully we get back to some more reasonable weather later this week, but fall is definitely making itself known around here! I may try to slowly get a head start on fall decor this week! We're taking a fun little road trip later this month to celebrate my birthday, so I'm hoping to have my fall decor all wrapped up and ready to share with you before then!
Recent Buys & Sales
Following are some of the Labor Day Weekend Sales that are still going strong! You can see my top picks here.
I hope you all have a great week!
If you would like to follow along on more of my home decor, DIY, lifestyle, travel and other posts, I'd love to have you follow me on any of the following:
Pinterest | Instagram | Facebook | Twitter
disclosure: some affiliate links use