Good morning! I hope you all had a nice weekend! I still can't believe today is the last day of August. I'm really going to try and embrace fall this year, but that doesn't mean I want it here so quickly! For as slow as parts of this year have gone so far, summer has flown by. But, I am hoping the change of seasons makes me more productive with all the projects we have on the horizon!
This post contains affiliate links for your shopping convenience. Click here to read my full disclosure policy.
Home Projects & Updates
I know not all of you follow me on Instagram, but I partner with Lutron occasionally over there to share our love of their systems. We've actually been using them for 2-3 years now and both Kurtis and I are pretty obsessed! Now that it's starting to get dark earlier, I try not to turn on our overhead can lights when I'm cooking. Rather, I try and use our pendant lights that we have on Lutron dimmers. The ambiance is so much better and just helps make mealtime feel a little more special! You can read more about their kits here, but their lamp dimmers are the ones we're obsessed with at Christmas time because we can control our Christmas lights/trees on our phone and dim them as well! This isn't sponsored at all, I just really love the brand and all their products!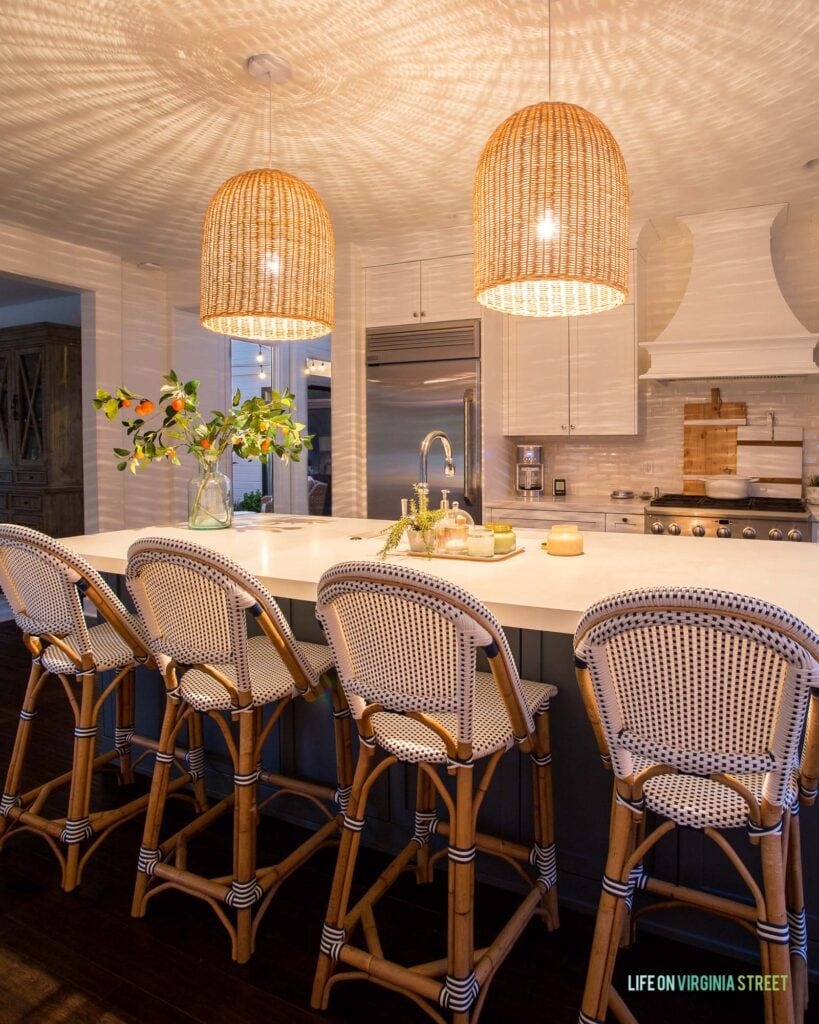 KITCHEN SOURCES: Counter Stools | Basket Pendant Lights  | Striped Rug | Faux Orange Stems | Similar Glass Vase | Natural Wood Serving Board | White Serving Board | White Dutch Oven | Kitchen Faucet | Tray
Last week I set out on a search for a new waste basket and recycling basket for our office. Can you believe I've still been using the below two cans that are from Kurtis' graduate school days long before we were married? I think they're actually like 18 years old. And clearly don't look so hot in our office which you can see from our front door. I'm hoping for a sale this weekend to buy this divided basket I found that I think will be perfect!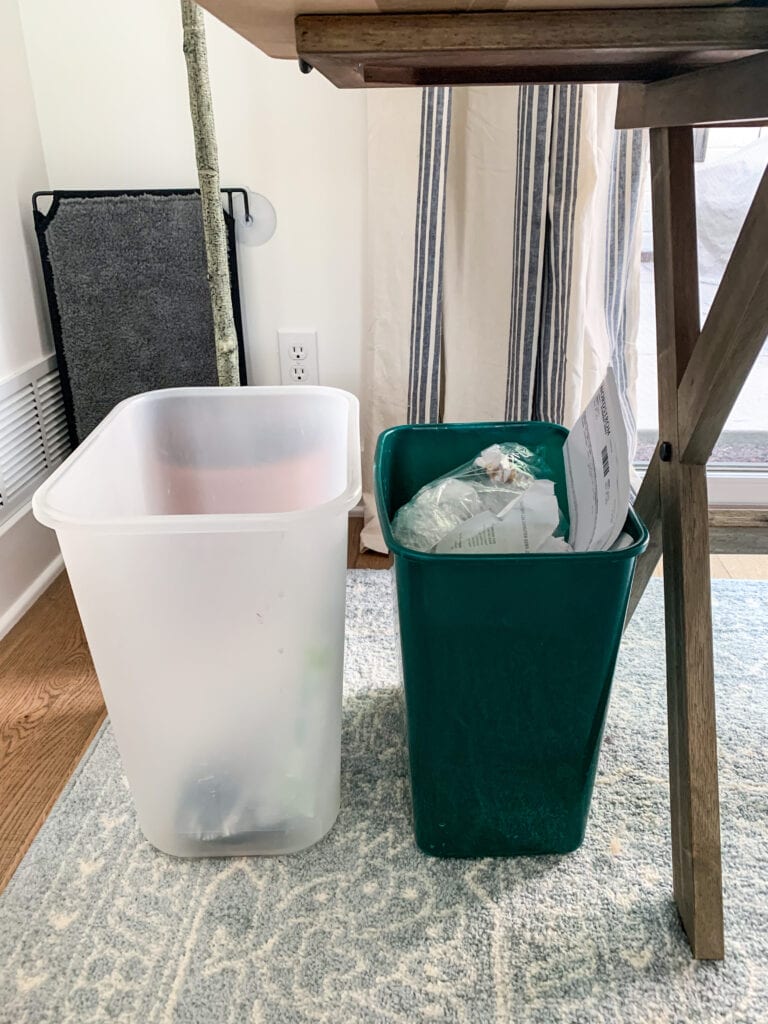 We both finally sat down this weekend and had a long talk about house projects. To be honest, we're kind of all over the board for a number of reasons. I'll elaborate more in a dedicated post in the next week or so but a few bids we got on some projects we want to do got us thinking. I think at this point, I'm just going to talk about a few of them and share our (in)decision process even if we don't move forward with them since that's real life! But, I think we both agreed that this fall/winter we'd like to move forward with the guest bathroom renovation we had planned earlier this late winter/early spring that stalled with the arrival of the pandemic. Now I just have to find someone to do the work! 😉 And also hoping Labor Day weekend brings some really good sales along with it!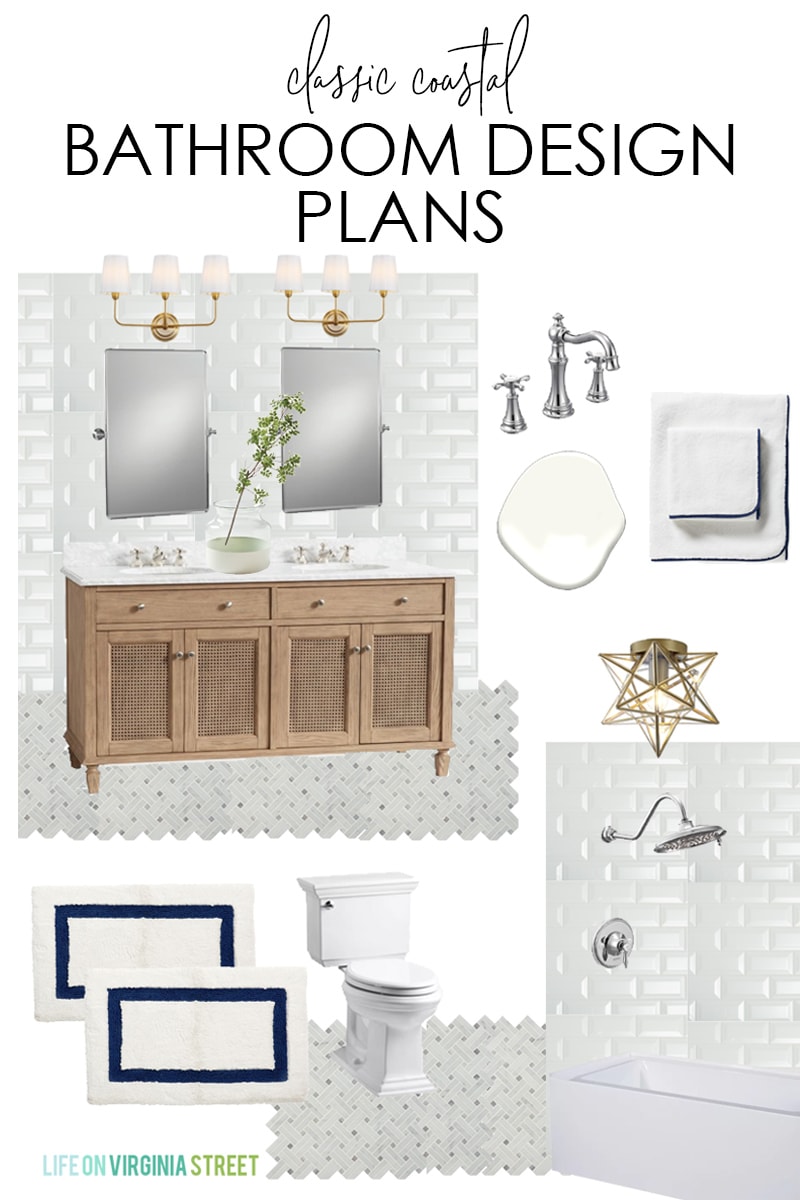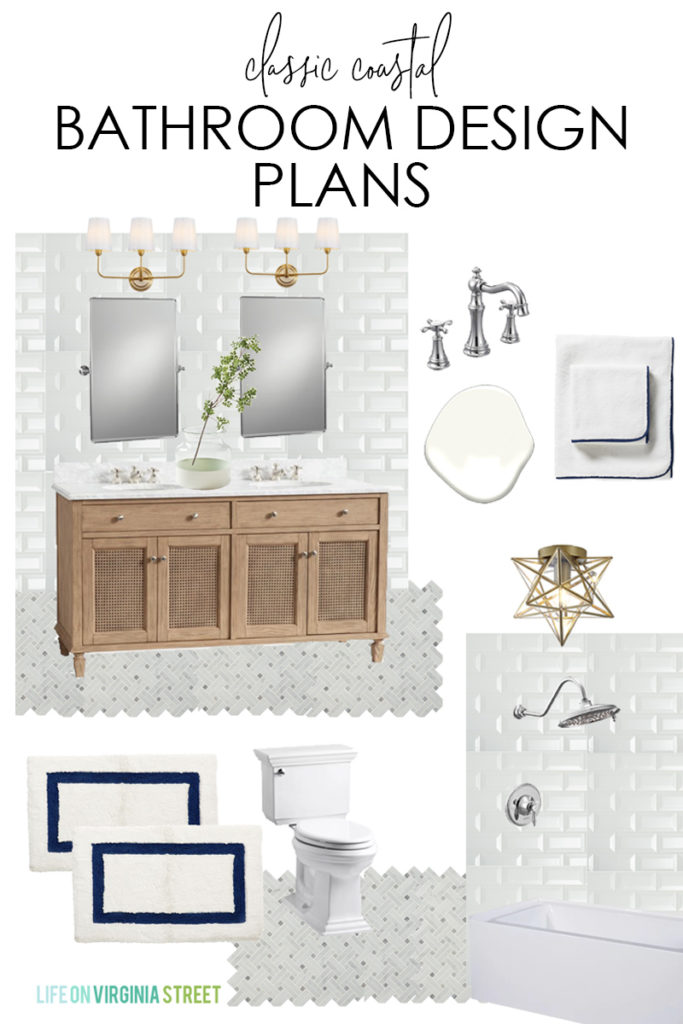 MOOD BOARD SOURCES: Vanity | Pivot Mirrors | Light Fixtures | Vanity Faucet | Faux Greenery | Vase | Towels | Beveled Subway Tile | Carrara Mosaic Tile | Memory Foam Bath Mats | Toilet | Moravian Star Light Fixture | Shower Head | Paint Color: Benjamin Moore Simply White
Top Sellers Of The Week
Following are the top sellers of the week across all of my channels. Links to each item are below the graphic.
Around Town & For Fun
I had the cutest inbox delivery last week 😉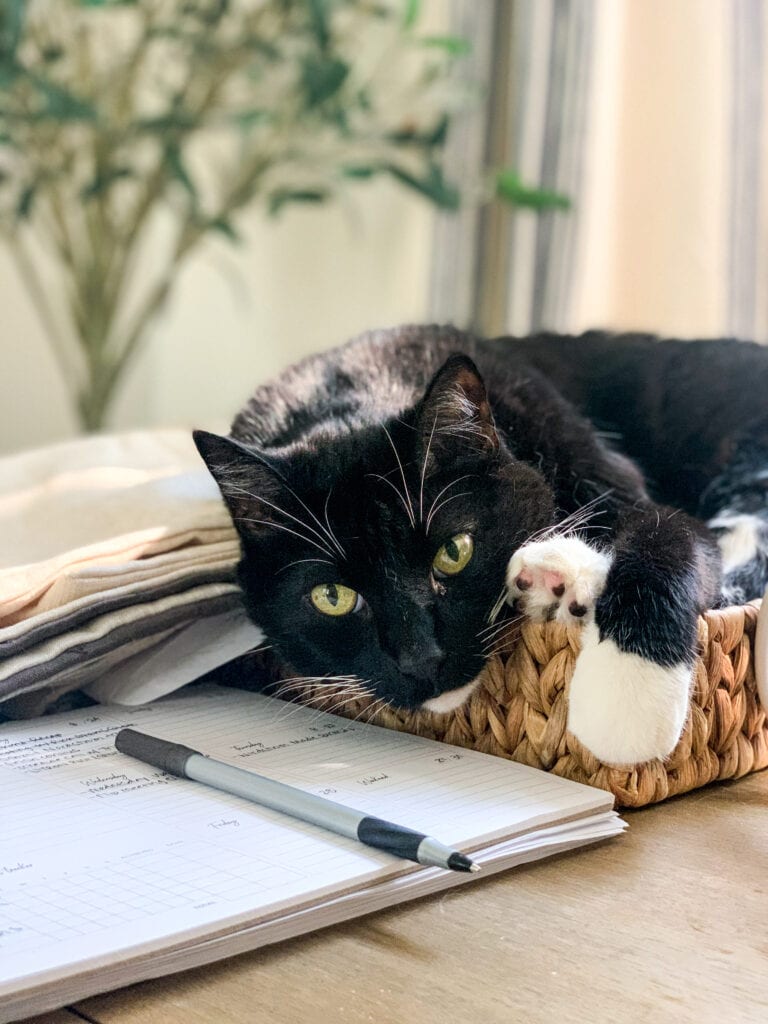 Kurtis and I had a meeting with our attorney last week on a number of things and I hopped on Instagram Stories before we had to leave. I took a screenshot of the video because I wanted to show you this top. I had shared it in a weekend sale post a few weeks ago and it's so cute in person! Today it's an extra 75% off so I think it ends up being less than $13! It fits true to size, but doesn't have any stretch since it's a linen cotton blend. The embroidery on it is so pretty and I love all three color options available!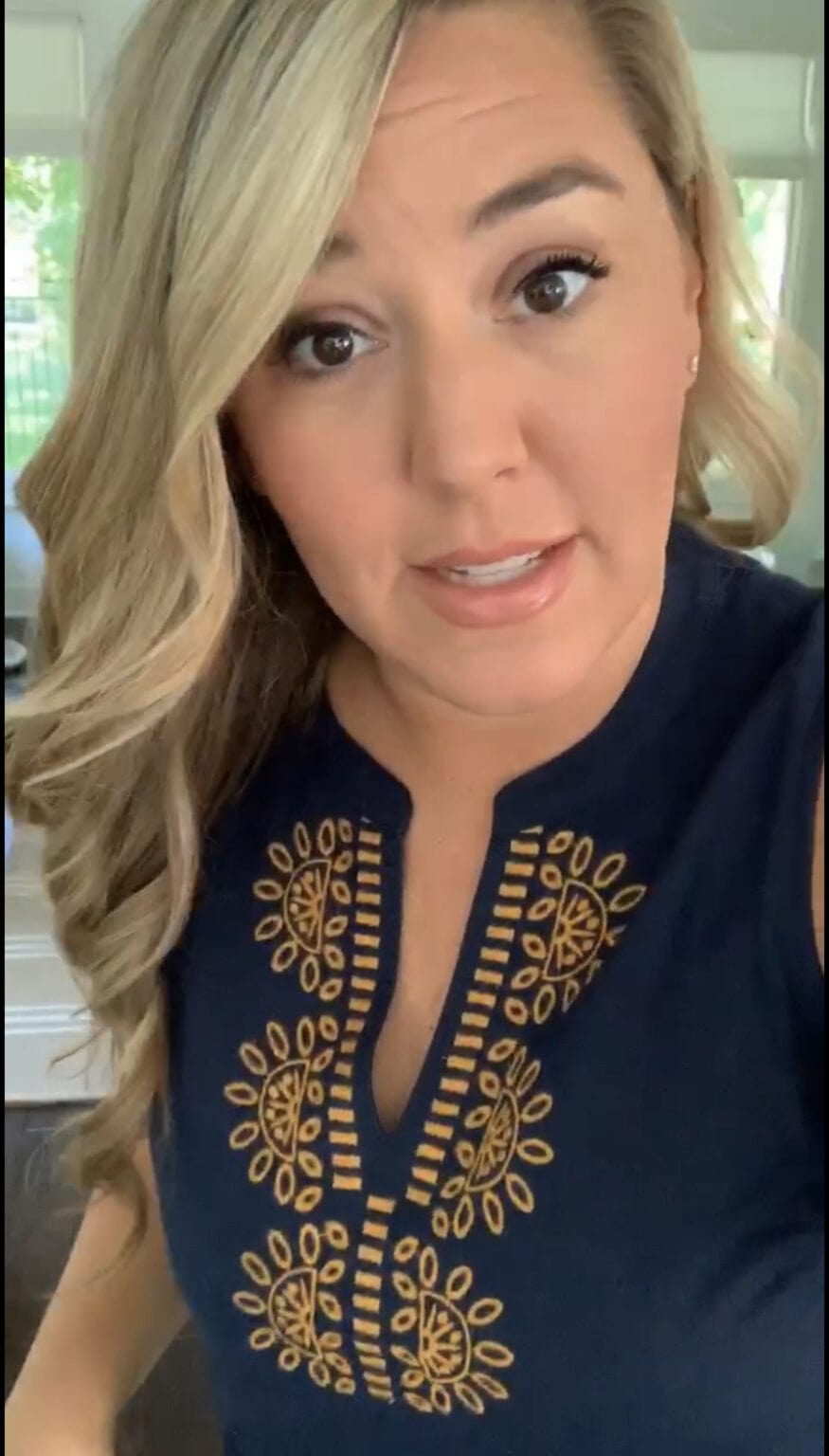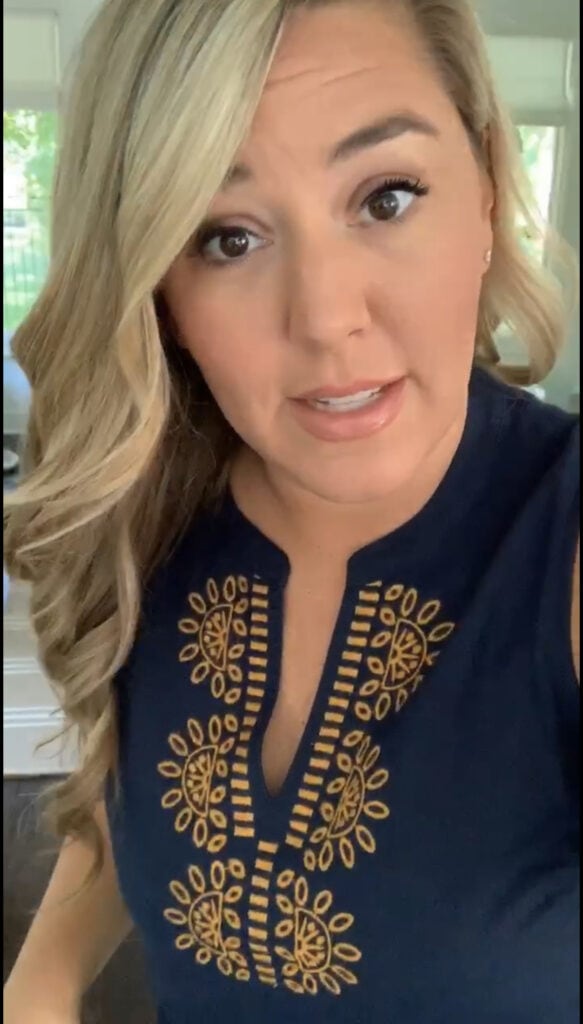 It really is so funny that with the size of our house, these three seem to always be within a few feet of us at all times. They're digging their little makeshift beds we made on the office floor 😉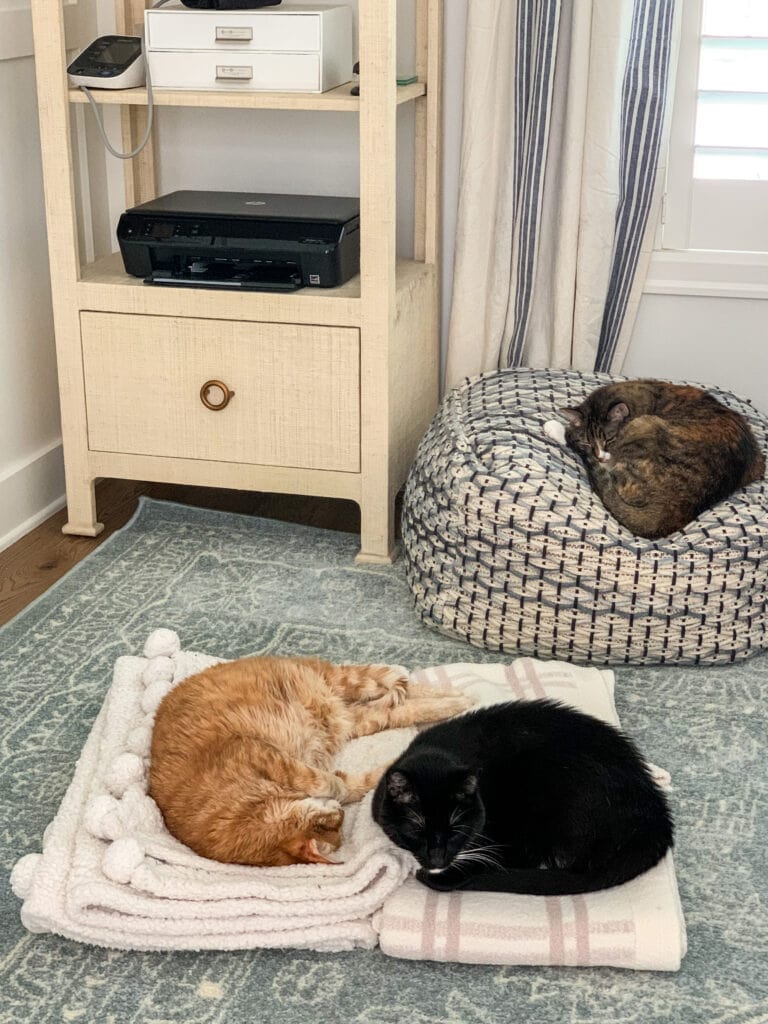 Thursday afternoon, the weather was beautiful. And for the first time all summer, I took a few hours off and went out to the pool by myself. It was pretty glorious to just enjoy the warm weather and disconnect for a few hours. I don't know why I'm so bad about doing this!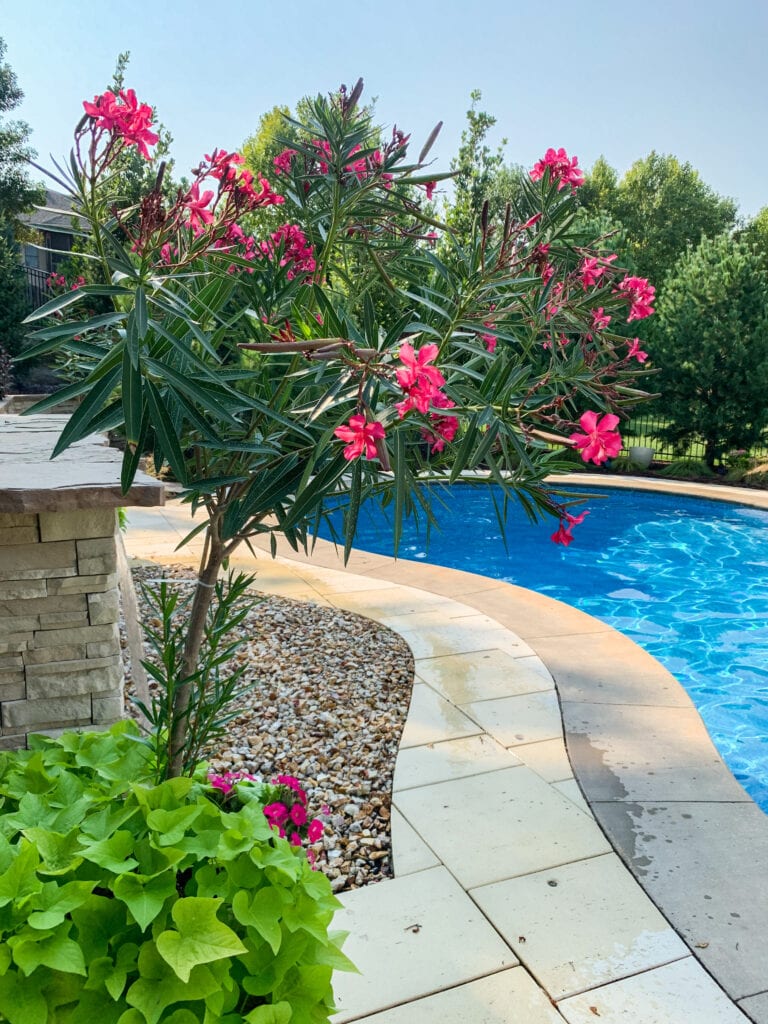 I also saw this maple leaf while I was outside which made me a bit sad that fall really is approaching. Much more quickly than I'd like to accept!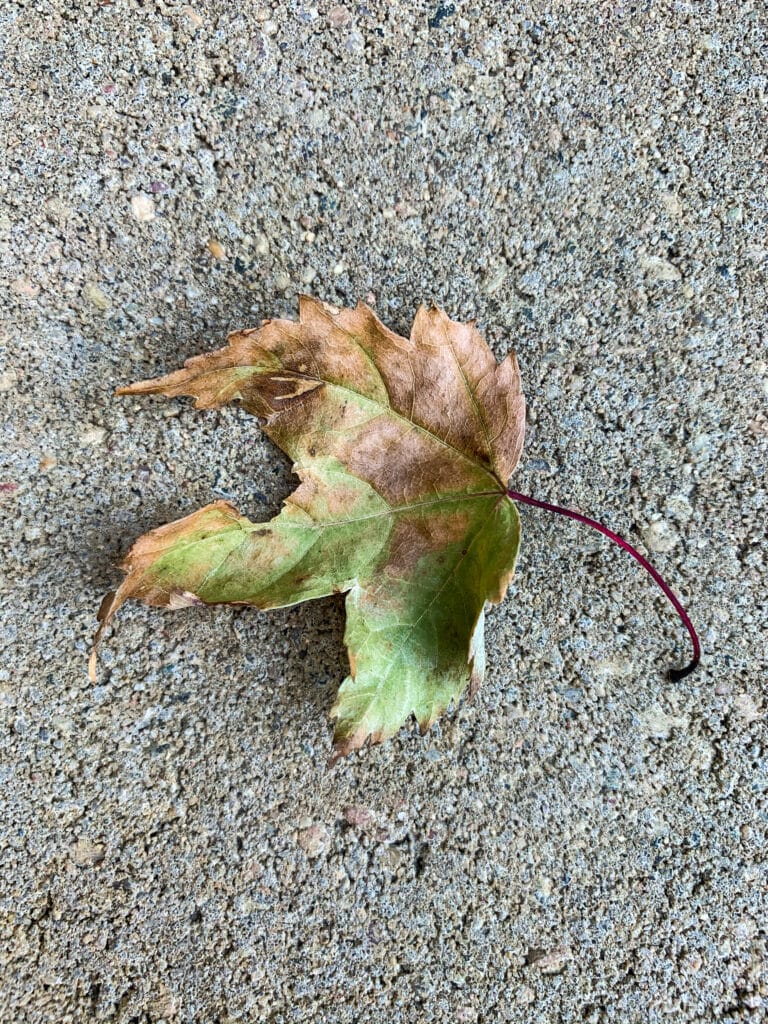 Friday night we had an outdoor dinner and pool time at a friend's house. They made this buffalo chicken dip and it was so good, Kurtis made it again for his virtual fantasy football draft on Sunday! We made ours in a crockpot and doubled the recipe. We actually used Costco rotisserie chicken that we needed to use up, and then did ranch dressing for that portion of the recipe but on the cheese part, did half blue cheese and half shredded co-jack. It is all so rich and delicious! At lunch we just ate it with tortilla chips, but then our friends came over last night and we also used it for tacos. Definitely recommended if you're looking for a super easy and delicious recipe! Although, don't add this one to your "healthy" meal ideas 😉
Saturday we took a drive out the "country" to look at a house for an open house I was invited too. I always love seeing sunflowers! And it was fun to head west for a few hours, even if we were really only about 40 minutes outside of Omaha.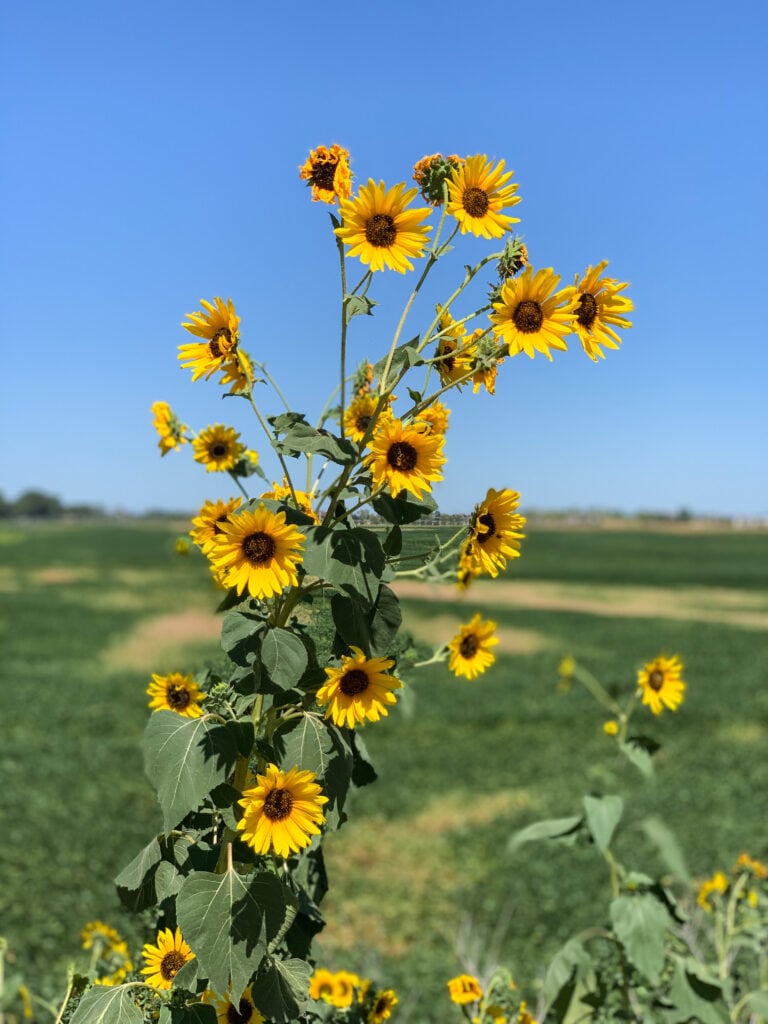 The house we went to was in Ashland on Lake Allure.  A lot of the "lakes" in Nebraska are actually sand pits they turned into man made lakes. This home was absolutely stunning and if time permits, I may run back next weekend when they hope to have it all cleaned and all the finishes installed (you can see there's still a bit of work being wrapped up). But it was fun to tour it! The home is from Nathan Homes and designed by Sallie Elliott. The views were pretty killer!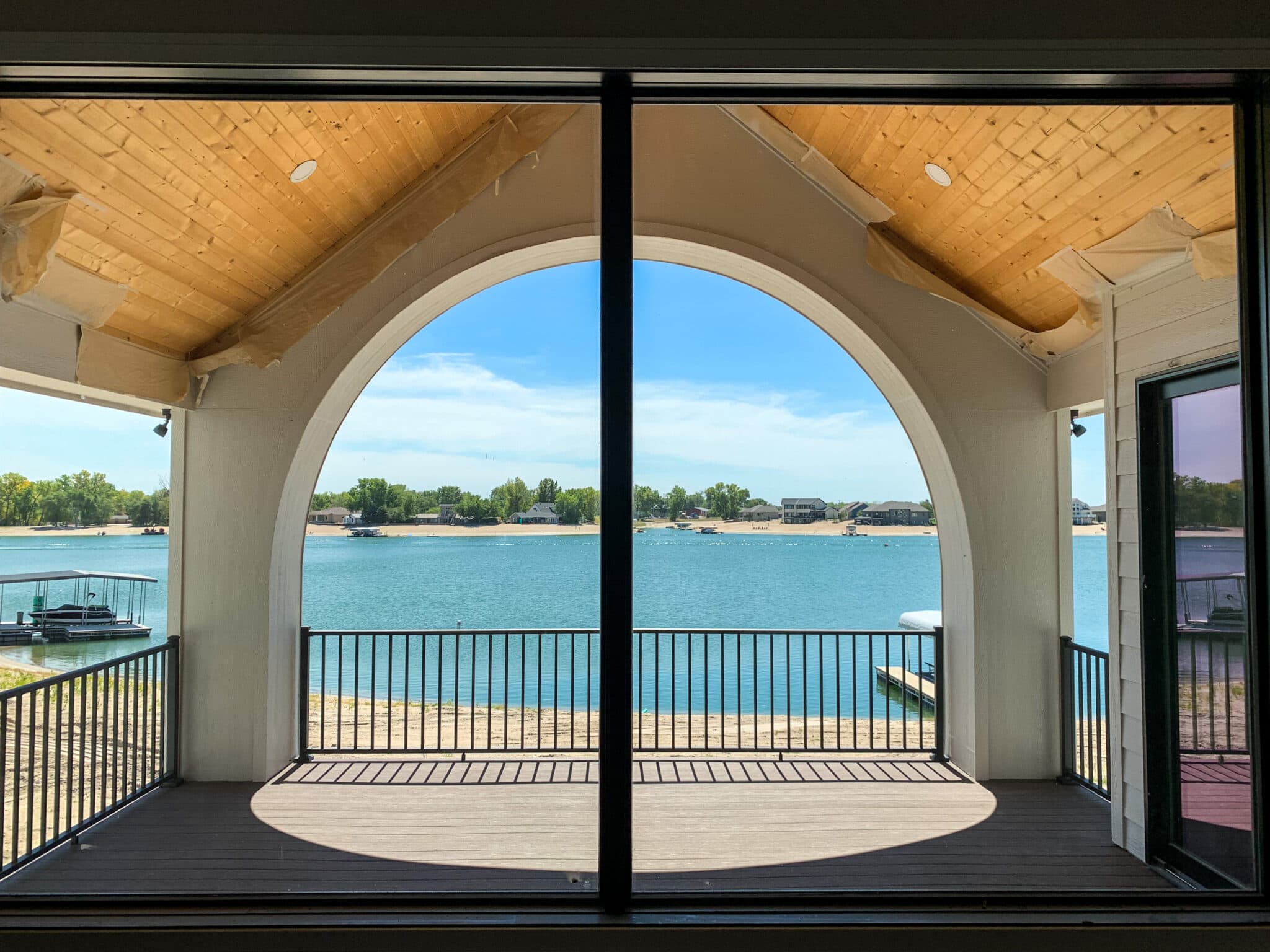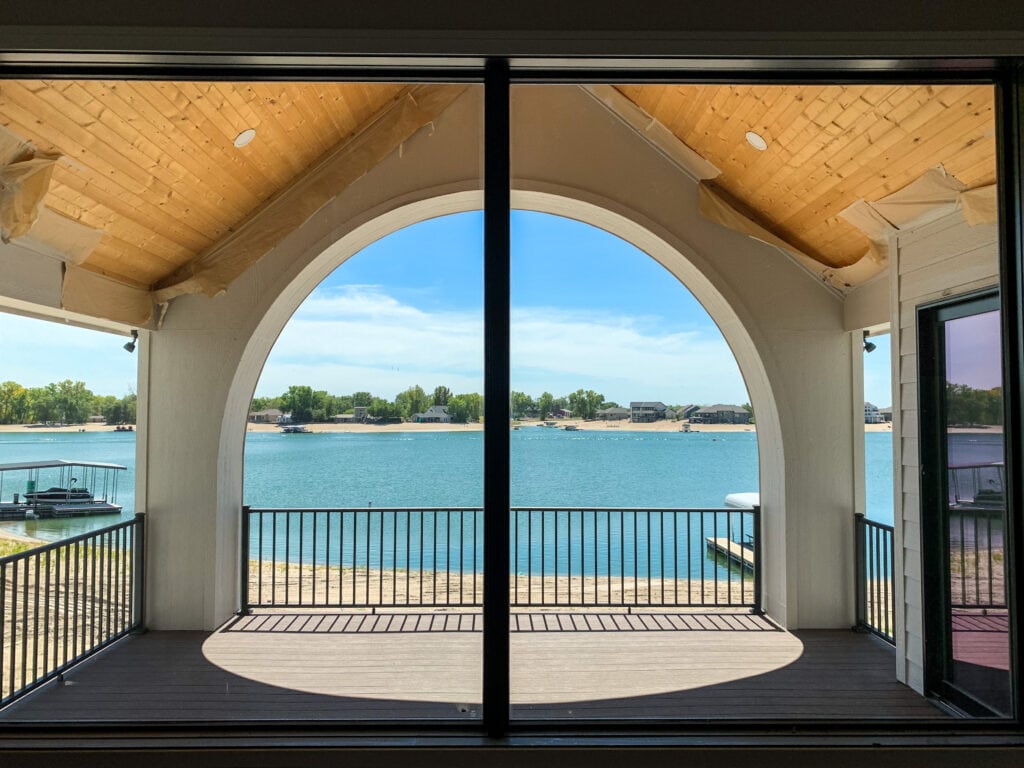 The office was basically my dream office!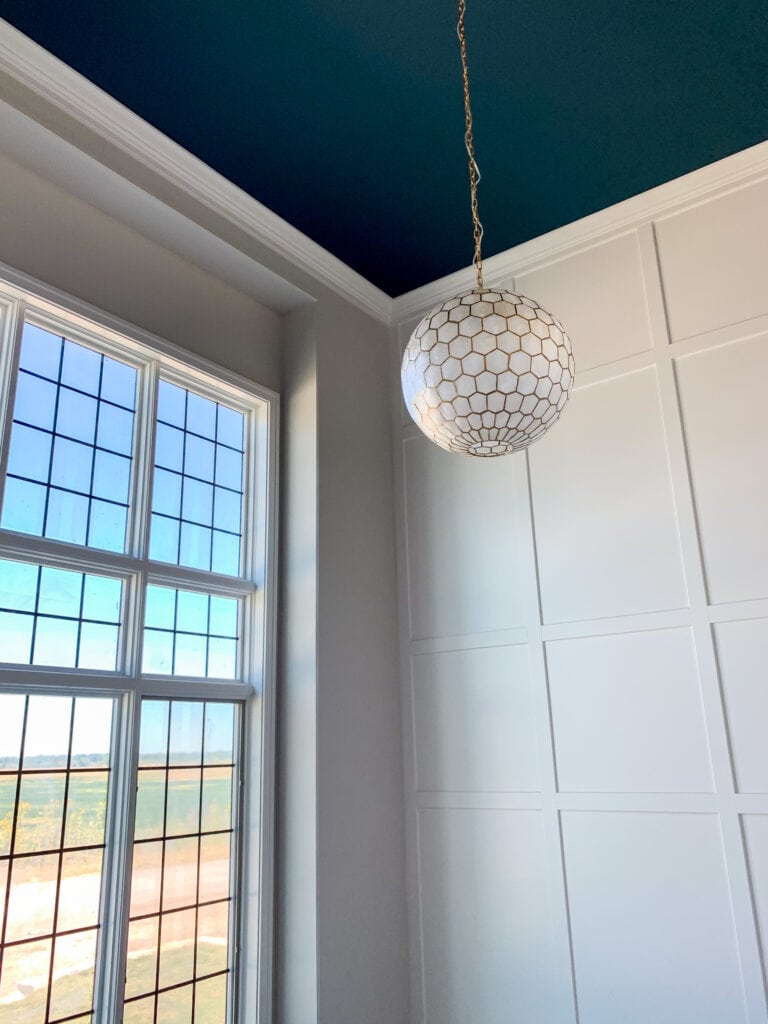 So many cool features! I always love finding inspiration in other homes!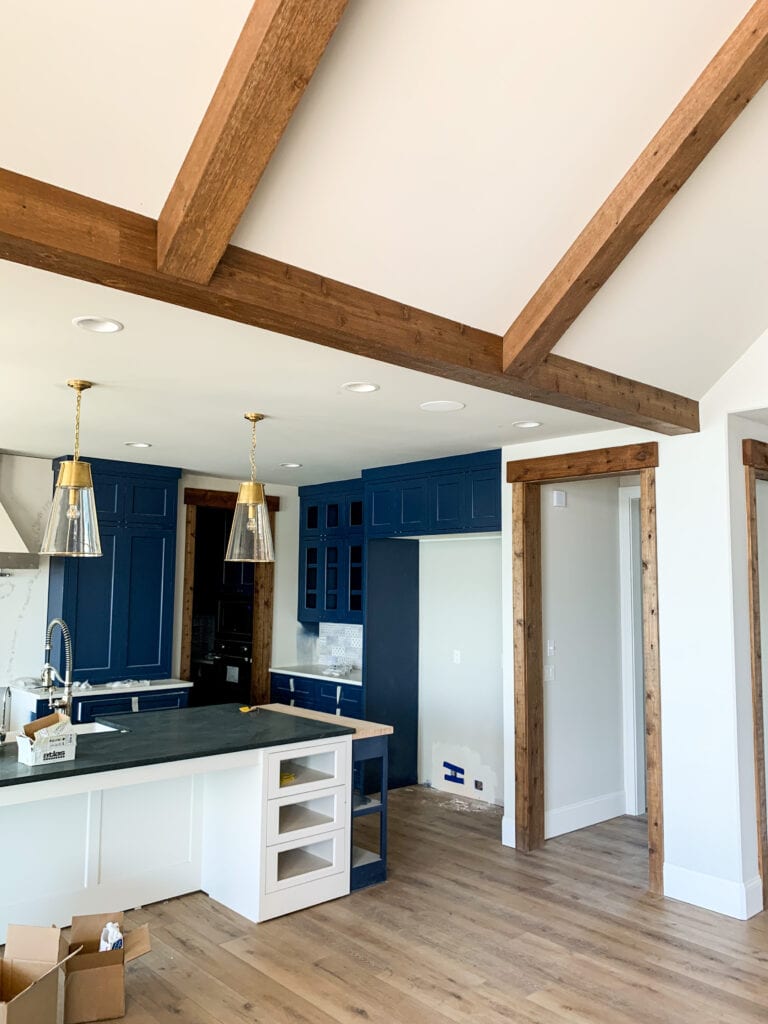 Kurtis and I made a day of it and then continued our new local patio tradition with lunch and beers at Juke's Ale Works in Elkhorn! If you're local and like IPA, their Ninja Juice might be one of our new all-time favorites!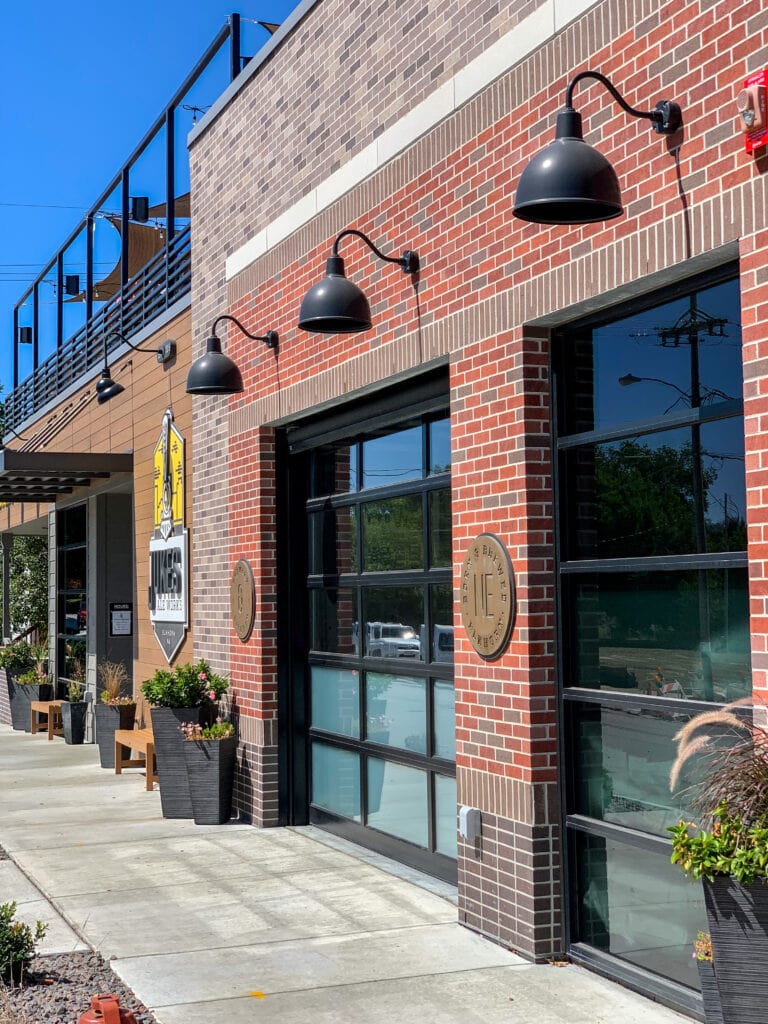 We have another busy week ahead, and it's hard to believe it's the last one when I'll still be in my 30's! 40 is less than a week away!
Recent Buys & Sales
The weekend sales were honestly a bit of a bust this week in my mind. I think it's because of all the prep going on for the Labor Day Weekend sales that start this week! Here are a few select others that are still going on and worth mentioning.
I hope you all have a great week!
If you would like to follow along on more of my home decor, DIY, lifestyle, travel and other posts, I'd love to have you follow me on any of the following:
Pinterest | Instagram | Facebook | Twitter
disclosure: some affiliate links use