Happy Monday! I hope you guys all had a great weekend! It's a dreary and rainy morning here in Omaha. Usually that's not how I want to start my week, but today I'm ecstatic because it means I don't have to water my planters today! Finding joy in the little things! 😉
This post contains affiliate links for your shopping convenience. Click here to read my full disclosure policy.
Home Projects & Updates
I've had several questions lately about our Incrediball hydrangeas and if they stay white all summer. I've found that ours usually stay bright white for 2-3 weeks, and then turn this pretty lime green color the rest of the summer. I love the way they look either way!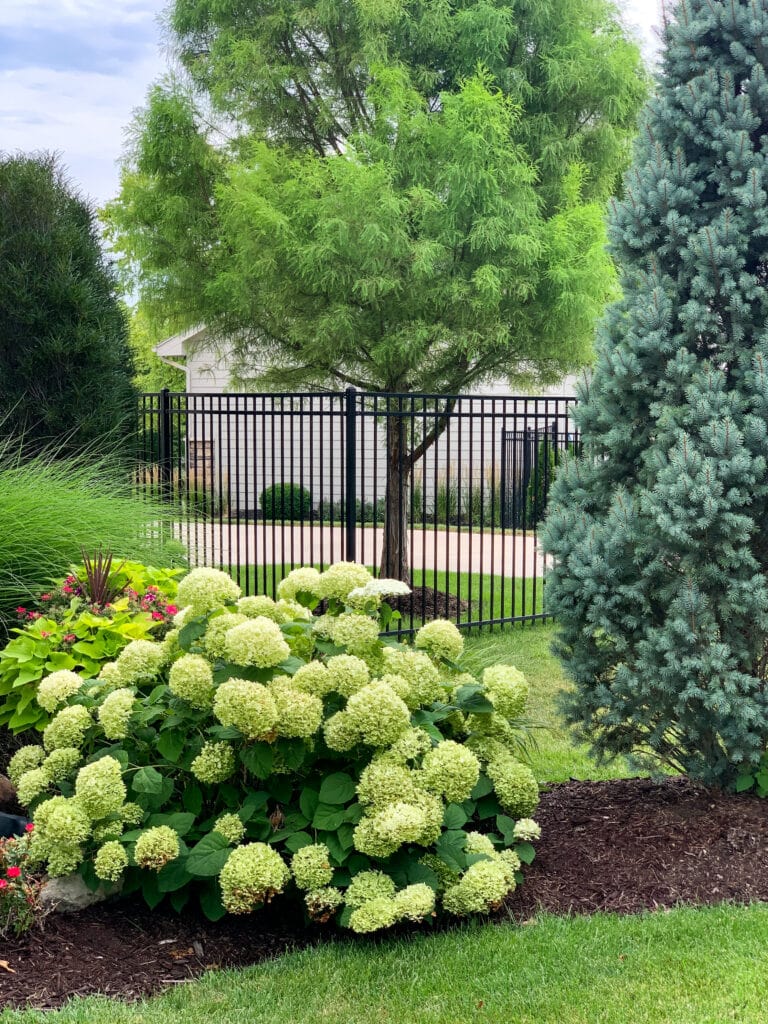 My Little Lime Hydrangeas (a smaller version of Limelights) have started to slowly bloom! I usually don't see them until early August, so it's exciting that they've arrived early this year!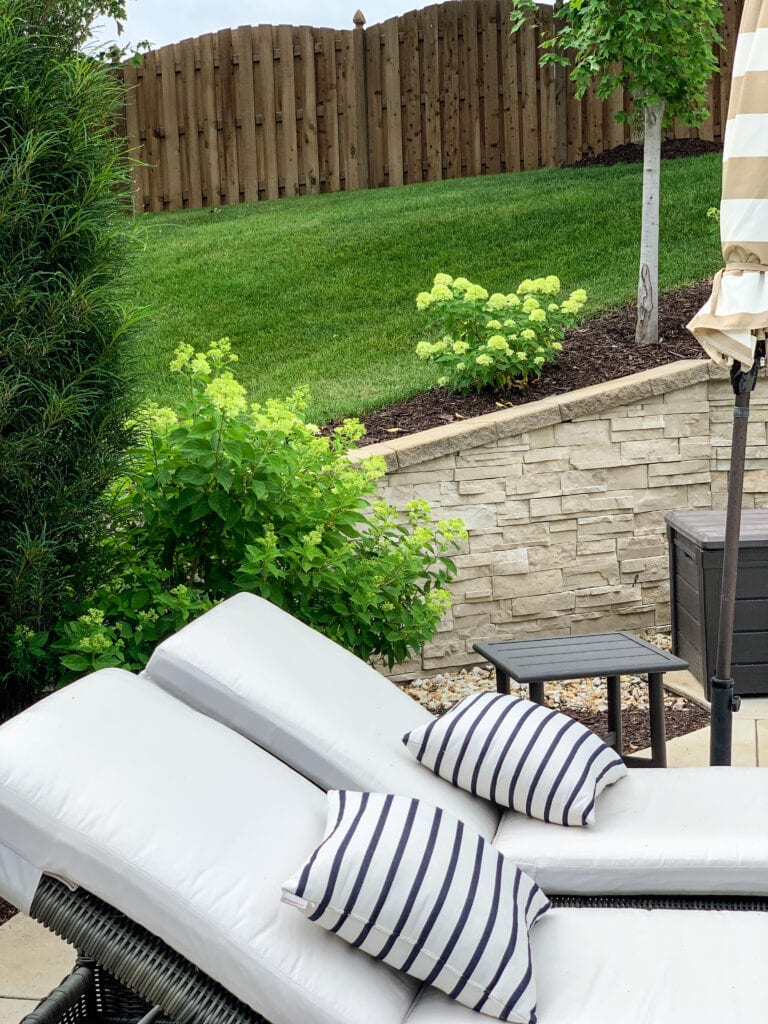 Two of our columnar oak trees behind the waterfall have been struggling. If you look in the photo below, you can see the two on the right are much more yellow than the one on the left (and not nearly as full). We've found that many of the trees suffer from iron chlorosis, which is basically the result of an iron deficiency in the soil. We've had it on several other trees and we're pretty sure that's the issue. So Kurtis decided to give them an injectable treatment. Fingers crossed it works! When we've tried it on other trees in the past, they've greened up in about a week or so.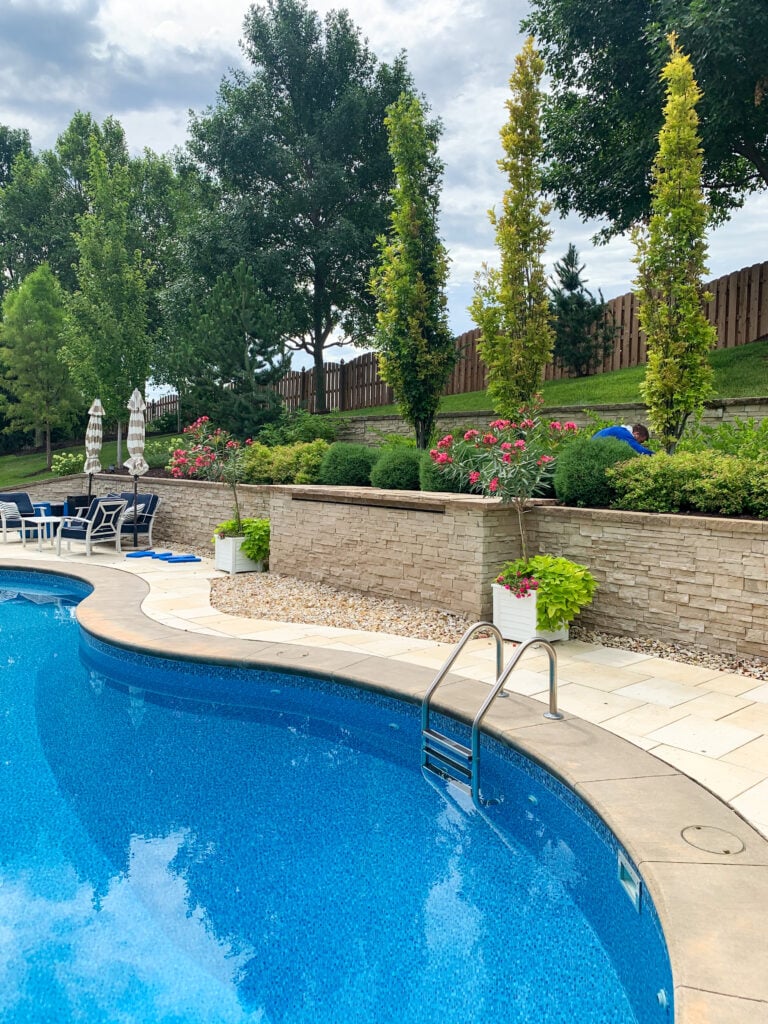 I realized last week I've only shared our new-ish dresser only once or twice before. But it's honestly one of my favorite purchases of 2019! I finally styled it a little for our summer home tour. And for some reason I was thinking ahead to the holidays this past week and scheming up for ideas for this little corner.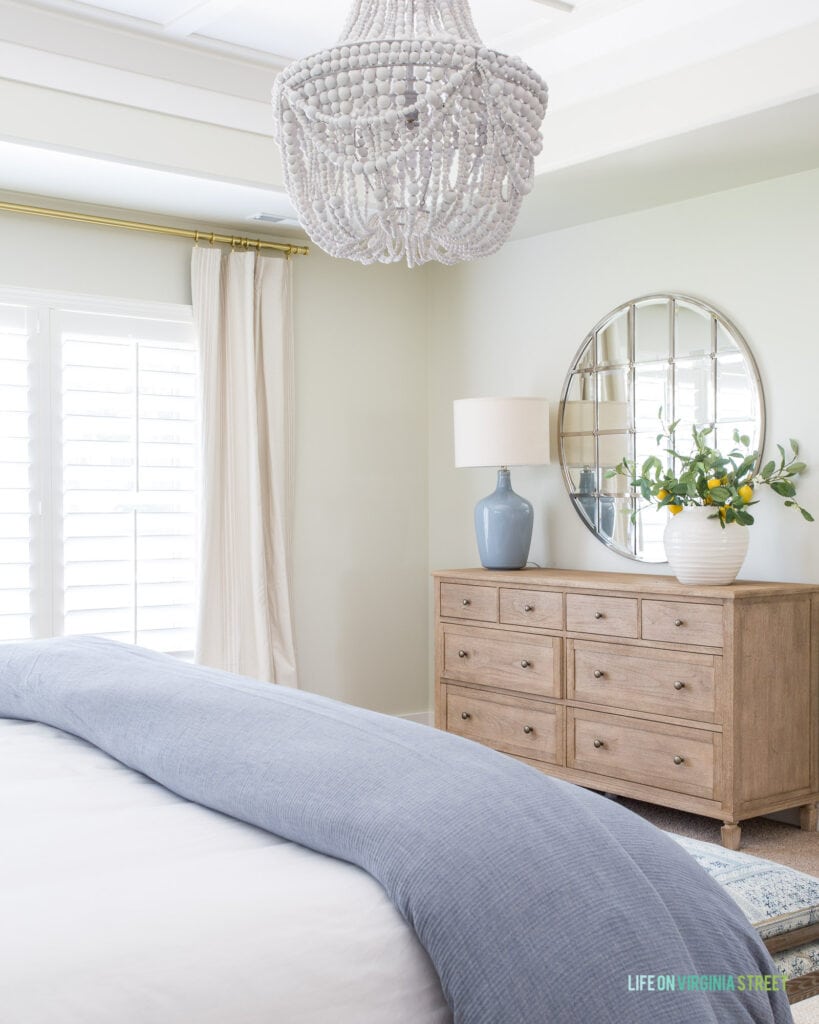 MASTER BEDROOM SOURCES: Similar Bed | Blue Euro Shams & Bedding | Bead Chandelier | Jute Rug | Dresser Lamp | Striped Curtains | Curtain Rod | Bench | Dresser | Round Grid Mirror | Similar Ceramic Vase | Faux Lemon Stems
I'm hoping things slow down a bit this week and I can finally get around to painting our basement stairwell walls! I'm also hoping to clear off the shelves in our guest bedroom so I can sell the shelves in there. It's one of the last steps in my guest bedroom bedroom plans that I need to do to officially wrap up that space! It's one of those pretty simple projects that just drags on for basically no reason. So, I need to get it done!
Top Sellers Of The Week
Following are the top sellers of the week across all of my channels. Links to each item are below the graphic.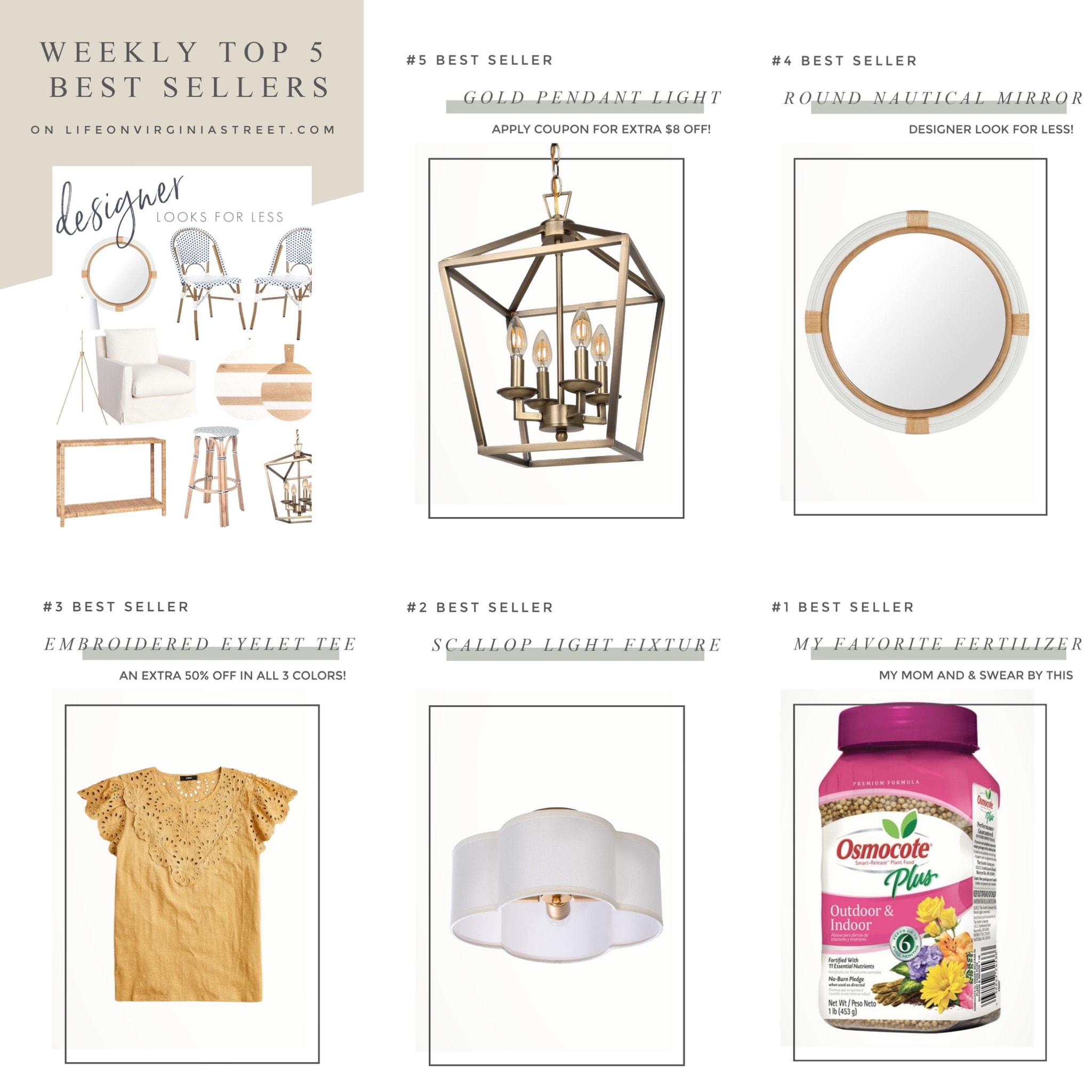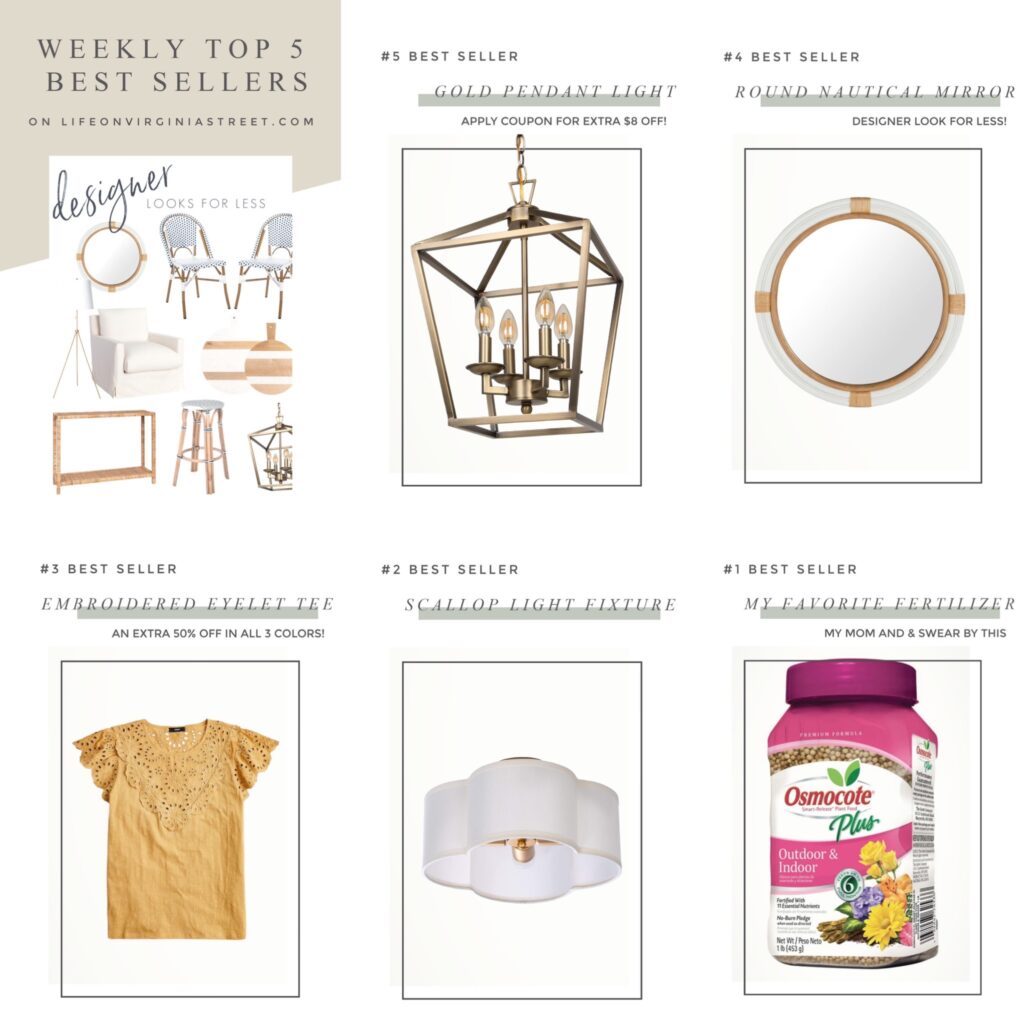 BEST SELLERS (each number is clickable): #5 | #4 | #3 | #2 | #1
This light fixture is currently eligible for an $8 coupon right now too! And the embroidered eyelet tee is now an extra 40% off with code 5DAYS.
Around Town & For Fun
On Saturday, the temperatures broke 100 degrees and the heat index was supposed to have been around 110. We planned some time out at the pool, but knew we probably wouldn't last long. Especially when the water temp had gotten up to 89 degrees! My plants have all been taking a beating this past week with the extreme heat.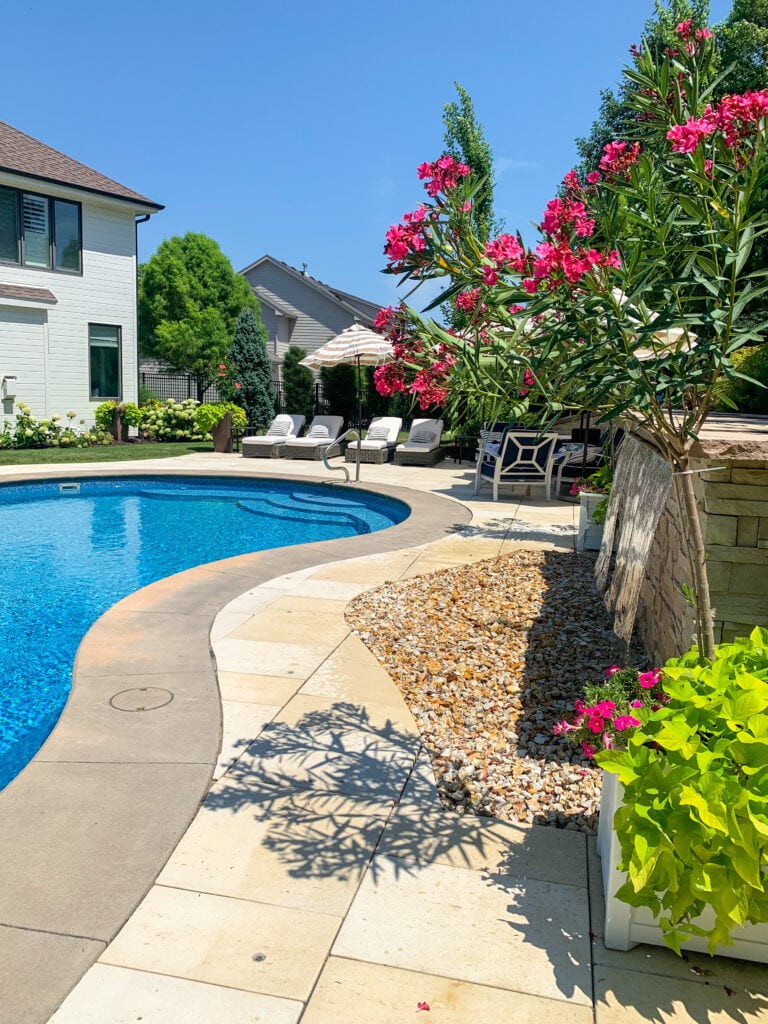 Friday night we had a fun dinner at our house with my sister-in-law and brother-in-law. We had a lot of celebratory catch-up to do since we've hardly seen each other these past few months. Lots of birthday/anniversary celebrations. We had dinner followed by a mean game of Euchre. It was a lot of fun. And we definitely appreciated the variety of craft beer they surprised us with! Most of it is from the south and we can't buy it here but it's some of our favorites!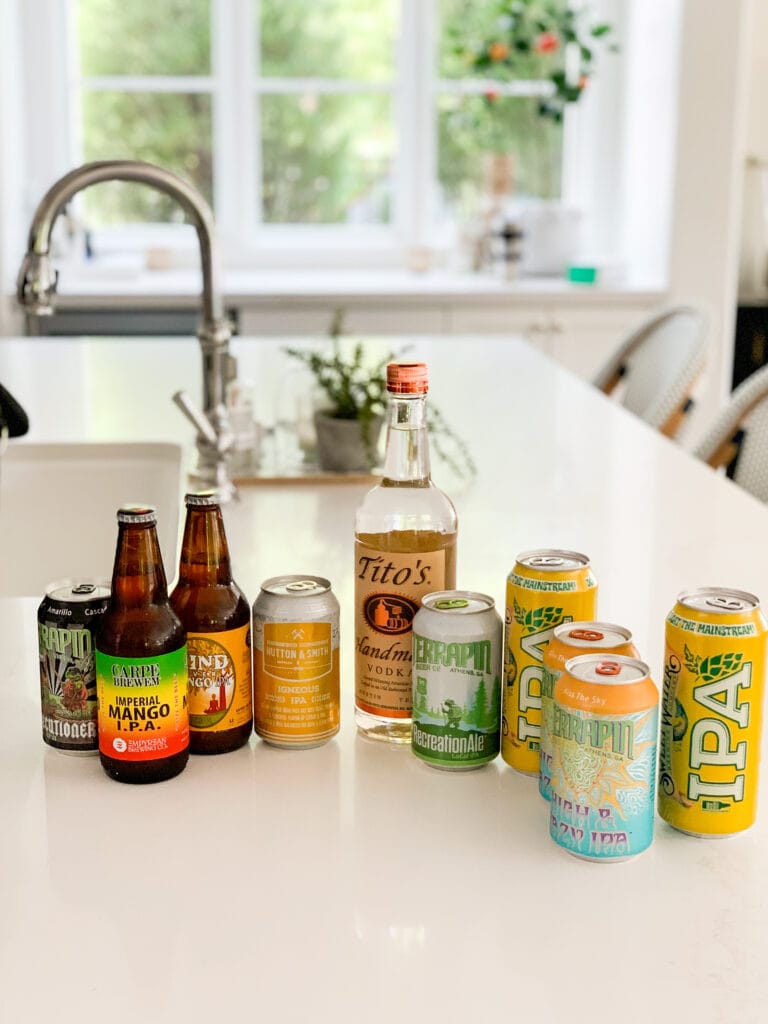 Henley found a little sponge football this week and has been playing with it rather aggressively. We call her our little ninja (her paw-eye coordination is unreal). It's all fun and games until she swats the football under furniture and can't reach it 😉 She was was barking at me to help her in the photo below when I was working on the computer.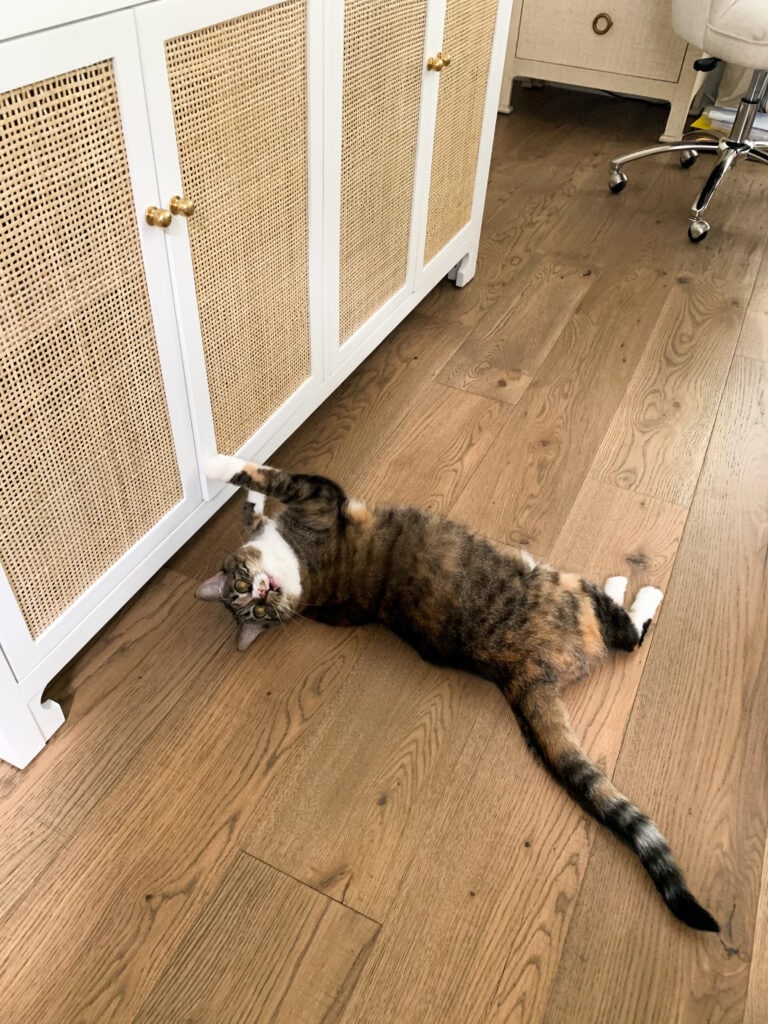 For a few weeks, we were in a bit of dinner rut. Now that we don't eat out much, if at all, we were tired of the same old recipes. When my parents were visiting, we made steak kebabs on the grill and loved them. We were going to recreate them last week, but had so many veggies we needed to use up (zucchini, summer squash, red/orange/yellow bell peppers and onion), that we filled an entire aluminum pan and threw them on the grill. We just put a little olive oil on them and seasoned salt and they were so good! Then we just grilled a whole steak on the side to share. It was so good!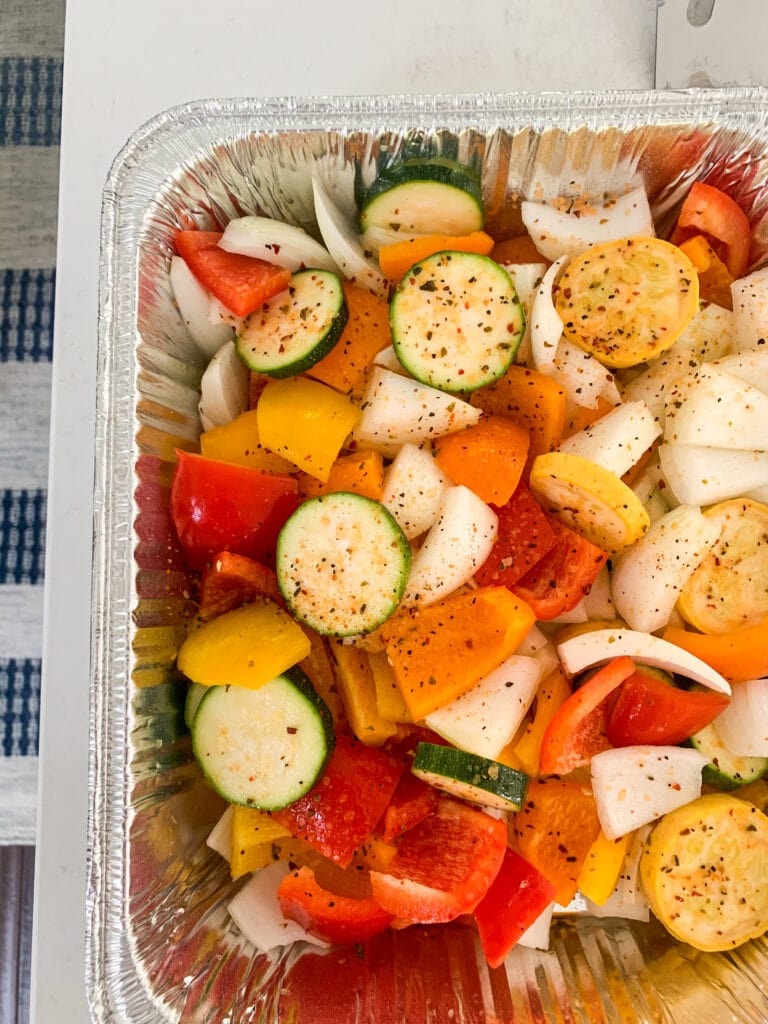 I also bought all the ingredients to make this spicy cucumber salsa. It sounds very intriguing to me so I'm excited to give it a try. I'll have to report back if we like it or not! I'm hoping to add it to the menu tonight or tomorrow night. Any other recipes you've tried and loved lately?
Last night, we were apparently feeling very European. We had a French baguette (with olive oil and balsamic) and then a caprese salad and Aperol spritzes. Some days in the summer (especially when it's this hot!), we don't even bother turning on the grill for meat!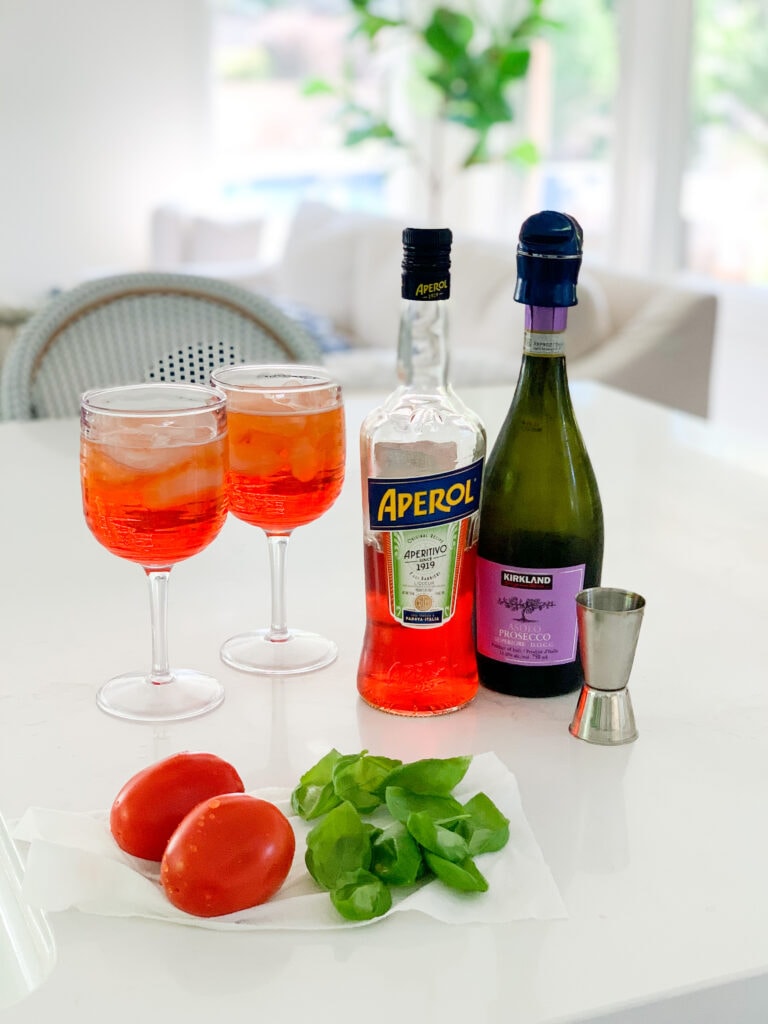 It was also apparently National Ice Cream Day. So, we got a visit from the BFFs. The guys went and picked up Blizzards at the DQ drive-in while the girls stayed and played with the cats (and some random fake eggs Z found in our dining room). 😉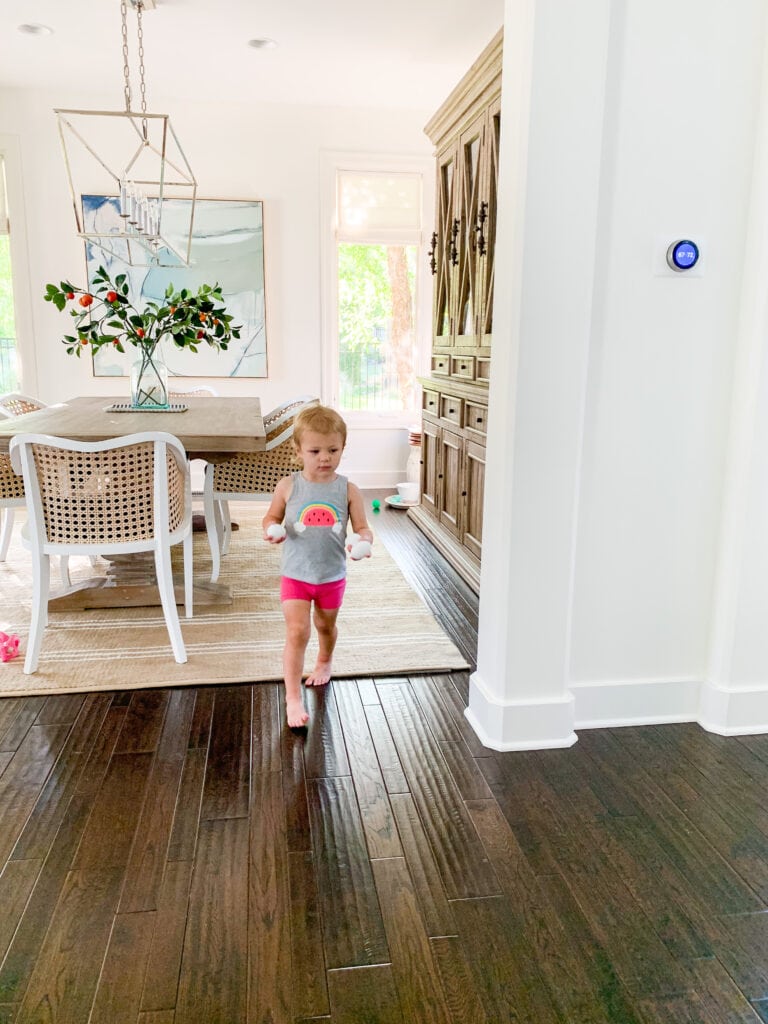 DINING ROOM SOURCES: Cane Dining Chairs (similar here) | Dining Table | Abstract Art | Linear Chandelier (similar here) | Rug (currently out of stock) | Faux Orange Stems | Hutch
Henley made a bed out of one of my star pillows. And speaking of the pillows. I noticed an issue yesterday. I had laid on one of the pillows on the couch one night with wet hair. Well, apparently that caused some of the dye to transfer to our sofa. So, I now have blue marks on the arm and seat cushion. Any ideas on how to get it off? Thankfully it's a Crypton performance fabric that I've literally been able to get everything off of. But dye makes me nervous and I don't want to try the wrong thing and have it set. I did test a wet paper towel, and I was able to get some off. Any other ideas?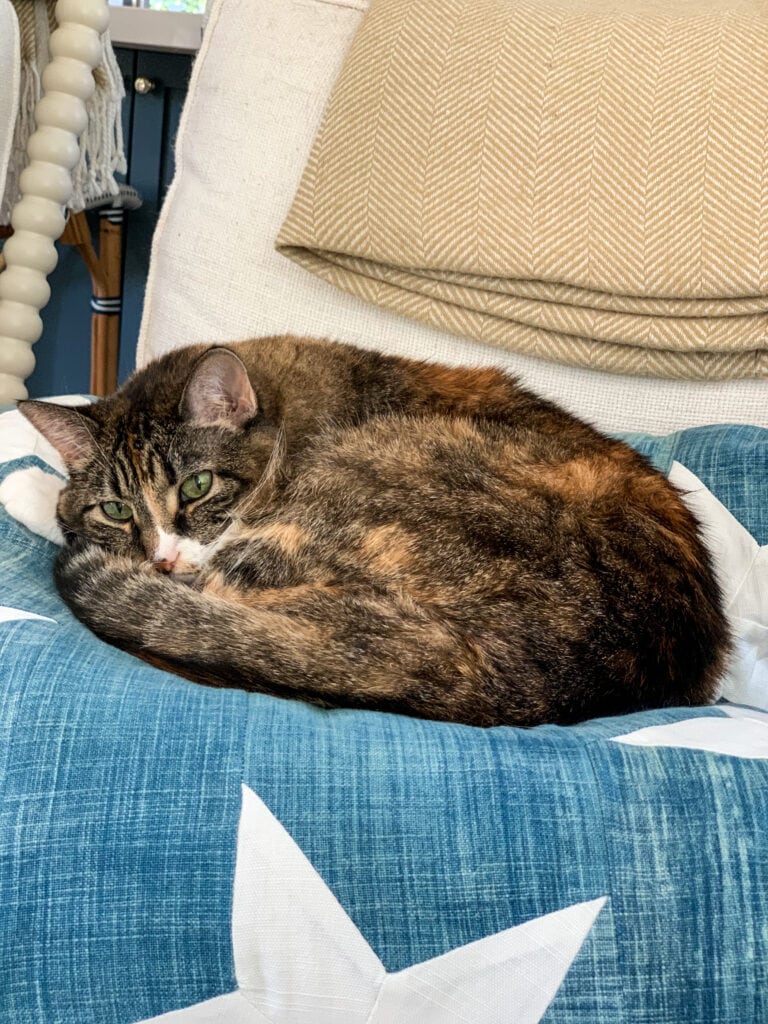 I tried to spend a few hours this week reading my new book. I'm really enjoying it because it turns out we've visited many of the places in Italy that take place in the book! I asked for some additional fun summer book recommendations on Instagram, so I'll plan to compile those responses to share. In the meantime, if you've read any books you loved recently, let me know in comments and I can add them to the list! Bailey loves when I read on the couch because she sucks up next to me, lays on my elbow, and passes out. Hawkeye loves when Bailey is out cold because then he tries to cuddle up to her. They basically left me zero room to move, but I was okay with it 😉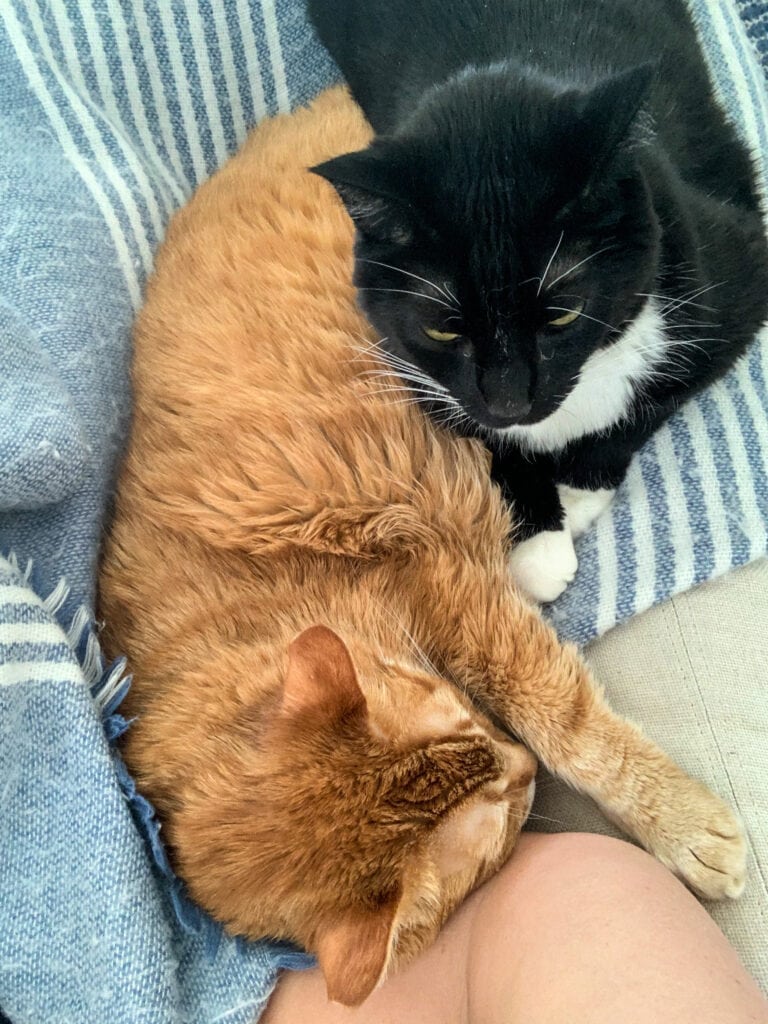 We celebrate our 15th Anniversary on Wednesday! So, while we'd love to be on a fun trip somewhere, we're trying to think of ways to make the day fun at home. Since it's a work day, we'll probably find a patio somewhere to have dinner. And then spend time talking about where we'll travel when we can again 😉
Recent Buys & Sales
Following are some sales that have carried over from the weekend, as well a a few new additions. You can see some of my top picks here.
I hope you all have a great week!
If you would like to follow along on more of my home decor, DIY, lifestyle, travel and other posts, I'd love to have you follow me on any of the following:
Pinterest | Instagram | Facebook | Twitter
disclosure: some affiliate links used