Happy last Monday of April! I hope you all had a nice weekend. I can't believe we're already headed into May at the end of this week! I'm hoping we're one month closer to some semblance of normalcy for everyone.
This post contains affiliate links for your shopping convenience. Click here to read my full disclosure policy.
Home Projects & Updates
Remember my post on tall storage cabinets with doors? Well, I finally decided to move forward with this louvered cabinet and it was delivered last week! We got it all assembled but still need to attach it to the wall. Once we do and I get everything fully transferred over, I'll be sure to share! But I'm really happy with the cabinet so far – even if it did take awhile to assemble!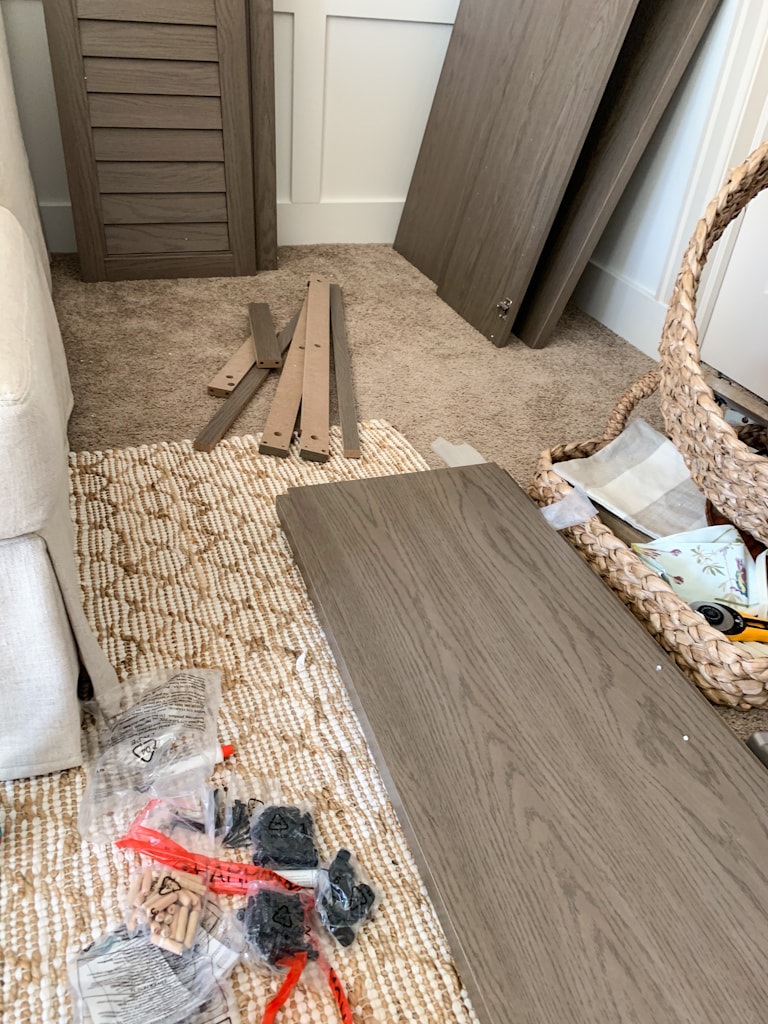 The weather was beautiful on Sunday so we wrapped up some yard projects that were on our list. I was able to get seven plants in the ground, which I was really excited about! I added three Incrediball hydrangeas, two Annabelle hydrangeas, a viburnum bush (our first ever!), and a knockout rose. The other plants shown below are for my summer planters, which I haven't started yet. Side note: if you're local, you can call Lanoha Nurseries and place your plant order and they'll deliver it all to you curbside so you don't even have to go inside!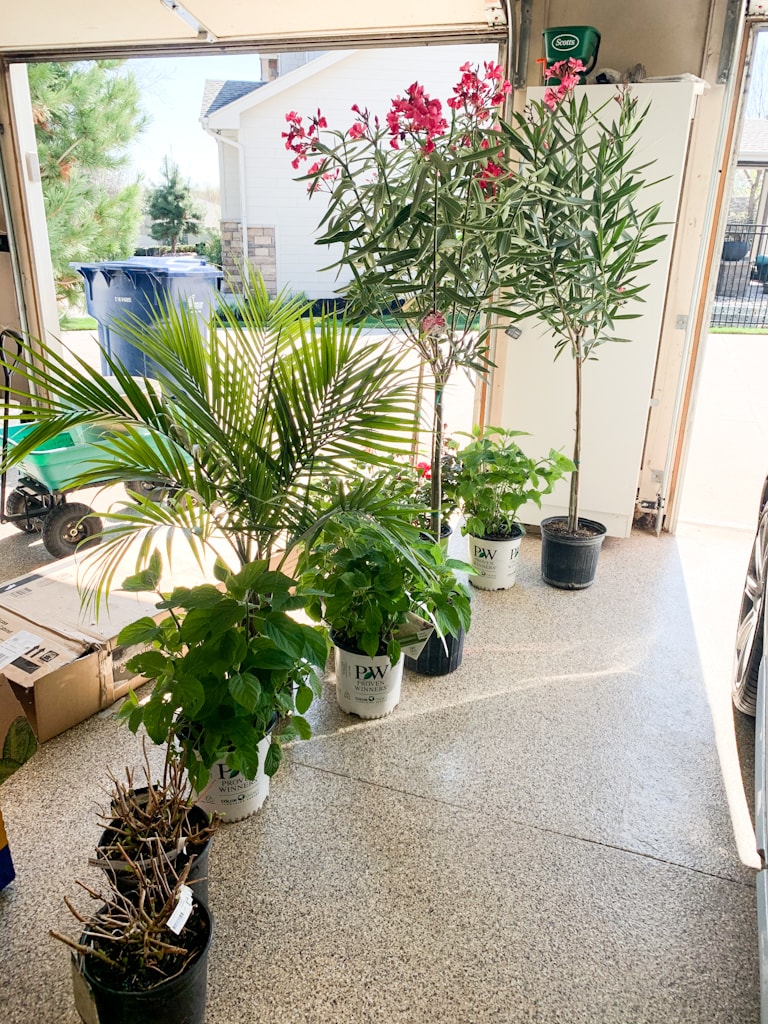 This is the area in the back of our house where I had torn out a lot of the ornamental grass. It had grown in really unevenly the past twelve years, and I'm also pretty sure I was allergic to it 😉 So, I added three more Incrediball hydrangeas to the area to fill in the bare spots. It's the same plant you see on the far right and the scrappy one you see in the middle (thanks, rabbits). The ones from the nursery are obviously a bit further along in the growing season, but I think they'll all look great when I have a long row of white hydrangea balls here all summer! We also moved a matching planter under the window on the left.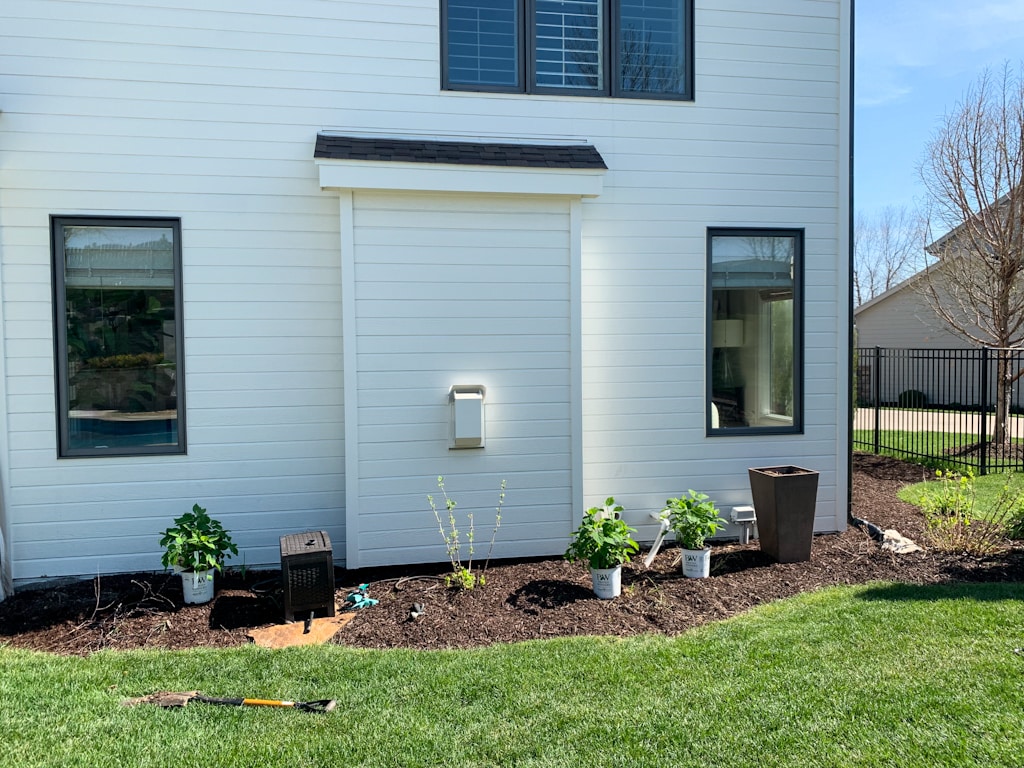 I also added two Annabelle hydrangeas and a viburnum to this side of the house. This has always been our "problem" side of our yard. When we first moved in, the trees weren't very big so it still got a lot of sun. Now, it's in shade almost the entire day. So, all of the roses that were originally here died from lack of sunlight. I'm slowly trying to switch things over to more shade-tolerant plants. We're obviously also having issues with mulch run-off every time we have a storm. I also need to figure out what to do with the vine that clearly is lacking support over on the wall. Hoping these few new plants will give me motivation to tackle this area soon!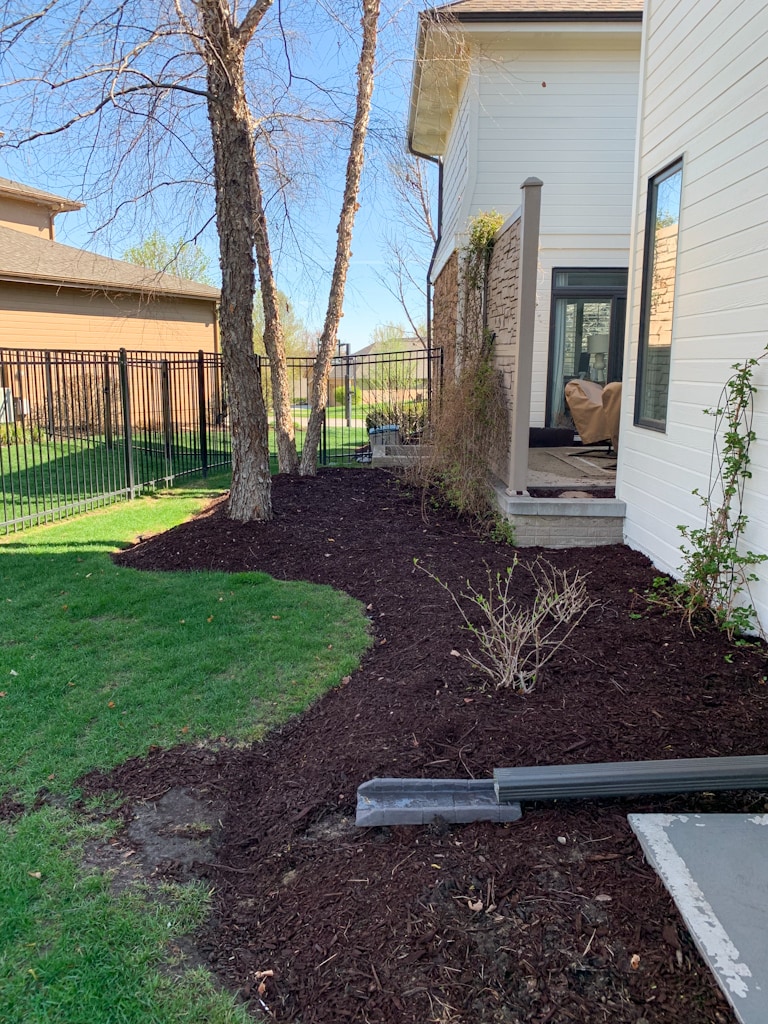 Top Sellers Of The Week
Following are the top sellers of the week across all of my channels. Links to each item are below the graphic.
Around Town & For Fun
Kurtis took a vacation day half of Thursday afternoon and all day Friday for his birthday Saturday. The weather was beautiful on Thursday so we actually hung out at the pool! Kurtis even got in the water. We both agreed it may be the only time in history he'll get to be in the pool in April, so he thought it was a pretty exciting start to his birthday weekend! It felt so weird to have summer-like temps when there still aren't any leaves on the trees here!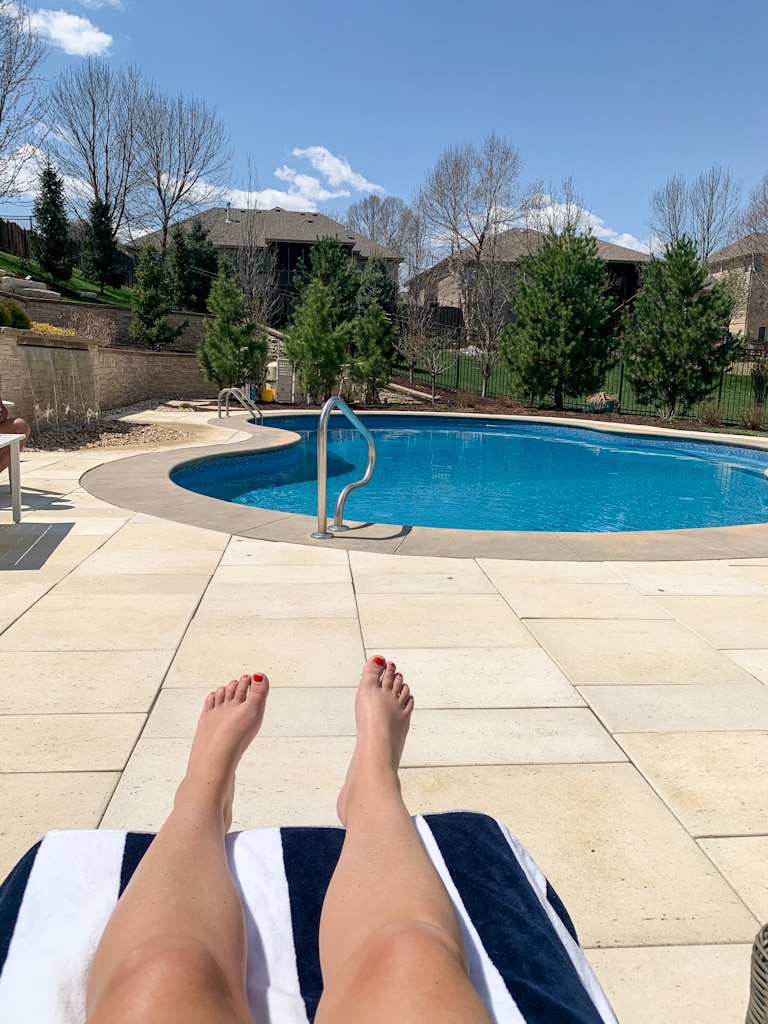 I mentioned last week we were trying to change up our dinner menu each night since we had fallen into a rut (mostly with frozen pizza). One night last week we made fajitas and it was a fun change! The onion we used was bigger than all three of the bell peppers combined.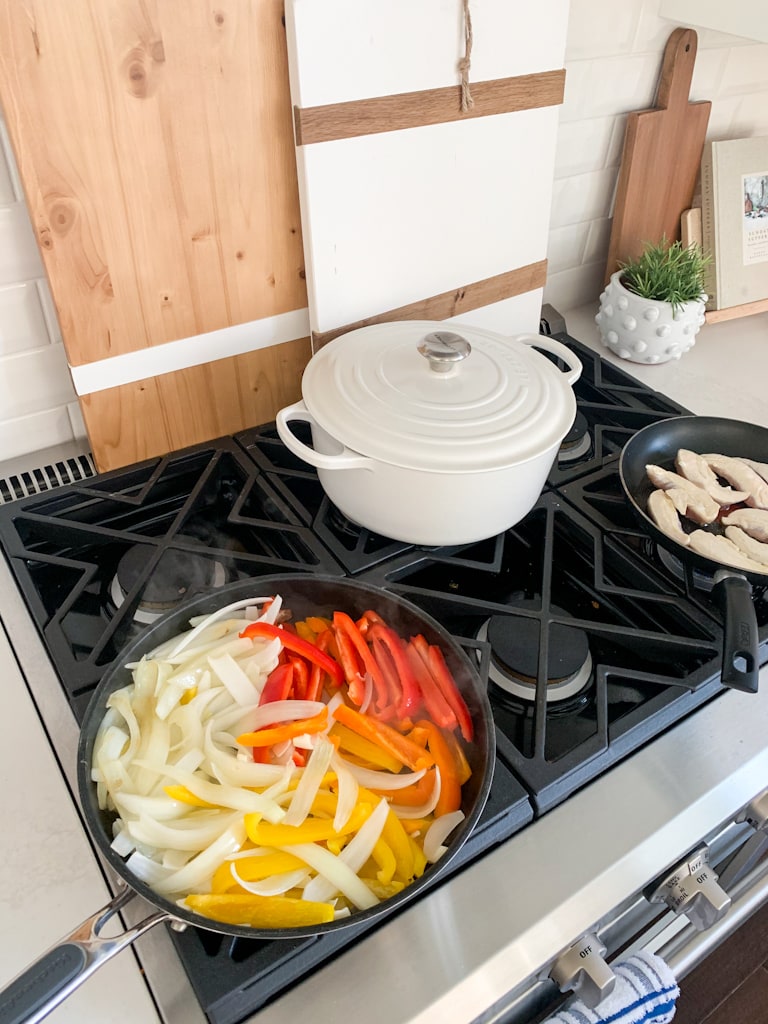 Saturday was Kurtis's birthday so I let him plan the day for us. He requested hot dogs on the grill for lunch, a drive around town to look at our rental properties, followed by Lazlo's delivery for dinner. Pretty simple but it was a really fun day!
After we got home, we were hit with a crazy hail storm. When it was over, it looked like it had snowed here again!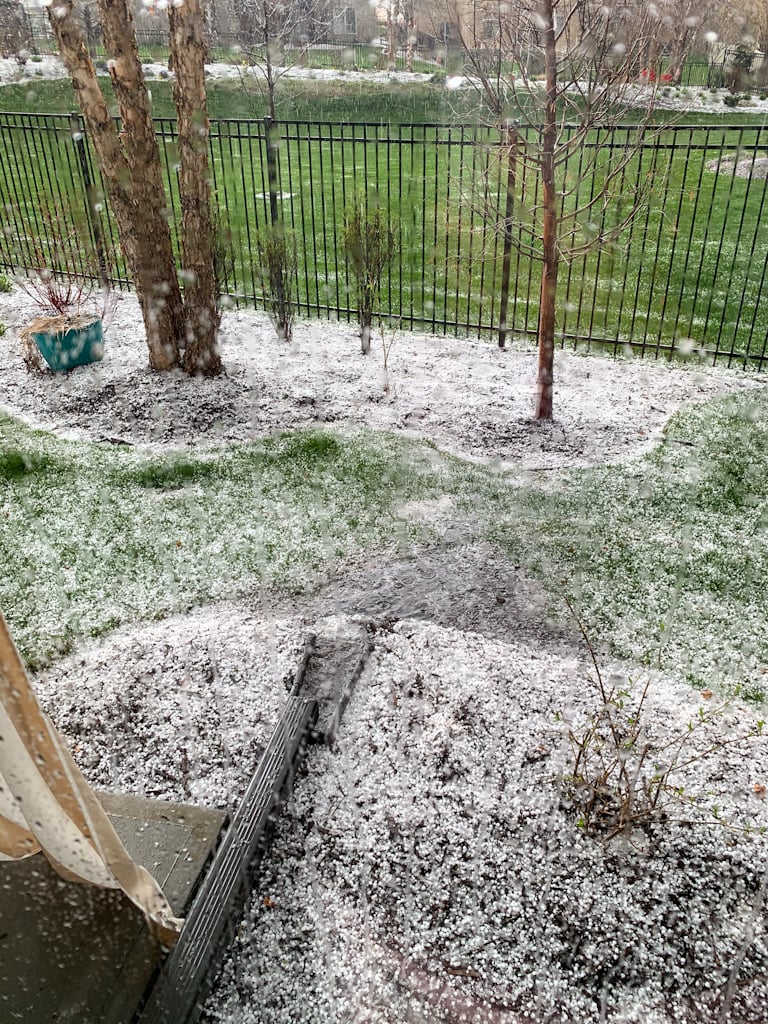 The resulting rainbows (there were actually three total) were stunning! It was a beautiful end to what I'm sure was a really weird birthday for Kurtis!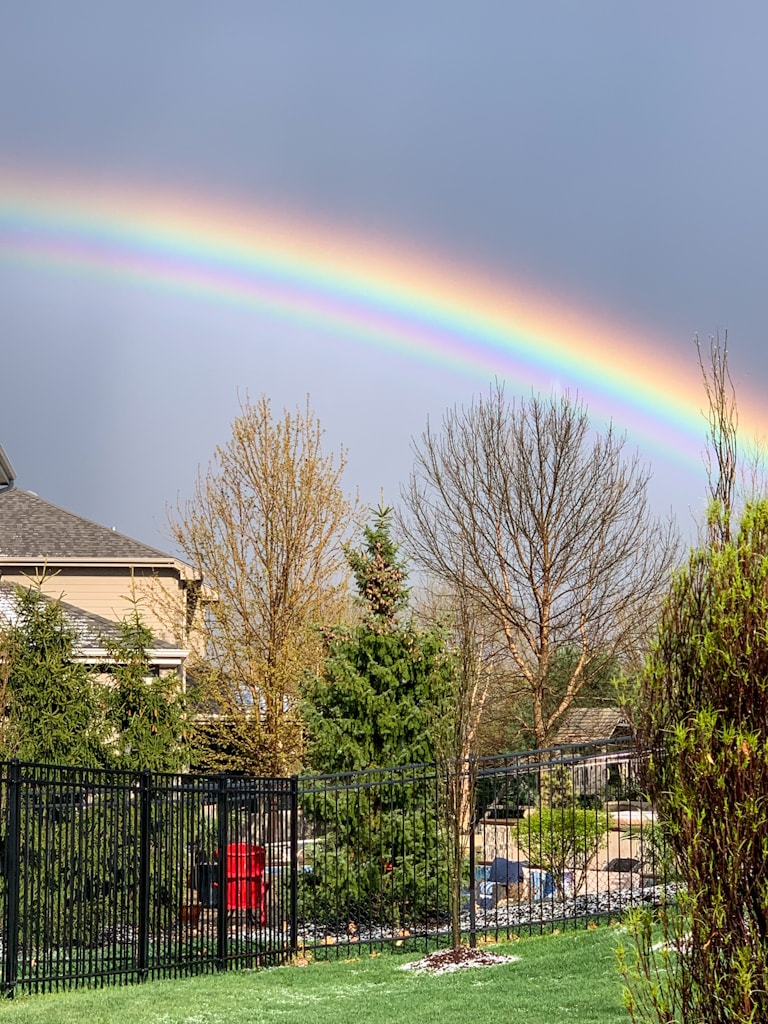 Sunday afternoon while we were working in the yard, Kurtis' sister and brother-in-law dropped off some craft beer for him for his birthday. The BFFs swung by shortly after to let Z and Scout run around the yard for awhile. They're quickly learning they really need to get a fenced yard 😉 Z loves exploring every nook and cranny of our backyard! It's nice that it feels like we can kind of hang out with friends and family now that the weather is nicer – even if we are just talking ten feet away from each other in the backyard 😉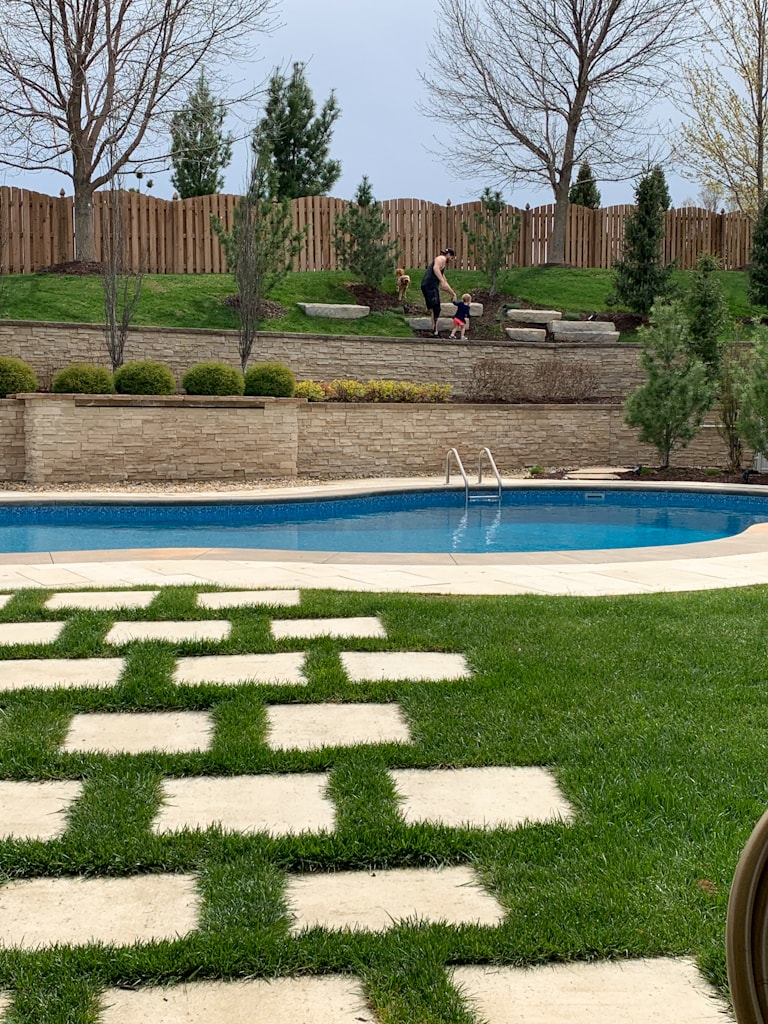 Lastly, I wanted to let you all know about a fun giveaway on Instagram I'm co-hosting until this evening! We're giving away $1,000 cash to one lucky person as a thank you for supporting all of our small businesses during these crazy times. It's super easy to enter. Just head to my Instagram Stories (click on my picture in the round circle in the top left of my bio screen). Just watch the stories until you get to the graphic for the giveaway. The next screen will have the seven other accounts linked that you need to also follow (you'll love these home decor accounts). Then, the next screen will have a slider to confirm you're done. That's it!
Recent Buys & Sales
Following are some sales that have carried over from the weekend. You can see some of my top picks here.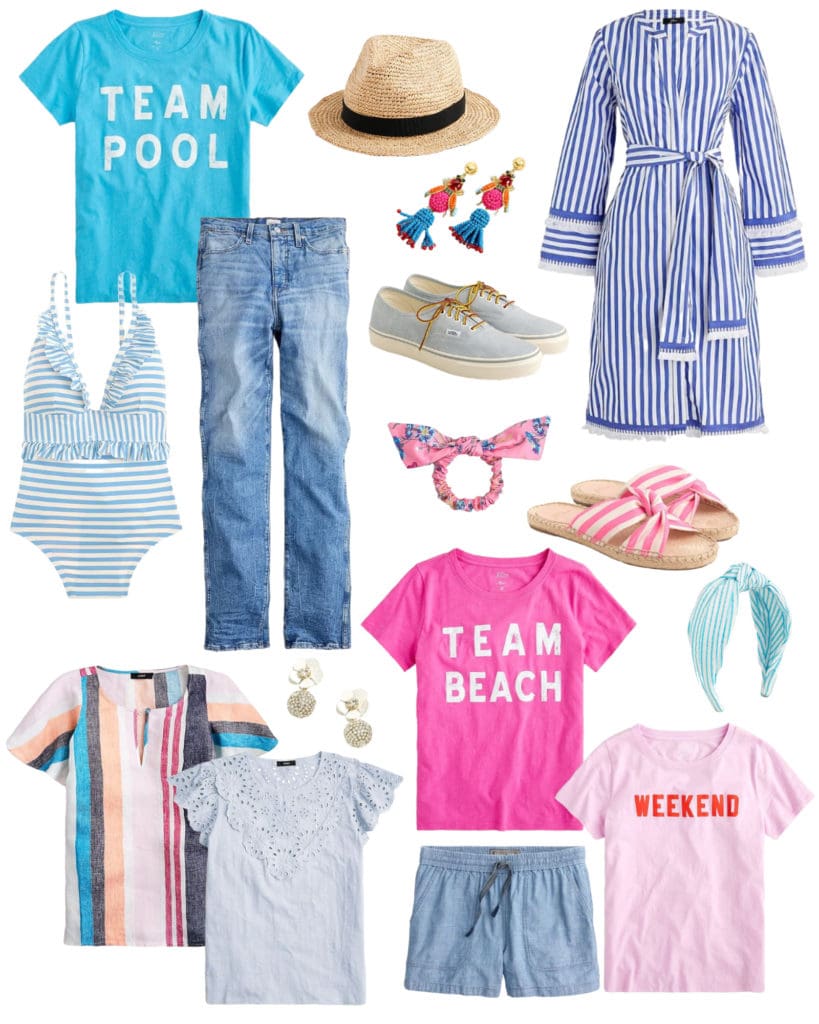 SOURCES: "Team Pool" Tee | Jeans | Striped Ruffle Swimsuit | Packable Sun Hat | Beaded Earrings | Canvas VANS sneakers | Hair Tie | Striped Tassel Tunic | Striped Linen Top | Embroidered Top | Enamel Flower Earrings | "Team Beach" Tee | Chambray Shorts | Striped Sandals | Striped Turban Knot Headband | "Weekend" Tee
I hope you all have a good week!
If you would like to follow along on more of my home decor, DIY, lifestyle, travel and other posts, I'd love to have you follow me on any of the following:
Pinterest | Instagram | Facebook | Twitter
disclosure: some affiliate links used