Welcome to this week's Wednesday Watch List, where I share the random things that captured my attention and stole my heart over the past week!  If you're like me, I have good days and not-so-good days with this quarantine, and anything that puts a smile on our faces is never a bad thing! This week I decided to change things up a bit and focus on things I hope will cheer you up and put a smile on your face, as well, should you be needing it! This is your mid-week reminder that we've got this!
This post contains affiliate links for your shopping convenience. Click here to read my full disclosure policy.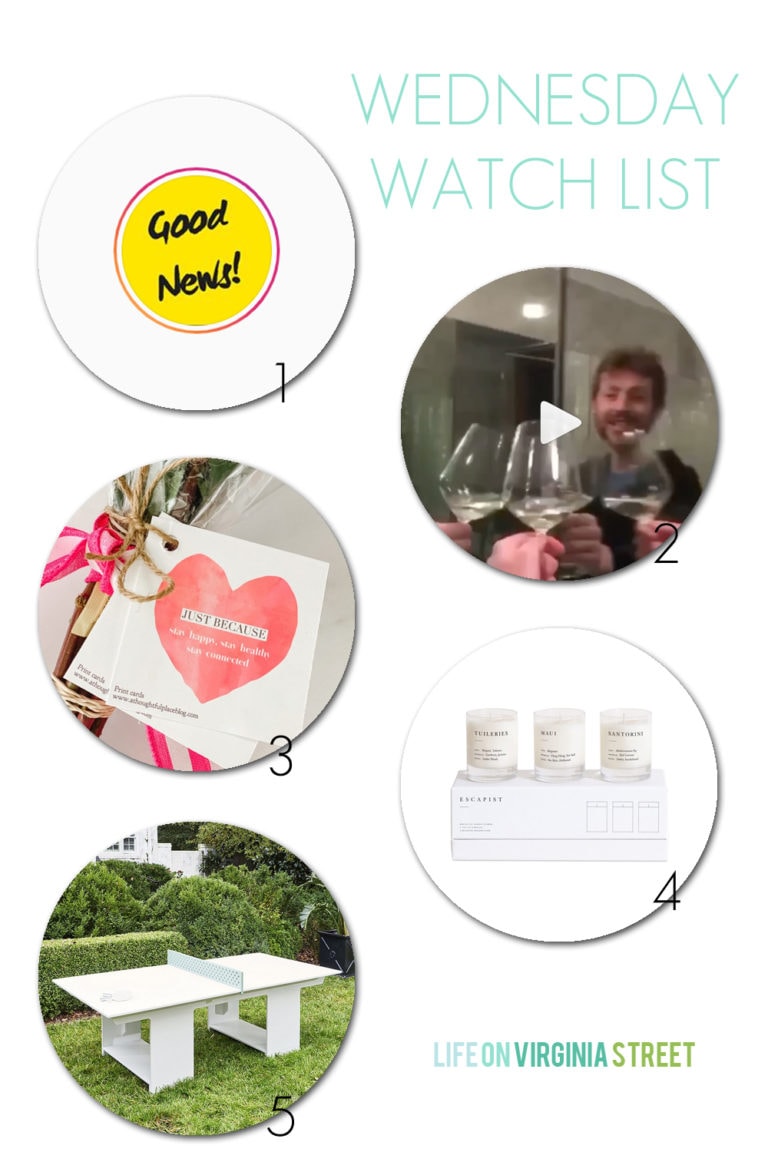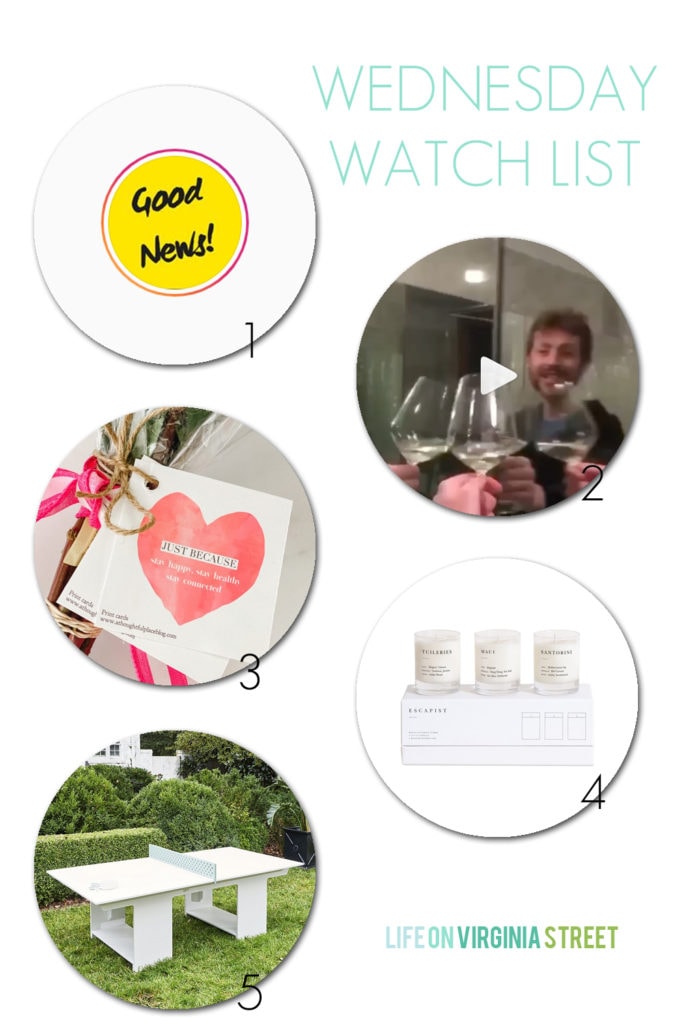 1 – This journalist-run Instagram page only shares good news. With all the sad and depressing news out there, I love that this focuses on all the good that's also occurring in response! There are so many kind-hearted people out there and I love that they're being recognized. This account is a great one to have in your feed to balance out all the negativity in the world right now, and I love when their stories pop up!
2 – This video is by far my favorite thing I've seen online in the past few weeks (be sure to watch it with the sound). After Kurtis and I went to Italy last year, we've toasted all of our drinks since with a simple "cin cin". I think we've watched this self-quarantine toast no less than 100 times! My heart breaks for Italy, a country I love so much. And after seeing so many videos of people singing on their balconies and videos like this, it reminds me of one of the many reasons I love their people! I can't wait to get back to Italy some day and support this country I love so much!
3 – I love this cute idea from my friend Courtney over at A Thoughtful Place. She created a free printable to help you spread cheer for those that may need it or for someone you may just want to surprise! Leave it with a treat, flowers, or small gift on their doorstep and it's an instant way to brighten someone's day!
4 – I bought this set of Escapist candles last week when Nordstrom had 25% off sitewide. Additional scents are available here and some of the full-sized versions can be found here (currently 20% off). In a time when we can't travel, this is a fun way to be transported to some of our favorite locations (or places we hope to go). I've found that burning scented candles these past few weeks has made me enjoy being home a bit more. So if you haven't tried it yet, burn your favorite for a few hours and see if your mood improves at all! I'm loving the Santorini and the Maui most right now from this collection.
5 – This outdoor ping pong table made me smile and got my wheels spinning this past week. I have zero intention of spending $2400 on an outdoor ping pong table (and that's the sale price!). But, something like this would be super fun to have outside as the weather gets warmer. I'm already scheming up how we can make one much more affordably that is also weather resistant! Something similar would be such a fun addition to a back patio (or even a basement) and is a great way to spend more time with your loved ones!
If you would like to follow along on more of my home decor, DIY, lifestyle, travel and other posts, I'd love to have you follow me on any of the following:
Pinterest | Instagram | Facebook | Twitter 
disclosure: some affiliate links used