Sharing my best tips on how to pick the perfect paint color and my top five neutral paint color picks!
When building a new home or starting a room makeover/renovation, the list of decisions you have to make can seem overwhelming at times. Cabinets, lighting, flooring, paint colors, upgrades, decor choices… and the list goes on.
Although paint color decisions may seem minor (how many names and variations are there of beige paint?!?), picking the right paint color can set the right mood in your home.  By starting with an excellent base color, you can always add cohesive accent colors down the road to help limit some of the upfront choices you need to make during your build or room makeover.
How to Pick the Perfect Paint Color
If selecting a paint color seems daunting, try some of these tips and tricks to envision how the color will look in your home.
Most paint lines can mix sample pots of paint for a few dollars. Pick up some large white poster boards and cover with the paint colors you are considering. Because, let's face it. Most paint chips are not large enough to really get a feel for how the color will actually look in your home. Tape the poster boards in different areas throughout your home to see how the color looks in a variety of lighting situations. This small investment will be invaluable in selecting the color that is right for you.
Don't forget to compare your paint samples with cabinet/backsplash/flooring/furniture selections to the ensure color doesn't bring out odd tones around other household items.
If you find a color you love, but your builder or painter uses a different paint line, don't worry! Typically paint colors can be color-matched by other brands. I still like to get a sample of the color-matched paint though, as I feel some lines match better than others. Make sure it is the color you are going after! It is also my personal preference to never color-match white paint. I've had too many bad experiences where the "matched" color wasn't even close!
When you grab a paint swatch, pay close attention to the most saturated version of your color at the end of the paint strip. That is likely the strongest base that you'll see, and even when you select a much lighter color, that saturated version is the color that your choice will likely read (in a lighter version). This can be very important when selecting white paints or neutrals. It's a quick way to see if the undertones are more yellow/blue/purple, etc.
Leverage Pinterest, Google or other search engines. I have selected a variety of paint colors for our home, simply by searching out paint colors online and seeing how the color reads in other homes. It can be so helpful to see paint colors in real-life spaces before selecting a color.
If you're wanting to try large, pre-painted samples, I'd definitely look into Samplize for picking the perfect neutral paint color for your home! Their large peel and stick samples are made with real paint (not dyed to mimic the color) so it can definitely help narrow down your top picks.
The Best Neutral Paint Color Picks
Following is a list of a my top five neutral paint color picks that seem to work well in most homes.
Behr Castle Path
Benjamin Moore Revere Pewter
Sherwin Williams Agreeable Gray
Benjamin Moore Stonington Gray
Behr Wheat Bread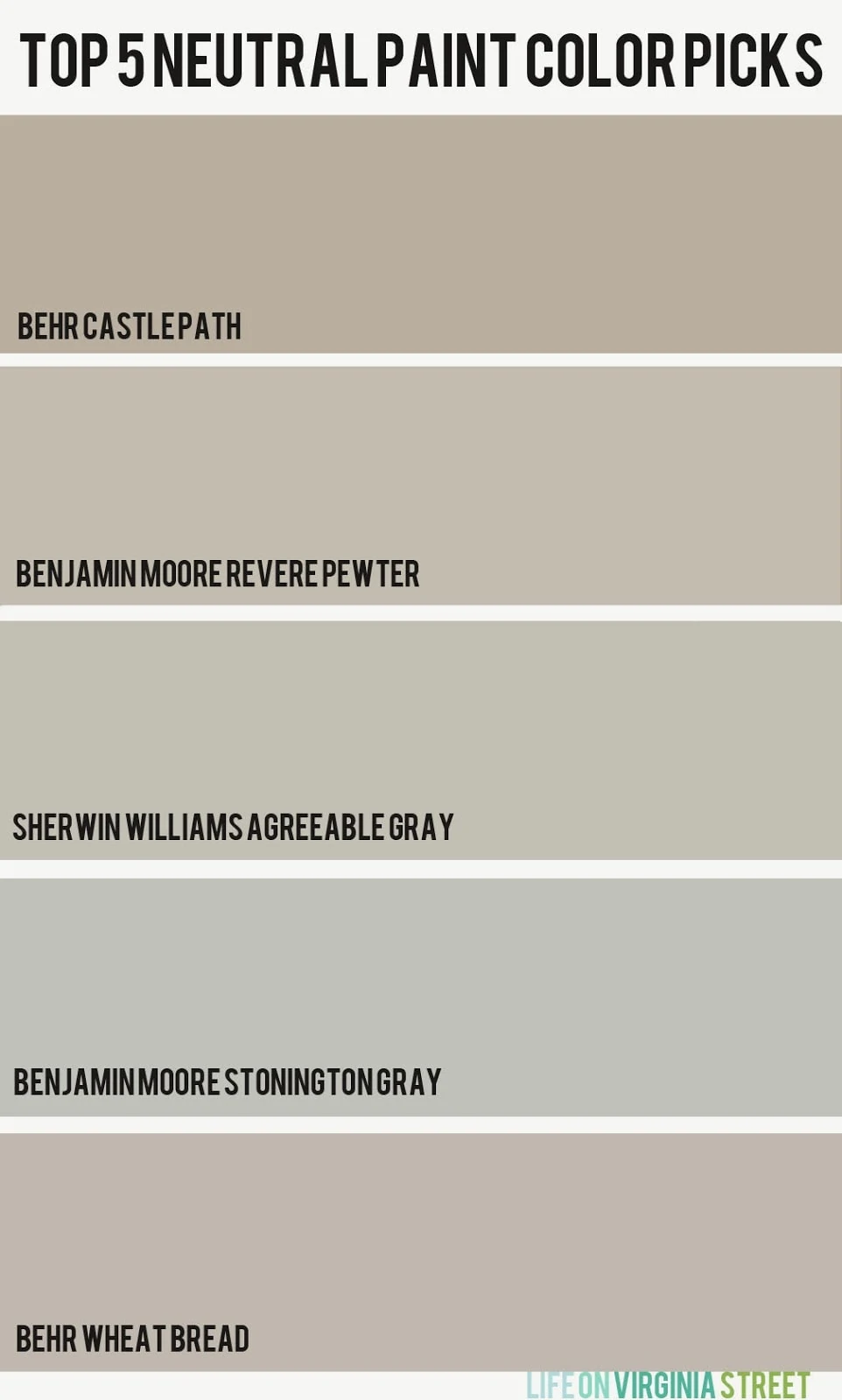 If any of these colors are too saturated for you, simply ask the company to do a 75% or 50% saturation of your color (or whatever ratio you would prefer). This keeps the tone and color the same, but simply lightens it.
Do you have a go-to neutral that you know is a given winner? Mine has obviously been Behr Castle Path in our current home. I would love to hear your favorites!
Additional Paint Color Inspiration
If you're looking for even more paint color ideas, be sure to check out the following posts. Click any of the links below to learn more about the topic.
If you would like to follow along on more of my home decor, DIY, lifestyle, travel and other posts, I'd love to have you follow me on any of the following: