First of all, thank you to everyone for your kind words about our summer home tour! You guys are the best. Be sure to check out the six additional tours that go live today, as well!
Last Friday, we finally had an electrician come out to the house to wrap up three sets of lights I have been anxiously awaiting installing on. I know I said the arrival of our trees was one of the best days of my life, but honestly, this day may have topped it. It's the little things 😉
As you know, we typically install all our own lights. I mean, you pretty much have to know how to install lights when you update fixtures as frequently as I do. However, our upper entryway and dining room proved to be projects we couldn't quite do on our own.
First up, the entryway upper lights. These were the last orange-toned lights in our home and I had purchased the new lights nearly a year ago. We opted for a smaller version of the large orb in our stairwell, and I ultimately ended up finding them here (it doesn't appear they carry the light anymore but this is a very close look-alike). My husband and I attempted to install them ourselves one day, but after we each took our turn up on the ladder, we both quickly decided this was a job best left for the professionals. Unfortunately, I never got around to actually calling someone, so the new lights sat in our guest bedroom unopened for nearly a year until we had someone come last week.
As a reminder, here's a little 'before' shot (obviously before the painting was finished as well).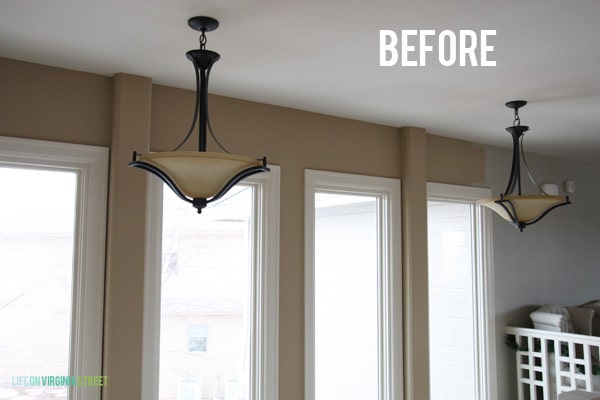 And now, the after!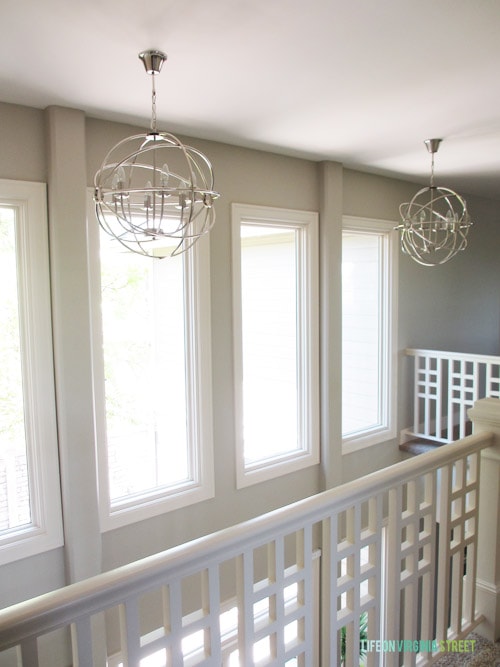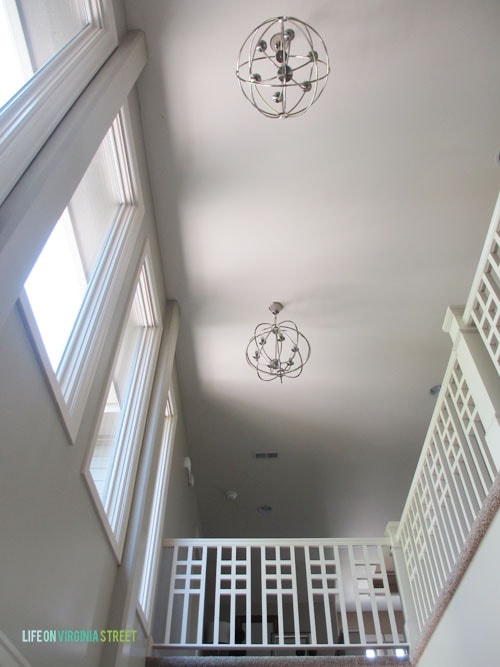 The internal chandeliers are a little off-kilter so I need to adjust those a bit, but I am SO happy to finally have the new lights in and something that coordinates with all the other fixtures in our home.
Now, on to the star of the post. After a few new holes in our walls and ceiling (the room was never wired for a chandelier – it only had the four can lights), our dining room light is in place. And it is STUNNING! Even my husband, who wasn't in love with the hefty price tag, said he thought it was the perfect choice for the space. I know I never officially shared what light I ordered for my dining room (you can see my decision process and sample lights here and here). After those posts, I was approached by Lighting Connection, a new-to-me site, advising they had the light available. If I ordered it through them, they would also offer a discount to all of my readers. Win-win for everyone right! So, although I'm not quite ready for a full dining room reveal, here is a little sneak peak of the space with the new light – the Visual Comfort Darlana Linear Pendant (a big 'thank you' goes out to Sherry at Design Indulgence for encouraging to go with my original pick)! If you have extra sneaky eyesight, you caught a glimpse of it in my summer home tour.
But first, here's the 'before' right after we moved in.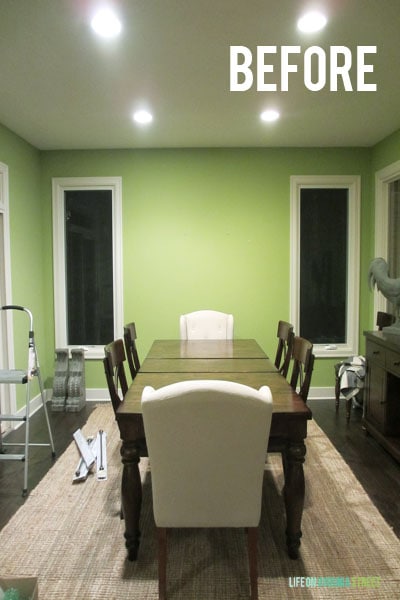 And now, the semi-finished after!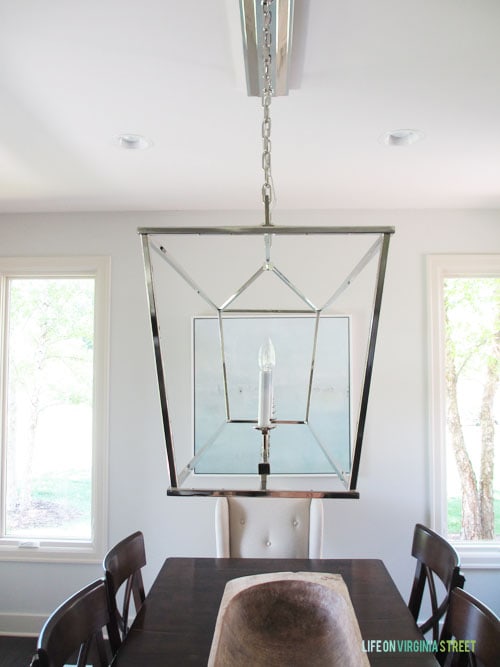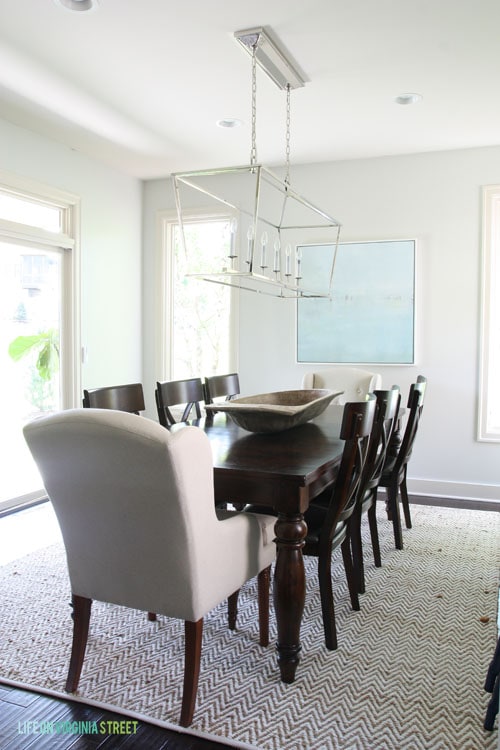 Art / Rug / Nebraska Furniture Mart Dining Set / Sears Wingback Chairs (old) / Behr Silver Drop Walls
Honestly, this light is one of the most beautiful I have ever laid eyes on. Without all the textiles (curtains/pillows other decor) in place and the trim not quite white yet, the room still falls a little flat, but I am in love with the light and the progress!
In an effort to feed my lighting addiction and to help you take advantage of the 15% discount Lighting Connection is offering, here is a round-up of some of my favorite lights they have to offer. It was hard to narrow them down, as there were so many gorgeous choices that I hadn't ever seen before! My picks come in a wide range of price points and styles. There really is something for everyone!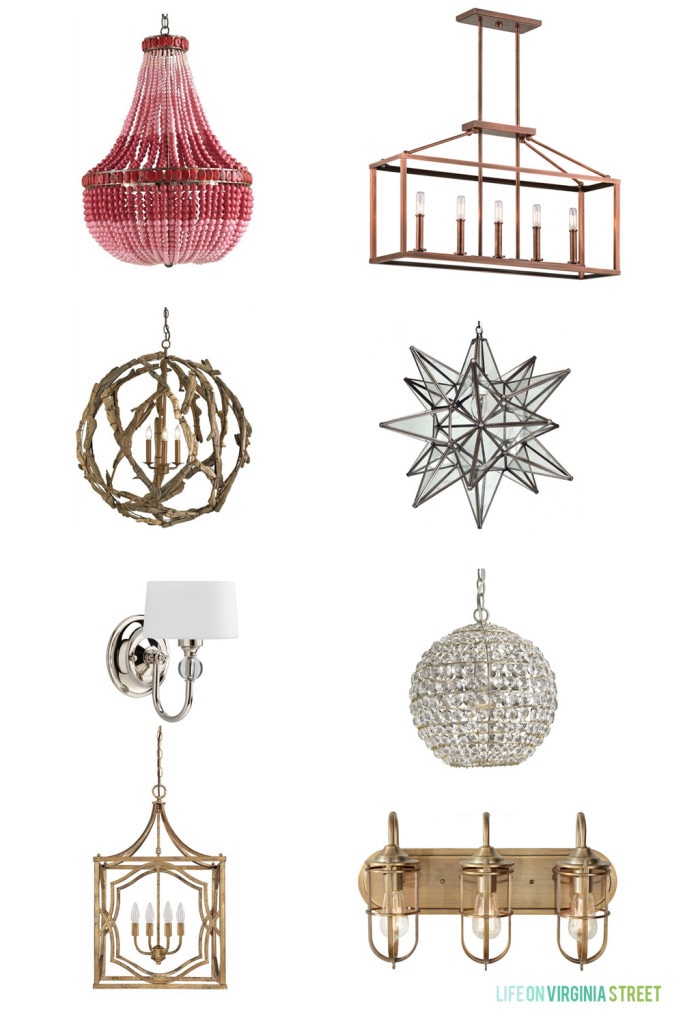 Flamingo Chandelier / Archibald Linear Chandelier / Driftwood Orb Chandelier / Moravian Star Light / Fortune Sconce / Roundabout Pendant / Blakely Lantern / Urban Renewal Vanity
Now, great news for all of you! Lighting Connection is generously offering a discount to my readers on their gorgeous lights. Simply enter VirginiaStreet at checkout for 15% off your entire order! If you end up ordering something, I'd love to see after pictures of your room!
Isn't it amazing what the right light can do for a space? Needless to say, I am in love with all three of our new lights.
If you would like to follow along on more of my home decor, DIY, lifestyle and other posts, I'd love to have you follow me on any of the following:
Pinterest / Instagram / Facebook / Twitter / Bloglovin' / Google
Disclosure: This is not a sponsored post – I'm just excited about the lights I purchased from Lighting Connection and HomeClick and wanted to pass along the great discount from Lighting Connection that was offered to my readers. As always, I only share brands that I truly believe in. Some affiliate links used.