A step-by-step guide to learn how to design a room you love. These tips can also be used to refresh a space keeping most of your core components, and regardless of budget size!
A common question I receive is how I start designing a room. I thought I would take my serene blue guest bedroom makeover example and walk you through my process step-by-step and show you how to design a room you love. I'll also be sharing all of the sources along the way for this particular room makeover.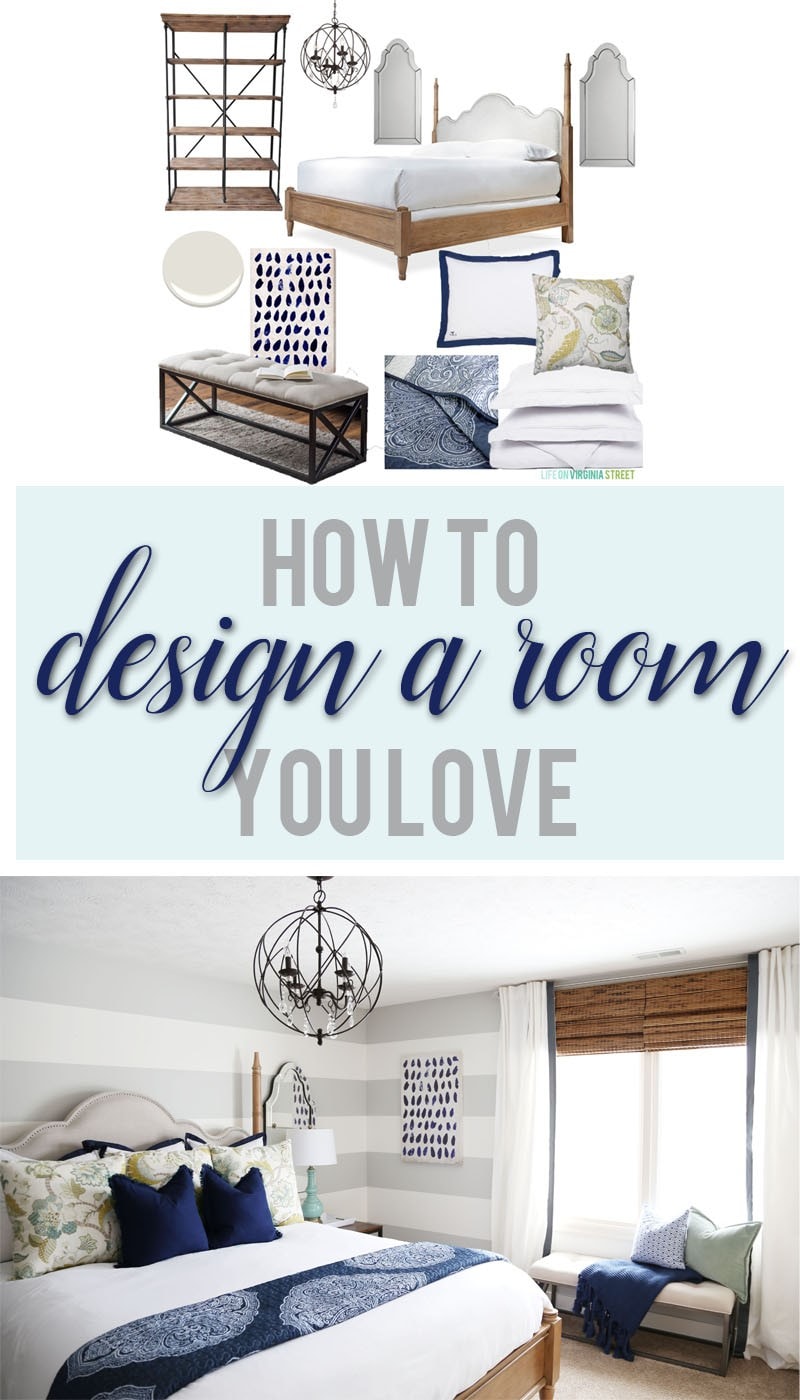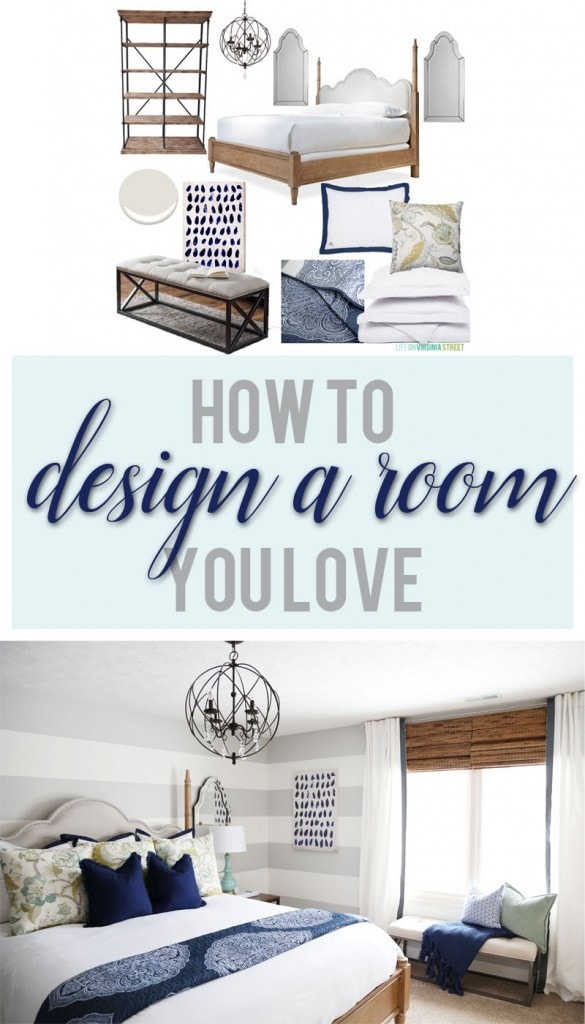 A Real-Life Design Example
Before we jump to the steps, lets take a look at our simple guest bedroom as an example. Our guest room looked like this shortly after we first moved in: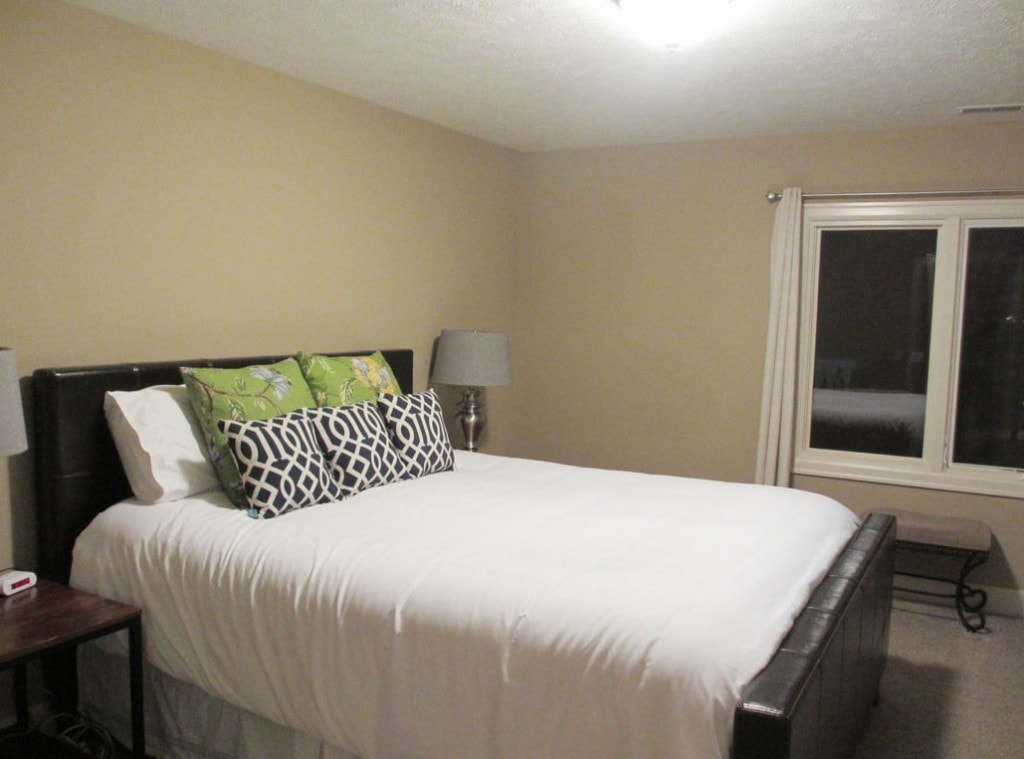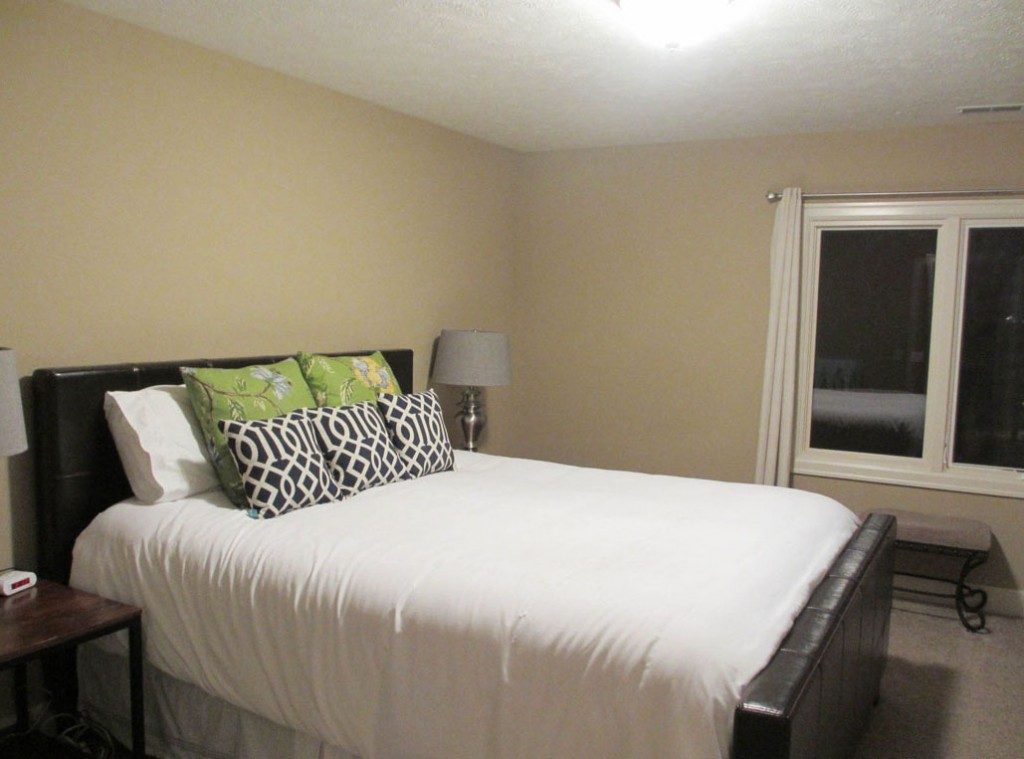 After some fresh paint and accessory swaps, I turned it into the bright space you see below. But it wasn't a space that really felt like it belonged in our home.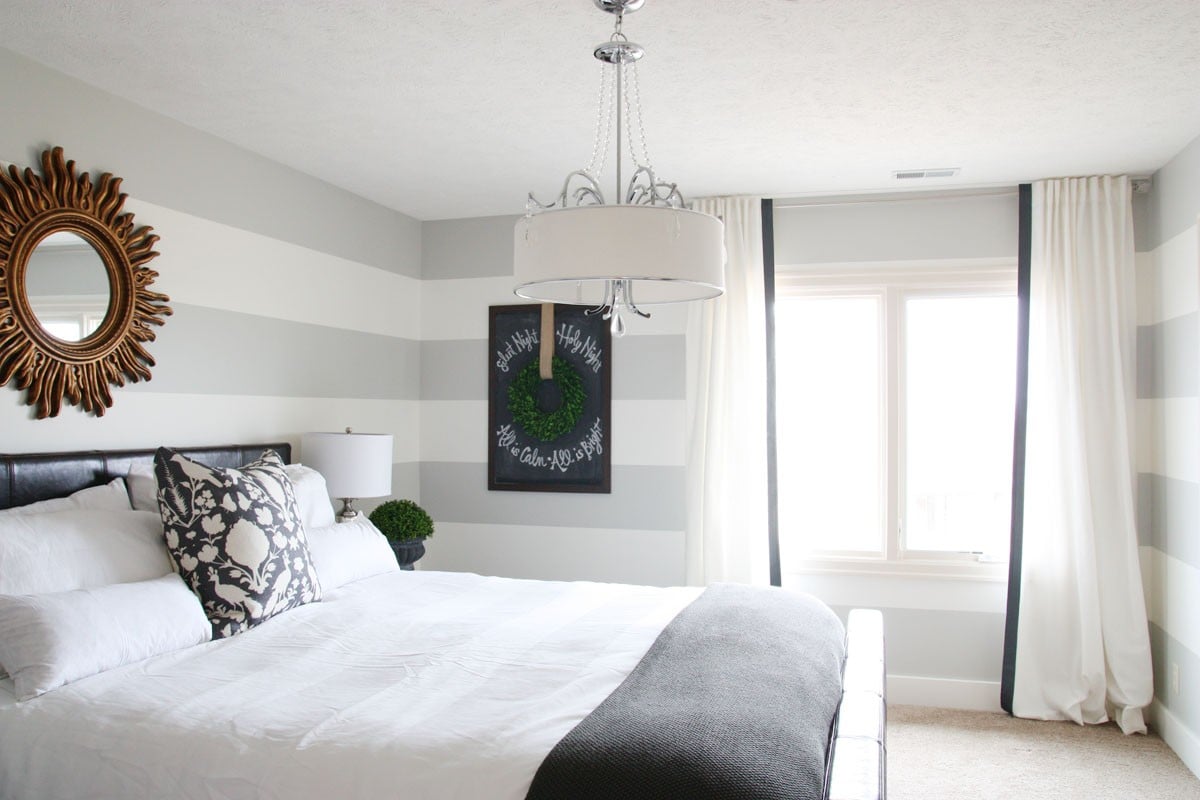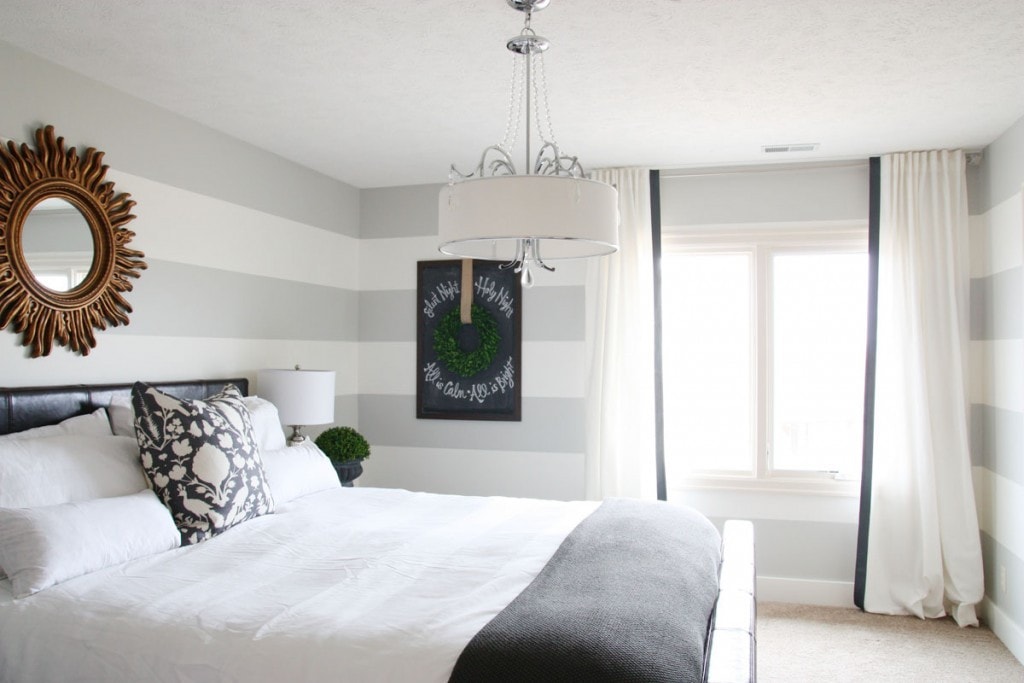 My design plans for the new space started on "paper" as the image below.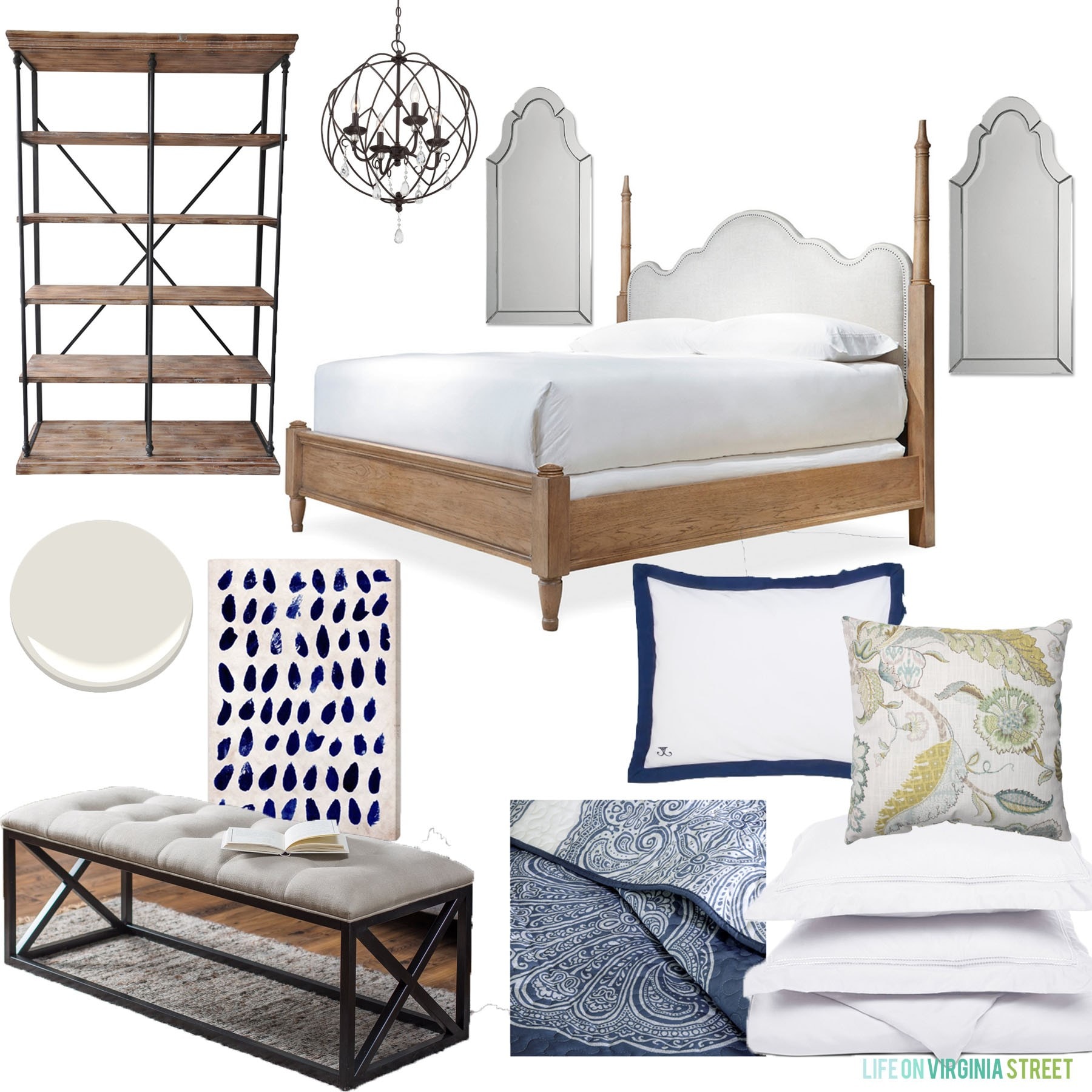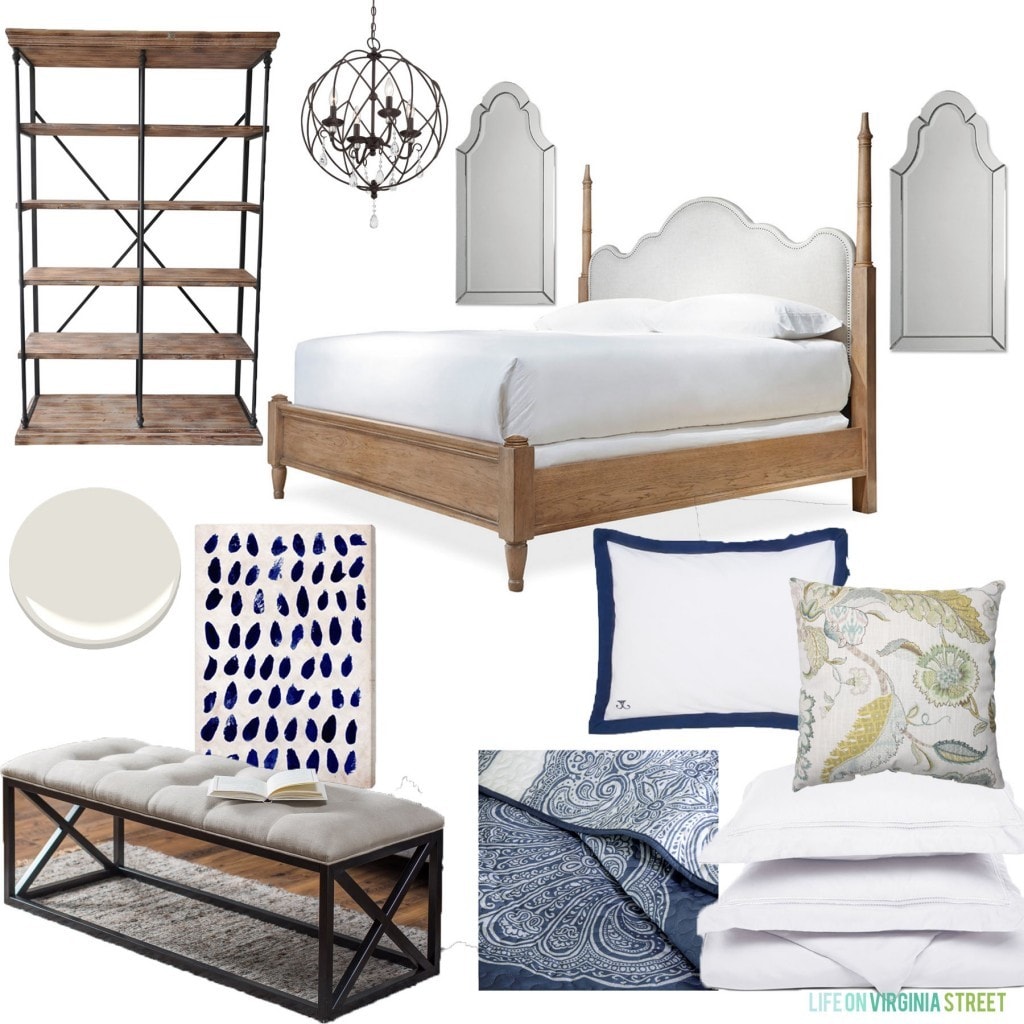 By following the steps below, the room evolved into the fresh design space you see below!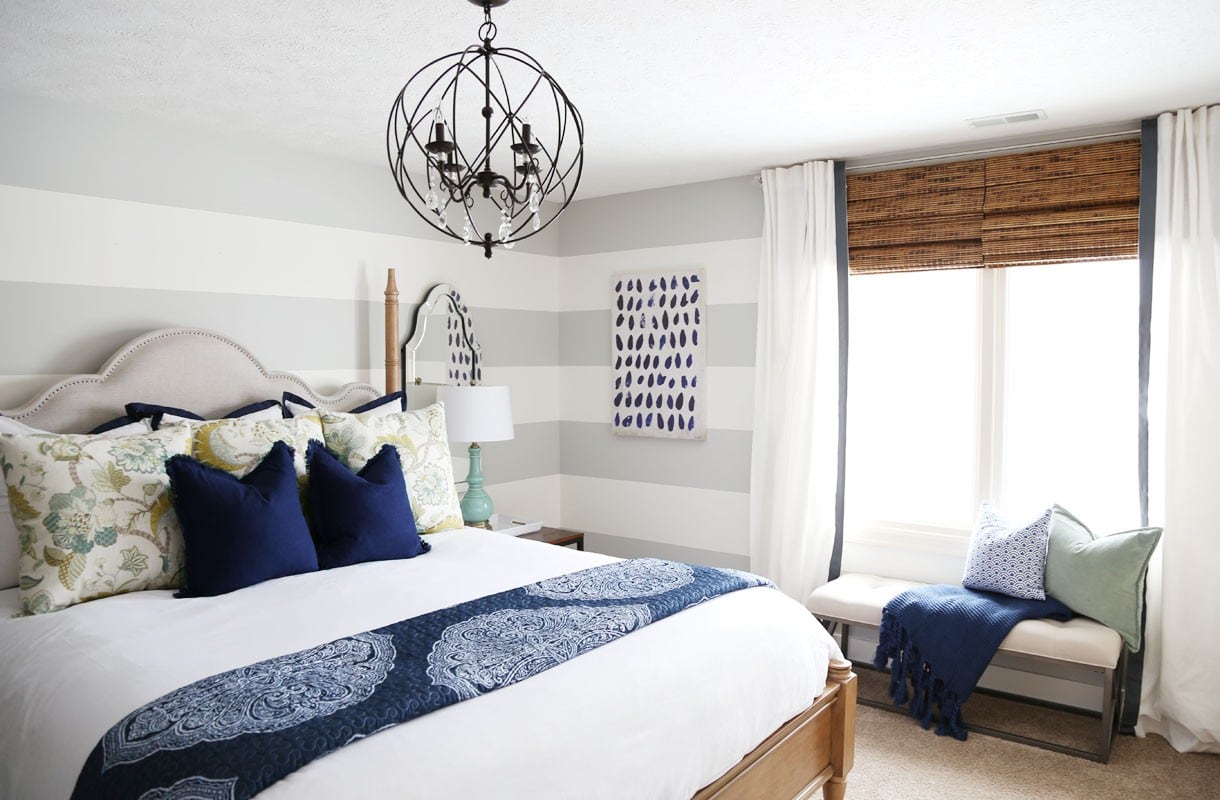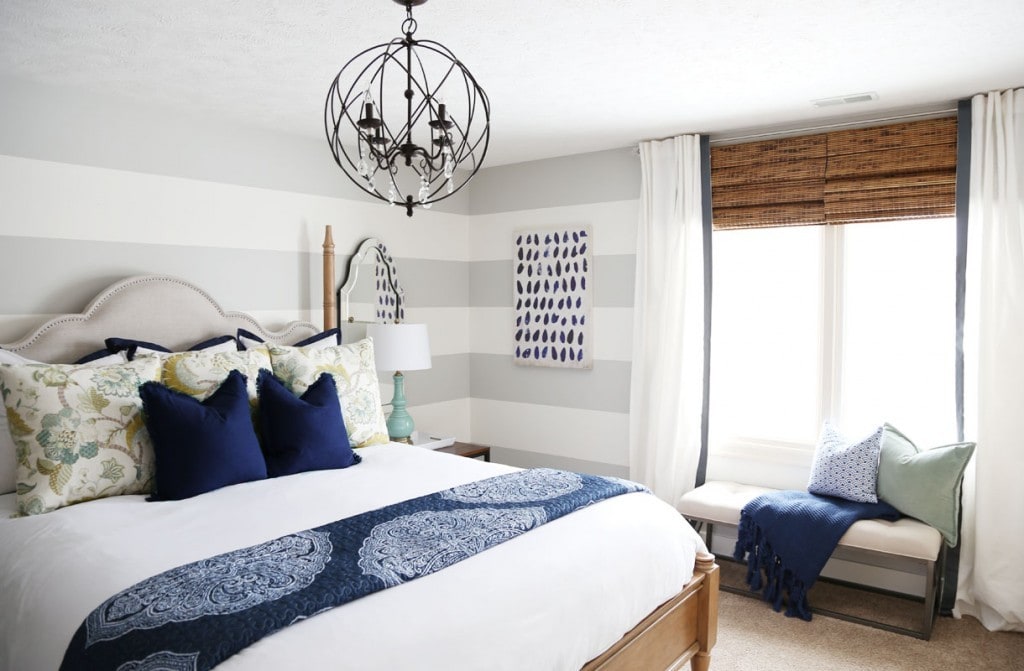 This post contains affiliate links for your shopping convenience. Click here to read my full disclosure policy.
How to Design a Room You Love
Following are some simple steps I take to help me design a room I love! You'll want to be sure to spend adequate time on each of these steps so that you get it right the first time around!
Identify how you want the room to function
Set a budget
Create a mood board
Identify How You Want the Room To Function
Without identifying how you want the room to function, flow, and how much you want to spend, you shouldn't start looking for items. Take a few minutes to clearly articulate (either verbally or on paper) to each of those three questions, as they are critical components to ensuring you love your finished room. It doesn't matter how beautiful the room looks in the end if it doesn't function for you properly on a day-to-day basis.
Set A Budget
Nailing down your budget is a critical step before you start selecting pieces for your room. It can be so easy to buy one big splurge item and then have no money left for other cohesive elements in your space. Which is okay if you aren't under any time constraints and want to take your time designing your room! But, if you are trying to complete a space from beginning to end, it will be important to lay out budget allocations for each piece you plan to replace in your room. I always add a 5-10% buffer as well for unexpected pieces I may find and want a long the way!
Create A Mood Board
I'm a very visual person, so I am a big fan of mood boards (which you know if you're a long time reader). I've found in the past, if I skip creating a mood board, my decisions tend to be rushed and I end up with a space I don't love in the end. A great example of this mistake is this space previously, in the first image above. It turned out to be a beautiful room, but not at all my style in the end. It had morphed into a Pinterest hybrid of spaces I loved but overall, felt too cold and stark for my liking. Not the feeling I wanted in our main guest room!
You can see my step-by-step tutorial on how to make a mood board for interior design for all the specifics on digital design boards!
I'll share a bit more on my thought process on design boards below.
Starting Your Search For the Perfect Design Elements
At the onset of starting to search for items, I jot down a few words for how I want the space to feel. Going back to our guest bedroom makeover, words that came to mind for this particular space were beachy, polished, warmer, blues, cozy. Do the same with the room you're envisioning for your own home. Sometimes it helps to pull up your favorite five or so images on Pinterest (more may give you analysis paralysis) and see what they all have in common. Write down the feelings, colors, elements, etc. you consistently see in all/most of the photos you love.
As I start finding items I love I make sure everything I pick can satisfy at least two of the words on my list. If not, I move on. I try to start with some of the bigger pieces (unless I find a small statement item that 100% has to be the focus/inspiration like a piece of art), and then work down from there.
When starting on the design in a space, I typically start with one piece to start my inspiration. In this case, it was the gorgeous wood, linen and nailhead bed!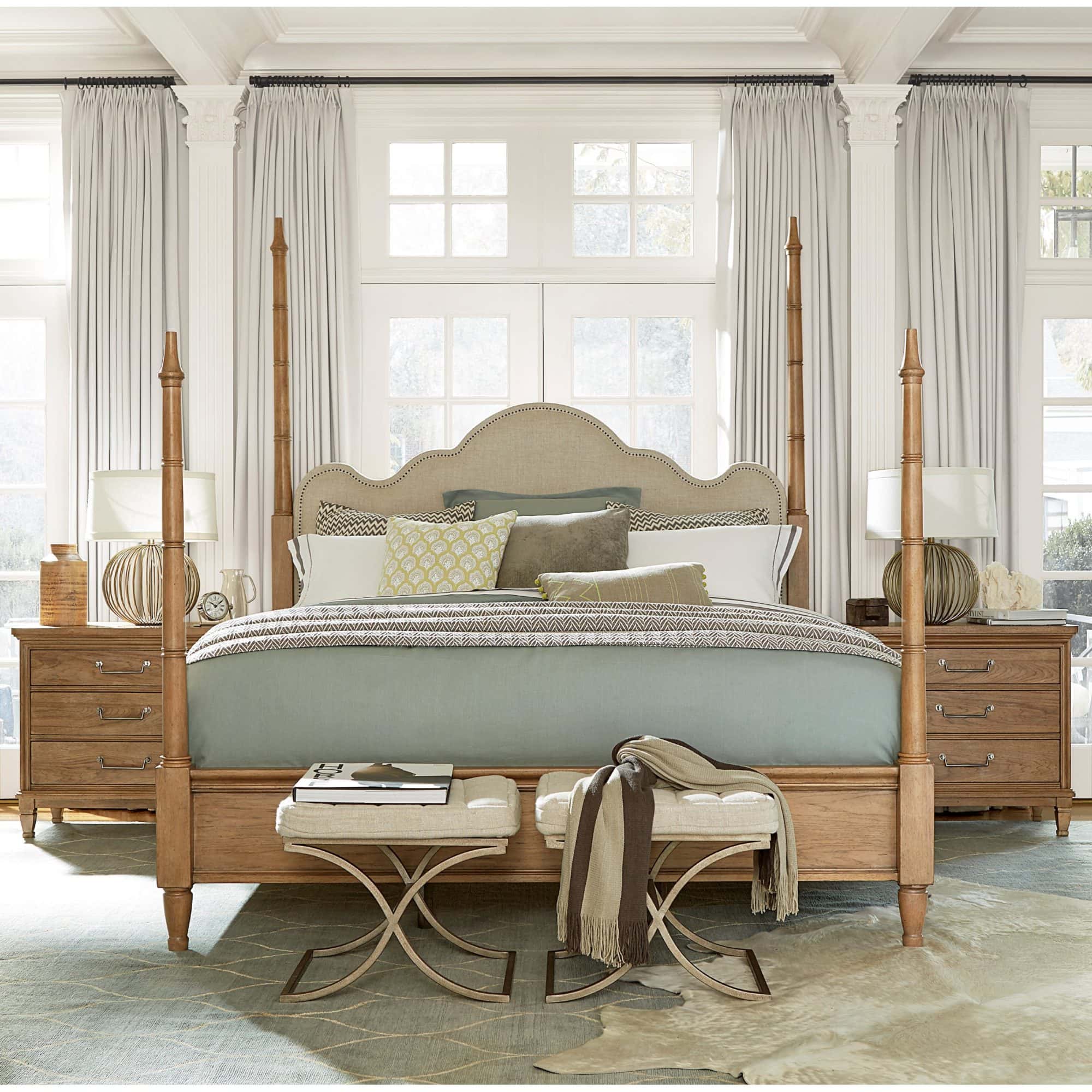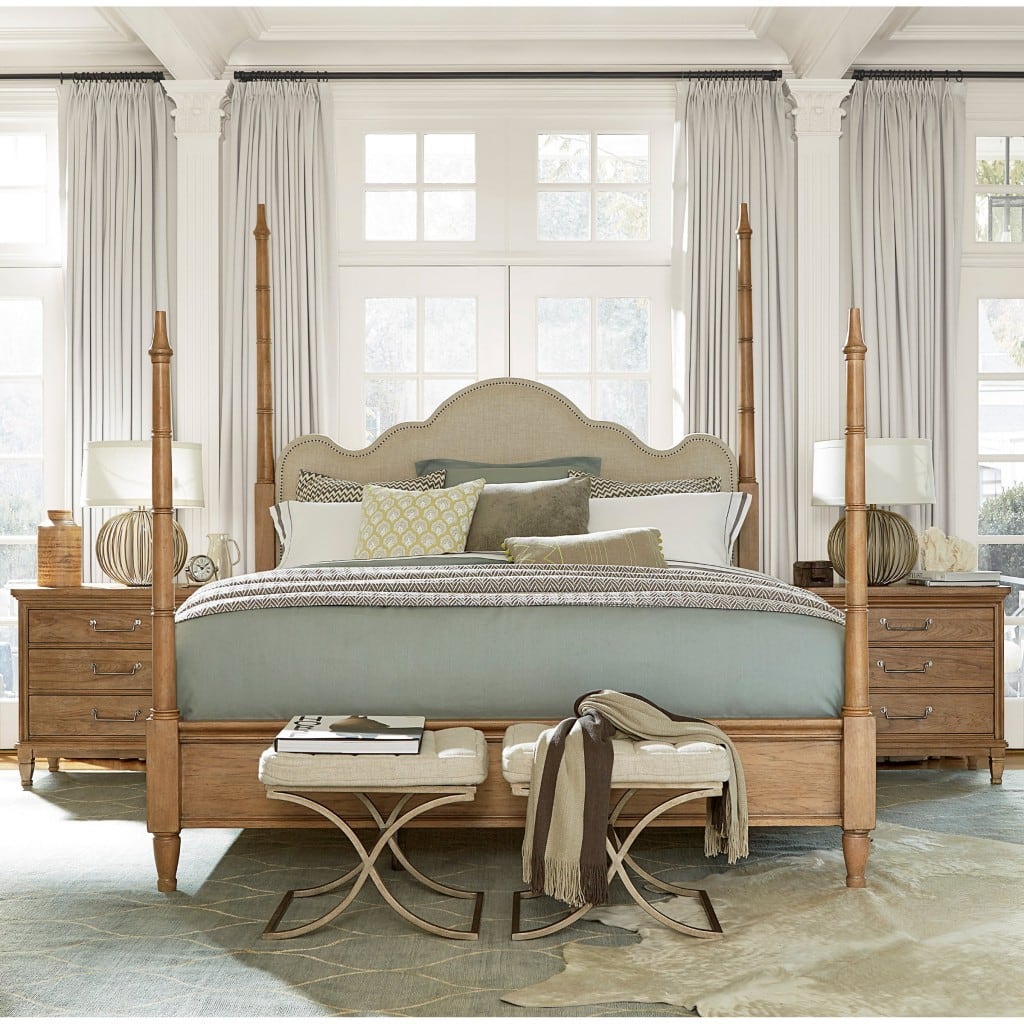 I knew it was a keeper! So, from there, I started to build out my design board around it.
The key to making your design board look as accurate as possible is trying to find the stripped-down product shots. So, for example, in the photo above, the bed looks gorgeous! But, say for example I wanted red bedding, the photo isn't going to help me get that look and may just confuse the mood board. Always search on a brand's website for the 'unstyled' version of the product and use that, if available. It also helps if the product has a white background! In this case, I pulled the image below.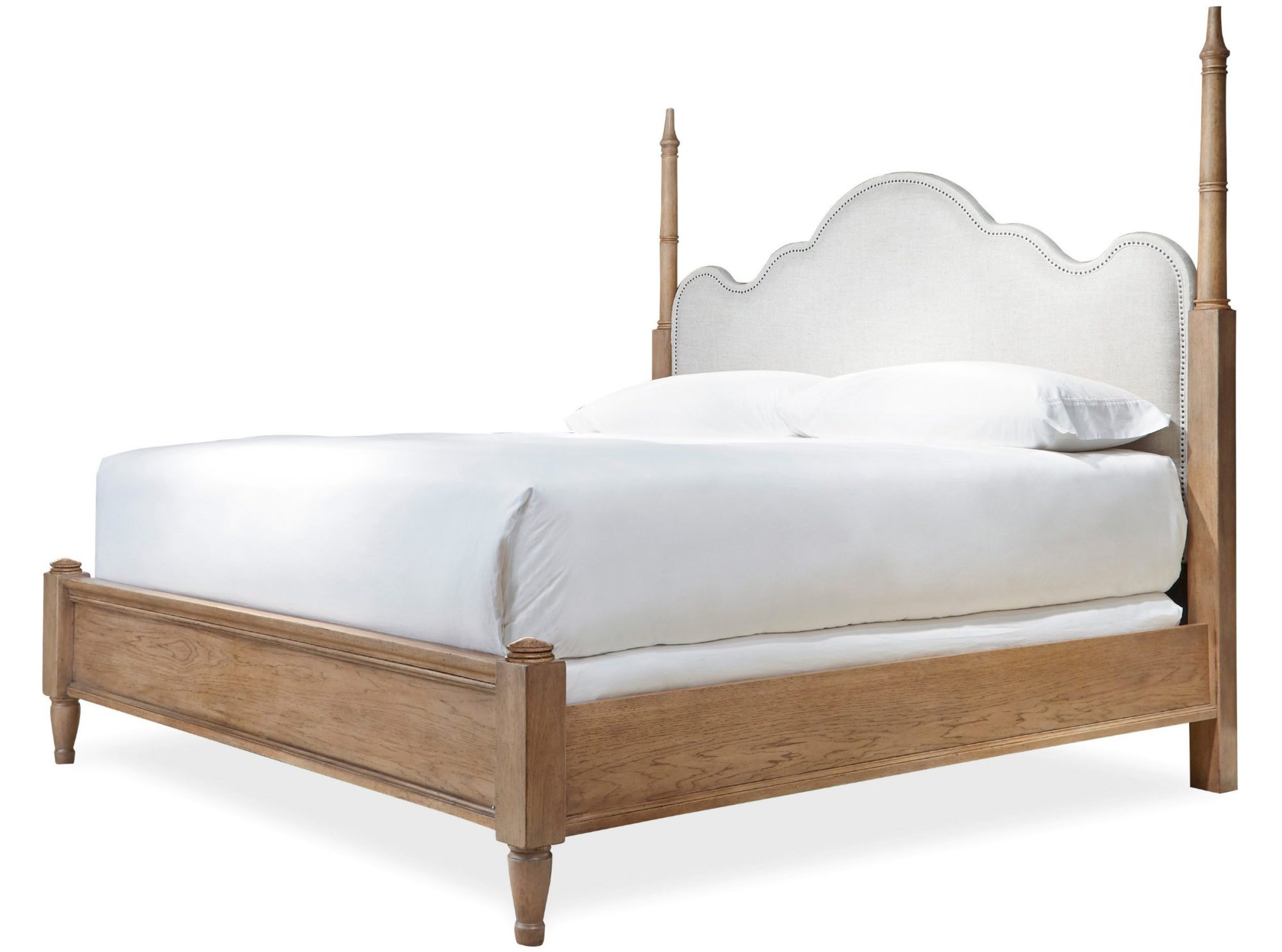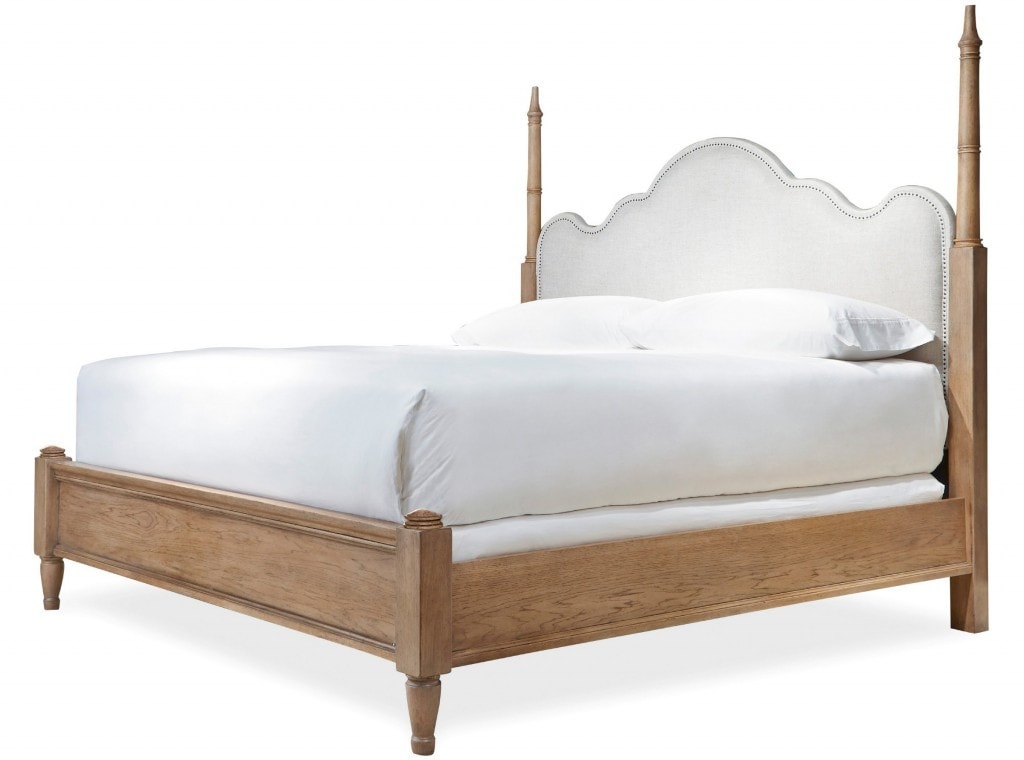 See how this image serves as a much cleaner slate to build the design board? You're now ready to use it in your mood board design and to begin adding other elements.
The reality is, we rarely can start from scratch and start over once when we makeover a space. I had several pieces I needed to keep, including the mattress (which dictated my bed size), the nightstands, the drapes, the striped walls and some of the pillows. When you have items you have to keep, try to photograph them in a neutral area so you can add them to your design board, as well (or find similar items online that you can add to the board to help you visualize everything together).
Next, I try to pick something that steers the palette. I first found the coverlet for the end of the bed, because sometimes bedding can be tricky. Knowing the route I was going with the coverlet helped steer some of my other difficult decisions. Another option would have been to start with the floral pillow. From there, find items that aren't too matchy-matchy but coordinate well. I felt like the navy and white Euro shams perfectly tied everything together, and added a bit of a preppy vibe, without making the entire room feel like it was part of a set. If you have a hard time narrowing down patterns, be sure to check out my tips on perfect pillow pattern combinations.
I love that this floral pillow had all of my favorite colors and the ones I wanted to use in the space – blues, mossy greens, aquas, browns, and gray tones.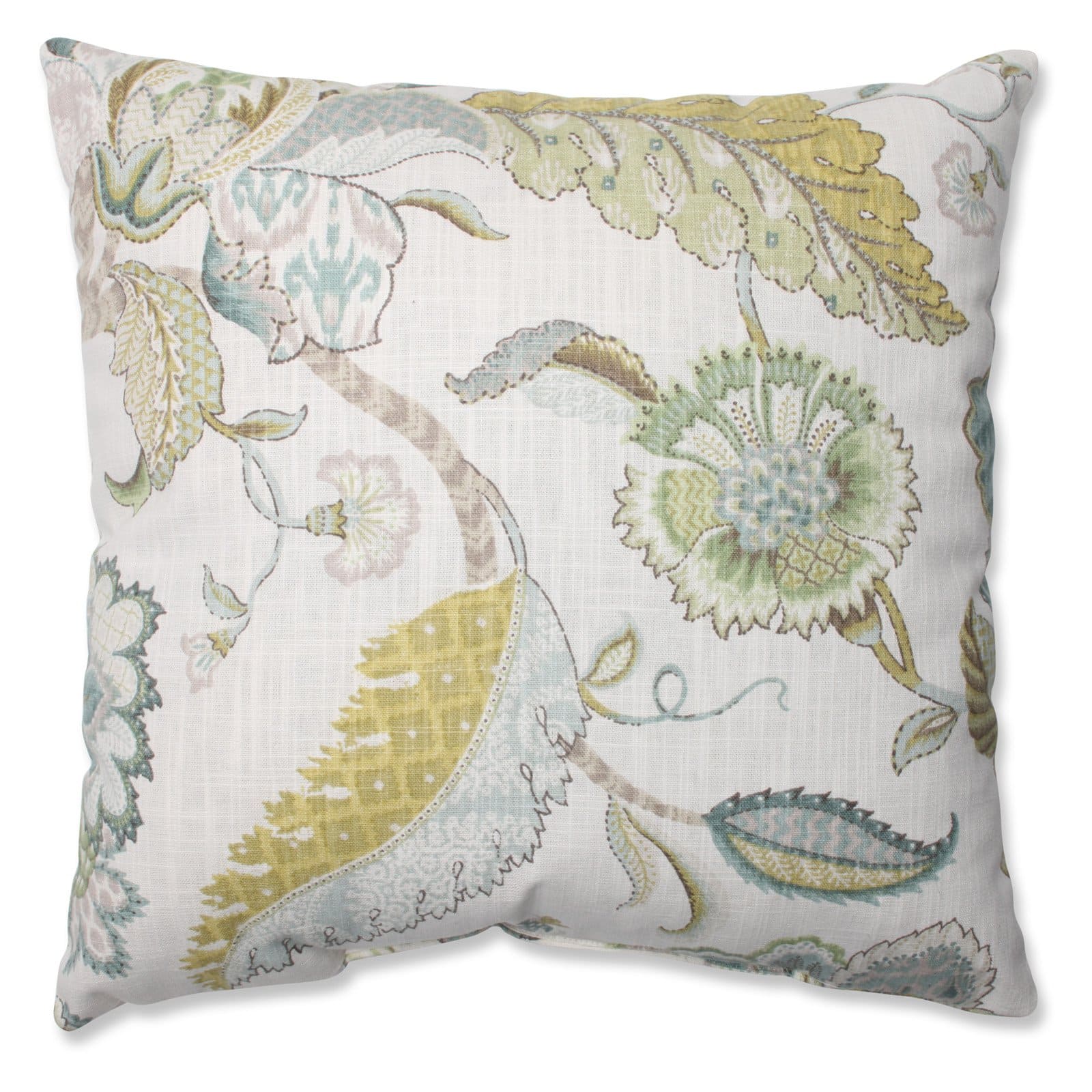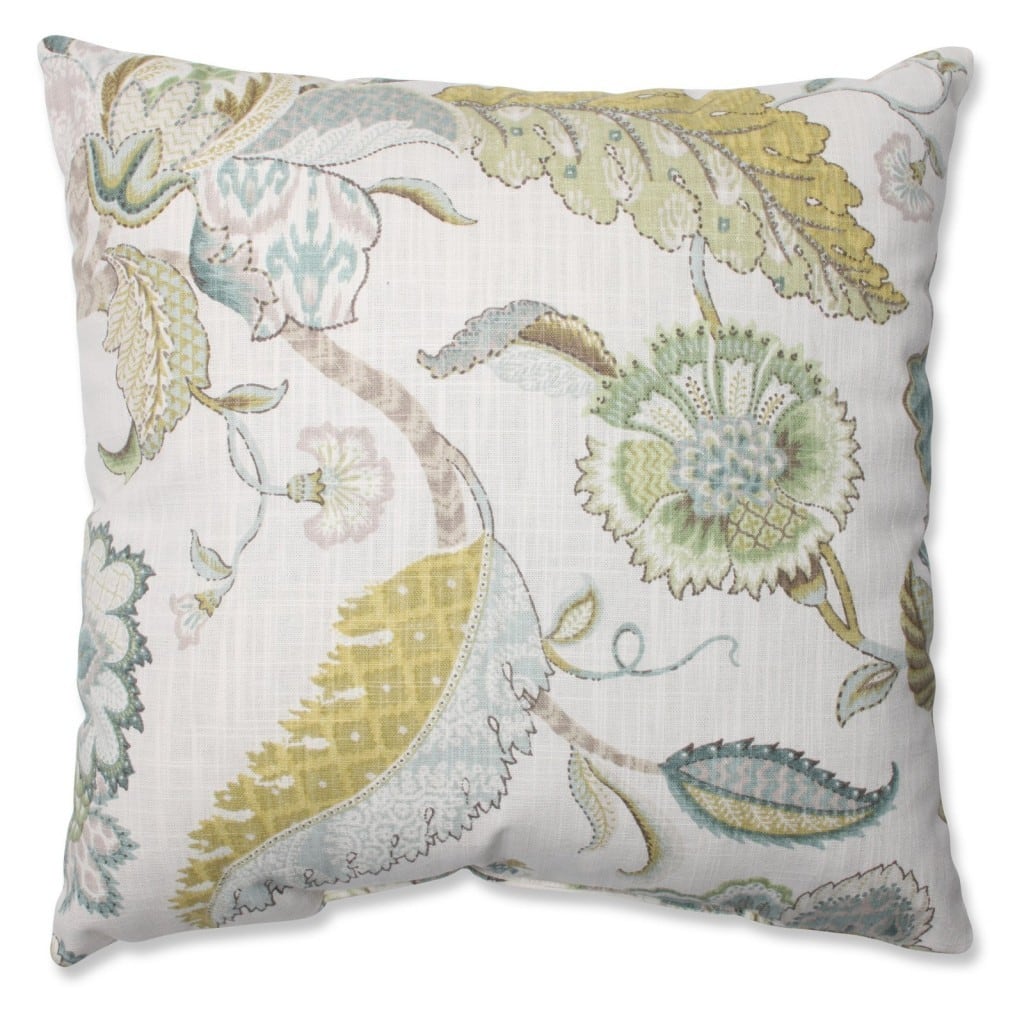 For the remainder of the bedding, I knew I wanted all white. Since I'm such a pillow junkie, I'll likely never not do all-white bedding again. It is so much easier to vary your looks down the road, when you don't feel the weight of also having to replace pricey bedding. I love being able to use seasonal throw pillows from our living room in our other rooms at later dates.
Continue adding in decorative pieces to the mood board, which will quickly help you to visualize if pieces will likely work together or not once they are in your room. When you see everything side-by-side in one image, you can quickly eliminate and add as necessary.
To create dimension in any space you design, try to vary the textures across your pieces. If you find you're adding a lot of items with wood, for example, try to balance the look with polished metals, glass objects or cozy textiles. Woven elements mixed with smooth, soft fabrics. Hard lines with softer surfaces.
As a reminder, here was my final mood board.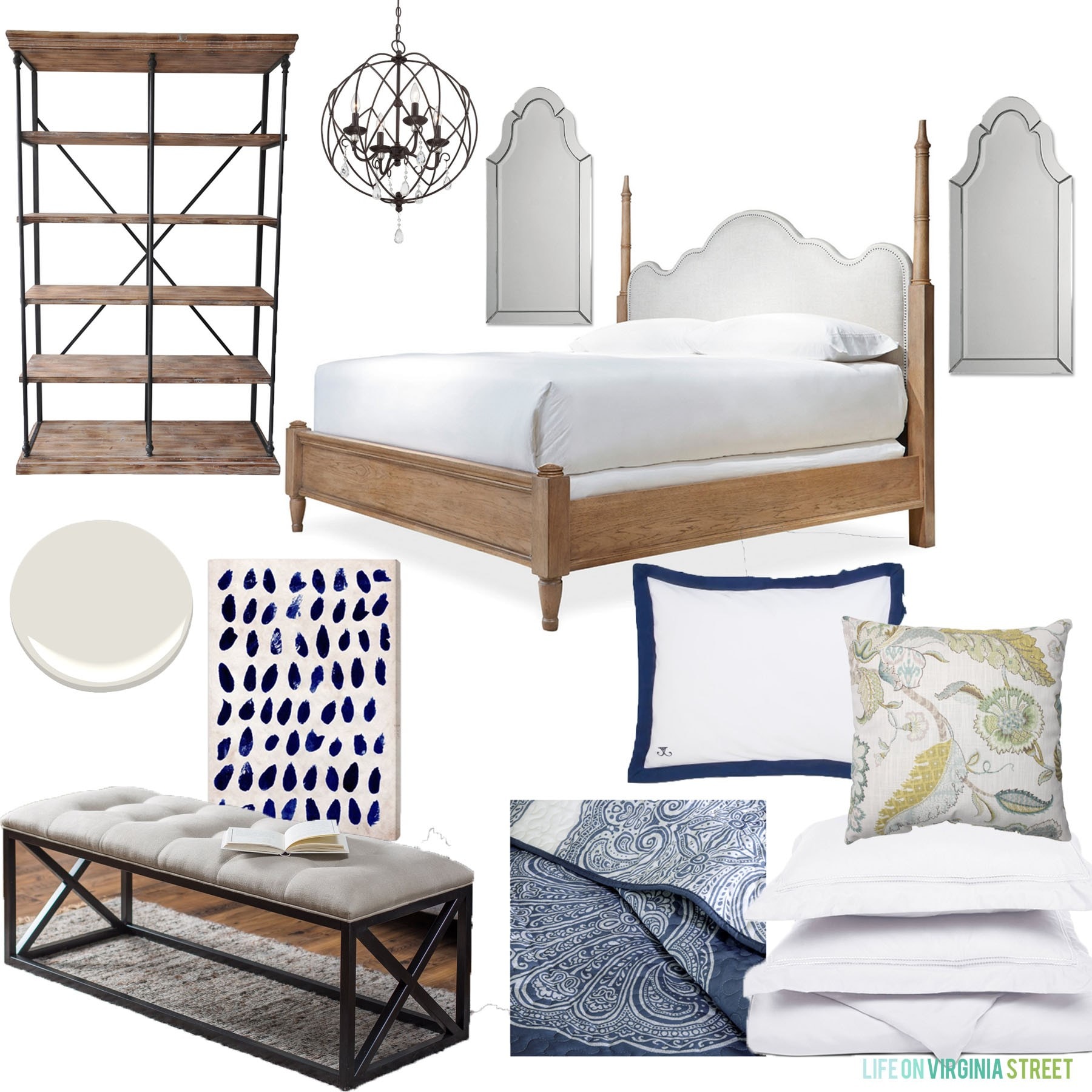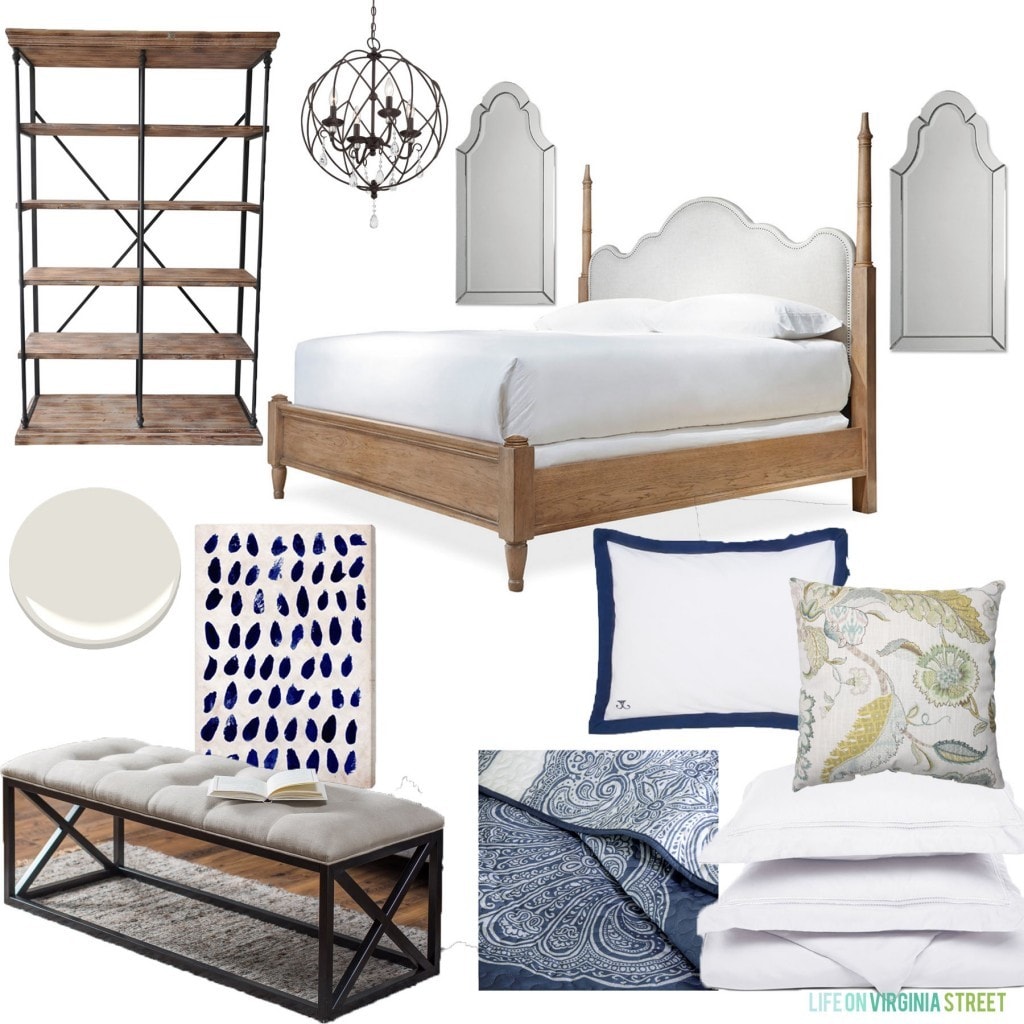 As much as I'm a believer in statement lighting, the orb chandelier (similar option available here) was one of the last items I added to my mood board. Sometimes, that's the best route to go (unless you have a light fixture you're designing an entire space around). I actually had a few options, but ultimately went with this one because the iron tied in well with the bookshelf, bench and my existing nightstands. The sparkly crystals added just a bit of bling and glam, and overall, I loved that the caged shape didn't take up too much space visually. It still felt light and airy. Try and find something, again, that doesn't feel matchy-matchy, but helps keep the overall look cohesive. Lighting can easily be eliminated or considered once you see it on your mood board.
The mirrors over the nightstands were added to help reflect the light and also add visual interest to the bed wall. The headboard was too high, in my opinion, to add a mirror or artwork over it. The curved frameless mirrors mimic the curves of the headboard, and also help to reflect so much more light in the space!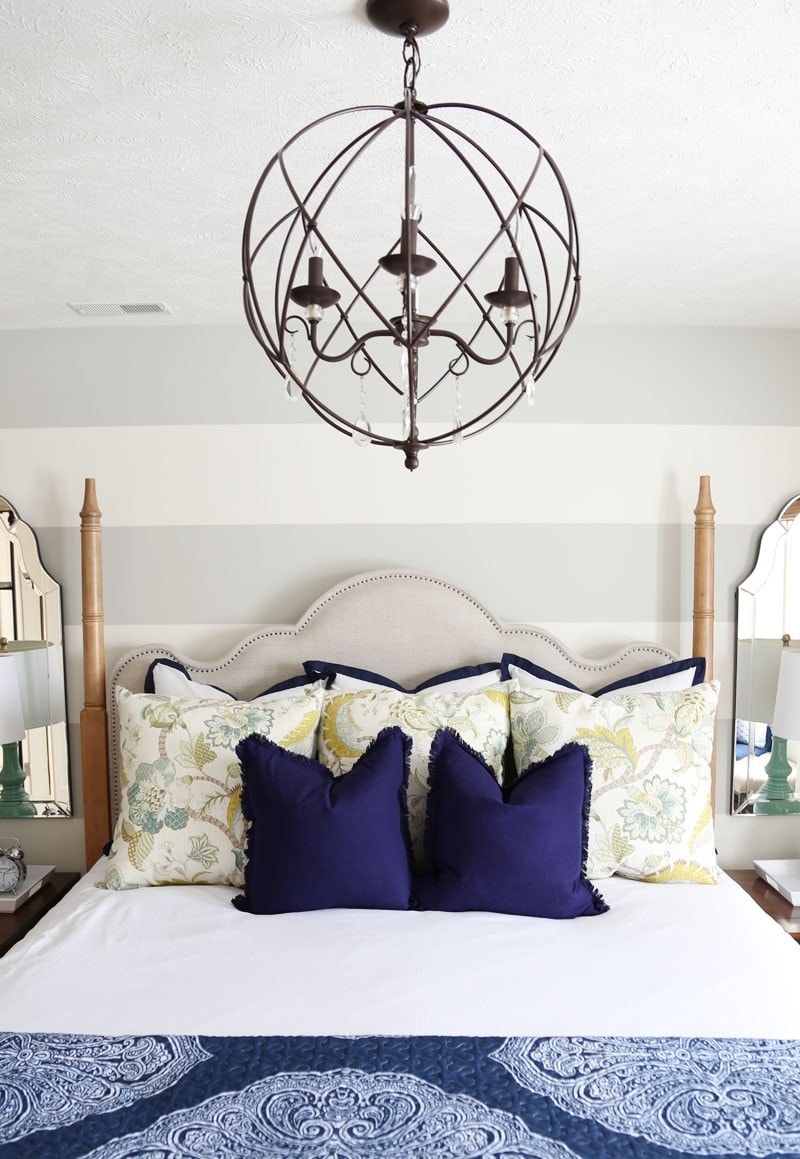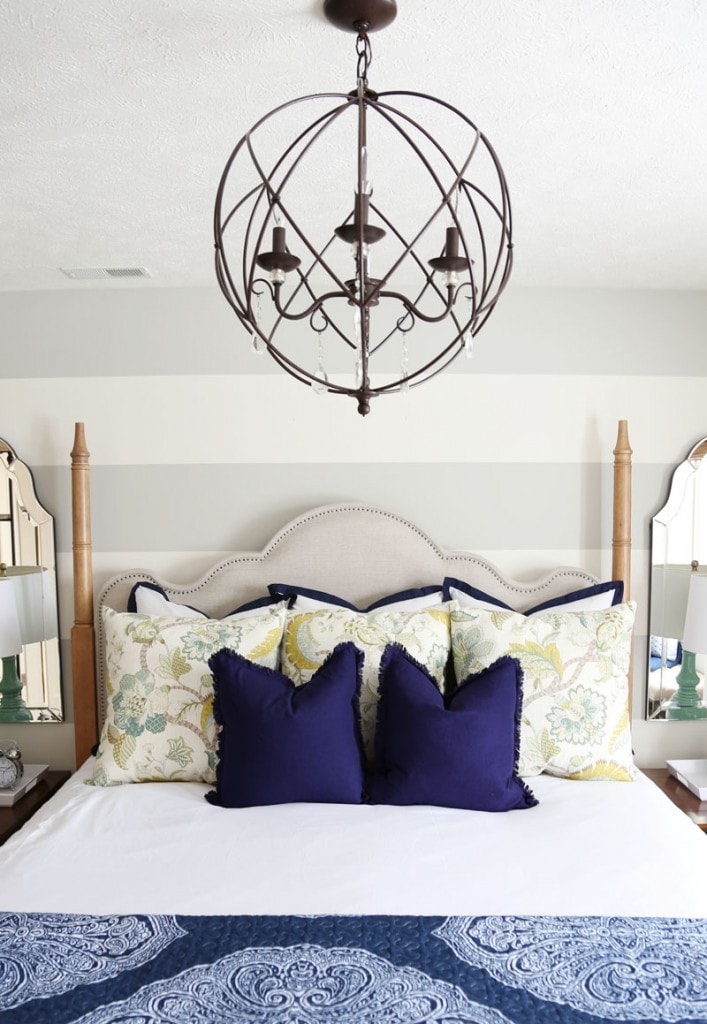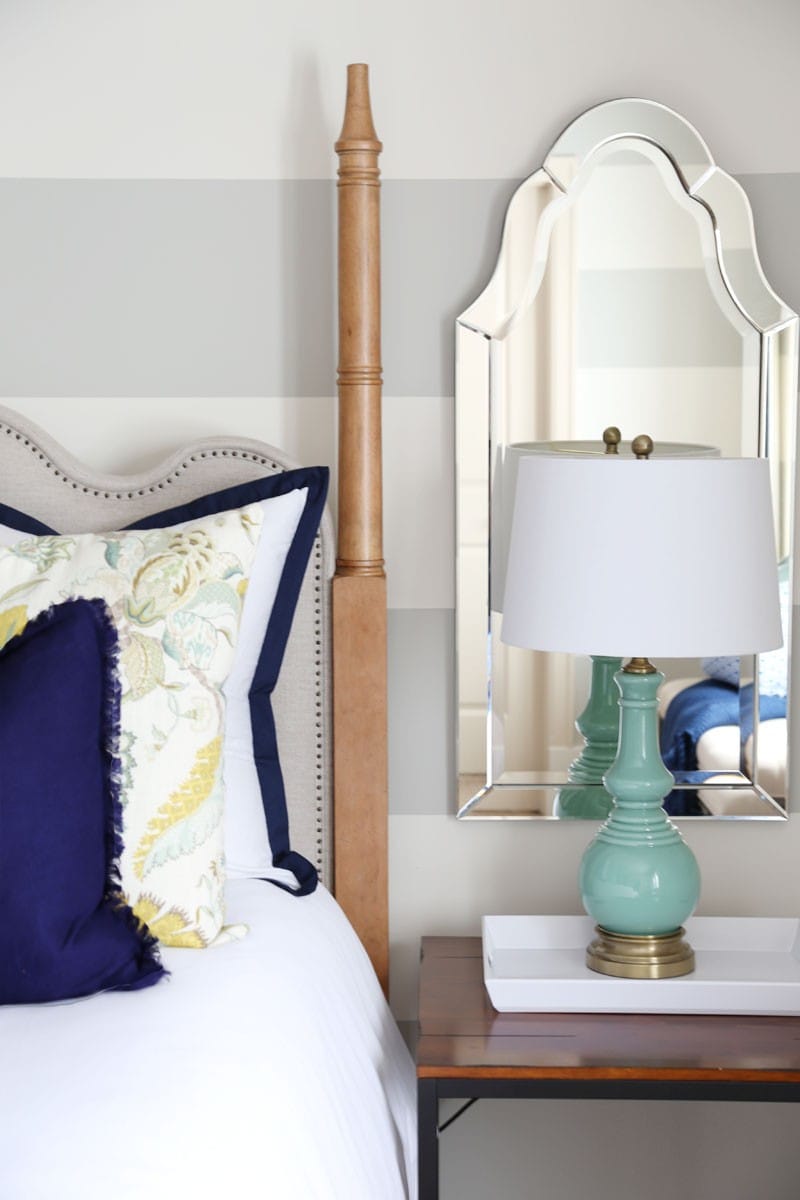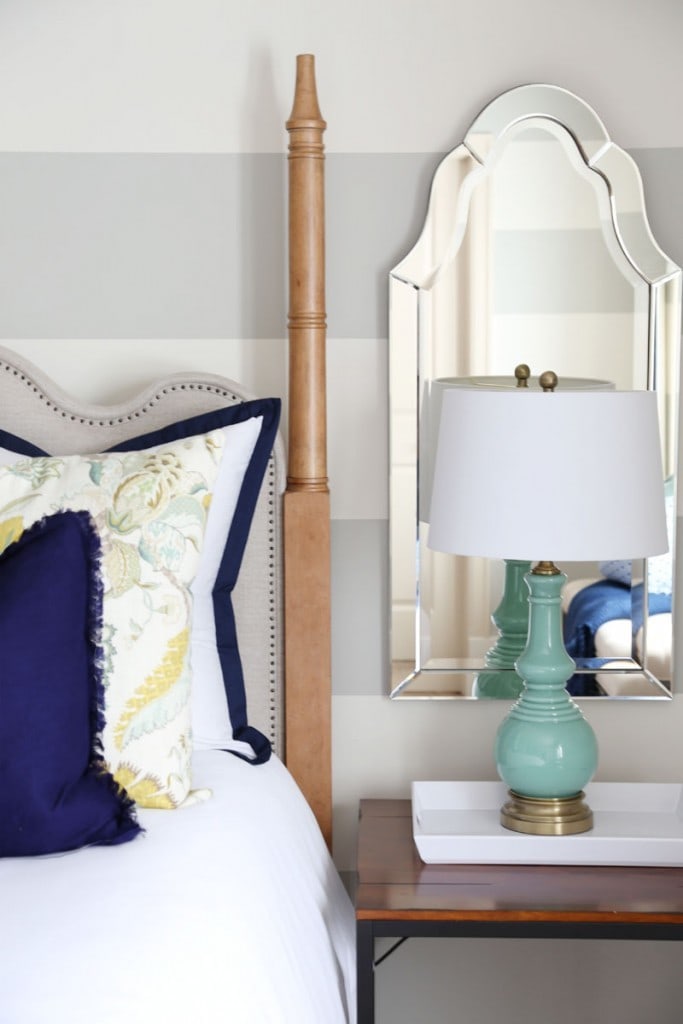 When it came to styling the bookshelf, I shopped my house, plus picked up a few affordable items at HomeGoods and Target. In this situation, if you have shelving like me, it's a great way to add in pops of the accent colors you are going with. You can see I pulled out several soft colors from the floral pillow and used them in the pieces below. The bottom row (not shown in the photo) will hold baskets with additional linens for our guests. To keep the room sophisticated and polished, try not to add more than three or so colors (or tones of that color).
I believe greenery is always needed in any space, to help bring the room to life. The bookshelf just felt flat and a bit lifeless without it. So always remember, regardless of your color-scheme, try and add in greenery that goes with your style! It will make your space feel so much more finished!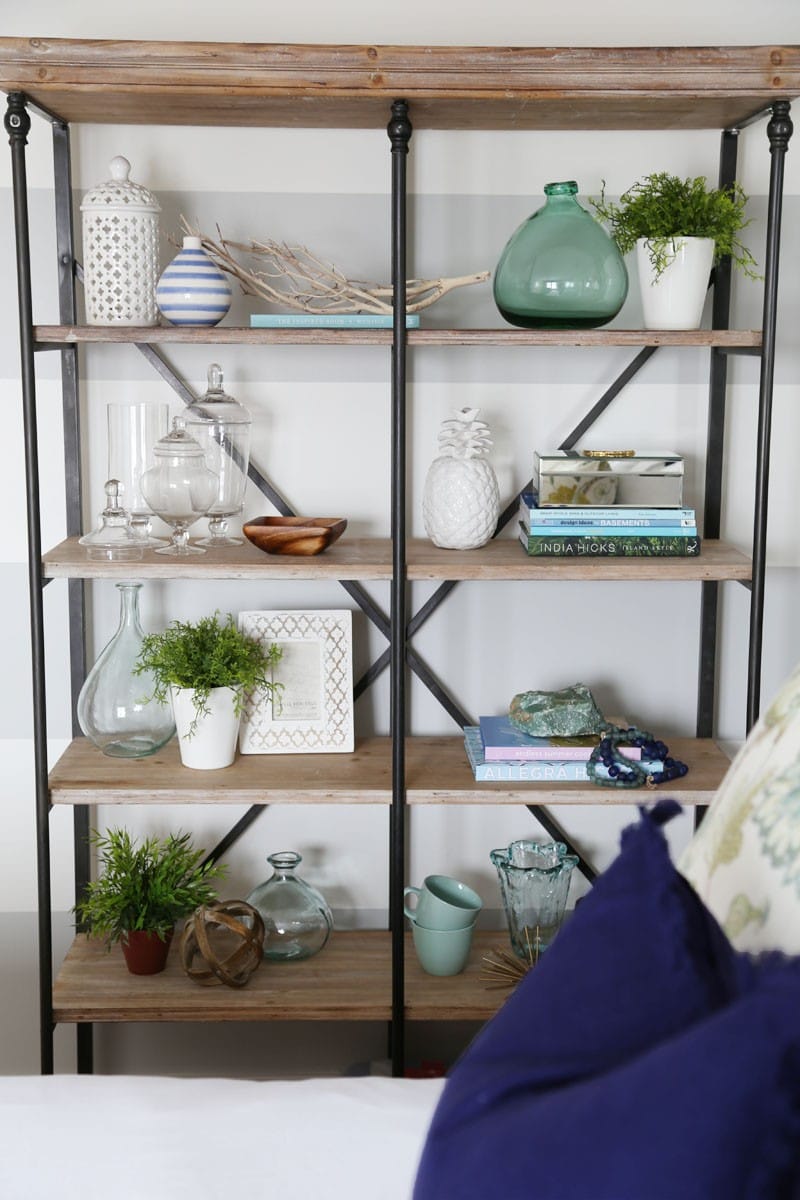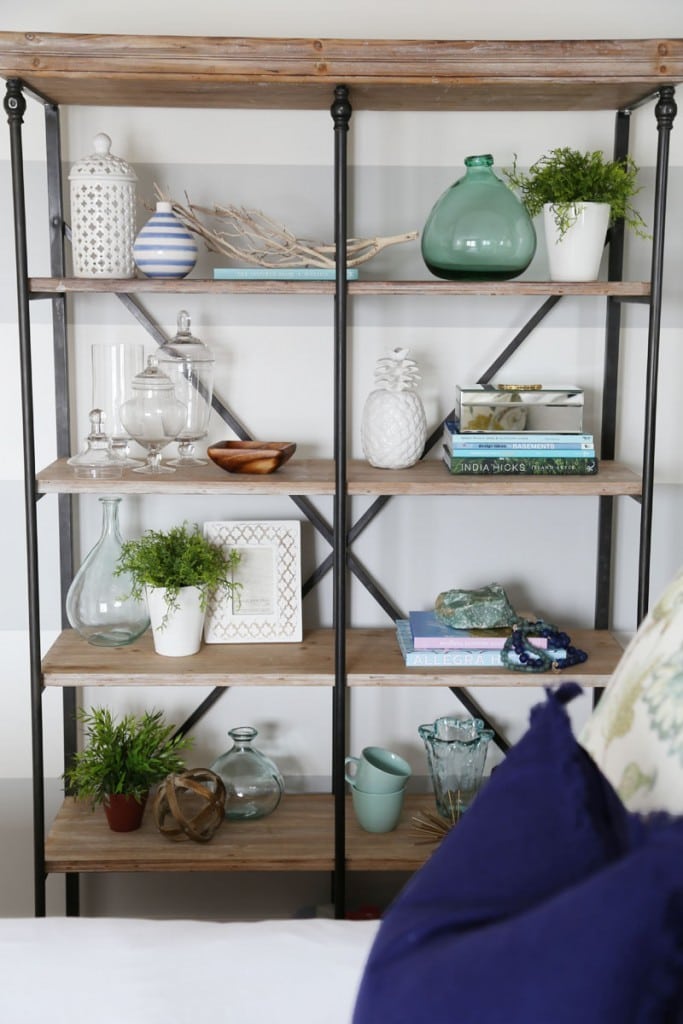 I worked with the existing DIY no-sew ribbon drapes we already had, but that side of the room was starting to feel a bit stark again. After a quick trip to Lowe's, I decided to add some in-stock bamboo shades. I couldn't believe how easy they were to install and how well they coordinated with the bed and bookshelf! You may have also noticed that we installed them almost all the way up to the ceiling, making the room feel so much taller! The window doesn't even start until almost the base of the blinds in the image below (don't believe me? check out the very first pic), but the shades gives the appearance of a much larger window. The bamboo helps add so much more warmth and they are functionally so much easier to use than closing the drapes each night (we previously had to lift the rod to get the tabs to slide all the way over).
The throw on the bench helped balance the blue tones from the opposite side of the room. Without the addition of the shades and the throw and pillows, the room felt very heavy on the left and rather empty on the right. Be sure your room looks balanced when you step back and take a look at the whole. Sometimes, it can be as simple as snapping a picture and looking at it on your computer. You'll see that something just looks "off" if the visual balance isn't there. Simply add and subtract items until you achieve a look you love!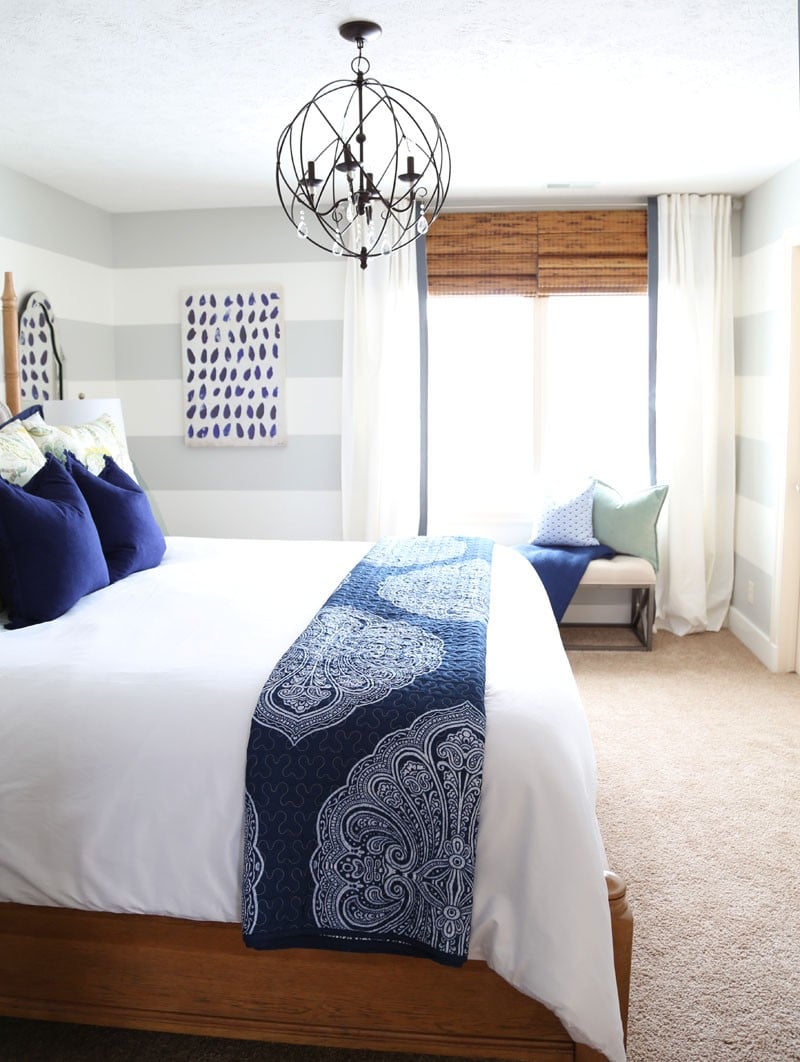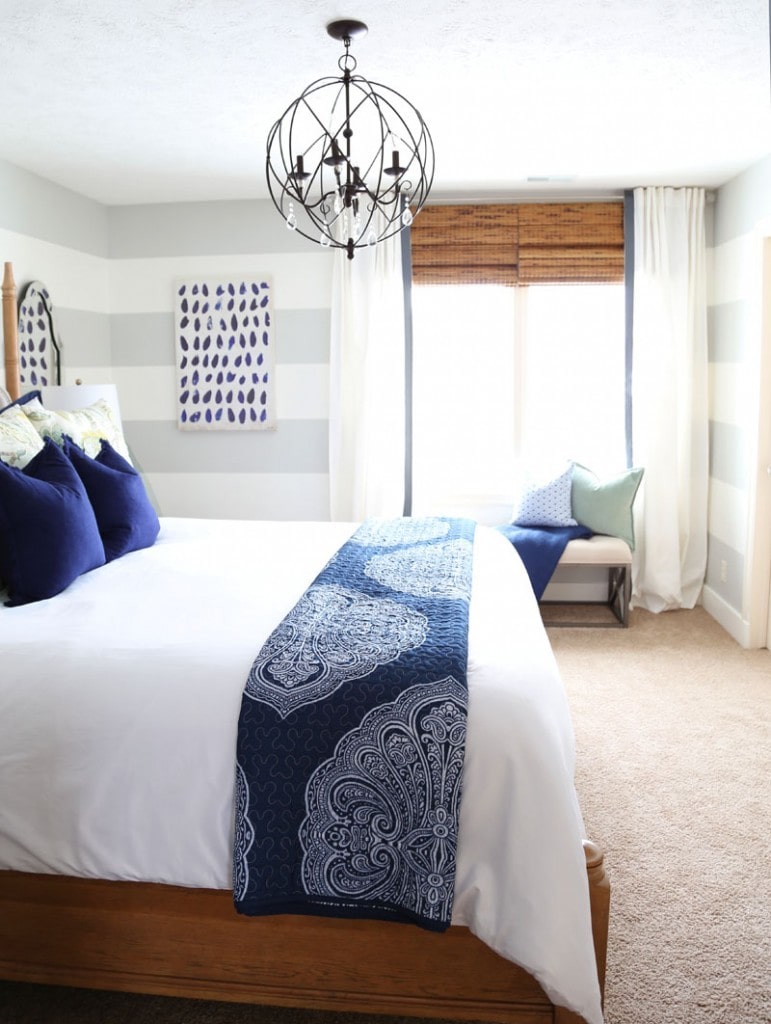 I hope you found all these steps helpful! If you have any further questions, feel free to leave a follow-up question in comments and I'll formulate some responses for you!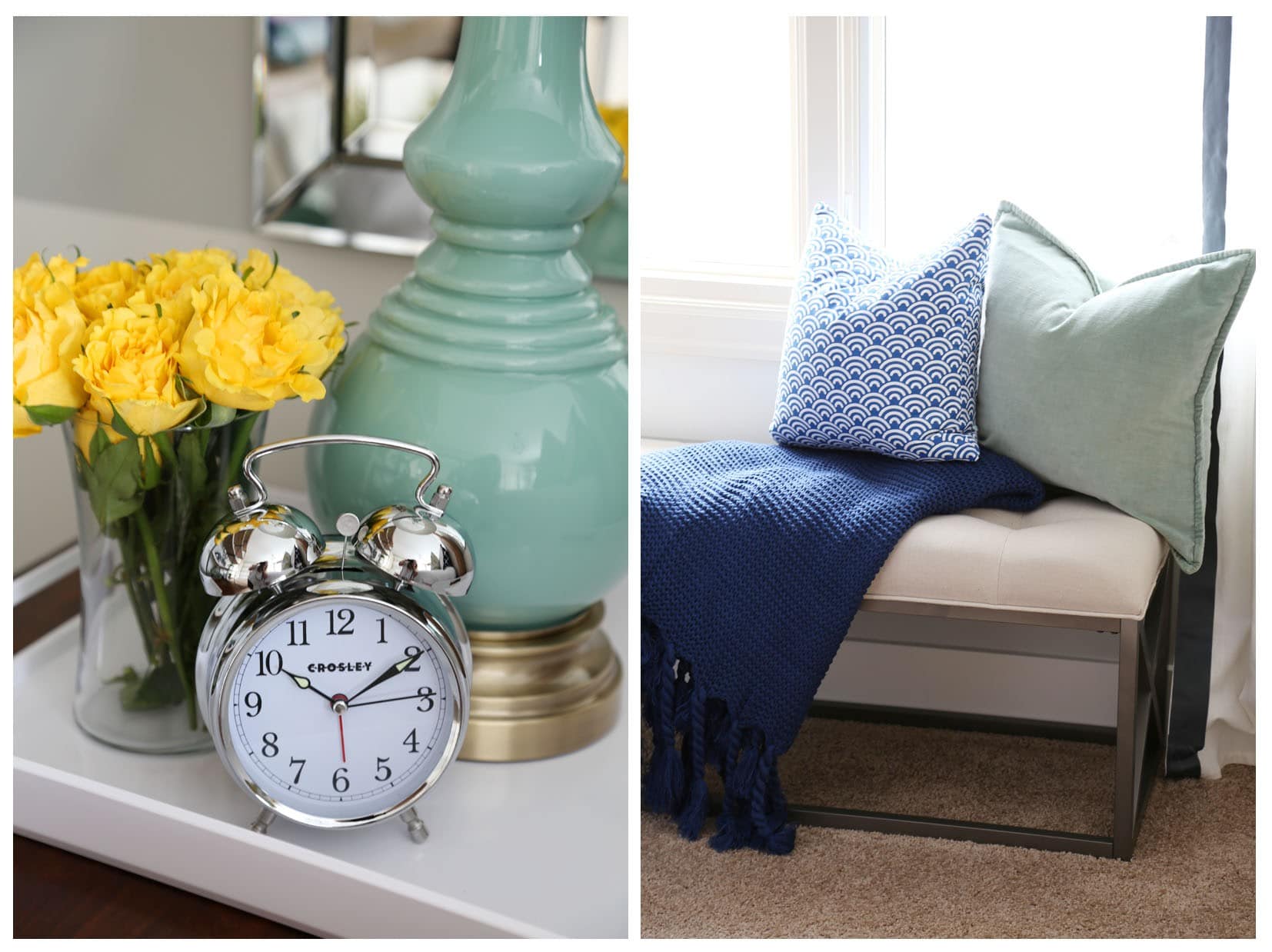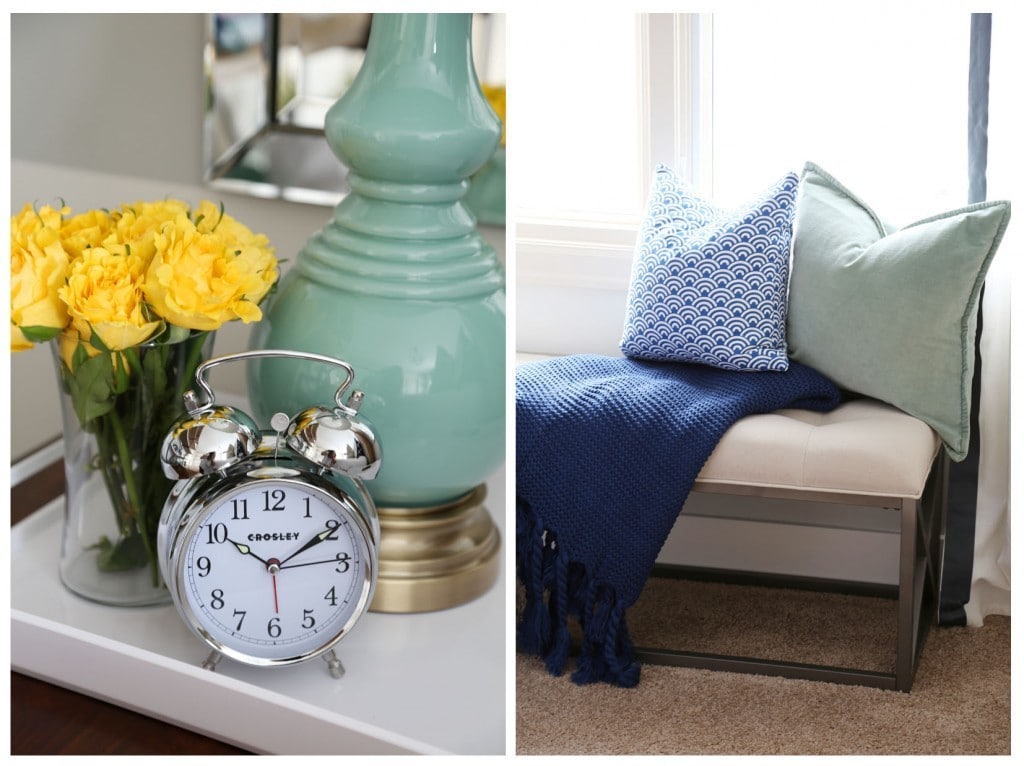 SOURCES: Alarm Clock | White Trays on Nightstands | Lamps via HomeGoods | Bench | DIY Fabric Napkin Throw Pillow | Velvet Pillow via Pottery Barn (old)
If you would like to follow along on more of my home decor, DIY, lifestyle, travel and other posts, I'd love to have you follow me on any of the following:
Pinterest | Instagram | Facebook | Twitter
disclosure: some affiliate links used