I hope you all had a wonderful weekend! We had a great mix of date night/family time/work time and today is a holiday for me at work, so I'm in heaven. I hope to wrap up all the throw pillows I started last weekend.
Let me first start by saying 'thank you' to each and every one of you that commented on Friday's 'So I Married a Blogger' post. I'm pretty sure you made Kurtis' entire life. He read all of your comments (at least six times) and I wouldn't be surprised if he starts a home decor blog soon 😉
Secondly, I did a post on a Saturday. What?! But, with all the holiday sales going on, I did a round-up of all my favorite sale picks. If you haven't seen it yet, be sure to check it out by the end of the day, because several of the sales are still going on! I had to laugh at the following image I posted on Instagram, showing that a few of my fashion picks looked like they matched some of my home decor picks. I like to call it consistency! I also found out that Tory Burch is offering an additional 30% off sale items through the end of the day, as well, with code EXTRA30!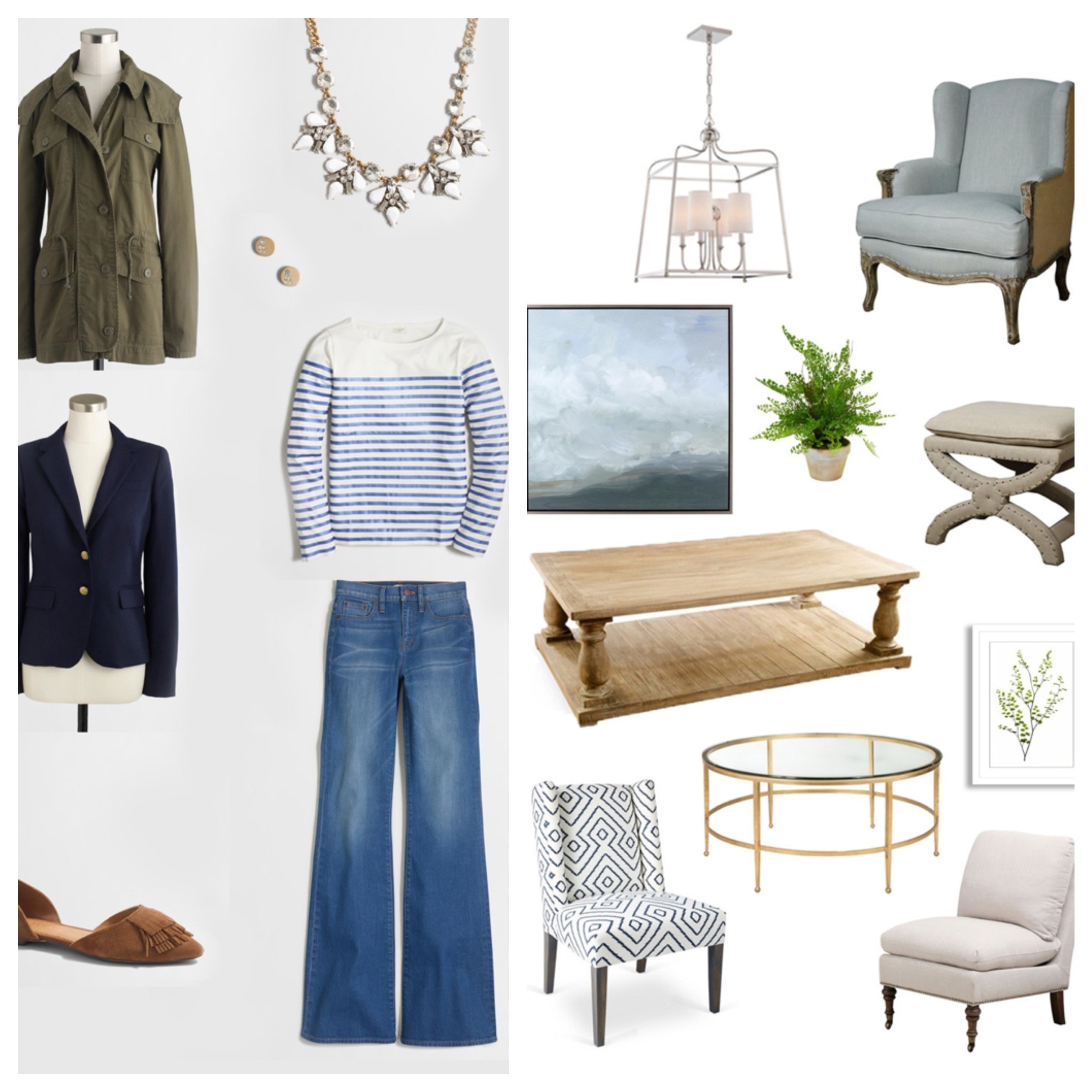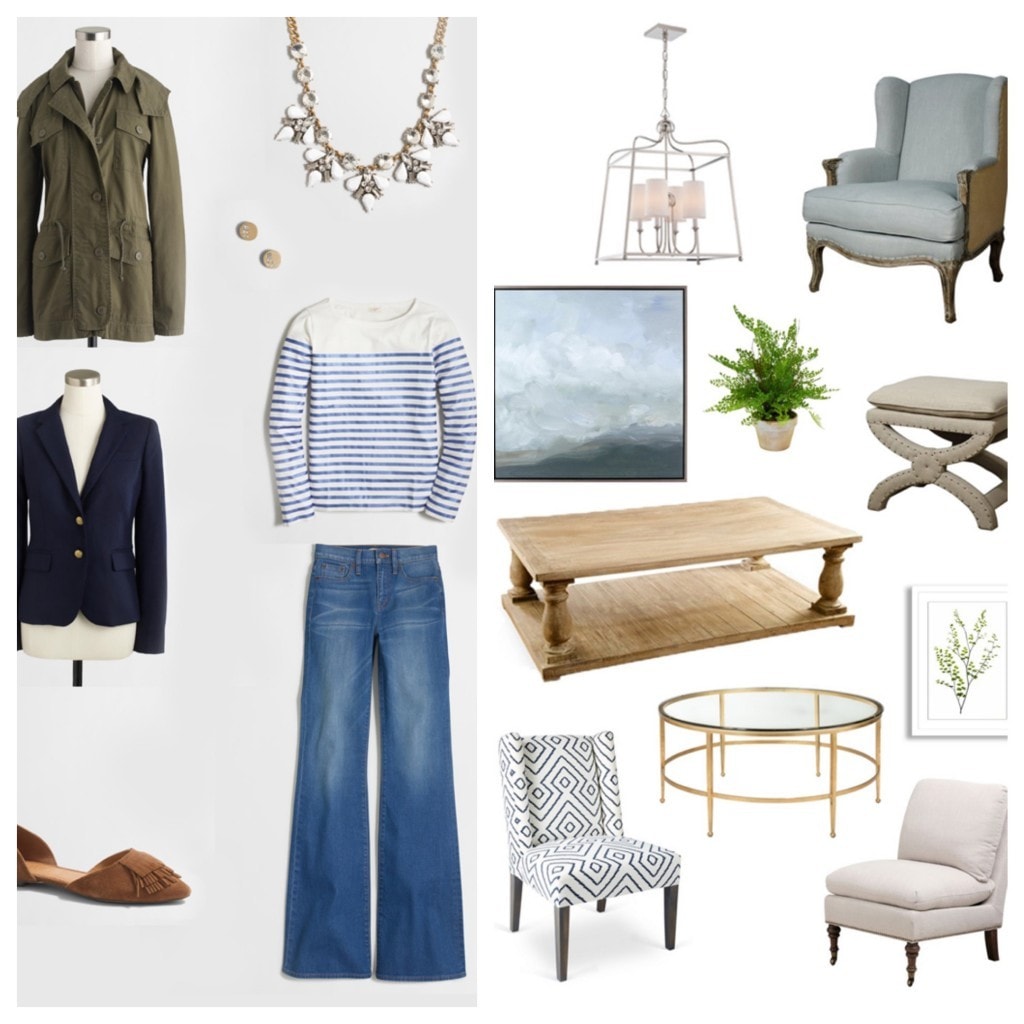 Friday night we had dinner at one of our favorites, Firebirds. Spur of the moment we decided to go to a movie after and settled on Zoolander 2. Let me first start by saying I loved the first Zoolander (I also had a major crush on Ben Stiller at the time. Don't judge). But, the movie was terrible. I don't think my husband was a huge fan of the first and I'm pretty sure he hated the second. Even legit fans probably wont' love it. BUT, the popcorn was amazing 😉
My husband's paternal grandma celebrated her 90th birthday party on Valentine's Day. We had a party for her at church in Iowa on Saturday afternoon and I think she loved every minute of it. We're all the grandkids that gave her a giant box full of packing peanuts and a lot of $1 bills that she had to dig through and find. Ninety year olds have to work for their gifts, too!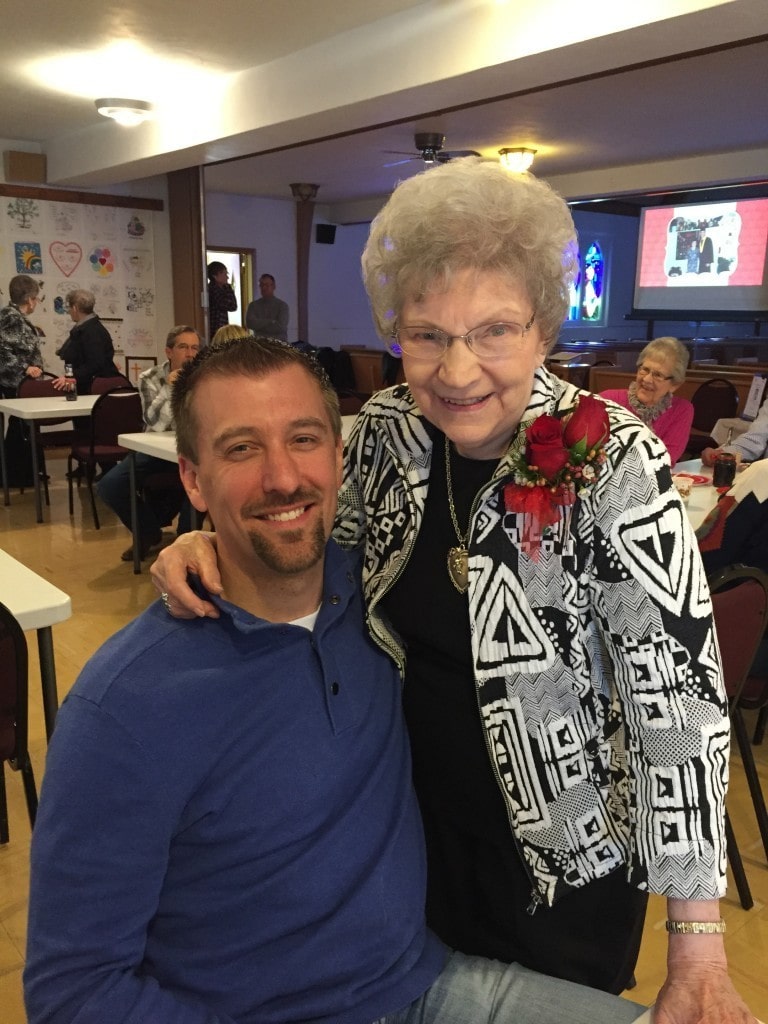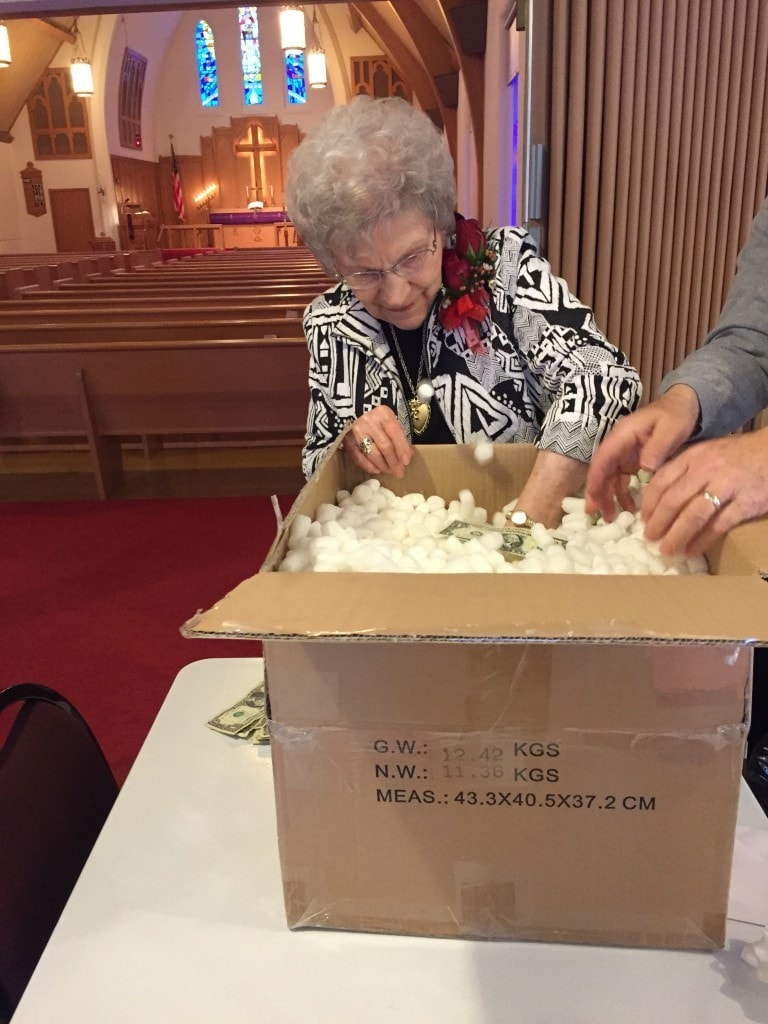 We got home Sunday afternoon in time for a nap and an early Valentine's dinner at Louie's Wine Dive. We actually don't celebrate Valentine's Day with gifts (or even meals) typically, but we went early enough to beat the crowds and really had a great meal!
I came across this wood and glass vase and thought it was really beautiful! This smaller version (with larger vases) is really beautiful too! I think they would make for the prettiest Easter or summer tablescape!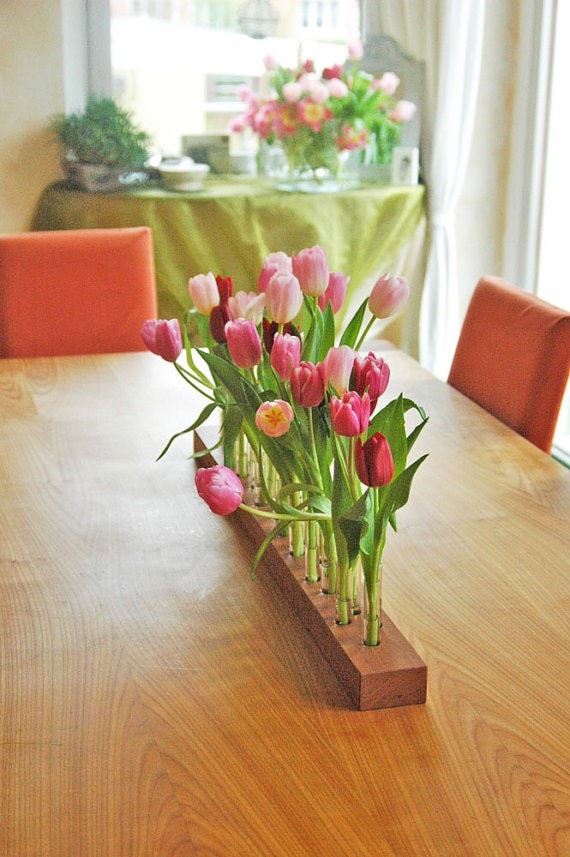 I also spent a lot of time last week working on our final plans for the pool. Lots of phone calls, frustrations, re-evaluating, etc. Projects like this would be cake walk if it weren't for that tiny little thing call a budget. Our landscape architect came back out with another concrete guy to do a second bid on the retaining wall. If you look in the pic below, you can see the pool outline (the blue flags) and then about mid-way up the will you see a line of footprints where the retaining wall will go – but it will actually run parallel to our fence (it also extends all the way off the screen to the right). It's a rough image, but you can see a general layout and just how much of the hill will be getting excavated. I'll be posting more details soon once we wrap up our plans, but the goal is to start excavation for the hill in March! Oh, and can you also tell we are the preferred neighborhood house for sledding 😉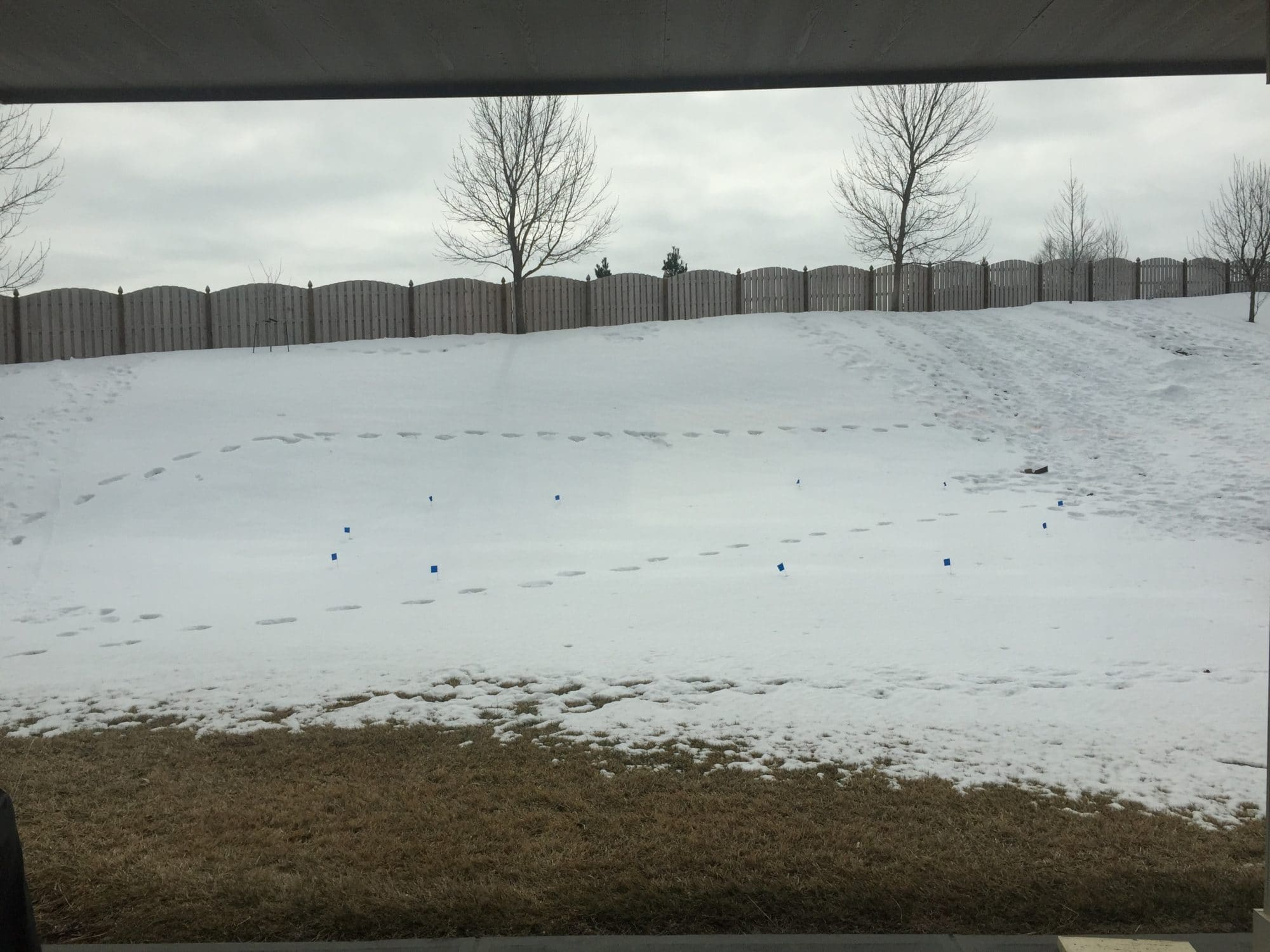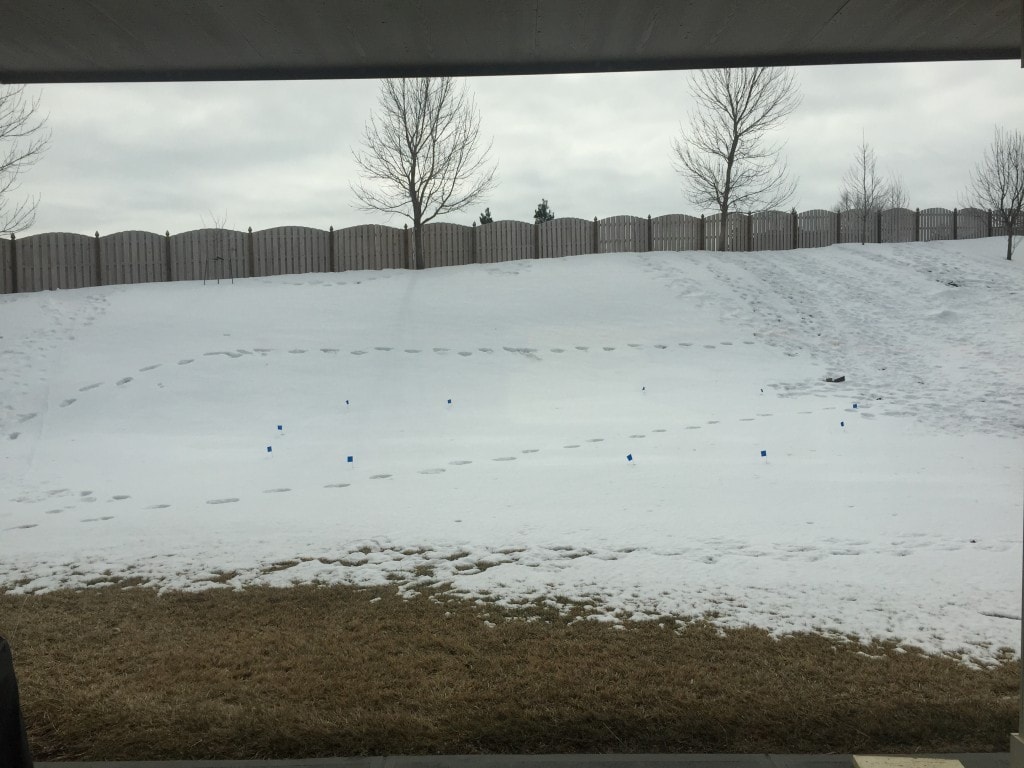 Lastly, the winner of the Kohl's $100 Gift Card giveaway is Nicki Joseph! If that's your name, check your email for a message from me and I'll get the gift card shipped out ASAP. Thanks to all that entered, and I hope you all have a great week!
If you would like to follow along on more of my home decor, DIY, lifestyle, travel and other posts, I'd love to have you follow me on any of the following:
Pinterest / Instagram / Facebook / Twitter / Bloglovin' / Google
disclosure: some affiliate links used