I'm guessing I'm not the only that is excited to be decorating for spring! I've been scouring a bunch of websites over the past few weeks to finalize all my decorating plans for the new season. Today I'm sharing some fun Walmart coastal decor I came across that also works so well for the spring and summer months!
This post is sponsored by Walmart and contains affiliate links for your shopping convenience. Read my full disclosure policy here.
In this first collage, I'm so excited about all of these gorgeous rattan and cane pieces from Walmart. Their online home decor section continues to amaze me with gorgeous designer style products and on-trend designs. I'm all about natural texture and woven furniture this time of year – or really any time of year! One of my favorite finds this month is this Rattan Table Lamp. It's an incredible designer look for less that is 1/4 the price of a similar option, and the dimensions are nearly identical. I would love to use a pair in our home!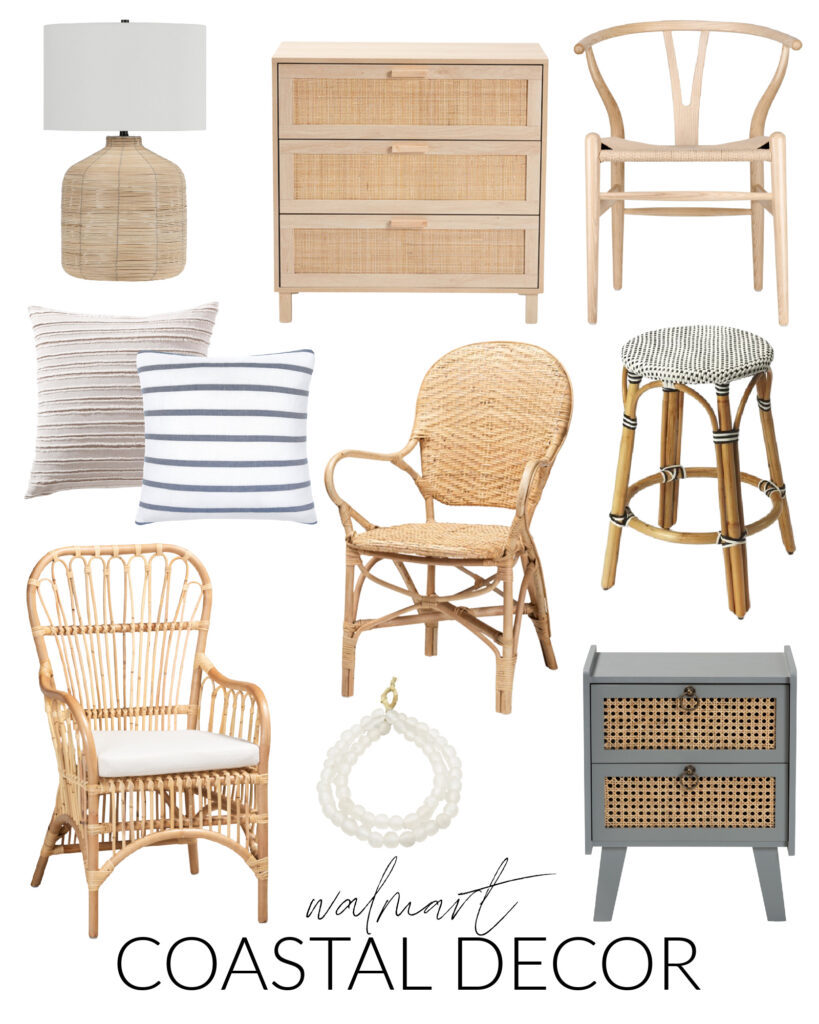 WALMART COASTAL DECOR SOURCES: Rattan Table Lamp | Rattan Nightstand | Wishbone Chair | Stripe Fringed Throw Pillow | Striped Throw Pillow | Woven Rattan Armchair | Rattan Counter Stool | Rattan Club Chair | Recycled Glass Beads | Cane & Gray Wood Nightstand
The counter stool shown above is the same brand as the blue stools we used in our Florida kitchen. I was really pleased with the quality!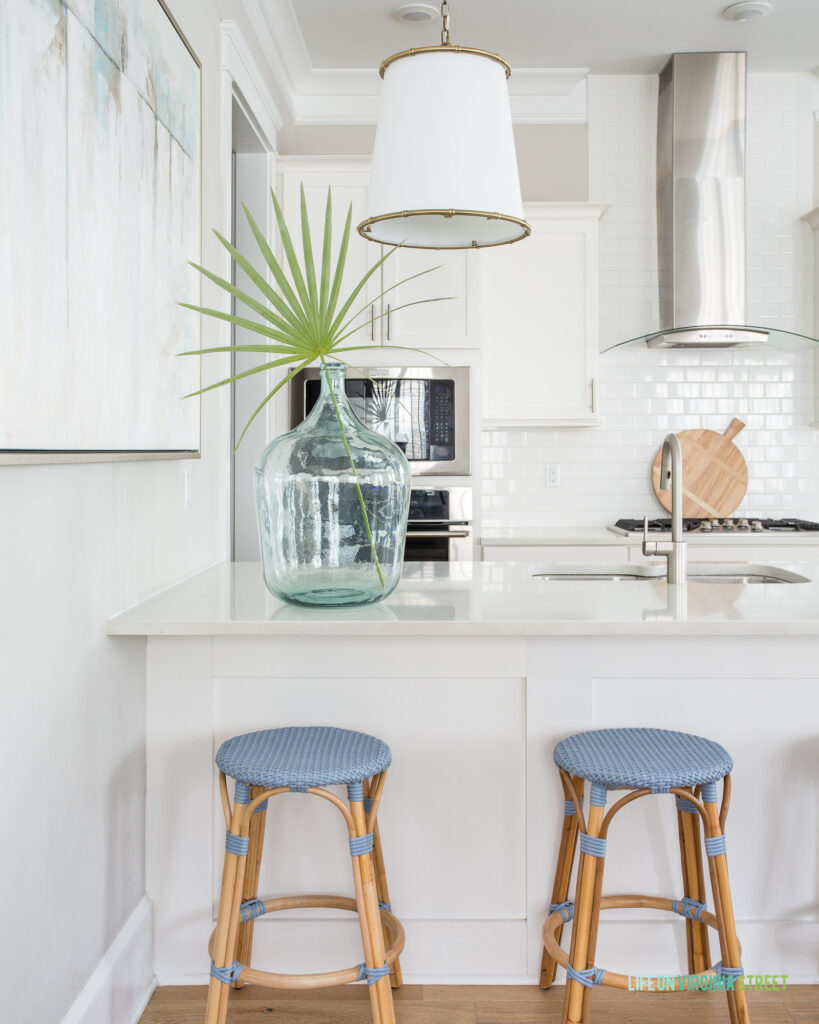 I've shared some pieces from the Gap Home line several times over the past year or so. The collection is exclusive to Walmart, and is made with the planet in mind with recycled materials and organic cotton. I've been really happy with the quality of the pieces I've ordered, and I can't get enough of all the blues and stripes and classic pieces they've been offering! Here are a few recent favorites. All sources are listed under the images.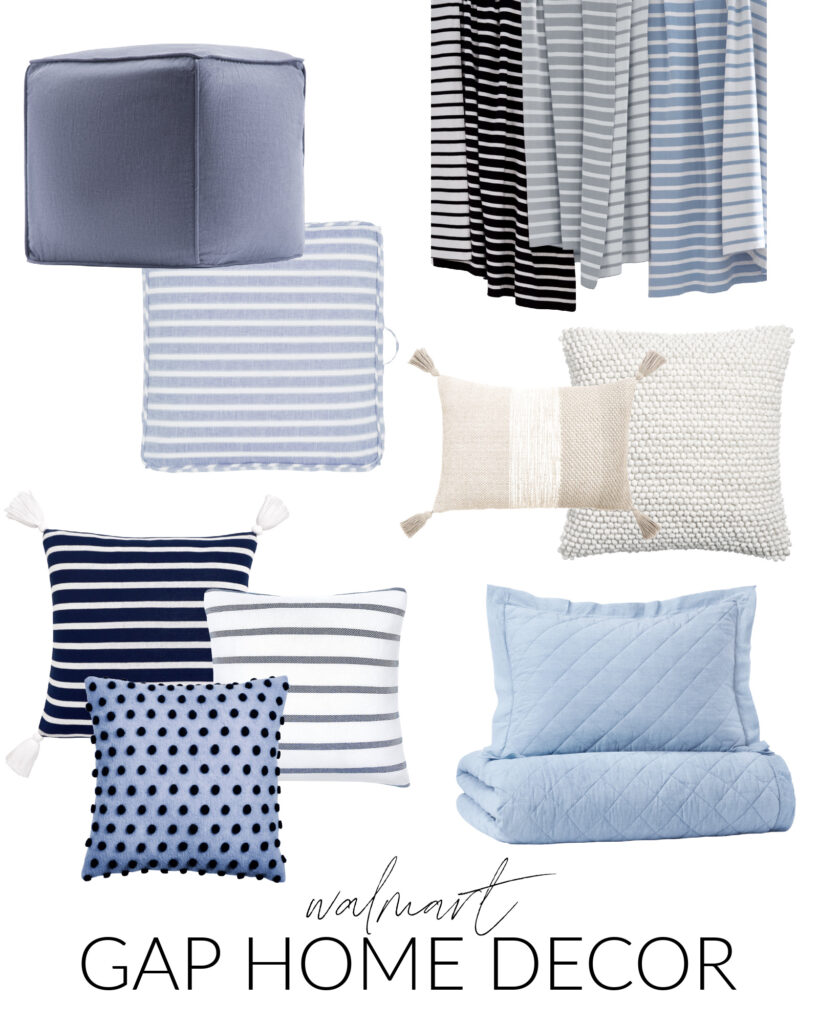 WALMART GAP HOME SOURCES: Floor Pouf | Floor Cushion | Striped Throw Blankets | Tassel Lumbar Pillow | Chunky Knot Throw Pillow | Striped Tassel Throw Pillow | Striped Throw Pillow | Pom Throw Pillow | Quilted Bedding Set
In our Florida house, I used the Quilted Bedding Set shown in the graphic above and love it so much! The frayed edges give it such a chic look! It also comes with coordinating pillow shams, but I didn't have pillows on hand in the proper size, so I'll be snagging those next time I'm down there. This pair of lamps and the refreshed mattress are also both from Walmart!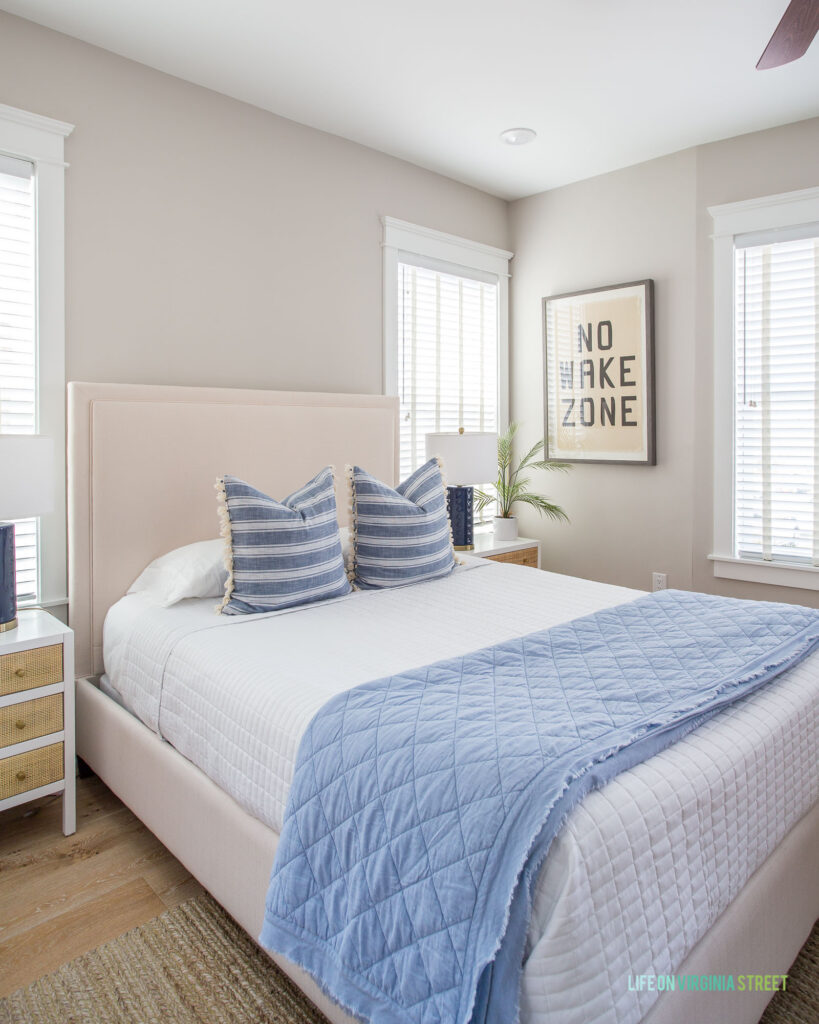 In the bunk room, I used the cute Striped Tassel Throw Pillow and Pom Throw Pillow. I love that these both have a zipper so that you can add your own inserts if you prefer. The covers look much more expensive than they actually are! I didn't swap mine inserts out simply because this is a rental and in the kids' room.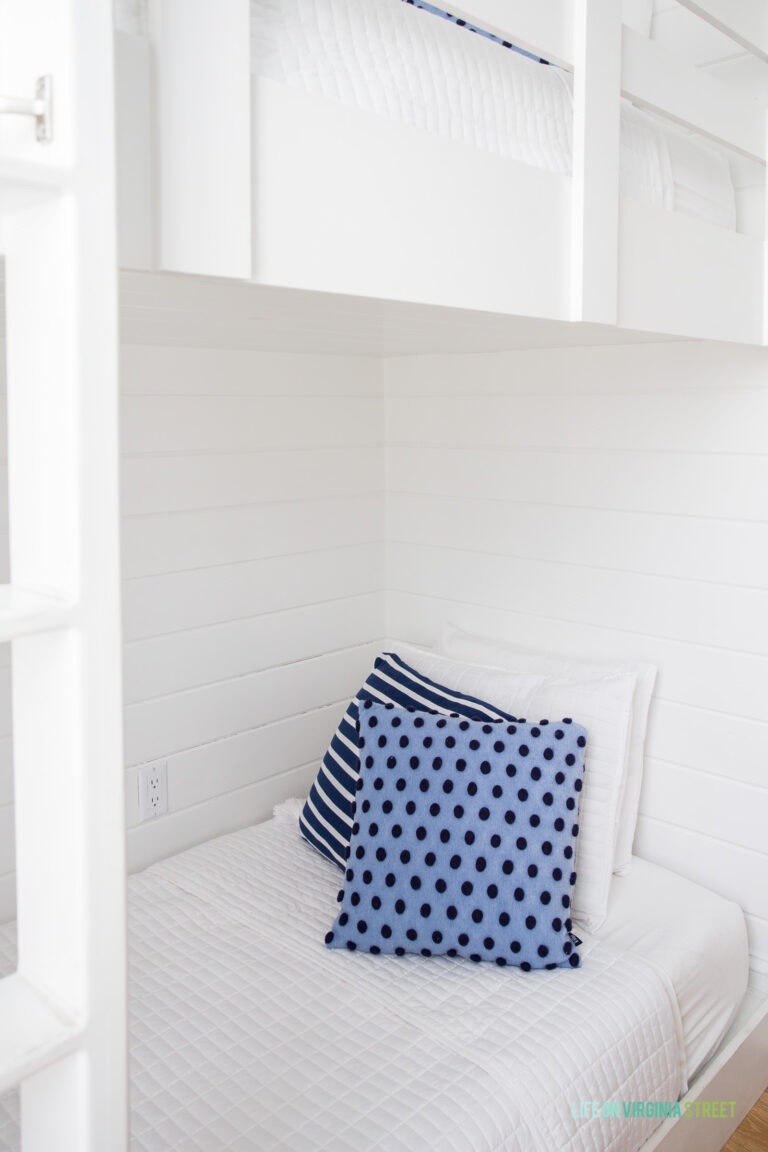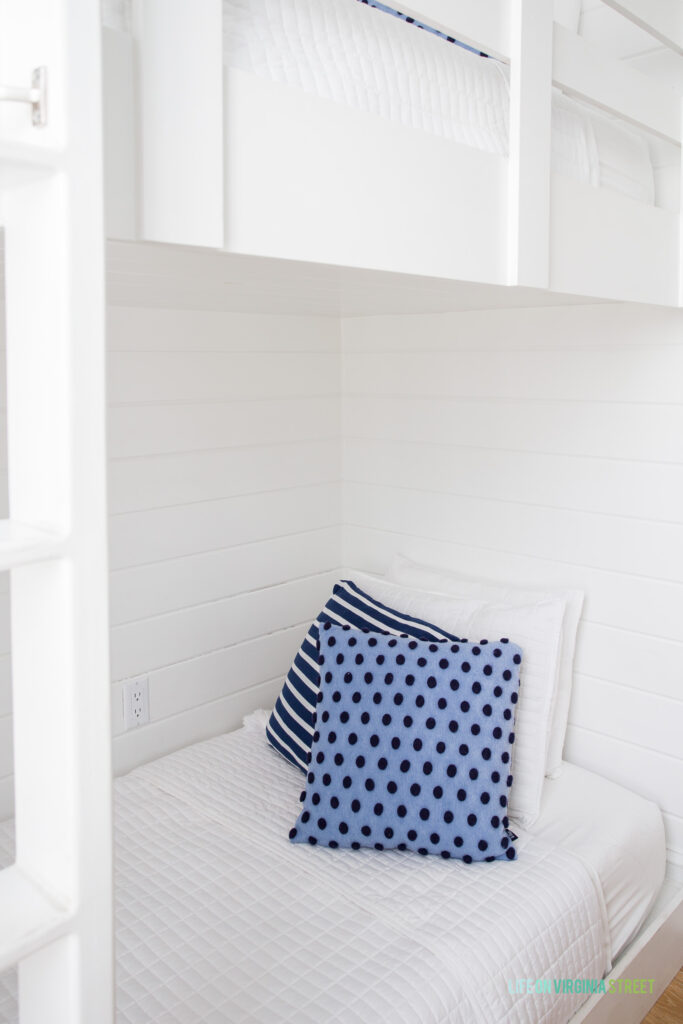 And speaking of the Gap Home line, we're still super happy with the quality of this comforter set we got last year! We've washed it several times and it has held up very well!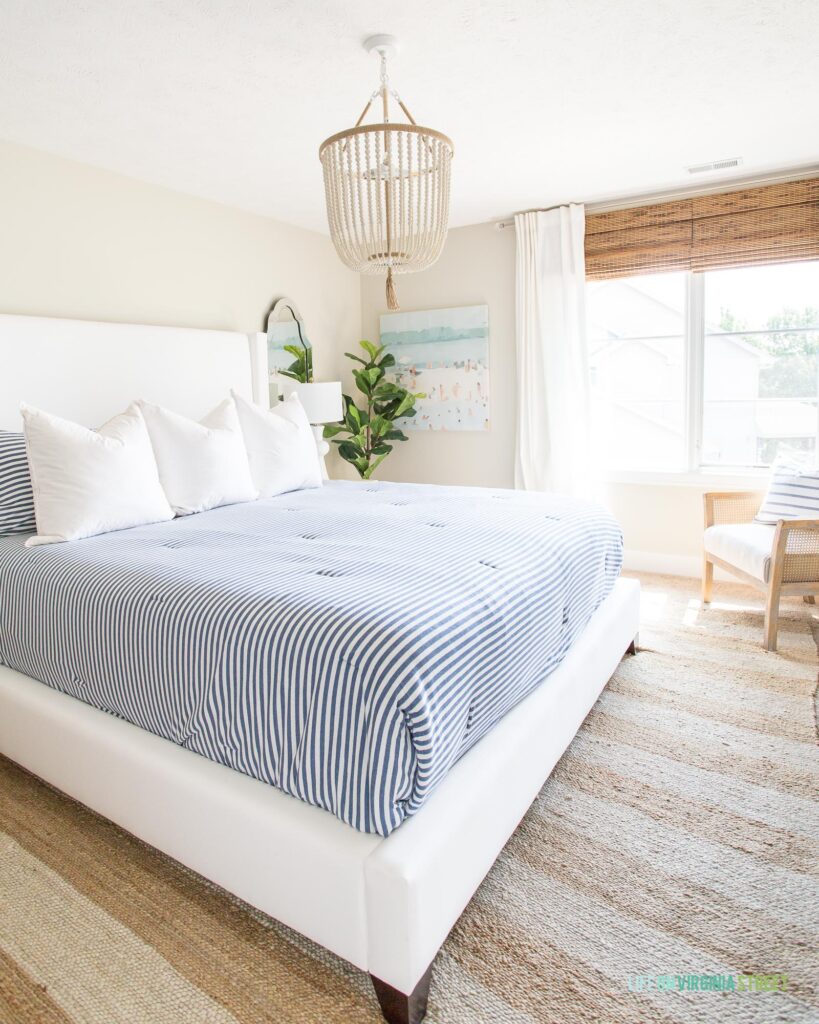 SOURCES: Comforter Set | Beaded Chandelier | Arched Mirror | Pair of Ceramic Lamps | Striped Rug | Striped Pillow
Following are even more Walmart coastal decor finds I'm loving for spring. Click on any of the images below to learn more about each of the items shown.

If you would like to follow along on more of my home decor, DIY, lifestyle, travel and other posts, I'd love to have you follow me on any of the below channels: