Welcome to the first official week after the holidays! Do the last few weeks just seem like a blur to anyone else? With Kurtis home most of the days since the weekend before Christmas, it was hard to even know what day of the week it was most days! As much fun and relaxation as we had, I'm looking forward to getting back into a routine and starting the new year!
This post contains affiliate links for your shopping convenience. Click here to read my full disclosure policy.
As I mentioned last Monday, we had to cancel our New Year's Eve plans because Kurtis was still sick and on antibiotics. I was actually totally fine with it. I was able to read a book and was in bed and asleep by 9:30 pm. It was kind of a dream!
New Year's Eve day we spent more time cleaning our basement. Kurtis modified our shelving unit so we could fit some taller items, as well. The whole space is so much more functional now! We actually had to make two trips to Goodwill because our car was so full from items we pulled out of this room. We still have a tiny bit of work to do in here (I still need more totes) but it already feels so much better!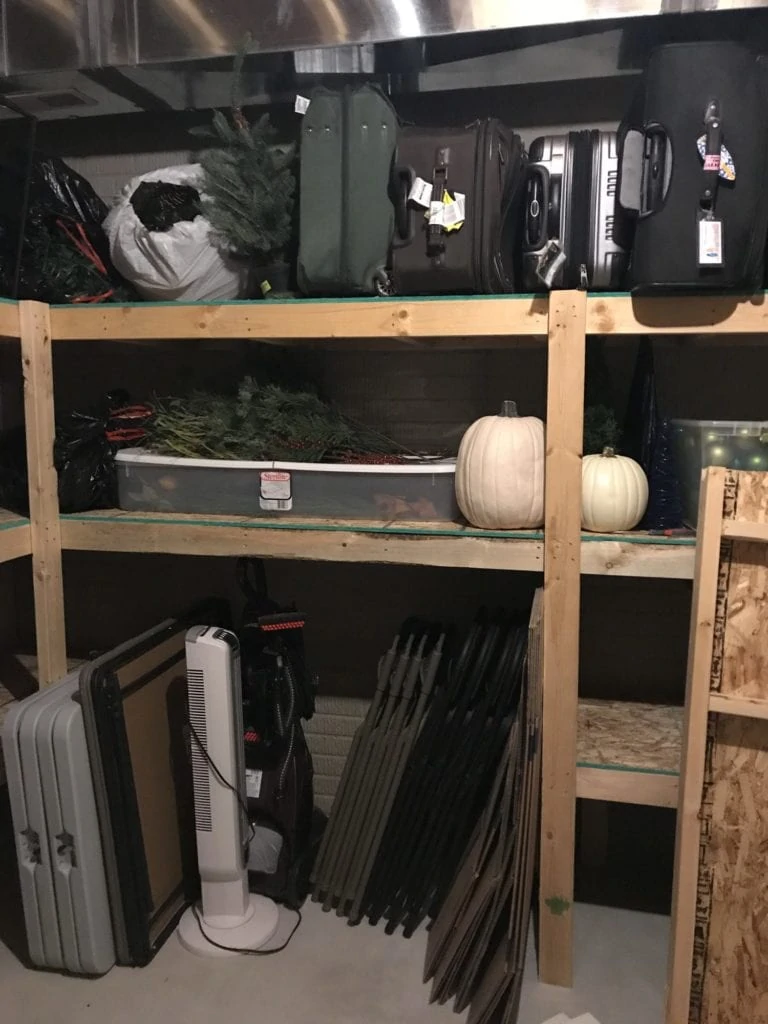 I spent a lot of time during the holiday break scheming up and planning a few new projects for the year. I actually have a few mood boards in progress and I'm getting really excited by what's in store! Once I have things finalized a bit more (and figure out timing of everything) I'll be sure to share!
I got a new rug for the dining room and shared a bit of a sneak peek on Instagram. I got it on major sale during Cyber Monday and planned to use it for the dining room. But now, I'm thinking it may work better somewhere else. Once I have it in it's final spot, I'll be sure to share more details. But it's absolutely gorgeous in person!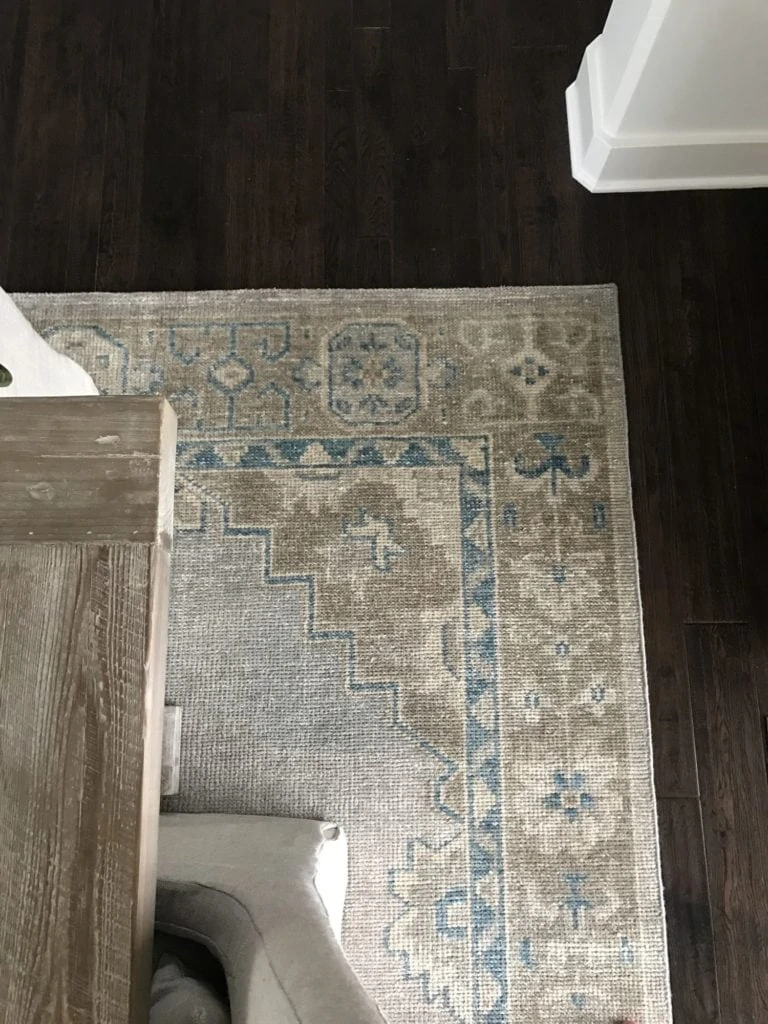 The big news from the holiday weekend is that Kurtis and I finalized details for a 2019 trip! We booked a Greek cruise that leaves out of Rome and we couldn't be more excited! We'll get to visit two new countries (Malta and Greece). We'll also get to spend another day in Positano (shown below from our trip to Italy for Kurtis' 40th birthday). Since we've never been to Greece and wanted to get a sampling of a few areas (Athens, Santorini and Mykonos) we felt the cruise was the best way to go. We find they're usually more affordable and you can see multiple places without having to pack your bags again. If you have any recommendations on what to see in any of these places (and Sicily), we'd love to hear!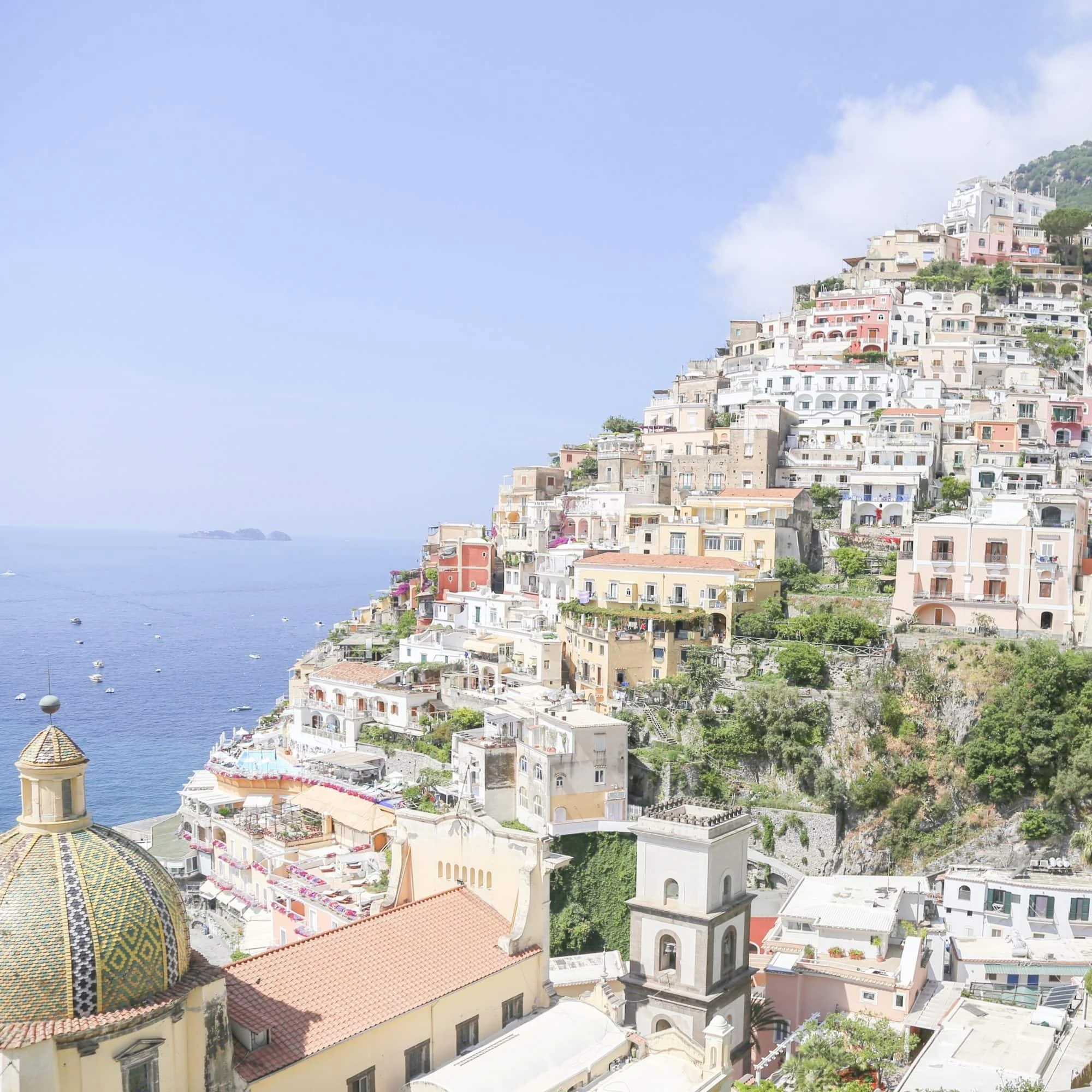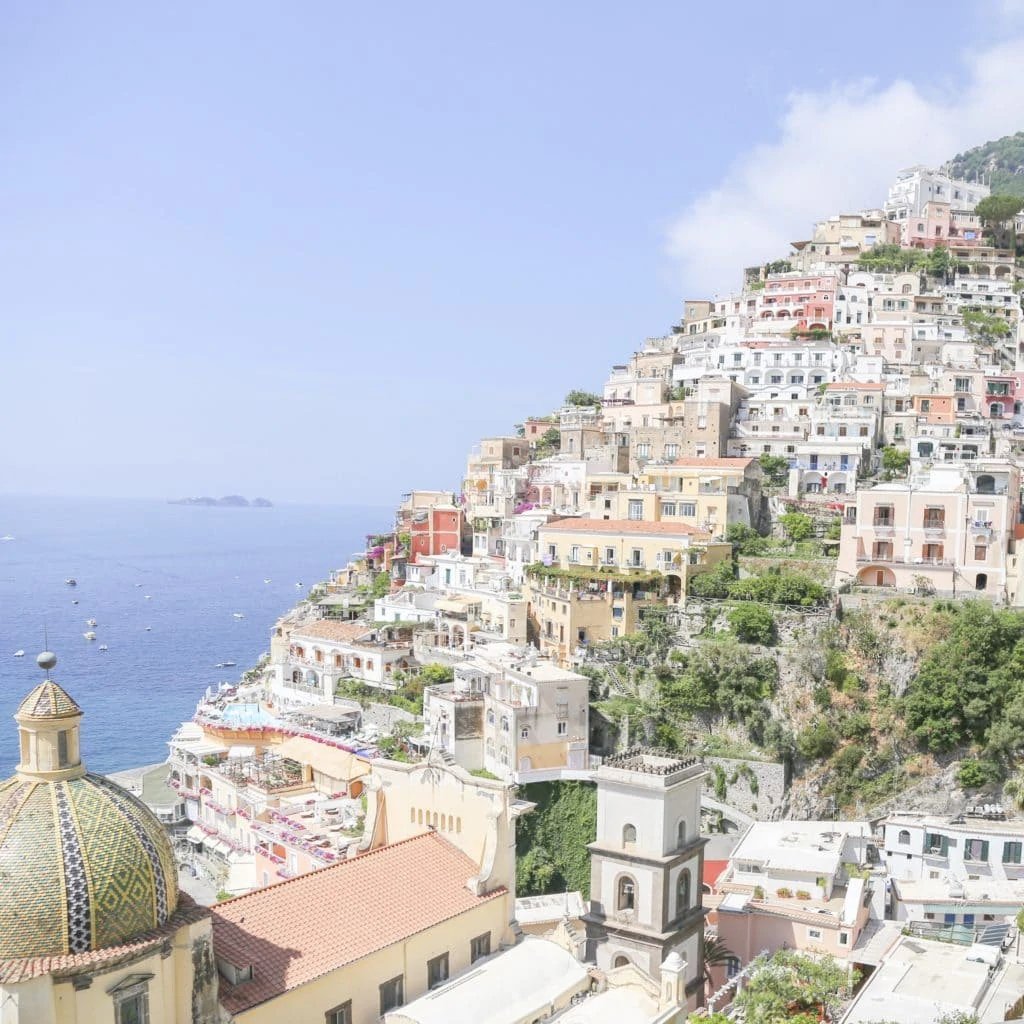 Back to this past week. About a month back I knew I needed to do some serious planning and blog work for the new year. The boring stuff (like SEO) that I avoid at all costs when I'm home. Like basically I'd rather do laundry and dishes than work on some of this stuff 😉 So I looked at rates for a hotel downtown to do a little work staycation. I basically found the dates over the next month or so that were the cheapest and booked a stay. It worked out that Thursday and Friday night were significantly cheaper than any other days (likely because it was right after New Year's). So, I booked a stay at the new Marriott in the Captiol District.
I thought the lobby was beautiful. I loved this fireplace and the built-ins on either side!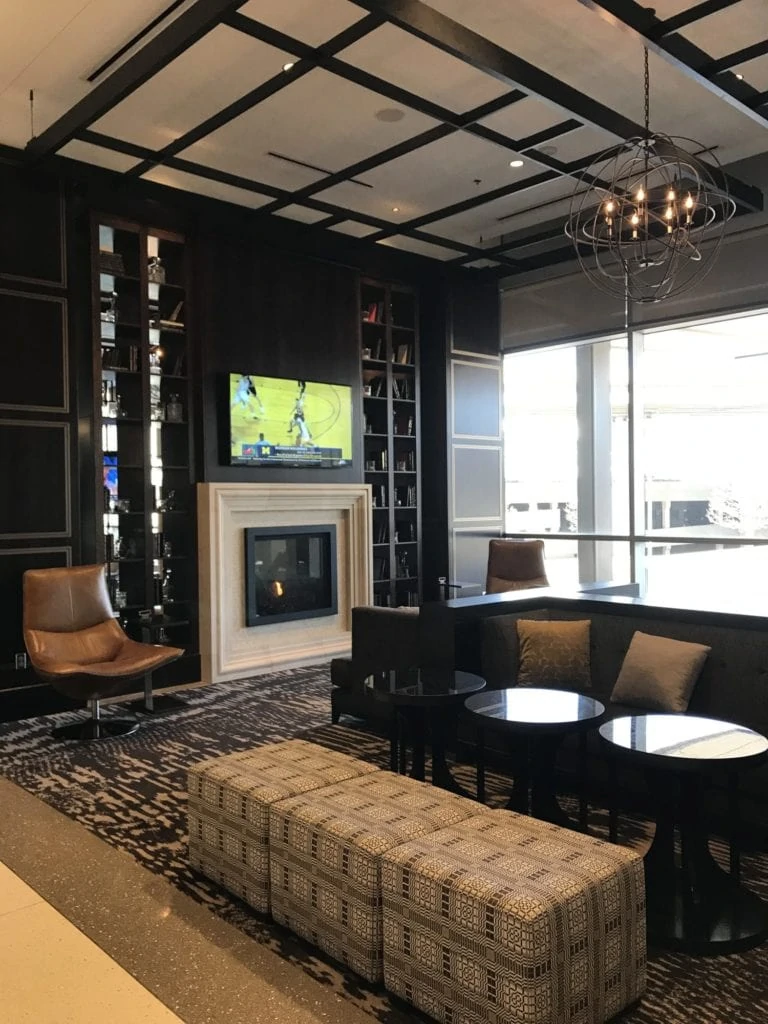 I spent most of my time hanging out in the lobby bar. To the left of this image they actually had large tables, all equipped with tables and USB ports. I loved the setup! I found the trip super productive and I got so much done! It forced me to handle the un-fun stuff and although I still have so much work to do, I felt like I made a huge dent in my list!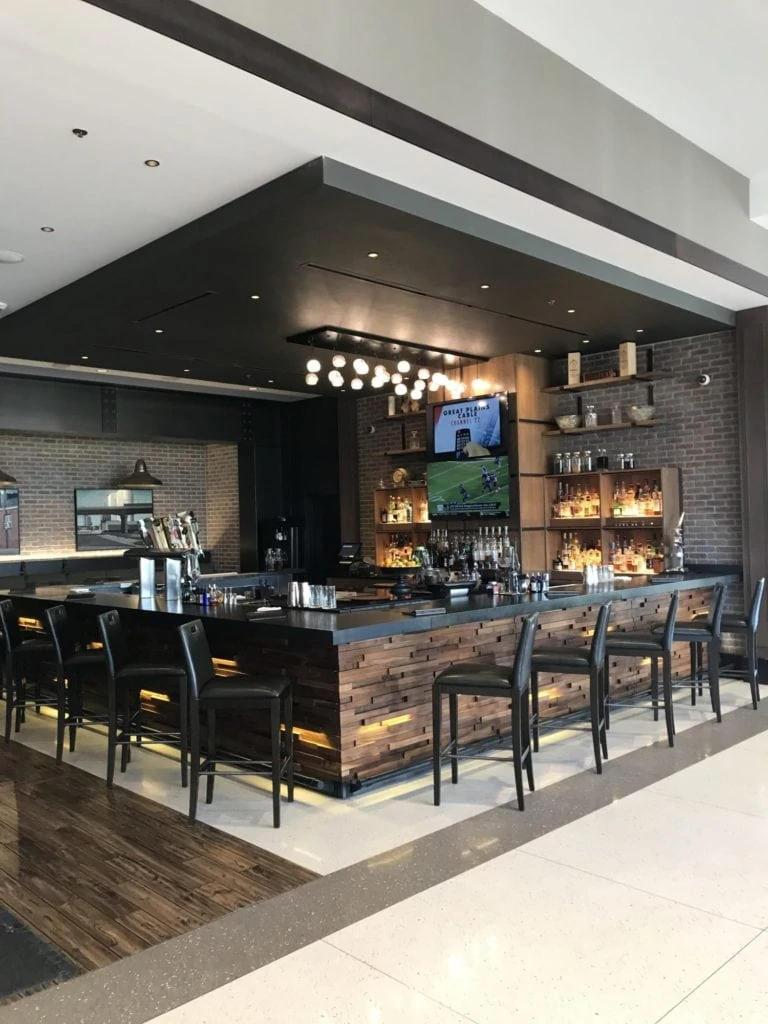 After work Friday, Kurtis came down to meet me. We had made reservations at a new steakhouse called J. Gilbert's. It is so rare for us to ever do anything downtown (even though it's only 30 minutes away for us). So we treated it as a bit of a staycation.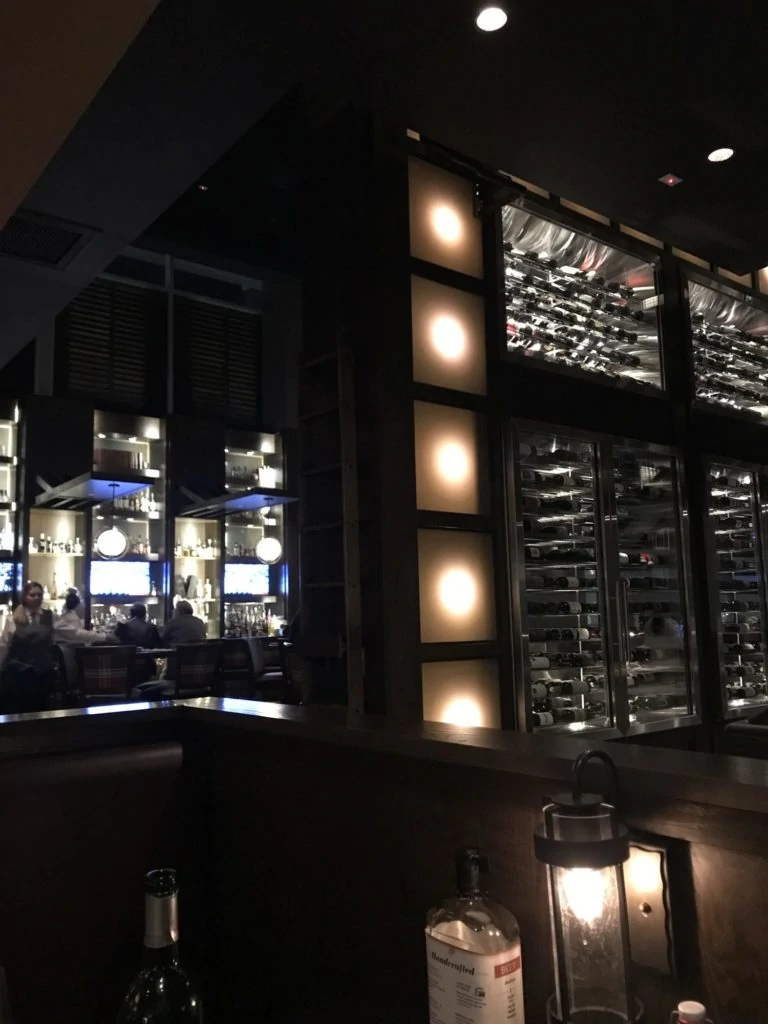 Kurtis wasn't sad about the size of his carrot cake he got for dessert 😉 The food was really good, and although it probably didn't make our list as #1 favorite steak in Omaha, it was still really good!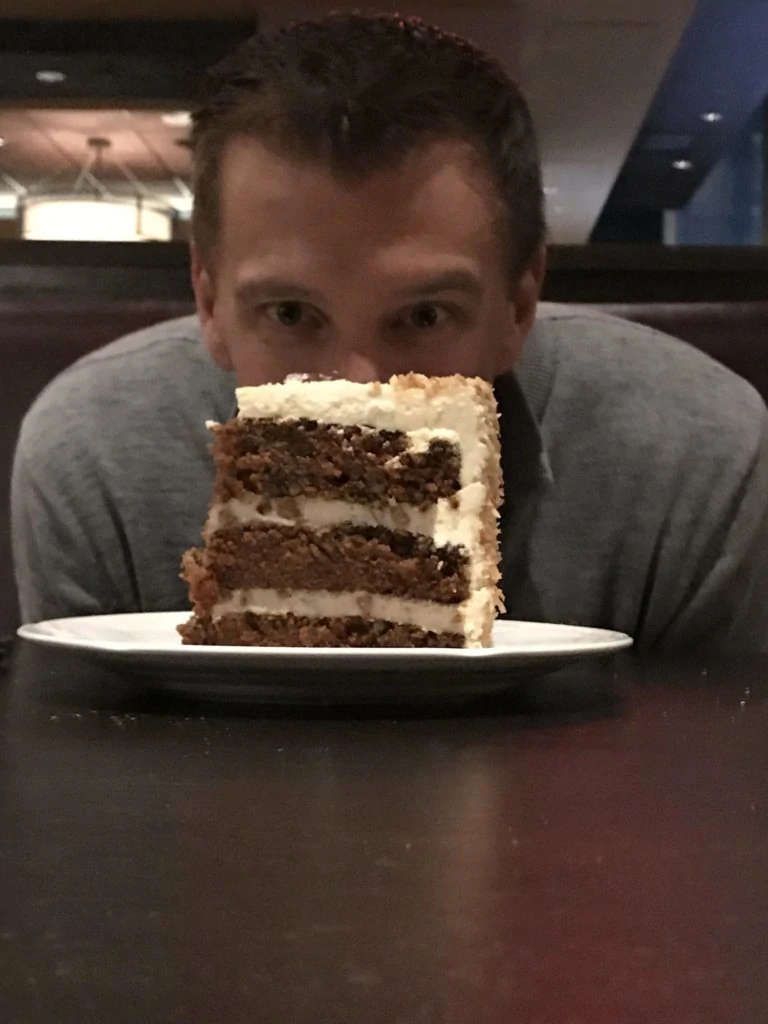 Afterwards we headed out into the Captiol District and grabbed a drink at Annie's Irish Pub.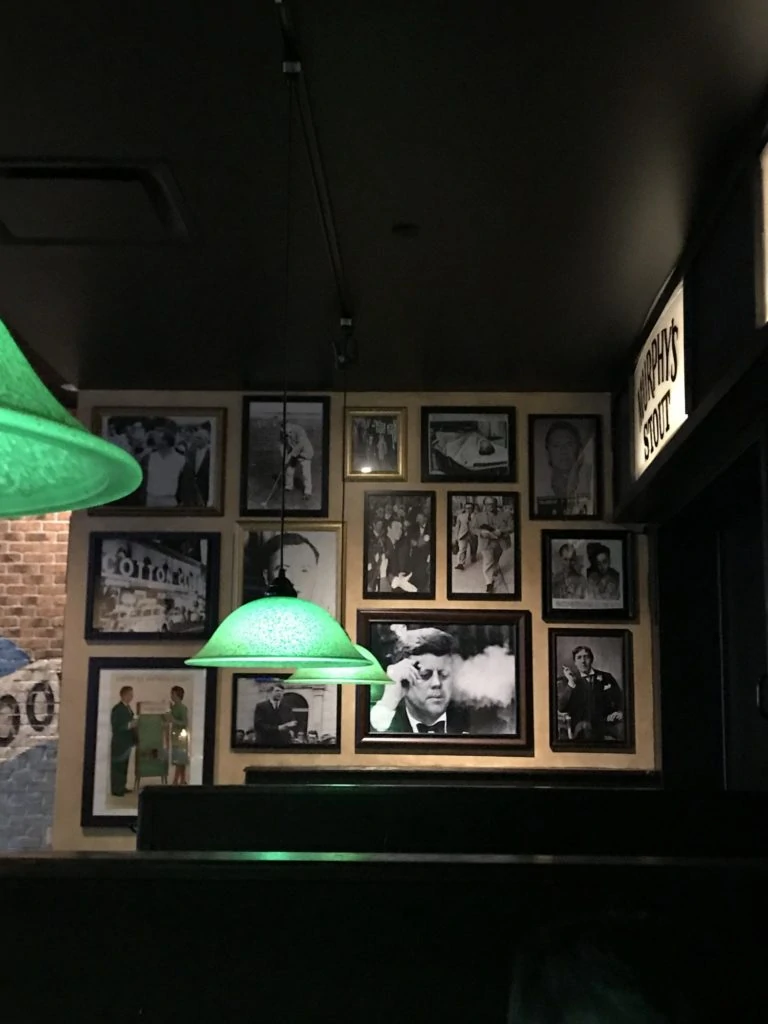 It was beautiful night (at least by January in Omaha standards) and there were quite a few ice skaters and people enjoying the outdoor fireplaces!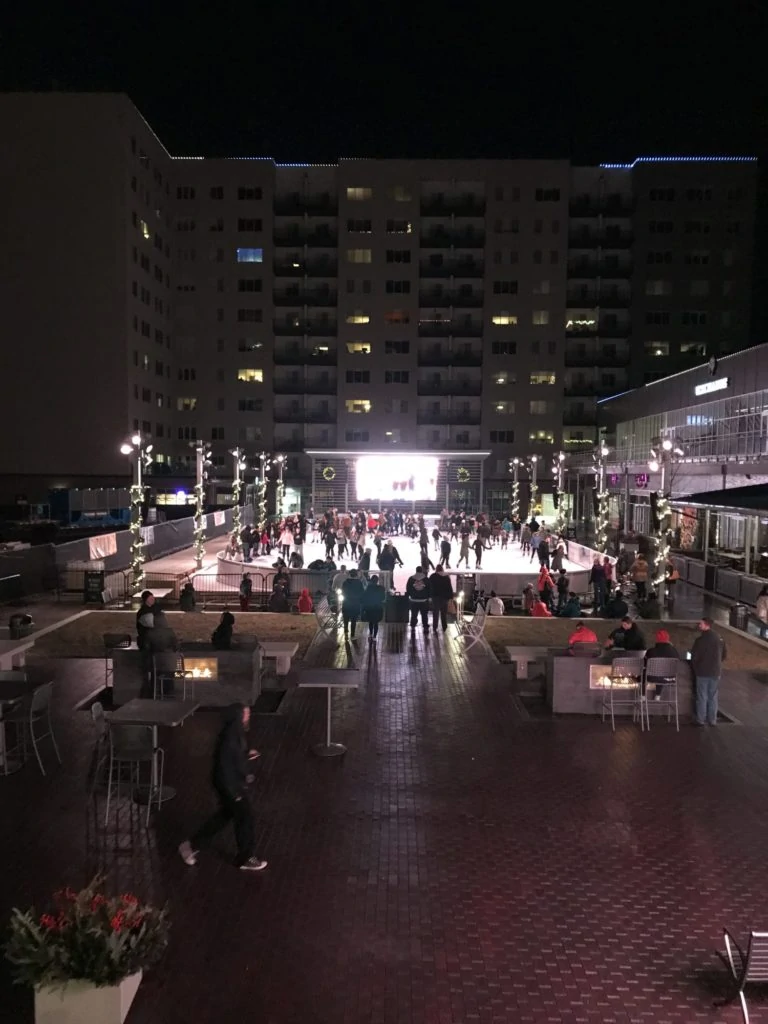 The view out the window Saturday morning before we left was beautiful! This is actually looking out over the Missouri River and that land on the other side is Iowa.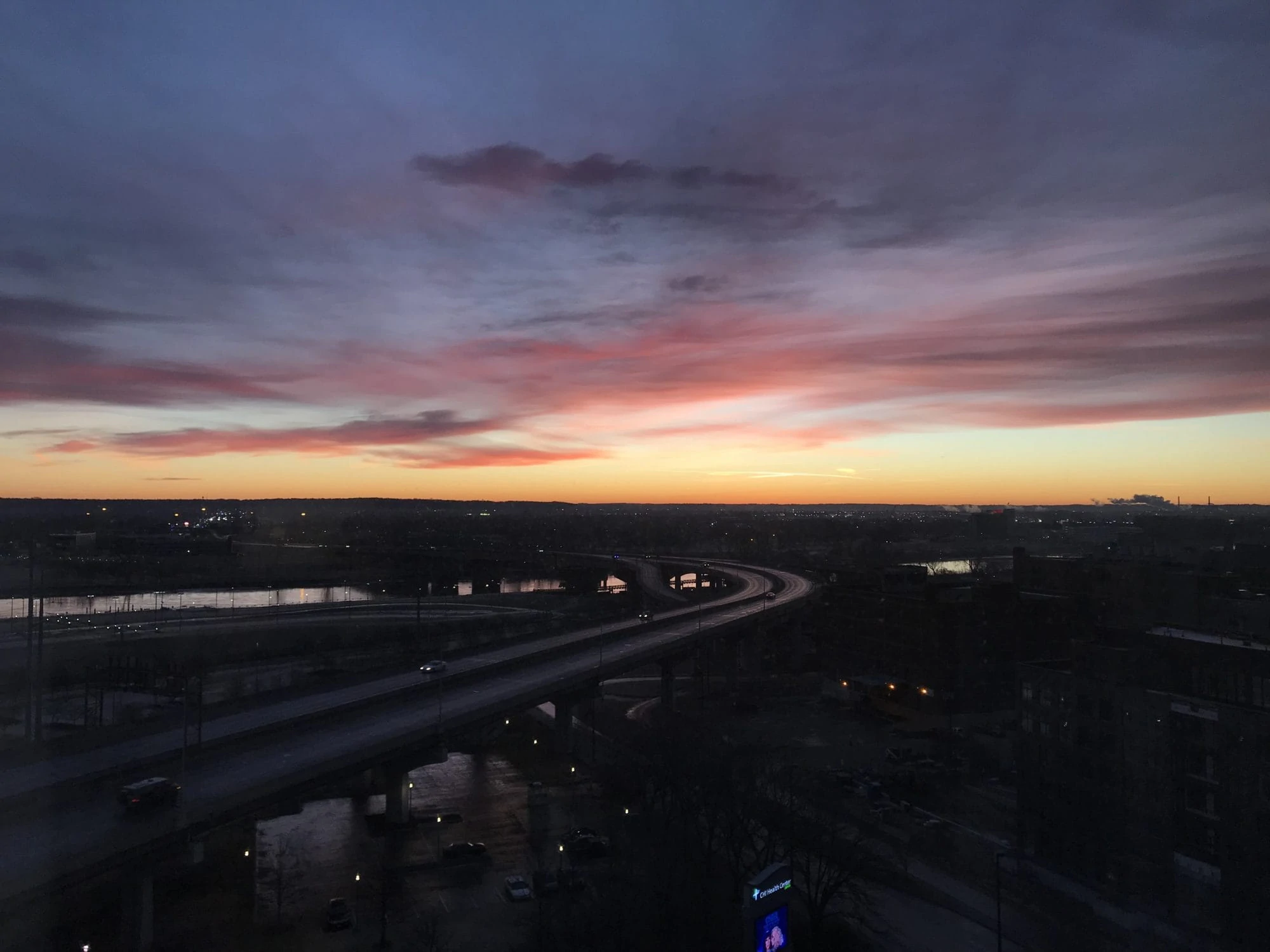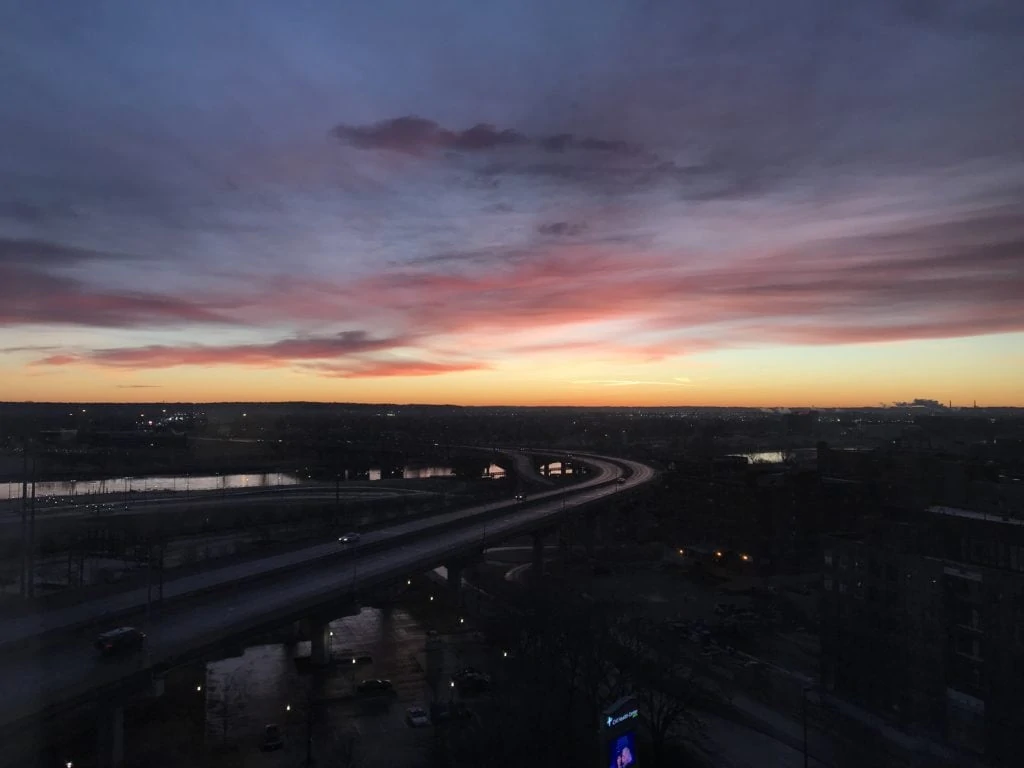 It was a really fun little staycation! We always say we need to do them more frequently, but our last one was nearly eight years ago!
The rest of the weekend included a lot of lounge time – for us and the cats!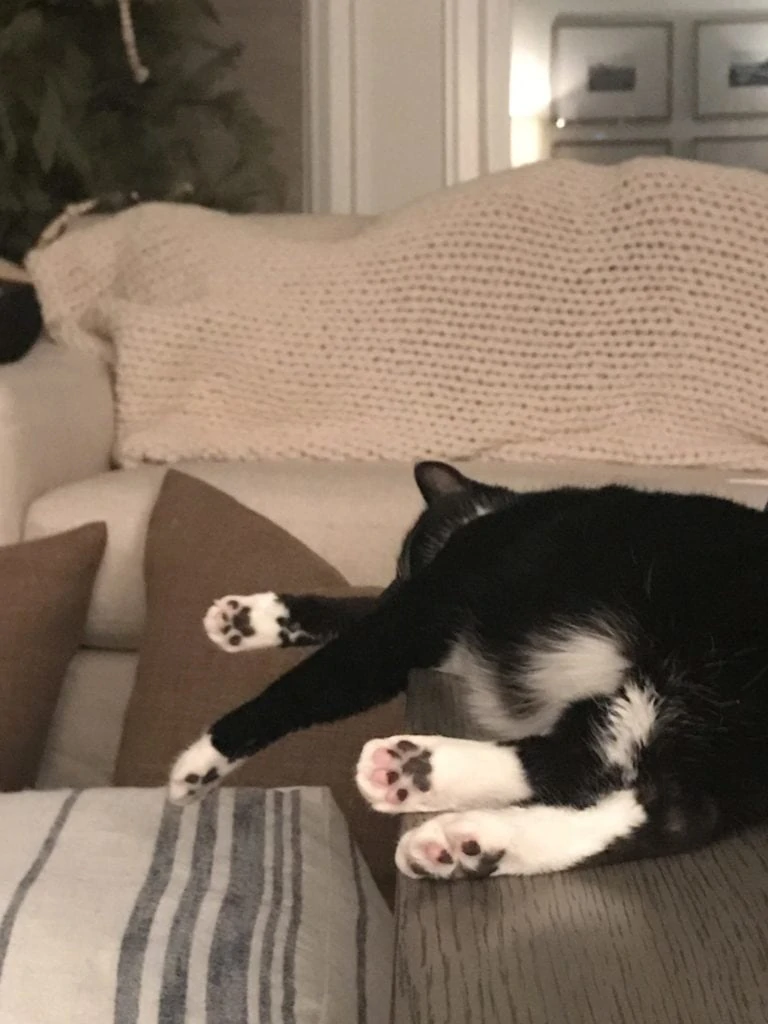 Lastly, I had some source questions about yesterday's post and thought I'd add them in here. Most questions were about the bench and the rug (which my friend Jill gave us when they moved). I hope that helps!
Following are a few sales that have carried over from the weekend that you may be interested in!
If you would like to follow along on more of my home decor, DIY, lifestyle, travel and other posts, I'd love to have you follow me on any of the following:
Pinterest | Instagram | Facebook | Twitter
disclosure: some affiliate links used