Sharing a collection of my favorite white and neutral sofas we're considering for our living room makeover!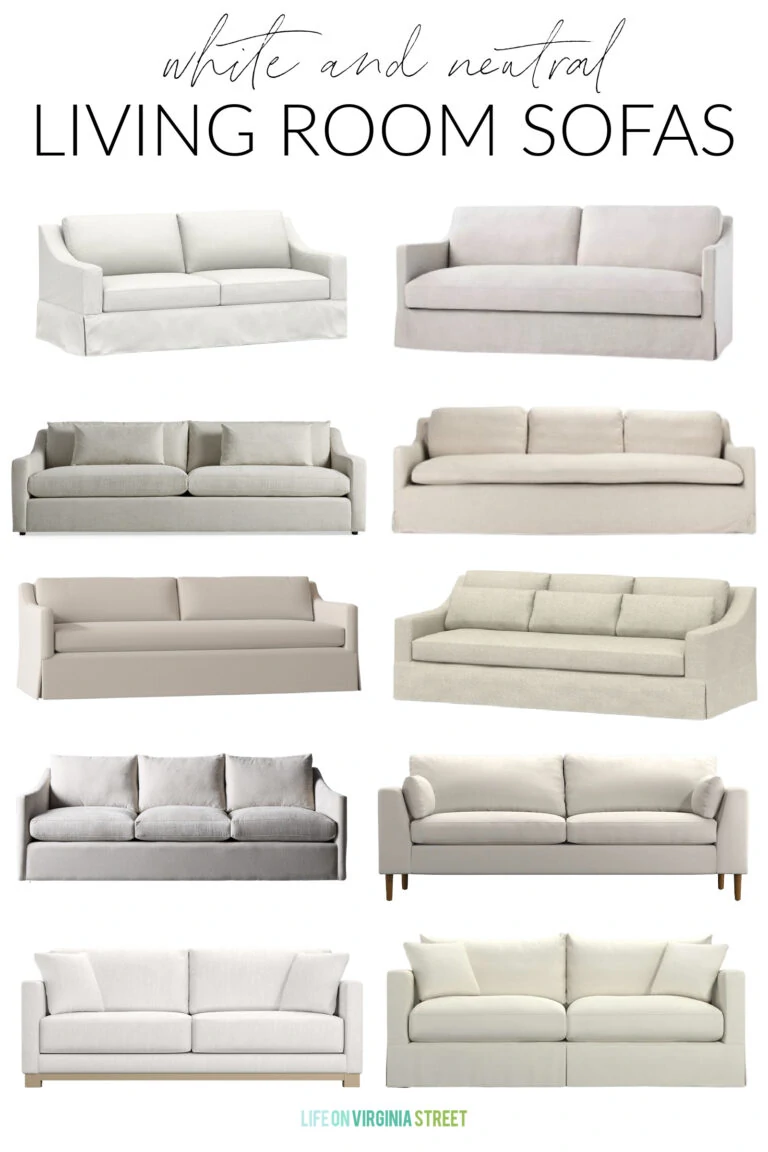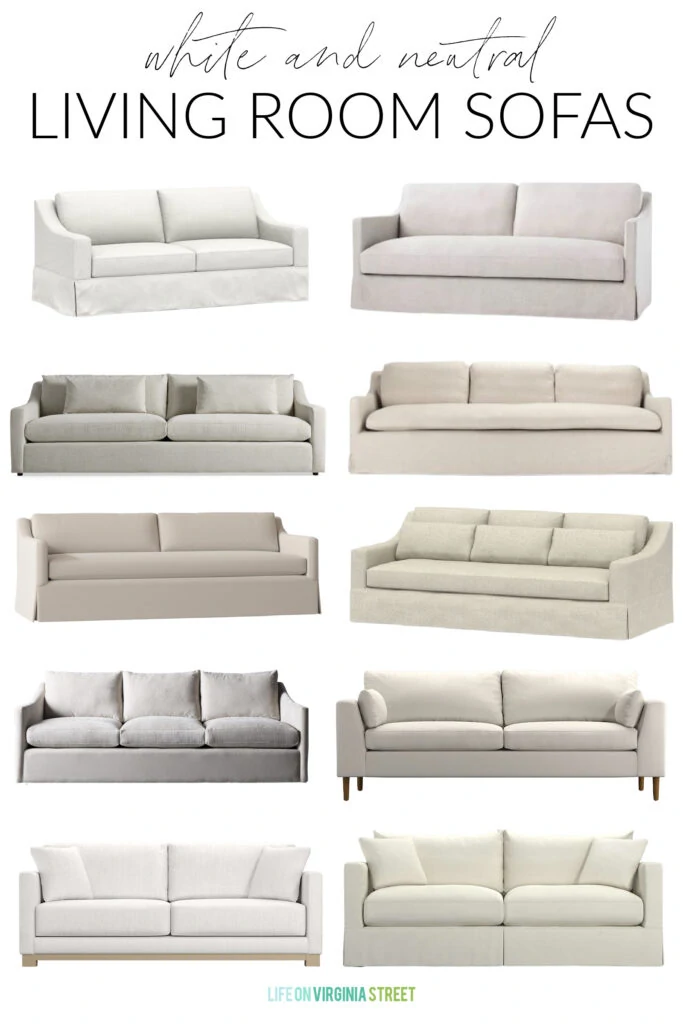 Our Current Sofa Situation
Happy Thursday and Happy June! It's amazing how quickly the week goes when Monday is part of the weekend!
Today I want to talk about something I've been thinking about for a few months and I'm hoping to get some advice from all of you! I'm really contemplating buying white or much lighter couches for our living room. Is there anything wrong with our current couches? No. But I haven't loved them for a few years. The only problem was, I never made a change because I didn't exactly know what I was looking for. And I think I do now. A little backstory.
After we adopted Henley and Hawkeye, it became quickly apparent that polyfill couches, and even pillow-back couches, likely wouldn't be an option for us long-term.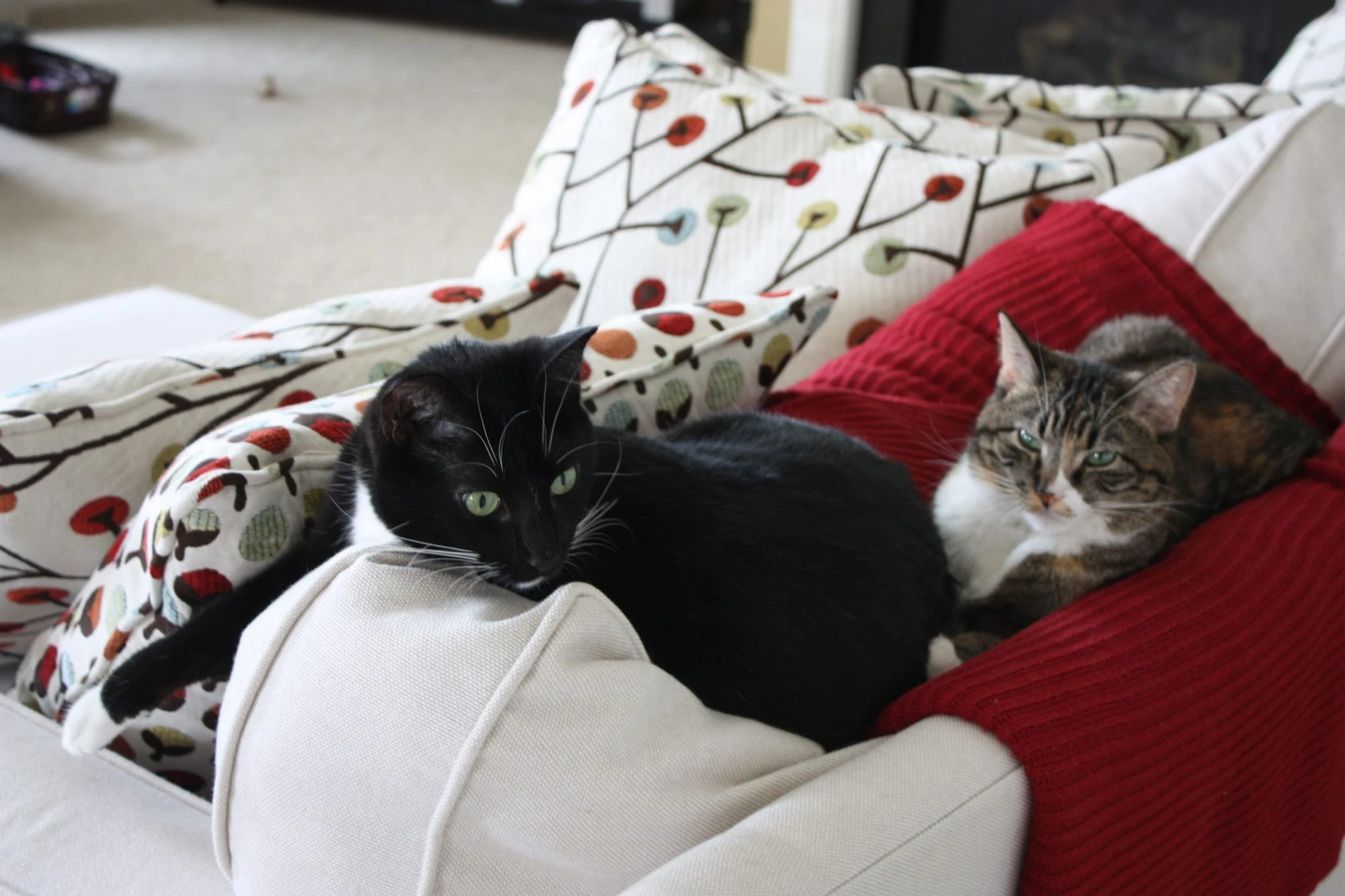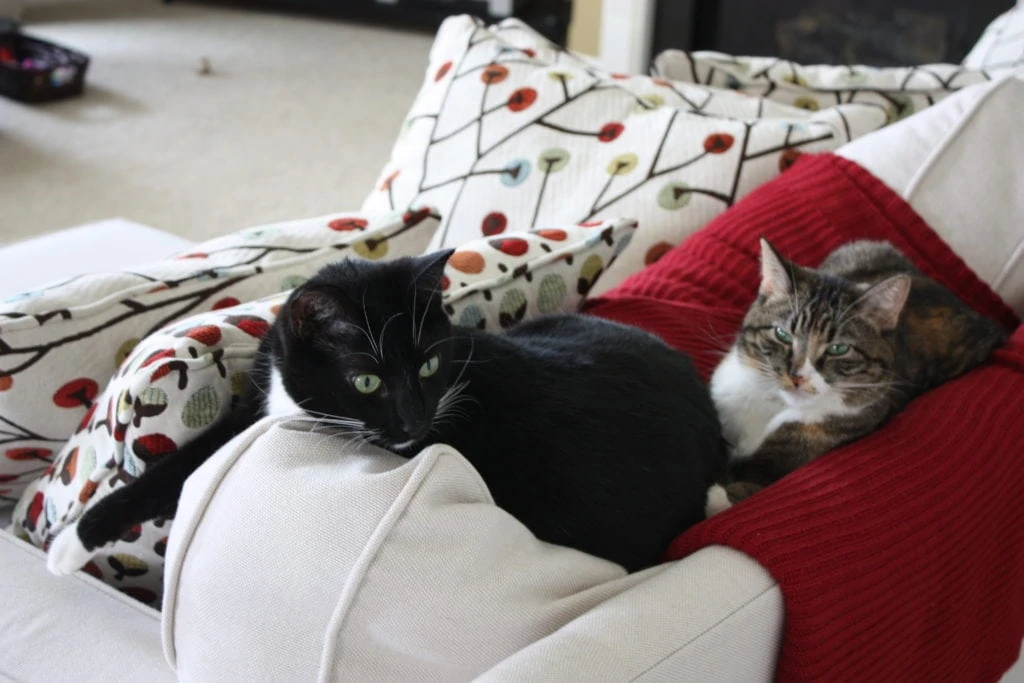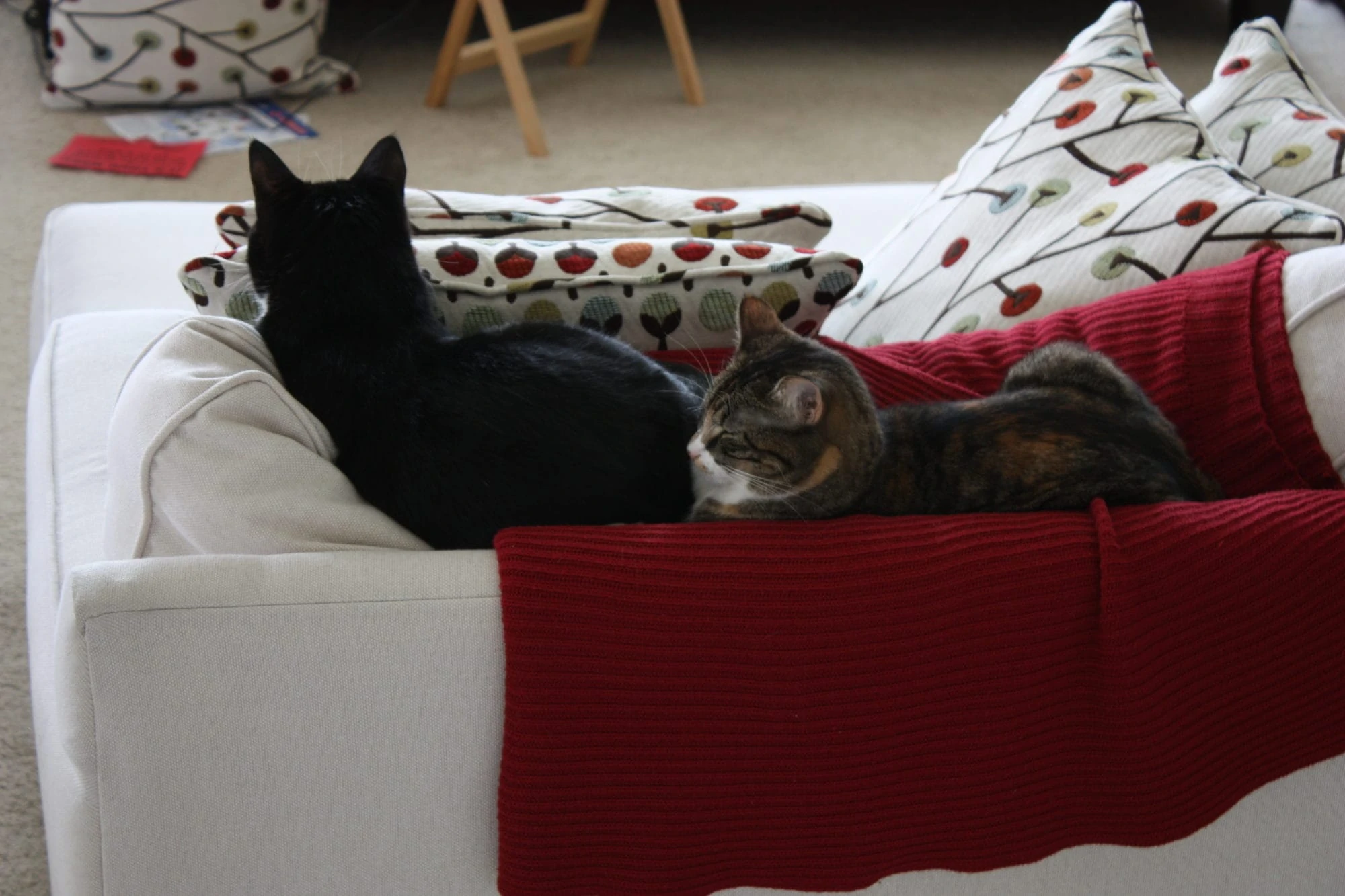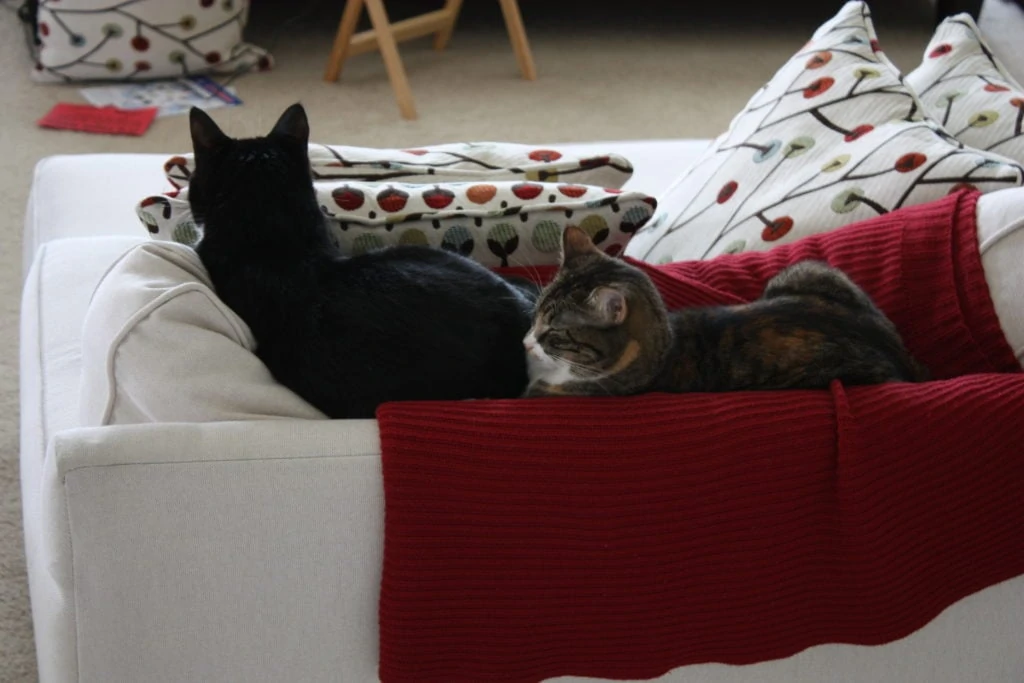 This post contains affiliate links for your shopping convenience. Click here to read my full disclosure policy.
The cushions were permanently matted after only a few months and the poly got lumpy and not full. These white linen-like chairs (and matching brown sofa) were doomed less than a year after we bought them.
The couches, leather chairs, coffee table and credenza we currently have were bought intentionally for our last house. Having a great room, we had a lot more space than we do now. We loved that the couches were super comfy and had tight backs (not pillows backs) and the herringbone fabric hid fur. It was something we could quickly both agree upon so we bought them (about six years ago).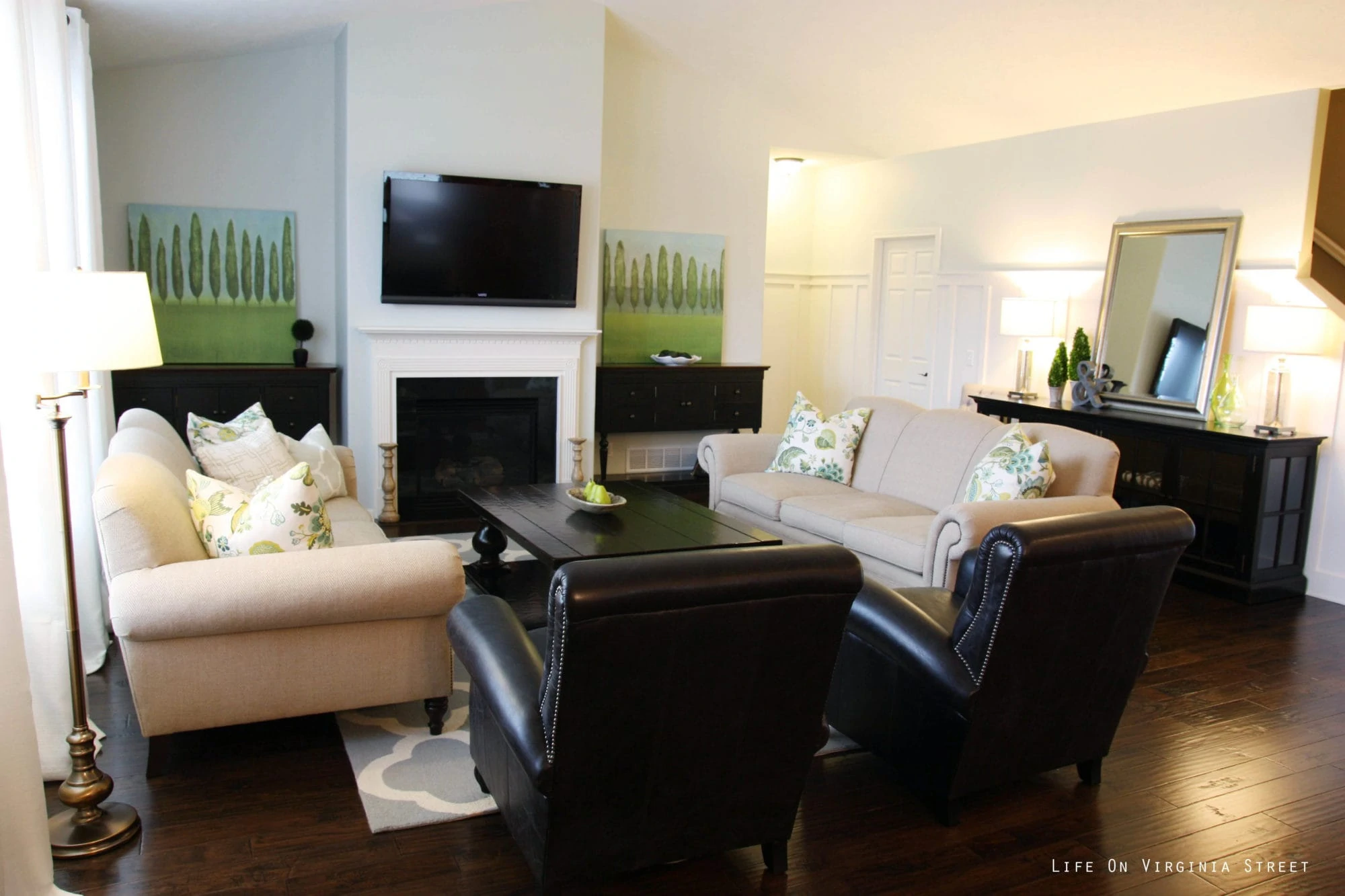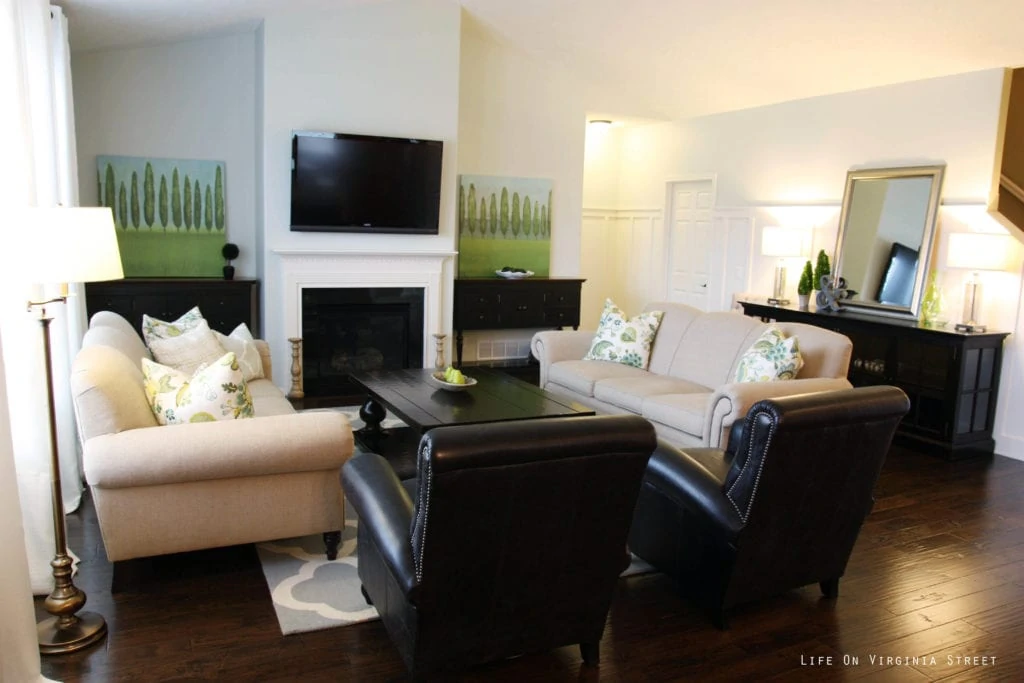 In our current house however, the furniture all just feels cramped, and the color on the sofa looks really gold/tan. Especially on top of the carpet inset that is pretty gold too. The massive arms on the couch just feel really heavy in the space, as well. And you know how I feel about those dark leather chairs 😉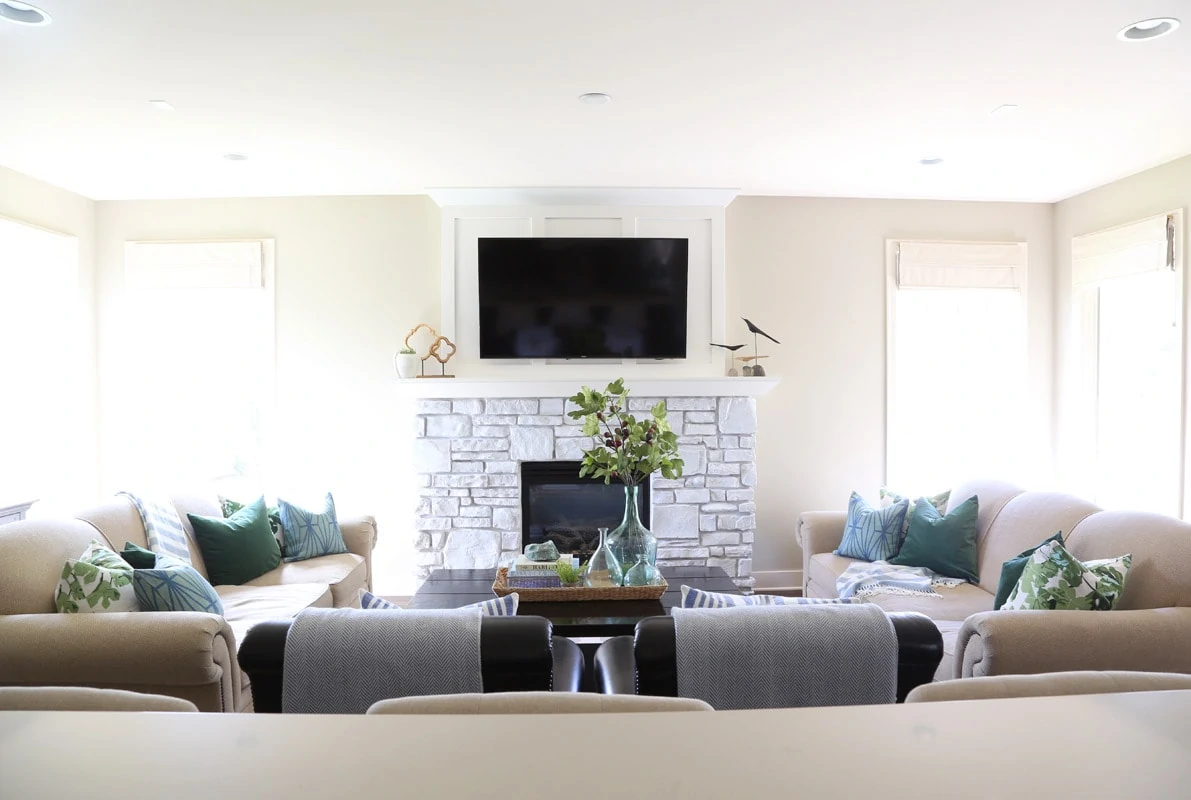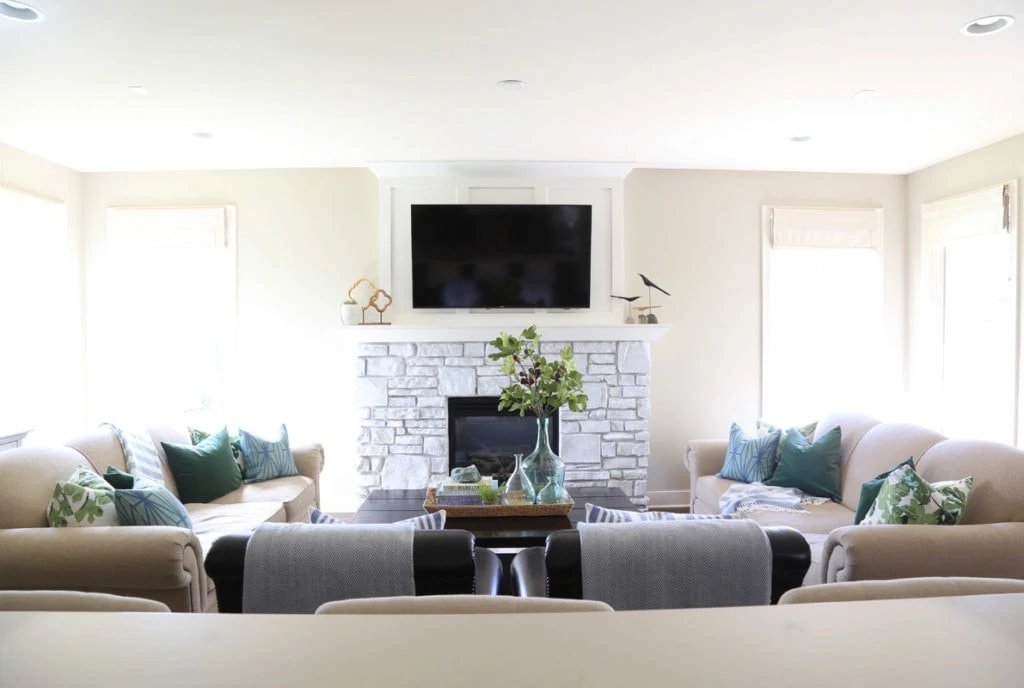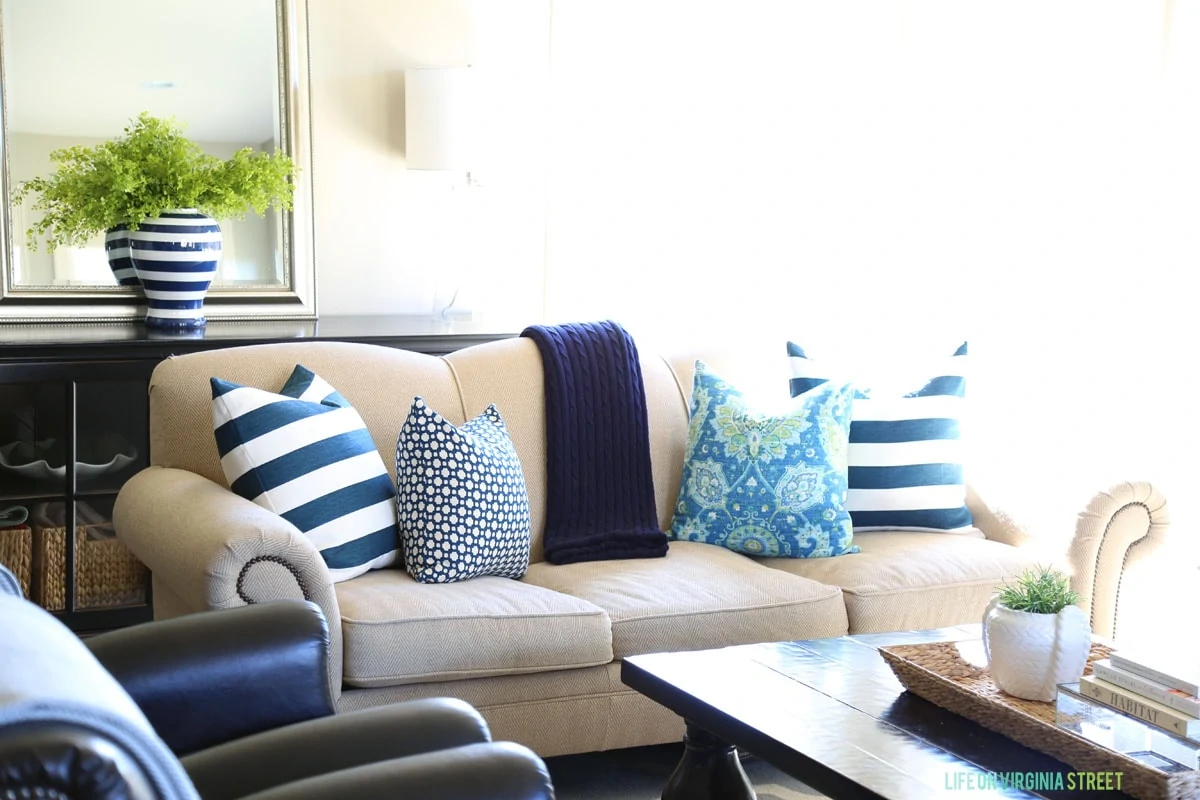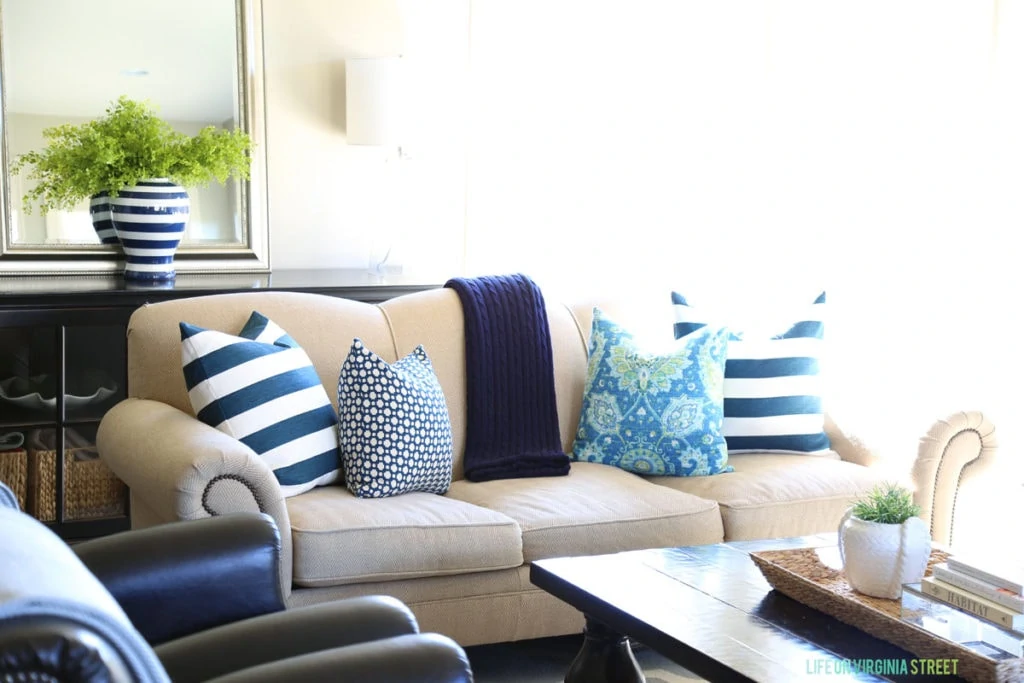 A closer view of the actual fabric: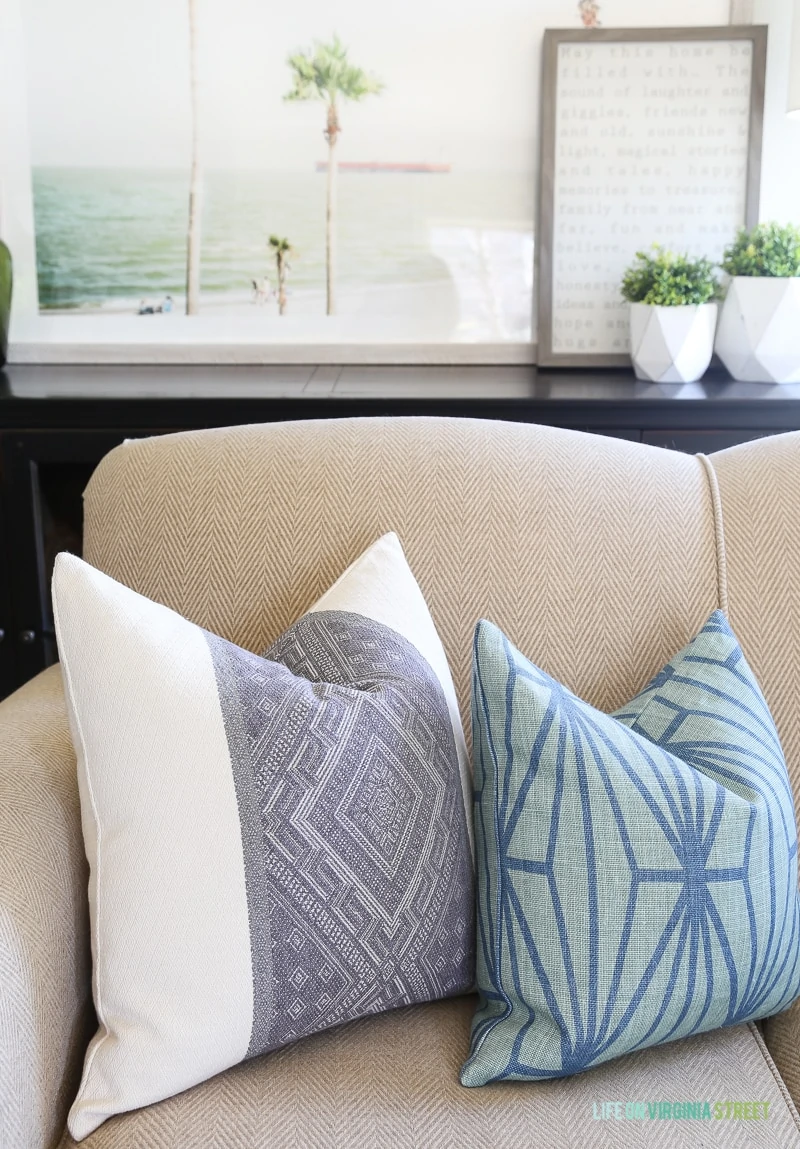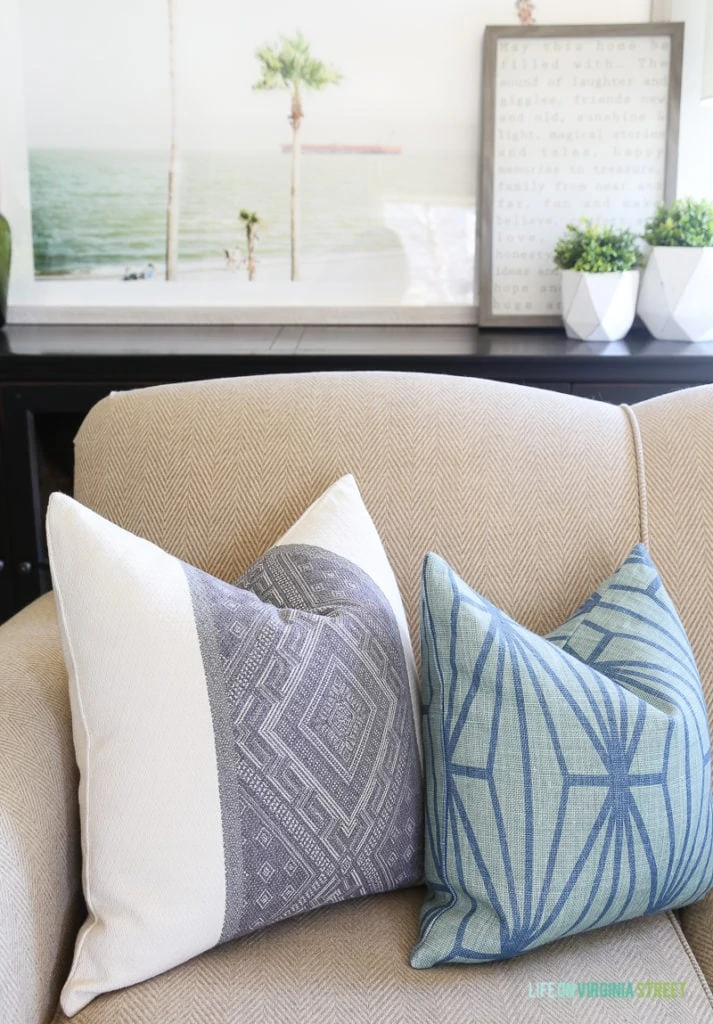 So, I'm on the hunt for semi-affordable (but willing to pay a bit more for the perfect ones) white or light couches. They need to be down-filled (or down alternative), comfortable, and easy to clean. I prefer a sloped-arm, but not rolled-arm and I'd love to have one seat cushion (two max). It needs to be available in a longer length so that Kurtis can fully lay down on it (his request not mine). At 6'2″ he needs a sofa that is at least 80-85″ wide (on the cushion) to be able to stretch out comfortably. And the back can't be too low (like a Chesterfield) because Kurtis hates sitting on that style. I'm open to slipcovers, but it cannot look shabby chic at all. I want it casual but also polished. Is that all too much to ask for?
Ideas for White and Neutral Sofas
Here are the details on a few white and neutral sofas I'm looking at. Keep in mind most of these are just the stock photos so they may or may not be the color/fabric we would ultimately choose.
This slope-arm slipcovered sofa is the perfect shape, comes in several lengths and tons of fabric options. I do wish there was only one cushion on the bottom but I love that there is back support (where the cats could sit). I'm thinking the slipcover may make it easier to wash/clean as well? UPDATE: this is the one we ultimately purchased. Read my thorough review here.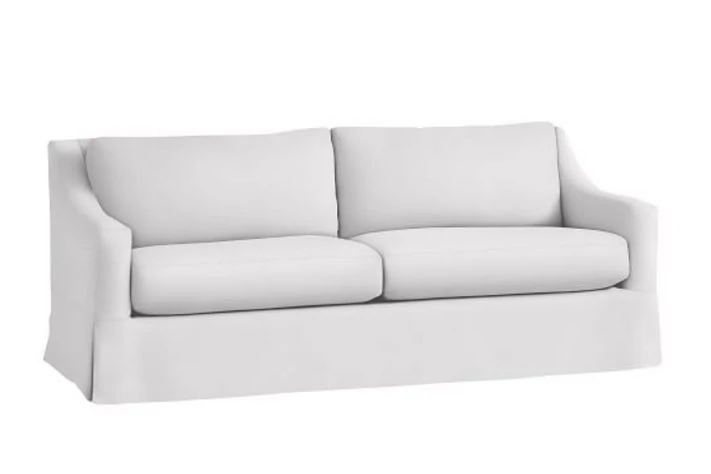 We actually tested this upholstered sofa in California and Kurtis actually loved it. I think he even laid on it to test comfort level (probably illegal at RH) but he gave it two thumbs up. I just don't want the pricetag that comes along with it! It also comes in multiple lengths, depths, and fabric options. I have heard great things about their perennials fabric line being durable and easy to clean. I love that this one has the long bench cushion. So much comfier and easier to keep clean!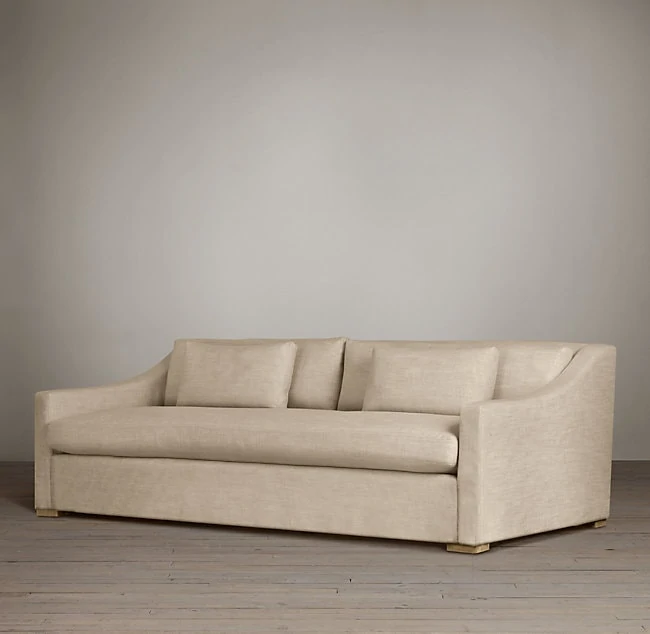 I'd also consider this Restoration Hardware Belgian Track Arm Slipcovered Sofa too. It's the only non-sloped arm look I like.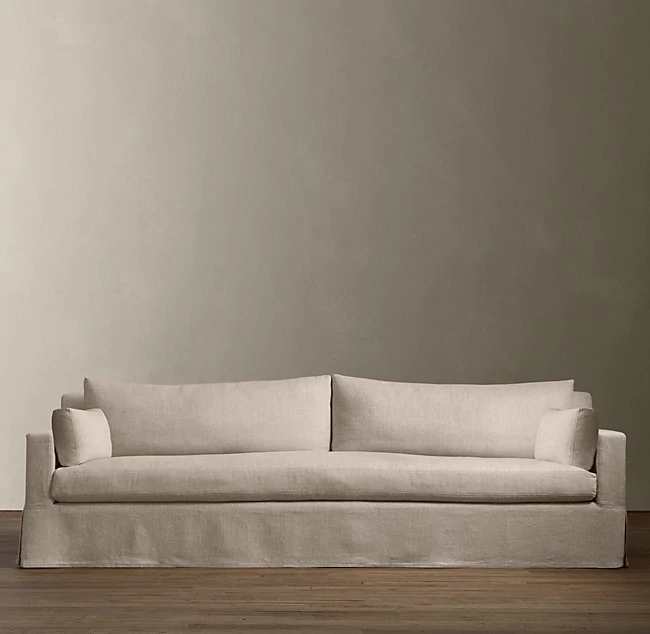 Turns out the first sofa above also comes in a square arm version that I also like.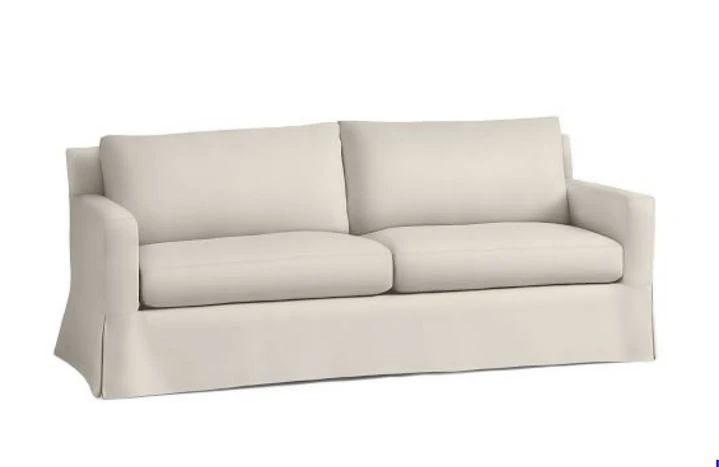 The shape of this dressmaker slip-covered sofa is maybe my favorite! It does make me a tiny nervous that the the color is just listed as 'beige' and there isn't much else to go off of. I'm guessing it's a typical natural linen color but you just never know! And there's only one review (although it is five-star).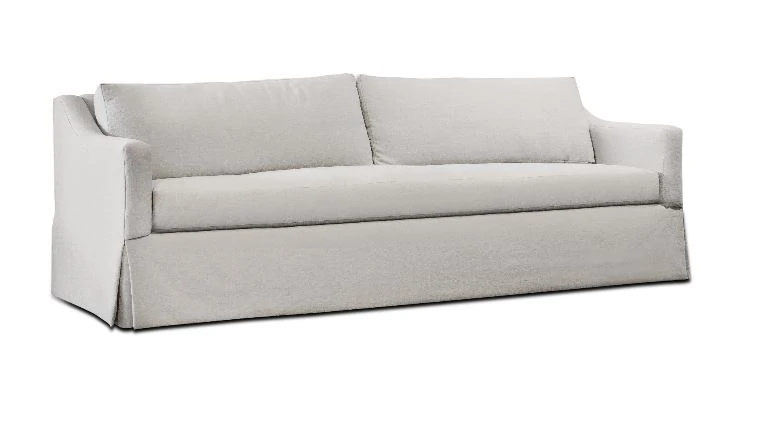 IKEA just released the gorgeous FARLOV sofa and it checks most of the boxes on my criteria. Plus it's super affordable! Unfortunately, the fact that it's polyfilled doesn't work for us and I'm worried it may not be quite wide enough. But such a great option if those aren't necessary items on your list!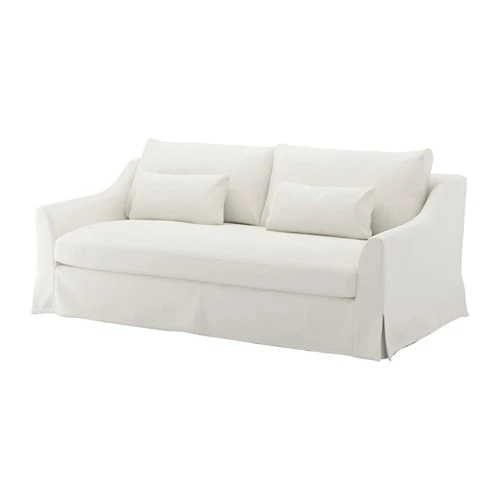 Another one-cushion seat sofa option that I really like.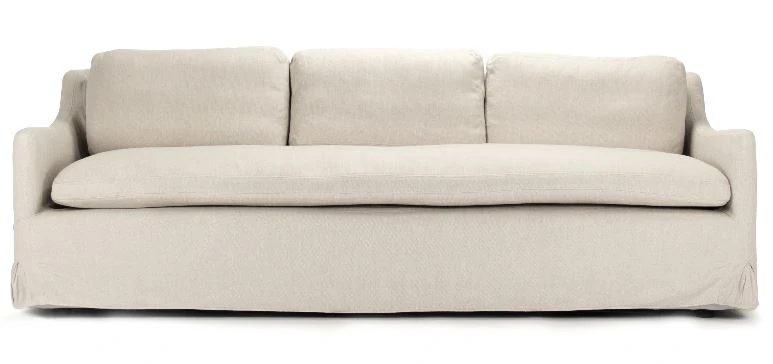 Really liking this square-armed version. It's also the same brand as our dining room chairs so I'm guessing I'd love the fabric color and quality.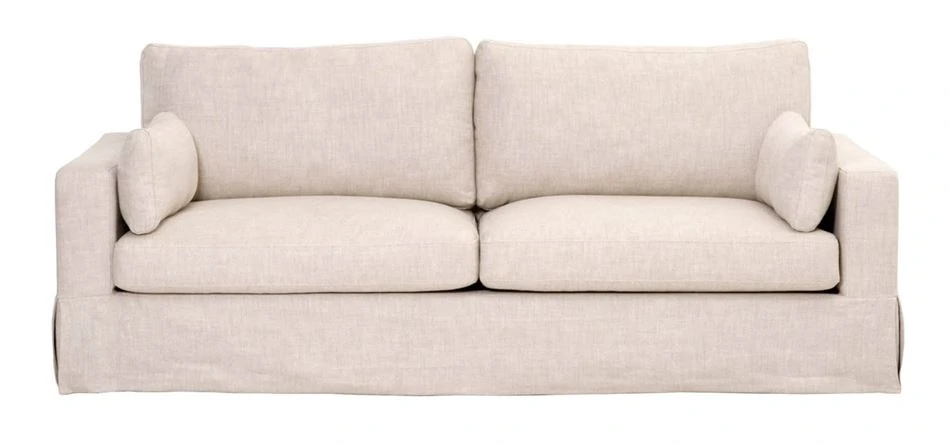 I really like the look of this option and it's currently 25% off!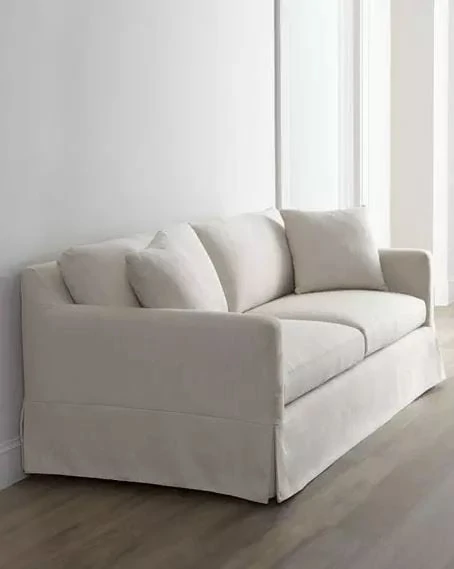 This white linen slipcovered sofa is nearly everything I'm looking for. But the white linen makes me super nervous. Am I just being paranoid?
Following are a few other options to consider. Simply click any of the images below to learn more about each of the upholstered and linen sofas shown. Keep in mind, many of these sofas are offered in a variety of sizes, colors and patterns including linen, cotton, velvet, and more!

I haven't really worked up any design plans or gotten far along in my decision process so I thought now was a good time to have you guys weigh-in.
So, what am I missing? As much as I want a very specific look, I know it also has to work in reality for us. I really want to make sure I look through all my options before deciding on which one to go with. It's nice to have time to continue the search without feel an immediate need to replace our existing sofas that work perfectly fine at this time.
I'd plan to sell the current sofas on our local Facebook page, which helps put a dent in the cost of two new couches. But, I'm always so nervous to pull the trigger on such large purchases! Do you have tips/tricks/the perfect sofas that fit this criteria? Is there somewhere else I should be looking? Another style I should consider? Am I wishing for something that doesn't actually exist? Help!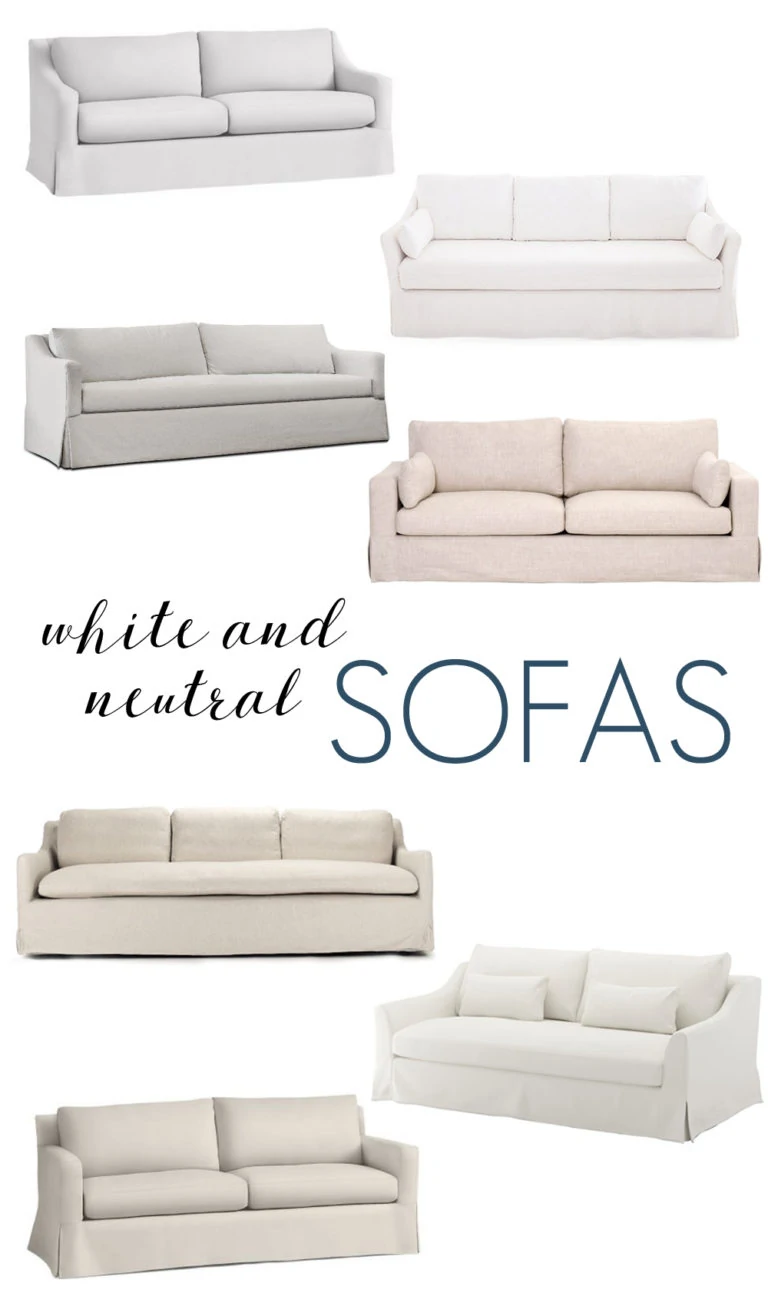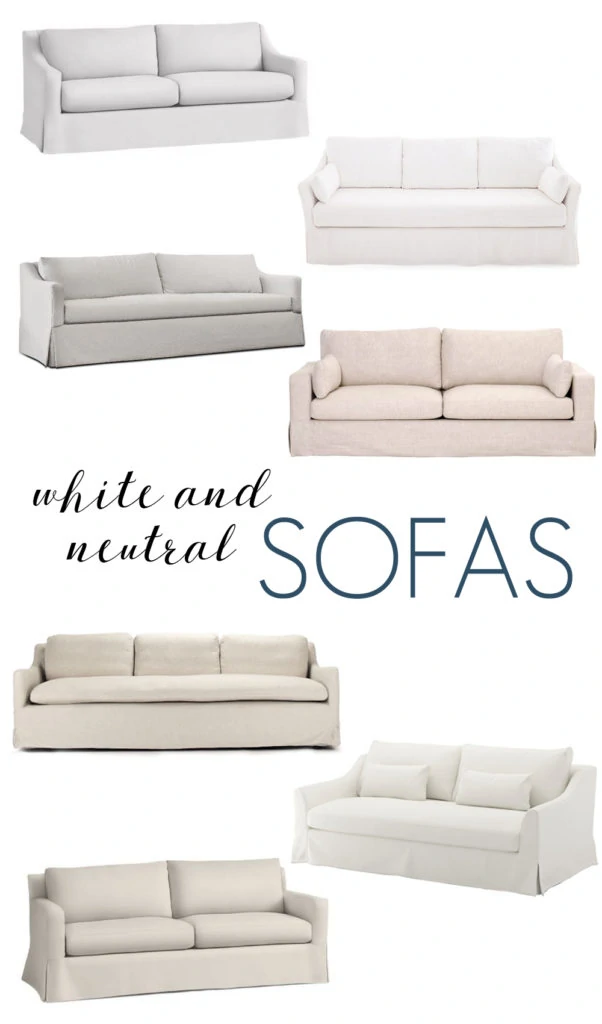 If you would like to follow along on more of my home decor, DIY, lifestyle, travel and other posts, I'd love to have you follow me on any of the following:
Pinterest | Instagram | Facebook | Twitter
disclosure: some affiliate links used