I hope you all had a great weekend! First of all, thank you to everyone that offered their advice on the white and neutral sofa debate! You all gave such helpful information and I really appreciate all of your insight!
If you follow me on Instagram, you may have seen that last Tuesday was a bit chaotic. We ran into a minor snag with the hardwood floors, so they couldn't be installed last week and likely won't be for a few more weeks. We had water in our basement before our trip to Italy and found out Tuesday that water is getting under our garage and into our basement so we likely need a new gutter system and mud jacking under our garage floor and the basement cracks sealed. Our first showing at our latest rental canceled their appointment (thankfully we've had a few scheduled since). And the pool cleaning system stopped working for the first time ever. Literally all in one day. We totally get that these are first world problems, and it almost felt comical by the end of the day just how much happened. But we were glad to see Tuesday come to an end 😉
My coping solution was to start painting the office. You can see I started on the walls and parts of the door frame trim. I also plan to tackle the ceiling.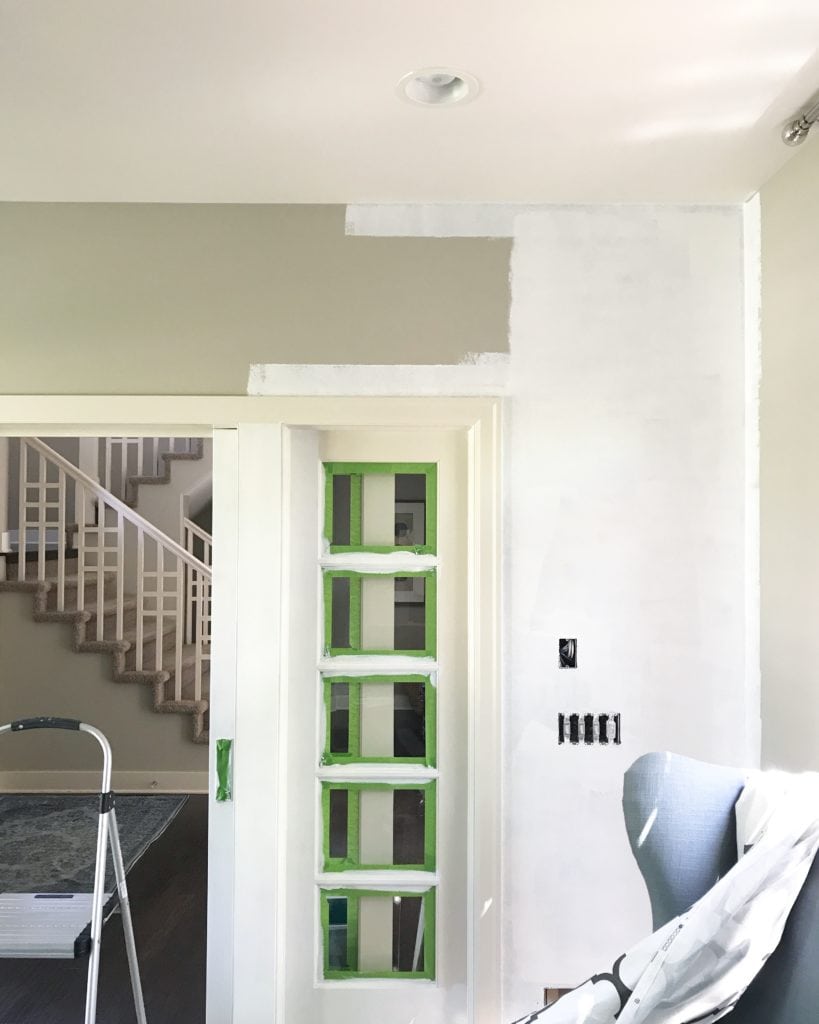 This was after I got a bit more painting done with the first coat. It obviously looks terrible at this point, but this photo really shows just how bad the ceiling and original trim colors are!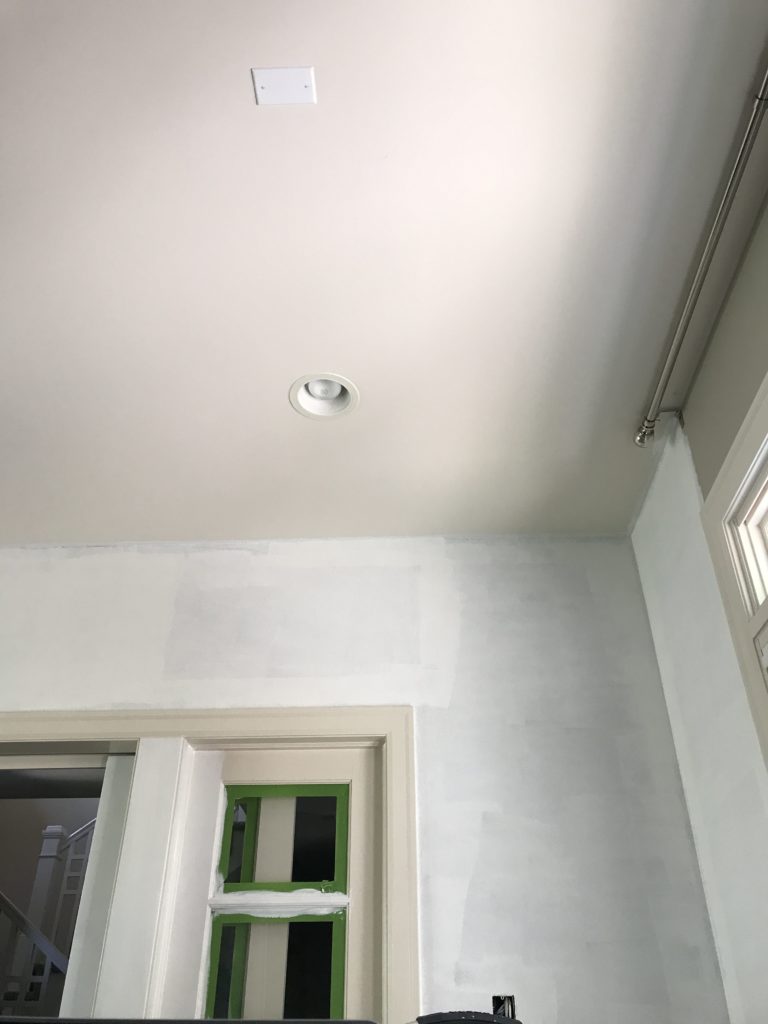 I ran to Pottery Barn on Friday and they were offering an additional 20% off clearance items. I totally scored! I got this large wooden chain (it's amazing but Kurtis thinks it's super weird), this shibori pillow cover, blue herringbone covers (way cute in real life than they look online), these paisley napkins and a navy blue washed velvet table runner (no longer available online).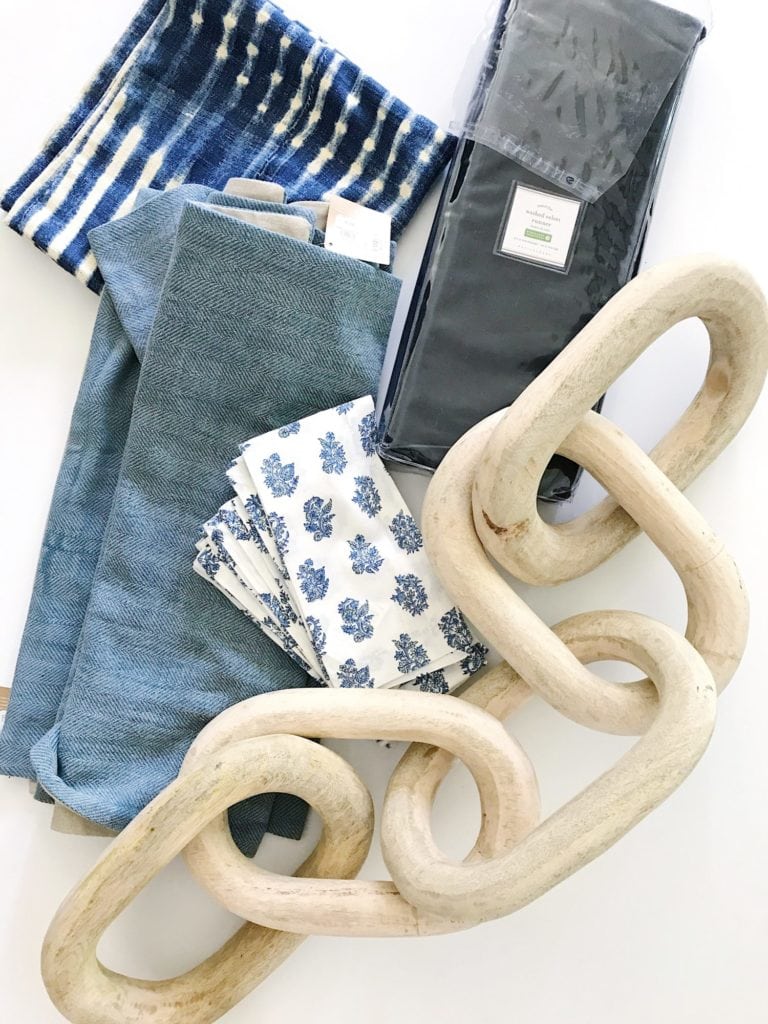 Friday night, several of the guys from our neighborhood came up to the pool (along with a few of the kids). And in more important news, my new pool float came and it's amazing!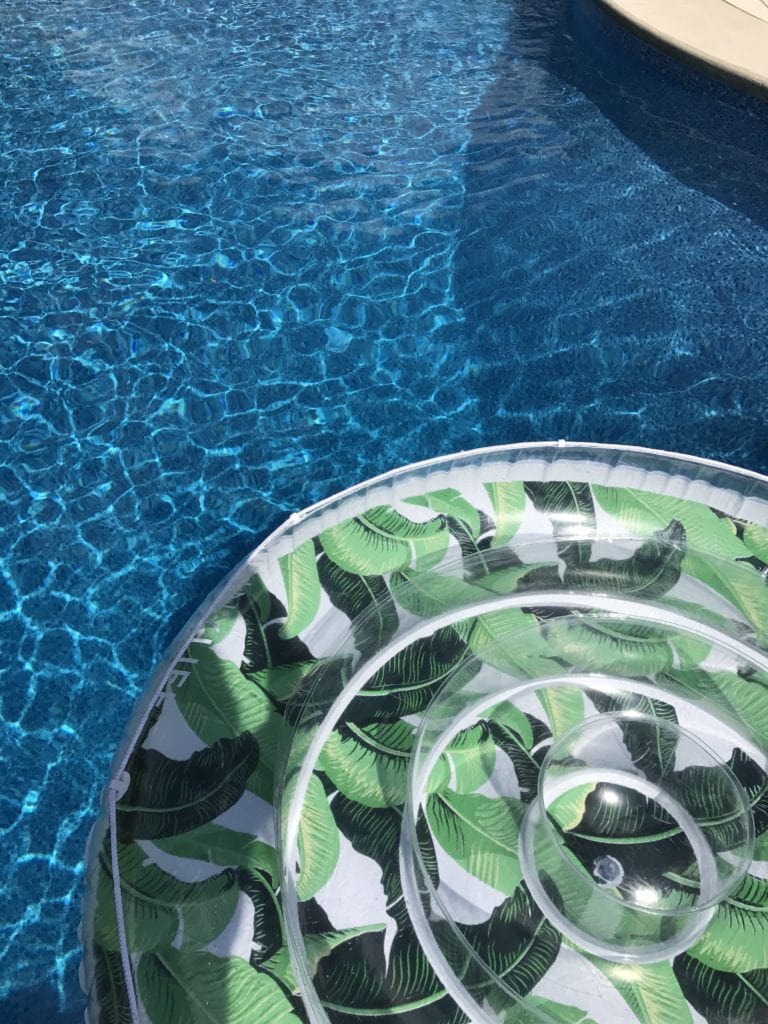 The guys were here until at least ten just hanging out and talking. Random unplanned nights like these always end up being so much fun! Those may or may not be empty beer cans around the pool. #superclassy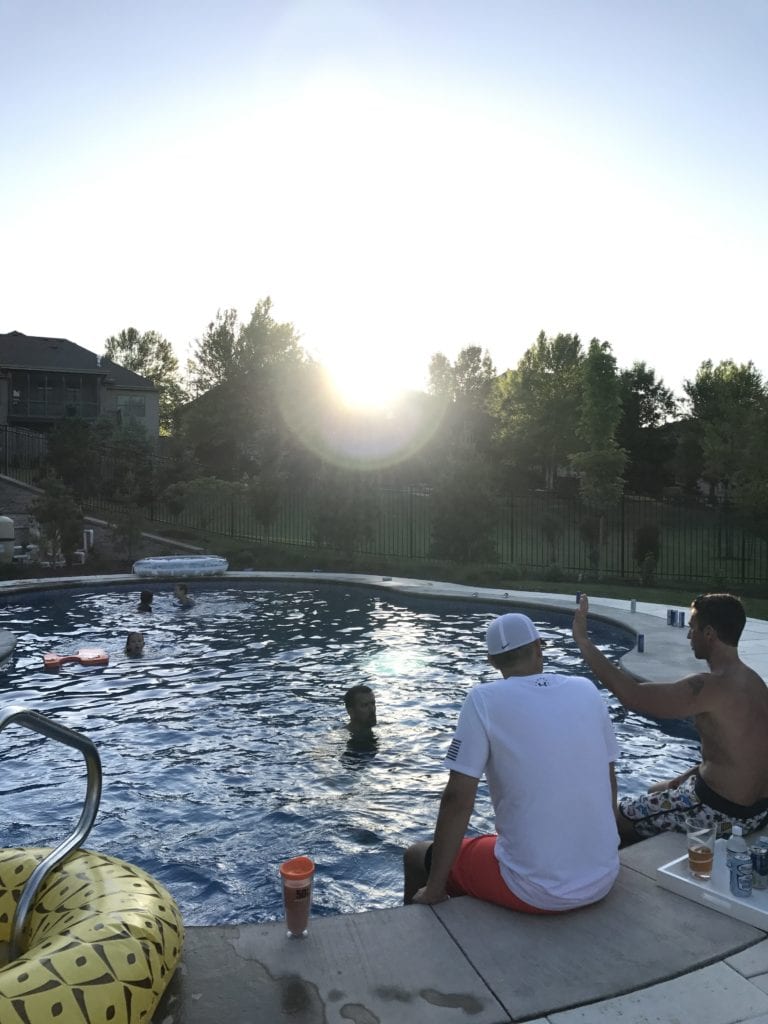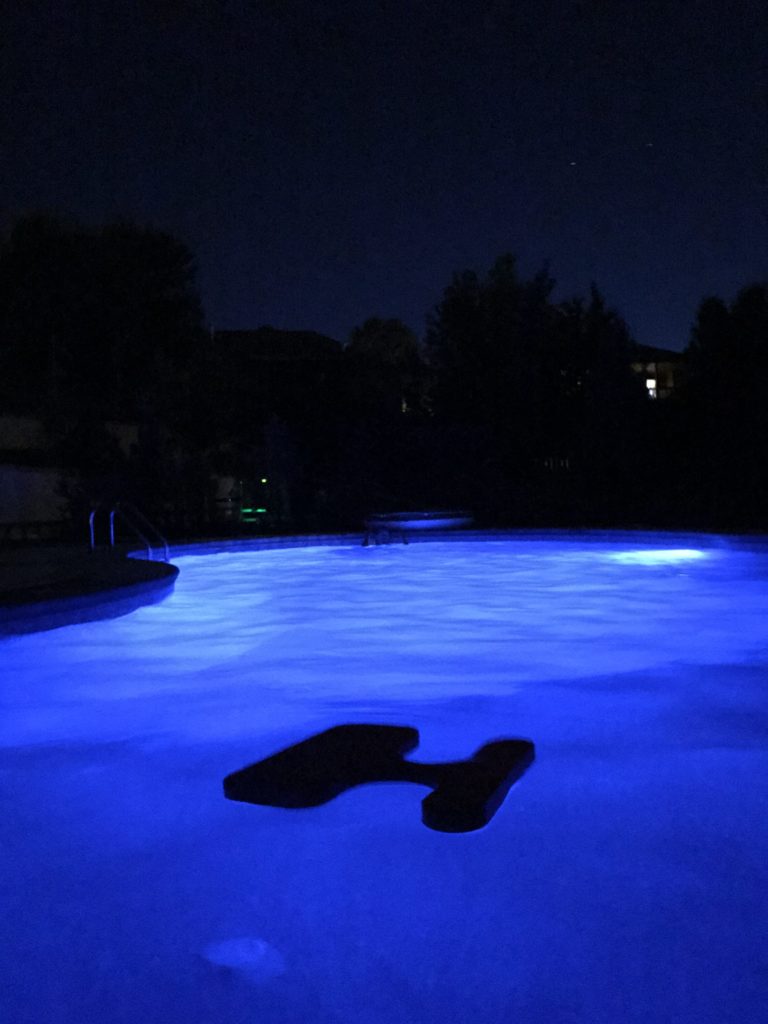 Saturday morning, our landscape company came bright and early to work on a few projects. They had to finish some of the plantings from when they were out about a month ago, expand a flowerbed and then replace six pavers in our pool deck. It was a long and messy project, but they were able to saw and chisel the broken pavers out and replace with new ones!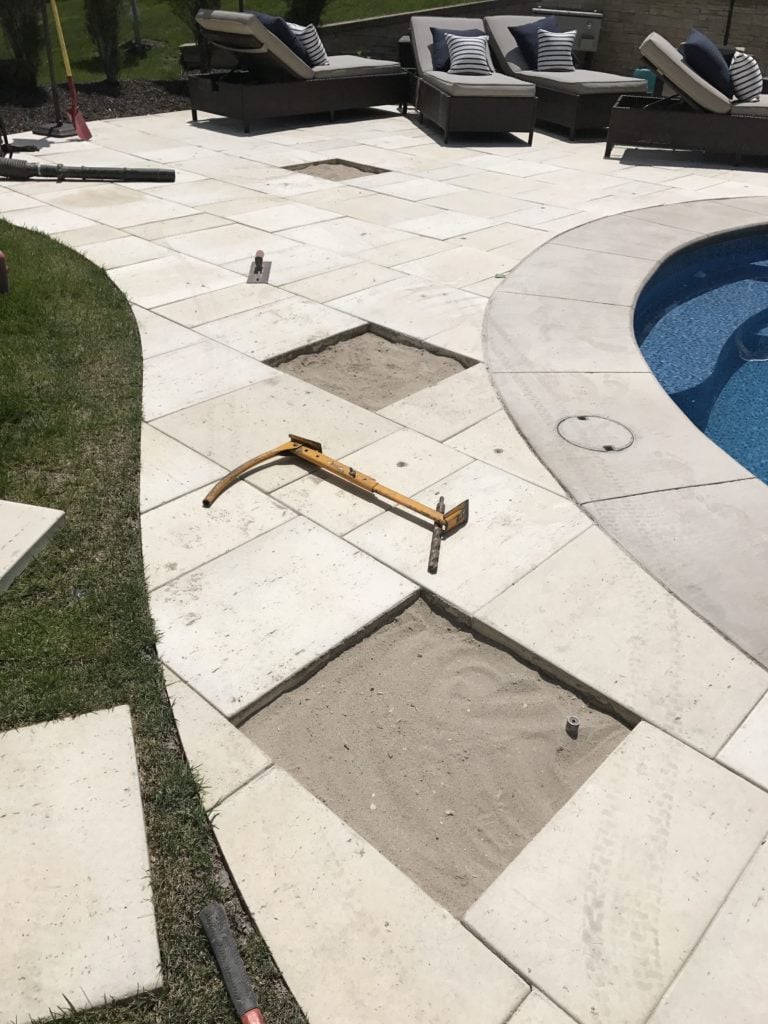 When they took a lunch break, I took advantage of the new bed and all the sod they'd cut out to plant a few plants I'd picked up at Lowe's a few days before. It's definitely a lot easier to plant when you don't have to pull the mulch back before digging! I added three lavender plants and three daylilies. They are all super tiny, but I know these plants tend to grow quickly, so I decided to start small!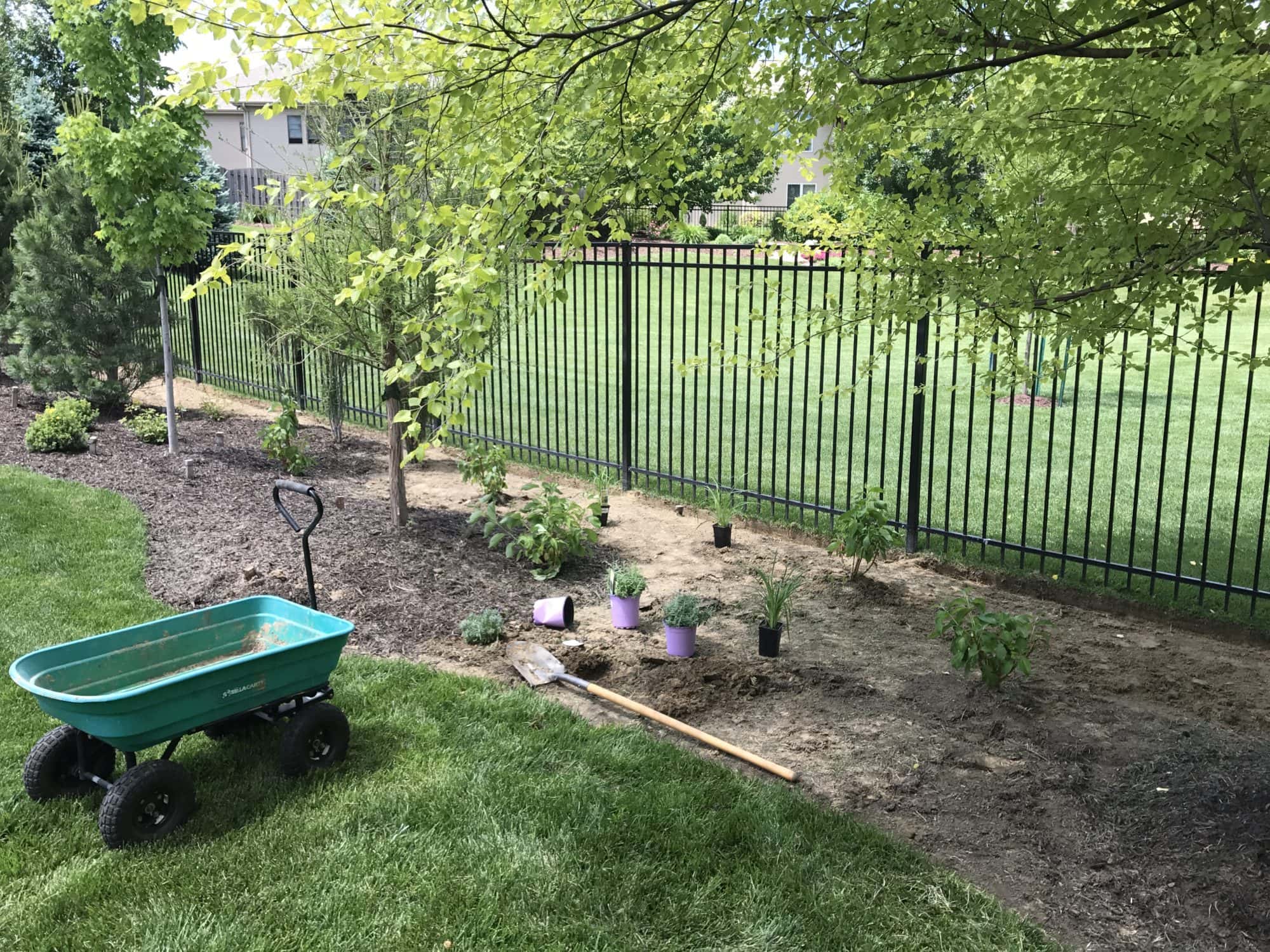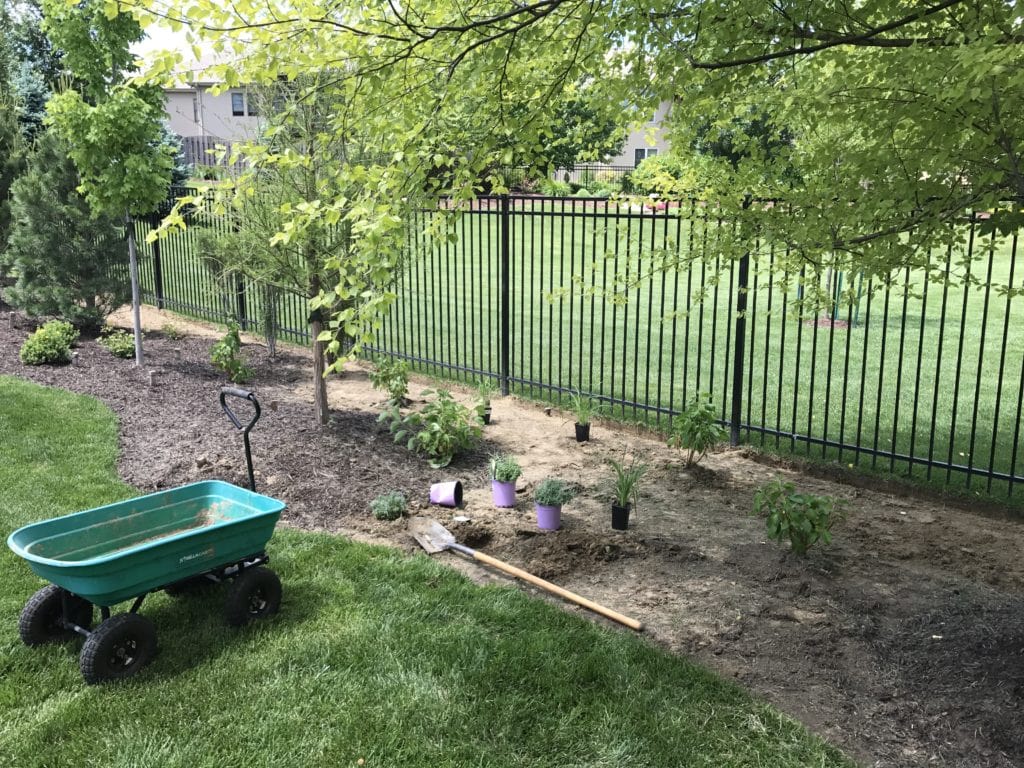 They added 20 of these blue grasses on the second tier wall. I was thinking they'd already be a bit bigger at this point, but since they are hot weather grasses, it will take a few more weeks for them to shoot up. I think the blue will look really pretty in contrast to the citron green spireas.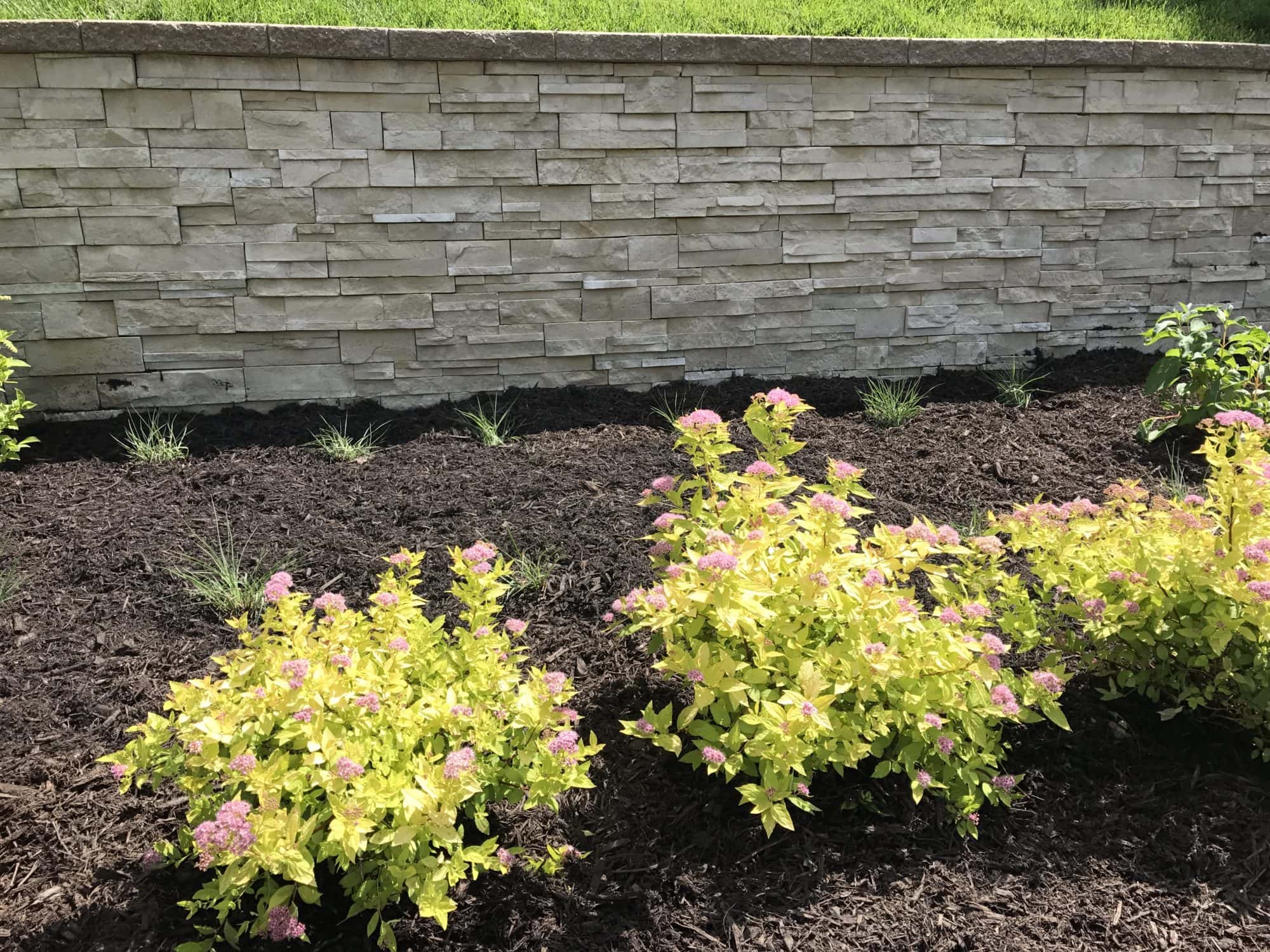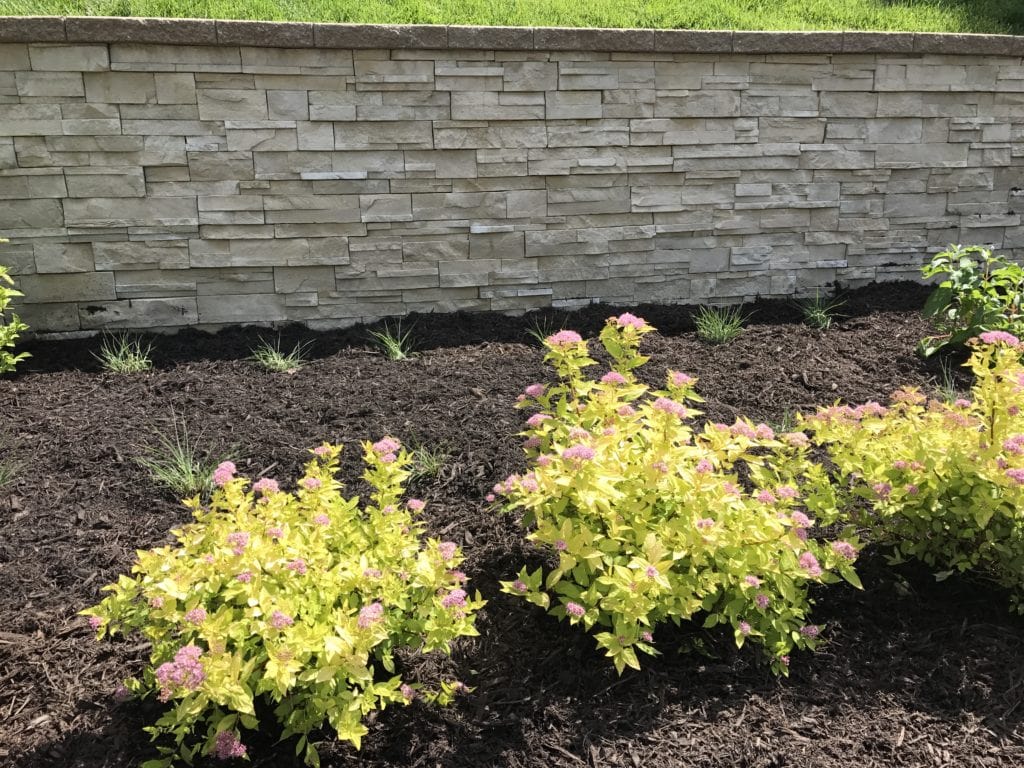 Here's a view with the bigger bed. It previously ended between that tall maple and that large birch tree, but now it is all one big bed and I'm excited to get some more plants added over the coming weeks!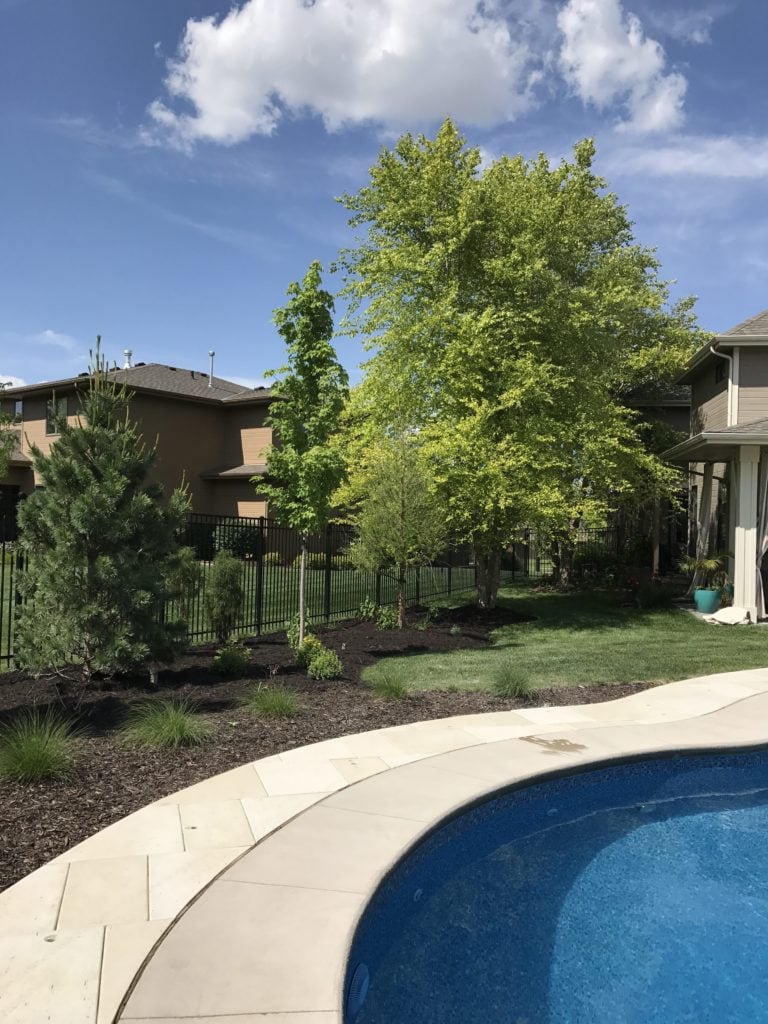 My roses started blooming too, so it will be great to have some vibrant color out by the pool!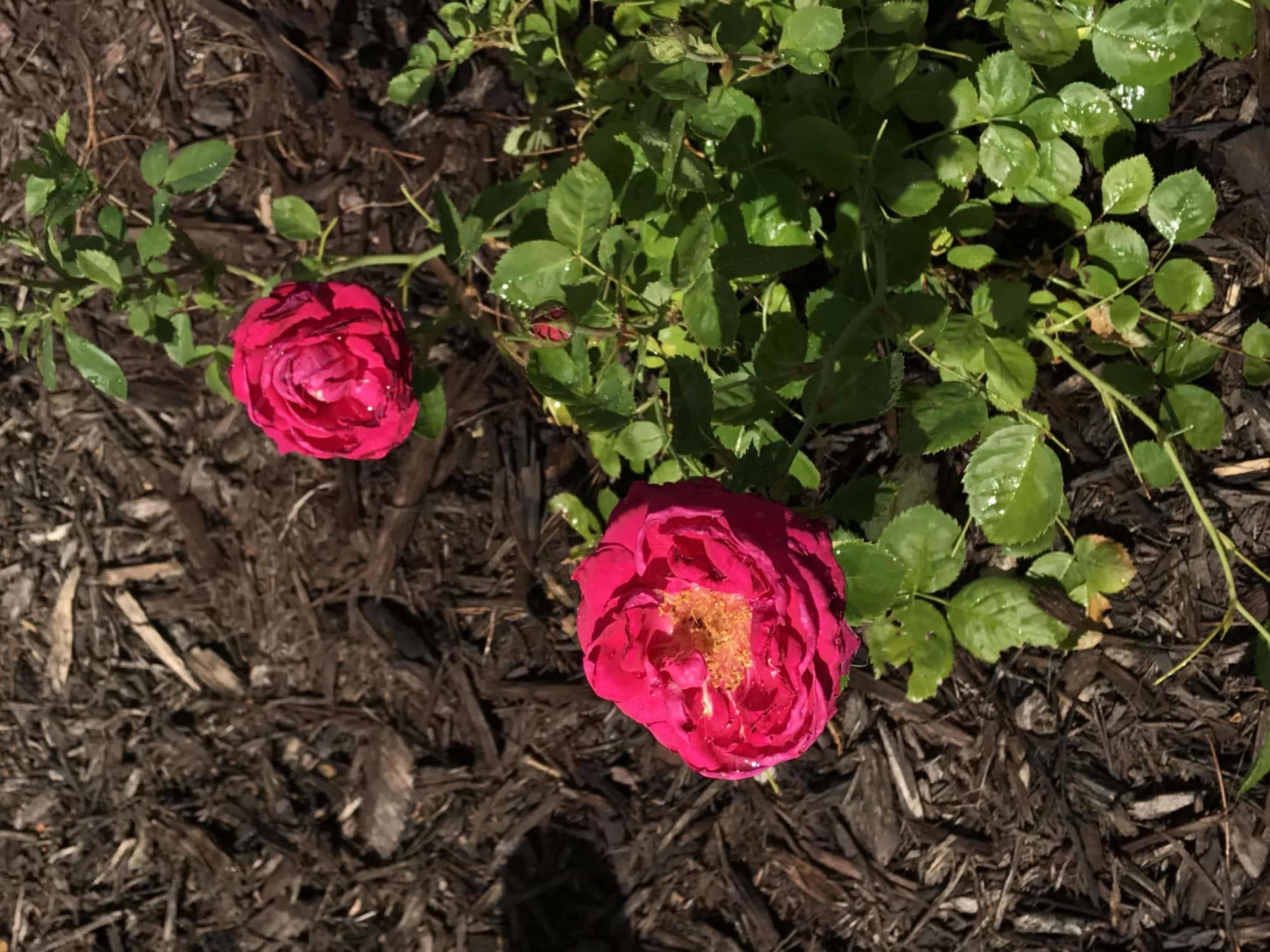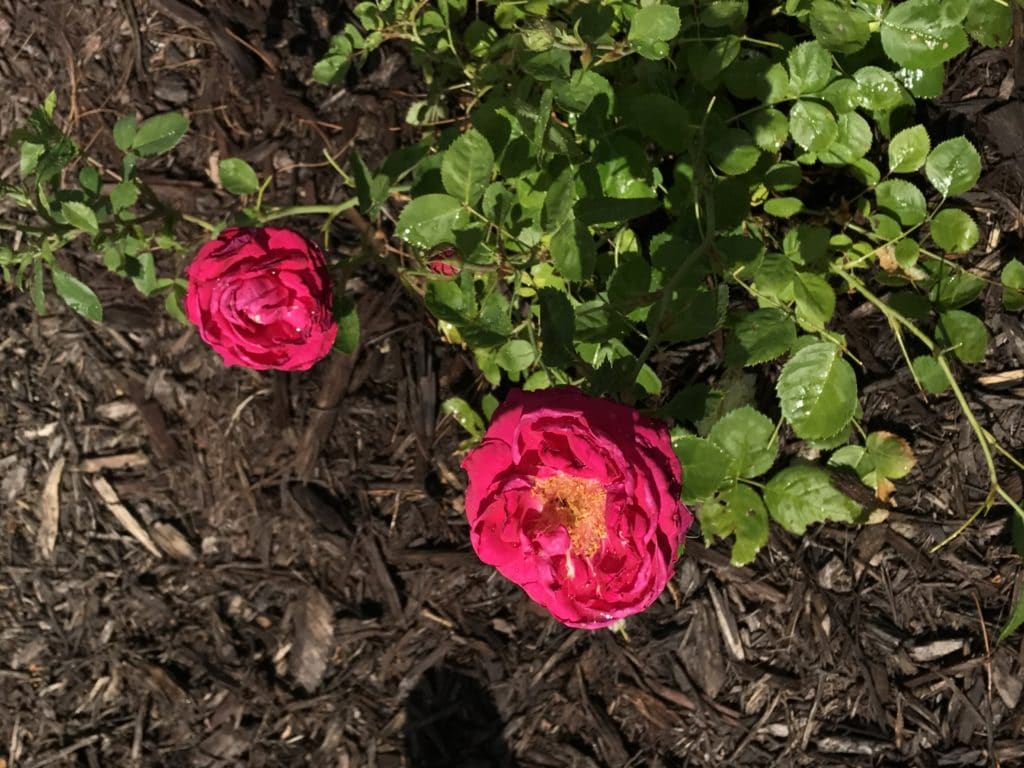 Sunday morning we got up bright and early to wrap up some of our final projects at the rental. I needed to paint the kickboard under the kitchen cabinets and the cabinets in the master bathroom. Before we had the new floors installed, the prior flooring ran up the base of the cabinets and just looked a bit off. So, the new kickboard makes the cabinetry look more like furniture that extends to the ground.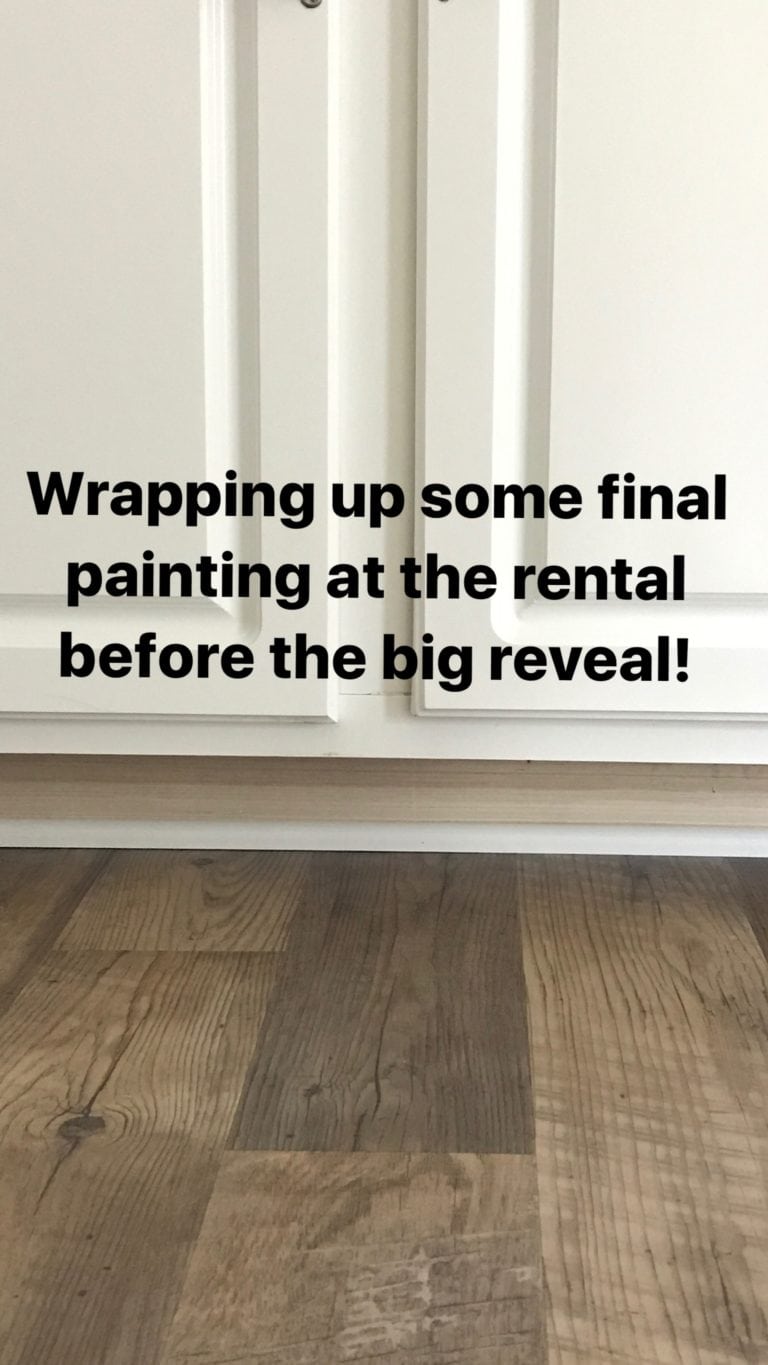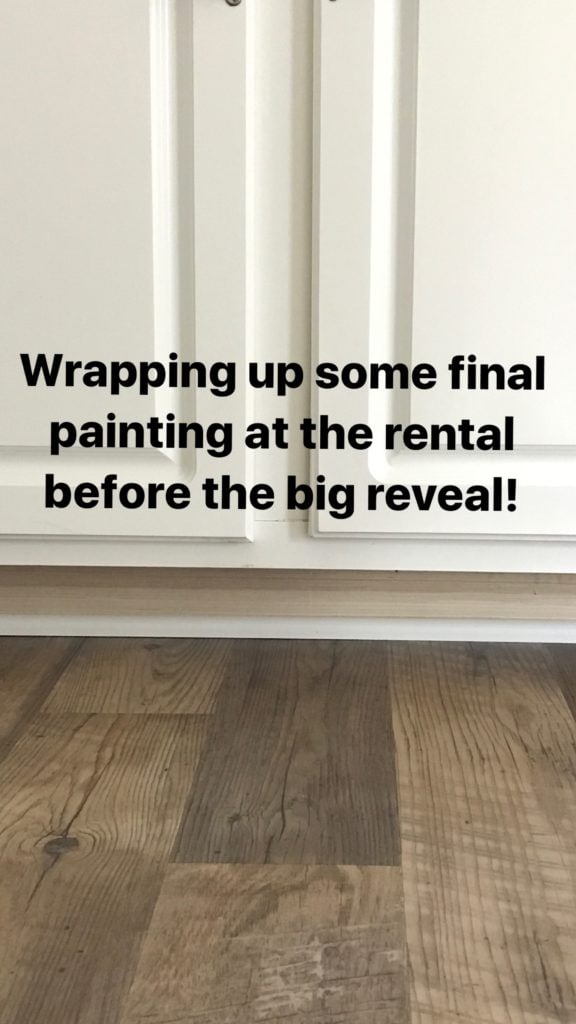 We also replaced the final remaining light fixture in the house. We'd been avoiding this one because of the two-story height, but it actually went fairly smoothly.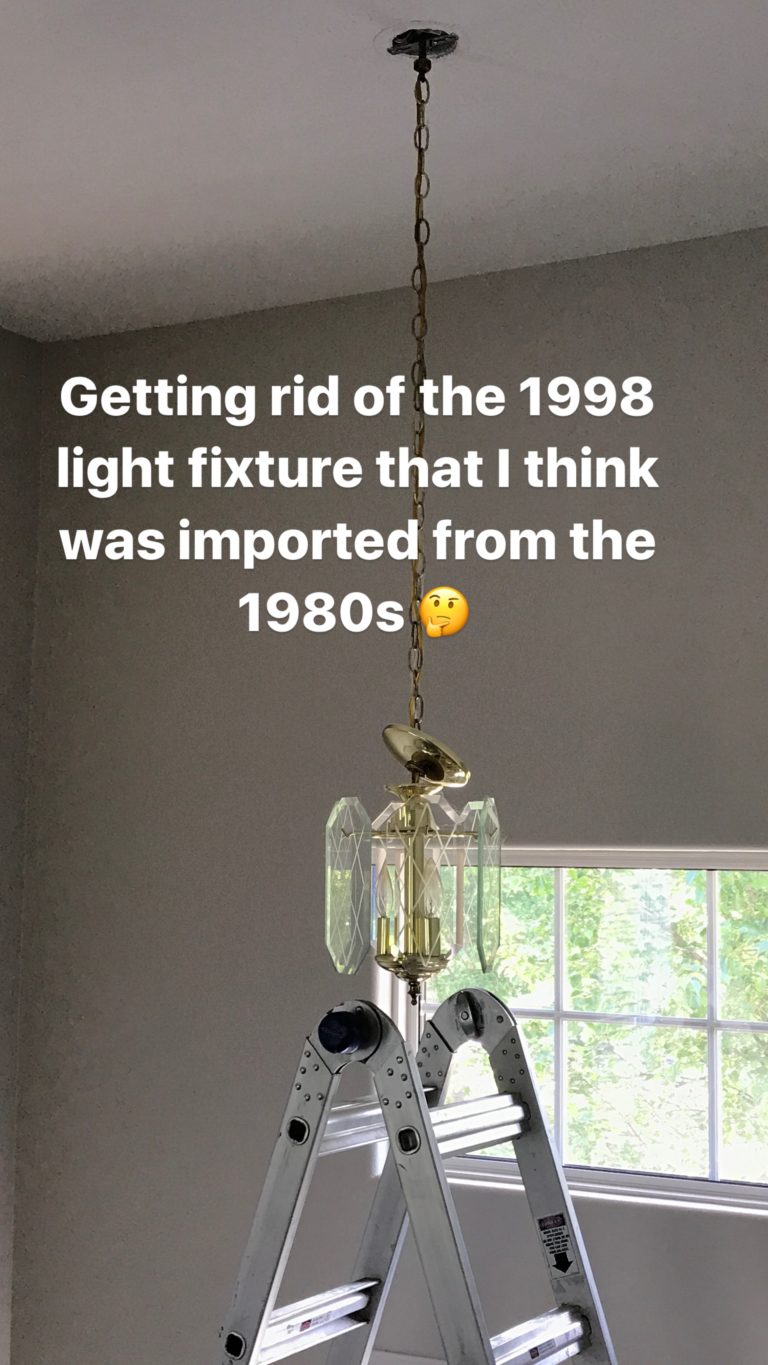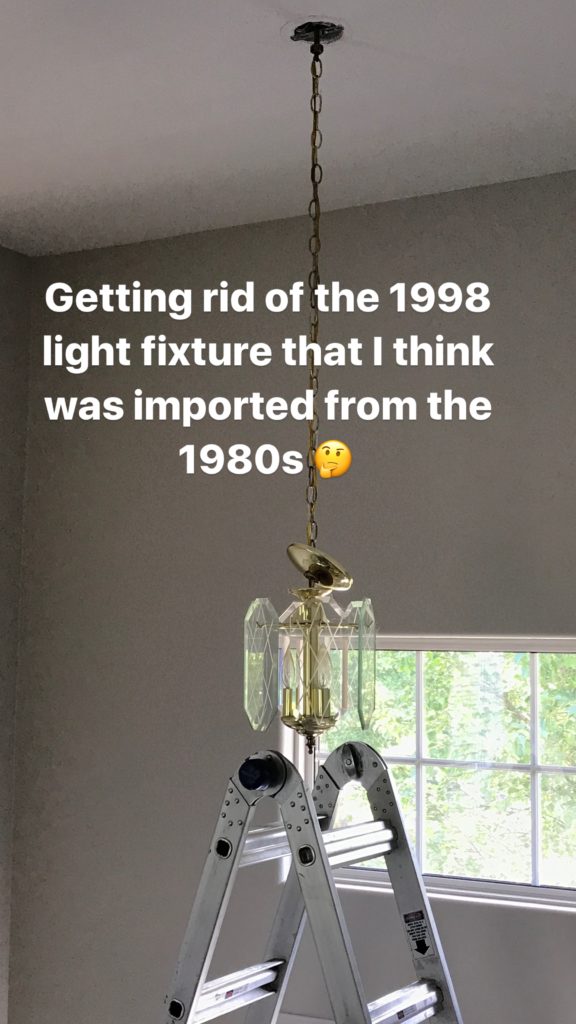 I plan to share the front porch makeover tomorrow and then the full 'before' tour of the rental at the end of the week. Then, I'll share all the after photos sometime next week. It's been a fun house for us to work on but we are definitely ready to be finished with it!
After the work at the rental, we went home and spent a few hours out by the pool. The weather was absolutely gorgeous (low 90's) with no wind and blue skies! Jill and Nick headed up for a few hours in the late afternoon.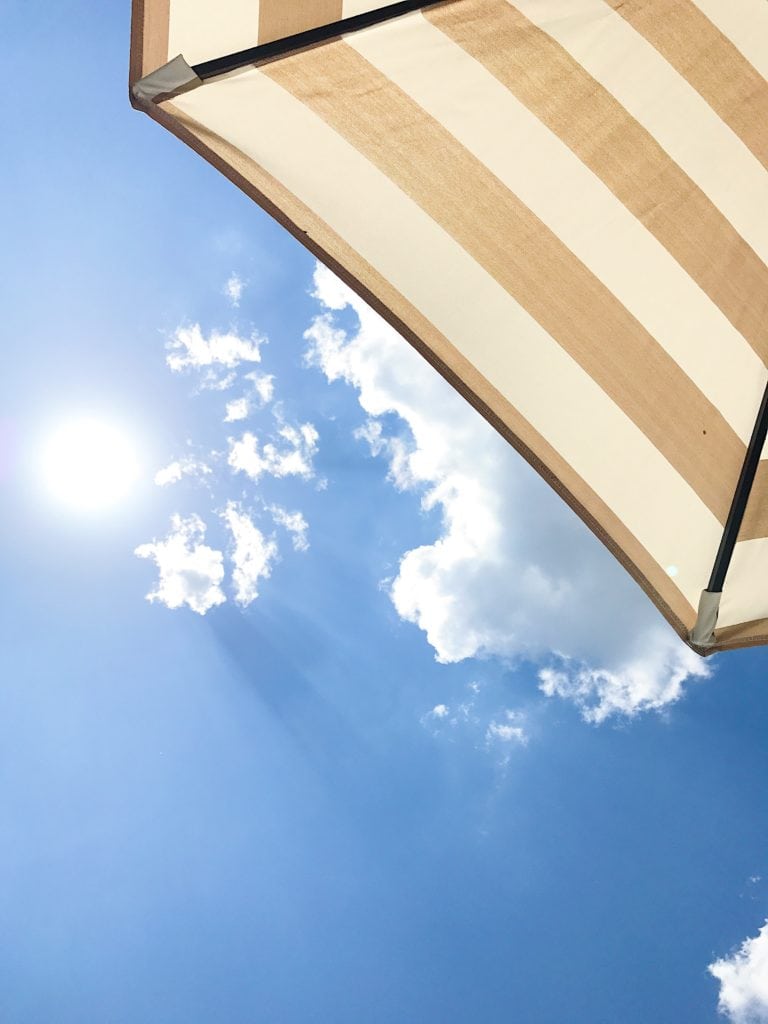 We ended up finishing Mad Men last night and we both decided that we were kind of happy that it's done. I think we're some of the few that just thought it was okay. So, now we're looking forward to the newest seasons of House of Cards and Scandal!
I hope you all have a great week!
If you would like to follow along on more of my home decor, DIY, lifestyle, travel and other posts, I'd love to have you follow me on any of the following:
Pinterest / Instagram / Facebook / Twitter / Google+
disclosure: some affiliate links used